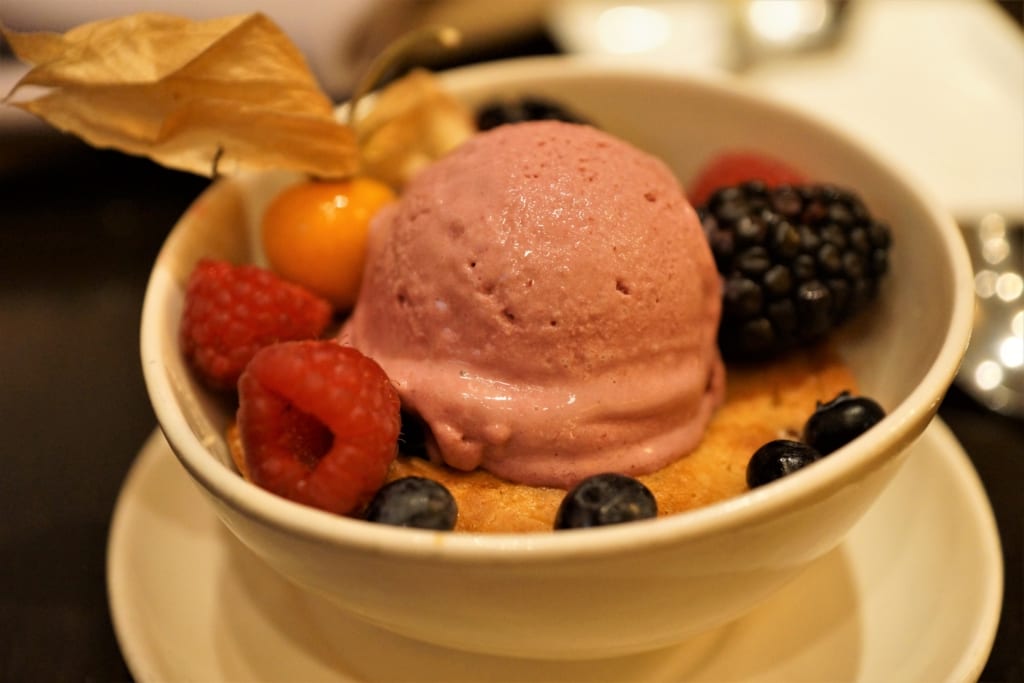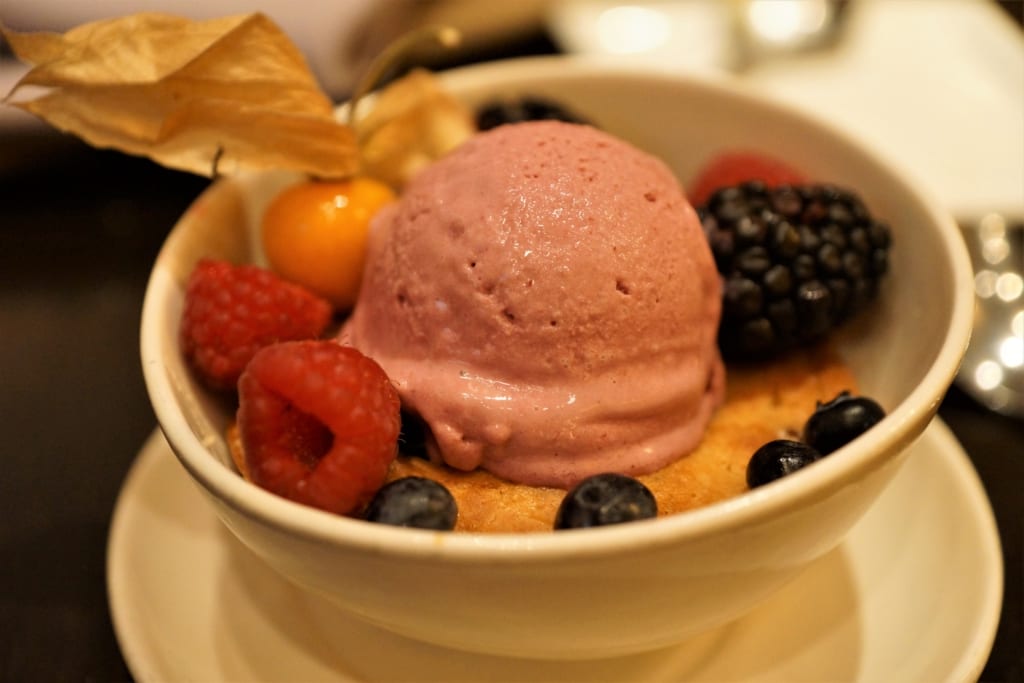 One of the best kept dining secrets in all of Walt Disney World is the Territory Lounge in the Wilderness Lodge Resort. Tucked all the way in the back by Artist Point, this Lounge is an absolute gem of Disney Dining and serves up some of the best Appetizer-Style food around. Since it's a bit off the beaten path many don't even know it's there. And what some don't realize is that if you go during the hours of operation for the award-winning neighbor restaurant Artist Point, you can order a some of the Signature items from the Artist Point menu! I'm in! 😉
The Territory Lounge is a Bar/Lounge Dining Location in the Wilderness Lodge Resort. It serves up American style Cuisine, mostly Appetizers and Finger Foods: Soups, Wings, Burgers, Nachos, Flatbreads, and even Dessert. Unfortunately it doesn't accept the Disney Dining Plan so don't plan on using your credits to come here. That being said, it's definitely worth the trip over even if you have to pay out of pocket. There's no need for an ADR either as the Territory Lounge doesn't accept them, so just go on over and grab a seat, most likely there won't be a wait!
So now on to my Territory Lounge Full Review…
Atmosphere:
I absolutely love the atmosphere here at the Territory Lounge, that's one of the reasons I came! First of all it's located at the Wilderness Lodge Resort, which is an amazing resort in of itself. If you like the styling of the Pacific Northwest, that rustic, outdoorsy feel, then you will flip your lid for this place! Even if you aren't staying at the Wilderness Lodge Resort, I still think it's worth it for you to make your way over, after all, checking out all the Disney properties is one of the coolest things to do while your in Disney and it gives you a great opportunity.
We were staying at the Beach Club this trip like usual, and we planned to go to the Territory Lodge for drinks and appetizers on our way over to the Magic Kingdom. From there we took the ferryboat to the park and it was great!
To get to the Territory Lounge go to the Front of the Wilderness Lodge, right to the main entrance: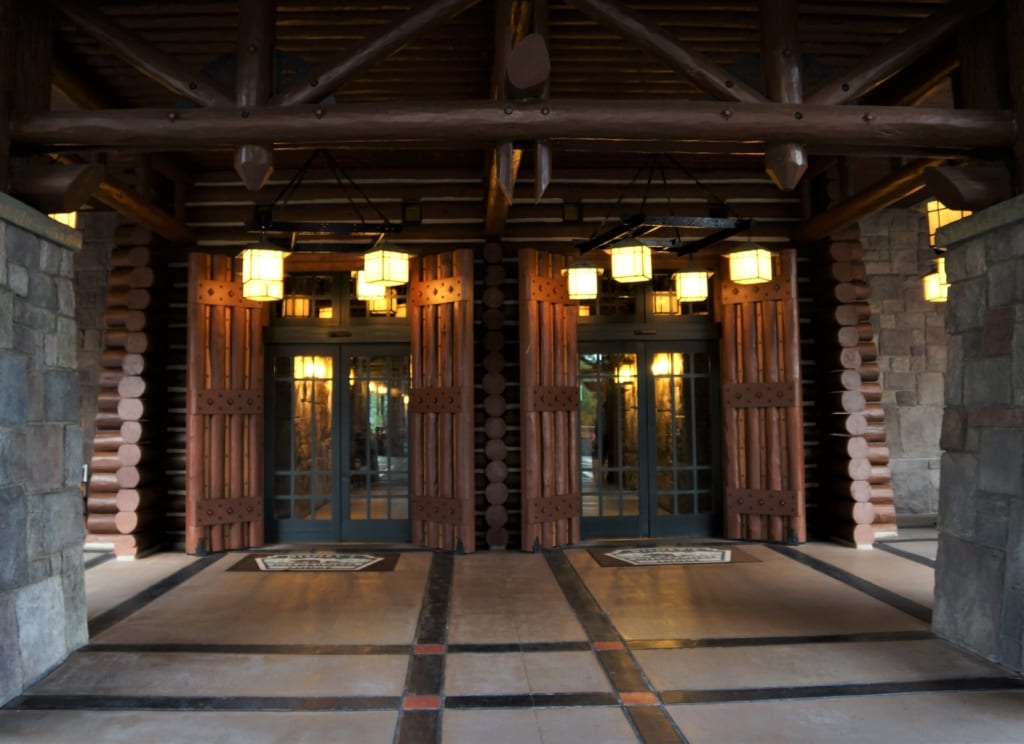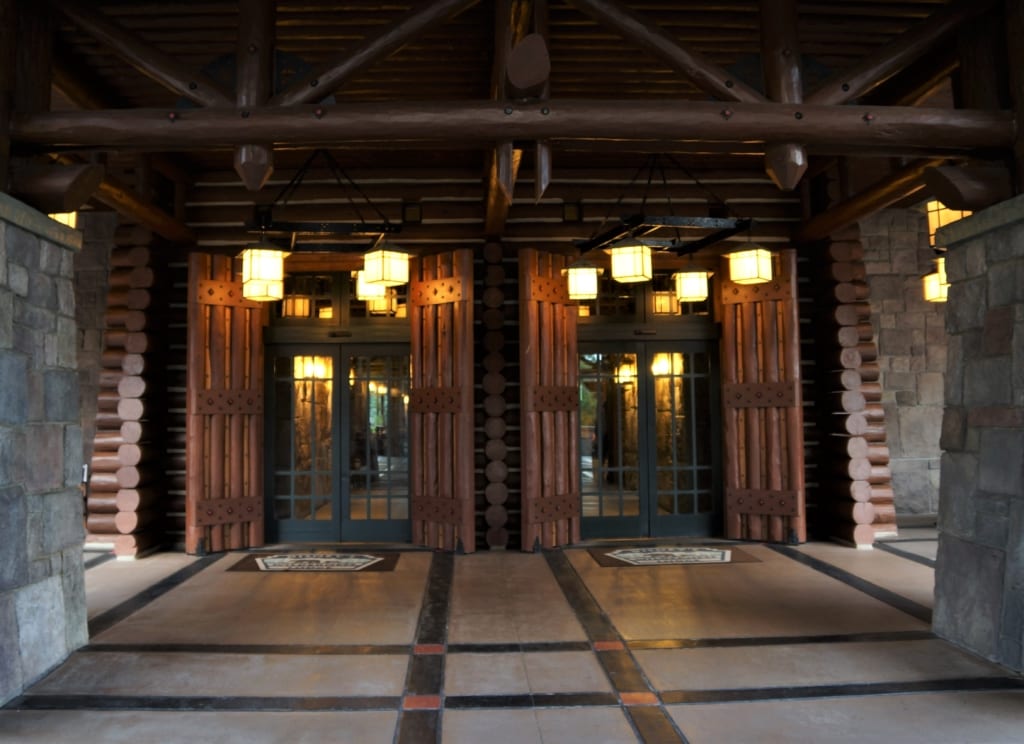 Go right on up to the Paul Bunyan Sized Log Cabin Doors: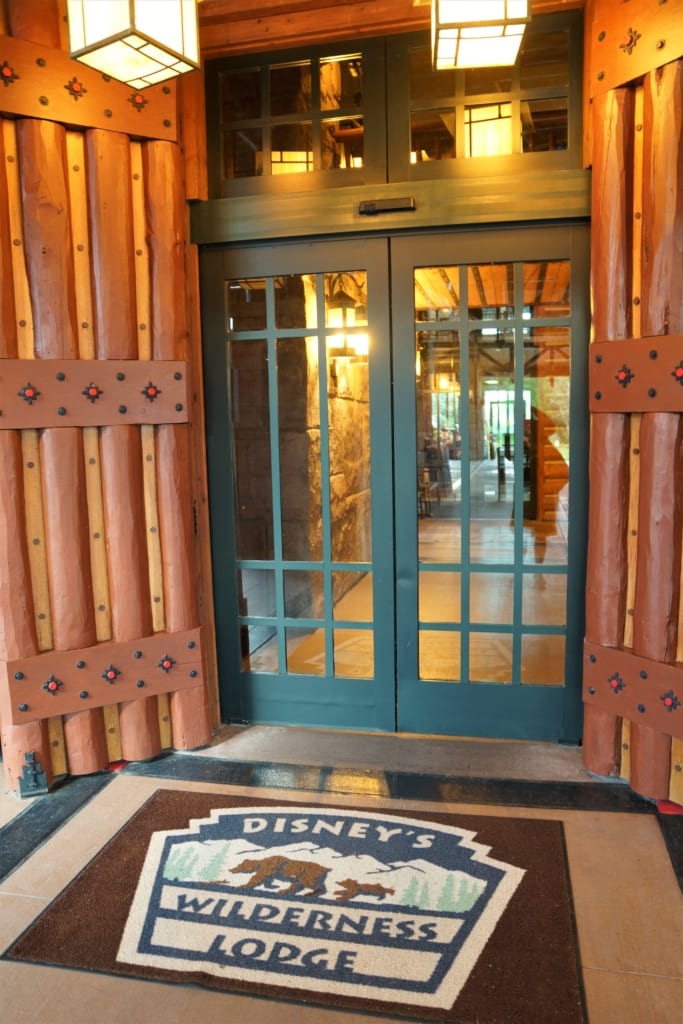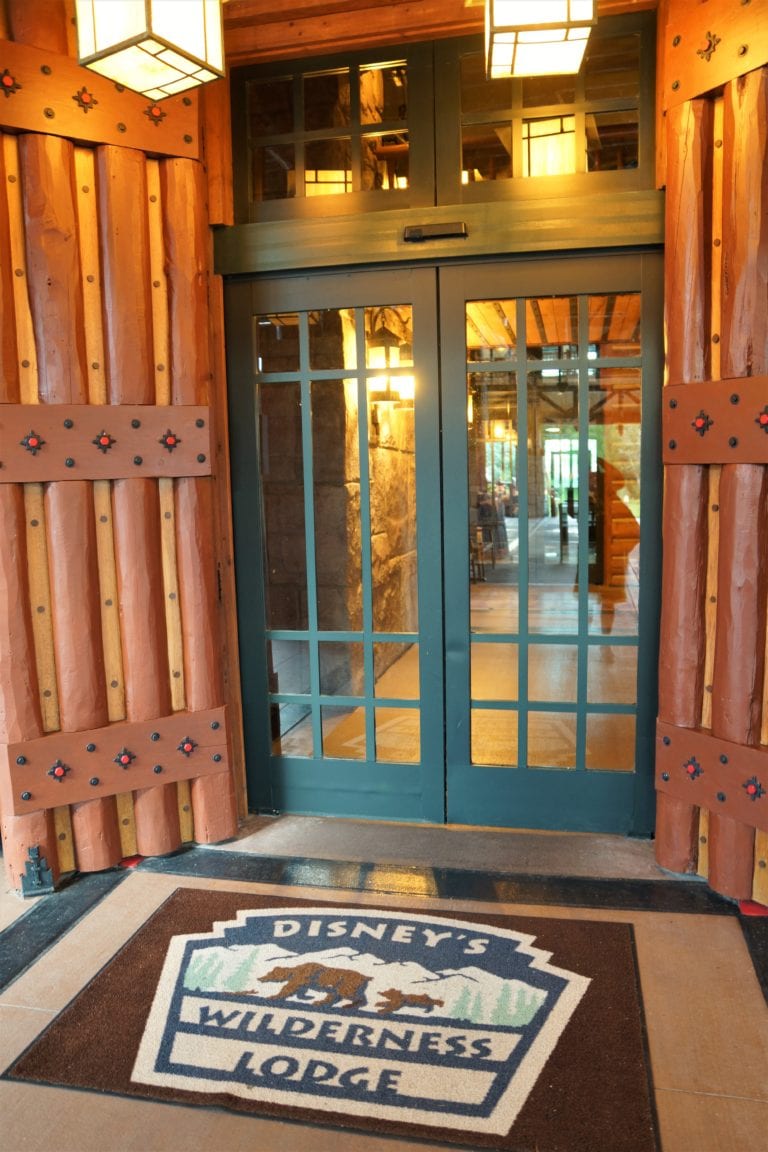 You'll love the interior of the Wilderness Lodge Lobby, it's amazing, maybe the best in WDW: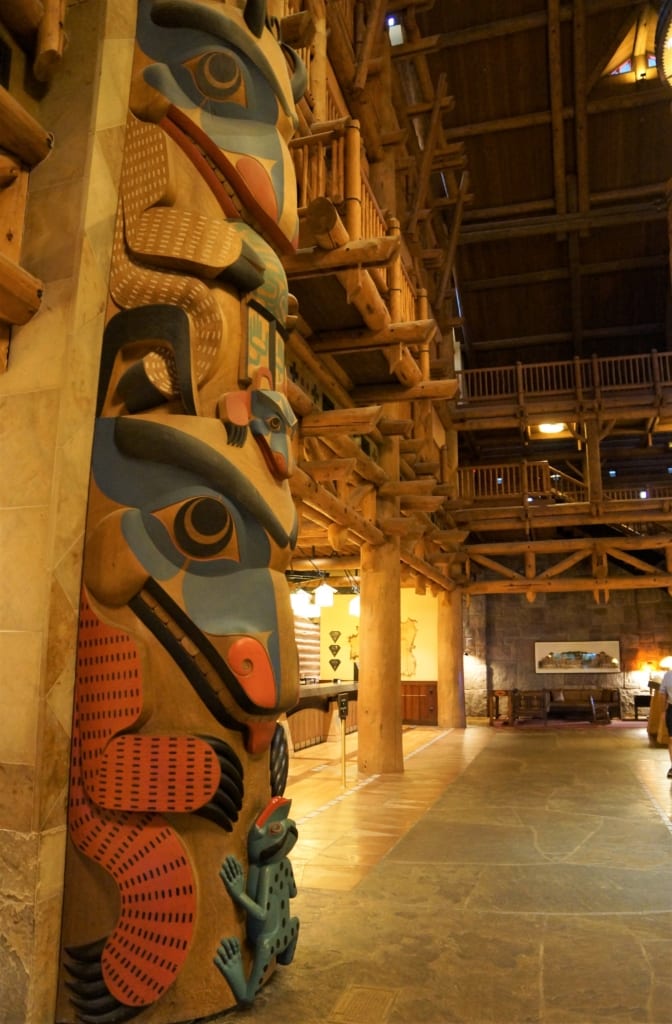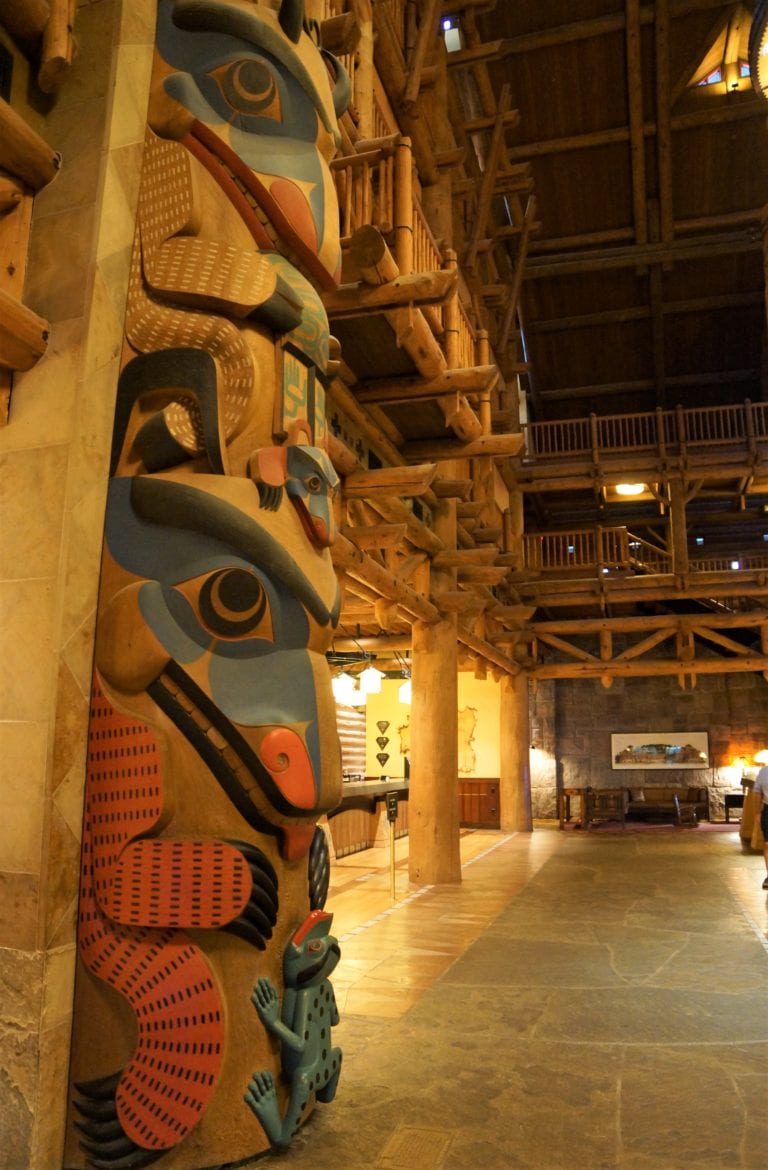 Love the super high ceiling and pillars: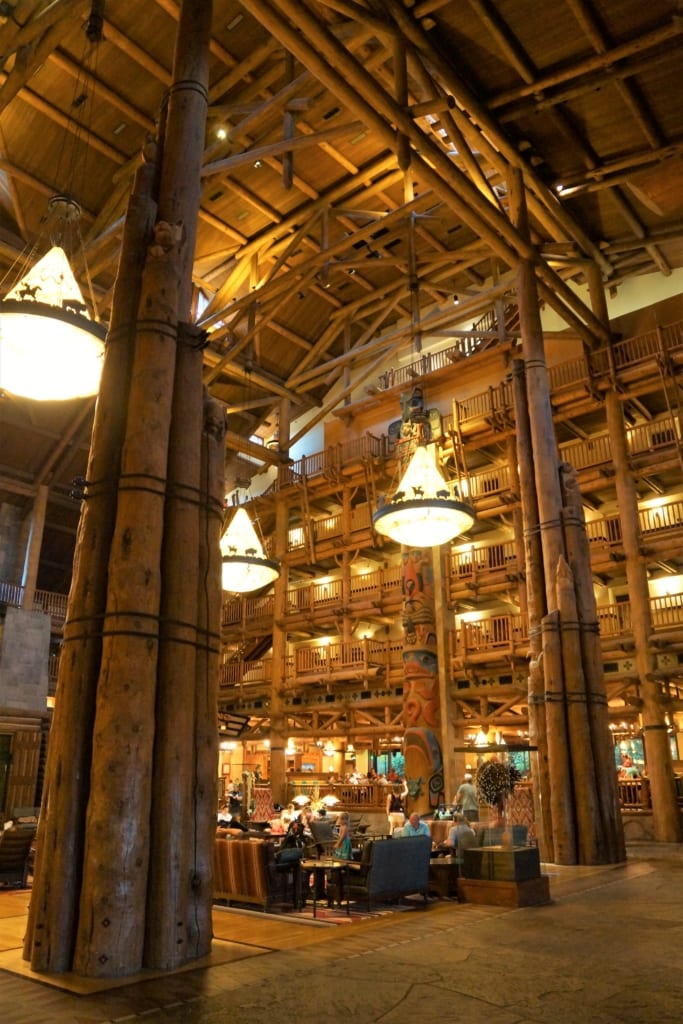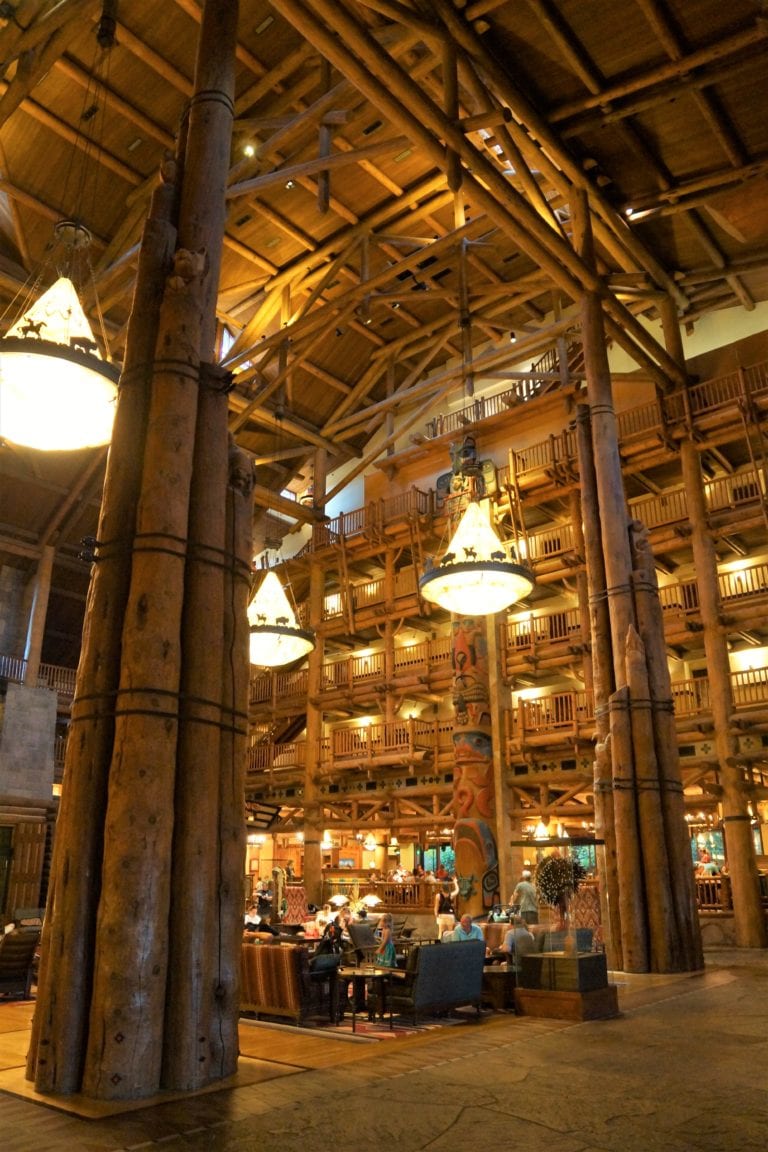 Either before or after your food you can take a seat in one of these awesome Rocking Chairs in front of the Gigantic Fireplace! No, time to sleep, we're hungry! Keep moving!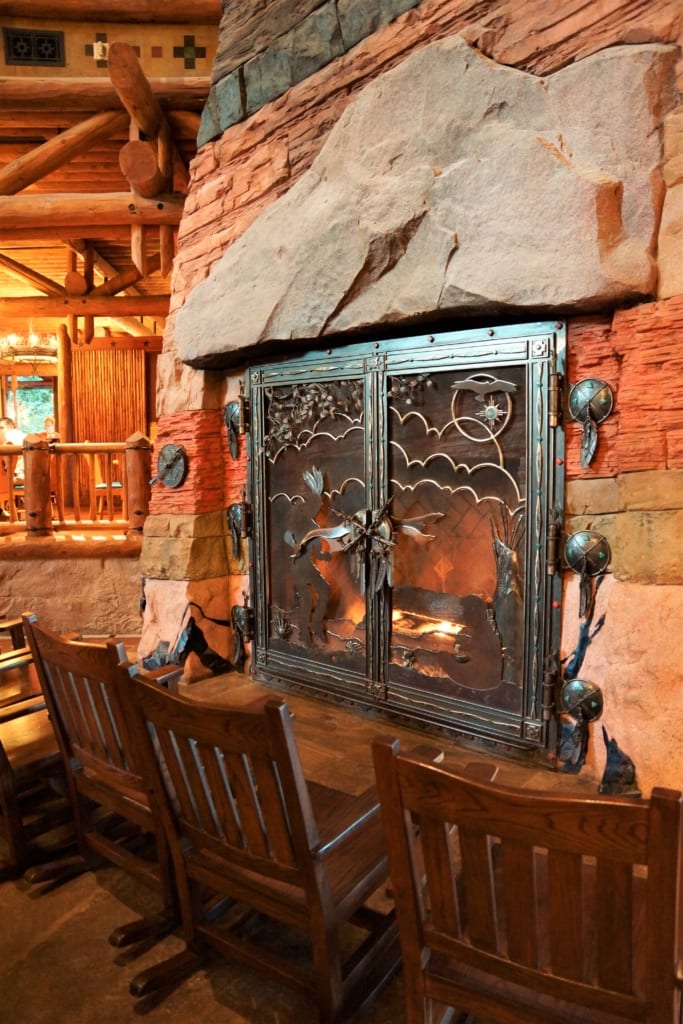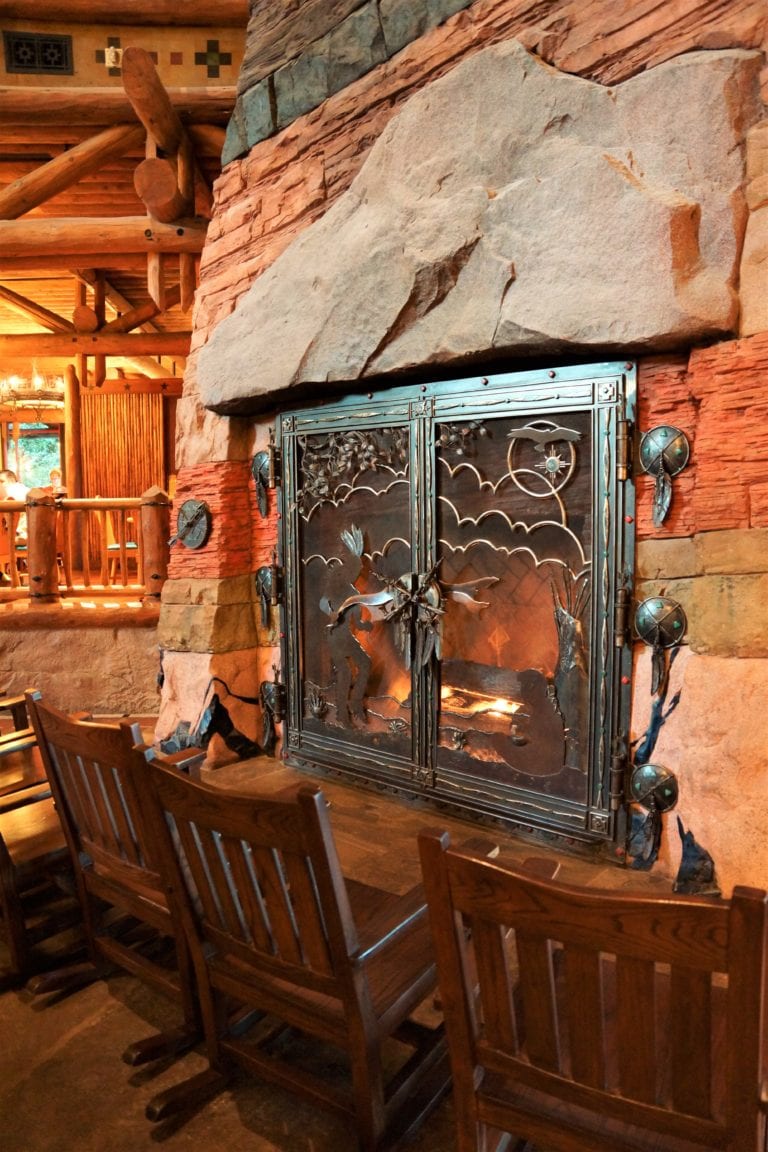 Go around the the back left of the lobby, towards the ramp leading you outside, but make a sharp left first and you'll see the entrance to both Territory Lounge and Artist Point, the first room on the left is the Territory Lounge.
Right when you walk in you'll get that cozy, Pacific Northwest vibe. There's even a map retracing the route that Lewis and Clark took while making there way across the west: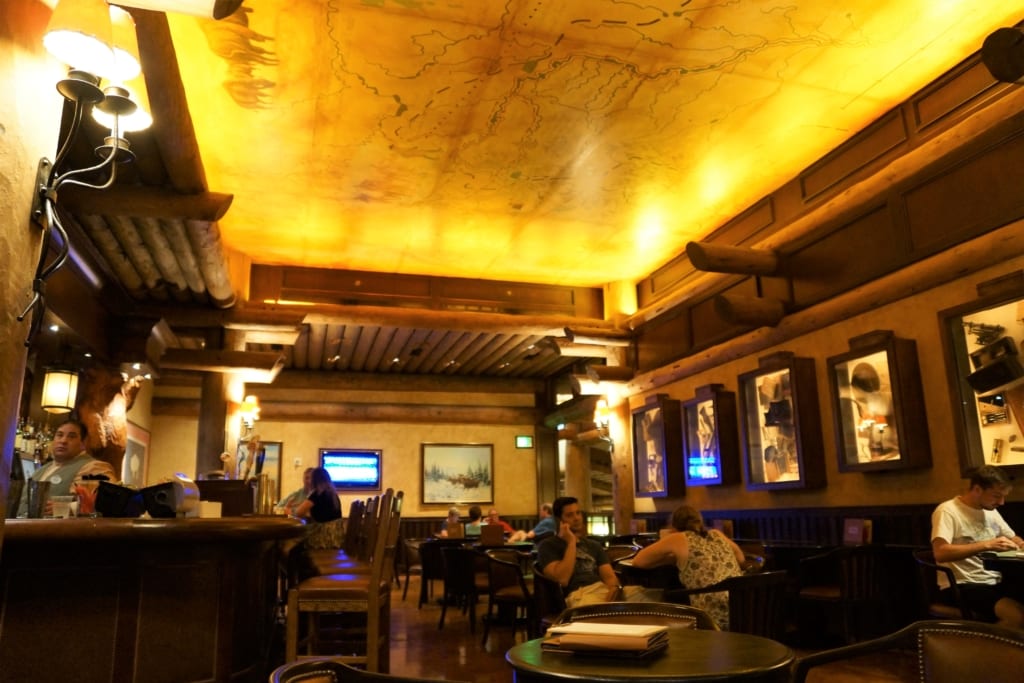 You'll notice all sorts of cool Frontier artifacts on the walls like boots, binoculars, hats, maps, photos and even an old camera: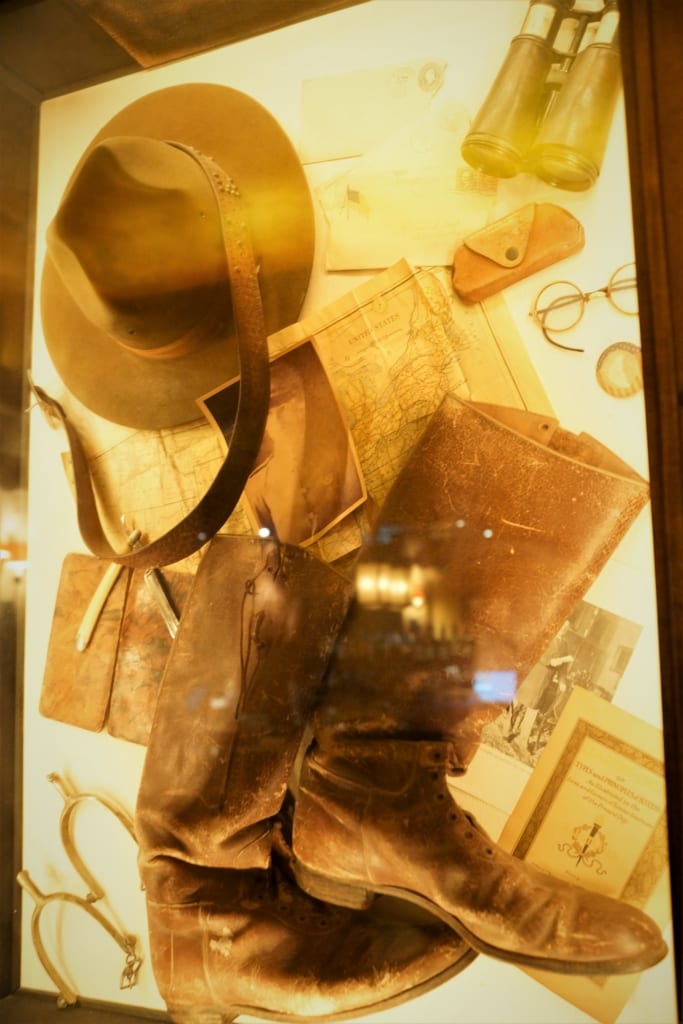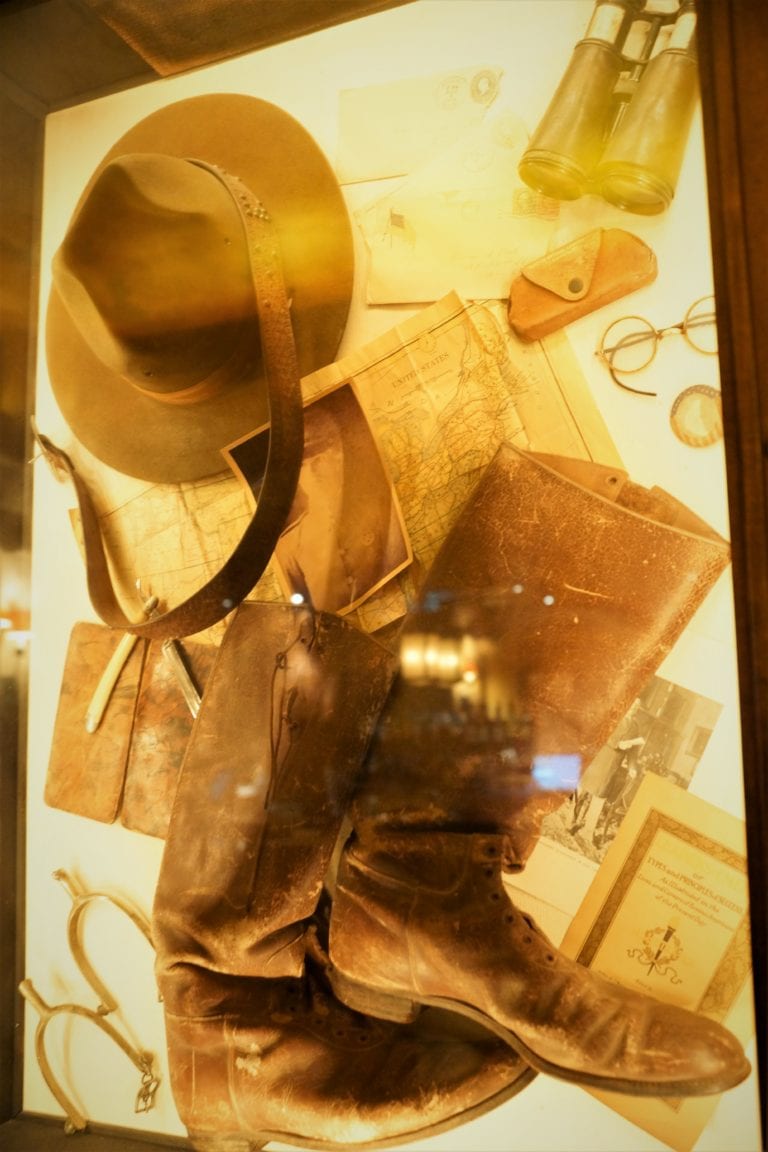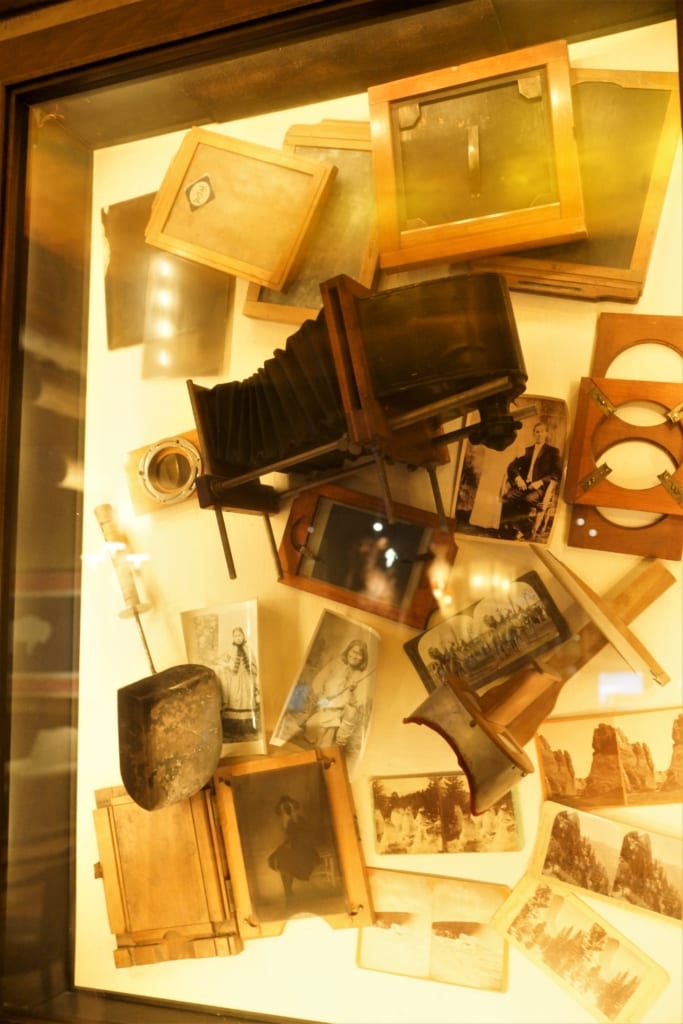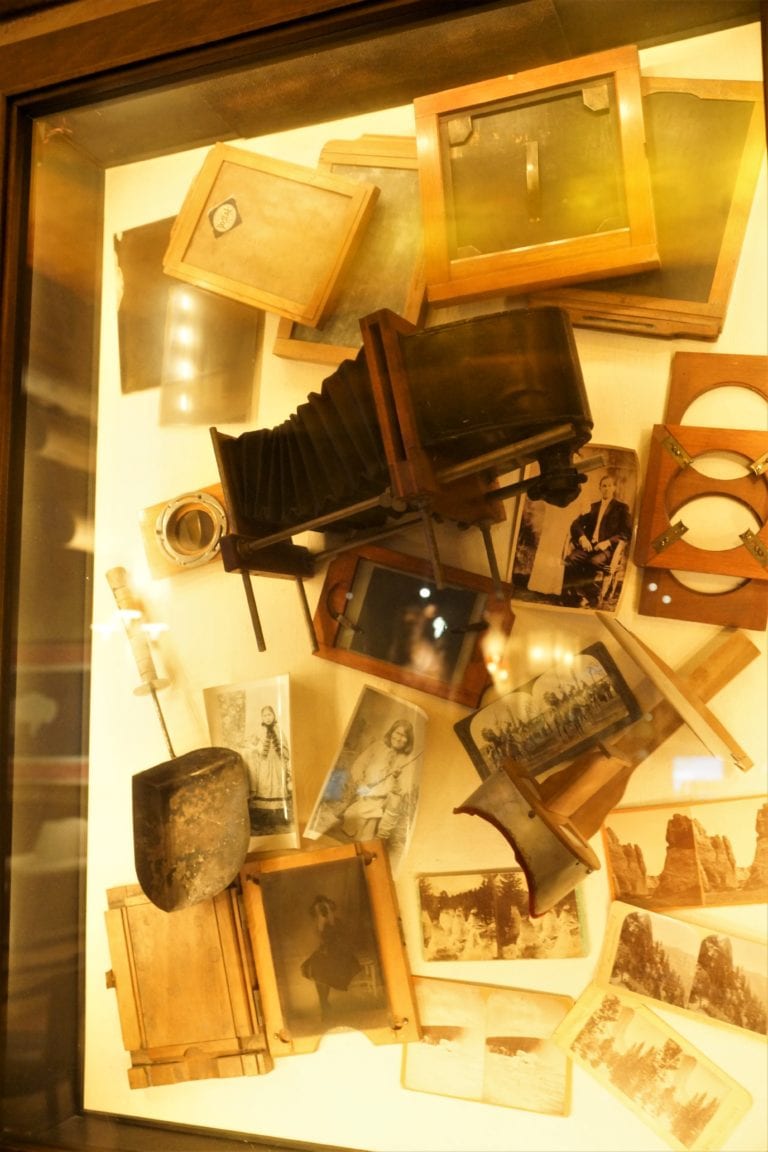 The walls have some great paintings of the Northwestern wildlife as well including Elk and Deer: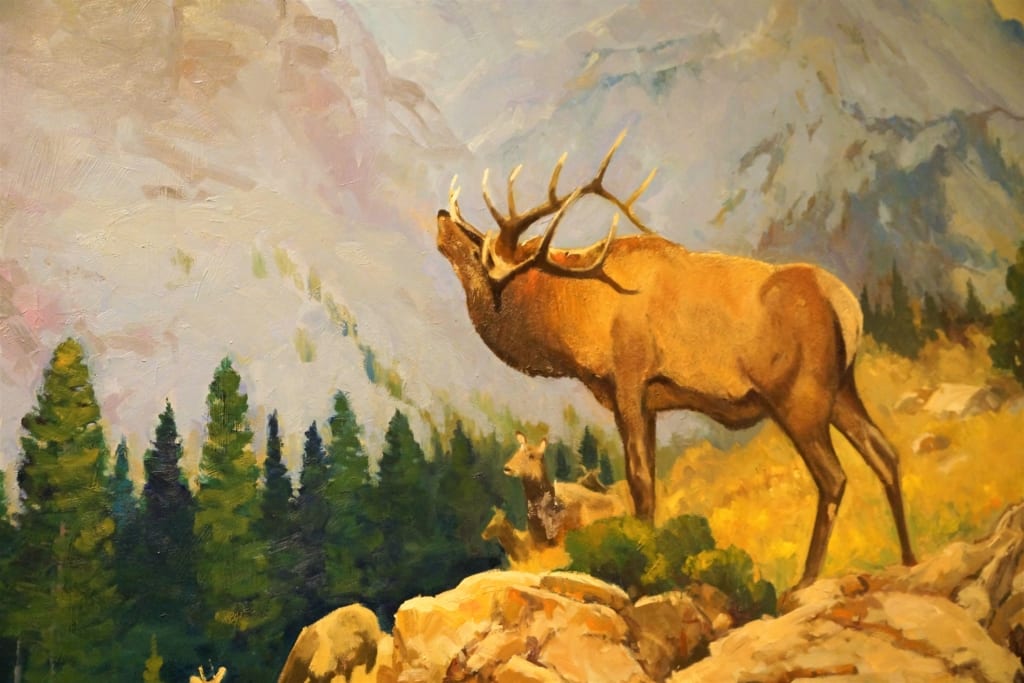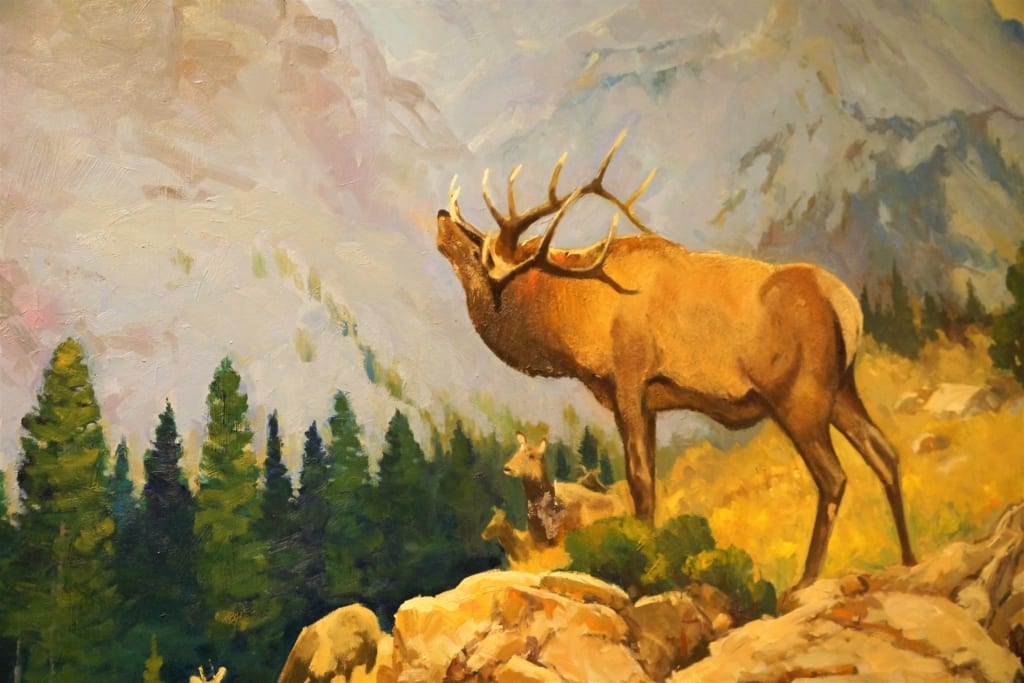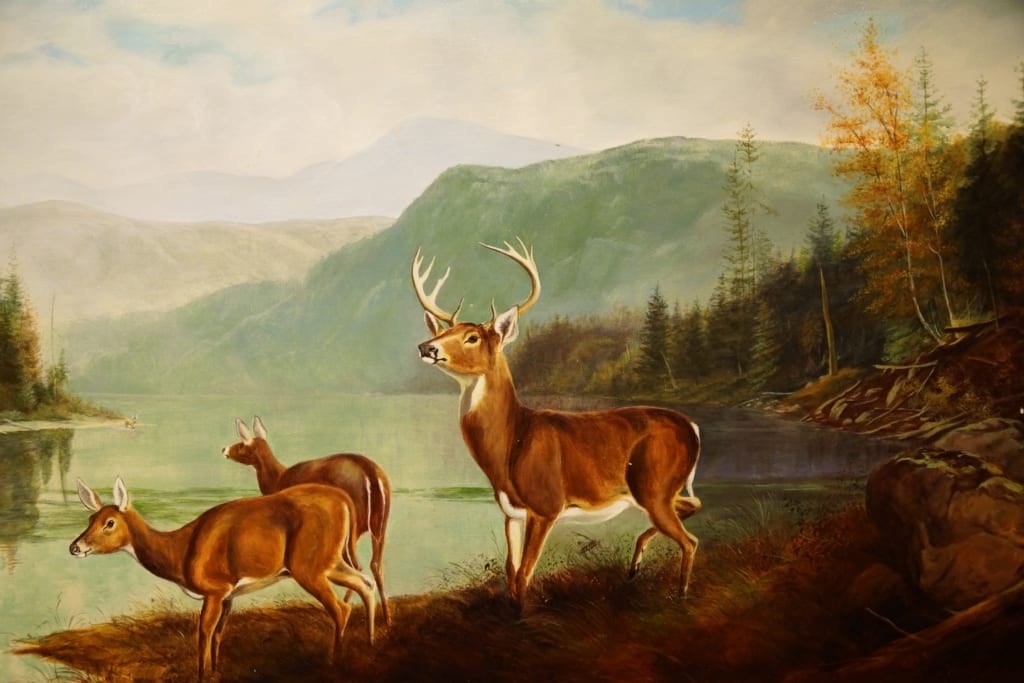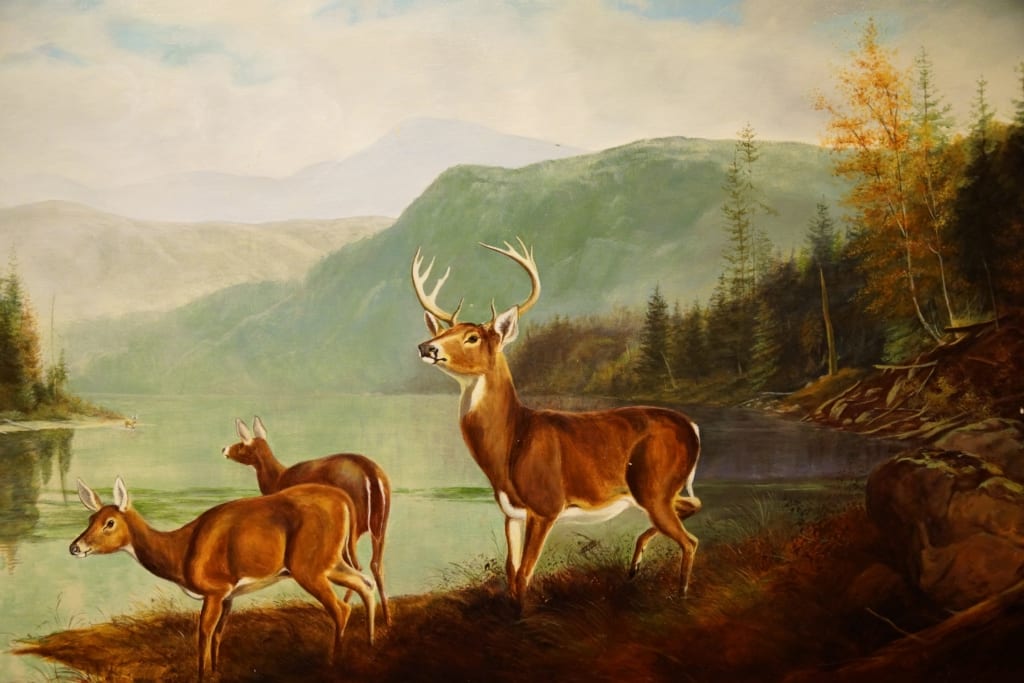 I love the old maps too, they really transport you back to another age. I could read them forever, they're full of awesome details: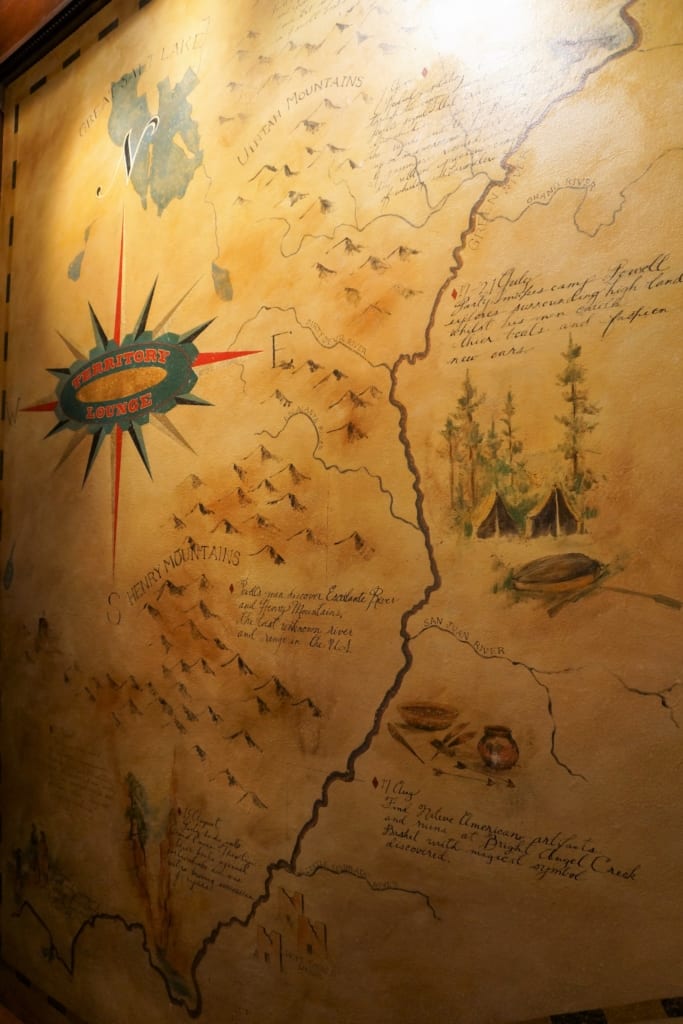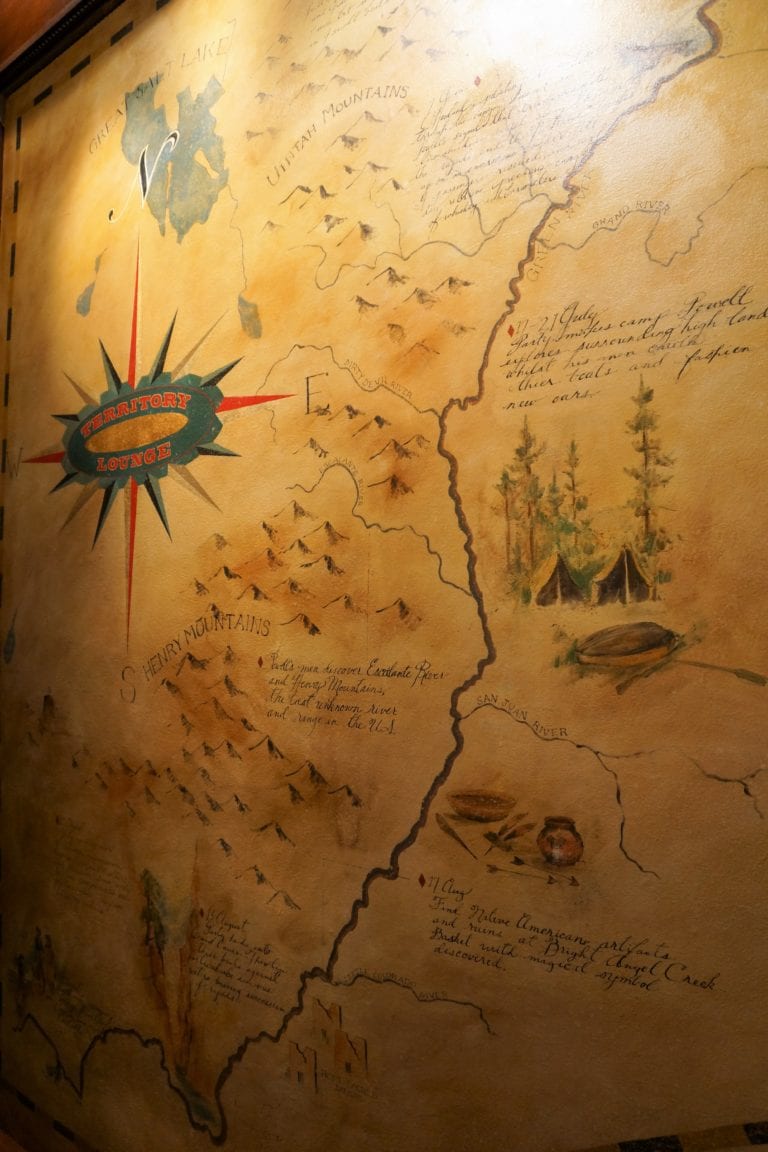 The old style light fixtures are a nice touch: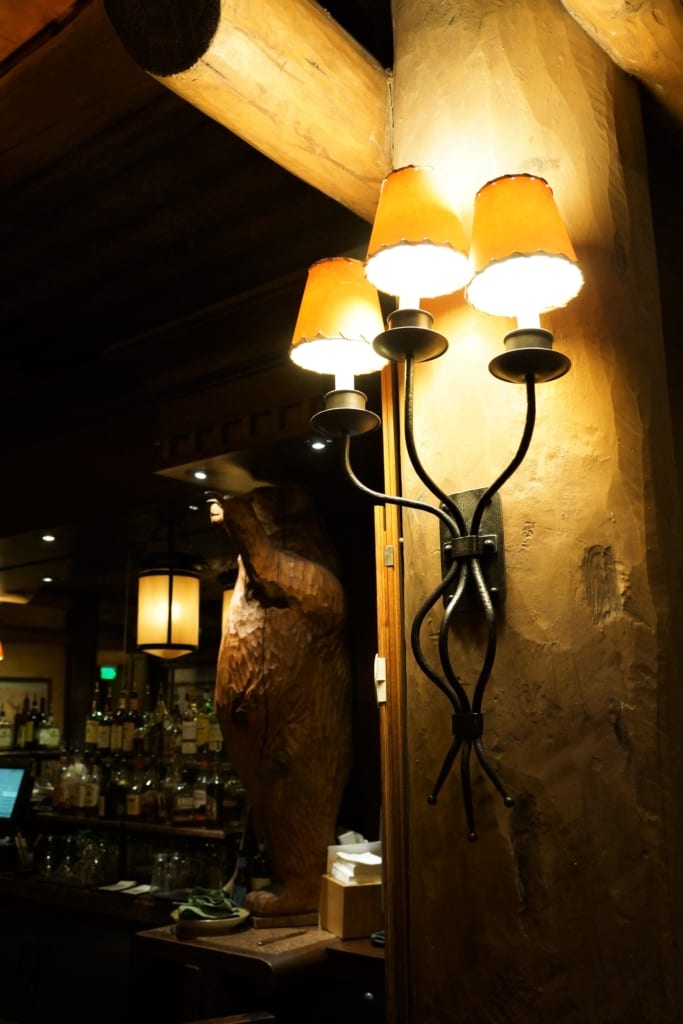 The barmen are always friendly and willing to help. I love the Grizzly Bear Pillars holding the room up!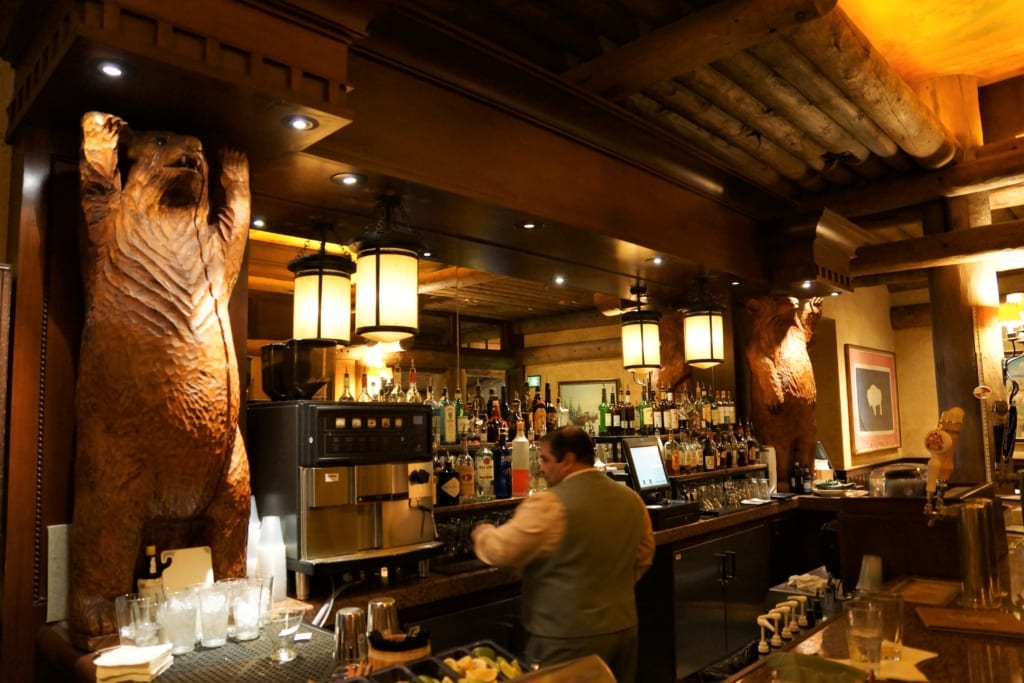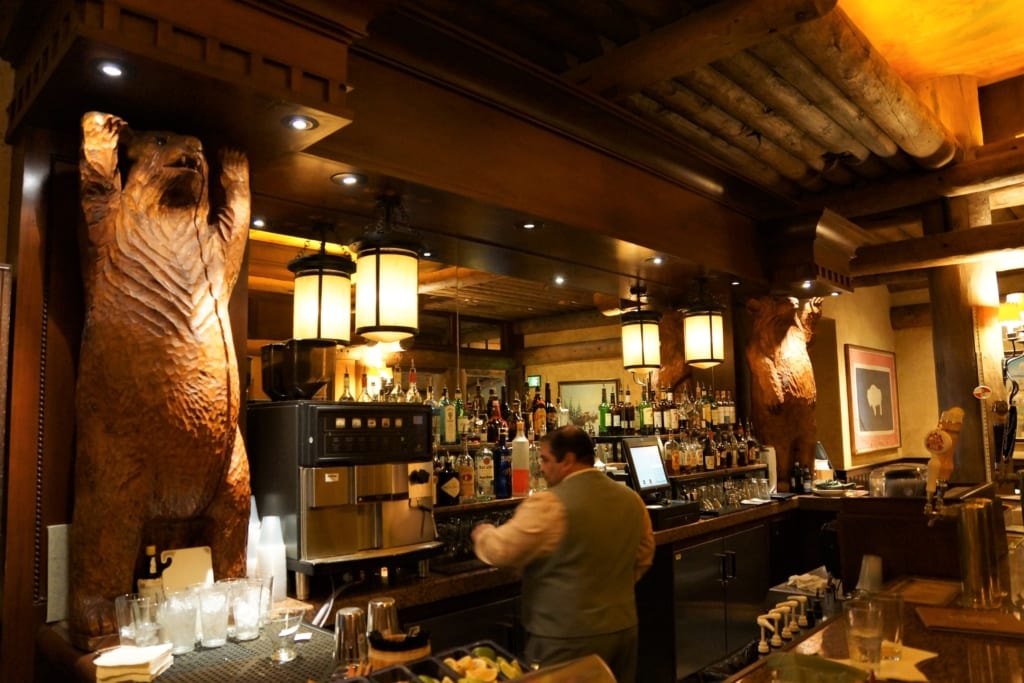 There are plenty of great seating areas too: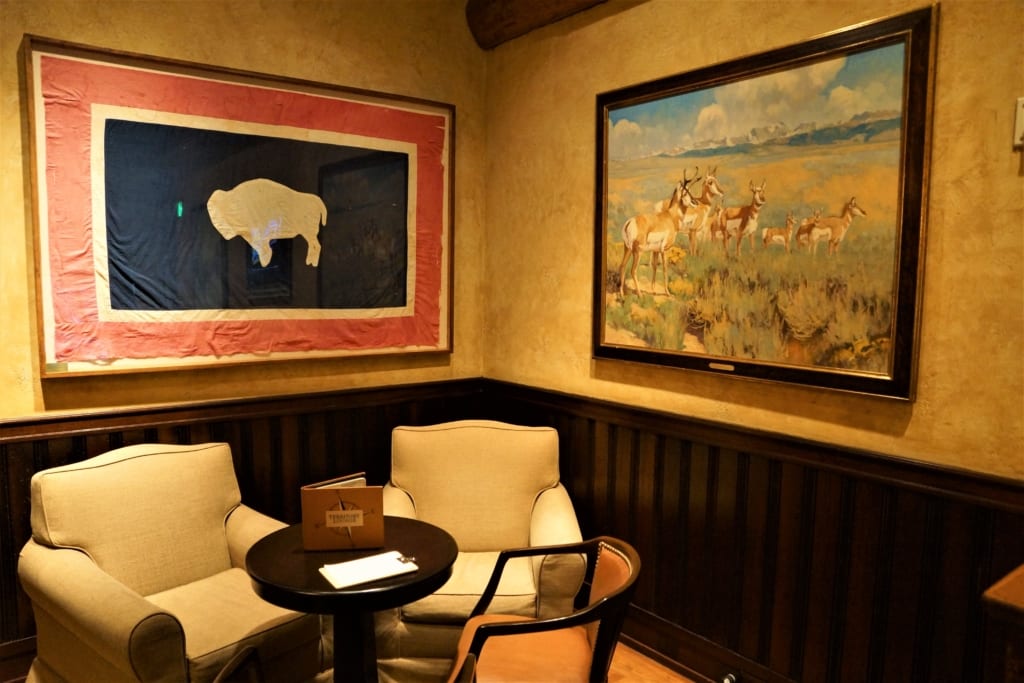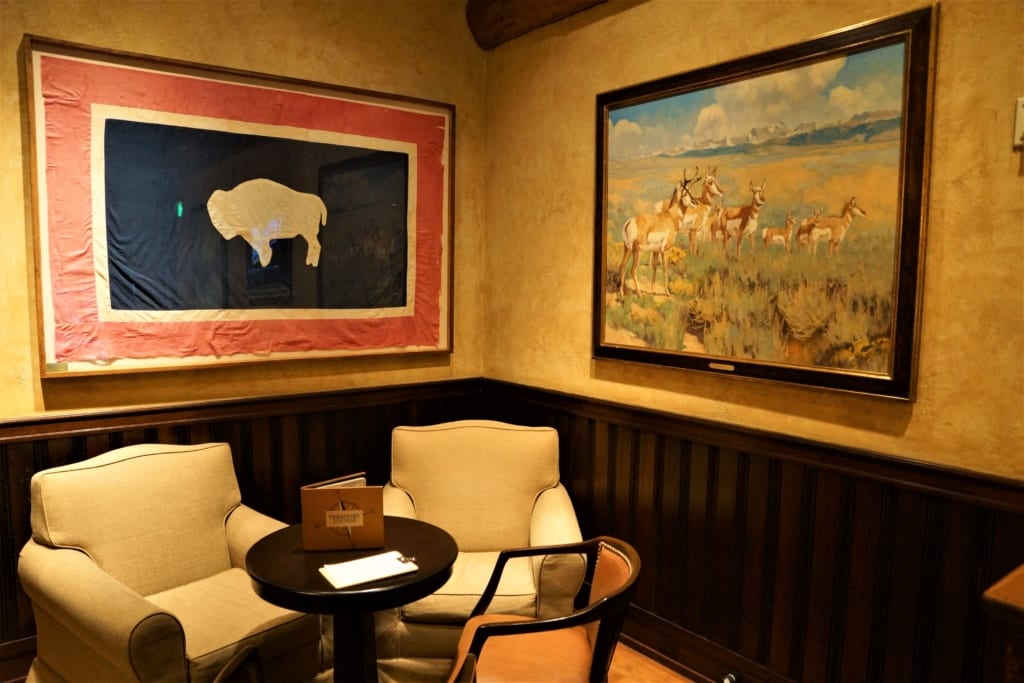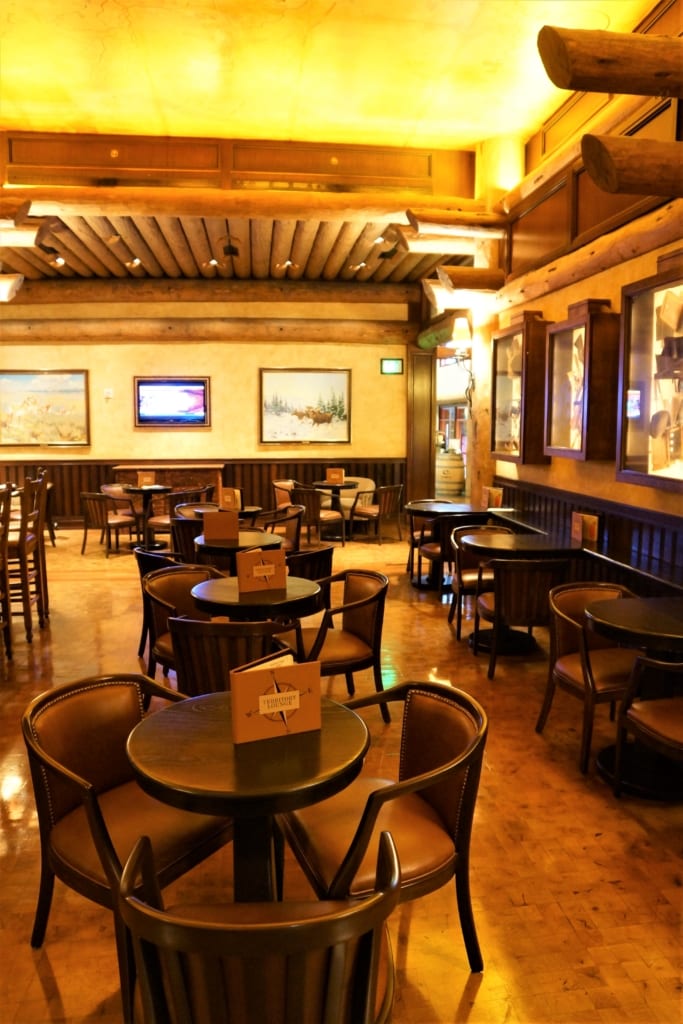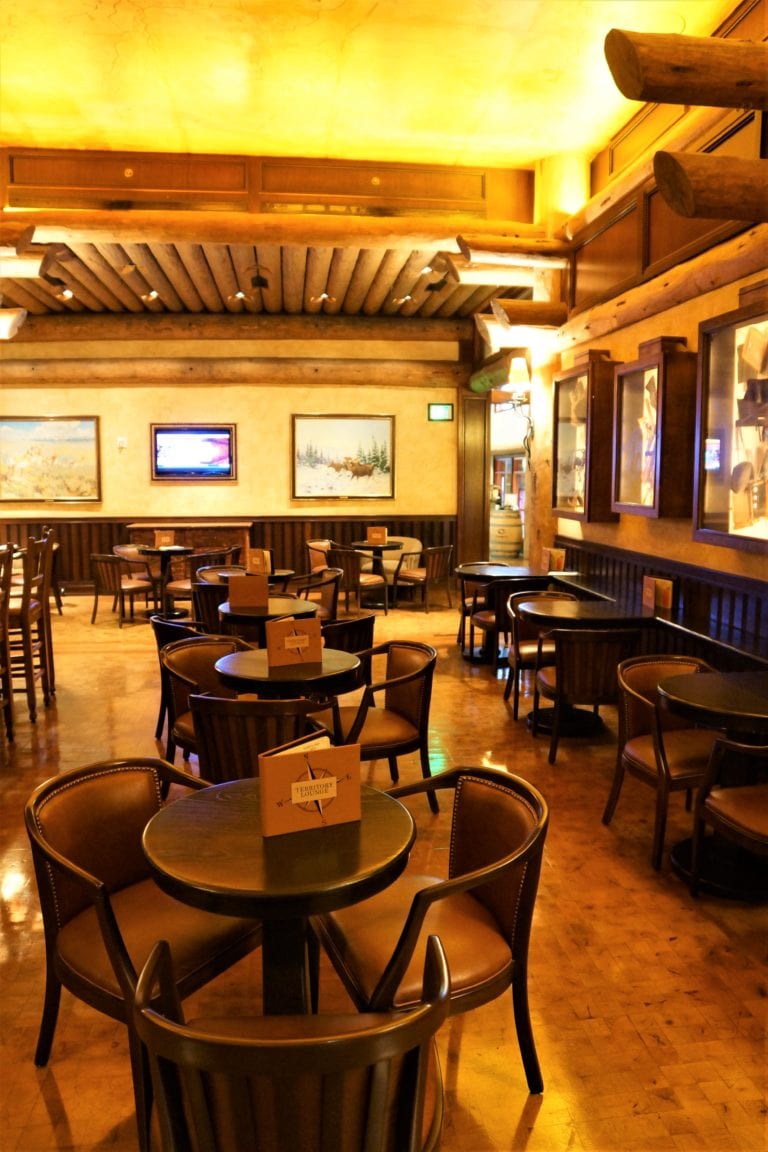 These chairs are super comfy to sit down and sip your drink in: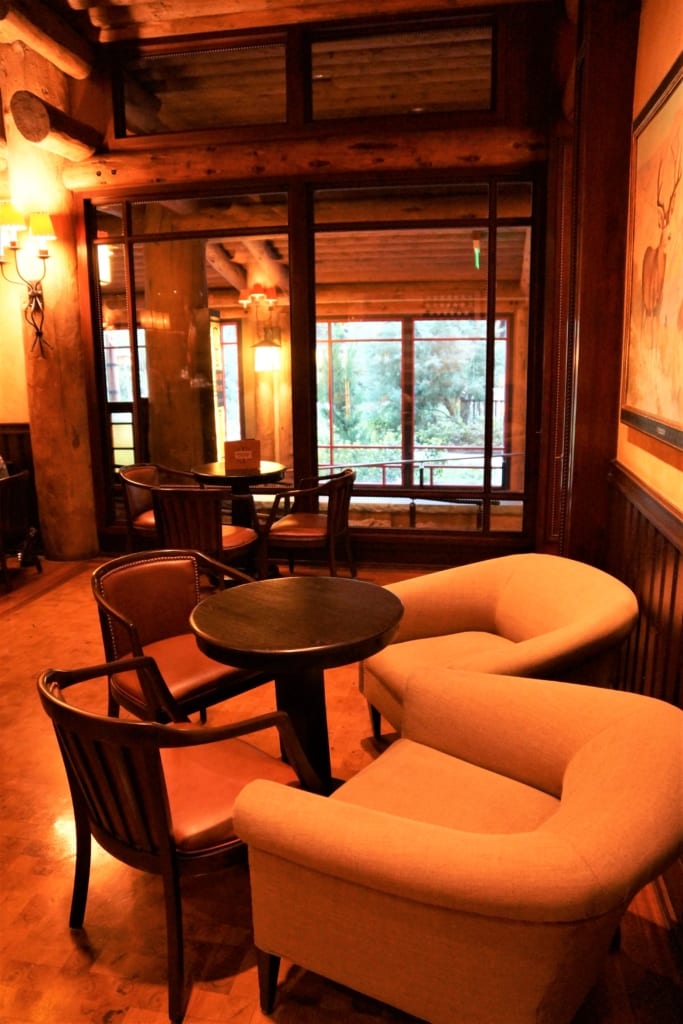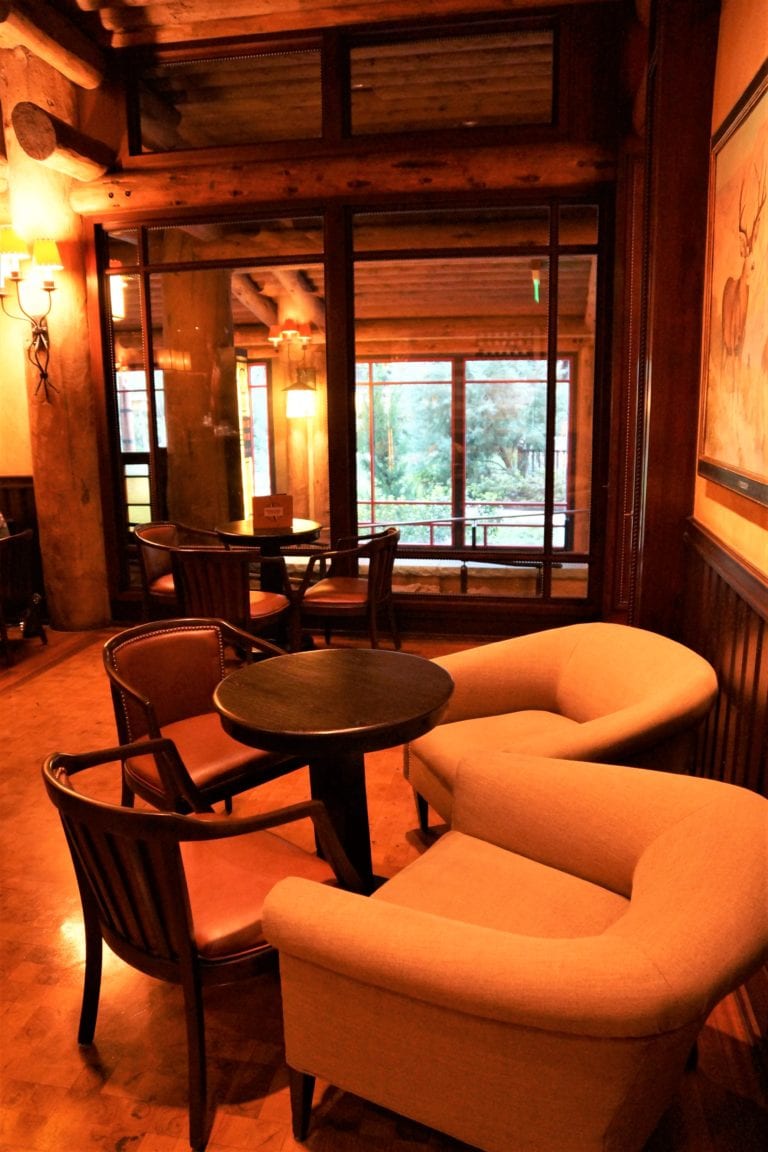 Ok so now you've got a feel for the place, let's get down to what we really came for: the eats!
Food: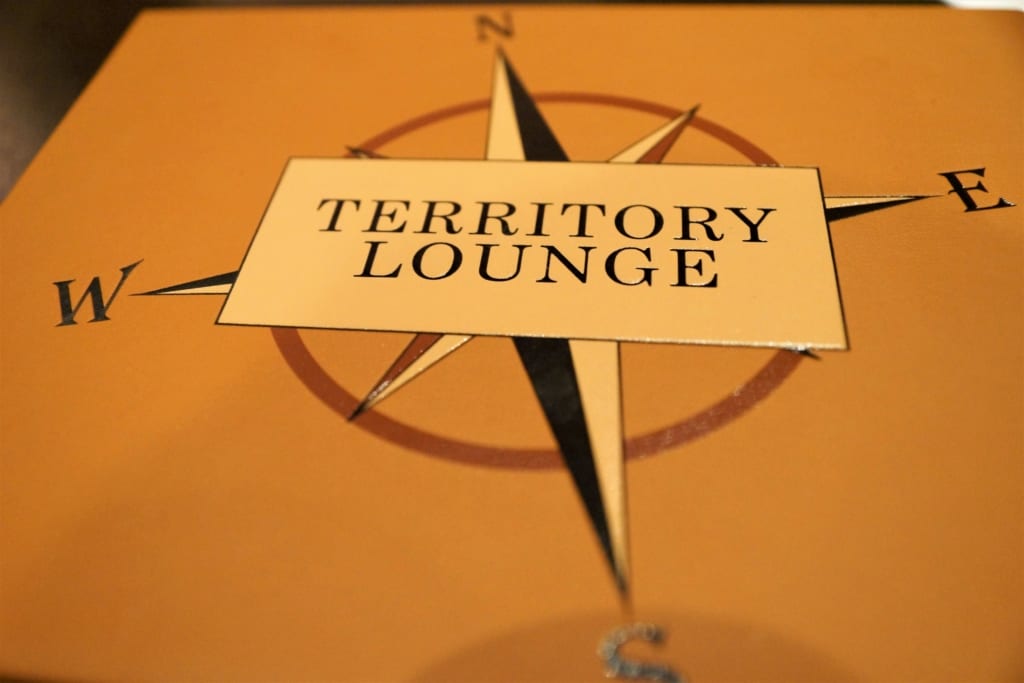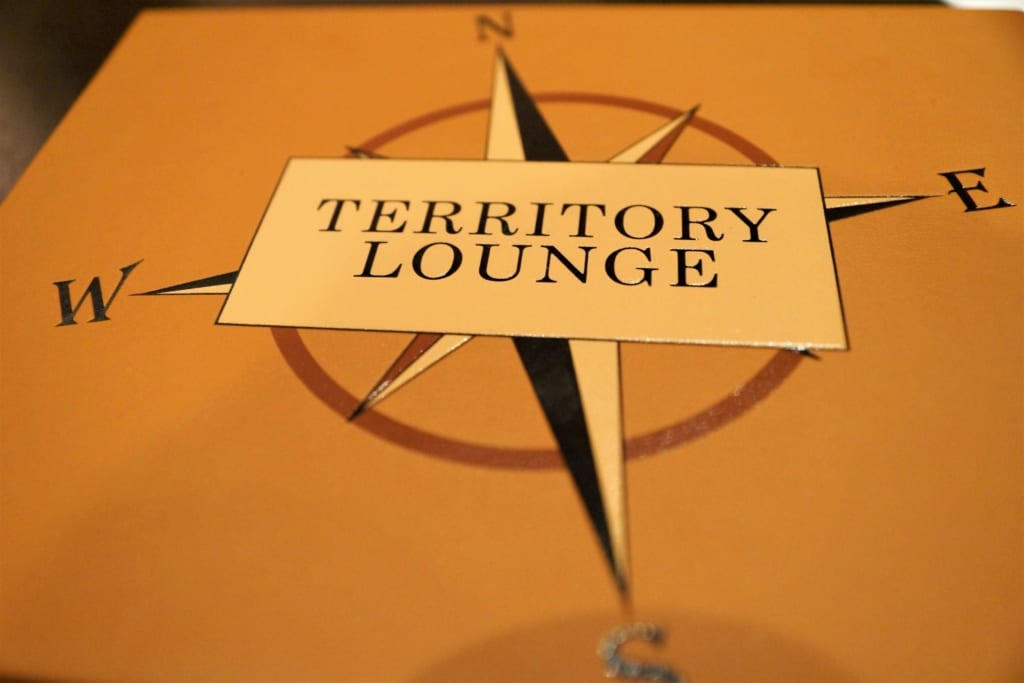 I'm getting deja vu as I think I've seen this Menu Cover before: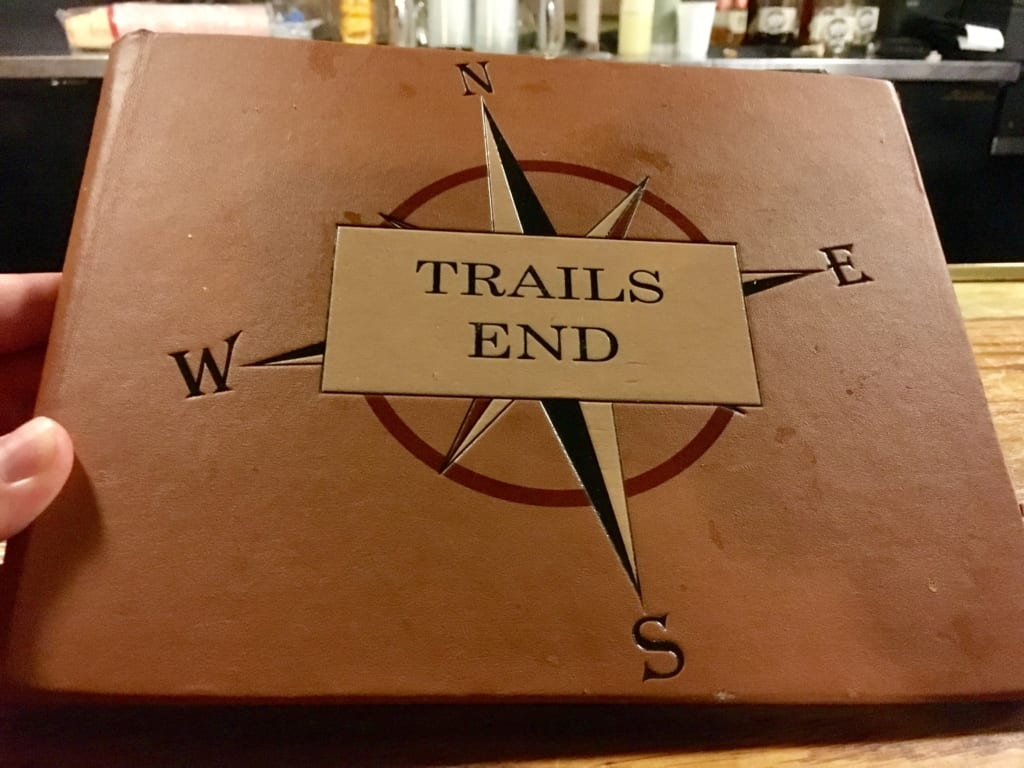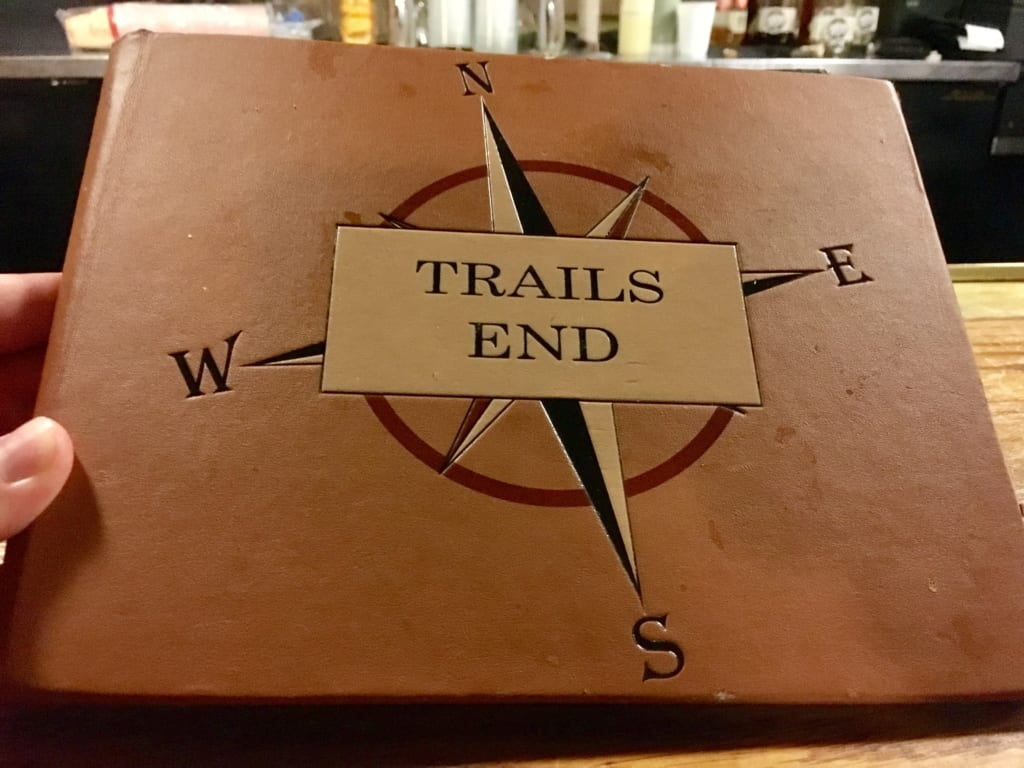 They could have at least sprung for something original…oh well.
We started out looking at the Drink Menu: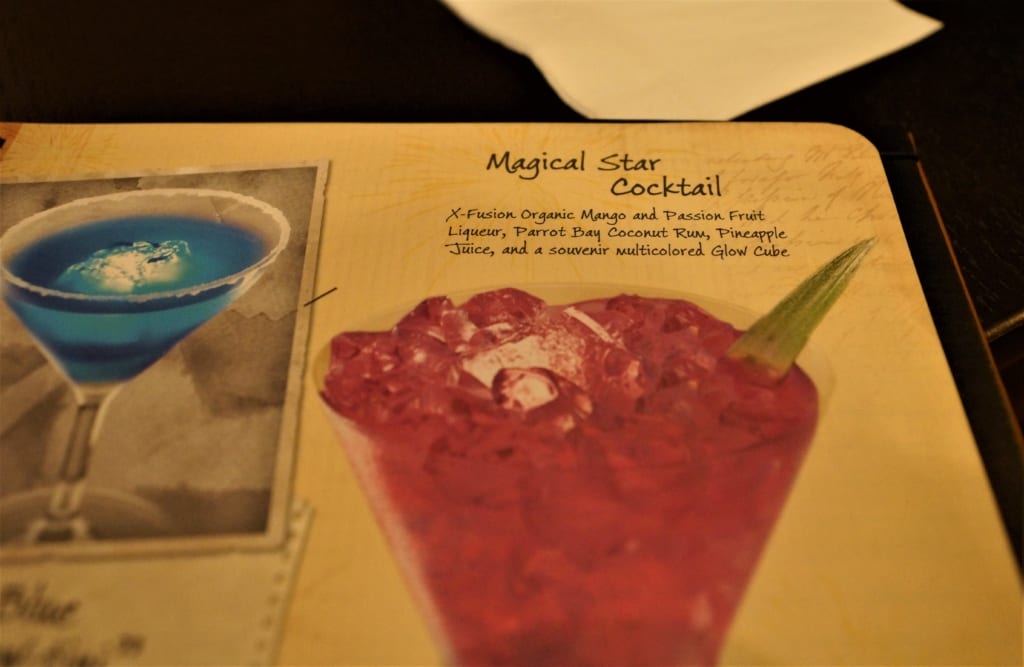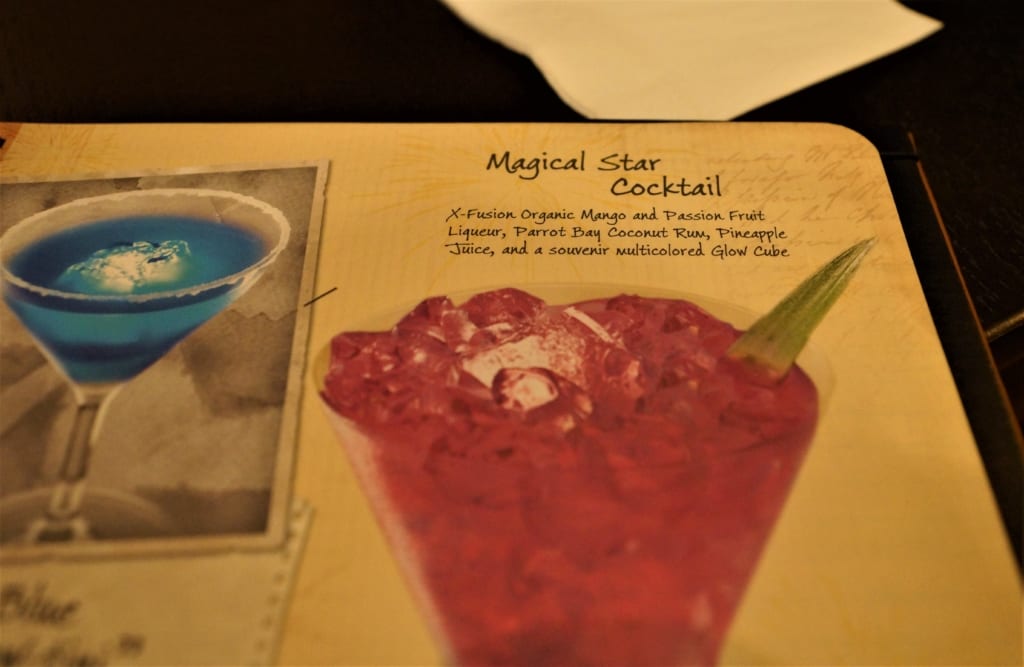 Territory Lounge serves up many of your standard Disney World Cocktails: Magical Star, Mai Tai, and a variety of Mojitos and Margaritas, as well as some specialty cocktails of its own.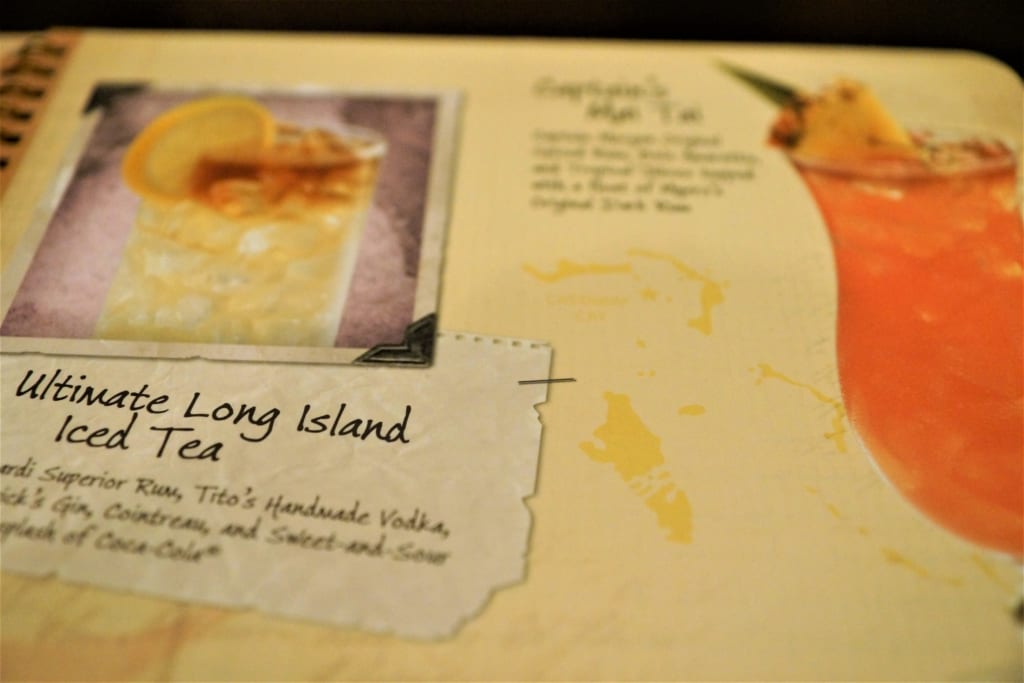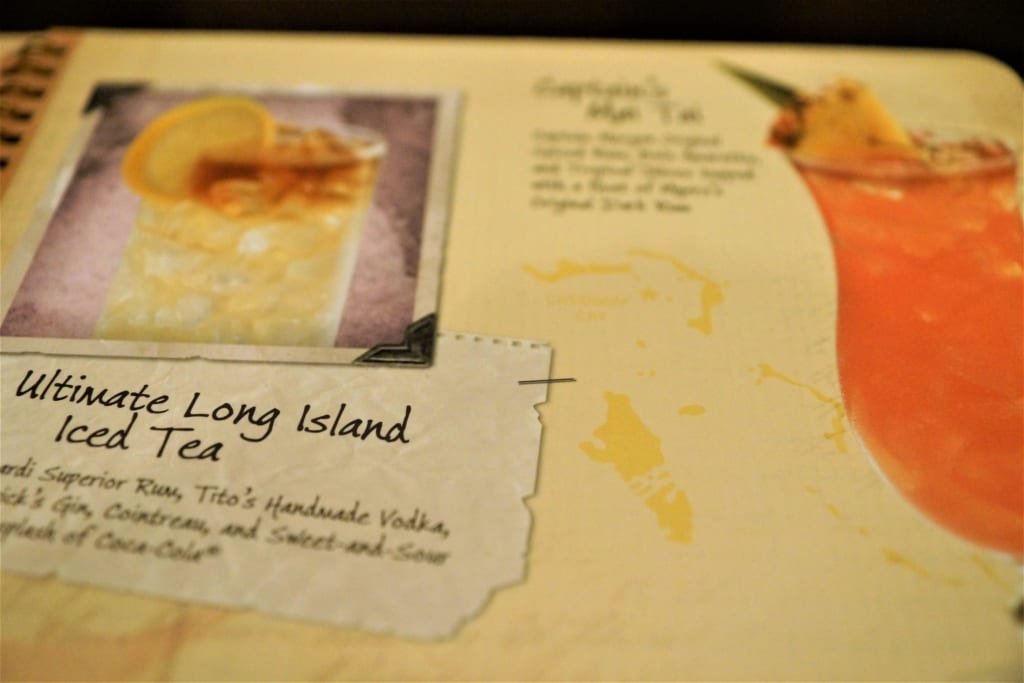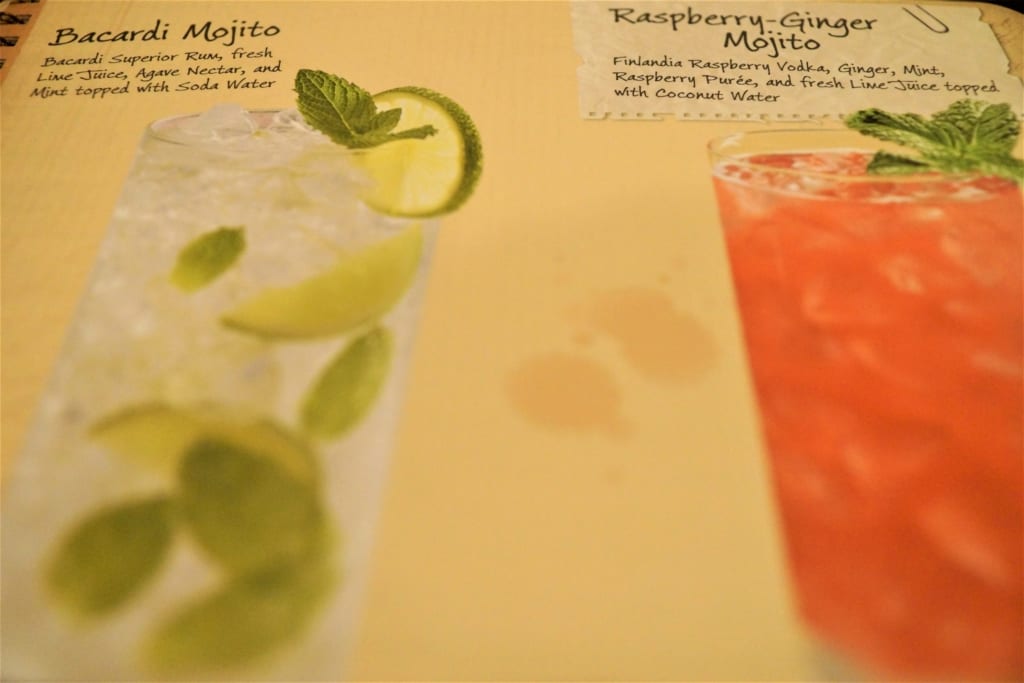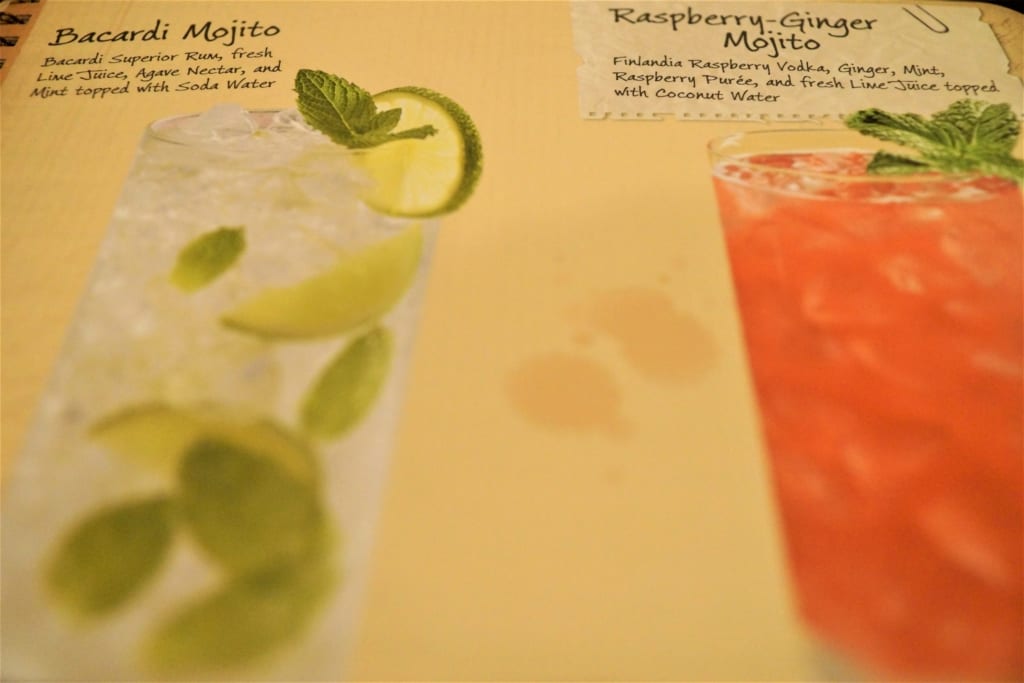 Besides Cocktails, it also has an award winning Wine Cellar which it shares with Artist Point, where you'll find many high quality wines from the Washington and Oregon region. There's also a nice Beer list including Sam Adams White Ale, Red Hook and Moosehead.
The first thing we went with was a Smoked Turkey: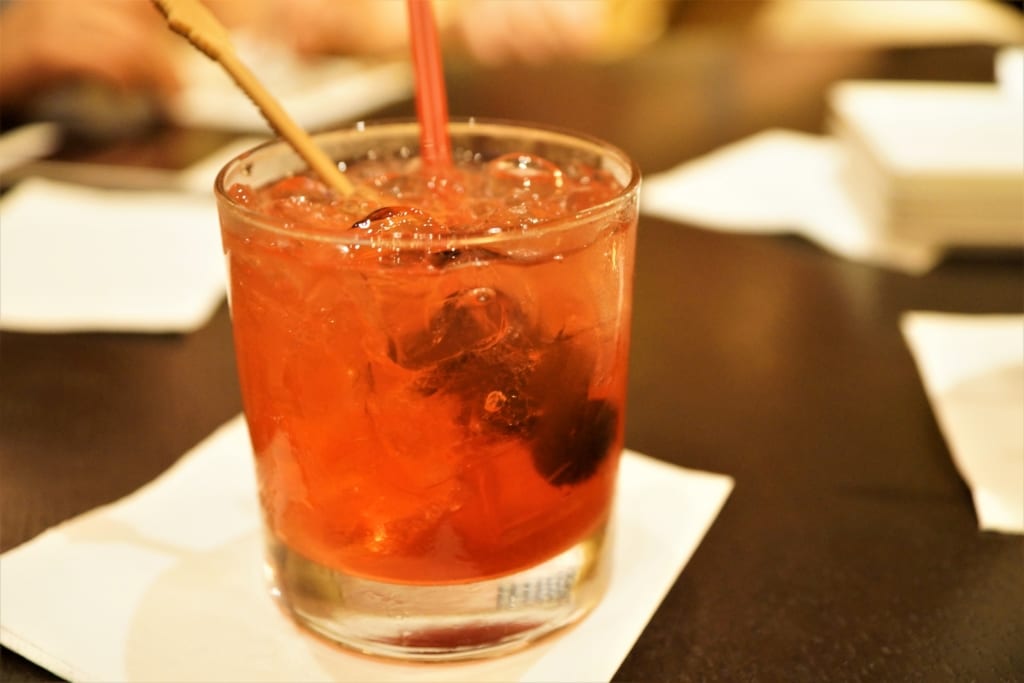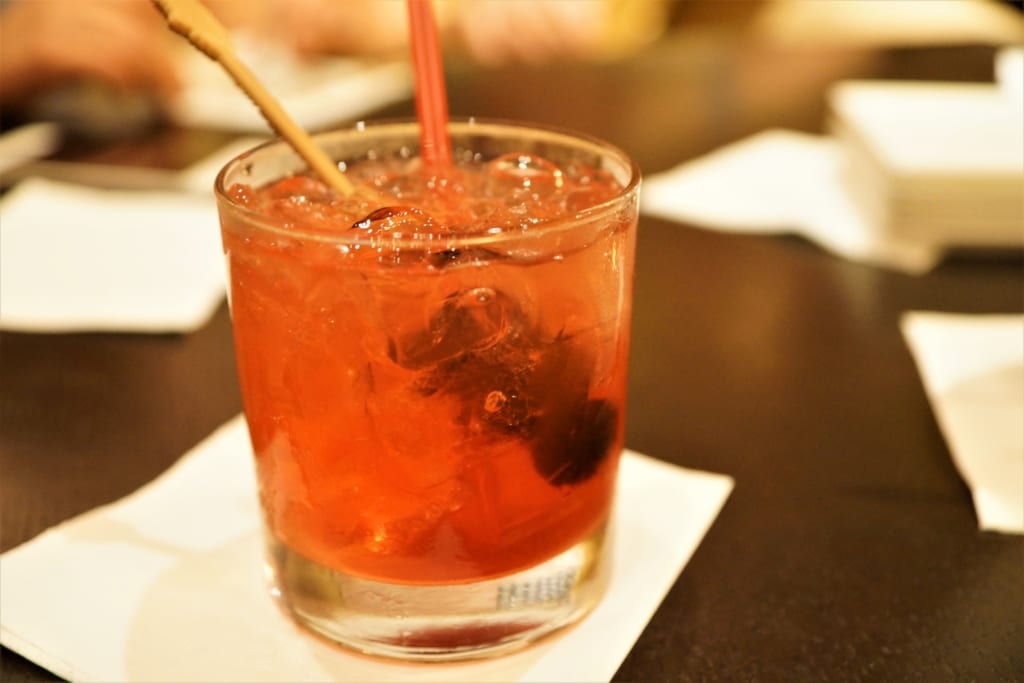 This has Wild Turkey 101 Bourbon, Red Stag Black Cherry Bourbon, Odwalla Lemonade with a hint of Hickory Smoke, Grenadine, and Luxardo Gourmet Maraschino Cherries inside. I liked it a lot, I love Grenadine and I love Cherries. It wasn't too strong either, but it had a nice mix with the 2 Bourbons and the Lemonade. Nice choice.
Next up was the Habanero Lime Margarita: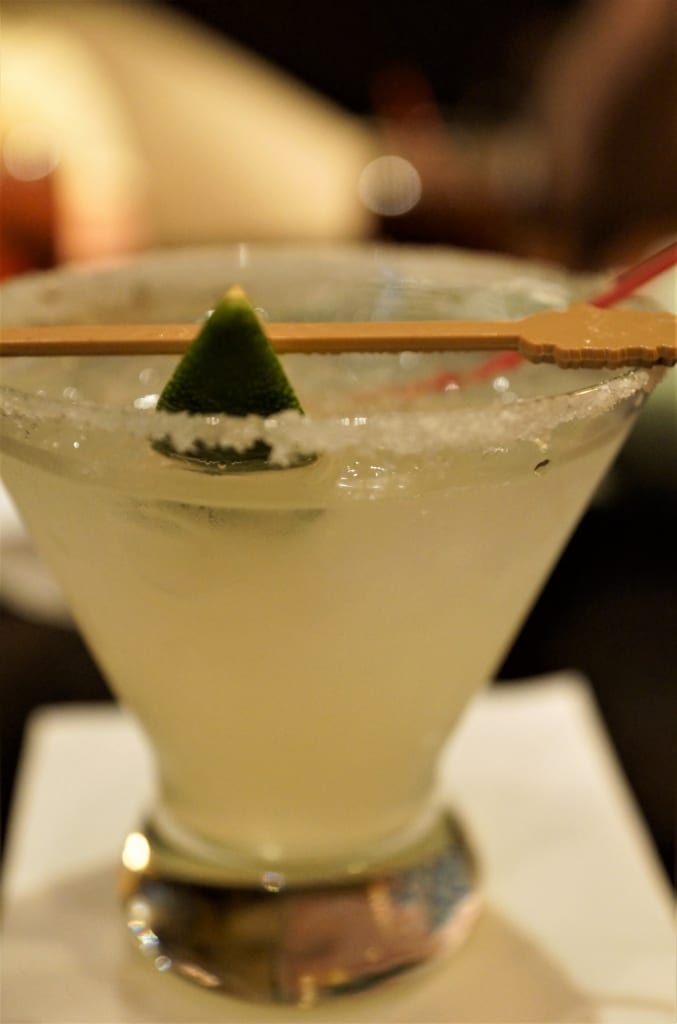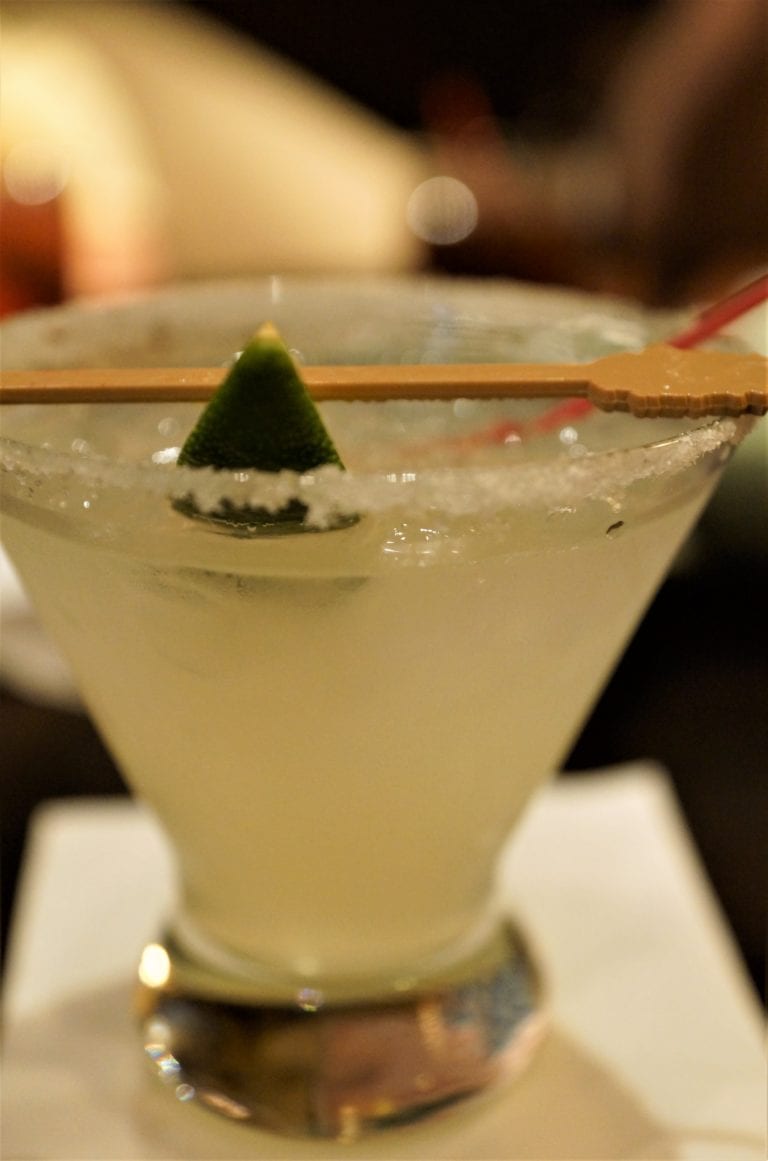 I love me some Margaritas and this was exceptional. I was a little worried about the Habaneros and if it was going to be too strong of a taste, but I thought it was awesome, and it really accented nicely the Tequila. It packed a nice kick too. Neither of the drinks were watered-down, nor at the same too strong. I thought the bartender did a real nice job.
Next we ordered some food. Now we didn't want to stuff ourselves, after all I was going to be doing a whole lot of snacking over at the Magic Kingdom too, but we got some things to split. Territory Lounge has some amazing options on their menu. Basically whatever you're in the mood for they have, from Burgers, to Wings, to a Meat and Cheese Plate, they're all excellent options.
First up though, we ordered the Oregon Chardonnay Fondue: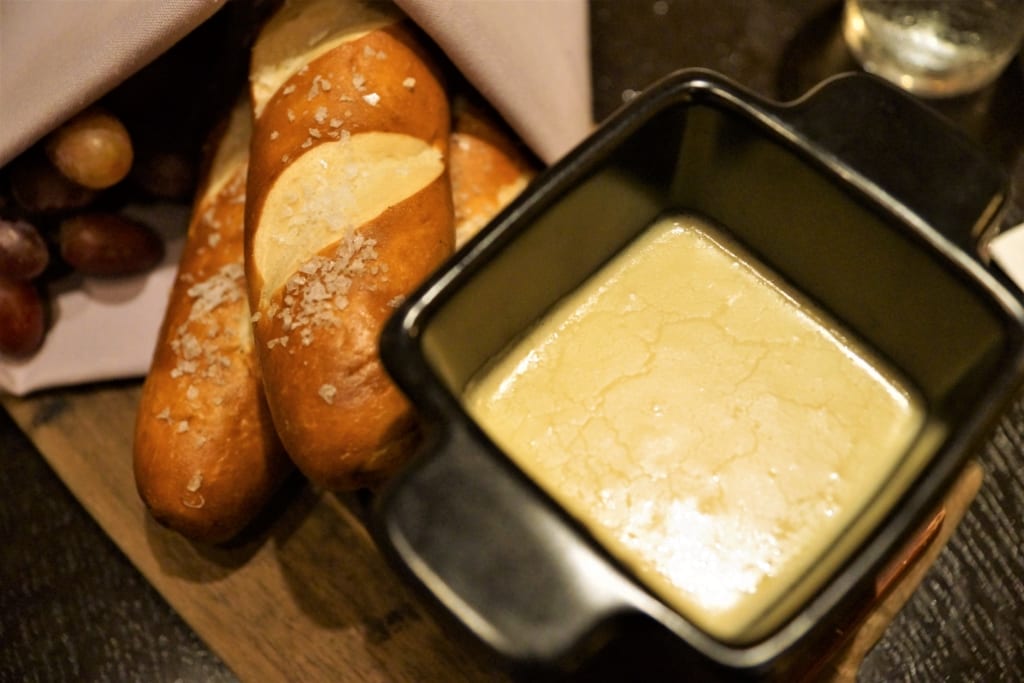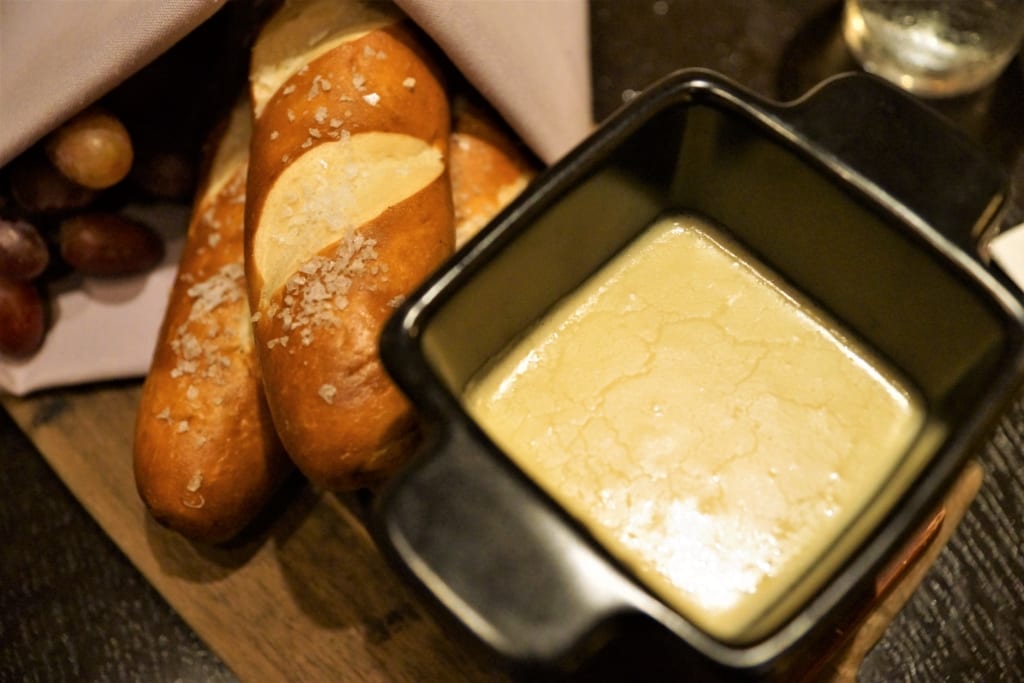 I had heard so much good stuff about this fondue that I absolutely had to try it! This was made from an Oregon Chardonnay, and it was so stinkin good! The fondue itself was rich and creamy and had a nice tang to it from the Chardonnay. It came with….Pretzel Bread!! If you've read my review from Le Cellier in the Canada Pavilion in Epcot, you know how much I love these things!! They are so addicting, it's not even funny. There was also some fresh Grapes there too, to add something sweet to the dish.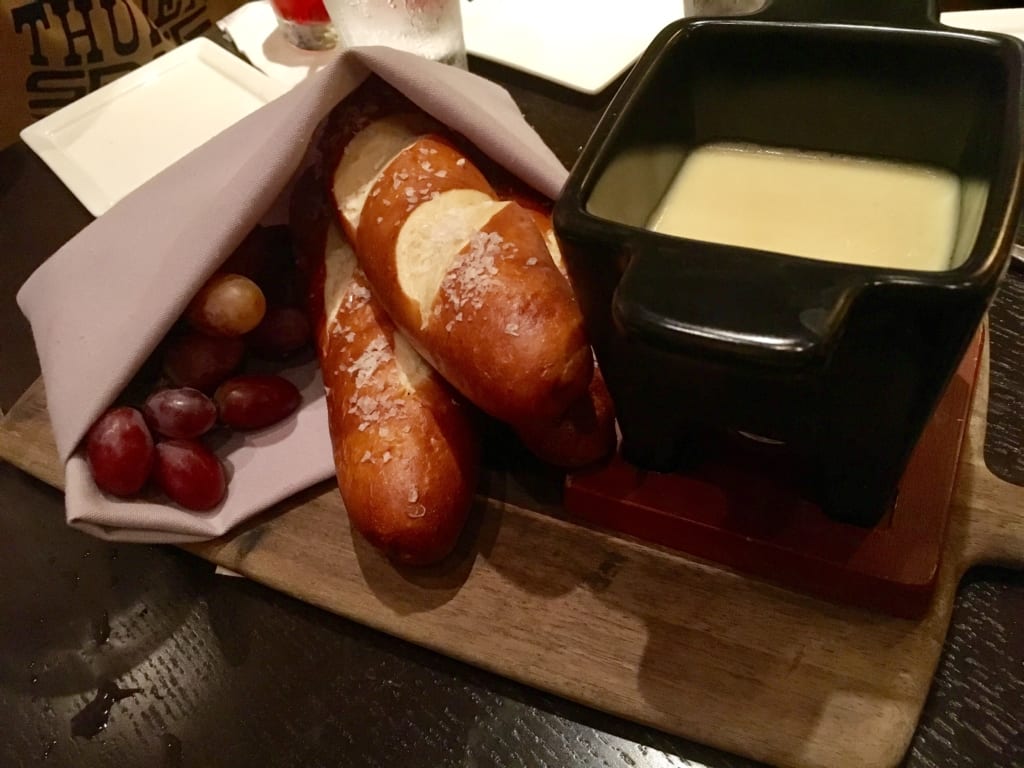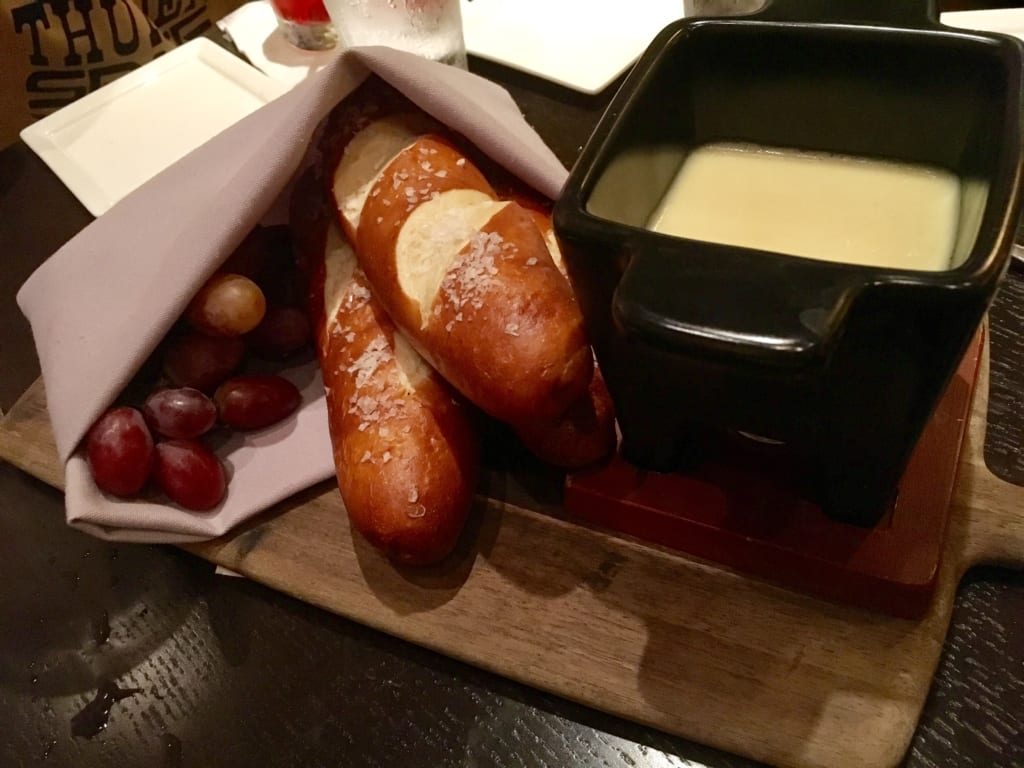 Now it goes through phases, so it's possible when you go there they'll have a different version of it. Sometimes it's made from Wine, sometimes from Beer, this version was from an Oregon Chardonnay. In whichever form it comes, get it! It's ridiculous!!
Next up was the Smoked Portobello Bisque: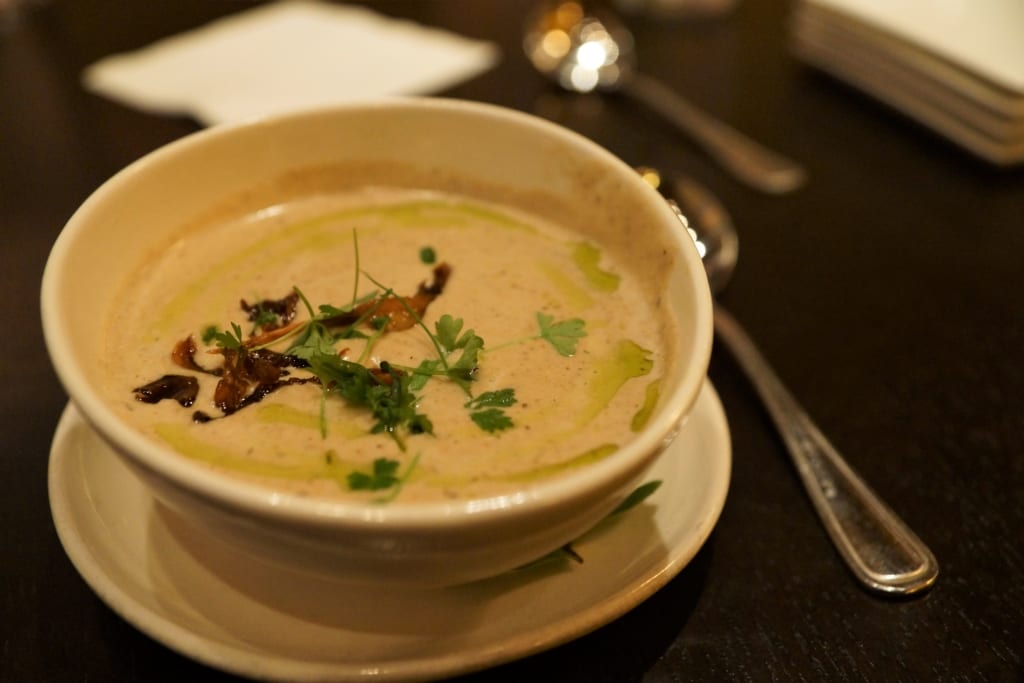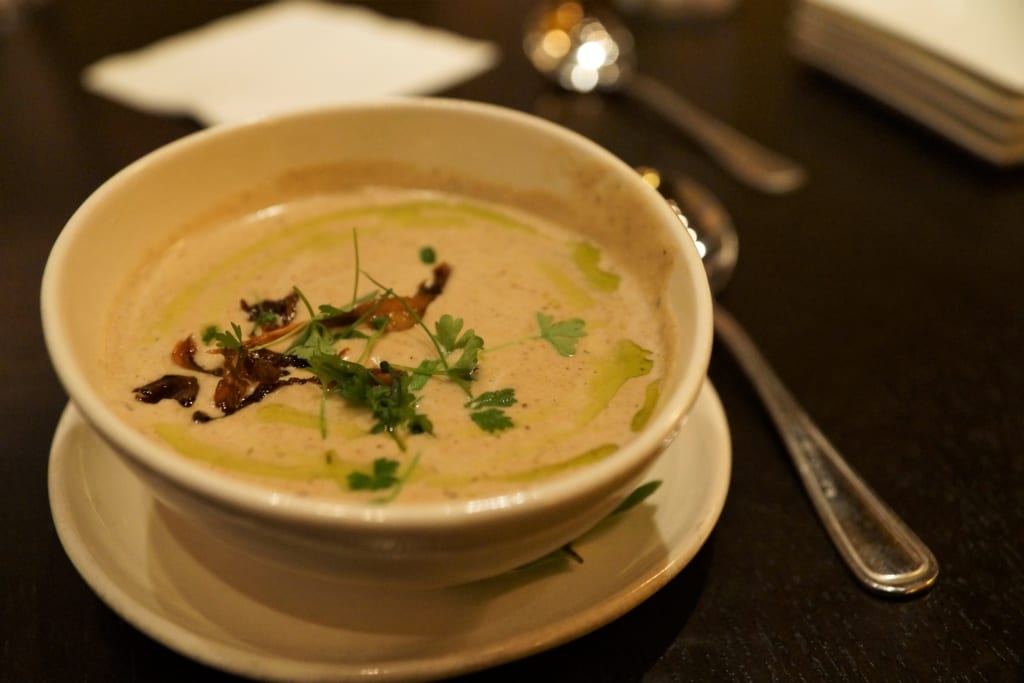 This soup is out of control. It's made from Smoked Portobello Mushrooms, and garnished with Crispy Oyster Mushrooms, Nasturtium Oil, and Fines Herbs. I mentioned before about some items are available at the Territory Lounge from the Artist Point menu and this is one of them. It's a must get item for me every time at Artist Point, and I wanted to see if there was a difference at Territory Lounge. Nope. Exactly as good as before.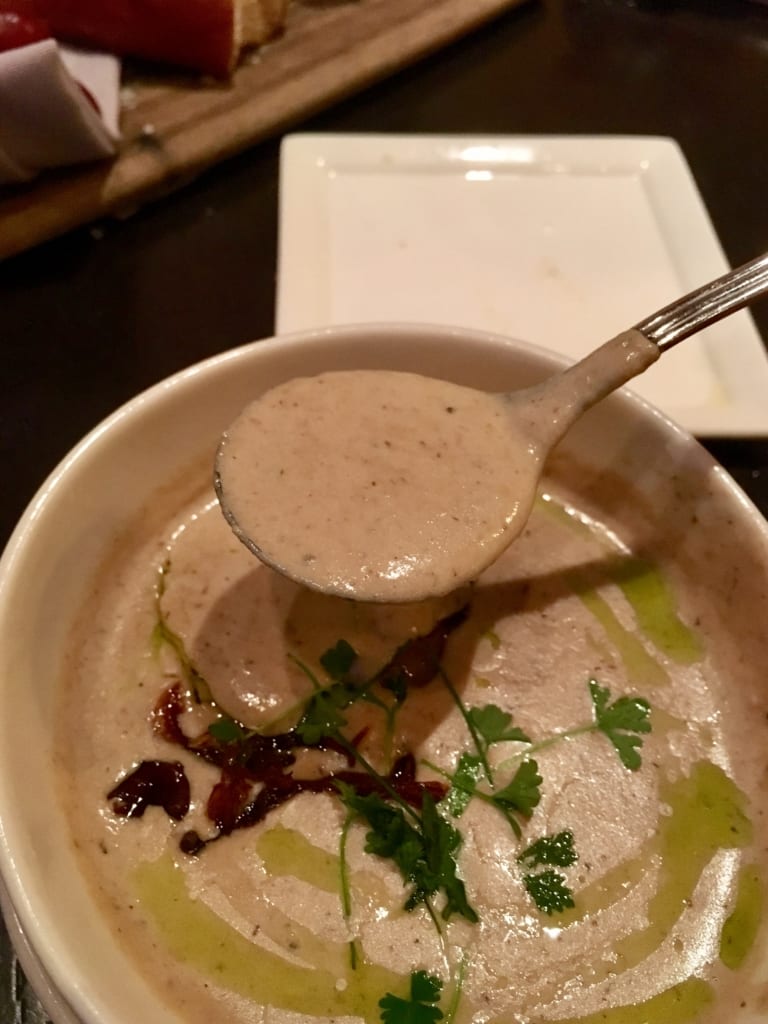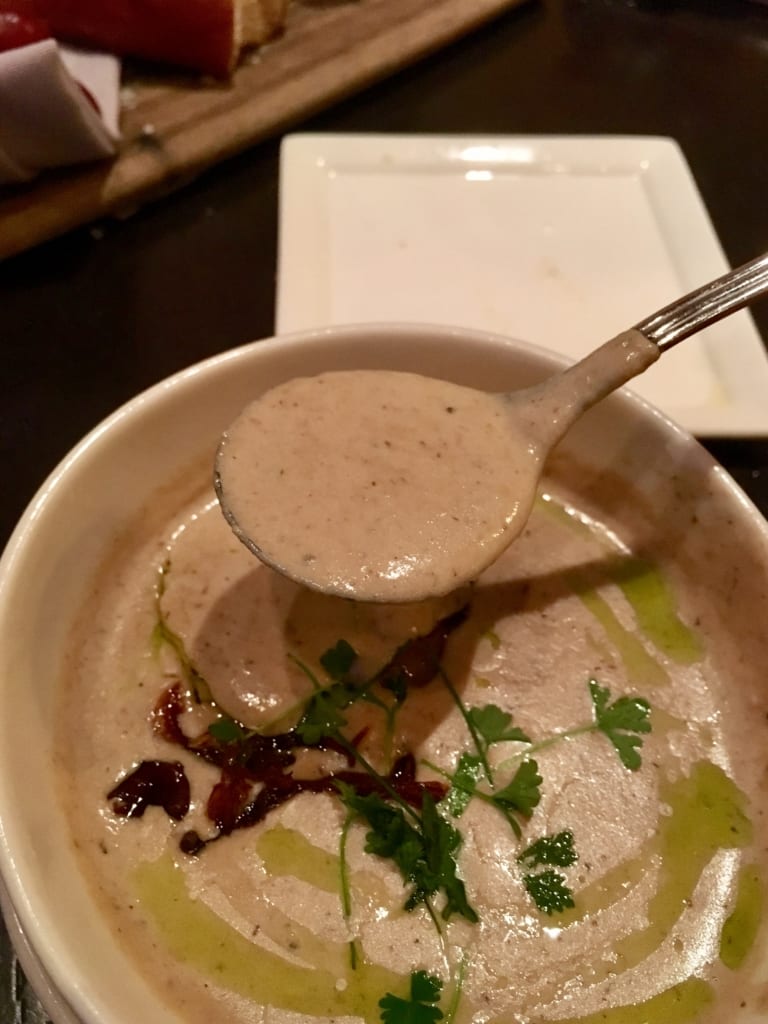 This soup is so creamy and fantastic. Now you may be looking at it saying: "I don't like mushrooms, so I'm not ordering it." What a mistake you'd be making! The thing is, it doesn't even taste like mushrooms, honestly it tastes like Bacon Soup! One of my favorite soups in Walt Disney World. Get this, it will change your life!
Lastly of course I had to order some Dessert, so I got another favorite of mine from Artist Point, The Seasonal Berry Cobbler: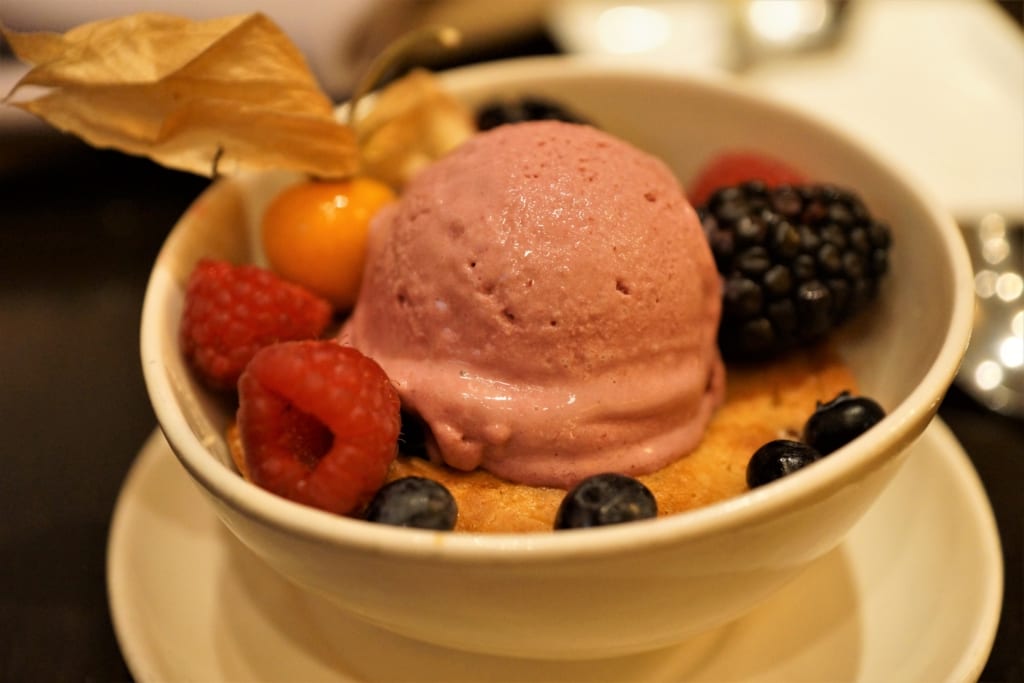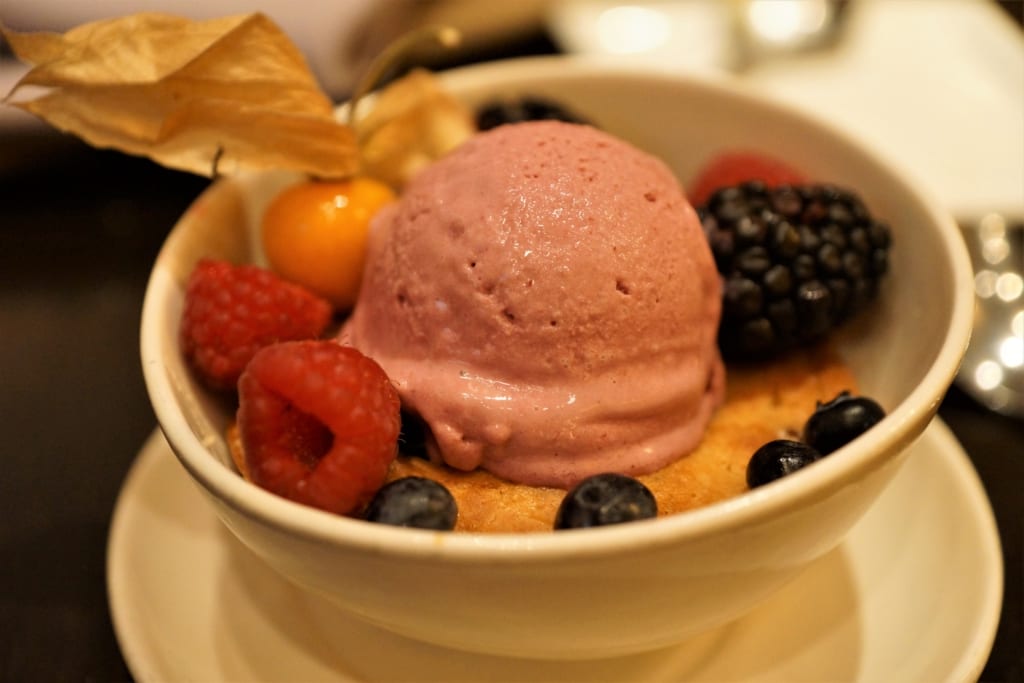 Again this is is one of my all time favorite food items in WDW. Like the fondue, the Berry Cobbler comes in many different forms as they chefs are always putting a new twist on it. This version was a little thicker and cakier than versions I've had in the past, but still very good. I love the fresh fruit and the Blackberry Ice Cream is to die for! Next time if the cobbler part was just a little less and the fruit mixture was just a little more like in the past, then it would be perfect! The Seasonal Berry Cobbler is one of the Classic Disney Desserts you just have to try though!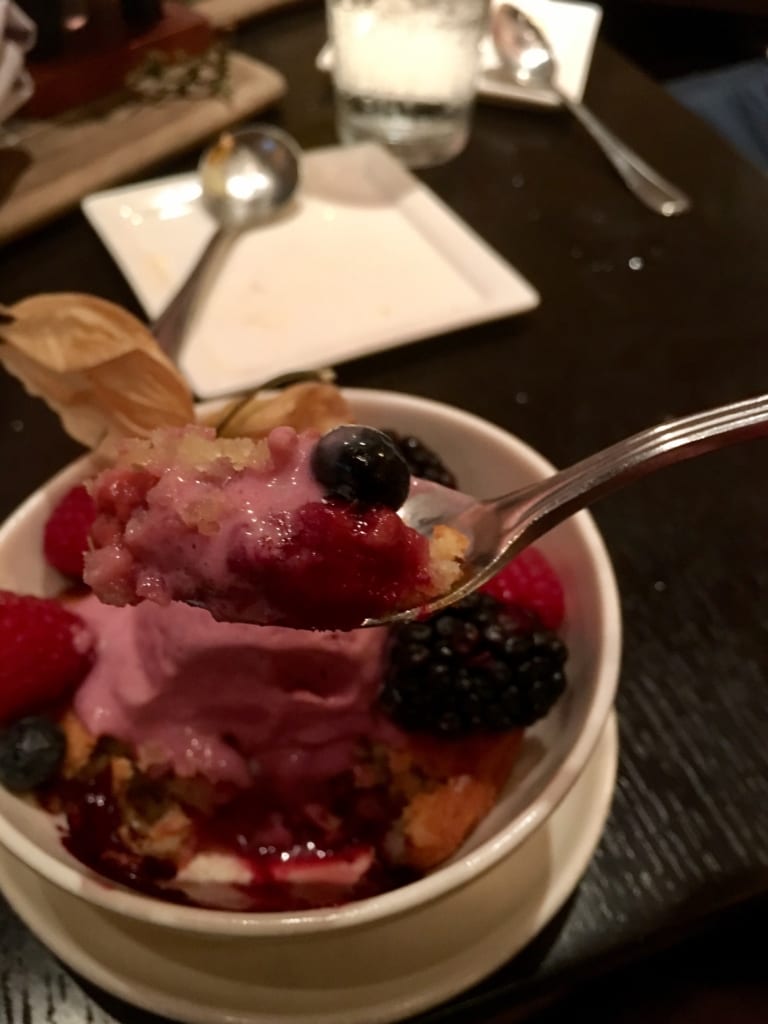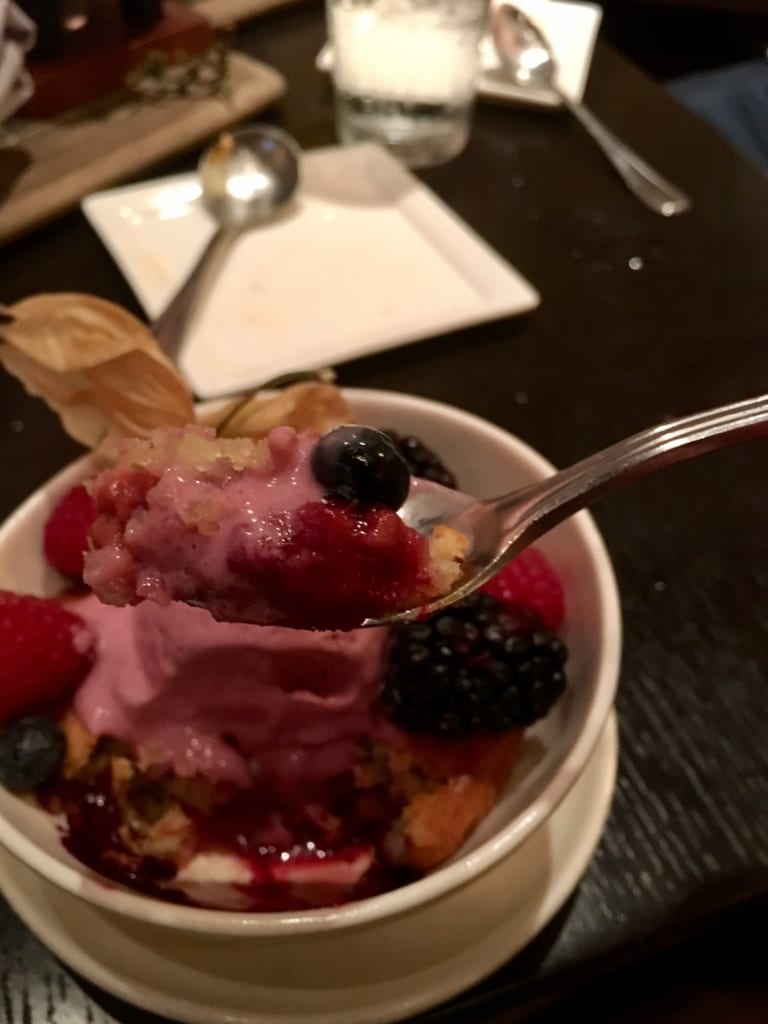 Lastly I'll mention the service. This time it was just ok. The food and drinks took a little longer than normal even though the place was all but empty, and our waiter in particular wasn't all that friendly like we're accustomed to usually when we come. Next time I hope it returns to normal.
Summary:
I hope you liked my Territory Lounge Full Review. Again, imo it's one of the best lounges in WDW for sure, for both the atmosphere and the food. The drinks are top notch and we like all of them. There are so many killer food items on the menu too, and a bunch more we didn't have this time but are amazing. The Smoked Portobello Bisque is heavenly and one of the top 2 or 3 soups on property. The Fondue is amazing and a must try. And the Cobbler is another Classic Disney Dessert you can't go wrong with. Really you can't go wrong with whatever you choose.
I love the location, and even though some might say it's a little out of the way, I say go explore the Wilderness Lodge a bit, stop by have a drink and some apps, and then head over to the Magic Kingdom. It's a great place to relax and enjoy good company and good food, and a definite must do on your Disney World list. Maybe I'll run into you there next time! 😉
Territory Lounge is a Bar/Lounge and is open early in the morning till late at night, typically from 7:00am – 2:00pm and 4:30pm – 12:00am Daily. The Disney Dining Plan is not accepted. For more information check out the official Territory Lounge Site or call (407) WDW-DINE.
Territory Lounge Official Menu
I love to write Restaurant Reviews of Walt Disney World and I hope you found this one to be informative and helpful. If you liked this review then please visit my Disney Dining Reviews Page where I have many other Restaurant Reviews. I'm happy sharing with you what I love doing best…eating! I try to bring you the most thorough and unbiased reviews about the food and restaurants at Walt Disney World, so that as you are planning your vacation, you know the "can't be missed" places, and where you shouldn't waste your time. Hope you enjoyed this one and will enjoy many others in the future!! ?
If you enjoyed this article, as always I appreciate it if you'd share it with others via social media. I work hard at making this website into a useful resource for you and your family to plan your visit to Walt Disney World, and I hope it can help you! Thanks 🙂
Your Thoughts:
I want to know what you think about my Territory Lounge Full Review and your experiences there. Have you been before? What's your favorite thing to get at the Territory Lounge? What has been your experience there? What would you change about it if anything? Let us know in the comments section below! 🙂