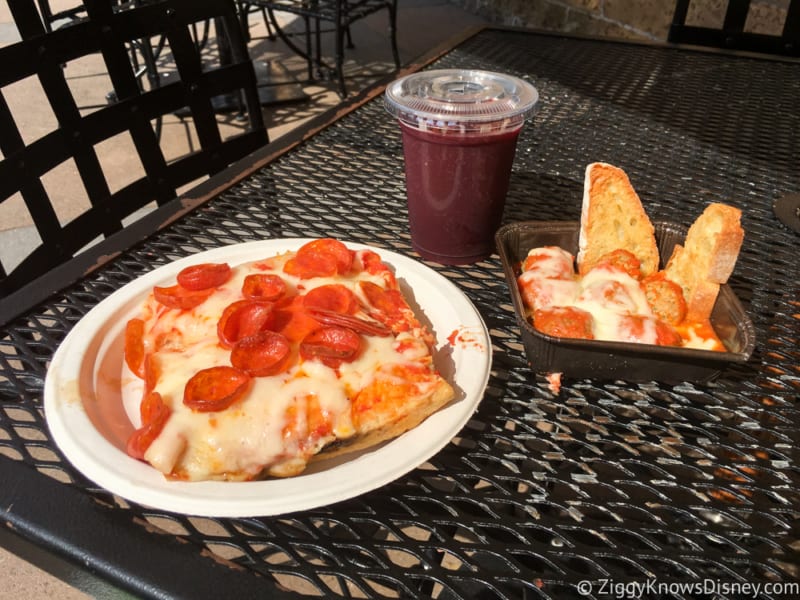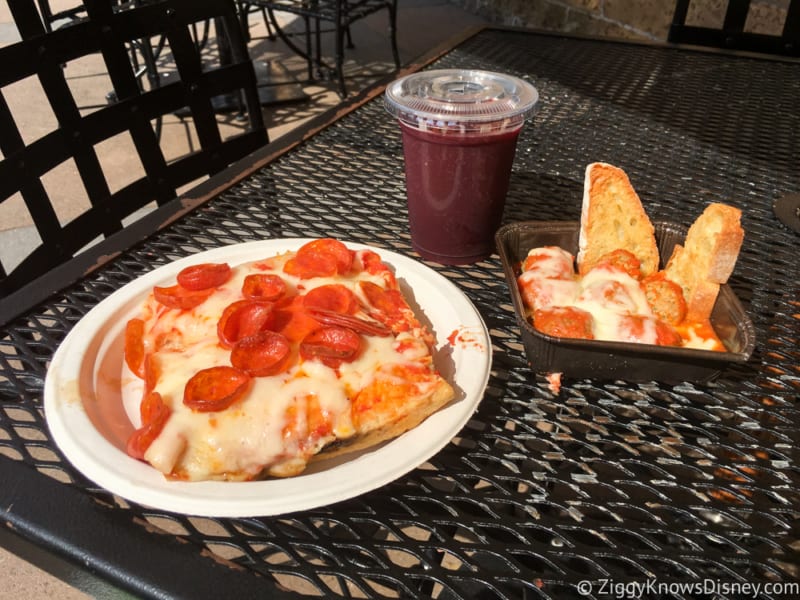 Everyone loves the pizza at Via Napoli, and we've visited there many times with good experiences. However we'd never tried the take-out quick service location right next door: Via Napoli Pizza Window. If I can get that delicious Via Napoli pizza to go without booking months in advance or waiting countless hours to eat table service, sign me up. The Via Napoli isn't open year round, in fact Disney usually opens it only during festival times like the Epcot Food and Wine Festival, Flower and Garden, etc. So unless you go during a festival it probably won't be open. So since Food and Wine is going on, we decided it was about time to do a Via Napoli Pizza Window review.
You can never have too much pizza in Walt Disney World, especially because really good options are few and far between. So I was excited to try the Pizza by the Slice, Meatballs and Cannoli, along with some Italian Wines and Beers.
How does the pizza here stack up to the table service restaurant? Let's find out…
Atmosphere:
The Via Napoli Pizza Window is a Quick Service Restaurant located in the back of the Italy Pavilion in Epcot's World showcase:
When you see the original Via Napoli restaurant, just look to the left and you'll see the grey facade which stands out from the rest of the building:
Being a quick service restaurant there's no need to reserve a table, just walk up, place your order and then grab a seat in one of the nearby outside tables. Find one with an umbrella so you'll be shaded too! 😉
Let's stop wasting time and get to the good stuff…
Food:
Via Napoli Pizza Window has a limited menu with 3 types of pizza by the slice: Pepperoni, Margherita and new for 2017 Pizza Bianca. Don't expect to find the regular thin-sliced pizzas that you get inside Via Napoli, this is Sicilian-style which is totally different, rectangular slices and much thicker.
Also new this year is the Polpette (meatballs) e Mozzarella Parmigiana. For Dessert you can try the Mini Cannoli Siciliani.
Also you'll find some Italian Wines like Nino Negri, Prosecco and Rosa Regale; Italian Beers: Moretti, Via Emilia, Menabrea Bruna and Menabrea Ambrata; and Cocktails: Limoncello Mule and Bellini.
Frozen Wild Blueberry – $7.00:
First since it was smoking hot outside I thought the Frozen Wild Blueberry (non-alcoholic and made with blueberry juice) would be a good idea. This is what you'd expect, nice blueberry taste, a little tart and very refreshing. I drank too fast though and at one point got a brain freeze…I never learn! I liked it, thought it was a tad expensive at $7 but good nonetheless.
Pizza Bianca – $8.75:
The first pizza I tried was the Pizza Bianca – w/pomodoro, prosciutto, arugula. At $8.75 it isn't cheap for the size you get, and you are paying for the toppings as prosciutto is one of the most expensive deli meats you'll find since it's imported from Italy. The mozzarella on top was fresh and not rubbery like you might find other places.
Again looking at the side of the crust you can see this is much thicker than the regular Via Napoli pizza, and not what I was expecting when I first heard about the Pizza Window. This reminds me of the pizza we get int he supermarket in Italy near home, same style and pretty authentic for this style pizza. The crust wasn't too hard, but not soggy either, just the right consistency, and better than the pepperoni as you will see.
Pepperoni Pizza – $7.75:
The Pepperoni Pizza was a little cheaper than the Pizza Bianca, but the slice was much bigger in comparison. It was a very heavy-duty slice and you could feel from the weight that it was dense and loaded with cheese and pepperoni. They didn't skimp on the toppings which was a plus. The pepperoni on top are the same ones served inside at Via Napoli and they are nice and thin and curl up slightly when cooked…big fan!
Unfortunately even though the Pepperoni did a better job with the quantity of toppings and better bag for buck, the crust was terrible and I didn't like it at all. In comparison with Pizza Bianca it was soggy and had no flavor at all. Way too squishy for me.
It's hard for me to judge this because these slices are a reproduction of pizza you normally find in Italy, and since I spend most of my year there I can't help but compare them to the real thing. I'd say overall between the two the Pizza Bianca is the better choice, better crust and overall a better representation of what you'll find in Italy, just at a much more expensive price point.
Polpette e Mozzarella – $9.50:
Lastly I had to try the Polpette e Mozzarella Parmigiana, since the smell was hitting me from hundreds of feet away. Polpette are meatballs in Italian, even though the meatballs you find there are different than our Italian American ones in the states. These are more similar to the later.
I actually loved these and thought they were really tasty. I have to assume they are not frozen but made in house as they tasted very fresh, tasted like a mix of beef and pork and they were very moist and tender, not dried at all. Mine were a new batch and came out fresh from the oven. The portion wasn't huge as there were 7 of them and they're served with 2 pieces of crusty Italian toast to soak up the sauce. The sauce was a standout for me, very fresh, sweet, made with San Marzano tomatoes, and I'd gladly order them again.
Summary:
My experience at Via Napoli Pizza Window was a mixed one. I was expecting pizza by the slice similar to the thin crust pizza you find inside the sit-down restaurant and was disappointed to find that was not the case. I like Sicilian-style pizza like what we get in Italy, but this was not nearly as good and was lacking. The Pepperoni offers the best size to value ratio, but the crust is terrible and isn't appealing to order again, while the Pizza Bianca is definitely the better of the 2 however smaller. I really loved the Polpette e Mozzarella, it was very tasty, just would have liked a slightly bigger portion. That's the thing, I'm one person and ate all this by myself and it just was enough to satisfy me. Granted I'm a unnaturally big eater but still most people won't be satisfied with just one slice if making a meal out of this.
I was told by cast members at Via Napoli that the management there would like to keep the Pizza Window open all-year round but Disney doesn't want to knowing the name alone would take business away from the other quick service restaurants in World Showcase. I don't personally think that to be the case as there are many quick service places around World Showcase I prefer over the Pizza Window. If they switched over to the thin-crust there would be a line all the way to World Showcase Lagoon, but I'm sure that would take revenue away from Via Napoli sit-down.
I think the concept is great and Via Napoli Pizza Window in theory has potential to be the best Epcot quick service location, but the quality of the pizza just isn't there right now and needs to be improved.
Via Napoli Pizza Window is open for Lunch and Dinner (11:00am – Park Closing during festival seasons). The Disney Dining Plan can only be used as Snack Credits for Mini Cannoli.
I love to write Restaurant Reviews of Walt Disney World and I hope you found this one to be informative and helpful. If you liked this review then please visit my Disney Dining Reviews Page where I have many other Restaurant Reviews. I'm happy sharing with you what I love doing best…eating! ? I try to bring you the most thorough and unbiased reviews about the food and restaurants at Walt Disney World, so that as you are planning your vacation, you know the "can't be missed" places, and where you shouldn't waste your time. Hope you enjoyed this one and will enjoy many others in the future!!
Your Thoughts:
I want to know what you think about my Via Napoli Pizza Window review. Do you prefer the pizza from the pizza window or inside Via Napoli? Where does it rank for Epcot Quick Service Restaurants? Let us know in the comments section below!
If you enjoyed this article, as always I appreciate it if you'd share it with others via social media. I work hard at making this website into a useful resource for you and your family to plan your visit to Walt Disney World, and I hope it can help you! Thanks 🙂