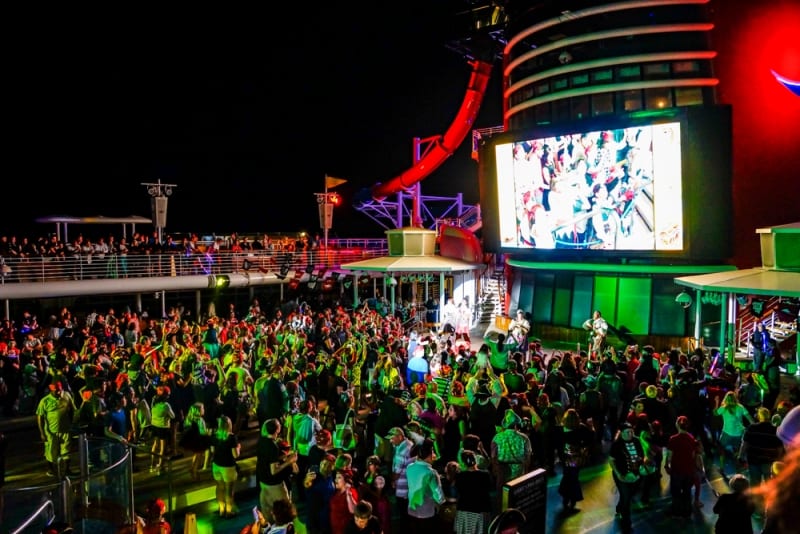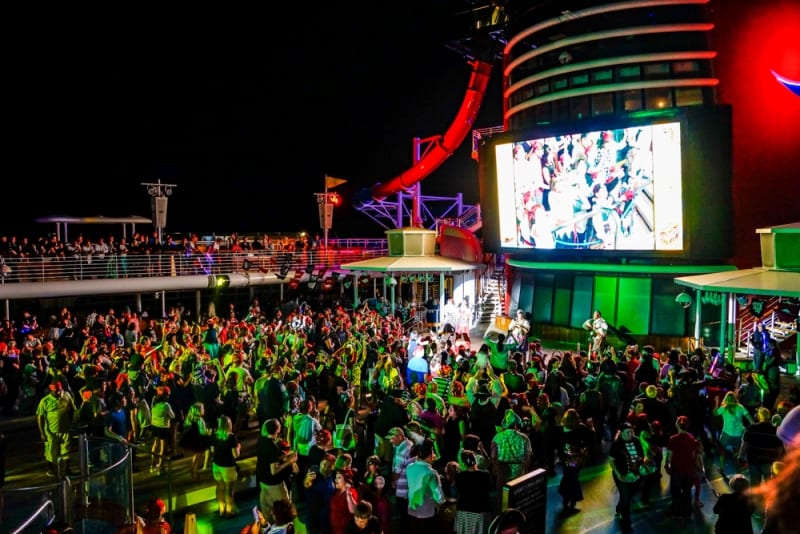 This is Pirate Night Dinner Review onboard the Disney Magic cruise ship on the Disney Cruise Line. I'll start off by saying that Pirate Night is one of the coolest experiences we've had on the Disney Cruise Line and I'm really happy that me and my family planned our cruise with this in mind. This review will help explain to you exactly what Pirate Night on the Disney Cruise Line is, give you a look at the food at the dinner, and give you some tips to help you to enjoy this one-of-a-kind Disney experience better!
What is Pirate Night on the Disney Cruise Line?
Pirate Night is available on select Disney Cruises on all 4 Disney Cruise Ships (Disney Magic, Disney Wonder, Disney Fantasy and Disney Dream). Our Pirate Night took place on a 5 Day Bahamas Cruise on the Disney Magic, but you're going to find pretty much the same type of experience no matter which ship you go on.
If you're familiar with any of the other special Disney Cruise Days like "Star Wars Day at Sea" or "Marvel Day at Sea", then you'll be familiar with how Pirate Night works. Starting in the Afternoon and going through the evening there are activities like:
Trivia
Games
Meet-and-greets with Characters dressed in pirate garb
Pirate Deck Party
Fireworks
and of course a Special Pirate-themed Dinner!
Everyone gets dressed up pirate-style, and you can even bring one of your own outfits from home if you like. If not don't worry, every guest onboard for Pirate Night is given a Pirate Bandana to wear for the big event. You do want to fit in of course! We look ready don't you think?? ?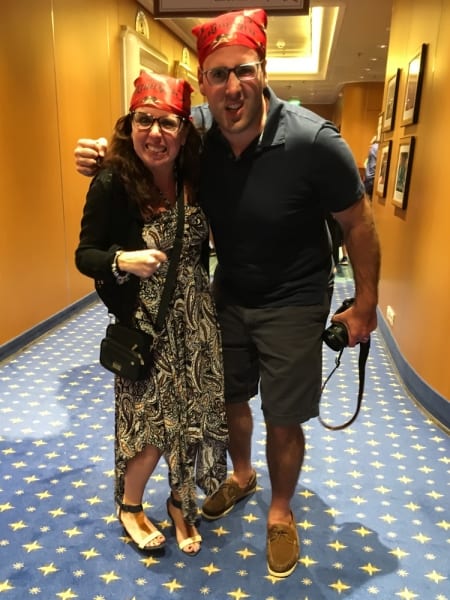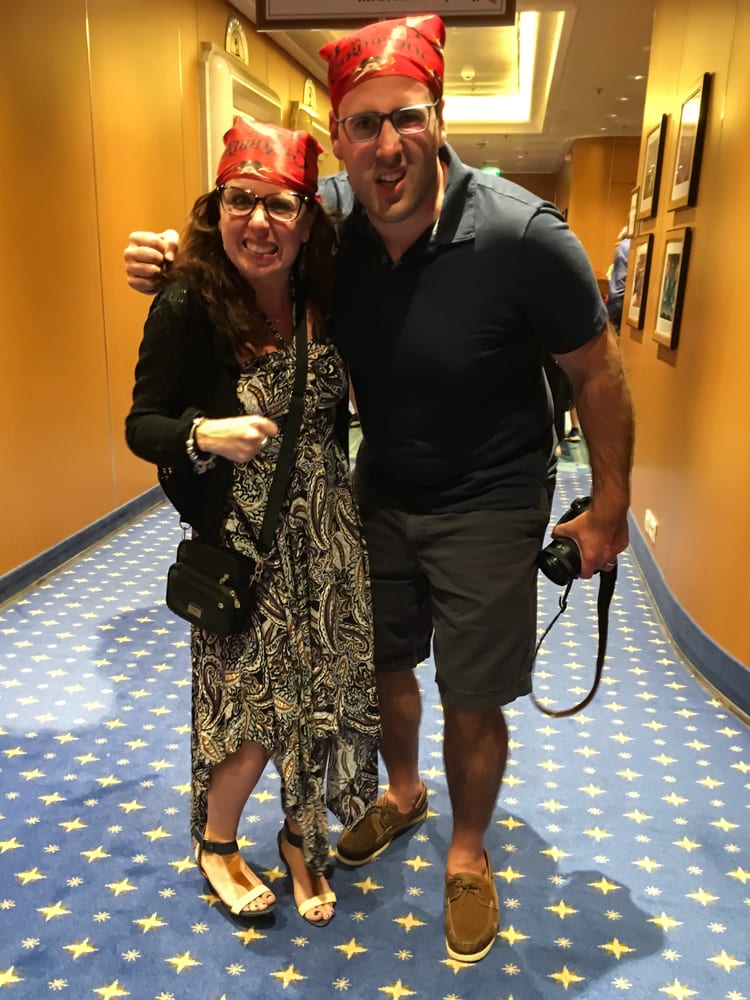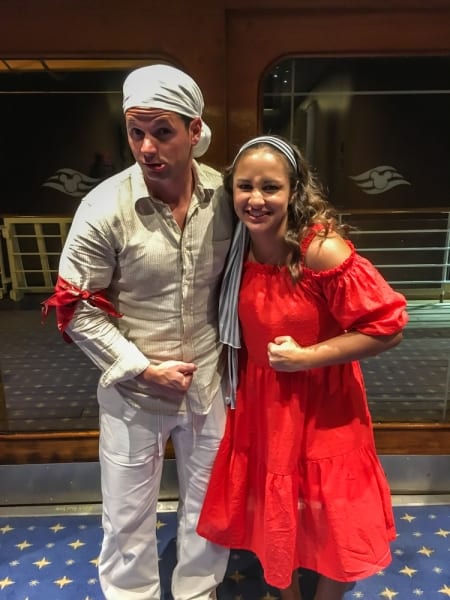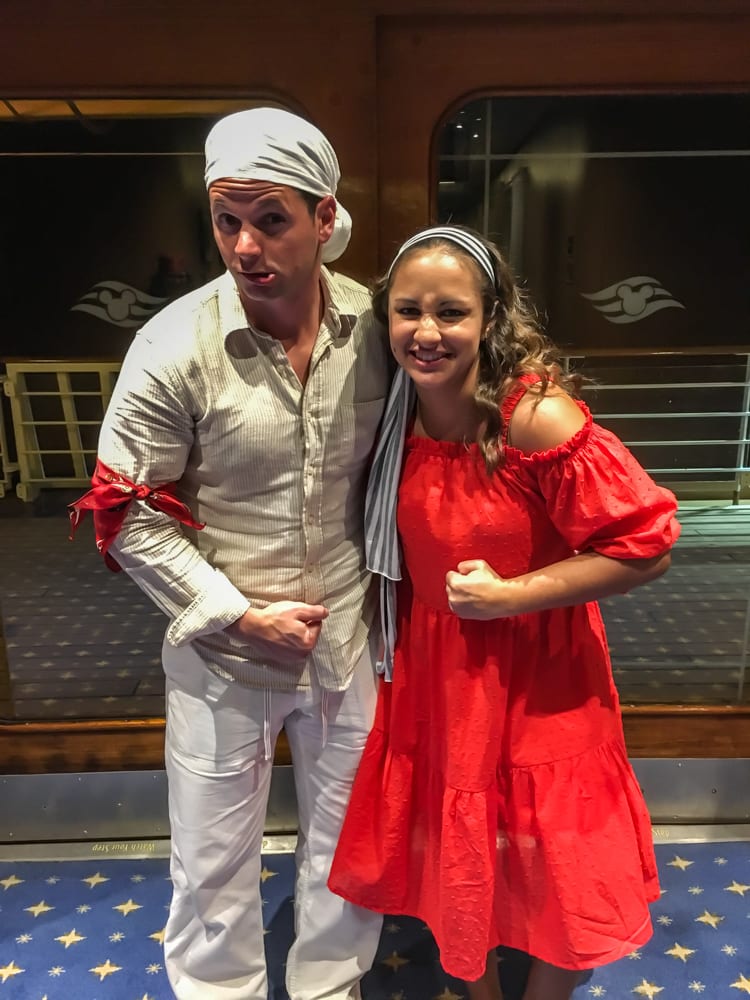 If you have a young one, they can even get a total pirate makeover at the Bibbidi Bobbidi Boutique onboard the ship. It's really a cool time and Disney goes all-out like always to make it a really special experience for young and old ones alike.
The trivia, games and pirate character meet-and-greets all start before dinner. Then you go off to dinner in one of the rotational dining restaurants which has been totally made-over from the original theming, to a pirates theme for the night. After dinner guests can make their way up to the deck where there is a special pirate stage show with Mickey and his friends and while it's especially awesome for the kids, I think me and my wife had just as much fun if not more! Lastly, finish off the night the perfect way with a fireworks show off the main deck.
Ok let's get right into my Pirate Night Dinner Review and I'll show you what it's all about!
Dinner Atmosphere:
So the way Pirates Night Dinner works again, is that your group is assigned a restaurant out of the rotational dining restaurants to go to for dinner. Don't worry, except for the atmosphere of the restaurant, all the Pirates Night dinner menus are the same no matter which place you get assigned to. Our restaurant chosen was Animator's Palate, which we had already done on the first night of our cruise, but we loved the restaurant so much the first time, it was pleasure coming back!
TIP: If you aren't interested in Pirate Night (hey, it could happen) then I suggest you make reservations at Palo or Remy for a nice romantic dinner instead.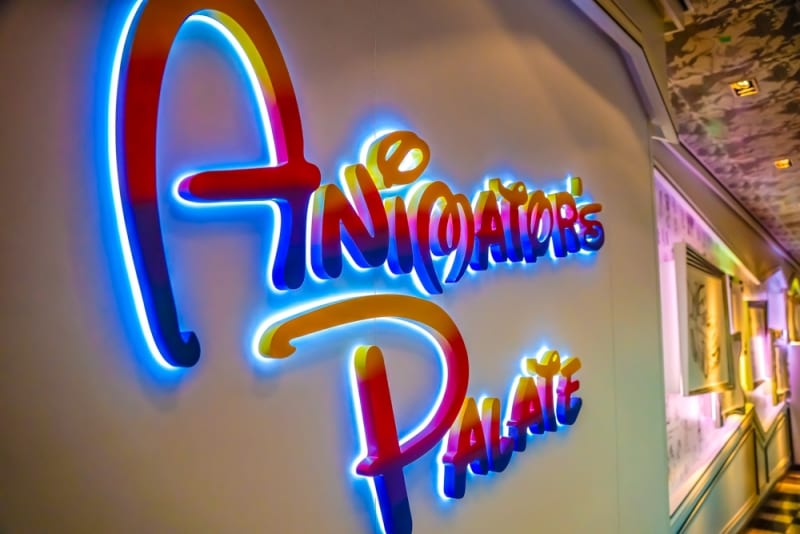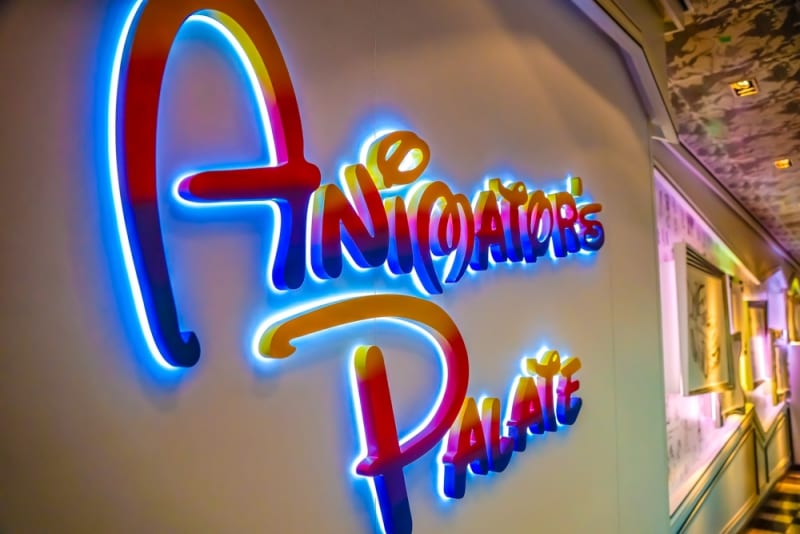 So if you've ever been to Animator's Palate you know that it's not only a dinner, but a show in and of itself. The restaurant goes from black and white early in the dinner and comes alive in color and animation as the night continues. It's really special and an absolute must onboard the Disney Magic cruise ship. Unfortunately since this was our second time to Animator's Palate, they don't do the show the second time. So FYI, make sure you don't miss your first dinner there otherwise you will miss one of the highlights of a Disney Cruise. So can see all about this one-of-a-kind experience in my Animator's Palate Dinner Review.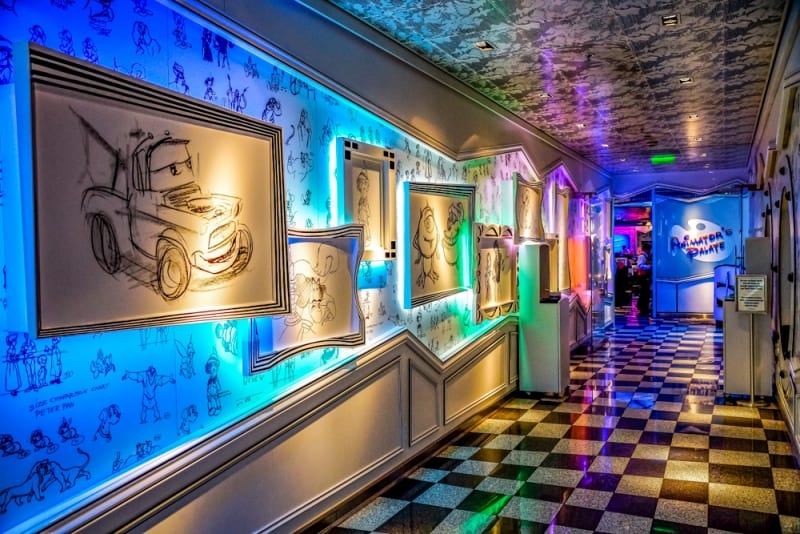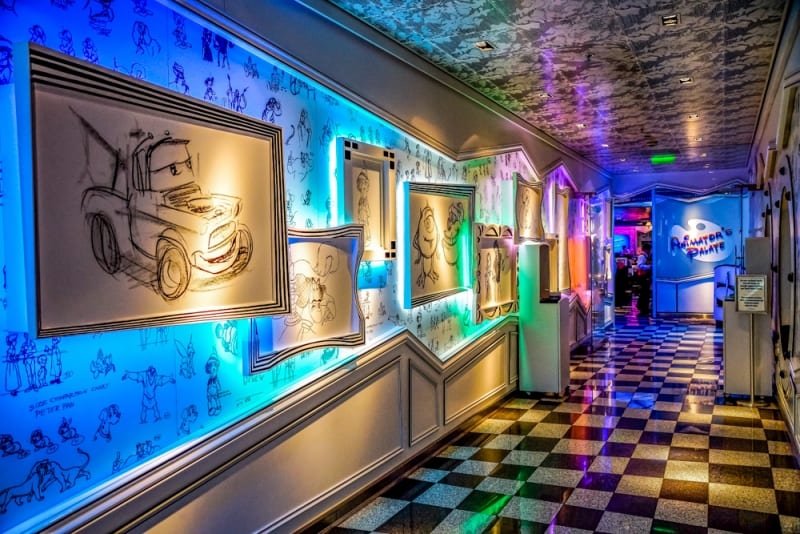 This is what the restaurant normally looks like at the start of the night: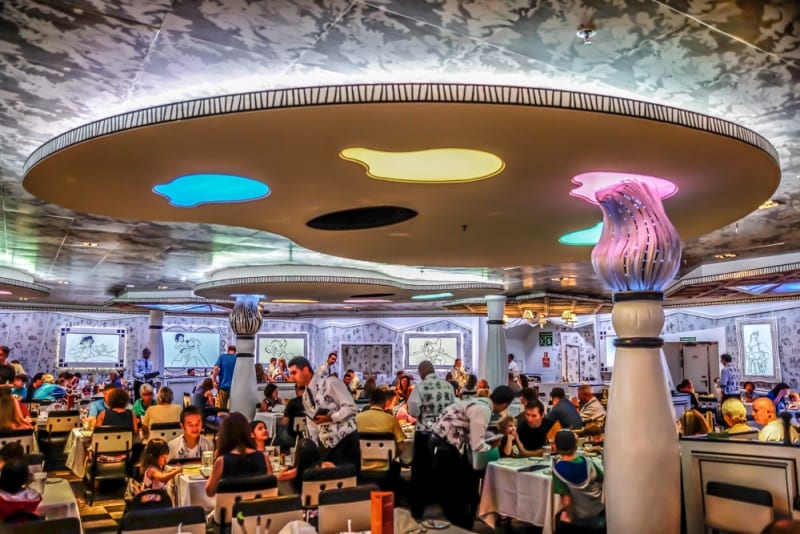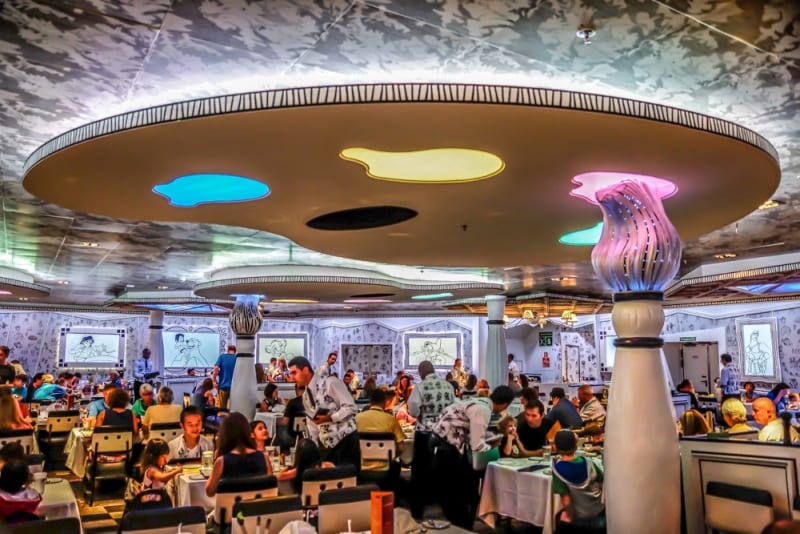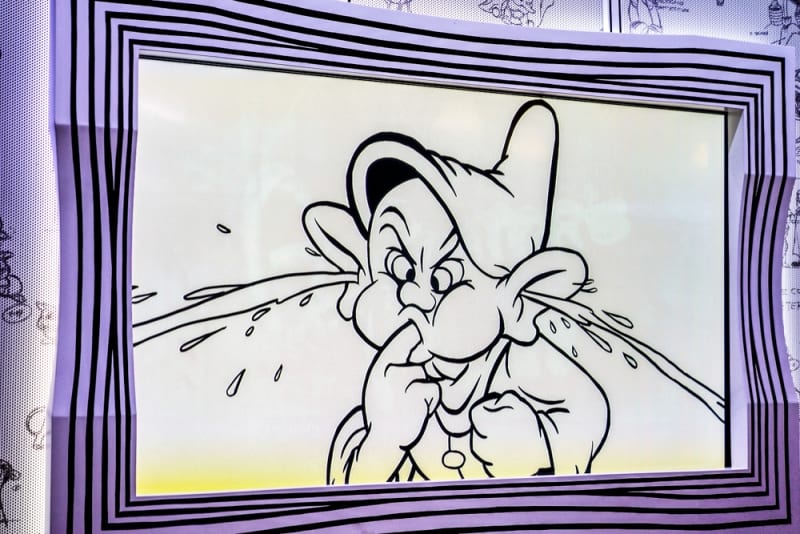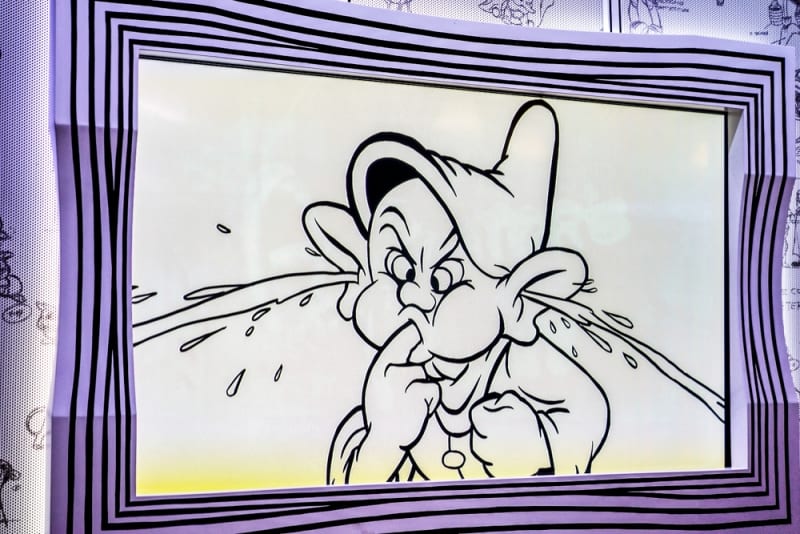 But since it's a Pirate's Night dinner, once the fun starts going one, the restaurant is transformed Pirate-style! Both times we went here it was beautiful to look at: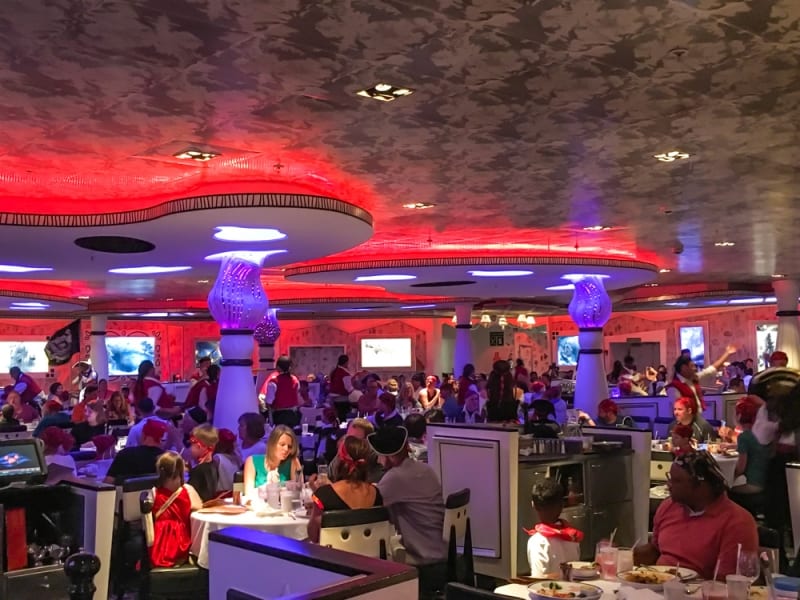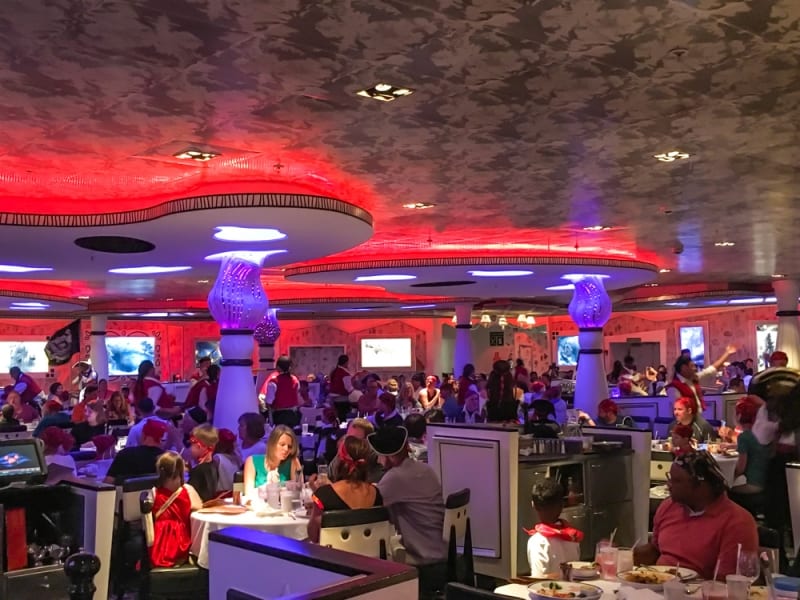 Besides the whole room being colorfully lit and turning different colors, I love how all the servers get into the act and Animator's Palate turns into what seems like the Black Pearl! Everyone is dressed up for the occasion, even the servers: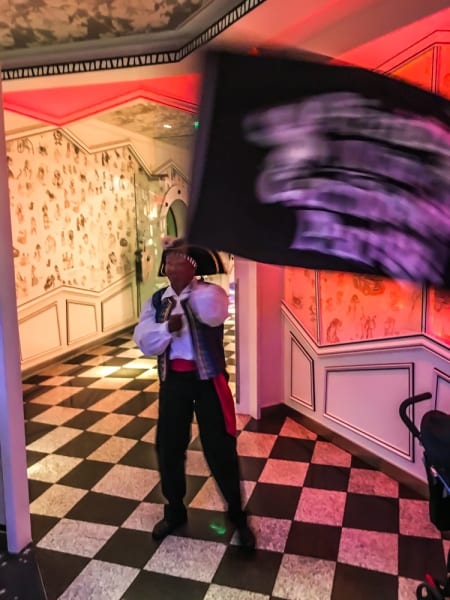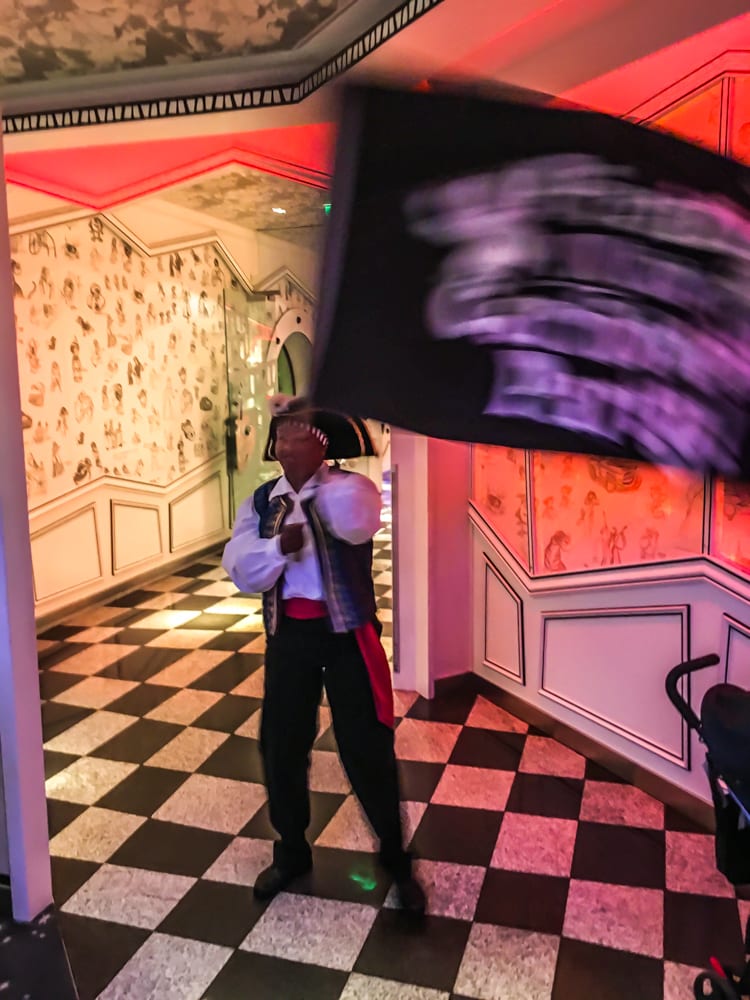 Don't think I want to mess with him!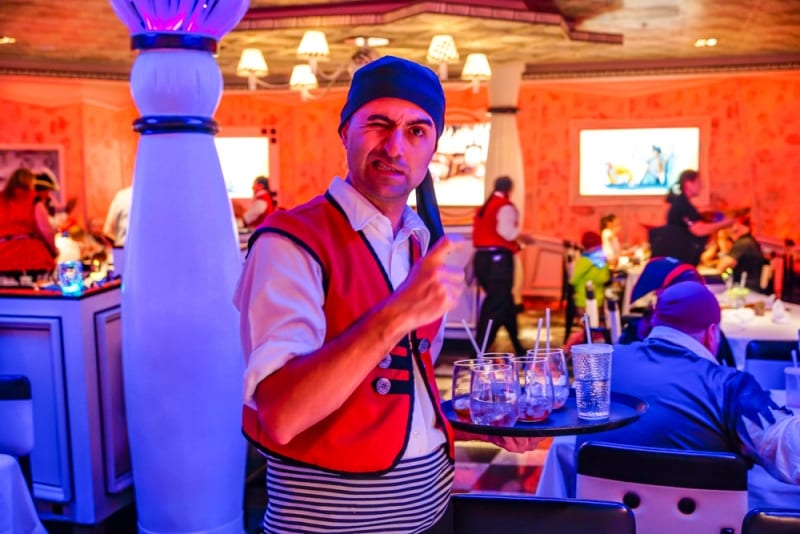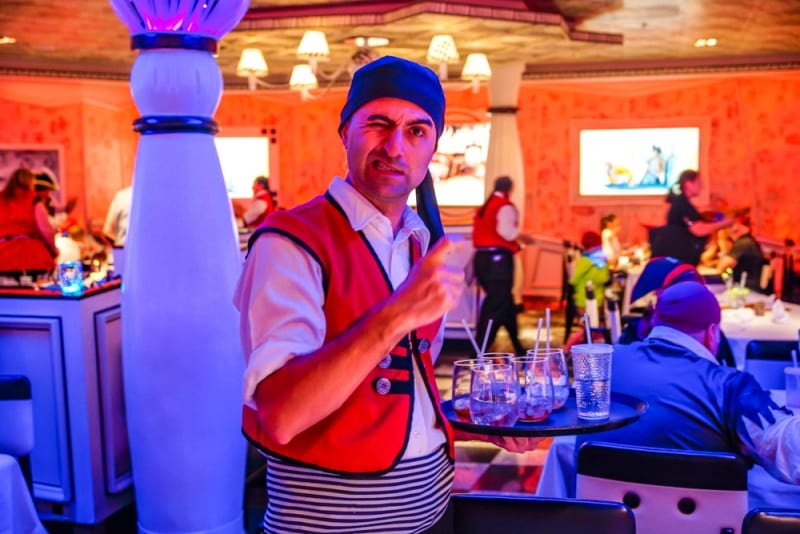 At least these ones seem like friendly pirates!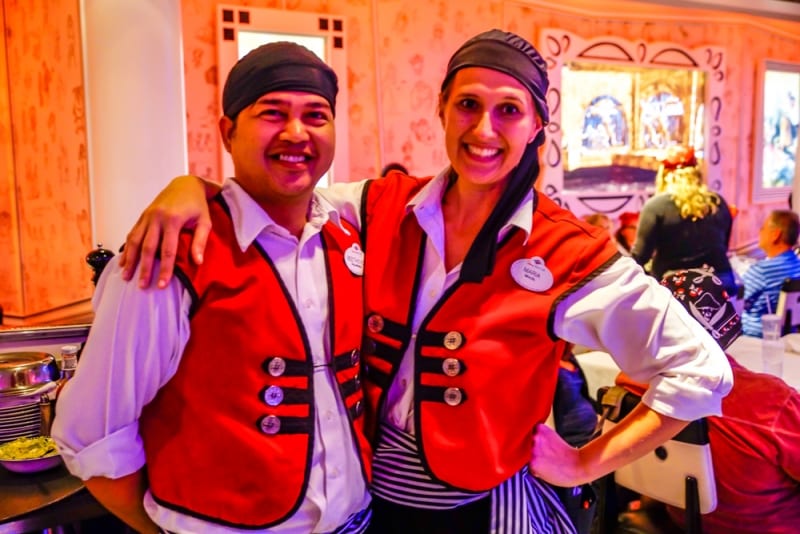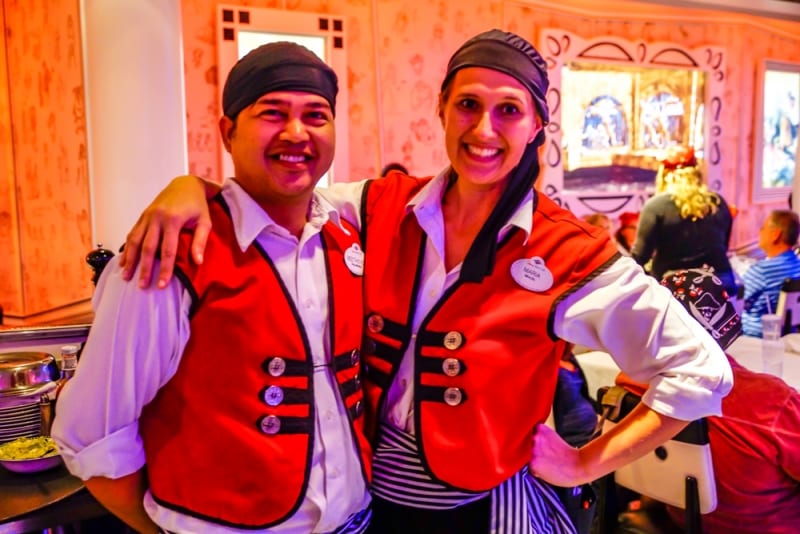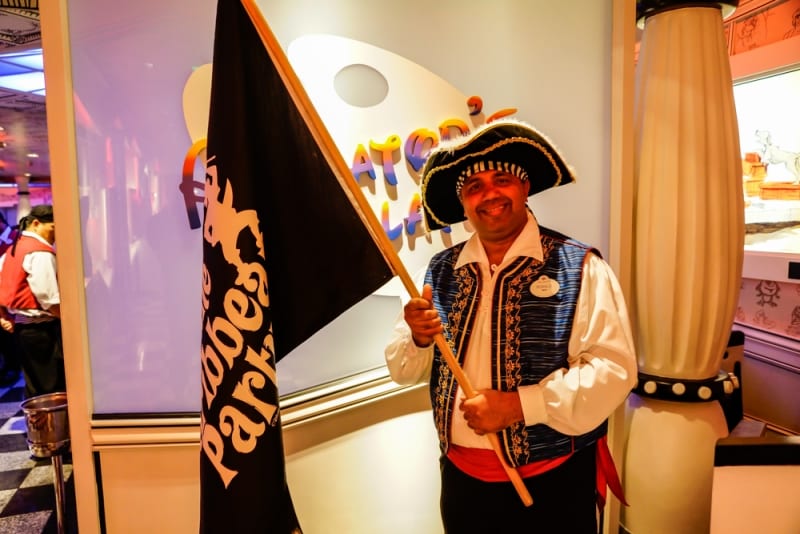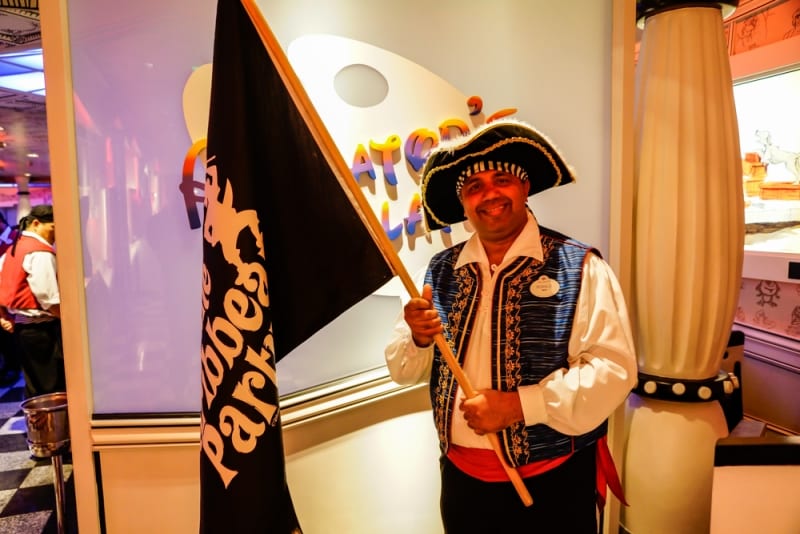 Our table is ready…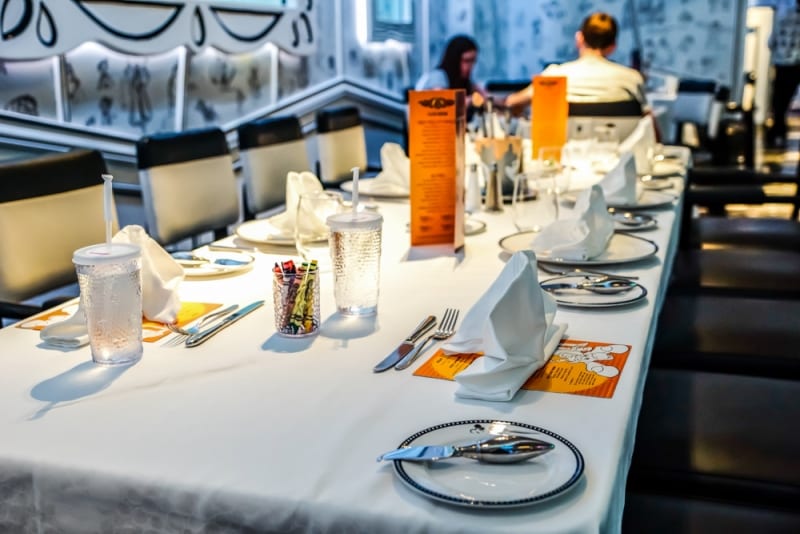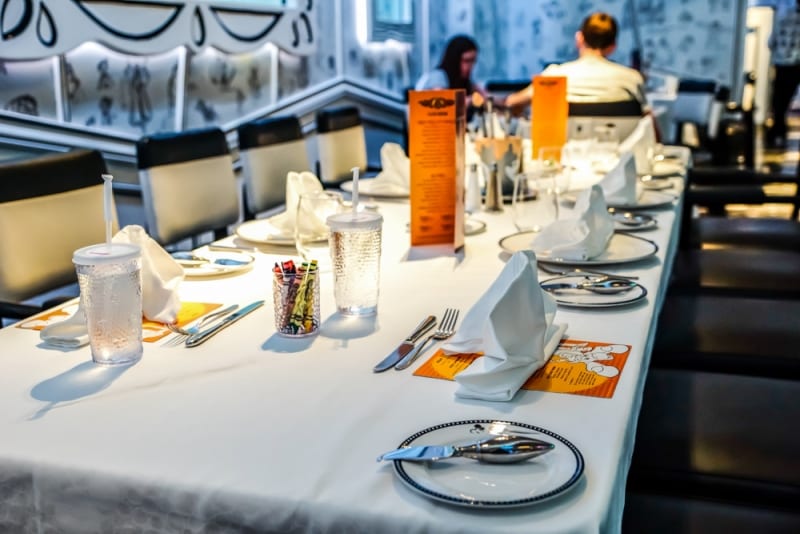 We're here to eat so let's see what a Pirate Night Dinner is like!
Food:
Captain's Treasure: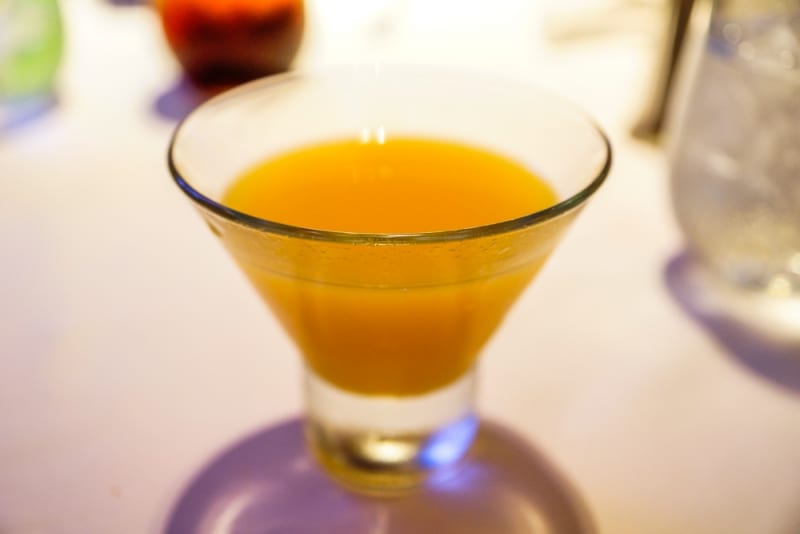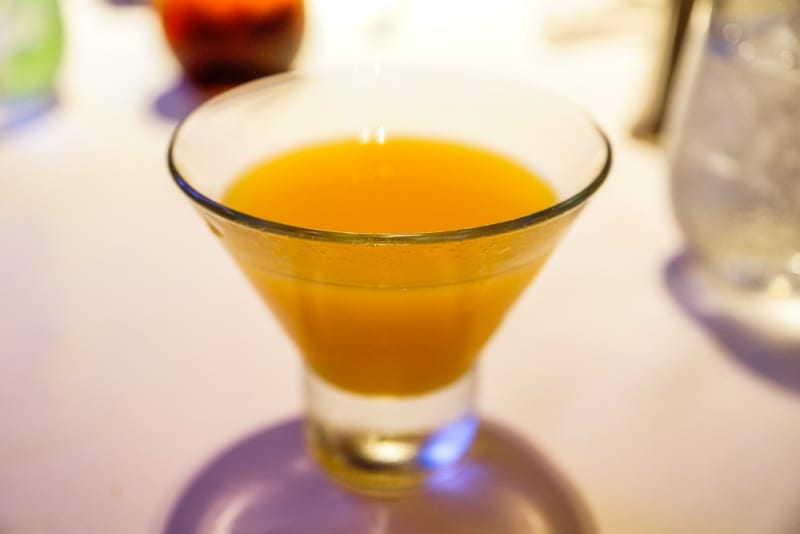 The Captain's Treasure was pretty good. We were in the mood to feel a bit fruity tonight, and it had a strong peach and orange juice flavor, even the Absolute is mandarin-flavored. It could have been a bit stronger but it got the night started off right!
Davy Jones' Locker Rock Crab Cake: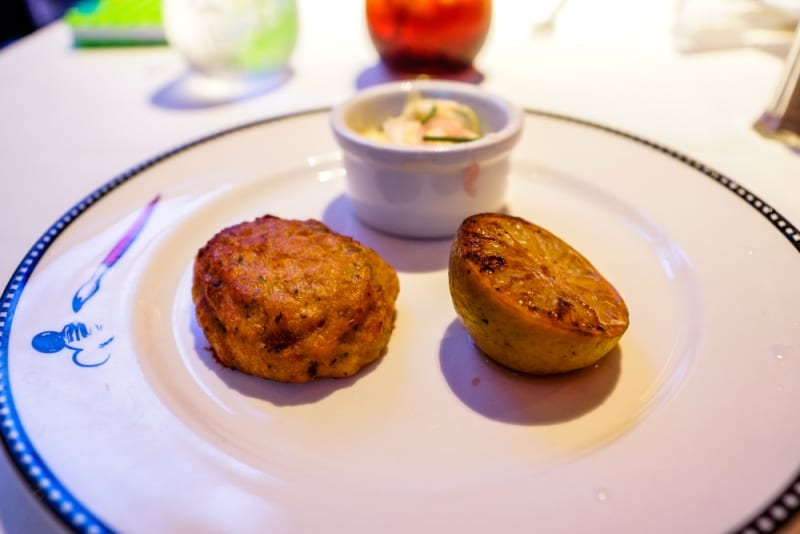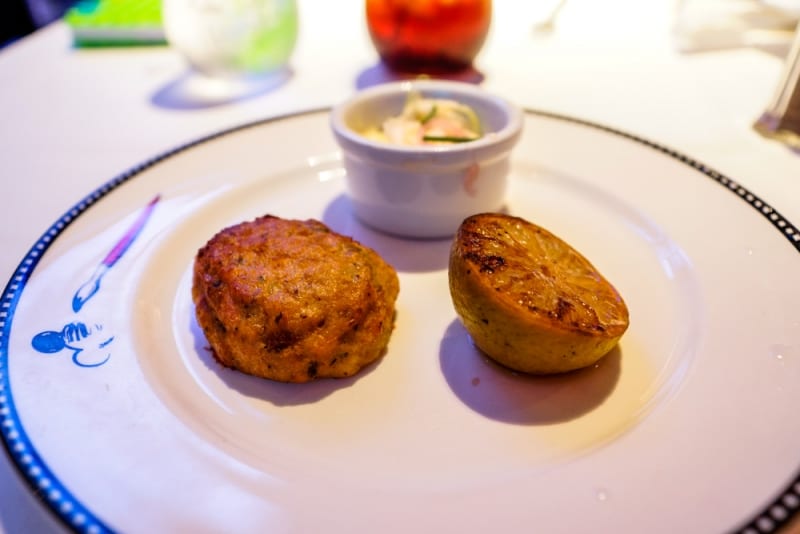 The bad thing about the crab cake is that it was so small. Just looking at it sitting there on the plate all alone makes me a bit teary-eyed. No, but seriously, it was a pretty decent crab cake, had a nice crab flavor, but the consistency could have been a bit flakier, it seemed like they used some filler here. Not the best but good. I didn't touch the coleslaw because I don't like the stuff, so don't ask me about that. If you feel like crab cakes and are really hungry, order 2 of them as they are quite small.
Master Gibbs' "1/2 Pint of Shrimp" Cocktail: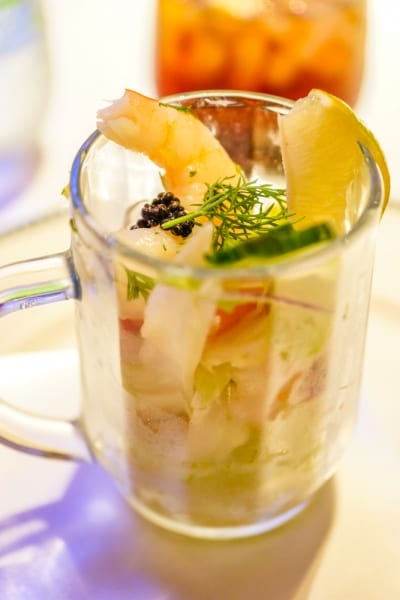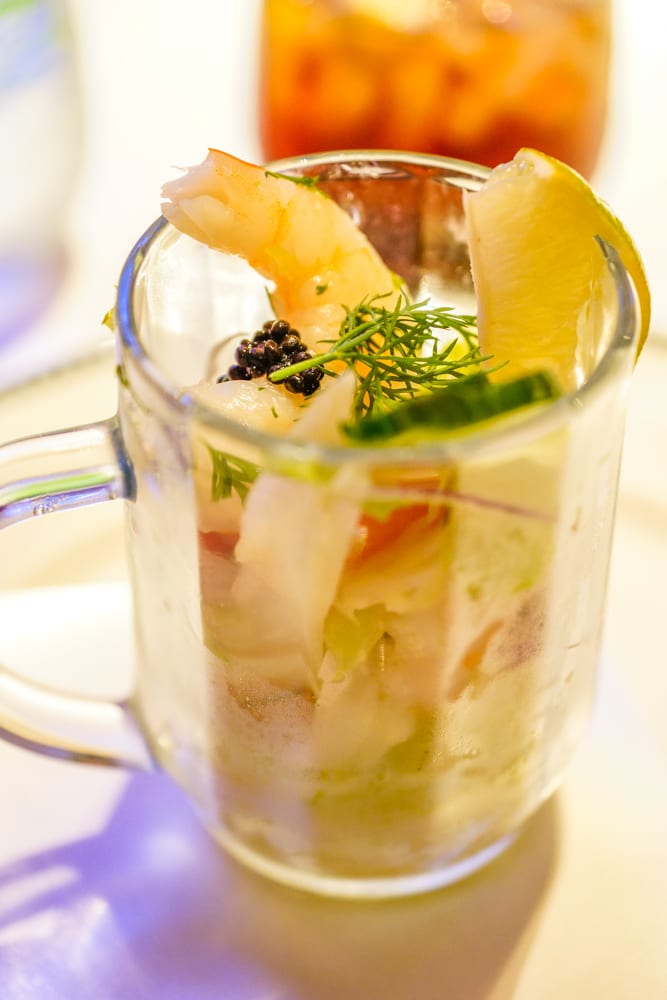 It was a lot of filler and not enough shrimp for me. The shrimp in there somewhere I promise, but you gotta look for them. No I mean there were maybe 3 in there, so again while the shrimp themselves are fresh and were good, don't think you'll be splitting these with anyone. Good thing we're on a Disney Cruise where you can just ask for as many of them as you want!
"Boucanier" Smoked Saucisson, Baked Brie, Brioche and Honey: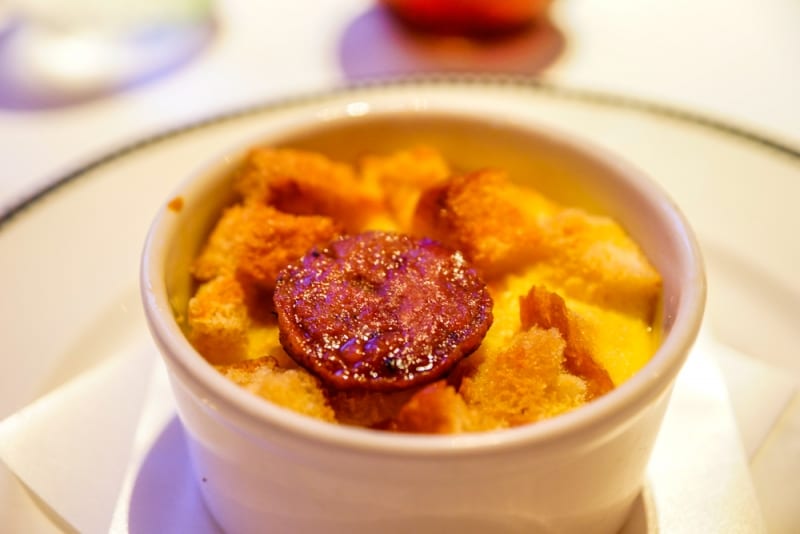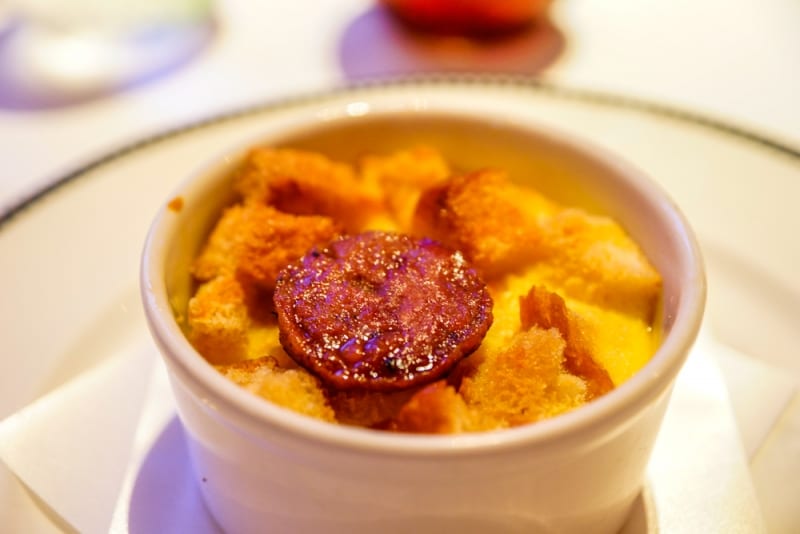 My wife ordered this and she was really satisfied with the choice. This is a really particular dish, and very rich. It's full of Brie cheese which is balanced by the brioche cubes which cut the richness and texture a bit. You also get the nice taste of honey mixed throughout the dish, and one slice of sausage on top. Our favorite appetizer for sure!
Jack's Treasure-of-the-Seas: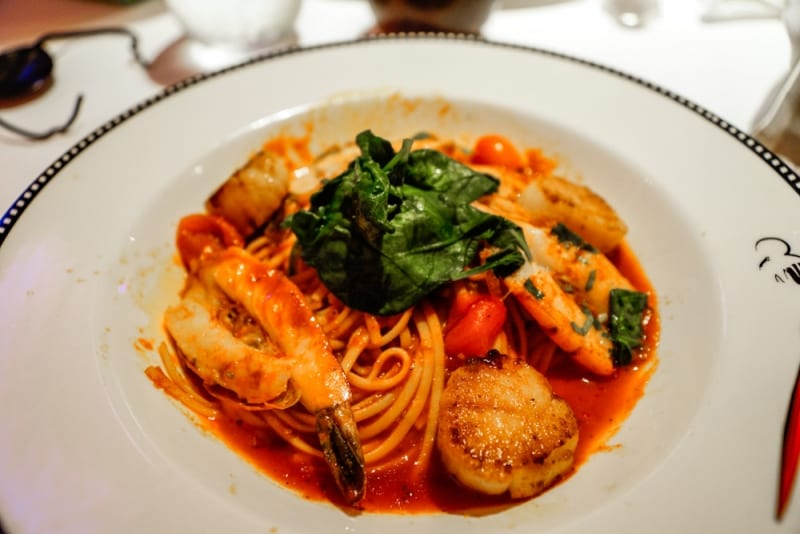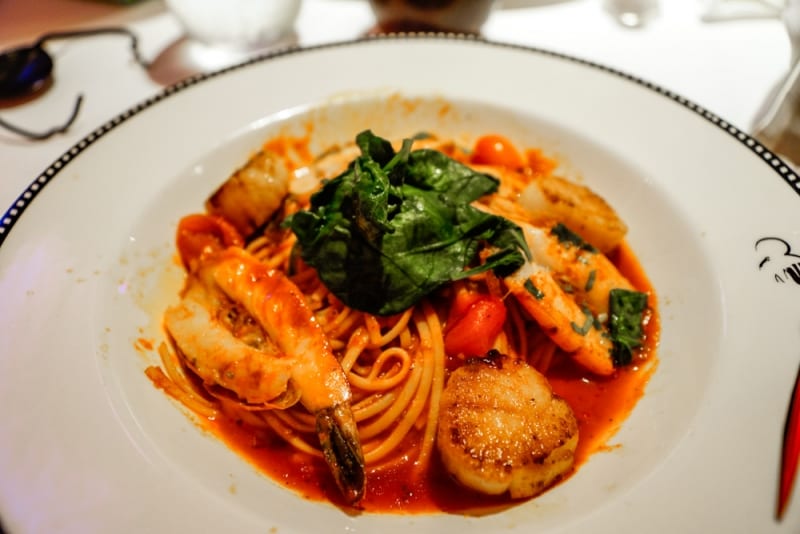 This is essentially a seafood pasta dish. It's filled with shrimp and scallops in a tomato-based sauce with basil and fresh tomatoes on top. When I saw this on the menu it was an easy choice for me as I always go for the scallops, but this time I was let down a bit honestly. The pasta itself was a little insipid and overcooked and the tomato sauce was a bit too watery for me. I ended up leaving a bunch of the pasta but making sure I finished off the shrimp and scallops. In a word, Disappointing.
Cortes's Cilantro Marinated Caribbean Grouper Filet: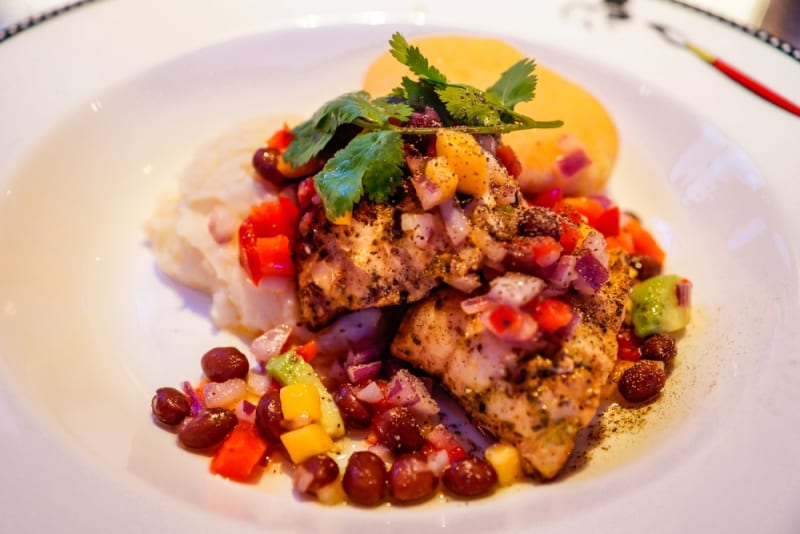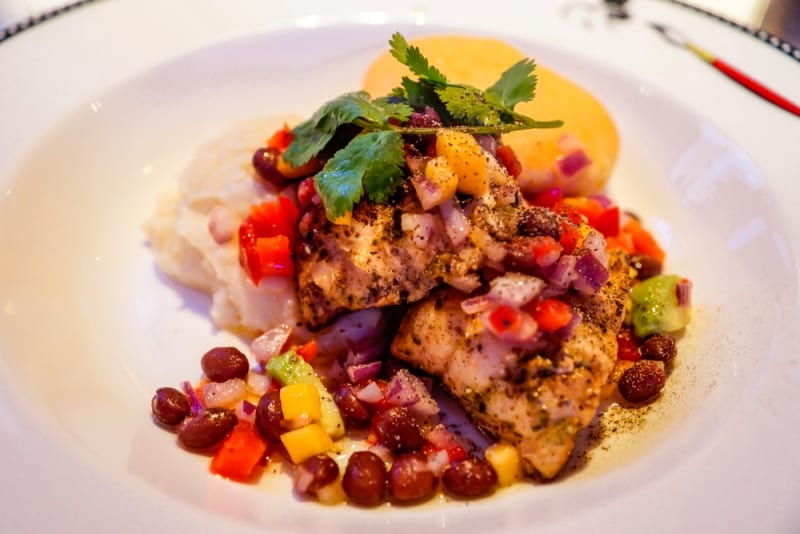 The grouper was one of the healthy options on the menu and we really like the Caribbean influence in the dish with the fresh black bean salsa put on top. The salsa had lime, avocado, red onion in it as was a nice refreshing take on fish. In a normal restaurant the piece of fish itself was spiced nicely and the portion was really generous. Definitely big enough for one, maybe even two, but since you're on a cruise we of course didn't even consider that.
King George's Roasted Privateer Strip Loin: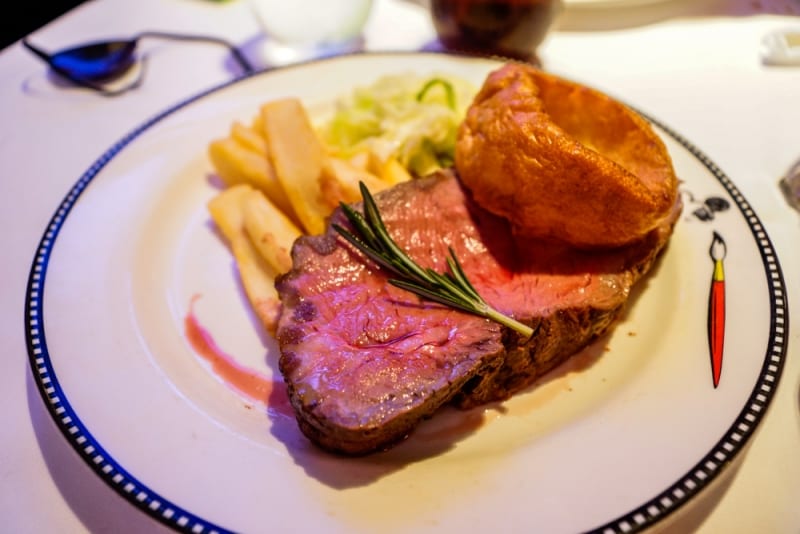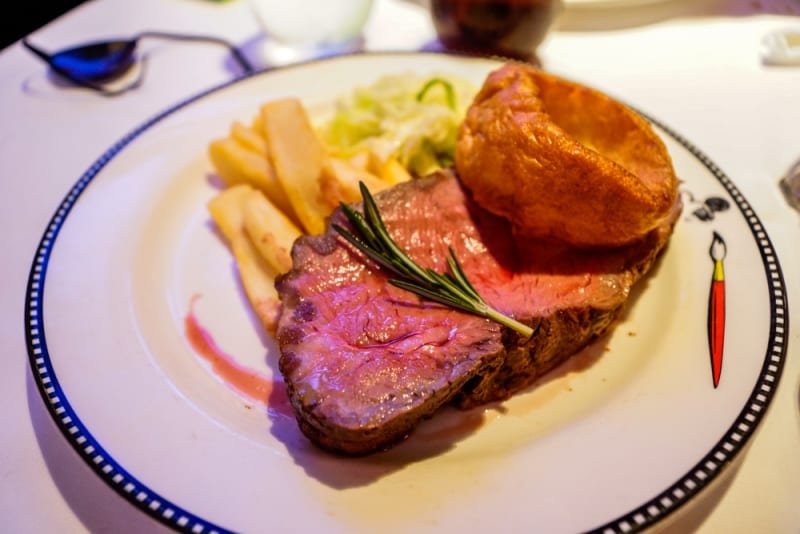 This was our favorite dish of the night hands down and even better than the grouper. It's called strip loin, but it's almost similar to the cut from the rib. Nice size and cooked medium rare like I always like it. Despite being a leaner cut of meat without a lot of fat, it was very flavorful and tender too. The sides of potatoes and Yorkshire pudding were nothing to write home about, but you're getting this for the meat so don't worry!
We couldn't finish our Pirates Night Dinner Review without getting some desserts of course!
Caramel Macadamia Nut Cheesecake Tart: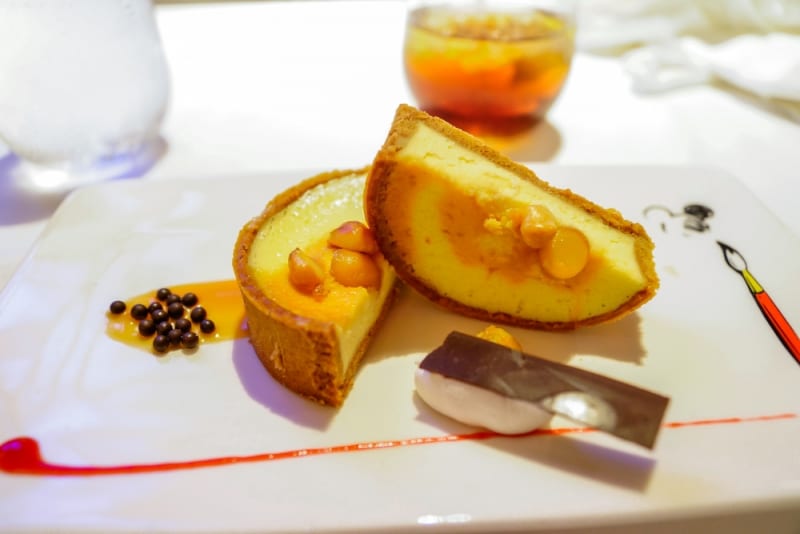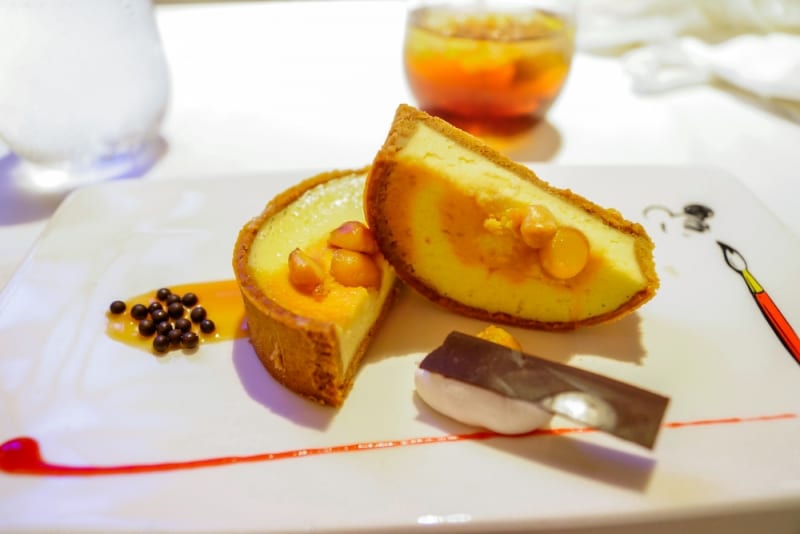 We love anything caramel, so we jumped all over this when we read it. The tart crust was thin but sense, almost like a really good cookie, and had a dense cheesecake filling which was really good, not too sweet. On top there were a few macadamia nuts, and a small side of whipped cream and drizzle of caramel on the side. I thought it was good overall, not quite what I was expecting as I was hoping for a bit more caramel flavor actually in the cheesecake, but a solid dessert.
Rum-Soaked Chocolate Cake: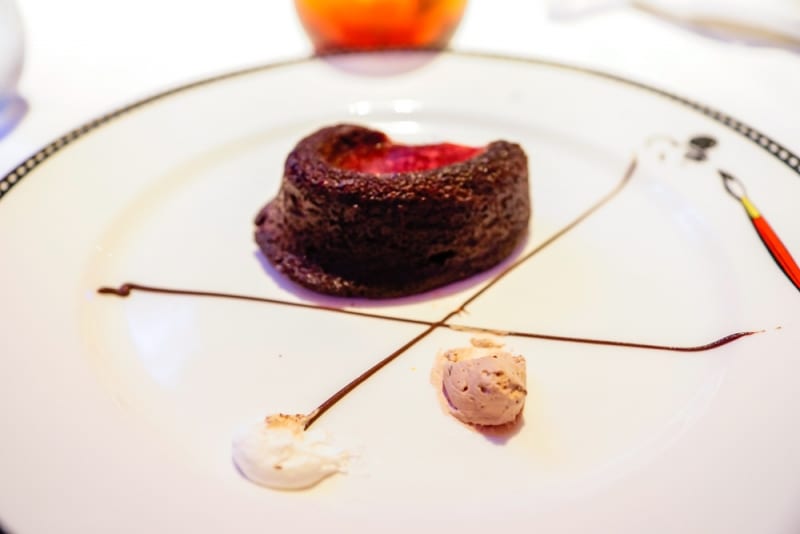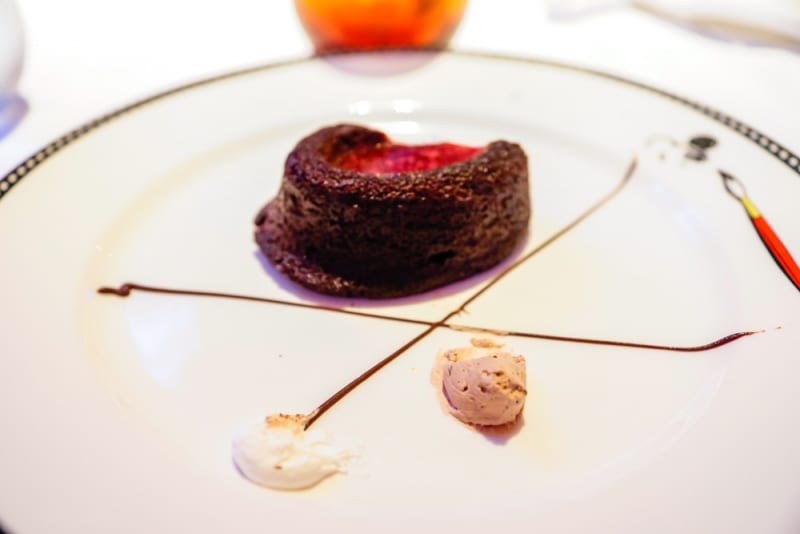 Let's get this out of the way now, yes that is a bite taken out of it as we dove right in before I even remembered to take a photo! ?. I'm not one for rum-flavored desserts usually, but this wasn't bad, and I didn't find it overly alcohol-tasting. I loved the raspberry glaze on top and wish I could have ordered a bowl of it with some whipped cream!! (a small bowl) ?
Bounty Fruit Cobbler: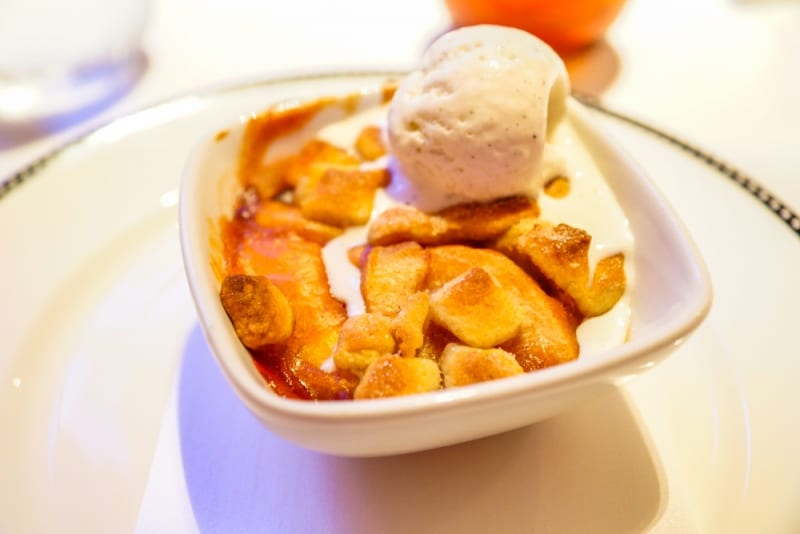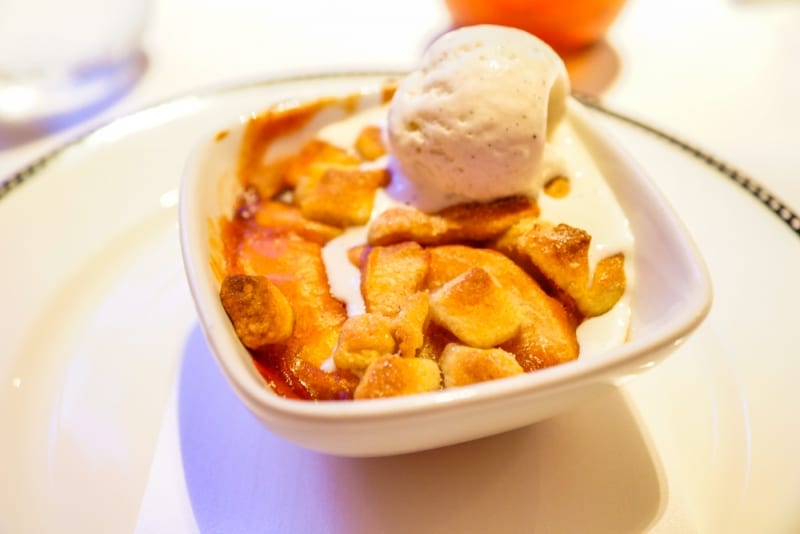 The fruit in the cobbler is seasonal, so you know you'll be getting the freshest and best tasting at the time of your cruise. That said it was our unfortunate luck to have peaches be the choice for the cobbler, which I'm not a fan of in desserts, but the others seemed to enjoy it. The cobbler is served hot and the ice cream on top melts all over it making for a gooey and scrumptious dessert that's also big enough share if you do that sort of thing!
Pirate Night Party and Festivities After Dinner: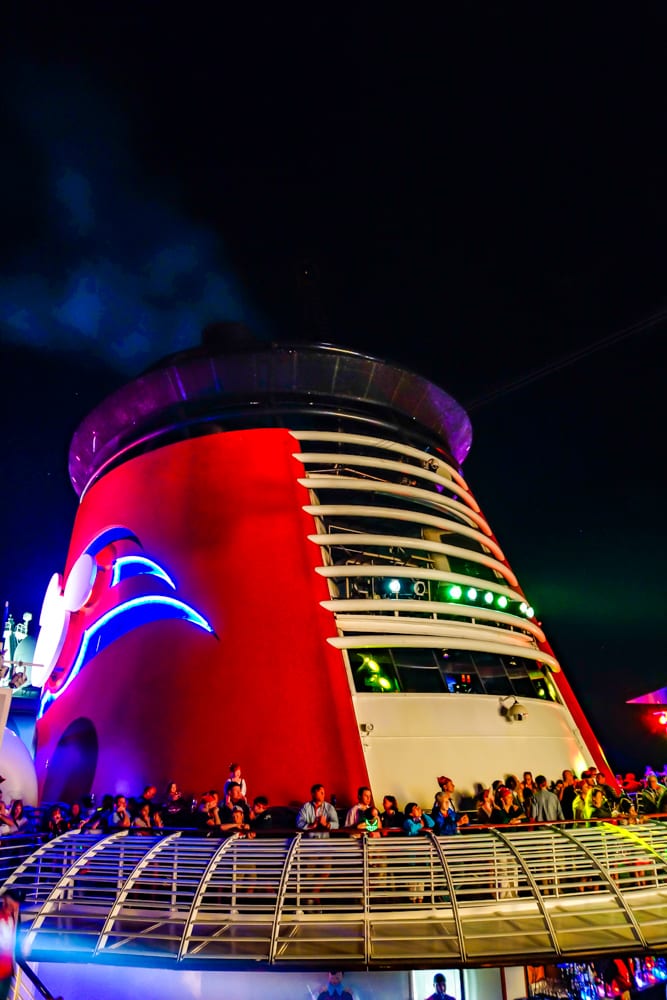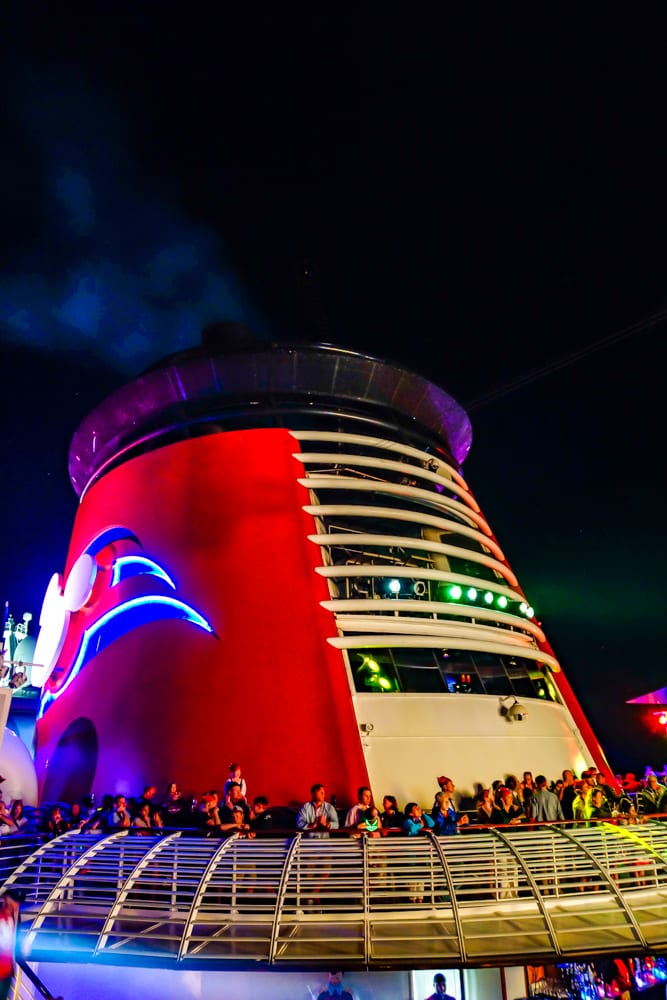 After our Pirate Dinner, we headed right up to the Main Deck and got ready for the show! During the show, Mickey Mouse and friends in an epic showdown, go up against a band of pirate thieves: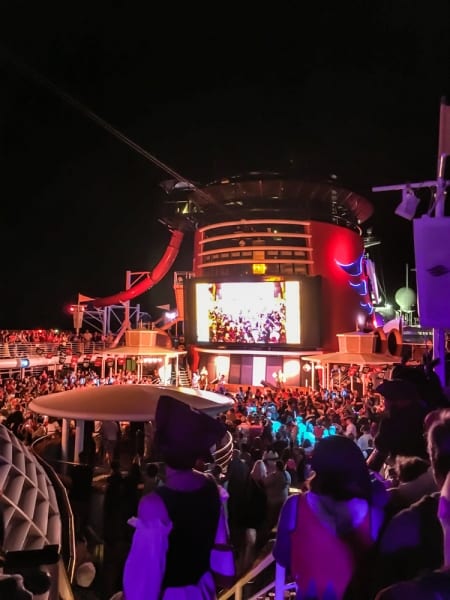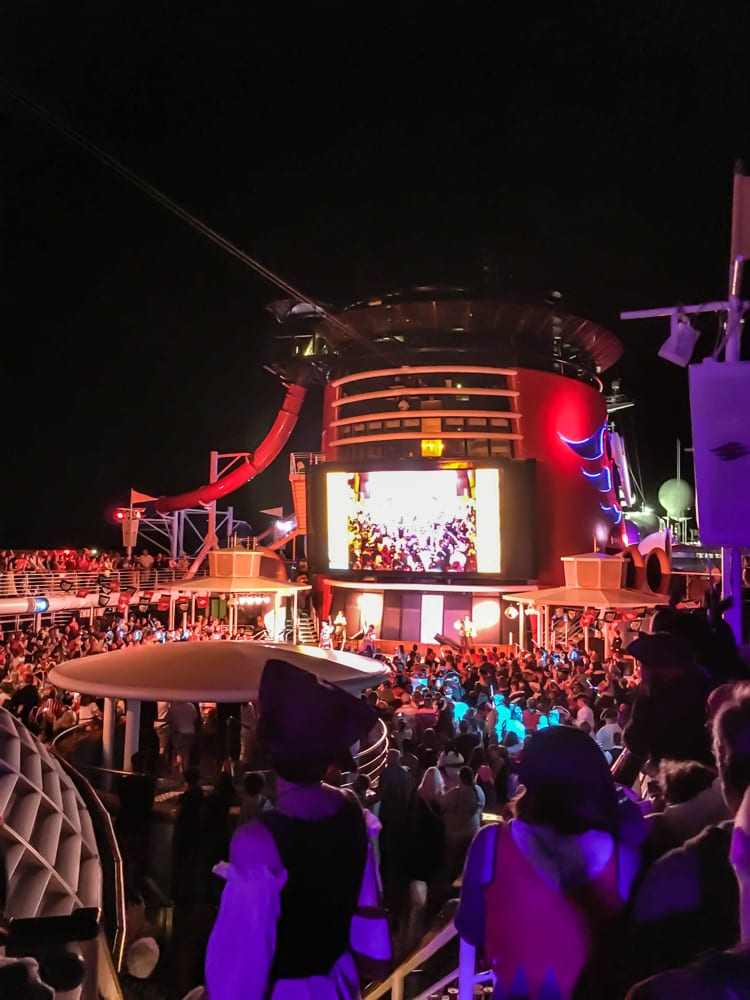 TIP: Space at the Deck Party fills up really fast. So in order to get a good spot, get there as early as you can. The main event takes place after second dinner seating (8:15 p.m.) so it's better if you eat dinner during the first seating.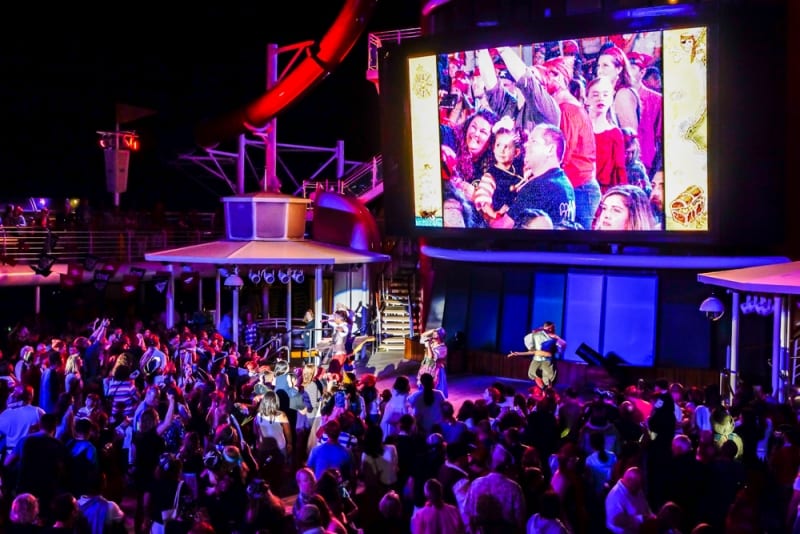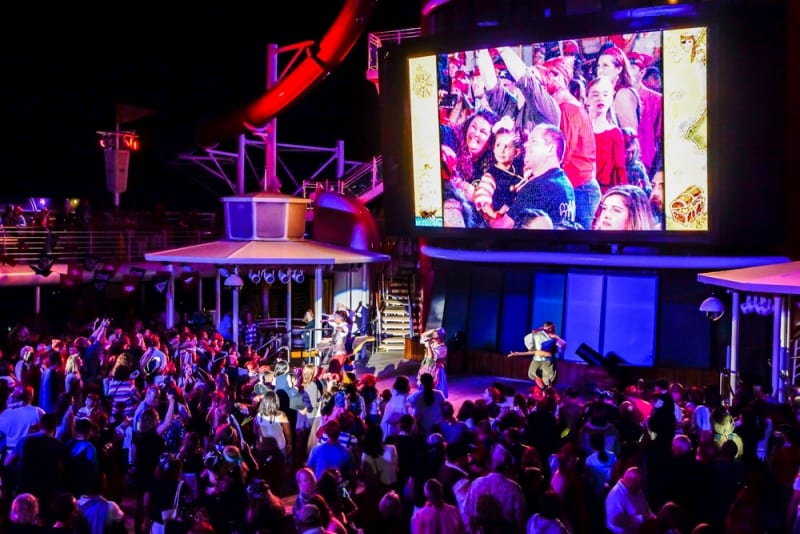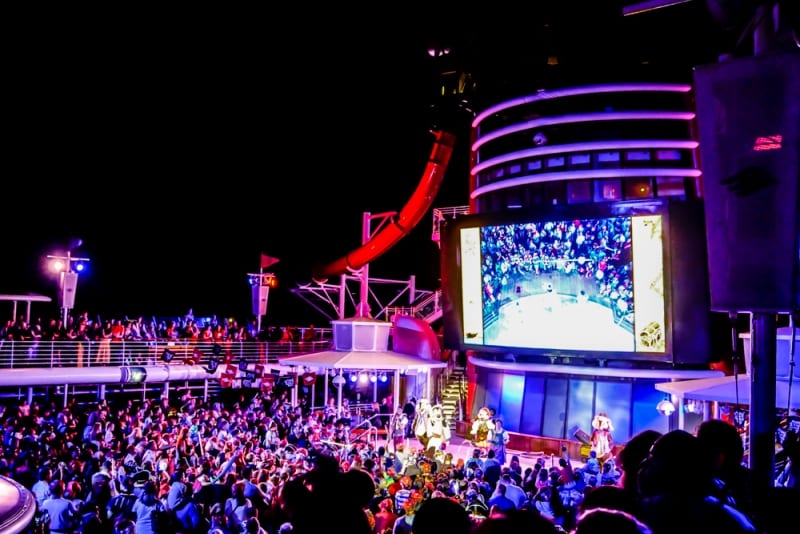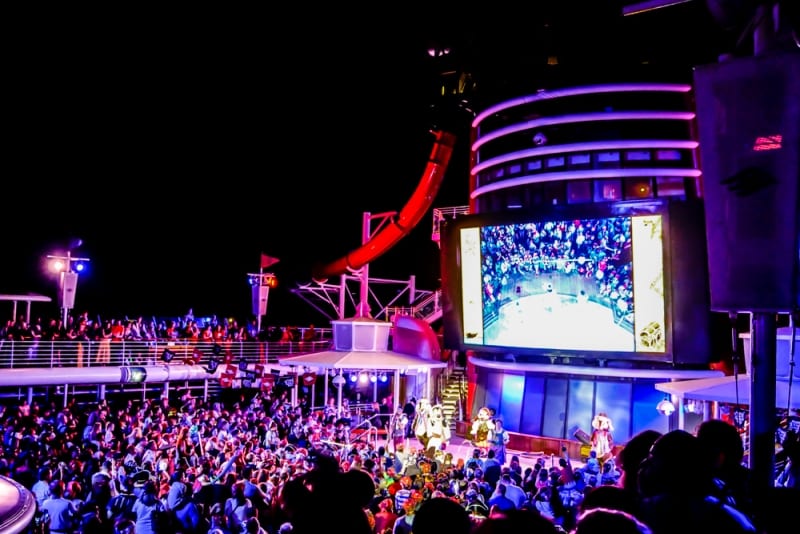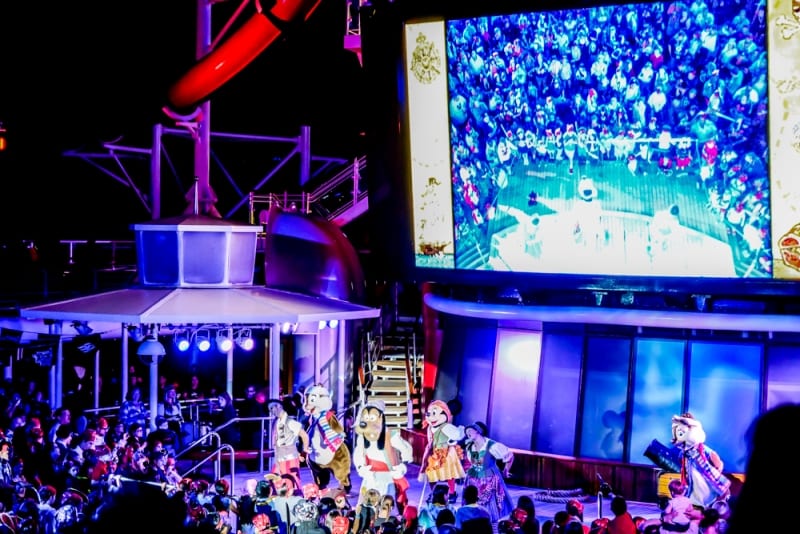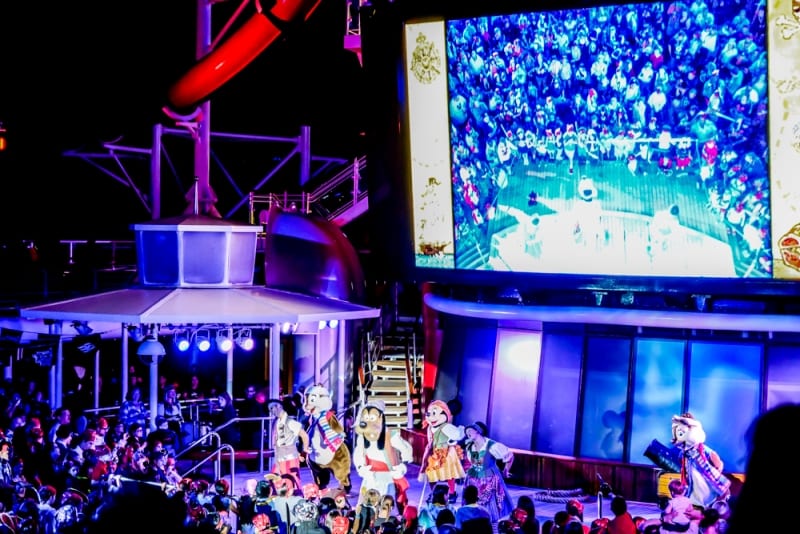 Where is Mickey though??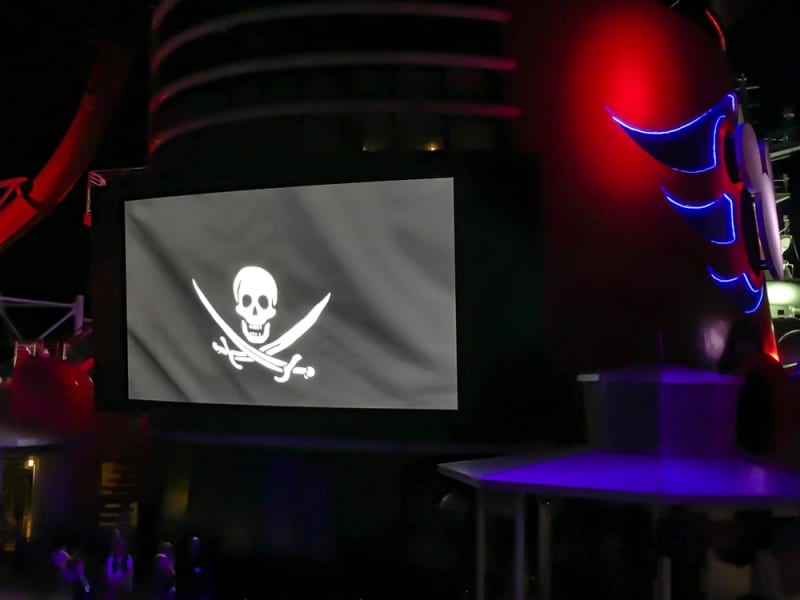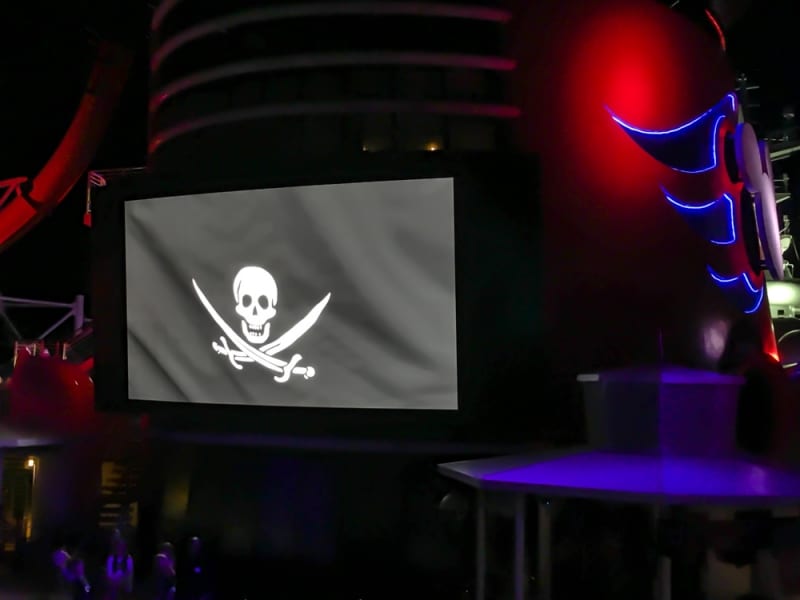 Here he comes!!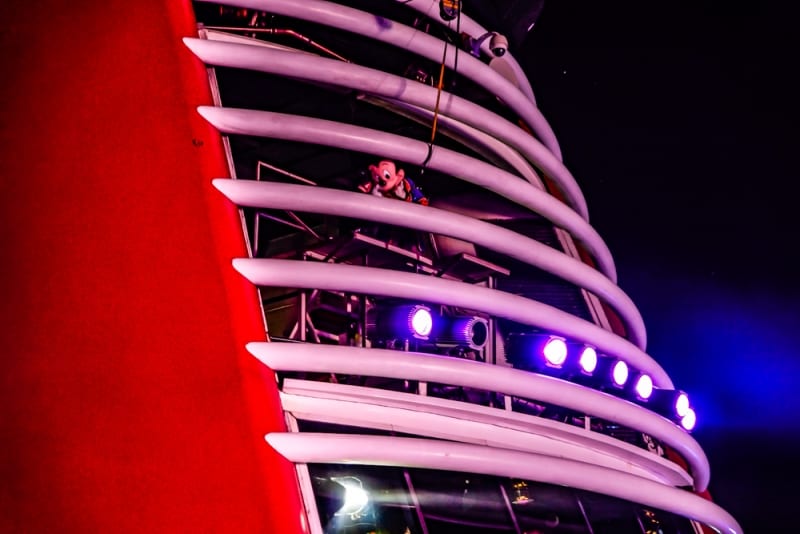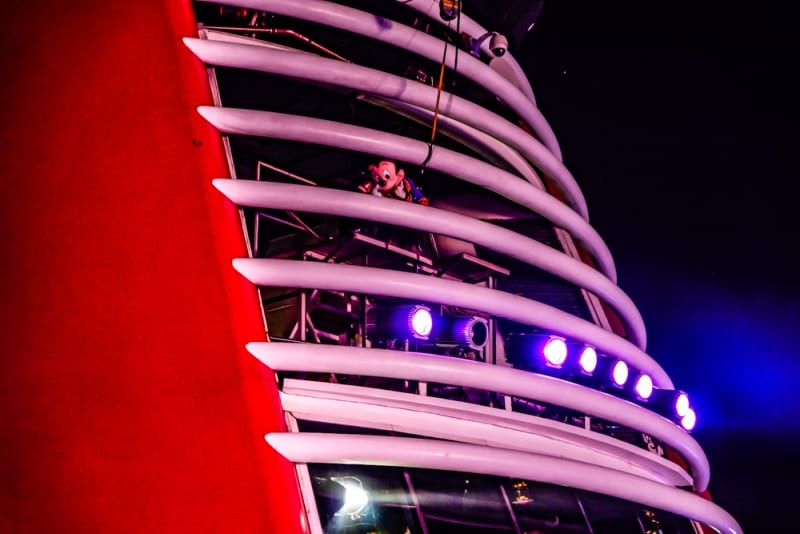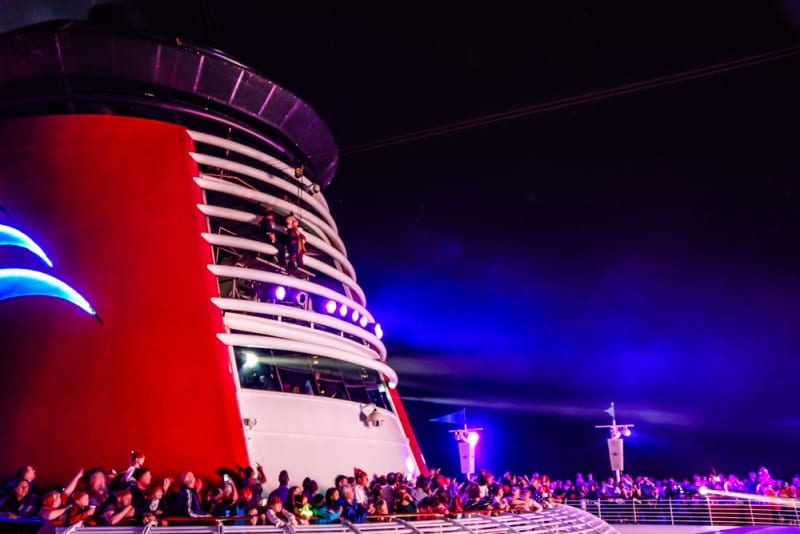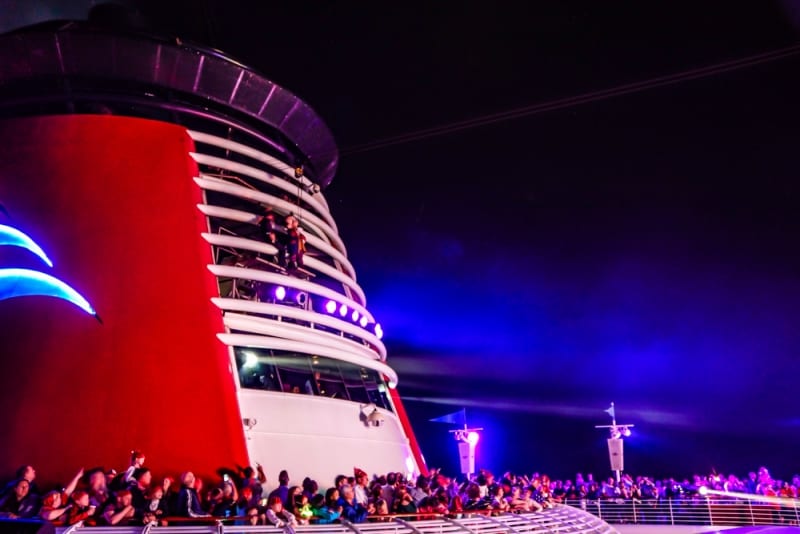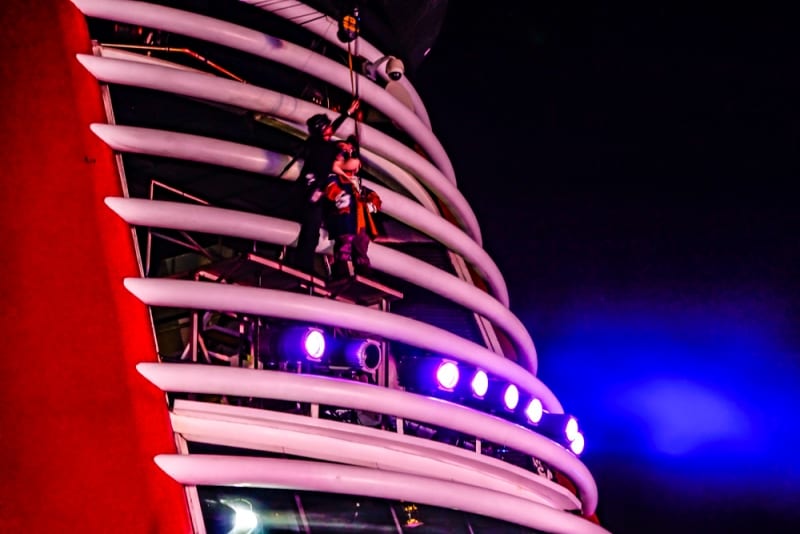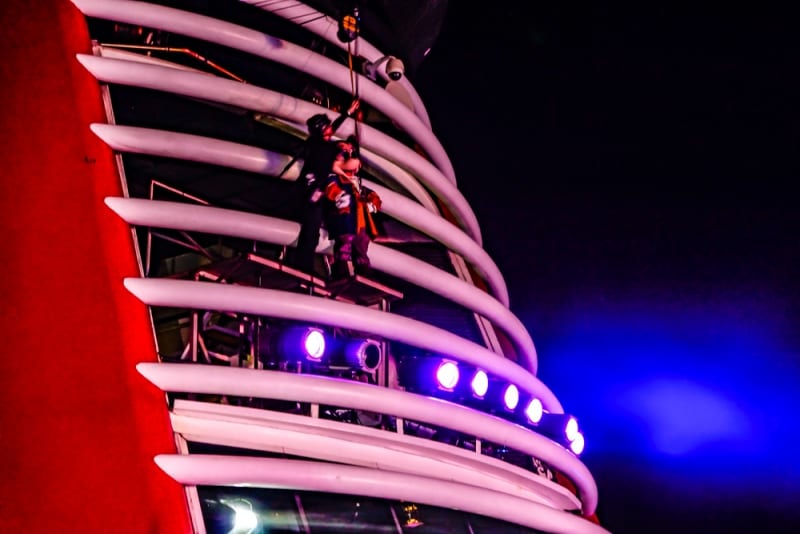 Mickey's coming to save the day!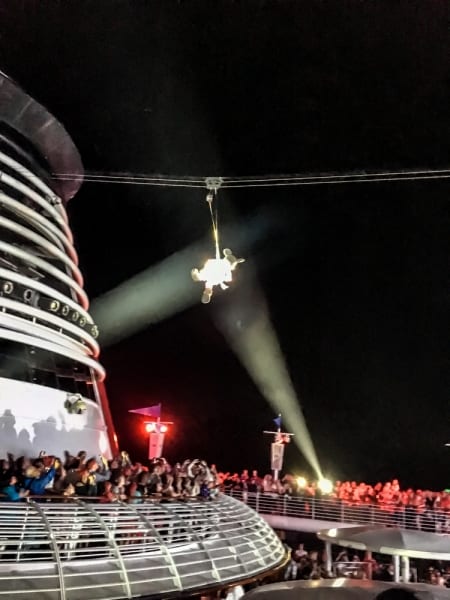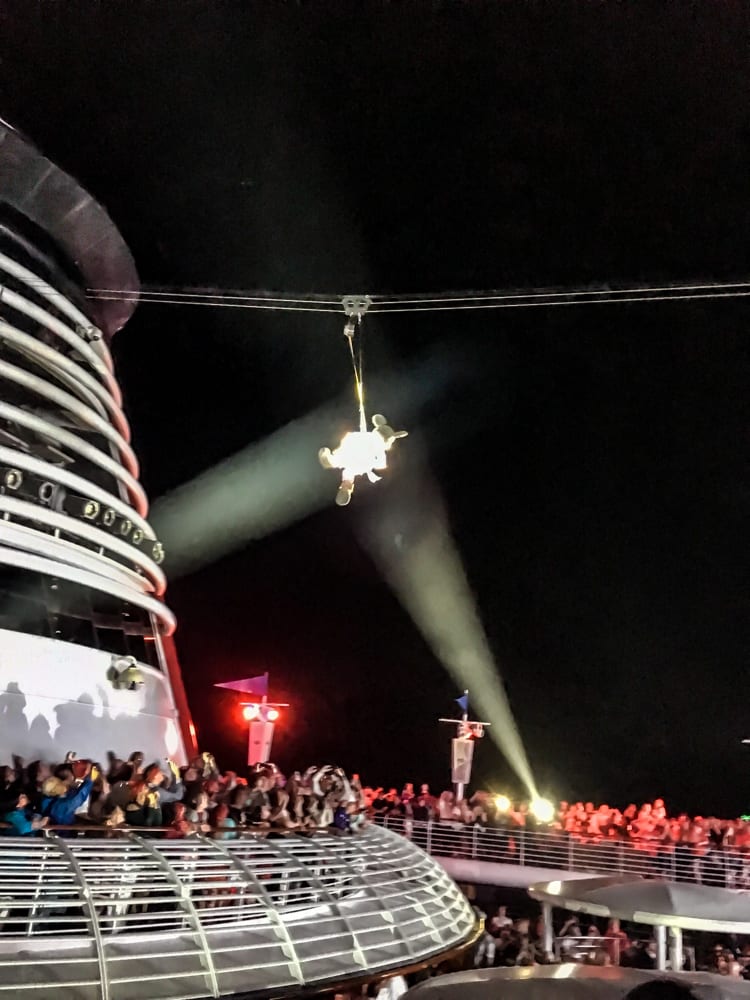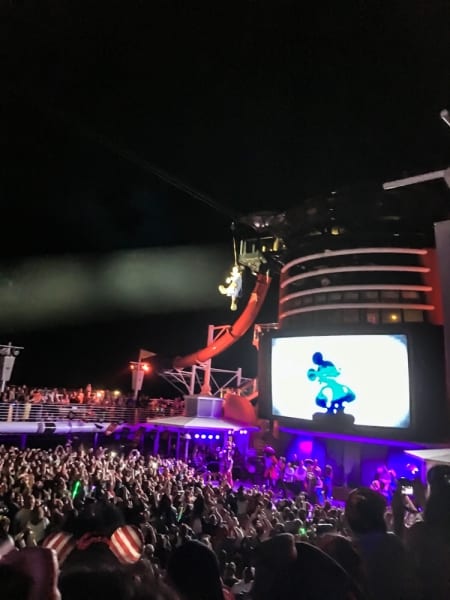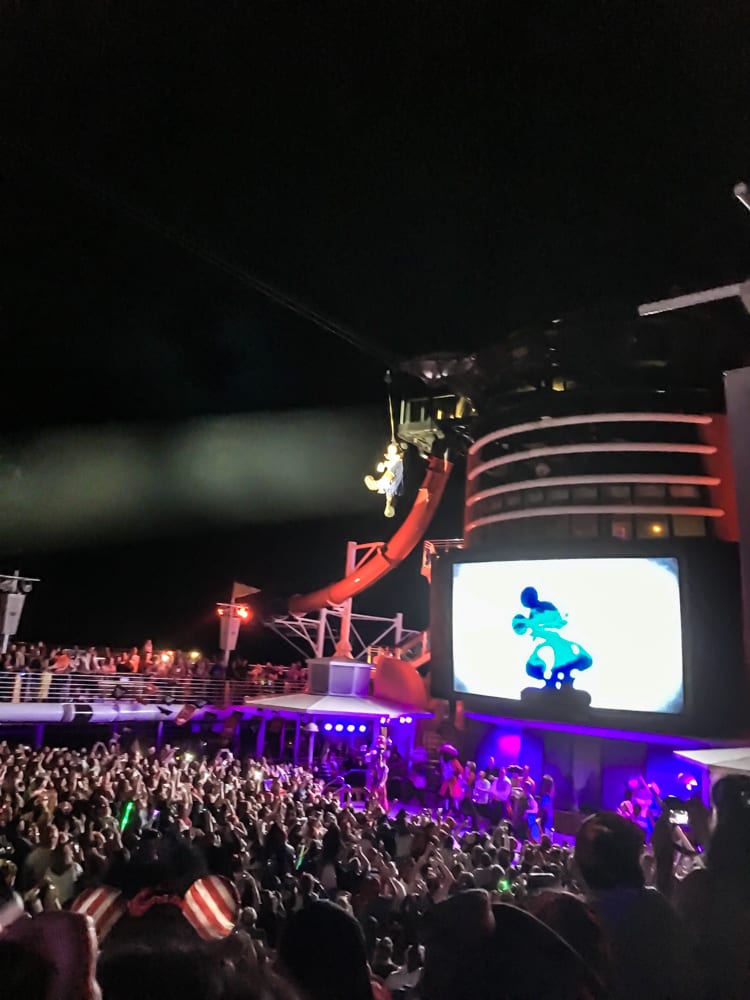 He did it!!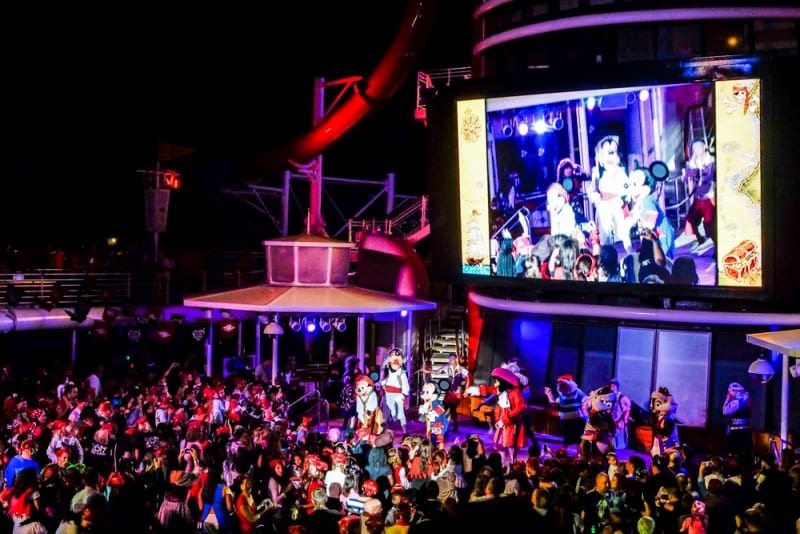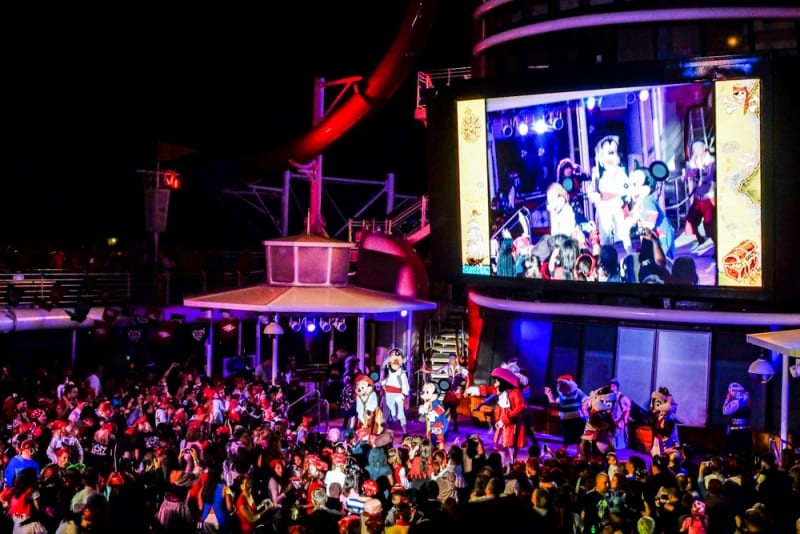 Once the show is over, make sure to stick around as the entire deck turns into "Club Pirate", a dance party for all ages. A live DJ comes out and you can witness an awesome light show. The entire show was very interactive and full of energy, kids and adults were having a blast!
My favorite part of the night though was the Fireworks show. It's not as crazy or elaborate a show like Happily Ever After, or other fireworks shows you'll find in the Disney Parks, but watching the streams of colors explode off the side of the ship, choreographed with Pirates of the Caribbean music was the perfect ending to a perfect night!
TIP: For the best view of the fireworks, position yourself on the upper deck to the left/back side of the stage (left when looking at the stage). This will give you the best view as the fireworks are show off the opposite side and if you are too close you loose some of the impact. Again get there areal and grab your seat!
Summary:
We had an excellent time during our Pirates Night Dinner Review, and the overall experience was fantastic. It was a super fun night and a perfect example of why Disney is steps above other cruise line companies.
We loved the fact that the vast majority of the people onboard were really getting into the whole Pirate Night. Lots of people were dressed up, not only the kids, and people were very enthusiastic and really getting into the whole night, which made the atmosphere all the more fun. We didn't do the kid's activities in the afternoon, but it looked like they were all having fun and if you have kids they're worth it. The deck party was really rocking! We loved the music, all the Disney characters dancing on stage, and the whole thing was lively and very entertaining. The fireworks were also beautiful to watch and capped the night off perfectly.
As for the Pirate Night Dinner, we enjoyed that also. You're going to find a nice diversity of food, which will cater to every kind of eater, and the overall food quality was good, on par with the regular menus you find at the rotational dining restaurants. For our experience in Animator's Palate, I'd say it was just a hair under their normal dinner we had a few nights earlier as a few of the options we got were disappointing, but overall it was good.
We really liked the "Boucanier" Smoked Saucisson for an appetizer, the Caribbean Grouper Filet was excellent and King George's Raasted Strip Loin was really outstanding.
Pirates Night on the Disney Cruise Line is an experience definitely worth doing, and it's even more fun when you dress up and get in on the action. So bust out those eye patches, put on your bandana and party with Mickey and his friends during Pirate Night on your next Disney cruise. For more info check out the Disney Cruise Line Website.
I love to write Restaurant Reviews of Walt Disney World, Disneyland and Disney Cruise Line and I hope you found this one to be informative and helpful. If you liked this review then please visit my Disney Dining Reviews Page where I have many other Restaurant Reviews. I'm happy sharing with you what I love doing best…eating! ? I try to bring you the most thorough and unbiased reviews about the food and restaurants at Walt Disney World, so that as you are planning your vacation, you know the "can't be missed" places, and where you shouldn't waste your time. Hope you enjoyed this one and will enjoy many others in the future!!
Your Thoughts:
I want to know what you think about my Pirate Night Dinner Review.
What have your experiences at Pirate Night been like?
What's your favorite thing on the menu?
Which Disney Cruise special day do you prefer?
Let us know in the comments section below!
If you enjoyed this article, as always I appreciate it if you'd share it with others via social media. I work hard at making this website into a useful resource for you and your family to plan your visit to Walt Disney World, and I hope it can help you! Thanks 🙂