This is a Guardians of the Galaxy Coaster Construction Update. With progress on Disney's newest attraction in Future World going at supersonic speeds, we can now see the roof being installed on the Guardians of the Galaxy Coaster as well as new steel being added to the far side of the attraction.
As we saw last time, the Guardians Coaster is going to be huge, which is also going to have a visual effect around Epcot as guests can already see the construction from World Showcase and Future World. Check out those photos to see how big this attraction really is and its impact around Epcot.
Thanks as always to @bioreconstruct over on Twitter who for the great aerial shots he gets, including this one of the Guardians coaster.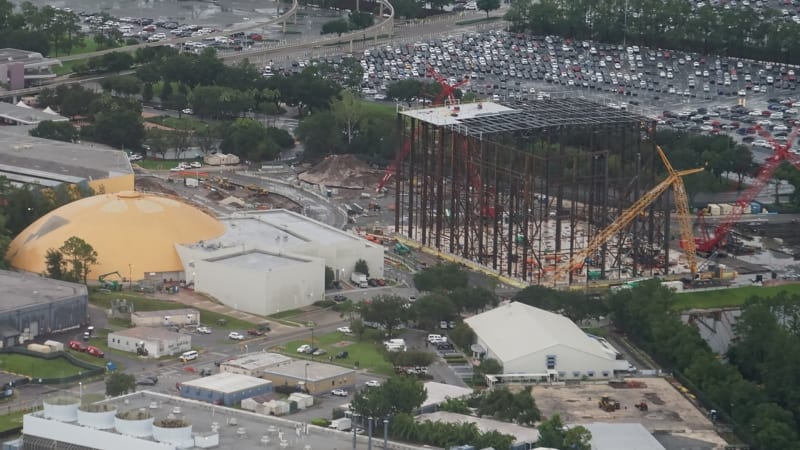 You can see the Guardians coaster positioned behind the Wonders of Life Pavilion. The outside structure of the building is almost complete with more steel being added on the far part. If you look at the top left of the building you can see the roof starting to being installed. I can't imagine those workers up there, that's got to be really scary, but I guess it offers some incredible views too though!
No word on how long it will take to install the roof but it looks like it's moving pretty fast so I'd say in a couple of weeks probably once the other side of the building is up.
The Guardians of the Galaxy coaster is expected to open in 2020/2021 so stay tuned for more updates…
Check out our other Walt Disney World Construction Updates such as:
Your Thoughts:
I want to know what you think of the roof being installed on the Guardians of the Galaxy Coaster.
Are you excited for the Guardians coaster?
What elements are you hoping to see when it's done?
Let us know in the comments section below!
If you enjoyed this article, as always I appreciate it if you'd share it with others via social media. I work hard at making this website into a useful resource for you and your family to plan your visit to the Disney Parks and I hope it can help you! Thanks 🙂