You've probably heard about the Disney Skyliner Gondola system, the brand new transportation system in Walt Disney World. We are excited to share all the details with you including a full tour inside and outside of the Disney Skyliner Gondola cars, the air-cooling system, the future expansion map, route information and more!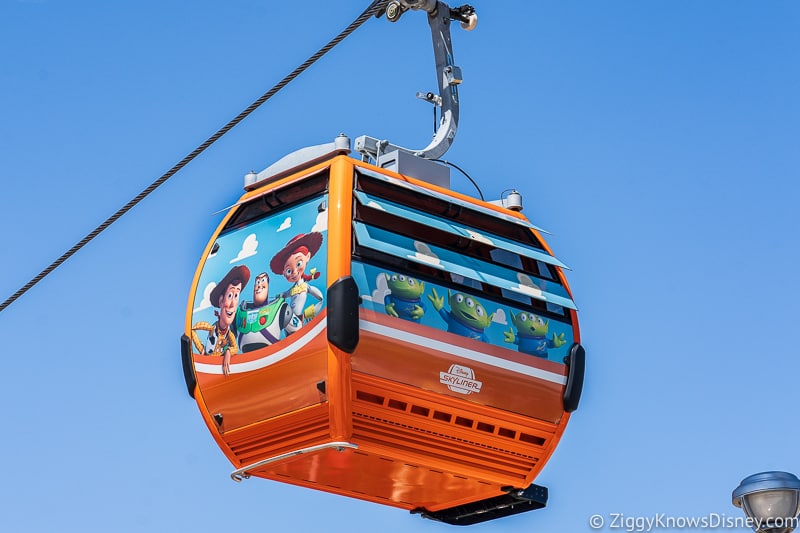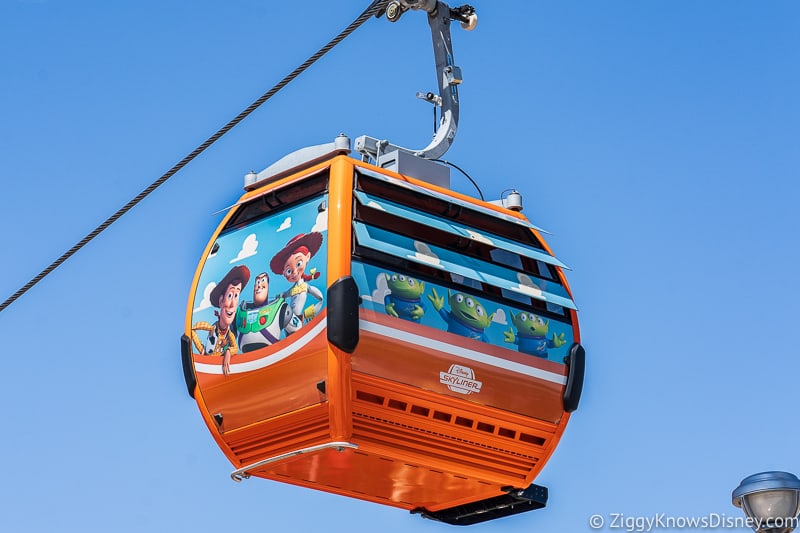 (Update 9/10/20) – Operating Hours for the Disney Skyliner have been changed due to the reduced operating hours for the Disney World parks. Read more in the NEWS section.
Think of this as everything you need to know before riding the Disney Skyliner Gondolas in Disney World. Our goal with this post is to give you all the information before riding the Disney Skyliner. We'll let you know about:
Skyliner Map
Operating Hours Schedule
Stations
Capacity
How Long it Takes to Travel with the Skyliner
Guest Accessibility
Future Plans
and all FAQs
Disney World's newest transportation system is already operational, having opened on September 29, 2019. Since we've had a chance to ride the Disney Skyliner for ourselves, and it has definitely become our preferred way of traveling to and from the parks.
It offers guests some of the best views in Walt Disney World, carrying them high above the treeline and even passing over some of the hotels. You might say this is the "most magical flight on Earth." We're also going to share with you our thoughts and a review of the Disney Gondolas and let you know why it meets the hype.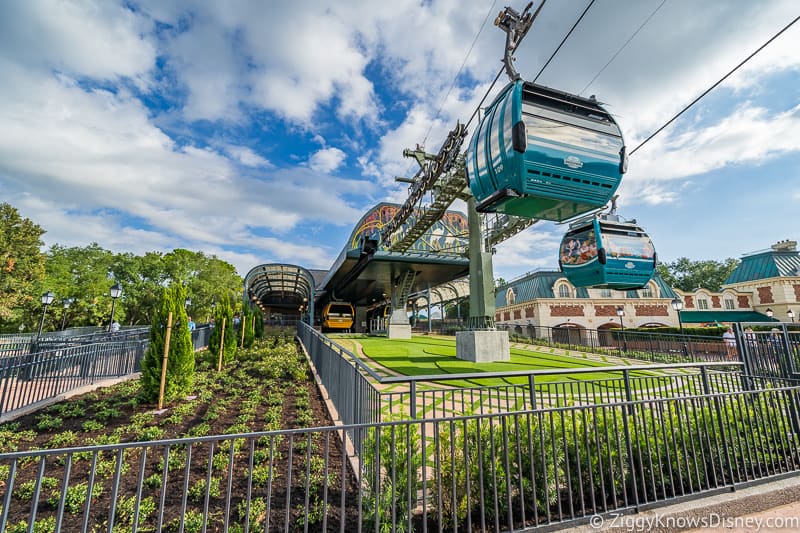 You may have heard some negative things about the Skyliner before riding too. In this article, we are also going to talk about whether the Disney Skyliner is safe and if you should worry when riding it or not.
We also are including the latest updates for the Disney Gondolas to keep you informed of any changes happening. In the latest update, we've included the answers to many more Disney Skyliner questions so be sure to check them out. If we leave something out please send us a question below and we will do our best to answer it for you!
Also, don't forget to sign up for our FREE Weekly E-Mail Newsletter. There we bring you the latest updates on the Disney Skyliner Gondolas as well as the latest Disney Parks news. You can sign up here: Join our E-Mail Newsletter
Are you ready to take a ride with us? Let's find out what the hype is all about…
Disney Skyliner Overview
Location: Walt Disney World
Status: Opened September 29, 2019 (Temporarily closed during Disney World closure)
Transportation Type: Gondolas/Suspended Cable Cars
Capacity: 10 guests per car (temporarily limited to one party per gondola)
Number of Stations: 5
Number of Gondola Cars: Approximately 300
Number of Connected Theme Parks: 2
Number of Connected Hotels: 4
Tickets: No tickets required
Ride Length: 3 to 15 Minutes
Fun Level: High
To find out more about the Disney Skyliner, please keep reading further down where we explain everything in greater detail.
(NEWS 9/10/20): Disney Skyliner Operating Under Reduced Hours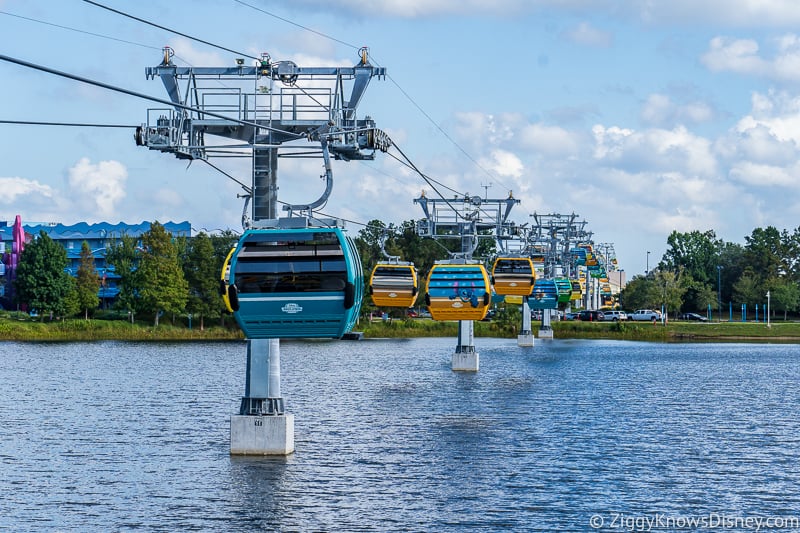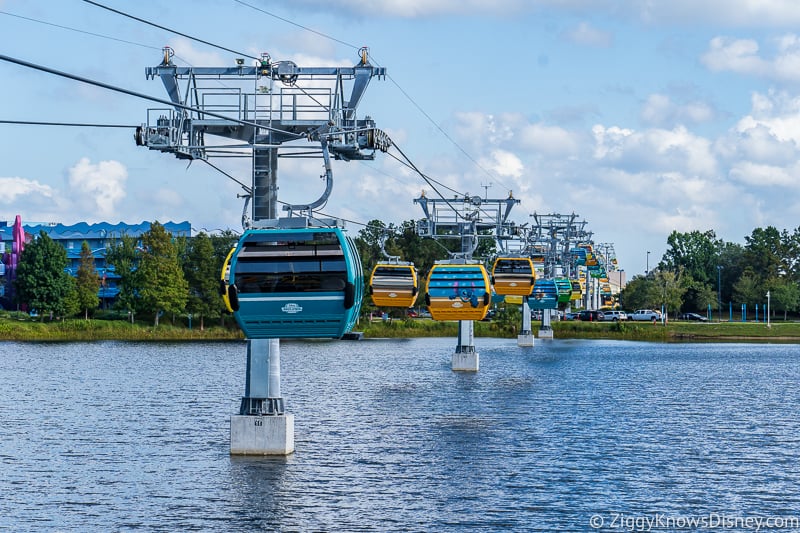 Disney has just announced reduced operating hours for the Disney Skyliner Gondola system effective immediately. Since The Walt Disney World theme park hours have been reduced, transportation methods like the Skyliner are also following suit.
Here are the new Disney Skyliner Hours for each of the 3 lines:
Disney's Hollywood Studios: 9:00 am to 8:30 pm
EPCOT International Gateway: 10:30 am to 8:30 pm
Disney's Pop Century Resort & Disney's Art of Animation Resort: 9:00 am to 8:30 pm
The Disney Skyliner will continue to close 1.5 hours after EPCOT and Hollywood Studios, which are both now closing at 7:00 pm.
This change of course is normal as it doesn't make a whole lot of sense to keep the Skyliner open if guests aren't going back and forth to the parks. I guess that late-night Skyliner Bar-hop schedule will have to wait for the moment.
Once parks increase their operating hours again, likely near the holidays, we expect the Disney Skyliner hours to be extended too. Stay tuned for more soon.
What is the Disney Skyliner Gondola System?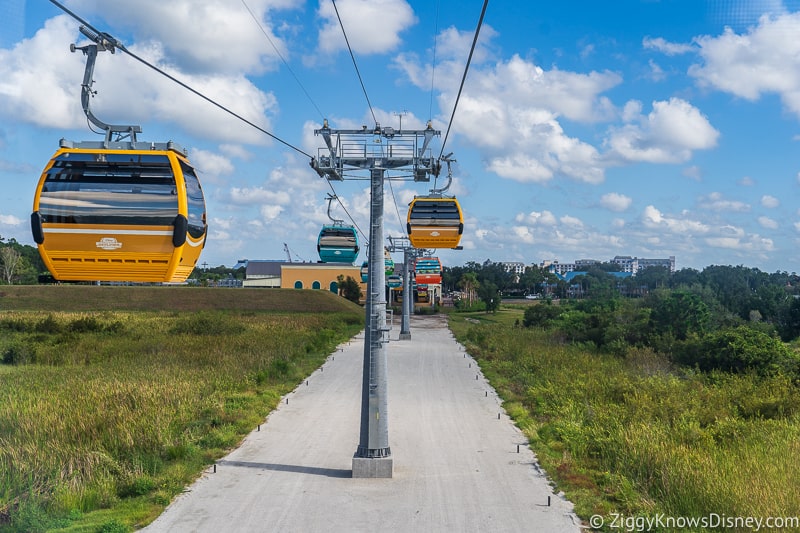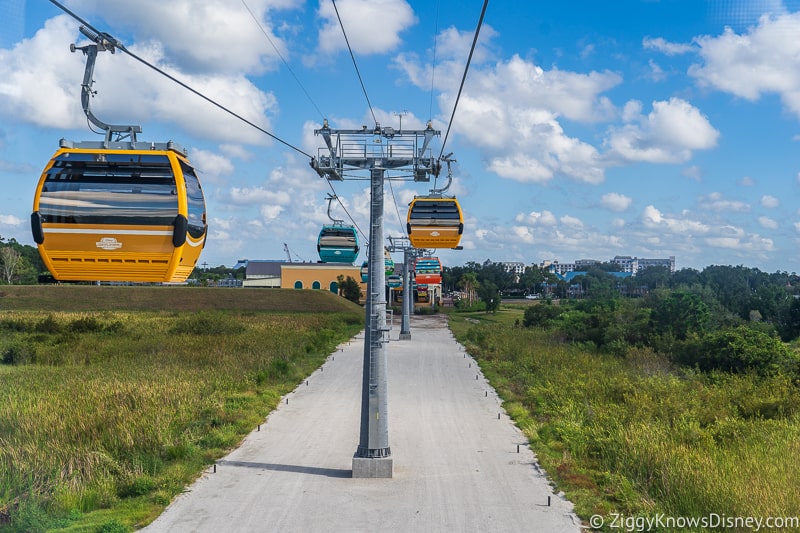 The Disney Skyliner Gondolas are the newest transportation system in Walt Disney World, roughly based on the old Disney Skyway buckets at the Magic Kingdom. These, however, are much bigger, and built to carry guests from hotels to parks and are an alternative to the Disney bus system or other forms of public transportation.
They are designed by the Doppelmayr Garaventa Group which is an Austrian company that manufactures chairlifts, gondolas and cable cars for ski and amusement parks. They also have experience building urban people moving systems and have produced over 14,600 installations in 89 countries
The Skyliner was announced in 2017 at the D23 Expo when Bob Chapek explained Disney's commitment to improving transportation in Walt Disney World, and construction began on the Skyliner in 2018.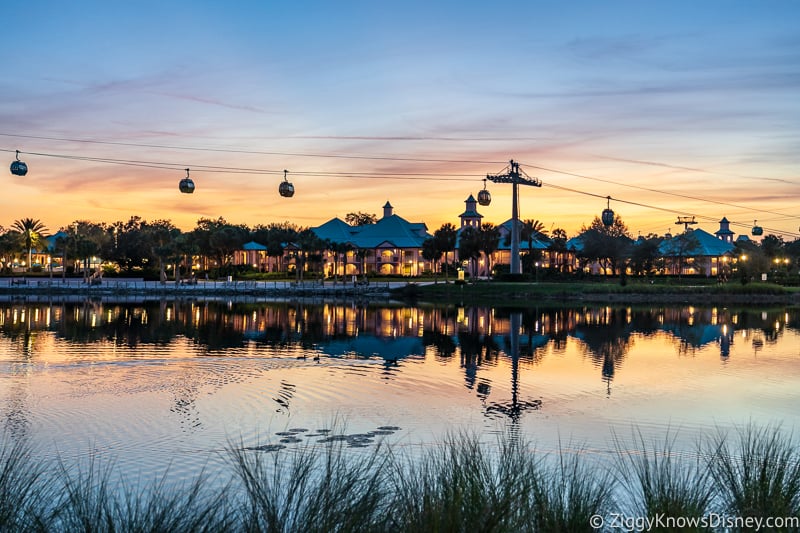 Riding in the Disney Skyliner is a unique transportation experience in Walt Disney World because being in an elevated position allows guests to have a bird's eye view of the resort in places they've never seen like that before. Think the same way the Monorail system allows you, but in new places.
Contrary to what was originally thought about the Disney Skyliner Gondolas, this newest transportation to the Walt Disney World Resort does NOT have air conditioning however with the speed it moves at, it does let significant airflow through them.
Disney Skyliner Stations: Where Does the Disney Skyliner Go?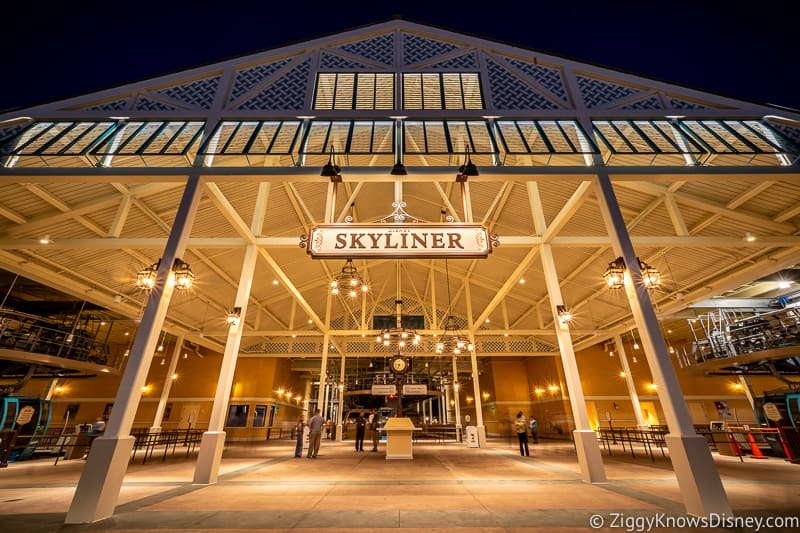 The Disney Skyliner Gondola system transports guests to and from many Walt Disney World locations including theme parks and hotels. During this initial launch, there are 6 Skyliner stations and it goes to the following locations:
Disney's Caribbean Beach Resort
Disney's Riviera Resort
Disney's Art of Animation Resort / Disney's Pop Century Resort
Turn Station (you can't actually get off here)
Epcot Station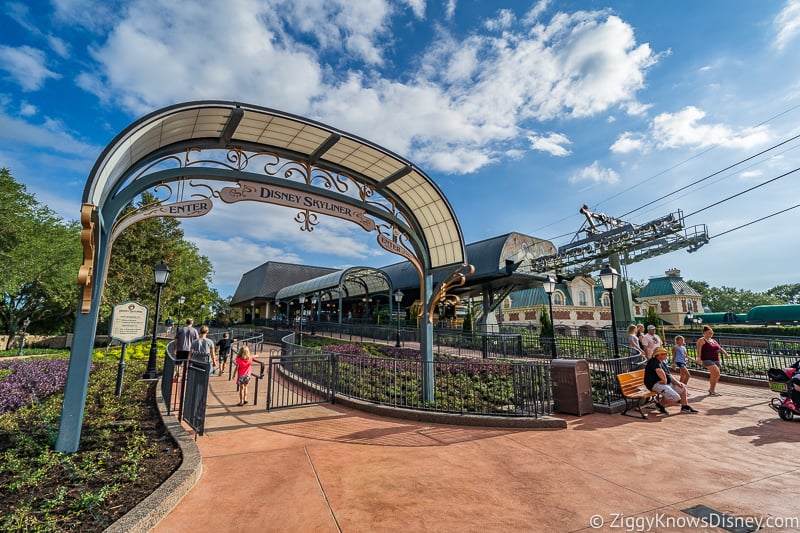 The Epcot station is located right outside the International Gateway and brings guests to the back door of Epcot in between France and the UK. Perfectly located for guests staying at the Yacht and Beach Club Resort, The Boardwalk Inn, or Swan and Dolphin.
Hollywood Studios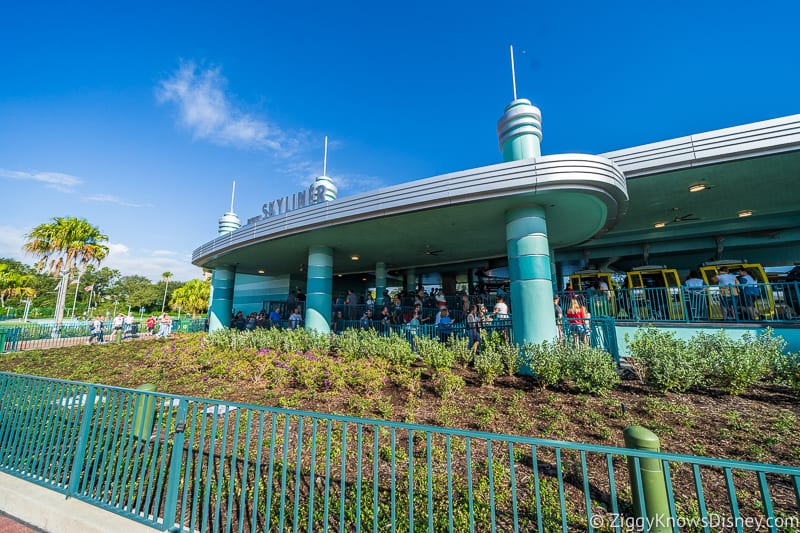 This might be the busiest station on the Skyliner route, and be the one with the longest lines now that Star Wars Galaxy's Edge is open. It's amazing though to see Batuu from the sky as you land at the station.
Caribbean Beach Resort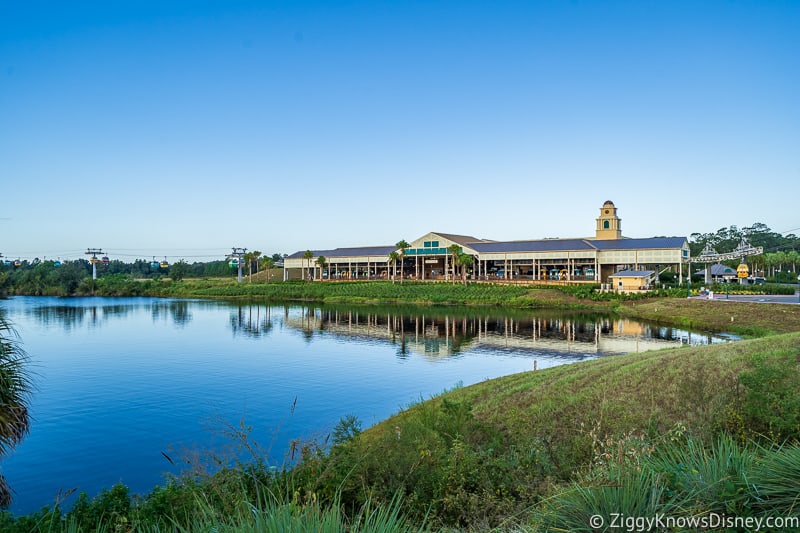 The Caribbean Beach Skyliner station is the "main hub" of the Disney Skyliner with all three lines departing from and arriving here. Guests going almost in any direction will eventually land here and then exit their gondola and choose the direction they want to go in next.
Riviera Resort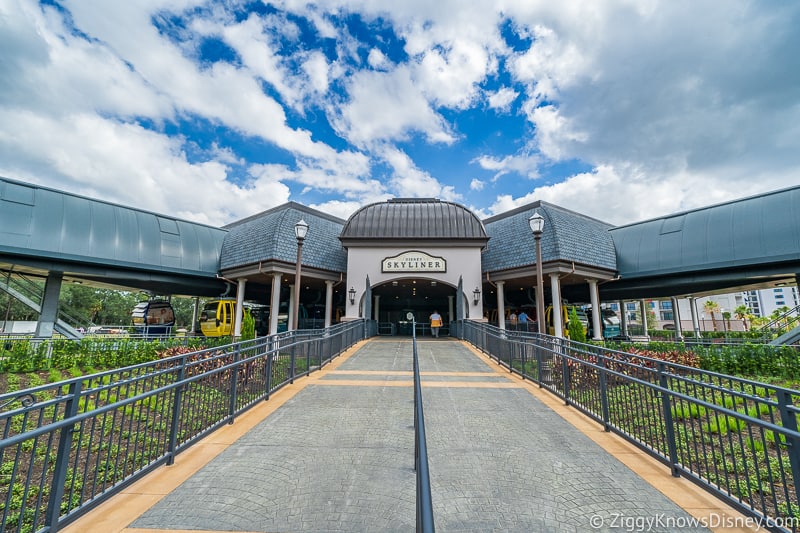 One of the main benefits of staying at Disney's newest DVC resort, Disney's Riviera Resort is that you are right on the Disney Skyliner line, perfectly positioned between Epcot and Hollywood Studios.
Art of Animation Resort and Pop Century Resort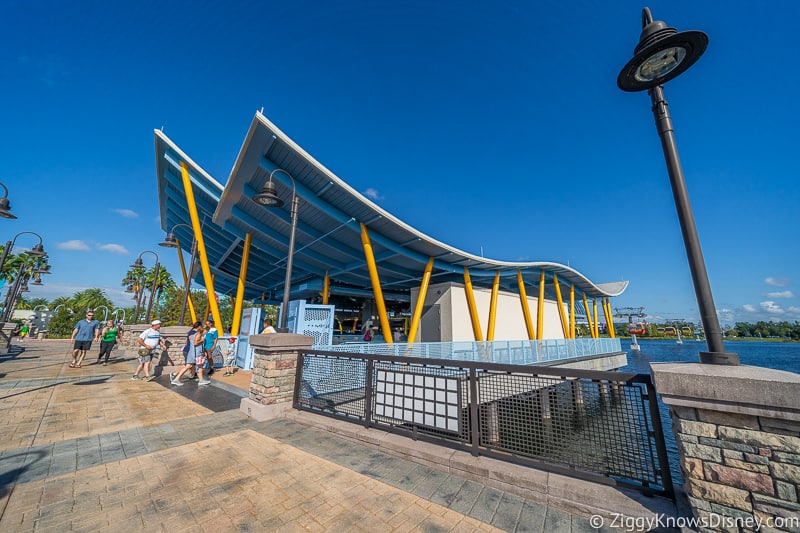 The Art of Animation and Pop Century Resorts share this Skyliner station which is positioned right in the middle of a walkway linking the two resorts together over a lake. This is a great move and allows two of the biggest resort hotels on property access to the Skyliner.
This initial launch of the Disney Skyliner transportation system is only the first phase in what's likely to be a multi-phase roll-out to other parks and hotels around Walt Disney World property. We'll go further into Phase 2 for the Disney Skyliner later in the article…
We'll also have a tour of each station so check that out for a closer look at each station.
Disney Skyliner Gondola Transfers
So now that you know all the stations, it's important to know that some stations require a transfer from one gondola to another. Knowing this ahead of time is important because in Disney World every second of your vacation counts and knowing potential delays is crucial!
Can I Stay On the Skyliner When I Arrive at a Station?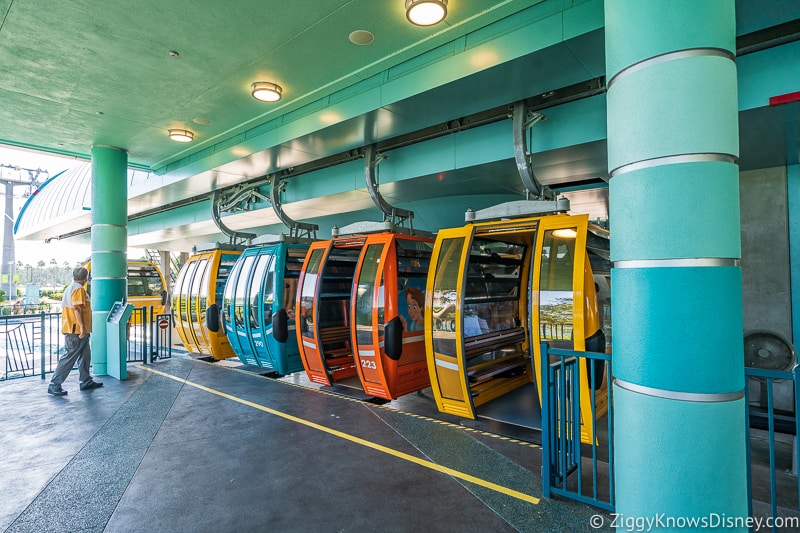 Yes and No. When you arrive at an end-of-the-line station (Art of Animation/Pop Century or Epcot) you aren't allowed to stay on and continue your journey, you MUST get off and exit the gondola. This is also true at the Caribbean Beach station.
Disney is not allowing guests to ride continuously without getting off. Once you arrive at one of these locations you have to exit the Skyliner. If you want to get back on and keep riding that's no problem. You can go back where you came from, exit the Skyliner and get back in line to take another gondola.
Here is an explanation of each station and transfer rules:
Art of Animation/Pop Century:
This is the beginning or end of the line depending on your journey and if arriving here you must disembark your gondola. You can always get back on again to go back and continue your ride.
If you are going to Hollywood Studios from here, you will not be required to exit at the Caribbean Beach station, you can continue right on to Hollywood Studios. If you are going to Epcot or the Riviera Resort you will need to transfer at the Caribbean Beach station.
Caribbean Beach:
This is the central hub station of the Disney World Skyliner system. Like Rome, all roads lead here. Regardless of your final destination, if you are getting on the Skyliner here you will be taken directly to your destination without having to get off. This includes going to Hollywood Studios, Riviera Resort, Epcot or Art of Animation/Pop Century.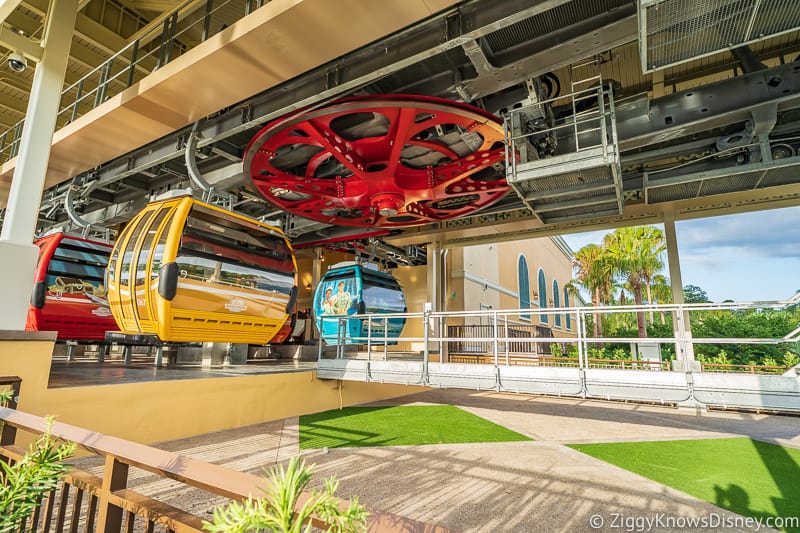 Hollywood Studios:
If you board at Hollywood Studios and are going to the Art of Animation/Pop Century, Riviera Resort or Epcot, you must get out at the Caribbean Beach station and transfer lines to continue on to your destination. Otherwise, you can get out at and stay at the Caribbean Beach Resort.
Riviera Resort:
If you get on here and are going to Epcot, then there are no transfers required. If you are arriving from Caribbean Beach and going on to Epcot, you can also stay in your car without exiting.
If you are going to the Hollywood Studios, Caribbean Beach or Art of Animation/Pop Century, you will need to disembark at the Caribbean Beach station.
Epcot:
If you are arriving here you must disembark the gondola.
If you are going to the Caribbean Beach, Hollywood Studios or Art of Animation, you need to stay on the Gondola at the Riviera Resort station and then get off at the Caribbean Beach station to transfer gondolas.
Do I have to Get Back in Line When I Transfer?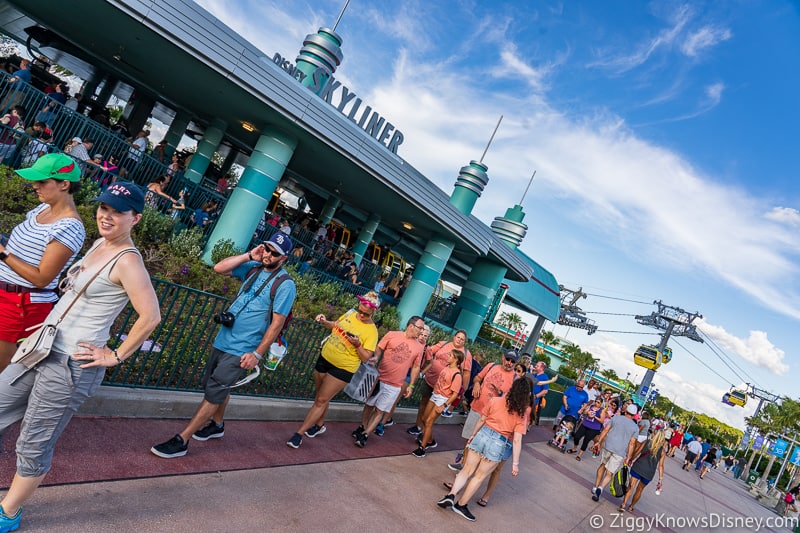 If you have to transfer to the Caribbean Beach station, it obviously would be a lot more convenient and save time if you didn't have to get back in line there and could just step into another Skyliner gondola.
However, that's not how the stations are set up. If you arrive at Caribbean Beach and want to take another Skyliner route somewhere else, the lines are there in the station, so you pick where you want to go and get in that line. No line cutting.
This does add some time to your trip if you go at peak park times (mid-morning and park closing), but there is no other way around it. Honestly, it's not that bad and will probably just take you another 5-10 minutes max.
What is it like When the Skyliner Slows Down and Stops?
Honestly, the take-off and landing are my favorite parts of a ride on the Disney World Skyliner!
The Skyliner is deceptively fast and has a fast acceleration. You definitely can feel the motion when the gondolas take off and they rock a bit. The same is true when pulling into one of the stations. The slow down from the fast speed is felt and they go from 11 mph to about 2 mph in a short time.
Can Guests Get Off at the Riviera Resort Station?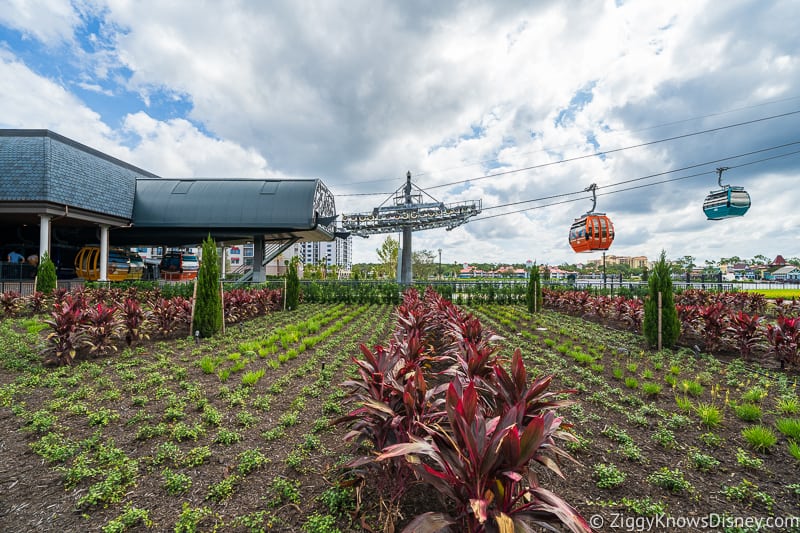 The Skyliner station at Disney's Riviera Resort is unique because of its positioning and can be convenient for guests staying at that resort or even at certain rooms at the Caribbean Beach Resort. Guests arriving here can definitely get off and visit the resort if they like.
Due to its position, this station is actually closer to some rooms at the Caribbean Beach Resort instead of going all the way down to where the central station is. This is especially true if staying in the "Aruba" section of the resort.
The Riviera Resort station is not a transfer station, however, so if you are continuing on to either Epcot or the Caribbean Beach Resort from the Riviera, you do not switch gondolas here.
If guests want to get out at the Riviera station, they need to let the cast members know at the station, and they will let you out.
Disney Skyliner Route Map:
We've created a map for you to follow to see the exact route of the Disney Skyliner showing all 6 stations. It doesn't matter where you start, almost every line will bring you to the Caribbean Beach station in the middle where you will decide which line to get on: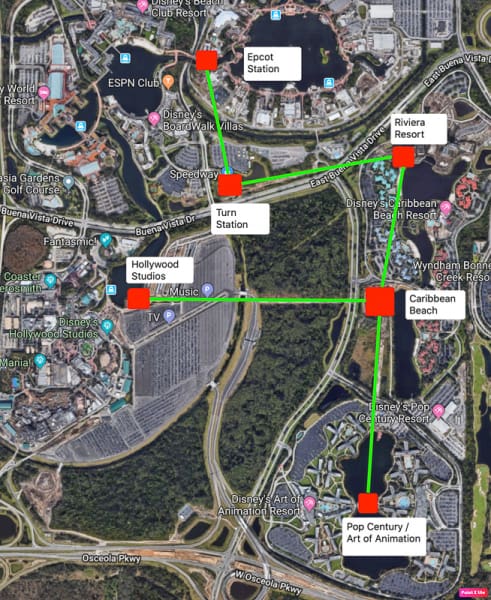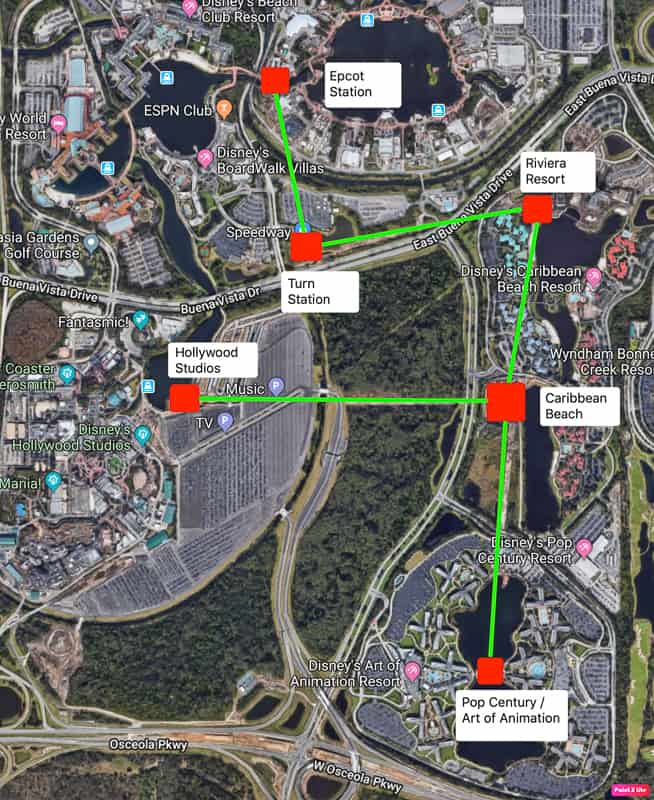 Everything looks really close on the map of the Skyliner, but those gondolas are moving some good distances at a quick pace! We're hoping Disney releases an official Disney Skyliner map on paper, so we'll keep you informed about that.
In the meantime Disney also has a digital map of the Disney Skyliner system on the My Disney Experience app, check the link so you can see it on there too.
Is the Disney Skyliner Open?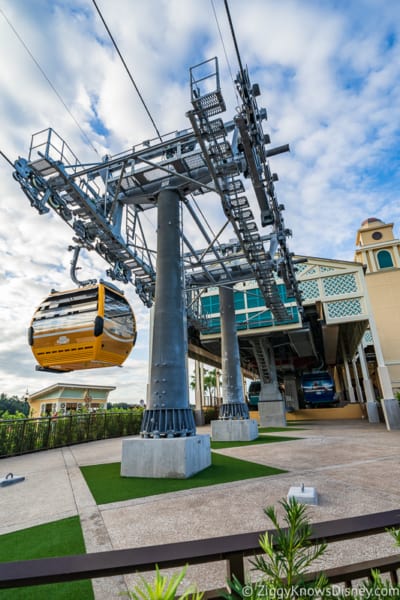 Yes, the Disney Skyliner Gondola system in Disney World is now officially open! The opening date for the Disney Skyliner was September 29, 2019! That means as of reading this, the Skyliner Gondolas has already brought millions of people back and forth from the resorts to the parks.
It was a bit surprising that the Disney Skyliner wasn't open in time for Star Wars Galaxy's Edge which opened August 29, 2019. Apparently Disney didn't feel like there was it was going to be ready in time.
The Disney Skyliner was closed for about a week in October 2019 due to an incident caused by a technical issue in the system. It then reopened about one week later.
(The Disney Skyliner is temporarily closed during the Walt Disney World Resort closure. As soon as Disney World reopens, so will the Disney Skyliner.)
How Much Does the Disney Skyliner Cost? Tickets?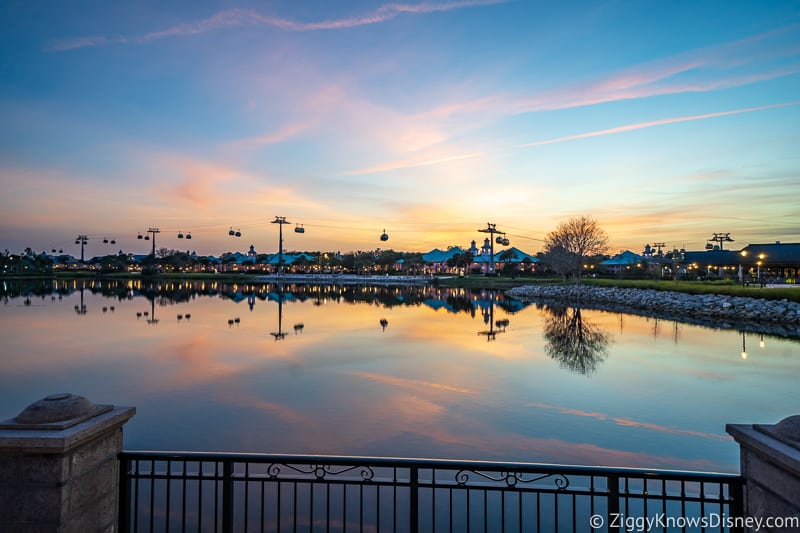 The best part about the Disney Skyliner Gondolas is that they are 100% FREE to ride. Just like the Monorails or the buses, you can get on the Disney Skyliner without paying anything.
There are no tickets required for the Disney Gondolas either, just walk up to the station, get in line and get in.
In fact, riding the Skyliner is one of our favorite Free Things to Do in Walt Disney World! It makes for a great activity to do on a non-park day and you can ride from hotel to hotel, explore the resort grounds or grab something to eat.
Can Anyone Ride the Disney Skyliner?
Anyone can ride the Disney Skyliner that wants to. You do not need to be staying at a resort that has a Skyliner station on-site to ride. You don't even need to be staying at a Walt Disney World Resort hotel to ride the Disney Skyliner.
It's not like the hotel pools where you can only go in the hotel where you are staying, anyone who wants to ride the Skyliner is free to do so any time it's open.
Can I Park My Car at a Disney Skyliner Hotel and then Go to the Parks?
This would be a great option if true, but no you can't park at a Disney Skyliner hotel to go to the parks, or at least not for free.
Complimentary standard self-parking is available for Guests visiting Disney Resort Hotels, but only to enjoy select dining, shopping, entertainment and recreation experiences.
TIP: If you have a dining reservation they give you 3 hours of free parking. That should be enough time to grab something to eat at one of the restaurants in one of the resorts and then take a ride around the Skyliner.
Disney Skyliner Times and Schedule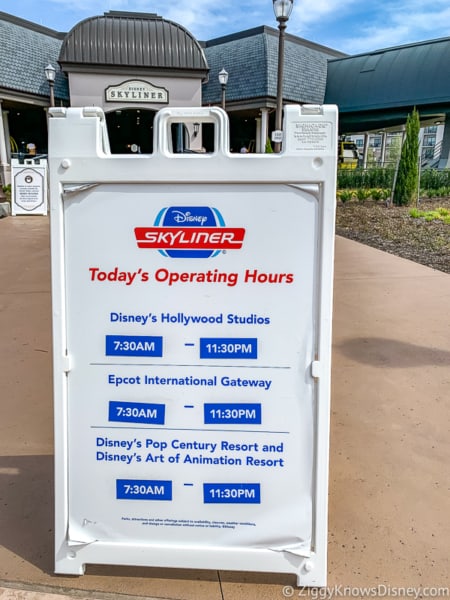 When does the Disney Skyliner open every day? The answer right now is: Early. Disney has just reduced the Disney Skyliner hours due to early closing hours for EPCOT and Hollywood Studios.
Right now Disney Skyliner Hours are:
Disney's Hollywood Studios: 9:00 am to 8:30 pm
EPCOT International Gateway: 10:30 am to 8:30 pm
Disney's Pop Century Resort & Disney's Art of Animation Resort: 9:00 am to 8:30 pm
For the most part, the Skyliner operates just like any other form of Disney transportation in that it will open 30-60 minutes before park opening and close 1 – 1 1/2 hours after park closing every day.
There are no set "official Disney Skyliner operating hours," so you have to base it on when the parks are opening on the day you plan to ride. If the parks are listed to open at 9 am, the Disney Skyliner should be operational by 8:00 – 8:30 am that day.
Last year, the Disney Skyliner was operating at times from 6:45 am to 10:30 pm, which was to handle the early mornings at the parks during the holiday rush. This change in the Skyliner schedule was to accommodate the new earlier opening hours at Disney's Hollywood Studios.
Disney Skyliner & Rope Drop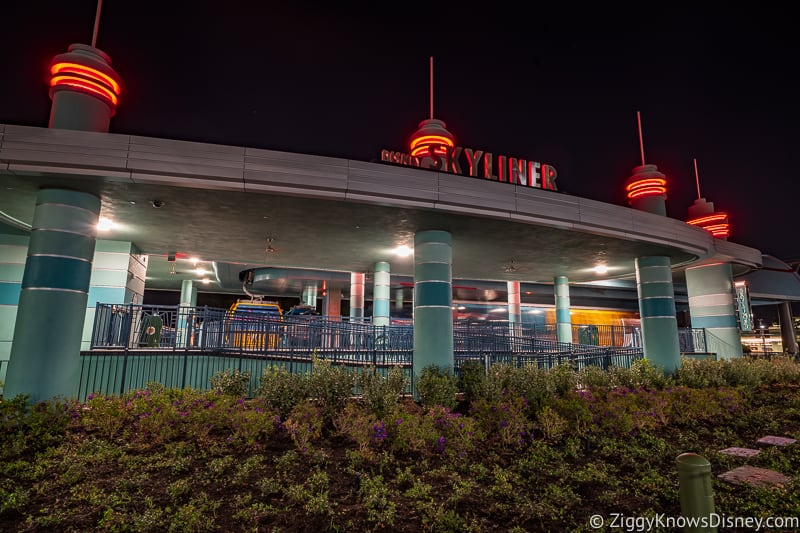 Demand for the Skyliner increased with the new Rise of the Resistance ride, which has been incredibly popular thus far. And since guests need a boarding group to ride Rise of the Resistance, it's crucial to arrive at the park before opening.
To secure a boarding pass, you need to be at Hollywood Studios a minimum of 30 minutes before the park opens, and even that is cutting it close. On most days, the Disney Skyliner doesn't open early enough to get you there in time to do a Hollywood Studios rope drop.
Right now we don't recommend using the Disney Skyliner to get to Hollywood Studios or Epcot for that matter if you want to be there for the park opening. Driving, walking or ride-sharing are all better options at this point.
The Disney Skyliner operating hours continue to change. We'll continue to update this as Disney publishes its latest schedule.
Will Disney Skyliner Gondola Wait Times be on My Disney Experience?
As of now Disney hasn't commented on whether or not wait times for the Skyliner will be on My Disney Experience, however, it's likely that it will be added soon. It's possible to see the bus schedule times in the app, so one would think they'll put wait times for the Skyliner eventually too.
Skyliner Gondola Cars Outside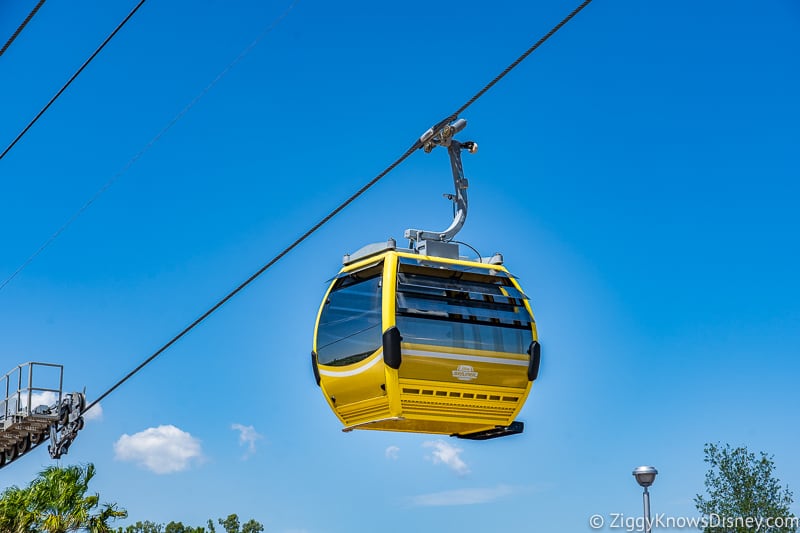 There are 2 types of Disney Skyliner gondola cabins:
Ones with solid colors.
The other with the Disney character wraps on them.
The characters are not on all of the gondolas (thankfully), but only select ones. This is probably a combination of a few things like leaving it open for future characters to be added who don't even exist yet, a question of saving money.
There are 7 different colors including the ones with character wraps. Blue, Red, Green, Yellow, Orange, Purple and Teal. And there are 22 different character gondolas to ride in.
Here are a few examples of the gondolas with character overlays. This one is Star Wars themed and has Chewbacca, R2-D2, C-3PO and the gang on it: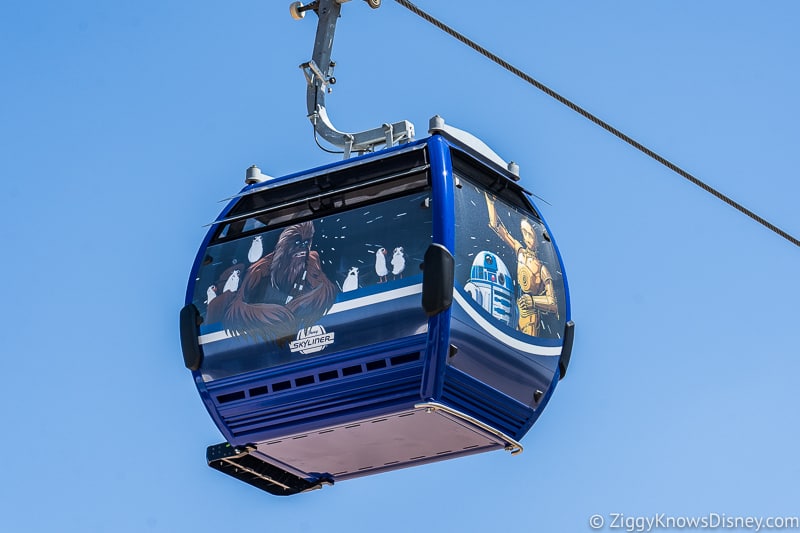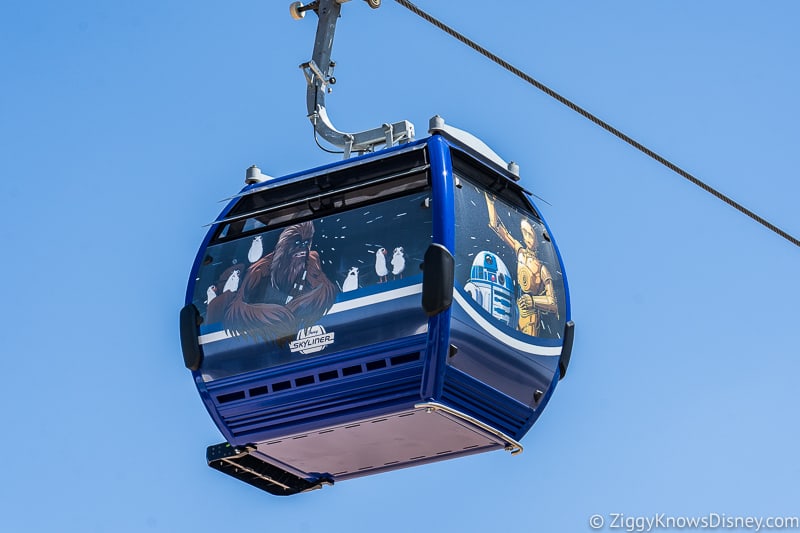 This one is Pluto: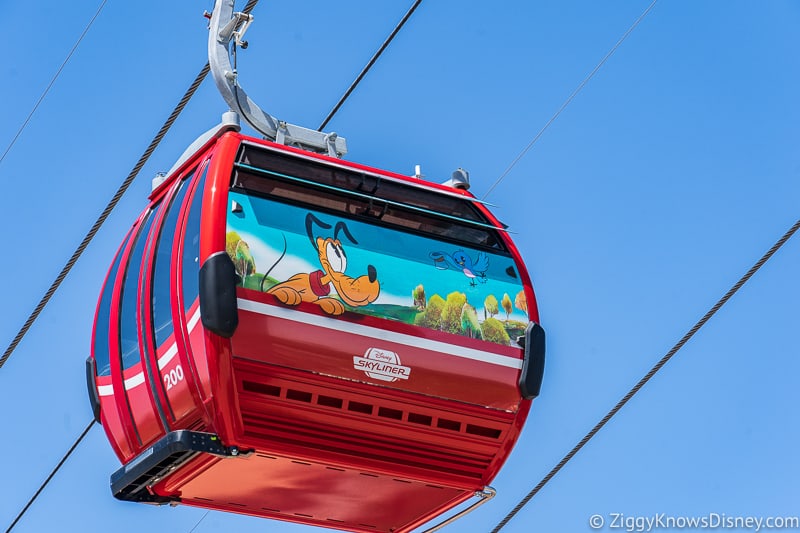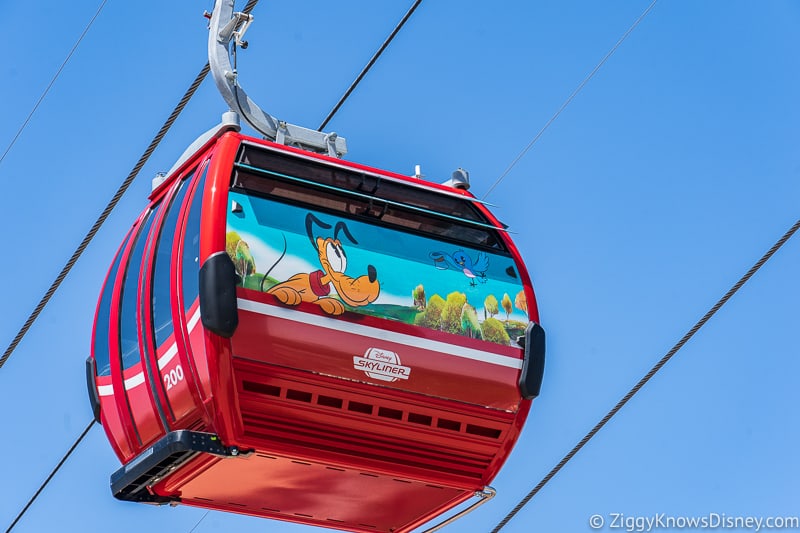 Gamora and Star-Lord from Guardians of the Galaxy: