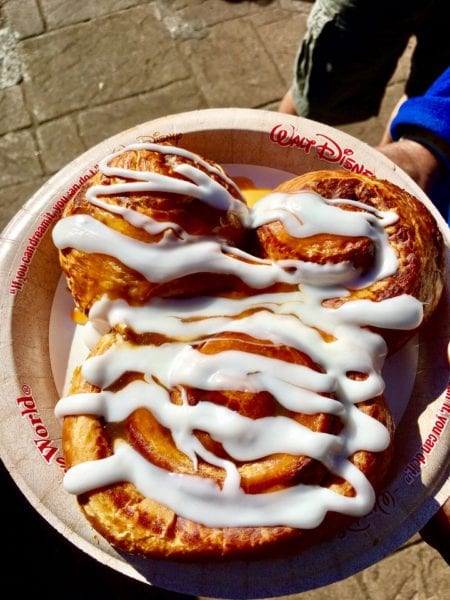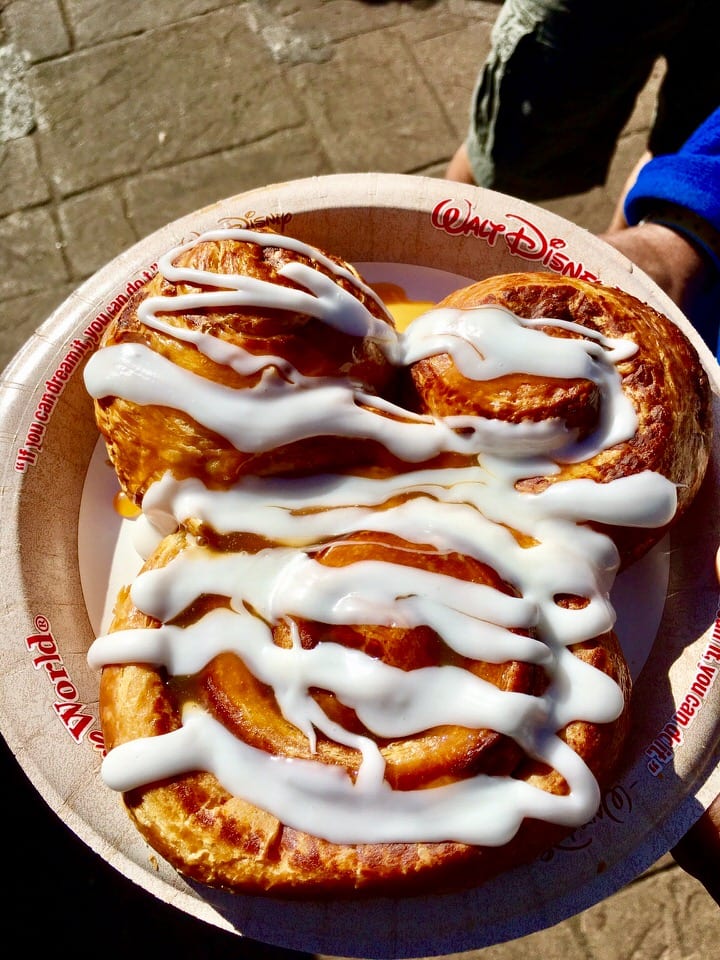 My go-to spot for an early morning breakfast/treat in Disney's Animal Kingdom is Kusafiri Coffee Shop and Bakery. It's conveniently located in Africa, and makes a perfect stop along the way to or from Kilimanjaro Safaris (you know I can't resist the temptation as I'm walking by). It also has one of the absolute best treats in Walt Disney World: The Warm Colossal Cinnamon Roll, which just happens to be in the shape of Mickey's head!! So naturally I had to do a Kusafiri Coffee Shop and Bakery Review so you could see for yourself!
Kusafiri Coffee Shop and Bakery is just that…a bakery. Here you will find a decent amount of choices, especially for breakfast. It's a great place for a hot beverage like coffee or tea, and the correct accompaniment to go along with it. Options include basic stuff like croissants, muffins and a variety of pastries that sometimes change as well as breakfast wraps.
It's also a good place to go at lunchtime as the have some very good panini sandwiches. They do accept the Disney Dining Plan and some items are Snack Credit eligible.
Let's see what good stuff we can try today…
Atmosphere:
Kusafiri Coffee Shop and Bakery is located in the Africa section of Disney's Animal Kingdom. It's just a hole in the wall and doesn't look like much when passing by: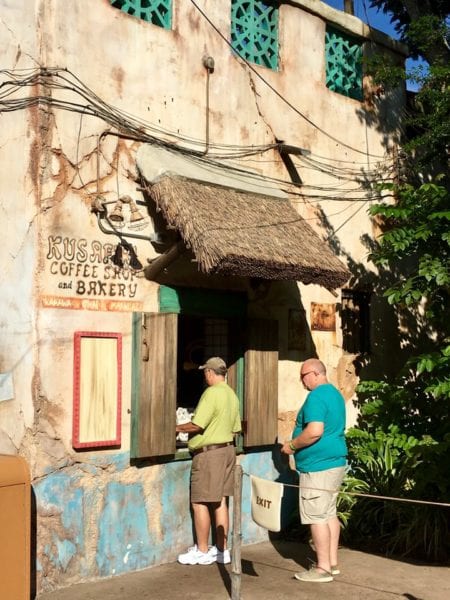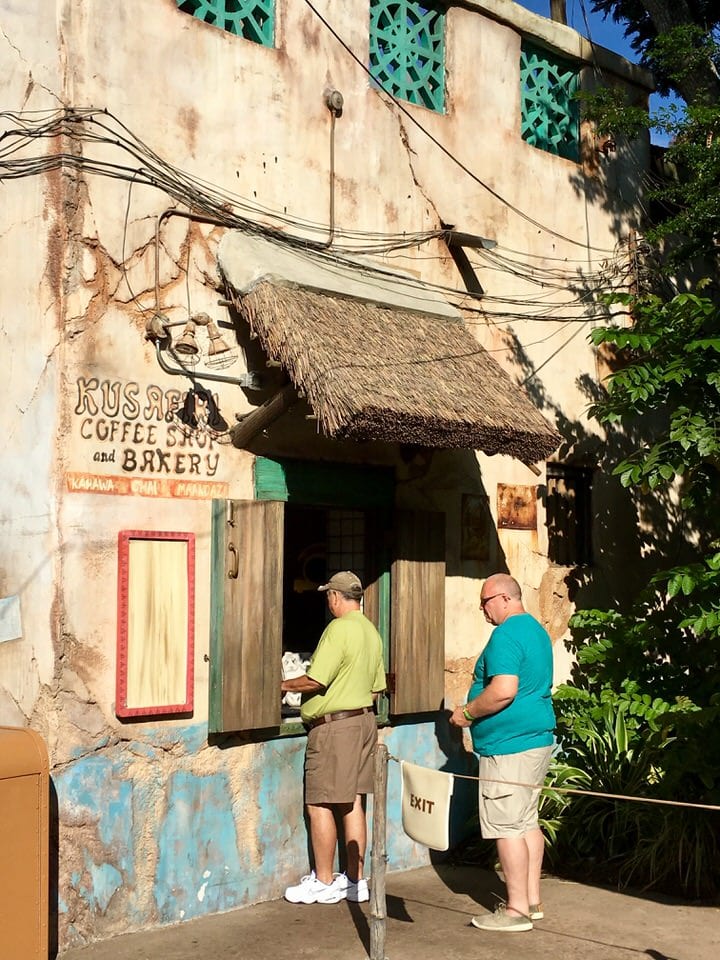 It's a real cool atmosphere nearby though because the area is full of street performers and it seems like there's always a show going on: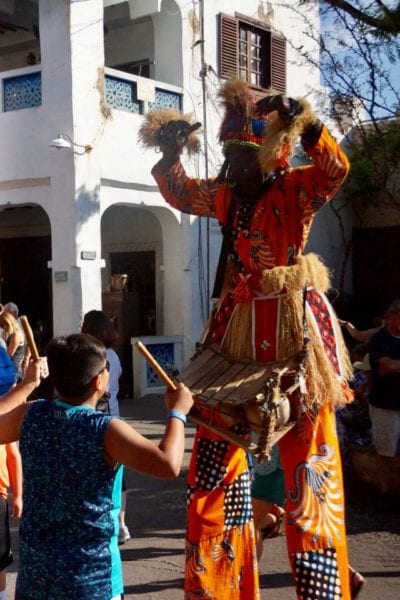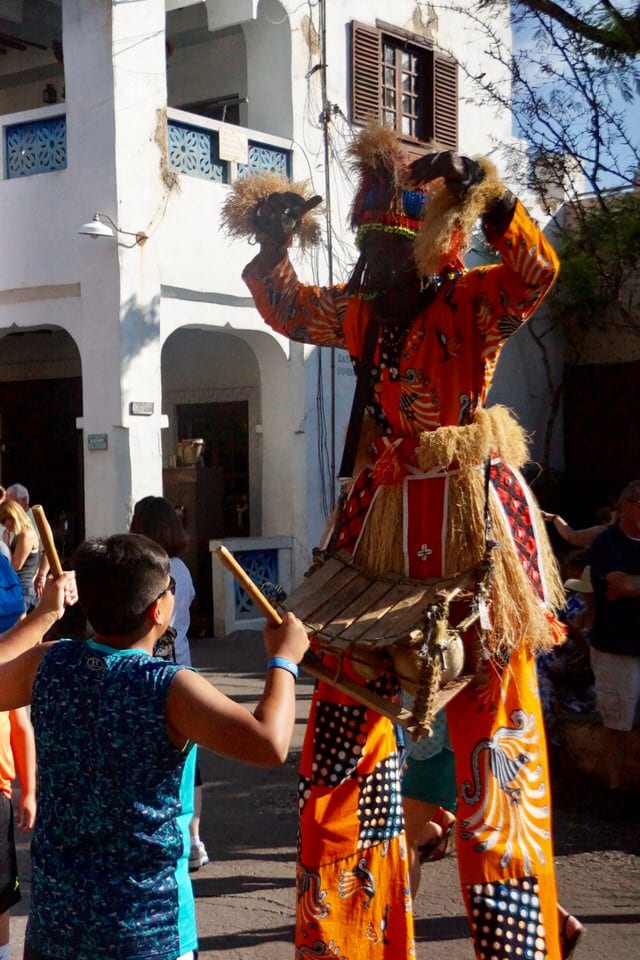 Tip: If you are looking to sit and enjoy the atmosphere a bit then the best place to find a table is the nearby Dawa Bar as there are only a couple of seats near Kusafiri itself. It has a large seating area that's even protected from the sun.
Ok let's see what we've really come for..
Food:
Kusafiri Coffee Shop and Bakery is a nice place for a quick bite whether it's breakfast or lunch (they have nice Paninis and house-made Chips), today we want breakfast though!
It's the ideal place for a quick breakfast in the Animal Kingdom because it's on the way to the premiere morning attraction, Kilimanjaro Safaris. Therefore you can stop right before or right after and be full of energy for the rest of your day. (This strategy might change in the next few weeks with the opening of Pandora: The World of Avatar as it might be more advantageous to head there first before the massive crowds arrive).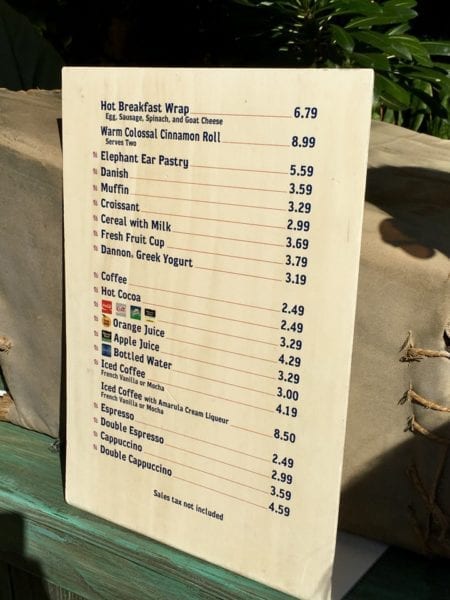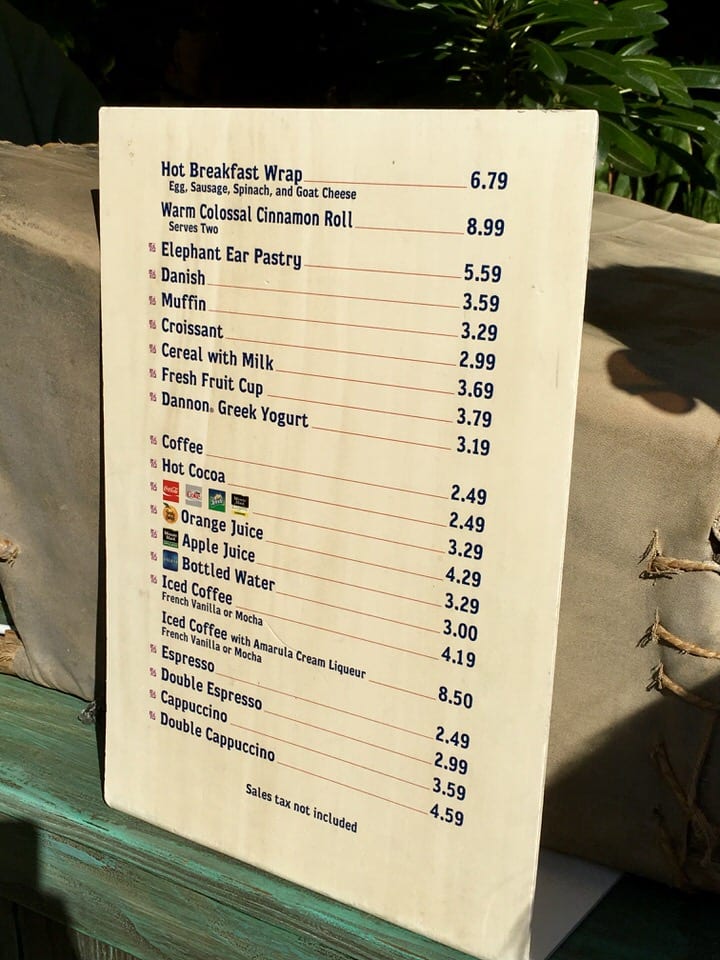 Unfortunately the menu has shrunk a bit in the last couple years and they don't have quite as many goodies to eat (RIP Cupcakes and Turnovers), but they still have a few really strong items (Pastries and Muffins) and one absolute superstar that you HAVE TO try: Warm Colossal Cinnamon Roll (and it's Mickey-shaped to boot!!)
If you aren't in the mood for sweets don't worry, they have a really good Hot Breakfast Wrap with egg, sausage, spinach and goat cheese too!
If you want some other light healthy options you can also find Fresh Fruit, Yogurt or Cereal. And Kusafiri is known for good strong coffee and the best in Animal Kingdom imo. They have Cappuccino and Espresso, both in the single or double variety.
Tip: Make sure to look good at the pastries on the rack before ordering as sometimes they have ones that are not indicated on the menu itself.
We started out with something really simple, a basic Croissant: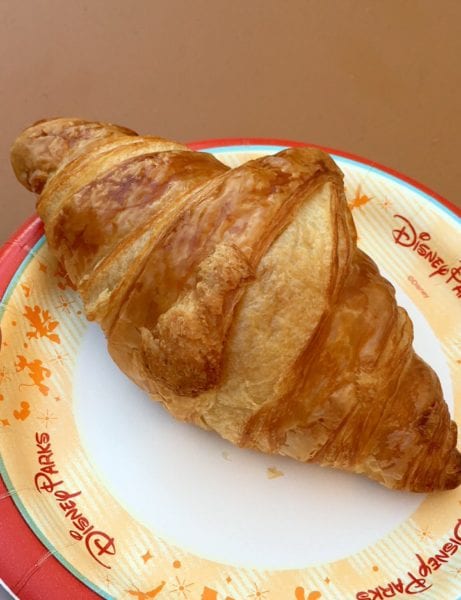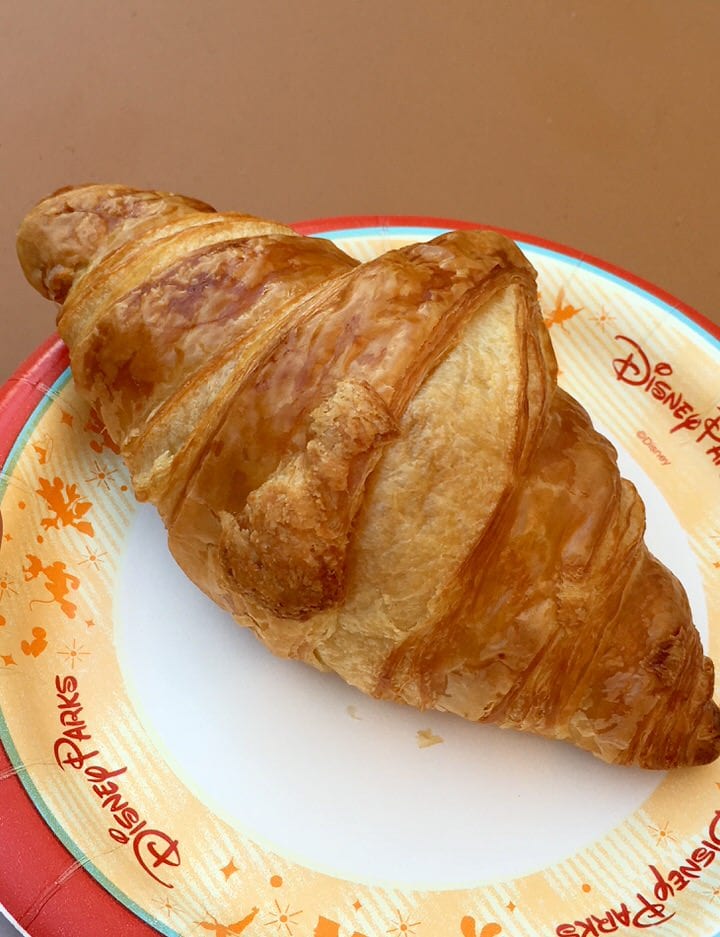 It was a good croissant. It's of course, plain, but I was expecting that going in! hahaha. It had a nice texture and was really soft and flaky on the inside: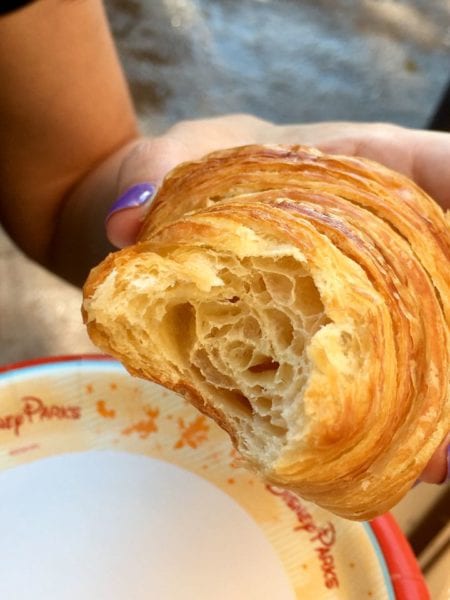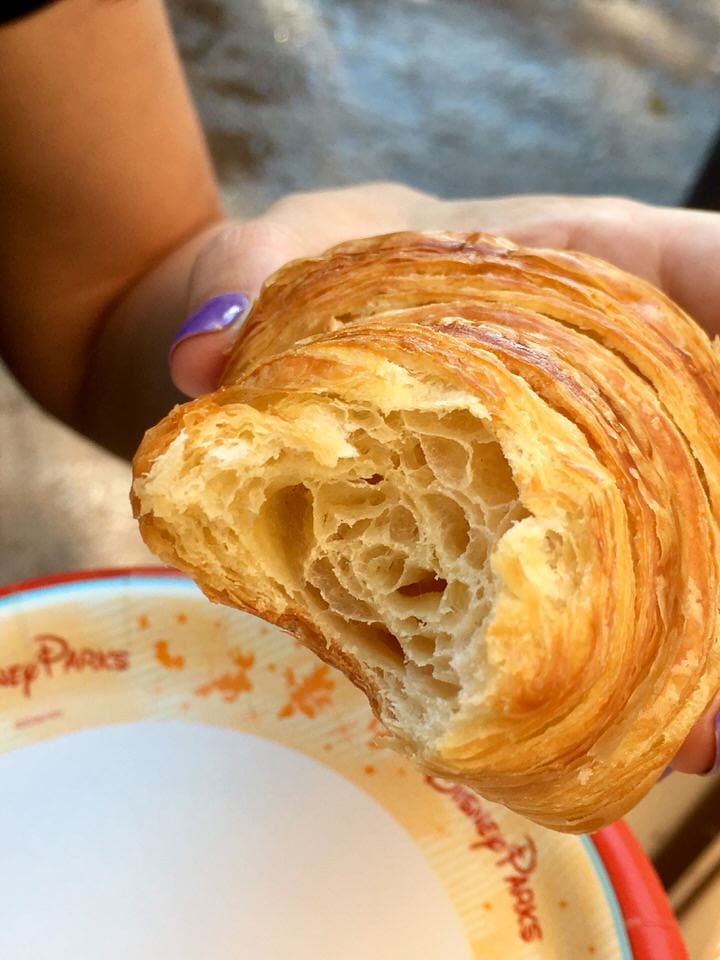 If you like croissants this is a good option. Better yet, ask for some butter to spread on there too!
We tried the Blueberry Muffin next. This thing was really big: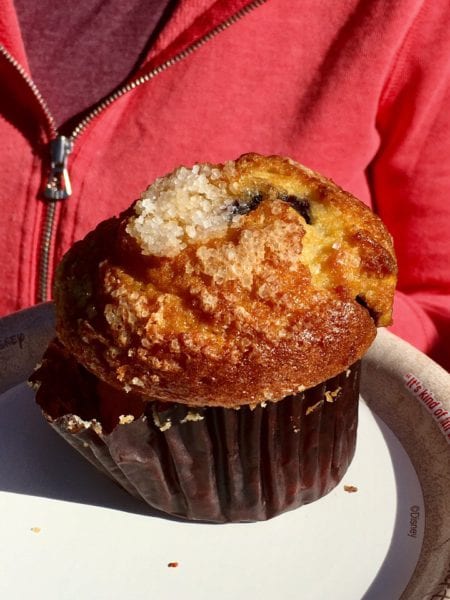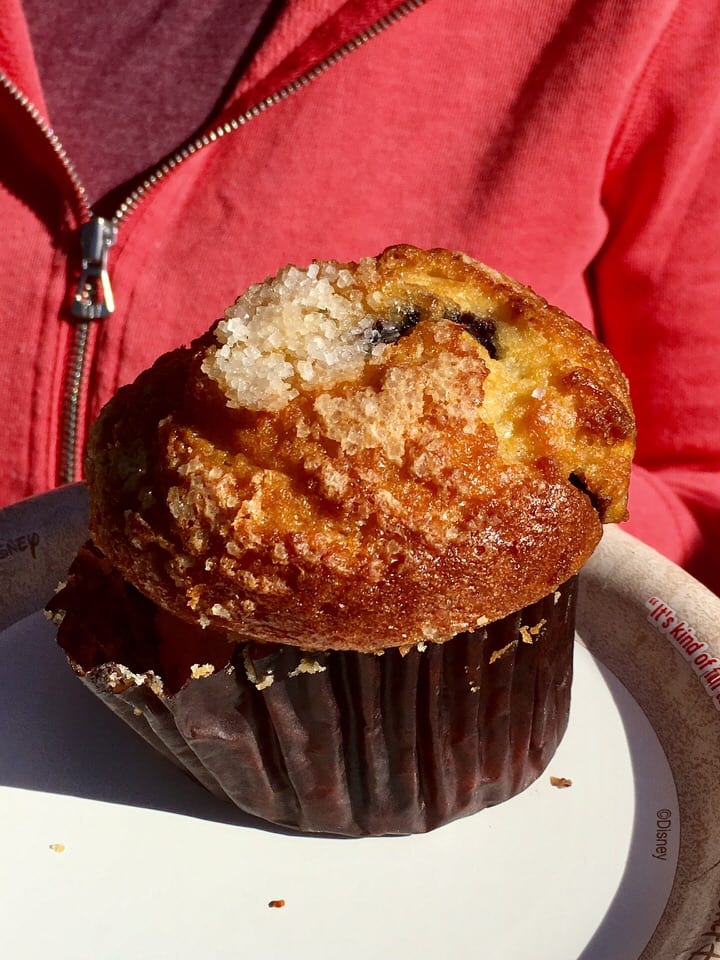 My mom is an expert in Disney muffins, I swear she's tried them from every place in Disney. This one ranks up there and has a nice firm top, with lots crystallized sugar…love this! The inside was a good consistency, maybe could have been a touch moister, but it was by no means dry. Had a good amount of blueberries too, which when I get a blueberry muffin and find it empty of blueberries is always one of my biggest letdowns! Not quite as good as the Boardwalk Bakery muffin, but close.
They have 2 types of Danish at Kusafiri, Cherry and Apple, we went with the Apple Danish this time: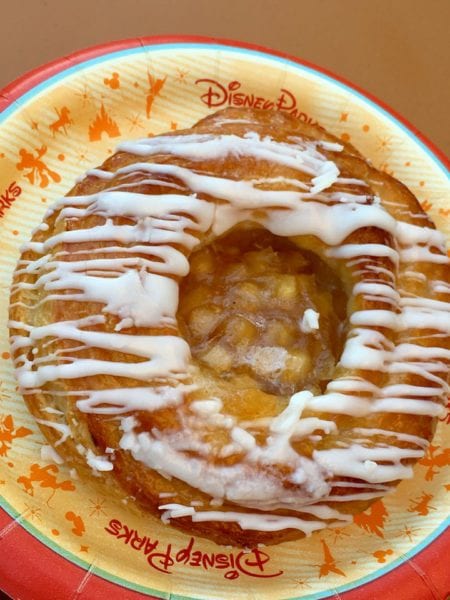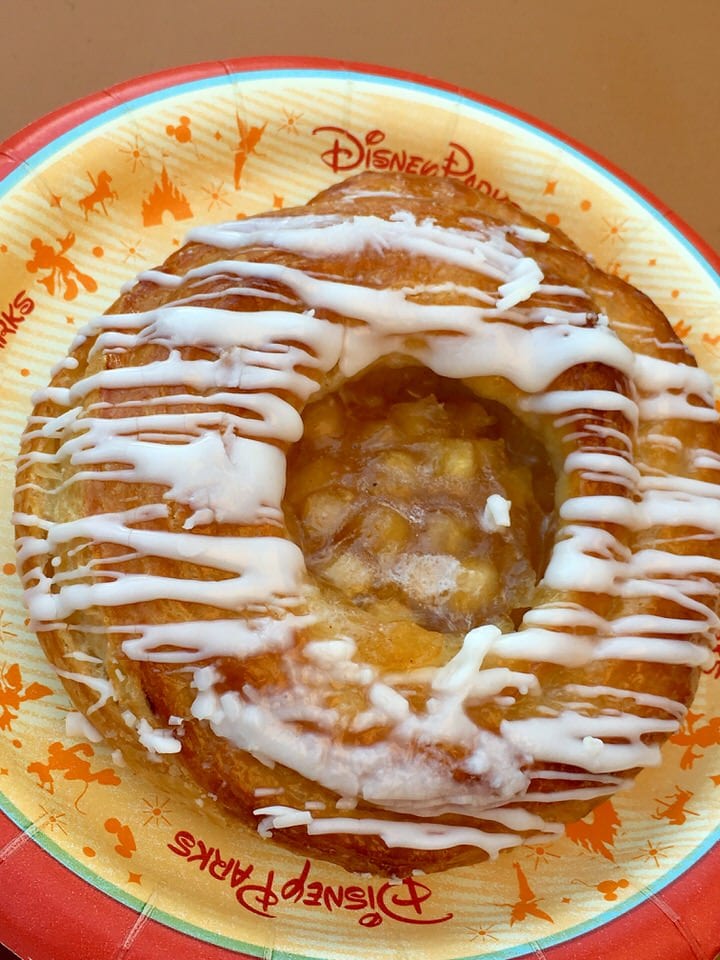 This is your standard Disney danish, nothing special. It had a good taste but didn't have enough apples for me: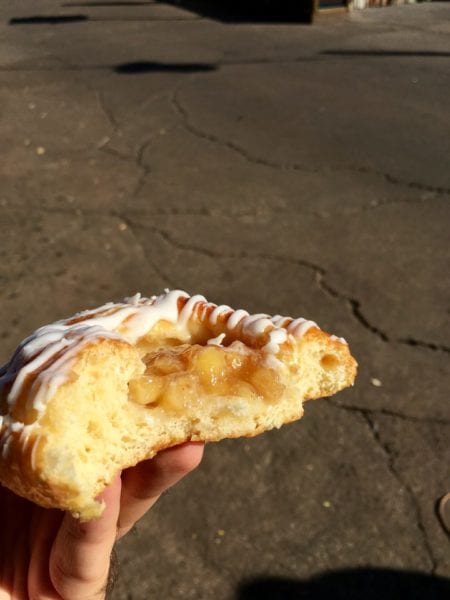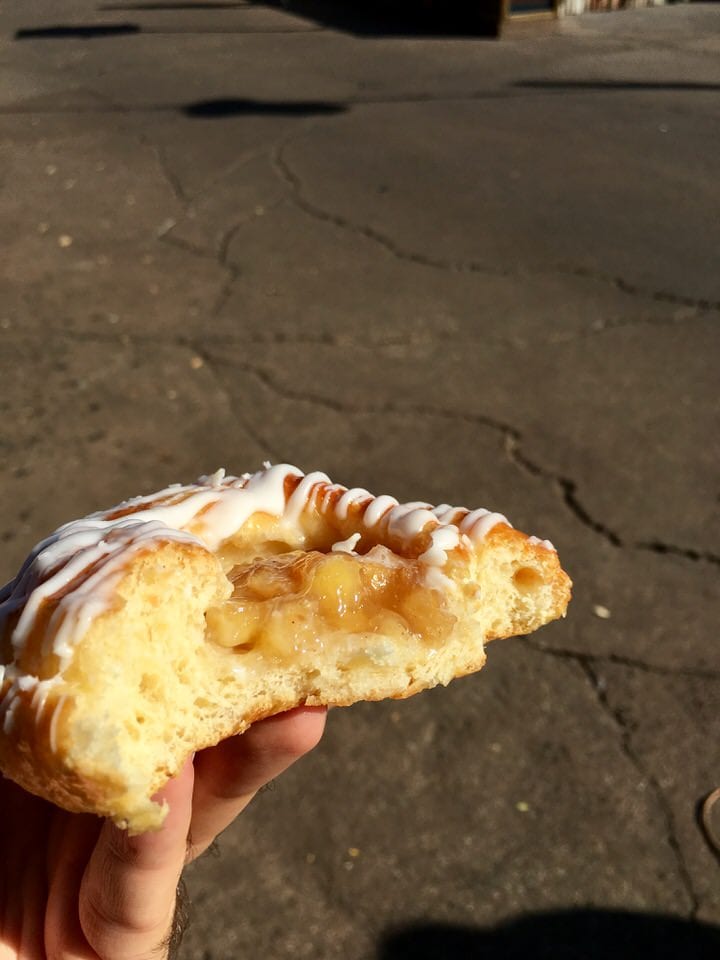 I don't like it when they skimp on the apples, I like my danish and turnovers overflowing with them. Solid but not amazing.
My next choice, the Chocolate Twist Stick: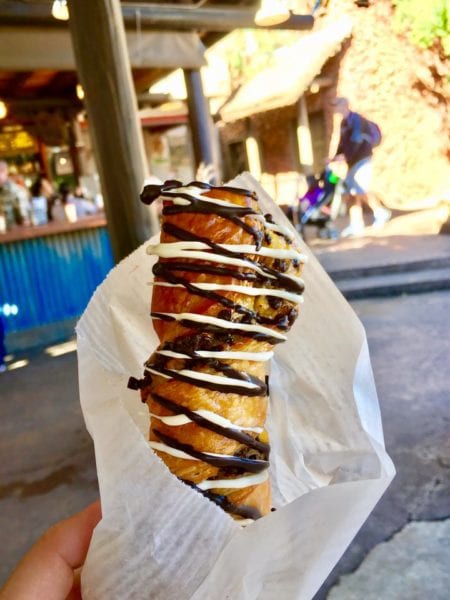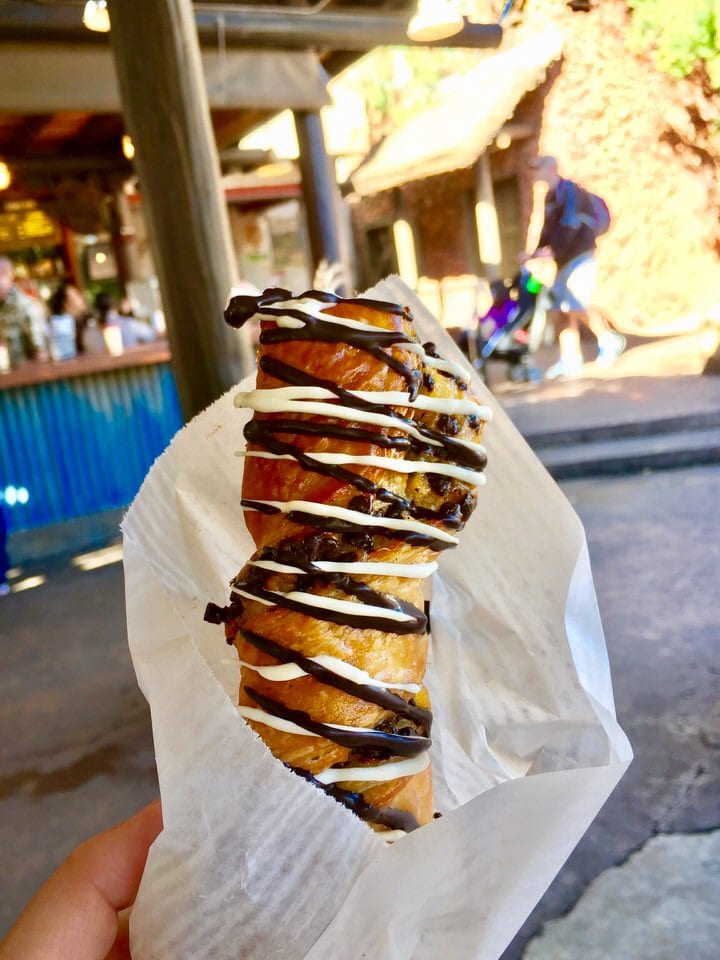 This was really YUMMY!! It has a similar consistency as the croissant, but in stick form and twisted around. It's then covered in a chocolate and vanilla glaze! So good and would order it again in a second!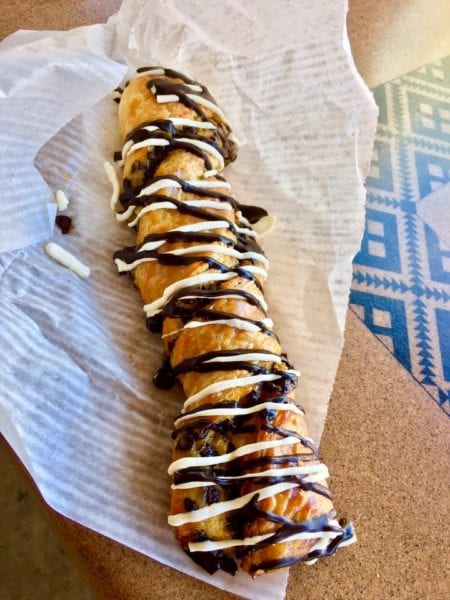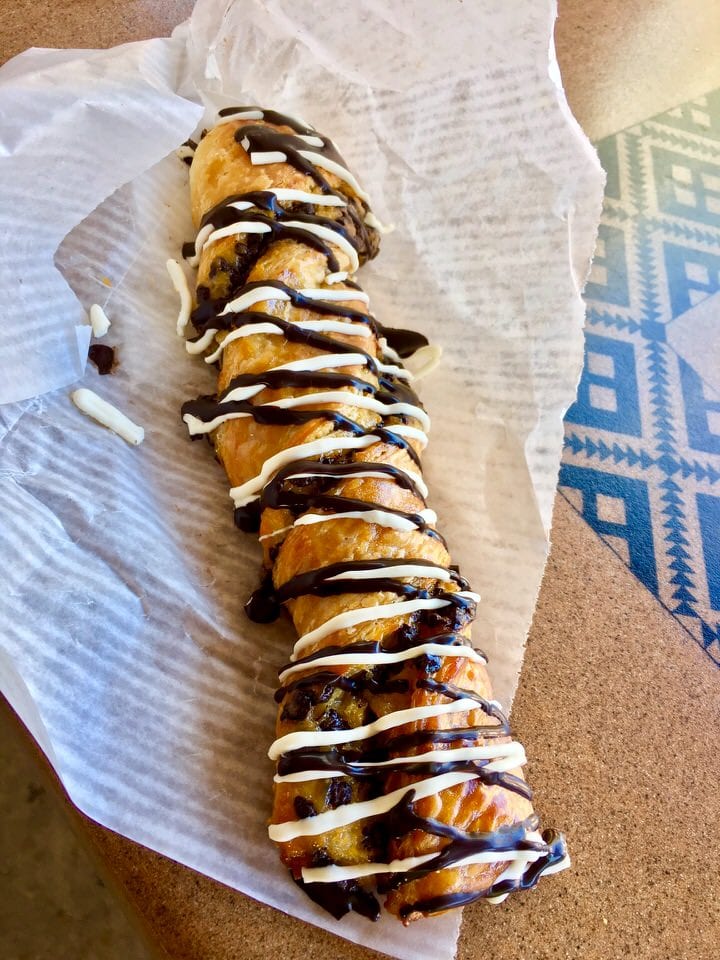 Lastly and most importantly of all is the Mickey-shaped Warm Colossal Cinnamon Bun:
This bad boy is UNBELIEVABLE! I'm usually not one for cinnamon buns, they're alright, but it's never my go-to pastry. This one on the other hand is a totally different animal (or mouse). It was so unbelievably delicious, I had to wrestle as much of it as I could away from Ken. The whole thing was drowned in some kind of cinnamony flavored sauce and a sweet icing on top. It's served nice and warm too so all of that topping melts together on the roll…keep napkins close by! It's so soft and chewy too, look at that middle:
Did I say that it really is COLOSSAL as it comes described, and you can easily share this with someone else, or better yet, get them their own and eat it all yourself! 🙂 Anyone who enjoys cinnamon rolls will go crazy for this and probably most who don't too. Possibly my new favorite WDW snack and a must try for everyone!
Summary:
Kusafiri Coffee Shop and Bakery is an underrated place to eat among the Disney community and a great option for a quick bite as you are passing through Africa. The surrounding atmosphere is great and makes you feel like you are in the middle of an African village.
For food they have you covered both for breakfast with great coffee, pastries and even some healthy items. The standouts are the Chocolate Twist Stick and the mind-blowing Warm Colossal Cinnamon Roll. You definitely won't stop by and leave hungry. Not on the level of some of the WDW bakeries, but the Cinnamon Roll in of itself makes it a must stop location!
Kusafiri Coffee Shop and Bakery is a is Open from 8:00 am to 6:00 Daily. The Disney Dining Plan is also accepted, and you can use Snack Credits on some of the items.
Click here for the Kusafiri Coffee Shop and Bakery Menu.
I love to write Restaurant Reviews of Walt Disney World and I hope you found this one to be informative and helpful. If you liked this review then please visit my Disney Dining Reviews Page where I have many other Restaurant Reviews. I'm happy sharing with you what I love doing best…eating! ? I try to bring you the most thorough and unbiased reviews about the food and restaurants at Walt Disney World, so that as you are planning your vacation, you know the "can't be missed" places, and where you shouldn't waste your time. Hope you enjoyed this one and will enjoy many others in the future!!
Your Thoughts:
I want to know what you think about my Kusafiri Coffee Shop and Bakery Review. Do you normally stop there to eat? What's your favorite item at Kusafiri? Let us know in the comments section below!
If you enjoyed this article, as always I appreciate it if you'd share it with others via social media. I work hard at making this website into a useful resource for you and your family to plan your visit to Walt Disney World, and I hope it can help you! Thanks 🙂