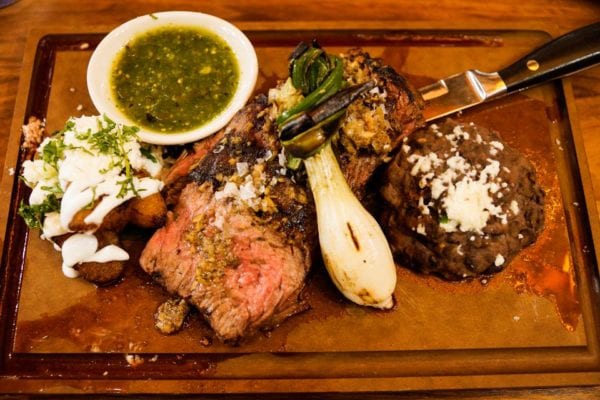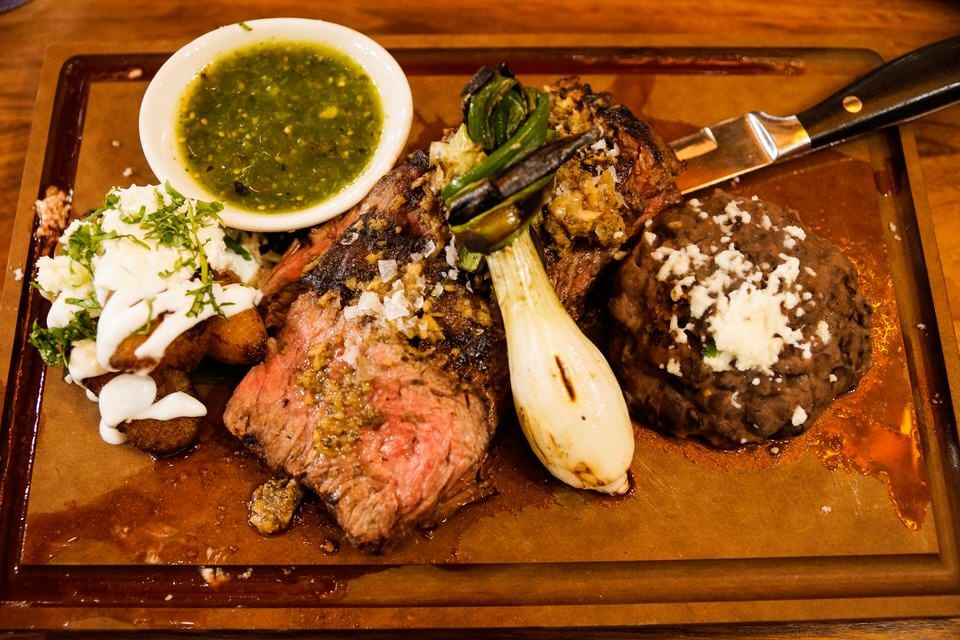 Before doing my Frontera Cocina Review I had heard a lot of great things about it, so naturally I couldn't wait to give it a try. I had heard so much about Chef Rick Bayless and his legendary Mexican food, and plus, you never have to convince me to have Mexican anyway, so I was all about trying it out!
Frontera Cocina is a Table Service Restaurant in the Town Center of Disney Springs. It's a Table Service Restaurant and requires 1 Table Dining Credit if you are using the Disney Dining Plan. It also participates in Tables in Wonderland which gives you a 20% discount on your food and drinks, but as of now ONLY at Lunch, so make reservations accordingly. Speaking of which, Frontera Cocina does accept ADR's 180 Days in advance, and while it's always better to book your restaurants ASAP, Frontera isn't one of the absolute busiest, so you shouldn't have a problem.
As I said before, Frontera Cocina serves Mexican cuisine, but I'm not talking about your average run of the mill On the Border, and nothing like a fast food chain like Taco Bell or Chipotle, no, no, Chef Rick Bayless takes Mexican to a whole other level. Bayless was born and raised in Oklahoma and went to live in Mexico when he was young to learn the Mexican Cuisine. I would say it worked out well for him as he became a James Beard award winner and a Top Chef Masters winner, and has opened up many Frontera named restaurants, including his most famous Frontera Grill in Chicago.
Everything here is super fresh and most things made in-house including their amazing Tortillas, Chips, Queso Fundido, Guacamole, Carne Asada, and so much more!
Let's get into our Frontera Cocina Review so you can see for yourself how great this place is!
Atmosphere:
Frontera Cocina is located in the Town Center of Disney Springs in a great spot where it's also easy to be seen. The outside looks like it fits in quite well with the surrounding Disney Springs buildings, yet having a bit more of a modern feel. First thing you notice is how many windows there are. Of course we did our Frontera Cocina review at night, but in the day its a very light and cheery environment.
Here's a glimpse of the Frontera Cocina sign high above everything:
The first thing that hits you when you walk in is the amazing Sun Mosaic high on the wall which is just bursting with color!
Like I said, we did our Frontera Cocina review at night, but in the day time this Dining Room is lets in an incredible amount of natural light creating a wonderful atmosphere. The dining rooms are split into 4 different areas, this is the Front Dining Room where you walk in, and connects with the Open Kitchen:
Turn around and you'll see the other side of the Dining Room. Frontera Cocina isn't huge by Disney standards as it holds only a couple hundred guests, but I like the closer feeling it gives you:
Classic Mexican restaurants tend to be dark, which can be a beautiful environment as well, like in the case of San Angel Inn. Frontera Cocina instead definitely has a sleek modern feel, and I personally like the difference from the norm.
If you've read some early Frontera Cocina reviews, then you'll know that some people didn't like the ambiance. You will also notice that almost all of them made reviews before this mural was put in and WOW does it make a difference!
It's so bright and delicately decorated and it's the focal point of the room:
Who knows how long this took to make, but it's breathtaking:
You'll also notice the super high ceilings and rafters, along with the bright orange lights hanging down from them. Lights of bright and vibrant colors is a definite theme at Frontera:
Another main feature of the restaurant as you may have noticed already are the millions and millions of bottles of Tequila!!
Ok, not millions, but there's a lot here!
The second dining area is in the middle of the restaurant, let's call this one the Blue Dining Room for obvious reasons! 😉 It's highlighted by its trademark fluorescent blue lights which are really trippy after a while..
You will go blind if you stare to long!
There are also some really beautifully crafted painted plates hanging on the walls in this area:
In the Back Dining Room the bright color trifecta is completed when we go from Orange, to Blue, now to Green at the Bar:
Up till this point I was torn as to which dining room was better between the front one with the beautiful Sun Mosaic and this back room which is a little more chill feeling and whole walls of windows:
That is, until I stepped out to the Terrace Dining Area on the water!!
This was absolutely beautiful, loved the hanging lights above!!
Ok, this can't be beat! Next time I'm for sure asking for an outside seat here on the water overlooking Morimoto Asia. I feel like I keep saying this with every Dining Review I do in Disney Springs, but this really is one of the best views anywhere in the Springs!
TIP: Beside the amazing view the Back Terrace is also quieter than the front of the restaurant. So definitely the spot if you're looking for a more intimate, quiet setting.
I guess my food photos wouldn't have come out very well outside anyways, so I'll reluctantly go back in to our table inside, just for my readers! 😉
I don't know about you but I'm about ready to see if the Frontera Cocina hype is really justified or not!
Food:
The menu here is focused on modern, contemporary Mexican Cuisine, yet keeping it authentic at the same time. Expect the usual Mexican restaurant fare like Tacos, some of the best Guacamole you'll ever try, and Meats like marinated Steak, Pork and a variety of Seafood options like Shrimp and Fish, just with much higher quality ingredients and level of preparation than normal.
For example all the Meat used at Frontera Cocina is natural without hormones and they buy comes from small farms, helping them to stay sustained. The Steak is from a small farm in Kansas City and the rest of the meat is from a small farm in Indiana. This is much higher quality than your average supermarket quality meat.
Of course I wouldn't even dream of going to a Mexican restaurant without ordering Margaritas!! This one was a La Cava Avocado ($15) – with Casa Noble blanco tequila, melon liqueur, avocado, fresh lime juice and hibiscus salt rim:
This Avocado margarita in particular was very inventive and interesting. Very light, a great Summer drink, and there was almost a little hint of cucumber in there too. Very smooth and you can taste the avocado with is great in a margarita!
Next was the more traditional Frontera Margarita ($15) – with Casa Noble blanco tequila, Royal Combier, fresh lime juice, agave nectar, salt rim:
While the avocado marg was fantastic, I liked this one even better. You don't get that real heavy sour taste cause they use real limes to make it. Night and day difference between this and a sour mix. Awesome!
I know what you're thinking right now, "$15 for a margarita??" I know it's a steep price to pay but these things are AMAZING! All of the margs we tried really blew our minds and the Frontera Margarita was maybe the best margarita I've had in my life! Plus they're only $12.50 when you have Tables in Wonderland…just another reason to get that Annual Pass!
After these drinks I'm really craving something salty, and it looks like our food is starting to come!
Chips and Salsa ($4) – with Smokey Chipotle and Herby Salsa Verde:
Ok, paying $4 for chips and salsa when they usually come free in any Mexican restaurant doesn't make me super happy, but I have to say I forgot all about it when I tasted everything! The Chips were exaggeratedly good, super crisp and fresh, nothing like Tostidos.
Neither salsa was crazy spicy, but the green one was more so than the red. We were all torn as a group over which salsa was better. Some liked the Smokey Chipotle, because it was just that, really smokey! I slightly preferred the Herby Salsa Verde, it had more of a fresh taste going on. Both super good though and worth the $4 every time!
Next we had to try the Guacamole Verde and Chips ($10) – roasted poblanos, roasted tomatillo, toasted pepitas, cilantro, and onions (contains seeds) :
We loved the way the guac was mashed with chunks of avocado, and had just a little hint of lime in there. So fresh and clean tasting. And they couldn't bring us enough of those amazing chips! There was also a Bacon Guacamole that another table tried and said it was even better (still not really sure why we didn't get that instead…)
We tried the Coctel Rojo ($14) – with poached Mazatlan blue shrimp and Baja bay scallops, Mexican cocktail suace, (ketchup, tamazula, lime juice), jicama, avocado, cilantro and warm tortilla chips (contains shellfish) :
This was also excellent, the shrimp were very tasty. The jicama, which is like a Mexican water chestnut, was the most interesting ingredient, and added a different texture to the dish. My only complaint is it was a bit expensive for the amount they gave you, however tasty it was.
Next we had maybe my favorite dish of the night, and a should be staple of every meal imo, Queso Fundido ($12) – queso chihuahua melted with roasted poblanos and caramelized onions, served with warm tortillas:
At this point I was having severe regrets about having agreed to split this with other people as I wanted it all for myself! It was so stinking good, stringy cheese, a rich flavor, it love at first bite! No really, I could have ordered about 3 of them and been a happy camper! The Chihuahua cheese is almost impossible to find around here and was freshly imported from Mexico.
Now is a good time to tell you about the Home-made Fresh Tortillas. Really excellent, and work great with the Queso Fundido. They are made without gluten, and fried in rice oil. Jesse continued raving about them and said they are hands down the best tortillas he's had in his life. I think I'd have to concur with him on this!
I would say this is a good size for two to split as an appetizer, not big enough for more people, and I had to split it in 5!
Next was the Shrimp Caesar Salad ($19) – with petite baby gem lettuces, cotija cheese, caramelized red onion, avocado, croutons, chipotle-lime Caesar dressing (contains dairy, gluten, fish) :
You can get a normal Caesar Salad for $8 less, but we opted for the shrimp this time. It was very nice, lettuce was good, big leaves of fresh romaine and nice and crisp. Dressing was tasty but not overpowering. Shrimp were grilled and they were great. Ken had this as an entree and filled him up, so very filling.
Our last appetizer was the Tortilla Soup ($9) – red chile chicken broth, avocado, artisan Jack cheese, tortilla strips, cilantro, red onion, chipotle chicken, and lime (contains dairy, gluten) :
The presentation was great for the soup as they arrive with a bowl of tortillas, and then the soup in a separate canister. It was hot and spicy, not too spicy but just right. Nice onion flavor and pieces of chicken. The tortilla strips were really good and there were LOTS of them, very hearty! I've never had a tortilla soup like this before, the broth was a bit thicker than normal, I loved it!
For our first entree we had what ended up being the star of the night, Carne Asada ($34) – red chile-marinated Creekstone Natural Black Angus steak, refried black beans with Cotija cheese, caramelized plantains topped with crema and queso fresco, tomatillo salsa, served with warm tortillas (contains dairy, pork) :
This was OMG super delicious! The meat was mind-blowingly good. The steak is marinated for 24 hours in a Marinade of red chili, slow roasted garlic, Mexican oregano, cumin, Mexican olive oil, black peppercorn kosher salt and clove. Then it's grilled and the marinade is spread over the top of it! It was so moist and tender, not chewy. I want it to be like butter and it was!
The veggies included were great too, I even liked the caramelized plantains, and I don't even like plantains. My only complaint was that even though the presentation was outstanding, there wasn't a whole lot of space to eat everything on the board they give you, there wasn't enough room to make the tortillas. So a bigger board next time maybe.
We then tried the Carne Asada Tacos ($20) – grilled steak, poblano rajas, refried black beans with queso fresco, salsa verde, guacamole, served with corn tortillas (contains dairy) :
These come with tortillas and you assemble the tacos yourself. Again this meat was out of control good, super flavorful and tender like the Carne Asada plate. There was a little less meat with the tacos portion, and different veggie choices, but this was incredible too!
Next we tried the Grilled Chicken Tacos ($18) – Grilled chicken tacos, poblano rajas, refried black beans with queso fresco, guacamole, chipotle salsa, served with corn tortillas (contains dairy) :
This was maybe the only disappointment on the night as the chicken was pretty dry, even though it had a nice grilled flavor to it. Should have got the pork shoulder or the short ribs instead which I heard are both out of this world!
Even though by this time we were stuffed, I pushed through and made sure we ordered at least one dessert! We got the Pecan Pie Bar ($9) – with Mexican vanilla ice cream and chocolate sauce:
Now it seems strange to order any form of Pecan Pie at a Mexican restaurant as it's definitely not the first dessert that comes to mind. The reason for its placement on the menu here is a personal one. Our server explained that the original recipe belonged to Rick Bayless's grandmother and he added it as a tribute to her.
I was really happy we took our waiter's advice and got it because it was really , really good. On the bottom it was thick and dense underneath, like a pecan-packed brownie almost, with an underlying sweetness to it. I liked the chocolate with it, although it could have been even stronger imo.
The choice of soft serve on top was a good one, as the really creamy soft texture of the ice cream complimented the denseness of the pecan bar underneath. I liked it a lot and would recommend it to anyone!
Summary:
In the end I was really satisfied with the experience during our Frontera Cocina Review. It really lived up to some of the hype I'd been hearing about and is a must try for Mexican food lovers, and even some who aren't. I liked the atmosphere and thought they achieved the modern/contemporary look well enough. The front can be a little loud, but the back terrace is absolutely marvelous and will take your breath away with its views of Disney Springs.
The cuisine is were Frontera Cocina really shines though. All our appetizers were fantastic, my wife was jealous over the stares I was giving the Queso Fundido, and the Home-made Tortillas, Guacamole and Chips are all to die for! The Carne Asada was really excellent and a must-try, not to mention probably the best Margarita I've ever had.
The food wasn't cheap, but there is a marked difference in the quality you are getting here compared to other Mexican restaurants on property imo. Not that Walt Disney World has THAT many Mexican restaurants, but I think it now has a clear #1, Frontera Cocina. Even with the crowded lineup of restaurants in Disney Springs, it's a must try at least once, and I know that I'll be coming back many times!
Frontera Cocina is open for Lunch and Dinner (11:00am – 10:00pm Daily). The Disney Dining Plan is accepted, it's a 1 Disney Dining Table Service Credit.
Click here for the Frontera Cocina Menu
I love to write Restaurant Reviews of Walt Disney World and I hope you found this one to be informative and helpful. If you liked this review then please visit my Disney Dining Reviews Page where I have many other Restaurant Reviews. I'm happy sharing with you what I love doing best…eating! ? I try to bring you the most thorough and unbiased reviews about the food and restaurants at Walt Disney World, so that as you are planning your vacation, you know the "can't be missed" places, and where you shouldn't waste your time. Hope you enjoyed this one and will enjoy many others in the future!!
Your Thoughts:
I want to know what you think about my Frontera Cocina Review. What has your experience there been? Did you think it was a letdown? Let us know in the comments section below!
If you enjoyed this article, as always I appreciate it if you'd share it with others via social media. I work hard at making this website into a useful resource for you and your family to plan your visit to Walt Disney World, and I hope it can help you! Thanks 🙂