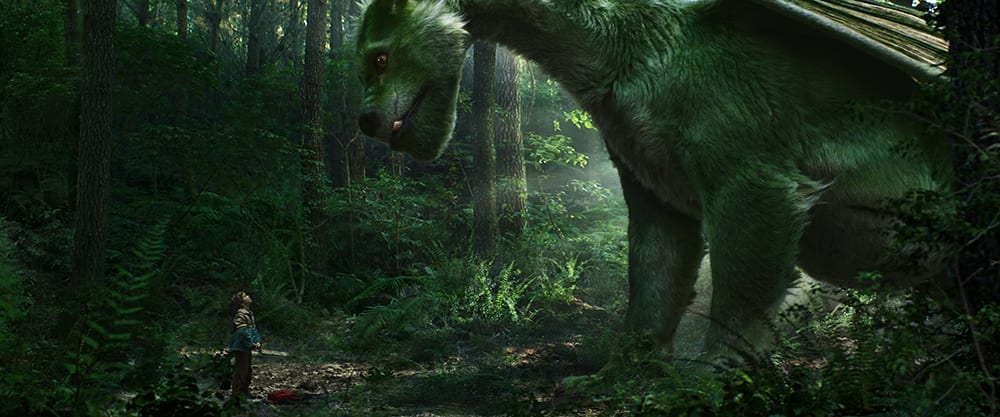 Disney is really going to town on this re-make thing and the new Official Trailer for Pete's Dragon is out. Again I'm usually skeptical about these remakes, especially with cult classics like Pete's Dragon, but I have to say the trailer looks stinking amazing!! After the huge success that the live action version of The Jungle Book has had ($910 million), Disney is really making me start to come around.
Pete's Dragon is a live action remake of the classic Disney tale and is set to come to theaters August 12th. It follows the original story of a young orphan named Pete (Oakes Fegley) who is found living alone in the woods. He's taken in by Grace (Bryce Dallas Howard) and her father (Robert Redford). It's then after that they discover how he has been able to survive…it's because of his friend Elliott the dragon who has been helping him.
The first trailer hardly had any footage in it, but this new one is completely different. The scenes from the trailer are visually stunning! The dragon is CGI 3D rendered, but he looks really amazing, realistic and much more intimidating than his cartoon predecessor. The movie is being directed by David Lowery, and he looks like he has it well under control. It really gives me a Spielberg vibe and I'm really looking forward to see if it can meet up to my high standards that I have from the original. From what I've seen here, it looks like I'll be able to rest easy.
Let me know what you think of the new official trailer for Pete's Dragon in the comments section below. As always I really appreciate it if you help spread the word, so if you liked this post and my site then please share it with others! Thanks! 🙂