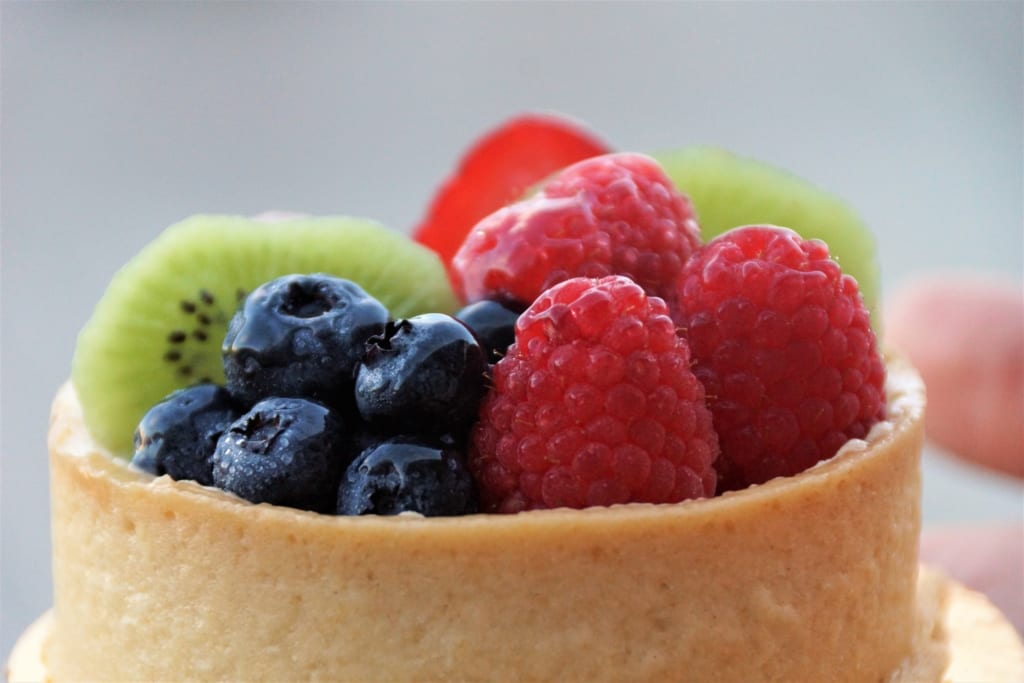 Spending so much time at the Beach Club through the years has made going to the Boardwalk Bakery almost like second nature. Wake up, go to the Boardwalk Bakery for breakfast, take that breakfast to the Yacht and Beach Club pool and relax. That's been the routine for 20 years. But while the Boardwalk Bakery in the past has been towards the top, if not at the top of my list of the Best Walt Disney World Bakeries, in recent years I have to say it hasn't always lived up to its past reputation. So during my last trip we made a visit (a few really) so that I could do a Boardwalk Bakery Full Review.
The Boardwalk Bakery is a Quick Service Dining Location on the Boardwalk which connects a the Epcot Resorts (Boardwalk, Yacht & Beach Club and Swan & Dolphin). It serves up typical American Bakery type food: Breakfast Sandwiches, Cupcakes, Muffins and Pastries in the Morning, while adding Soups, Salads and Sandwiches for Lunch and Dinner. Since it's a Quick Service Dining Location you will need to spend 1 Quick Service Credit if you are using the Disney Dining Plan. The Boardwalk Bakery doesn't offer you any particular great savings using your Quick Service Credits here as the prices are normal. There's no need for an ADR, just walk right up and order what you want.
Atmosphere:
The atmosphere at the Boardwalk is nice because it's located on the Boardwalk, after the ESPN Club and Ample Hills and before Trattoria al Forno. It's a great spot because it transports you back to the early 1900's on the Boardwalk of a seaside town in the northeast. From the Boardwalk you have some awesome views:
Here's a shot of that old seaside architecture: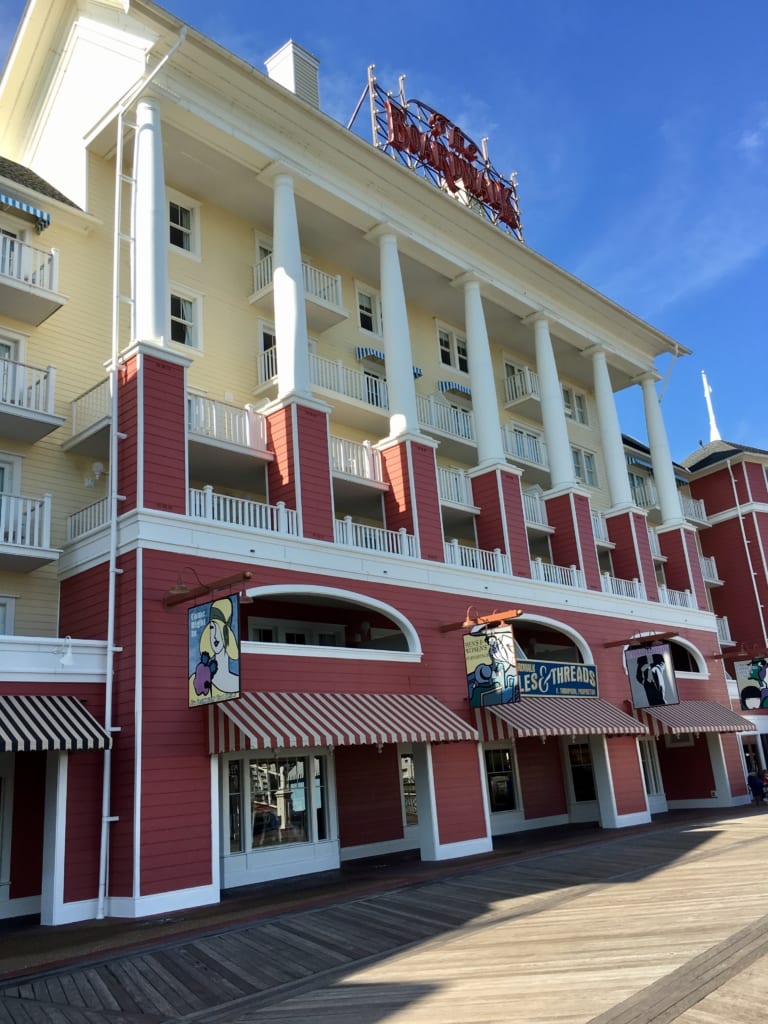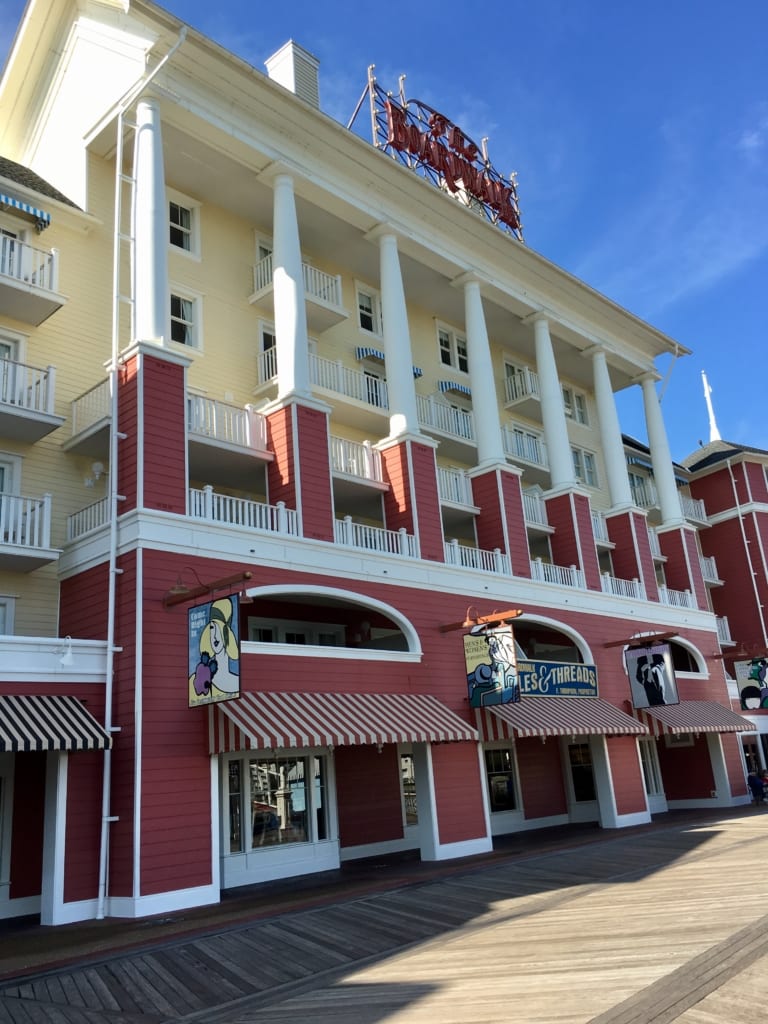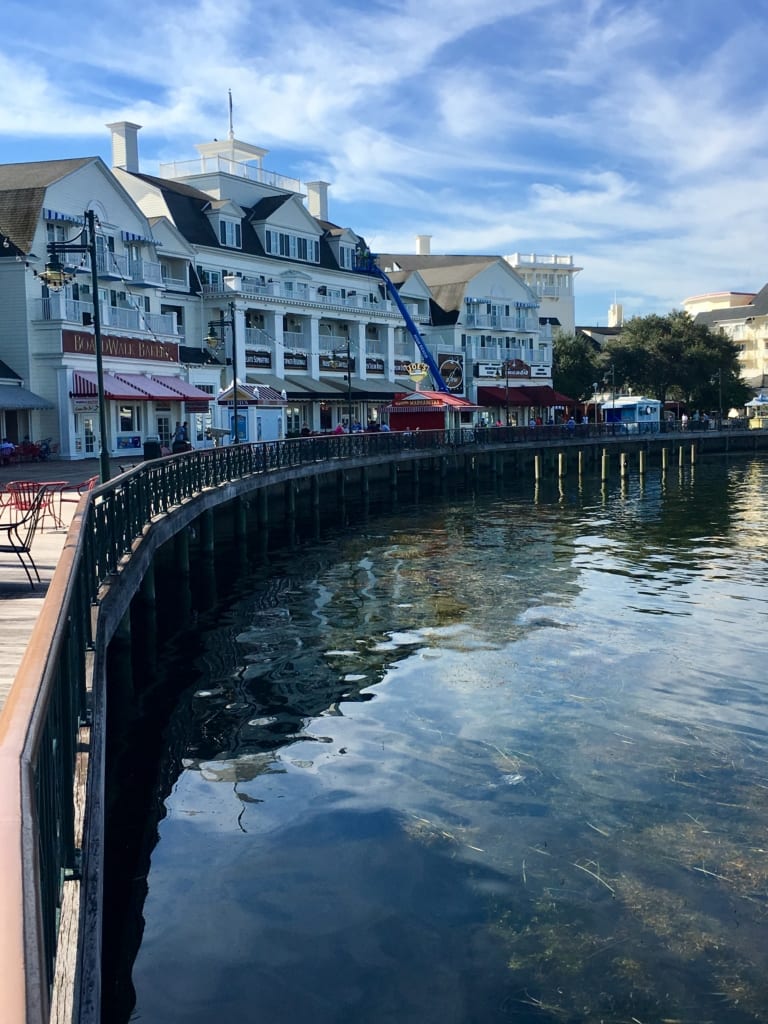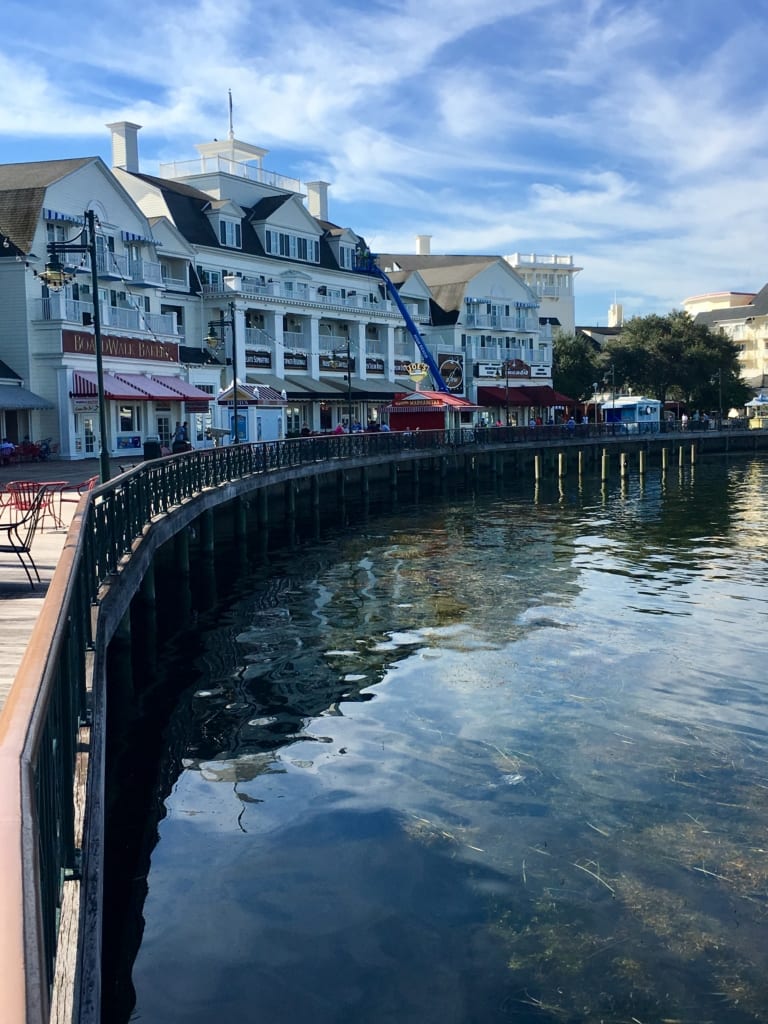 Eventually you find the entrance to the Boardwalk Bakery: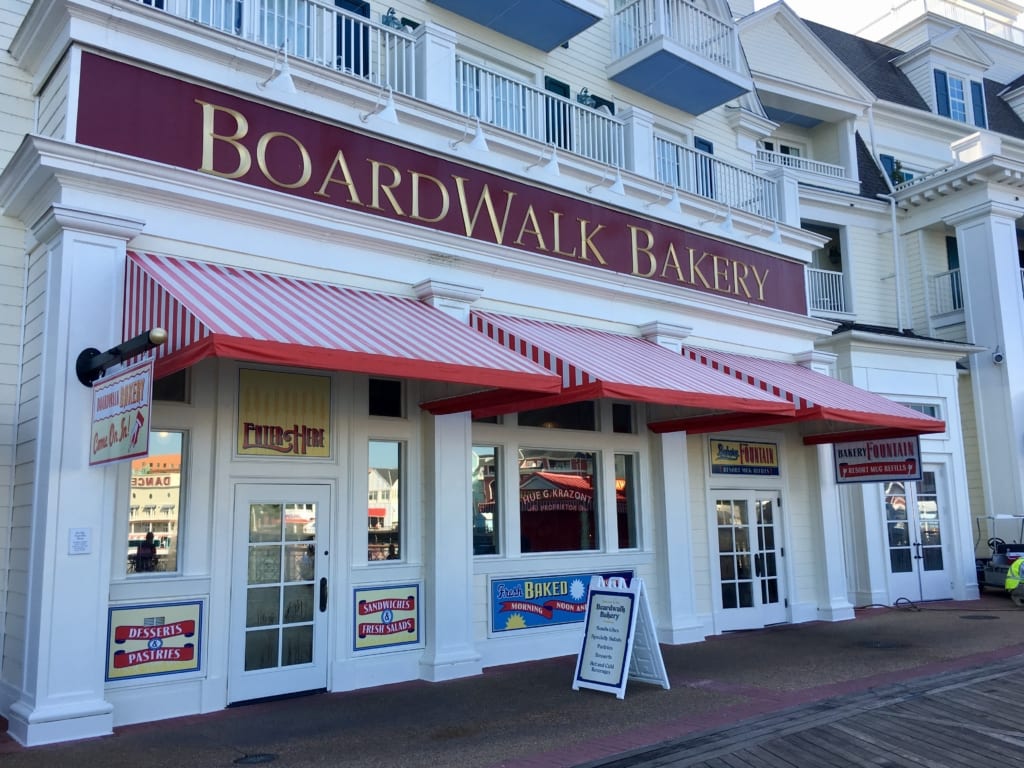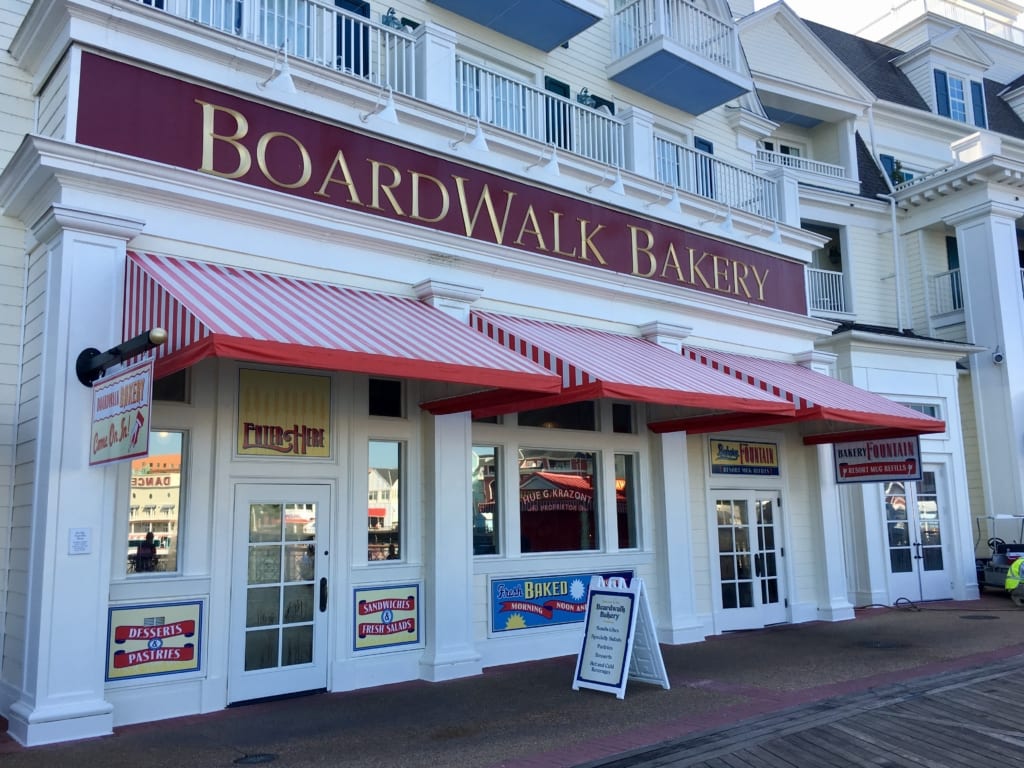 Let's go on in and see what they have!
Food:
The Boardwalk Bakery does offer Lunch and Dinner, but we're here for Breakfast. Staying at the Beach Club or any of the Epcot Resorts (Yacht & Beach Club, Swan & Dolphin and Boardwalk) makes it easy to pop over once you wake up. They open at 6:30 am too so you can even get something and then go off to the parks.
Right away you see the Breakfast Sandwiches that are available. There was an Egg, Bacon and Cheese available on your choice of a Bagel, Roll or Croissant.
Of course my eye was attracted to the sweets! There are a variety of Muffins, Croissants, and Danishes (Cheese or Apple):
More Croissants of different varieties: Chocolate, Almond, Plain, etc:
Apple Tarts, Mmmmm:
There's a variety of Cakes, Pastries and Brownies too:
It was hard to keep my eyes off these:
There were some fresh pastries cooling down in the back:
This Sticky Bun was staring me down:
It was super hard to decide but we made our choices. We took our food outside and enjoyed the beautiful view of the Yacht and Beach Club: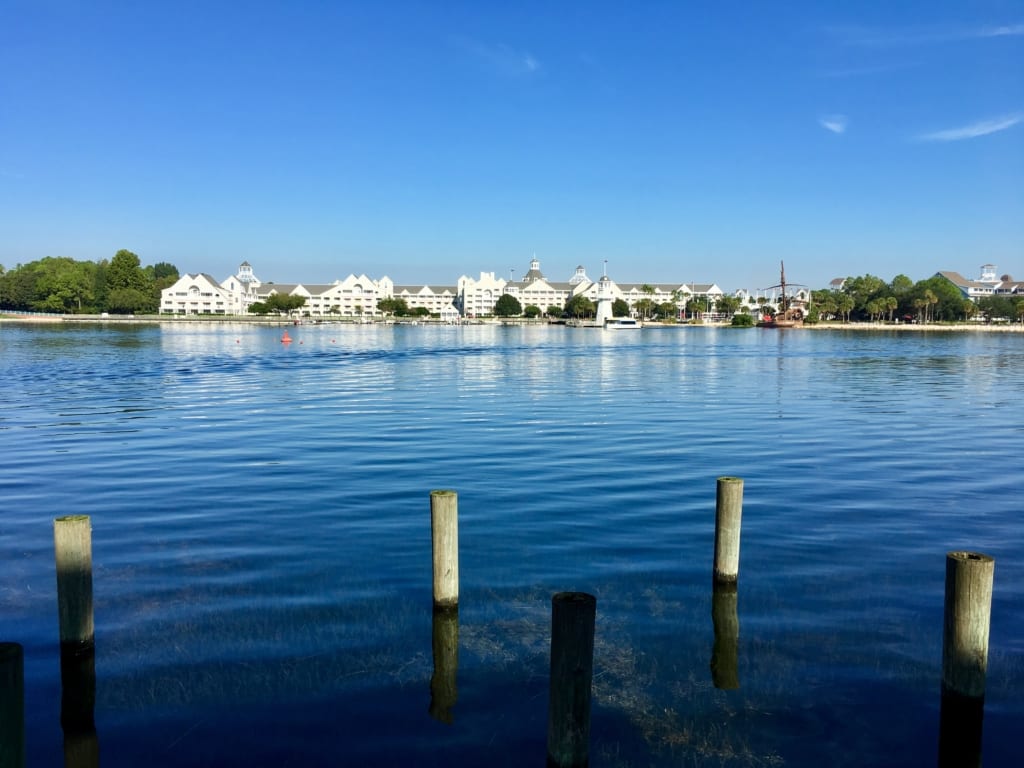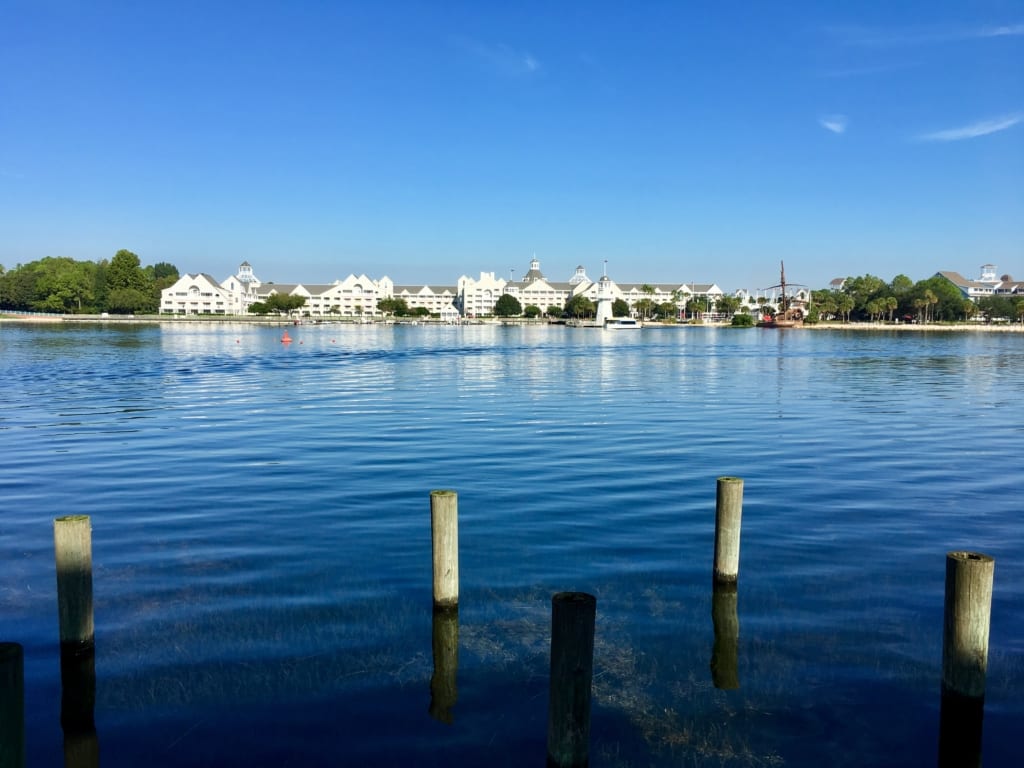 First up was the "healthy option" the Bacon, Egg and Cheese on a Croissant:
Honestly I was a little disappointed with it. The taste wasn't terrible, but as you can see it's one of those factory pre-made eggs. They could have at least went for real eggs on here. Same with cheese. The croissant itself wasn't bad, was nice and flaky with nice texture. The size was really big and me and Stefania split it. After all, we did have lot's of desserts to try too! 😉
If the egg quality improved, it would really help the sandwiches out and they would rank much higher for me. The Bacon was the highlight of the sandwich as sometimes it's hit and miss with the quality of bacon on a breakfast sandwich, but this was actually quite good. Tender and flavorful.
In fact it was so good that we ordered a whole Bowl of Bacon!
Yeah bet you didn't know you could do that did you!?!? Not a bad deal and they gave us plenty of strips!
We also tried the Sticky Bun:
This was very good, the bun part itself was soft and chewy with a nice flavor, not too dry. The frosting was abundant, just like it should be!
Overall the Sticky Bun was a good snack and I would recommend it, it's even enough to share if you aren't very hungry.
We also got a Blueberry Muffin:
My mom loves this muffin and got it a few times on our trip. It's quite big and the muffin part itself is nice and soft. Again not dried out like some muffins. It was also full of blueberries:
Again a solid option imo, one of the best buys in the Boardwalk bakery for a mere $3.29.
We got a Bagel which was your standard run of the mill Disney bagel:
It wasn't the best bagel in the world, as you can't expect great bagels outside of NYC. It didn't have a ton of flavor and wasn't all that chewy. I prefer the Croissants, especially if your looking to make a breakfast sandwich and trying to choose between the two.
Lastly was my favorite option we tried and that was the Fruit Tart:
I've had this many times and never been disappointed, it's my go to when coming to the Boardwalk Bakery. The crust itself is a nice consistency, not to dry. There is a nice mix of fruit on top with: Strawberries, Blueberries, Raspberries and Kiwi…which all tasted pretty fresh.
The cream is the best part! It has a wonderful texture, nice and smooth, and very light, not overly heavy. An excellent choice and my most recommended item here.
After reading about these items it seems that everything was really good, unfortunately however that wasn't 100% the case. There were a couple other items we tried which I forgot to photograph, probably because they were very forgettable.
The coffee was terrible, very watered down and one of the worst cups we tried on this trip. The Cannoli was awful too, tasted a bit stale and the cream wasn't good at all. So I just found the Boardwalk Bakery to be a bit inconstant with some of its offerings.
Summary:
The Boardwalk Bakery let me down a bit this time I have to say, at least for breakfast. I've had better experiences there in the past. While some of the items, such as the Sticky Bun, Muffin and Fruit Tart were very good, others like the Breakfast Sandwich, Coffee and Cannoli disappointed us. The atmosphere is nice because you can enjoy your food outside on the Boardwalk, so that part is very nice. And it's quite convenient if you are staying at one of the Epcot Resorts as it's close enough to everything.
However, if you have a park pass that allows you entrance to Epcot, then in my opinion it's even better to go over to the Boulangerie Patisserie in the France Pavilion in World Showcase. That opens up at 9am most days, so if you can wait till then, or if you are going to Epcot anyways, then it's worth the extra 5 min walk imo. If you need something early in the morning and close, then you can probably find something good at the Boardwalk Bakery. It's worth a shot, and if they just changed up a few things, the Boardwalk Bakery could be back fighting for the title of Best Bakery in Walt Disney World again. Right now it's on the outside looking in.
The Boardwalk Bakery is a Quick Service Location and is open early in the morning till late at night, typically from 6:30am-11:00pm Daily. The Disney Dining Plan is also accepted, it is a 1 Credit Quick-Service Dining Location. Reservations can be made via the Disney World website or by calling (407) WDW-DINE.
I love to write Restaurant Reviews of Walt Disney World and I hope you found this one to be informative and helpful. If you liked this review then please visit my Disney Dining Reviews Page where I have many other Restaurant Reviews. I'm happy sharing with you what I love doing best…eating! I try to bring you the most thorough and unbiased reviews about the food and restaurants at Walt Disney World, so that as you are planning your vacation, you know the "can't be missed" places, and where you shouldn't waste your time. Hope you enjoyed this one and will enjoy many others in the future!! ?
Your Thoughts:
I want to know what you think about my Boardwalk Bakery Full Review and your experiences there. What's your favorite food item at the Boardwalk Bakery? What has been your experience there? Is there something you would change? Let us know in the comments section below! 🙂
If you enjoyed this article, as always I appreciate it if you'd share it with others via social media. I work hard at making this website into a useful resource for you and your family to plan your visit to Walt Disney World, and I hope it can help you! Thanks 🙂