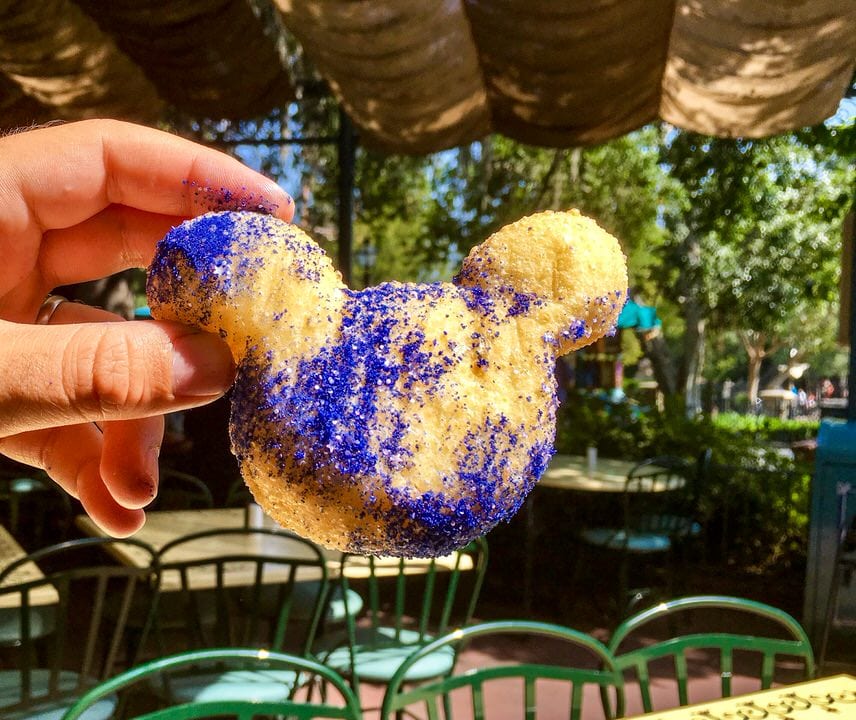 If you've ever been to Disneyland before then you know one of the best places for a snack is the Mint Julep Bar over in New Orleans Square in the back of the French Market Restaurant…Beignets for days!!! Well to celebrate the return of Fantasmic! Disneyland is serving up some special snacks in its honor, one of them being the Blackberry Beignets! Tell me I'm not dreaming…
The Mint Julep bar is one of the best hidden spots in all of Disneyland and while it doesn't have a huge variety of choices on the menu, what it does, it does well. The beignets here the stuff of legends! Oftentimes they serve them in different varieties, but it doesn't matter which form you sell them to me in, I'm gonna be there! So I just had to do a Review of the Blackberry Beignets for Fantasmic! and also the Mint Julep. Let's take a look..
Atmosphere:
I absolutely love the area back here in New Orleans Square, it's one of my favorite locations in Disneyland. To find the Mint Julep Bar just keep walking past Cafe Orleans and on the right you'll see a big covered dining area which is shaded and covered from the sun, a perfect spot to relax after a long morning of attraction jumping. The Mint Julep Bar is around the back of the covered area.
As I arrived I could see the line was already long, apparently I wasn't the only one who wanted these Blackberry Beignets!
You'll notice how big the seating area is back here so it won't be hard to find a seat:
I made my way up to the window and I'm ready!
Food:
The first thing you'll notice when coming to the Mint Julep Bar is the menu isn't very big… Beignets and Mint Juleps. The Beignets are Mickey-shaped and served in either 3 or 6 packs for $4.49 or $7.49. You can also get the normal Beignets which are fresh made and covered in powered sugar, or try one of the seasonal toppings like the Blackberry Beignets:
Since I was alone today and trying to be good I only got a 3 Pack of Blackberry Beignets ($4.49). I also however got the Mint Julep which I've been hearing so much about. I can't wait to dig in to these…
The second I pulled these Blackberry Beignets out of the bag I was in love! Look at how cute they are!! I almost felt bad eating them…almost! 😉
They were piping hot and steamed immediately when I bit into them. They were amazing! They were really tasty, the blackberry powder does taste like blackberry and adds a little something different if you usually get the normal ones, but I'll still take the normal ones over these. I know you're wondering why they don't look like the ones in the photo…I'll get back to that in a minute!
They were very light and airy, and not filling. That dough is just sooooo good and has just the right amount of sweetness to it! I ordered 3 because I was worried about getting filled, but honestly I could have eaten 6, especially since I hadn't yet had breakfast.
As you can see the inside is pretty hollow, which wasn't the case at the Cafe Orleans next door. Since we had just eaten there the night before I though the texture would be a little denser, but these were lighter. I prefer them like at Cafe Orleans, a bit denser. I don't think that's usually the case, but today it was for some reason.
Also the Beignets from the Mint Julep Bar don't come with the dipping sauces found at Cafe Orleans which was disappointing, not so much for these Blackberry Beignets because they have flavor, but for the normal ones I would need the sauces! C'mon Mint Julep Bar!!
One word of caution I have for you is that they are VERY MESSY. I wasn't able to get a photo of my hands for you because I was alone and my hands were absolutely covered in blackberry powder. It got everywhere. Having white shorts on that day wasn't exactly the smartest idea, so use caution. My whole mouth was stained a beautiful purple for some hours afterwards and my wife had a good time making fun of me later in the day, so make sure your family eats them with you so they can't make fun of you later!
Now lastly I know you were wondering why the Blackberry Beignets aren't completely covered in the purple powdered sugar like in the promotional photos from Disney. I was wondering the same thing! In fact when I pulled them out of the bag I thought I got ripped off. So I ate them anyways and they were delicious. But then I looked down at the bottom of the bag…
Yes, the dummy I am didn't realize that I was supposed to shake the Blackberry Beignets in the bag BEFORE taking them out! So I was a bit bummed, and learned my lesson!
Next I tried the famous Mint Julep ($3.99). Now let me start out by saying that I'm not a mint person at all, I don't drink Mojitos, and I hate any dessert with mint in it, so it was really a stretch for me to order this, but in the best interests of my readers I thought I'd give it a try. Man was I blown away:
It was really, really light and refreshing. It wasn't a strong mint taste, but very subtle. And the lime flavor really balanced it out. I thought strangely that the mint flavor mixed well with the beignets and I now realize why they are put together. It was the perfect drink for a hot day and I'd highly recommend it.
Summary:
Overall I thought my experience at the Mint Julep bar was great. I really liked the Blackberry Beignets, I thought the Mickey shape was incredibly cute, and the blackberry sugar added a nice flavor and mixed it up a bit from the originals. However they were real messy, and the fact they don't come with dipping sauces here is a negative. Overall they were still great and I'd get them again, I just still prefer the originals, especially the ones from Cafe Orleans which just seem to have a little something extra.
The Mint Julep was the surprise of the day for me and it was just that perfect Summer drink, light and refreshing. I'd get it again in a heartbeat.
I think everyone needs to try out the Mint Julep Bar as nobody's Disneyland experience can be complete without tasting some beignets. They have some classic Disneyland snacks, especially if you can't get into Cafe Orleans, and it offers a really appealing atmosphere which makes you really feel like you're in New Orleans.
The Mint Julep Bar is Open from 8:00 am to Park Closing Daily.
Click here for the Mint Julep Bar Menu.
I love to write Restaurant Reviews of all the Disney Parks and I hope you found this one to be informative and helpful. If you liked this review then please visit my Disney Dining Reviews Page where I have many other Restaurant Reviews. I'm happy sharing with you what I love doing best…eating! ? I try to bring you the most thorough and unbiased reviews about the food and restaurants at Walt Disney World, Disneyland and Disney Cruise Line, so that as you are planning your vacation, you know the "can't miss" places, and what to skip. Hope you enjoyed this one and will enjoy many others in the future!!
Your Thoughts:
I want to know what you think about my Blackberry Beignets and Mint Julep Review at the Mint Julep Bar. Have you ever had either of these items? What did you think? Let us know in the comments section below!
If you enjoyed this article, as always I appreciate it if you'd share it with others via social media. I work hard at making this website into a useful resource for you and your family to plan your visit to the Disney Parks and I hope it can help you! Thanks 🙂