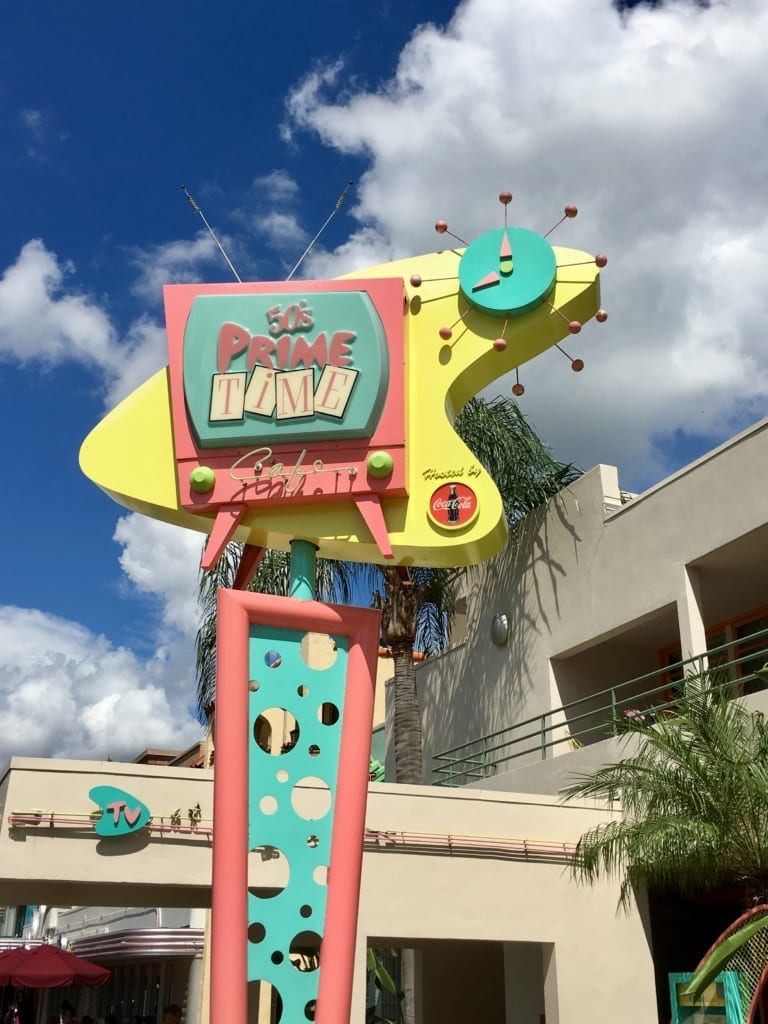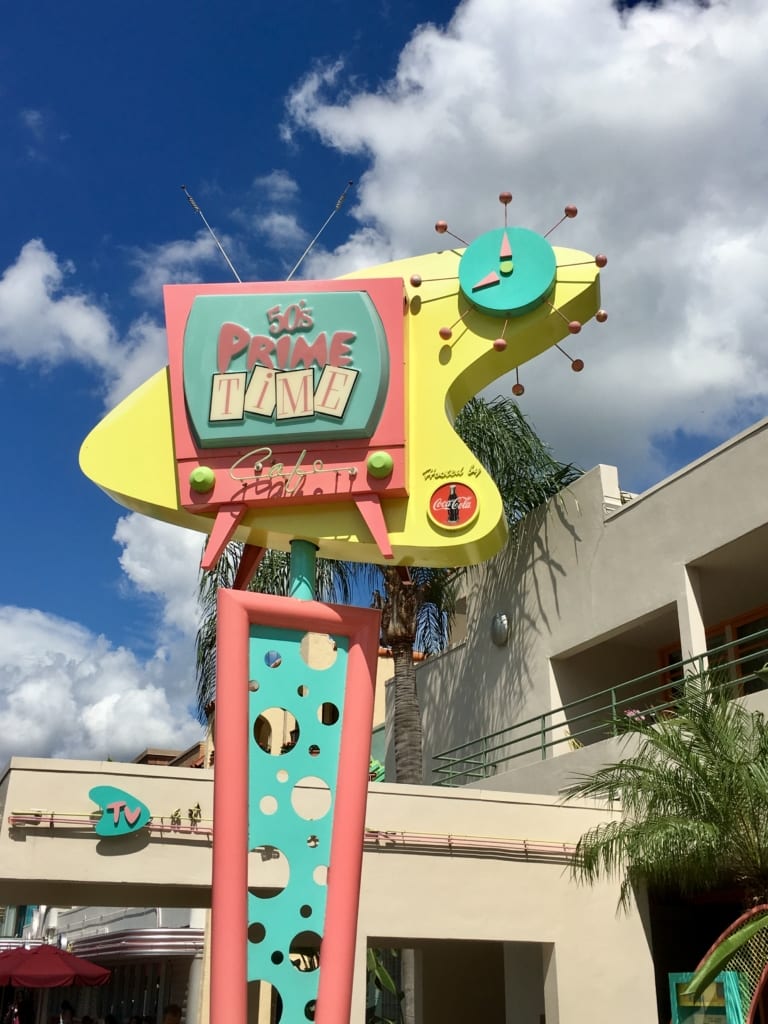 This is a review for 50's Prime Time Cafe in Disney's Hollywood Studios. Coming to 50's Prime Time is like stepping back in time to all those trips to your aunt Edna's house when you were young, only this time it's actually enjoyable. This Table Service Restaurant in Hollywood Studios which focuses on good ol' traditional American Comfort food, and it offers great home-cooking like your mom and grandma made, with a variety of great apps and entrees.
Being a Table Service Restaurant you will need to spend 1 Table Dining Credit if you are using the Disney Dining Plan. It does participate in Tables in Wonderland which gives you a %20 discount on your food and drinks, which was very helpful to us as we always have a big group. The 50's Prime Time Cafe does accept ADR's 180 Days in advance and I would highly recommend doing just that! This is by far one of the most popular restaurants in all of Walt Disney World so don't mess around and wait to book a table…do it right away!
The 50's Prime Time Cafe has always been a go-to spot for us to eat in Walt Disney World. We were blown away from the beginning and keep coming back year. After all, who doesn't love getting yelled at by grumpy waiters/waitresses and asked to show if they've washed their hands after coming back from the bathroom…. Wait, What? Don't worry it's all part of the fun and makes 50's Prime Time one of the most unique and memorable dining locations in WDW. Oh yeah and they food's pretty awesome too!
It's been a year since my last visit to the 50's Prime Time Cafe and I haven't written a review for it yet, so I thought this would be the perfect opportunity to see if we would have the same unforgettable experience as usual…come on, let's check it out!
Atmosphere:
To get to 50's Prime Time walk up Hollywood Boulevard and take a left in front of Echo Lake. Go past Hollywood and Vine and you'll see it on you're left.
Right away when you walk in you'll feel like you're walking into a time warp from the 1950's (catch the connection?). The smell of moth balls hits you immediately when you walk in the door! Ok, not really, but you get the point. It was pretty packed the day we went, which is pretty much every time. Take a turn to the left to the waiting lounge: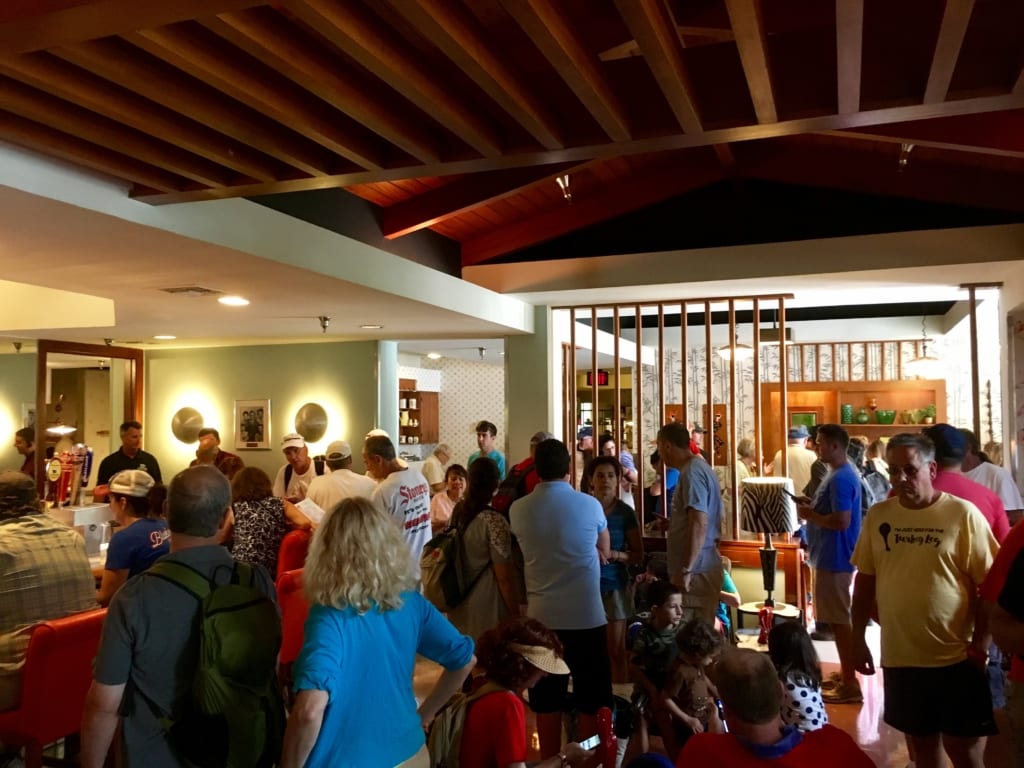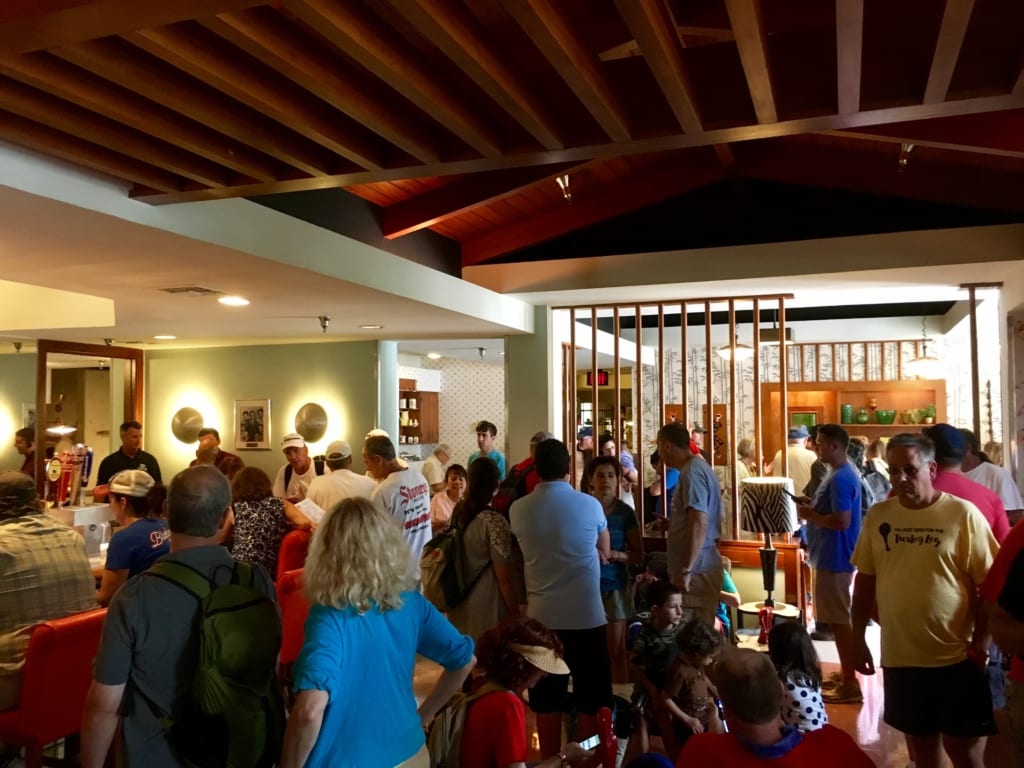 You'll see a lounge area where you can take a look at some of this stuff….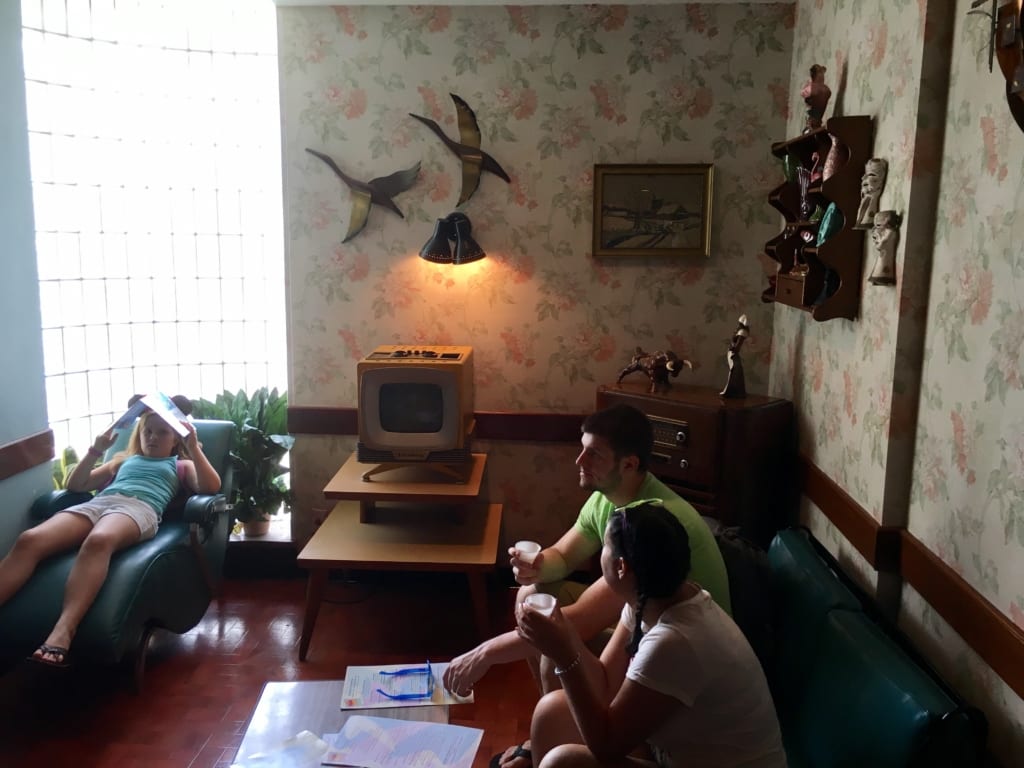 I mean get a load of this old TV. I didn't know Disney used to be in the TV manufacturing business: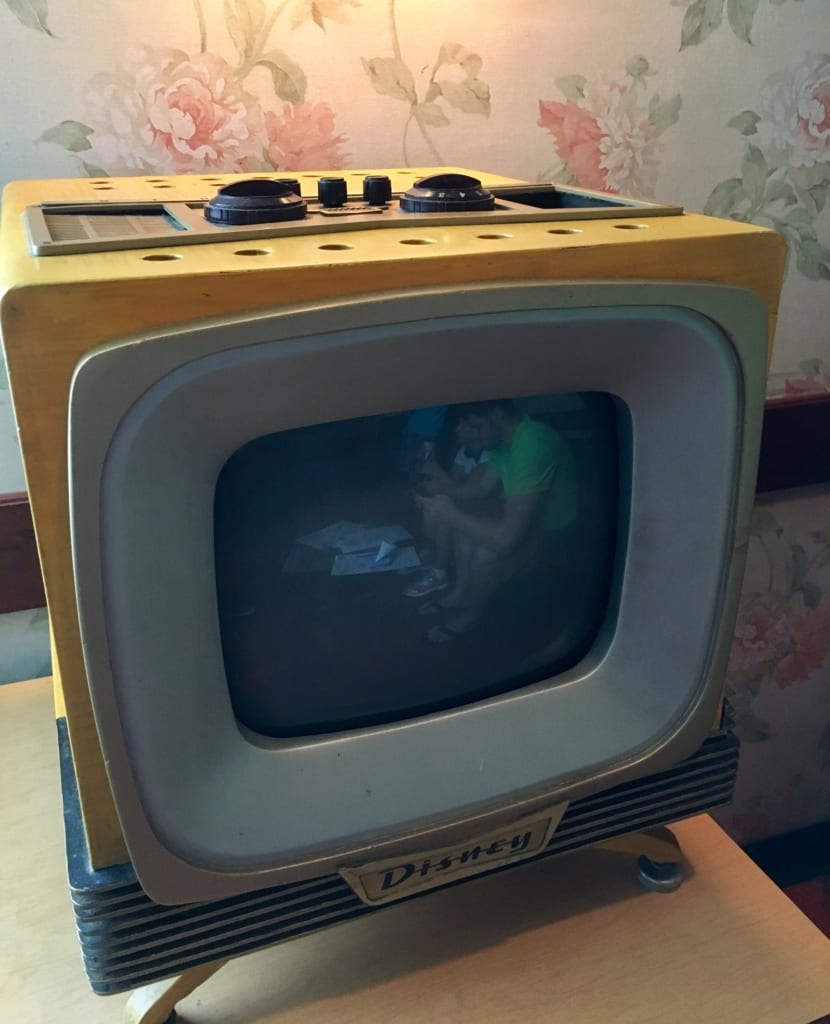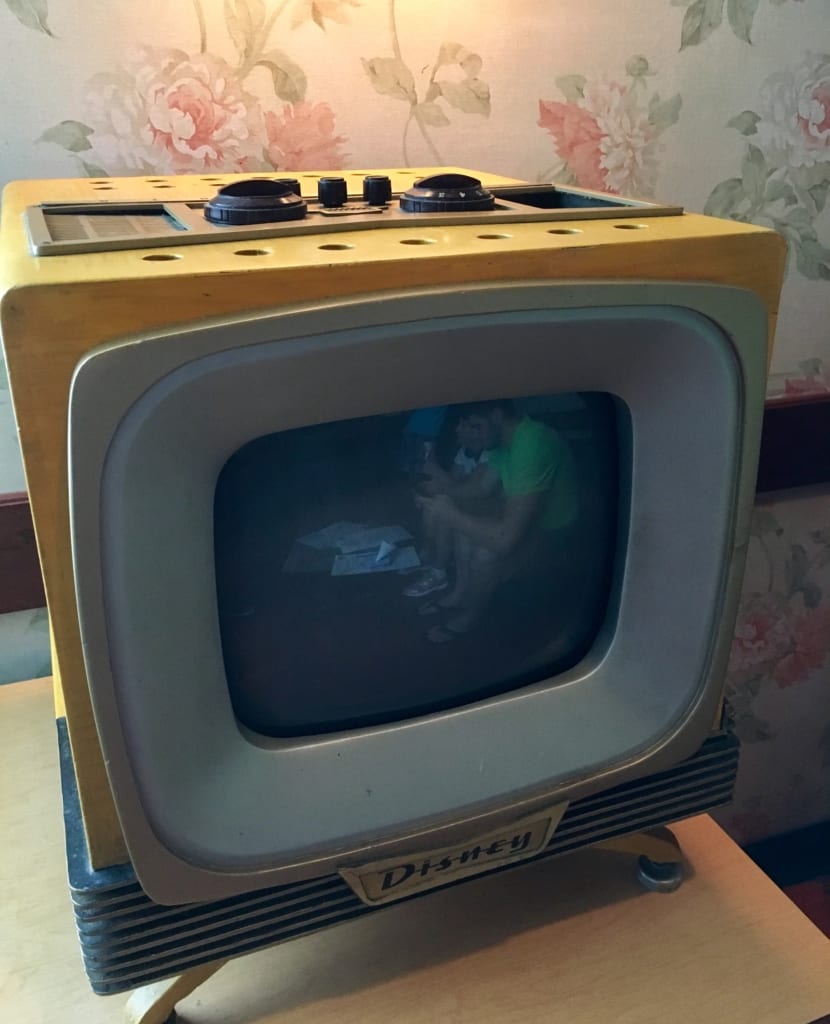 Seriously, I think I've seen every old knick-knack here in my Grandmother's house, I'm not even joking: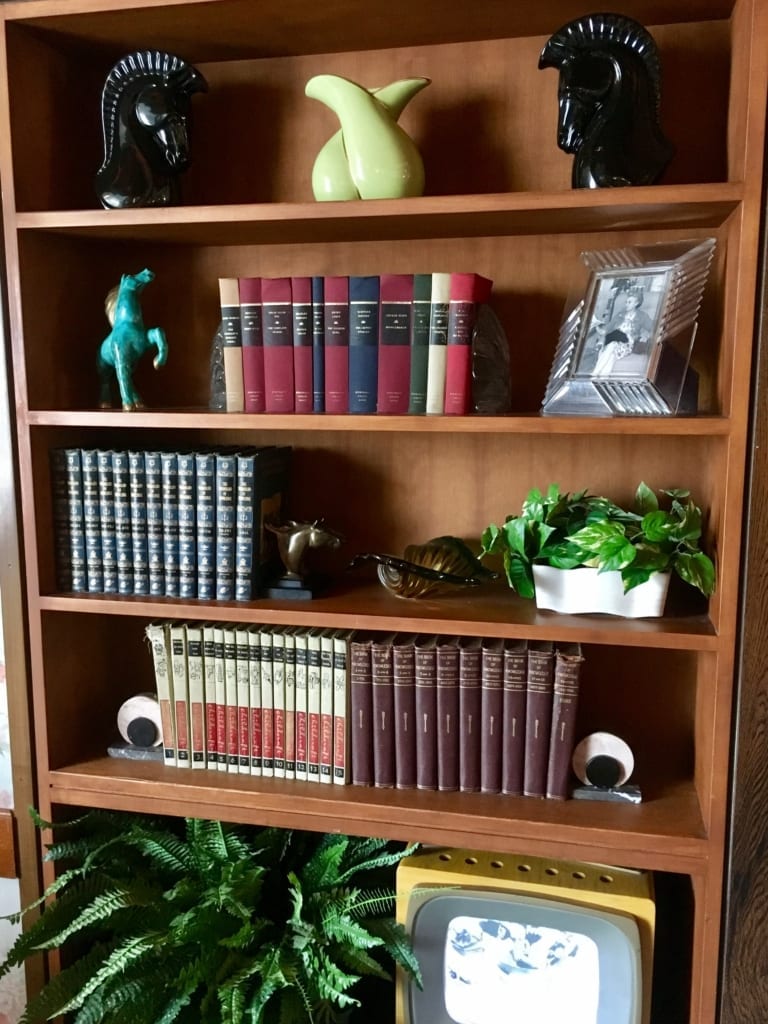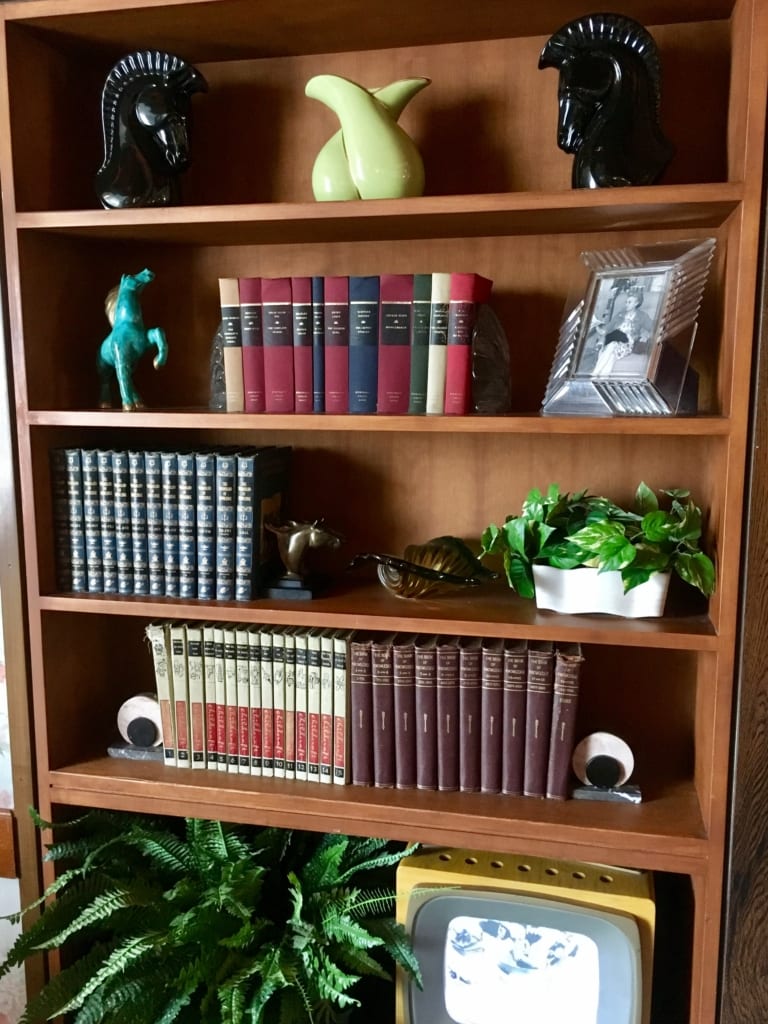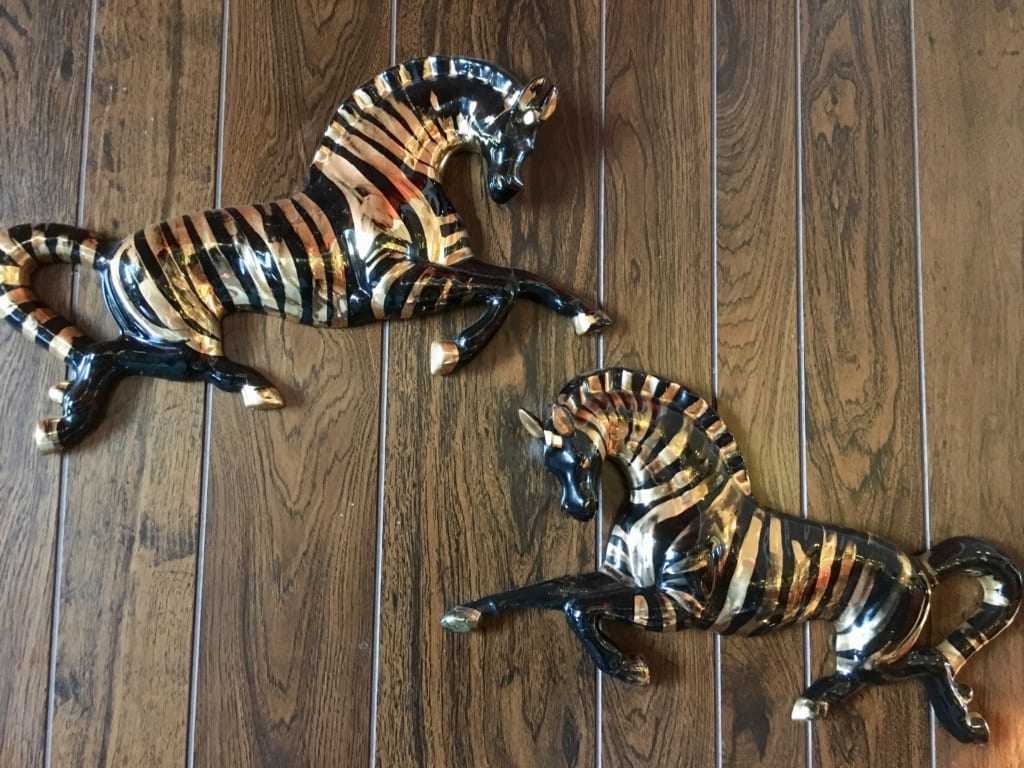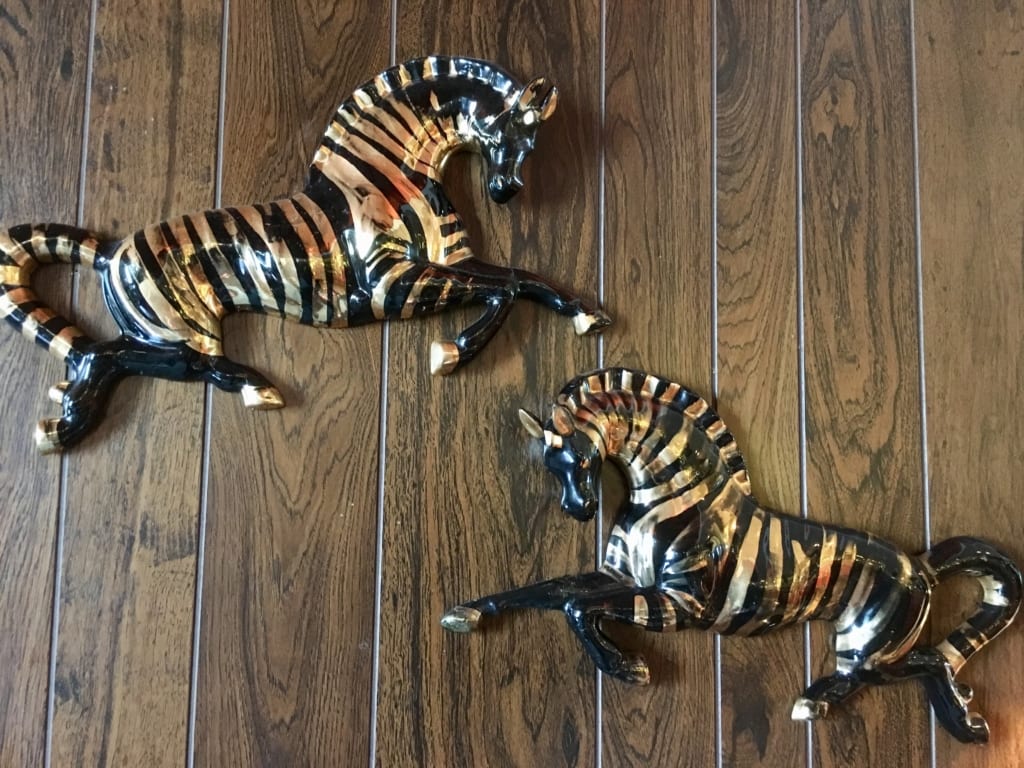 I think the Bull and Bullfighter are my favorites: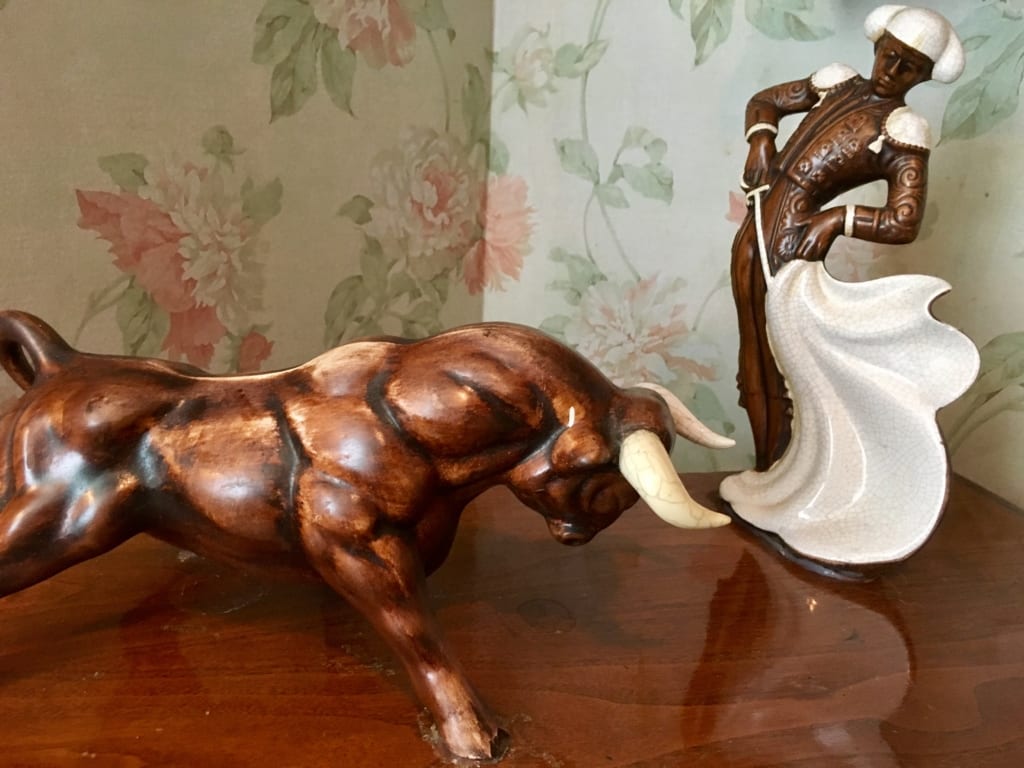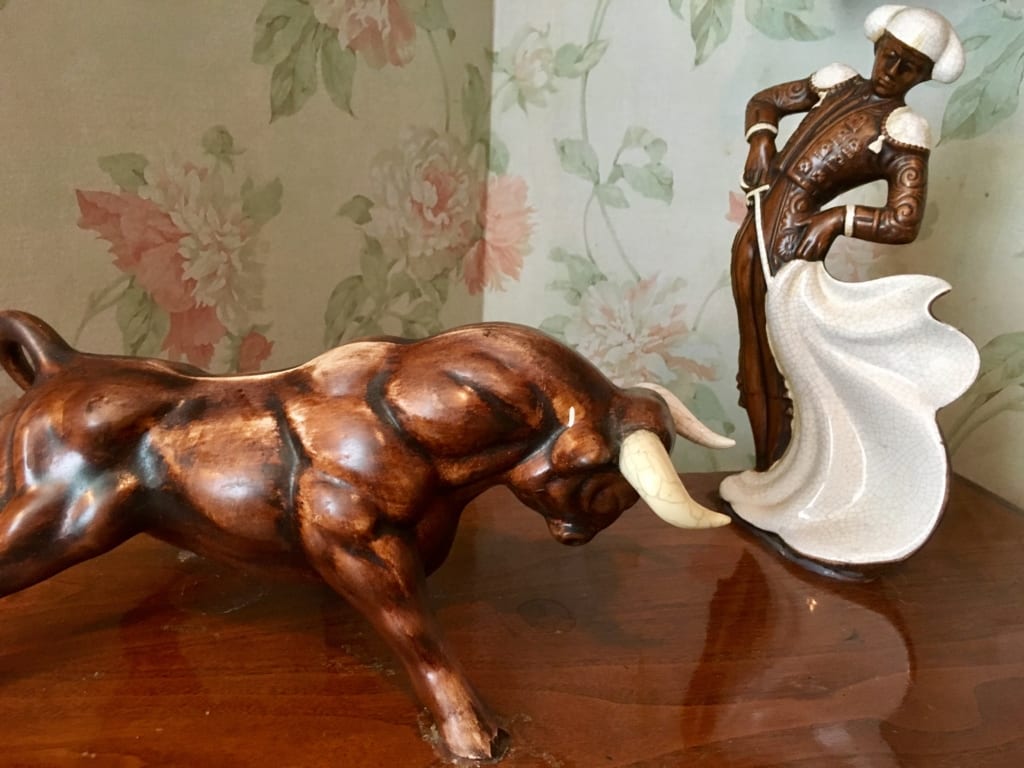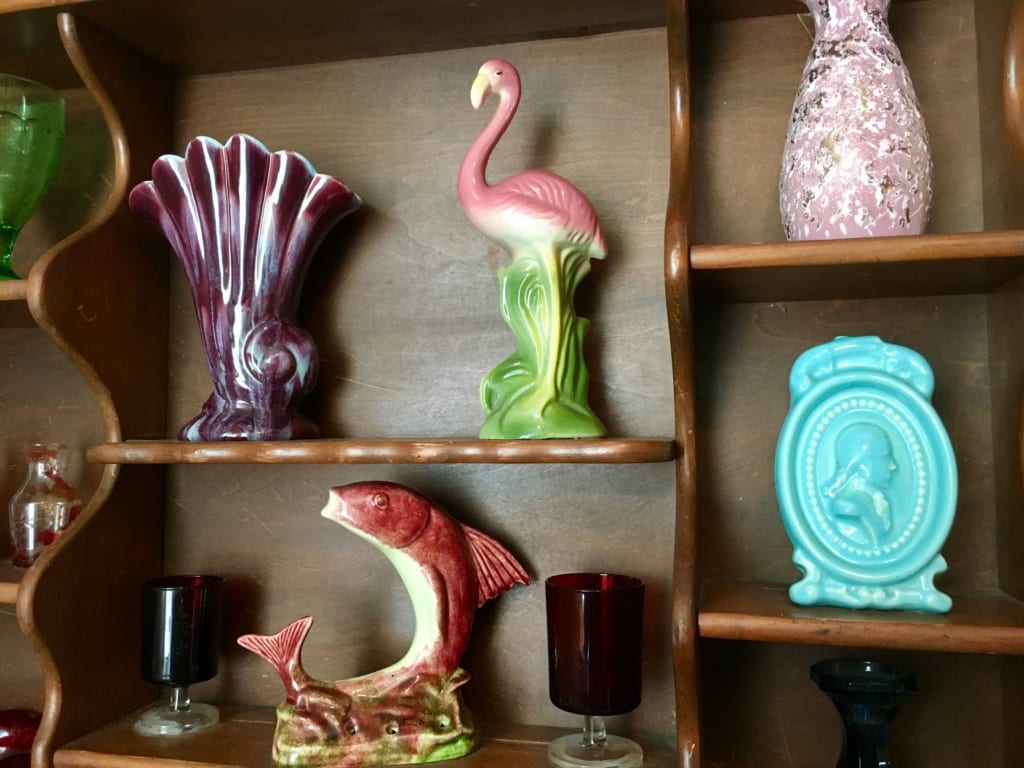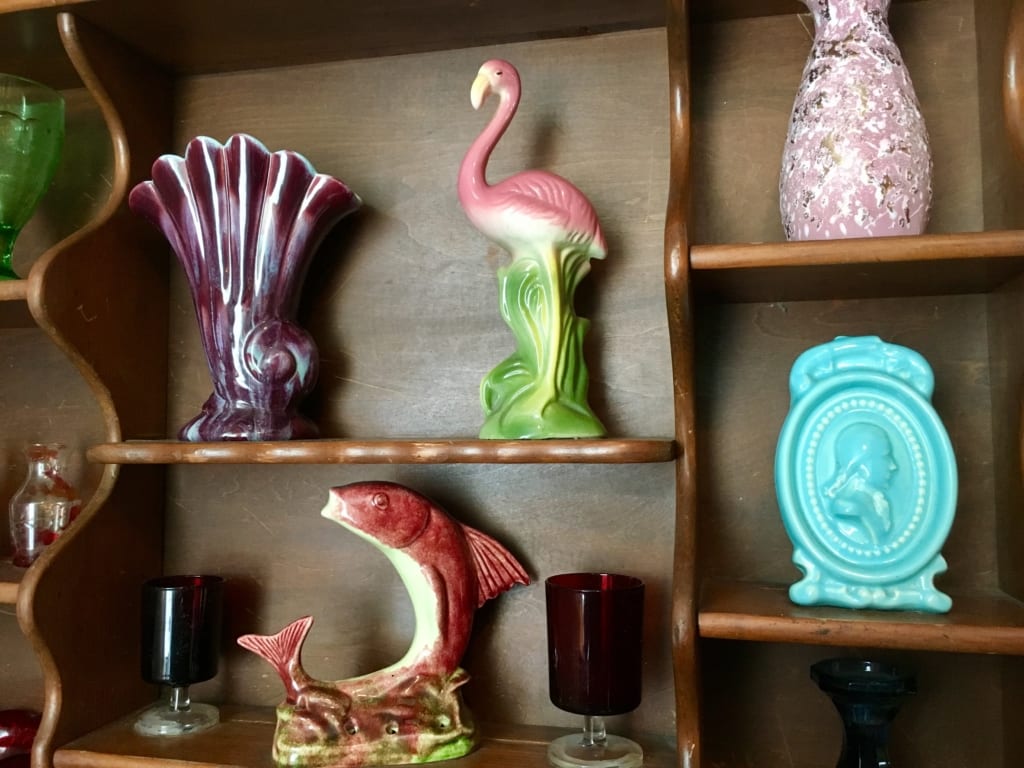 You'll also notice right away one of my favorite Lounges/Bars in all of Walt Disney World: The Tune-In Lounge: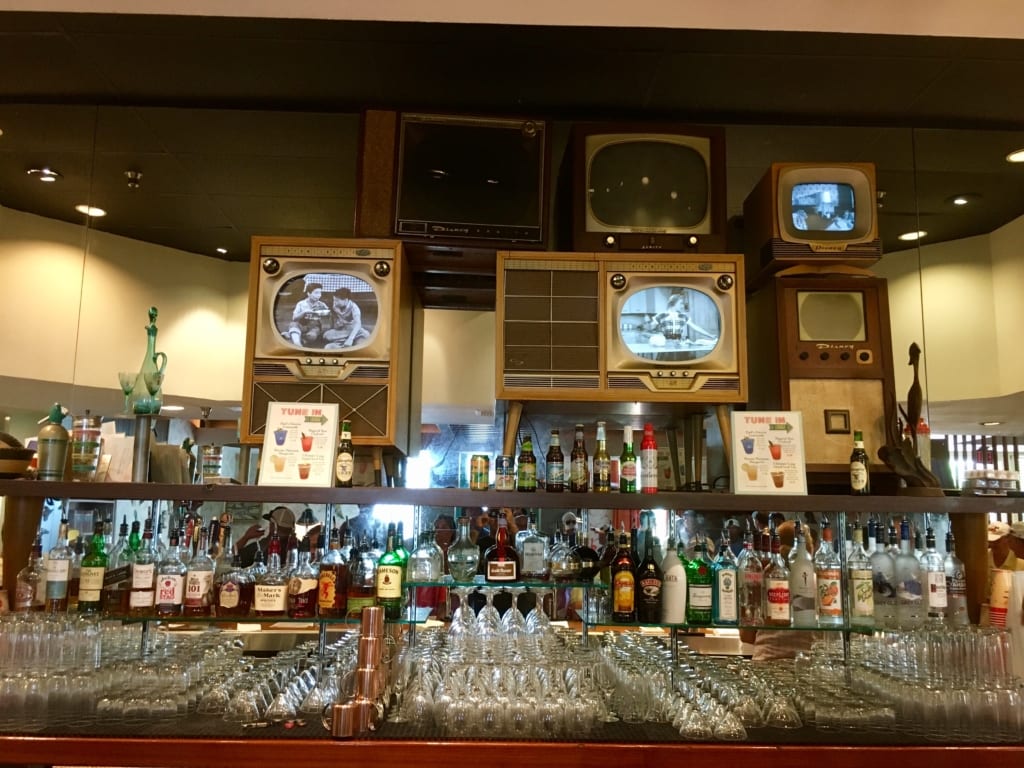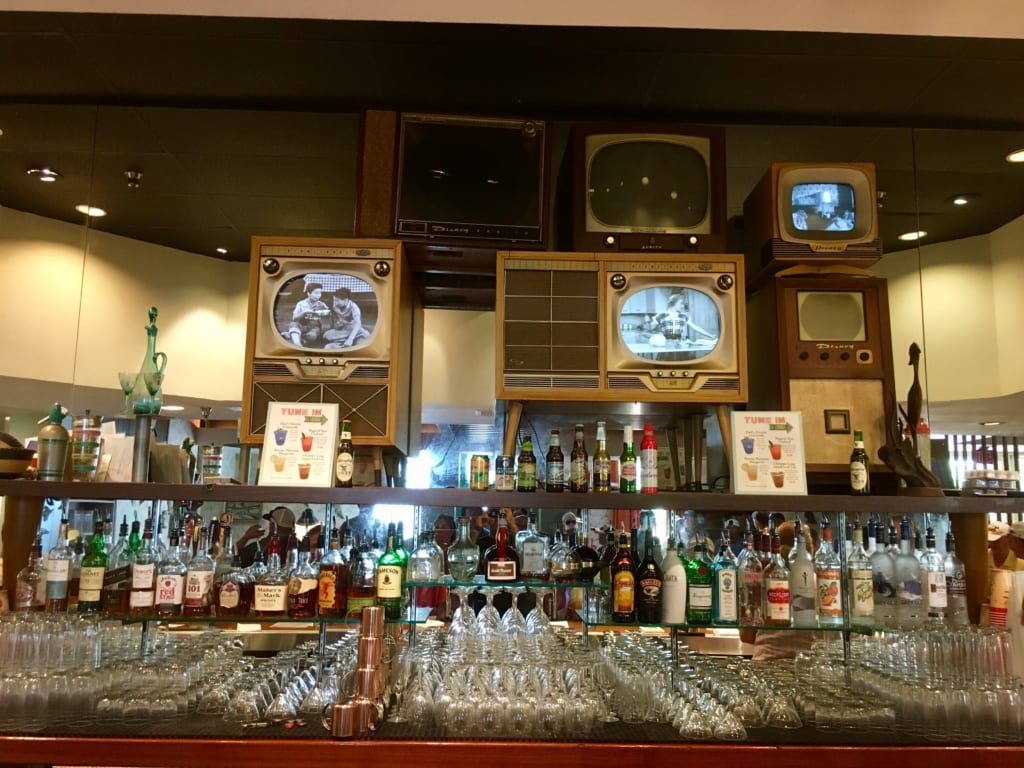 Tip: If the dining rooms are packed out, you can ask for a seat at the Tune-In Lounge and still be able to order everything from the normal menu.
My wife thought this was the funniest thing in the world and she's always seen this in films. Apparently they don't have windows above sinks in Italy!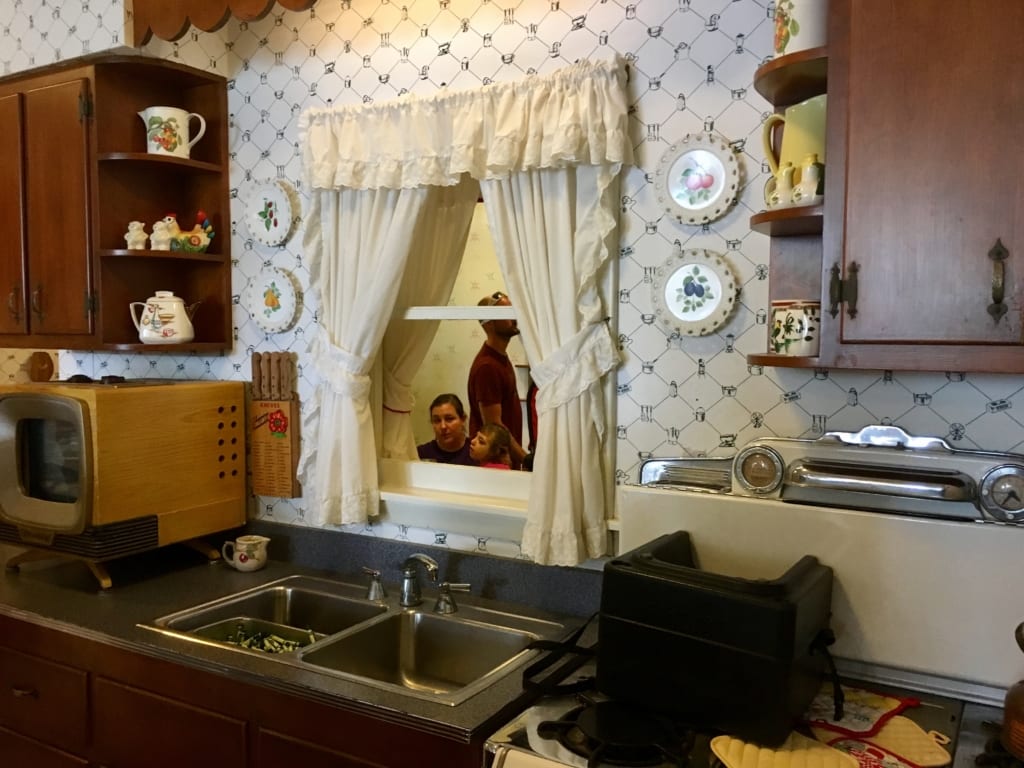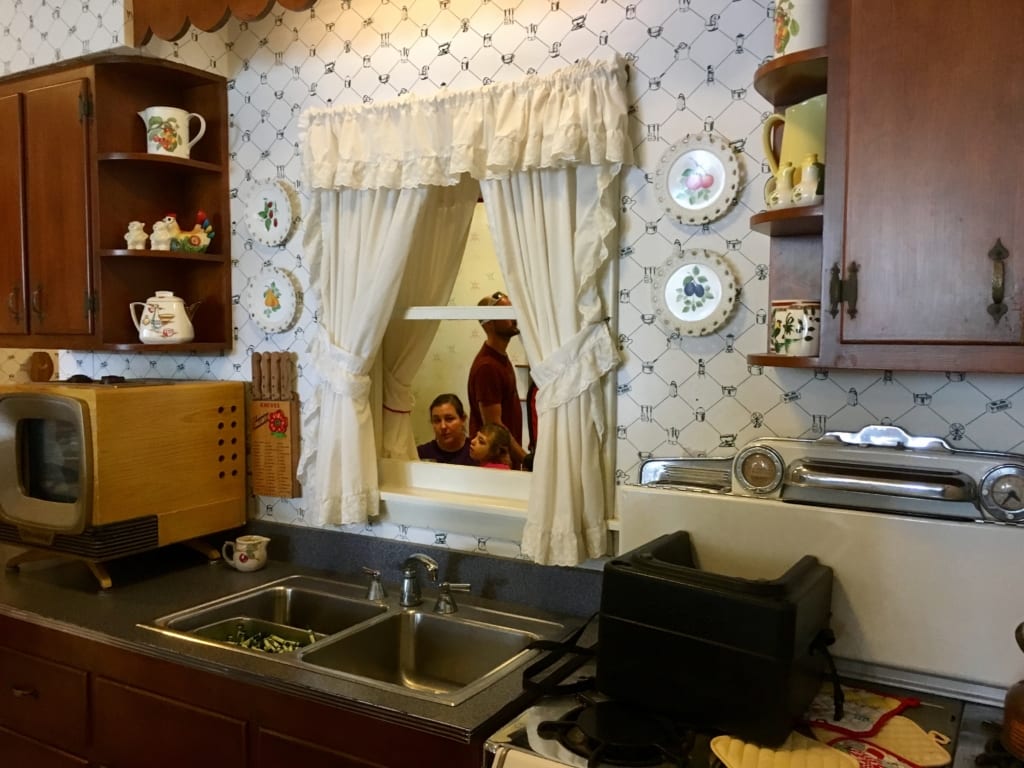 A real authentic 50's Stove: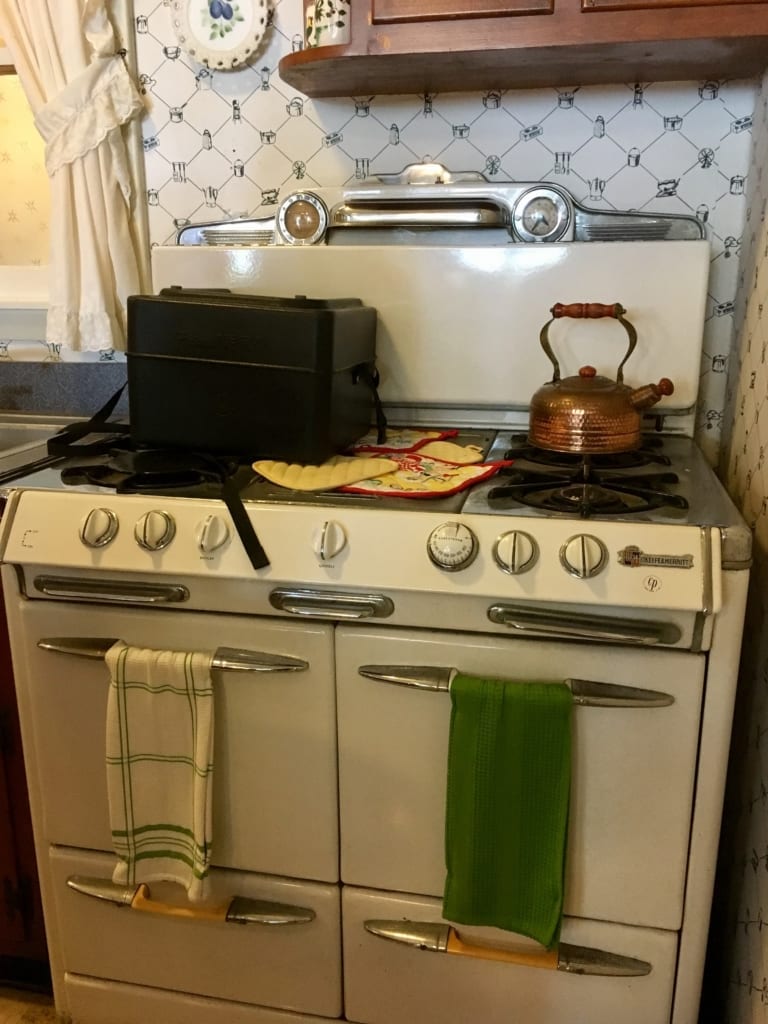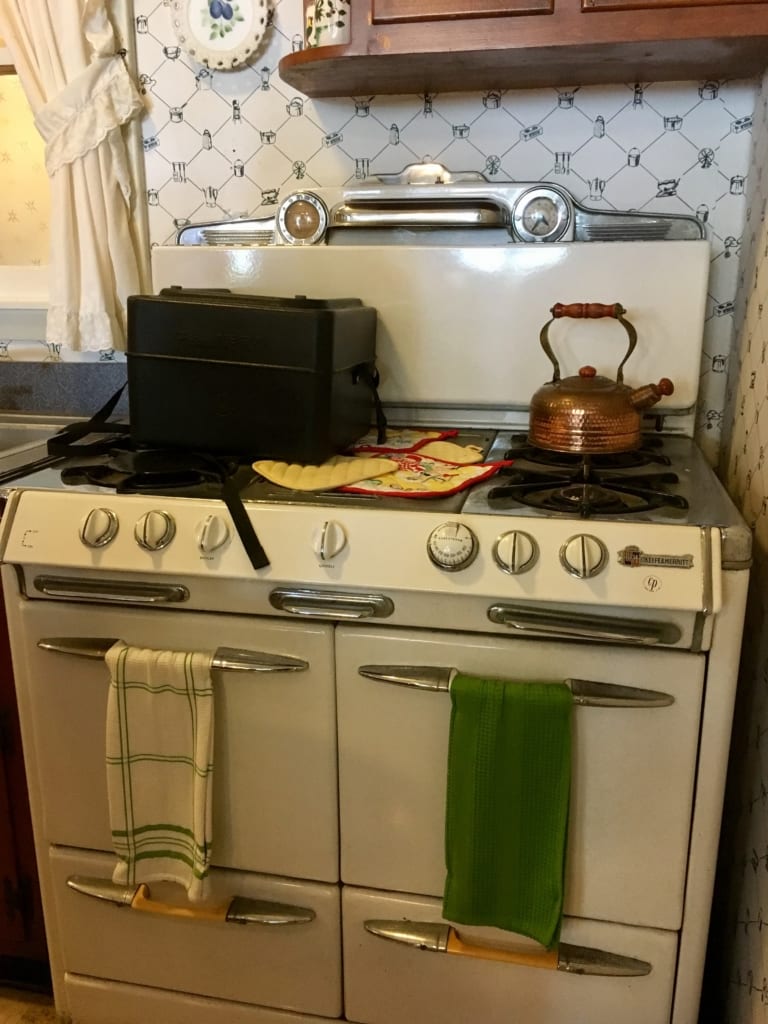 The newest model fridge from G.E.: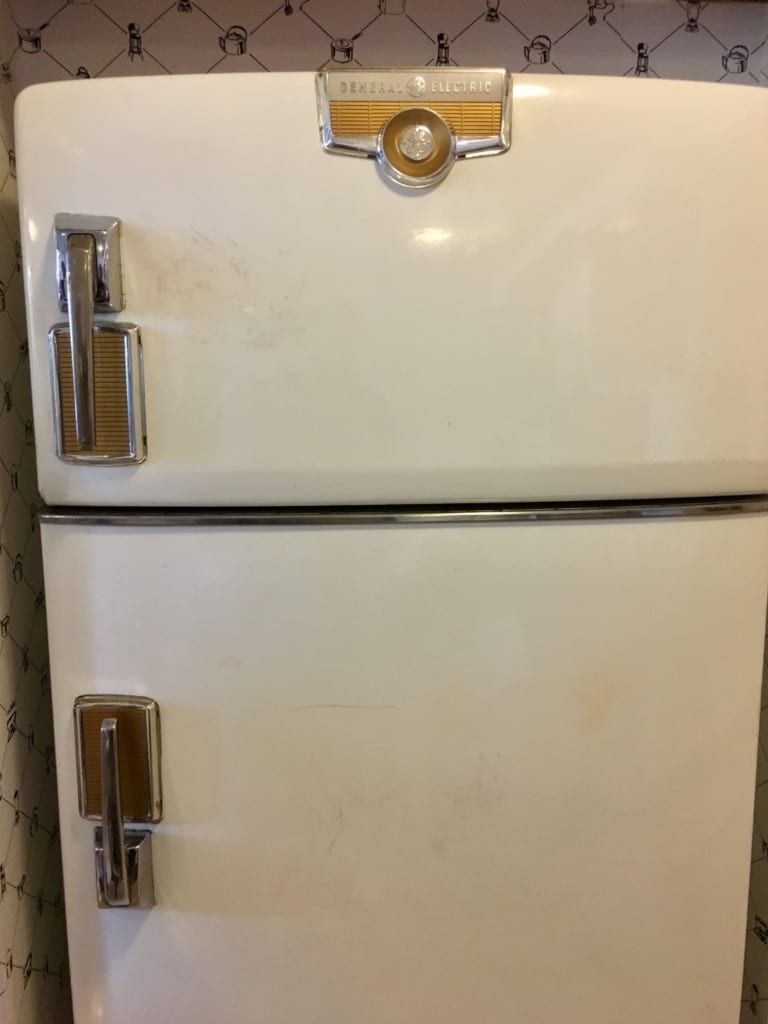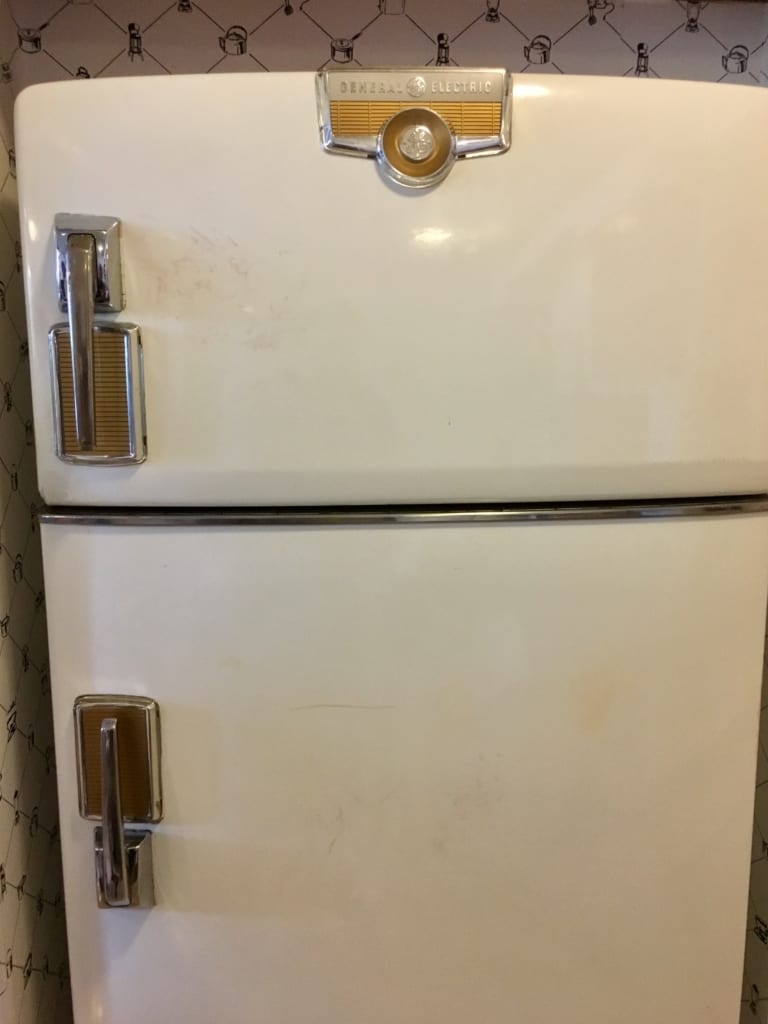 As we make our way into the dining rooms you really see the full-blown 50's-style kitchens: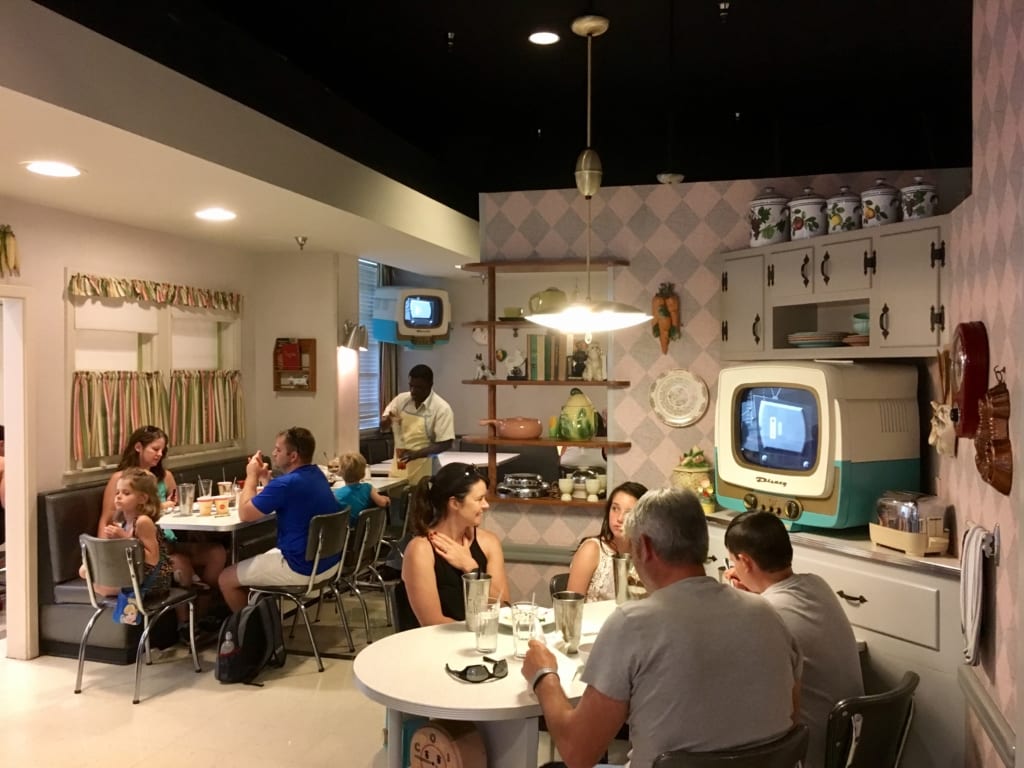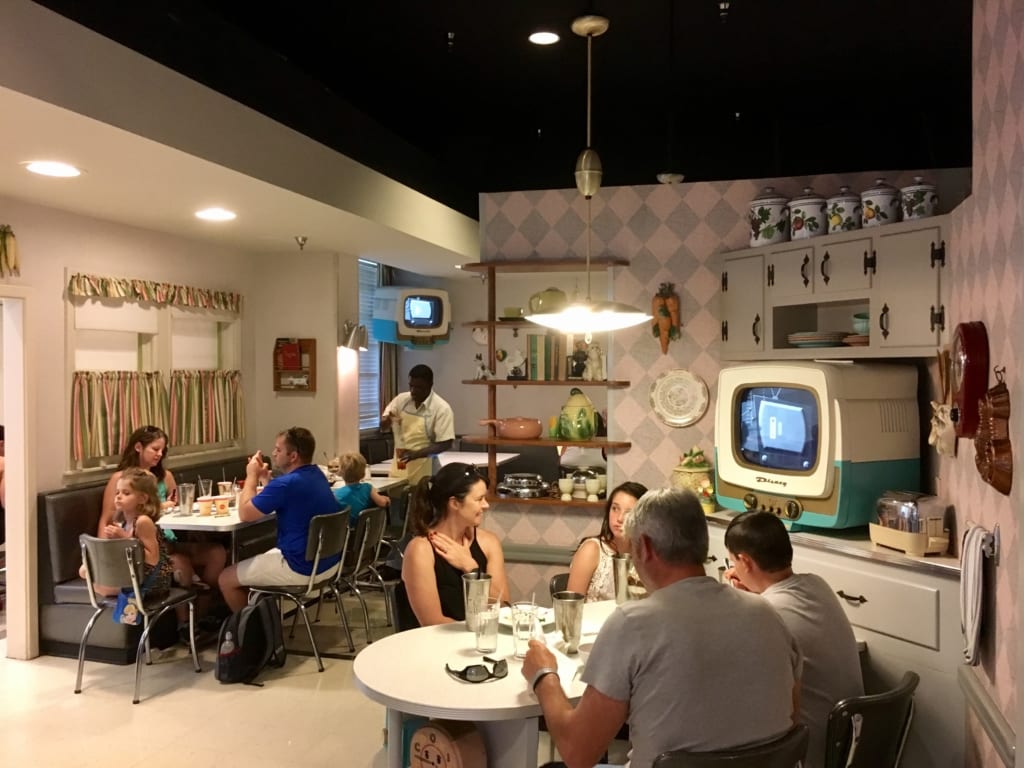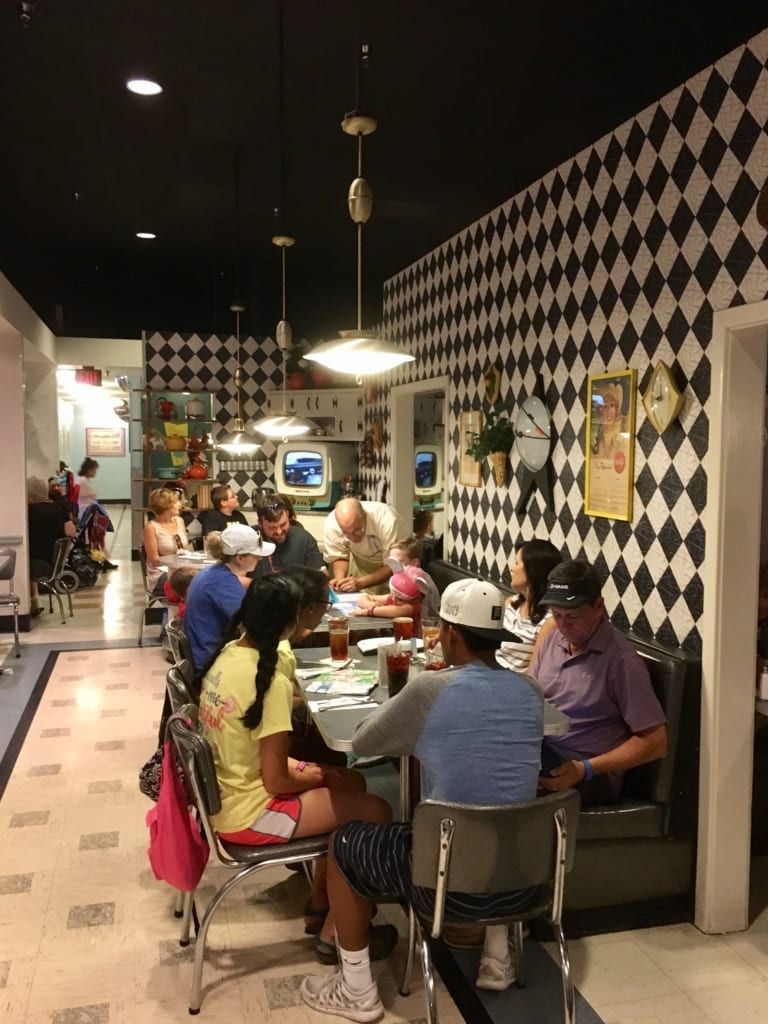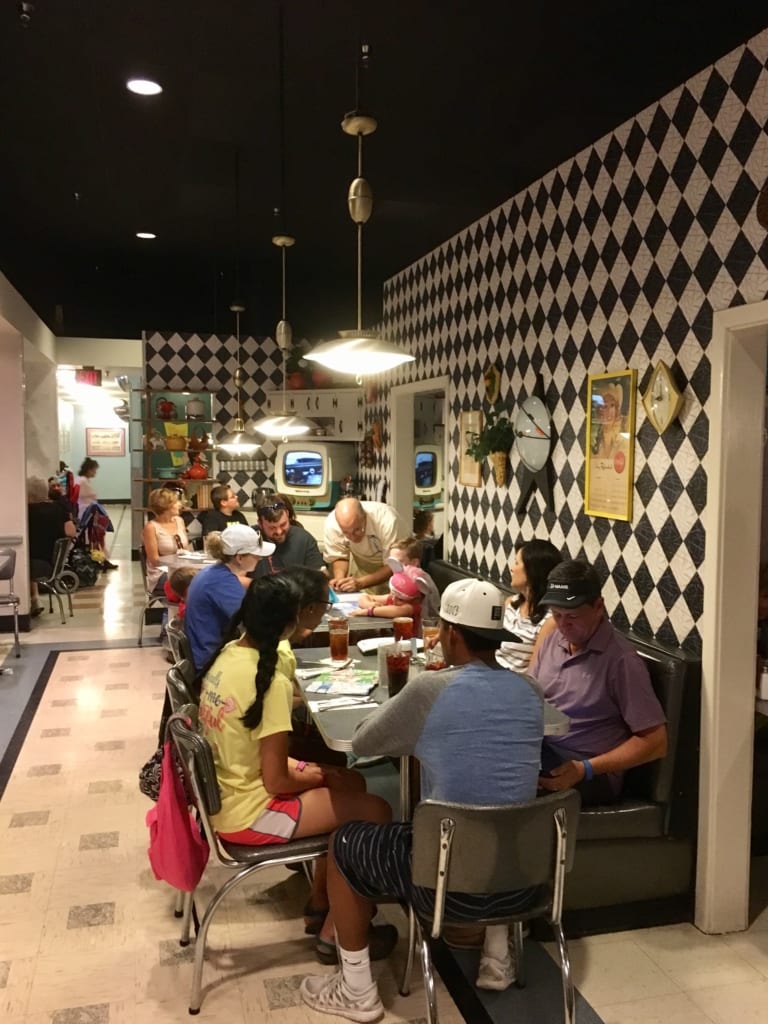 The theming is really unbelievable and there are so many details to take in, which is hard to do with the hustle and bustle of 50's Prime Time.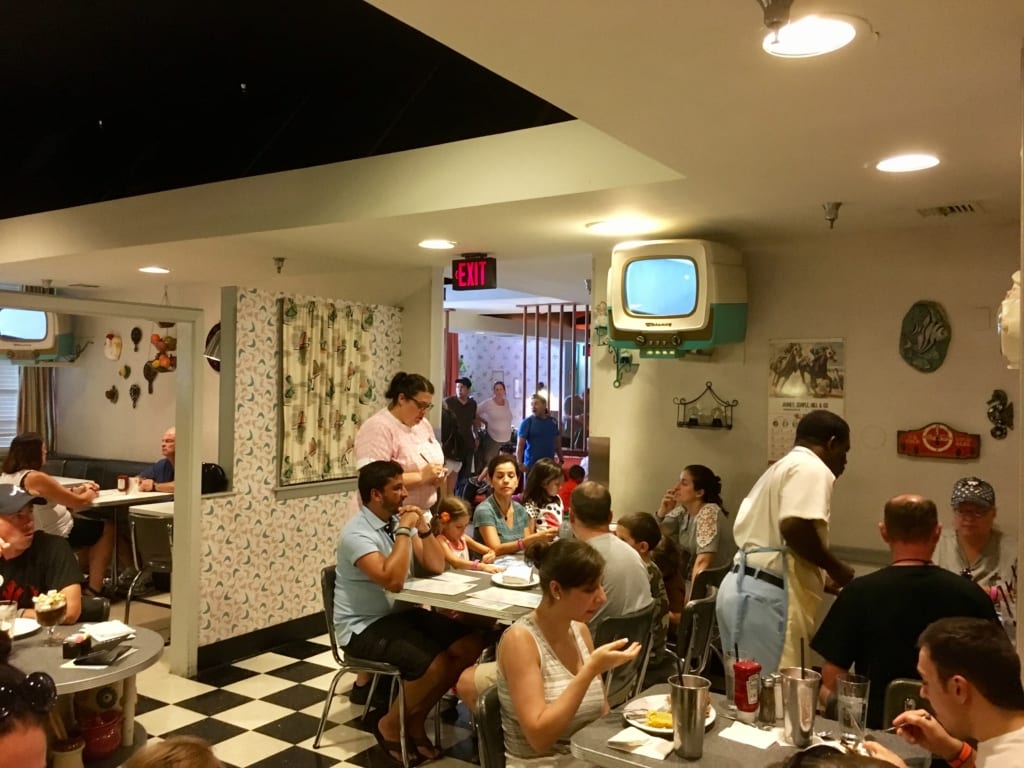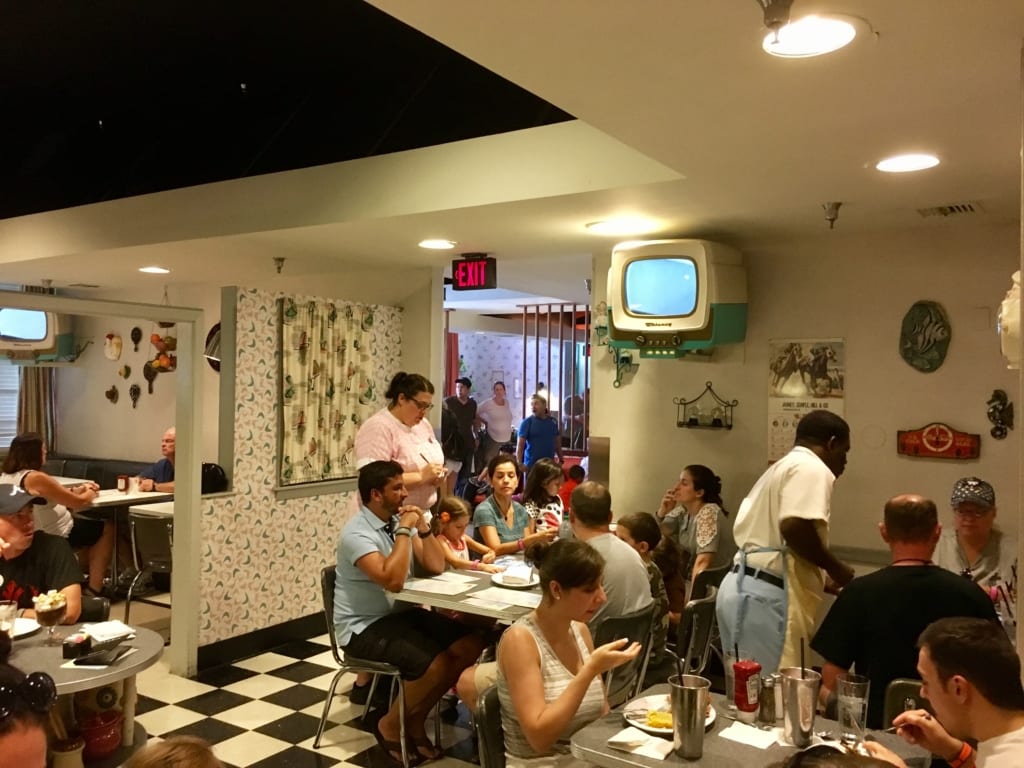 Just like the American way, one of the coolest parts for me is the old TVs with the classic shows from the 50's playing on them that you can watch while enjoying your meal. It's just like being a kid again: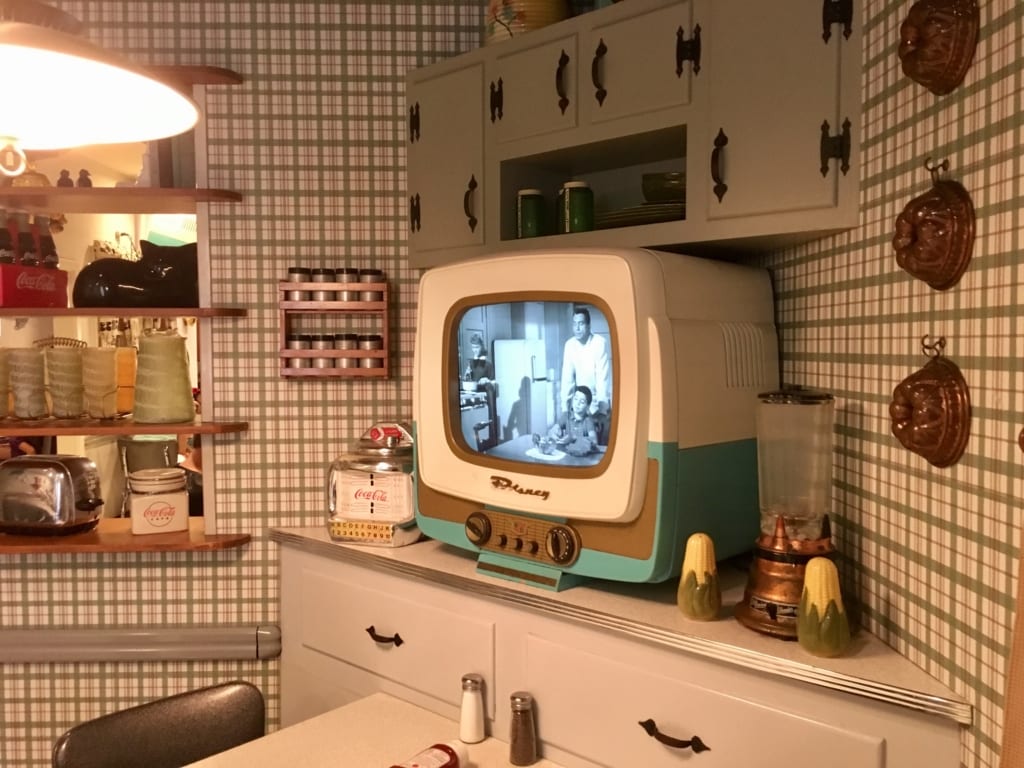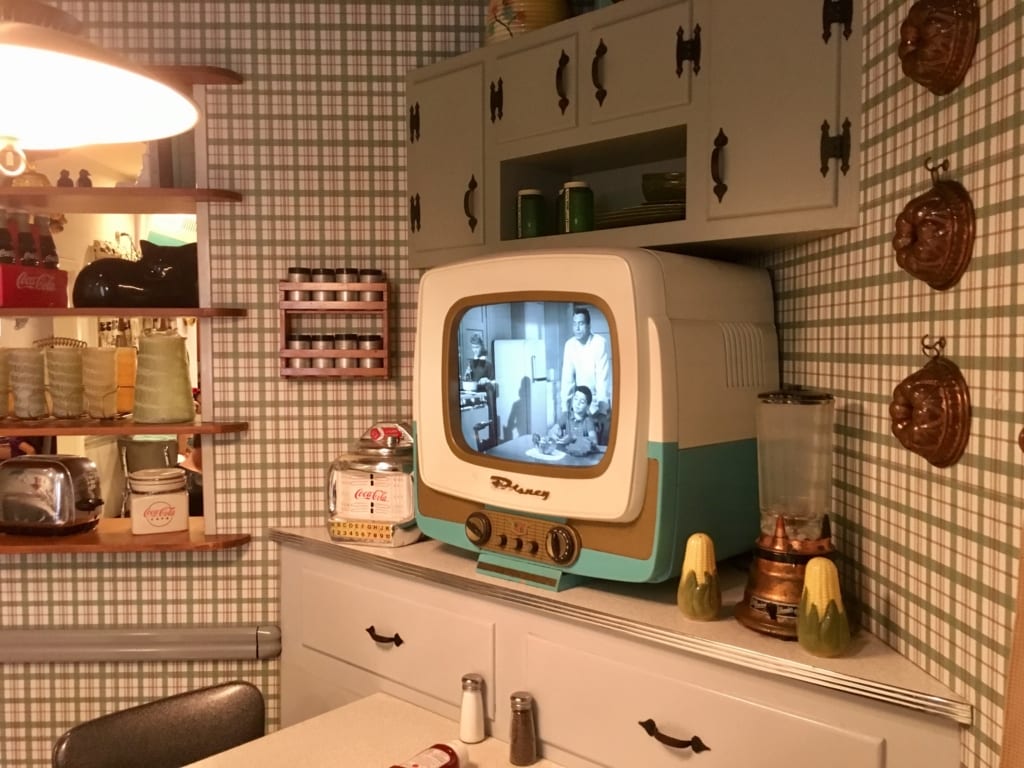 Some of them include: The Mickey Mouse Club, Dick van Dyke, Dennis the Menace, Donna Reed, Car 54, I Married Joan, Topper, and Where Are You? Where are I Love Lucy and the Honeymooners though?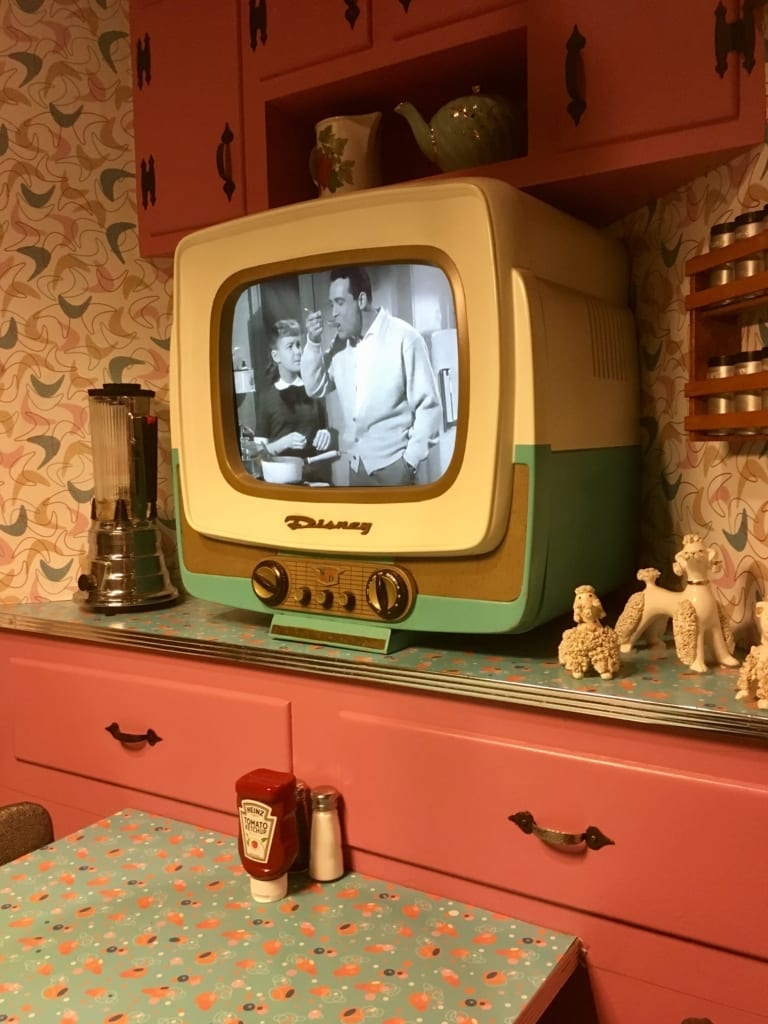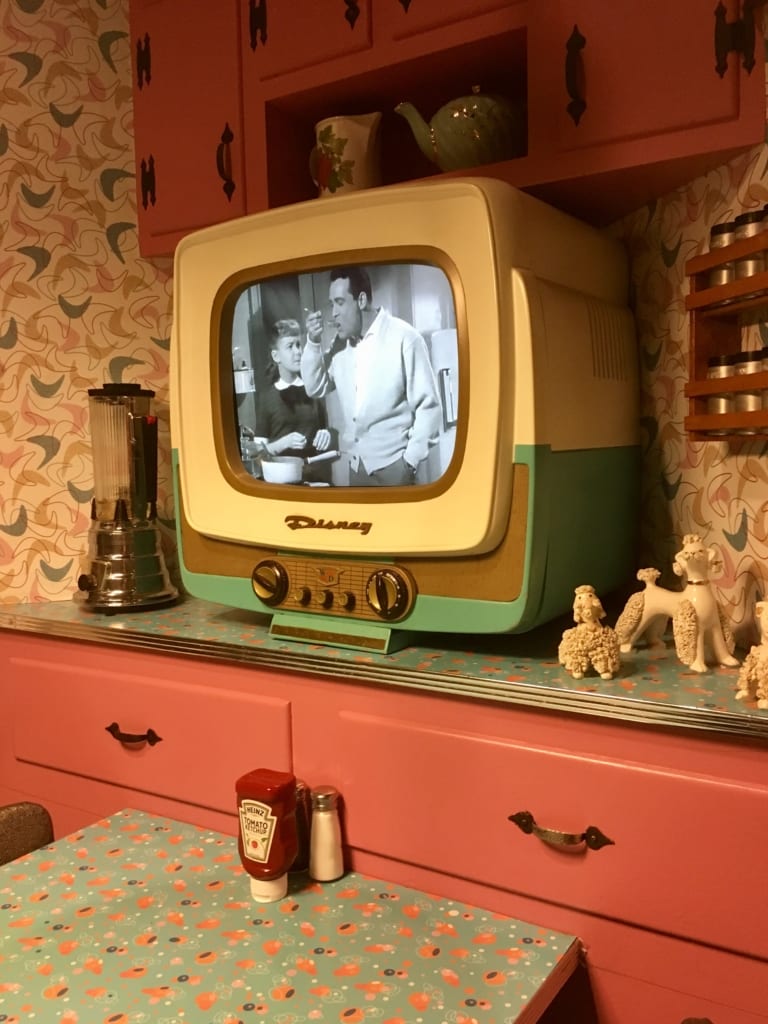 These guys don't even care about eating, just sitting back and watching some shows: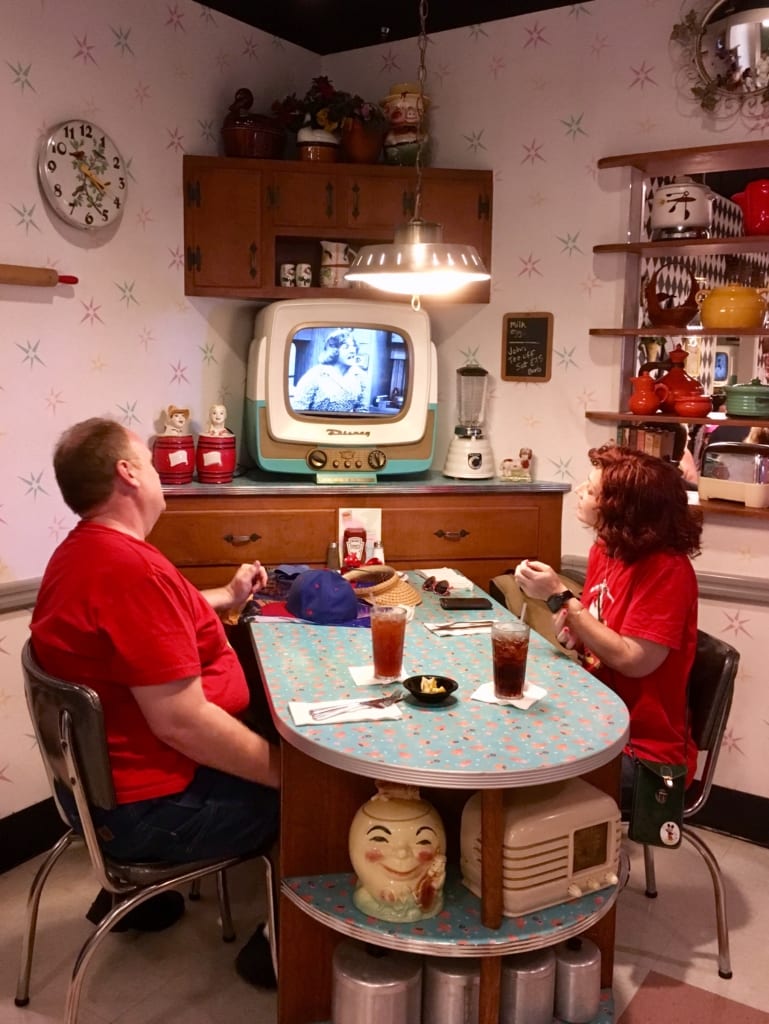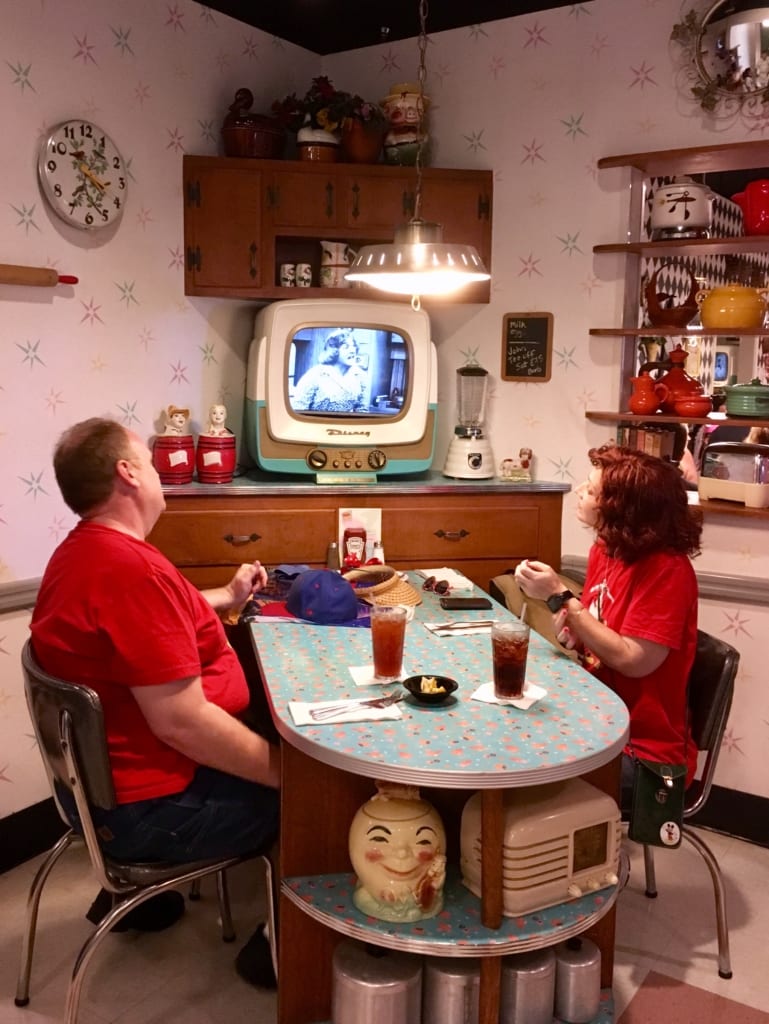 Even stuff like the Calendars, Blender… it's all taken right out of the 50's: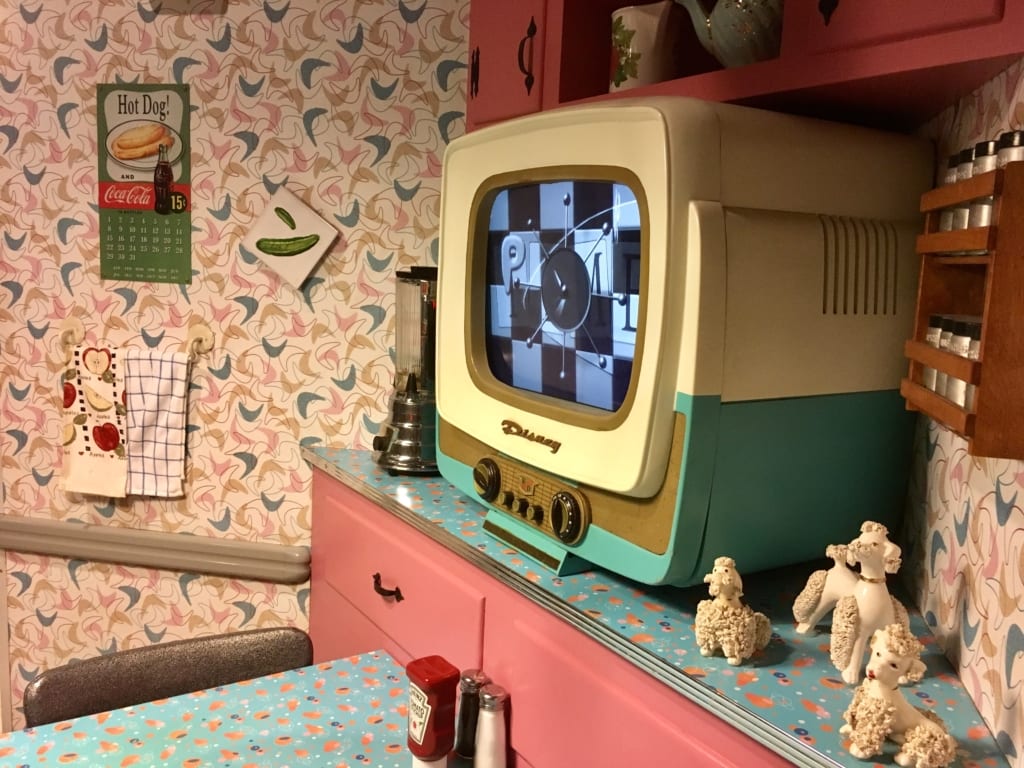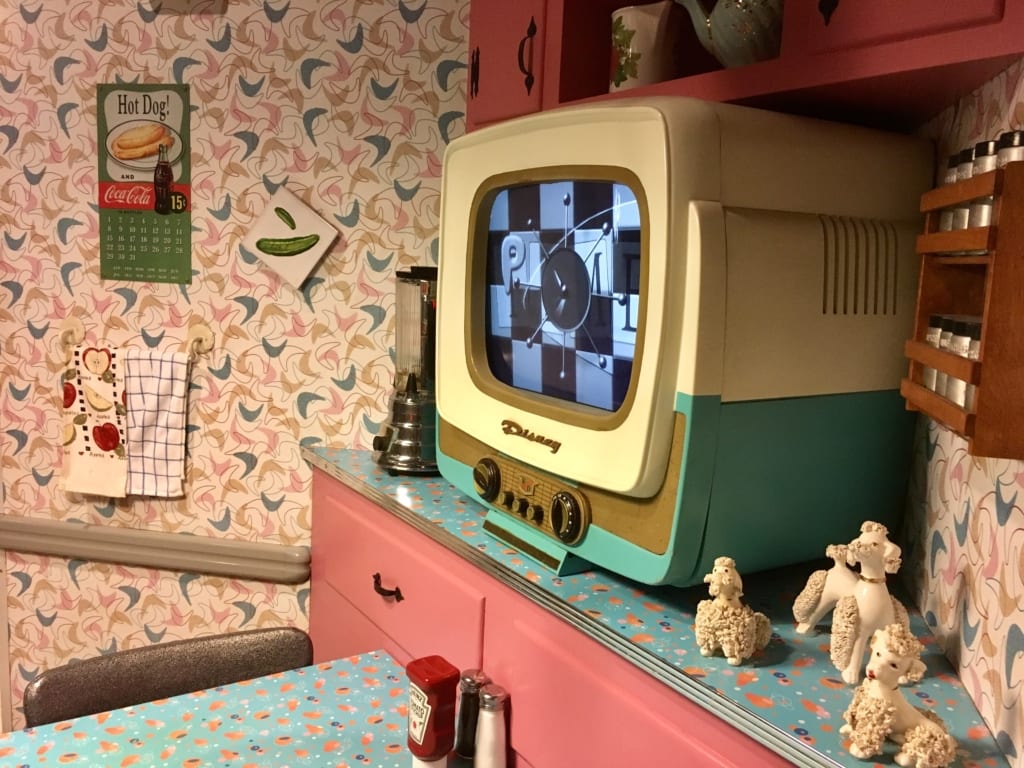 If you don't like the normal tables, there are booths too: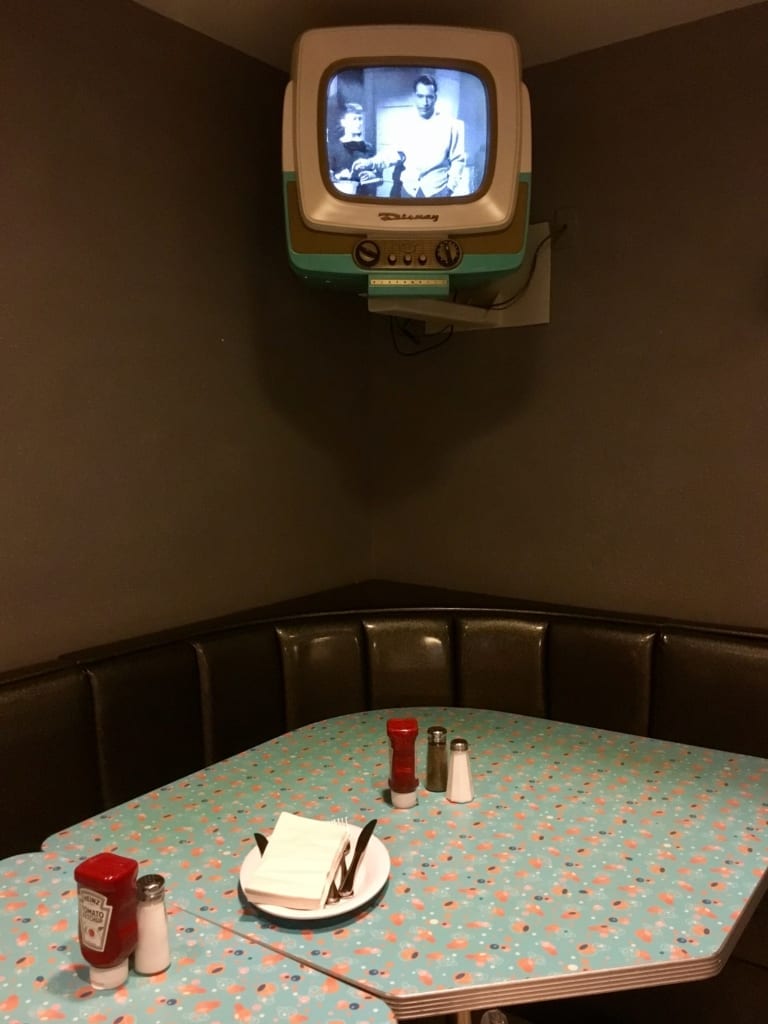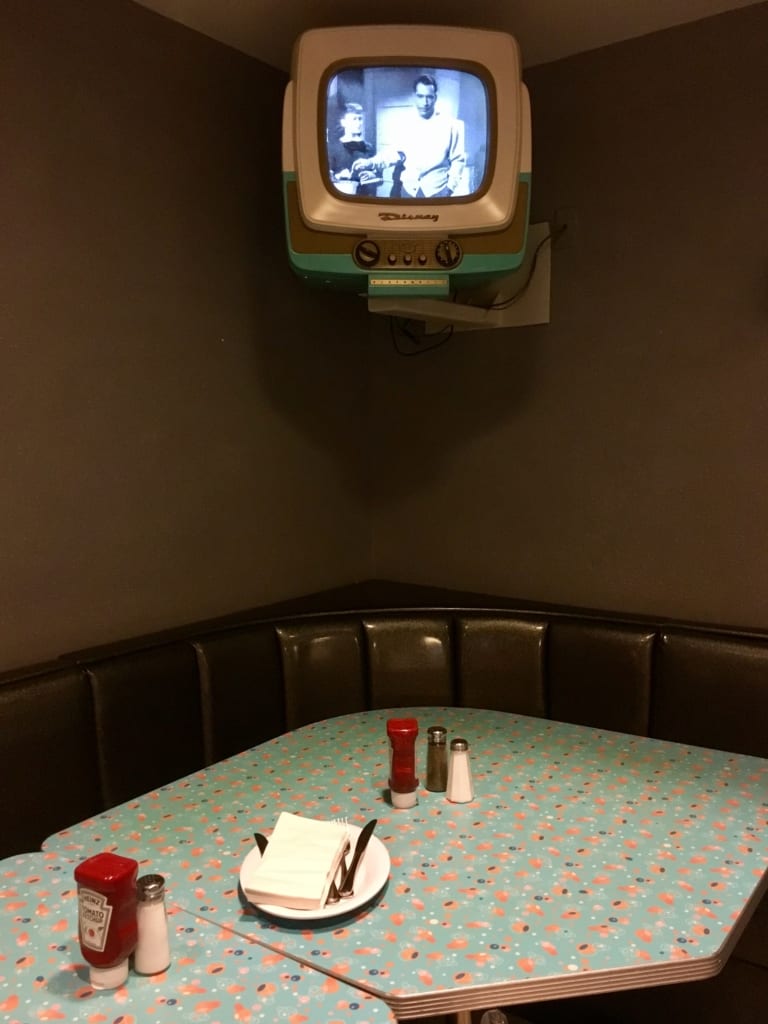 Probably my favorite part of the whole thing are the waiters/waitresses which are your Cousins. The waitresses are dressed to look like June Clever from "Leave it to Beaver" and treat you like any guest in mom's kitchen. They even call you by your name and then: "kids" when your table is ready. So for example we were the "Oskwarek Kids." No detail is left out here. This wonderful lady was from our own home state of Connecticut: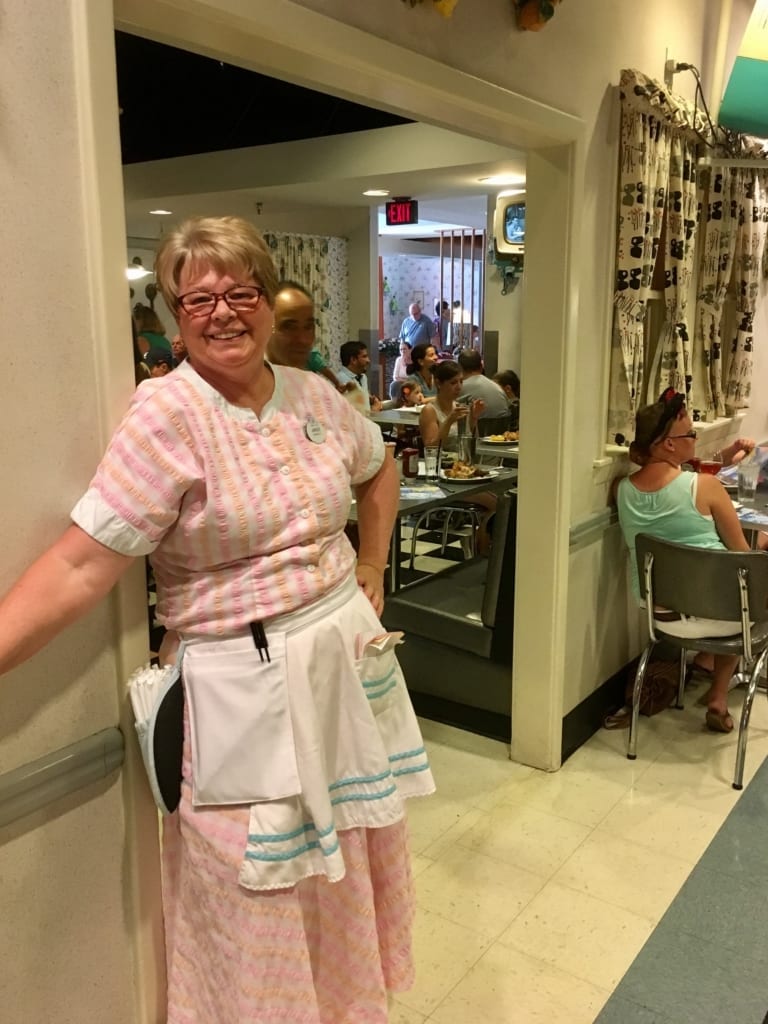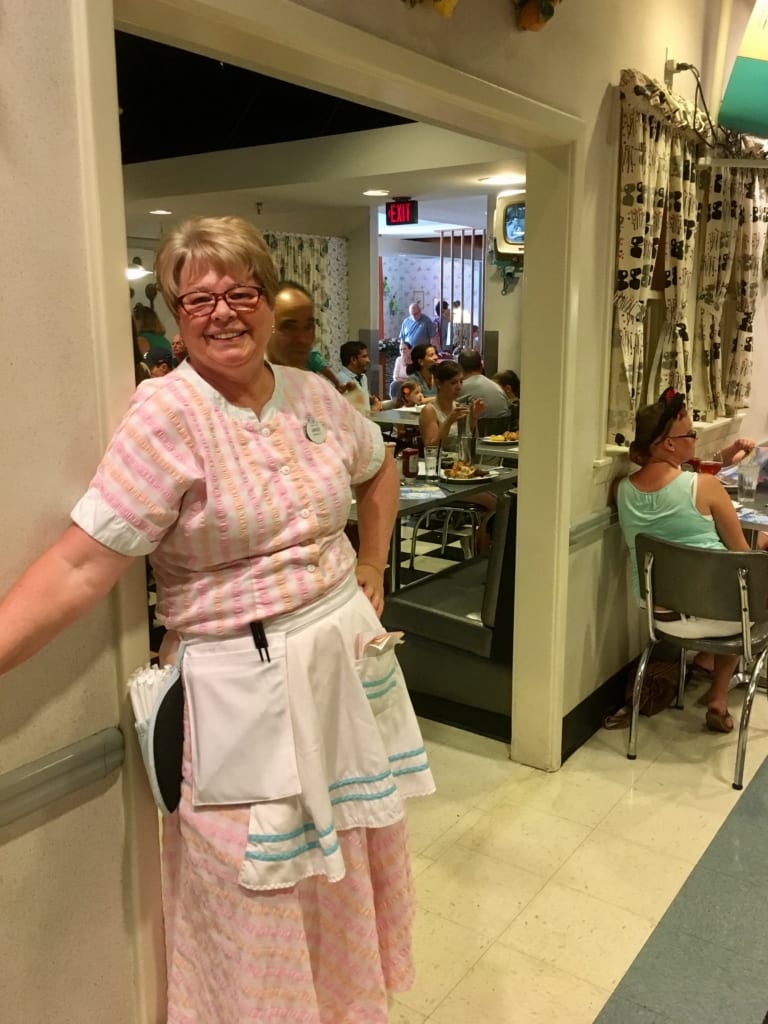 We are ushered to our table and that's where the fun really starts: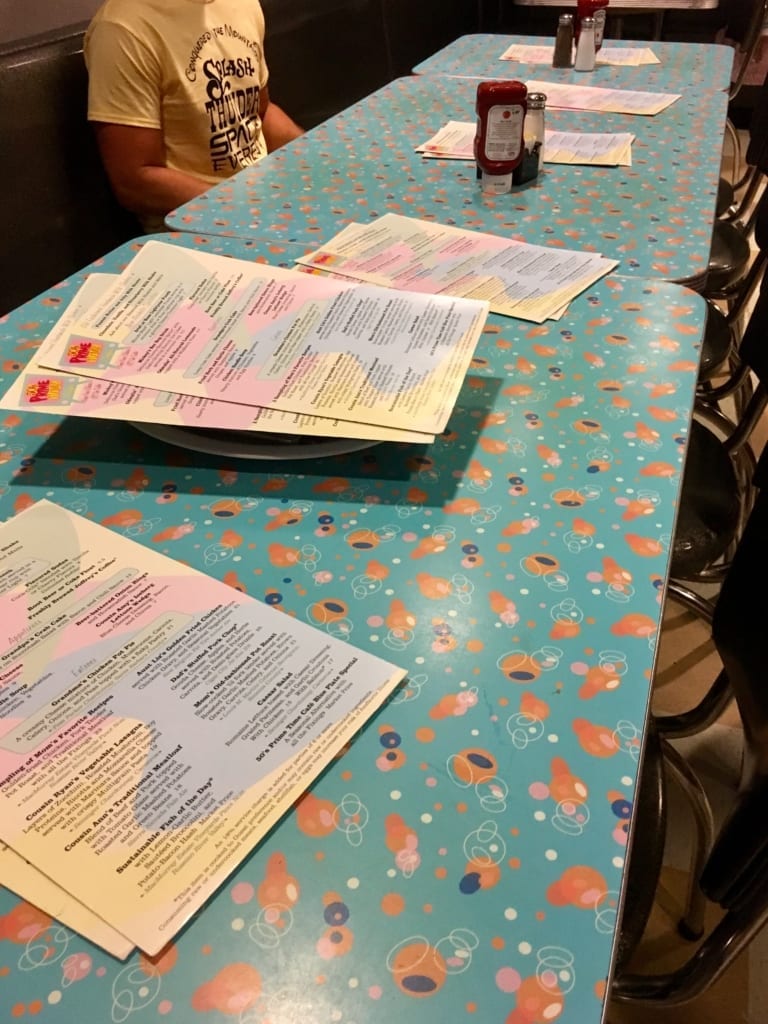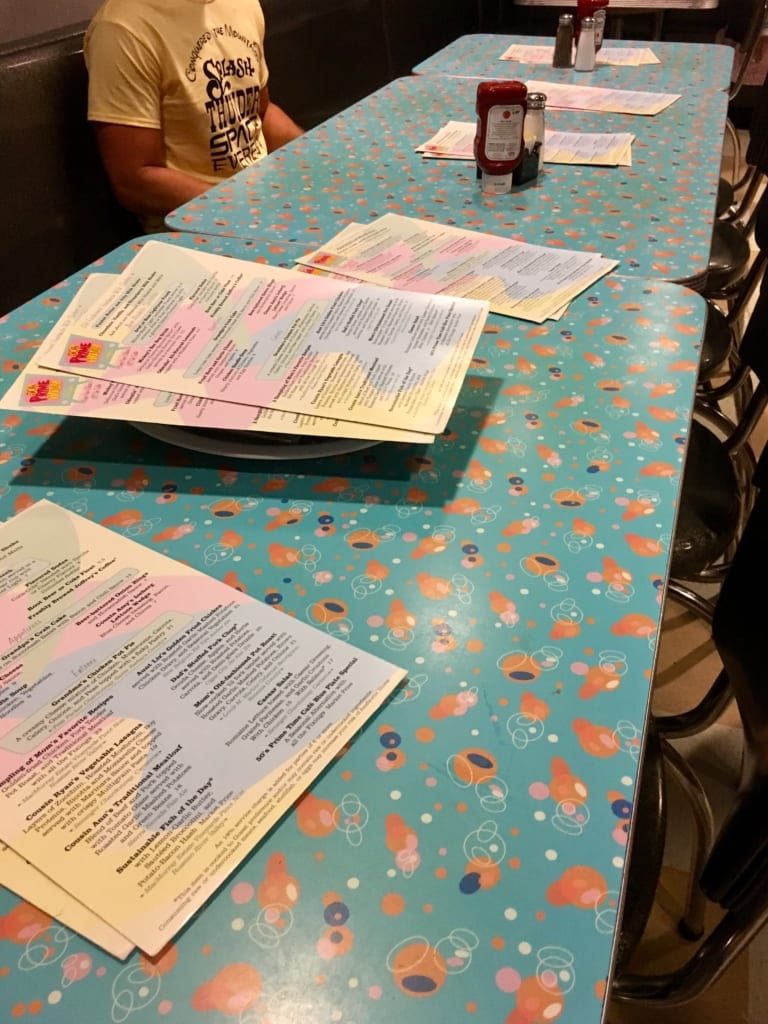 I love the old style tables, precisely as I remember…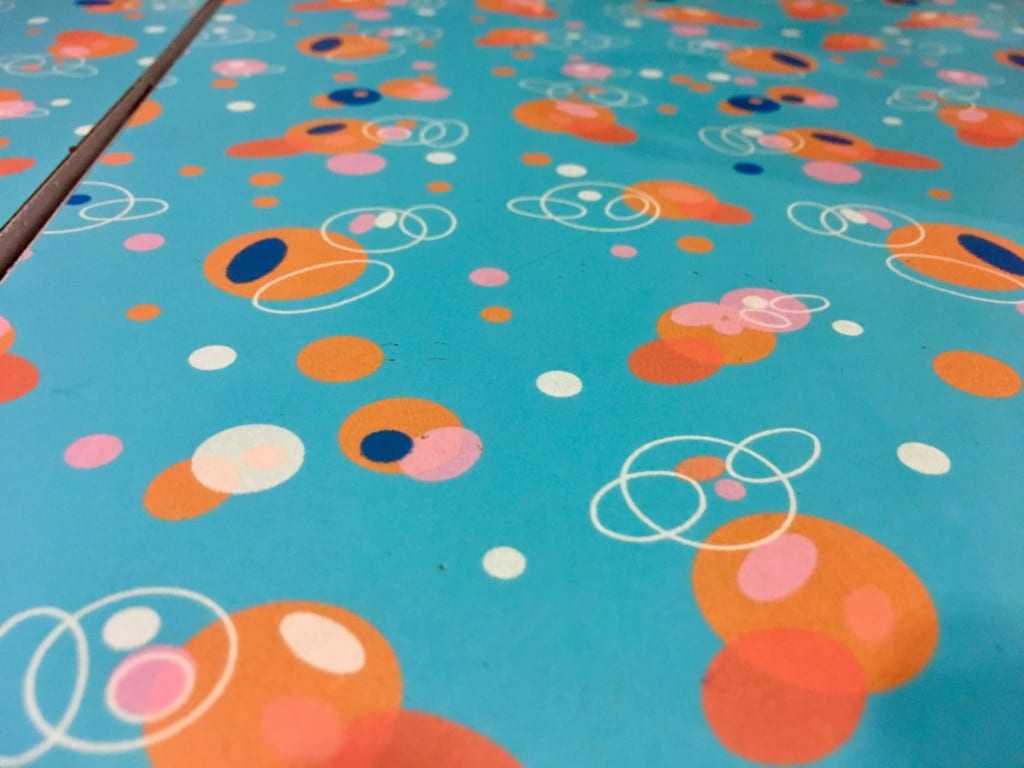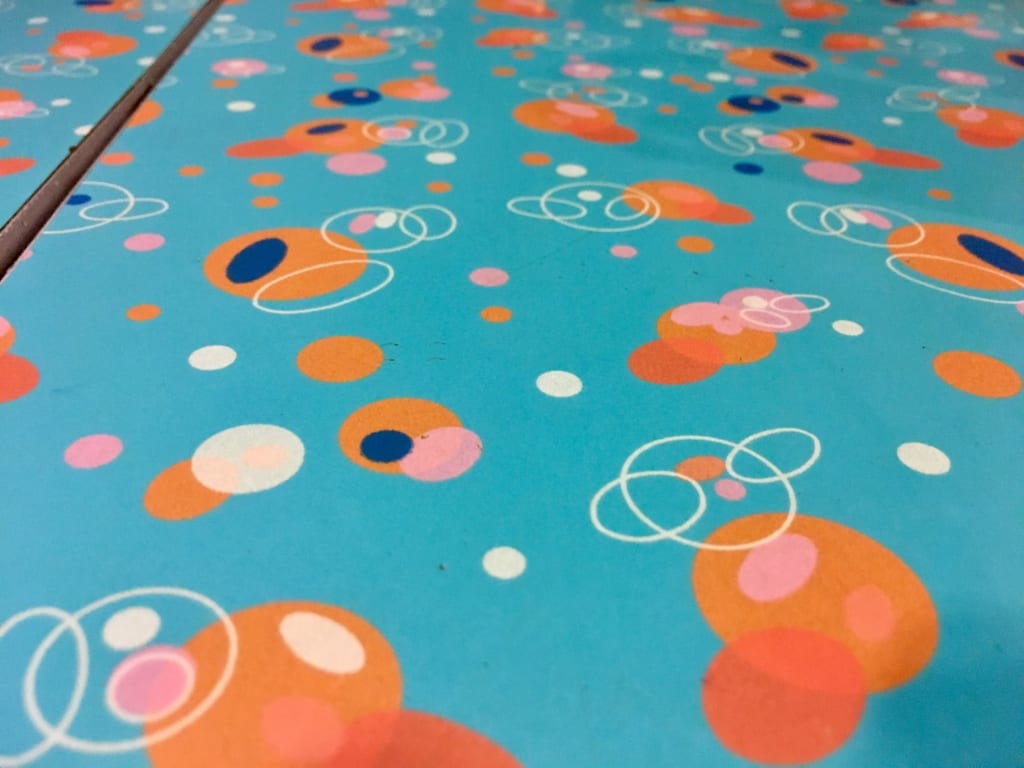 Right from the beginning the waiters/waitresses are joking with you, teasing you and giving you the rules of the house. It's probably the only restaurant where the more rude the waiter is to you, the more fun you have…It's all part of the act and you will laugh your head off at some of the stuff they say: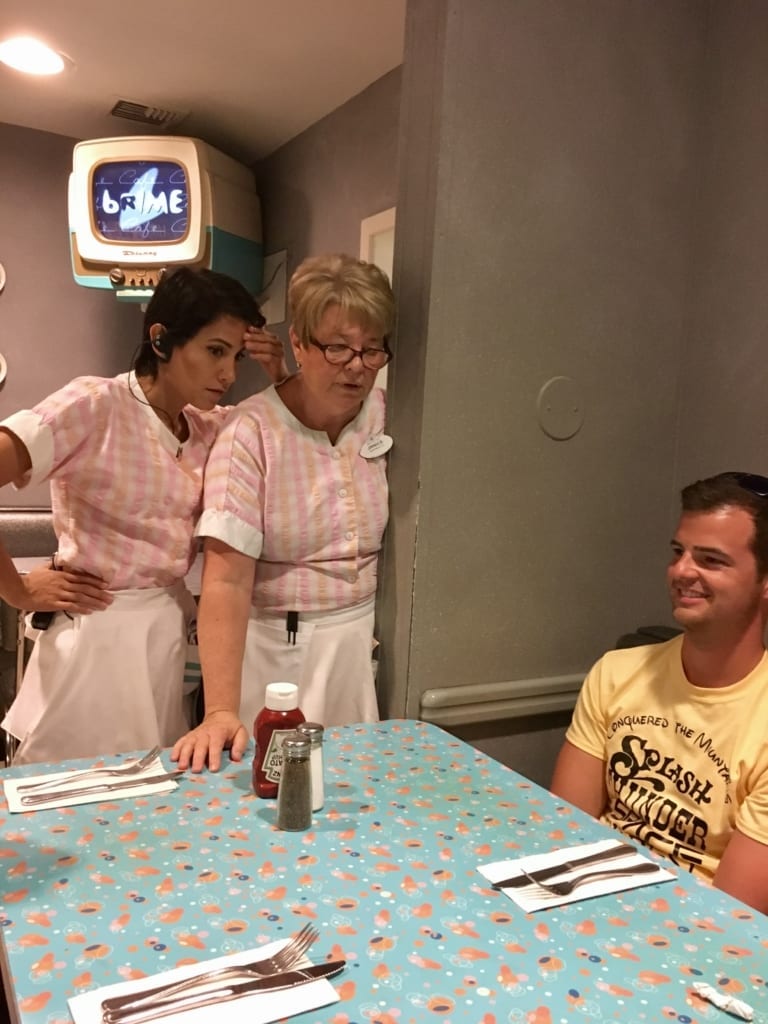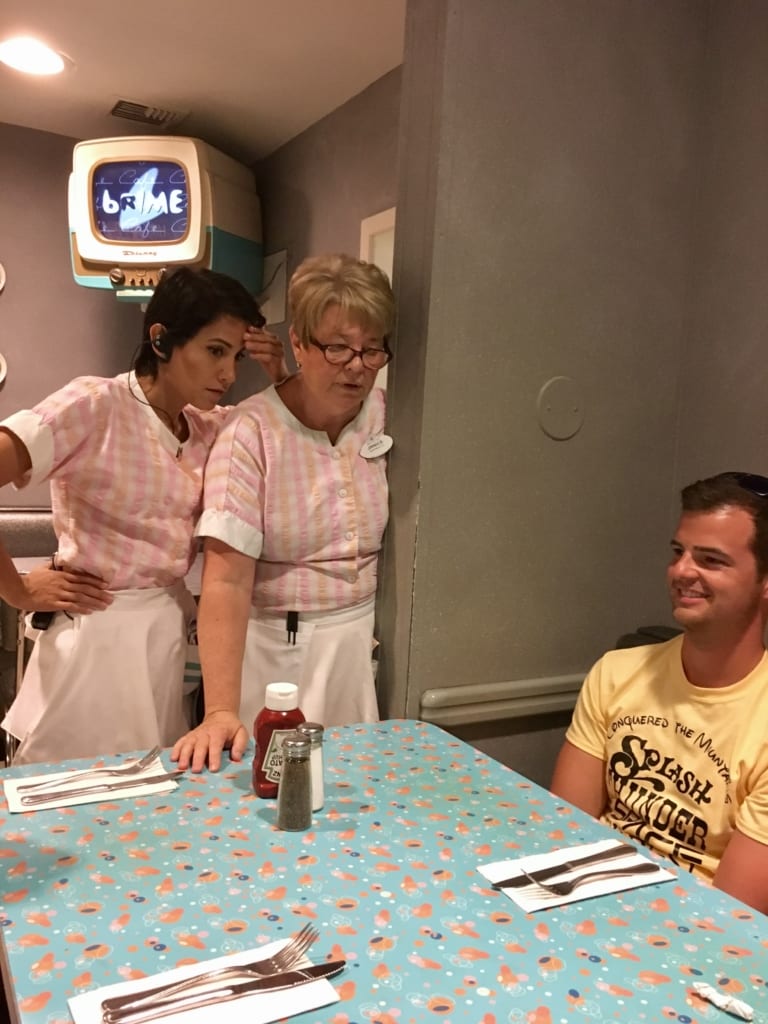 Our Waiter/Cousin was Scott. This guy is awesome and if you go to 50's Prime Time Cafe request him! He was one of the best waiters I've ever had at Disney. He was super funny, acting annoyed when we would ask questions, telling us to get our elbows off the tables, and that we couldn't use our phones at the dinner table. I don't know why, but the abuse here just feels good! Now what happened when we didn't listen? You'll find out at the end of the review…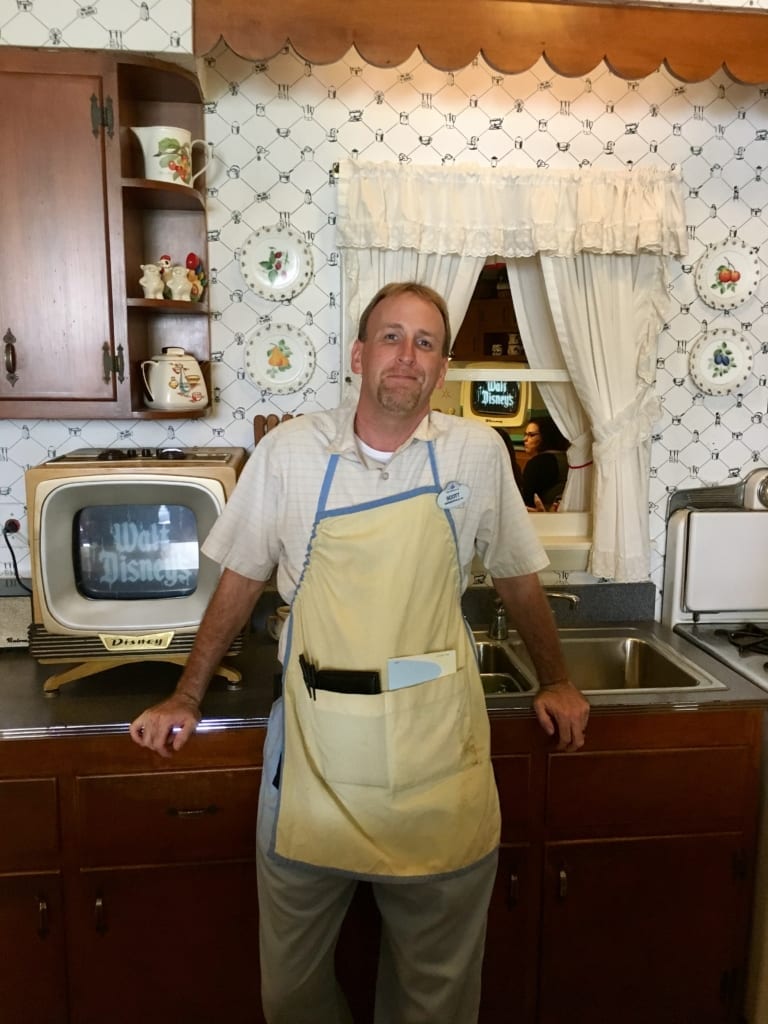 Ok, now that we're having a great time, let's get down to some good American Comfort Food:
Food: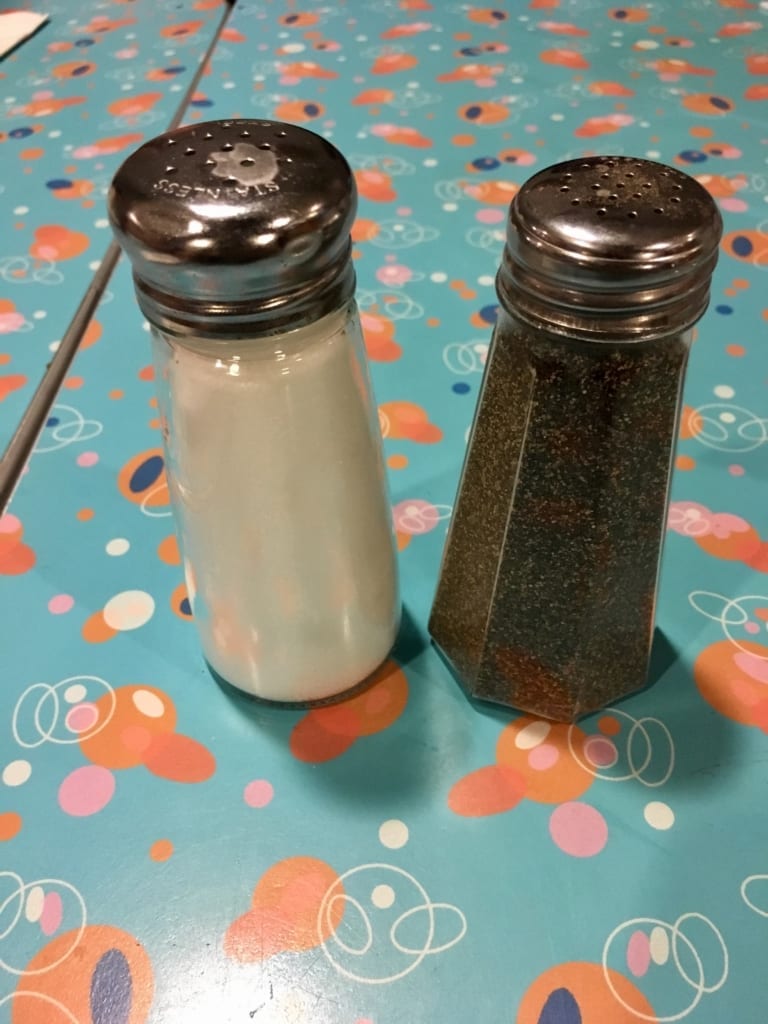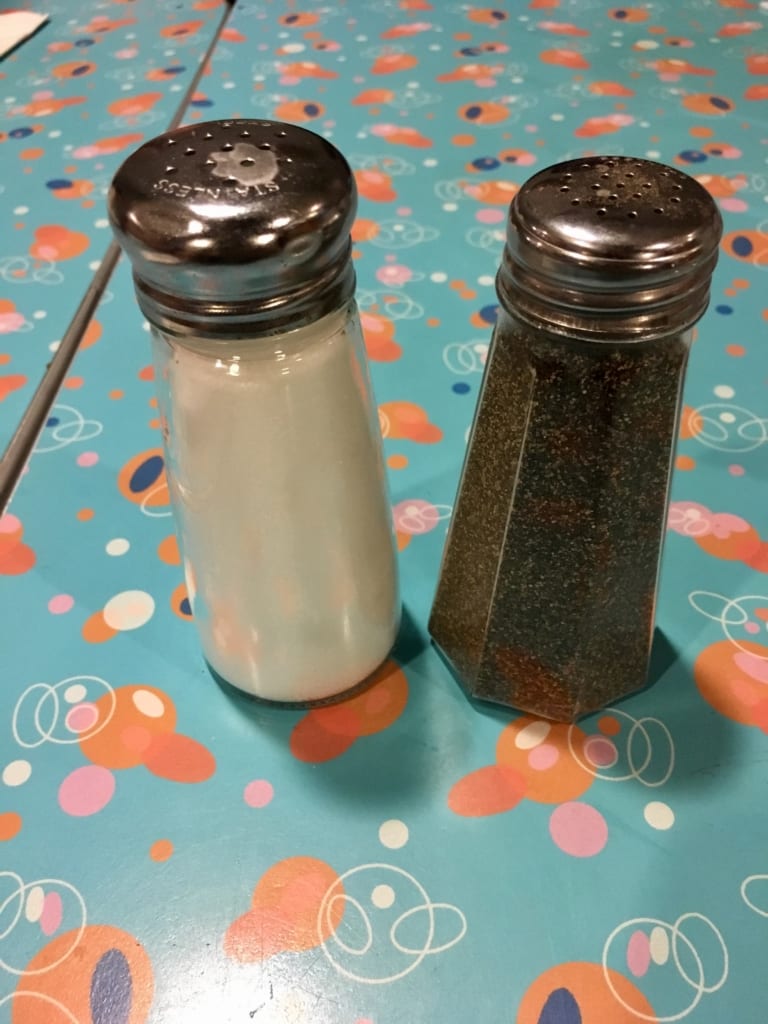 The menu isn't huge here but there are a lot of really solid comfort food offerings that will leave you all warm and fuzzy inside, and probably making it hard for you to walk out the door!
The Drinks of course come from Dad's Liquor Cabinet as you aren't old enough to drink yet, but we won't tell on you if you want one. The Milkshakes are a must here, some of the best in Walt Disney World. You'll find some classic Appetizers like: Chicken Noodle Soup, Onion Rings (more later) and the Fried Herb Cheese which is outstanding. Entrees include: Stuffed Pork Chops, Meatloaf, Pot Roast and that amazing Fried Chicken. And no meal in Mom's kitchen would be complete without dessert either: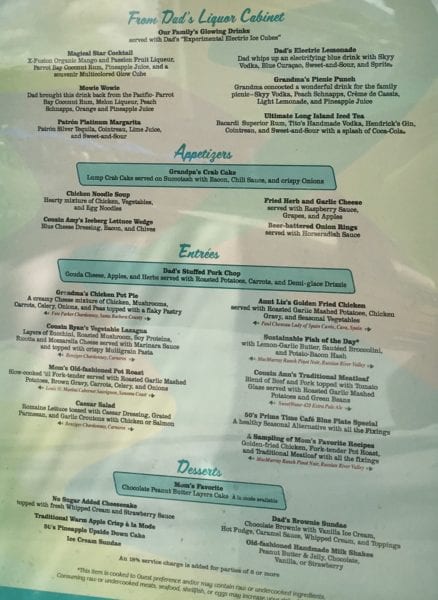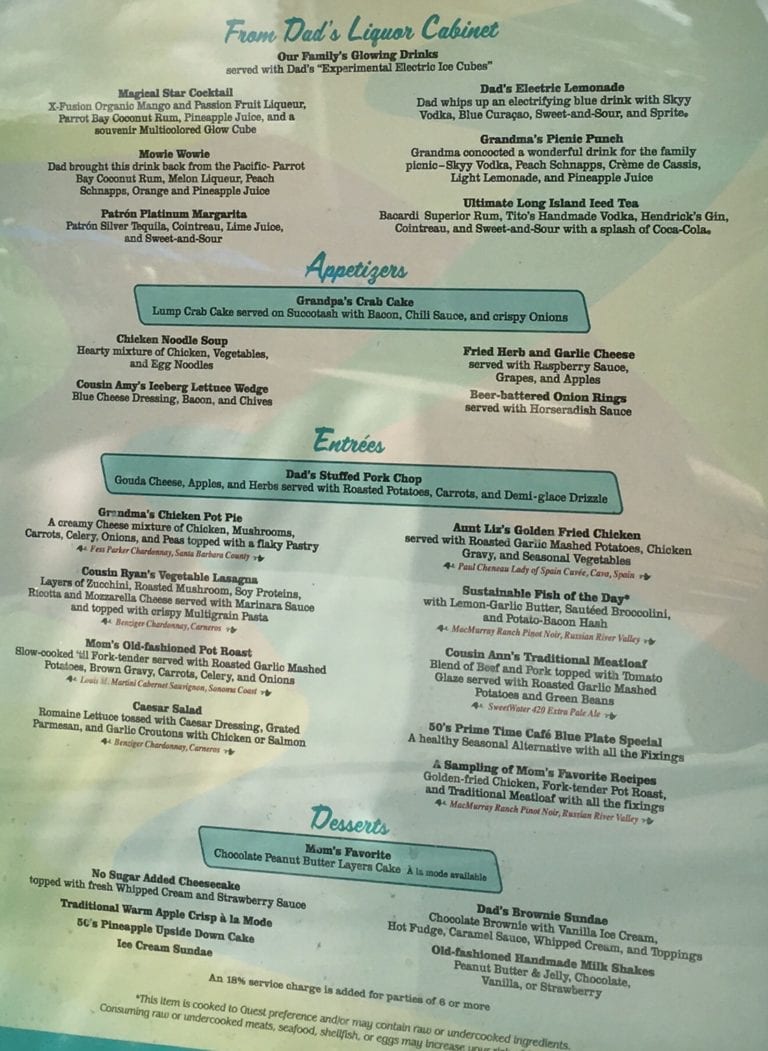 First off like any smart guest at 50's Prime Time we ordered some Milkshakes! First thing you notice is these babies are big, really big! I love that they give it to you in the aluminum mixing glass they make them in: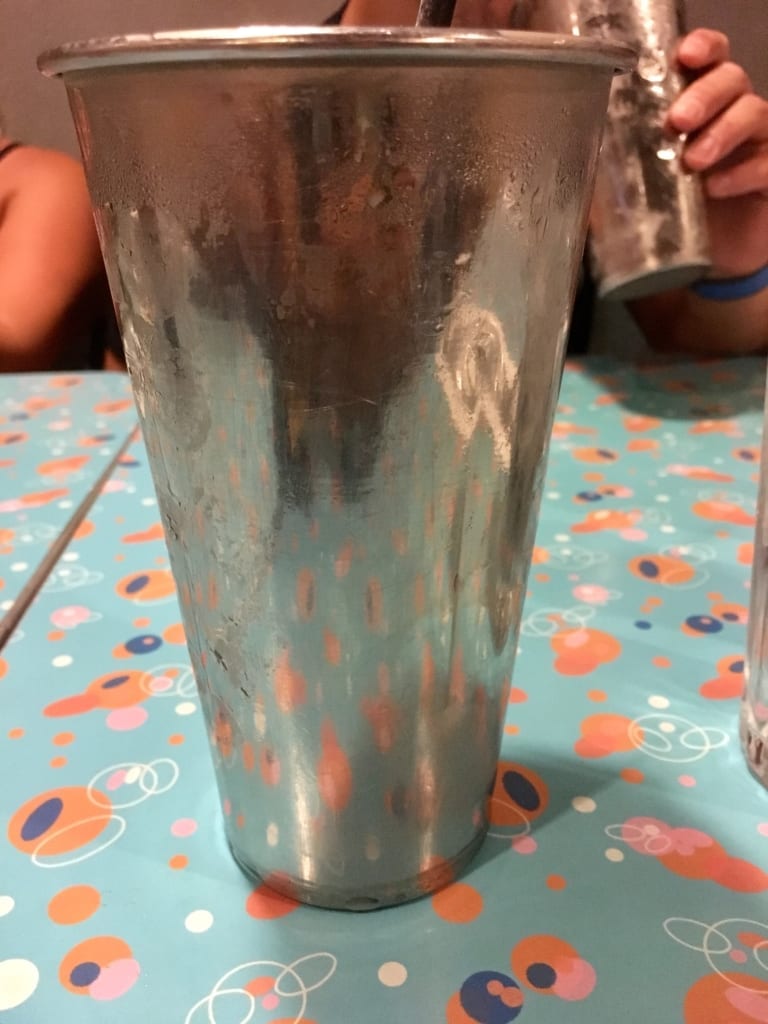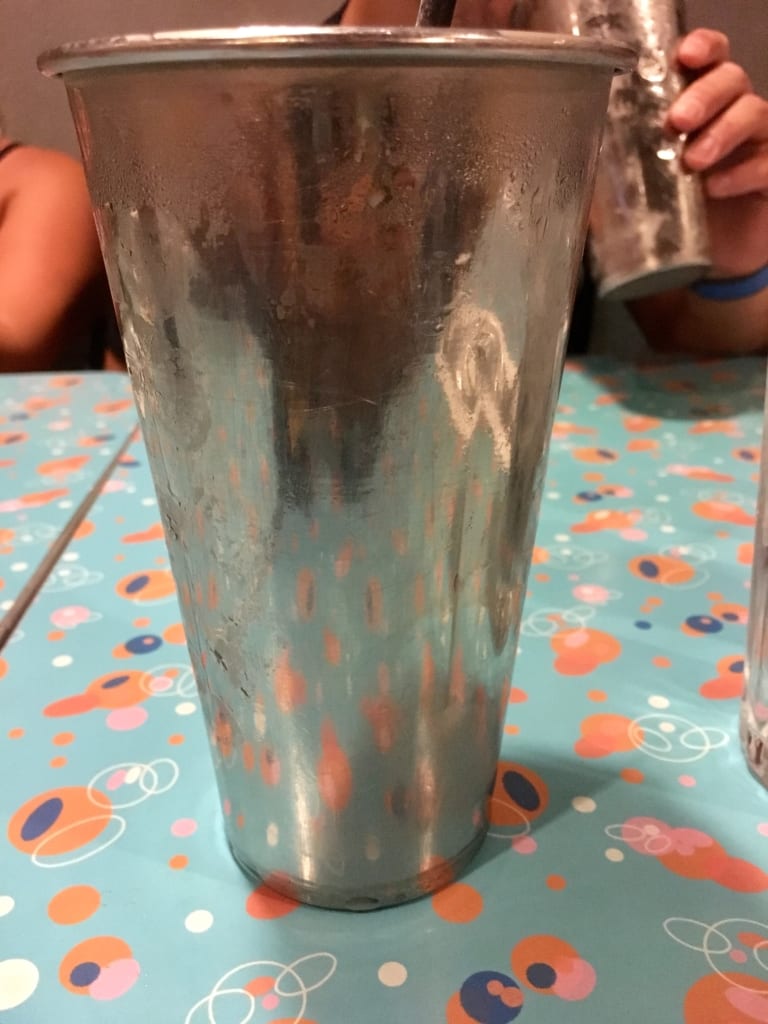 We got two Milkshakes, Vanilla and Chocolate: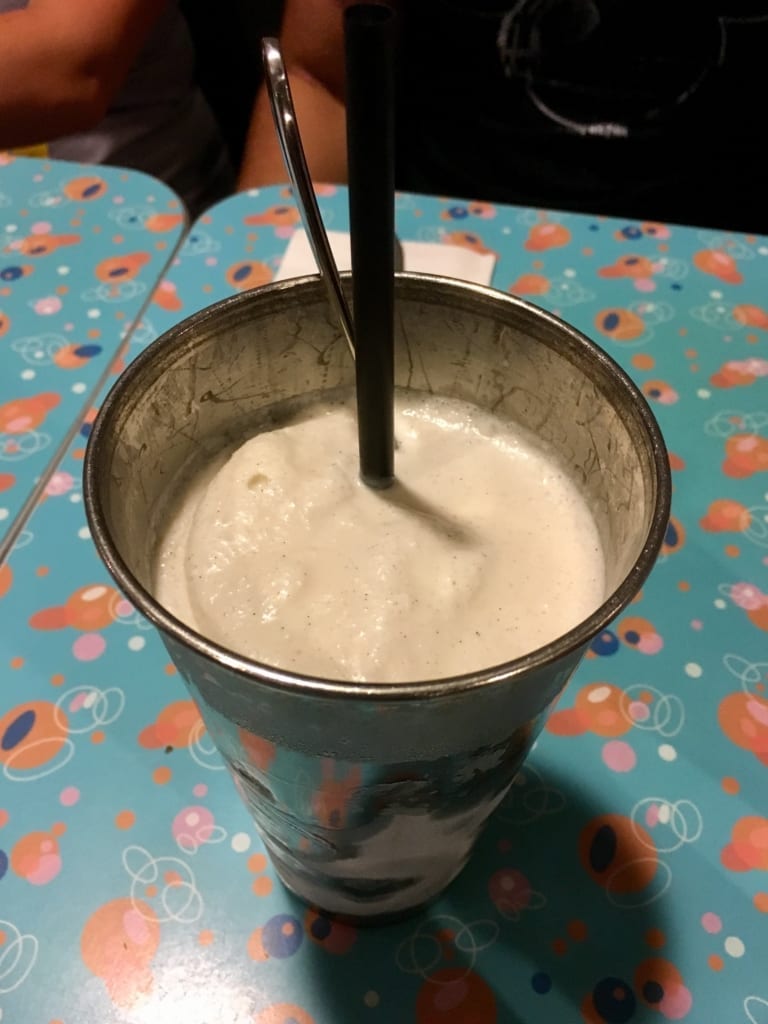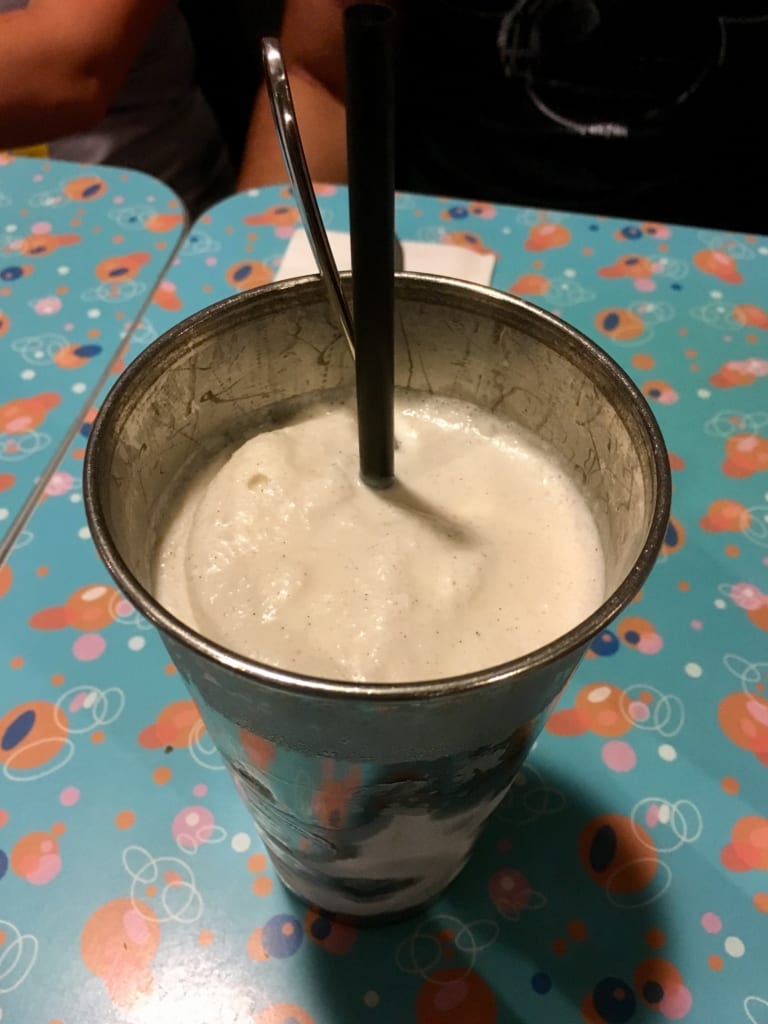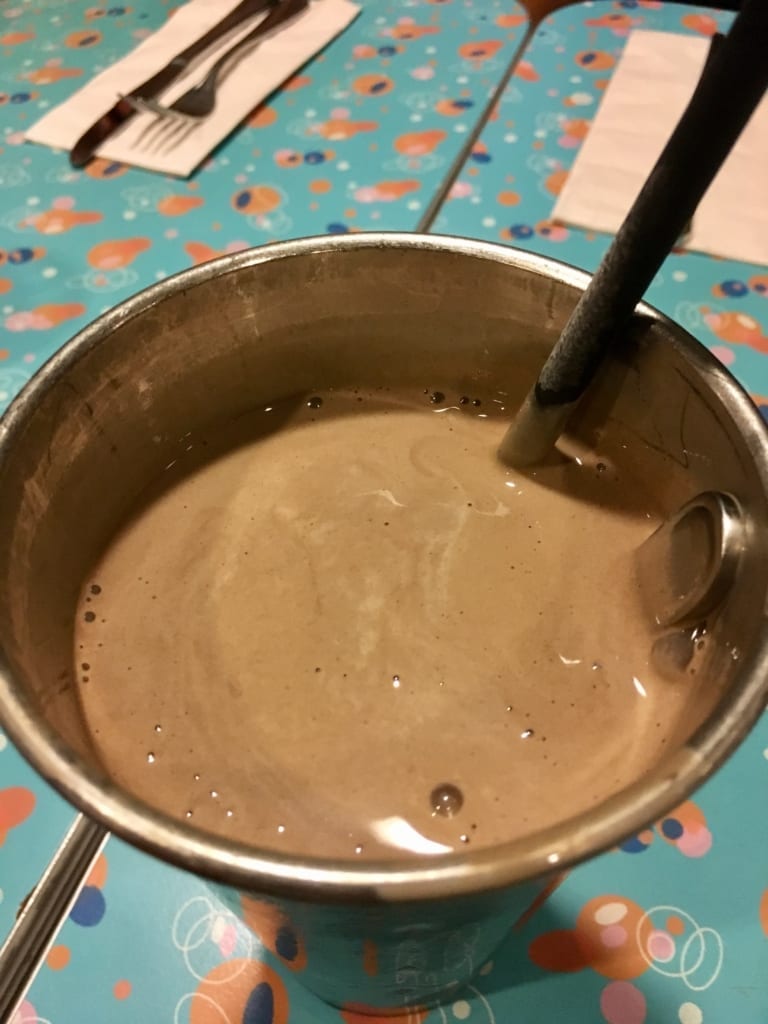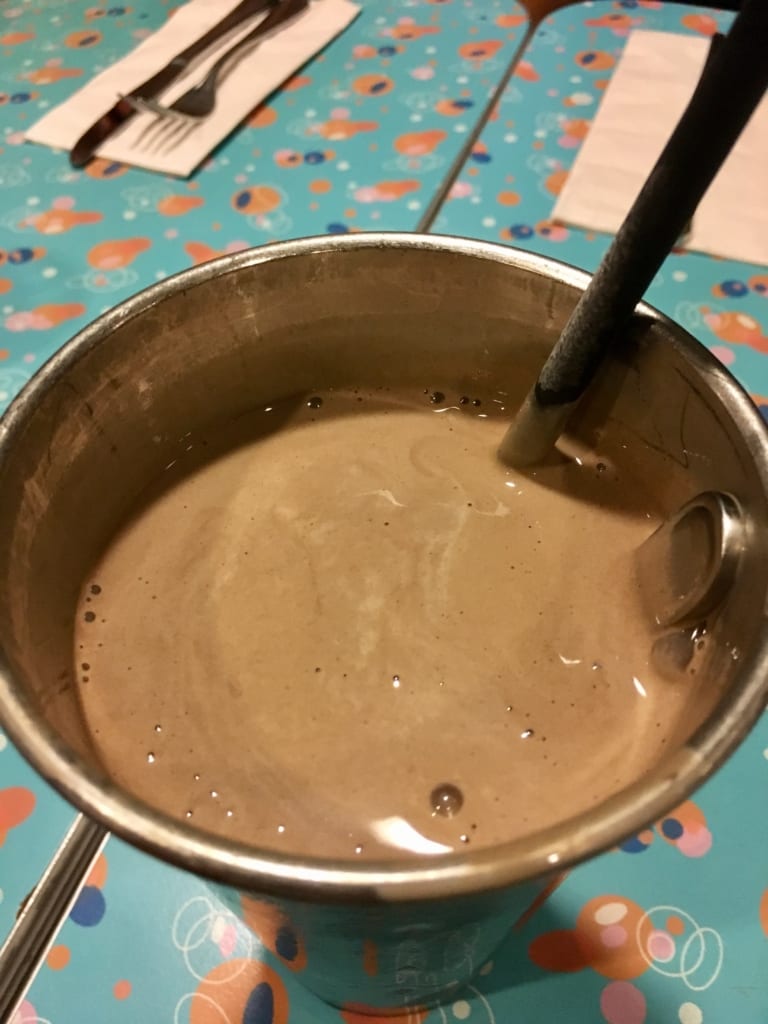 I'm usually more of a vanilla guy but both of them were excellent and I liked them equally. They were huge and they had the perfect consistency for a shake, solid enough that you can taste the ice cream but not so solid you can't drink it through a straw. Flavor was really good on both and they lived up to their high billing. You might want to try the PB&J Shake too as I've had it in the past and it's like drinking a Peanut Butter and Jelly Sandwich!
Tip: 50's Prime Time also has Vegan shakes too, which are quite good, so be sure to ask if you can't have dairy.
Next were the salads. Here's a Cousin Amy's Iceberg Lettuce Wedge: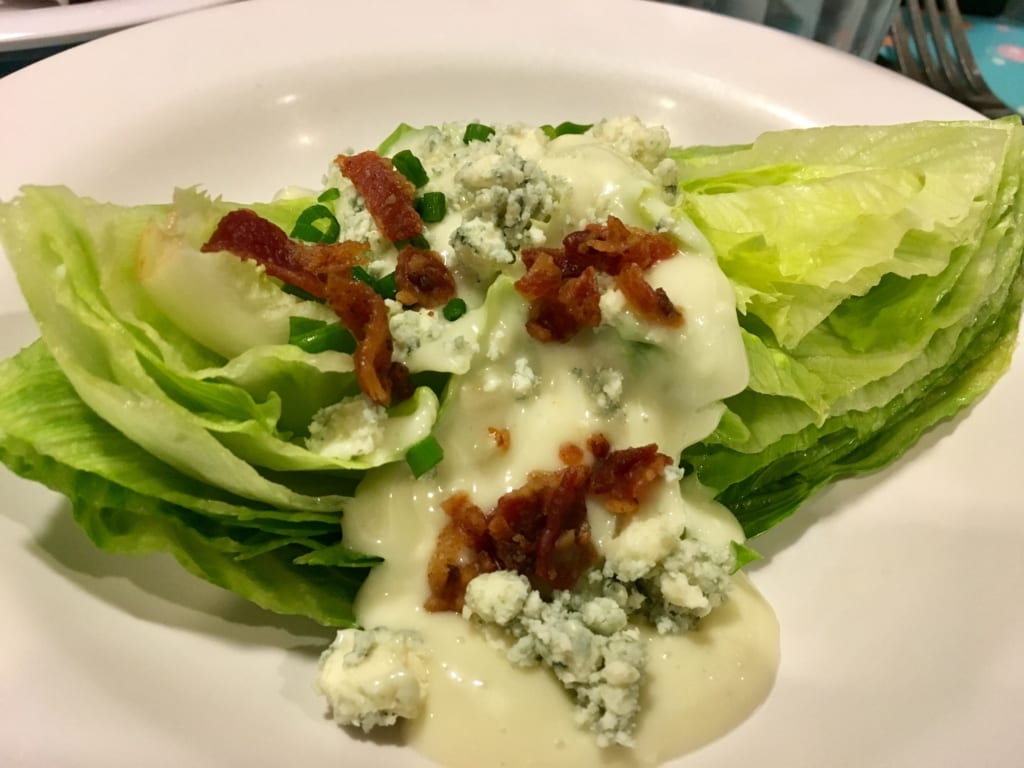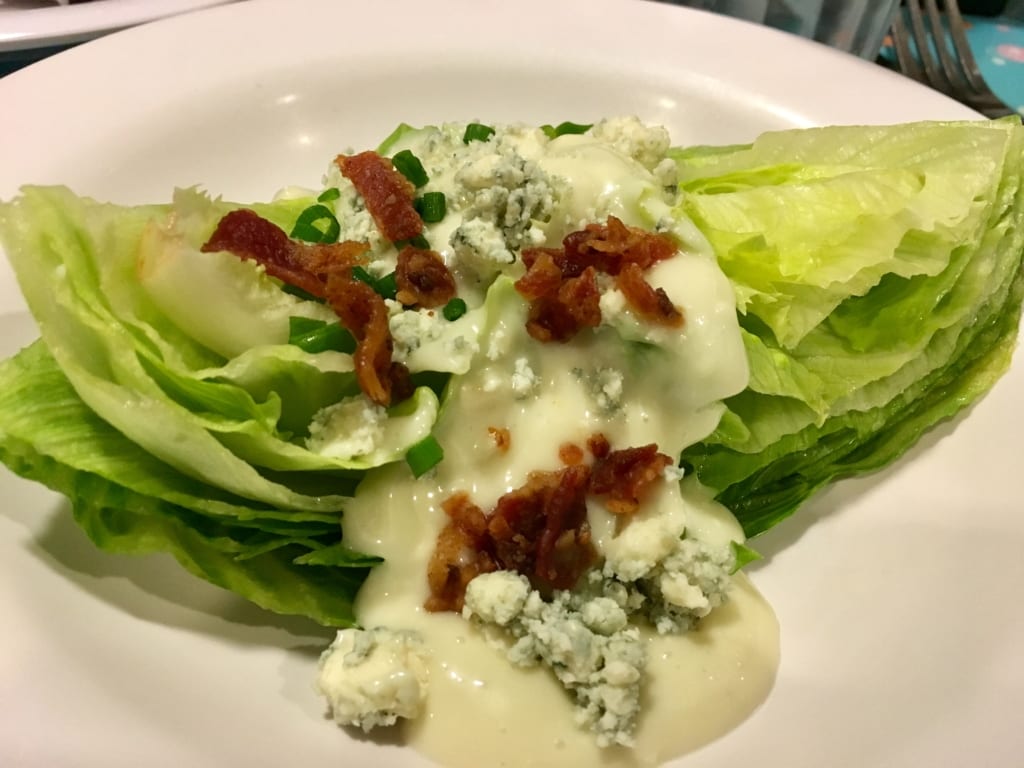 This had blue cheese dressing, bacon, chives and chunks of real blue cheese on it. The lettuce itself was good for iceberg, honestly you can't ask a whole lot there. I liked the real chunks of bacon instead of artificial bacon bits. They also include real blue cheese crumbles which I thought were a nice touch, and the dressing was a good amount too. Nice inexpensive option for a salad.
We tried another salad as well, this time the Caesar Salad with Salmon. This had Romaine Lettuce tossed with Caesar Dressing, Grated Parmesan, and Garlic Croutons: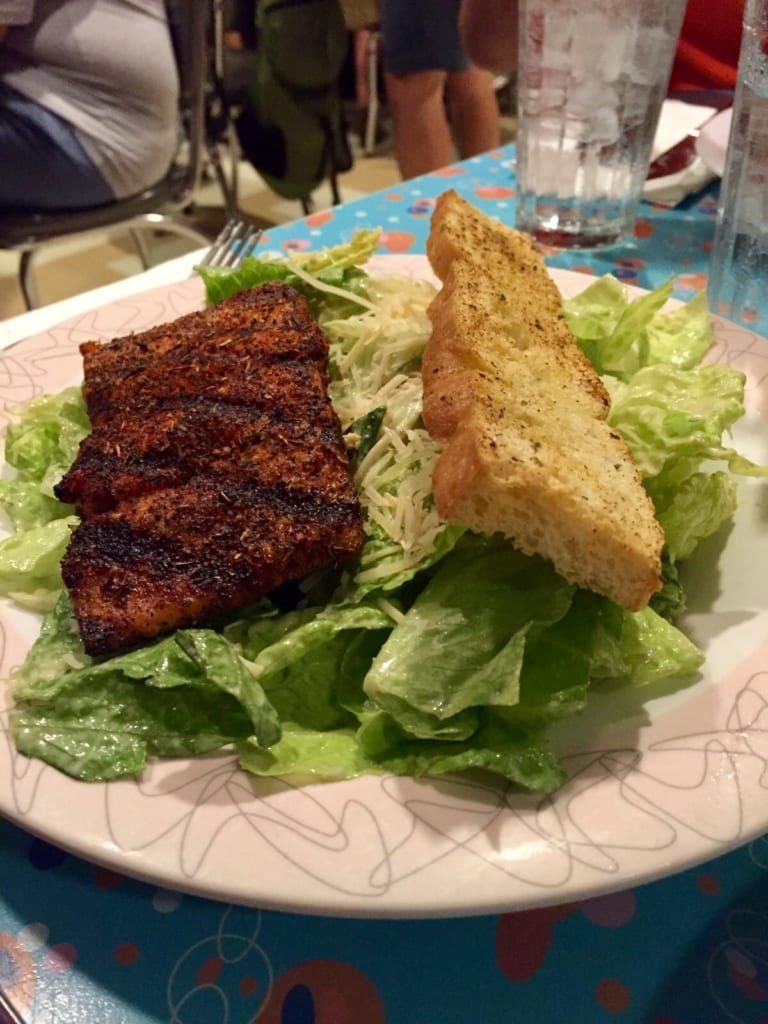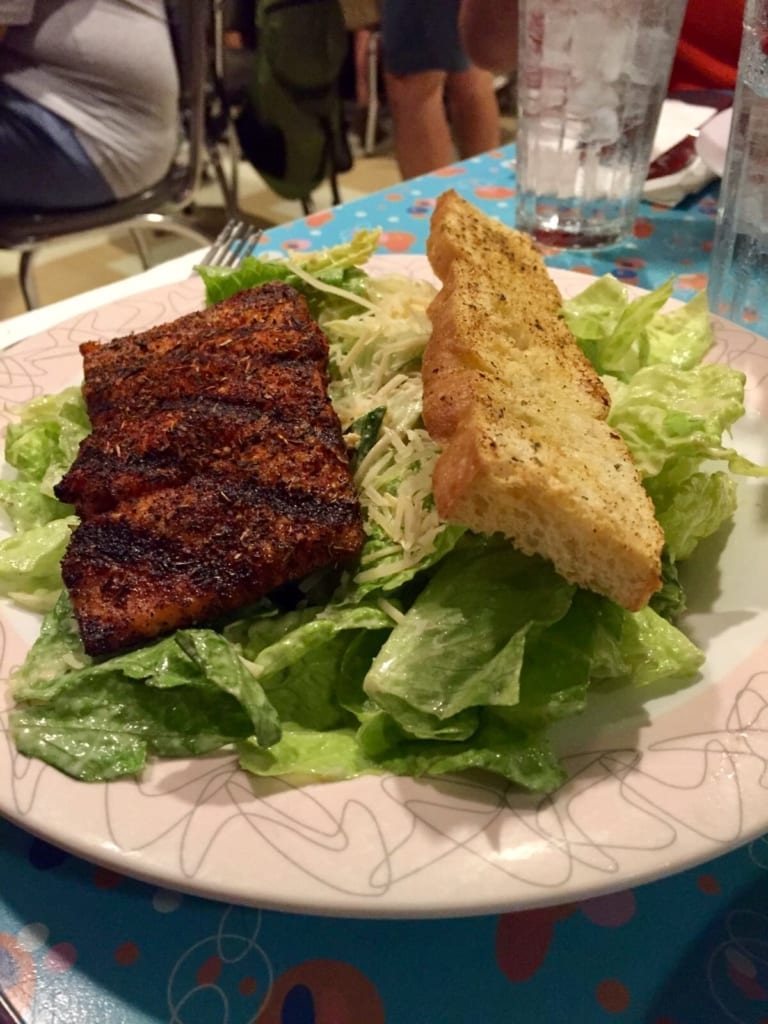 I thought the salad itself was good. Lettuce was fresh, the Caesar dressing was quite good (I'm particular about Caesar dressing), and grated Parmesan on top was great. I wanted to love the Garlic Crouton but I just couldn't. I thought it would be nice and crisp but alas no and the flavor could have been stronger too. The Salmon however was excellent, not too dry or moist, cooked just right. Also had some nice seasonings on there. If they get that crouton fixed this would be a stellar choice.
This next option on the other hand was a showstopper, Beer Battered Onion Rings which is served with a horseradish sauce: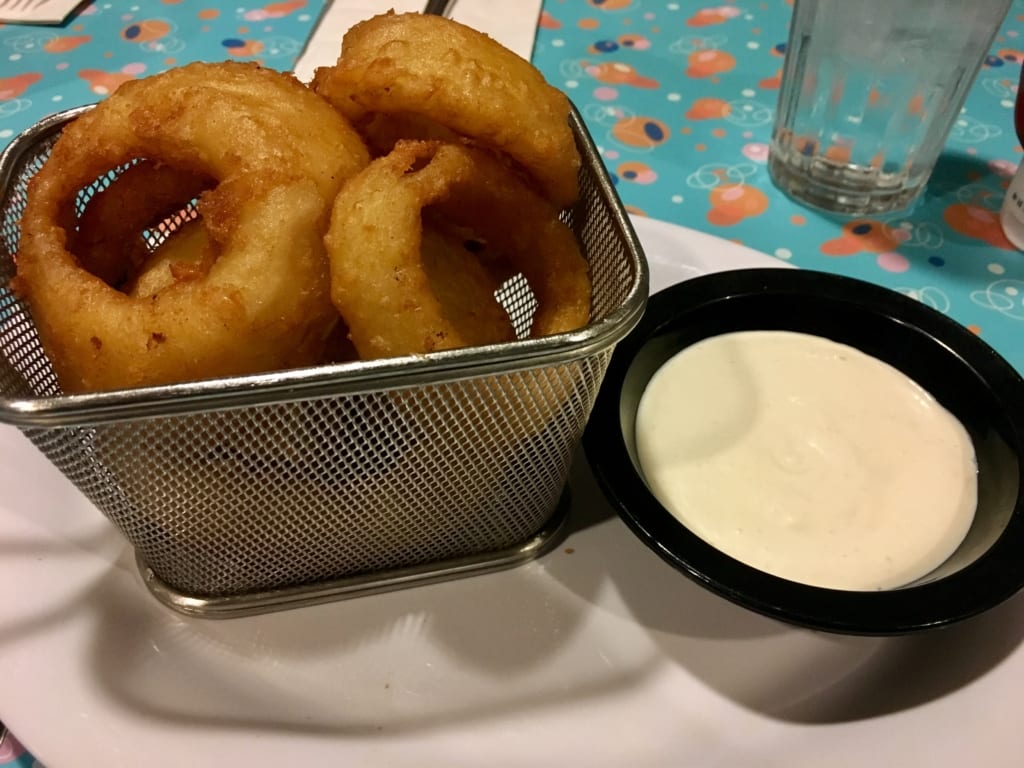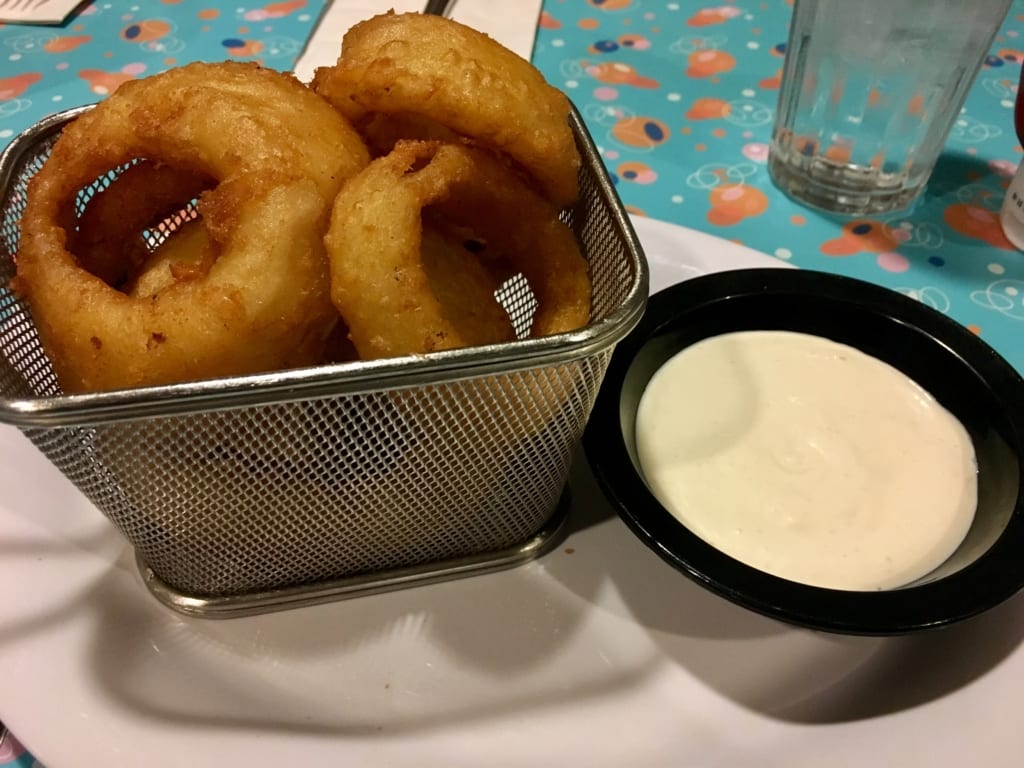 I'm going to tell you now, you NEED to order these things, they are soooo stinkin good! They have an amazing batter which is a perfect golden brown and crisps when you bite in but at the same time inside is moist. These things are giant too! Look at that inside: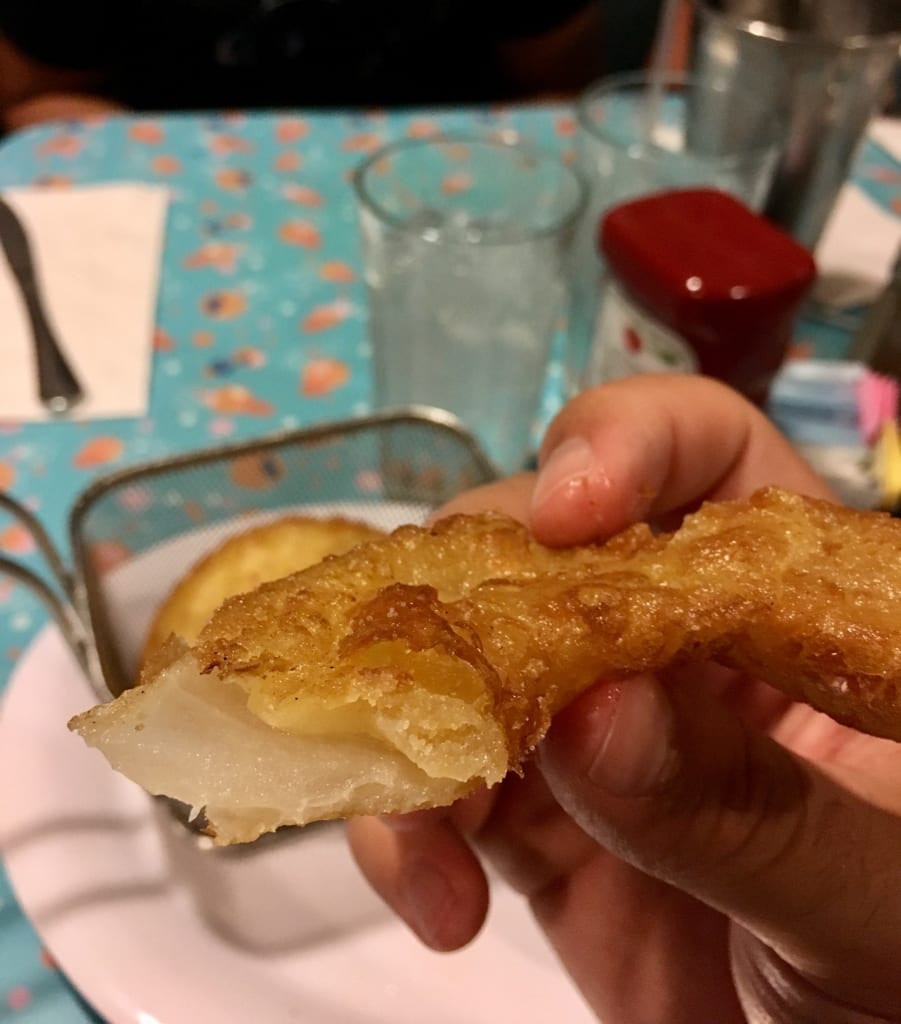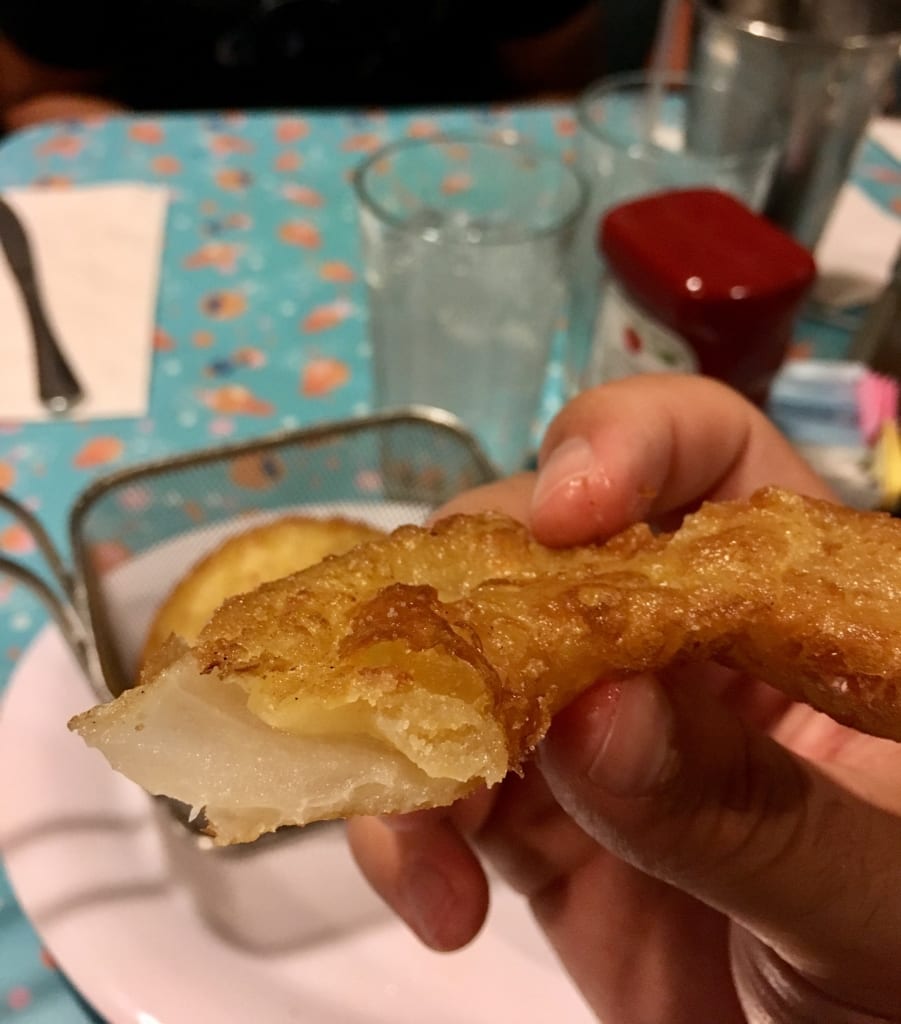 No, I'm not sure if I've had onion rings like this before in my life they were amazing! They were even better than the ones I had at Beaches and Cream, which were also amazing, and now I have to say they are the Best Onion Rings on property. My only wish is that there were more of them, but I guess you can just order more!
Next up Grandma's Chicken Pot Pie which has a creamy cheese mixture of chicken, mushrooms, carrots, celery, onions and peas topped with a flaky pastry: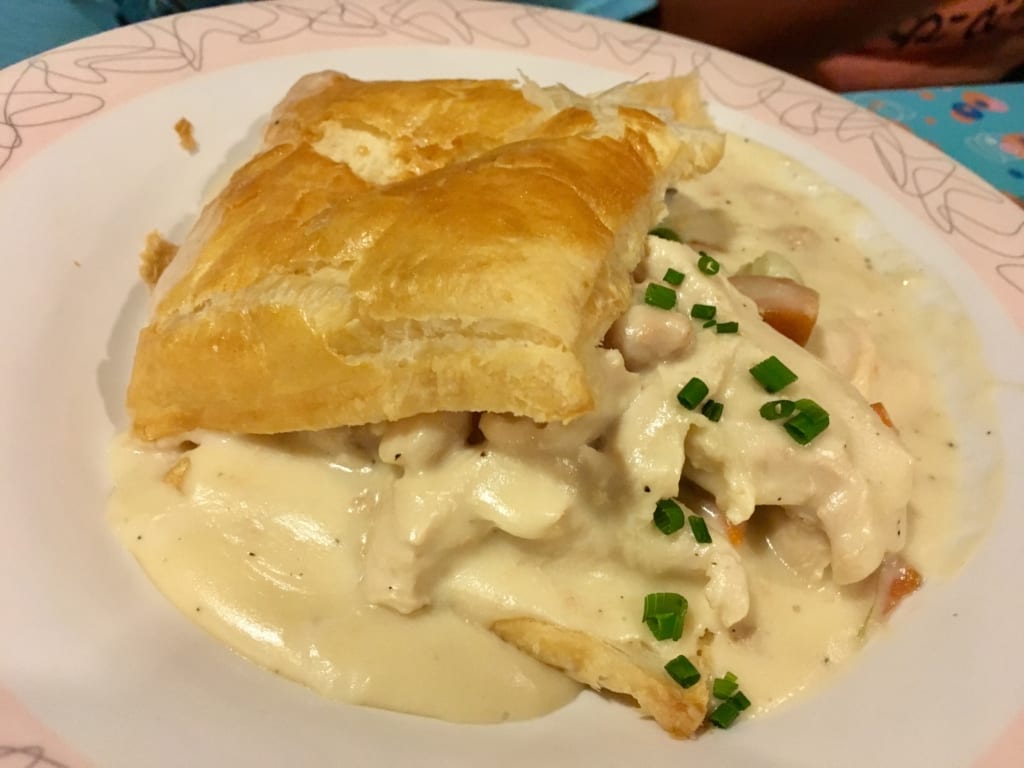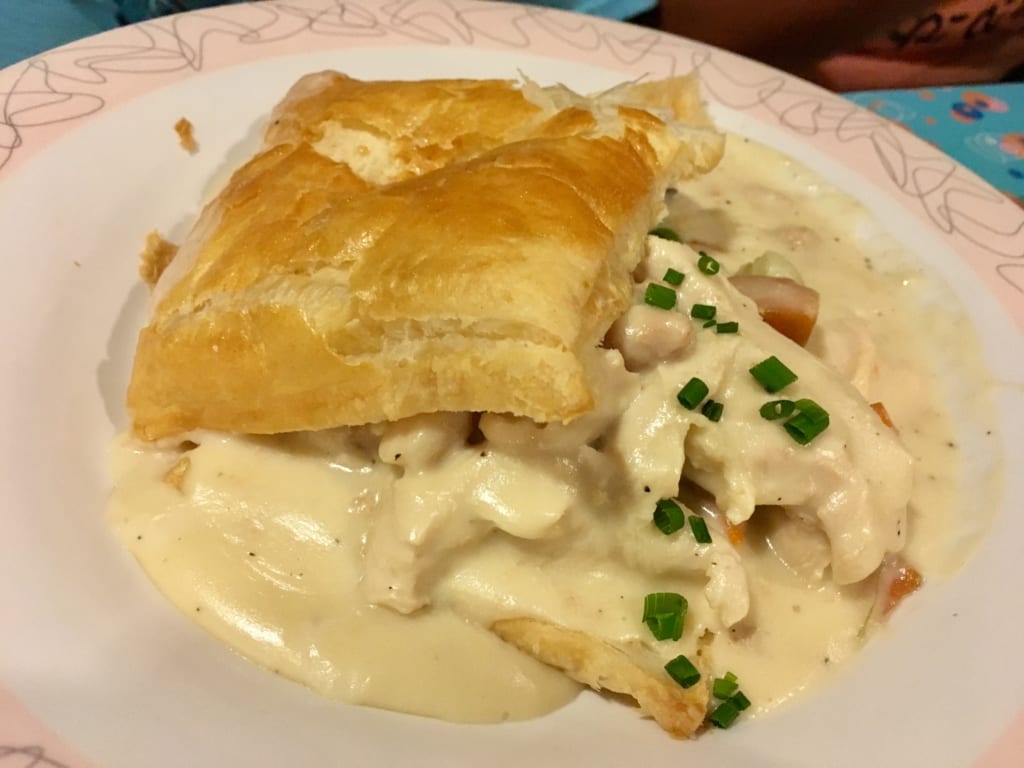 Ryan got this and I will say it was pretty good. I liked the flavor and the creaminess. It was also a very big portion and Ryan left feeling really stuffed. One thing it needs in my opinion to really make it a standout is a bit more pastry on top, it looks like more than is there, also the carrots were a bit under cooked. Overall a really nice option though for pot pie.
Here's my all-time 50's Prime Time Cafe favorite: Aunt Liz's Golden Fried Chicken, served with corn on the cob and garlic mashed potatoes with gravy: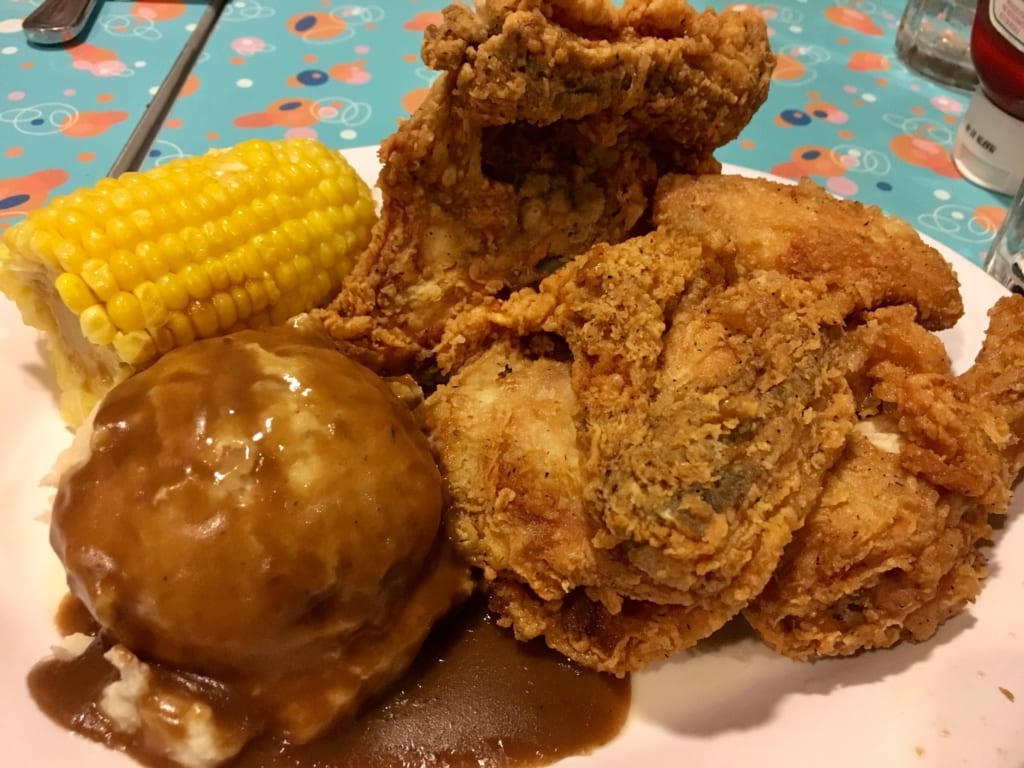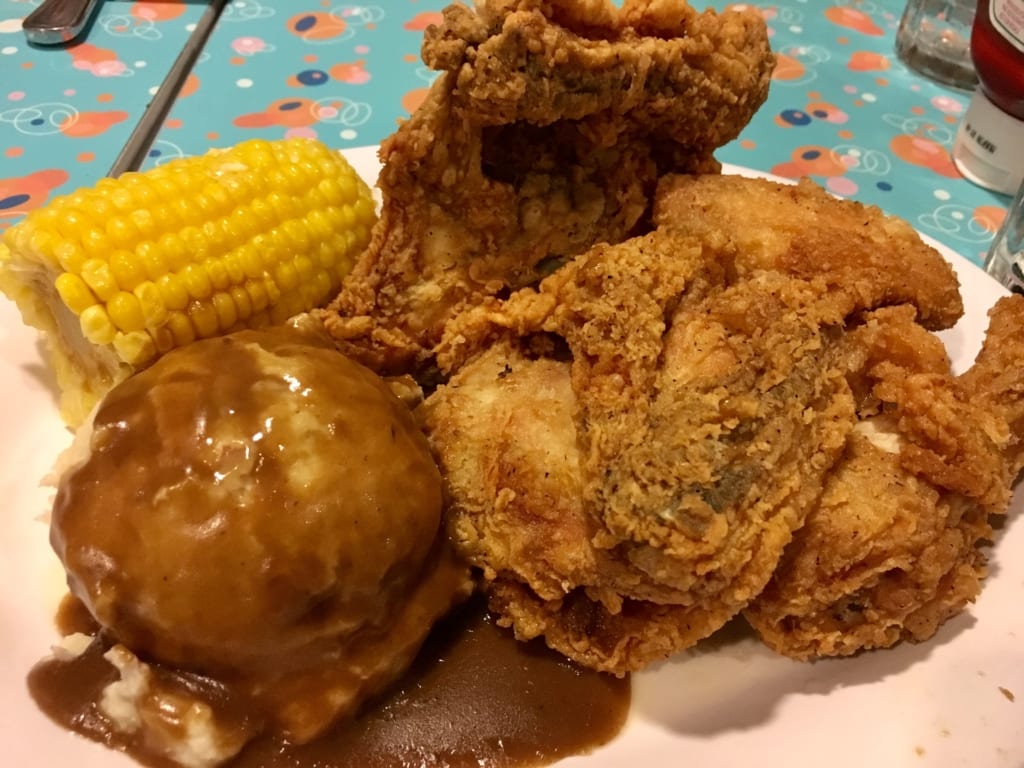 This chicken is great! Yes there is some very good fried chicken in WDW (Trail's End, Hoop Dee Doo and Homecoming for example), but the fried chicken here is just special…maybe it's all that love mamma uses back there in the kitchen. The chicken is perfectly crispy on the outside while not being overly oily, but then inside the chicken remains really moist and juicy. Look at that inside: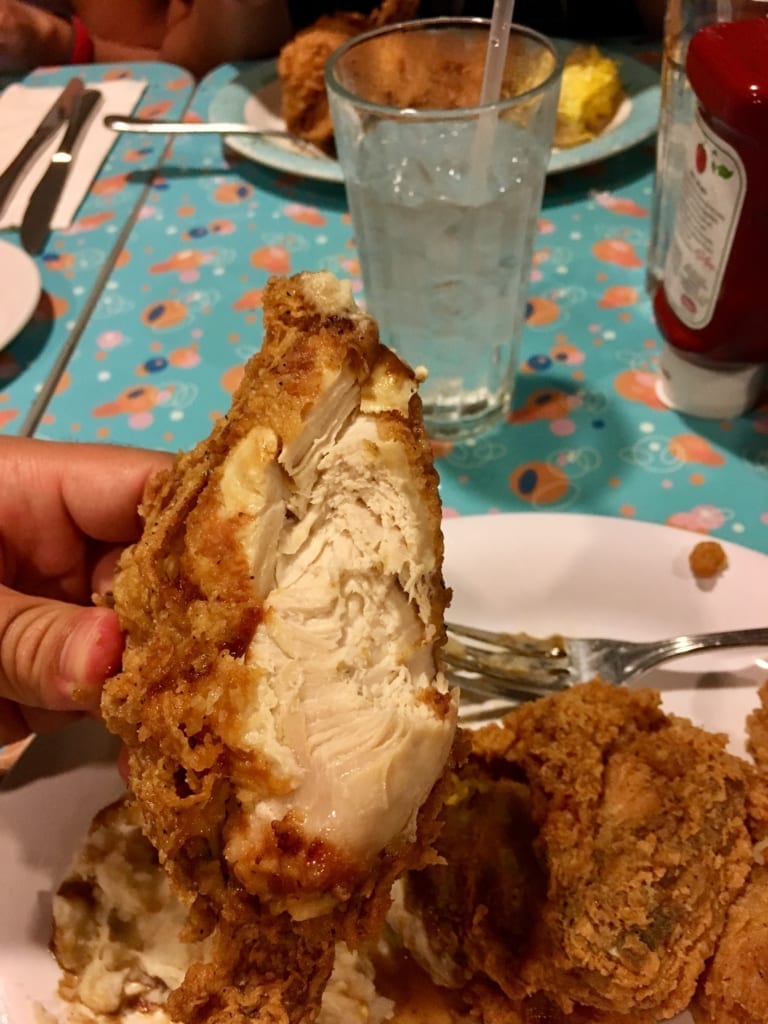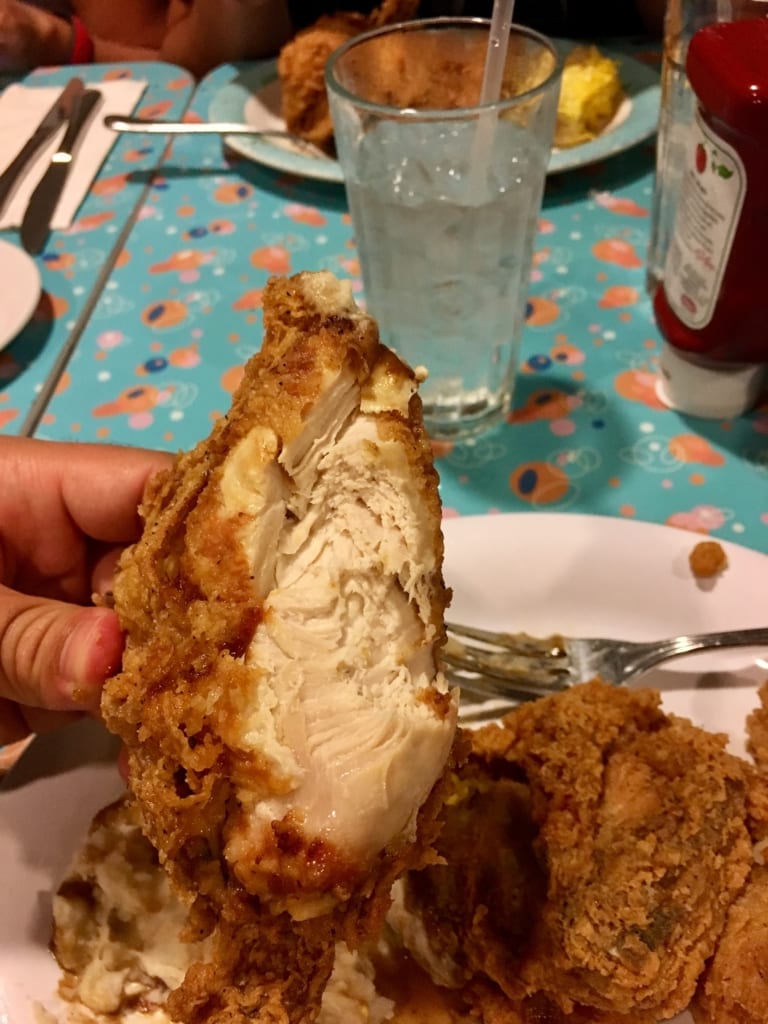 Makes my mouth water all over again! They also give you a nice size portion (breast, thigh and drumstick) which really filled me up too. It's now stiff competition between 50's Prime Time and Homecoming in Disney Springs for best fried chicken in Walt Disney World! The potatoes were decent, not amazing but not bad either, bBut you are here for that chicken! If I was only ordering one thing here it'd be that (with a milkshake and onion rings of course!)
Last of the entrees was A Sampling of Mom's Favorite Recipes with some of that same Golden-fried Chicken, Fork Tender Pot Roast, and Traditional Meatloaf with all the fixings: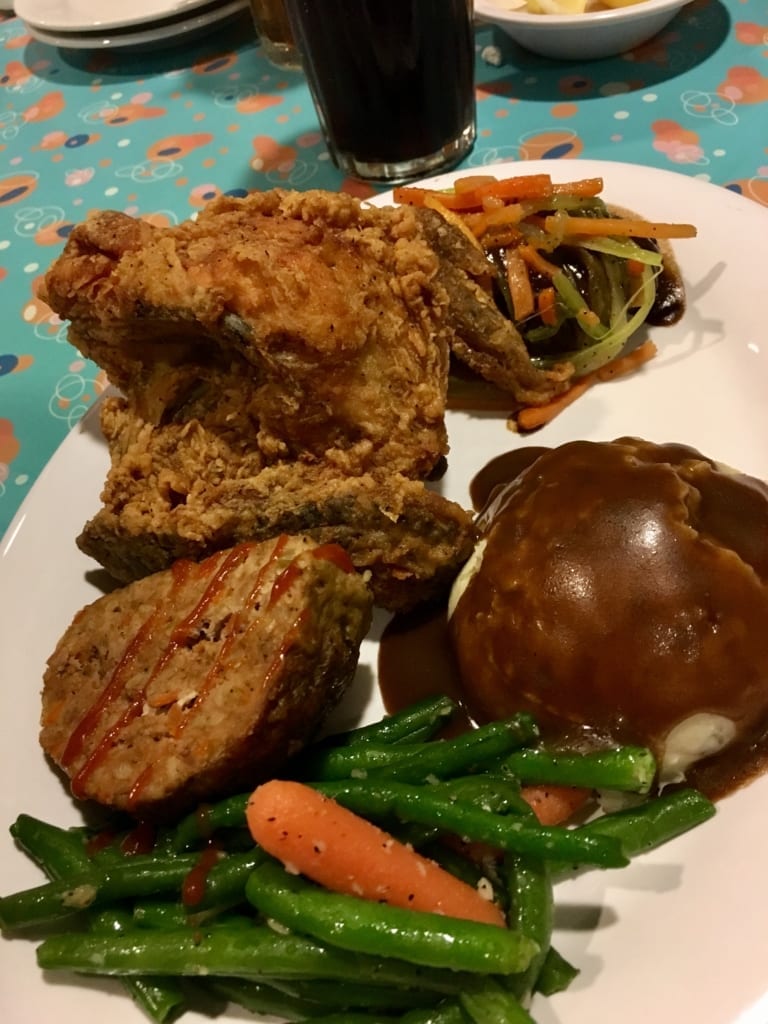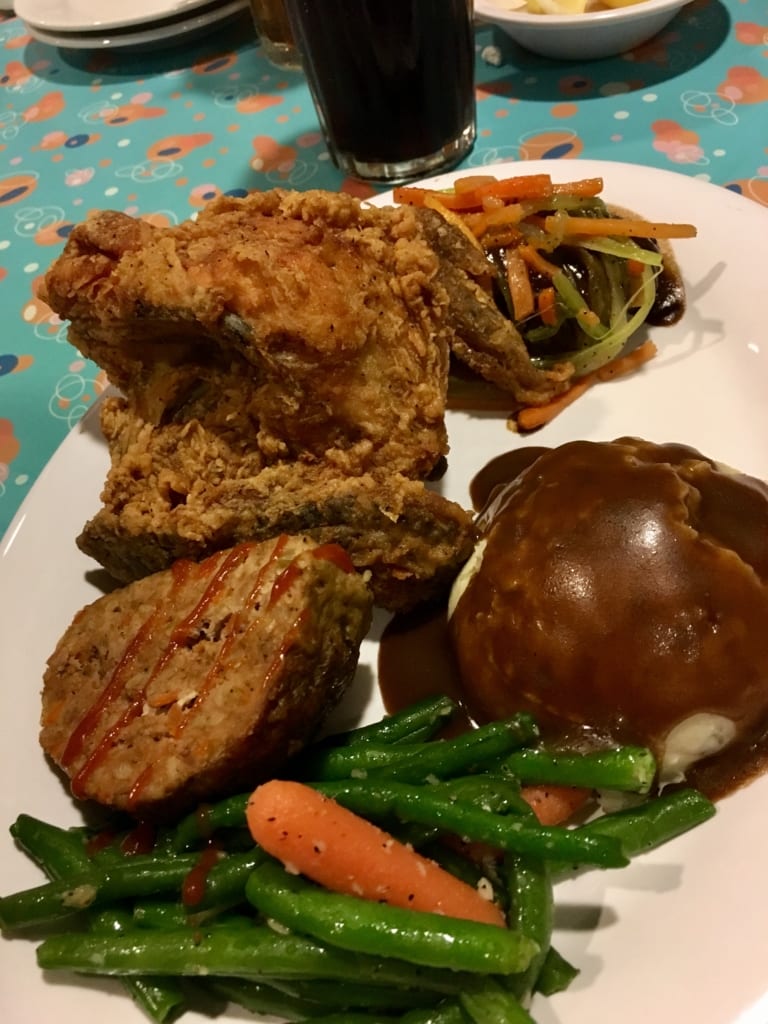 This is also a nice option if you want to try a trio of Classic American dishes. Ron got this. The Chicken you already know is great, the Meatloaf was hearty and moist as well, which is good because it's a dish I never order out for fear of it being so dry you have to smother it with ketchup. Ron usually doesn't even like Pot Roast but he even liked this one too. His verdict is it was a three-way tie between the trio, but we all know that Fried Chicken stands alone! 😉 Only suggestion was to include some Mac and Cheese in there somehow. Great option however!
I thought all the entrees were really good and all a good value for your money.
Of course no trip to Mom's kitchen would be complete without Dessert and next up was the No Sugar added Cheesecake topped with fresh Whipped Cream and Strawberry Sauce: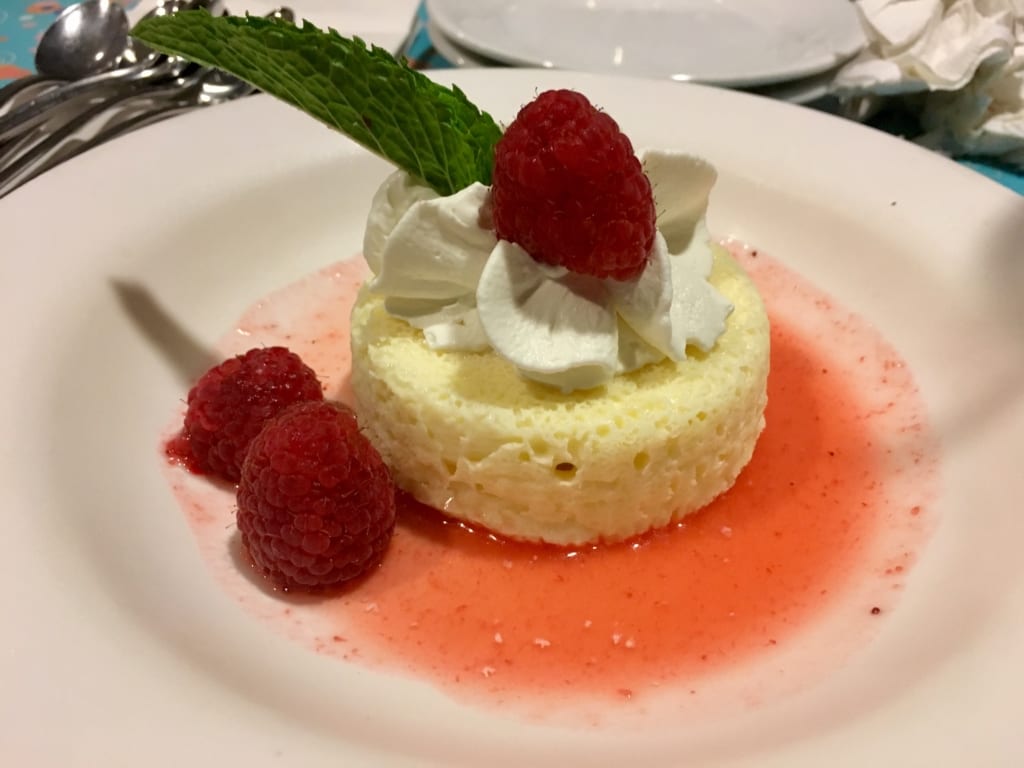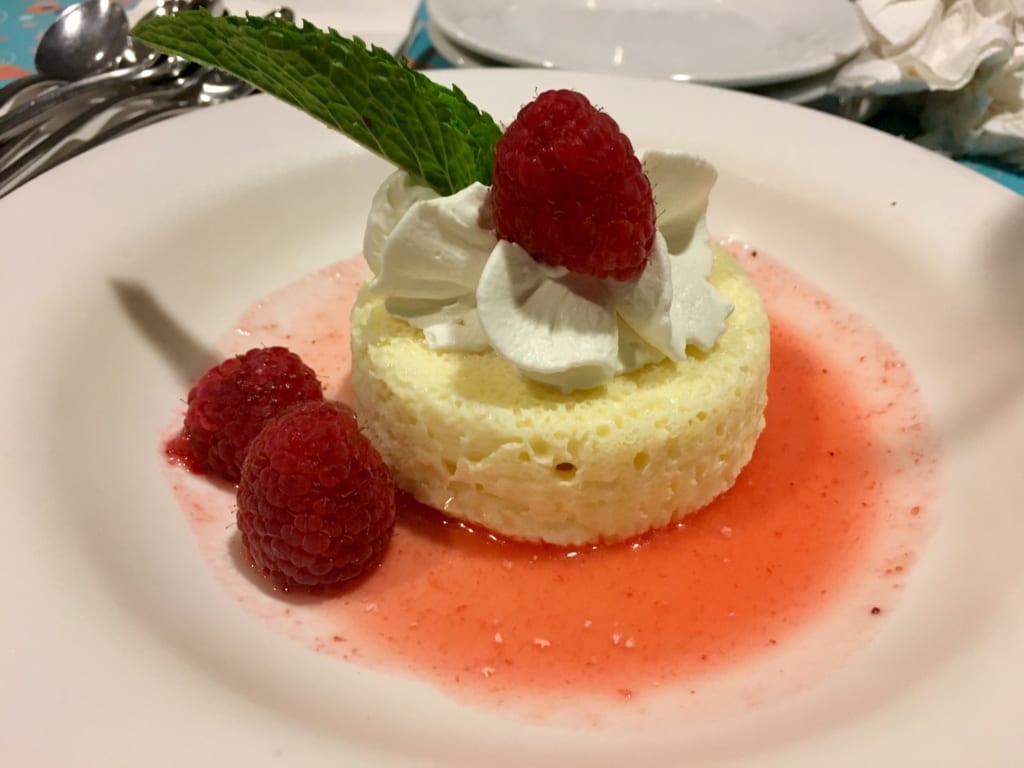 Honestly I wasn't crazy about it, as the texture was a little spongy as you can tell from the photo and the whipped cream was just canned. Raspberries were fresh, but there were few of them, and the sauce wasn't special. Overall I wouldn't get it again.
After that we got an Ice Cream Sundae: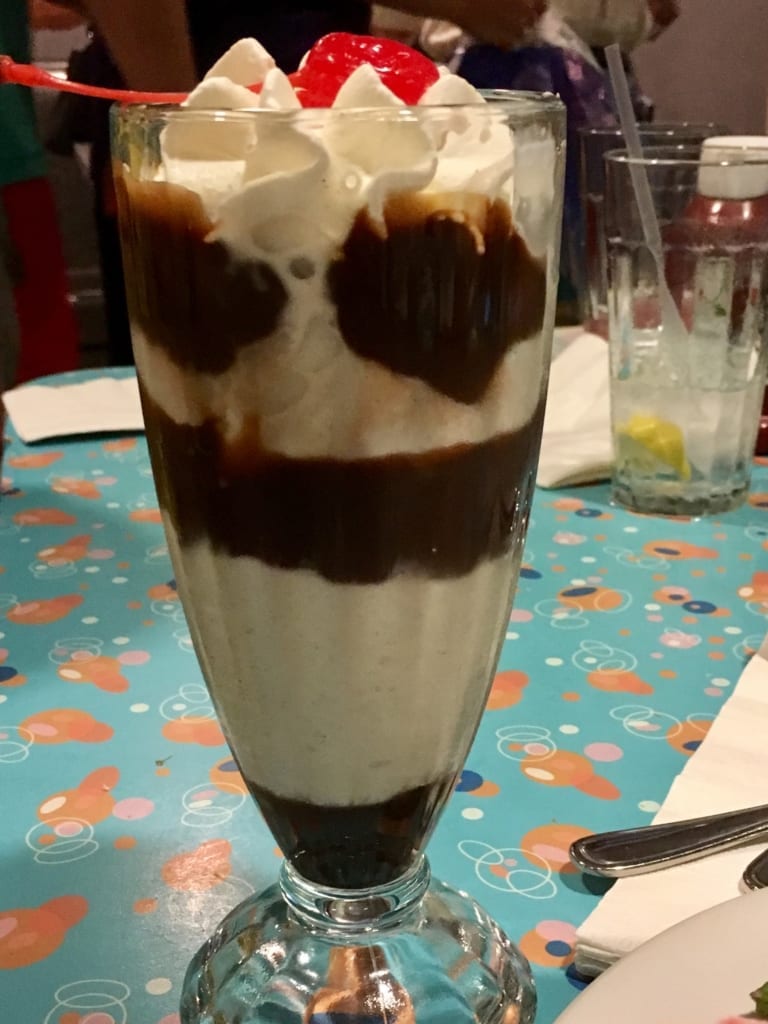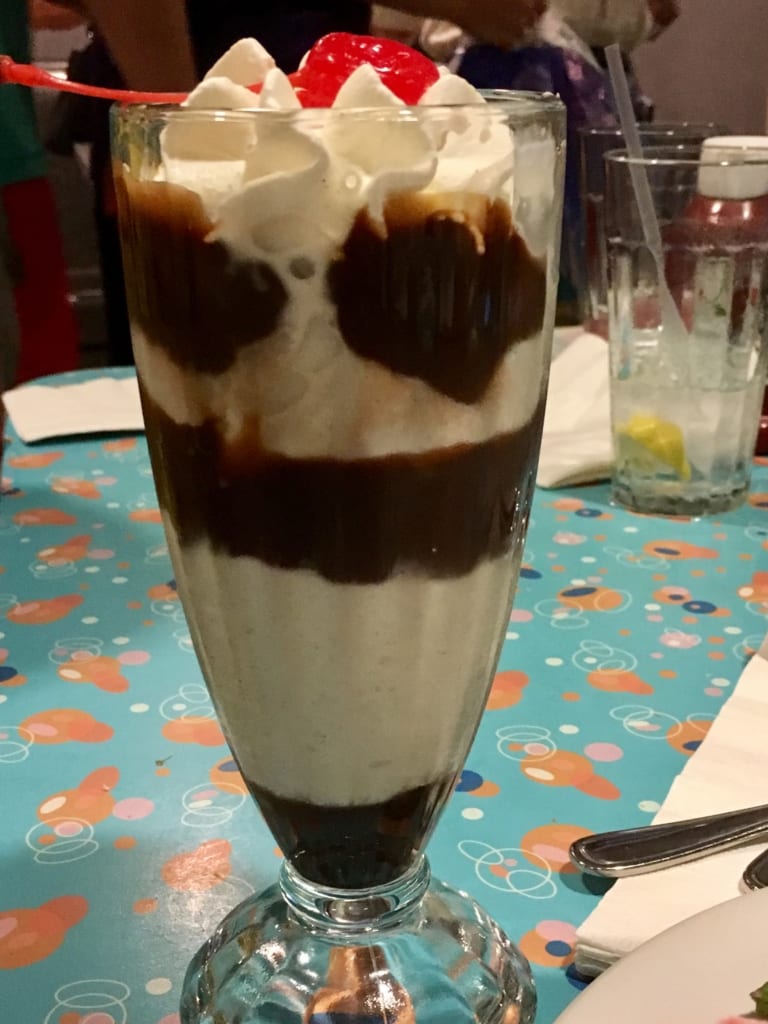 This was your classic Ice Cream Sundae, hard to screw up. Vanilla ice cream, hot fudge, whipped cream and a cherry! Would like to see some nuts sprinkled on top next time, but about as American as it gets and delicious!
But of all the desserts at 50's Prime Time Cafe, my favorite was this: Dad's Brownie Sundae. It was loaded up with all sorts of goodies from caramel popcorn, hot fudge, whipped cream, sprinkles a cherry and of course that fudgy chocolate brownie underneath: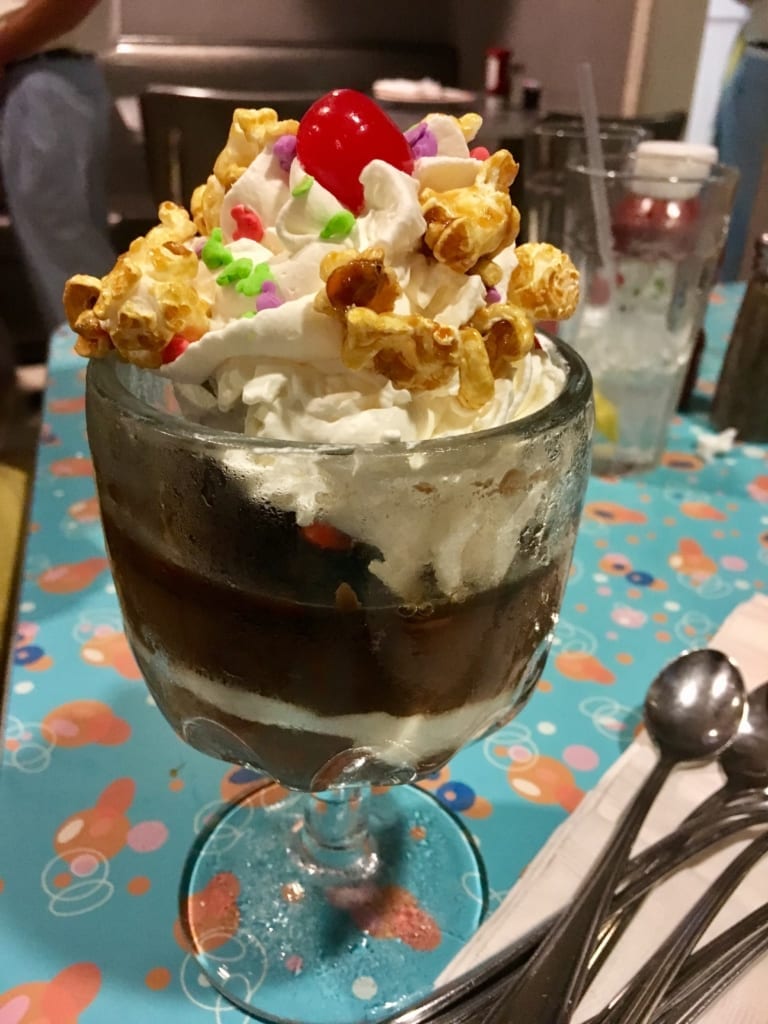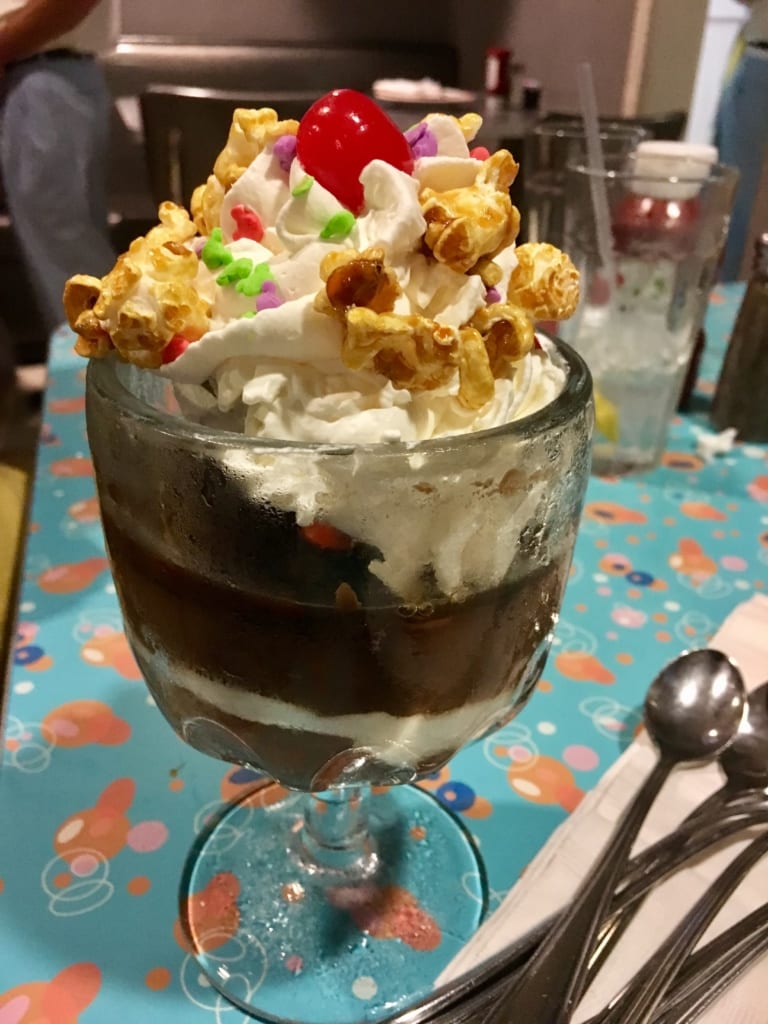 This thing is a monster and of course can be split easily by 2 people and maybe more after a big meal here. Just the combo of a brownie covered in ice cream is hard to beat, and it was easily my favorite dessert here. A must try for sure!
Now I did say before how if you misbehave at all while you are at 50's Prime Time Cafe, then you might suffer the consequences just like at the dinner table at home. So because we were bad, me and my sister had to get up and dance and sing "I'm a Little Tea Pot" to the whole restaurant! So be on your best behavior! 😉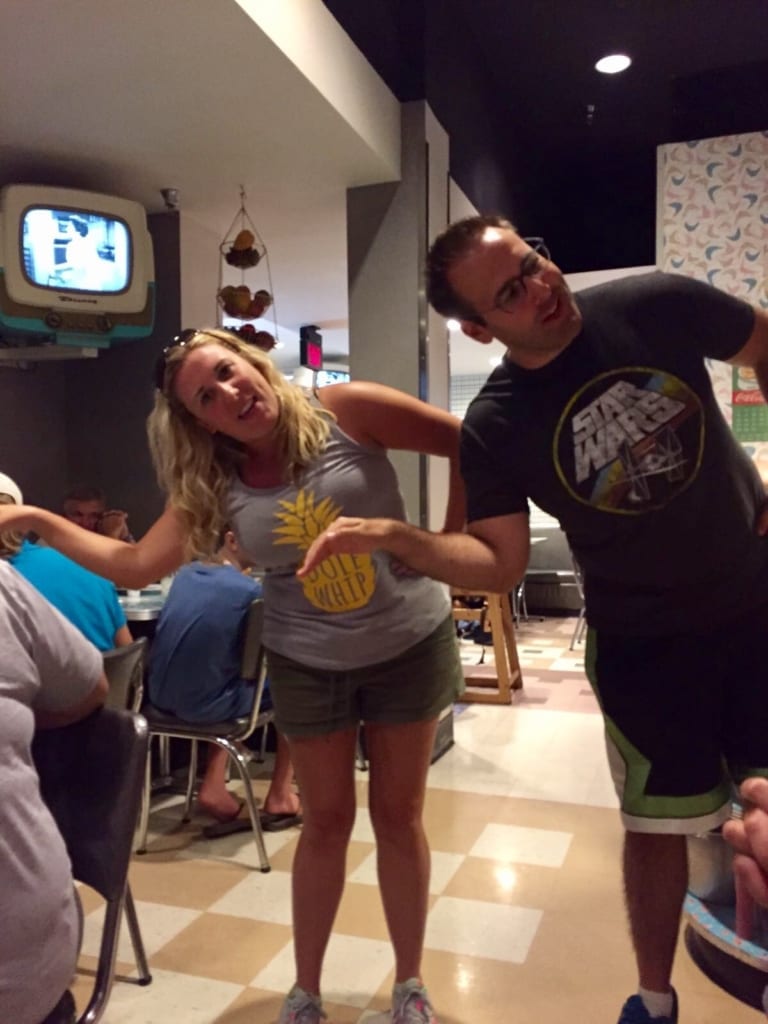 Summary:
What can I say, it's always a pleasure to come to the 50's Prime Time Cafe. From the atmosphere, service and food we always walk away feeling satisfied. I think the theming is one of the most unique in WDW and gives you a cozy feeling that no other place on property does. The waiter/waitresses are priceless and such an engaging and fun part of the experience. The food itself is really good as well, big portions at a low cost (Disney low cost). Everything from Appetizers, Milkshakes, Entrees and Desserts are to be tried. The Onion Rings and Fried Chicken imo are the best on property, or right there, and the milkshakes are right up there too.
I honestly can't say anything bad about 50's Prime Time, it's one of my favorite Disney Dining experiences anywhere and something every guest has to do at least once! If you're looking for a fun, inexpensive sit-down restaurant in WDW then this has to be right at the top of the list!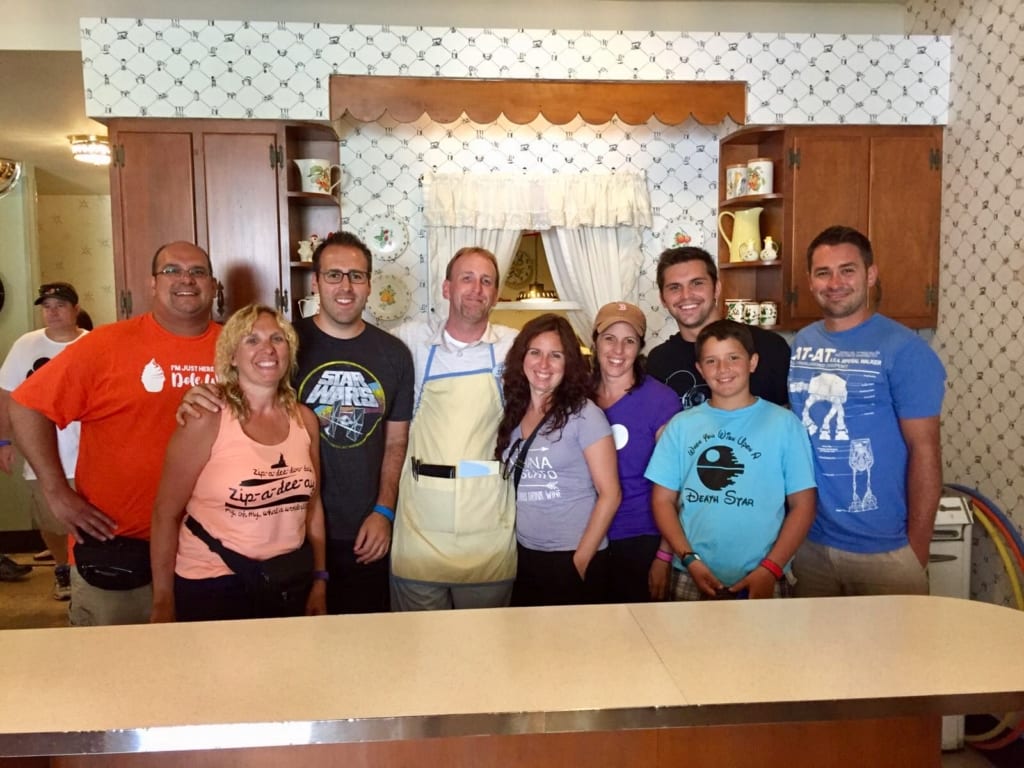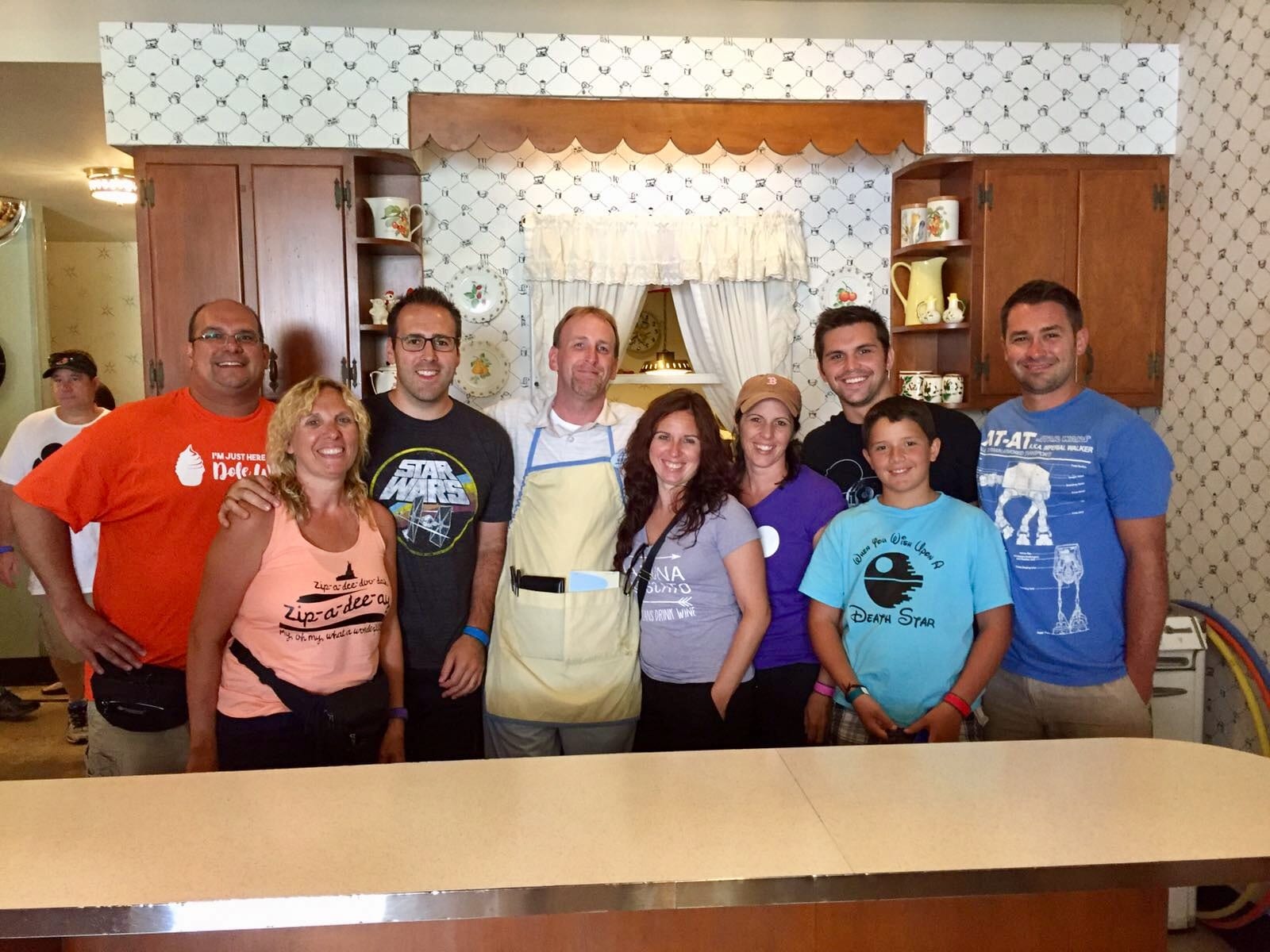 50s Primetime Cafe is a Lunch/Dinner restaurant and is open from roughly 11:00 AM – 8:00pm Daily. The Disney Dining Plan is also accepted, it is a 1 Disney Dining Credit Restaurant. Reservations can be made via the Disney World website or by calling (407) WDW-DINE.
Click here for the 50's Prime Time Cafe Official Menu.
I love to write Restaurant Reviews of Walt Disney World and I hope you found this one to be informative and helpful. If you liked this review then please visit my Disney Dining Reviews Page where I have many other Restaurant Reviews. I'm happy sharing with you what I love doing best…eating! ? I try to bring you the most thorough and unbiased reviews about the food and restaurants at Walt Disney World, so that as you are planning your vacation, you know the "can't be missed" places, and where you shouldn't waste your time. Hope you enjoyed this one and will enjoy many others in the future!!
Your Thoughts:
I want to know what you think about my 50s Prime Time Cafe Review and the experiences you've had there.
What's your favorite part about the 50's Prime Time Cafe?
What's your favorite food or drink item there?
Do you think the Fried Chicken and/or Onion Rings are the best in Walt Disney World?
Let us know in the Comments Section below!
If you enjoyed this article, as always I appreciate it if you'd share it with others via social media. I work hard at making this website into a useful resource for you and your family to plan your visit to Walt Disney World, and I hope it can help you! Thanks 🙂