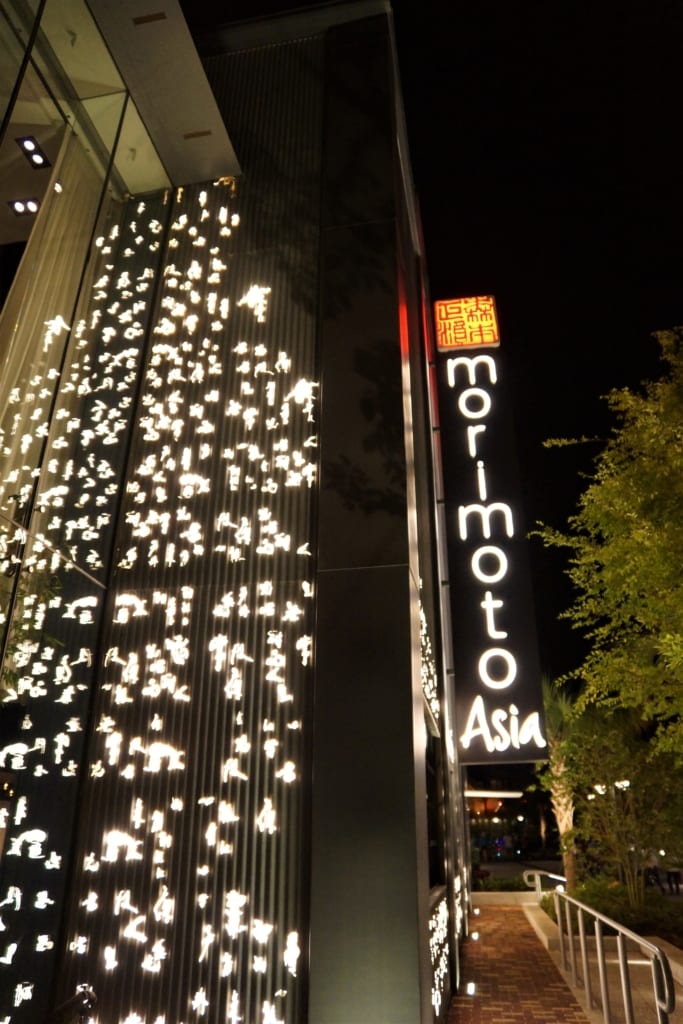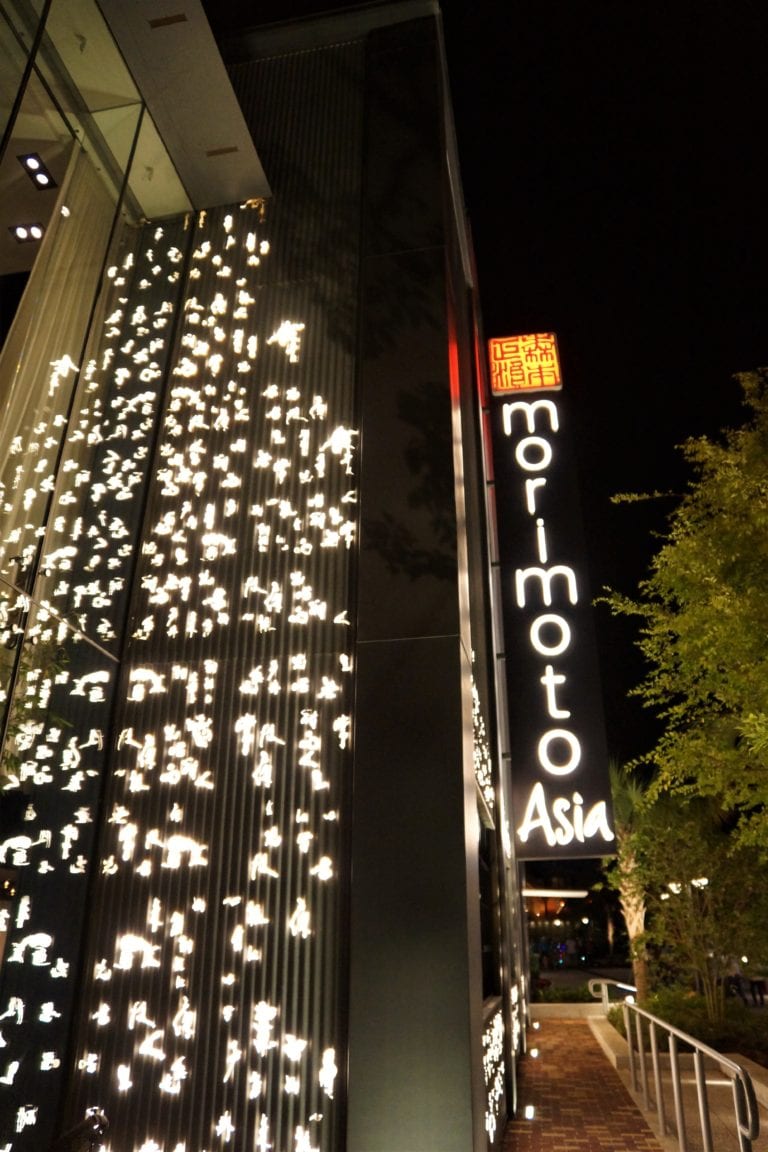 When the mass wave of new restaurants started opening up at Disney Springs a year or two ago, one of them I continued to hear amazing stuff about was Morimoto Asia. Everyone said it was so good, the food was ridiculous, and the atmosphere of the place was one of the most unique anywhere, even outside of WDW. I also heard many people raving about some of their dishes (aka the Spare Ribs), and so it was about time for me to take a visit and do a Morimoto Asia full review to see if it lived up to the hype.
Morimoto Asia is a Table Service Restaurant in Disney Springs, the brainchild of Japanese Master Chef Masaharu Morimoto, the famous Iron Chef winner who is known as being one of the most innovative chefs in Asian Cuisine. Morimoto has restaurants all over the world including New York, Philly, Mumbai, New Dehli, Hawaii, etc.
Morimoto Asia focuses on Pan-Asian Cuisine which means it's not just Chinese, not just Sushi, not just Thai, but it's a nice mix of a variety of Asian cuisines, so you're sure to find something that appeals to you even if one of those specifically isn't your favorite. It's a Signature Dining location which means you will need to spend 2 Dining Credits if you are using the Disney Dining Plan. While you can use the Disney Dining Plan at Morimoto Asia, in my opinion it's not even worth it as there are so many great options on the menu that are good values ($15-30).
It does participate in Tables in Wonderland which gives you a %20 discount on your food and drinks, which was very helpful to us as we always have a big group. Morimoto Asia accepts ADR's 180 Days in advance and while it is quite big and I wouldn't say it's the most busy restaurant in WDW, it's still helpful to make an ADR even 180 days out, especially if you are going at a busy time of year.
So let's stop the small talk, on to the restaurant…
Atmosphere:
It's located in The Landing section of Disney Springs, which is the old Pleasure Island (man how things have changed since the Adventurer's Club days). Best way to get there is by car or taking a Disney Bus from your resort. It has a stunning surrounding being located right near the water: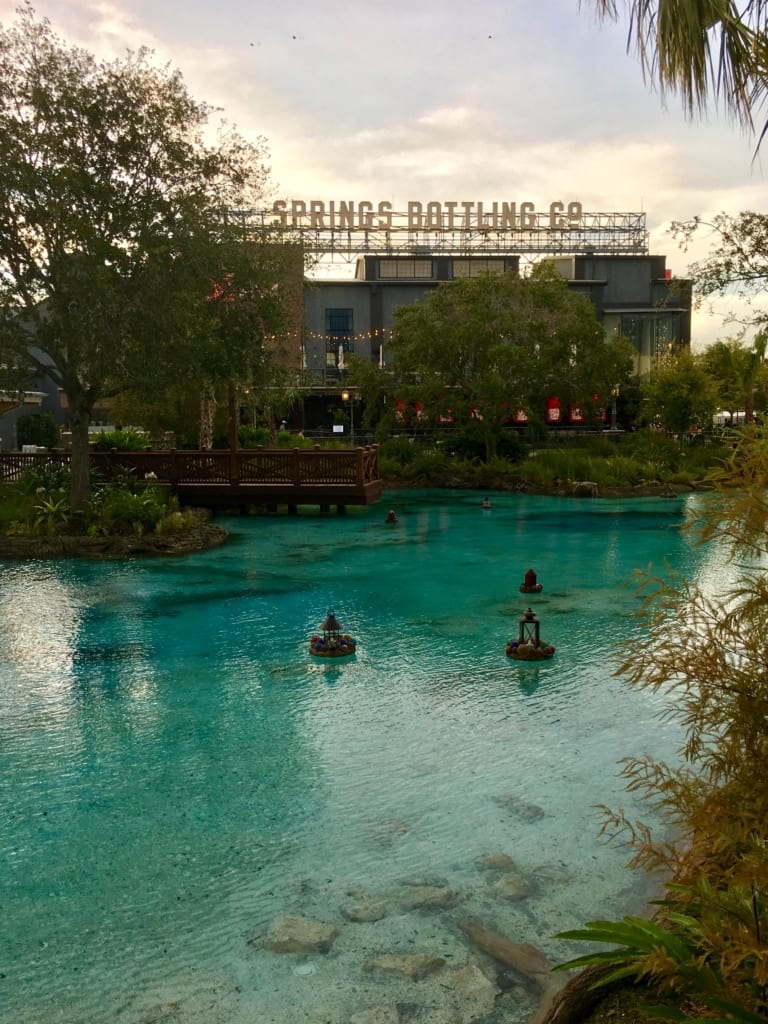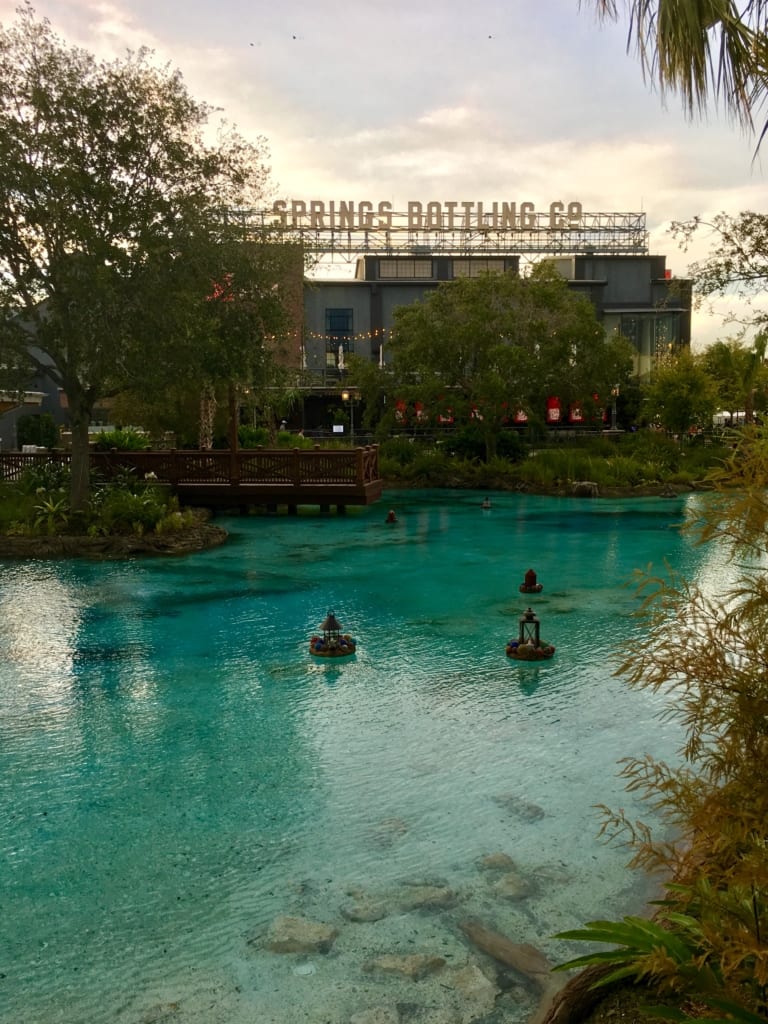 I'll just tell you right off the bat, Morimoto Asia is by far one of the most visually stunning restaurants I've ever been in. Straight up it's incredible. Starting even from the outside: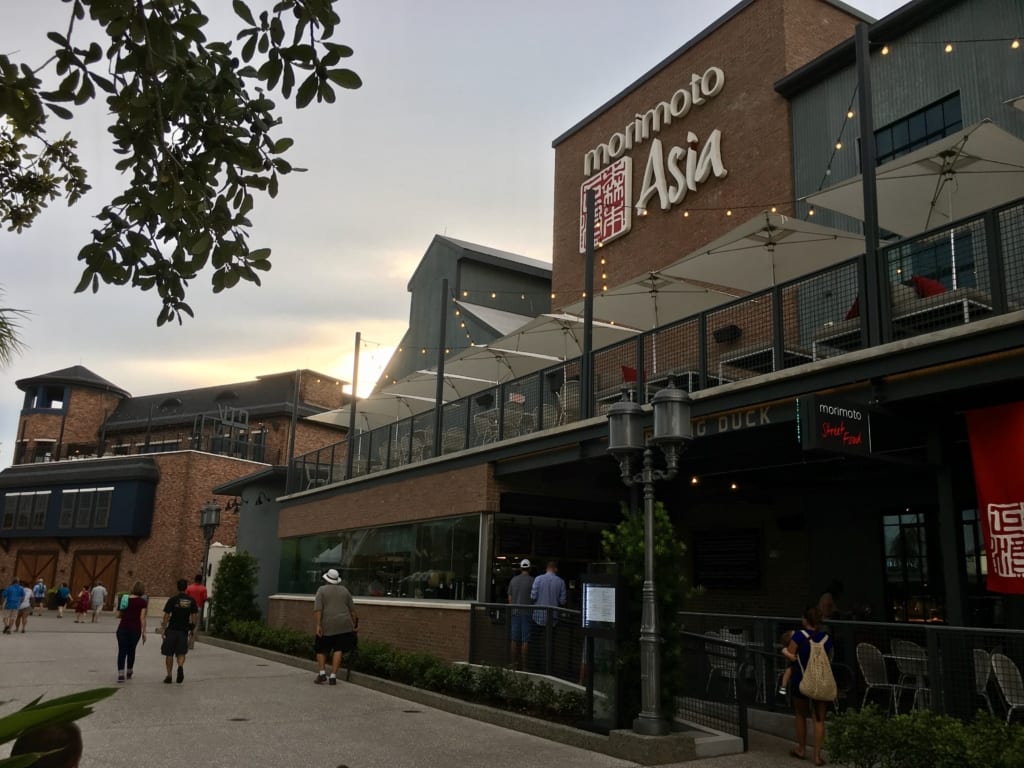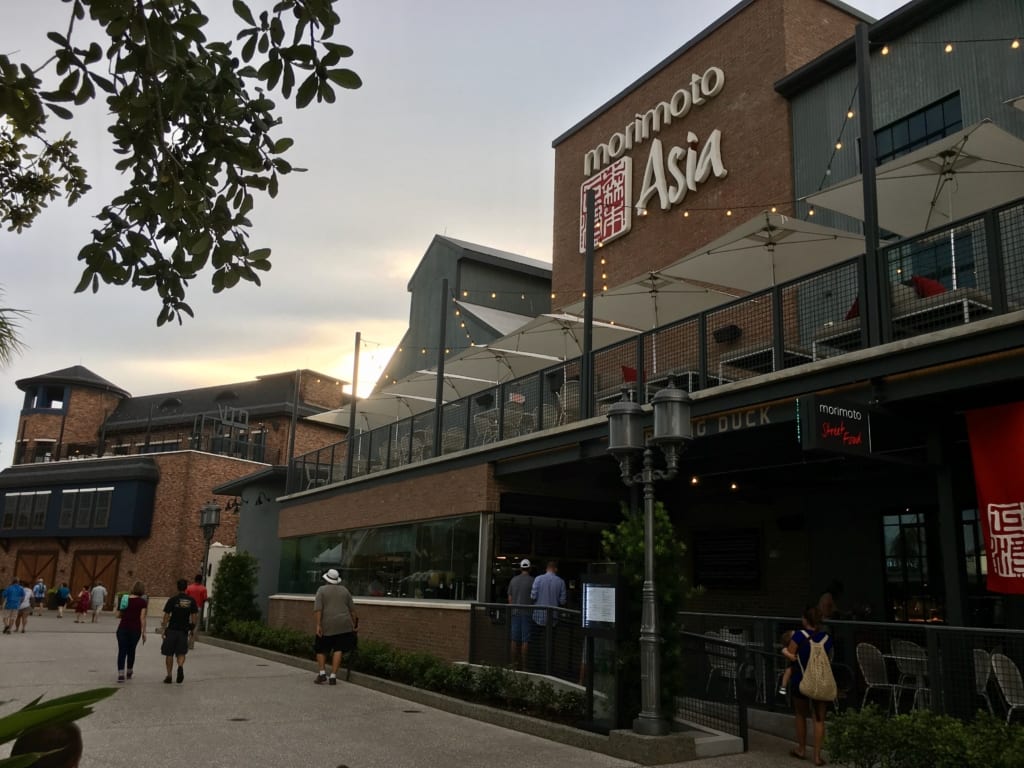 It's a physically imposing structure, made from brick and glass, and stands out from many points of view throughout Disney Springs. Besides the main restaurant, you can also find Morimoto Street Food, which lets you take some of their tasty eats to go. Here's a sample of some of their eats: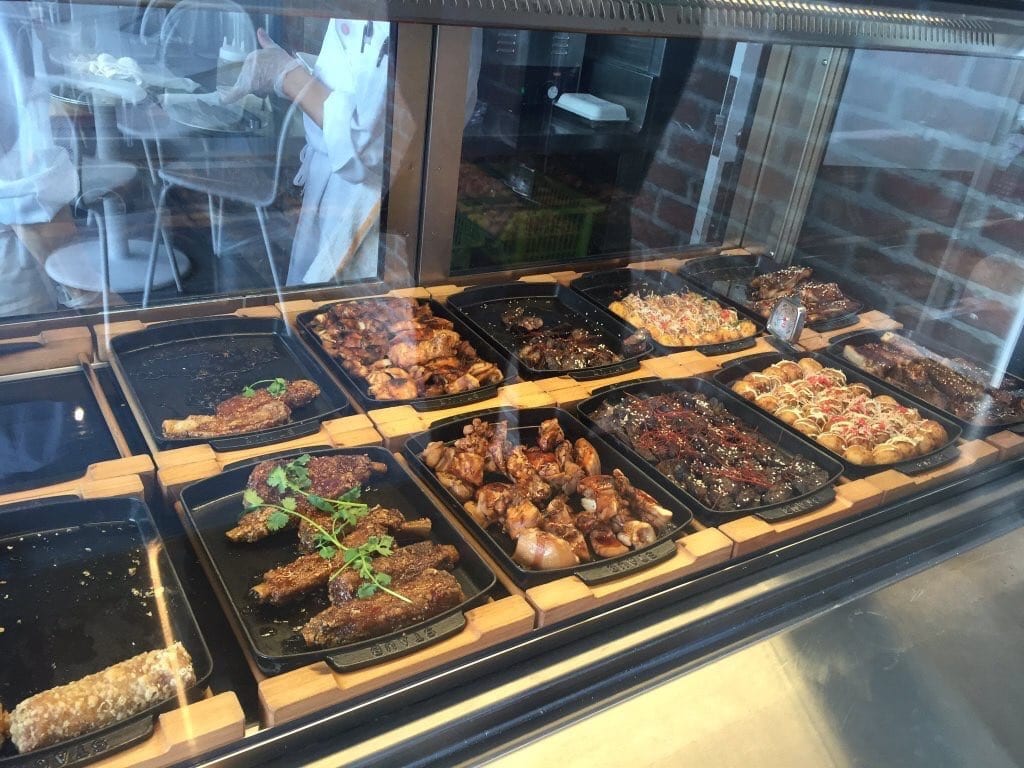 Delicious!
The outside of Morimoto Asia is stunning, I love the sign work: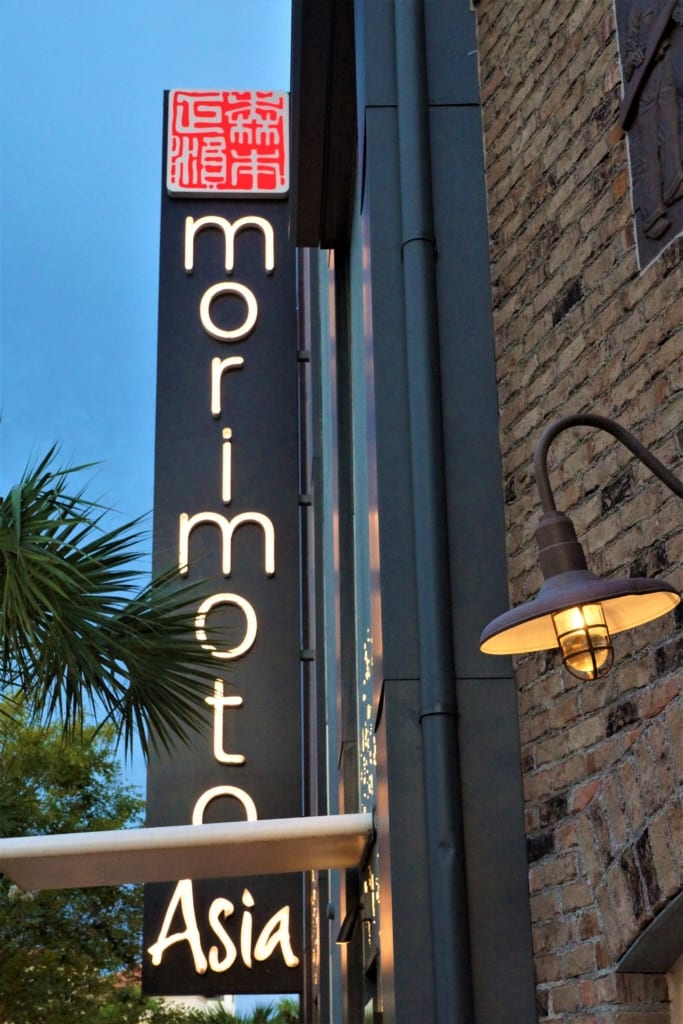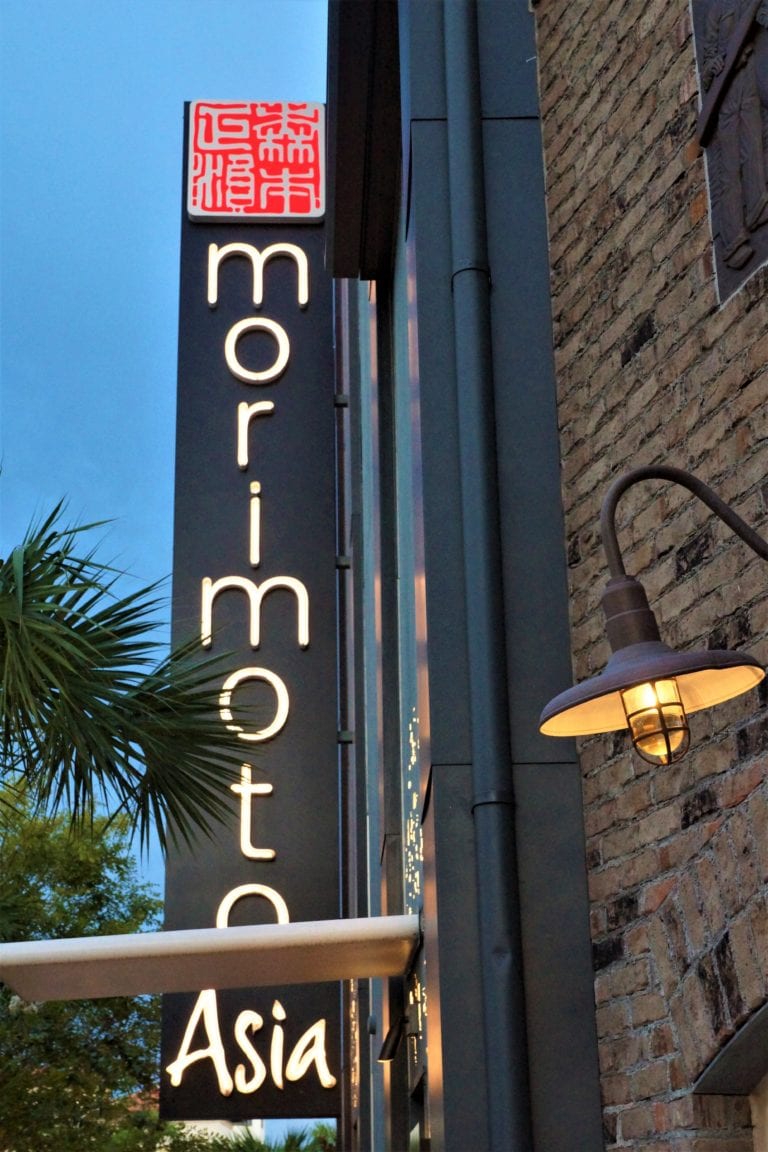 The glow in the dark writing on the wall is fantastic too!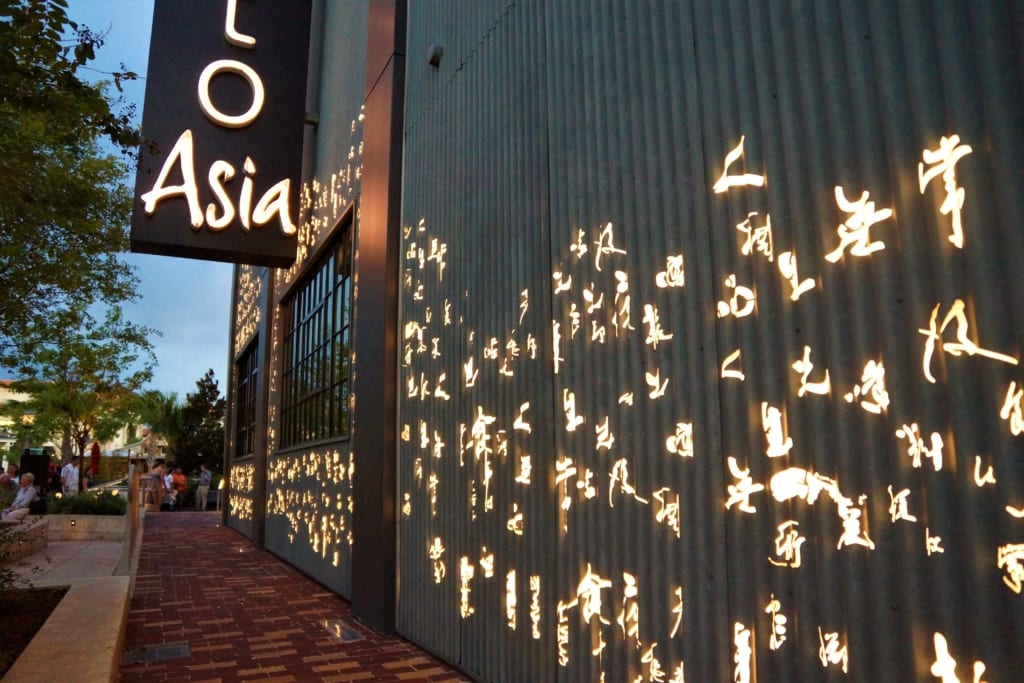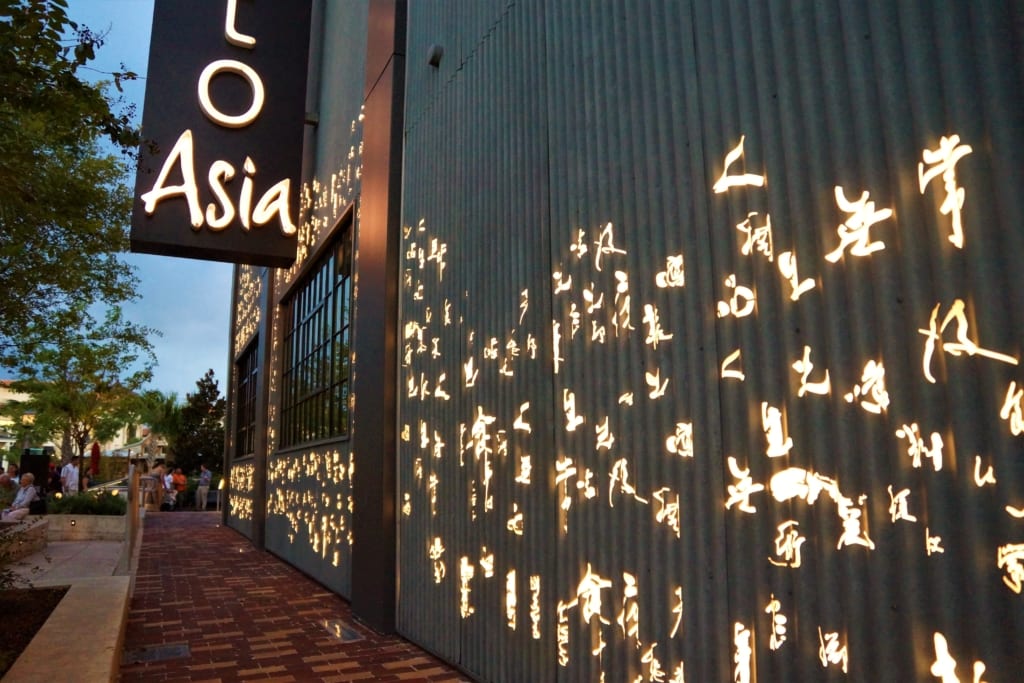 As you make your way to the front you see the 2-story structure standing imposingly over you. The glass is awesome in the entrance, gives it a real modern vibe.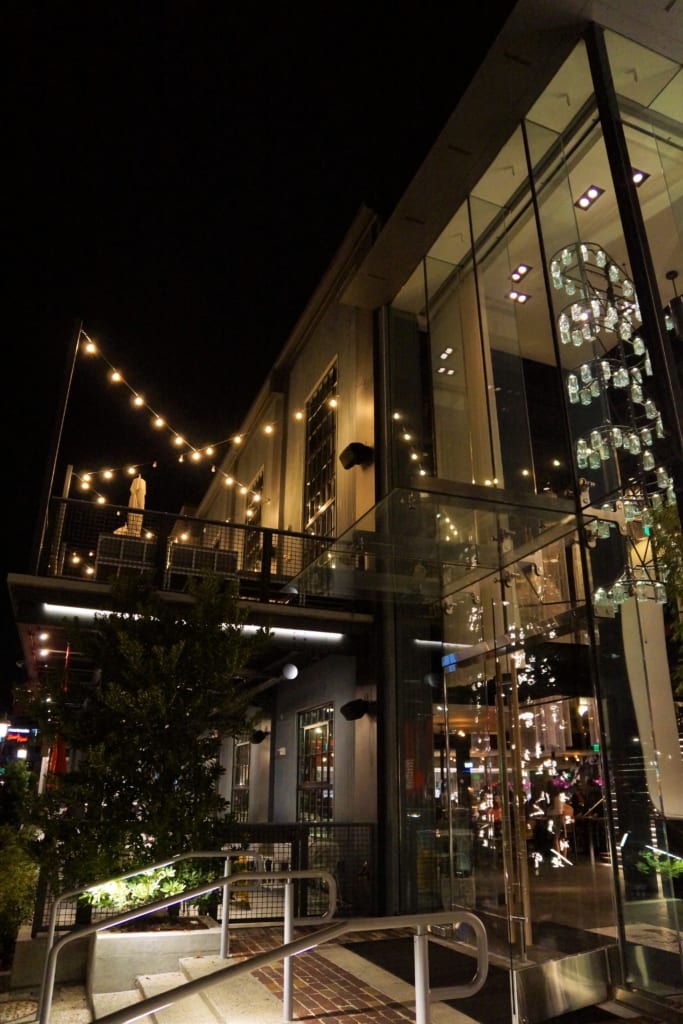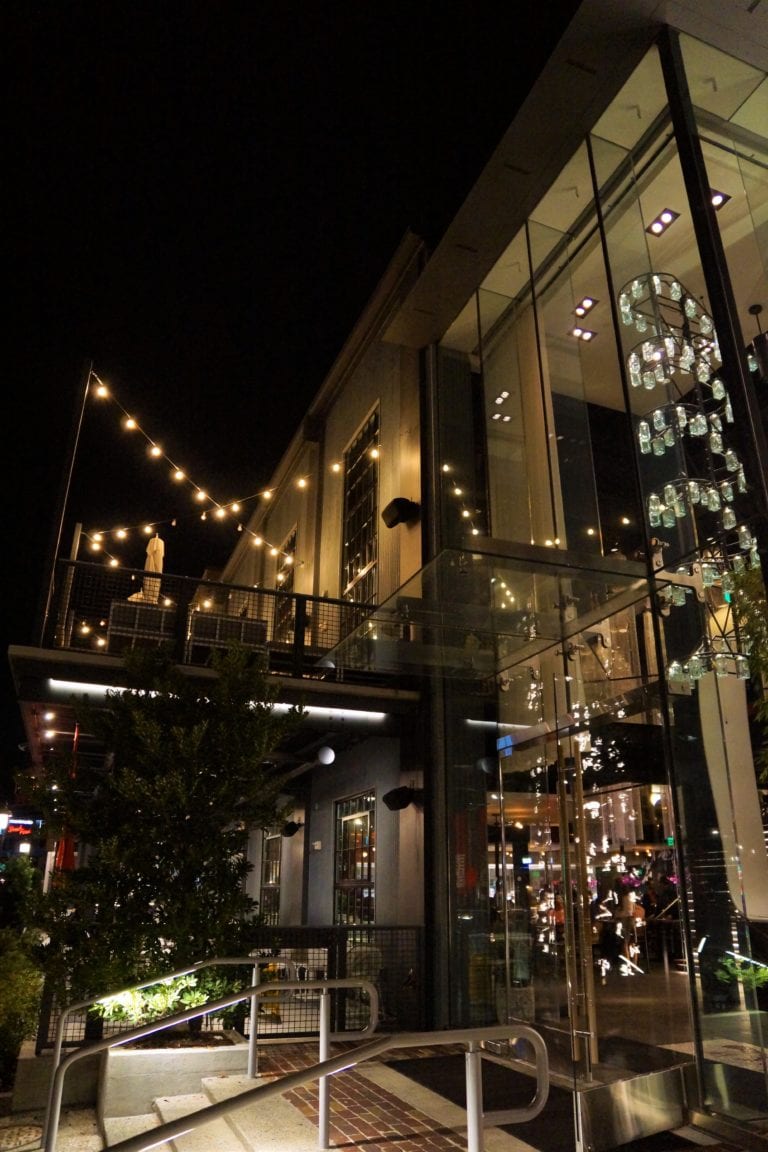 Let's go in! Right away you are greeted by the hosts at the front desk: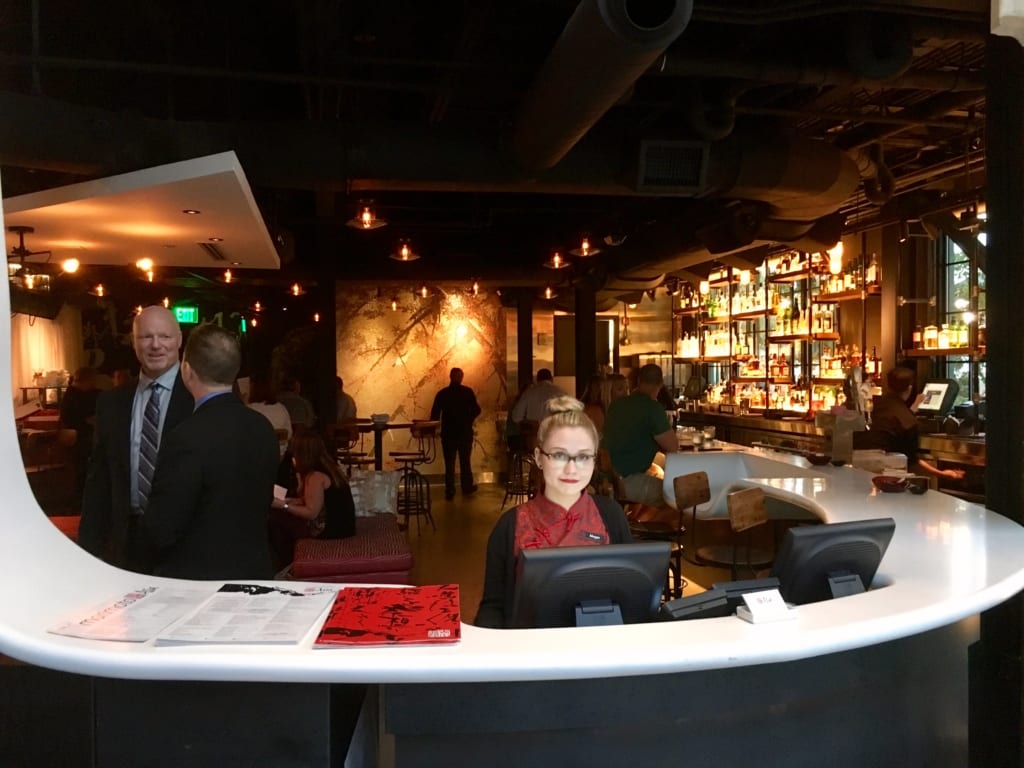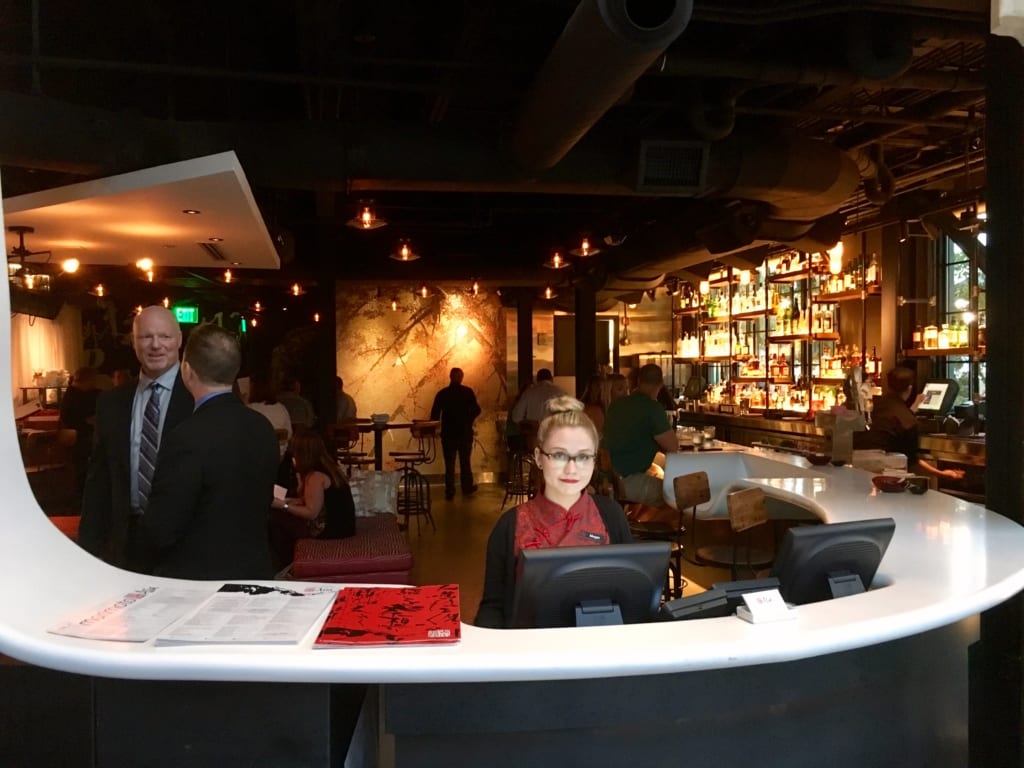 One of the coolest things about Morimoto's is that white desk at the reception counter. No I'm not kidding, don't close your browser, I'll explain! It's a 270-foot-long winding sculptural bar, and one of the largest in the world! It connects the Main Dining Room on the ground floor with the Upper Level and winds through both Bars and Lounges and up through the Staircase as well. Make sure to keep an eye out for it in my pictures.
Over to the immediate right you can find the first of 2 Bar Areas, this one being on the lower floor. Ding, ding, ding, Winding Sculptural Bar…you get the idea! 😉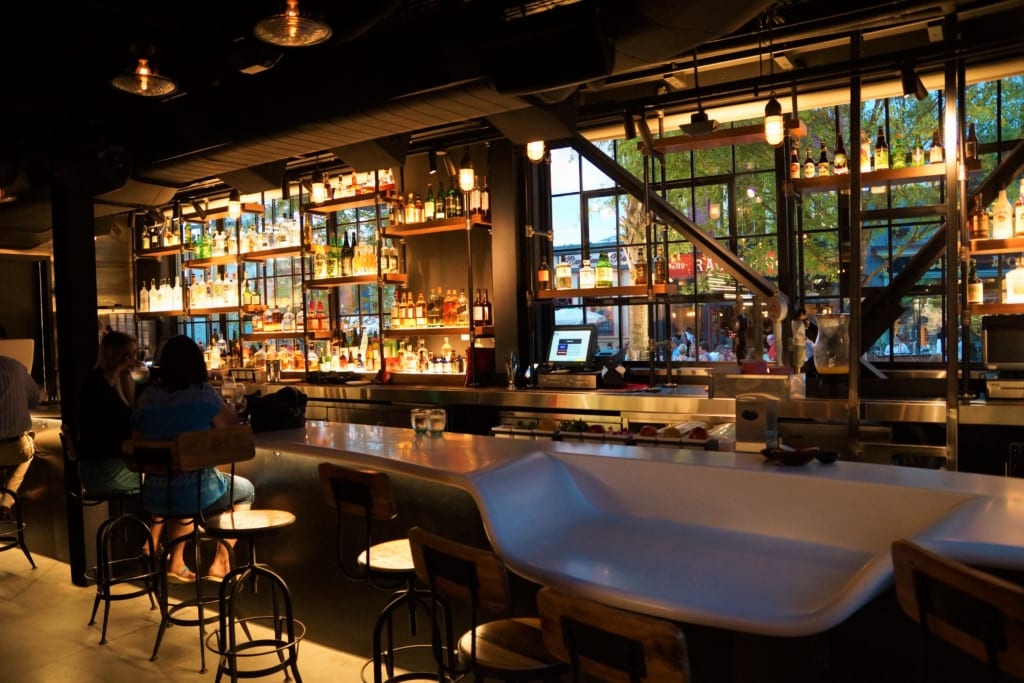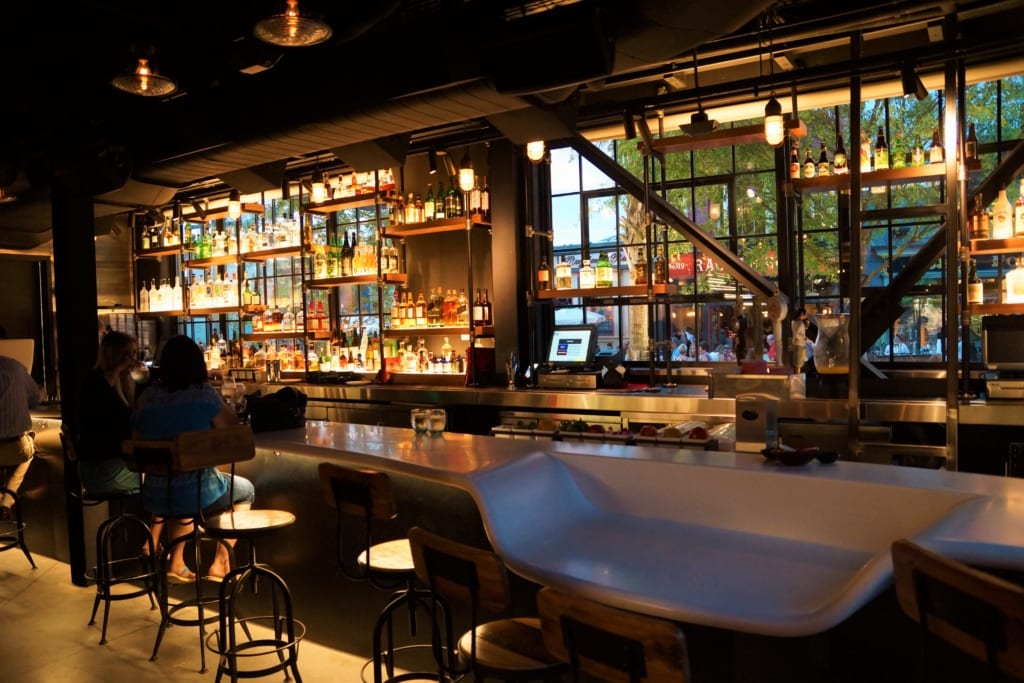 Now let's go to my favorite part, the Main Dining Room. When you walk in try not to lose your breath!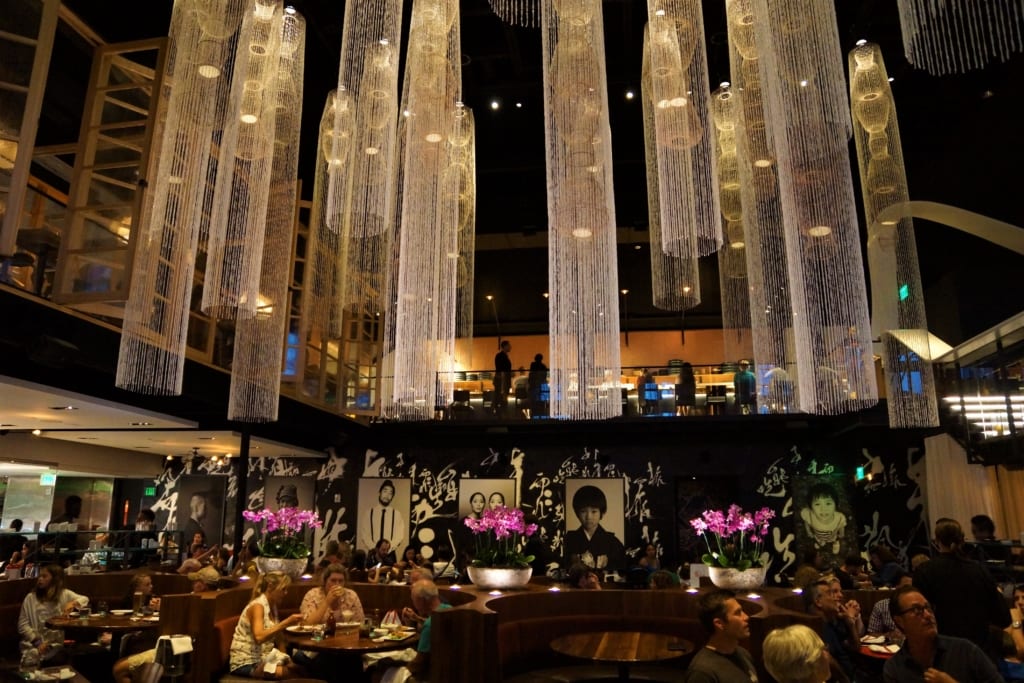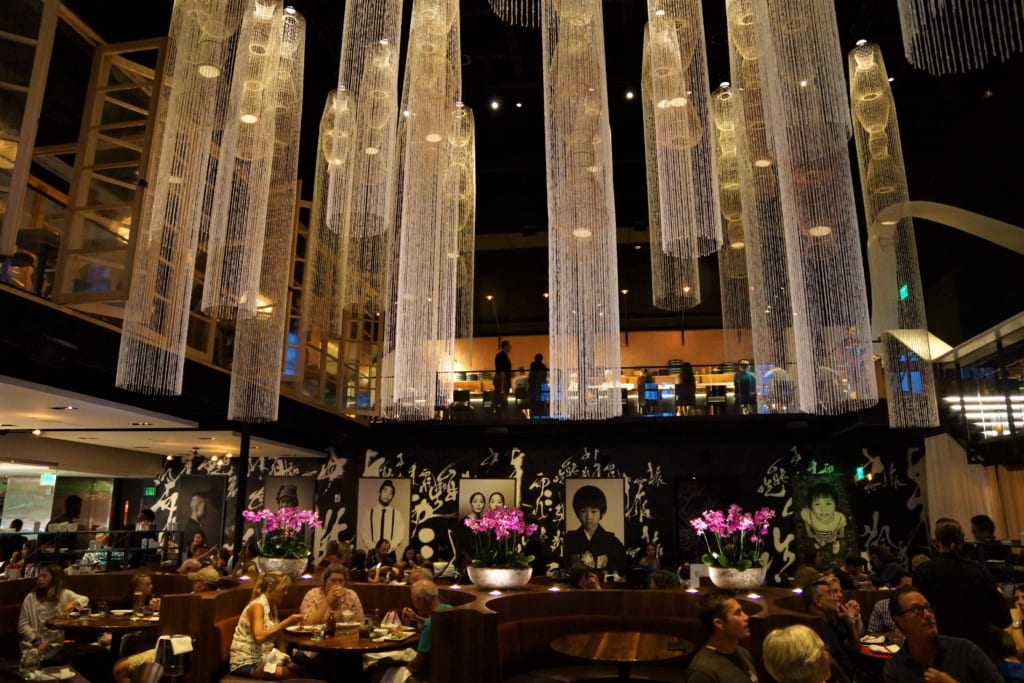 It's absolutely stunning! The main dining room is a massive space and has giant 20-foot sparkling chandeliers that are hanging down from the ceiling through the second level.
A view from up top gives you a better idea of its size: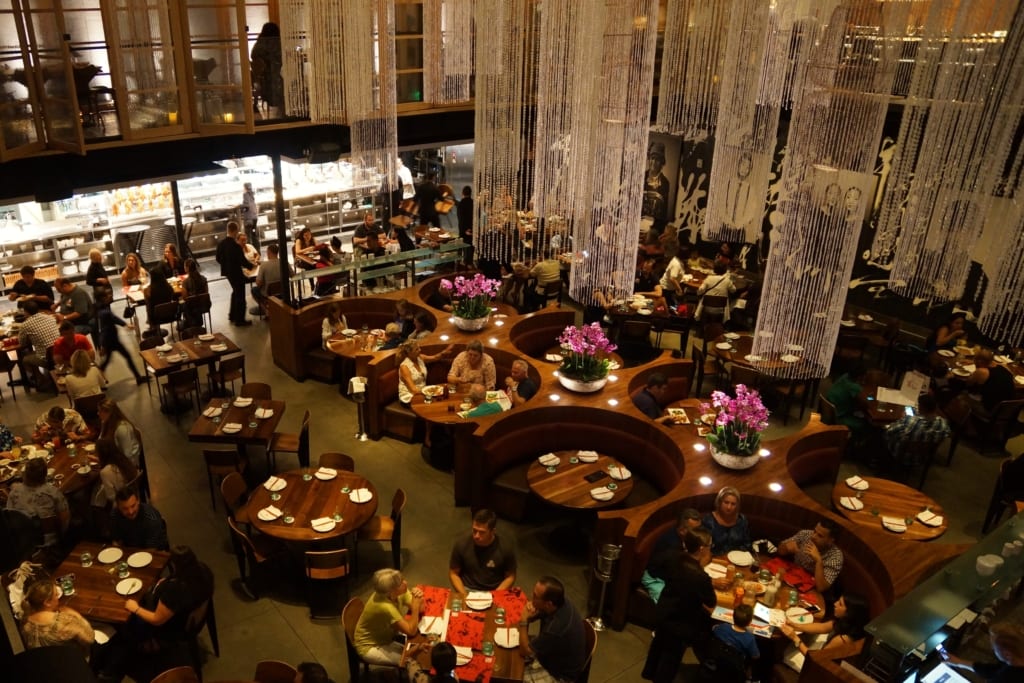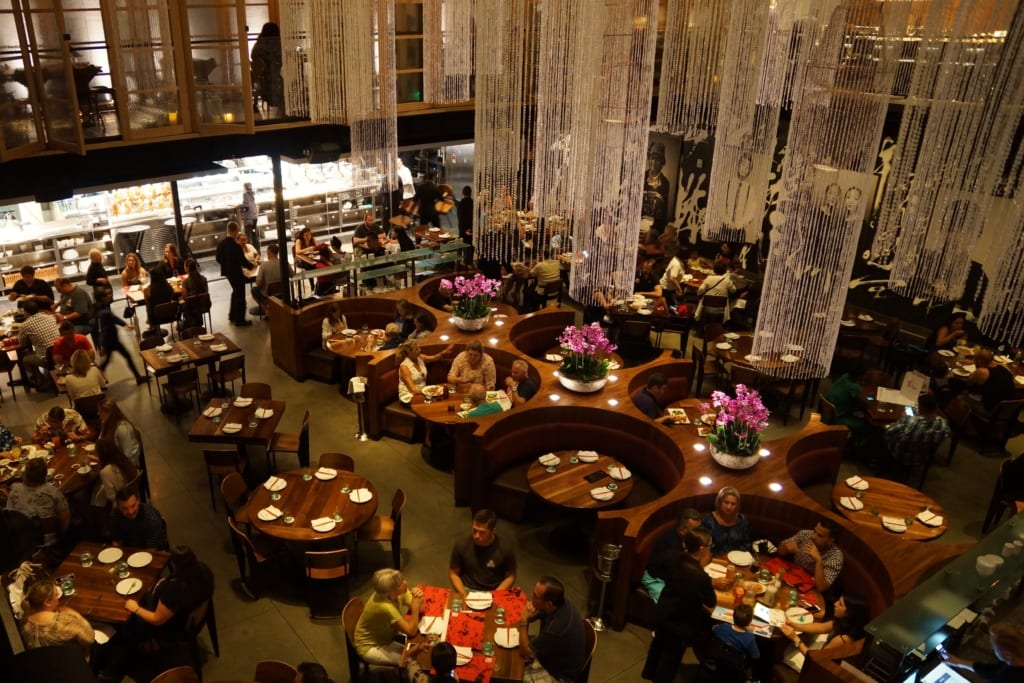 Another shot of the Sculptural Bar doing it's thing through the staircase: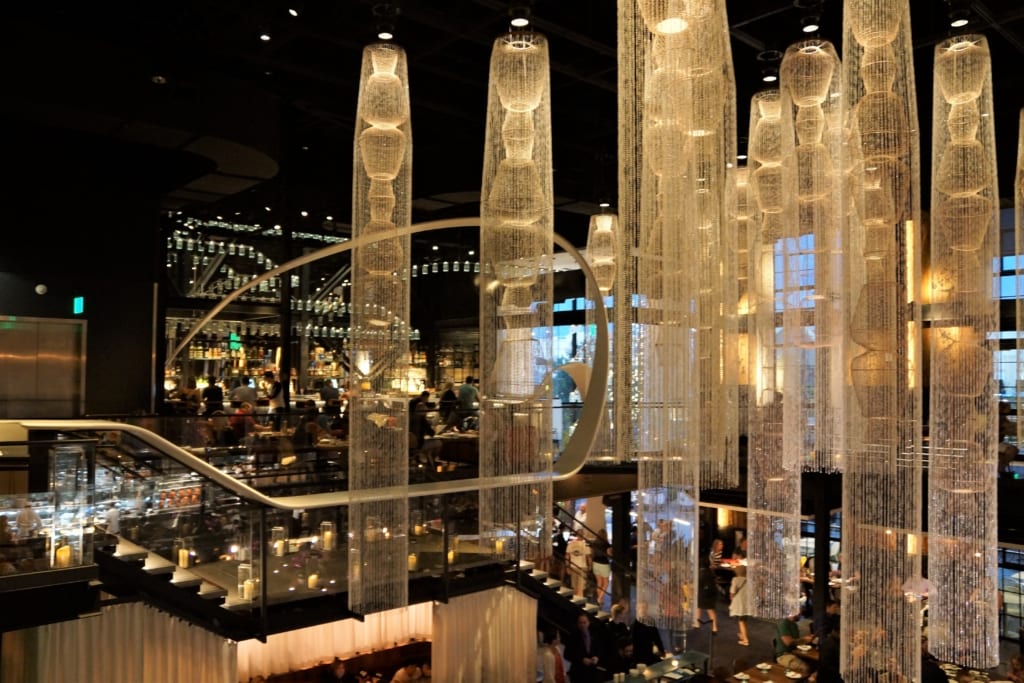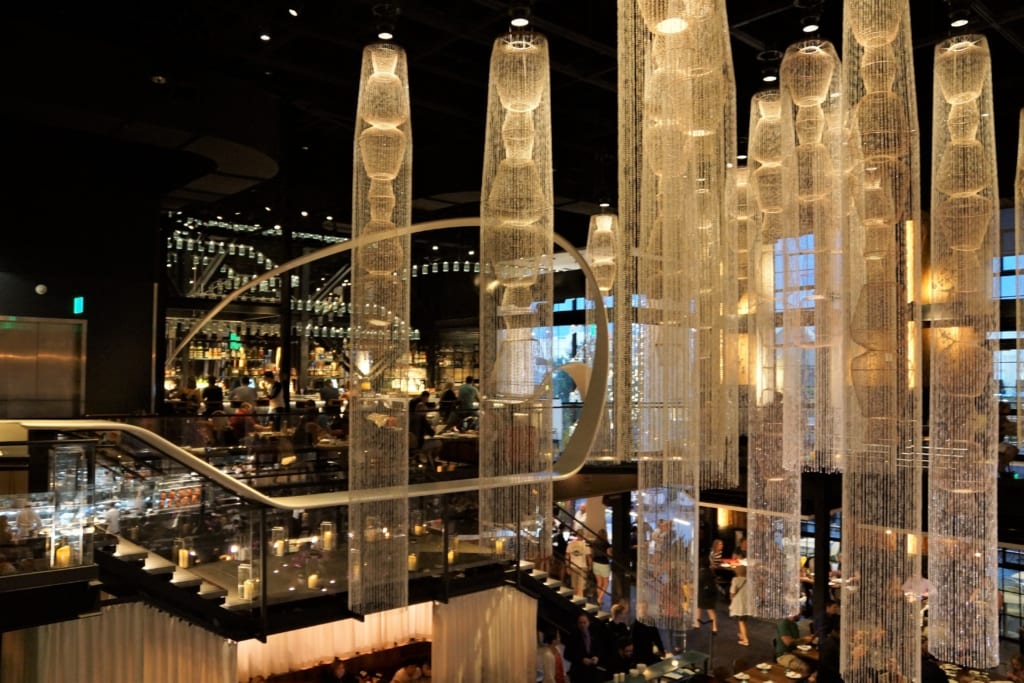 My favorite seat in the house has to be those awesome round wooden booths: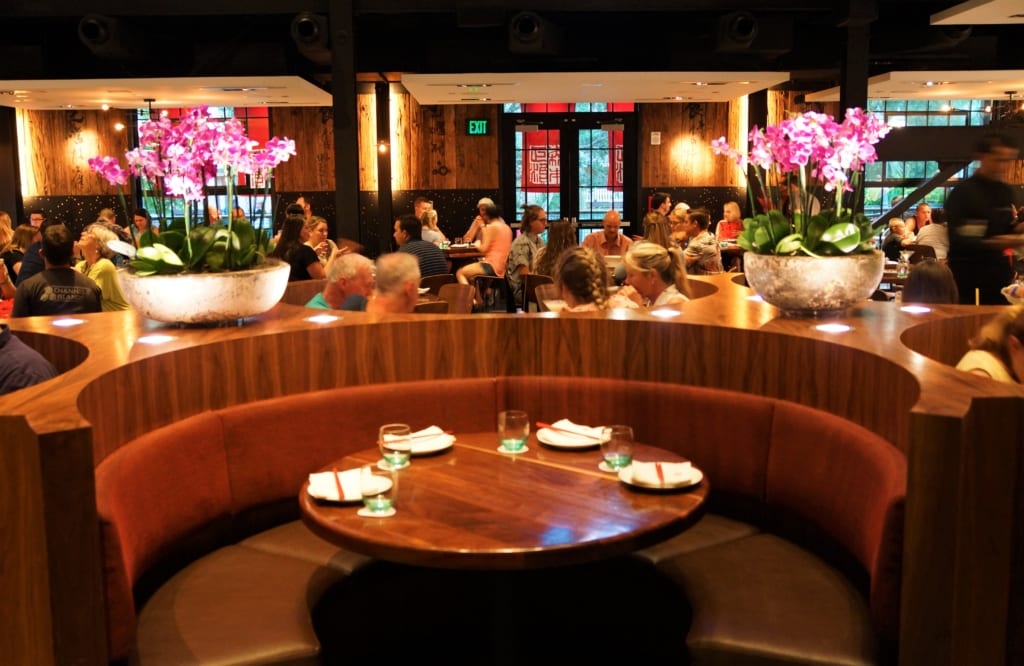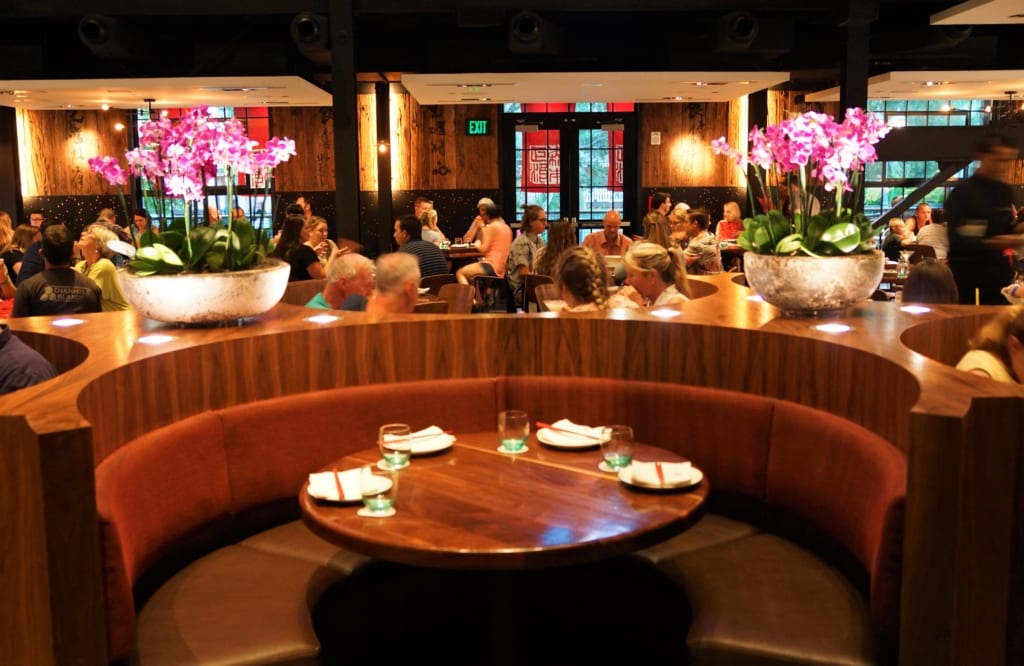 I really fell in love with the design of this place, in fact Morimoto Asia recently won the Design Built Award of Merit from the American Institute of Architects and it's easy to see why. Just look at how cool those things are! I couldn't stop taking photos of them: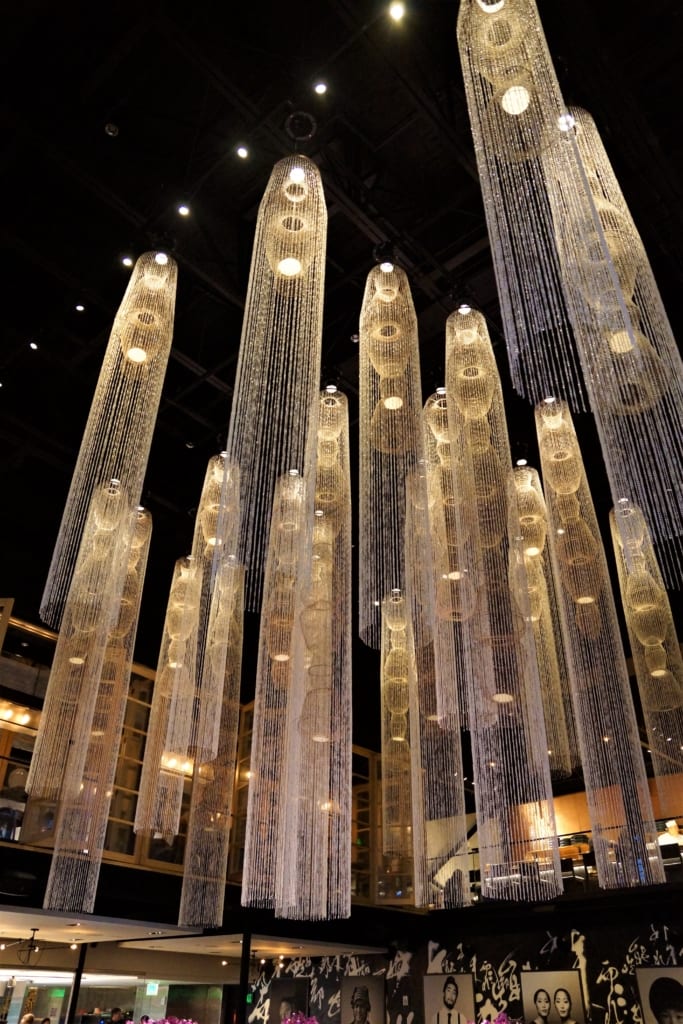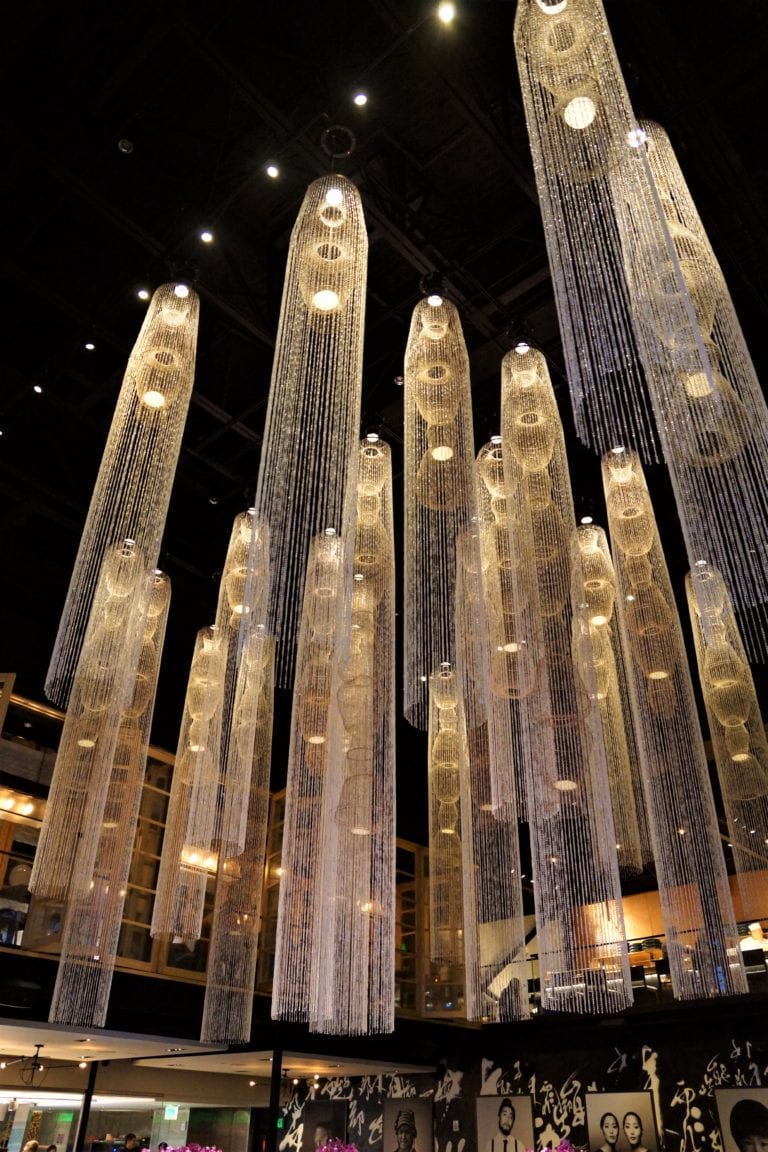 They are so cool, they look like giant jellyfish to me, floating through the room! Never seen anything quite like it before…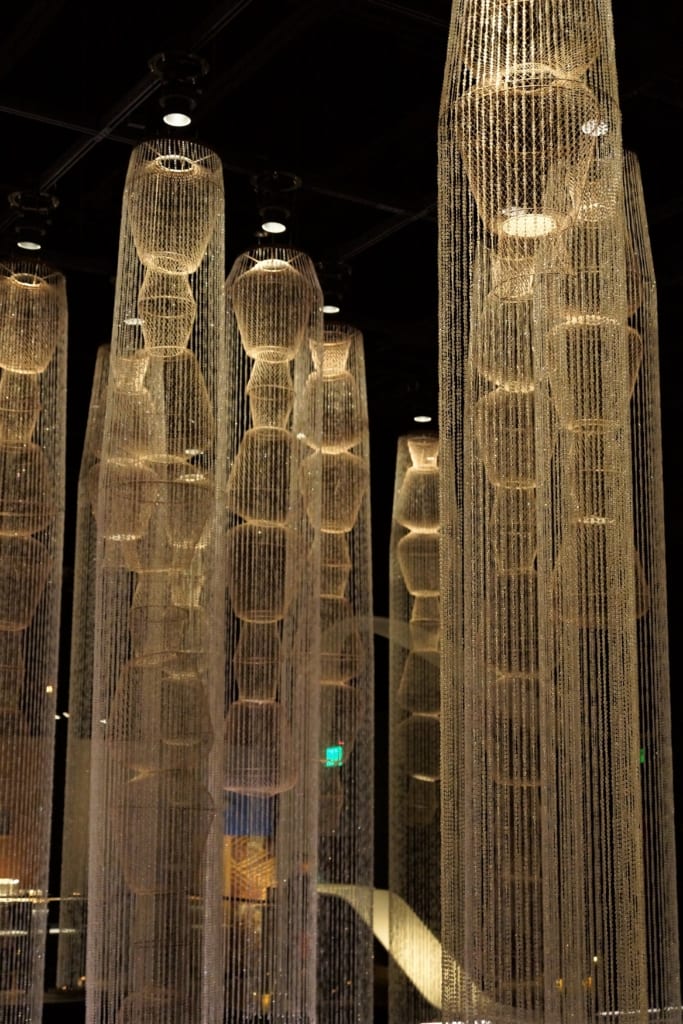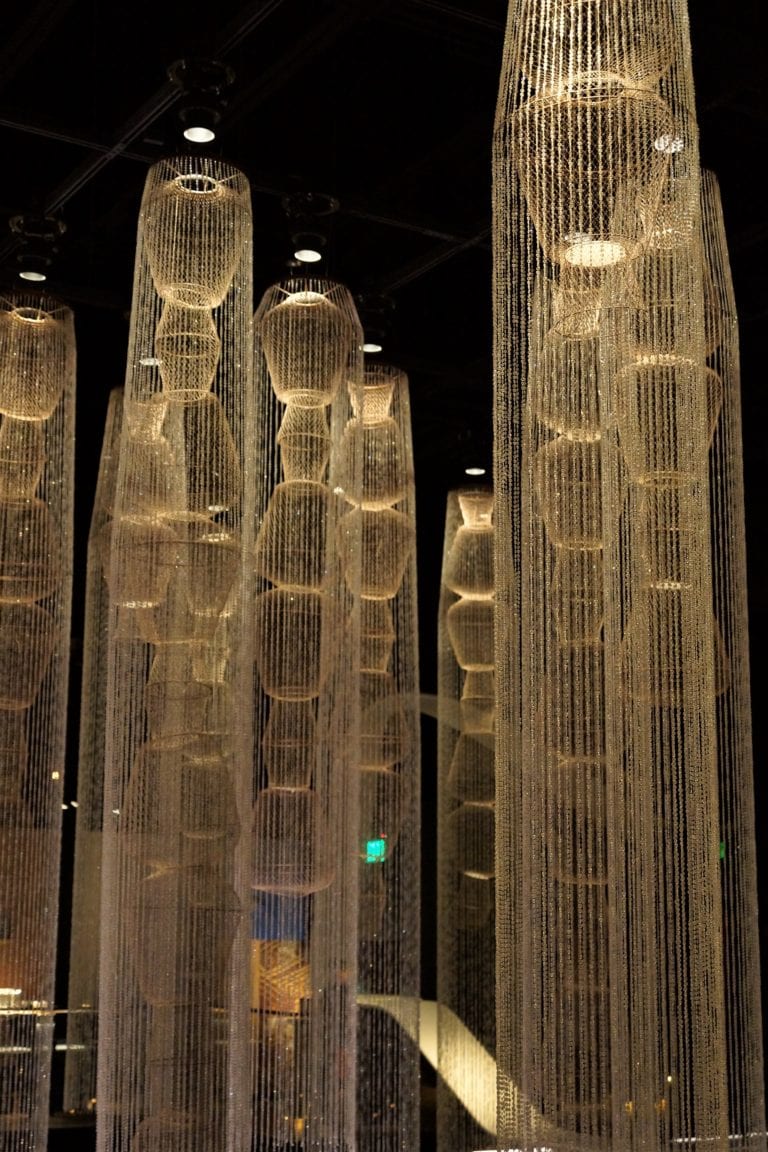 Let's take a quick peek over at the Open Kitchen around the side of the Main Dining Room: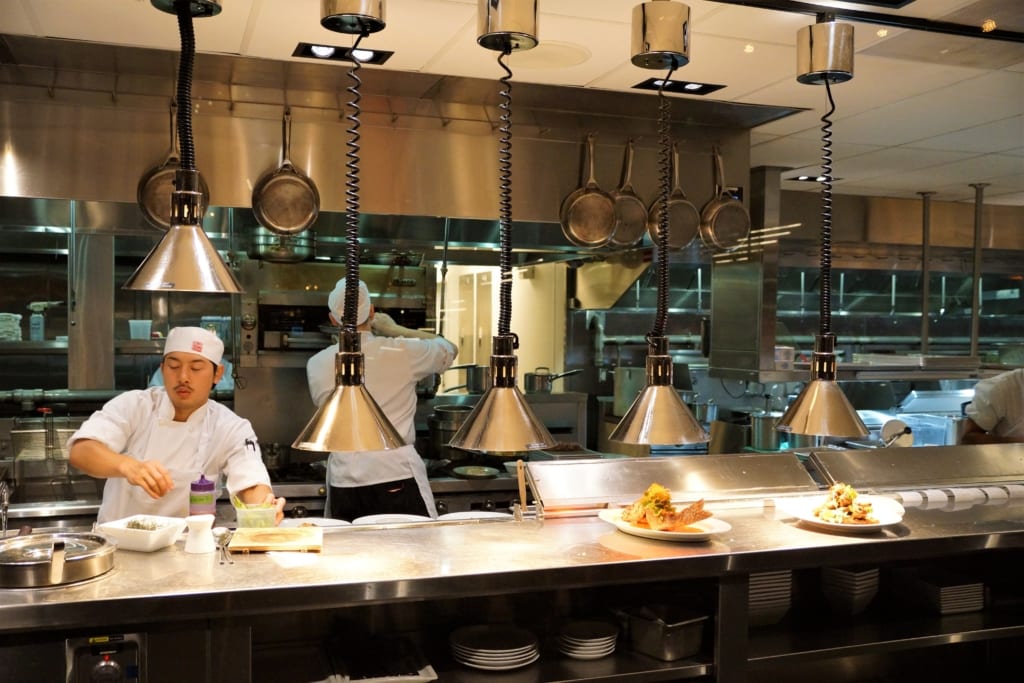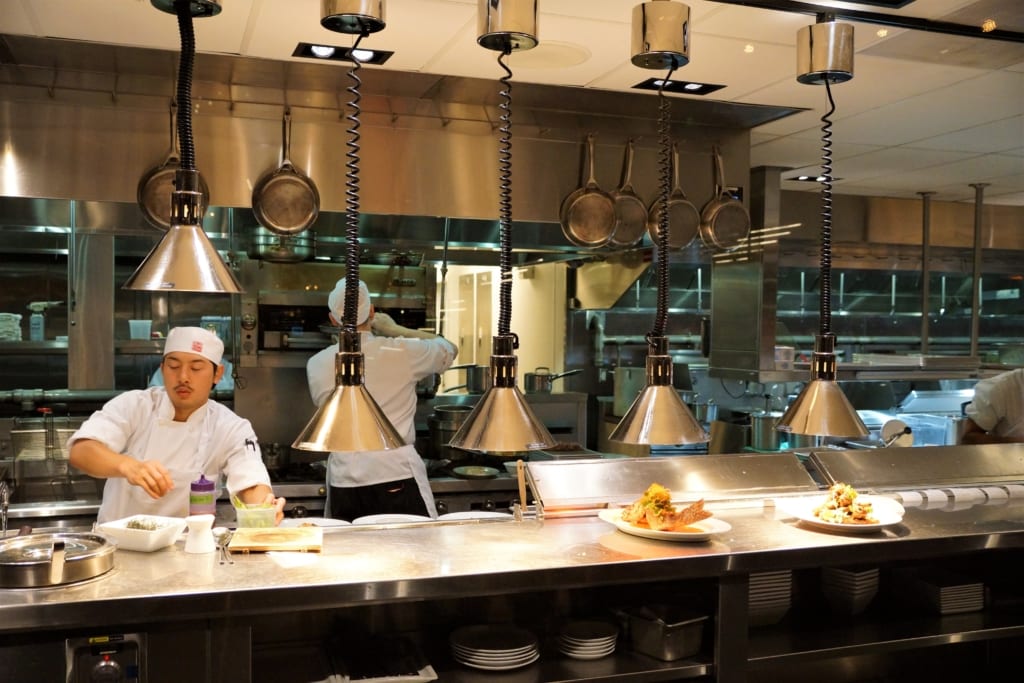 As you can see, Morimoto's chefs are hard at work, tempting me with some of there creations: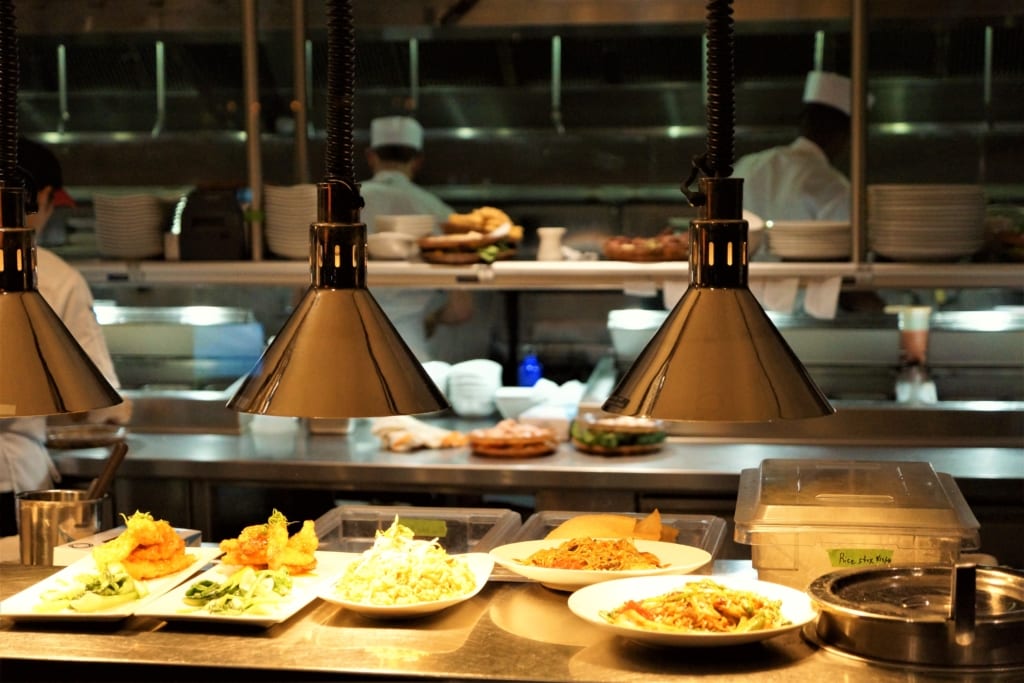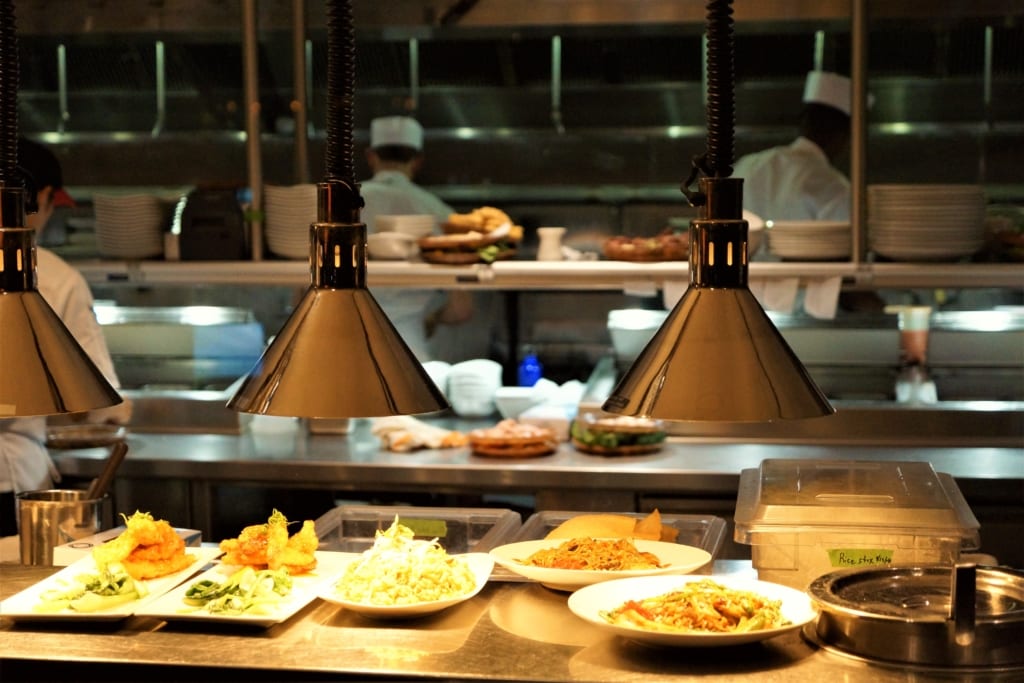 One dish and tradition that Morimoto Asia is famous for is its Peking Duck. Here are some perfectly roasted ducks that are ready to be carved and served: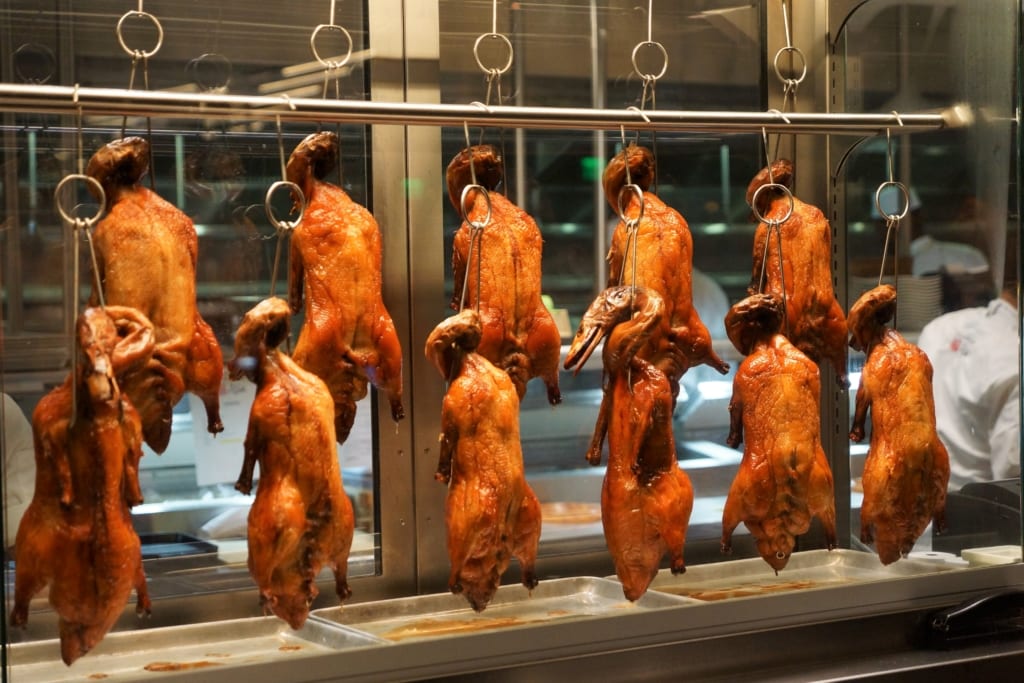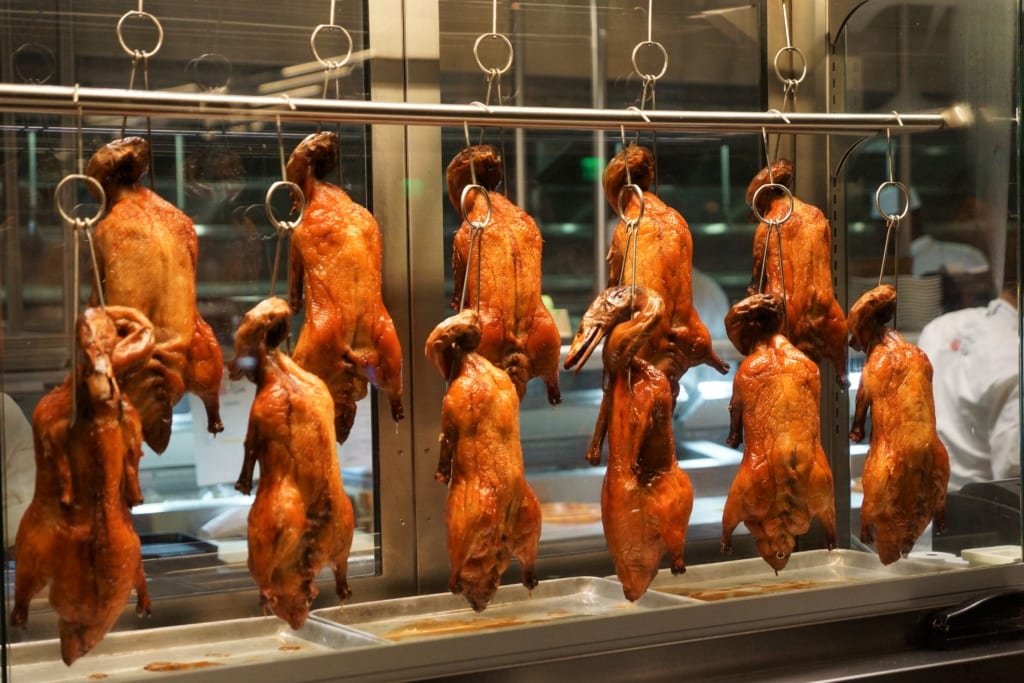 There are some awesome decorations on the walls too: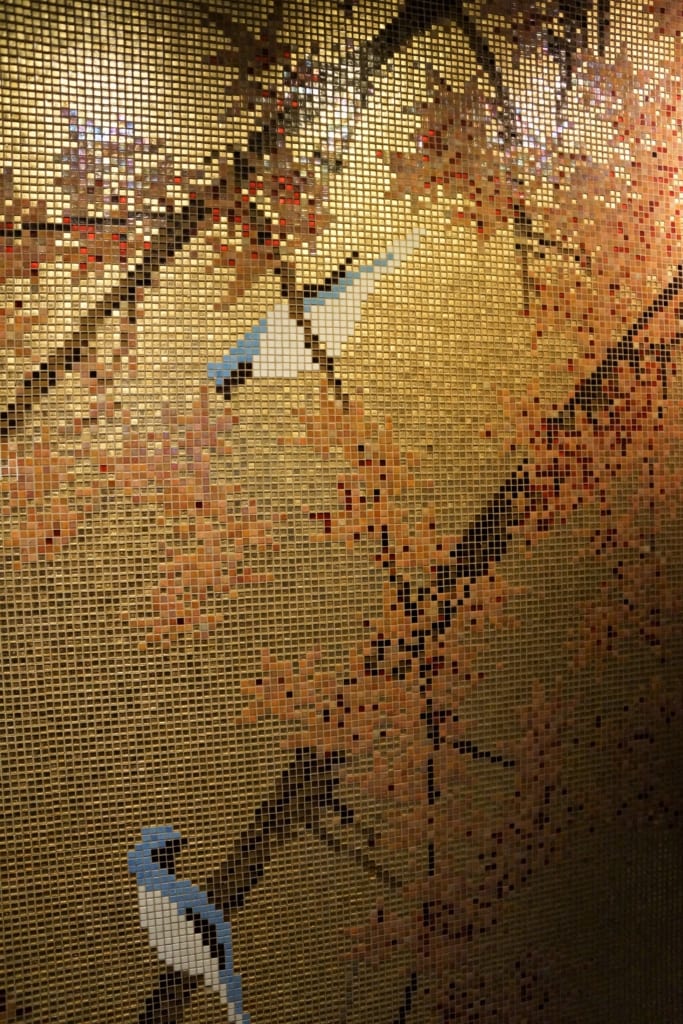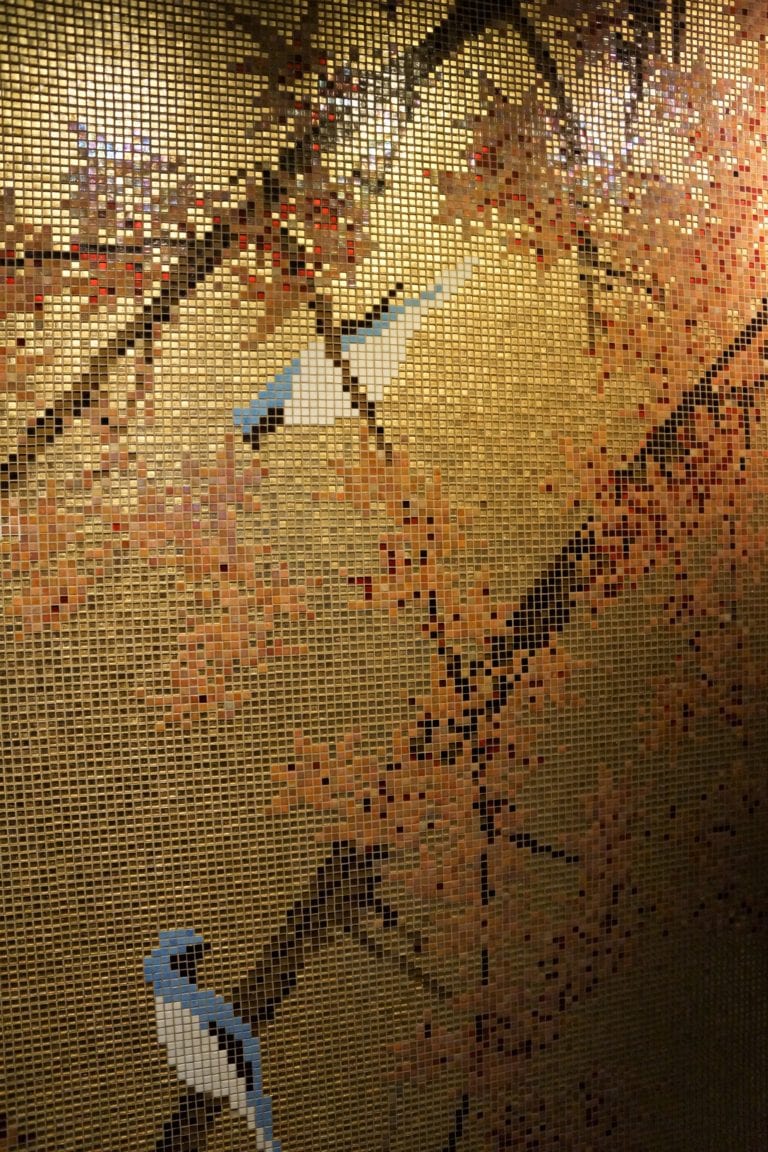 Such great detail that went into these mosaics, really insane: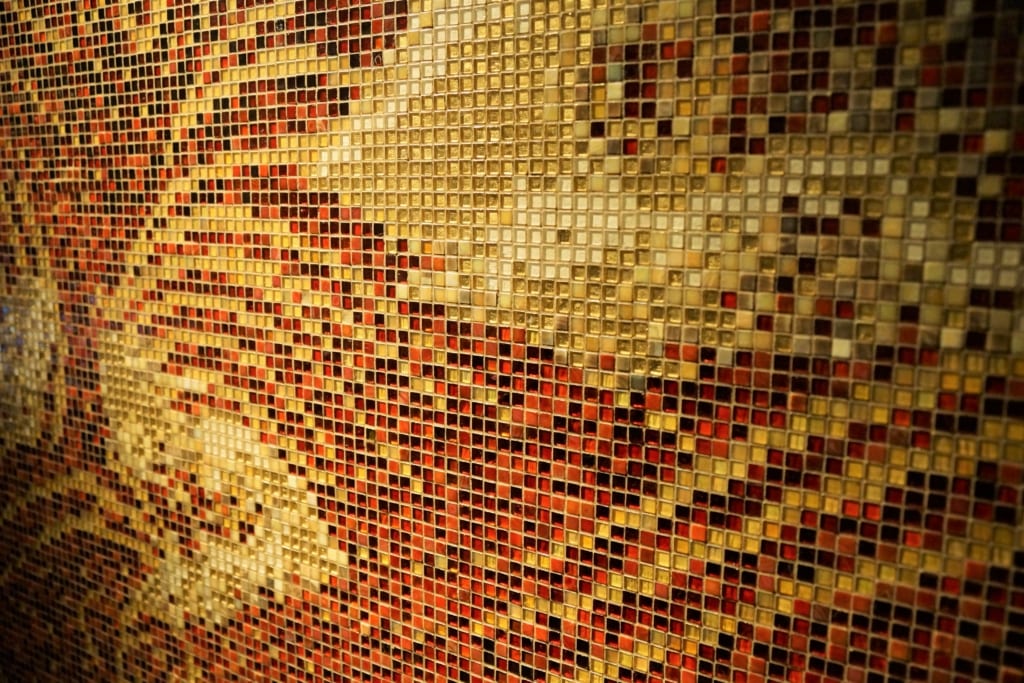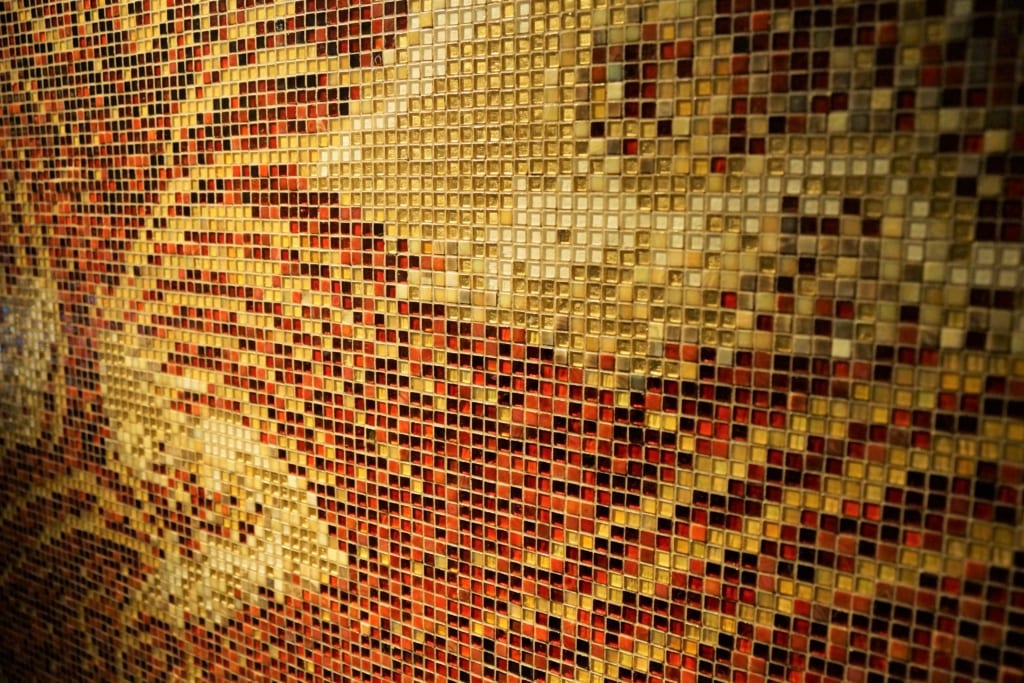 This is like something out of a Japanese horror film: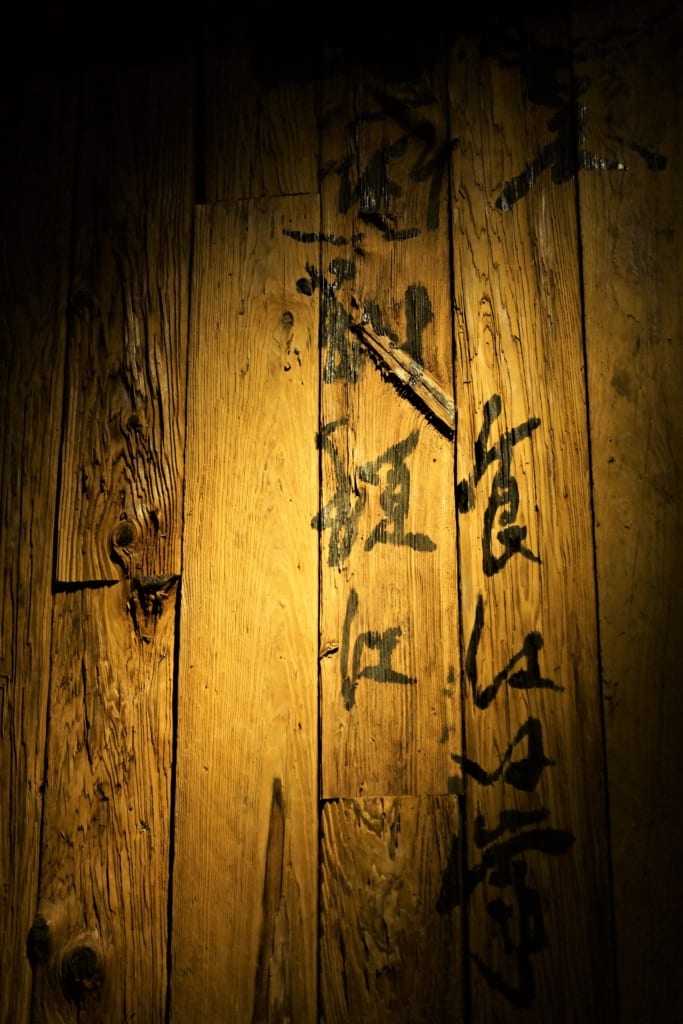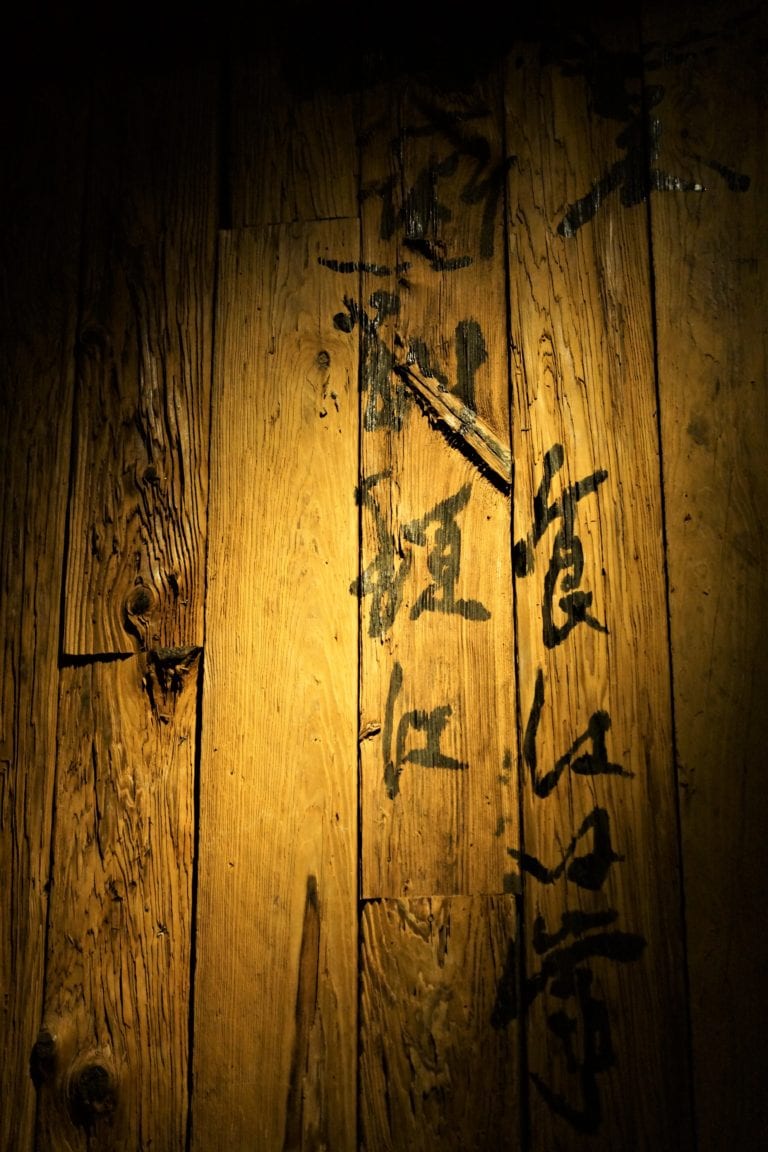 Even the walls going to the bathrooms have interesting decorations, tons of random people: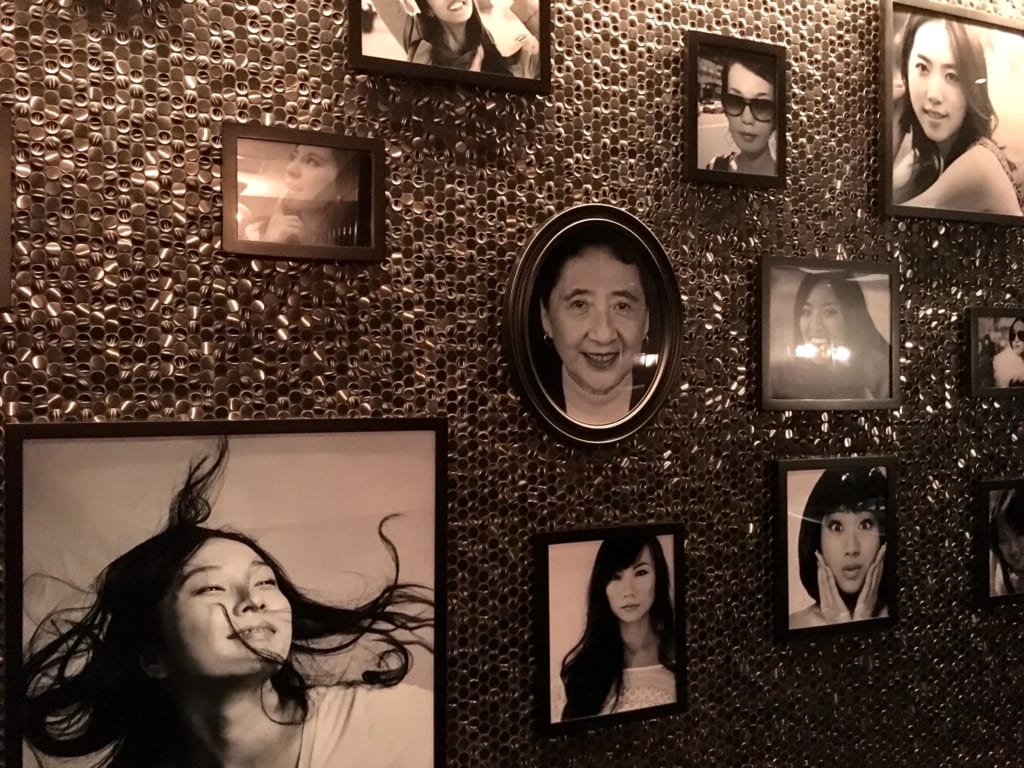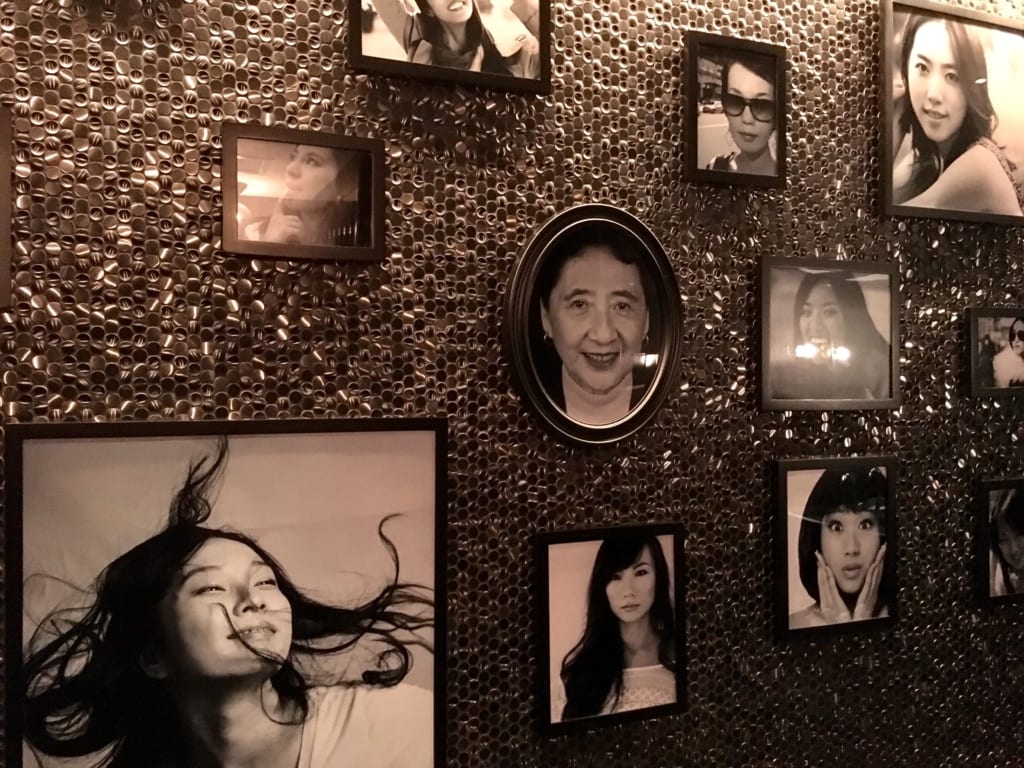 Let's now go upstairs and get to my seat, I'm hungry! 😉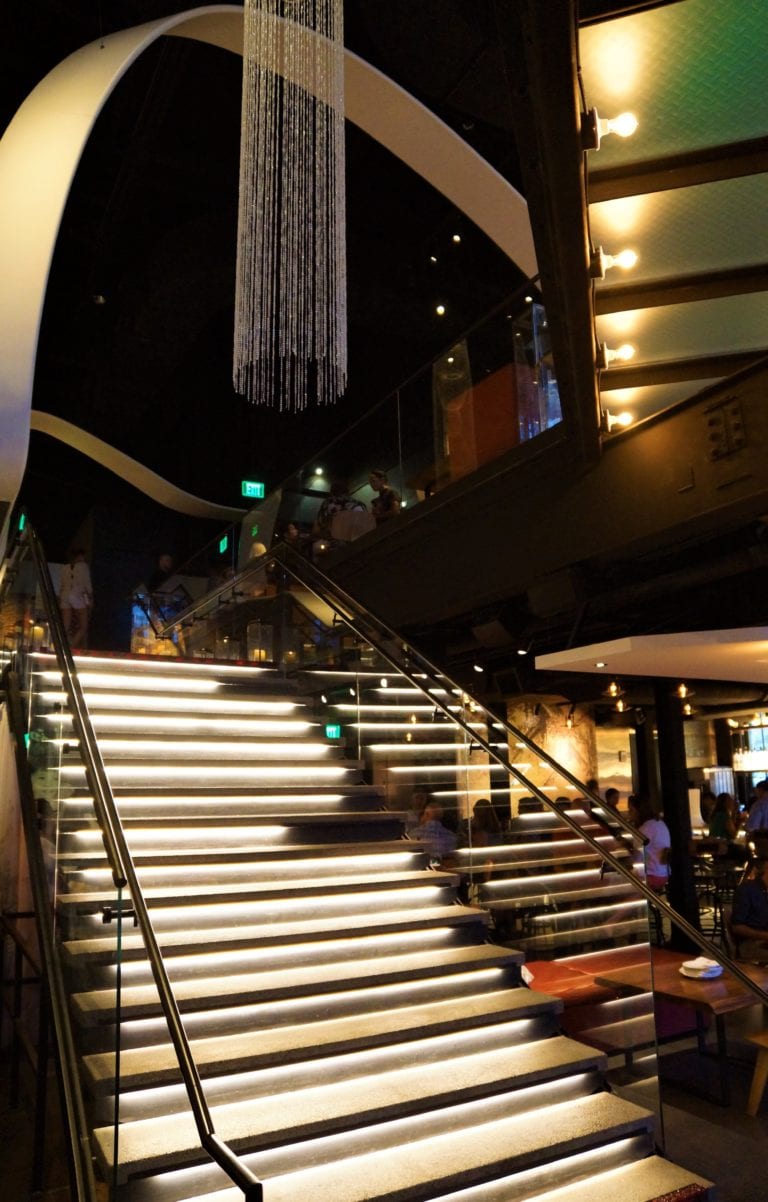 The staircase is super awesome too, love the futuristic vibe and the way it's all lit up! Half way up: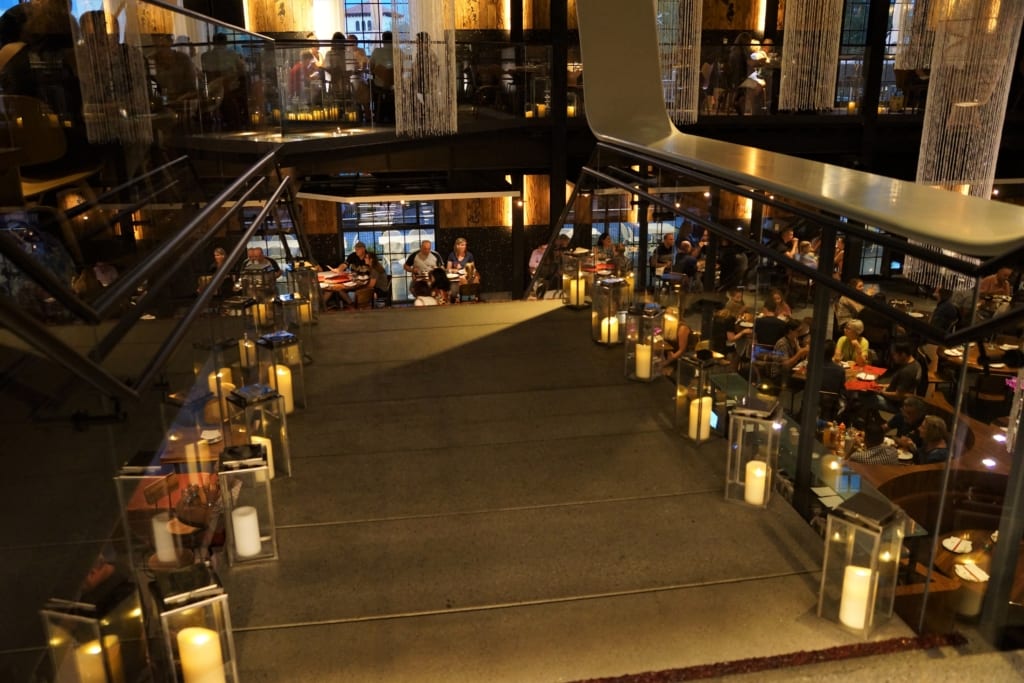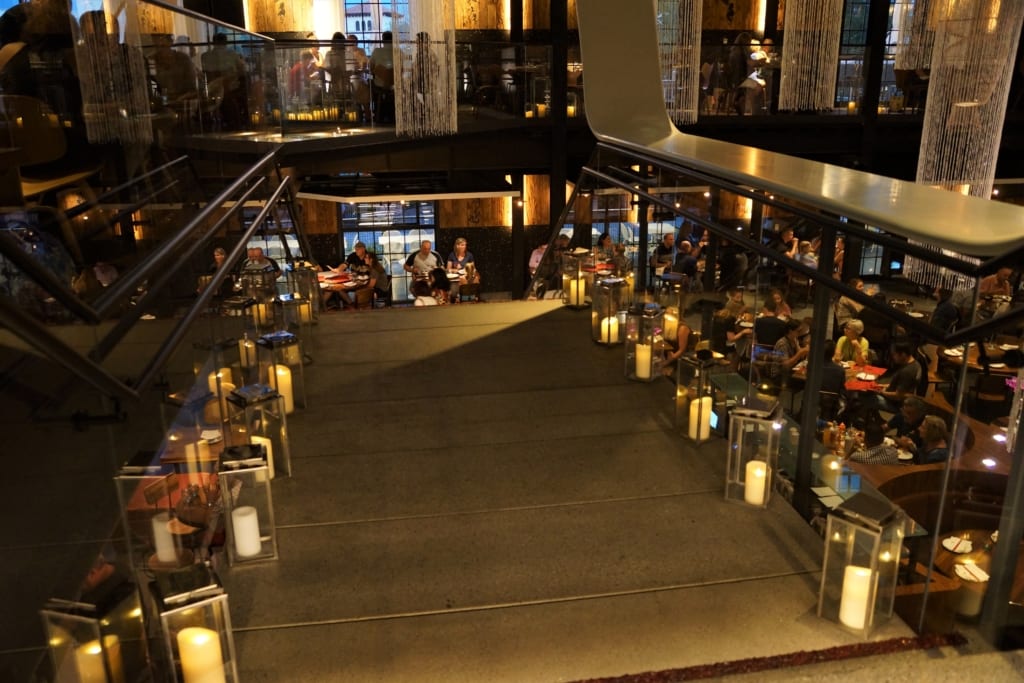 Candles on the stair landing are a nice touch!
Now we get to the second Bar/Lounge, the upstairs one. As you see the same Sculpture Bar has made its way up to the second level: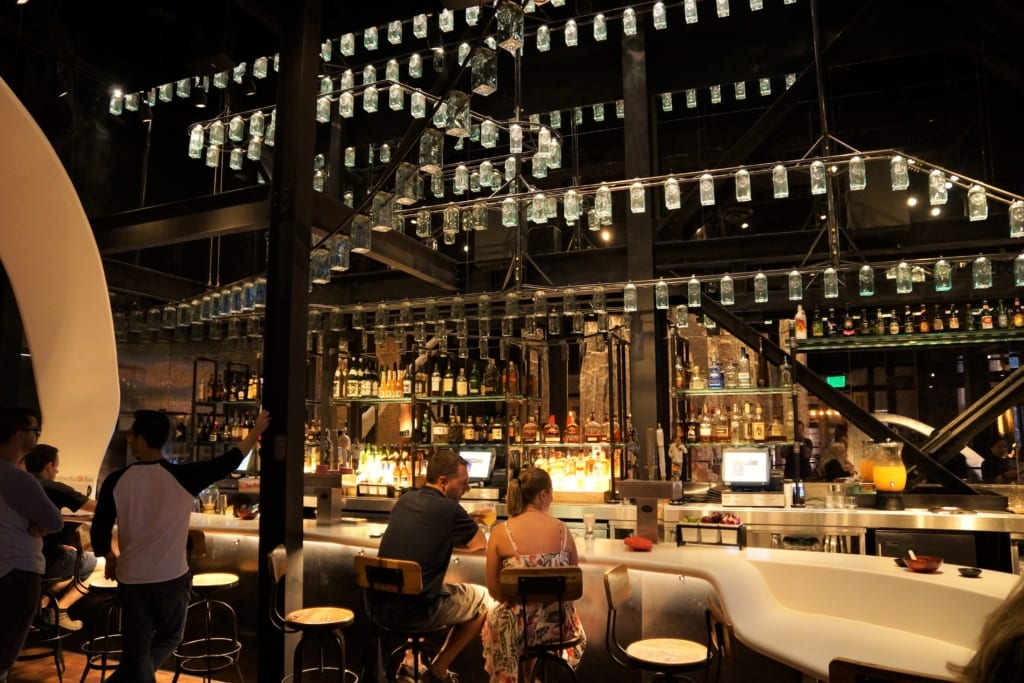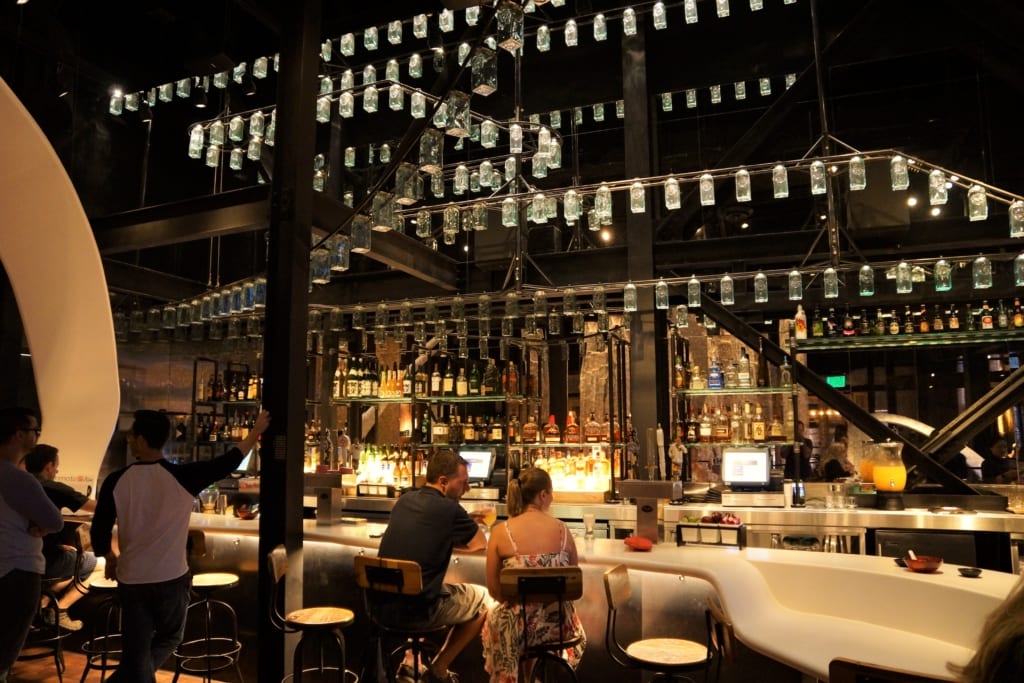 I'm not really sure what all those hanging bottles are all about above they bar, but I think they look amazing!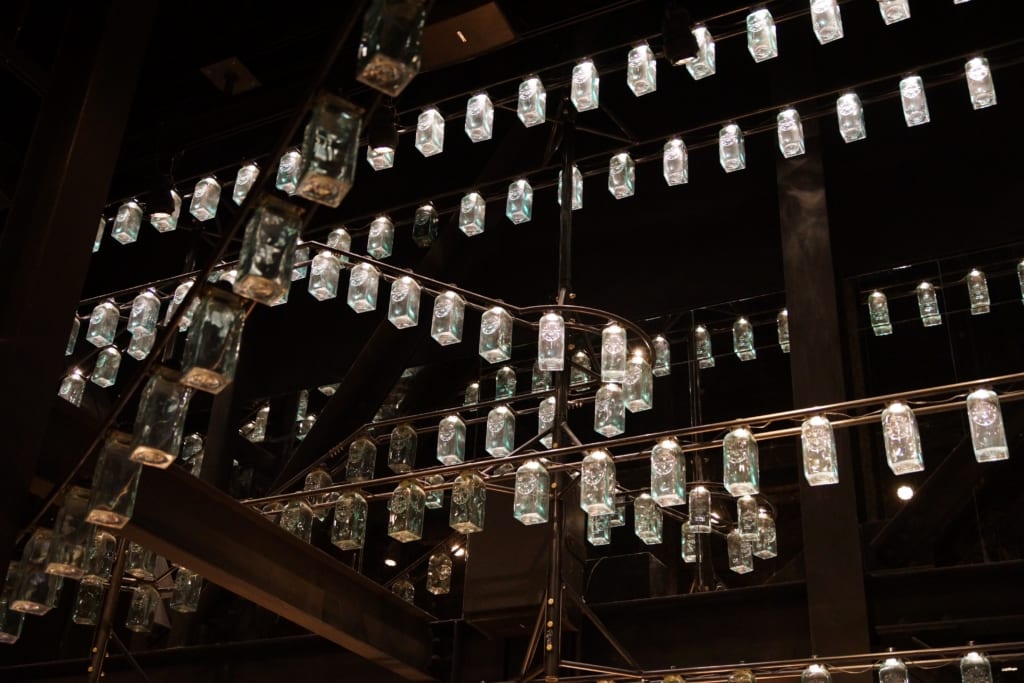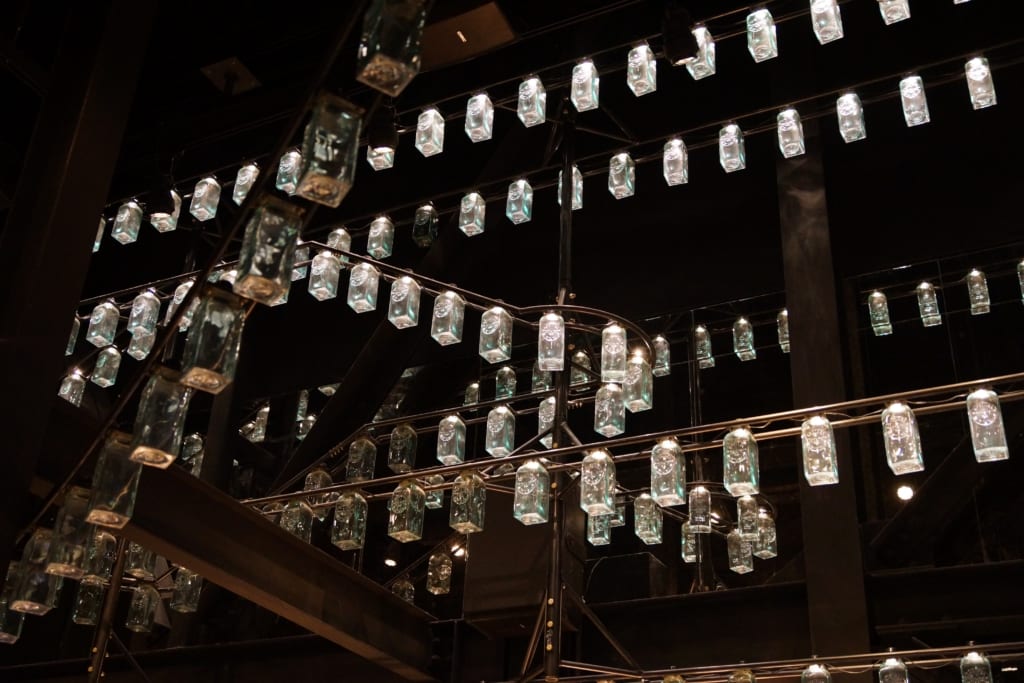 It's like a big conveyor system of them or something, really cool effect! Then you have the lounge that's overlooking the main dining room. I prefer this lounge upstairs as it has much better views. The one downstairs seems tighter and not as spacious.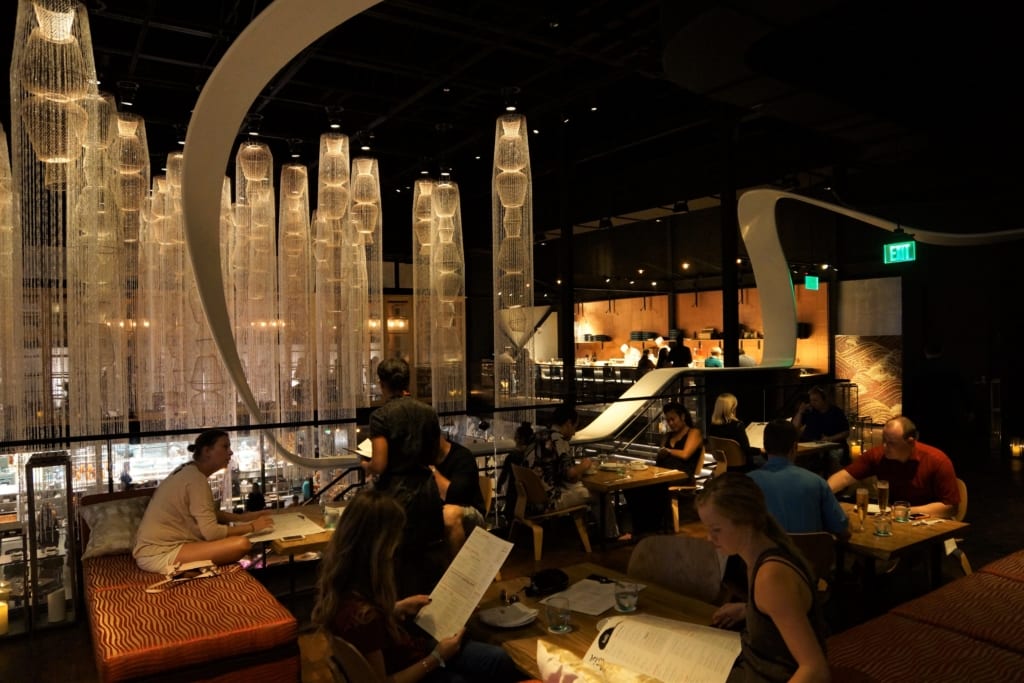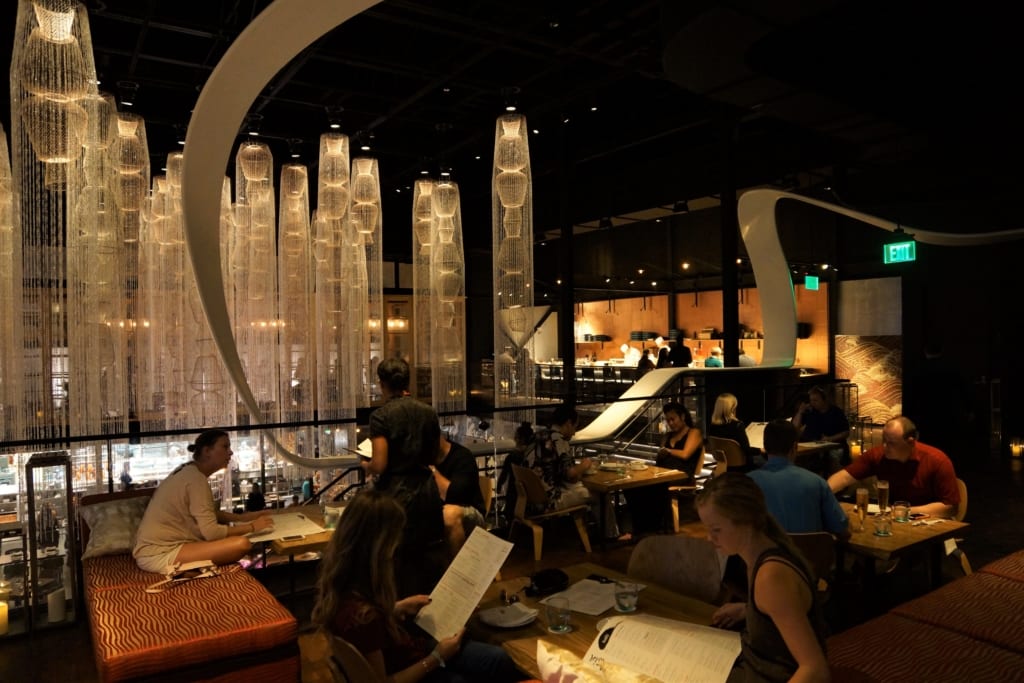 Here's a view from farther away, and giving you a nice shot of the Sculpture Bar: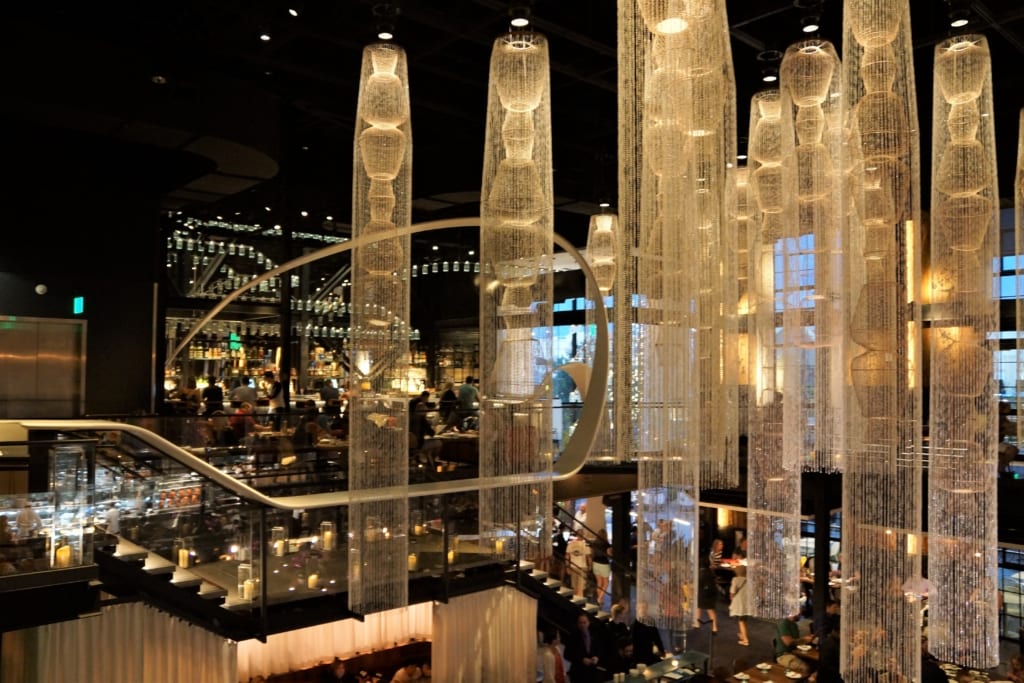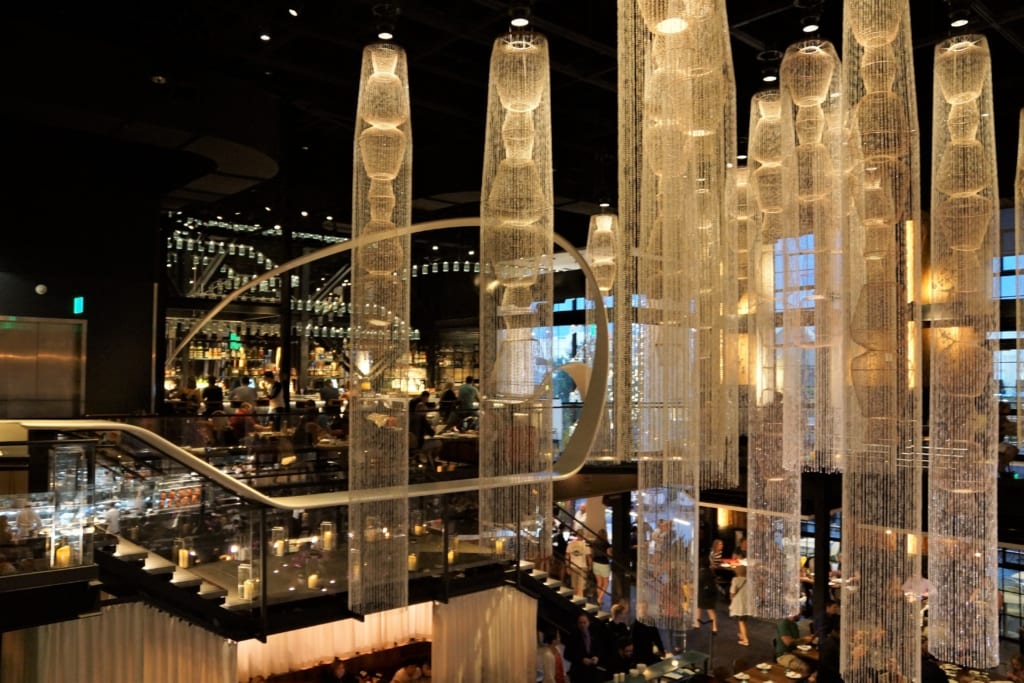 The positioning of the tables on the upper level are really cool because they have a view of downstairs and those amazing chandeliers! It's a little more intimate too if you are on a date or want a bit more privacy.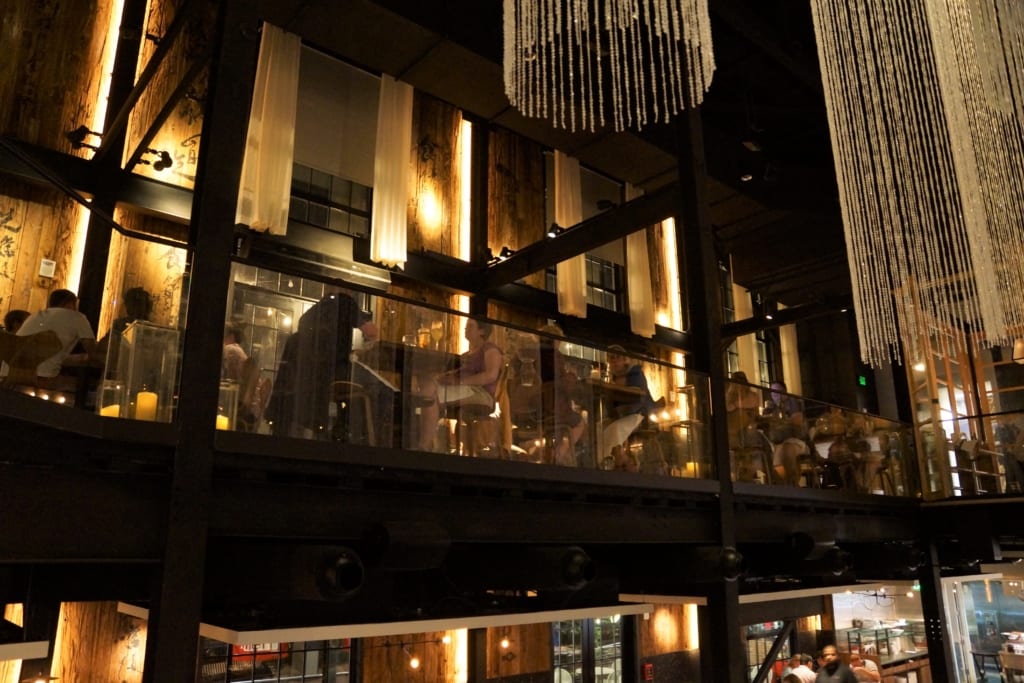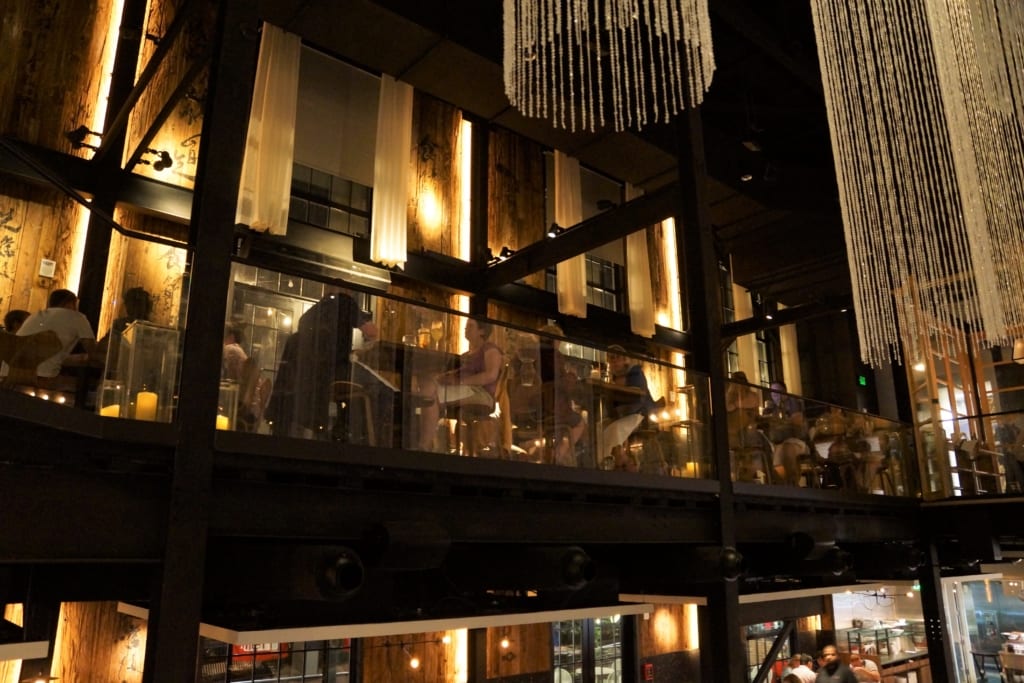 There's also a Sushi Bar located on the second floor called The Forbidden Lounge: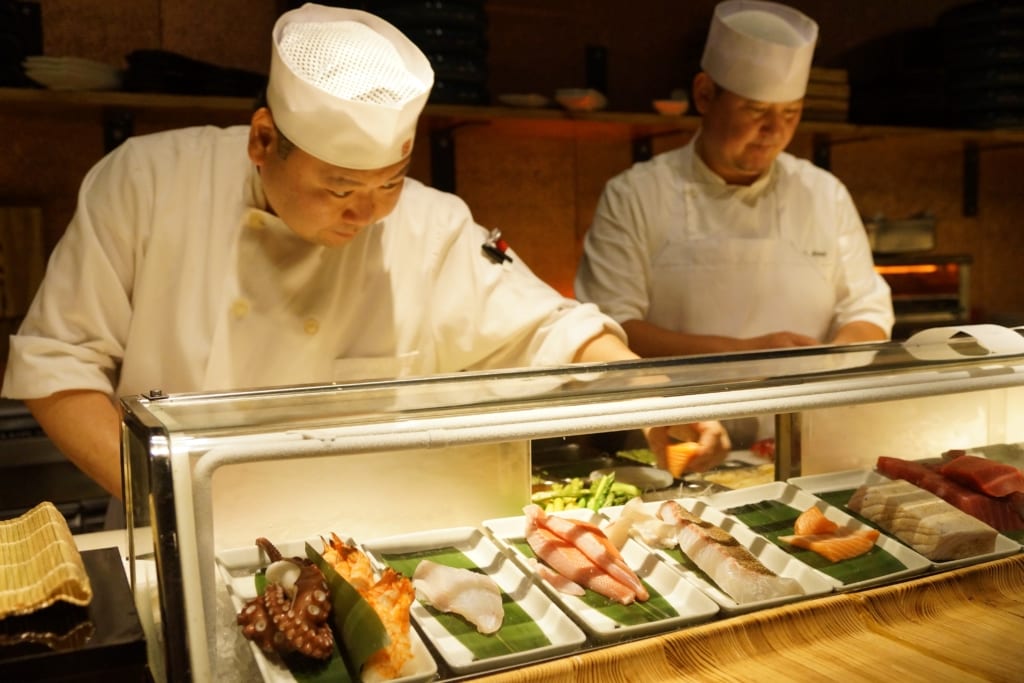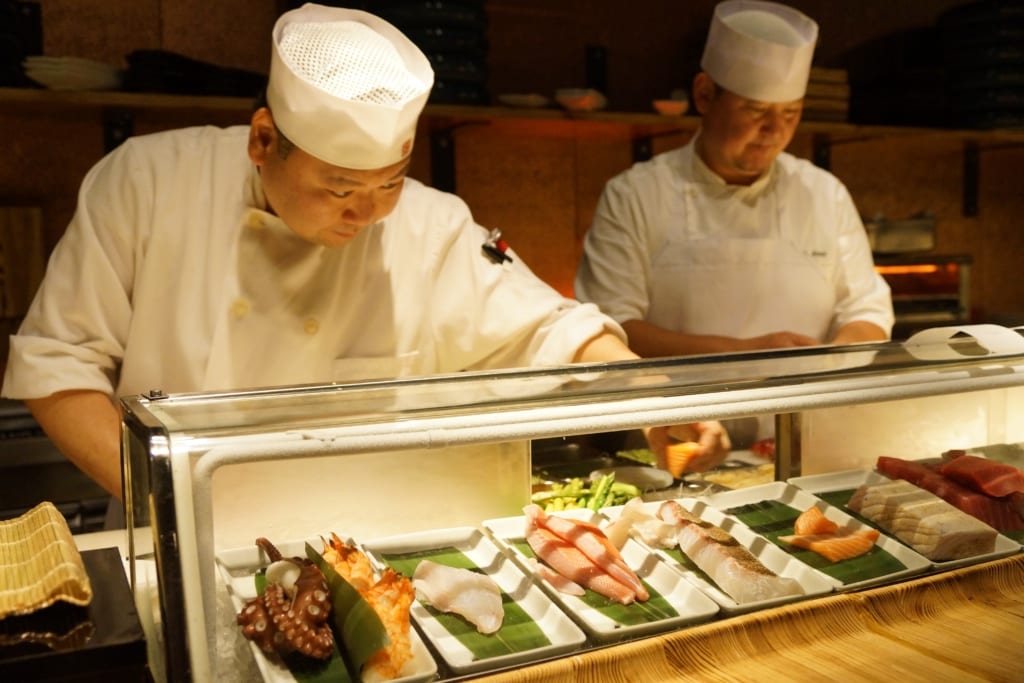 It's a 14-Seat Sushi Bar where you can order off the regular menu, but they also have their own menu which again focuses on Raw Bar. It's a cool spot though to eat as you are sure to be entertained.
Ok, we've found our table, let's get down to it: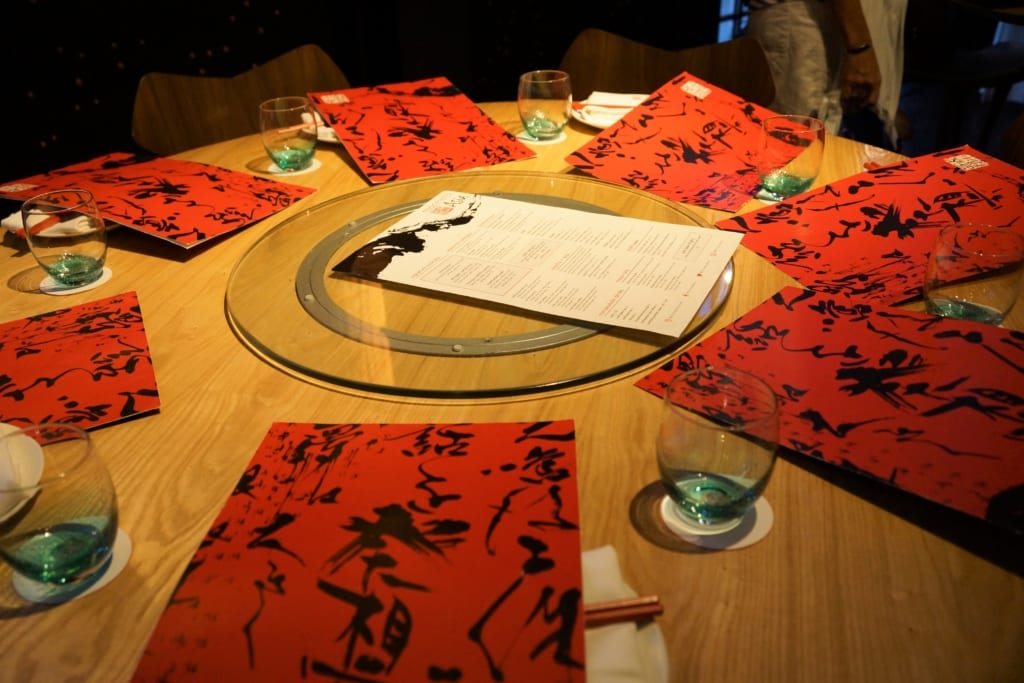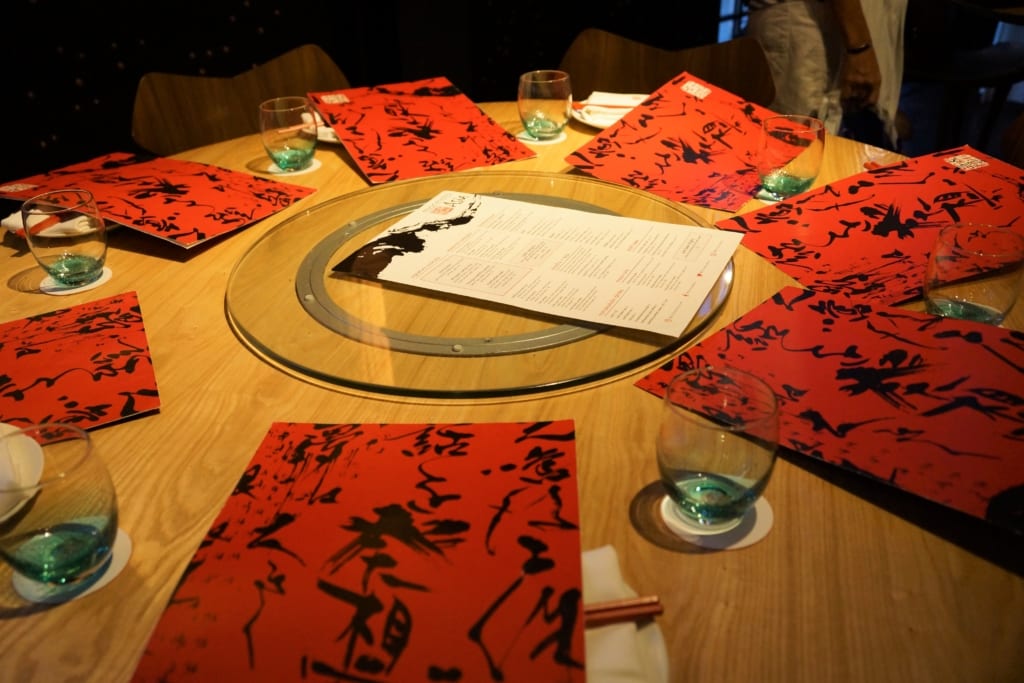 Place Settings are complete with their own set of Chopsticks of course: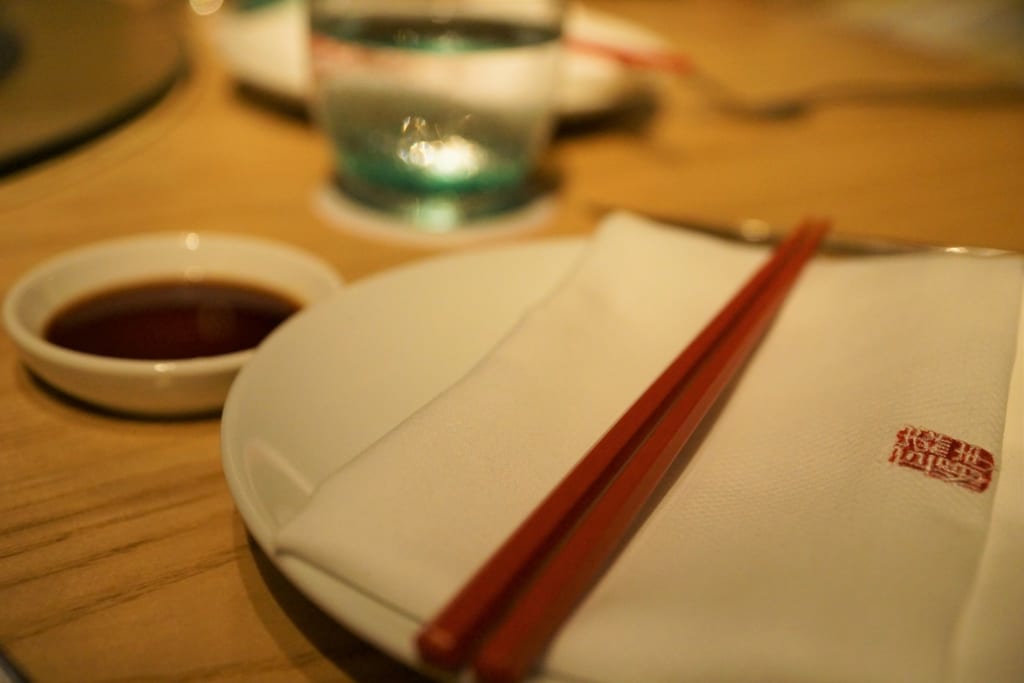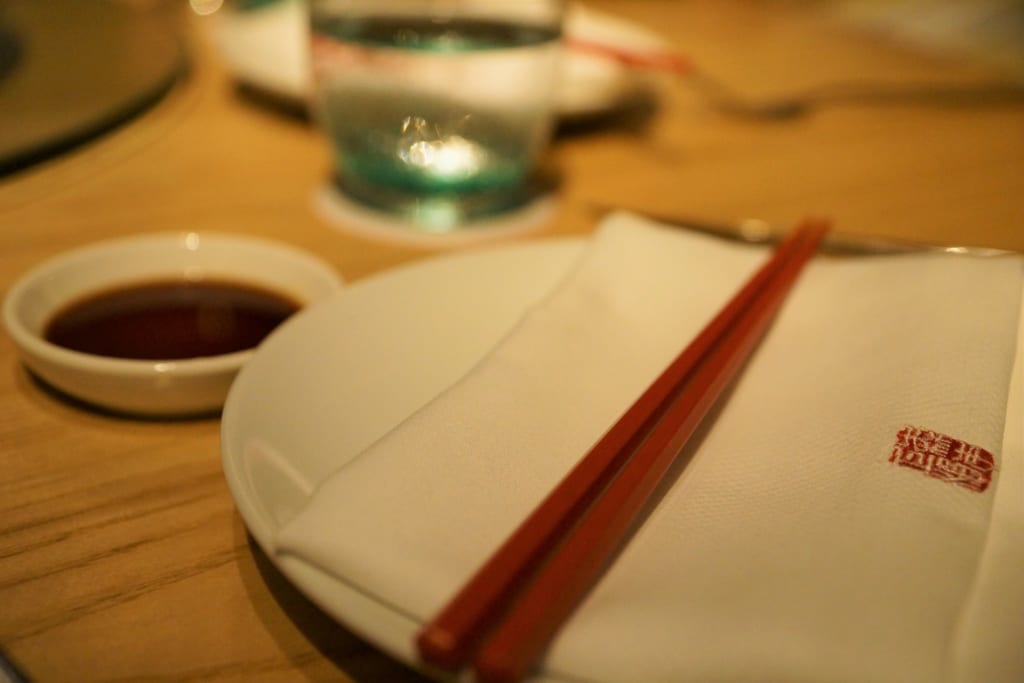 I have a feeling I'm not going to be able to use them as my chopstick coordination isn't what it once was. Good thing they gave me this Fork/Chopstick Combo thing, although this might even be more complicated than normal chopsticks: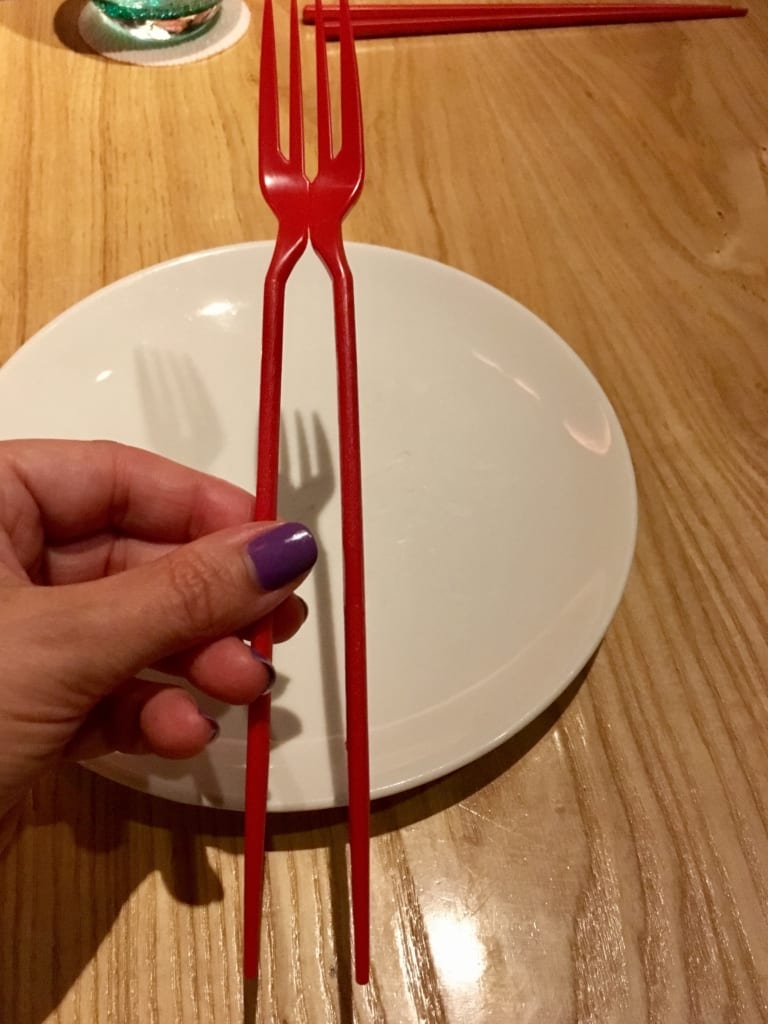 Just inspecting the glasses before I begin: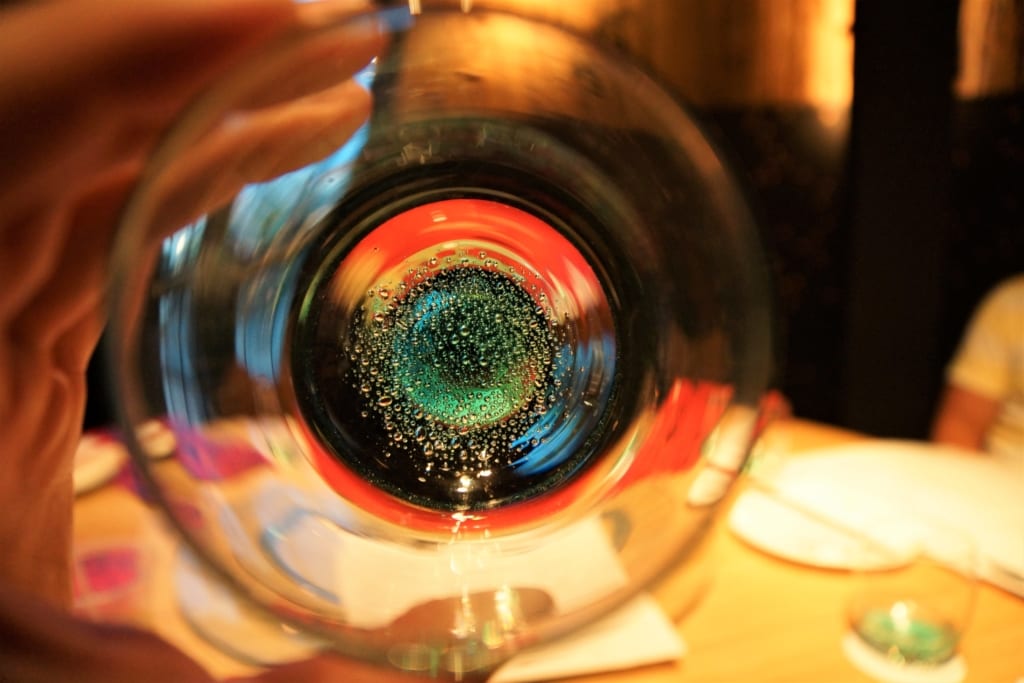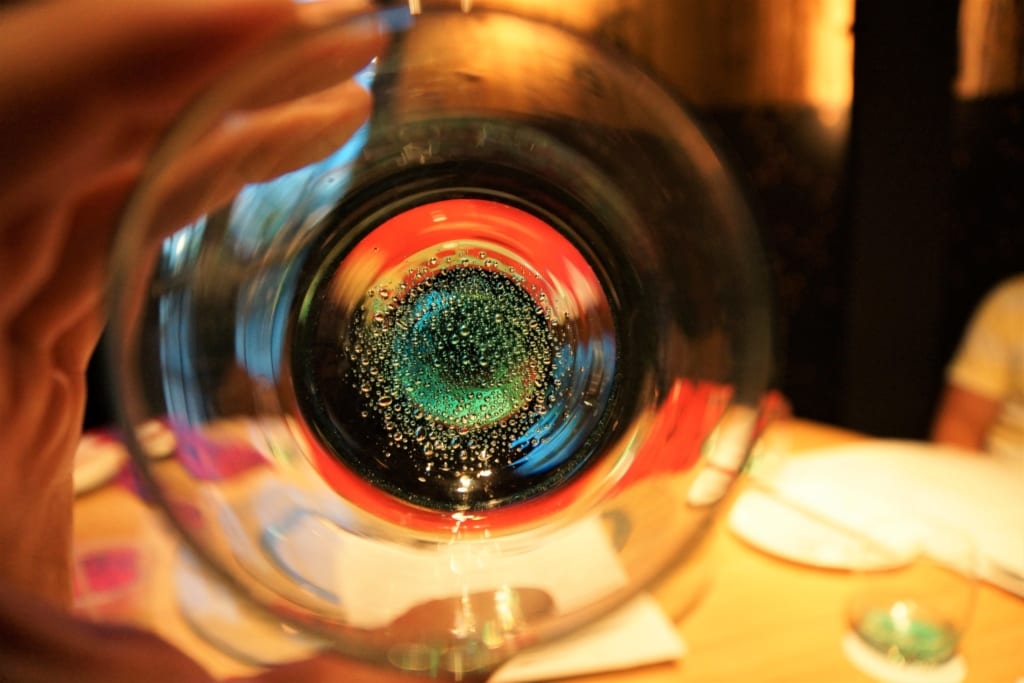 Yes I'm done playing and ready to finally eat!
Food:
Morimoto Asia obviously focused on Asian food, and it's what they call Pan-Asian, which basically gives you a lot of the best dishes from many Asian Cuisines. The result is a nice variety of foods such as Sushi, Noodle and Rice Bowls, Soups, Dim Sum, and many dishes of various Meats and Fish.
Those familiar with the other various Morimoto locations around the world might notice the menu here is a little more on the tame side than the others. But I think it offers a really great variety of options, no matter your taste buds or how hungry you are. Being a Signature Restaurant you can expect high-end prices on some items, but I also feel that it offers some of the best bargains in all of WDW dining, especially for the quality. Many of the dishes are big and great for sharing, which is exactly what we did. We wanted to get a bit of a taste of everything.
The Noodle or Rice Bowls are one of the best options and all go for $16-$25 and are very filling for one person. The Starters run from about $10-15 and are excellent quality. Sushi Rolls are $10-12. And many of the Meat & Poultry Dishes go for less than $30. So those are good prices for a Signature Dining Restaurant for sure.
Some of the Signature Dishes here are the Tuna Pizza, Rock Shrimp Tempura, Sushi Rolls, Peking Duck and Morimoto Spare Ribs (more on those later!)
First up are the Drinks! I wanted to try the Sake Sangria for sure: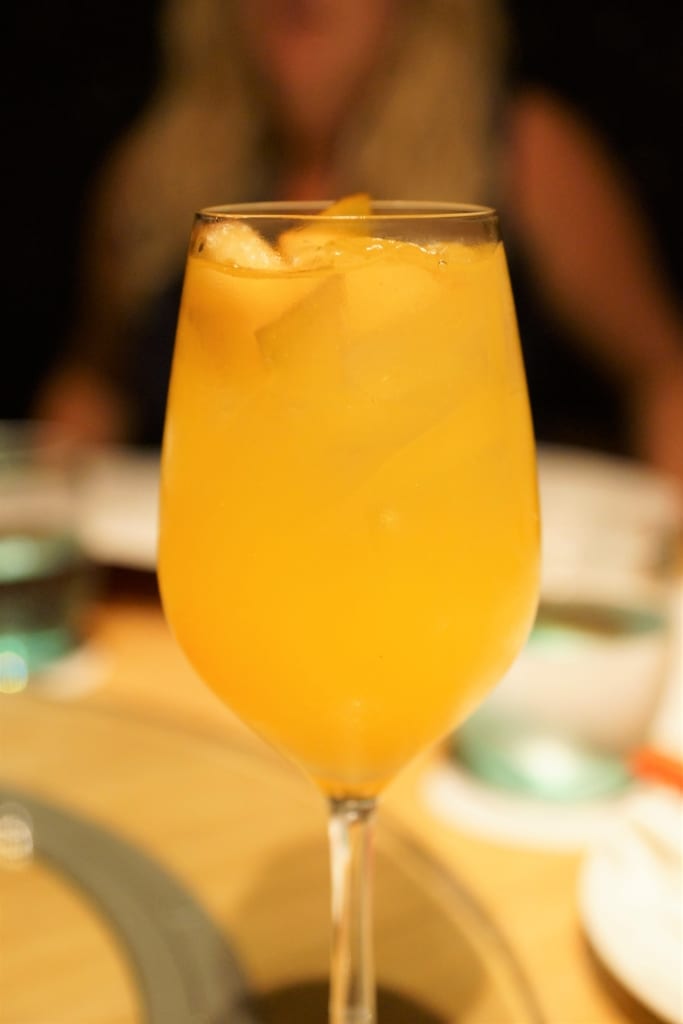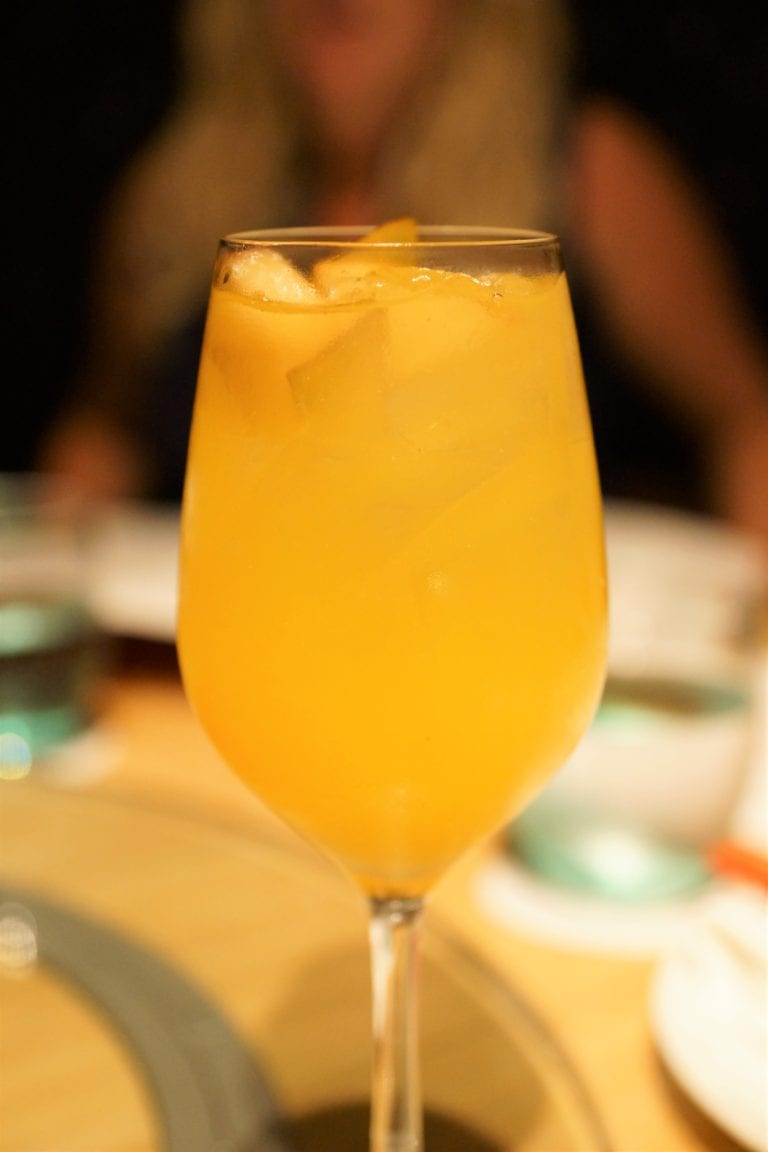 I'm a big Sangria fan, so I was curious about trying an Asian one. It was really tasty. Refreshing and cool. Lots of fruit flavors, but not too sweet. Like a Peachy, Peary vibe going on. Was excellent!
Also we had an the Morimotini which was quite good as well: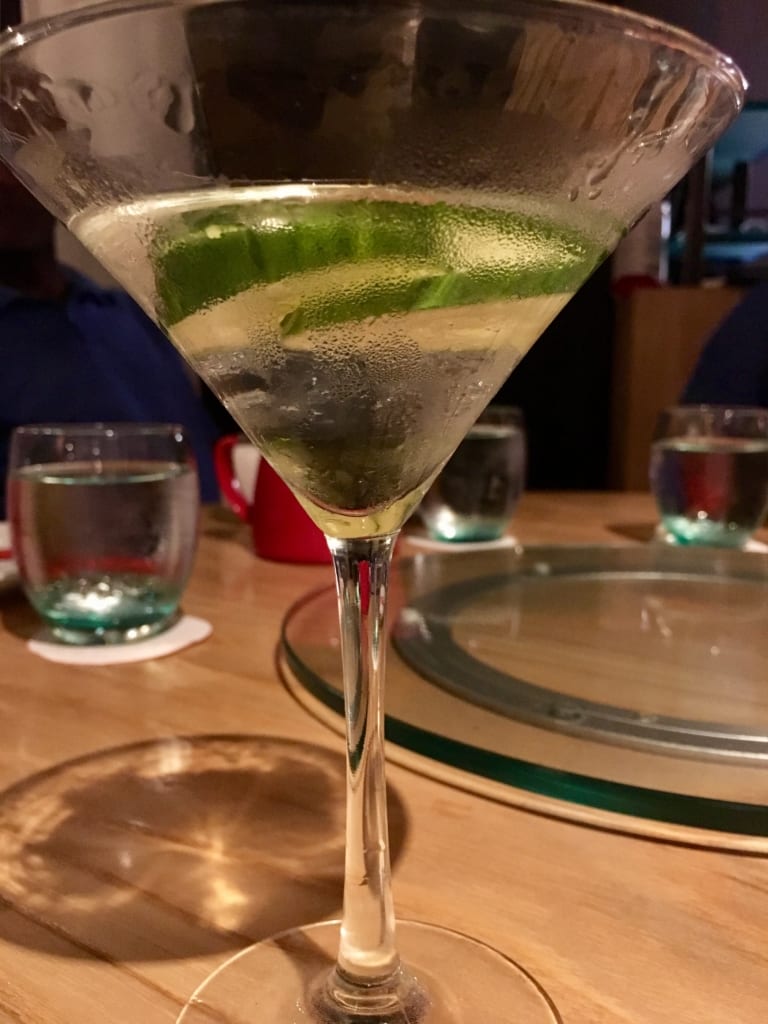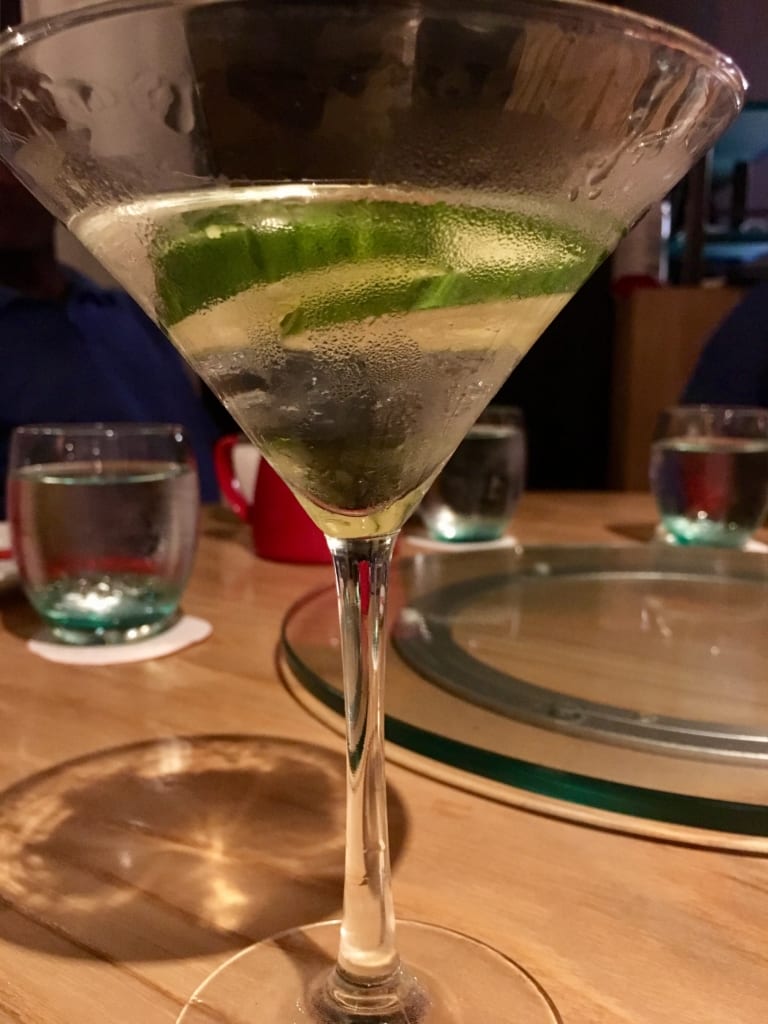 If you're a martini fan you will like this interesting twist on the classic martini. It uses Grey Goose Vodka, and Junmai Sake and has Cucumber slices inside. Thought it was quite good, and pleased with the overall quality.
Next up the eats. We started out with the Pork Egg Rolls ($8):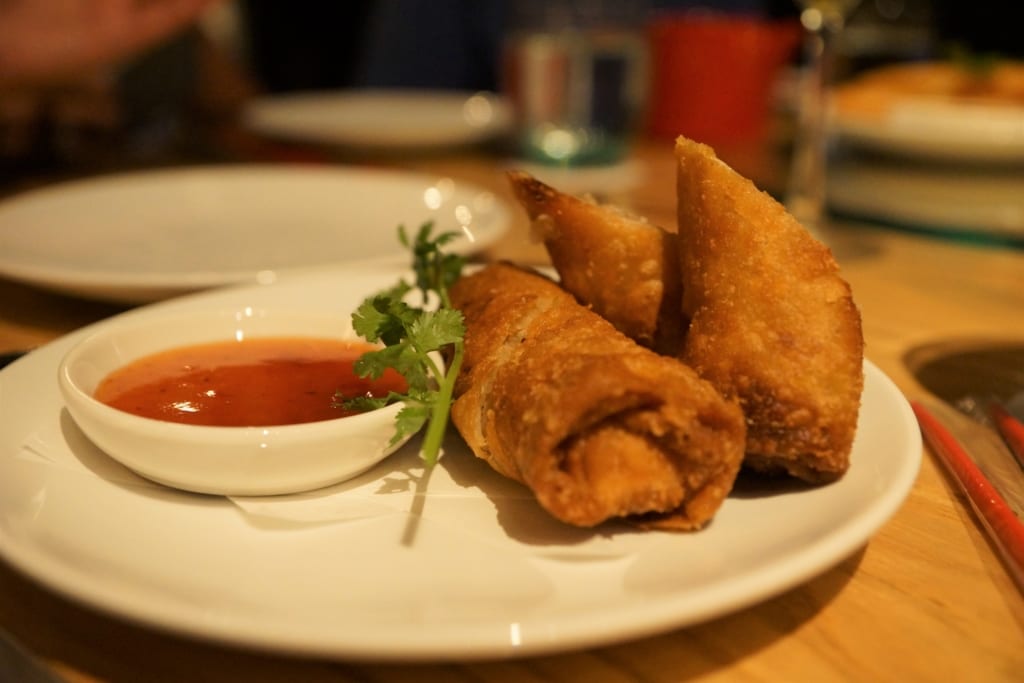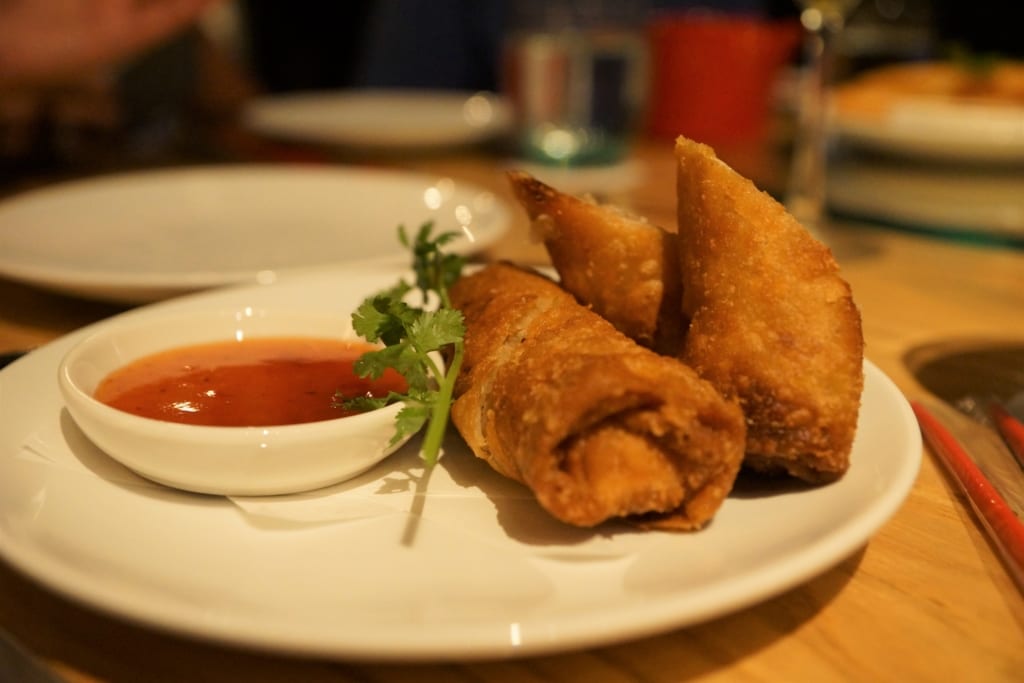 These guys were great! Very crispy which I love, and it wasn't just all filler inside, but they were stuffed with lots of pork. Really good flavor and would order again.
Next was the Kanikama Rangoon ($10):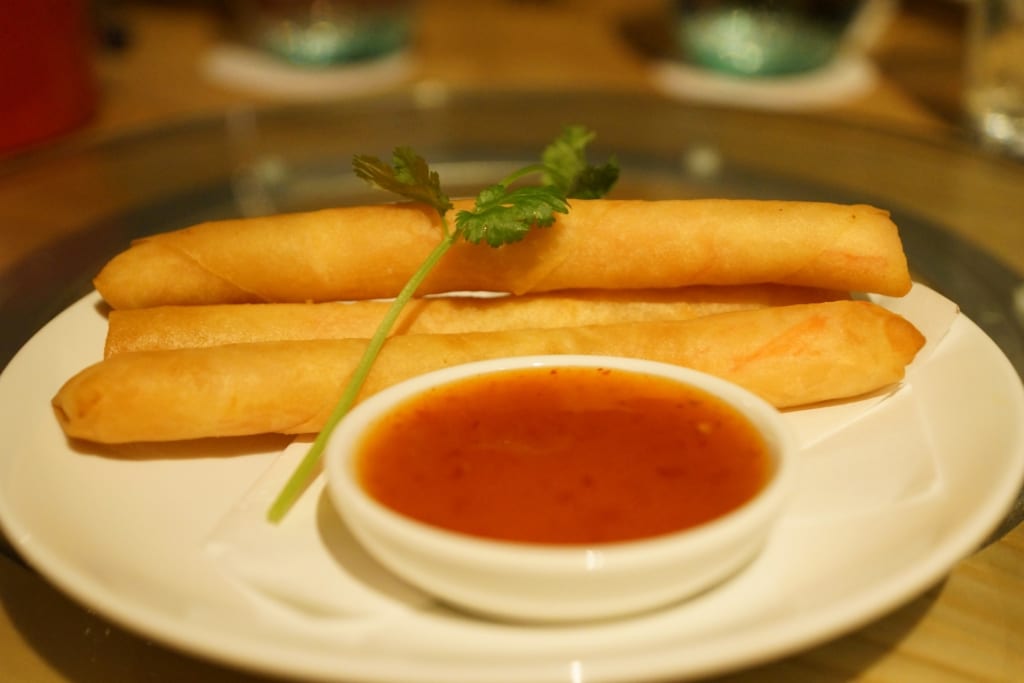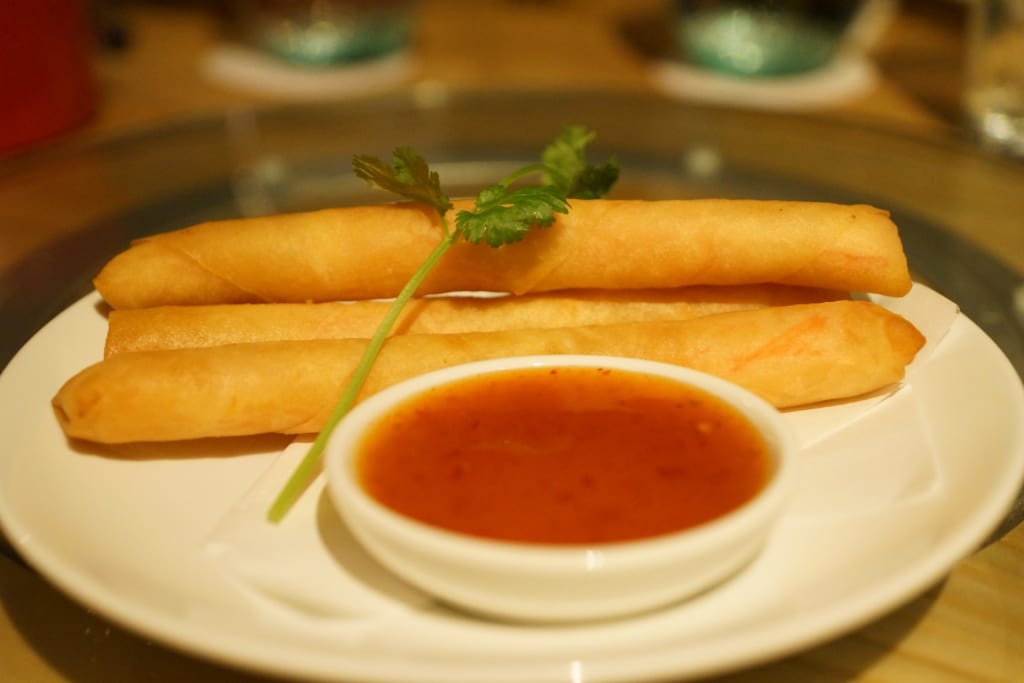 They are stuffed with Crab Meat and a Cream Cheese Filling and served with an Apricot Sweet Chili Sauce. These I was not a fan of. There was too much cream cheese inside and not enough crab, barely tasted it. The shell part was nice and crispy, but they were too narrow and not enough crab. Wouldn't get again.
Seeing as Chef Morimoto is famous for his Sushi, we had to try some. Now we had just eaten at the California Grill 2 nights prior, which is also known for its amazing Sushi. So this gave us a good opportunity to compare notes and find out who makes the best Sushi in Walt Disney World!
First we got a Shrimp Tempura Roll ($12):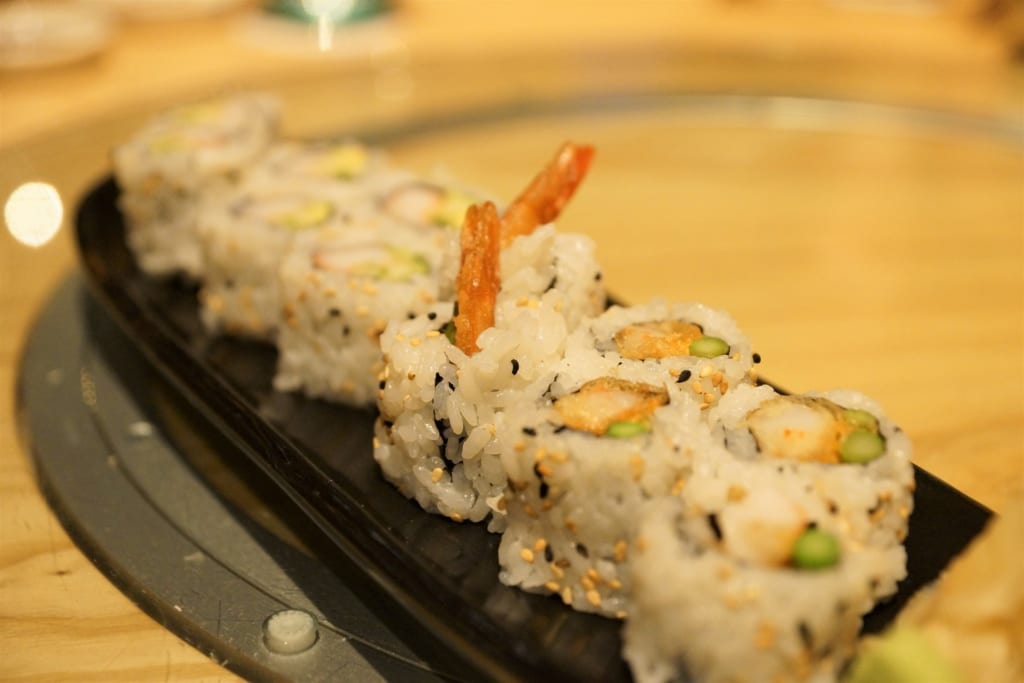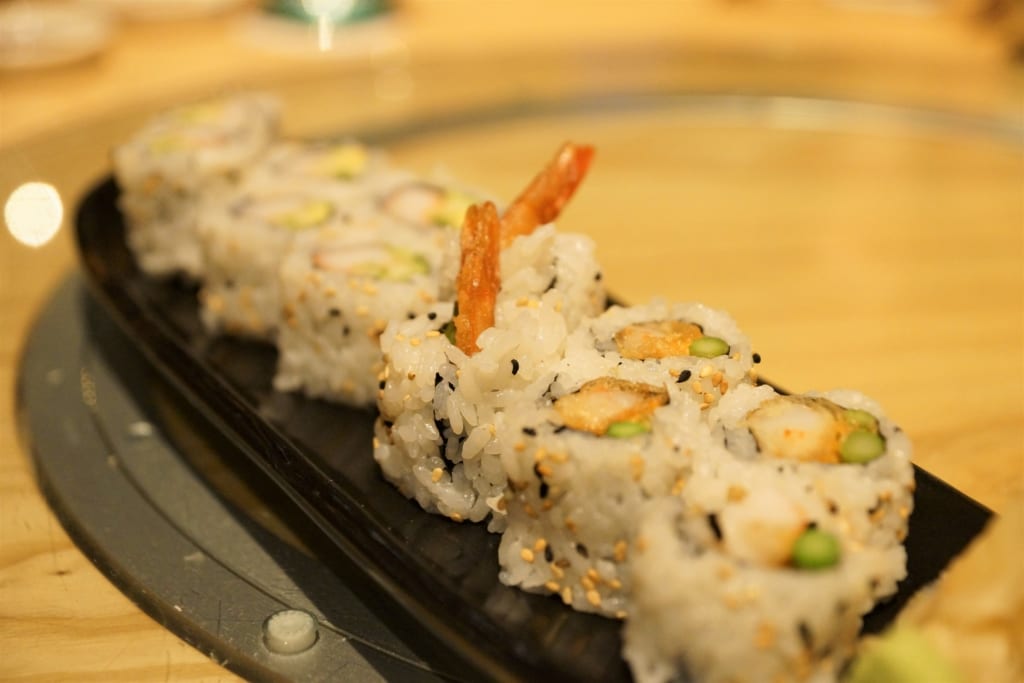 This has Asparagus, Spicy Mayo and comes with choice of White or Brown Rice. While this was good, I wasn't blown away. First I think there was more shrimp in the California Grill version and the shrimp were bigger there as well. Also there were too many sesame seeds for my liking. Good but not amazing.
We then tried the California Roll ($12) which we also already had at the California Grill too: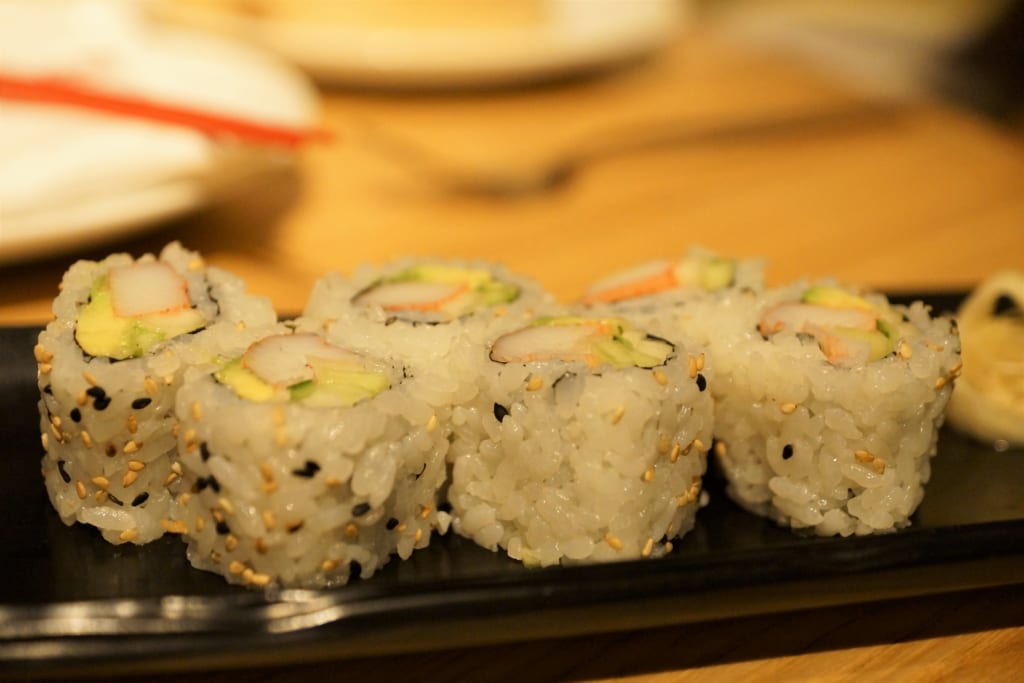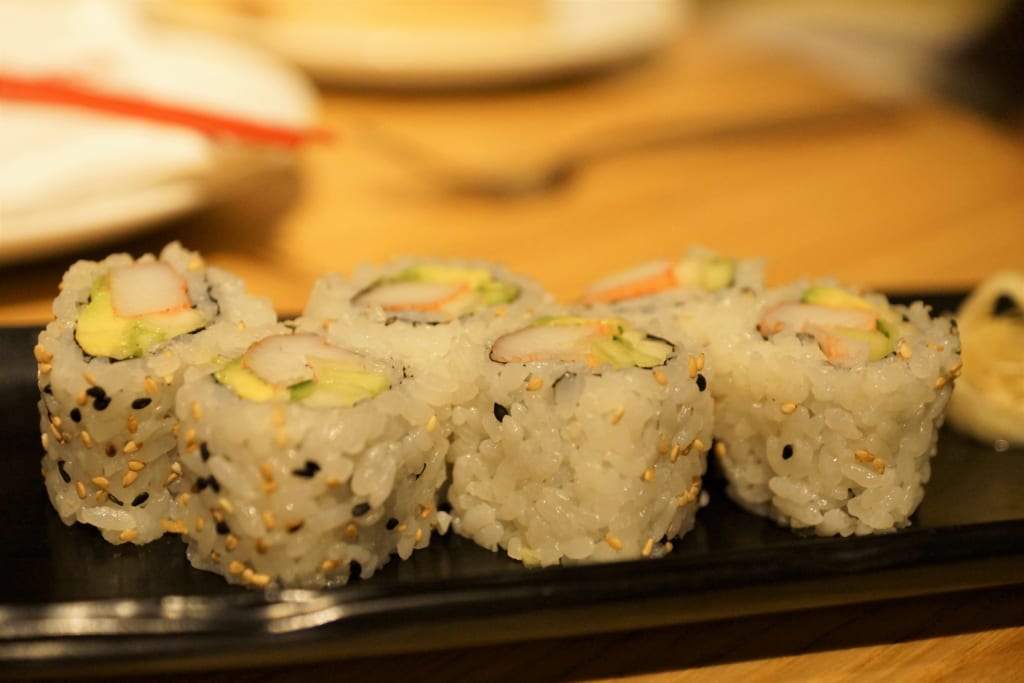 This had Blue Crab meat, Avocado, Cucumber again with a choice of White or Brown Rice. This was much more impressive imo, and I preferred the Morimoto version to the California Grill one. The taste was overall superior and you could really taste the crab. Great choice. We ended up in a split over who has the best sushi, we'll have to go back to both again to compare some more! 🙂
We ordered next the Pork Shumai ($12):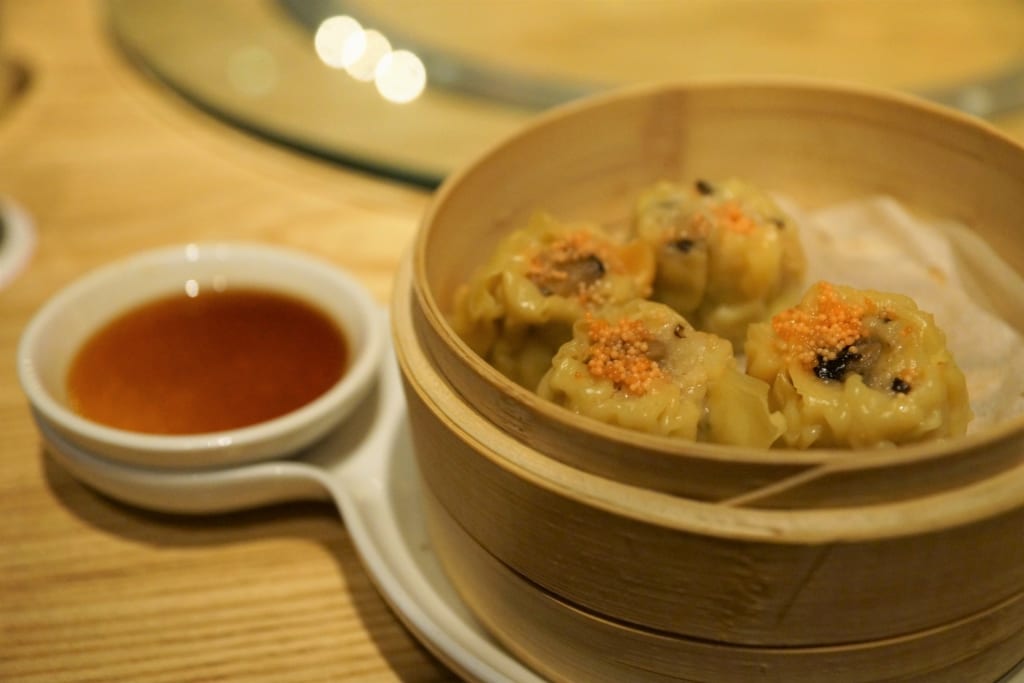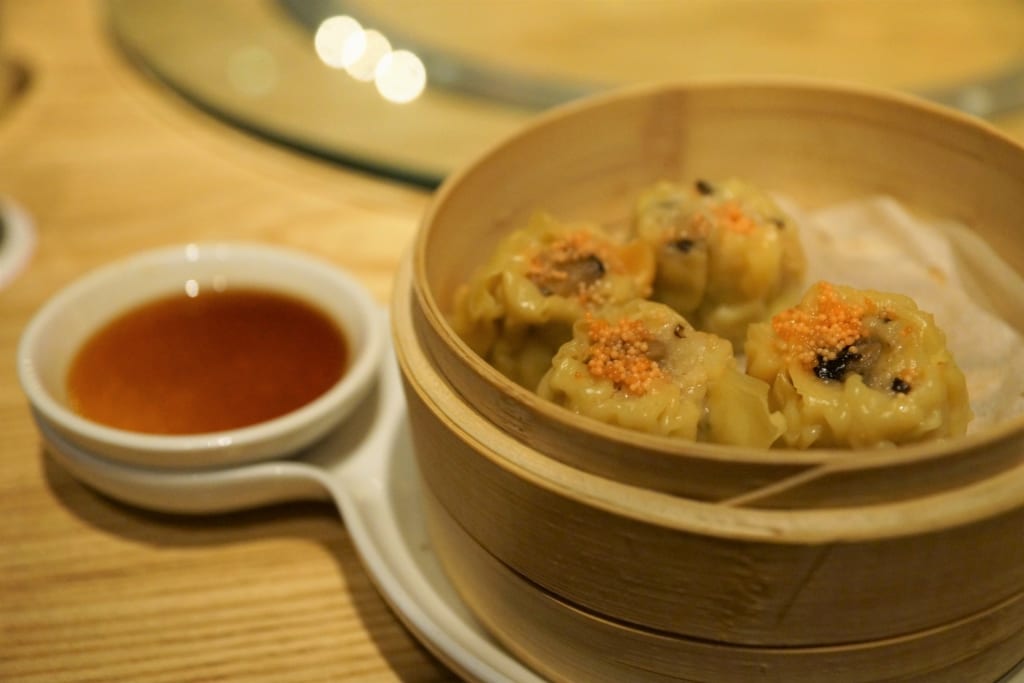 You can choose between Pork, Shrimp and Mushroom. These were really tasty imo, I really liked the pork stuffing inside. I think my only complaint is that there were only 4 of them and they aren't huge so you can find better bargains on the menu, but overall a solid choice especially if you like dumplings.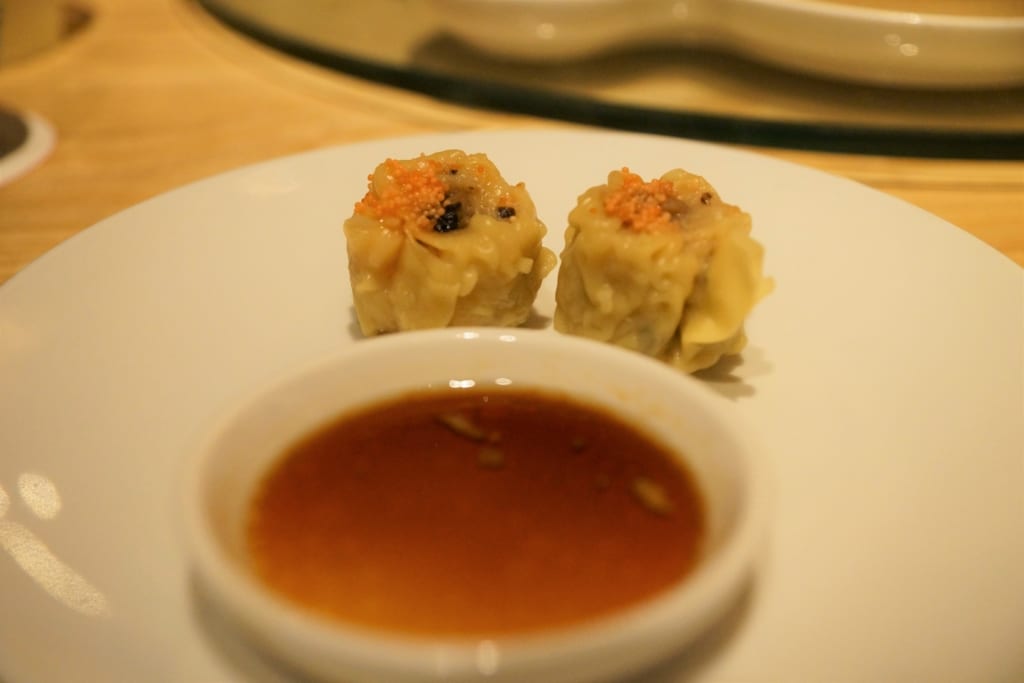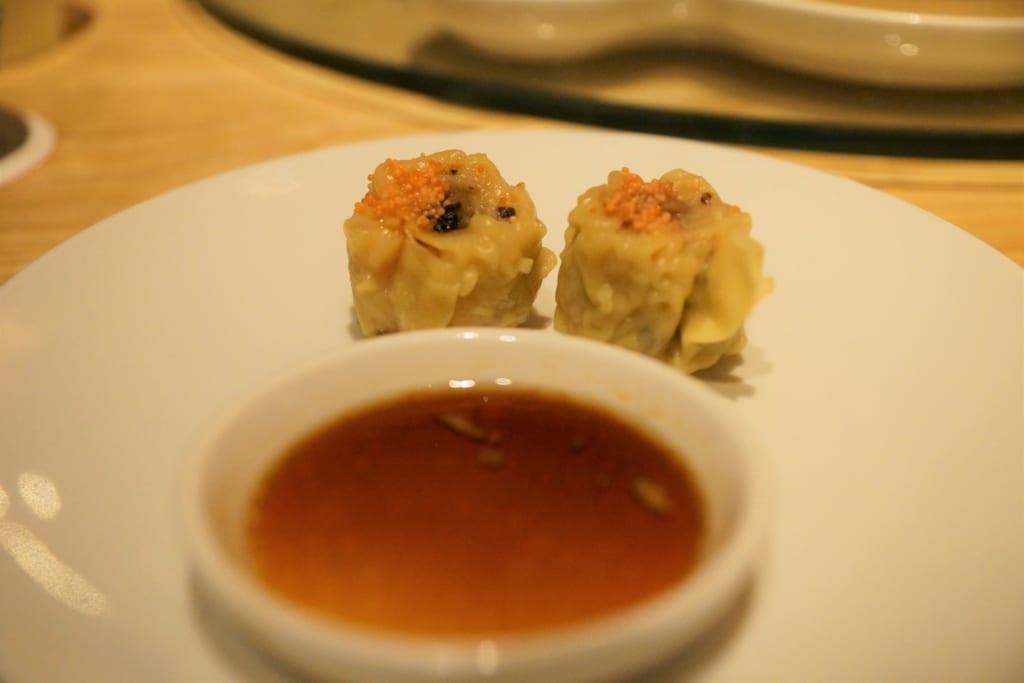 The next thing was my favorite appetizer, the Kakuni Pork Bao ($10):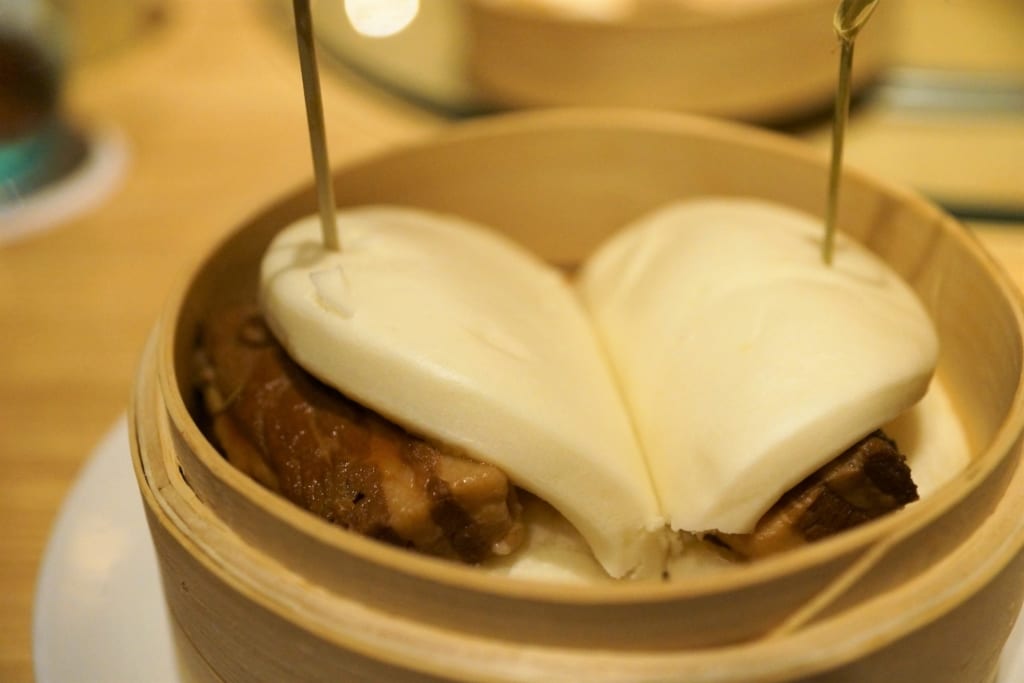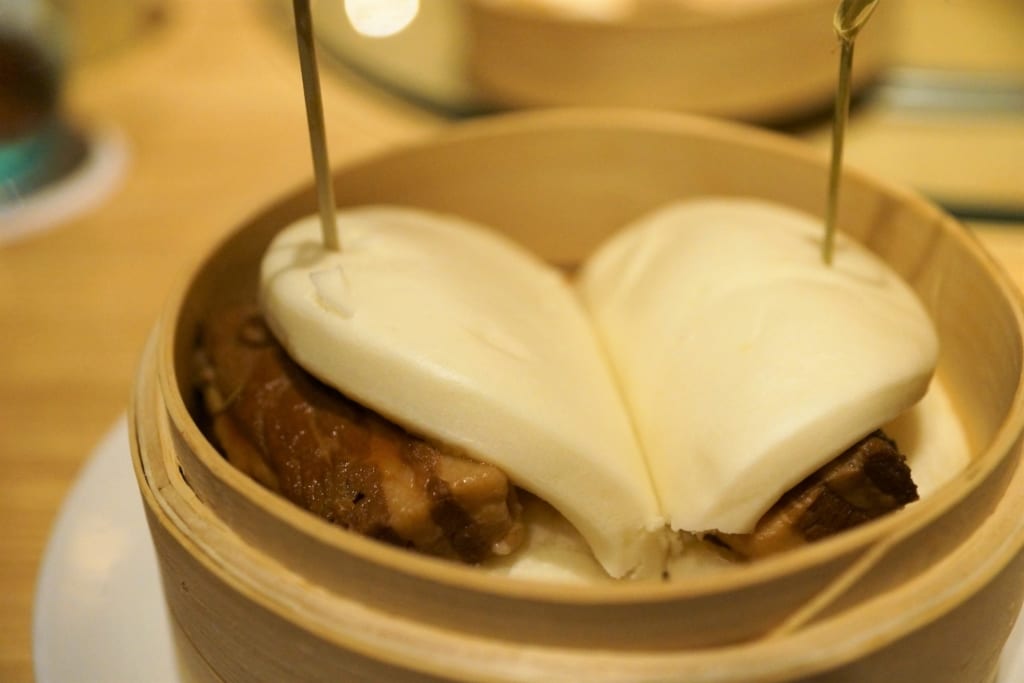 These were out of control good! They are Braised Pork Belly served in Steamed Buns, with Lettuce and Spicy Mayo. The buns are so good, remind me of the Duck Steamed Buns in the China Pavilion at Epcot during Food and Wine. So soft and chewy, love the texture!
And the pork belly….oh man! If you read my stuff you know how much I'm in love with pork belly. This actually melted in your mouth when you bit into it, and the flavor was incredible. So moist and succulent. A must try in my book!!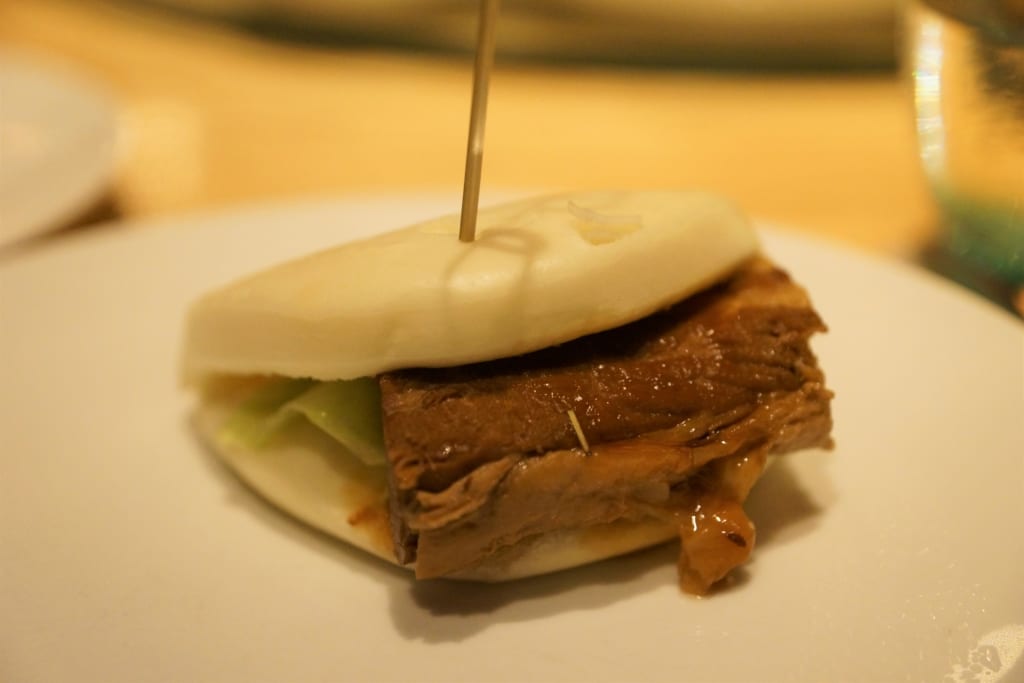 Next were the Chicken Wings ($12):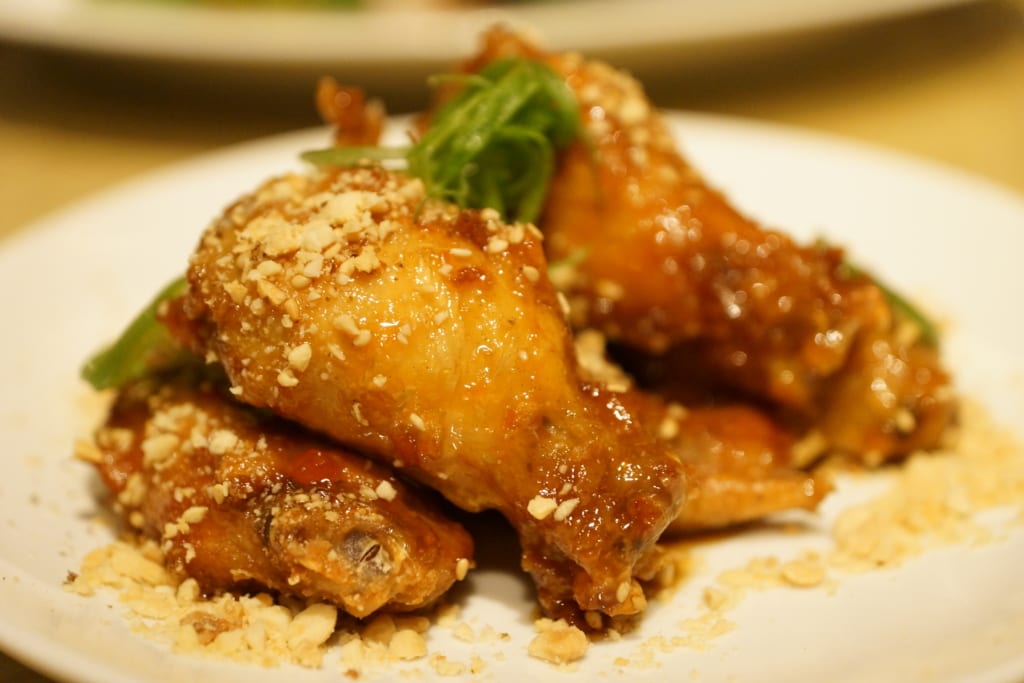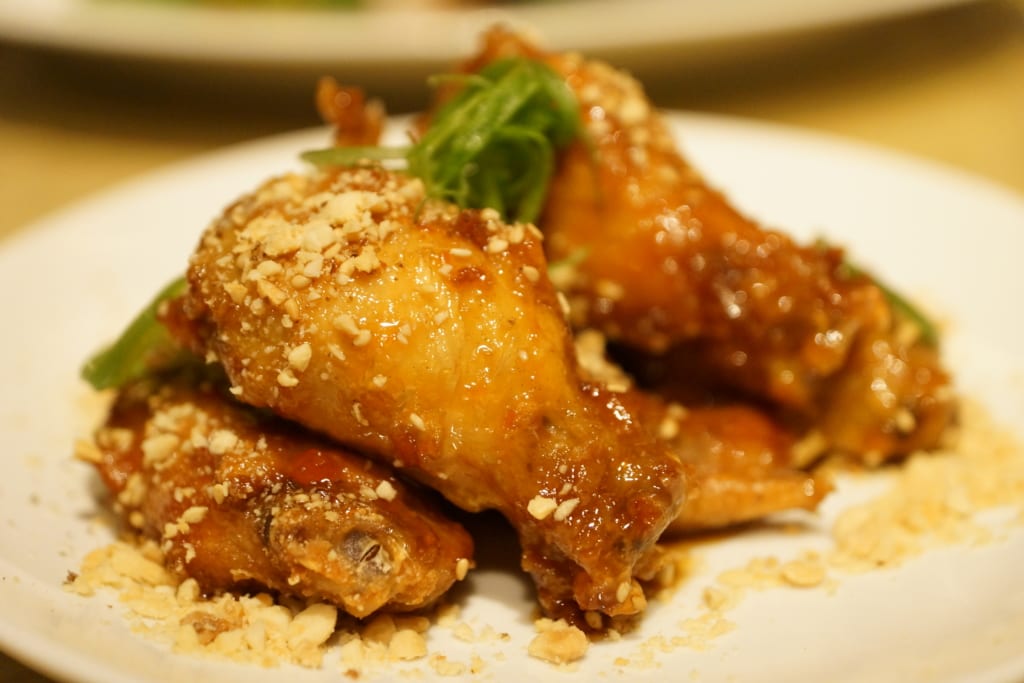 These are served in a Spicy Garlic Soy Sauce. These were very good, but despite the name I didn't find the sauce spicy at all. It had a really nice flavor, and the wings were cooked great with a little crispiness to them, but I was in the mood for spice and they really weren't.
On to the Main Courses. First was a Shrimp and Veggie Plate ($17):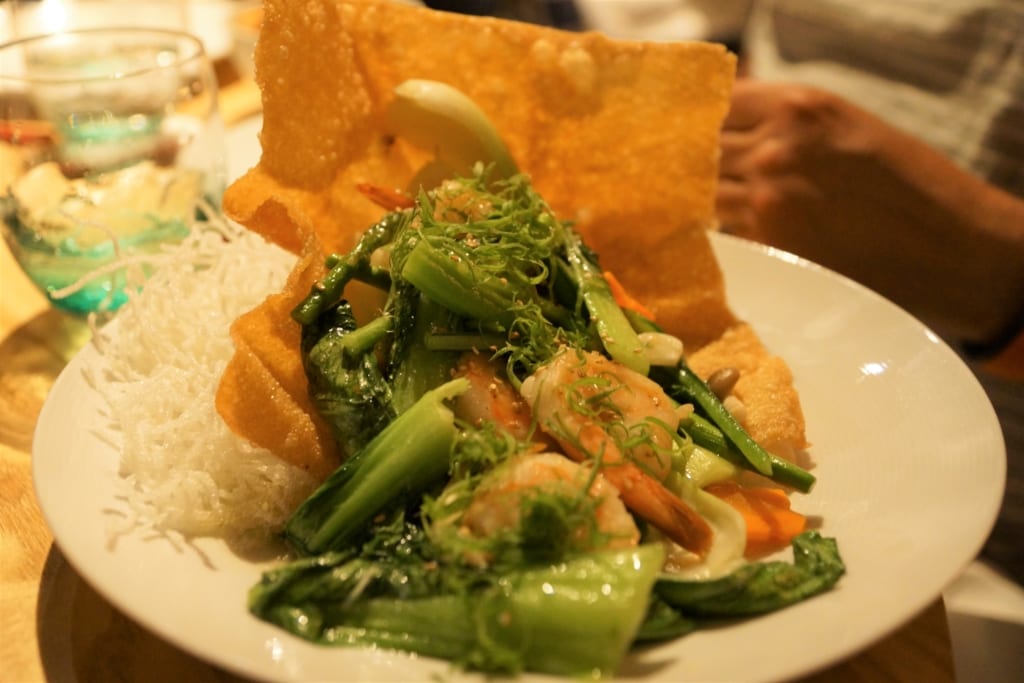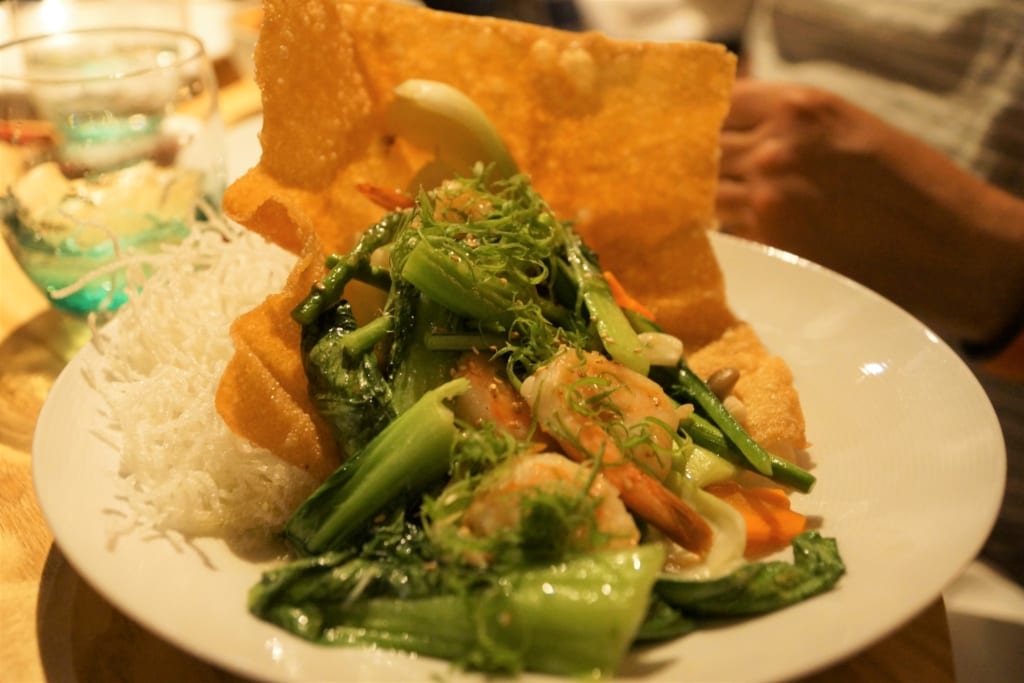 Served with Stir-Fried Veggies, this plate was a nice lighter option. The flavor was good on the shrimp, but I wish they gave you a few more. The Fried Wonton was really good.
The Shrimp Pad Thai ($24) was amazing: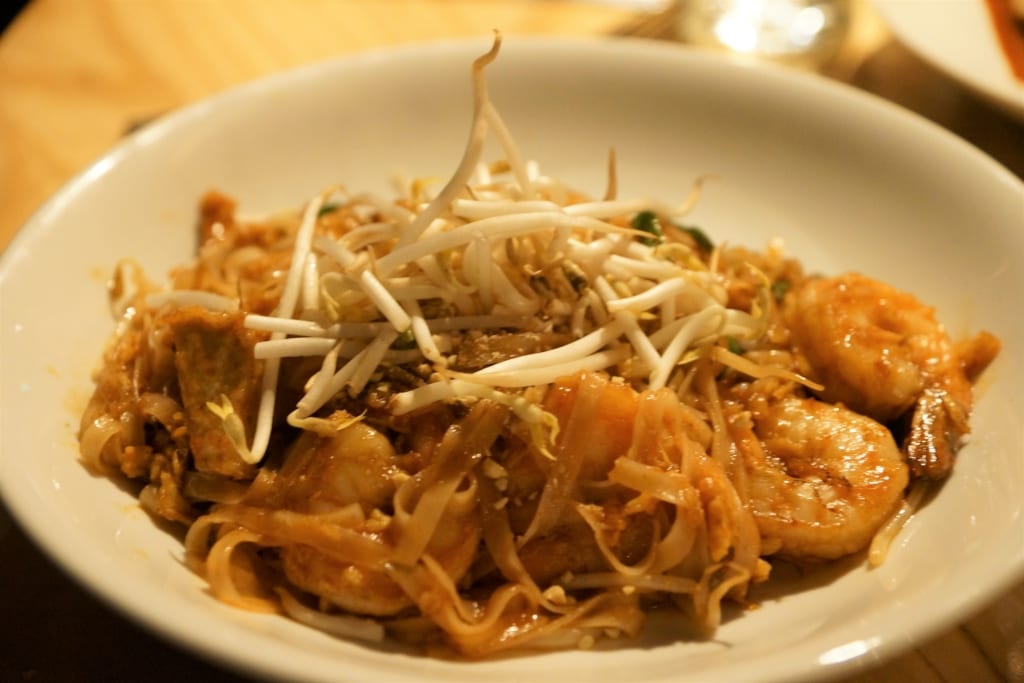 It had a Sweet Tamarind Sauce, Stir-fried flat Rice Noodles, Egg, Bean Sprout, Scallion, Fried Tofu and Pickled Turnip. The flavor was really really good, one of the best Pad Thai's I've ever had. It had all the right stuff with the Peanuts and Sprouts. The Shrimp was great and they give you a decent amount. Good Value for the money.
Next up, was the Vegetable Tofu Medley ($17):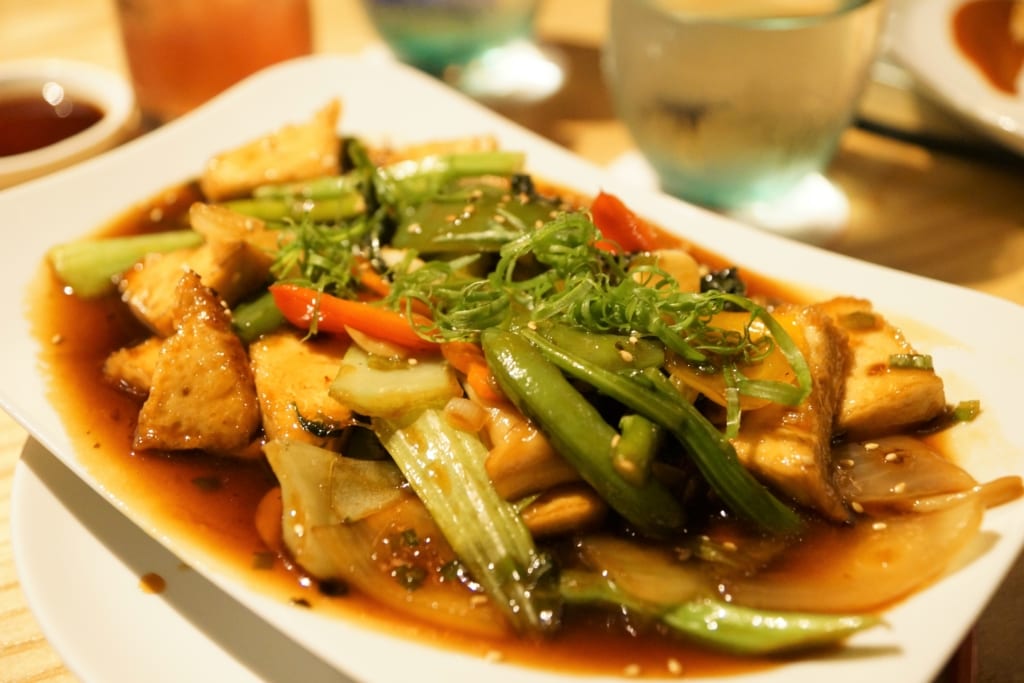 No I didn't order this, our vegetarian friend did. She really liked it. It was full of Tofu pieces, Veggies tasted good, and the sauce was very flavorful. A nice choice if you don't eat meat.
Morimoto Gomoku Shrimp Fried Rice ($25):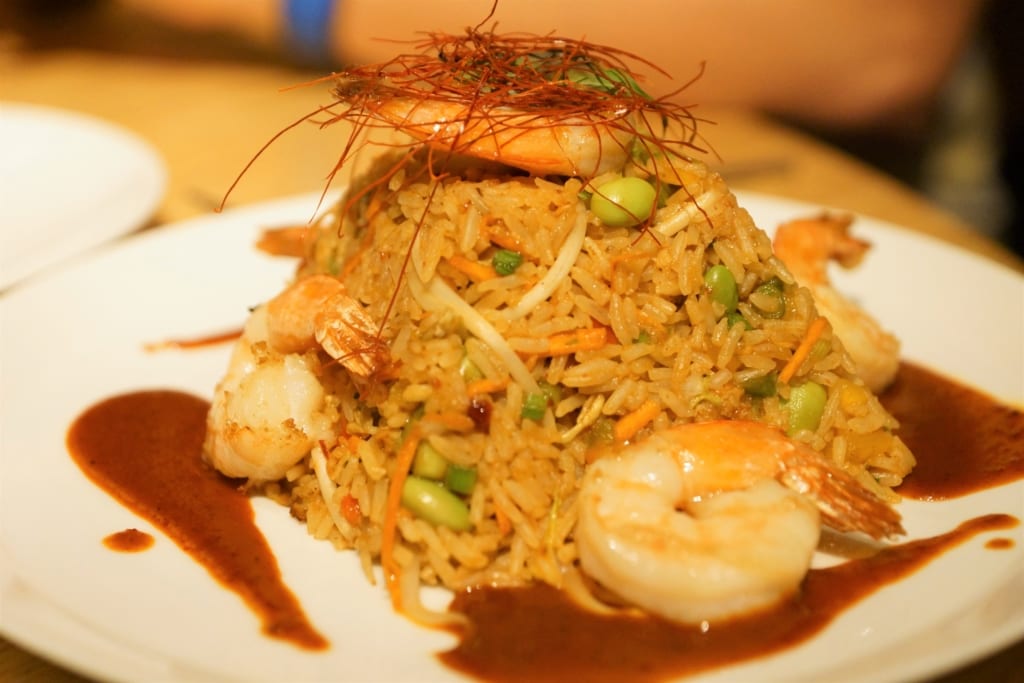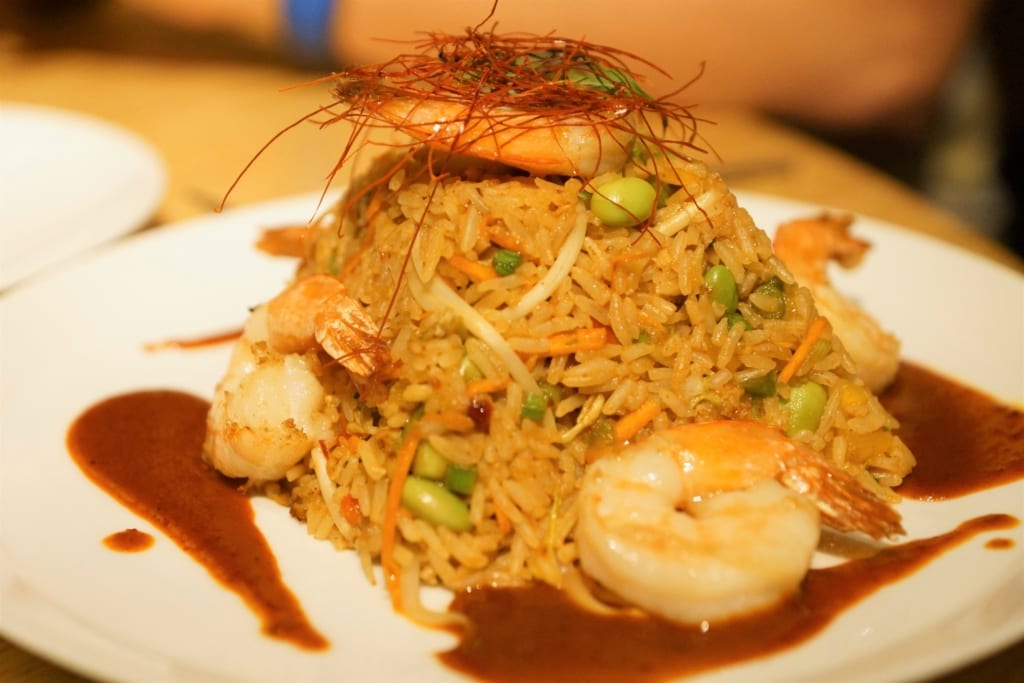 You can choose between a choice of: Duck, Chicken, Pork, Shrimp or Vegetables, and served with a Spicy House Sambal Sauce. When I say spicy I mean really spicy. Do not try this if you can't handle the heat. That being said, I personally do love spicy things and I thought it was amazing. A wonderful presentation, a big heaping portion that can easily be split if you've already had appetizers. One nice thing about it was there wasn't just rice and shrimp, but lots of other good stuff inside like veggies, egg, etc. Shrimp were prepared fantastically. Again if spice is your thing, go for it!
Orange Chicken ($24):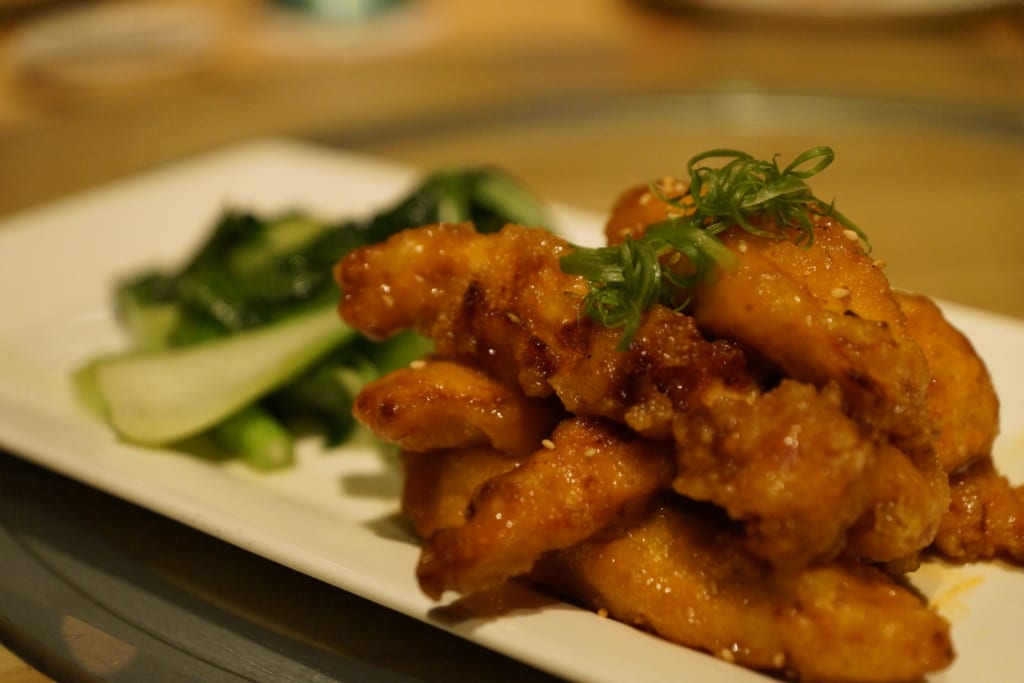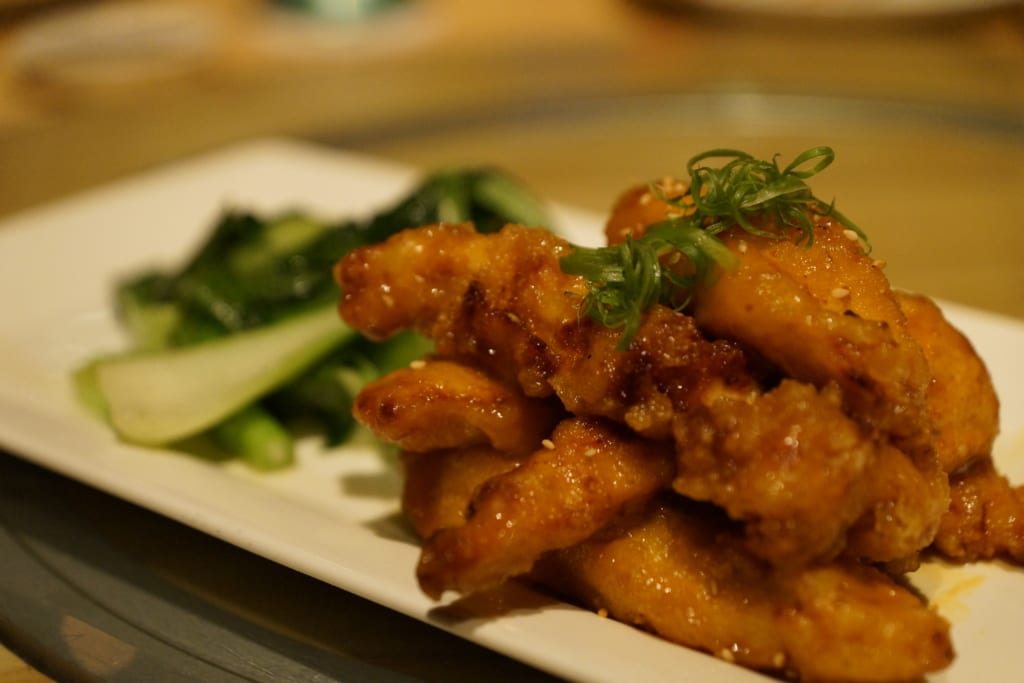 This was maybe the biggest disappointment on the night. It's Tempura Chicken, Chinese Broccoli, Wok-tossed with a Sweet Florida Orange Sauce. The problem was the orange flavor was too strong, overpowering even. And the Chicken I felt like could have been crispier, it was a little soggy. Not terrible, and a decent size, but for sure there are better options on the menu.
Here is the star of the night, the Morimoto Spare Ribs Half Rack ($27):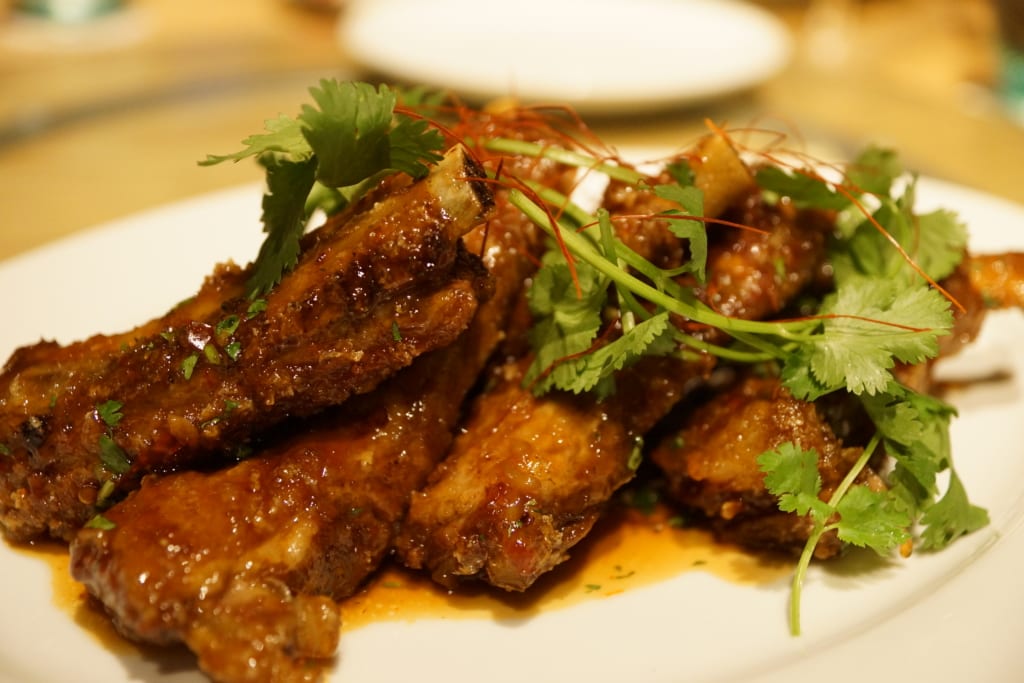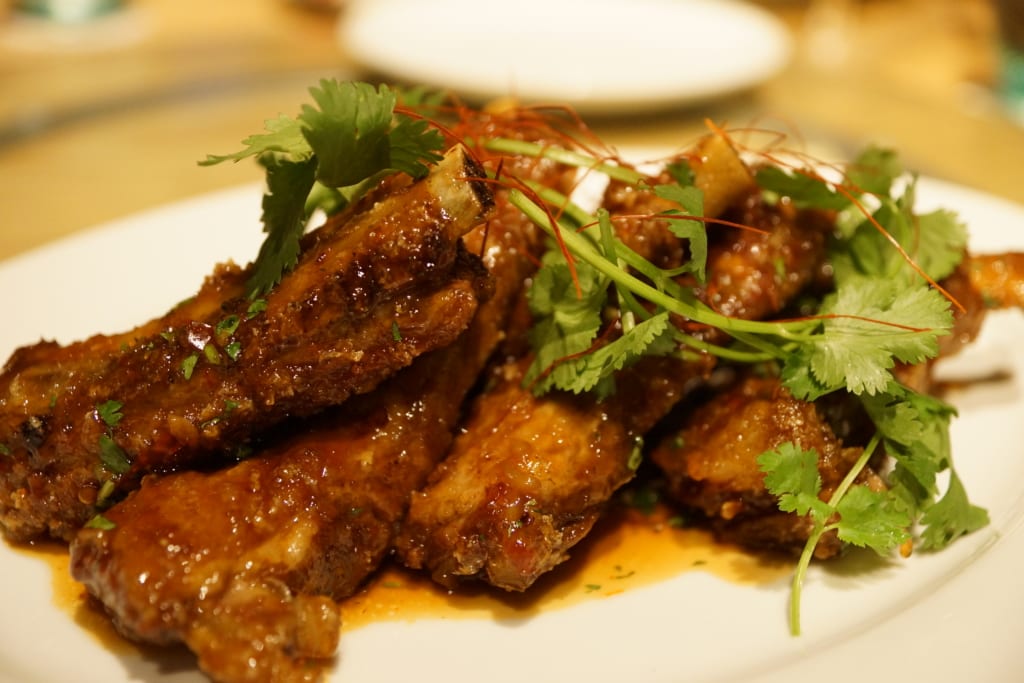 You can order these either in the Appetizer portion which comes with 3 Ribs, or the Half-Rack portion which comes with 6…I'm not even going to tell you which is the obvious choice here! 😉 They are served with Cilantro and a Sweet Hoisin Chili Sauce which is to die for!! These things are so good we almost ordered another 6. Presentation is stupendous.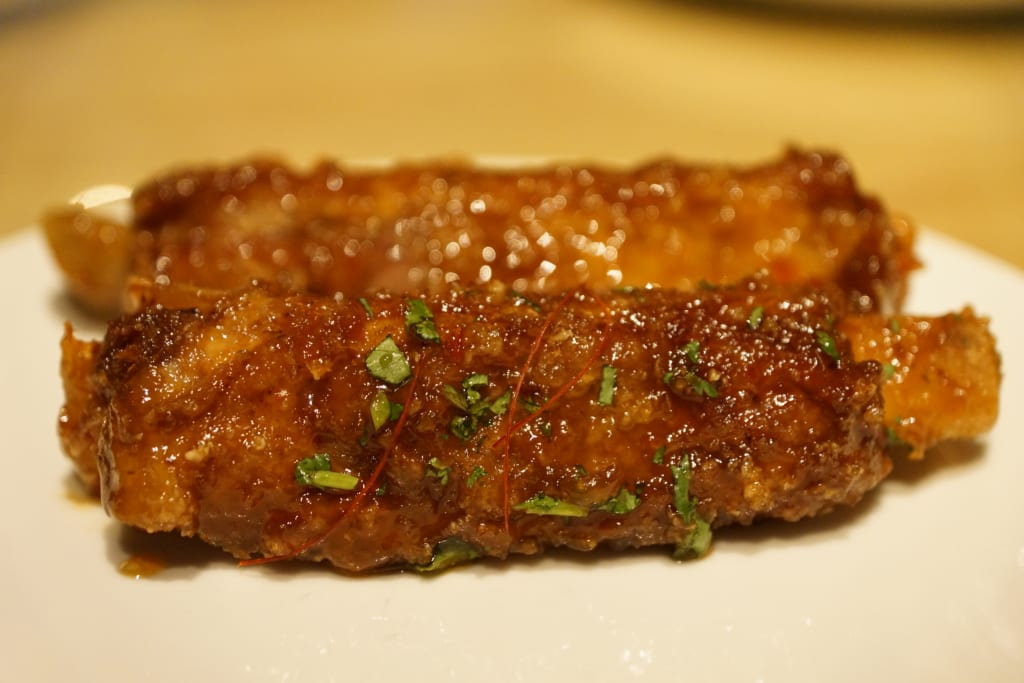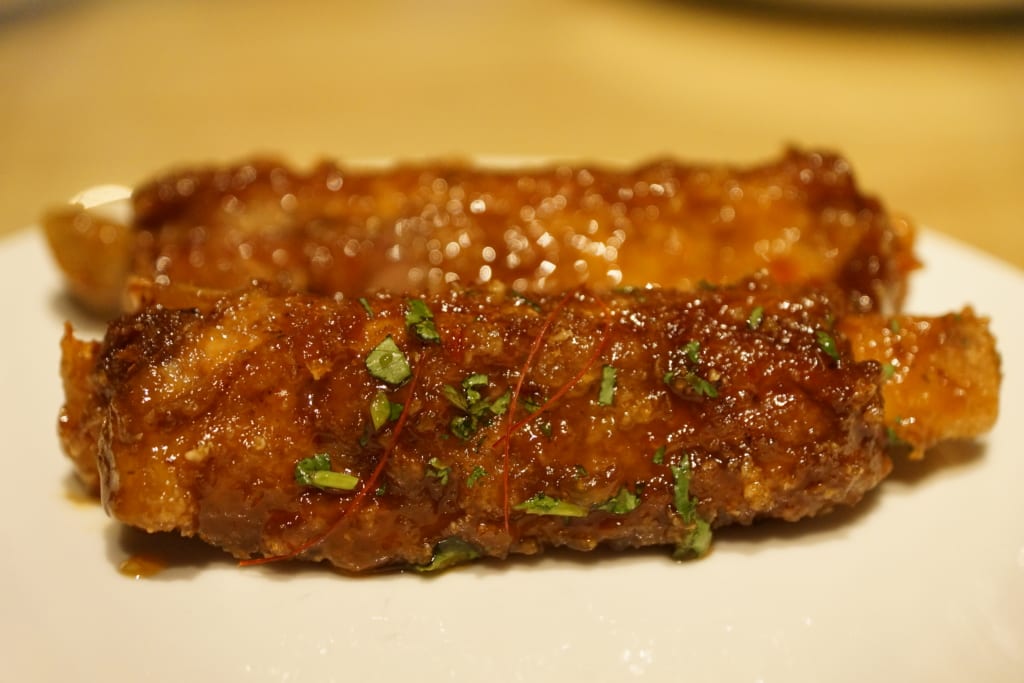 Me and Stefania gobbled these bad boys down so fast I almost didn't have time to take a photo. The meat is so tender and flavorful, falls off the bone. And I don't know what they do to that sauce, but it's rich and flavorful and my stomach is growling just thinking about them again. Really one of the best Entrees, not only in Morimoto Asia, but in all of Walt Disney World! An absolute, must get item here!
I wanted to comment on the service here which was beyond amazing! Our waiter was super friendly and helpful. I asked him a million questions about the menu and he explained each and every one. He knew his stuff really good. This is the kind of service I've come to expect from a Disney Restaurant, especially a Signature Dining one, which sadly sometimes you don't always get. From a service standpoint Morimoto Asia was Top-notch A+.
I mean Ken even got a free head polish from our waiter. This is what I call service: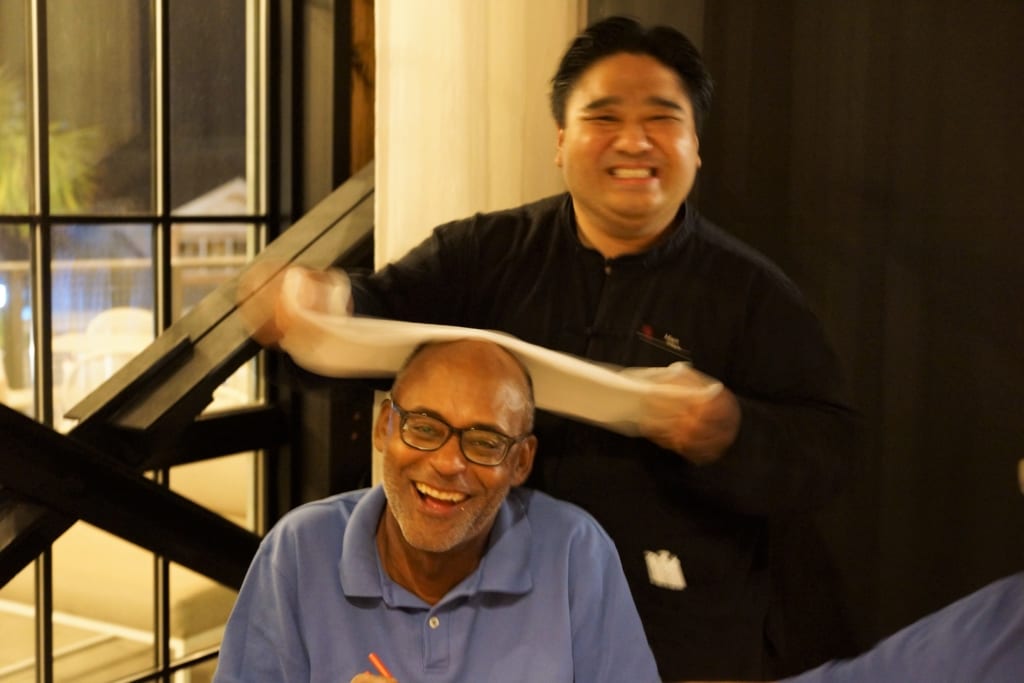 Seeing as it wasn't super crowded when we were there, the Outside Terrace was closed up, but coming here on a nice warm evening and having your meal or drink outside is a great option and I think gives you one of the best views of Disney Springs: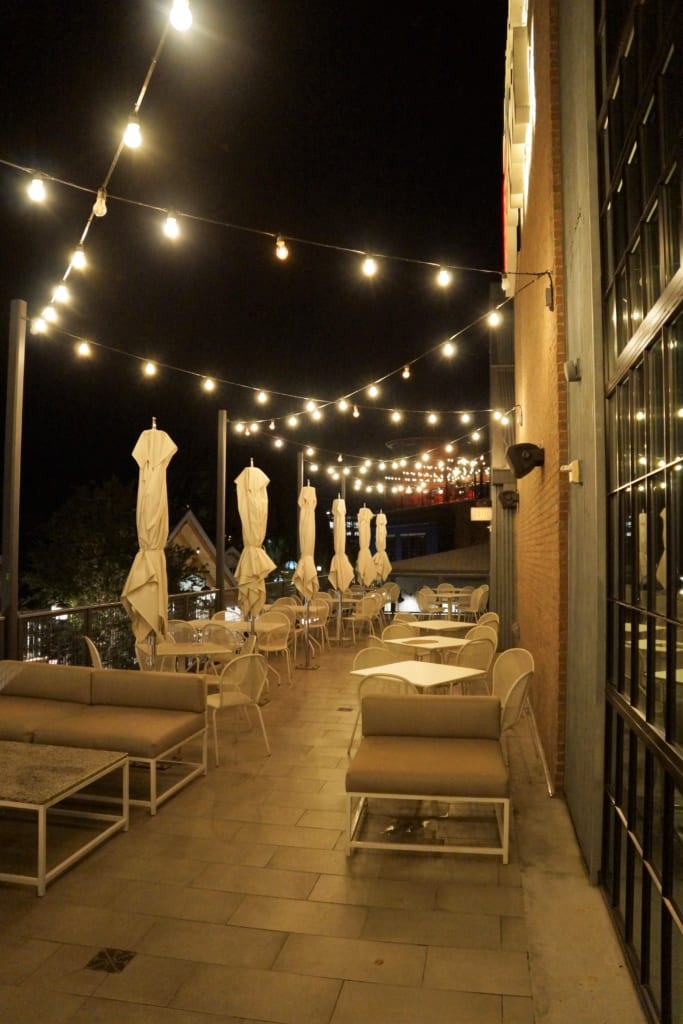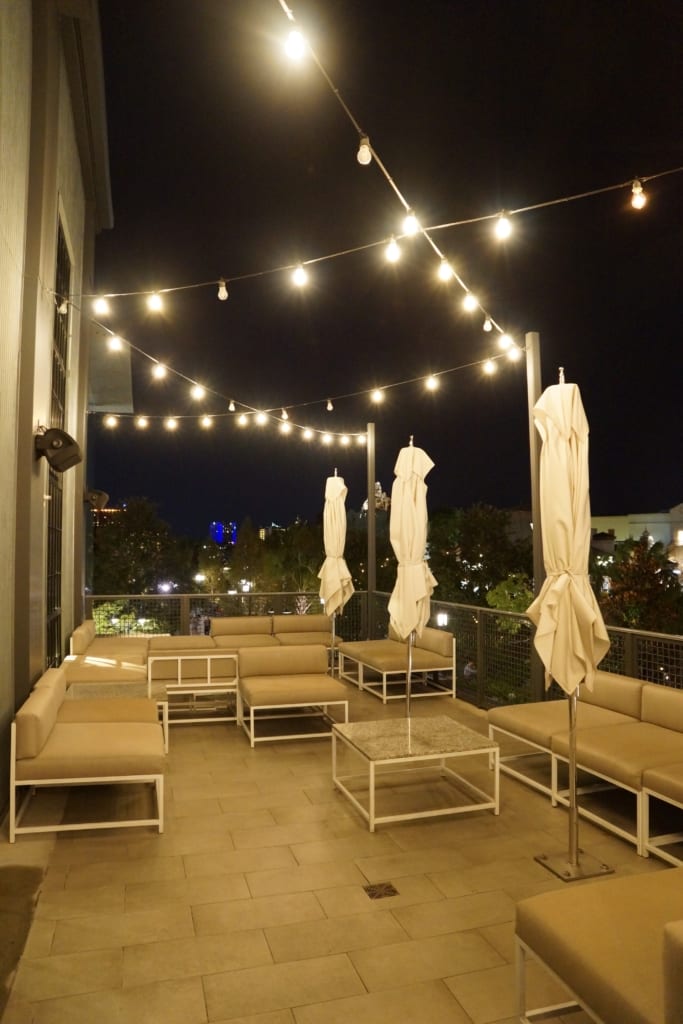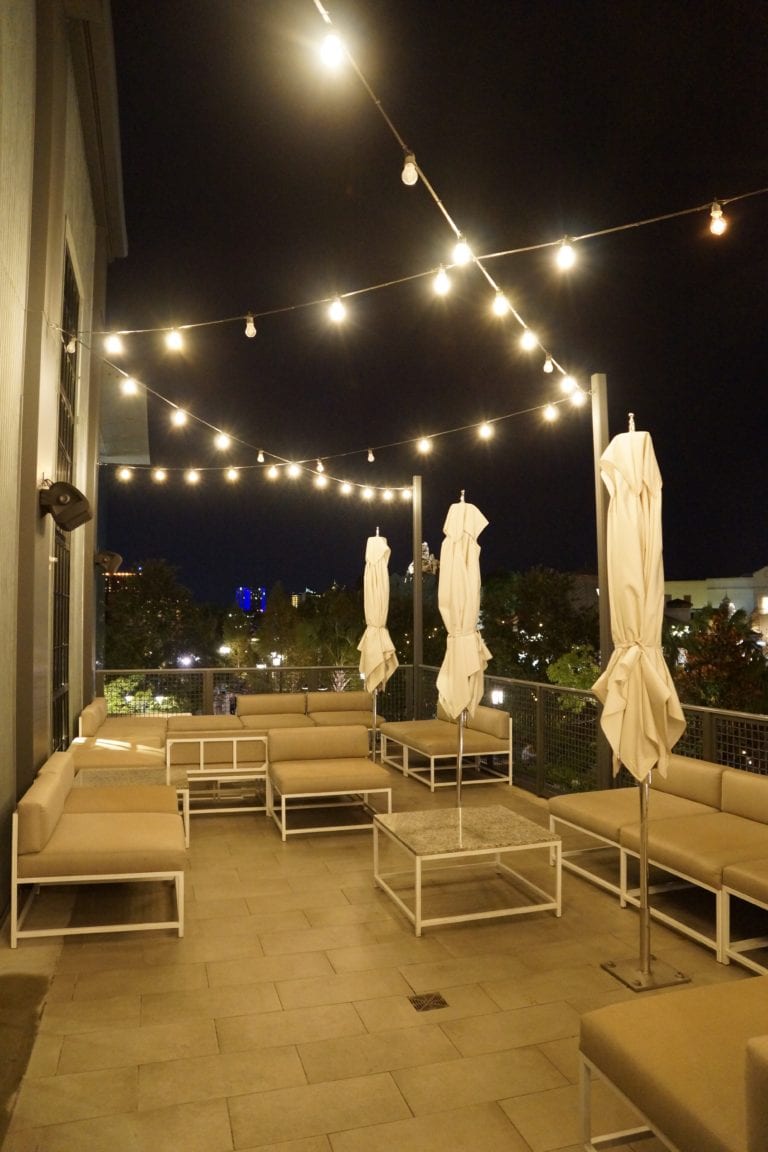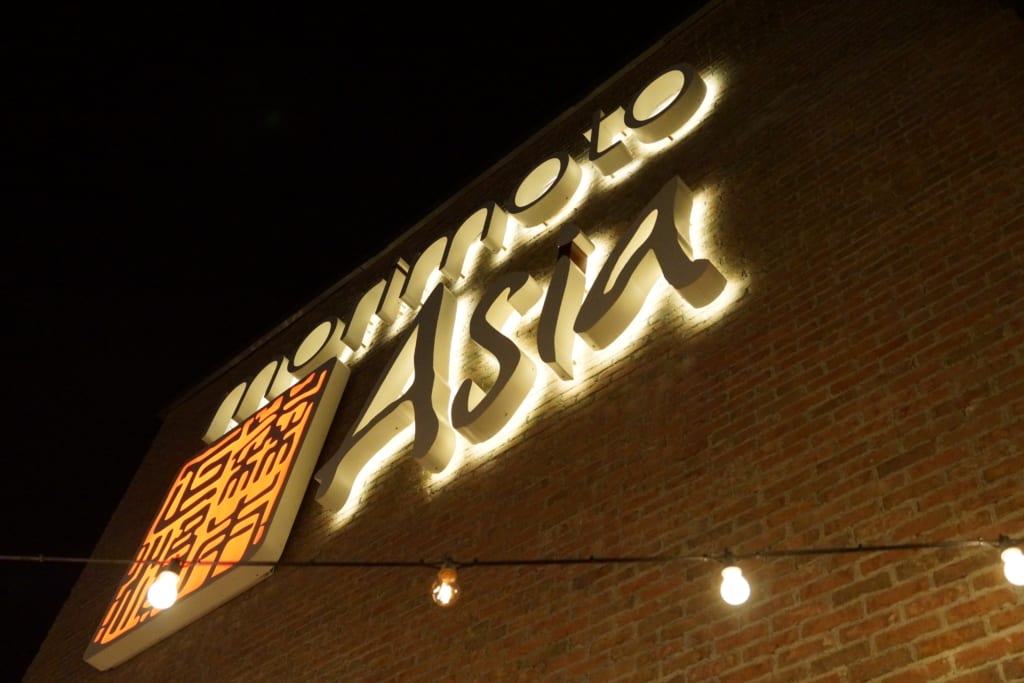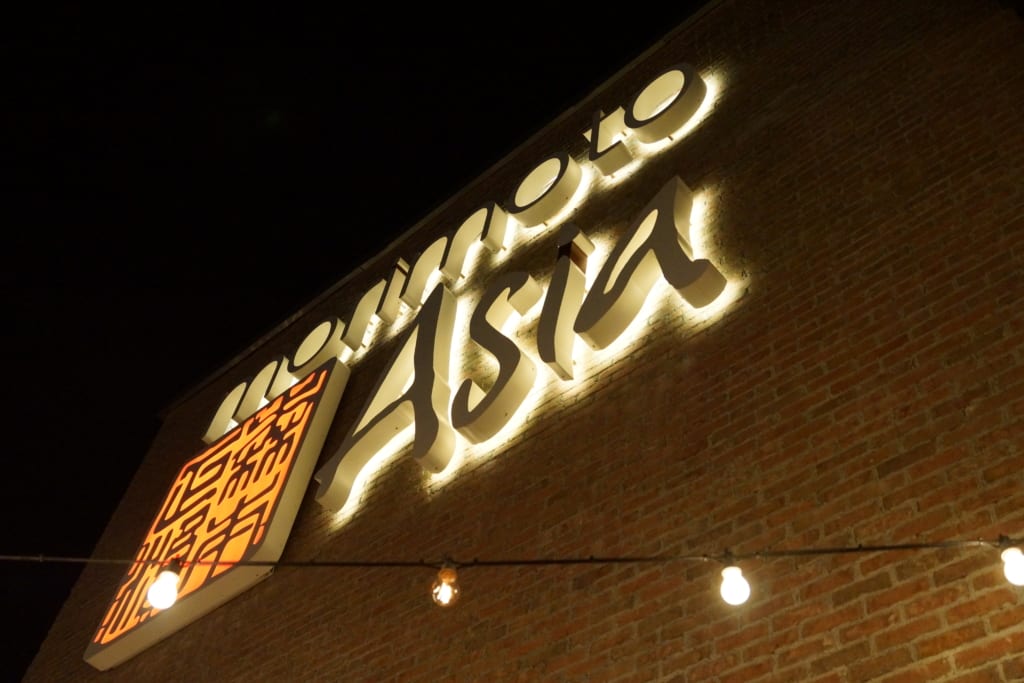 We went outside just to chill a bit and do some people watching: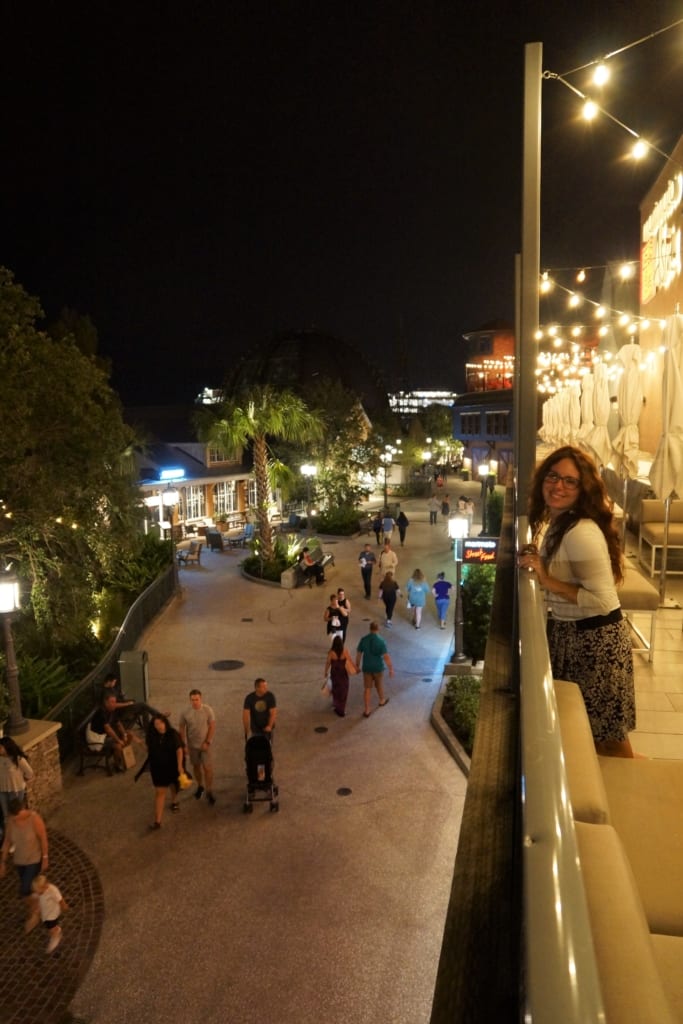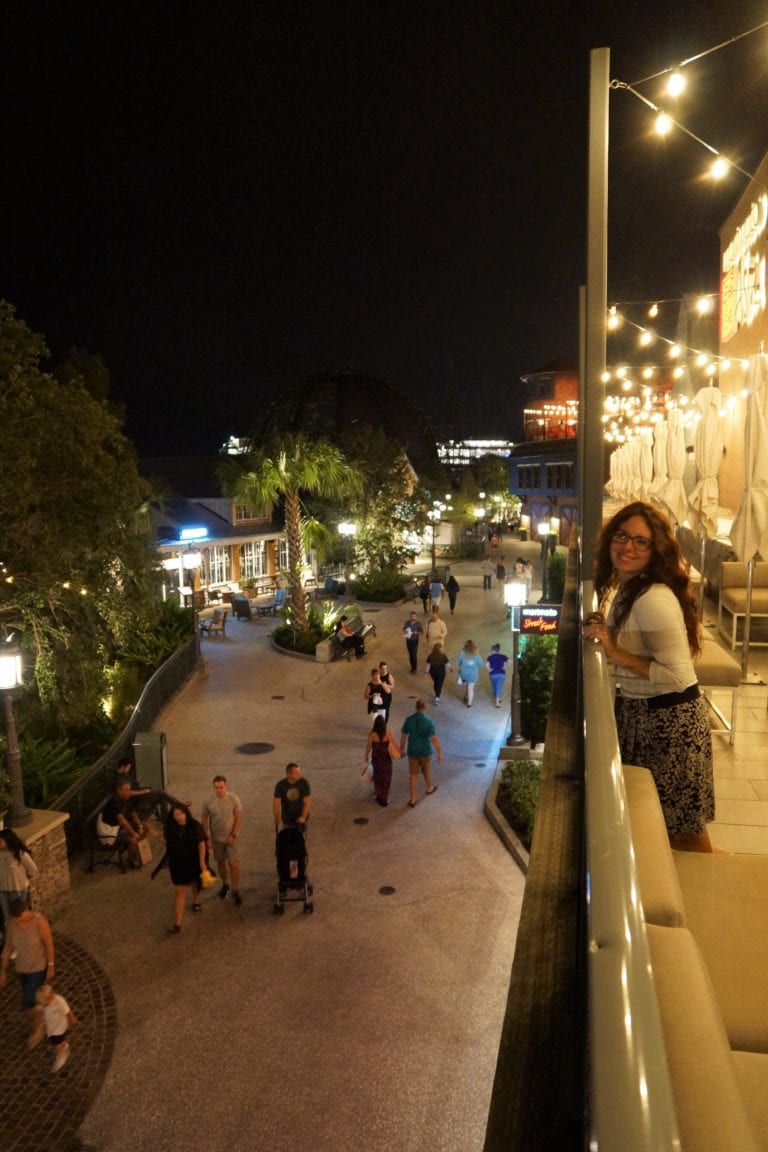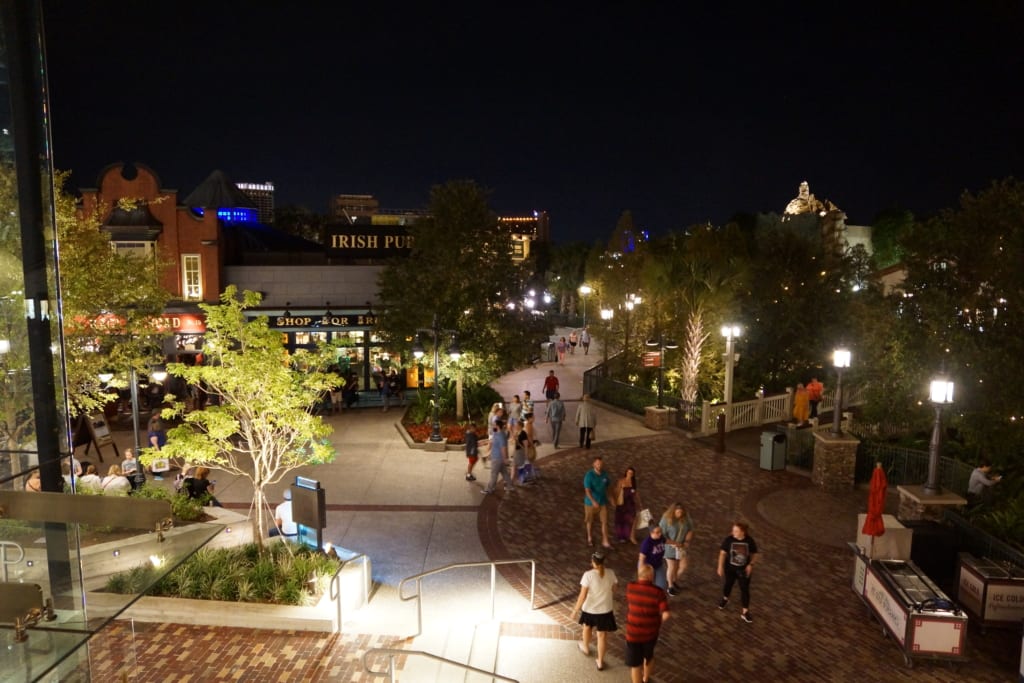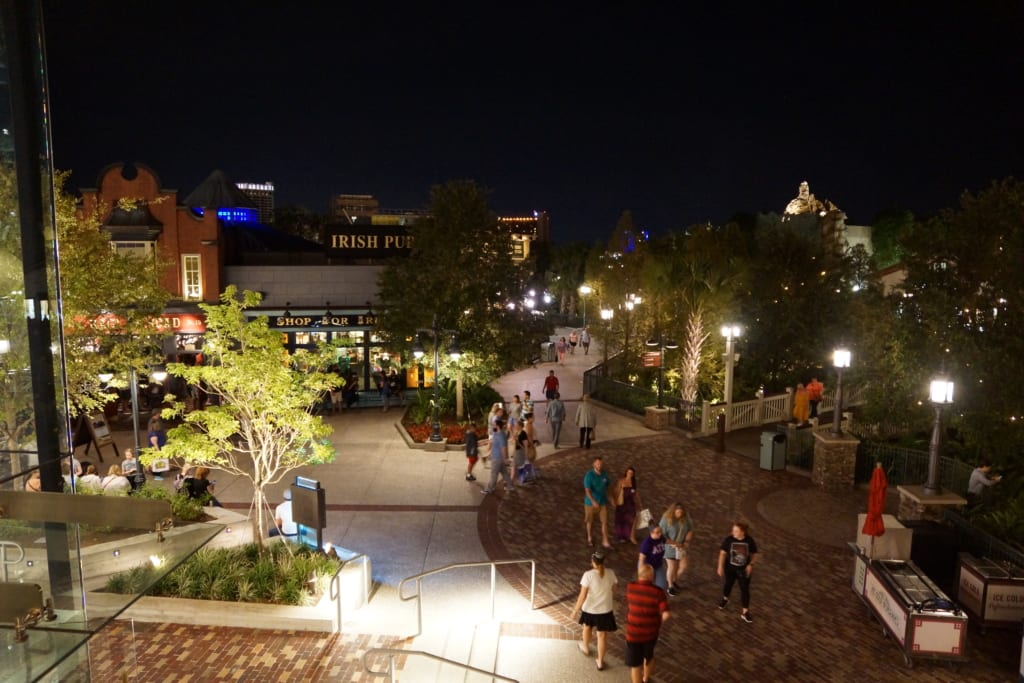 Summary:
My Morimoto Asia Full Review was a smashing success in my book. Basically everything about it blew us away. Atmosphere was breathtaking, I found myself wandering around the restaurant aimlessly taking pictures, because I was that floored. And there are tables more in the center of the action and also those more intimate. The menu was huge and very diverse, offering a ton of options, almost impossible to not find something that appeals to you (even Ken did and believe me, he's super picky!) While offering some high-end food, I thought overall most of the dishes were priced well, and when taking into consideration the quality of the food I think offers some of the best value in WDW, especially at a Signature Dining Restaurant. And the service was possibly the best we had all trip too.
Our favorites were the Pork Bao, which was incredible. The California Roll was our favorite Sushi item and even better than the one at the California Grill. The Pad Thai and Shrimp Fried Rice entrees were amazing. And I don't even have words that describe how much I love the Spare Ribs. Please be good to yourself and get them when you go! You're worth it! 🙂
If you haven't been yet then I would put it close to the top of my list of must-try places in Walt Disney World. I know from now on it's going to be a staple for us, and it should be for you too.

Morimoto Asia is a Lunch/Dinner restaurant and is open from 11:30 am – Midnight Daily on Weekdays and from 11:30am to 1am on Weekends. The Forbidden Lounge located on the Second level serves its own late-night menu daily from 10:00pm-1am. The Disney Dining Plan is also accepted, it is a 2 Credit Dining restaurant. Reservations can be made via the Disney World website or by calling (407) WDW-DINE.
I love to write Restaurant Reviews of Walt Disney World and I hope you found this one to be informative and helpful. If you liked this review then please visit my Disney Dining Reviews Page where I have many other Restaurant Reviews. I'm happy sharing with you what I love doing best…eating! I try to bring you the most thorough and unbiased reviews about the food and restaurants at Walt Disney World, so that as you are planning your vacation, you know the "can't be missed" places, and where you shouldn't waste your time. Hope you enjoyed this one and will enjoy many others in the future!! ?
If you enjoyed this article, as always I appreciate it if you'd share it with others via social media. I work hard at making this website into a useful resource for you and your family to plan your visit to Walt Disney World, and I hope it can help you! Thanks 🙂
Your Thoughts:
I want to know what you think about my Morimoto Asia Full Review and your experiences there. What's your favorite food or drink item at Morimoto Asia? Is it a good value for your money? Do you think they have the best Sushi in Walt Disney World? Let us know in the comments section below! 🙂