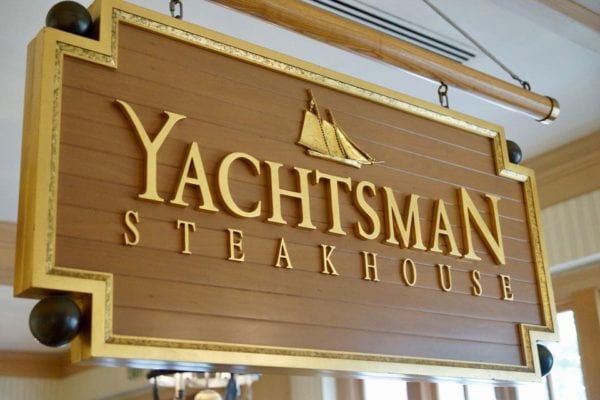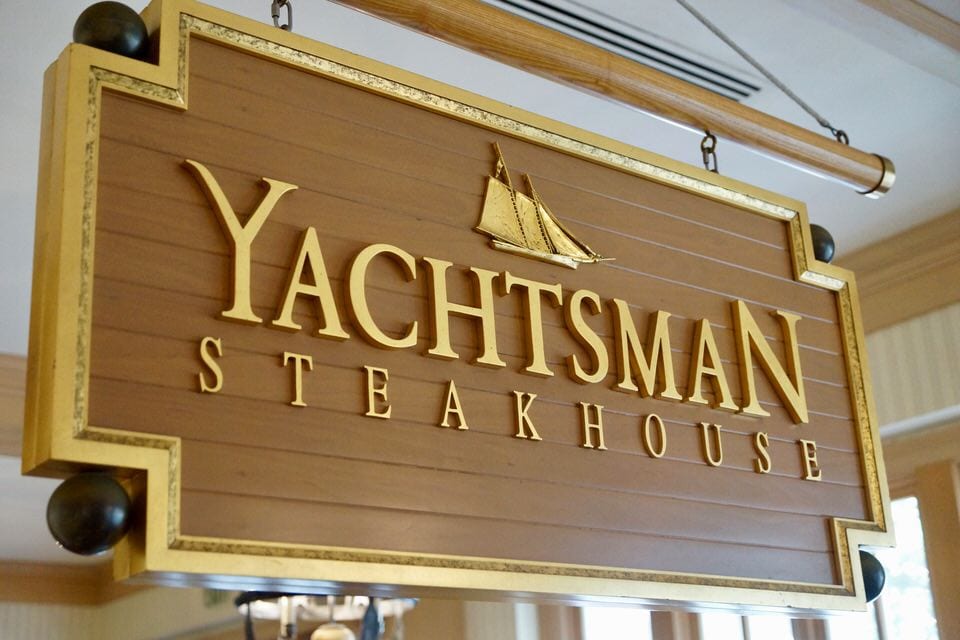 If you are looking for great steaks in Walt Disney World, this is the place to come. The Yachtsman Steakhouse is a Table Service Restaurant in the Yacht Club Resort. It's a Signature Restaurant and requires 2 Table Dining Credits if you are using the Disney Dining Plan. It does participate in Tables in Wonderland which gives you a %20 discount on your food and drinks, which is always a great thing! Yachtsman Steakhouse does accept ADR's 180 Days in advance and while it's not quite as popular as some restaurants, it's still hard to get a table especially in the busy season so make a reservation as soon as you can.
Yachtsman Steakhouse offers a variety of amazing food including some great seafood dishes, but they really specialize in…you guessed it…Red Meat, big juicy slabs of it! In fact many put it in the conversation for best steak on property. Being a Signature Restaurant means you won't find a cheap meal here, but I've always found the quality to equal the price. Also a certain "business casual" dress code is required so I wouldn't come in a tank top and flip-flops. 😉
Yachtsman's often gets a bit overlooked because of having to travel to the Yacht Club to eat there and is also viewed as being a bit "stuffy." But is that the case? How does it compare with other Steak heavyweights such as Le Cellier, Shula's and Jiko?
It's been a few years so I wanted to do a Yachtsman Steakhouse Full Review. I'm hoping that the good experiences we've had there in the past continue over this time….let's find out!
Atmosphere:
To get to Yachtsman you'll need to find your way to the Yacht Club Resort and make your way out to the back by the pool. You can either take transportation to Epcot, Hollywood Studios or one of the other Epcot Resorts like the Boardwalk Resort, Beach Club or Swan and Dolphin. To make it easy I would recommend doing either Epcot or Hollywood Studios the same day and then just either walk over to the Yacht Club Resort or take a Boat from the park.
If your coming from along the waterside of the resort then eventually you will run into the Back Entrance of the Yacht Club here: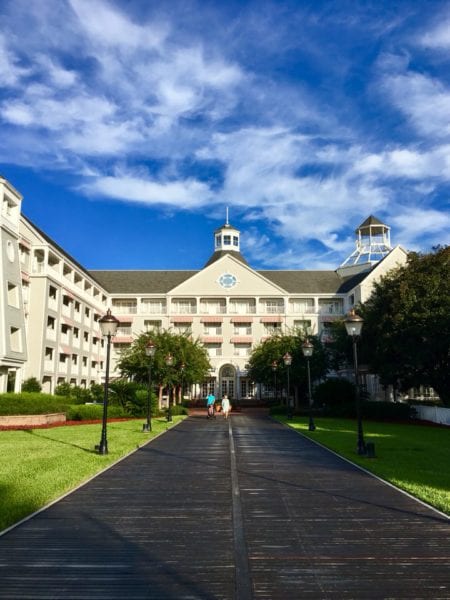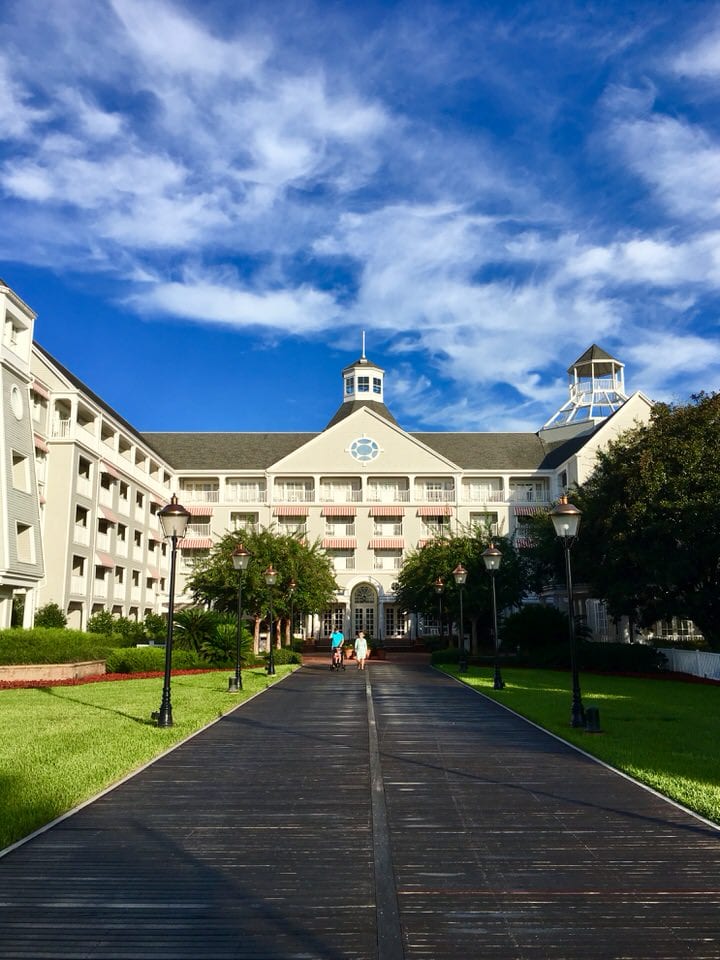 Go up the path and turn right and you'll see the entrance to Yachtsman Steakhouse right away!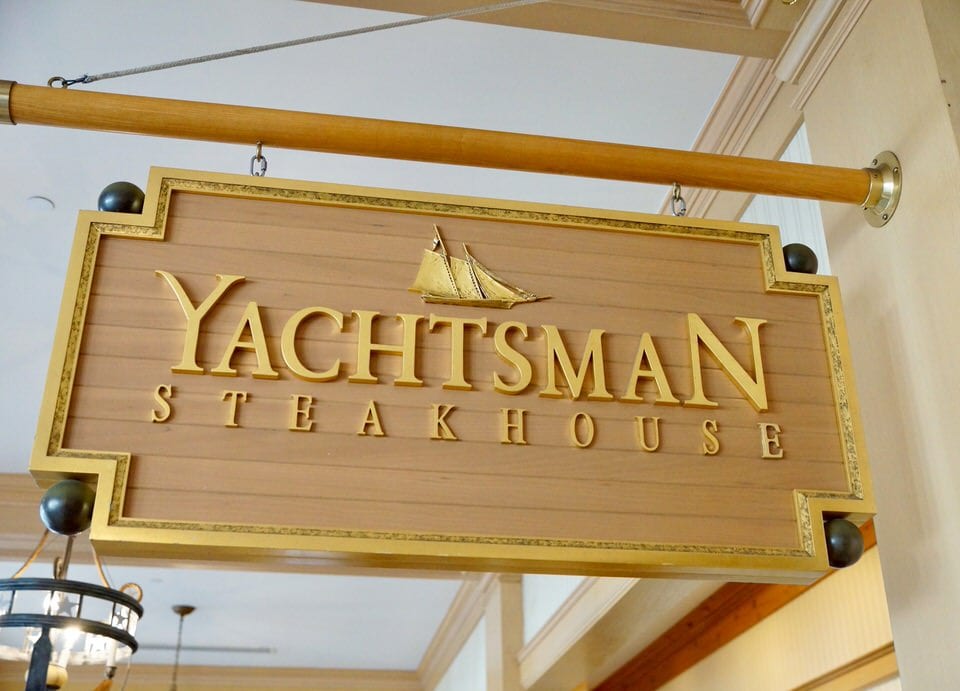 The first thing you see when you walk in is the Meat Dry Aging Room where the butchers cut and prepare the steaks: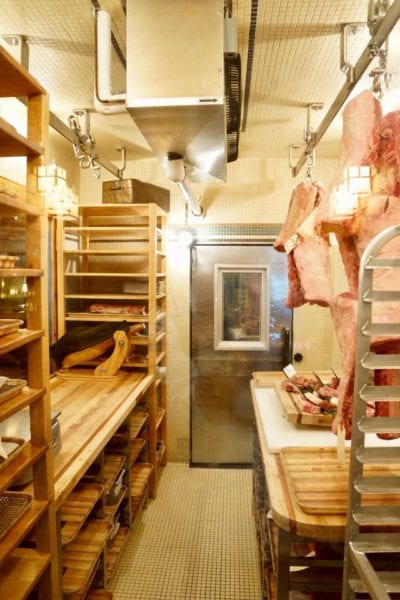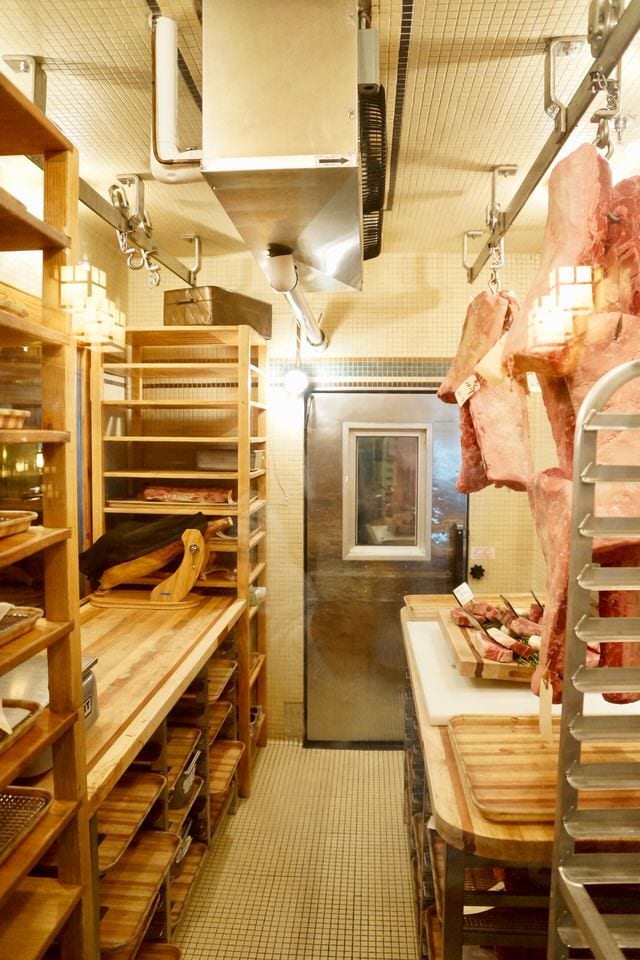 All the meat at the Yachtsman Steakhouse is cut in-house, you you know you're getting a fresh quality steak, not something that's been prepackaged.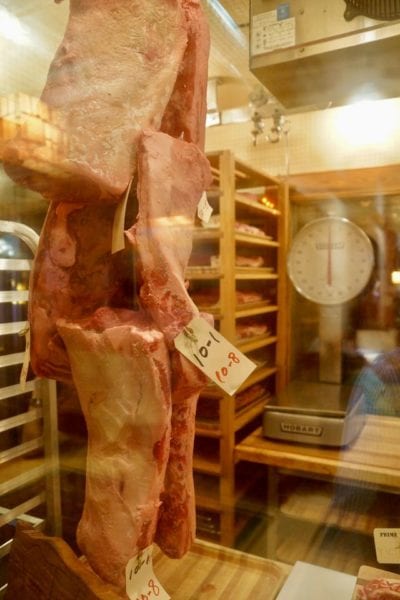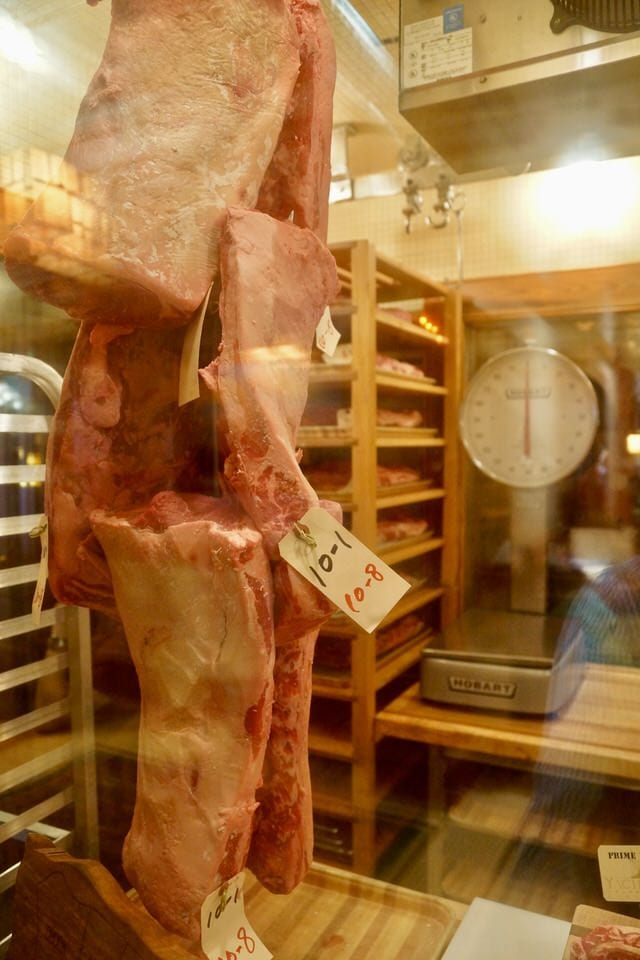 Here's the butcher going to work: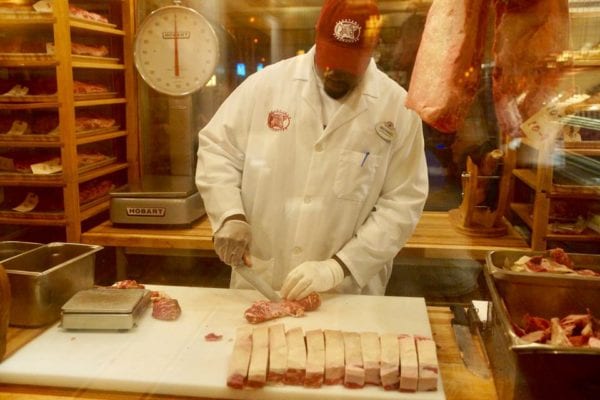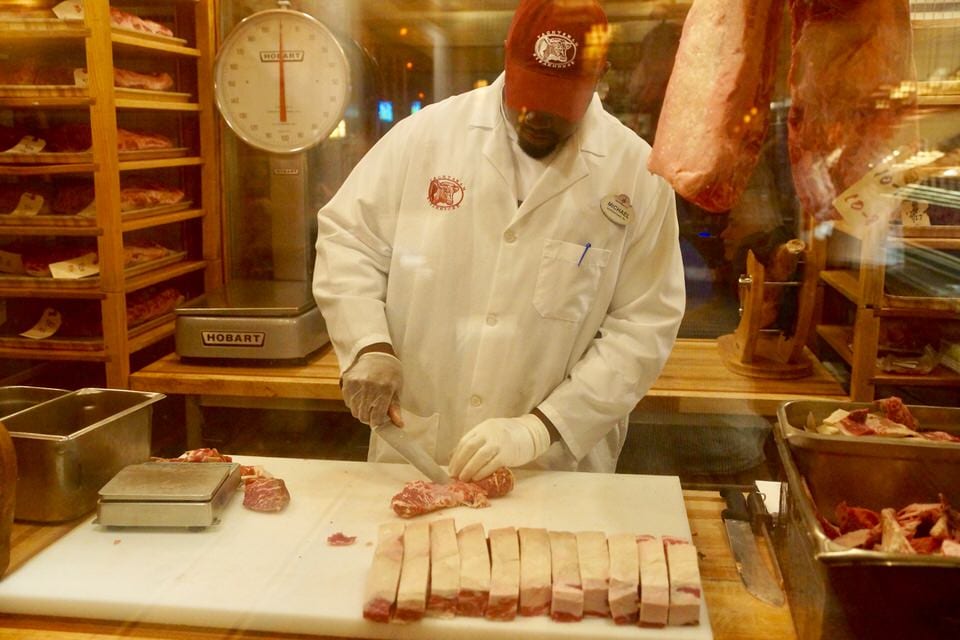 Look at that concentration, even with the camera in his face he didn't look up once! 😉 Here's a shot of the meat once he's done cutting it: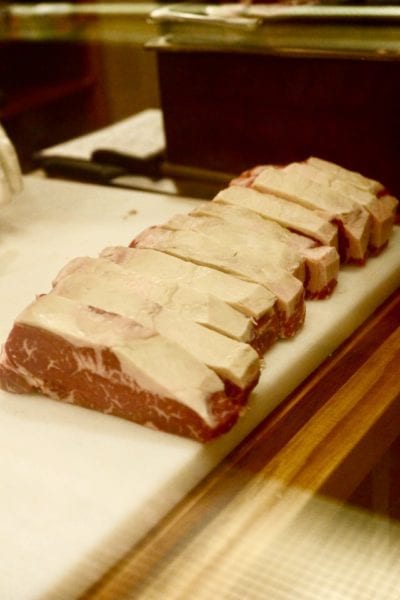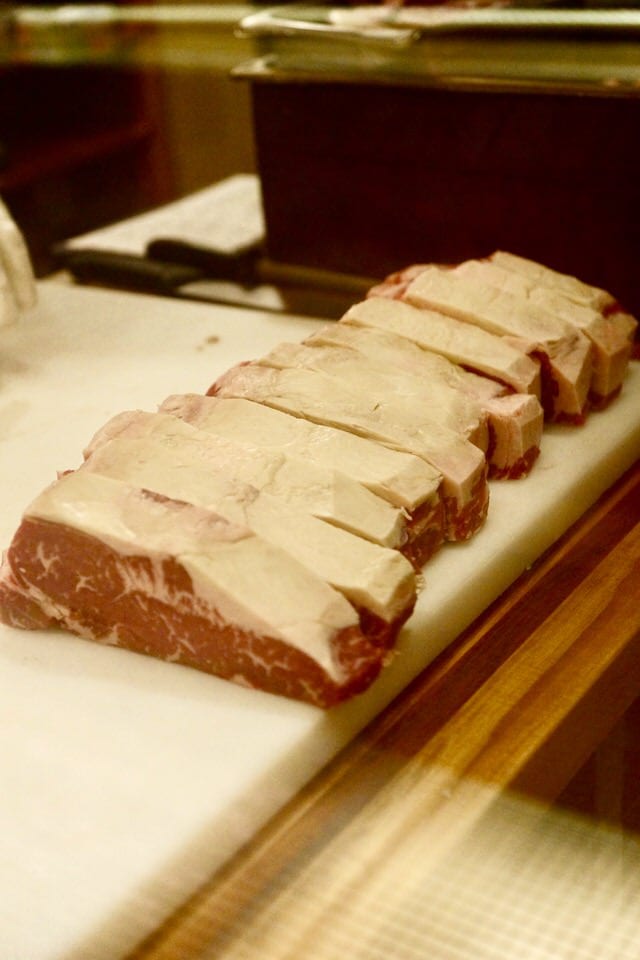 Once the steaks are cut, they are then set on racks to age with tickets telling them when they were cut and when they must be used by: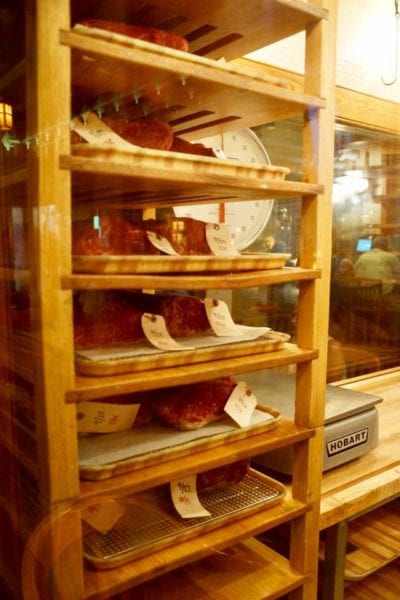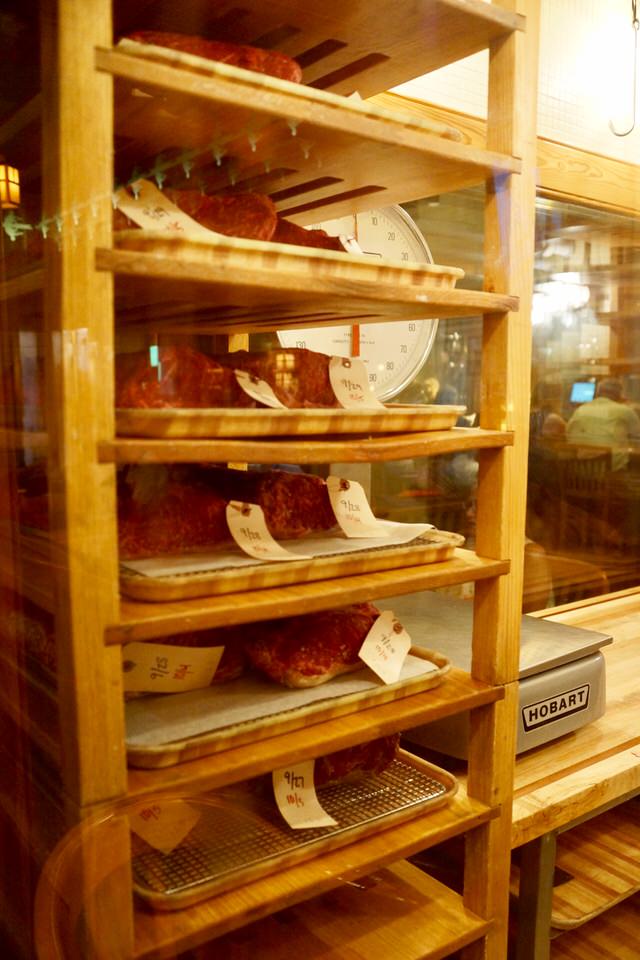 Those are some good-looking steaks!!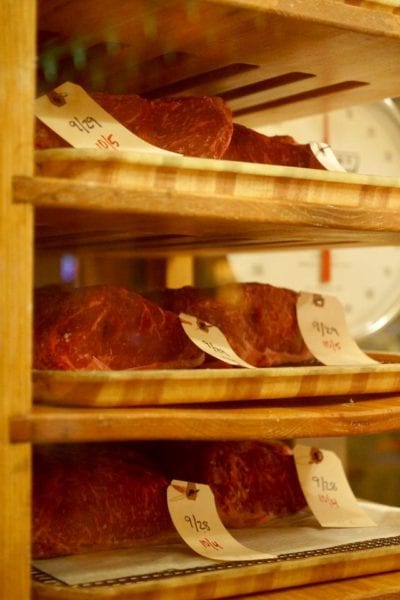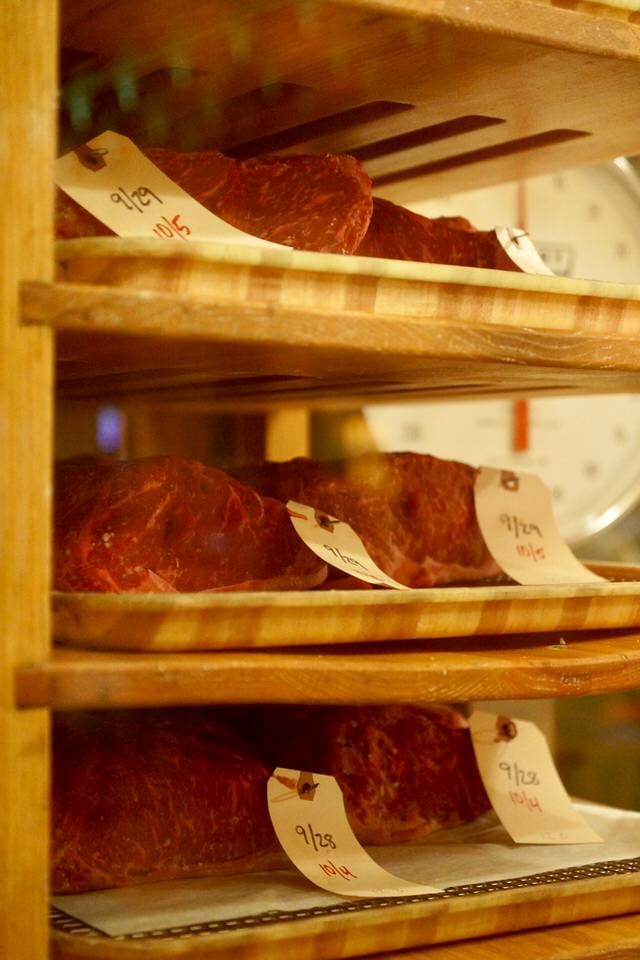 Now the style here is either a positive or negative for you depending on your tastes, because the Yachtsman Steakhouse is themed after just that, Yachts.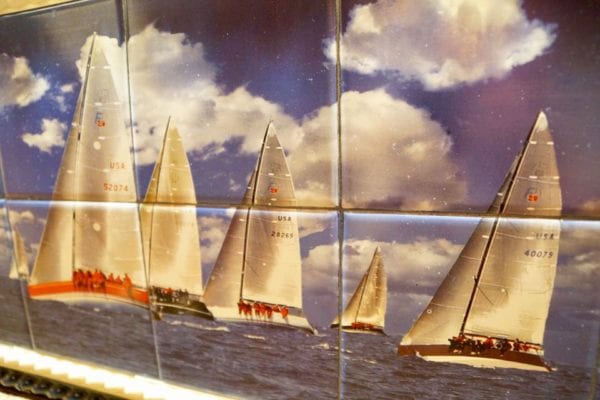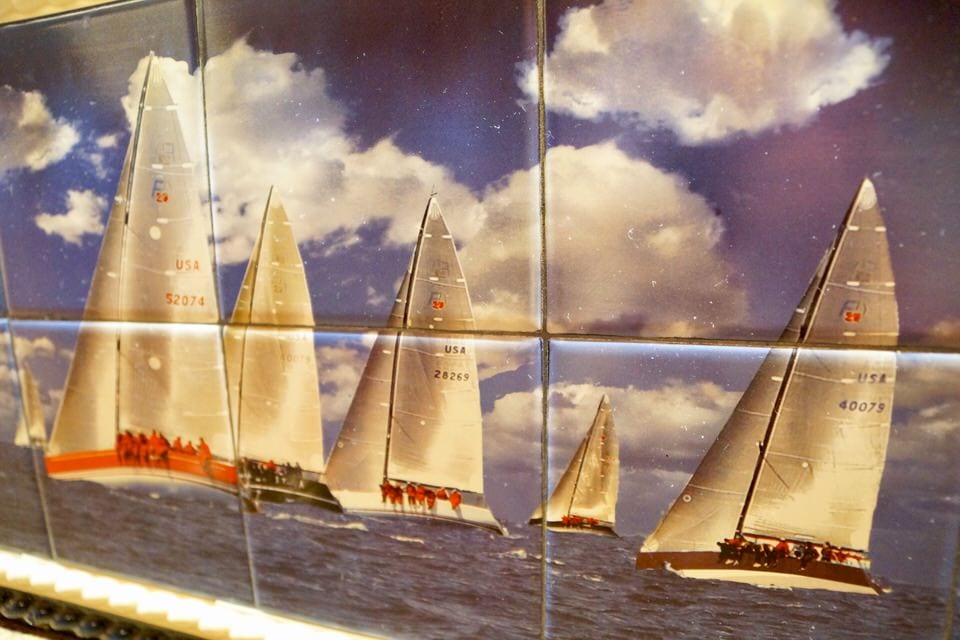 If you look to the left into the Bar, you'll start to get more of a feel for the decor. Pine wood beams line the high ceiling, along with beautiful chandeliers: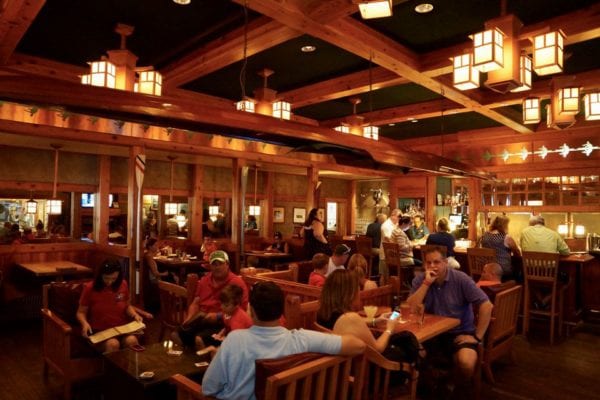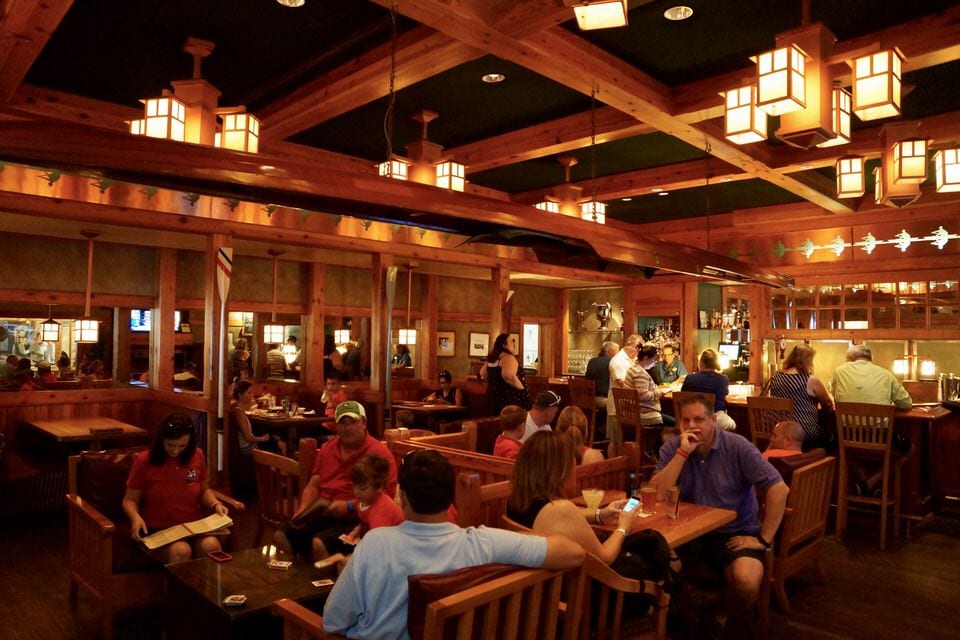 A cool feature that's a part of many upscale Disney restaurants is the Open-Kitchen: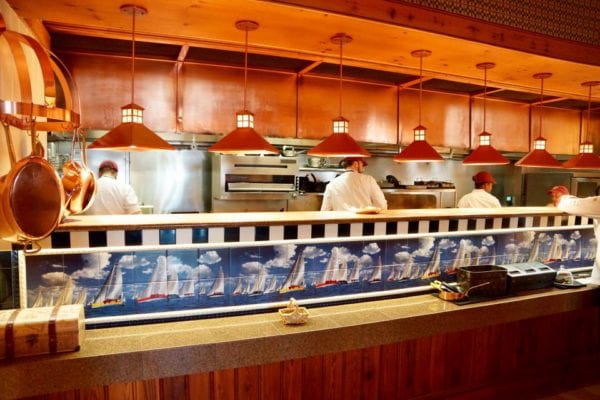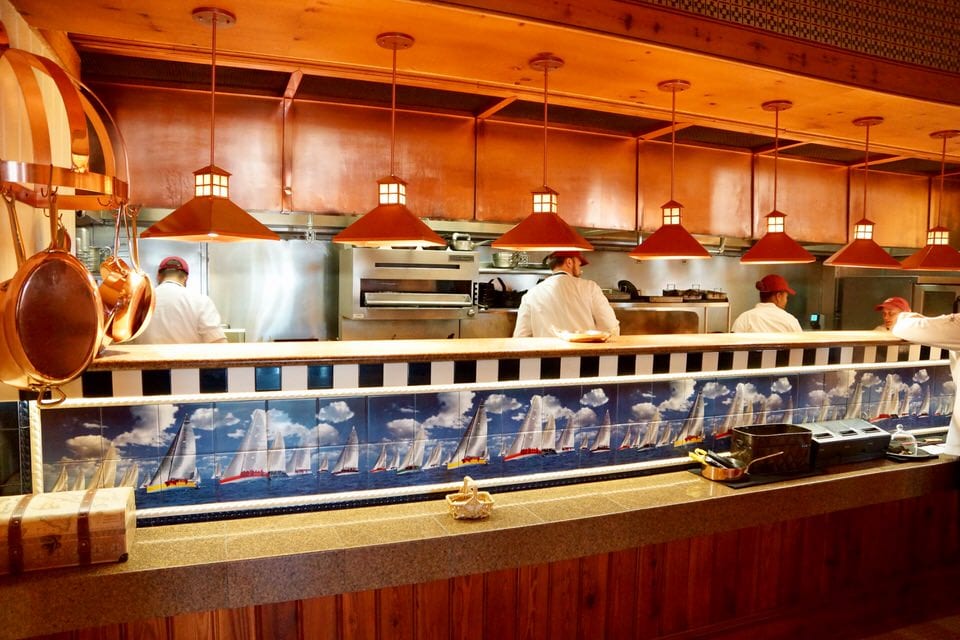 Turn right and you'll find the entrance to the Main Dining Hall: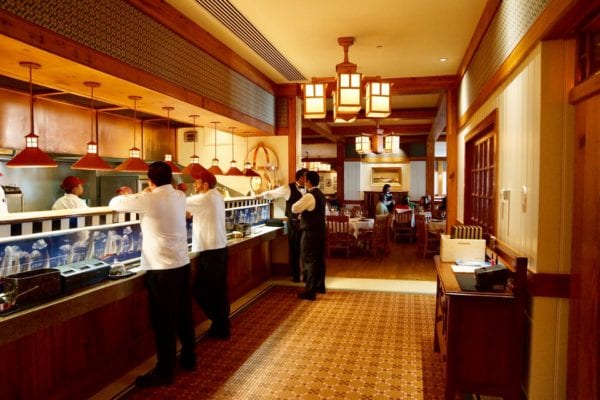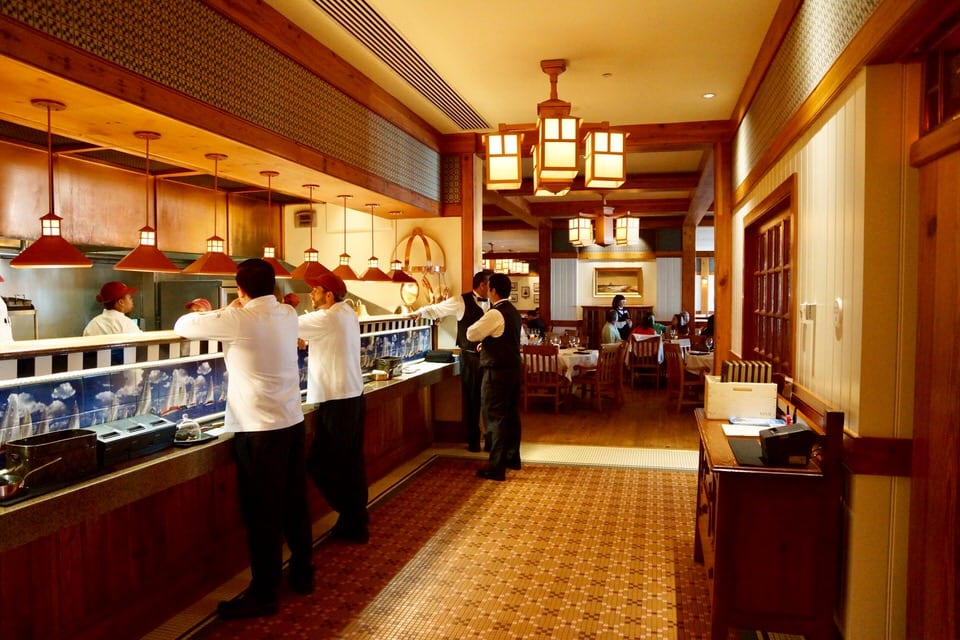 Some people complain about the decor, they even find it stuffy or snobbish. Personally I love the natural wood and soft tones you find throughout. It's supposed to be reminiscent of a sea-faring New England town, and that's exactly what it delivers. You're not going to be blown away by the decor, like in a place like Moritmoto's, but that's ok because that's not the focal point here, it's the food.
The Main Dining Room is a large and open space. Again more rich colors from the wood: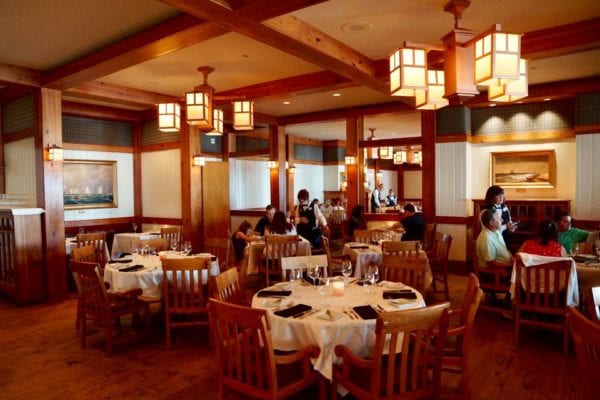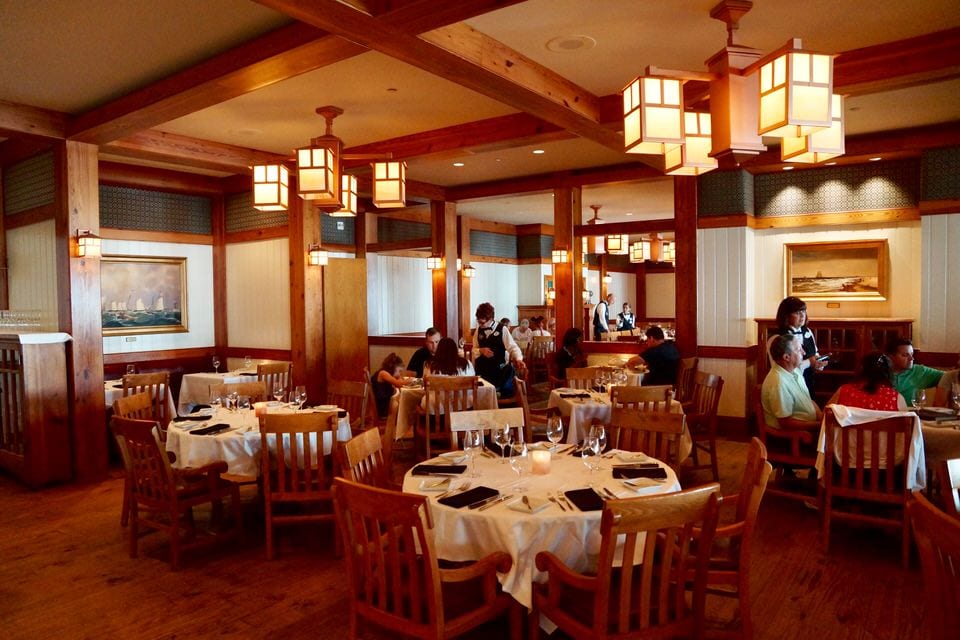 The lighting in here is excellent, especially when the sun is still out due to the large windows overlooking the Pool at Stormalong Bay. That's refreshing as at some steakhouses you practically have to bring a flashlight with you in order to see: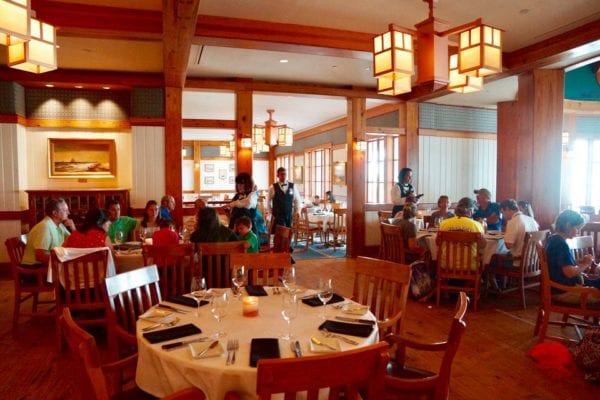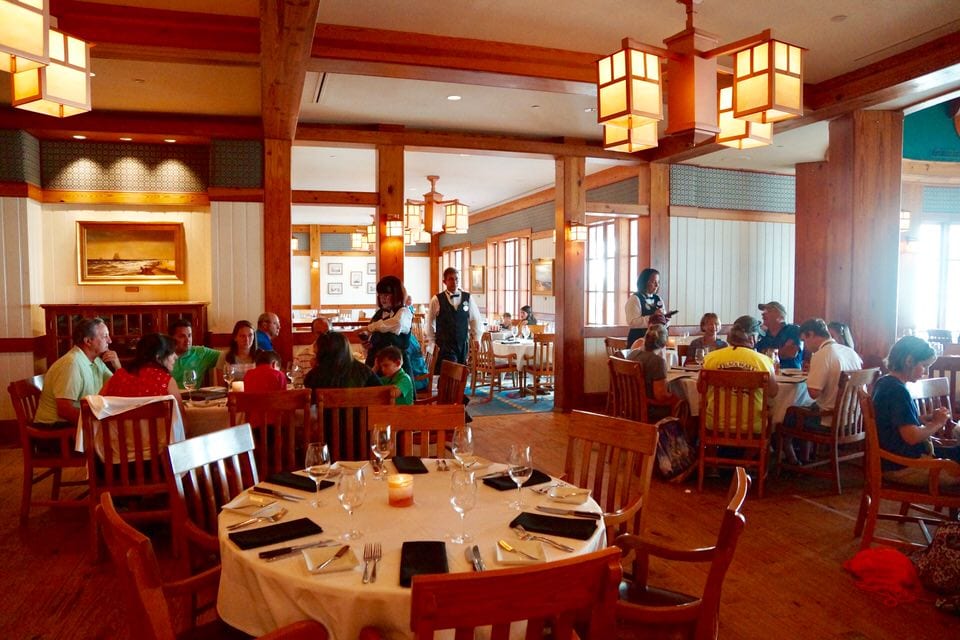 This room is gorgeous and has a great view of outside: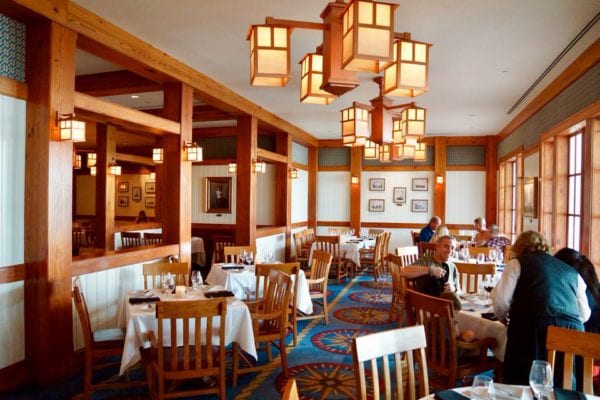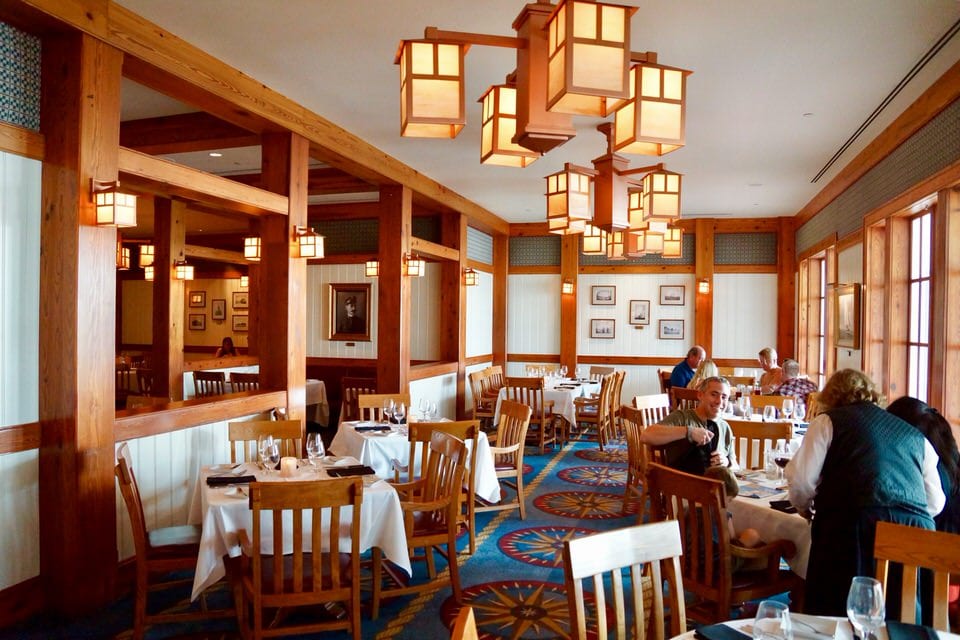 One of the tables in the main dining room: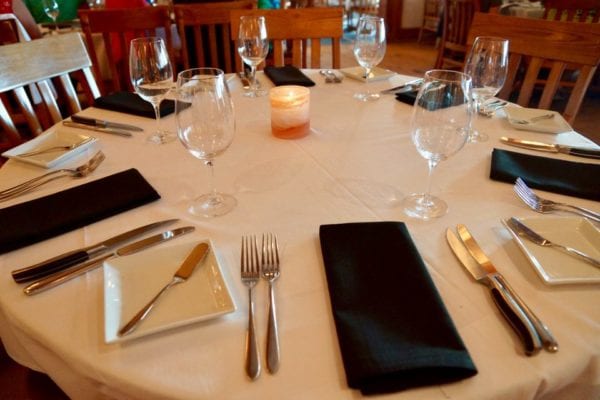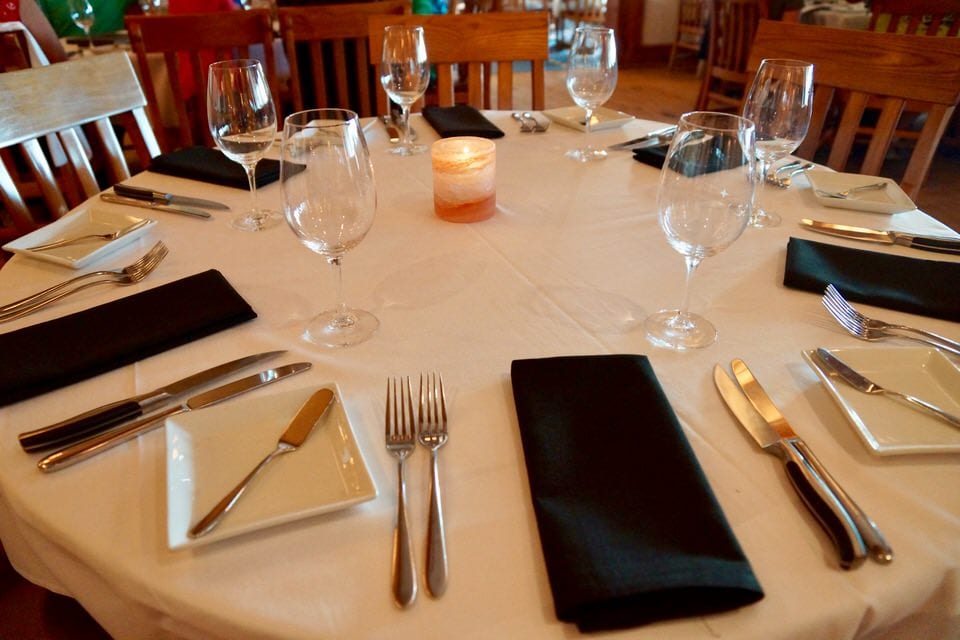 This is the back dining room and probably the most intimate room at Yachtsman. If you are looking for more quiet and privacy ask for here: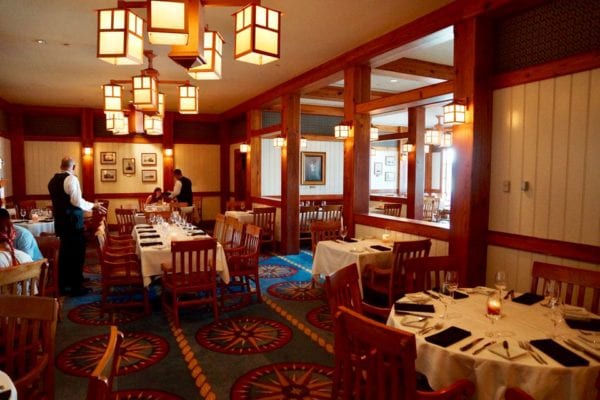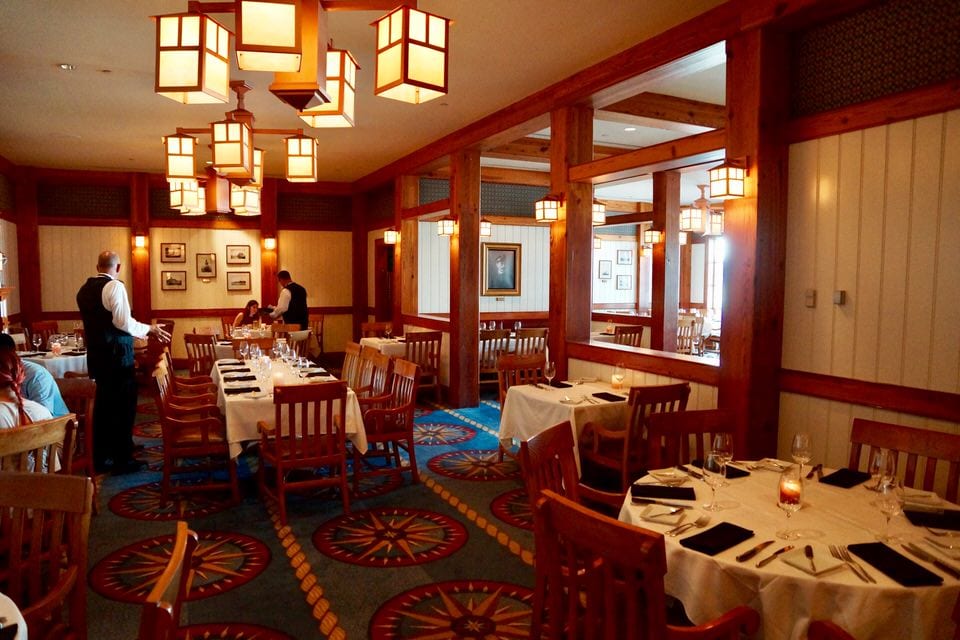 Or you can ask for one of the booths which are lovely: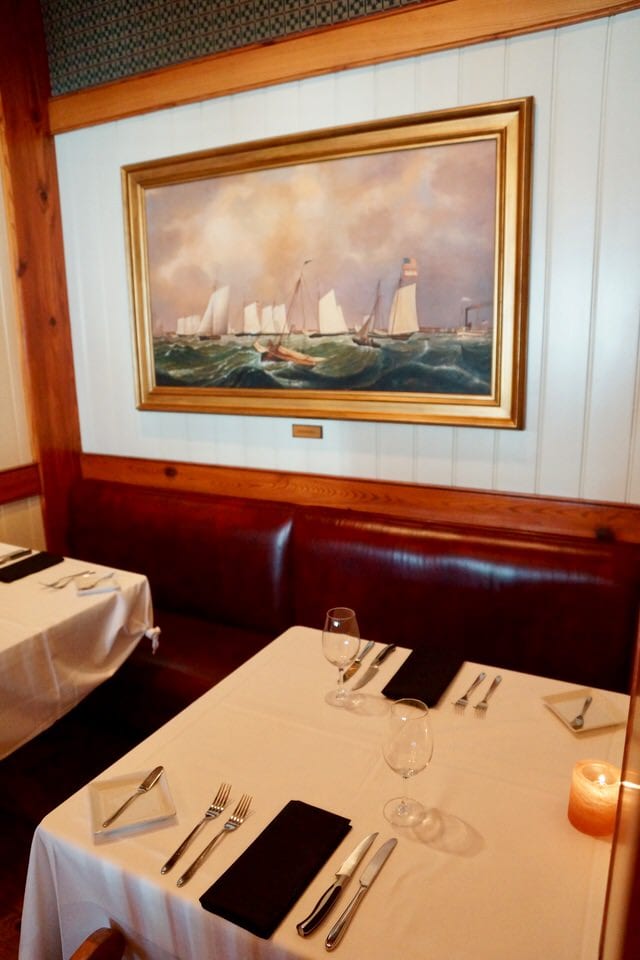 Notice the gorgeous, clean light fixtures on the beams: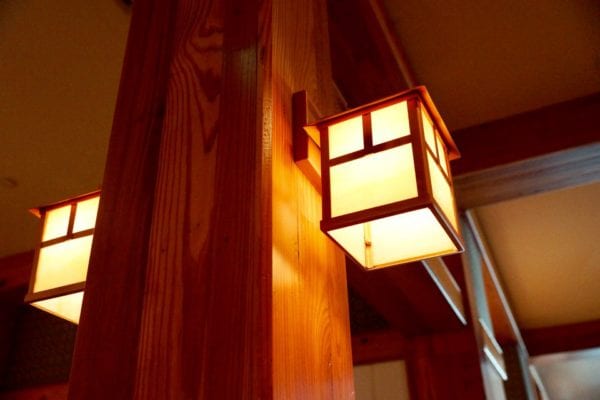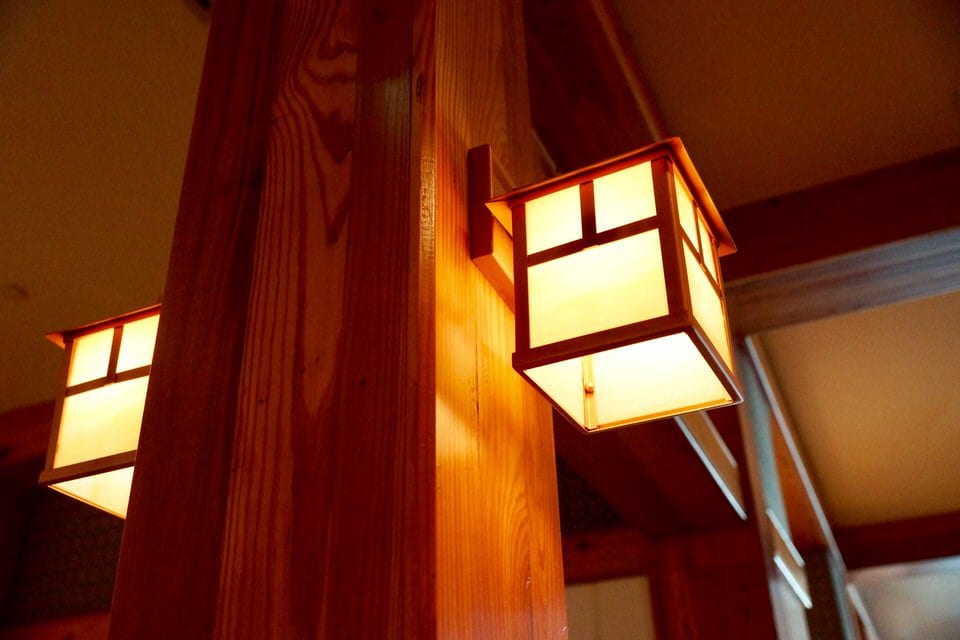 More typical sea-faring gear lines the walls like this Ship's Wheel: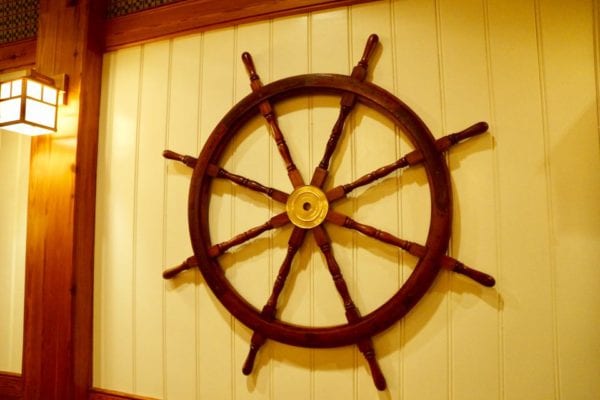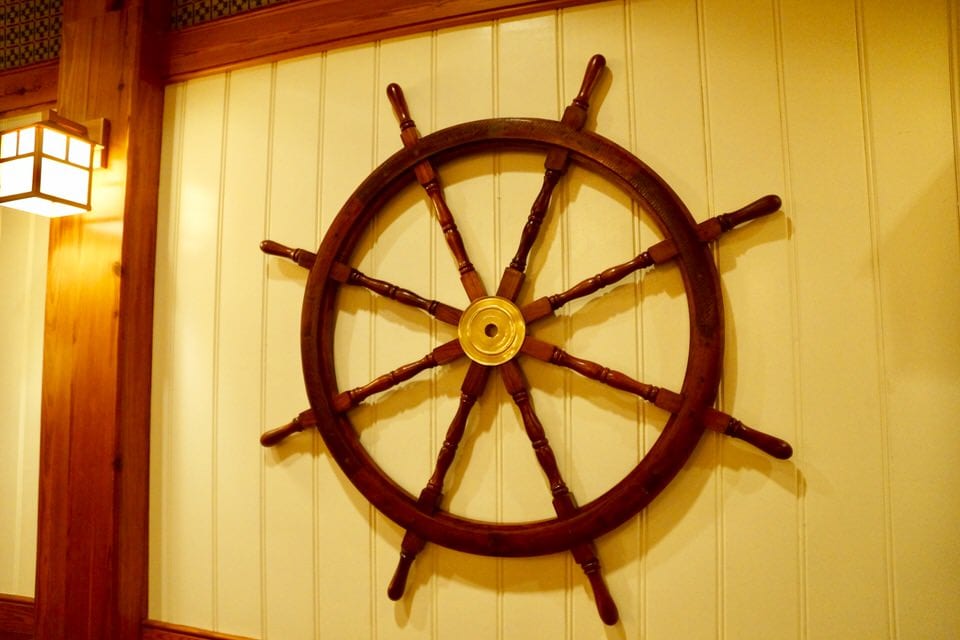 Some lovely paintings line the wall….of yachts of course: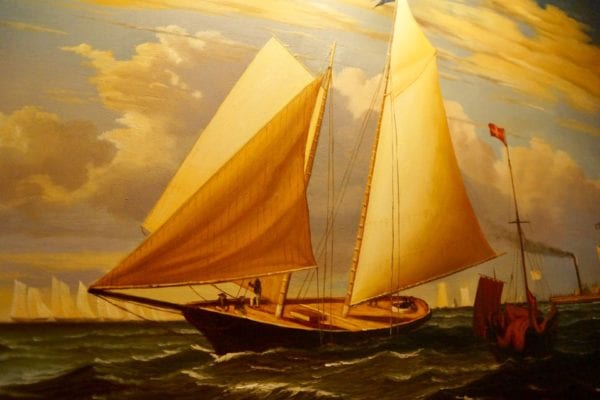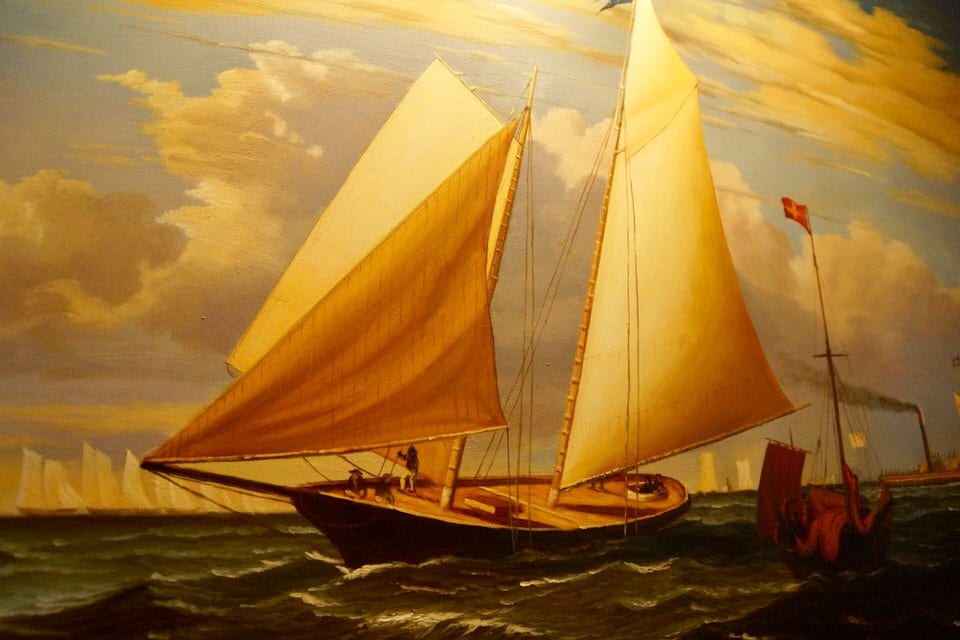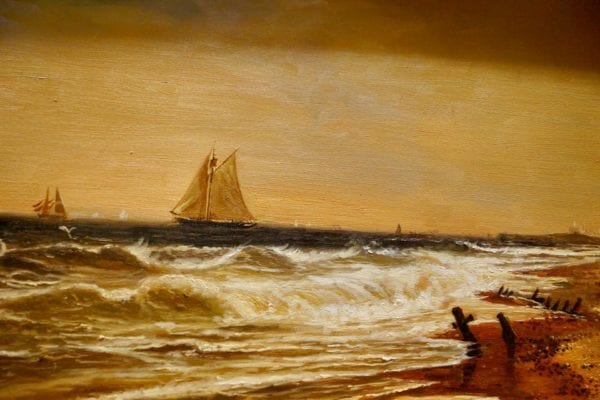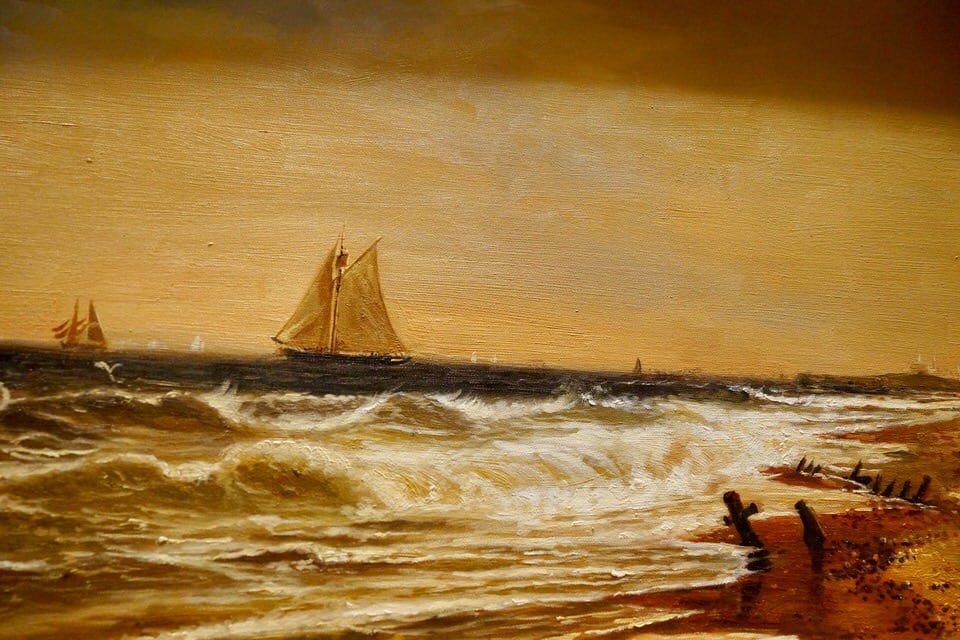 Ok, we're done looking around and we're ready for the food!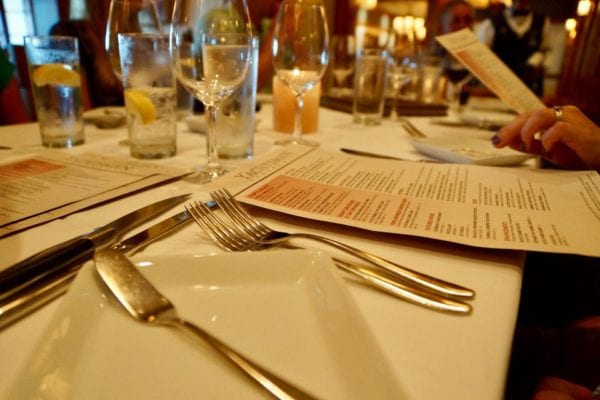 Food:
As I already mentioned we came here for Steak, and lots of it, as that's obviously the specialty of the house. All the beef is high-quality and grain-fed which is cut and aged in-house and prepared on an oak-fired grill in the open kitchen. That results in some of the tastiest steak anywhere in Walt Disney World. If your wallet is feeling full and you want a dining experience you'll never forget, then go for the 32 oz Porterhouse for Two or the 100% Japanese Wagyu Beef Strip Loin, they cost $119 and $125 respectively, but they will change your life!
Besides steak Yachtsman offers some other delicious options including Fresh Seafood like Lobster, Salmon and Shrimp. Expect to find typical Steakhouse appetizers and sides like Soups and Salads, Mushrooms, Creamed Spinach and Truffle Mac and Cheese.
Like many Disney restaurants, the menu tends to have some staples you can find year-round and then some options that are seasonal, so if you don't find exactly the same things we had during our visit you can probably find something similar or even better when you go!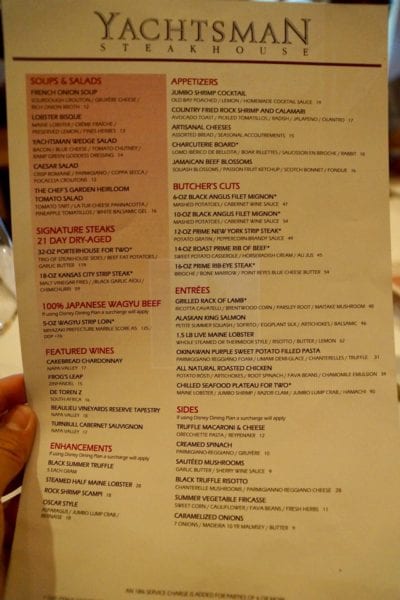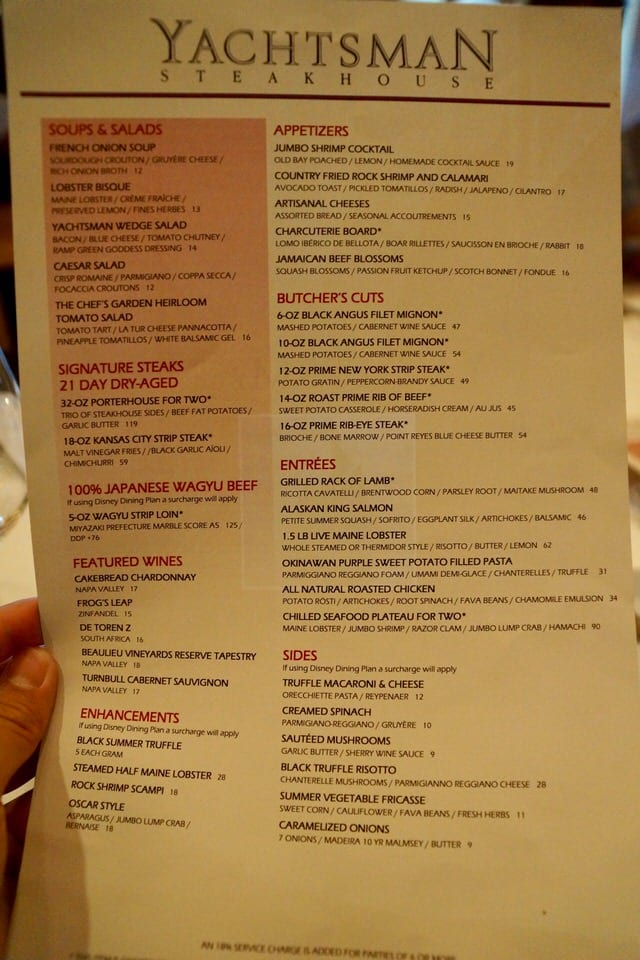 Look at these beauties…freshly cut and dry-aged. It's going to be so hard to choose….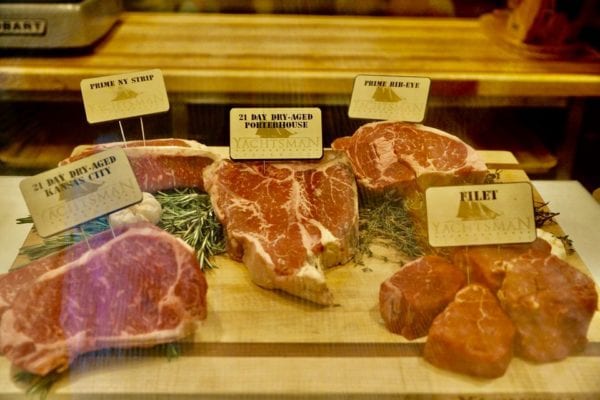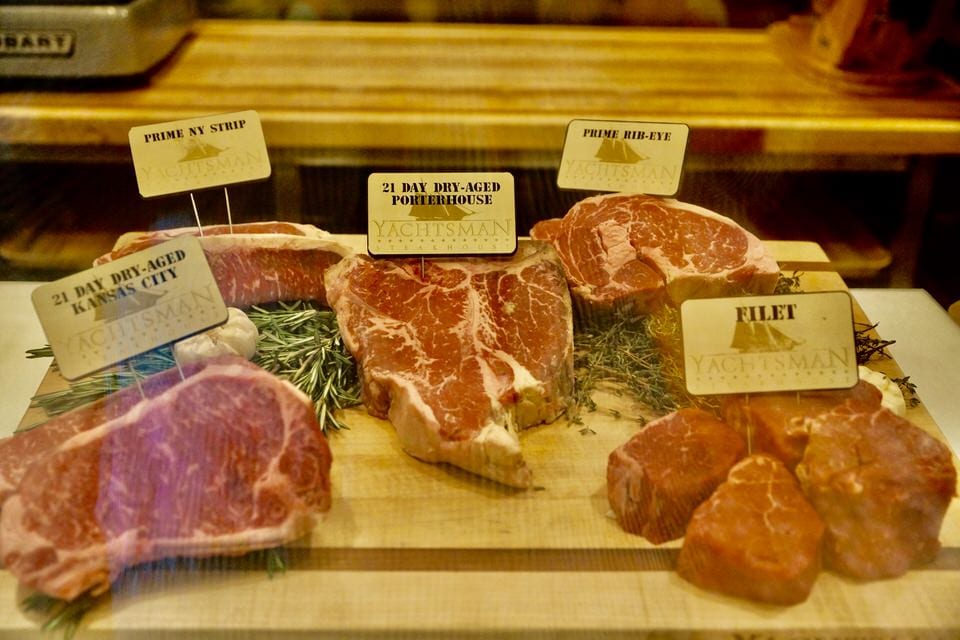 That 21 Day Dry-aged Kansas City Strip looks amazing: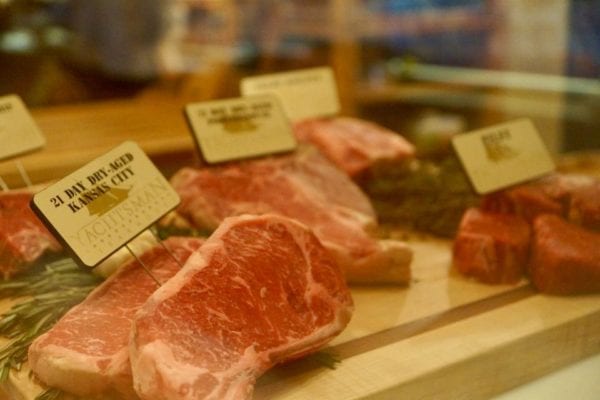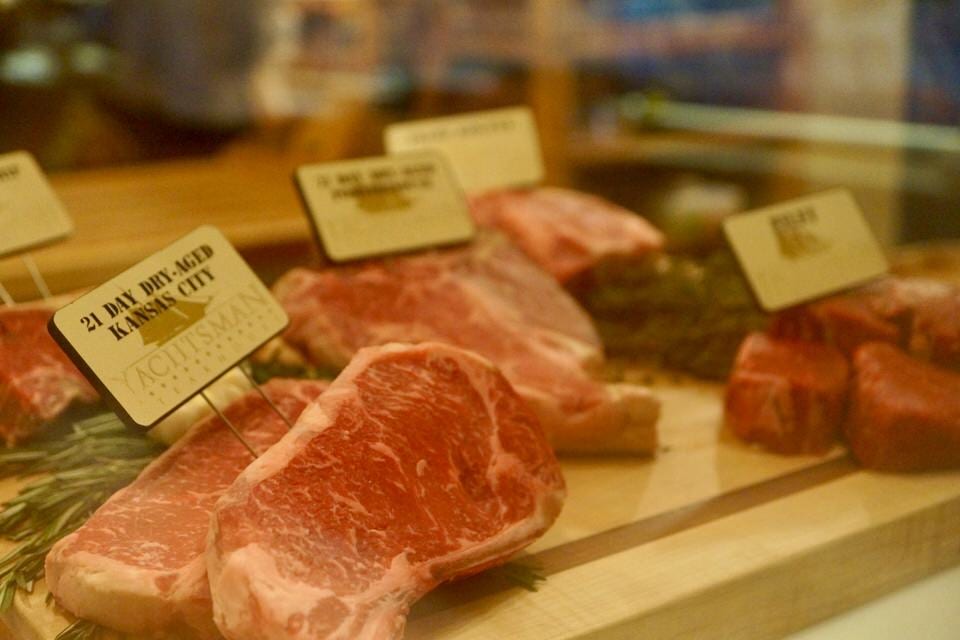 To start off our meal the right way we ordered a bottle of Robert Mondavi Napa Valley Cabernet Sauvignon 2013, ok really 2 bottles but who's counting? The wine itself was excellent, balanced with a great structure and perfect for…steak!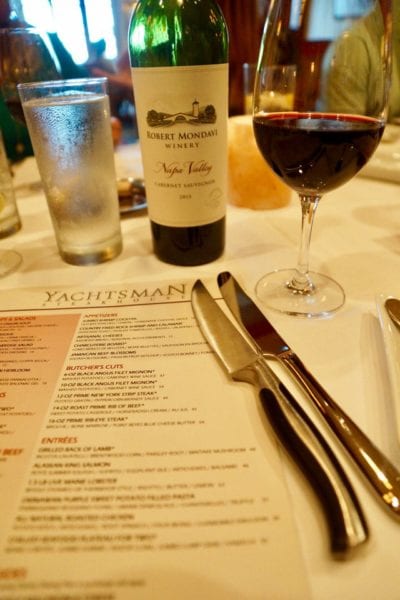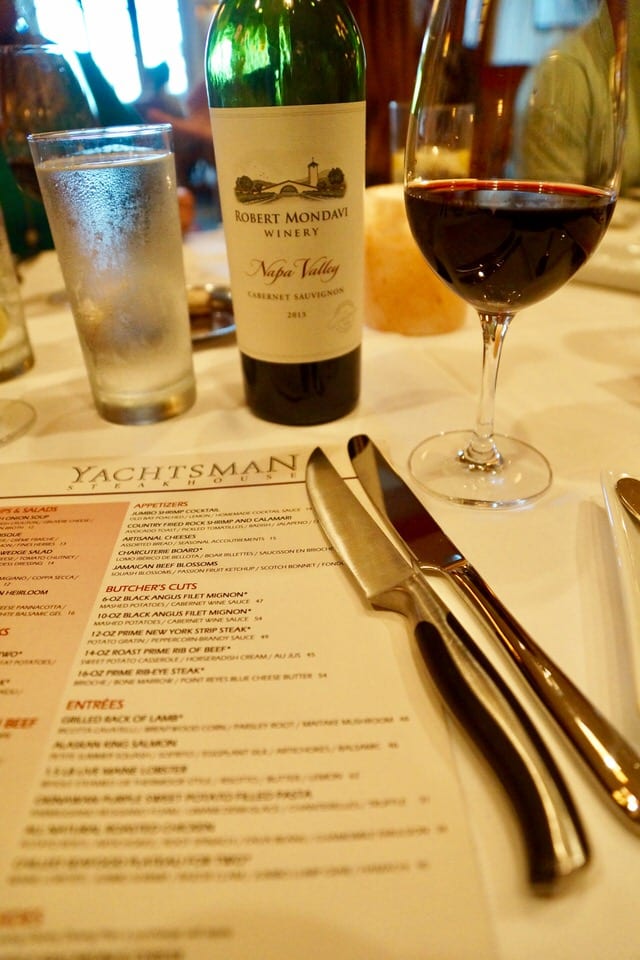 They first brought us out our complimentary Bread Basket, this thing was amazing!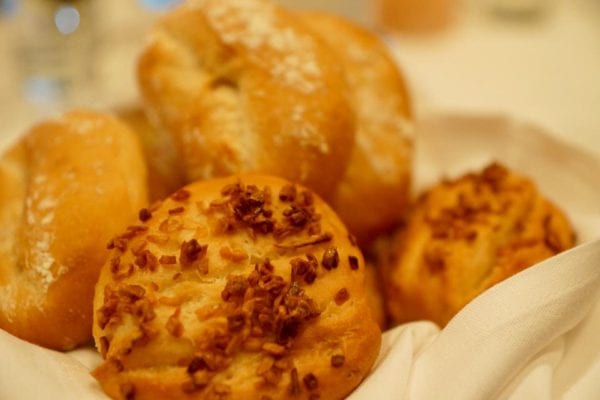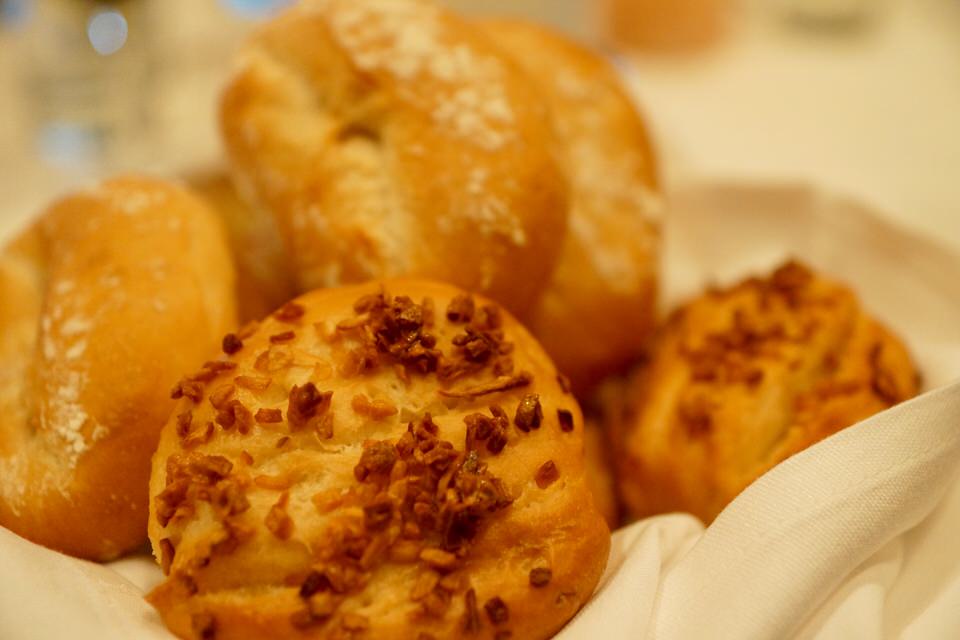 The first and yummiest bread was the Onion Brioche-style rolls that were out of this world! They were pull-apart and had a light, airy texture inside that was incredible! Look at that inside which I had slathered with butter: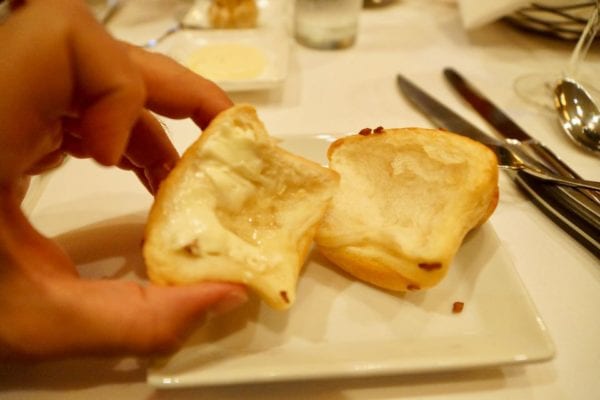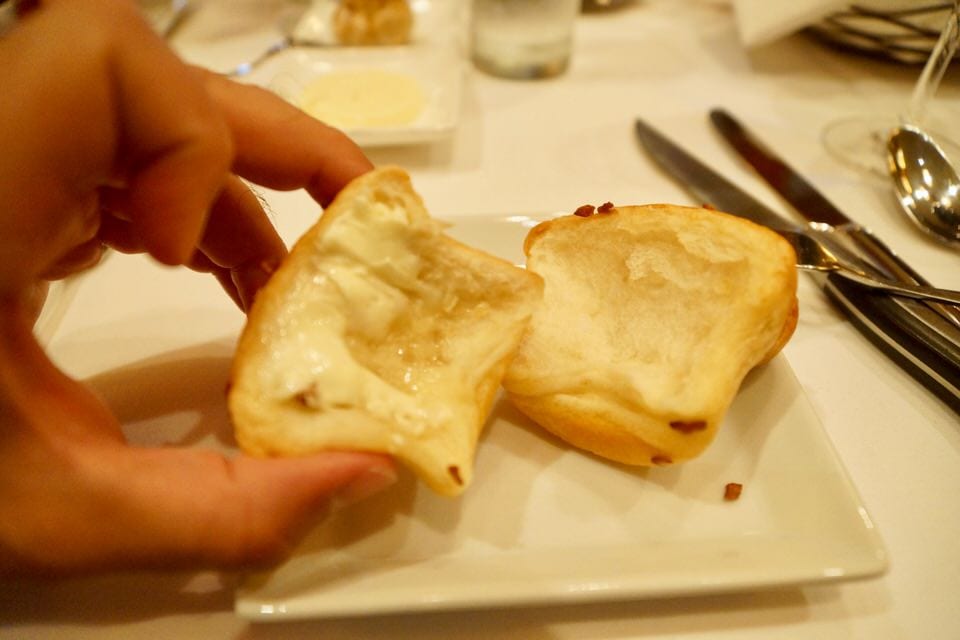 Besides that there were also more traditional Sourdough Rolls that were also delicious: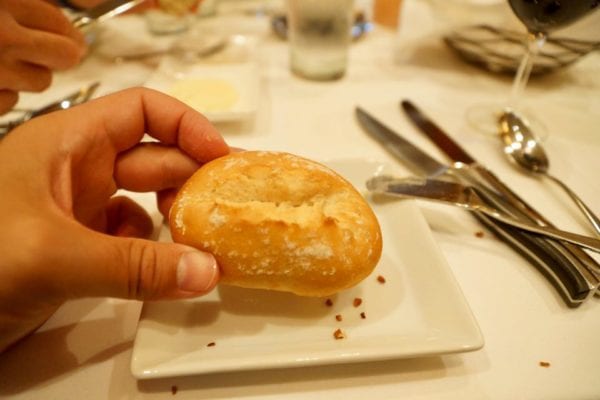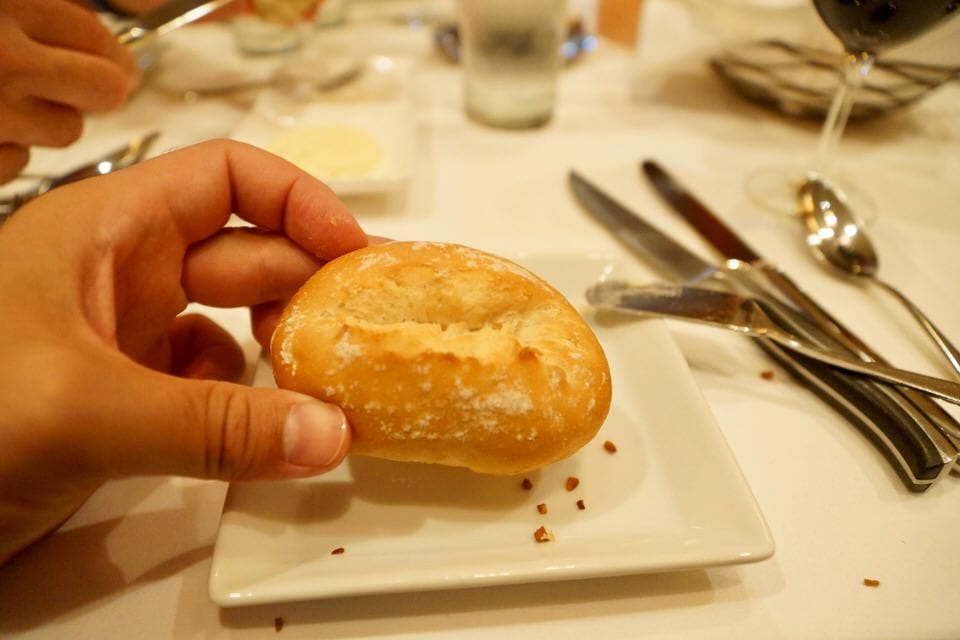 The Butter Plate here was something special because not only did it have fresh butter with Coarse Sea Salt on top, but each plate also had a humongous Roasted Garlic Clove as well! It was soooo good and my wife was soooo mad at me for eating it! 😉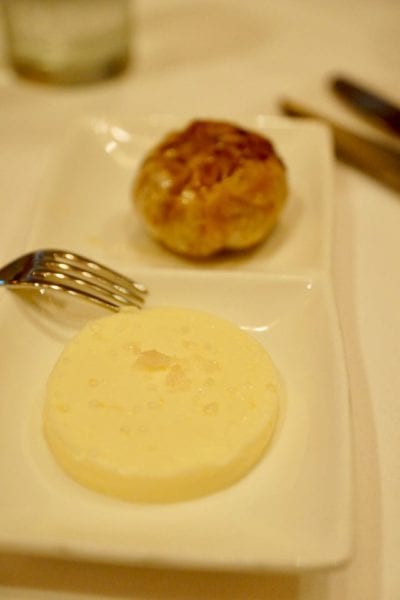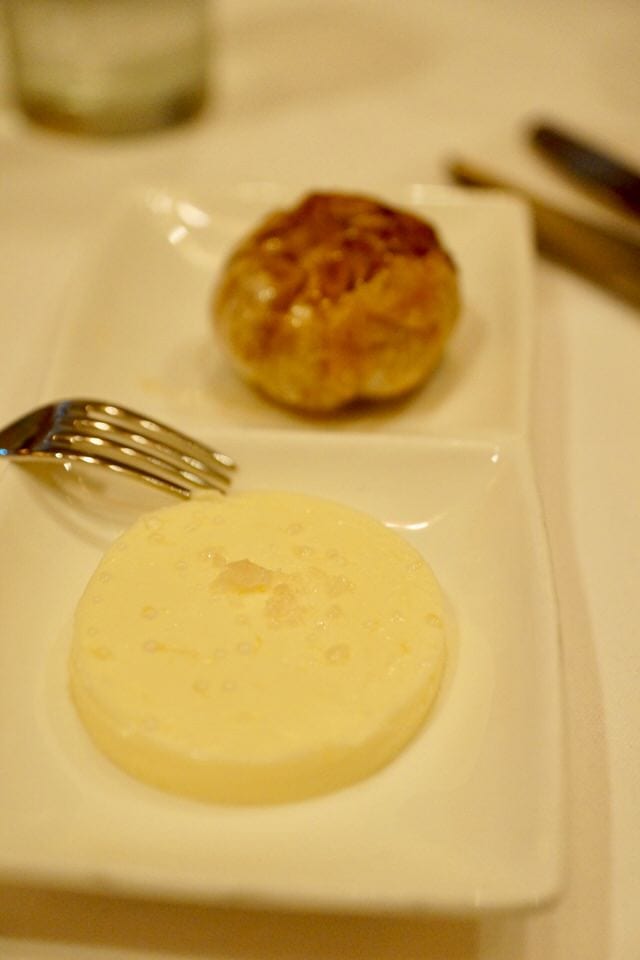 Next we had a Caesar Salad ($12) with Romaine Lettuce, Parmigiano Reggiano, Coppa Secca and Focaccia Crouton. Really is there any other type of salad to be had??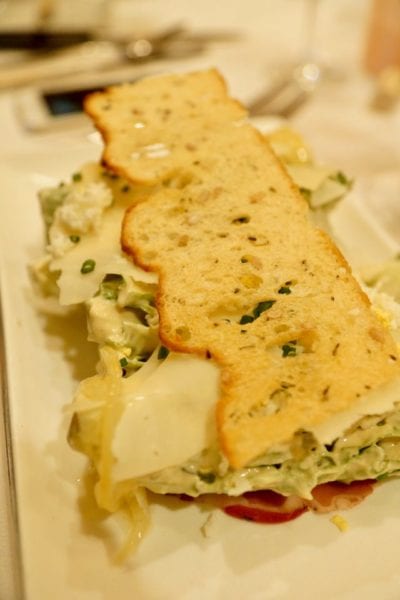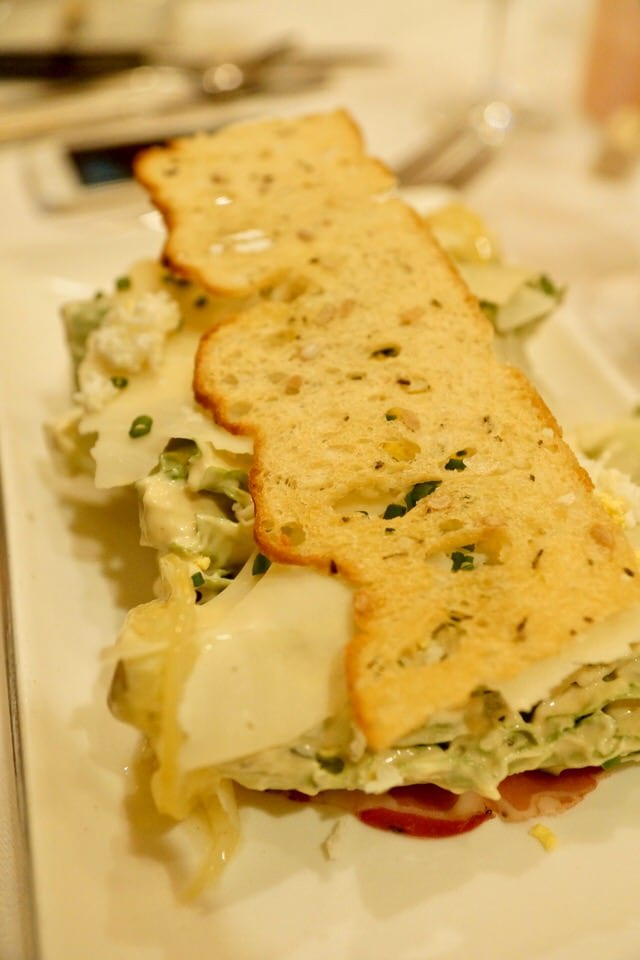 I'm a self-proclaimed expert on Caesar Salads and have eaten my share, but this thing was no joke! It was a very big portion, even enough to share if you're into that sort of thing. The lettuce was really fresh and crisp and the Parmigiano was sliced super thin so you could really taste the sharpness of the flavors. The dressing is what usually makes the Caesar salad and this one was awesome!! It's made in house and wasn't goopy or sweet.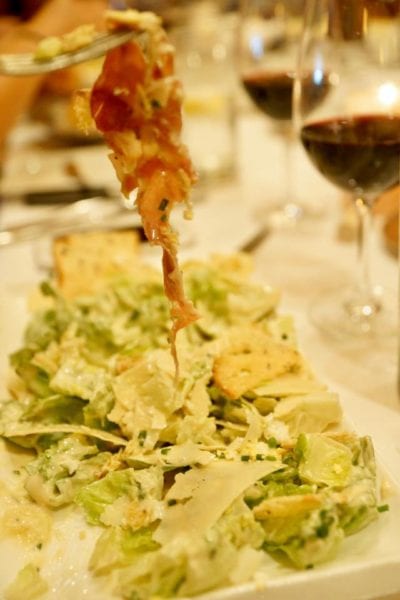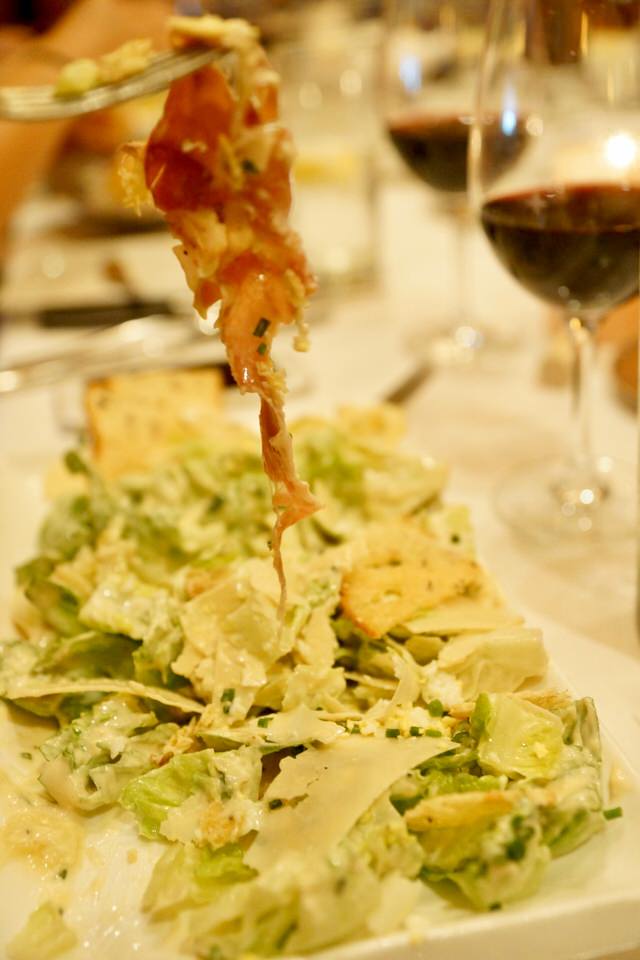 The Coppa, which is a Italian cured meat which comes from the neck of the pig was a great compliment. I'm used to eating Coppa in sandwiches in Italy so I haven't had it on a salad before but it went very nicely with everything. Lastly the focaicca crouton was very flavorful, nice and crunchy but not too hard, crispy with a hint of garlic. Me and my Dad both agreed one of the best Caesar salads we've ever had!
Next was the French Onion Soup ($12) which had a Sourdough Crouton and was covered in Gruyere Cheese: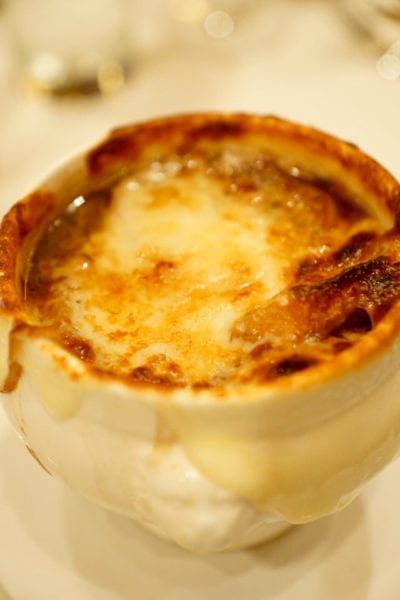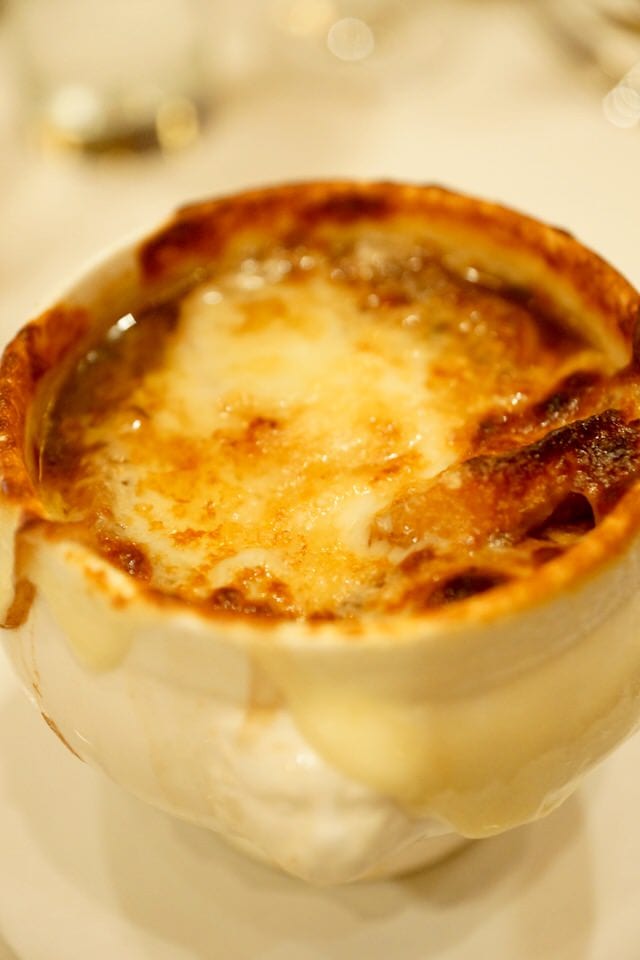 Wow, another home run! I haven't enjoyed one this good in a long time. The cheese was plentiful….there can never be enough cheese….and the right amount of bread inside too. You could taste the onion flavor but not overpowering.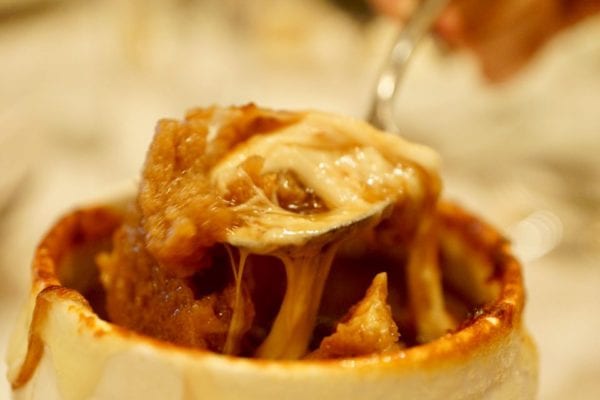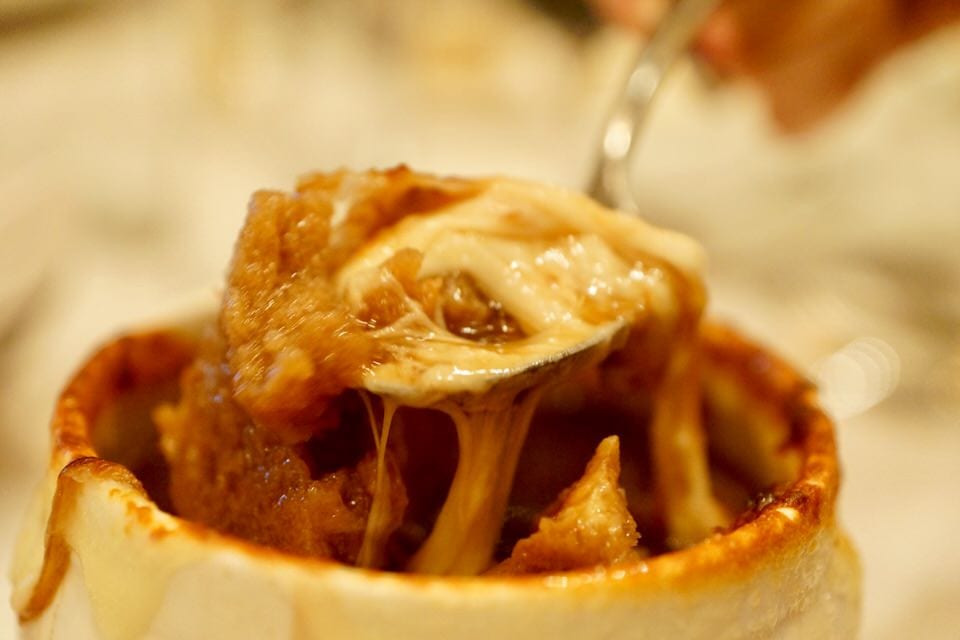 This is perfection right here…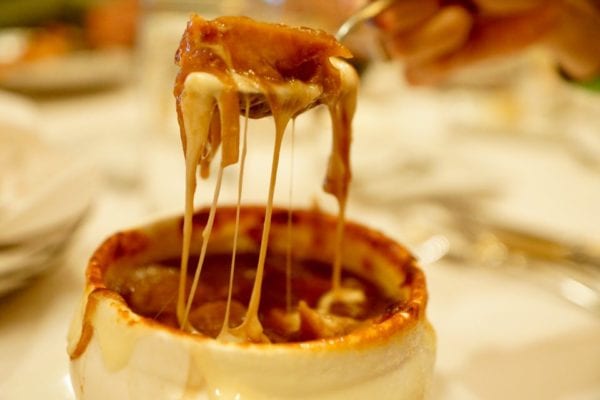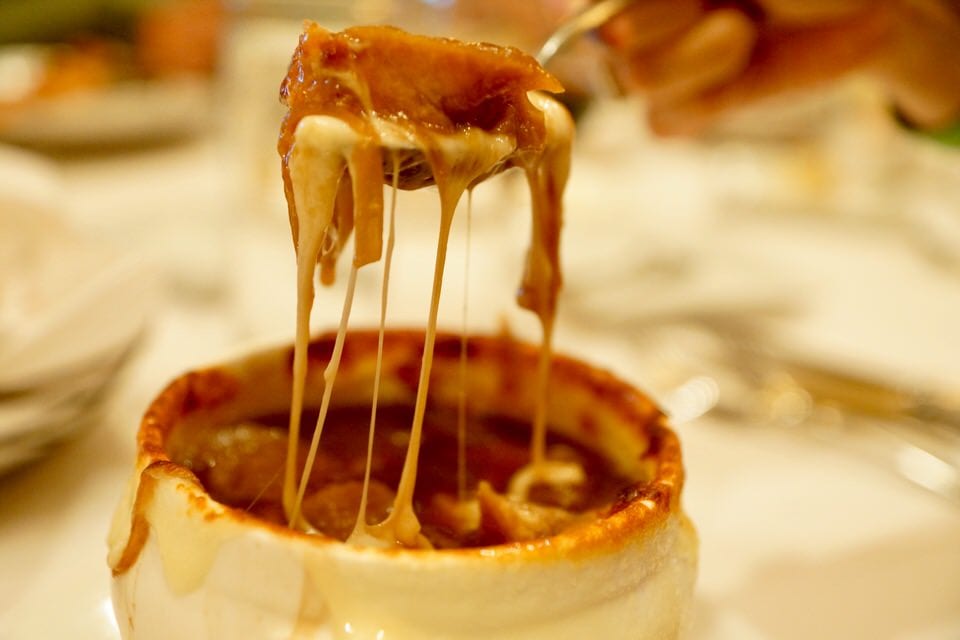 Stringy cheese makes me :))))))))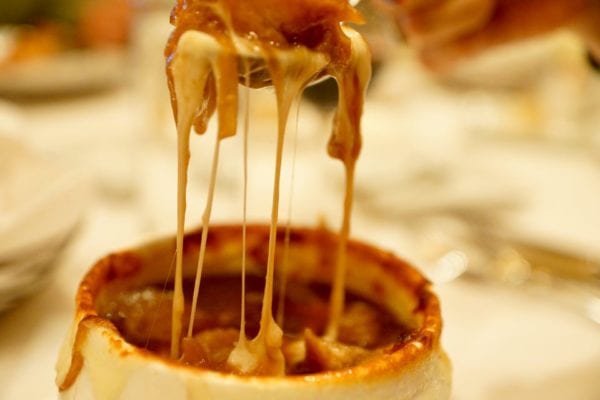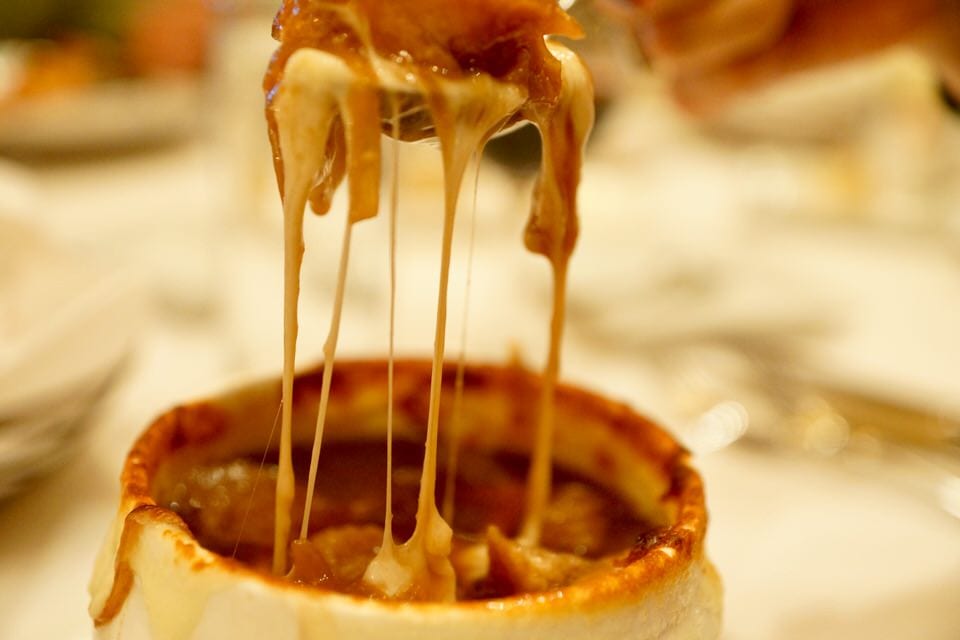 Honestly amazing, better than the one at Be Our Guest and best I've had any where in Walt Disney World.
Since it was nearly impossible to stand within 10 feet of us now after 2 courses a piece with either garlic or onion in them we decided to change it up. We went with the Lobster Bisque ($13) which is made with fresh Maine Lobster, Creme Fraiche, fine herbs and lemon: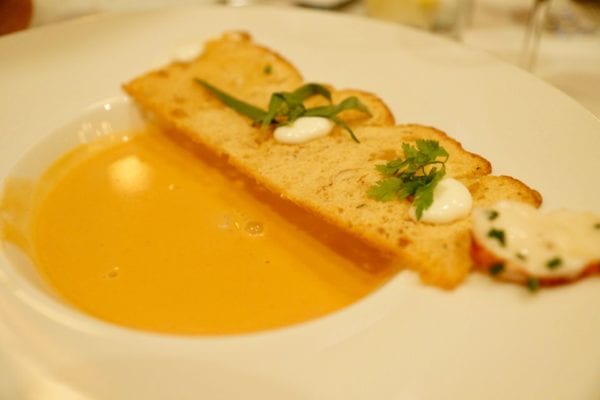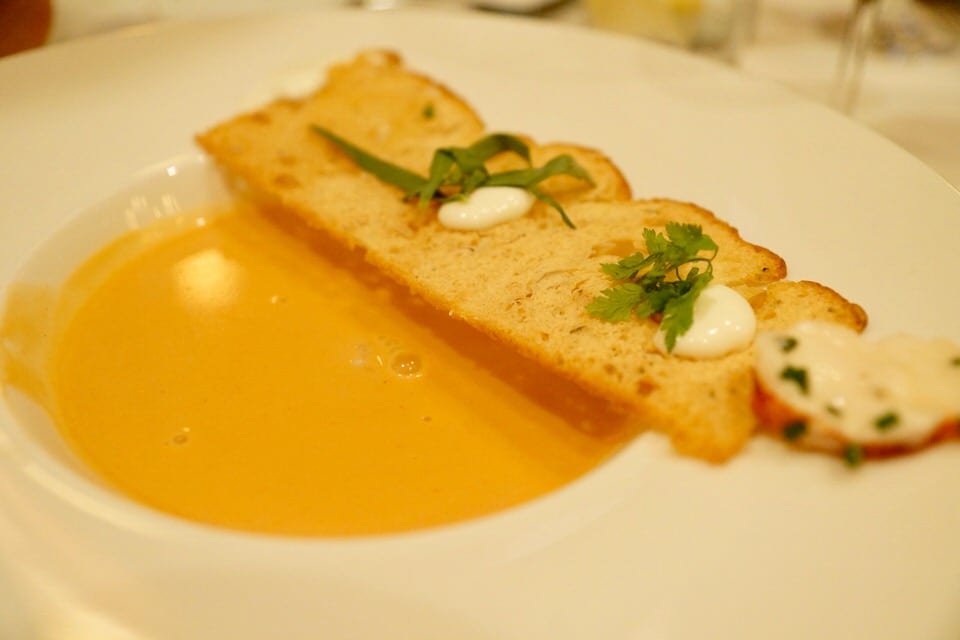 Excellent Bisque. Not quite as good as the one at Narcoossee's, but still really good. Nice and creamy, very smooth, with a fair amount of lobster chunks in it. There was a little kick to it too, not spicy but a kick. Very good.
We also tried the Jumbo Shrimp Cocktail ($19) which had a bit of Old Bay sprinkled on and came with lemon and a homemade cocktail sauce: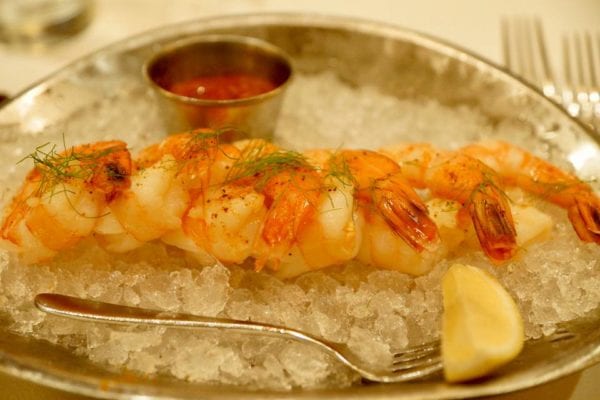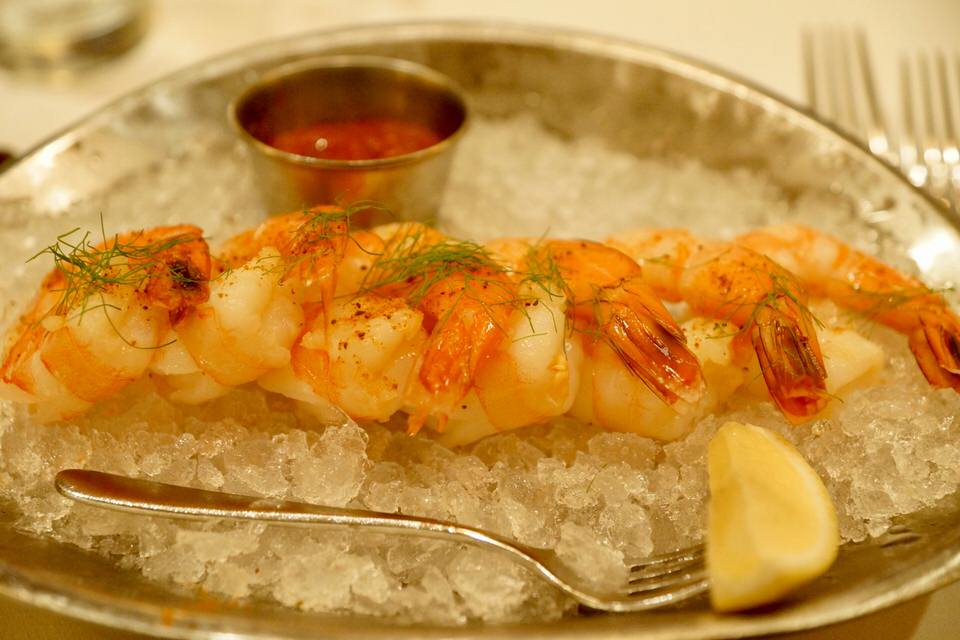 These were good not great. The cocktail sauce wasn't too spicy and had a nice flavor and the Old Bay is always welcome with shrimp. There were 6 Jumbo Shrimp but for the price they weren't super jumbo. They were fresh with a good texture but there wasn't enough flavor in the shrimp themselves.
Get ready to get your carnivore on, because we've made our choices of Entrees and they are sent off to the kitchen to be cooked over that Oak-fired Grill: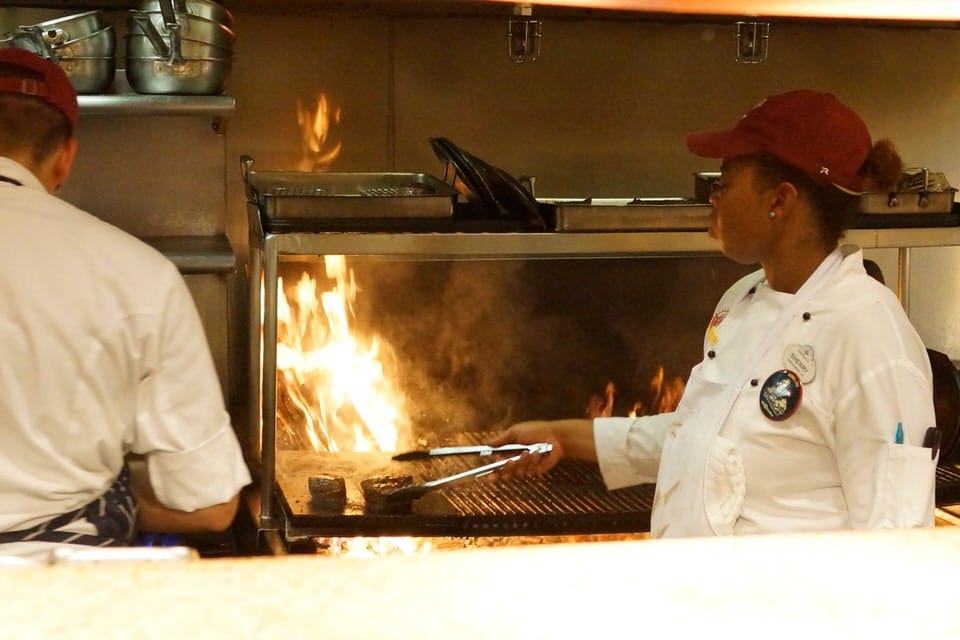 First up was the 12oz New York Strip Steak ($49) with a Peppercorn Brandy Sauce and Potato Gratin: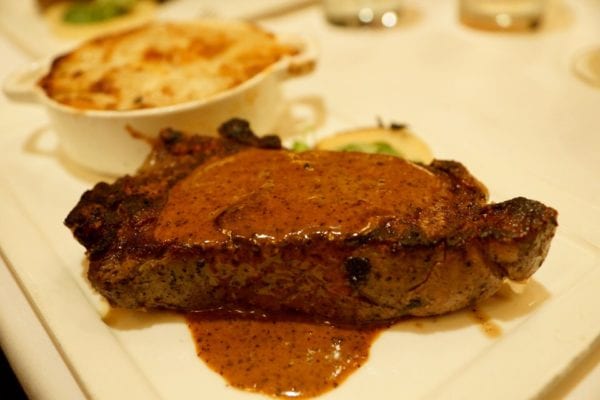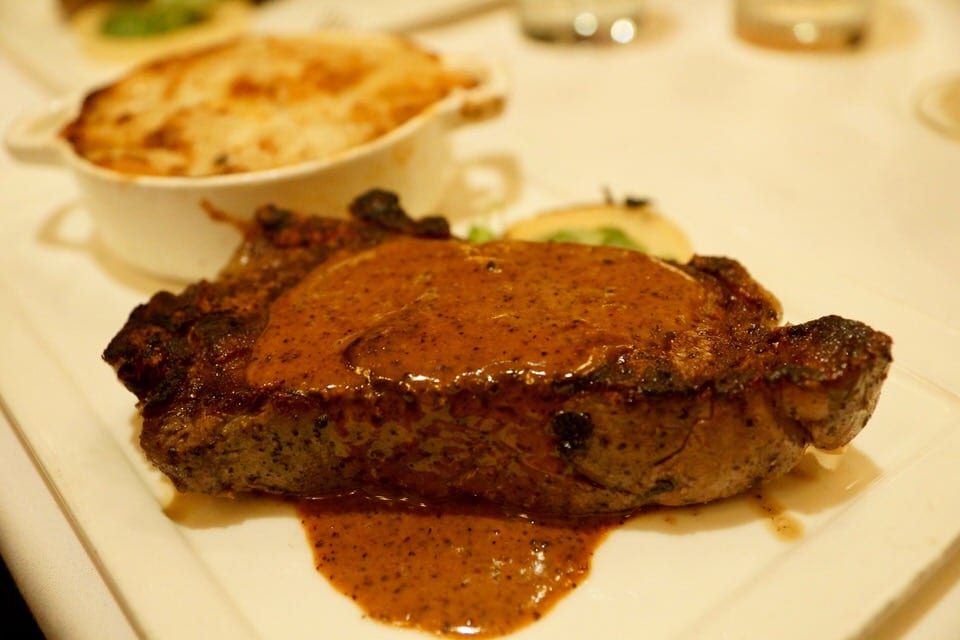 Wow, nice flavor and cooked perfectly medium-rare as I like it. New York Strip can be a little tough sometimes as it's a less fatty meat but it was tender, flavorful, and the peppercorn sauce was excellent with it. The 12 oz was a good size portion too.
You can see how nice that inside is: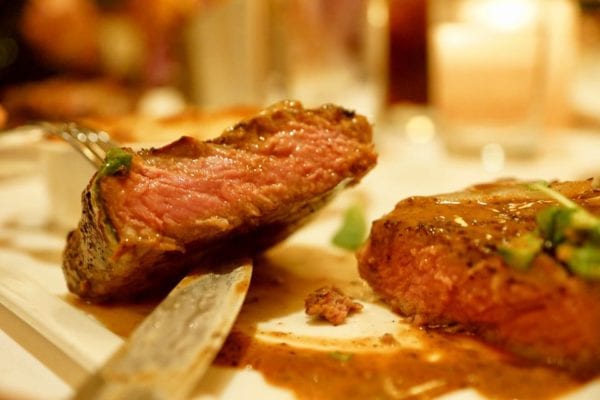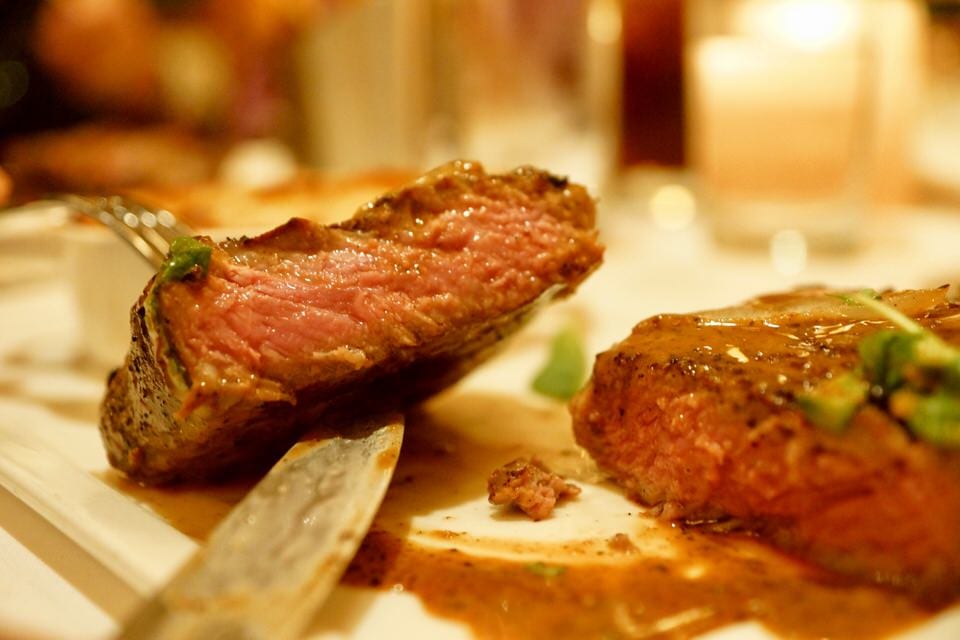 The Potatoes Gratin were really good too. They were cooked perfectly as sometimes they are almost raw when you eat them. The cheese and sauce underneath was blended very nicely with the potatoes and the top was perfectly crispy! Awesome side.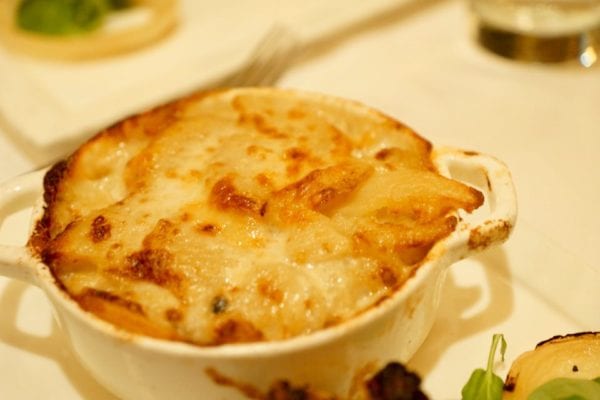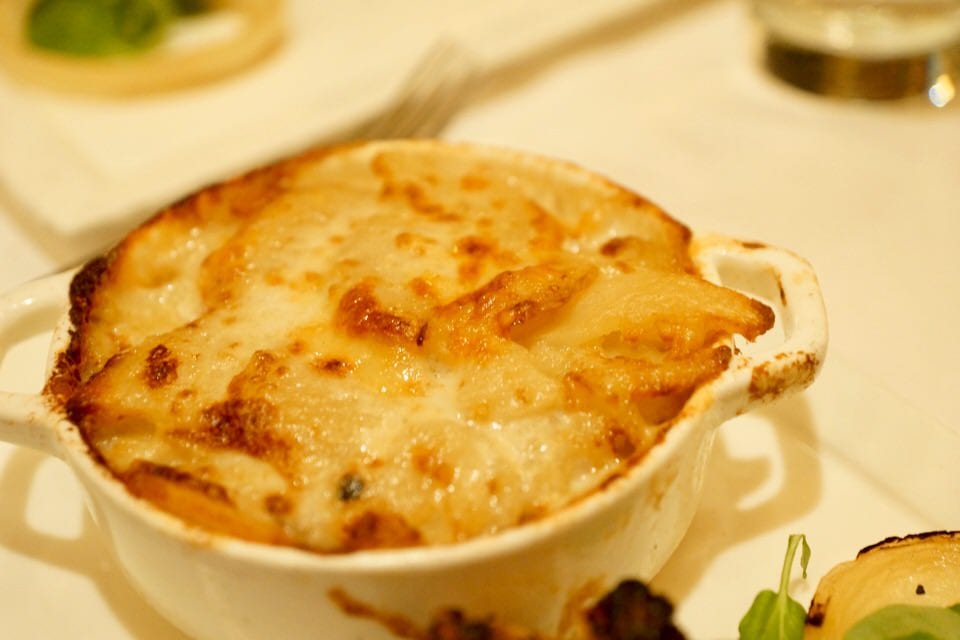 Next was the 10oz Black Angus Filet Mignon ($54) with Mashed Potatoes and a Cabernet Wine Sauce: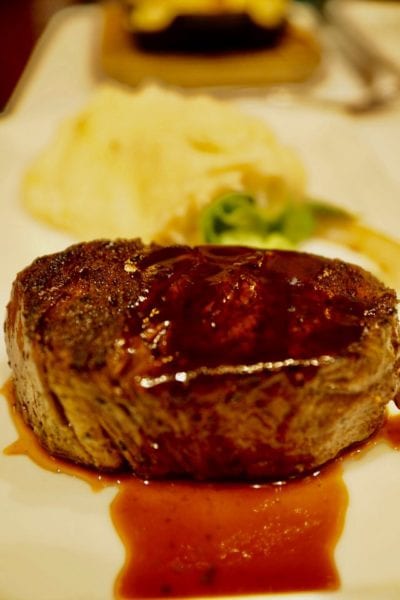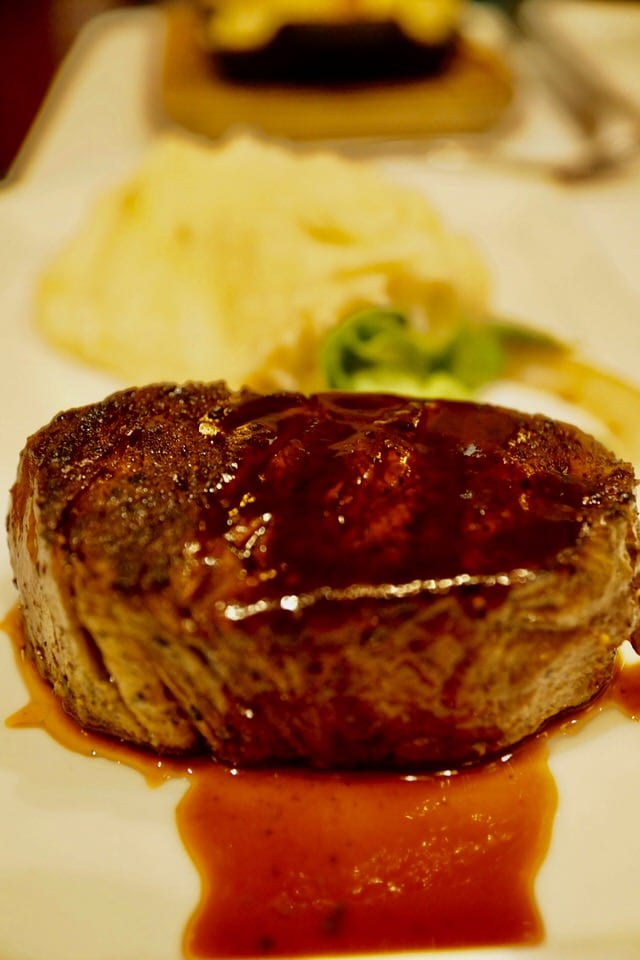 The filet was delicious, and very very tender as filet should be. Cooked and seasoned well. The Cabernet reduction sauce was very subtle, not overpowering the flavor of the meat. A little plain on the accompanying mashed potatoes, they didn't have a ton of flavor honestly but were decent. I mean mashed potatoes compared to the Gratin isn't really fair. Overall it was really good but the Filet at Le Cellier is still King to me.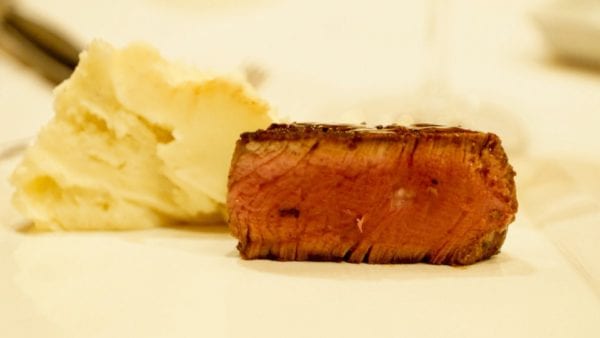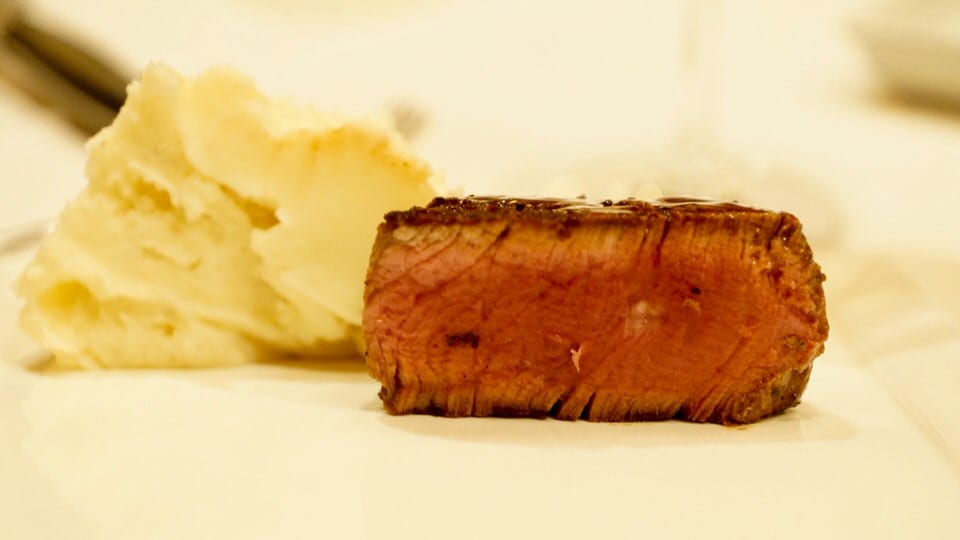 Lastly was they one I was really anticipating, the 16oz Prime Rib Eye Steak ($54) covered in Blue Cheese Butter and served with a Brioche and Bone Marrow: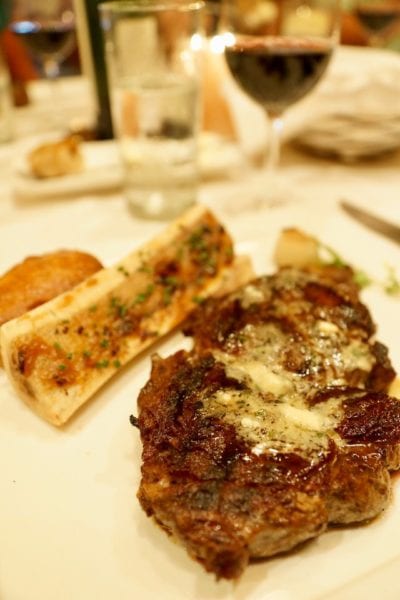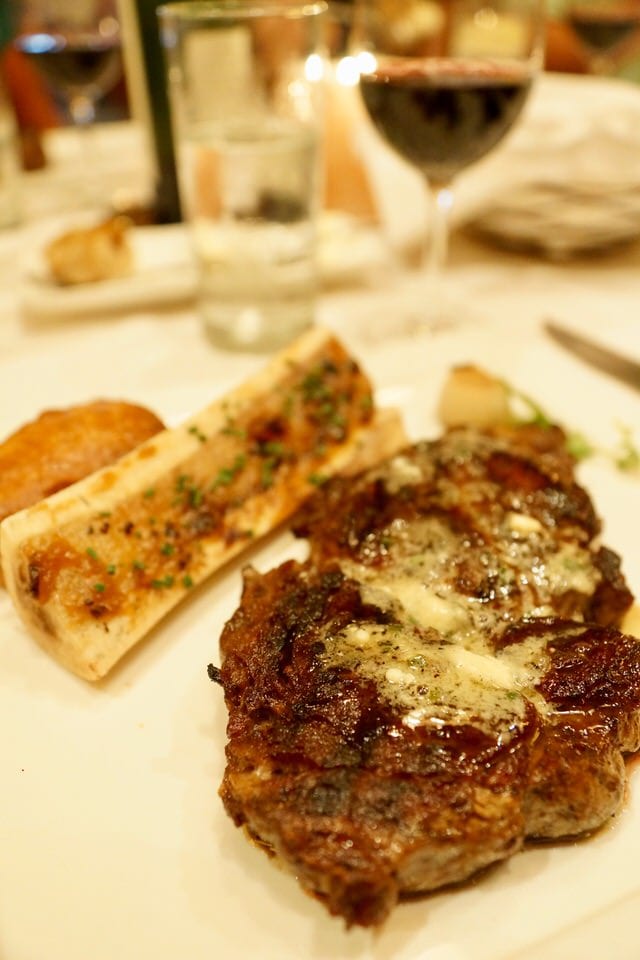 This thing is what dreams are made of! The very first bite my wife said it's the best steak she's ever had: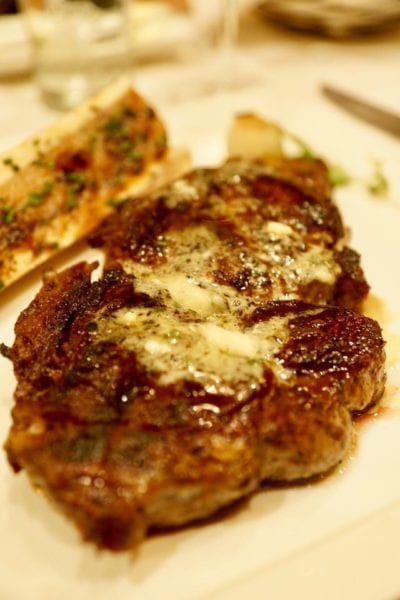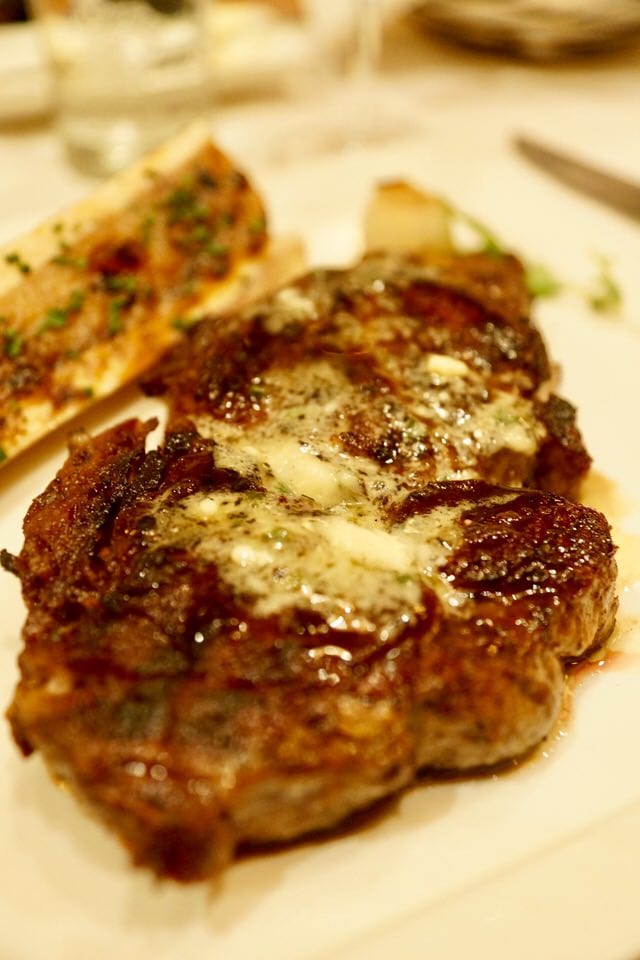 Being rib-eye this thing was bursting with flavor, then covered in blue cheese butter it made everything so rich and juicy and brought it to even another level of amazingness. It was a giant piece of meat that we ended up splitting between the two of us: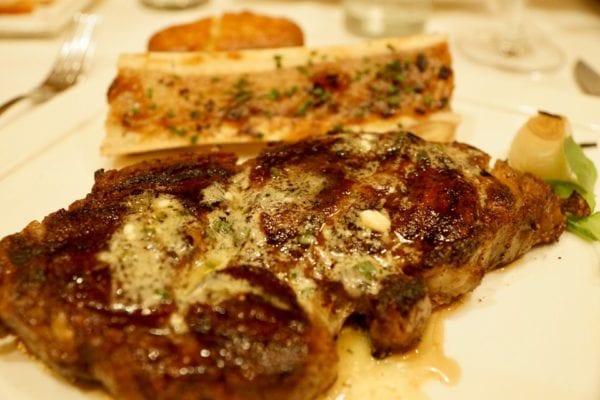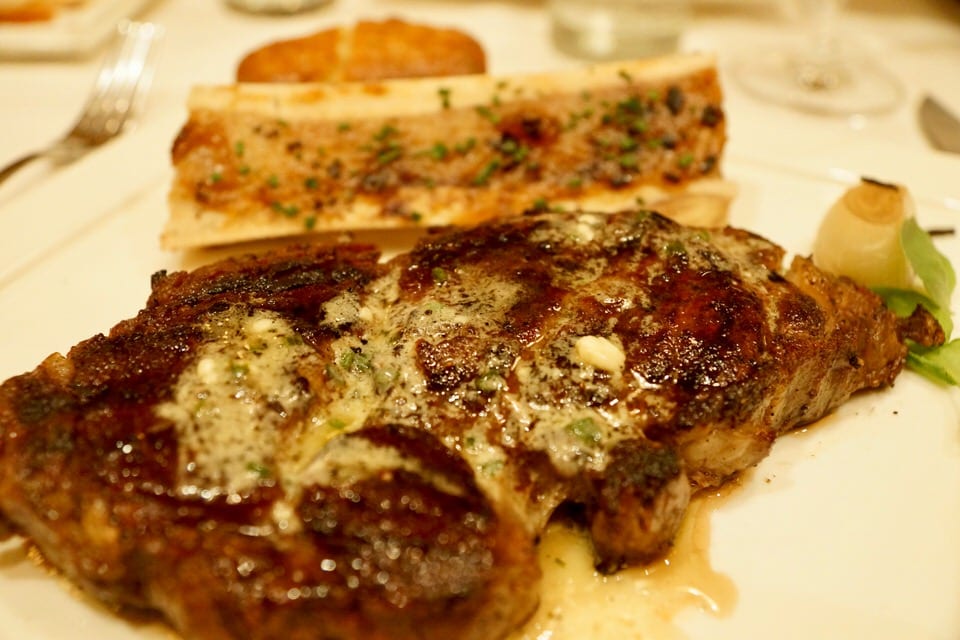 It was just the right tenderness and melted right in your mouth, especially in the middle. Just overall awesome and one of the best steaks I've ever had!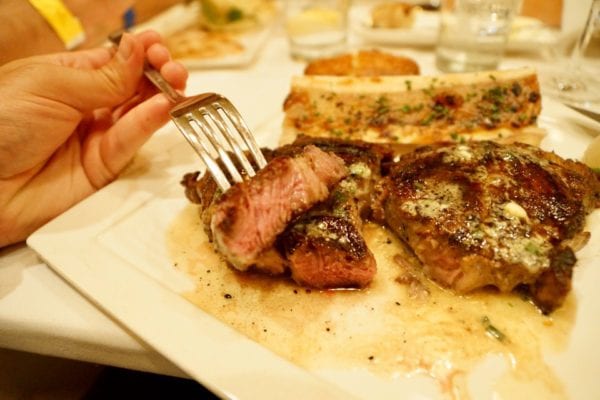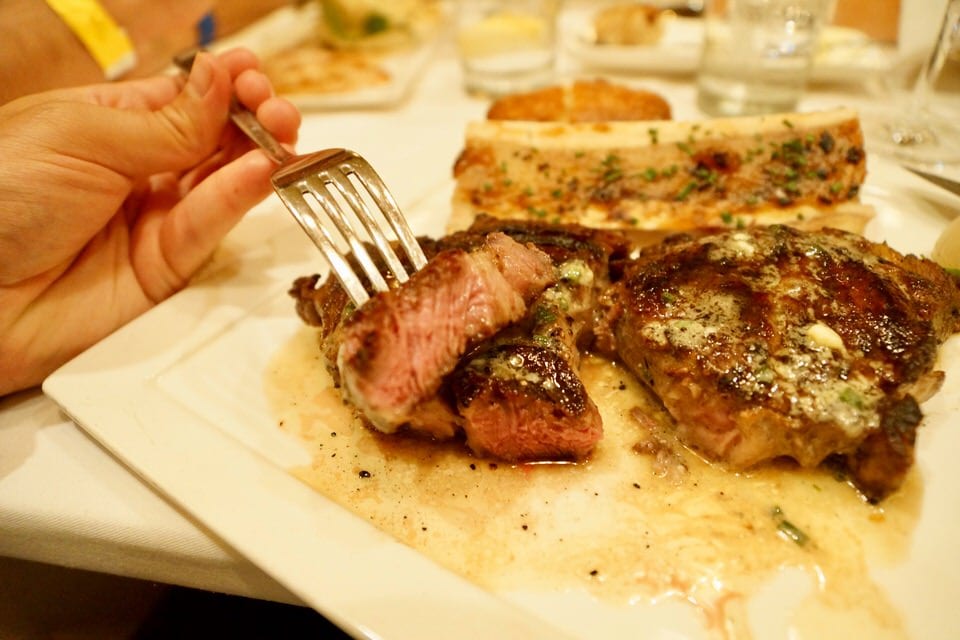 It was accompanied with Bone Marrow and a Brioche. Now maybe the idea of sucking marrow from a cow's bone doesn't exactly get your appetite going, but once you try it, it will! The Italian name is Osso Buco and it's a traditional dish from Milan and my wife goes absolutely crazy for it. Being the expert she said it compared well to others she's had before and was very succulent inside.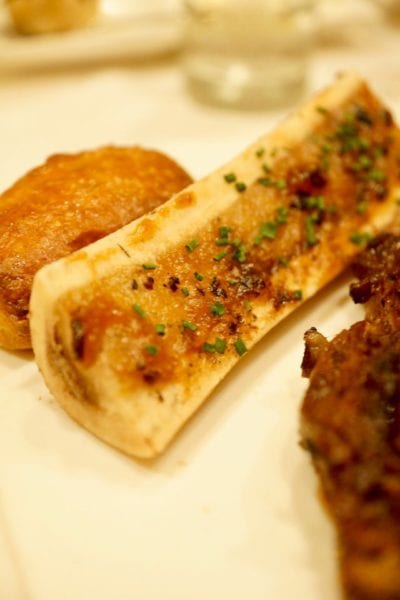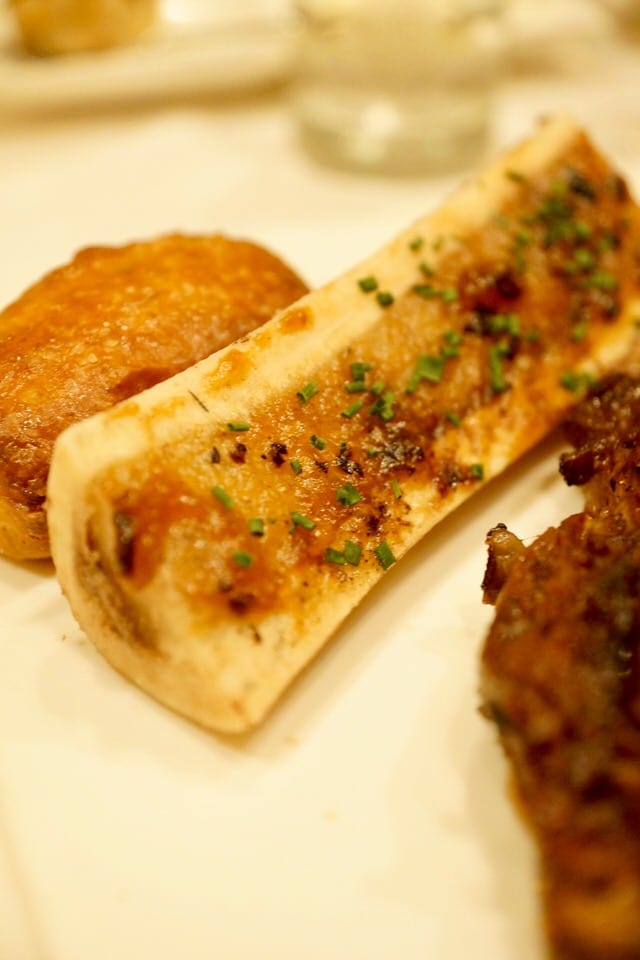 The Brioche roll was pretty straight forward, and was really good to soak up all the steak juice and blue cheese butter leftover from the plate: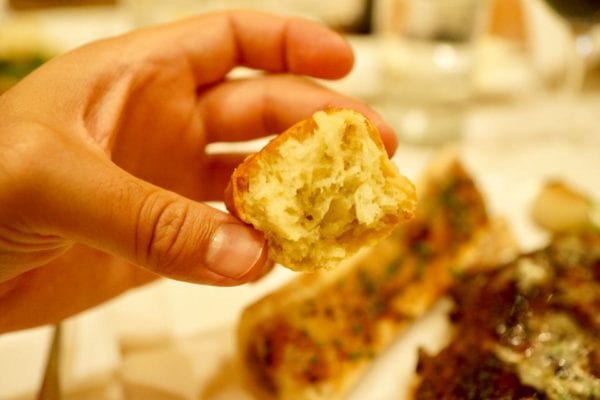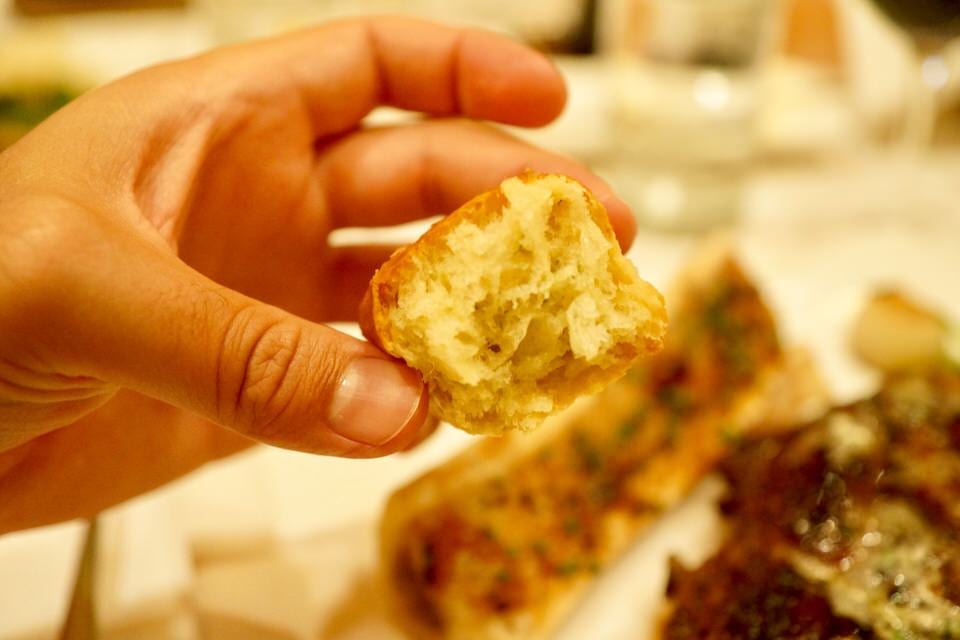 Lastly we got an order of Truffle Macaroni and Cheese ($12), because obviously till that point we were really having a light meal! It was made from Orecchiette Pasta (which means "little ears"), Reypenaer cheese and of course truffles: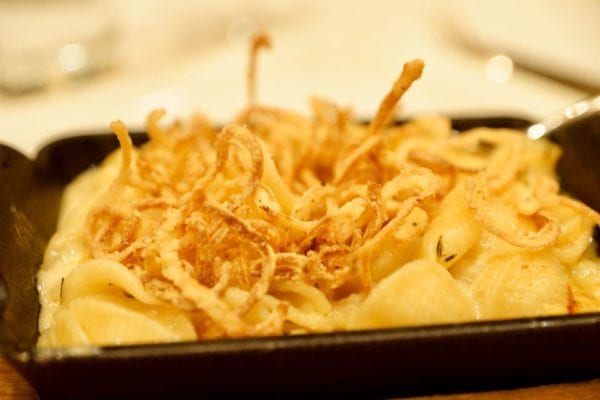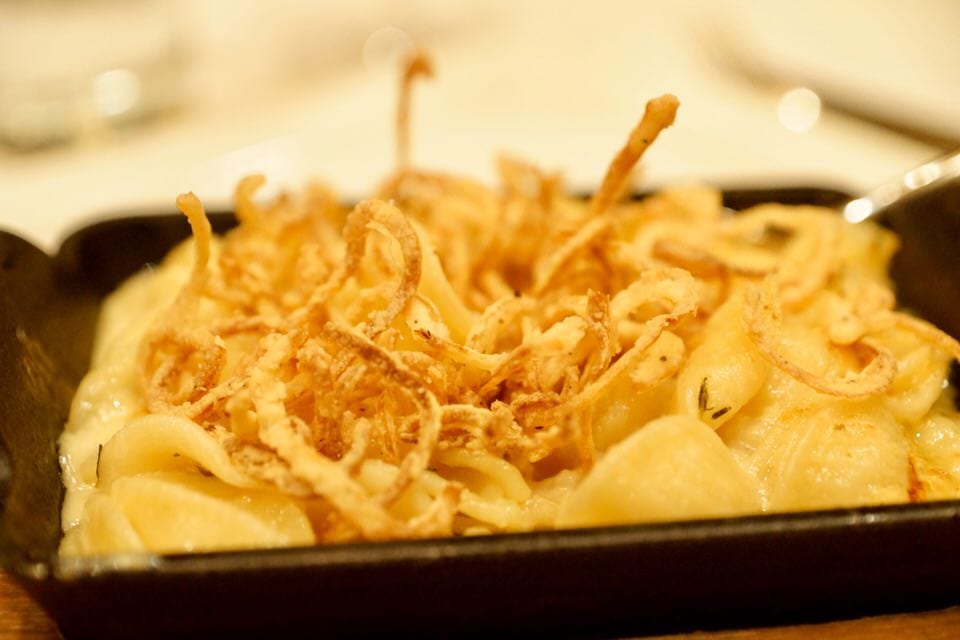 There were also a bit of crisped stringy onions on top which added a nice texture. The pasta was creamy and cheesy but you really have to like truffles to like this mac and cheese, the flavor is very strong. My brother-in-law was crazy about it, he thought it was really unreal. I personally thought the taste was a bit too strong, so it depends on tastes.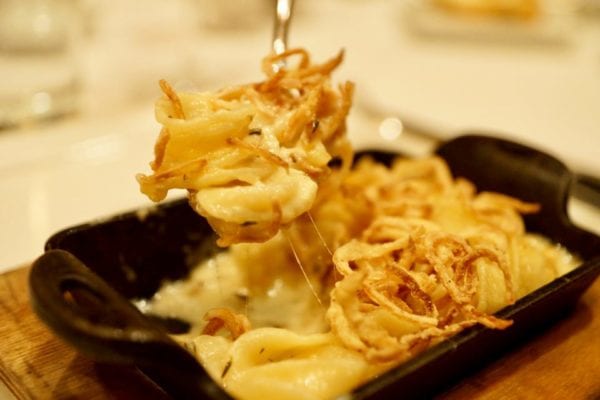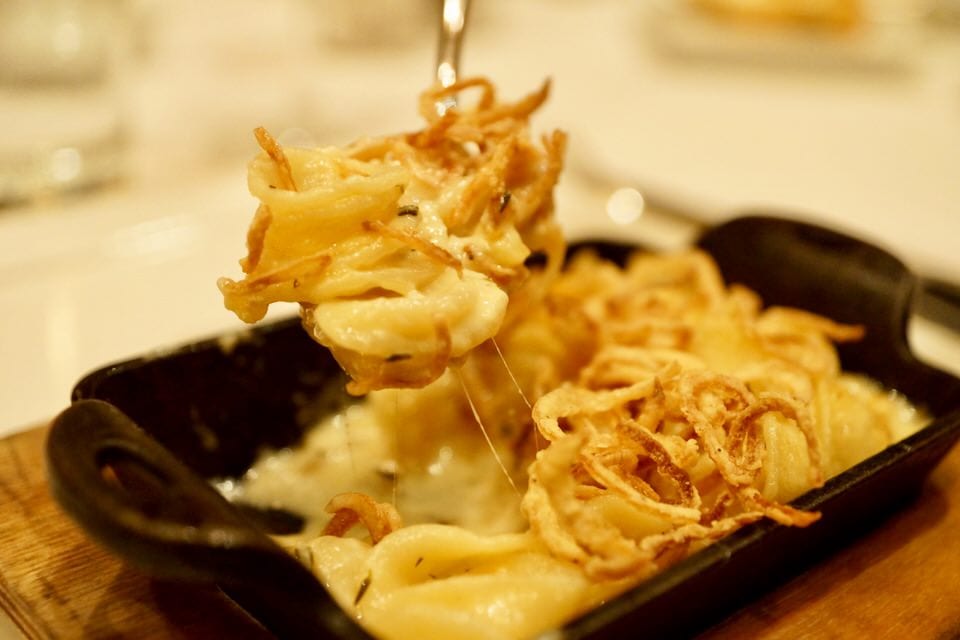 Of course even though at this point I was so stuffed that I needed to be rolled out of the restaurant, I wouldn't leave you without at least a taste of Dessert. I was the only one brave enough to confront it! I got the Lemon Blueberry Cheesecake ($10) with Lemon Curd and Blueberry Crumble: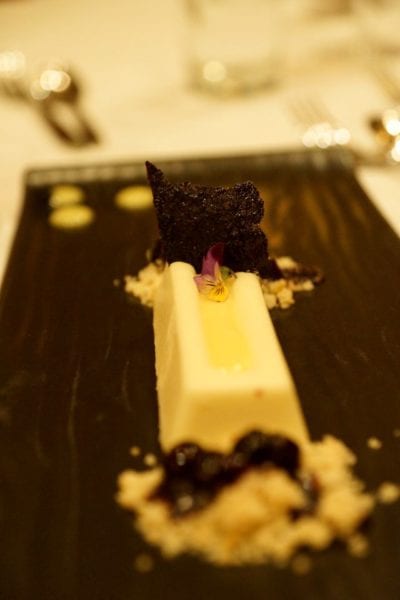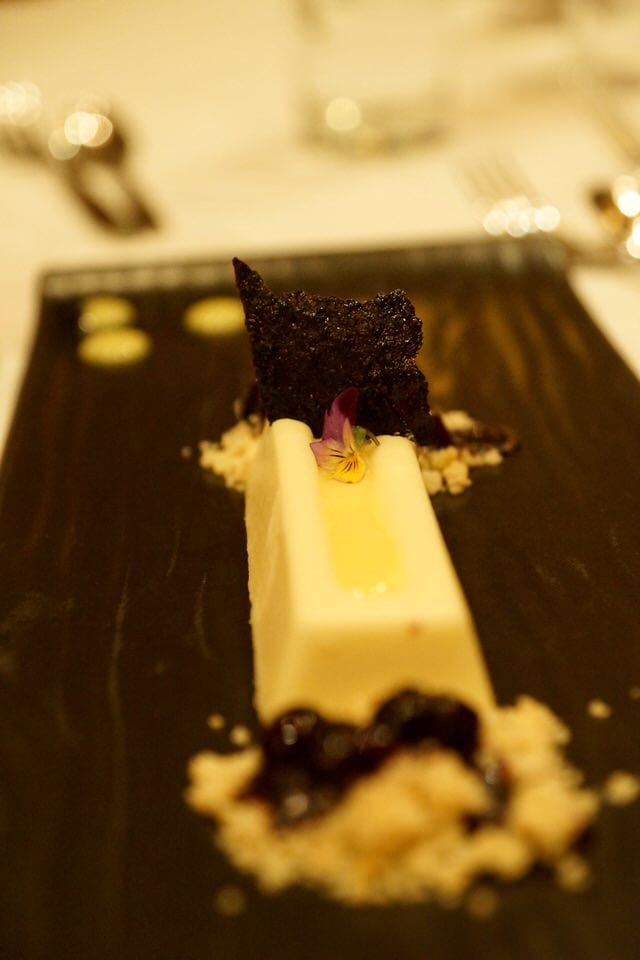 I'm a big fan of both lemon and cheesecake so I was really looking forward to this. I would say overall is was good not great. It had a piece of "fruit leather" on top which was interesting. The lemon curd taste wasn't as strong as I like it, and the cheesecake itself was very mild, which I guess is good if you just ate practically everything on the menu like me, but if you are looking for something richer then look elsewhere. Good but nothing to write home about.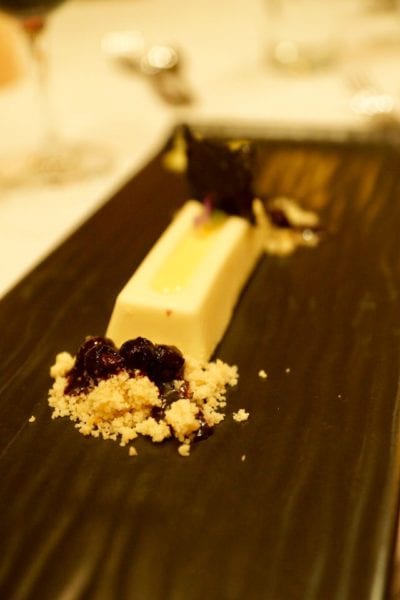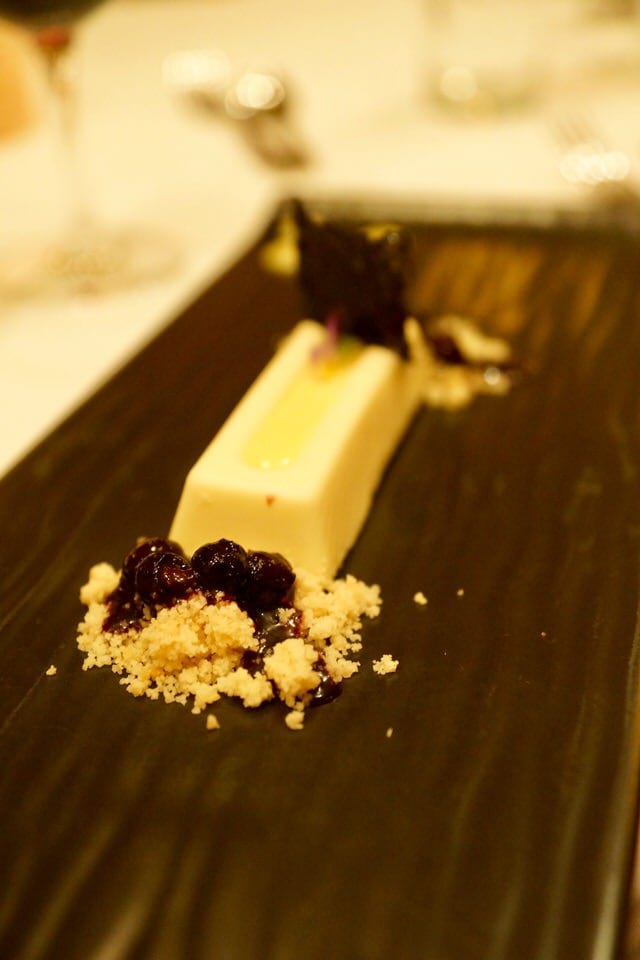 Lastly, one thing I haven't touched on was the service. The service here was some of the best I've ever had at any restaurant ANYWHERE. We had 2 waiters assigned to our table all night as one was in training and the other was observing but helping him. At first I thought we were in trouble because of having a waiter-in-training, but he blew us away! He knew everything, literally everything about the menu and every recommendation he made to us turned out to be true. I wish I remembered his name because I would highly recommend him to you. This is what signature dining service should be like!
Summary:
Overall we had a wonderful experience at the Yachtsman Steakhouse, it was even better than the last time we came. The atmosphere won't blow you away, but it's warm, clean, it isn't loud and is a nice place if you are looking for a quiet romantic meal. The food was of excellent quality, the appetizers like Caesar Salad, French Onion Soup and the Lobster Bisque were all outstanding. The Steaks themselves were unbelievable and do live up to the reputation as being one of the best 2 or 3 steakhouses on property. Where exactly? I'll have to think about it and make a list soon, but Yachtsman is right up there.
I found the prices to be expensive, but in-line with other Disney Signature Restaurants. If you are a carnivore like me then you will appreciate it and Yachtsman has to be on your list of must-try restaurants in Walt Disney World. It's a must do for sure if you are staying at one of the Epcot Resorts as it's within walking distance from them, and it makes a great date-night location without the kids or for a special occasion. Try it, you won't be disappointed!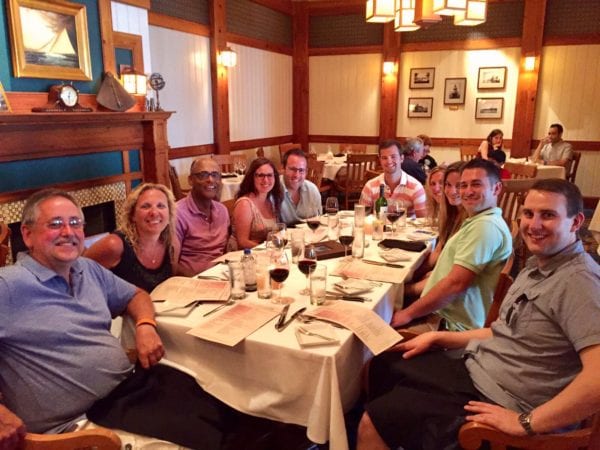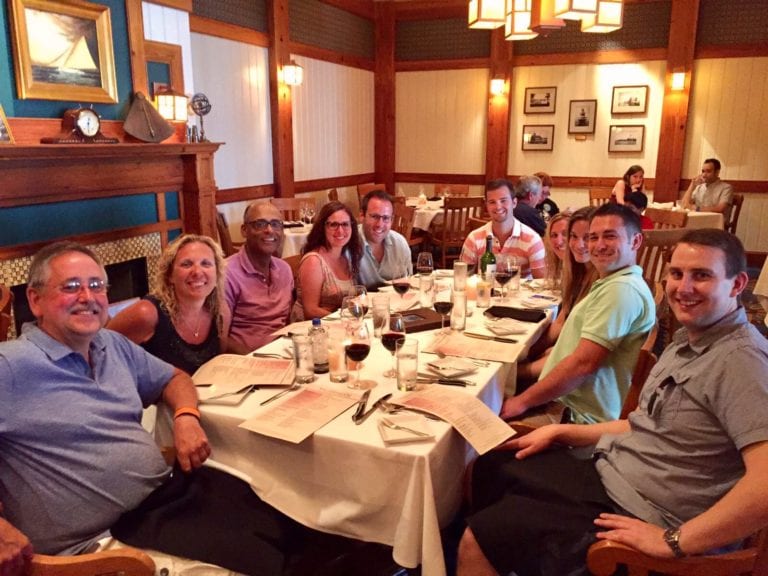 Yachtsman Steakhouse is a Dinner only restaurant and is open from roughly 5:00pm – 9:30pm Daily. The Disney Dining Plan is also accepted, it is a 2 Disney Dining Credit Signature Restaurant. Reservations can be made via the Disney World website or by calling (407) WDW-DINE.
Click here for the Yachtsman Steakhouse Menu.
I love to write Restaurant Reviews of Walt Disney World and I hope you found this one to be informative and helpful. If you liked this review then please visit my Disney Dining Reviews Page where I have many other Restaurant Reviews. I'm happy sharing with you what I love doing best…eating! ? I try to bring you the most thorough and unbiased reviews about the food and restaurants at Walt Disney World, so that as you are planning your vacation, you know the "can't be missed" places, and where you shouldn't waste your time. Hope you enjoyed this one and will enjoy many others in the future!!
Your Thoughts:
I want to know what you think about my Yachtsman Steakhouse Full Review and if it's in line with your experiences there. What's your favorite thing at Yachtsman Steakhouse? Where does it rank among the list of Best Steaks in Walt Disney World? Let us know in the comments section below!
If you enjoyed this article, as always I appreciate it if you'd share it with others via social media. I work hard at making this website into a useful resource for you and your family to plan your visit to Walt Disney World, and I hope it can help you! Thanks 🙂