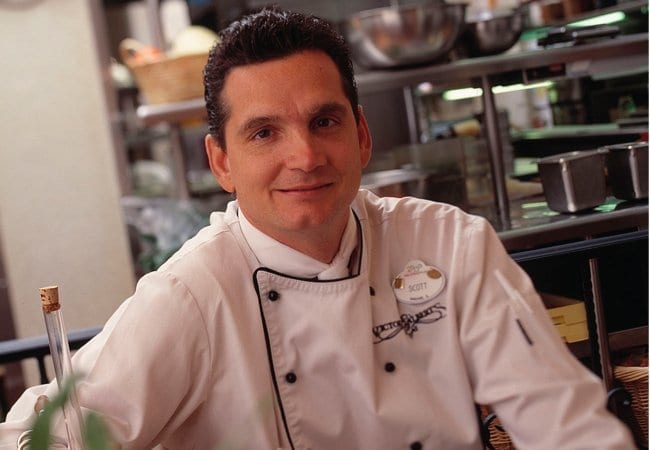 If you have ever eaten at Victoria and Albert's restaurant in Disney's Grand Floridian Resort and Spa then you what a World Class Dining Experience is all about. Victoria and Albert's is one of only 15 restaurants in the United States to win the prestigious AAA Diamond award for excellence…get this…15 YEARS in a Row!! It is a once in a lifetime experience and I HIGHLY recommend going at least once to experience it for yourself because my words don't do it justice. Perhaps the main reason they've enjoyed such great success has been Chef Scott Hunnel, who has been a driving force at V & A's over the past 20 years.
Now Scott Hunnel is being promoted to Executive Chef at the Grand Floridian Resort and Spa. Wait, what, he's still there? Yes. Basically it means that he will now not only oversee Victoria and Albert's, but all of the restaurants on the property, including also: Citricos, Narcoossee's, 1900 Park Ave and the Grand Floridian Cafe. This is good news in my opinion because he won't be leaving Victoria and Albert's per se, just taking on extra responsibilities. In fact Hunnel says that Victoria and Albert's will continue to be a focus of his even if they do hire a new "Head Chef."
Scott Hunnel has been with V & A's over 20 years since 1995 when he left Ariel's restaurant in Disney's Yacht and Beach Club Resort. He is highly decorated being nominated for a James Beard Foundation award for Best Chef South 8 times. And was recognized by Sante magazine in 2008 as Culinary Professional of the Year.
This is just one of the latest of many changes recently in Disney Chefs around property. Recently Citricos lost Phillip Ponticelli and The California Grill lost the incredible Brian Piasecki (even though both are with Disney). Also recently I wrote that The Flying Fish, which is currently being remodeled with a brand new menu, design and lounge will also have a new Head Chef in Tim Keating.
I hope these fantastic Disney Restaurants make the right choices in replacing the amazing talents that preceded them as Head Chef. I know whoever follows Hunnel at Victoria and Albert's will have BIG shoes to fill, but I have a feeling he will have someone watching closely over his shoulder…
Let me know what you think of the Chef Scott Hunnel's change at Victoria and Albert's and the rest of the Disney restaurants in the comments section below…
Meet the Author of Ziggy Knows Disney!
My name is Ziggy and I love Disney, everything Disney! I grew up on Disney and it has and continues to be a huge part of my life. I started young when my parents took me to Disney World when I was 18 months old. Little did they know that would be the first of an uncountable number of trips we would take. I have so many amazing memories going to Disney with my family and friends and it has been interwoven into my DNA.