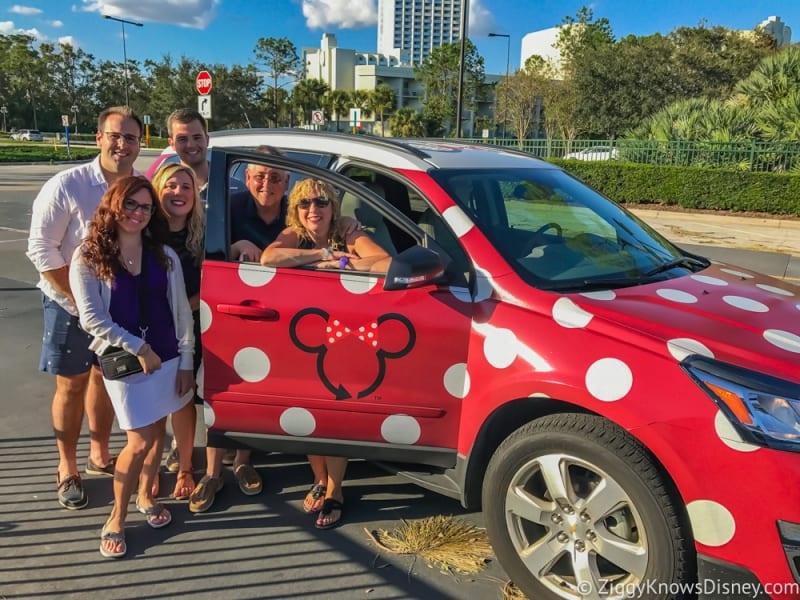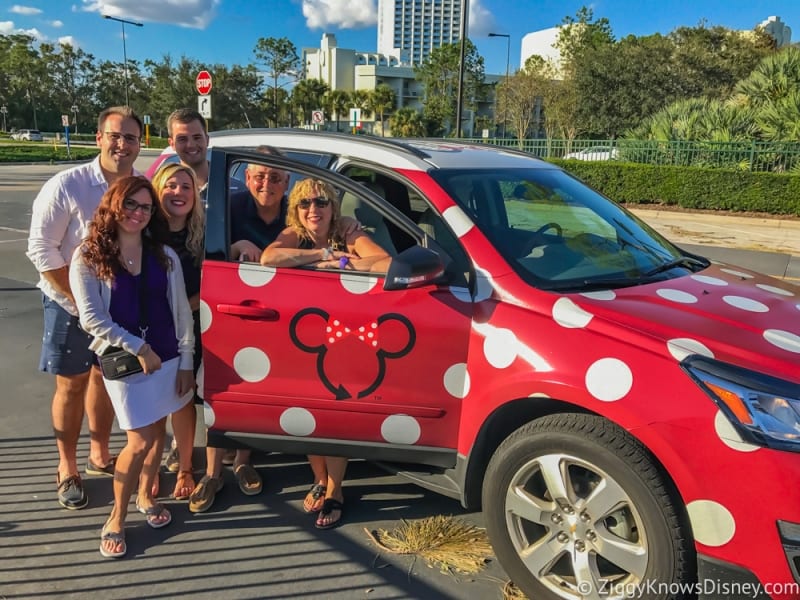 When we first heard about Walt Disney World's newest transportation the Minnie Van, we just new we had to try it. I mean, just one look at the adorable red and white polka dot cars and you can't help but be attracted. But can Disney's compete with other ride-sharing services like Uber? Are they worth it? I'm going to explain all that and our personal experience using them in my Disney's Minnie Van Review!
If you want to go directly to my Minnie Van Review Video watch here:
What is a Minnie Van?
The Minnie Van is another way of getting around Walt Disney World if you don't want to be stuck waiting for Disney Transportation, which if you've ever waited outside the Magic Kingdom after the fireworks in July you know can be painstakingly slow. With the Minnie Vans you can go wherever, and whenever you want with usually less than a 5 min wait for your ride.
Of course many guests at the WDW resort were already doing this with Uber and similar ride-sharing services, which were becoming more and more popular around Walt Disney World. So the powers that be decided to team up with Lyft to create their own version, albeit a much cuter version based on the beloved character Minnie Mouse.
The Minnie Vans will pick you up and bring you to any place on Walt Disney World property, 24/7, for a flat-rate of $25. (This is a new change, as when we took our Minnie Van the price was $5 lower at $20). This price is with the tip included so you don't have to pay extra for that after.
The car they are using is a Chevy Traverse, which is a really nice SUV, comfy, clean, and of course air conditioning. They hold 6 passengers each. They also come equipped with 2 child seats so if you have young ones there is no extra cost for them. The Minnie Van drivers are trained on where to put the seats, either the middle, back or front, so you don't have to worry about your child being properly constrained.
Of course to use the Minnie Vans you have to be staying on Disney World property at one of the WDW resorts, and as of March 2018, the Minnie Vans aren't available yet to guests of every resort. The Minnie Van service started rolling out first at a handful of the Deluxe Resorts, and now covers all of them, and some Moderates and Value Resorts.
The Disney Minnie Van Service is now available in all the Walt Disney World Resort Hotels including:
Disney's Boardwalk Inn Resort
Disney's Yacht and Beach Club Resort
Disney's Contemporary Resort
Disney's Polynesian Village Resort
Disney's Grand Floridian Resort and Spa
Disney's Old Key West Resort
Disney's Wilderness Lodge Resort
Disney's Port Orleans – Riverside
Disney's Port Orleans – French Quarter
Disney's Animal Kingdom Lodge Resort
Disney's Caribbean Beach Resort
Disney's Saratoga Springs Resort
Disney's Pop Century Resort
Disney's Fort Wilderness Resort and Campground
Disney's All Star Music Resort
Disney's All Star Movies Resort
Disney's All Star Sports Resort
Disney's Art of Animation Resort
Disney's Coronado Springs Resort
Something separate from our Minnie Van Review is that just recently the Disney Minnie Vans started providing shuttle for guests to and from the Orlando International Airport. The cost is $150 flat rate for a one-way trip for guests staying on the Club Level of the following Walt Disney World Resorts:
Disney's Boardwalk Resort
Disney's Grand Floridian Resort
Disney's Polynesian Resort
Disney's Wilderness Lodge
Disney's Yacht & Beach Club Resort
To book Minnie Van service to the Orlando International Airport go to the Concierge at your Resort and book it through the Cast Members there at least one day before departure.
How do I Order a Minnie Van?
Ordering a Minnie Van is much easier than you would think, and the service is provided via the Lyft mobile app. We had no problem doing it for our review, and thought the whole process was easy and simple. Just follow these directions:
First Download the Lyft Mobile App and create your profile. This is fast and only takes a few minutes, and it's free too.
Have a Cast Member at your Resort activate the Minnie Van Service. To do this you'll want to go to Bell Services or the Front Desk of your resort and they'll get you set up and activate the Minnie Van service for you. (Technically you have to be staying at that resort to get activated, but we know of guests who weren't staying a a specific resort and simply asked Cast Members who enabled it anyways.). This is a one-time thing. Once activated, you'll be able to call a Minnie Van from anywhere on property.
Open the Lyft App
Select your pickup point and destination. You can always leave the destination part blank and just tell the driver when he picks you up.
Choose "Minnie Van." Here you have to make sure to specify, otherwise you'll end up with a regular Lyft vehicle.
Confirm your order. Once you do this it will tell you your approximate waiting time for your Minnie Van.
Wait for your ride and then go. If you've used a service like Uber before, you know the drill. You'll be able to follow the progress of the car on your phone until it arrives, then continue following it during your journey.
Our Minnie Van Review:
So we were really excited to finally use the Minnie Van after hearing so much good stuff about it, but we were skeptical at paying $25, which is about twice the price of most car-sharing services for a pickup to somewhere in Walt Disney World.
We were staying at Disney's Beach Club Resort (which is our favorite WDW resort btw and an absolute must try sometime), and we downloaded the app while we were still up in the room.
I hadn't had too much experience with car-sharing services in the past, only a couple times when we were in Miami earlier in the year for a Disney Cruise, so I was a bit nervous to see how difficult it would be. I was pleasantly surprised. The Cast Member at Bell Services activated me and I order my first Minnie Van.
So one of the best things about the Minnie Vans is the speed they arrive in. I didn't wait more than 3 minutes once I hit the button and our driver arrived in front of the car port. This worked out beautifully because if you've been going to Disney World for a long time you know how long you have to wait sometimes for the buses.
Just the day before we waited over 40 min for a bus to Disney Springs, and since we were going there again this evening, it was great not having to get down to the bus stop so early for fear of missing the bus.
Another great feature of the Minnie Vans are the opportunity to get picked up and dropped off where other ride-sharing services can't bring you, and even sometimes the Disney Buses too. For example, let's say your staying a a resort where your room is really far from the bus stop. In that case you can have the Minnie Vans pick you up and drop you off right by your room.
Also the Minnie Vans will bring you right to the Disney bus stop area of the parks like Magic Kingdom, getting you closer to the front gate. Uber can't do that and will have to drop you off at the Transportation and Ticket Center.
If you've been to the Hoop-Dee-Doo Musical Revue, then you'll know that it's a logistical nightmare getting to or from there, but Minnie Vans will pick you right up there saving oh so many blisters on your already sore feet.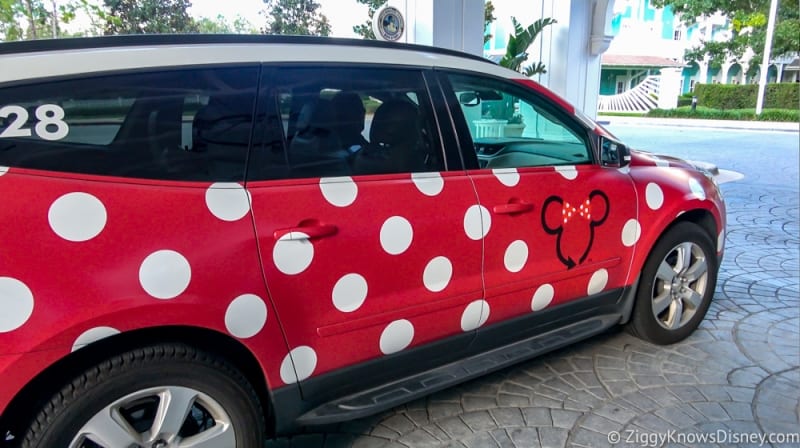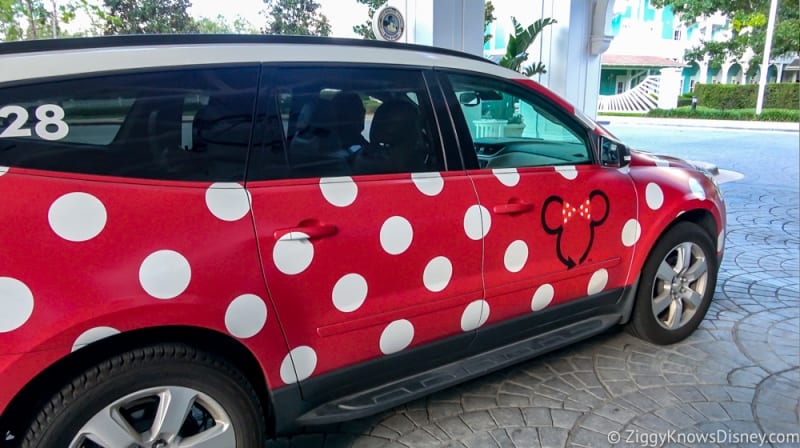 Seating 6 adults, the Minnie Van was the perfect size for us because we were 3 couples, so we decided to split the cost among us.
TIP: Wheelchair Accessible Minnie Vans and ones for Service Animals are also available with 2 of them currently in the fleet. After you order the Minnie Van, just tell the Cast Member at the dispatch that you need a wheelchair accessible vehicle and they will order you one.
Let's check out the inside of the Minnie Van! Here's a look at the Minnie Van Interior, very spacious:
Here you can see into the back where the 2 Car-Seats are just in case you have kids. No, don't worry, your kids won't be sitting in the trunk! They will be moved into the middle or back are, unless maybe you ask to keep them there… 😉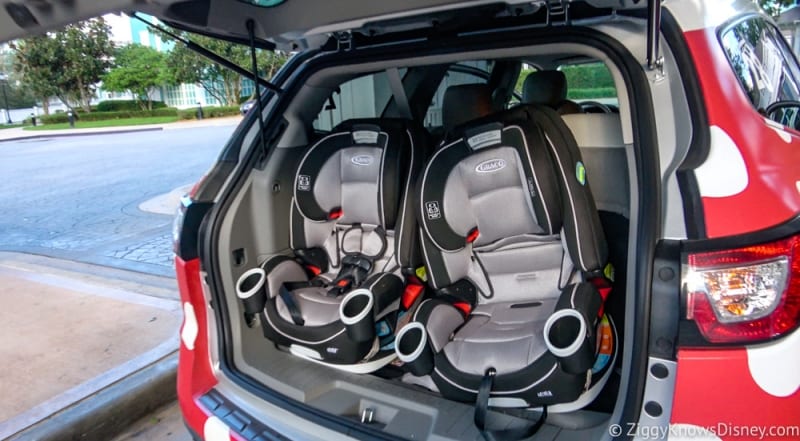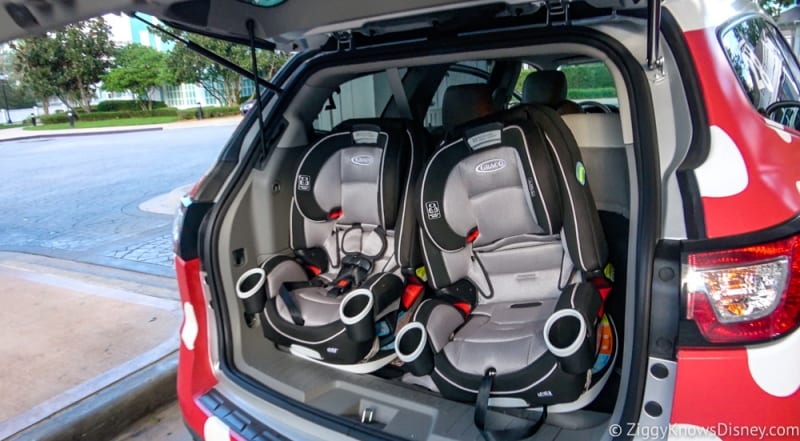 Everyone is ready to go!
Another great feature of the Minnie Vans and one of the benefits are the drivers. All the Minnie Van drivers have had experience working in other areas of Walt Disney World and are very knowledgeable about the resort. Our driver was Benjamin and he previously worked at the Magic Kingdom in entertainment for many years.
Throughout the trip he was happy to explain all sorts of cool stuff to us on our trip to Disney Springs and it made the time pass very quick. He also made it easy for me to do this Minnie Van review by letting me take all the pictures and videos I wanted during the experience. Finding a knowledgable and friendly driver who won't rush you isn't something you'll necessarily find with a company like Uber.
We made it to Disney Springs like lightning. It was 3 minutes from the time I ordered it, and less than 15 to Disney Springs once we got going. We definitely save a bunch of time instead of waiting for the bus, where it would have taken about 30 minutes or more.
We also were dropped off in the Valet area which Uber and a standard Lyft can't go to. The time it takes of course is going to depend on the time of day you choose to use the Minnie Vans. We went at about 4:30pm so it was really quiet. You'll have a much harder time getting one if you try while leaving one of the parks at closing time.
Why Choose Minnie Van?
Our Minnie Van review was a great experience. I don't think they are for everybody, but they make sense in a lot of situations. Obviously the biggest hurdle to get over, and the only one really is the cost. Again when we rode, it was still the lower $20 cost, and now it's up to $25 which is not small change.
If you took it every day, multiple times that will easily add up to hundreds of dollars. This isn't realistic for me to use every day like most families I would assume, but even after the increase, if I'm pressed for time or just want to save time relaxing or going on one more ride in the park and not worrying about waiting for a bus, it's my go-to.
The $25 will also look better depending on where you go. I mean if you use the Minnie Vans to go from the Polynesian to Magic Kingdom, that obviously is a waste of money. But if you are going from the Polynesian to the Animal Kingdom Lodge for dinner at Jiko, well that might be worth it to you because of the hassle it would be going from resort to resort and if you have a dinner reservation and can't be late it will be your most reliable way there.
Then you have the debate that it's just better to take Uber because it will save you money. While this is true, especially on a short trip, on a long trip the prices will be within $5-10 dollars of each other, and the Minnie Van could even save you money if you have 6 people because you'll need to order a larger Uber vehicle, whereas the Minnie Van holds 6 people standard.
The other 2 main factors to consider over Uber is how much you value good service and convince as the Minnie Van drivers will be much more knowledgeable about Walt Disney World, and can bring you closer to some destinations that Uber can.
These are the reasons it's Worth Taking a Minnie Van:
If you prioritize speed getting from one place to another. Time saved waiting and walking.
To get dropped off in a more convenient spot (Think Hoop Dee Doo or Magic Kingdom front gate)
Are going a far distance on property, especially resort to resort
If you have small children in Car Seats. The fact they are included and not with Uber actually could save you money.
Don't use a Minnie Van if:
You don't want to pay for a ride or don't have the last name Rockefeller.
Have time to wait
Not traveling a far distance on property
Are traveling alone
I think for the everyday Walt Disney World travel, the free transportation like buses, monorails or ferries are still going to be the way to go for most situations. But there are some where even despite the $25 price tag Minnie Vans still offer a good value to the guest.
We had a wonderful experience with the Minnie Vans and would highly recommend you to give them a try for yourself and let me know what you think!
Your Thoughts:
I want to know what you think about my Disney's Minnie Van Review. Have you used the Minnie Van Service before? What was your experience with them? What should they do to to improve the guest experience? Let us know in the comments section below!
If you enjoyed this article, as always I appreciate it if you'd share it with others via social media. I work hard at making this website into a useful resource for you and your family to plan your visit to Walt Disney World, and I hope it can help you! Thanks 🙂