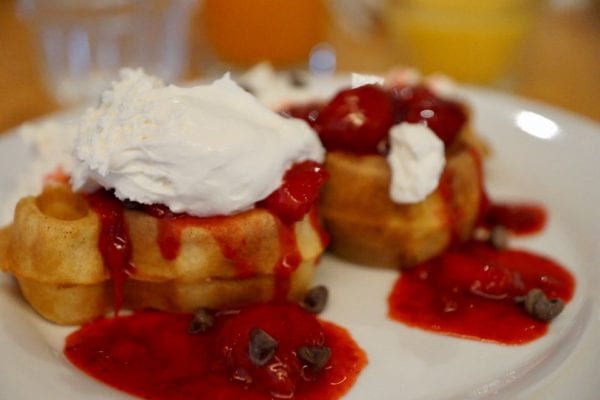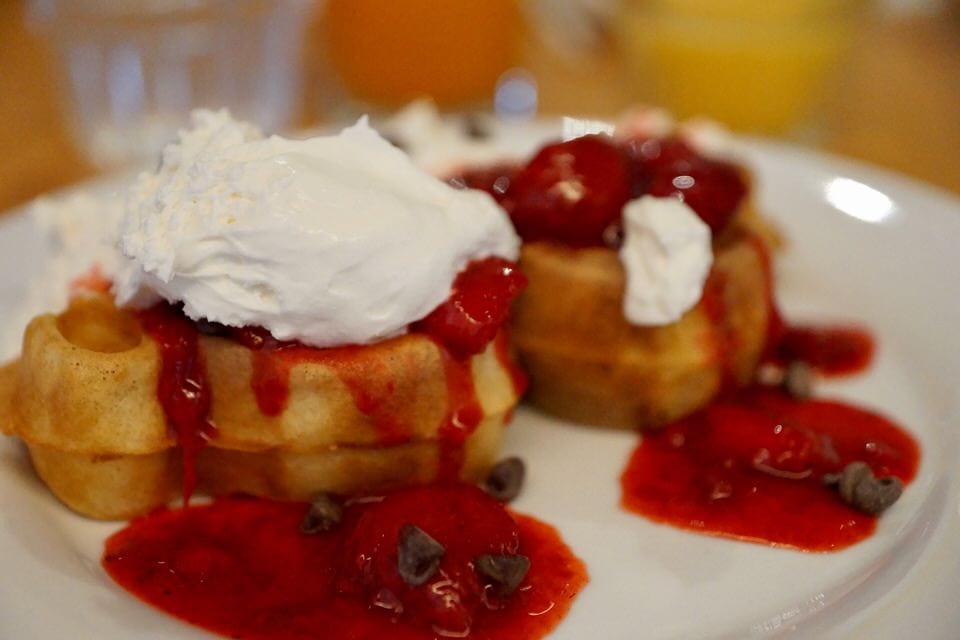 Today I'm doing a Cape May Cafe Character Breakfast Review. Character Breakfasts are one of the quintessential Walt Disney World experiences and something you have to do at least once on your trip to Walt Disney World, especially if you have kids! People come to character breakfasts because instead of waiting in line at the parks to meet the characters, they come right to you! The character breakfast at Cape May Cafe is similar to what you would find at a place like: Chef Mickey's, Ohana's or Crystal Palace. What makes this one different? Let's have a look…
Cape May Cafe is a Table Service Restaurant in the Beach Club Resort which has both a Character Breakfast in the morning and a Buffet Style Clam-bake Dinner in the evening (the Dinner does NOT have Characters). If you are using the Disney Dining Plan you will need to use 1 Dining Credit for Breakfast or Dinner. It does participate in Tables in Wonderland which gives you a %20 discount on your food and drinks, which is always a great thing! Cape May Cafe does accept ADR's 180 Days in advance and because of the extreme popularity in Character Breakfasts I highly recommend making one 180 days out.
If you've never experienced a Character Breakfast before then you're in for a treat and here you get to see Minnie Mouse, Goofy and Donald Duck! There is also an all-you-can-eat Buffet at your disposal with classic breakfast items such as: Eggs, Sausage, Bacon, Danish, Pastries, Muffins, Waffles, Ham, Potatoes and even Crepes! Prices vary a bit depending on if you are there in the busy season or not but expect to pay between $35-40 per adult plus tax and tip. That isn't a cheap breakfast by any means and not something you want to do every day of your trip, but something you might do once.
Tip: If you are on the Disney Dining Plan and go to Cape May Cafe or most Character Meals is a good use of your credits, seeing as it only requires 1 credit and you get good value for it.
It's been a while so I wanted to do a Cape May Cafe breakfast review to see if any improvements or changes have been made. Let's have a look….
Atmosphere:
Cape May Cafe is located at the Beach Club Resort, which just happens to be my favorite and what I feel is the best resort in all of Walt Disney World. If your already staying at the Yacht or Beach Club then it will be no problem getting here you can just roll out of bed and come in your PJ's if you want! If you're staying at one of the other Epcot Resorts such as the Boardwalk or Swan and Dolphin then you can walk right over too as it's only a 10 minute walk. It makes sense to come to Cape May Cafe for breakfast then spend the day in either Epcot or Hollywood Studios after breakfast as they are close by.
If you have a reservation at Cape May Cafe but staying at another resort they will give you a parking voucher which lasts a couple of hours. If you don't have a car and are not staying nearby there's always Uber!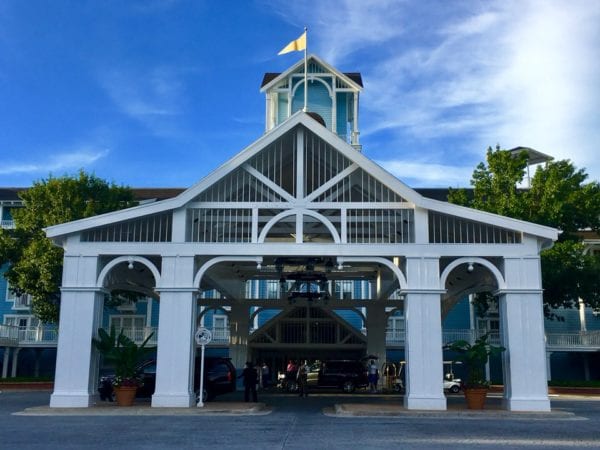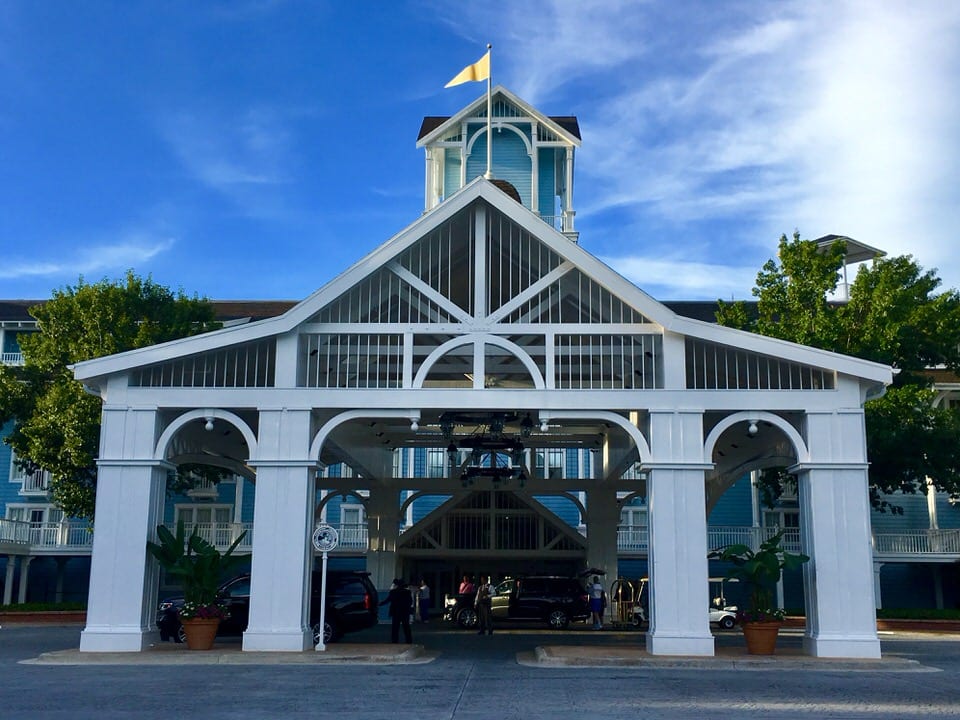 Enter into the wonderful Beach Club Resort Lobby and enjoy that Victorian style beach-side atmosphere. Elegance and relaxed at the same time: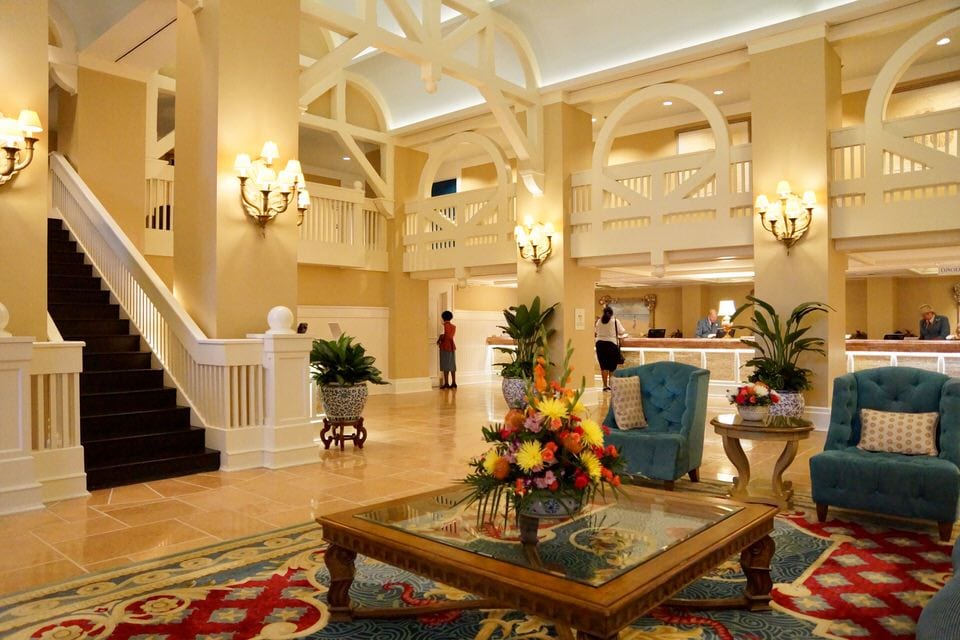 Here we are: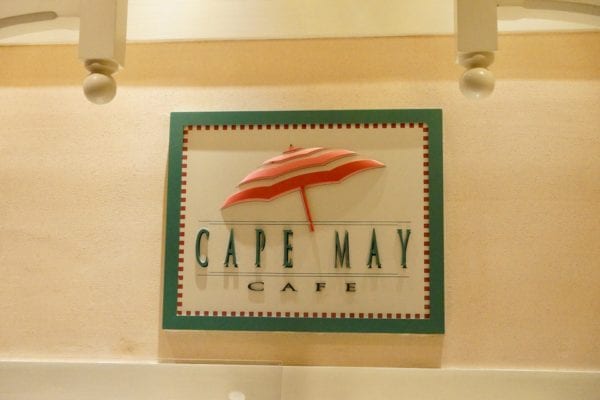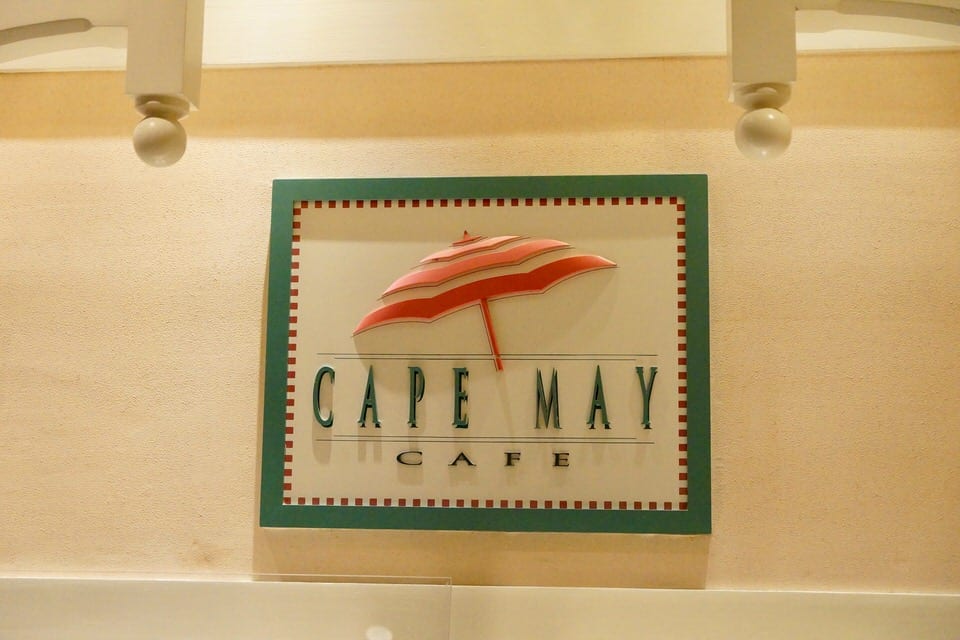 You'll see some old turn of the century seaside style decorations including these beach chairs: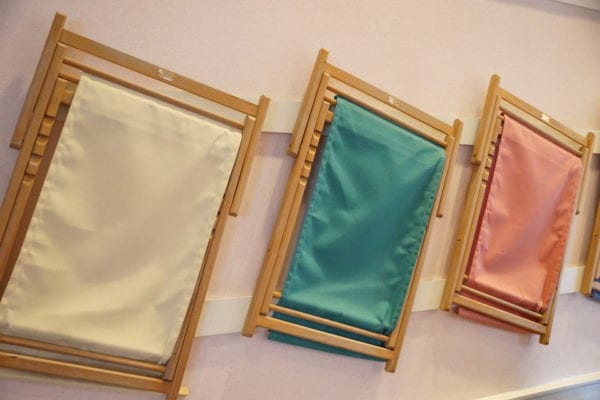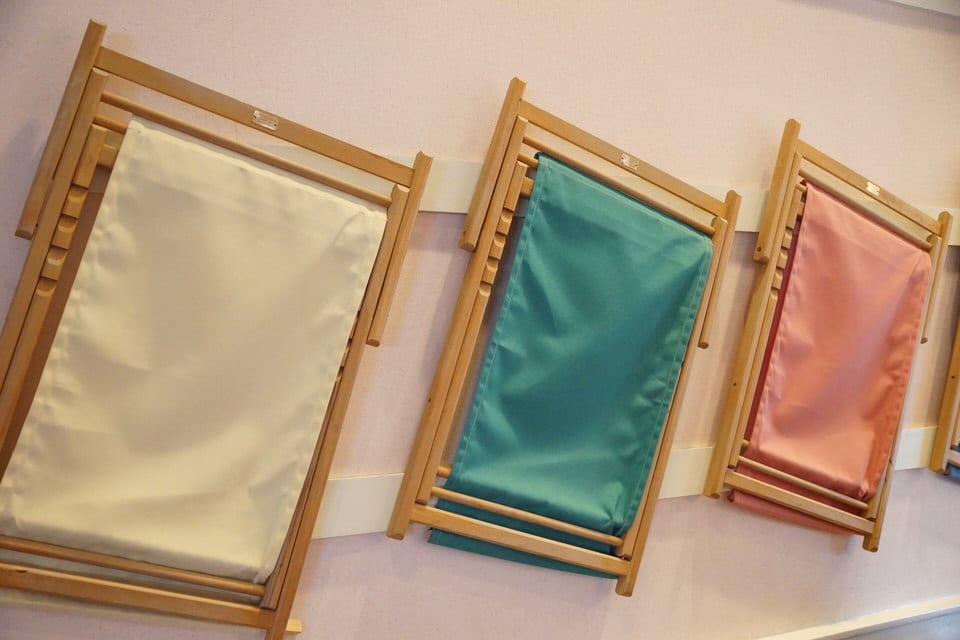 Is this the kind of bathing suit you wore as a kid?: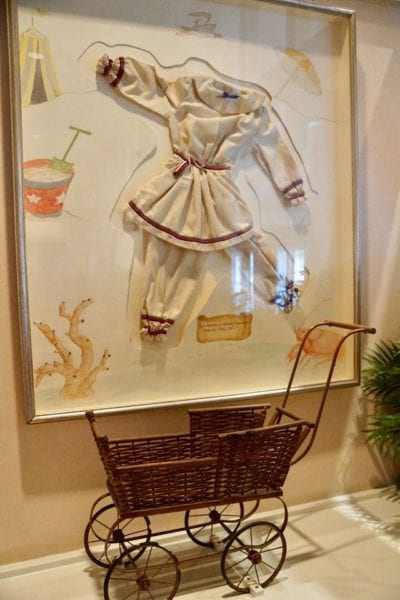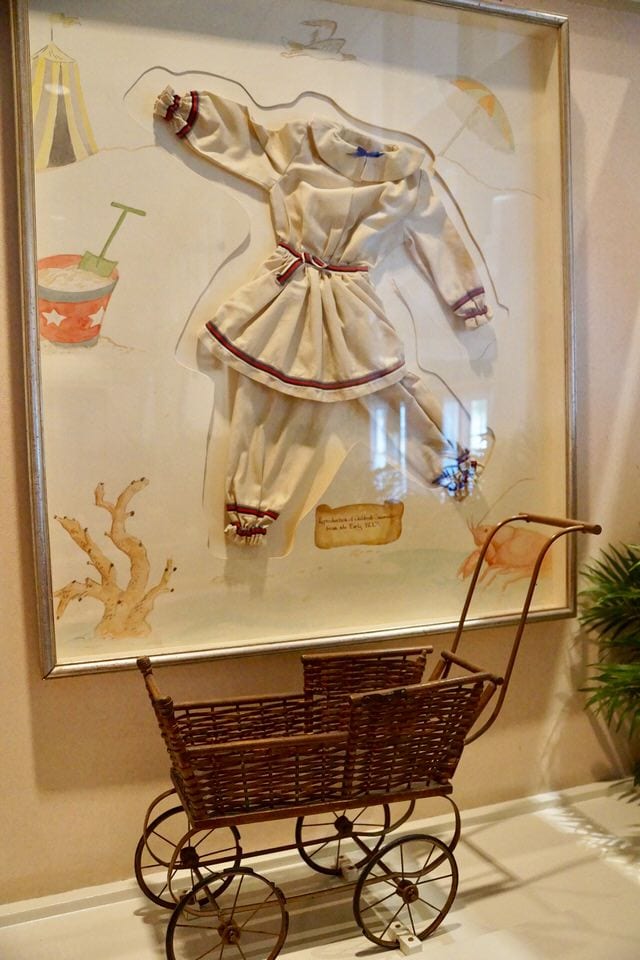 If you're not too stuffed after breakfast maybe we can play a game of croquet?: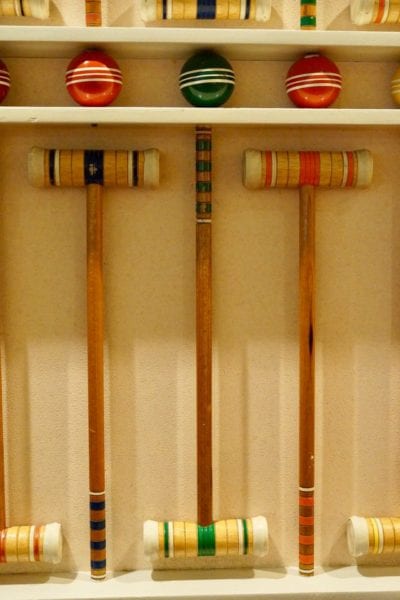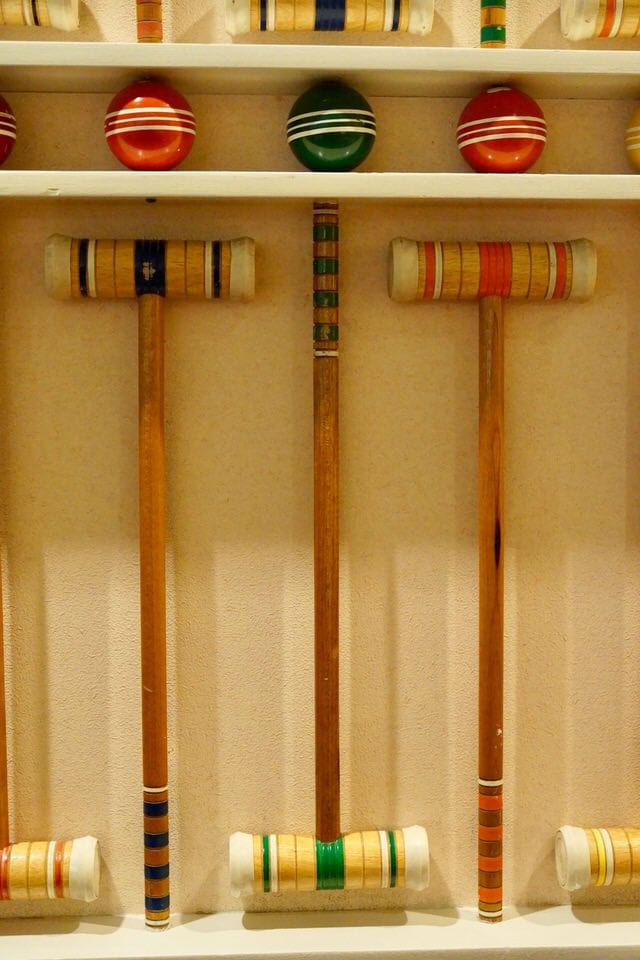 The restaurant is very open and spacious. The beautiful wooden stick style architecture is apparent: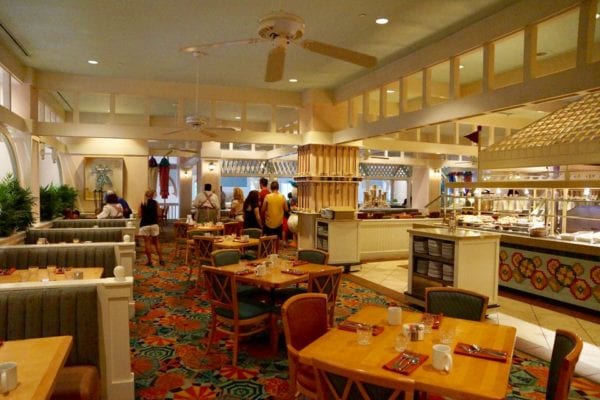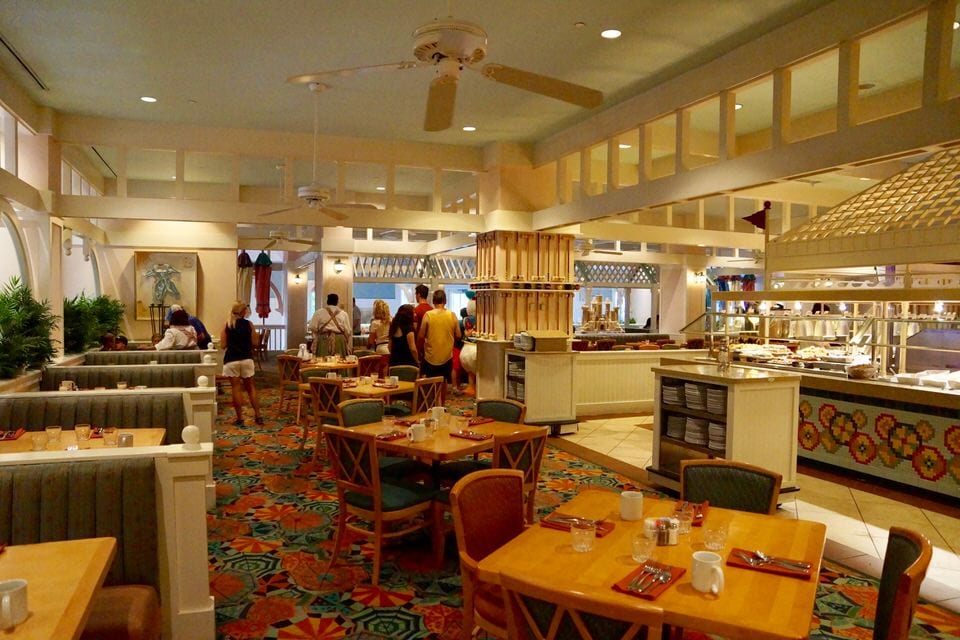 The same light blues, pinks and white color Cape May Cape as the rest of the Beach Club: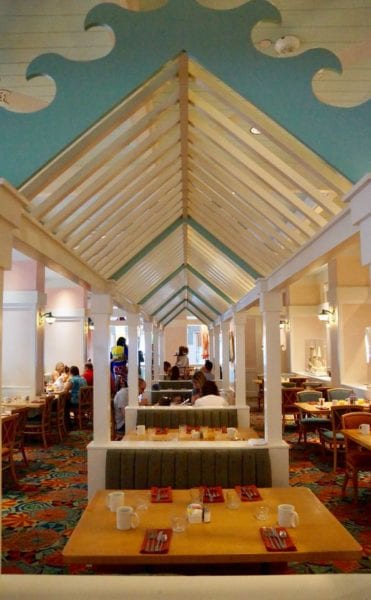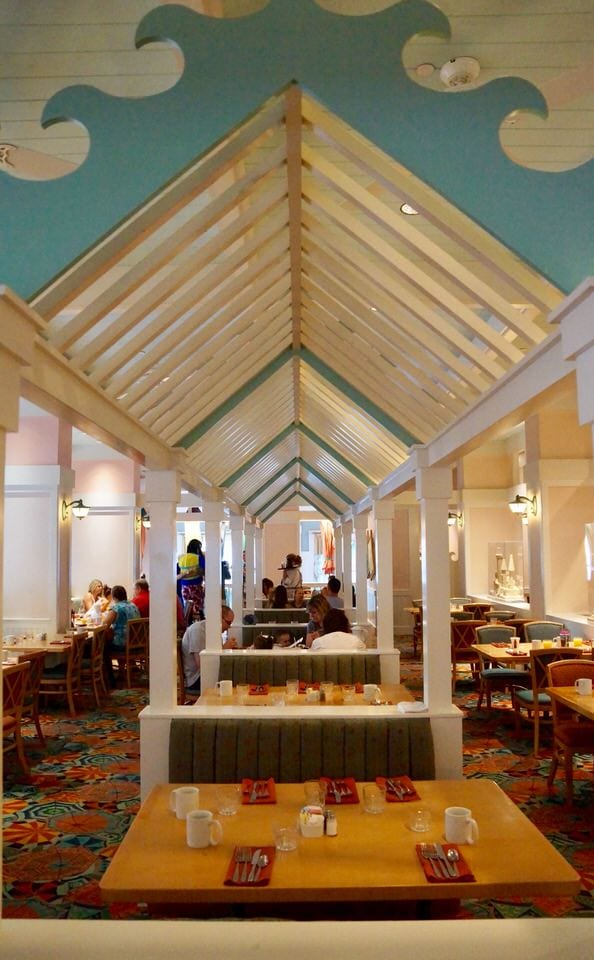 You can have your choice of either booths or regular tables: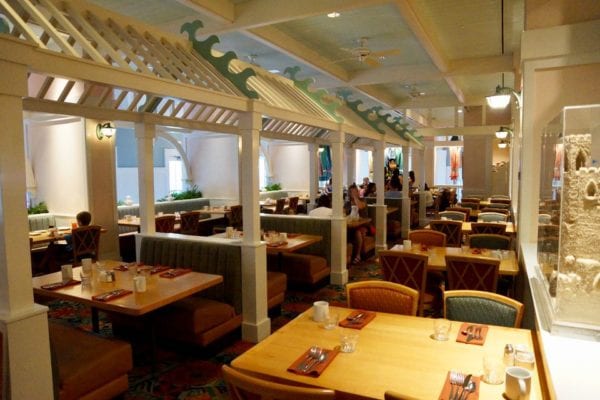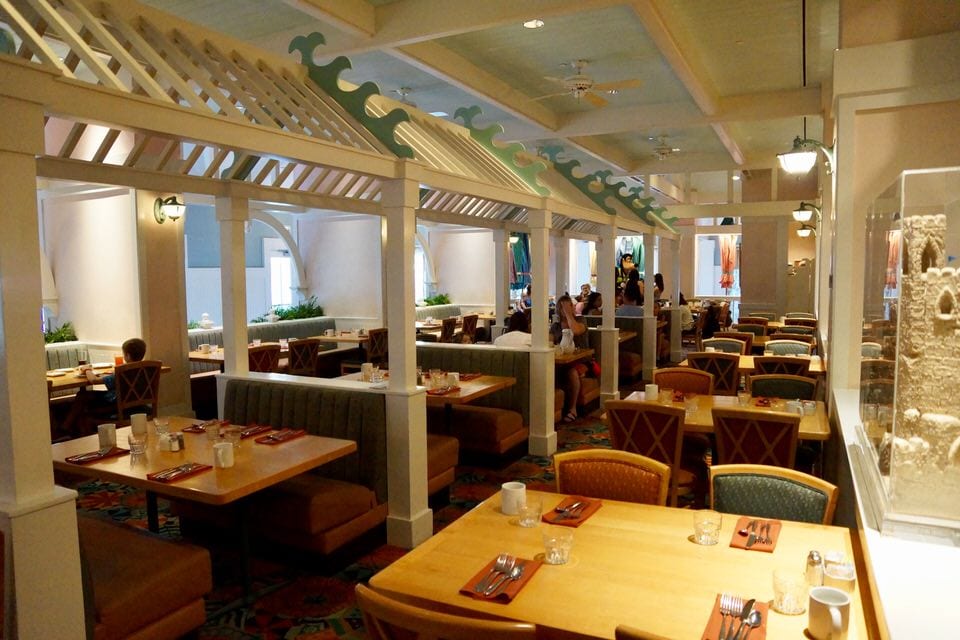 One of the coolest features of Cape May are the Sand Castles: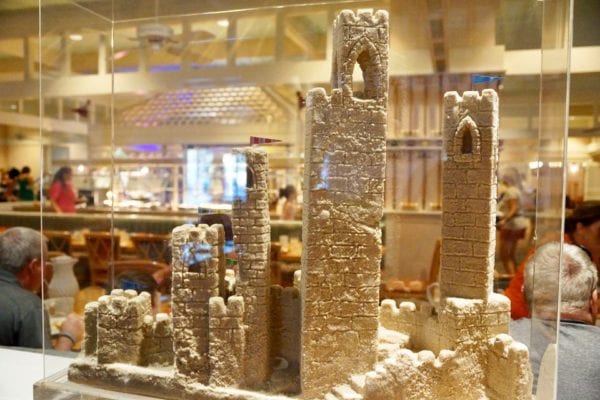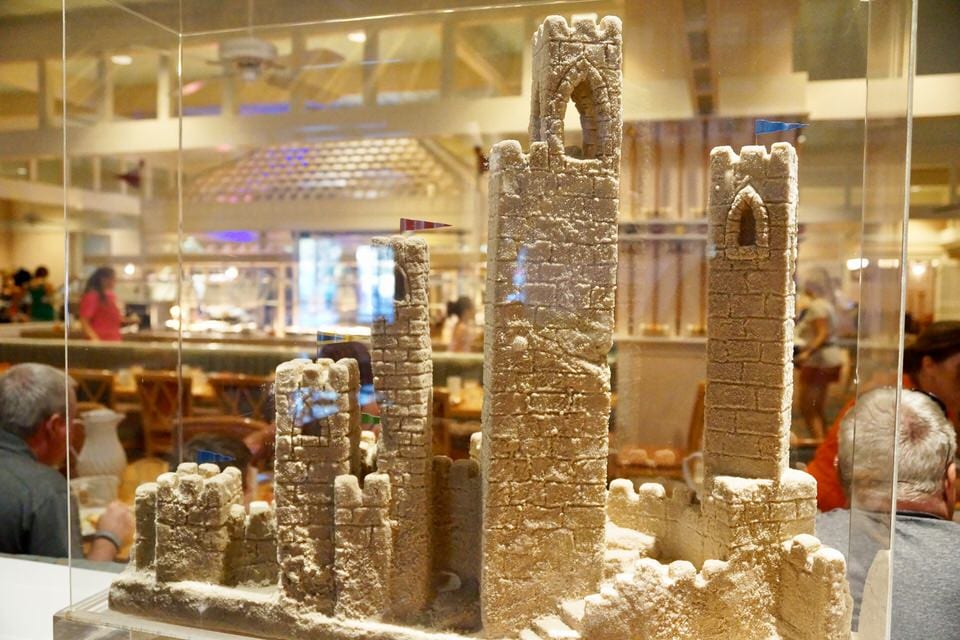 There are a variety of them, all of which are uniquely different: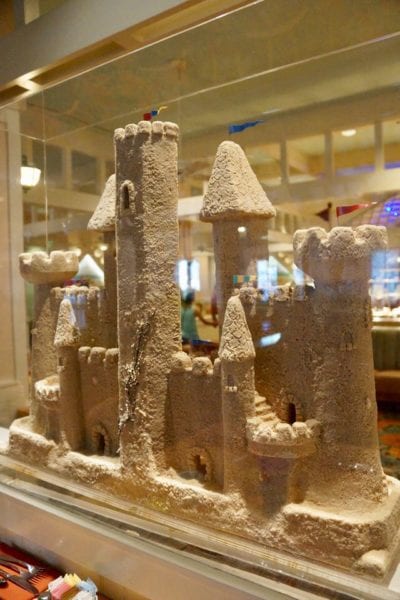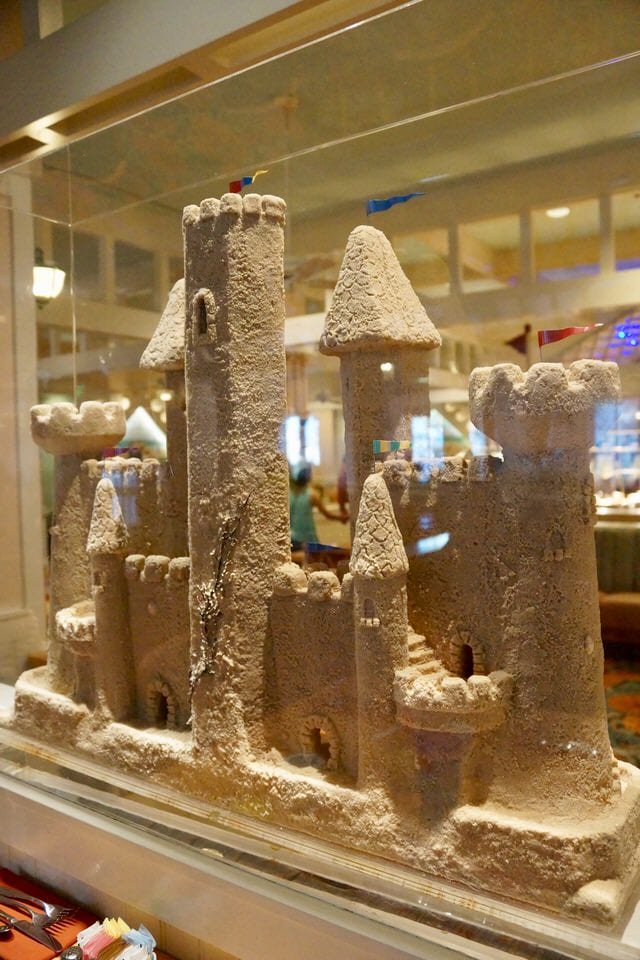 The attention to detail is superb! I wish I could have been able to make sand castles like this when I was a kid!: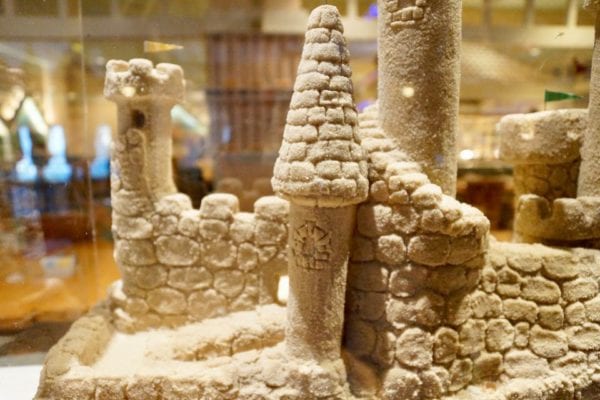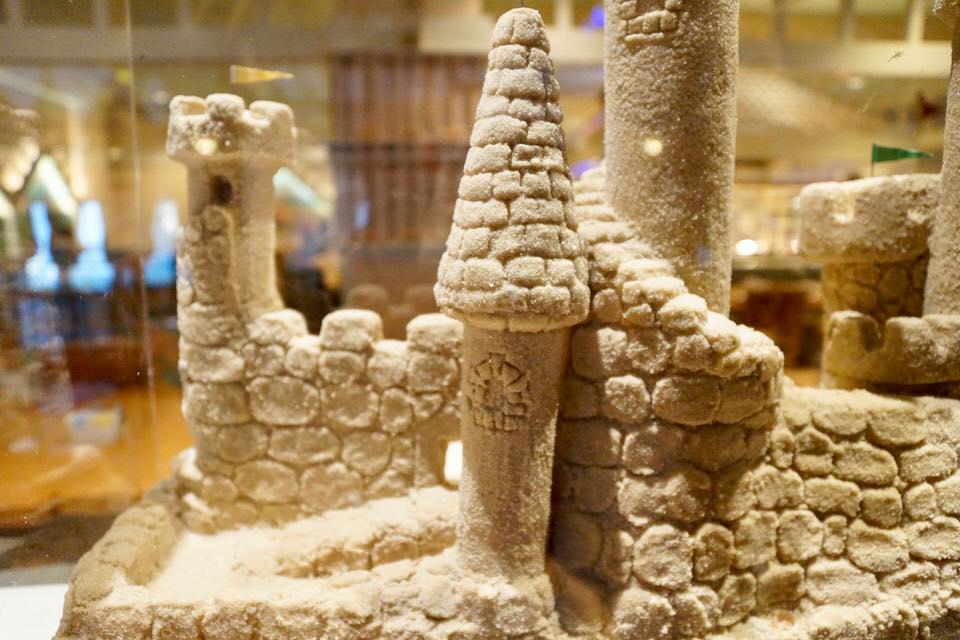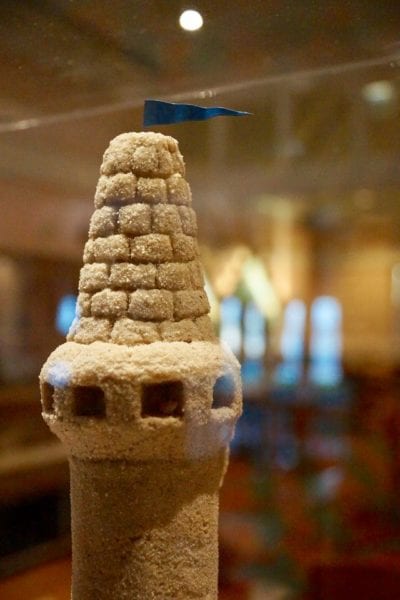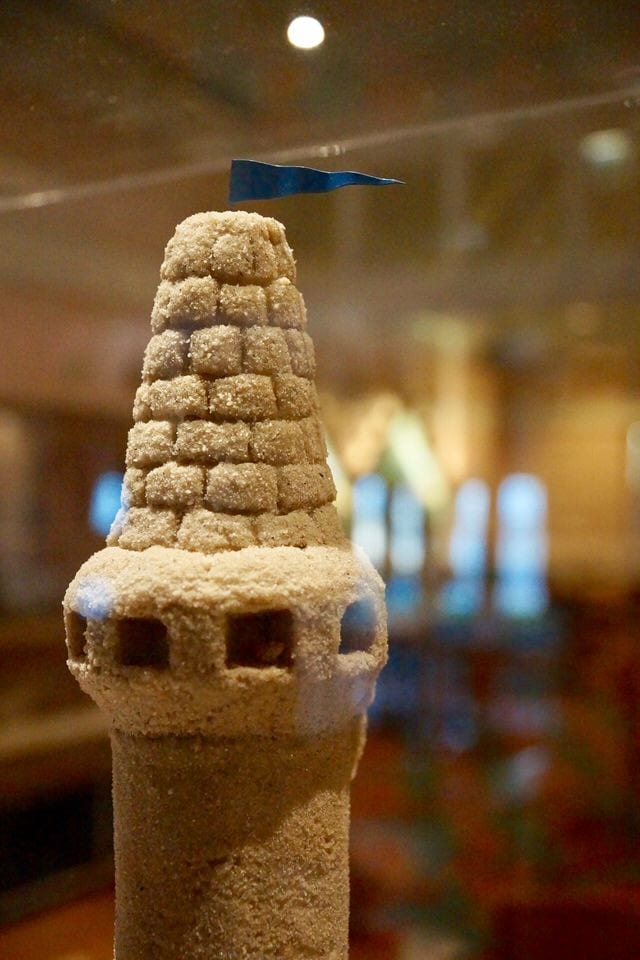 Characters:
While the food is often times good at character breakfasts (and we'll get to that), right off the bat you need to recognize that the real show are the Characters. At Disney Character Meals a variety of different characters will come around and visit all the tables in the restaurant, taking pictures with you and signing autographs.
At the Cape May Cafe Breakfast you will find Minnie, Goofy and Donald Duck. They are all dressed in their swimming outfits and ready for the beach, something you won't find anywhere else in Walt Disney World. Right now there are only those three, although from time Disney adjusts which characters go where so it is subject to change.
What makes Cape May Cafe a good choice for a character breakfast is that it's less crowded than many others like Chef Mickey's or Crystal Palace, which means you're more likely to get a reservation and probably will have more time with the characters.
Goofy: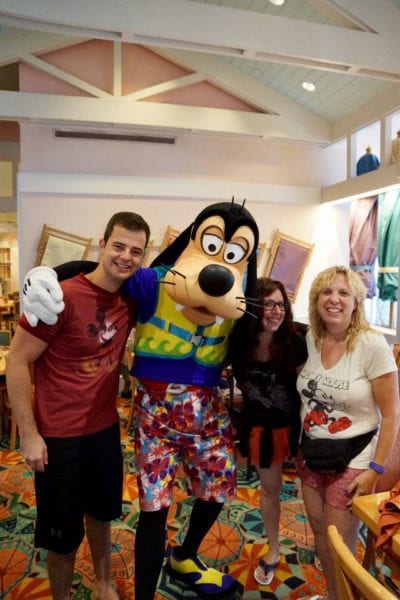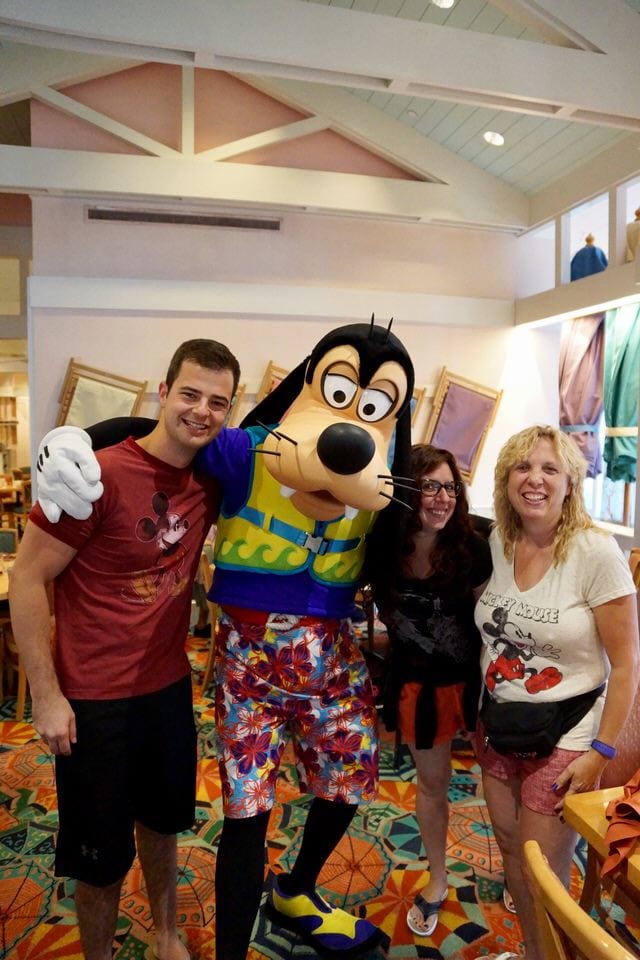 Goofy was funny as usual, posing, giving high-fives and just being his normal silly self!
Donald: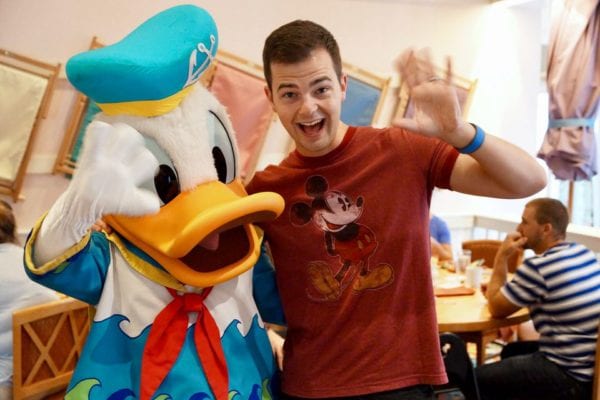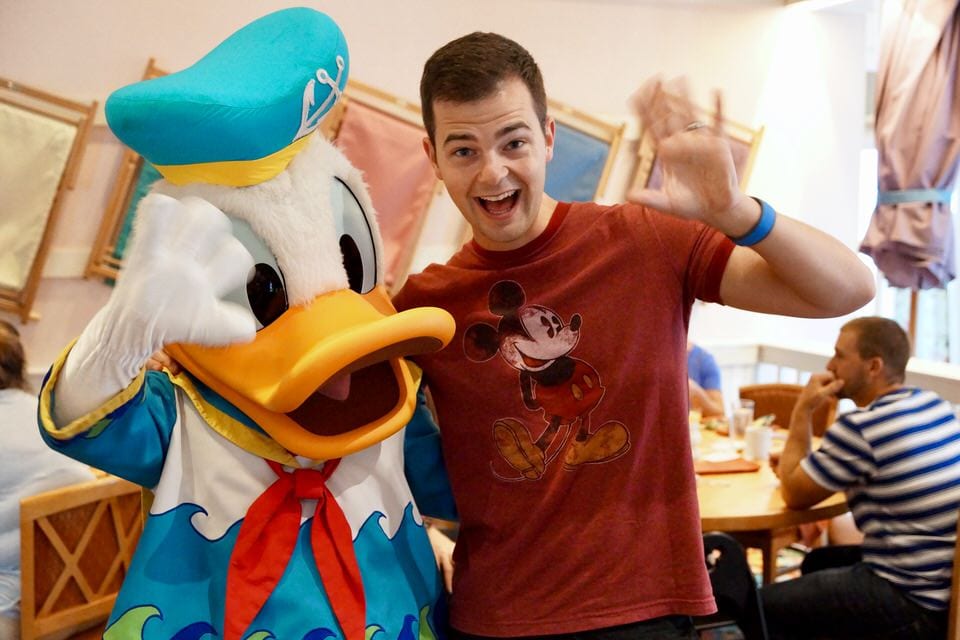 Donald who gets a bad rap for being a bit grumpy sometimes must have woken up on the right side of the bed this morning!
Minnie Mouse:
and of course the lovely Minnie. She even had time to help Big Zig out with his smartphone problems: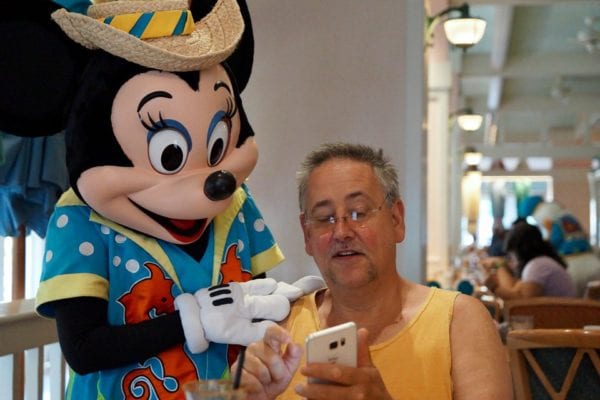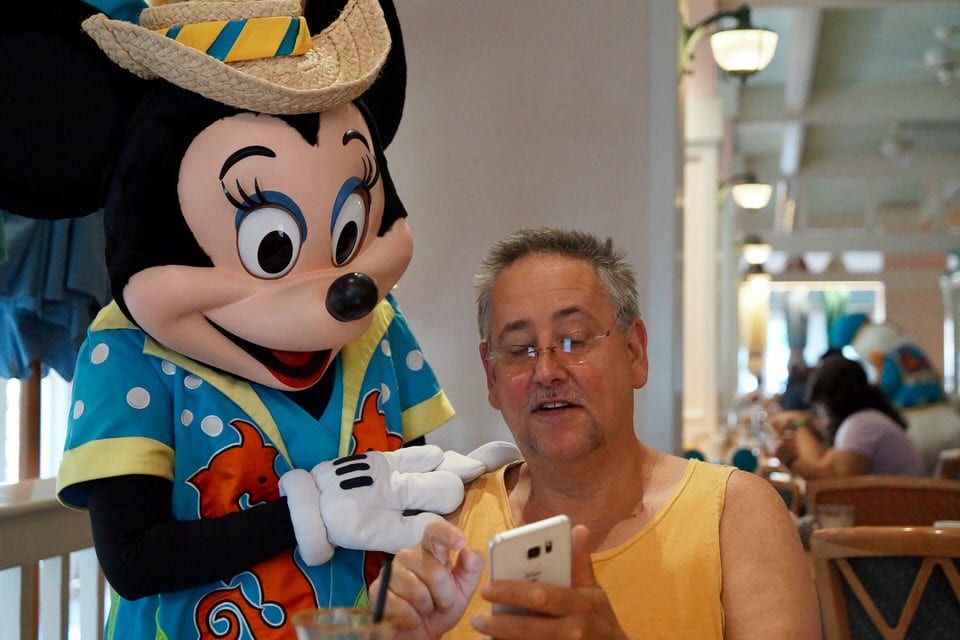 All the characters took time to take pictures and interact with us. Sometimes character breakfasts seem rushed and they are in a hurry so much you barely get to say hello before they are off to the next table. That's the strong point of Cape May Cafe is it's usually less crowded so you have more time.
Tip: The earlier you make your reservation the less crowded it will be and the more time you'll have with the characters!
Let's get to the good stuff now…
Food: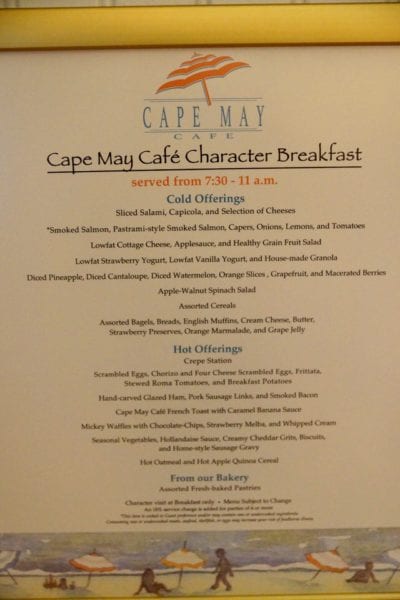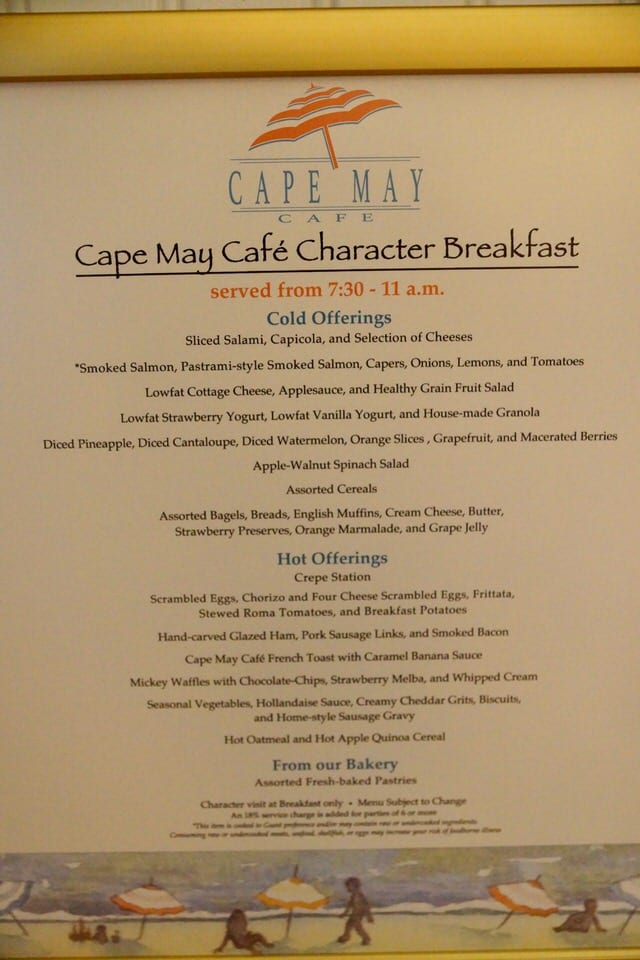 The food at Cape May Cafe is pretty much your standard Disney Breakfast Buffet Food. You will find Scrambled Eggs, Potatoes, Bacon, Sausage, Danish and Pastries, a Fruit Station, and those yummy Mickey Waffles I love so much!
Some unique offerings to Cape May Cafe are the delicious Chorizo and Four Cheese Scrambled Eggs, Cape May French Toast, Frittata and the Crepe Station! Make my own crepes? That's all you had to tell me!!! It's all you can eat, so feel free to get up and have as many plates as you want.
Tip: Even though it's a bit more crowed, if you go later in the morning, you can probably fill up, skip Lunch and then not eat again till Dinner.
You'll find the Buffet Island in the middle of the restaurant. Let's get up and see what they've got: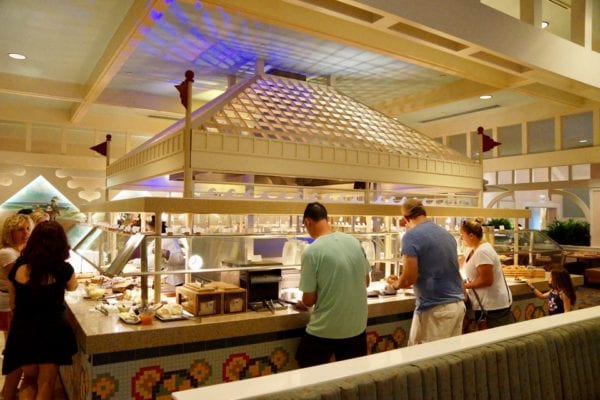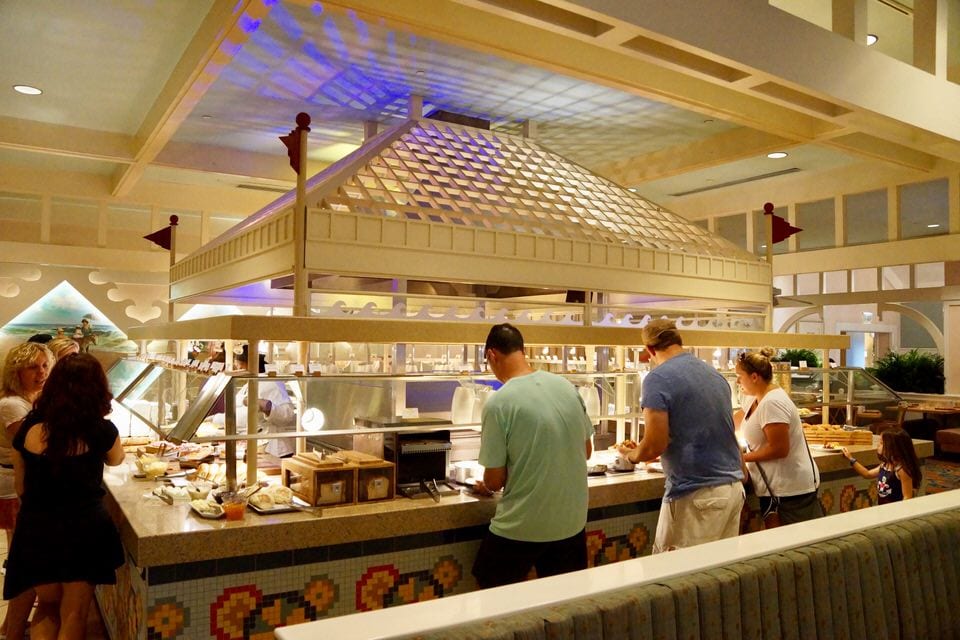 There are 4 sides around the Buffet which are all different. I thought it was huge!
Around the island you'll see normal buffet-style pans which are hot and filled with yummy food. For example there are 3 kinds of Eggs, Scrambled Eggs on the left and the Chorizo and Four Cheese Eggs in the middle: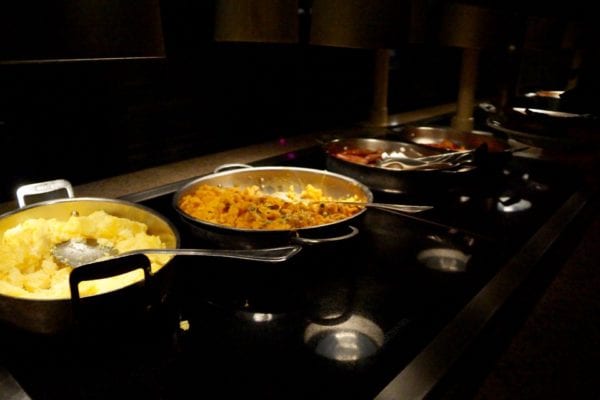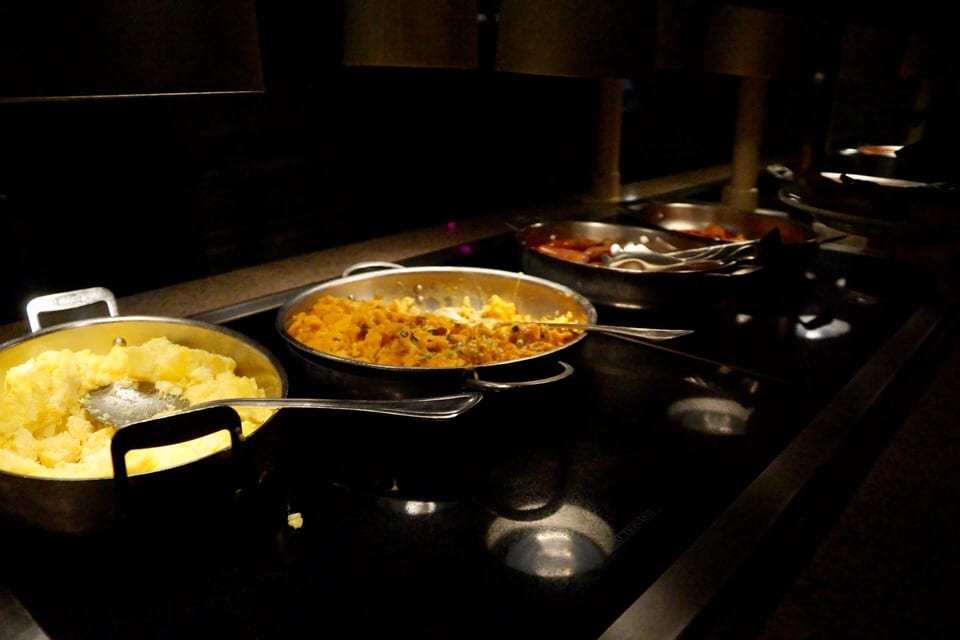 The third kind was Eggs with Goat Cheese, Spinach, Mushrooms and Peppers, along with of course Bacon!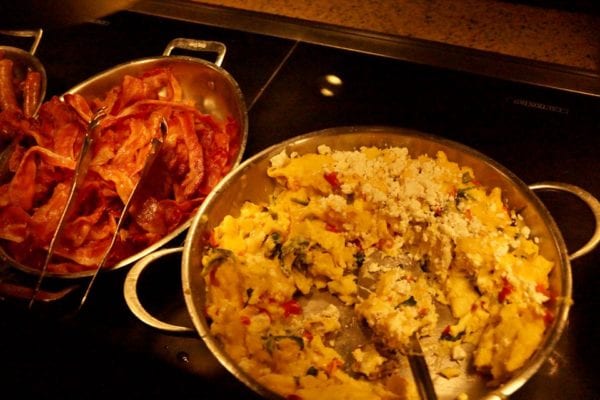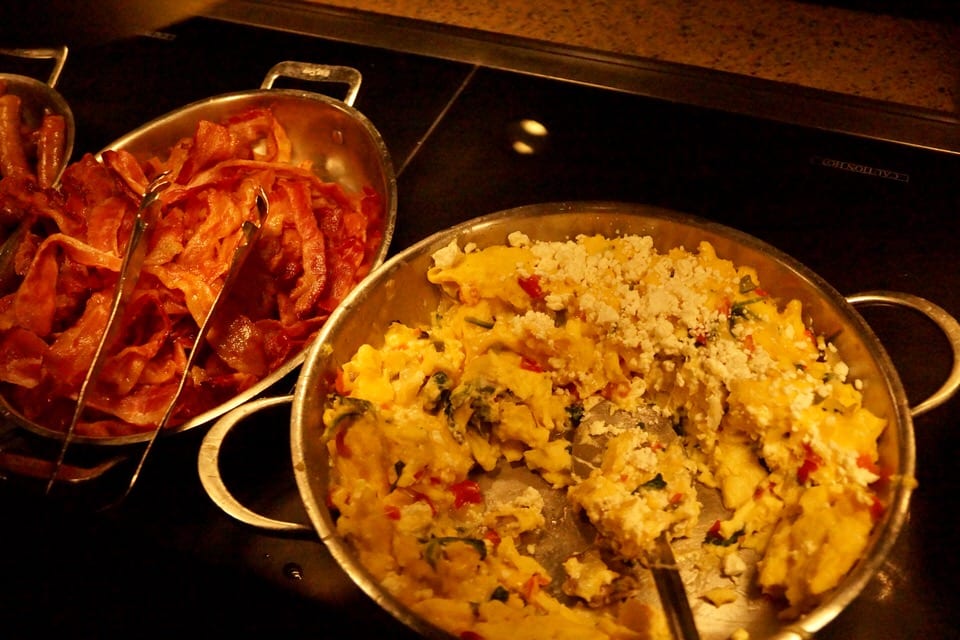 Breakfast Sausages and Potatoes: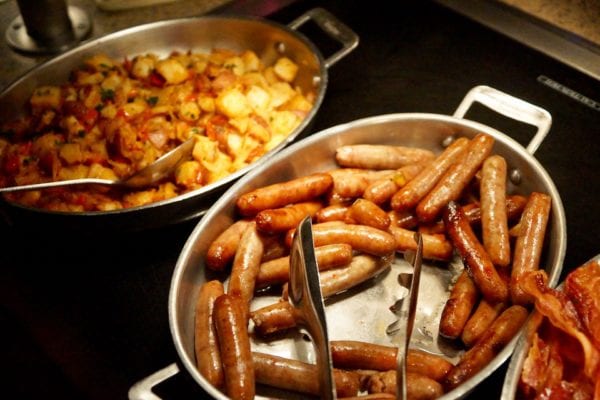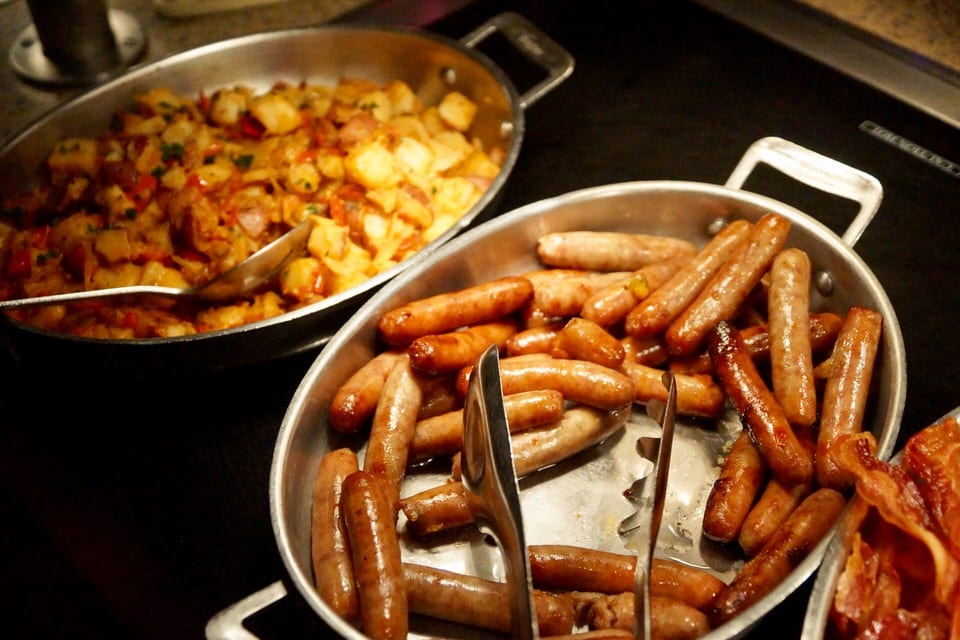 Hand-carved Ham slices: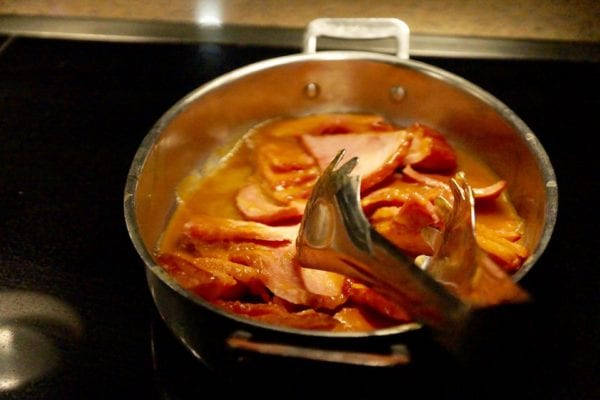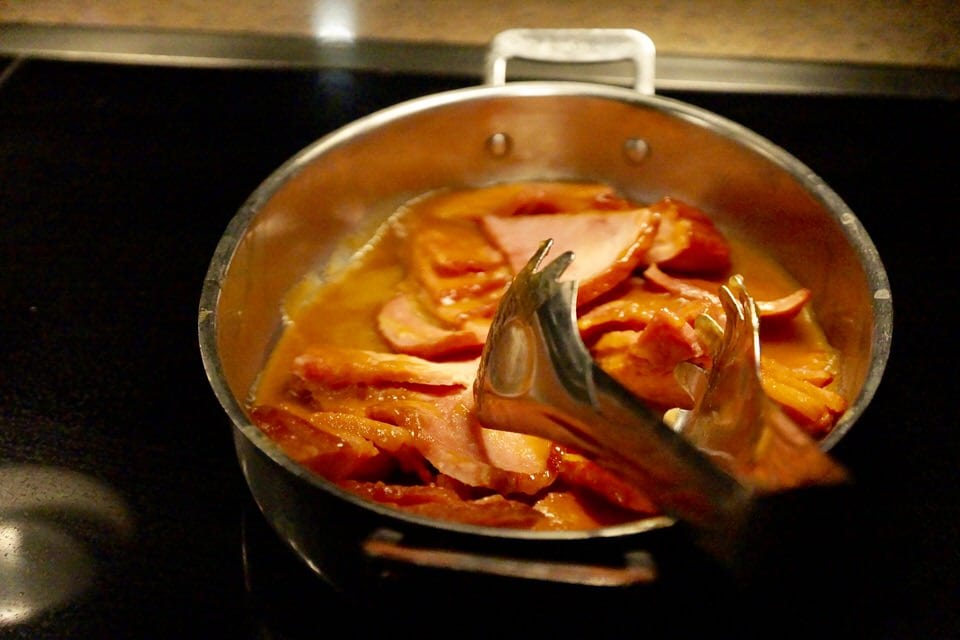 Southern Biscuits, Gravy and Creamy Cheddar Grits are always welcome to me! 🙂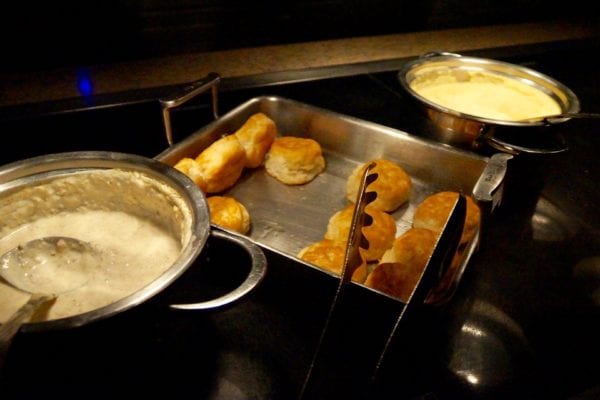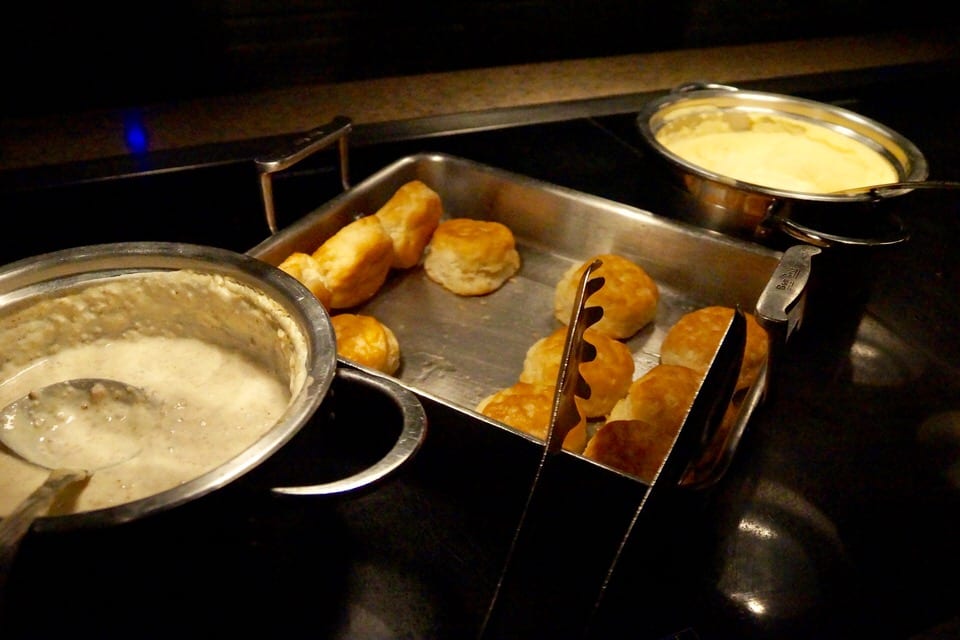 There's always one type of seasonal vegetable, this time Asparagus and Hollandaise Sauce.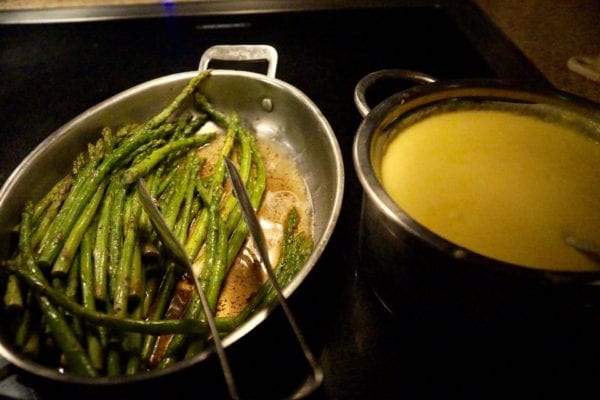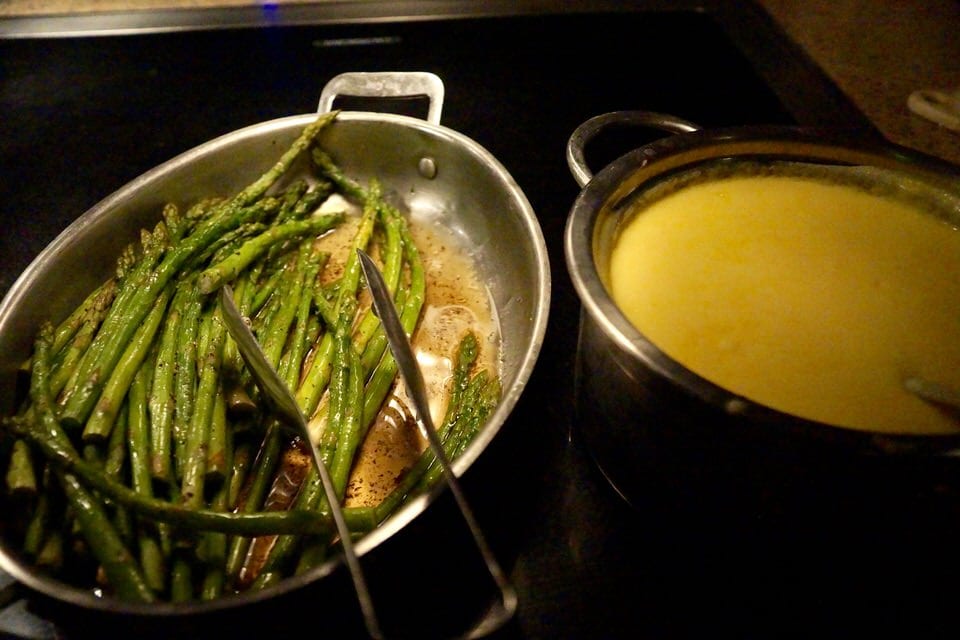 Yes…French Toast! :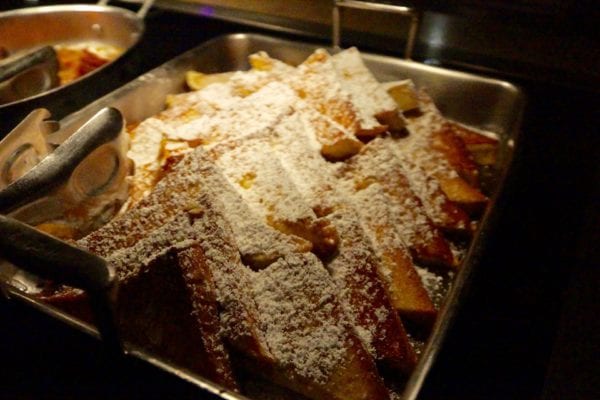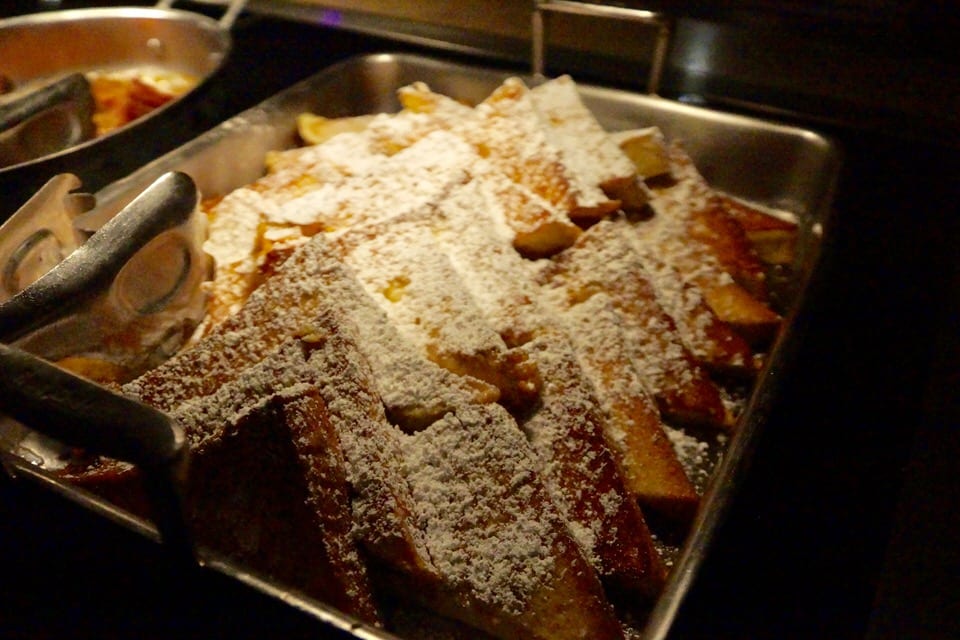 A selection of Sliced Deli Meats and Cheese. It doesn't look like they were hand sliced though: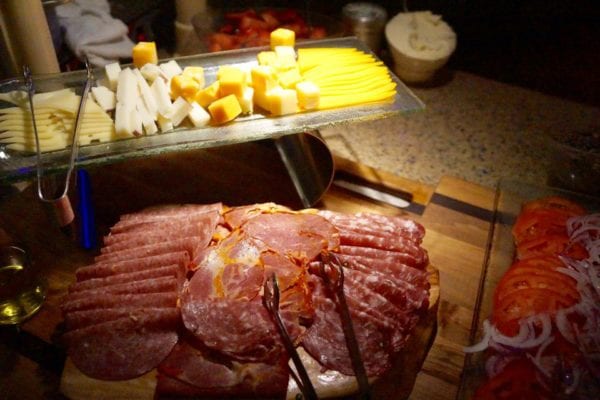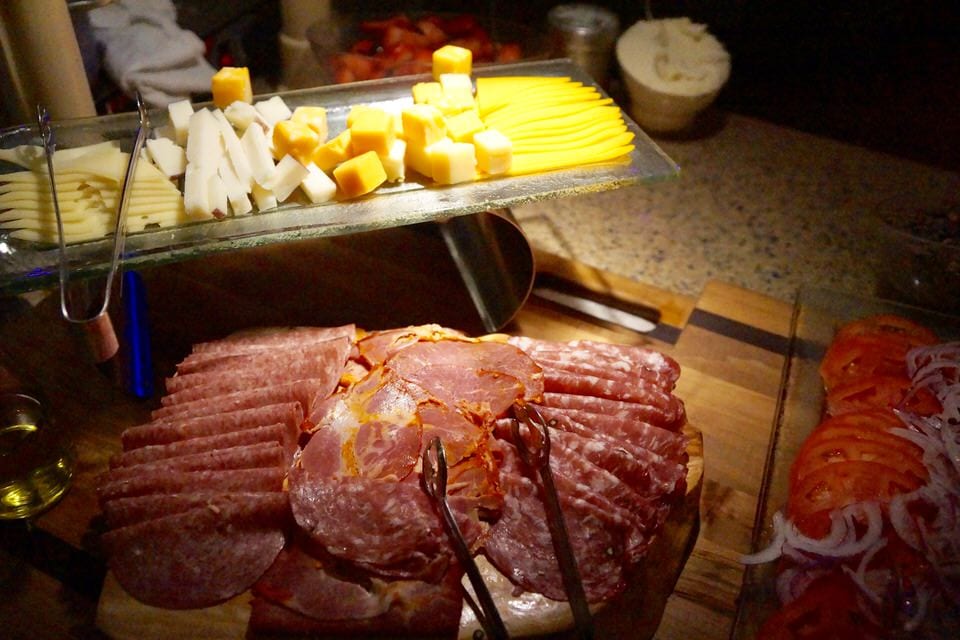 Your typical Bagels, but there's also Pastrami-style Smoked Salmon to go with it: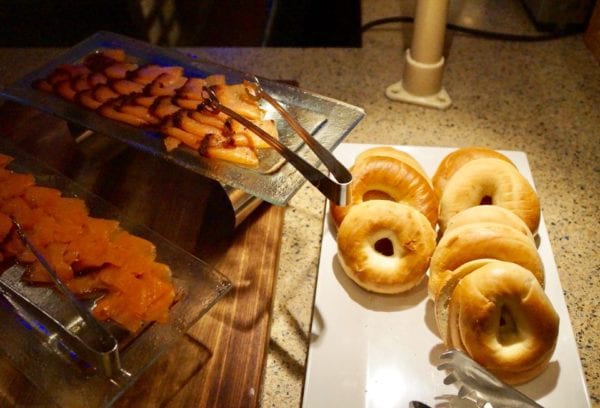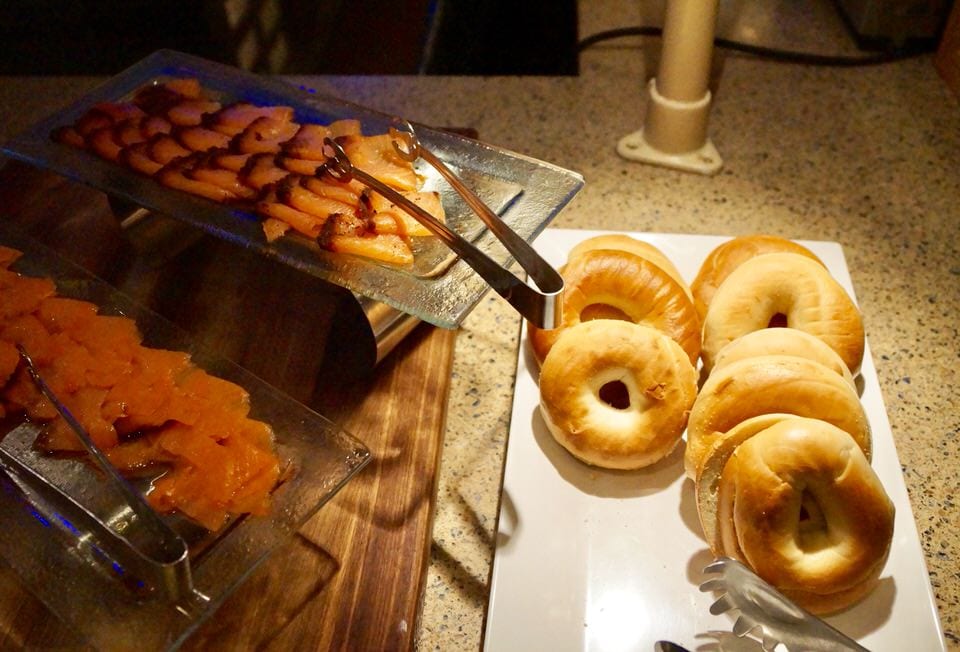 English Muffins along with other Breads upon which you can spread an assortment of Jams and Butter: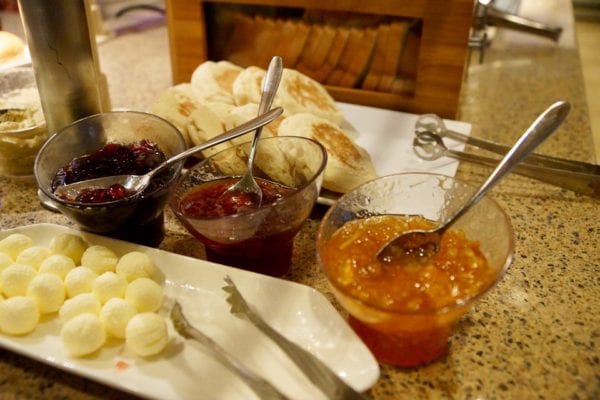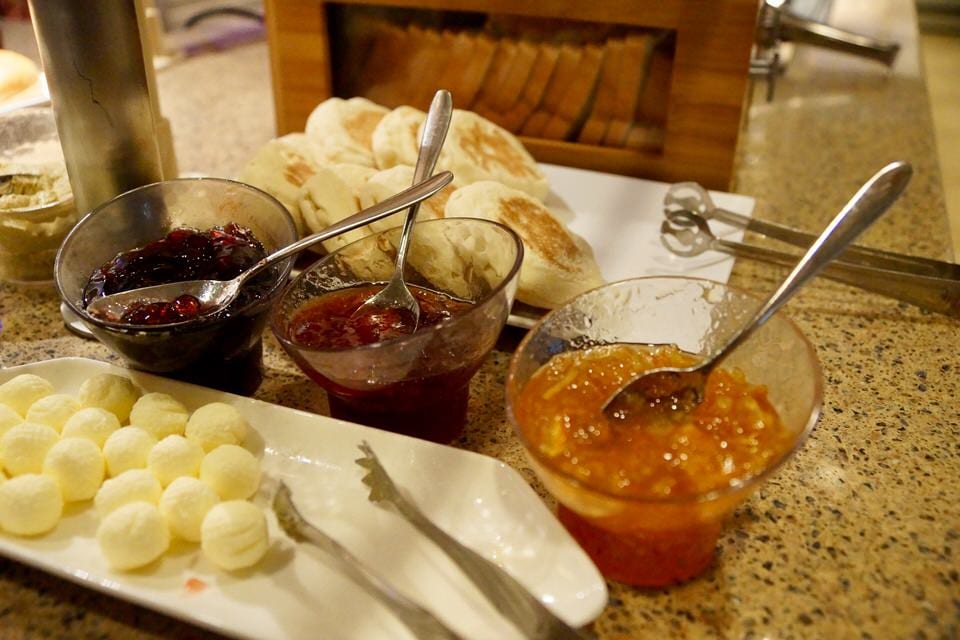 Nice selection of Cakes and Mini Muffins: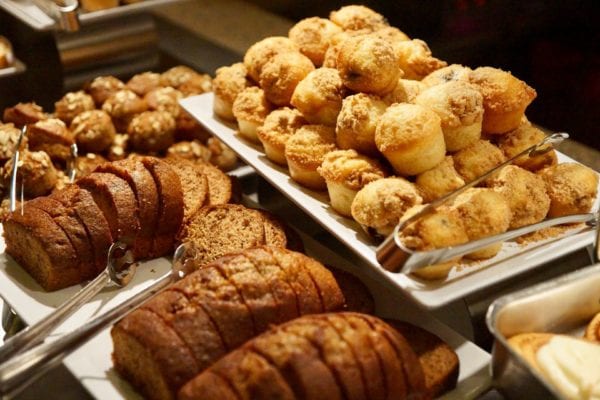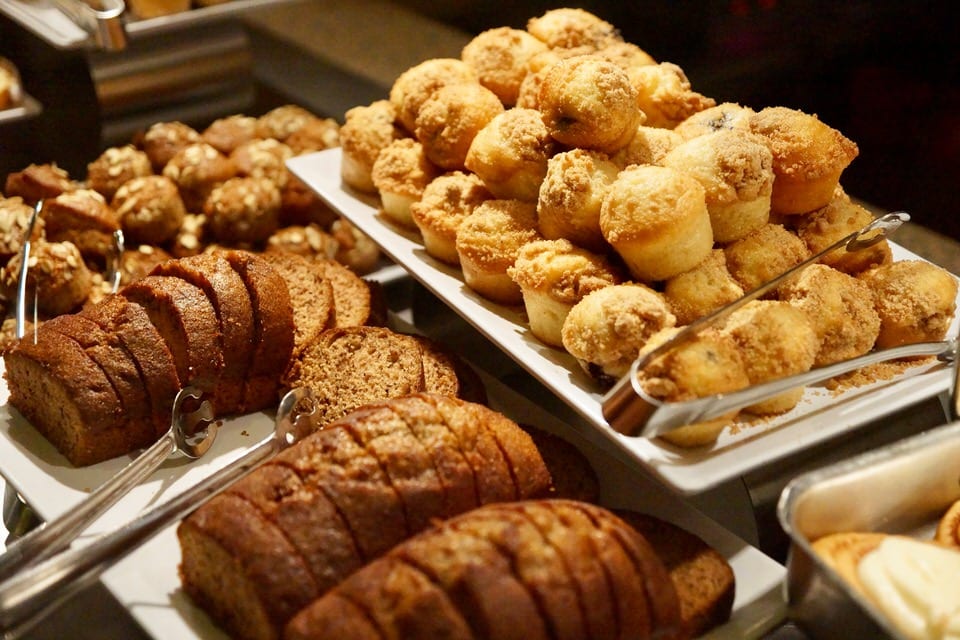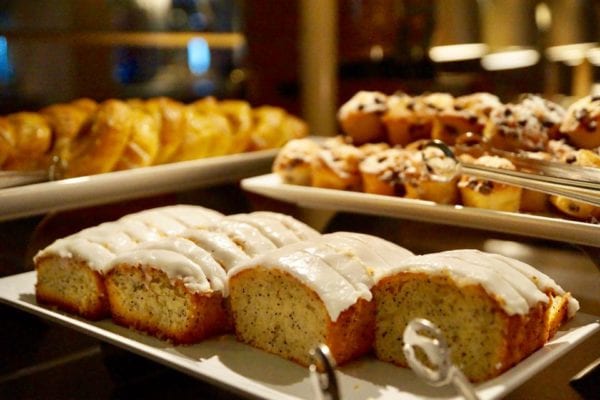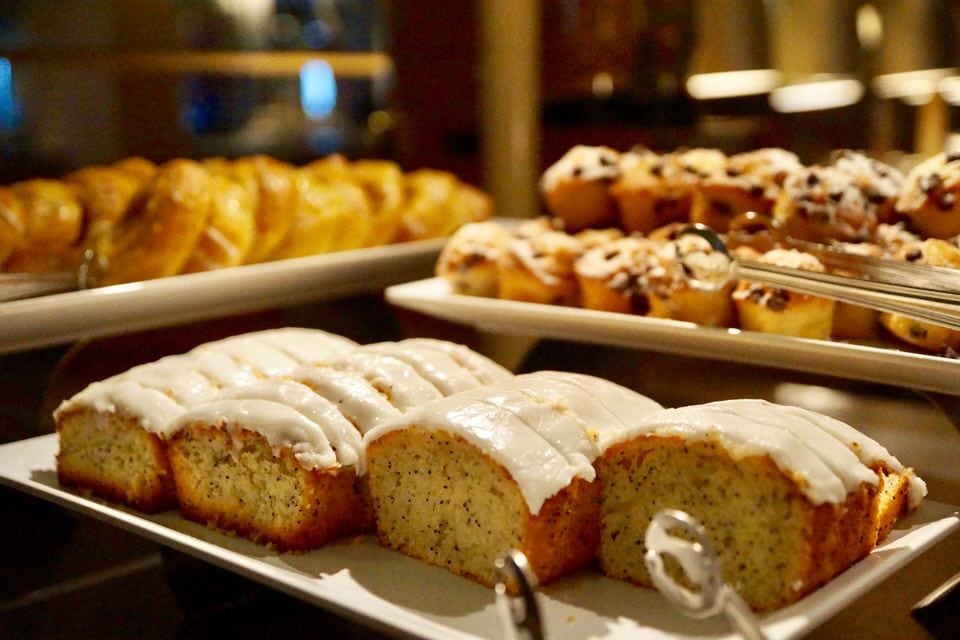 These Cinnamon Rolls were unbelievable, trust me you'll be making more than one stop here: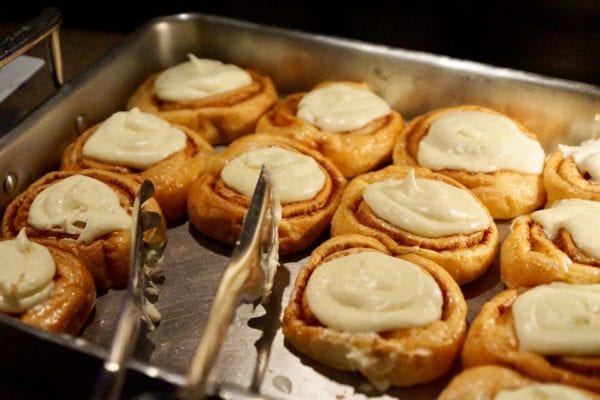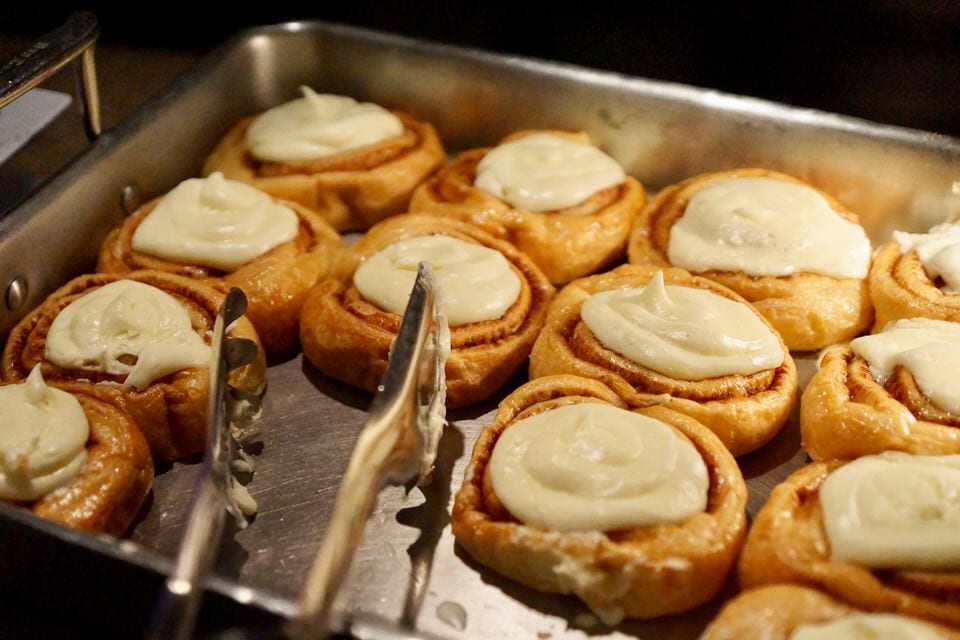 And what Disney Breakfast would be complete without the famous Mickey Waffles?!?! I know I could never go without! 😉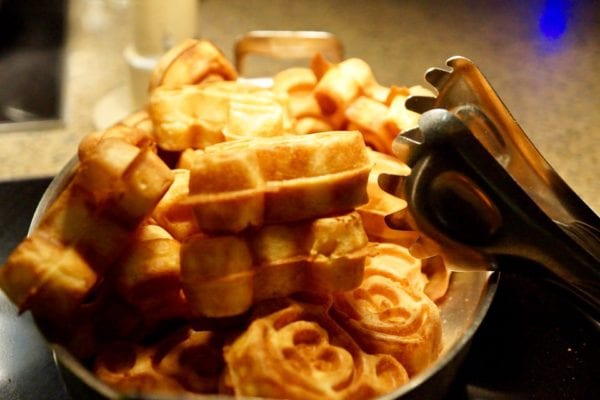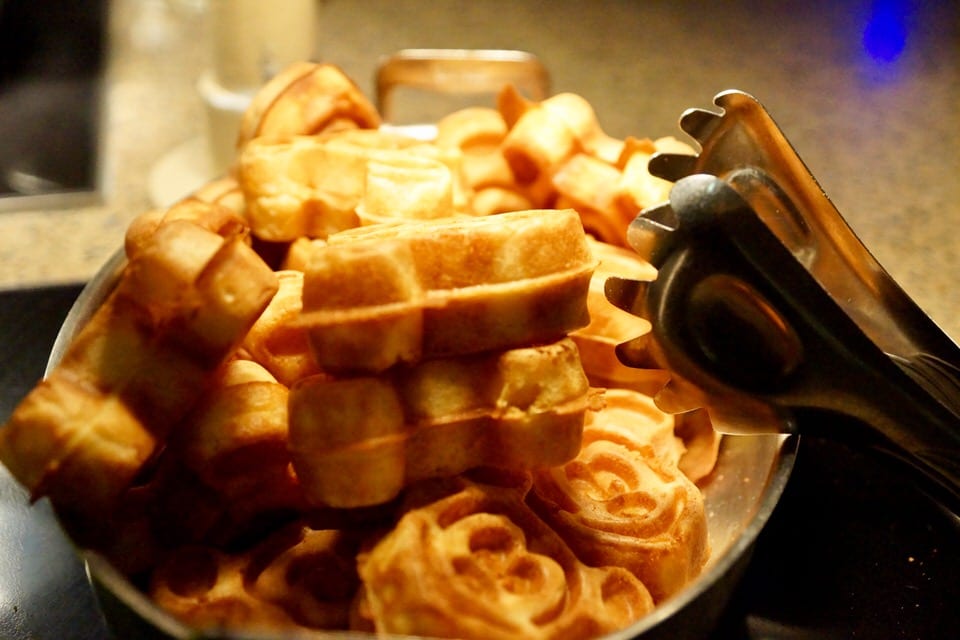 There are some nice fixings for the Mickey Waffles too, a Strawberry Compote and Whipped Cream: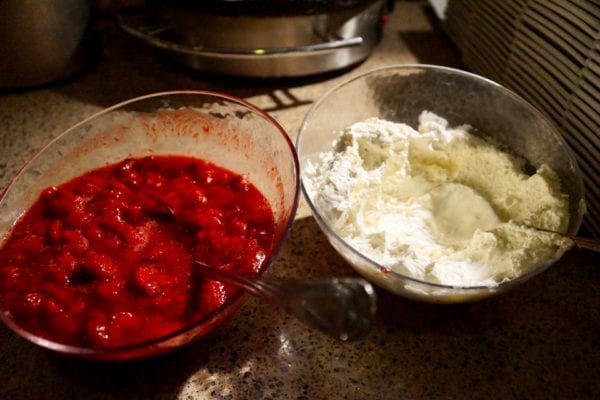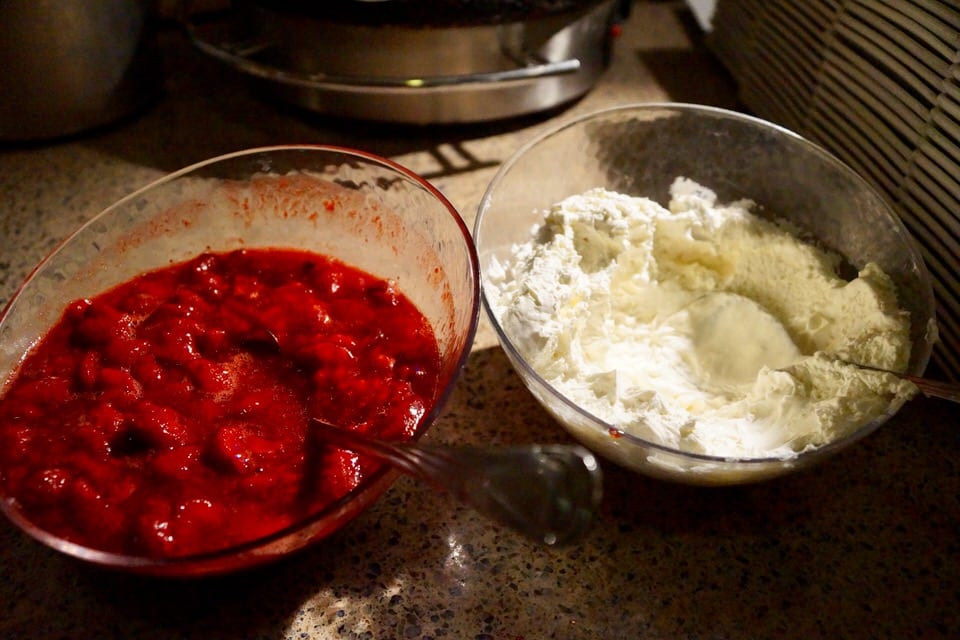 And also Chocolate Chips to throw on top!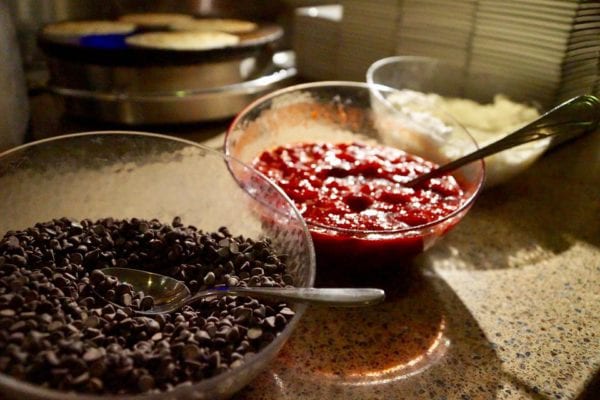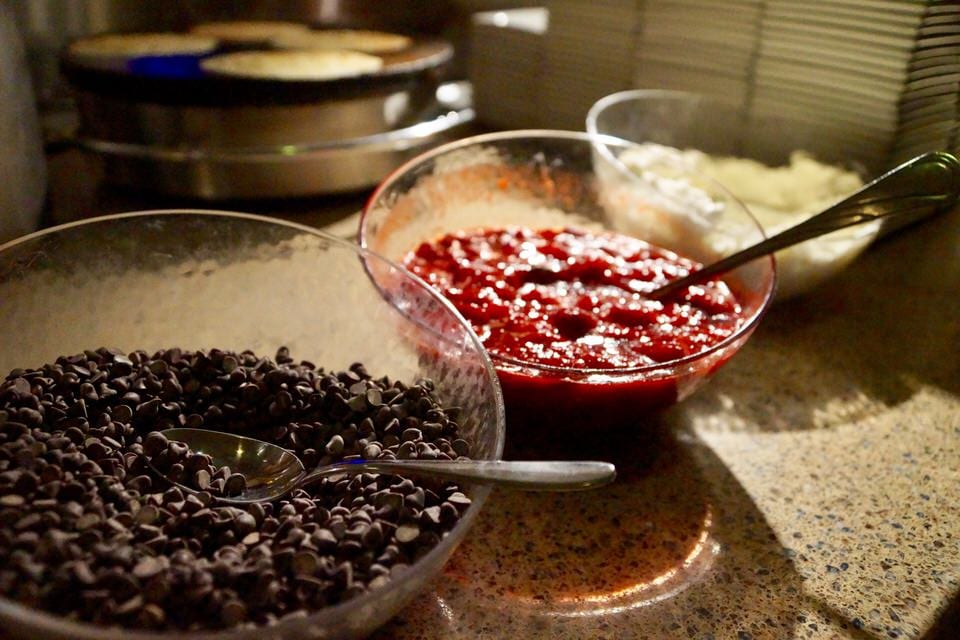 Lastly and most interesting of all is the Crepes Station, yes, Crepes!! As of writing this it's the only Character Breakfast in Disney World where you can find them. Here you can have them with Nutella or Blackberry Compote inside or also accompany them with Bananas Foster: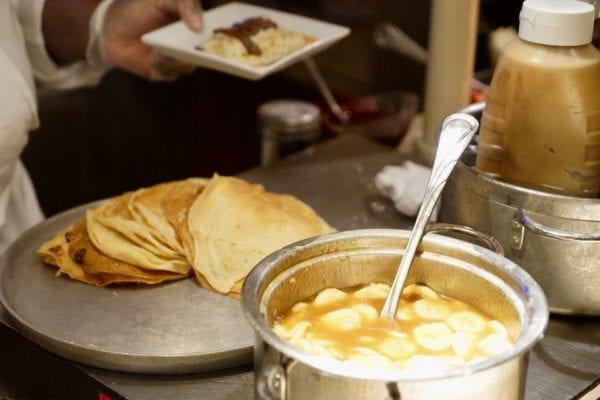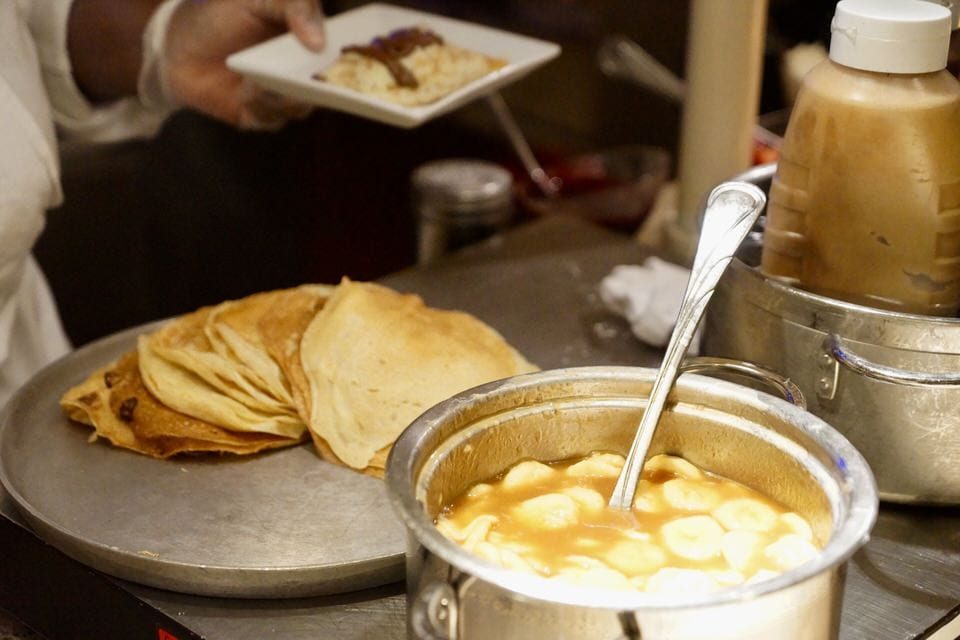 They are cooked fresh right before your eyes: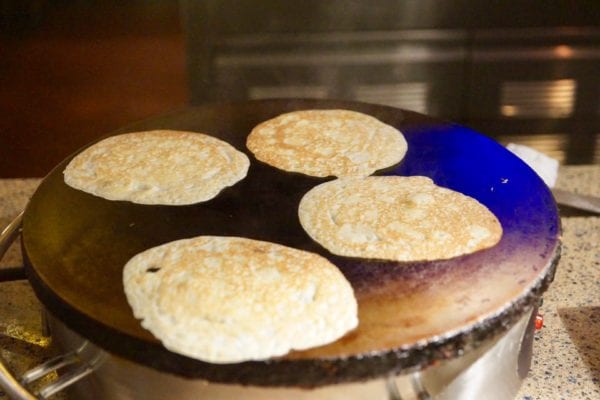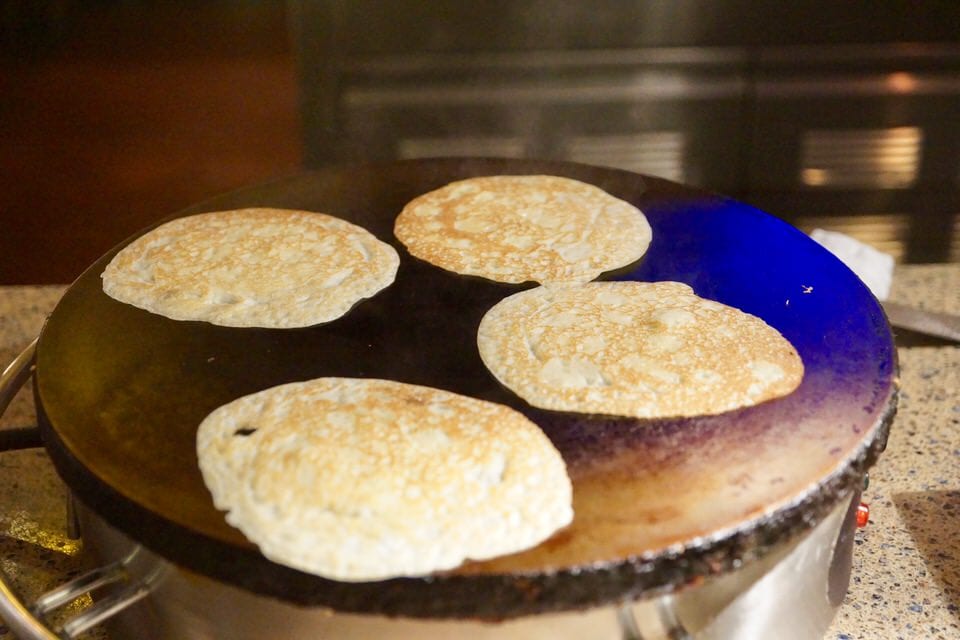 Lastly there's a Fresh Fruit and Yogurt Station: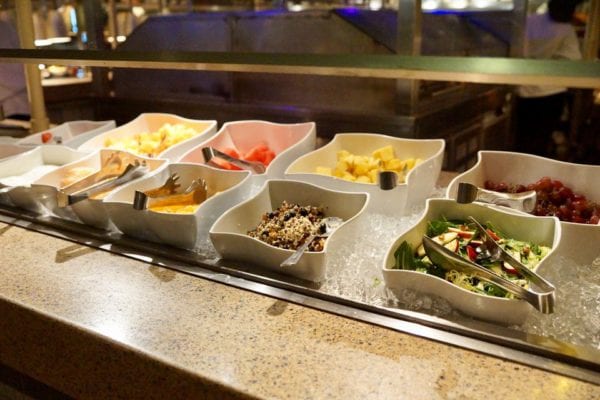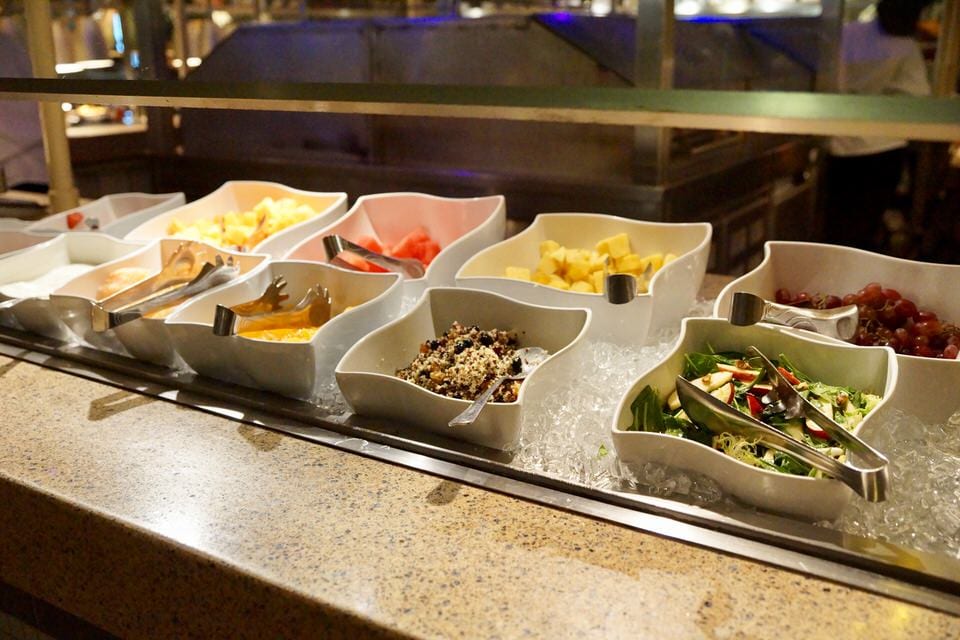 You'll find a variety of Yogurts, Low-fat Strawberry, Low-fat Vanilla, House-made Granola as well as Applesauce and Cottage Cheese: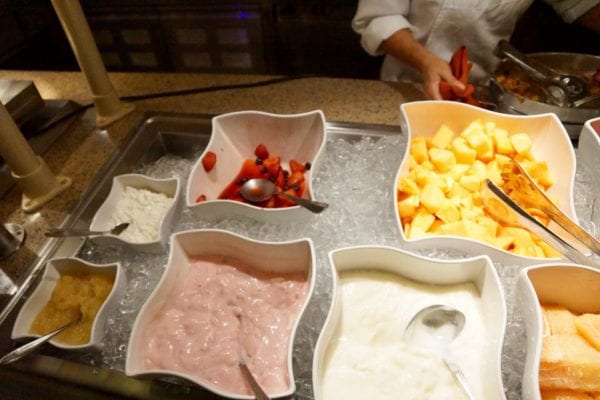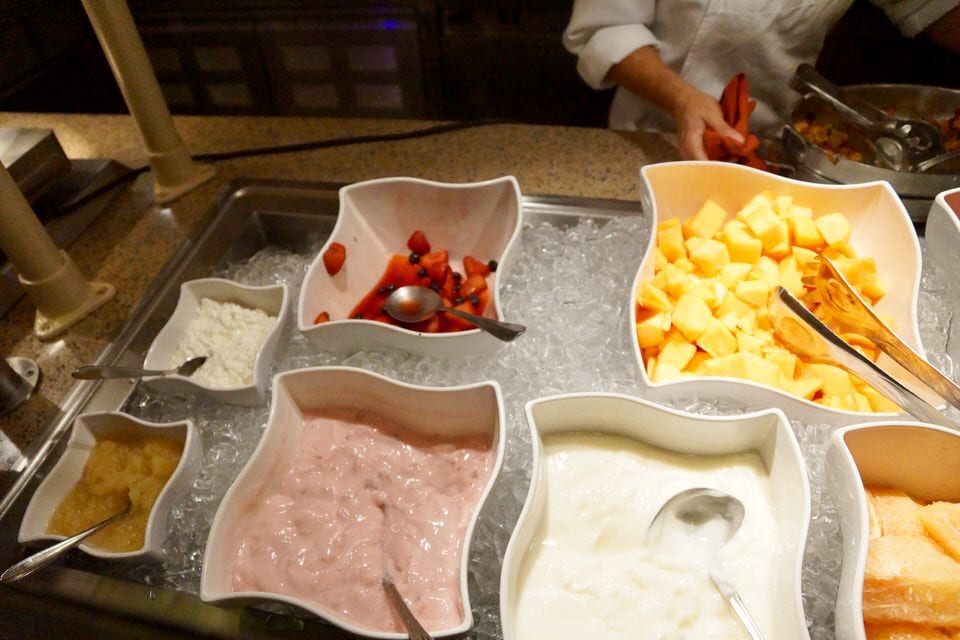 Fresh Fruit includes Pineapple, Strawberries and Blueberries, Melon, Oranges, Grapes and Grapefruit: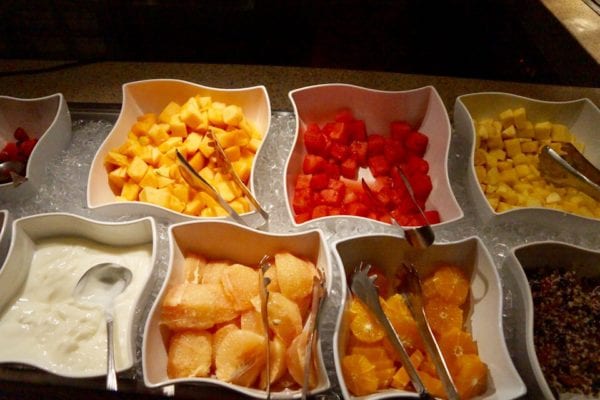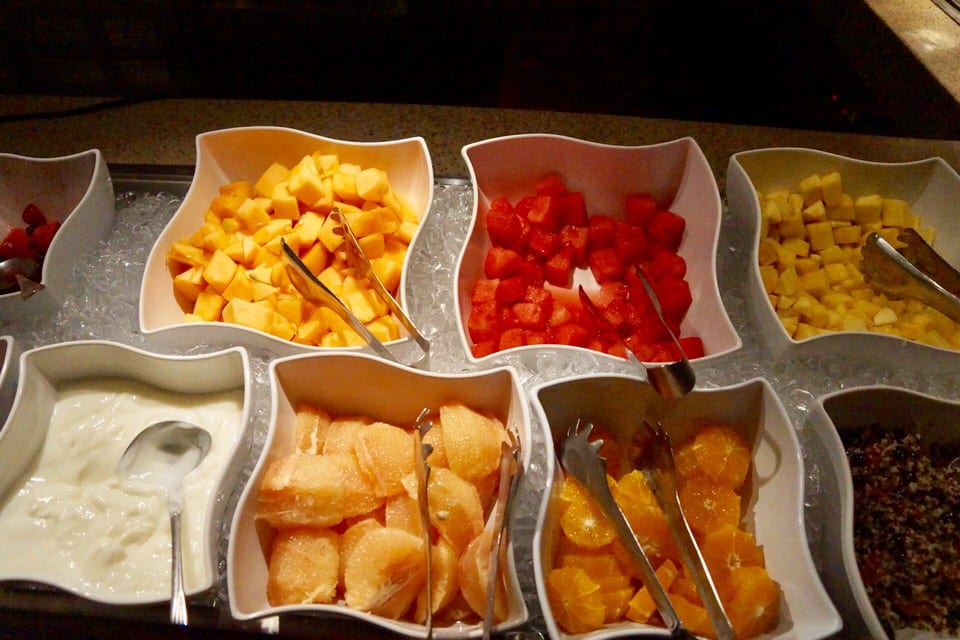 There's even Granola, Trail Mix and an Apple Walnut Salad: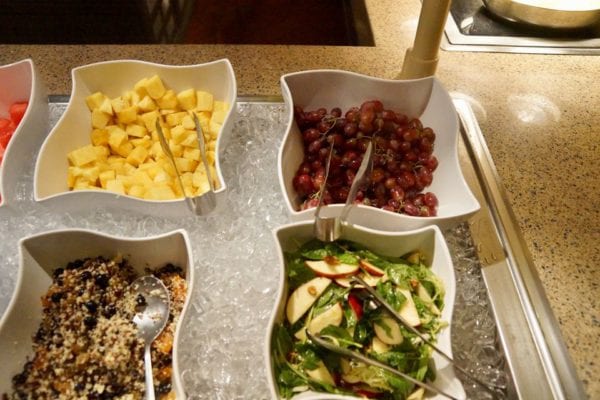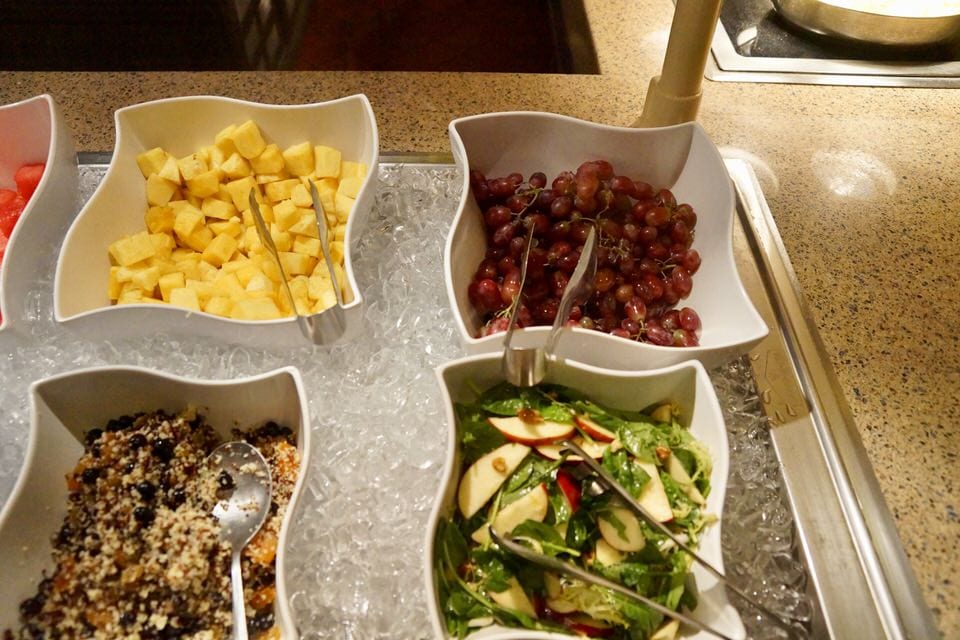 Besides these there was also Hot Oatmeal and Apple Quinoa Cereal which I forgot to photograph!
Before we started eating we ordered up a Bloody Mary, and I've gotta say this thing was incredible!!! Hey we like to start out the day right! 😉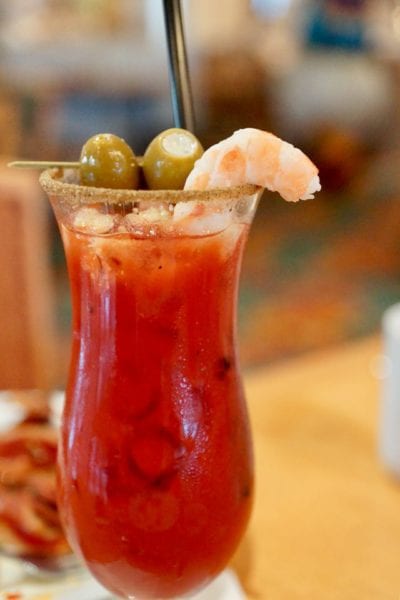 Probably the best Bloody Mary I've ever had! It had Horseradish, Blue Cheese-stuffed Olives, and a whole Shrimp! And it was huge! Many times Bloody Marys are either too strong or too weak, I thought this one was the perfect mix of alcohol where it's not too strong for breakfast, but just enough. The Tabasco is on the side if you want to give it still a bit more heat. Would order again in a heart beat!
We started off with a plate full of all three kinds of Eggs, Potatoes, Sausage and of course Bacon!: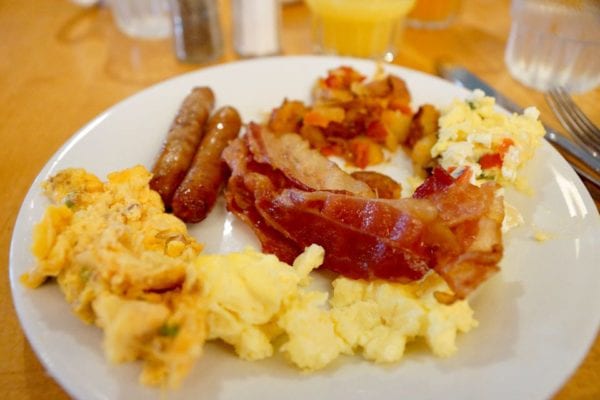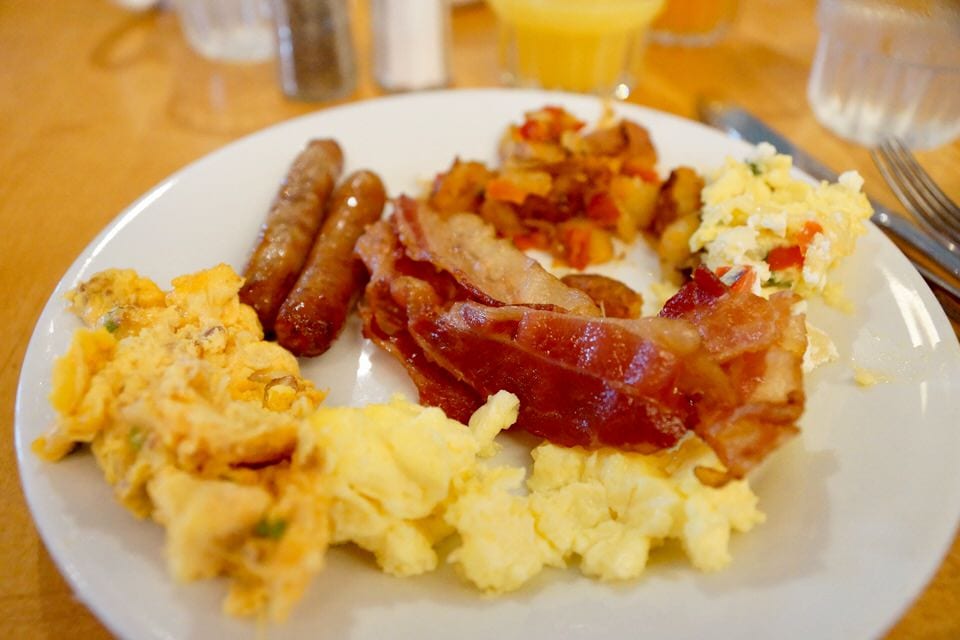 The normal Scrambled eggs were standard, nothing special. I loved the Chorizo and Four Cheese Eggs, thought they were spectacular because the sausage and cheese made them super flavorful. I'm not a huge goat cheese guy, but if you are you will the the Goat Cheese, Spinach, Mushroom and Pepper Eggs, they got compliments from around the table. Overall nice variety of Eggs, although what would really put Cape May Cafe on another level would be an Omelet Station because they are always better than eggs that have been cooked and sitting in a pan, but not bad for Buffet Eggs.
Sausage was nice a crisp on the outside and greasy and flavorful in. Bacon was also quite good for a buffet breakfast (it's no Oscasr Meyer Thick-cut Bacon) it was light and flavorful and neither burnt or undercooked. Also the Potatoes were very good I thought. Could really taste the peppers and onions which blended awesomely but were not overpowering. They were browned but not burnt, and not too mushy either.
Next plate was some Bread and Butter, because well, it's awesome! Also we tried the Pastrami-style Smoked Salmon which was incredible and gave traditional smoked salmon a bit more kick! But that Cinnamon Roll…..Wow! These things are irresistible, really! They were warm and gooey, covered in sweet cream cheese frosting…yeah, don't really need to say more than that do I?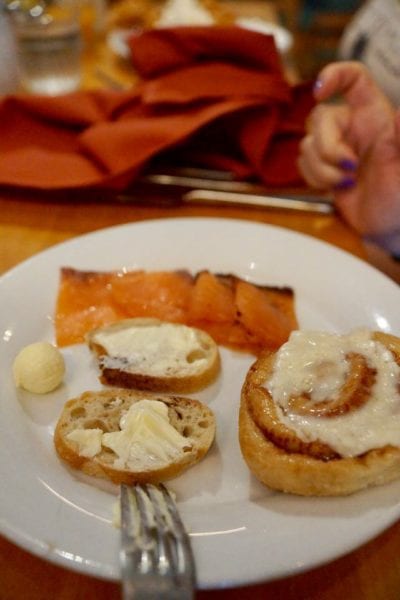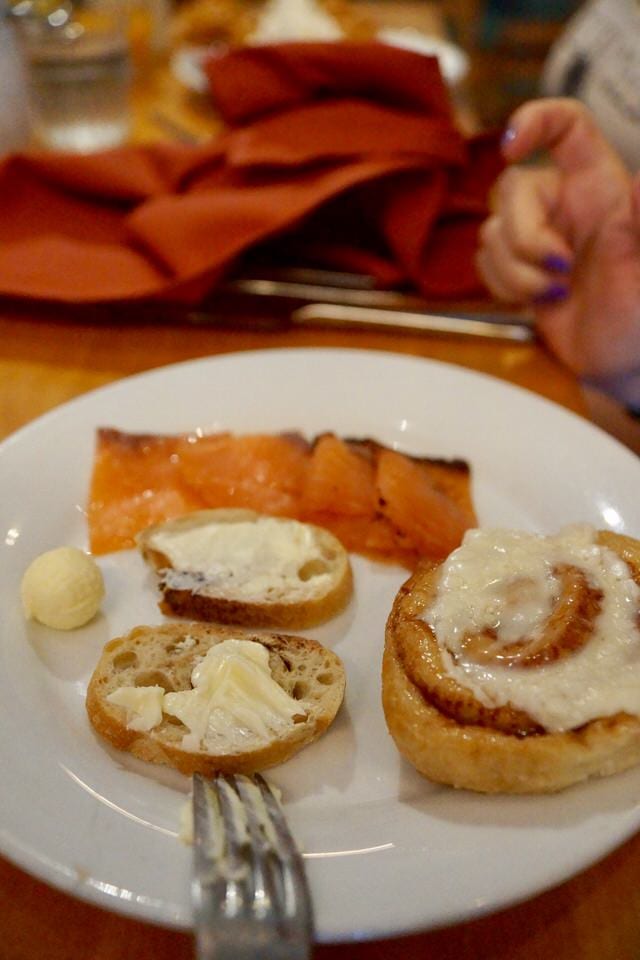 Time for some Fruit: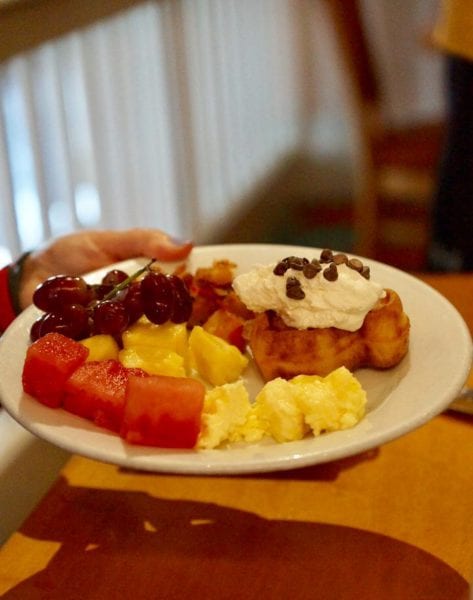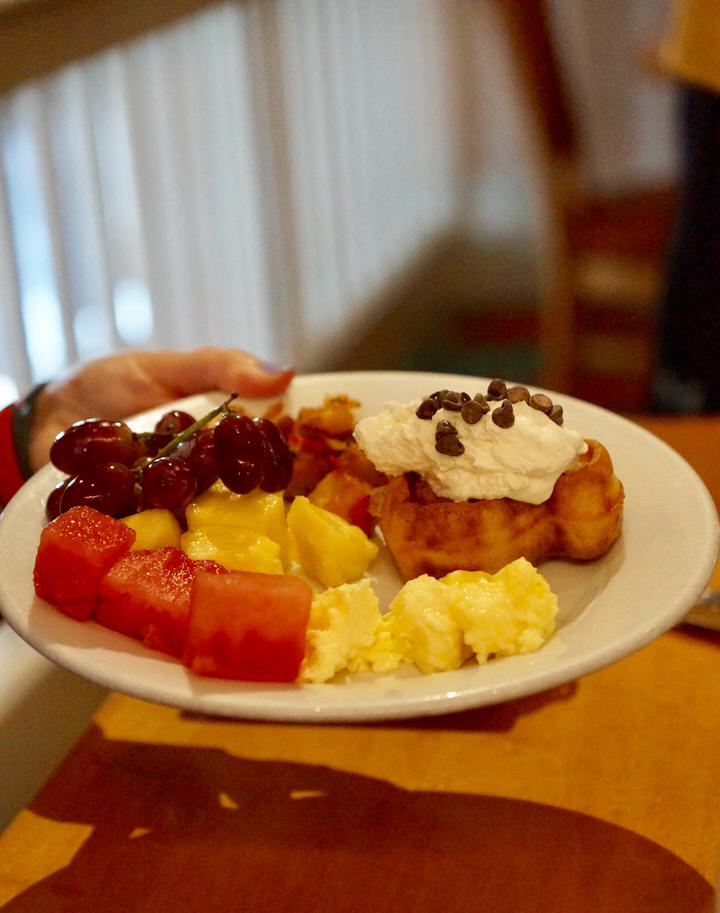 Fruit was fresh tasting, Pineapple is always my favorite. And the Apple Danish was good, standard for Disney danishes: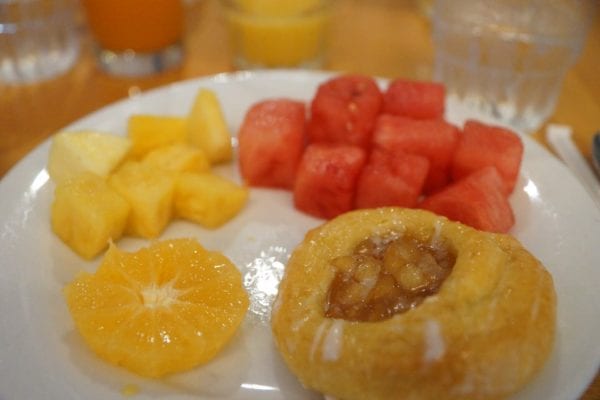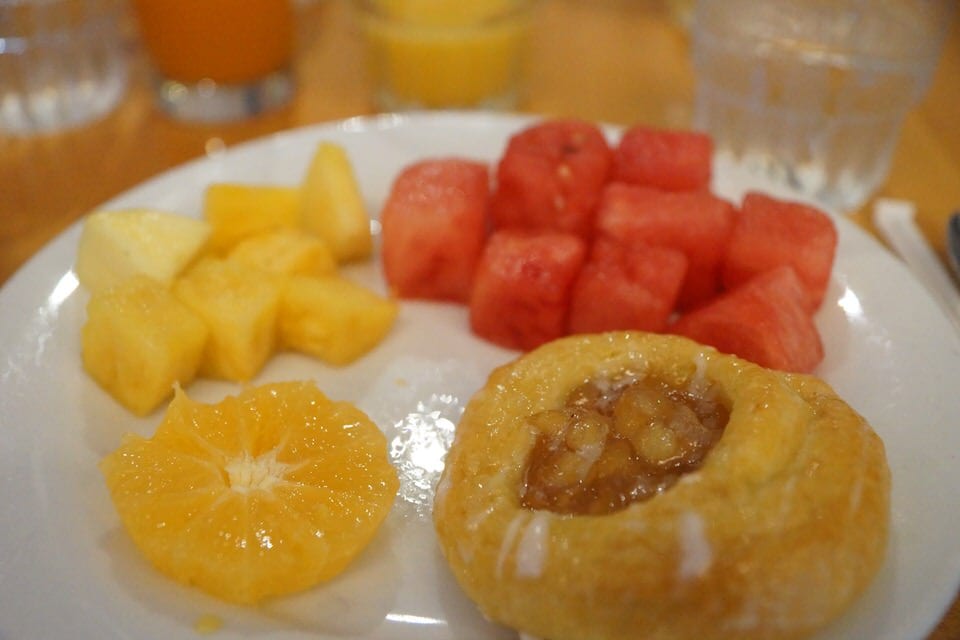 I forgot to mention my Juice which was an Orange, Mango, Passion Fruit Juice which was super yummy. I think I had 3 of them! 🙂
With my juice of course I had to try some Crepes, made freshly from the crepes station. I got one Nutella filled and one Blackberry: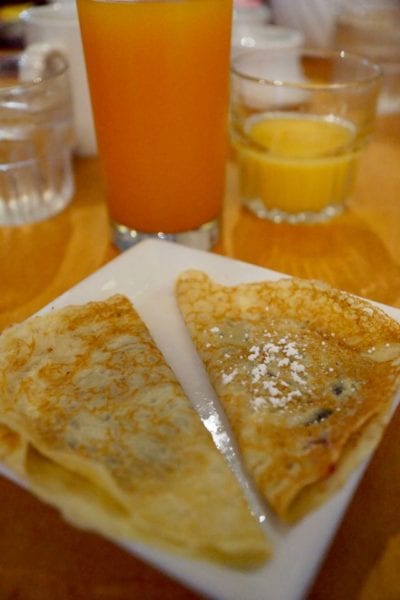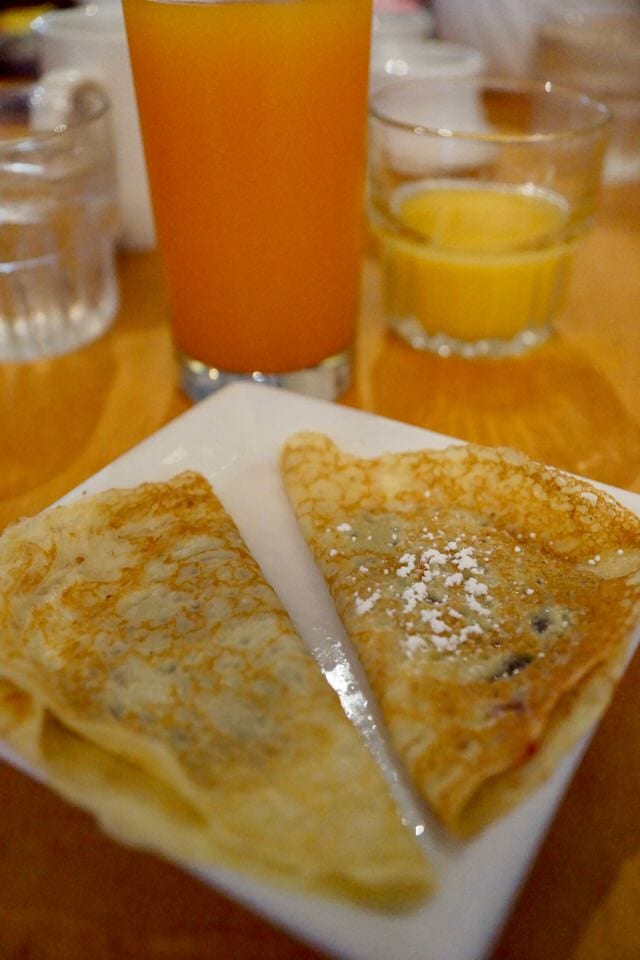 These came to me piping hot, so when you cut into them the insides just came oozing right out. They crepe shell itself was light and fluffy. Of course they aren't like in Paris, but not bad for a theme park resort in Florida!
You can put Nutella in just about anything and it will taste better!: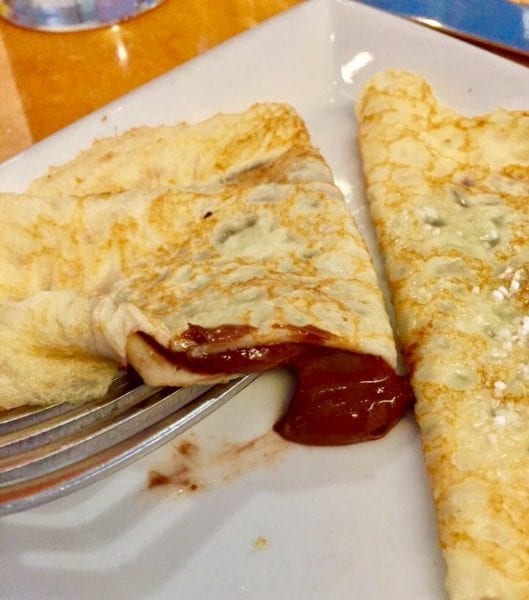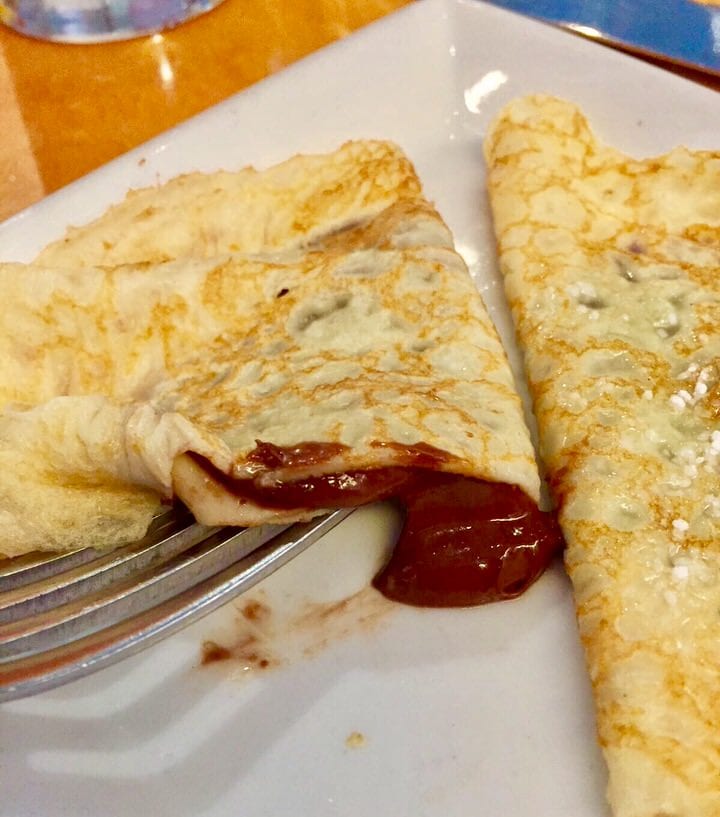 I of course am also a fruit lover and of course putting Blackberry inside is the more healthy option! Was wonderful!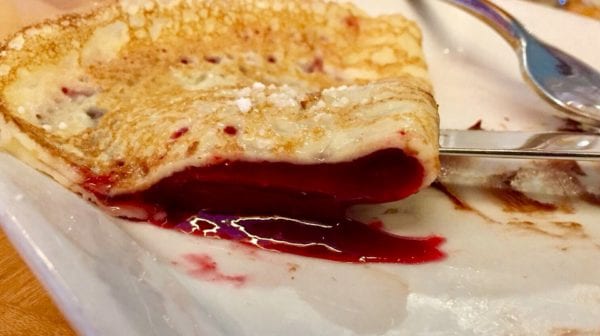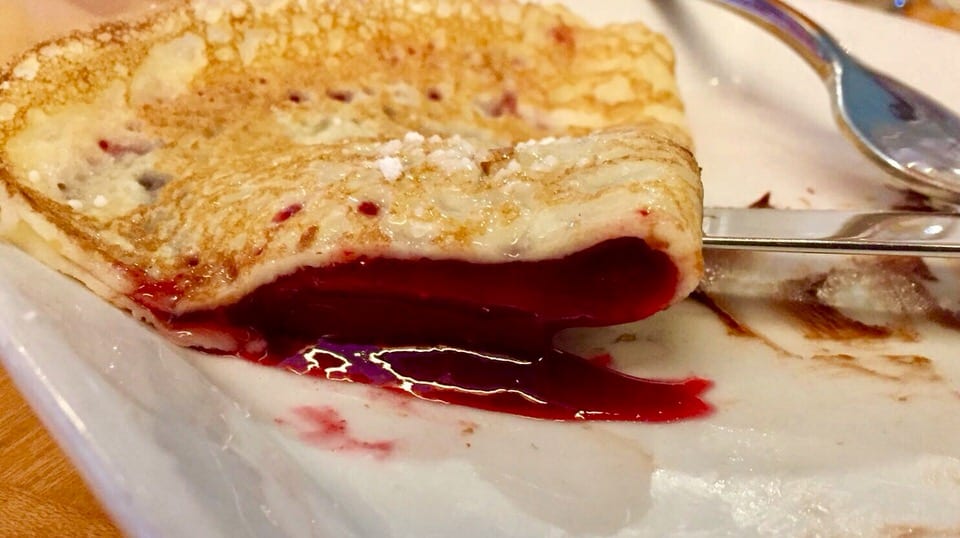 Lastly were the Mickey Waffles which I can never skip! Perfectly crisp yet chewy, and we loaded up on the Strawberries and Whipped Cream!
Try to guess which plate was mine and which was my Mom's…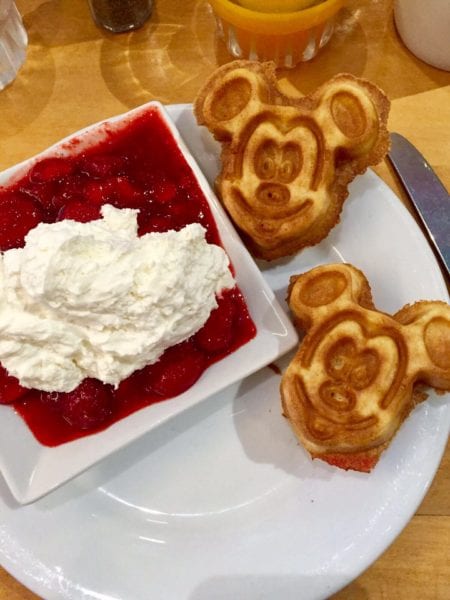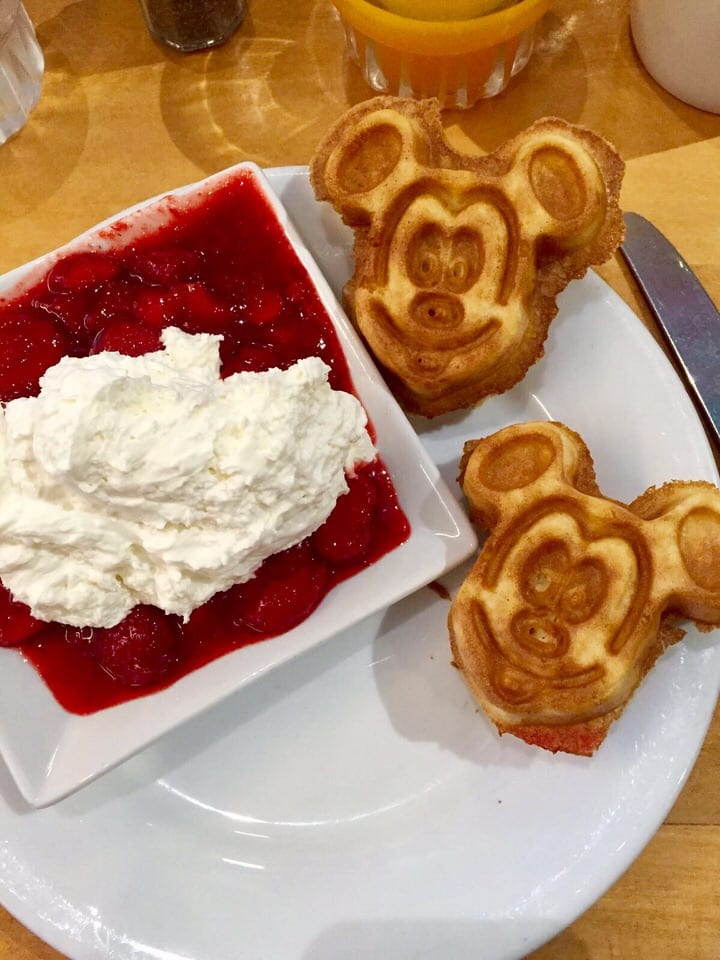 🙂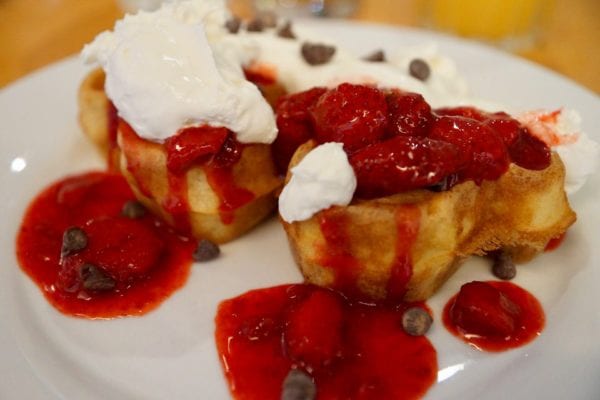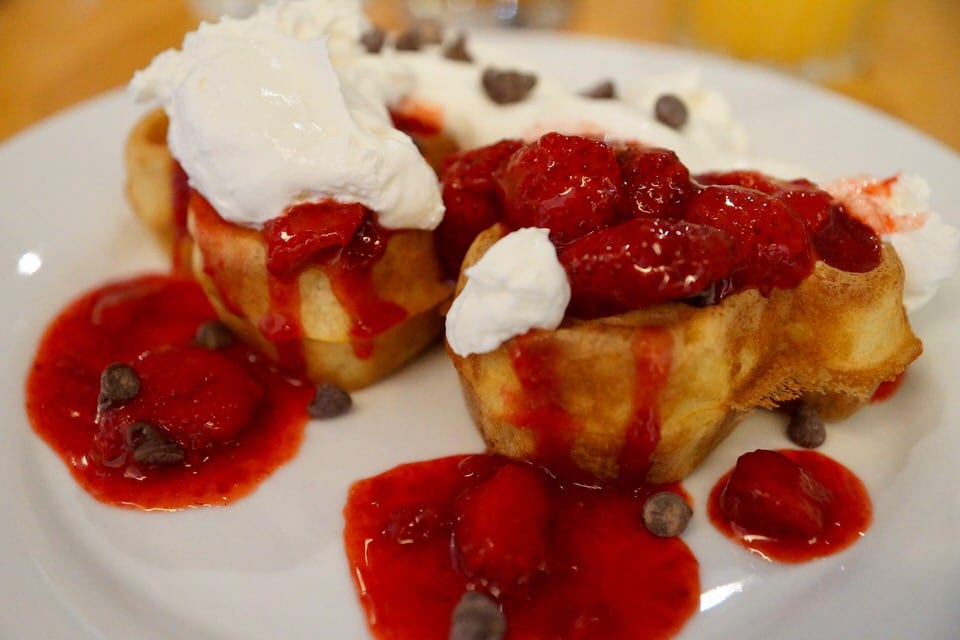 Summary:
Overall Cape May Cafe was a success. It's one of the least crowed Character Breakfasts in Walt Disney World which is definitely a plus. We came early at about 7:45 and the place was less than half full so we had plenty of time to mingle with the characters without feeling too rushed. There are only three characters which is a drawback, but the ease makes up for it.
The atmosphere is laid back and relaxed, just like being at the seaside. It's also bright, cheerful and quite spacious inside. The convenience if you are staying at the Yacht and Beach Club, or any of the Epcot area resorts can't be beat. It also makes a great starting point for a long day in Epcot or Hollywood Studios.
The price of $35-40 is quite expensive for a normal breakfast, but comes in normal for Disney Buffets. The Buffet itself is big and has a great selection of Hot and Cold offerings with the standouts being the Chorizo Four Cheese Eggs, Cinnamon Rolls, Waffles and Crepe Station! Most of the offerings won't blow you away and you'll find them at most at most buffets, but it was solid.
Overall a few of the Character Breakfasts are still above Cape May Cafe like 1900 Park Fare and Akershus Royal Banquet Hall, and I'd say Cape May falls in the middle of the pack. However if you're looking for a character breakfast which isn't too crowded and has a nice quantity of food with some unique items, as well as a good location then give Cape May Cafe a try!
Cape May Cafe is open from 7:30am – 11:00am for Breakfast and 5:00pm – 9:00pm for Dinner Daily. The Dinner Buffet does NOT have characters. The Disney Dining Plan is also accepted, it is a 1 Disney Dining Credit Restaurant. Reservations can be made via the Disney World website or by calling (407) WDW-DINE.
Click here for the Cape May Cafe Official Menu
I love to write Restaurant Reviews of Walt Disney World and I hope you found this one to be informative and helpful. If you liked this review then please visit my Disney Dining Reviews Page where I have many other Restaurant Reviews. I'm happy sharing with you what I love doing best…eating! ? I try to bring you the most thorough and unbiased reviews about the food and restaurants at Walt Disney World, so that as you are planning your vacation, you know the "can't be missed" places, and where you shouldn't waste your time. Hope you enjoyed this one and will enjoy many others in the future!!
Your Thoughts:
I want to know what you think about my Cape May Cafe Breakfast Review and if you've enjoyed your experiences there. What's your favorite breakfast item at Cape May Cafe? What's your favorite Character Breakfast in Walt Disney World? Let us know in the comments section below!
If you enjoyed this article, as always I appreciate it if you'd share it with others via social media. I work hard at making this website into a useful resource for you and your family to plan your visit to Walt Disney World, and I hope it can help you! Thanks 🙂