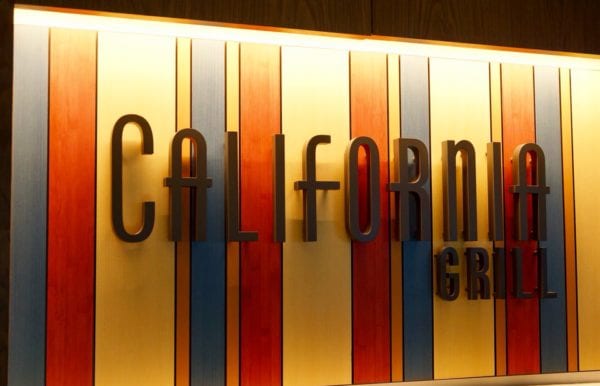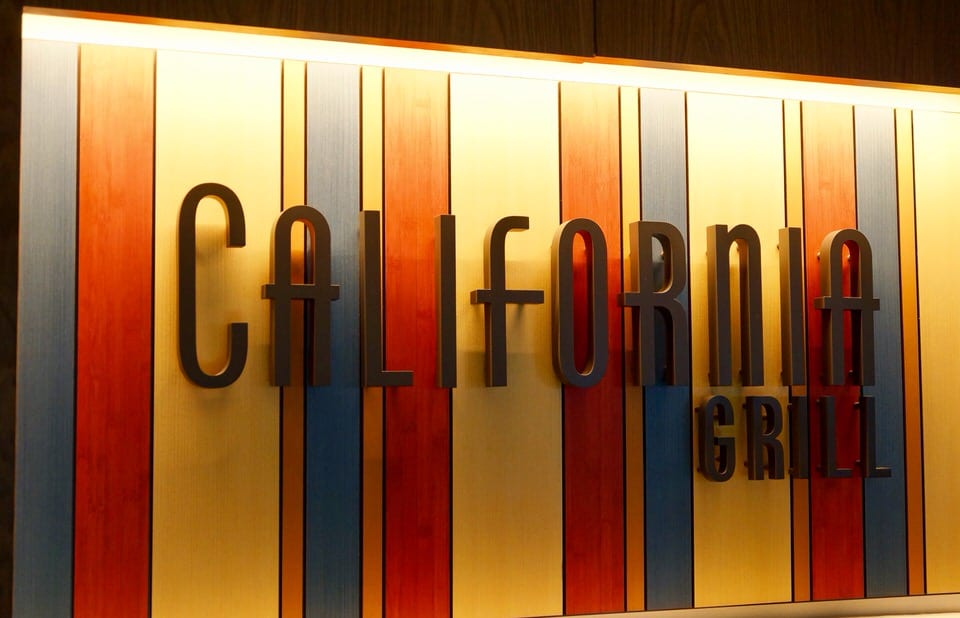 One of my all-time favorite restaurants in all of Walt Disney World is the California Grill. For years if we are looking for a dinner to celebrate a special occasion or just because we want to treat ourselves, we've come here.
California Grill is a Table Service Restaurant in Disney's Contemporary Resort. It's a Signature Restaurant and requires 2 Table Dining Credits if you are using the Disney Dining Plan. It does participate in Tables in Wonderland which gives you a %20 discount on your food and drinks, which you will definitely need here as meals do not come cheap! California Grill does accept ADR's 180 Days in advance and it's absolutely one of the most popular restaurants in WDW, so make a reservation as soon as you can! Also proper attire (Business Casual) is required.
California Grill is an award winning restaurant that offers the finest in Californian Cuisine. It is concentrated on using fresh, seasonal ingredients from the Golden State, so what you find there one time might be quite different the next. It has one of the most extensive Wine lists in Walt Disney World, with over 300 different bottles to choose from. If you don't know what to choose, don't worry, there are 20 Sommeliers there to help you with your decision. And if you Sushi, it's the BEST place in Walt Disney World you can go!
Besides the amazing food and wine, the California Grill is known for fireworks. It offers one of the best viewing points in Walt Disney World for Fireworks and there are 2 terraces where you can go to see the Magic Kingdom Fireworks Show (Now 'Wishes', but soon to be 'Happily Ever After'). It's truly a wonderful experience!
Tip: If you finish your meal at California Grill BEFORE the Magic Kingdom Fireworks begin, they will give you a voucher to come back up to watch them later. This if helpful if you have an early dinner because the fireworks can be from 8pm-10pm.
We have had some of our best dining experiences here but it's been a while, so I wanted to do a California Grill Full Review for you. Let's see how this time stacks up with the others.
Atmosphere:
To get to the California Grill you need to find your way to the Contemporary Resort. The easiest and most fun way to arrive is by Monorail. So if you are staying at a Magic Kingdom Resort it's easy, just hop on the Monorail and get off inside the Contemporary. If you are staying at another resort, then take transportation to the Magic Kingdom and then get on the Monorail from there.
We're going to the very top floor there: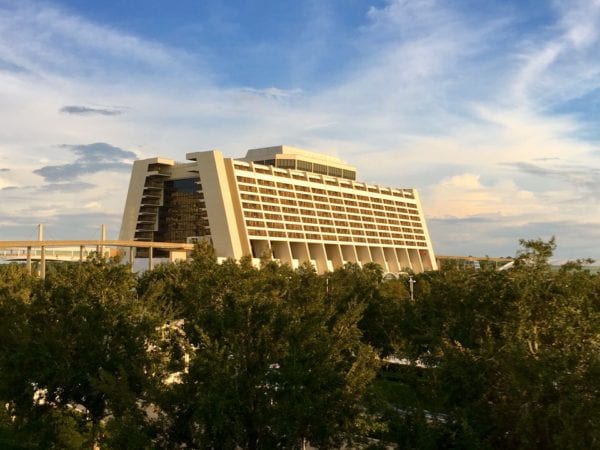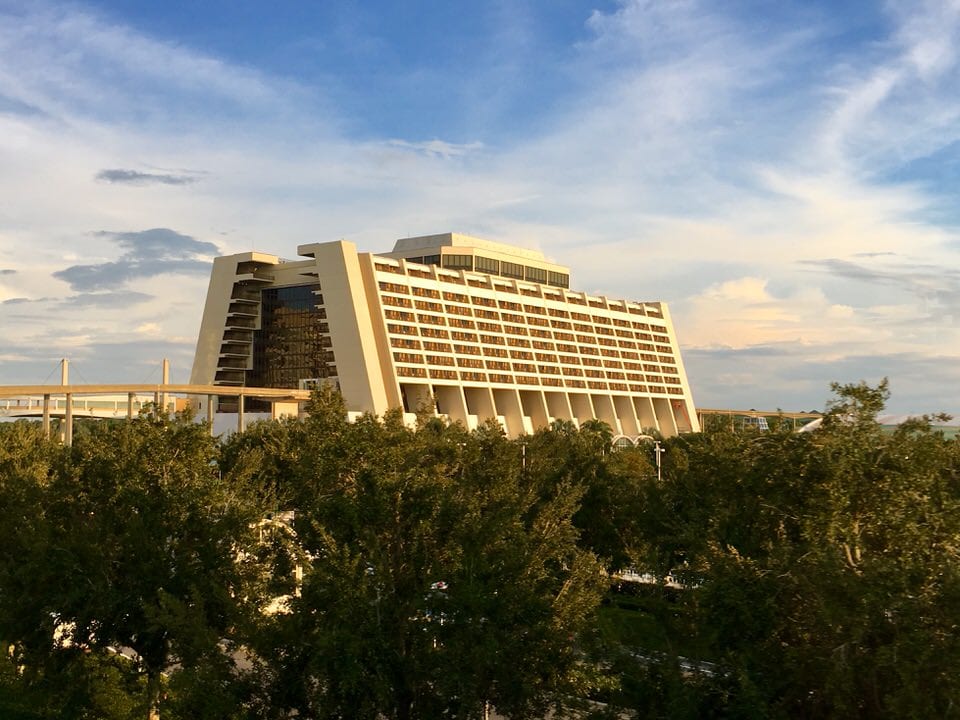 The was always the most fascinating resort to me as a kid because the monorail goes INSIDE the resort! Once you get off you will be in the Grand Canyon Concourse: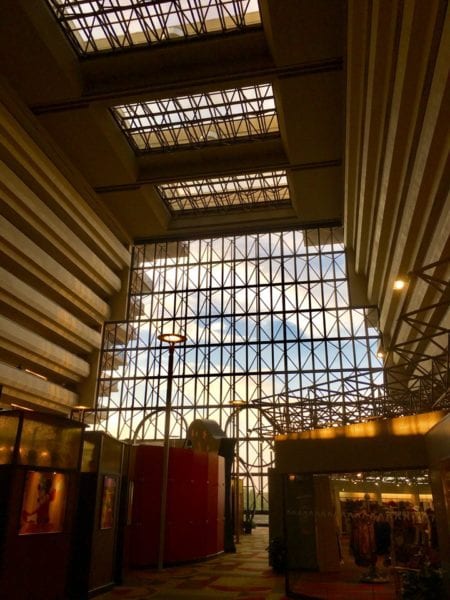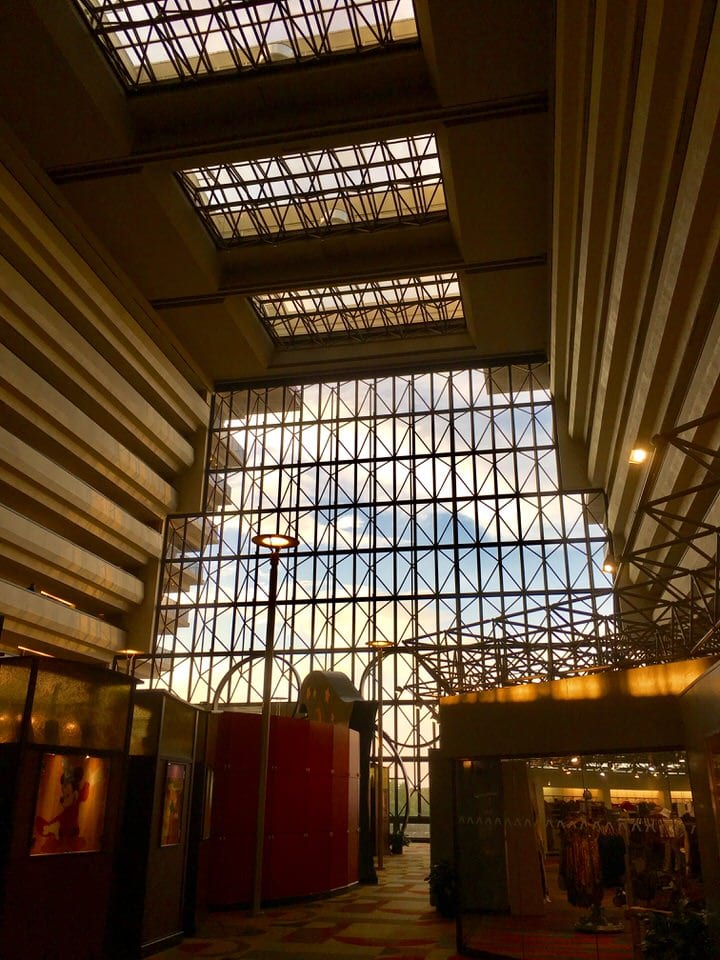 The highlight is the 9-story ceramic mural of the Grand Canyon by legendary Disney artist Mary Blair. It's made up of over 18,000 hand-painted tiles! Stop for a moment and take this fantastic piece of art in: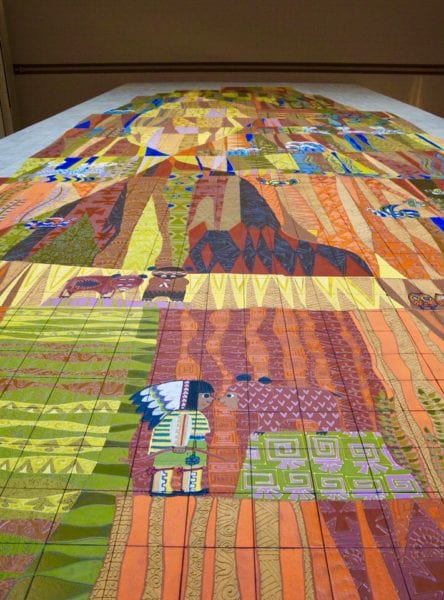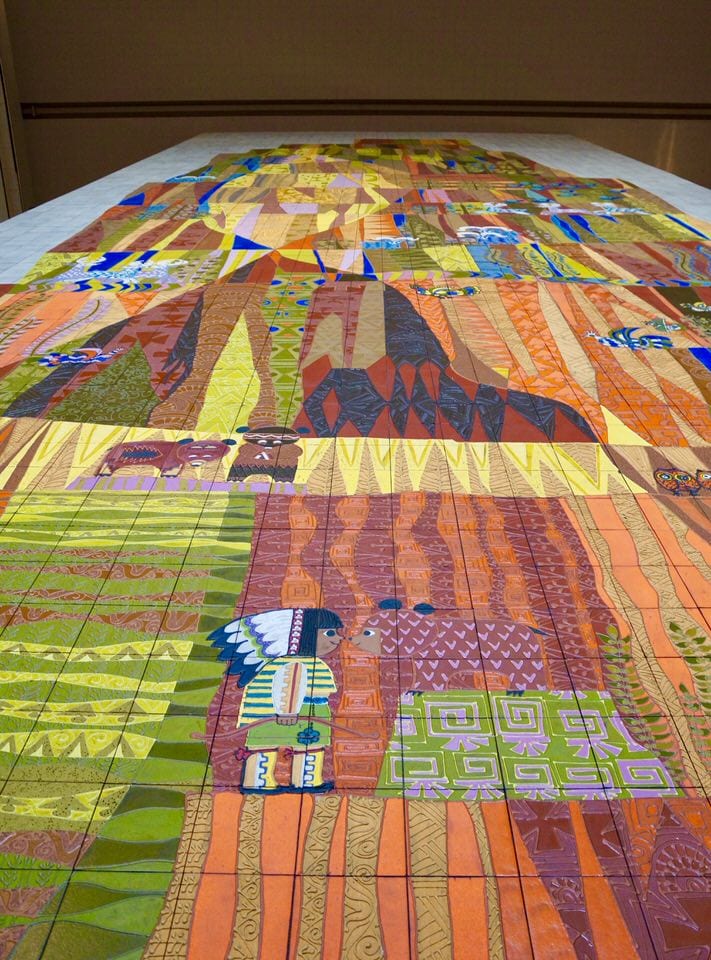 Follow this guy's lead: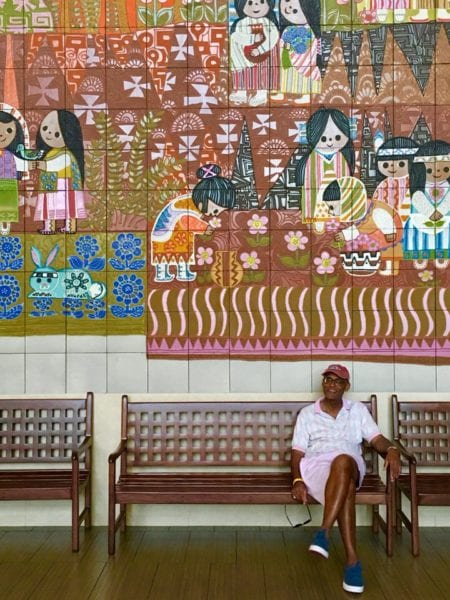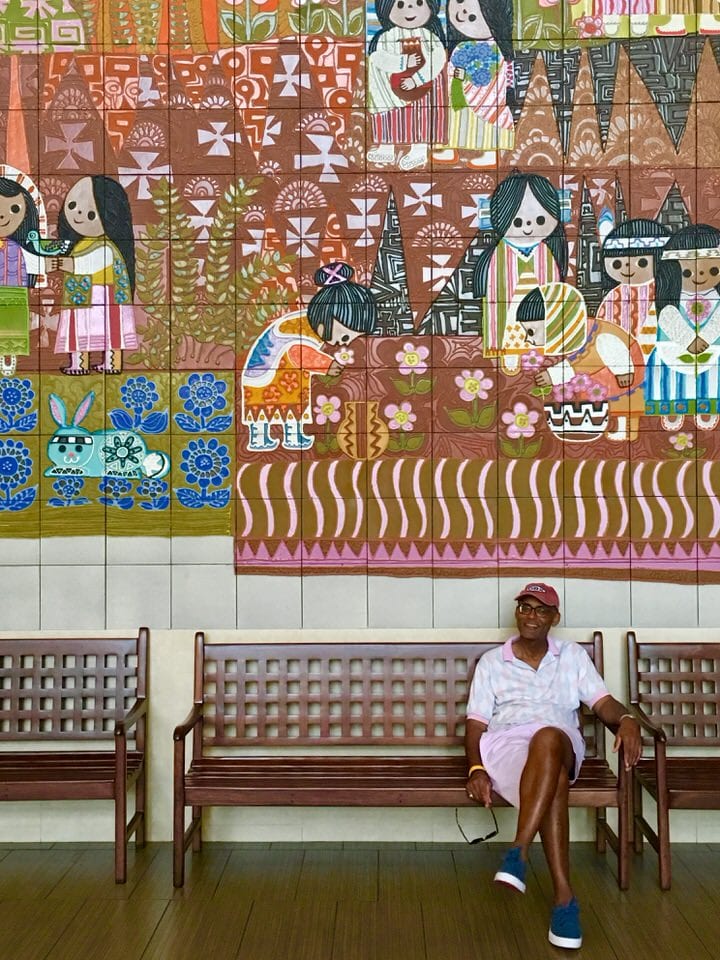 When you're all done relaxing make your way down to the 2nd Floor where you'll find the Check-in Desk for Disney's California Grill restaurant. Give him your name and a Cast Member will then escort you up to the 15th Floor through a Private Elevator which is used exclusively for California Grill guests.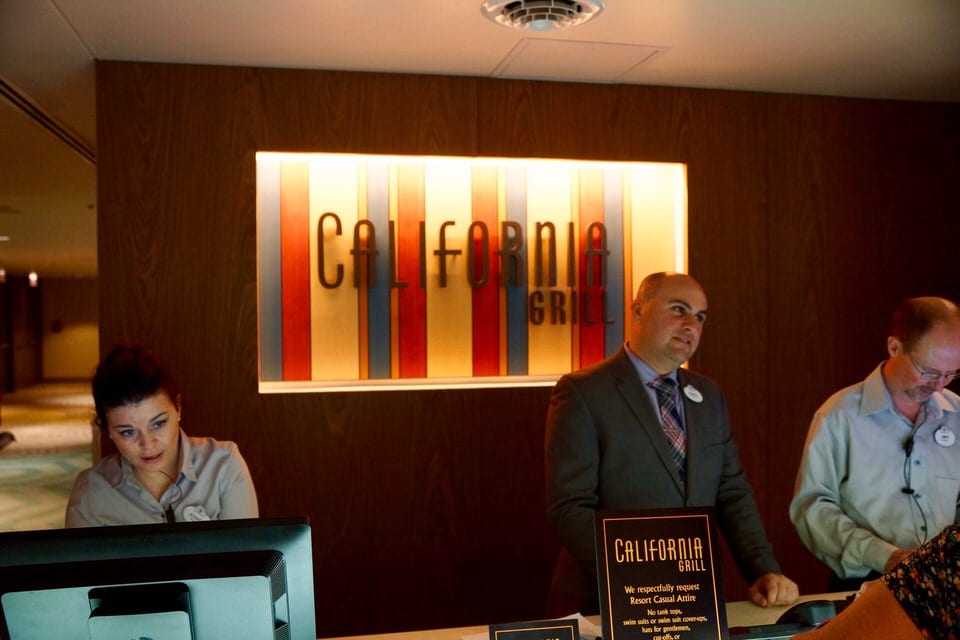 Once you reach the top you'll see the Host Desk directly in front of you which also happens to be in the climate controlled storage room for the California Grill's massive collection of Wines ( over 1,600 Bottles).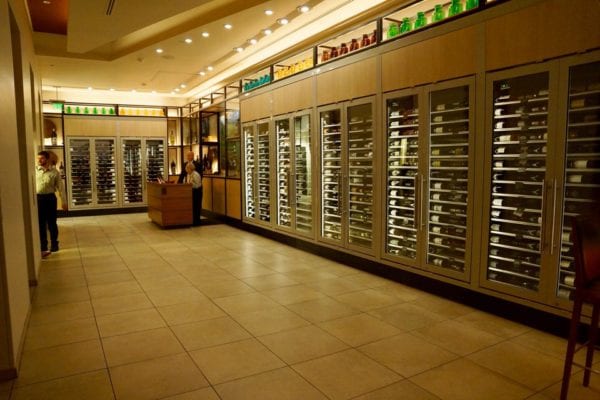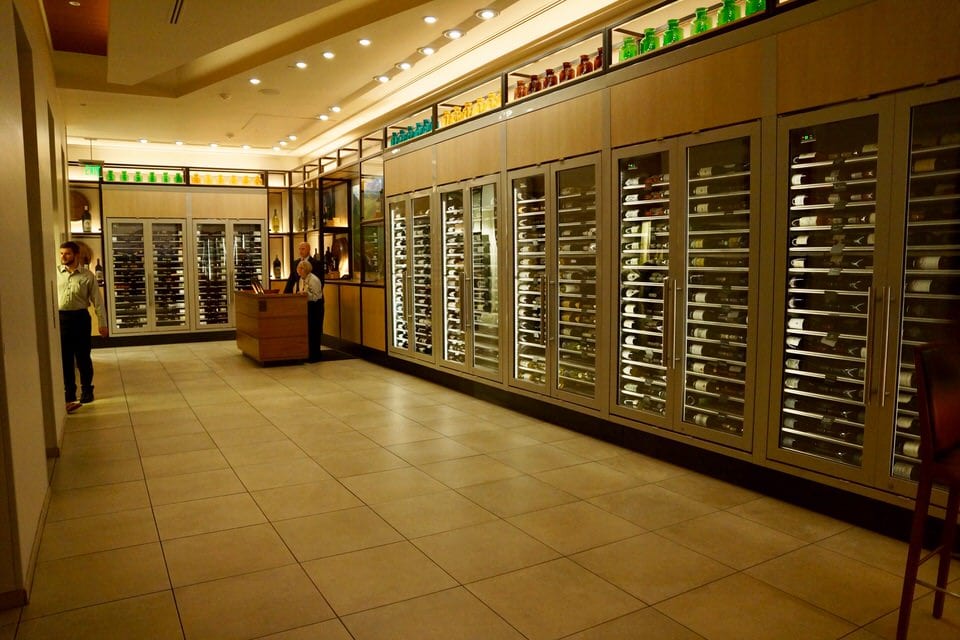 One of the wine storage units: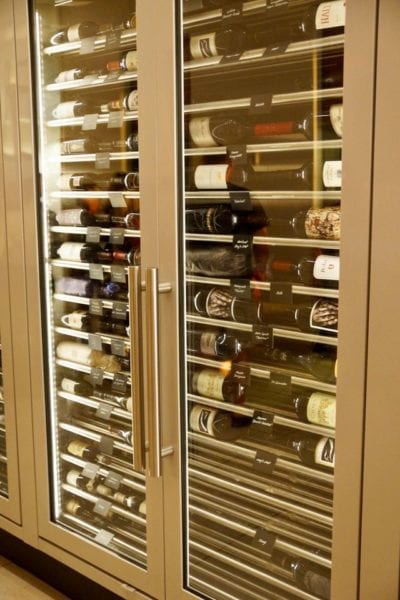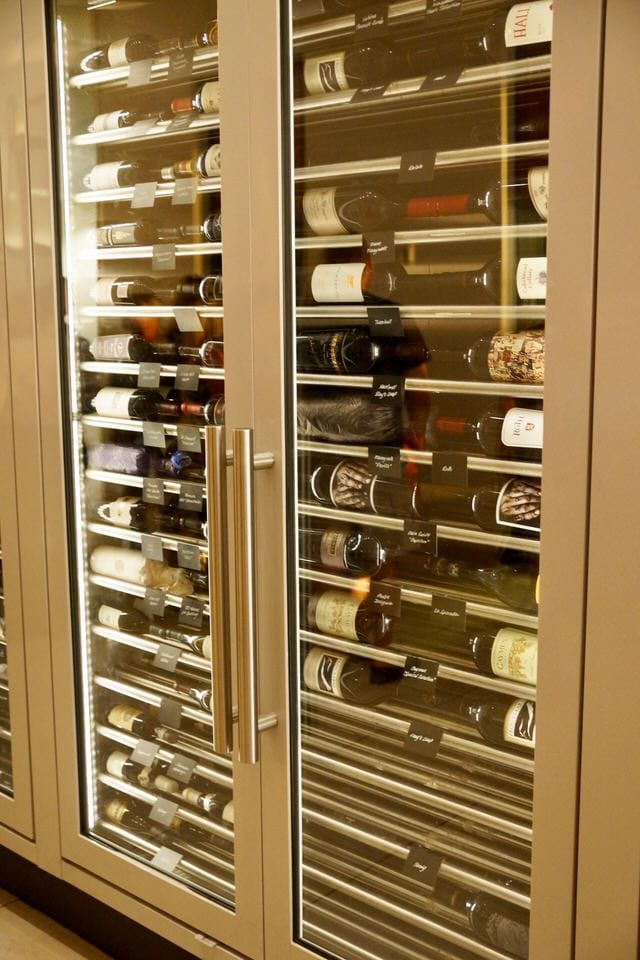 The view as you walk into the Main Dining Room will take your breath away: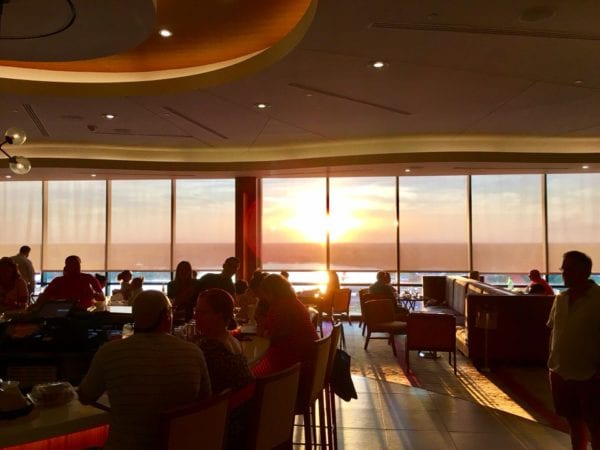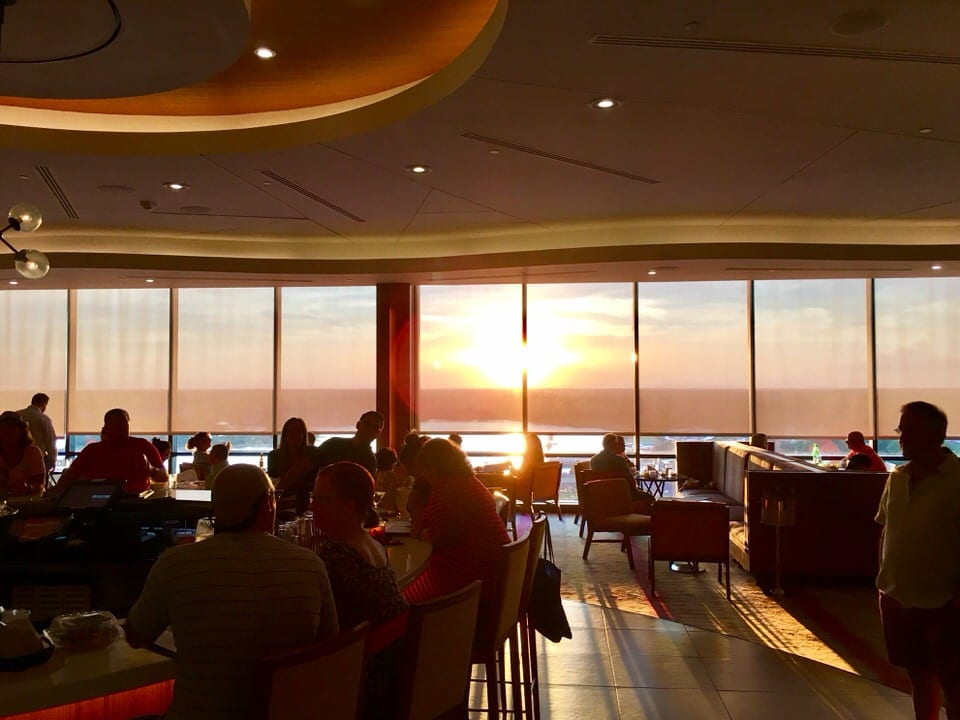 Immediately on your left you will find the Bar: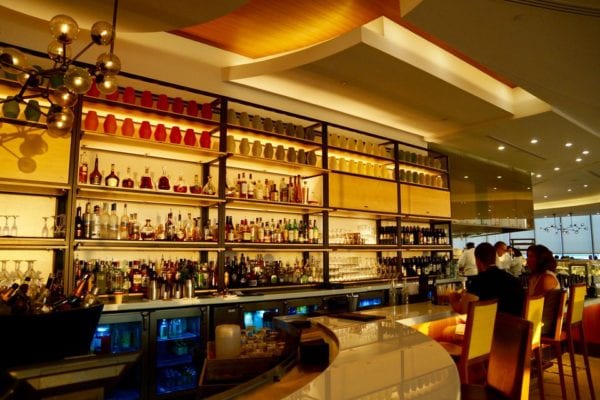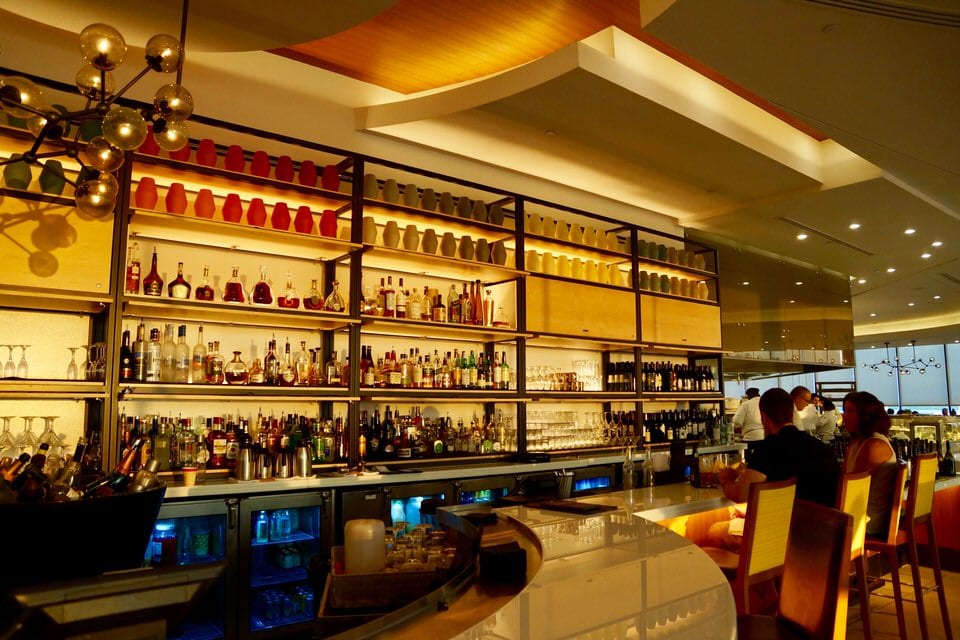 There's a lounge and full service bar available offering AMAZING views of the surrounding landscapes: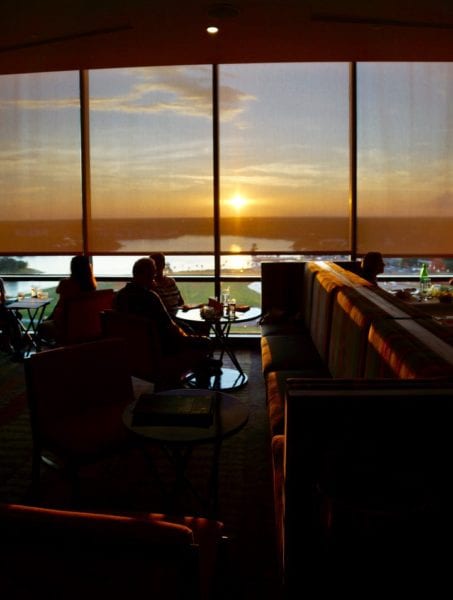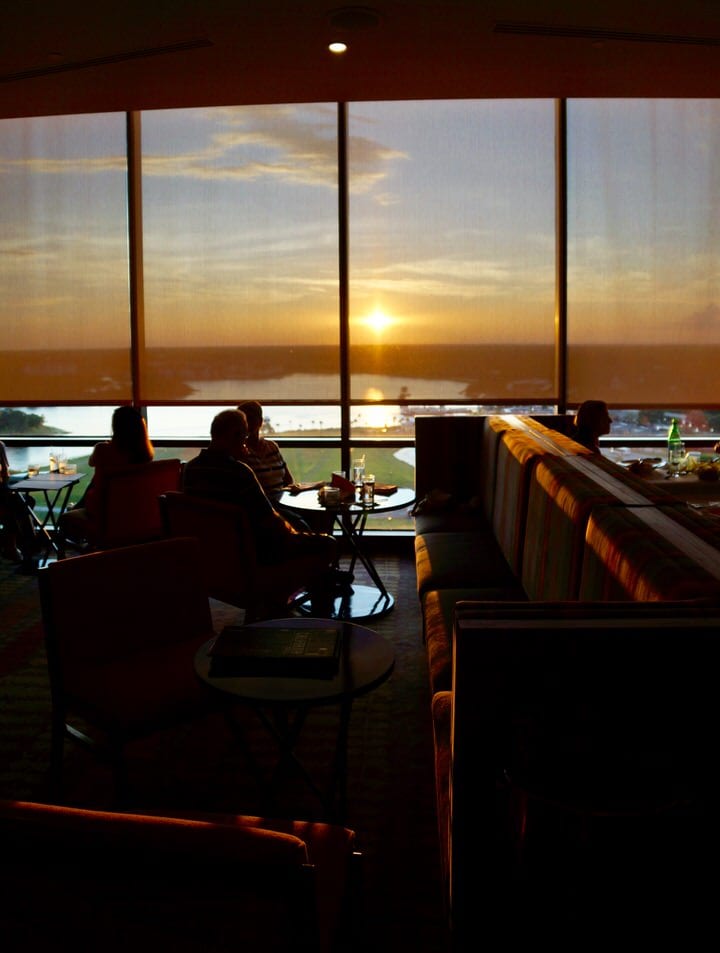 Tip: If you come a bit earlier than your reservation then you can enjoy pre-dinner cocktails and the restaurant's Full Menu either in the Lounge or at the Bar. Even if you don't have a reservation you can come and try to get a seat. Come early though as it gets crowed later on.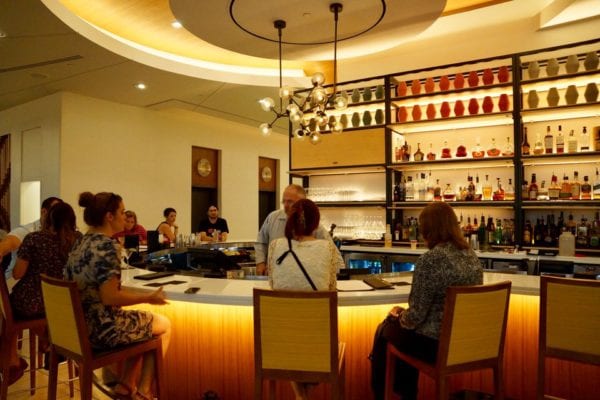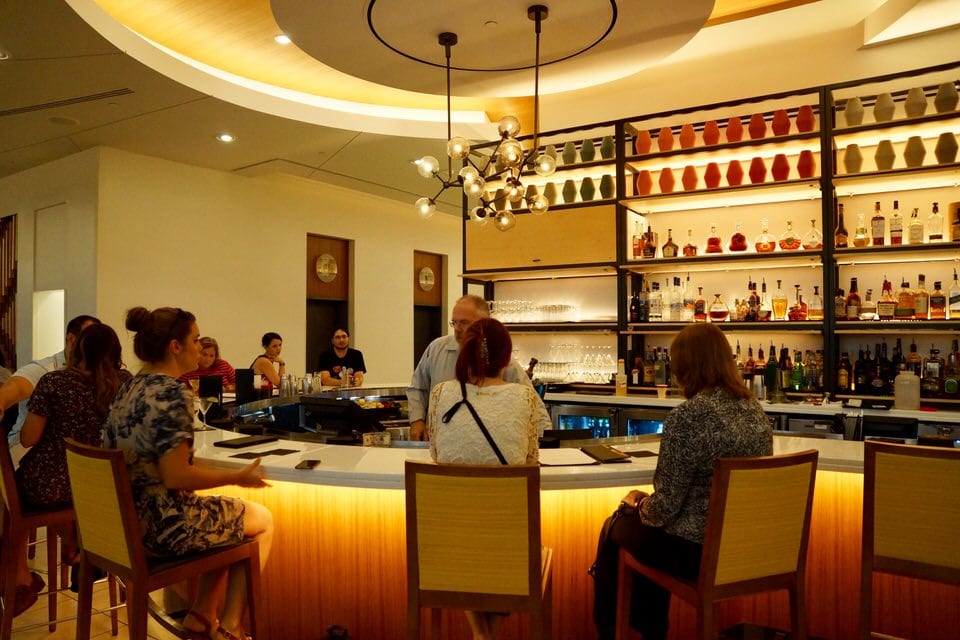 I love the contemporary design, especially at the bar. Here you'll find a vast selection of practically any kind of alcohol you're looking for, and lots of top-shelf stuff too: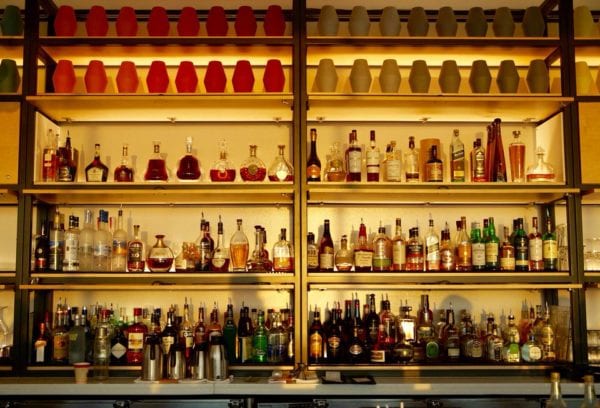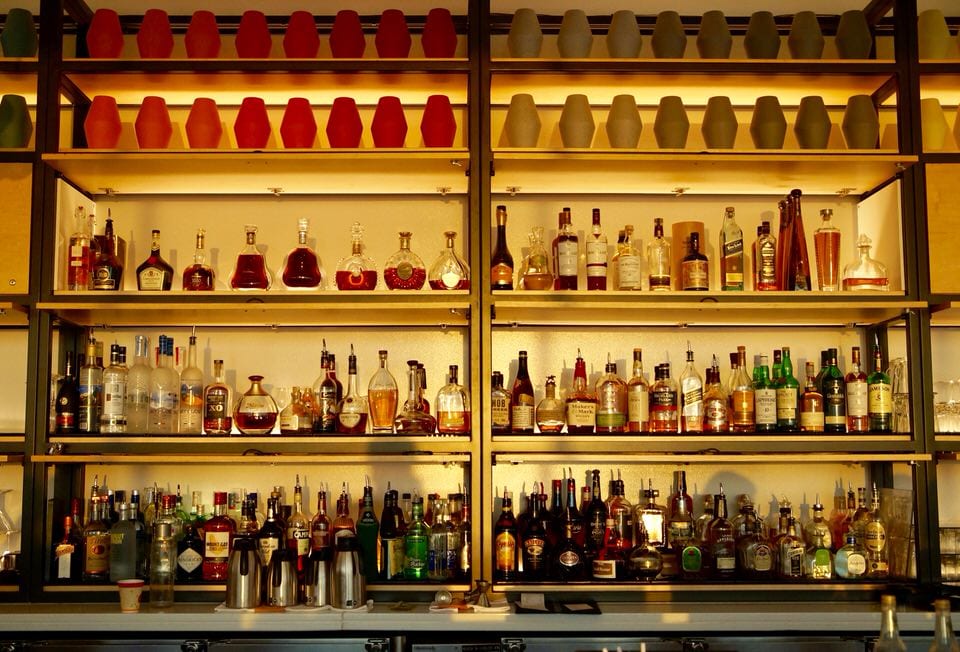 The staff at the Bar is always super friendly, especially Ray who is somewhat of a legend at the California Grill. He's been here since the opening and serves up a mean cocktail. Go talk with him as he is always available to chat and tell you about some of his latest creations: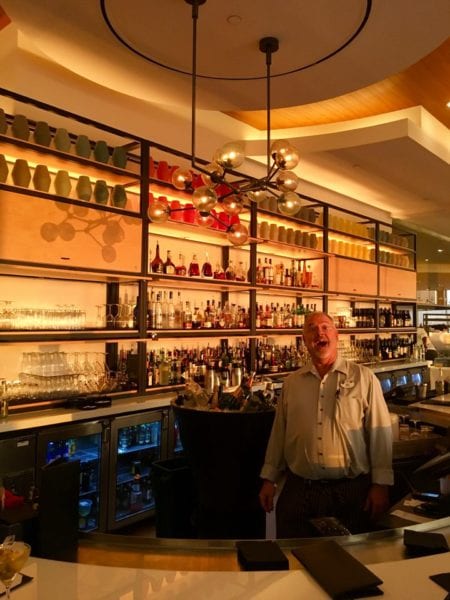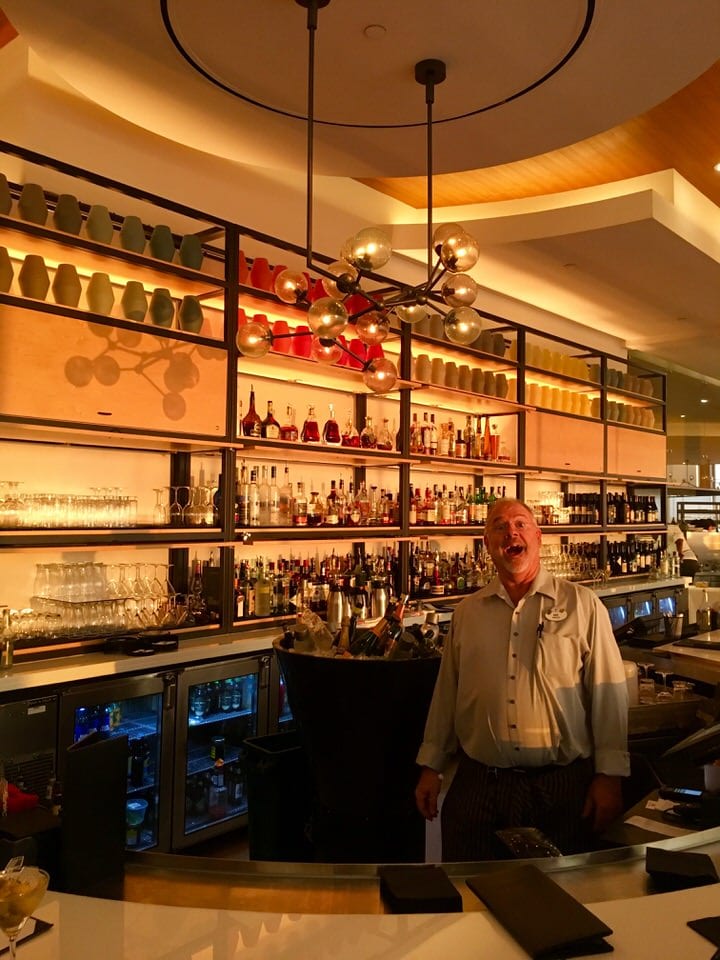 One of the highlights is the Open Kitchen you find in the center of the restaurant: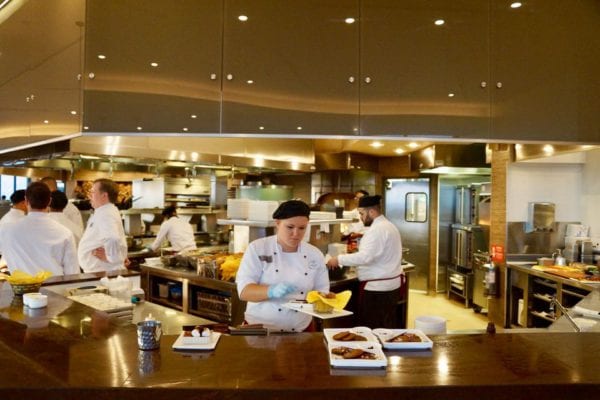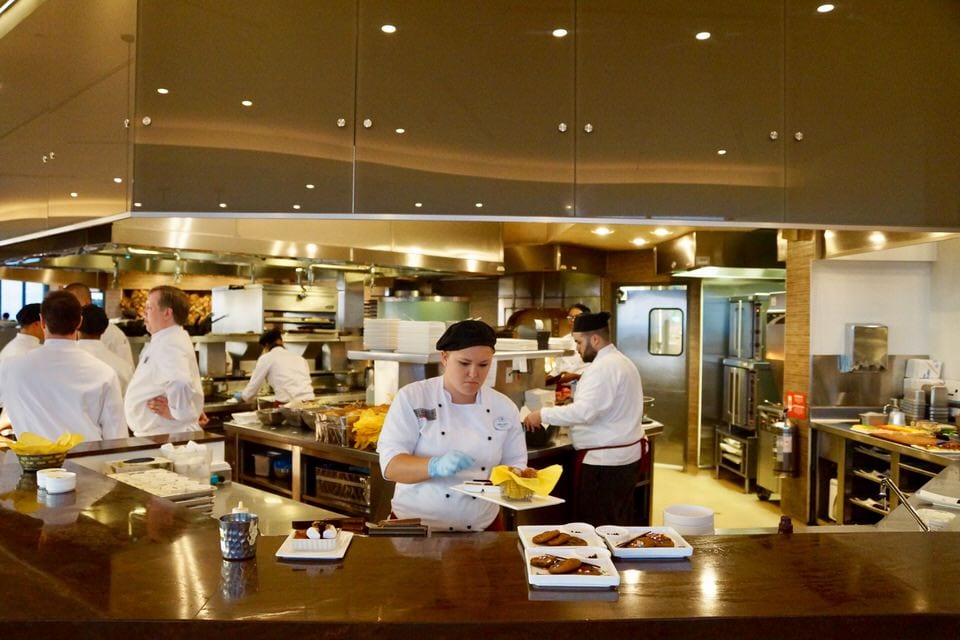 Here you can get a great view of all the action right from up close! Watch these magnificent chefs as they hone their craft in what is a mesmerizing experience: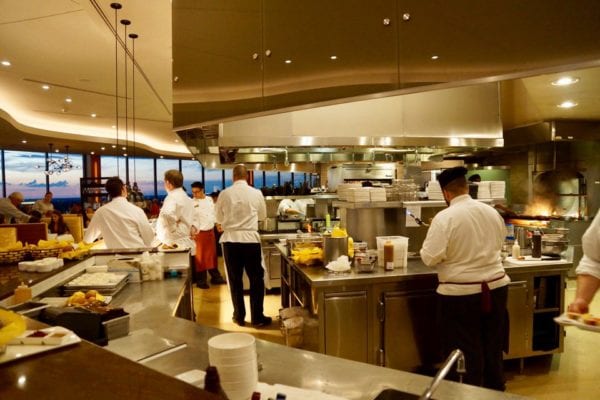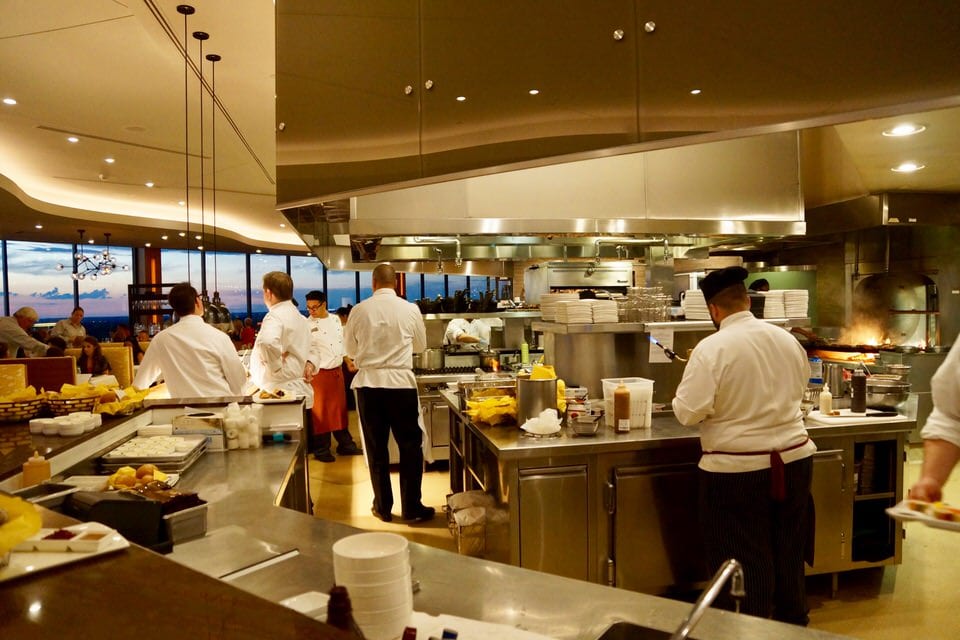 For Sushi lovers who really want a unique experience, the Sushi Bar is a great place to sit and enjoy your meal. It has a display case and you can try the 12-course Omakase menu, which allows the chefs to create innovative new dishes for you to try: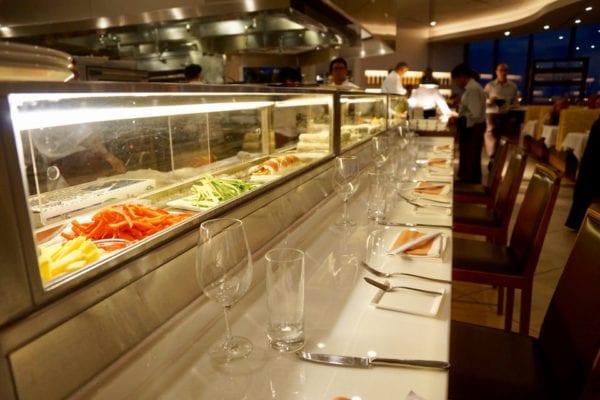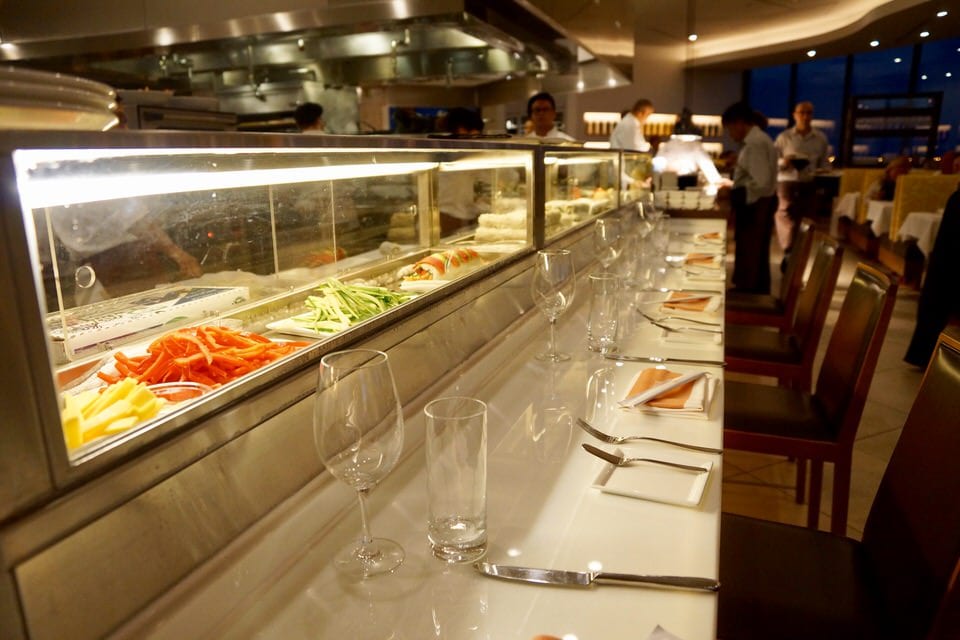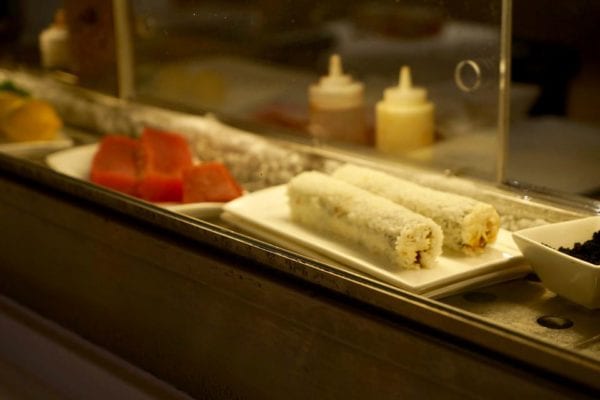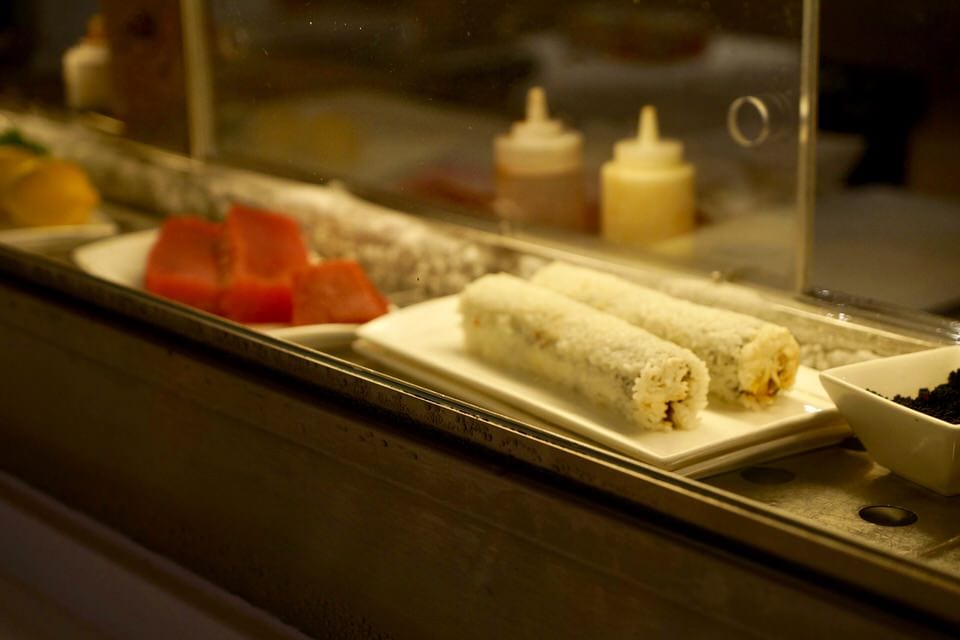 As you look around the Main Dining Room it leaves you breathless: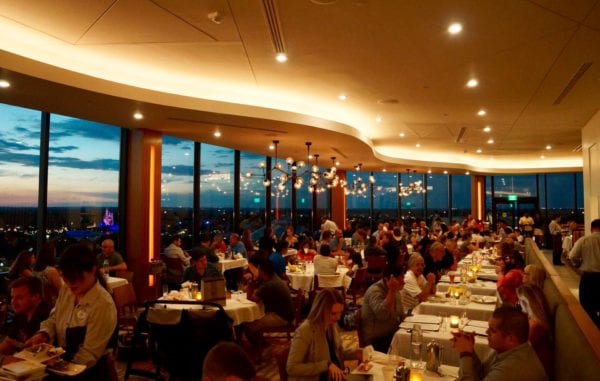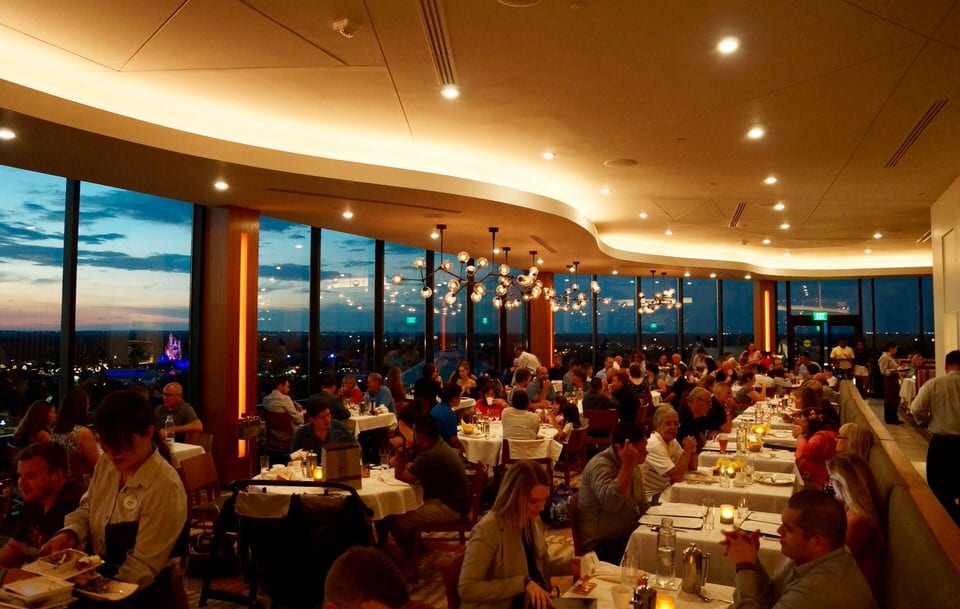 It has a distinct modern, yet retro feel at the same time. I particularly like the funky light fixtures hanging down from above: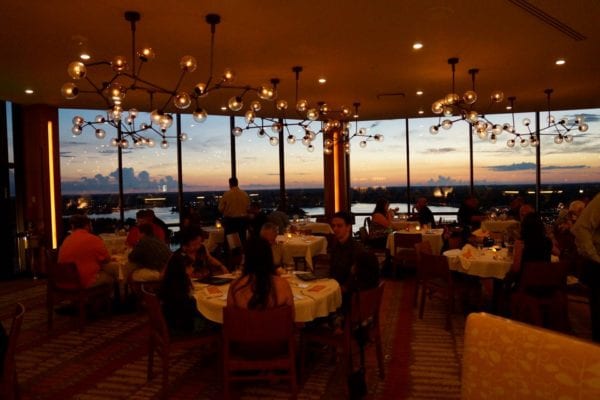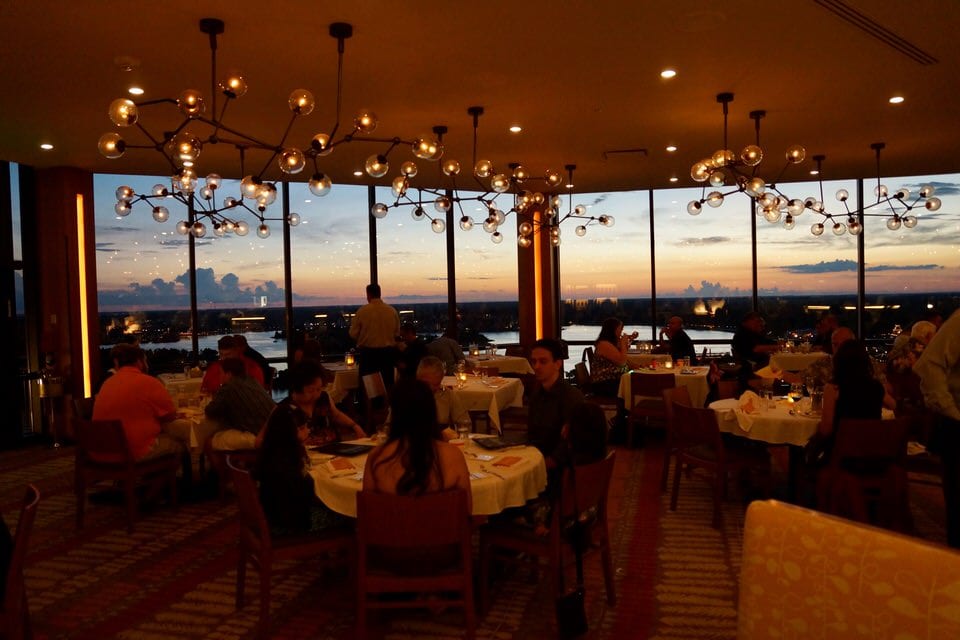 The huge dining room has a mixture of tables with chairs and also booths, so ask for your preference: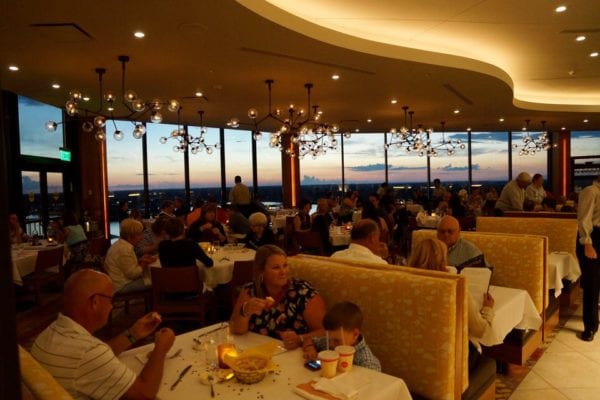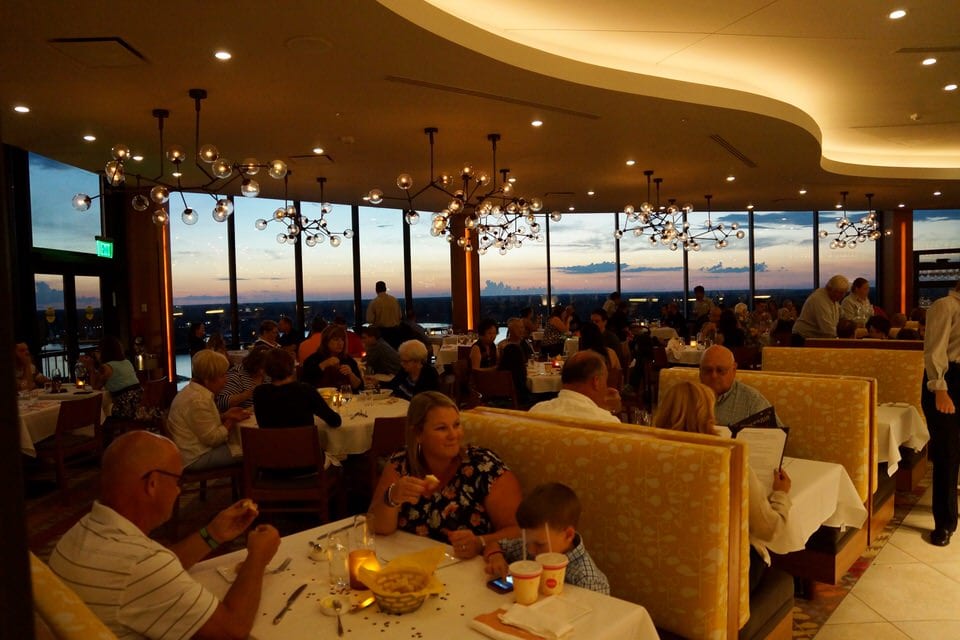 The carpet goes well with the color pattern of the restaurant, which was designed as a compliment to the colors of a sunset: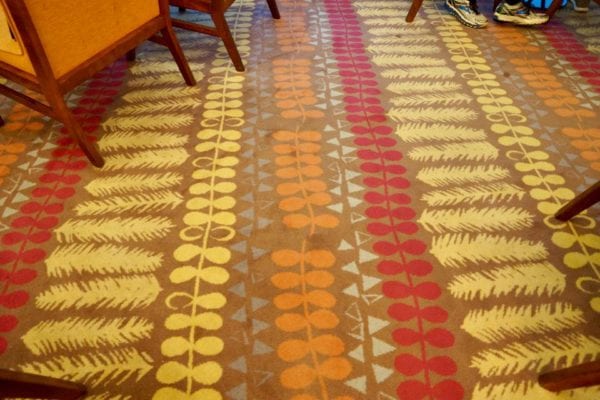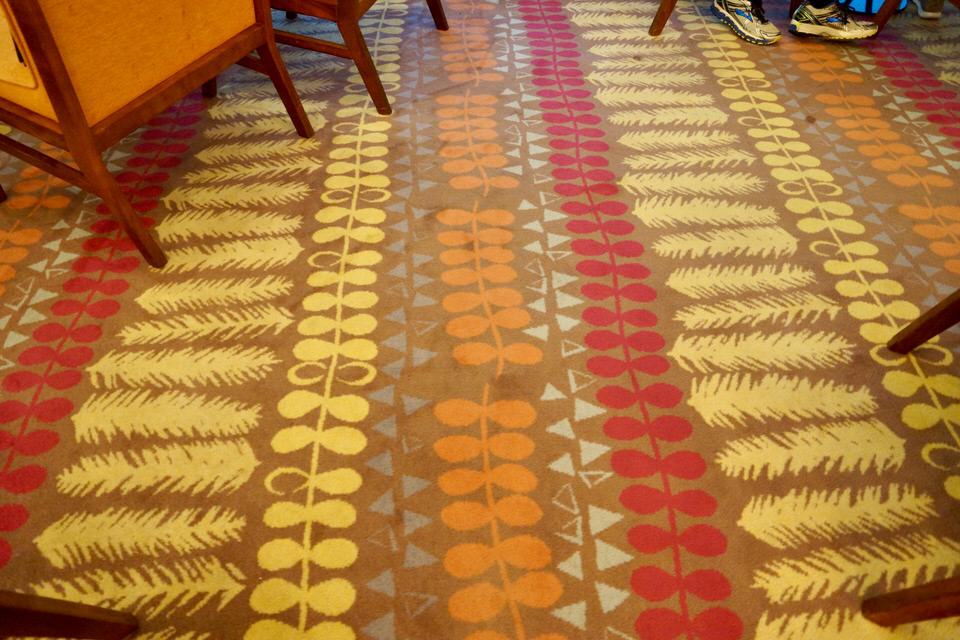 Sleek and modern but at the same time cozy and comfortable: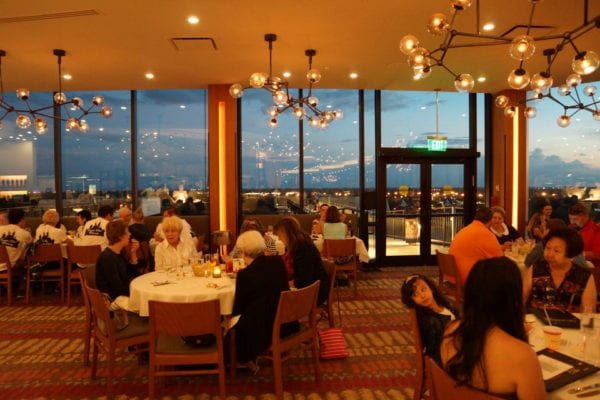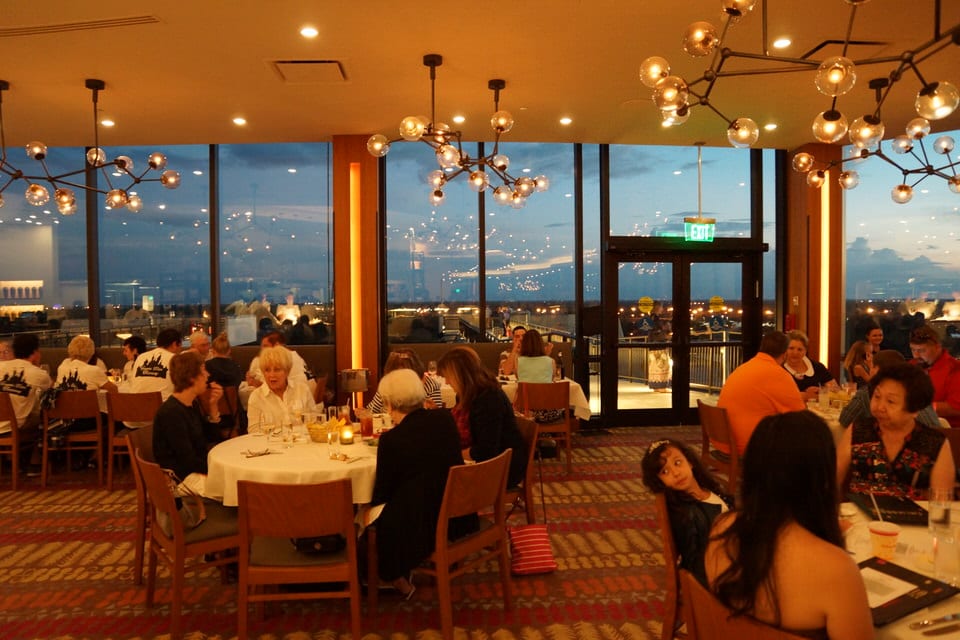 If you plan it right you will be able to get a table at the best time of the night which is as sunset. The huge picture windows here are specially made to block ultra violet light which means just the right amount enters in, making the sunset even more spectacular: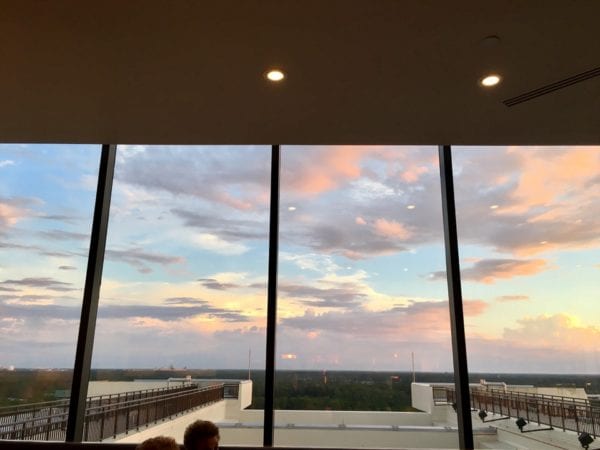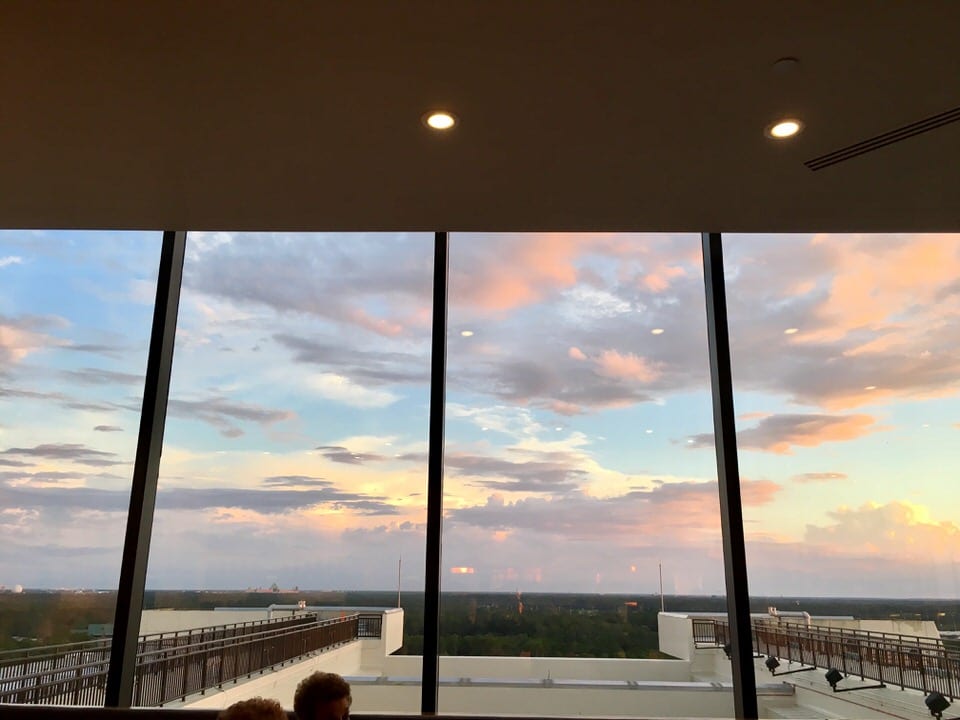 Then step outside onto one of the private balconies on either side of the restaurant and enjoy a moment looking over the Seven Seas Lagoon and the Magic Kingdom: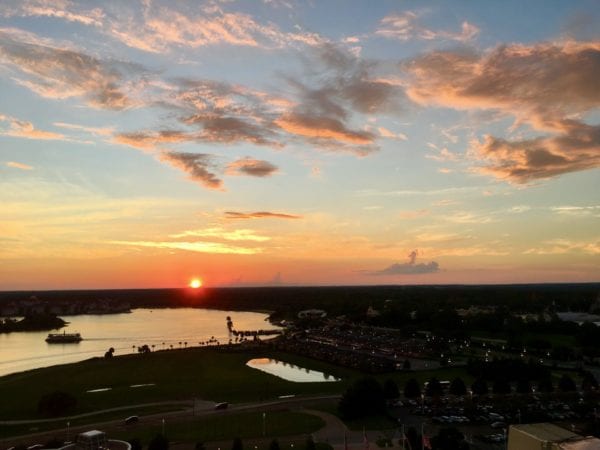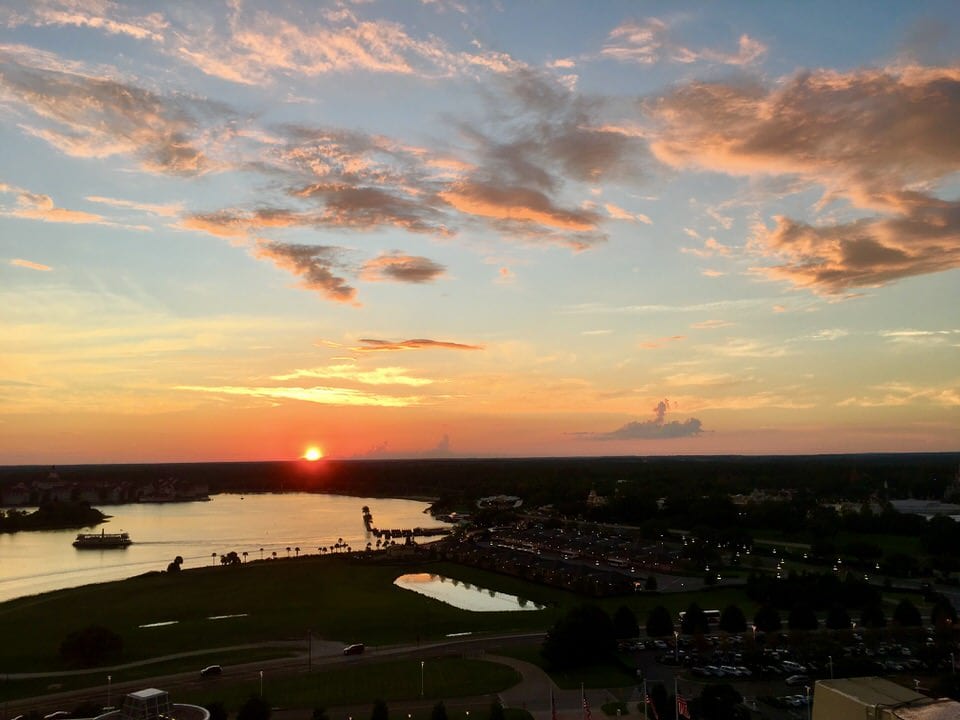 Enjoy the 360-degree views! You can easily see Cinderella Castle from here: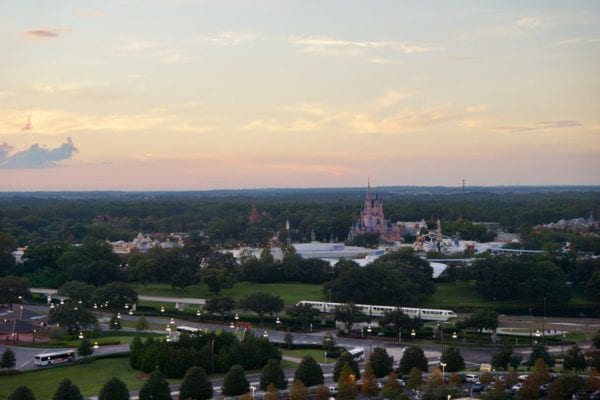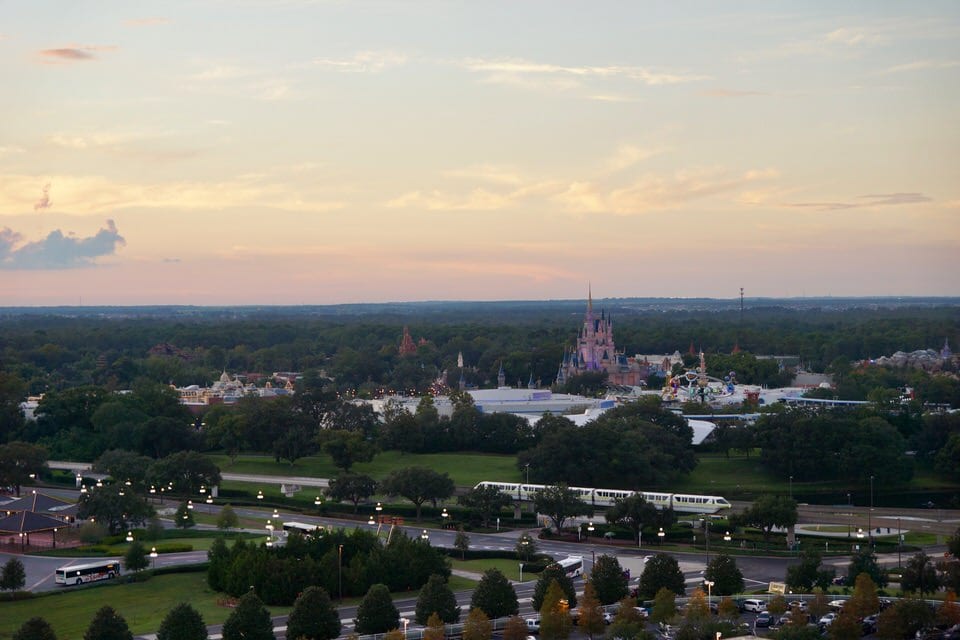 Take a photo or two and enjoy watching that sun sink down over the horizon line: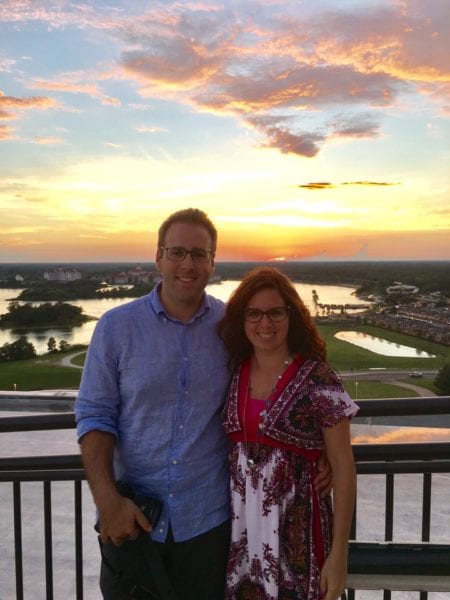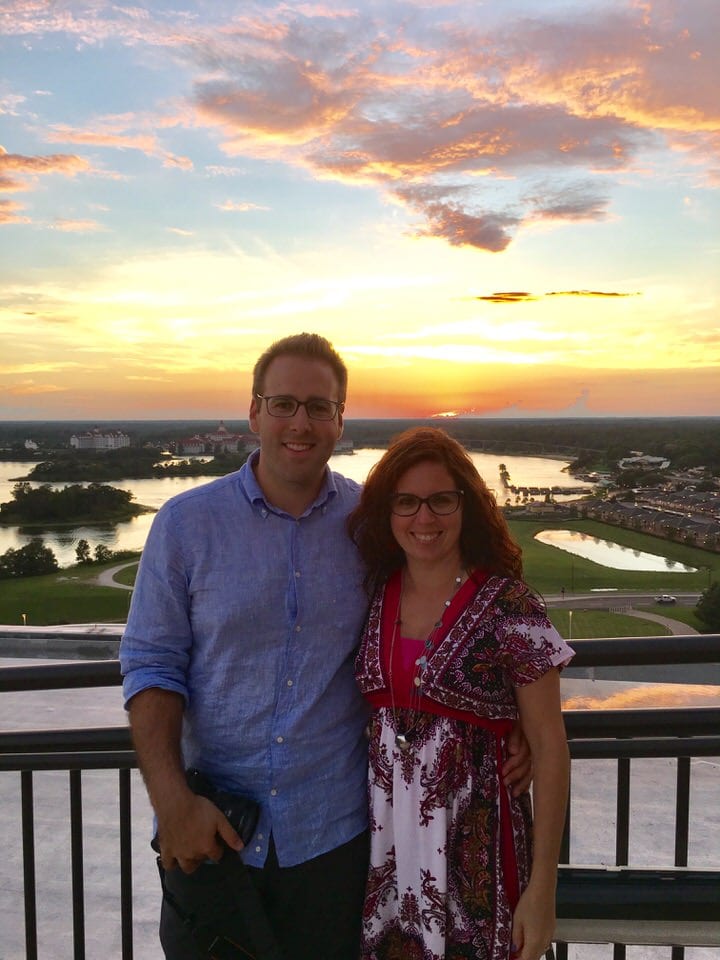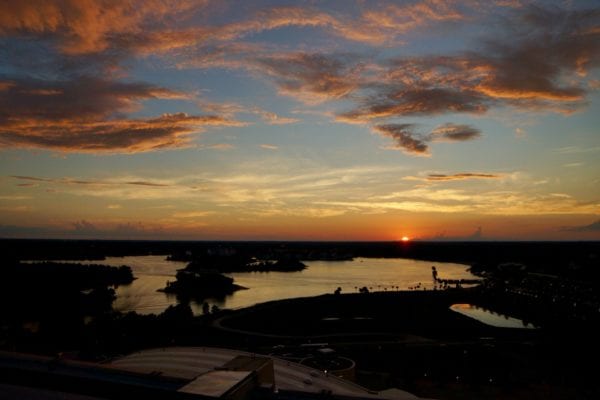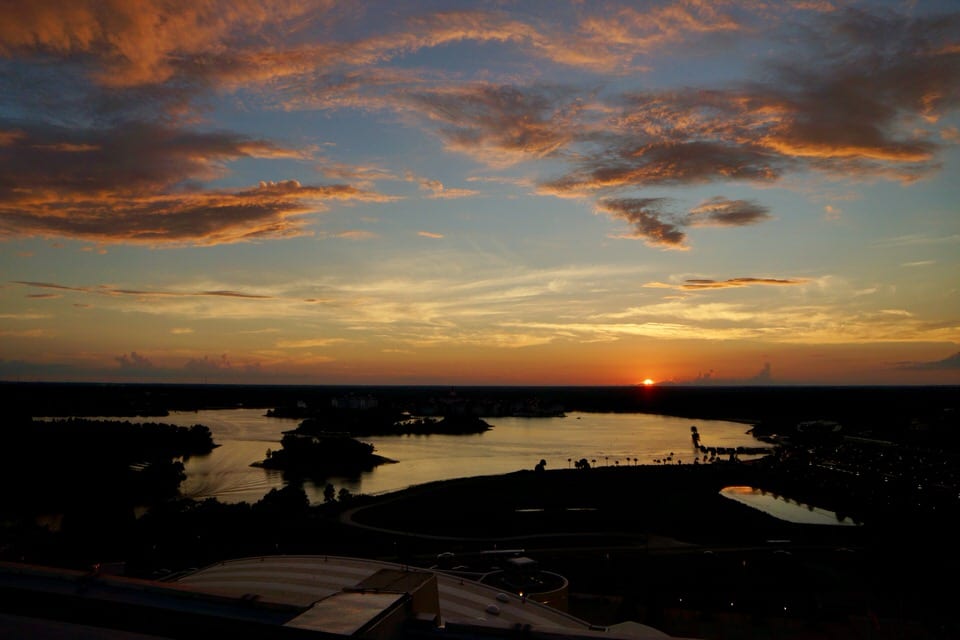 Ok so now you understand the California Grill is a ridiculously beautiful restaurant, so let's go find our table: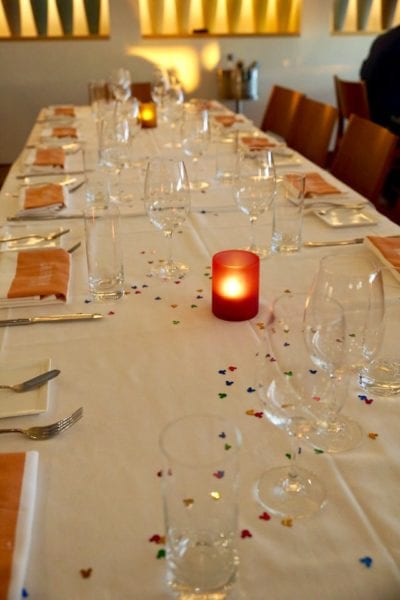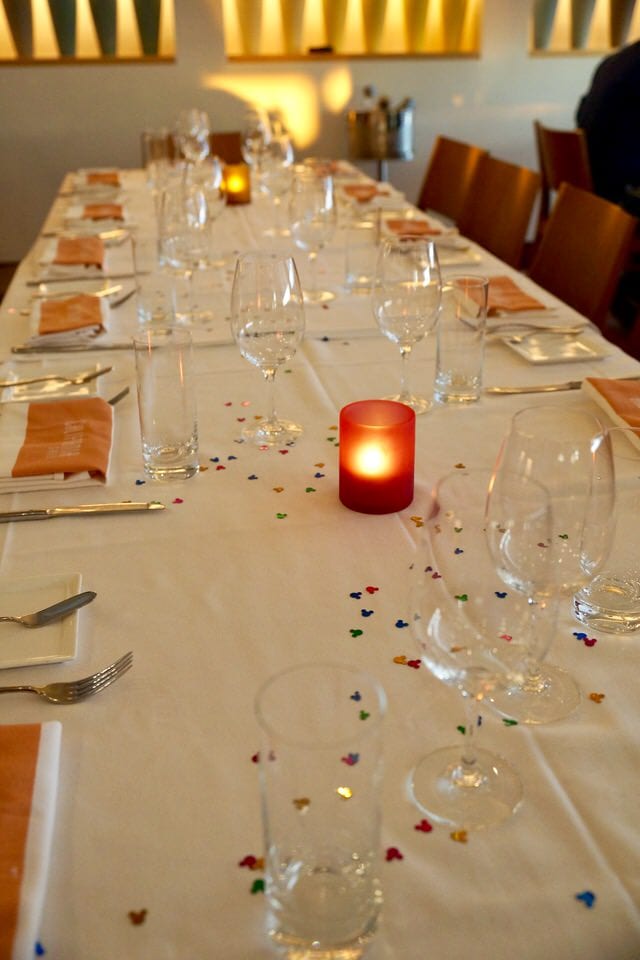 The beautiful white linen table cloth reminds be we are in a fine dining restaurant but at the same time a place which isn't stuffy and where you can have a good time. All the Mickey Mouse sparkles spread across the table is a nice touch and tells me we are in for a special evening: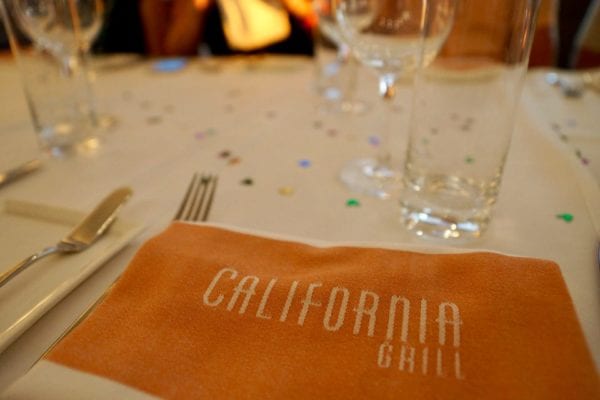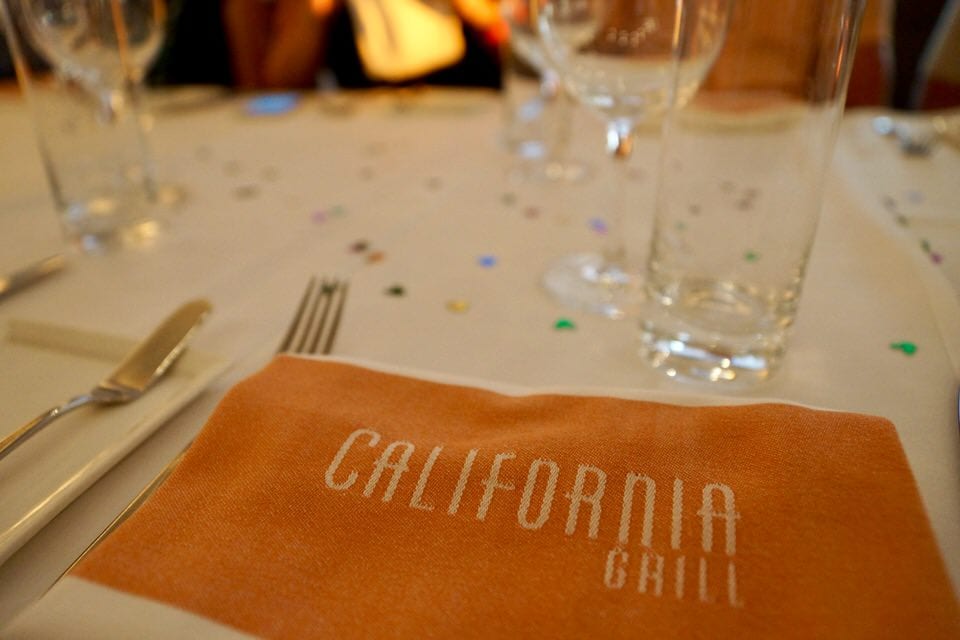 Food:
The California Grill Menu is one of the best in WDW. It serves seasonal options, most of which are based from ingredients hailing from of course, California. It's a seasonal menu which is nice because it uses fresh ingredients you can find at the moment, but be aware you won't always find the same things twice because it changes quite often: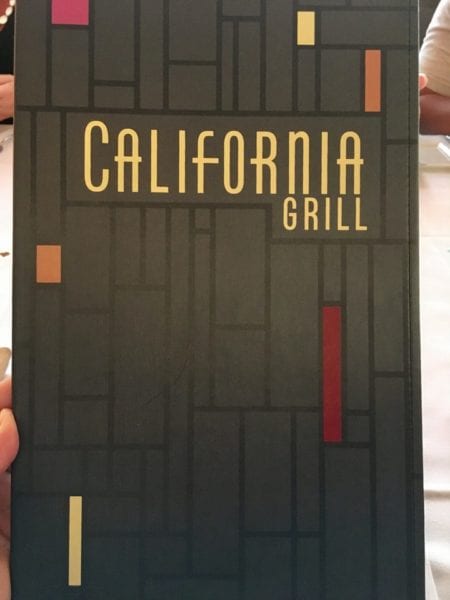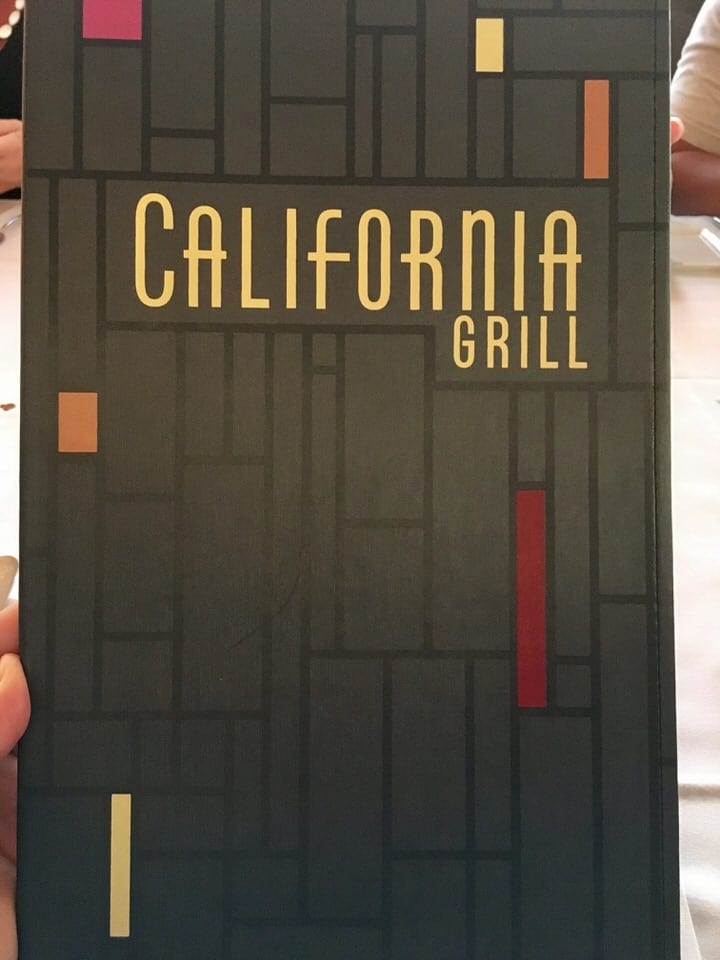 As far as what to get, for sure the Sushi is the house specialty. If you like sushi you won't find another place in Walt Disney World like this, we've always been more than pleased with any of the rolls we've tried. My only complaint is that this time we didn't find the Pork Nigiri, which was hands down my favorite item on the menu and one of the top things I've ever eaten at WDW.
Besides sushi really everything on the menu is phenomenal. The Appetizers are always interesting, including the Flatbreads which are always really tasty. The Salads are spectacular as well as the Sonoma Goat Cheese Ravioli.
For Entrees you will find a nice range of Beef, Pork and Fish. IMO, the Filet at the California Grill is the best entree and one of the Best Steaks on property hands down! The Pork dish is always a favorite of mine too, it has a Tenderloin and Pork Belly together with Goat Cheese Polenta! The Fish dishes are really good as well, this trip serving Halibut, Scallops and the Seafood Ramen.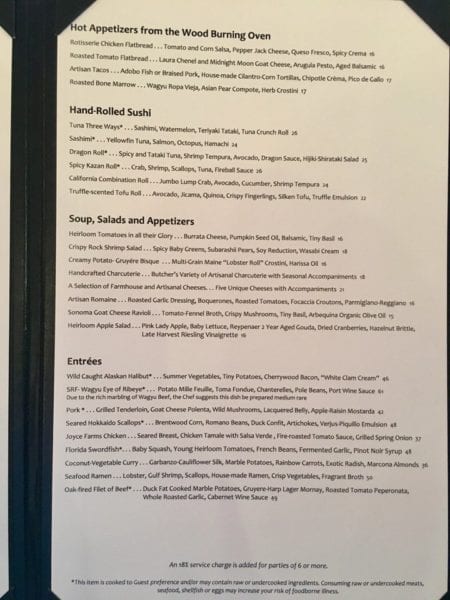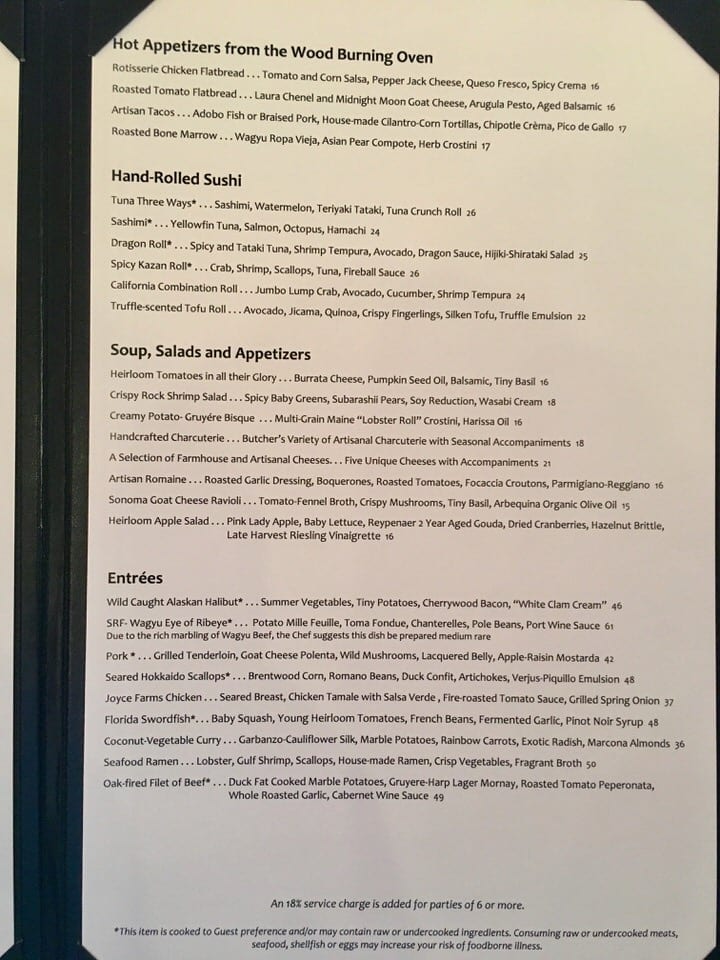 Drinks:
The Wine list is outstanding and overwhelming at the same time. Over 300 different selections to choose from can be quite overwhelming. Just ask your server as chances are he or she is one of the 20 Sommeliers they have on hand and ready to help you decide. The visit before this one my waitress was so nice that she let me taste 3 different wines until I found one that was to my liking. Haven't found anything like that yet in a Disney restaurant.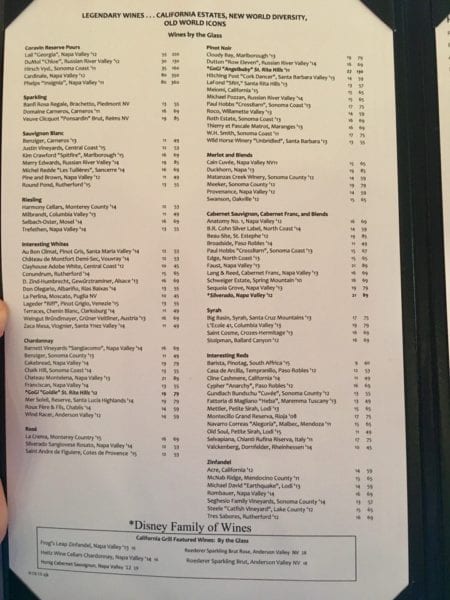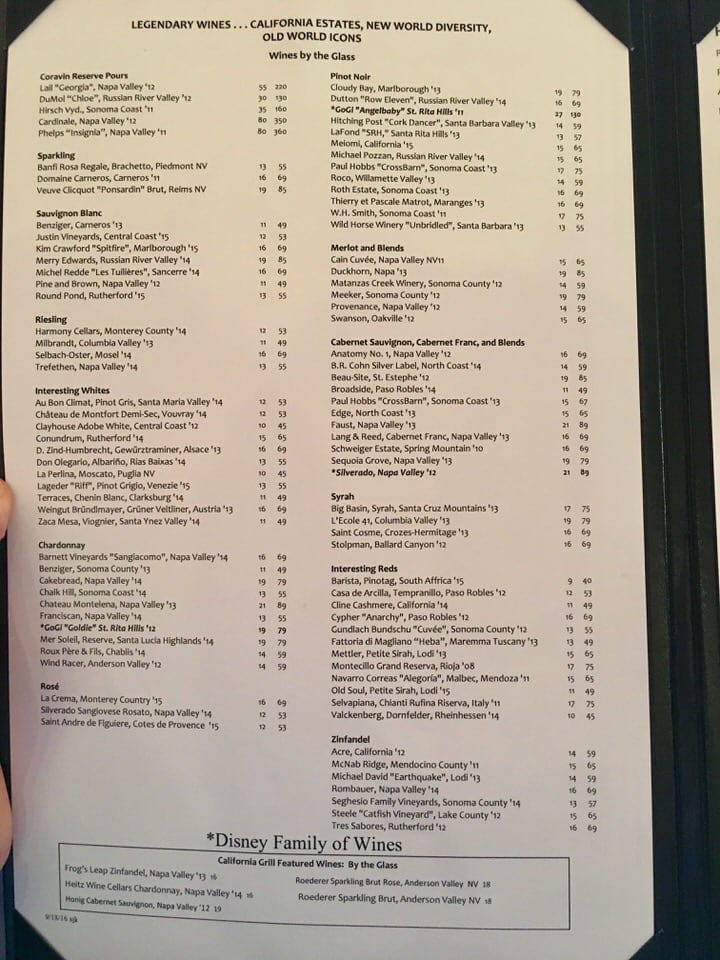 This time though we went with cocktails instead. Most of the cocktails will run about $9.50 – $11.50 which isn't too expensive compared with some other Disney restaurants (cough, Frontera Cocina, cough), keeping in mind the location and the quality.
First one we tried was the a Margarita. Pretty classic version here, it was made with Patron Silver Tequila and salt of course on the rim. Excellent!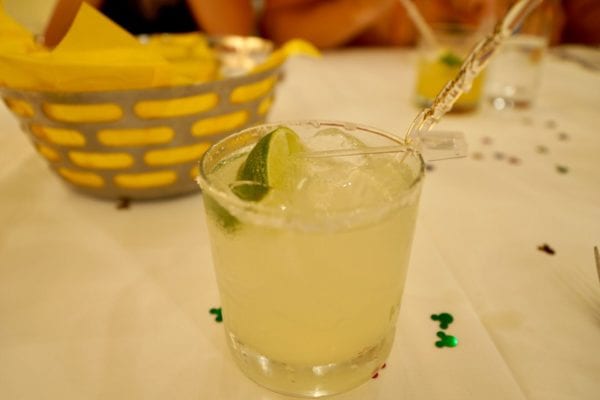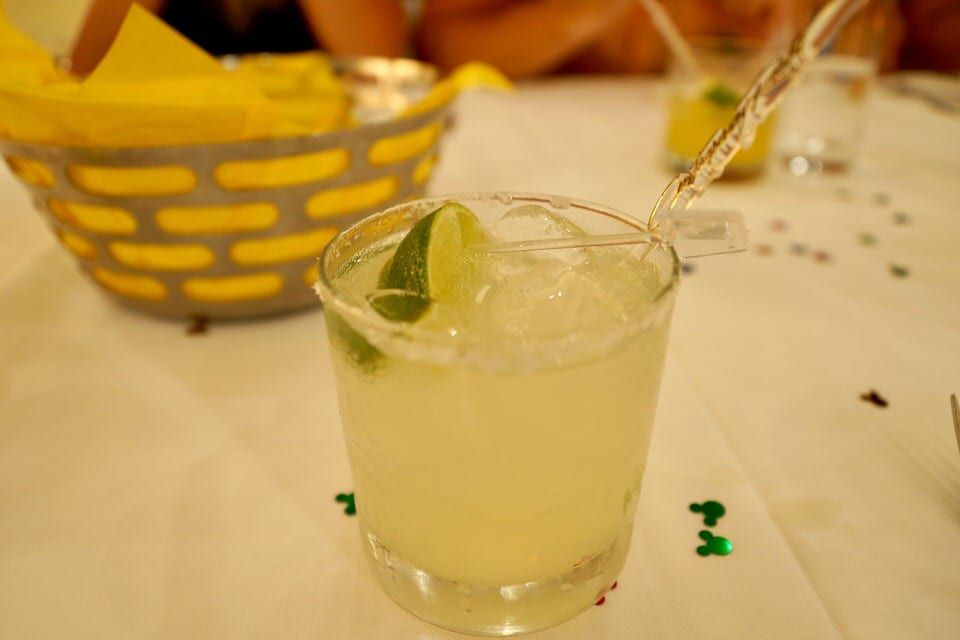 Next was a Lemon Drop Martini, which I always find myself ordering somehow! These things are so good, and of course this one you have to add sugar to the rim!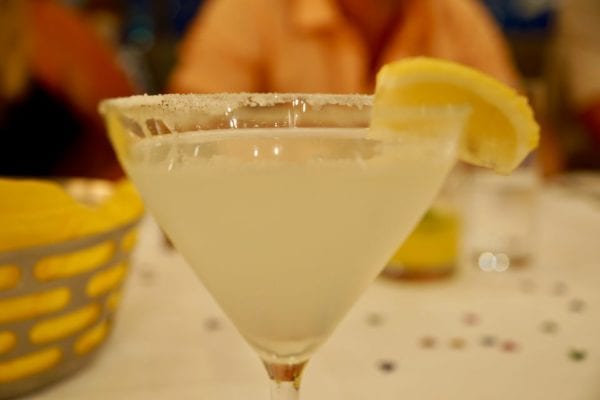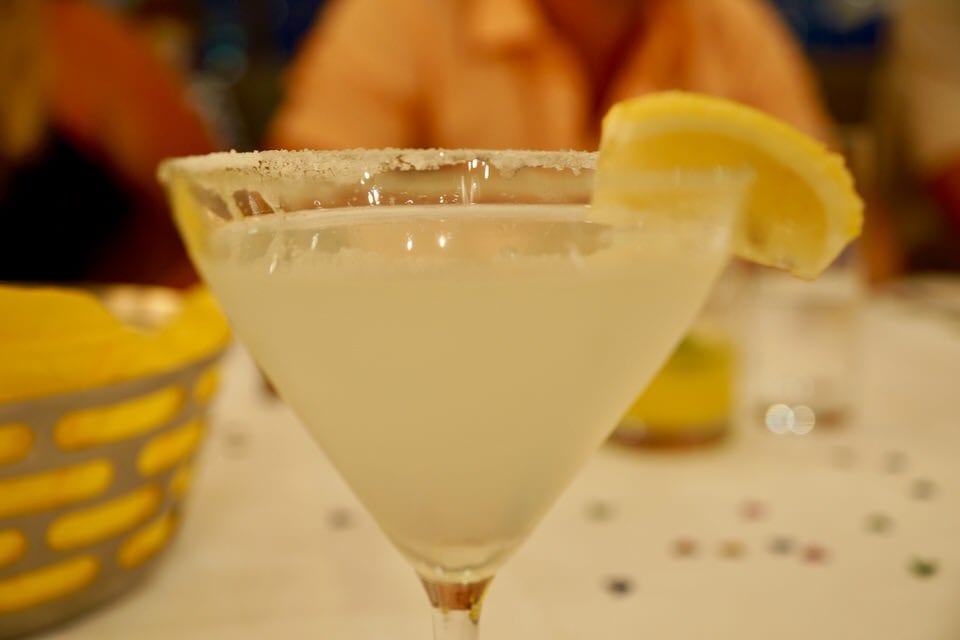 Lastly was the Passion Fruit Margarita which had Patron Silver Tequila, Cointreau Noir and Passion Fruit Puree. This was really really fresh tasting, you could taste the passion fruit from the puree inside. Awesome choice. Another excellent job by our Bartender Ray! 🙂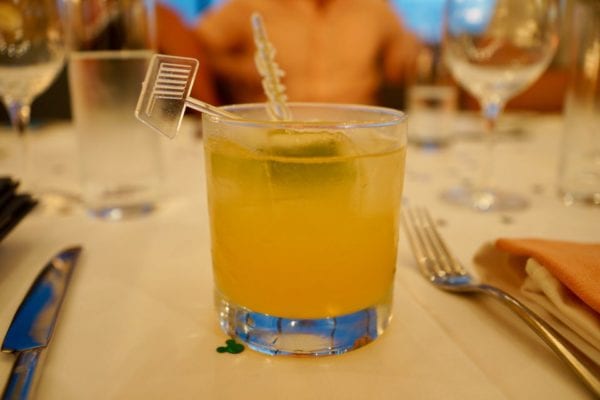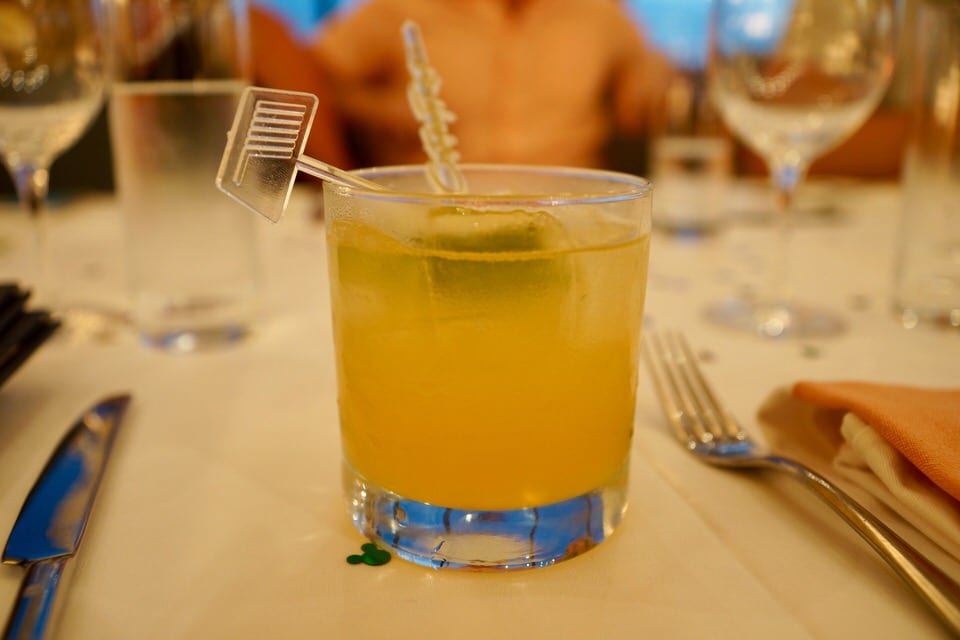 Appetizers, Soup and Salad:
Starting to get hungry and our Bread Basket arrived Whole Grain Sourdough Rolls. These were nice and warm when they arrived so they must have been fresh out of the oven. Nothing over the top, but really quality rolls which were soft inside and crunchy outside. Underneath the rolls and not in the photo are pieces of fresh Focaccia. Almost as good as what you find in Italy, these are little fluffy pieces of heaven!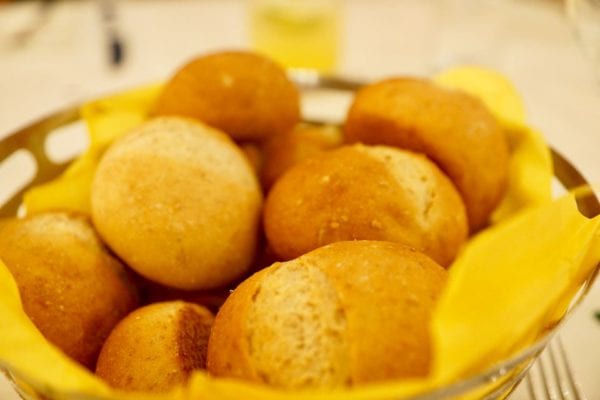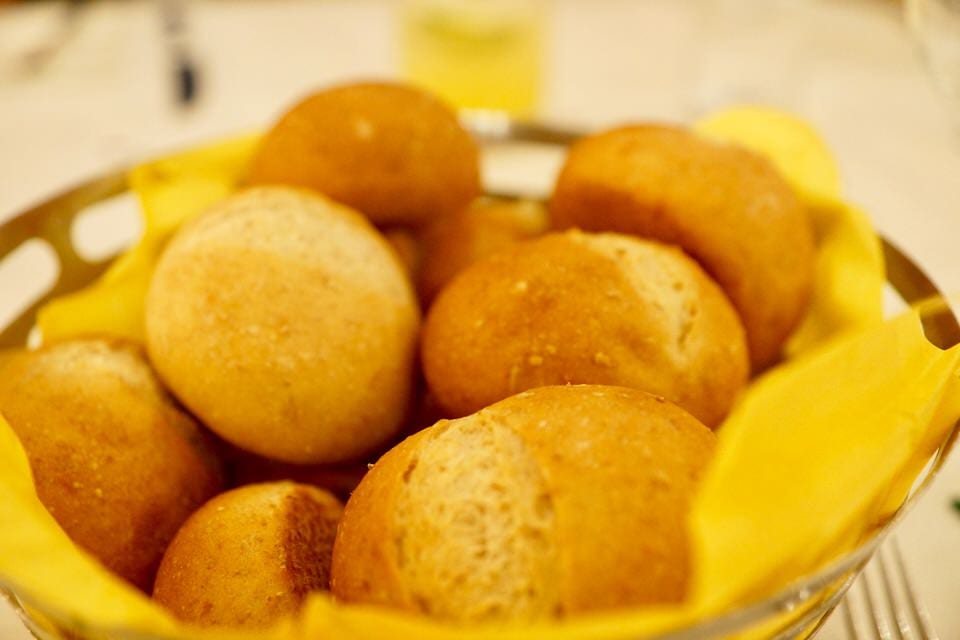 The Butter was also very good and was covered in fresh sea salt: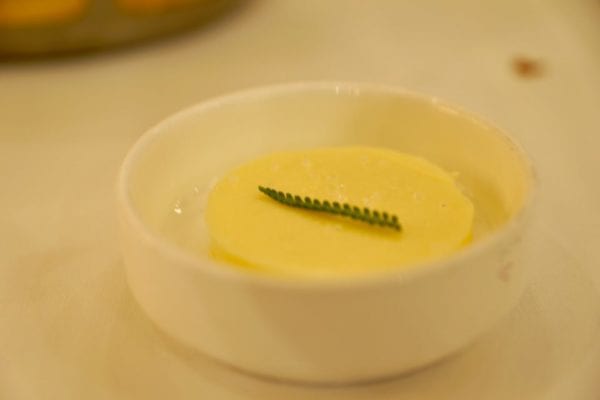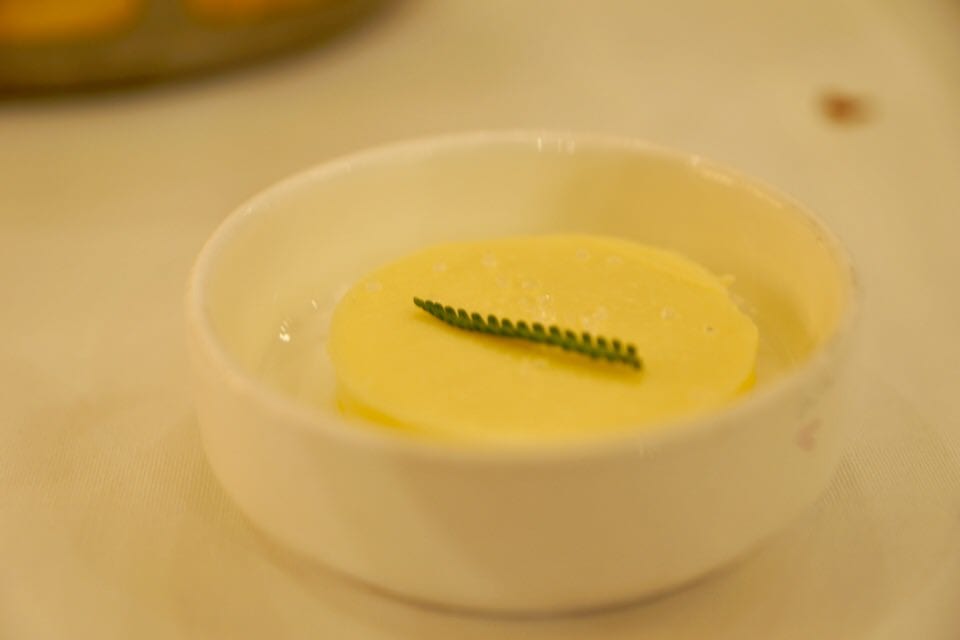 Our first appetizer was the Artisan Romaine Salad ($16) with roasted garlic dressing, boquerones, roasted tomatoes, rocaccia croutons and parmigiano-reggiano.
$16 is a lot of money for a salad, but this was a darn good salad! It is a decent sized portion and everything about it was good, the tomatoes, the dressing, and those croutons….wow! I'm a HUGE fan of Parmigiano-Reggiano cheese and fortunately living in Italy a good portion of the year I have easy access to it, this was authentic and delicious. They also kindly sprinkled some balsamic around the edges which balanced all the flavors. There are also anchovies in there even though the menu doesn't say so, so if you don't like them ask for it without. If you are a big salad fan you will love this!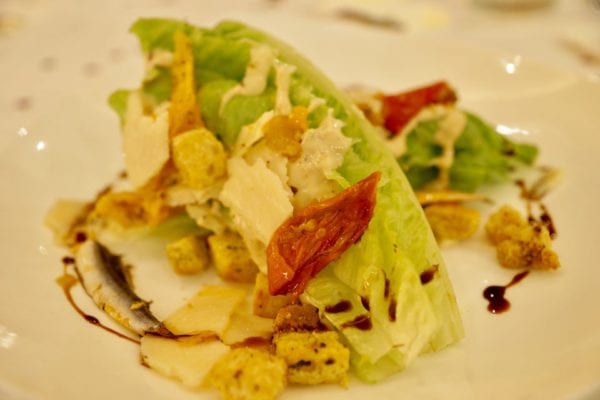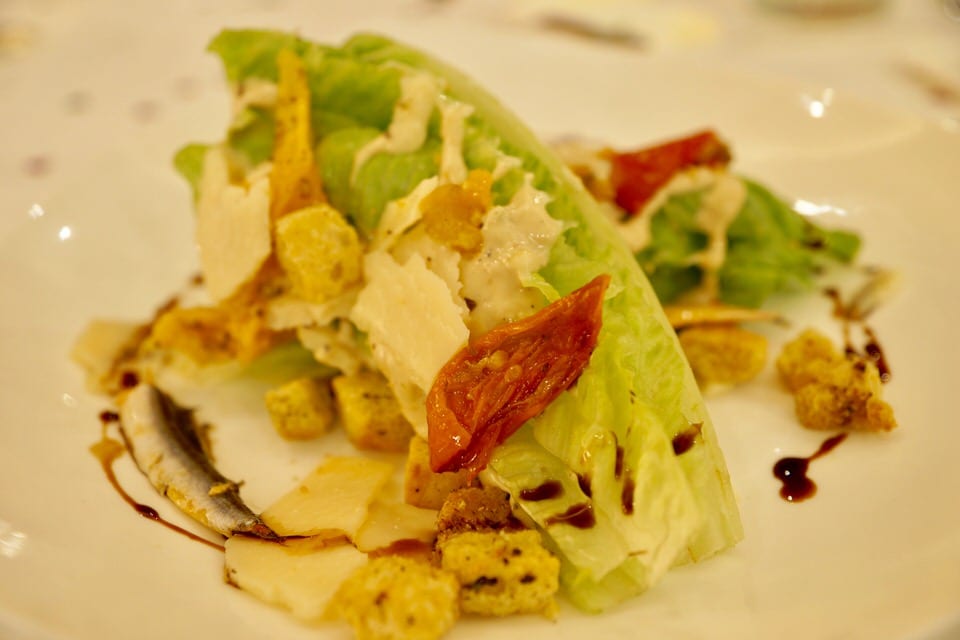 For a soup we tried the Creamy Potato Gruyere Bisque ($16) – with a multi-grain Maine "Lobster Roll" Crostini and Harissa Oil.
I guess the California Grill loves the price $16, and normally I would say that's too much for a soup too, with many of my other favorite Disney soups costing $11-12, but this was really awesome too. The crostini is amazing and comes with nice chunks of lobster on top. The soup itself is super creamy and rich. One of the better soups I've tried here.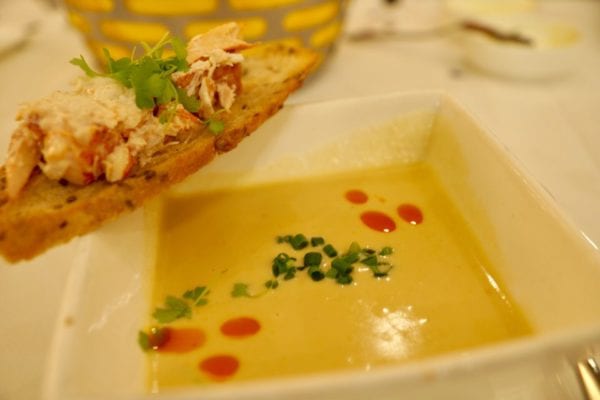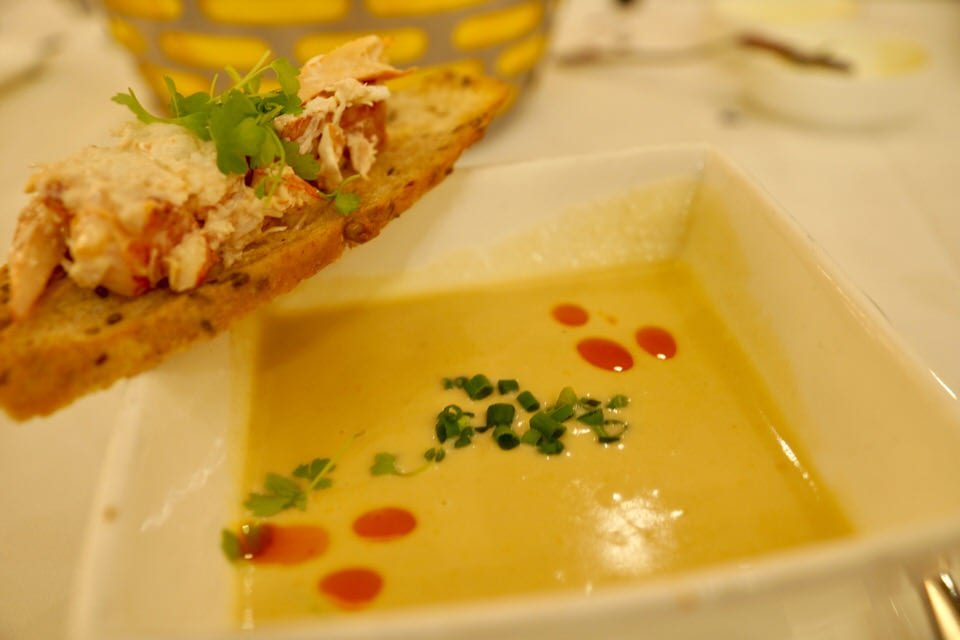 California Grill always has great flatbreads and this time was no exception. We got the Rotisserie Chicken Flatbread ($16, at this point I'm hoping the steak is $16 too) – with tomato and corn salsa, pepper jack cheese, queso fresco and spicy crema.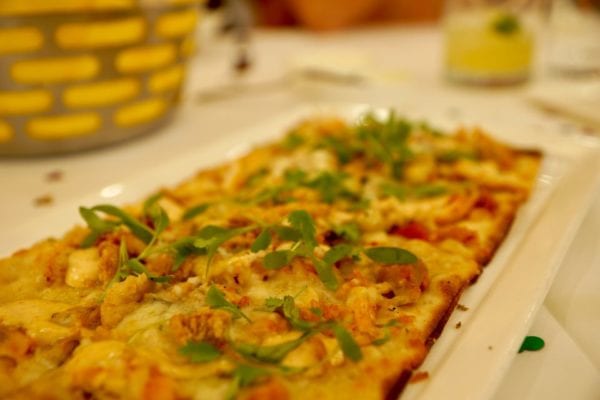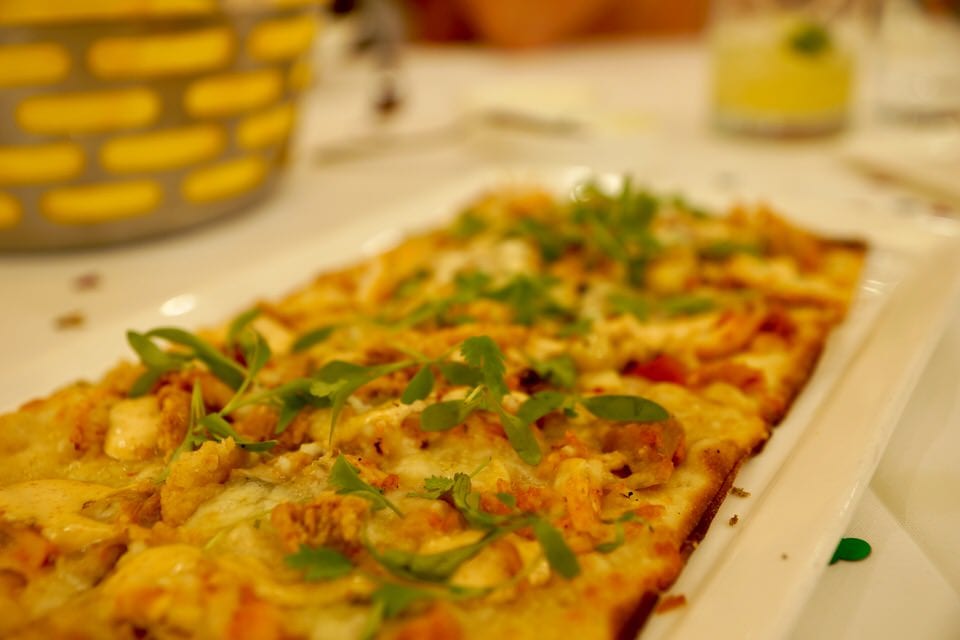 Not my overall favorite flatbread at California Grill but really good. I love the chicken and pepper jack and queso combo, they blended nicely. It was a little spicy but not so much so that it hid the flavors of the cheese. You never go wrong with one of the flatbreads!
This next one is one of my favorite all-time California Grill items and something that never goes off the menu: Sonoma Goat Cheese Ravioli ($15) – tomato-fennel broth, crispy mushrooms, tiny basil, arbequina organic olive oil: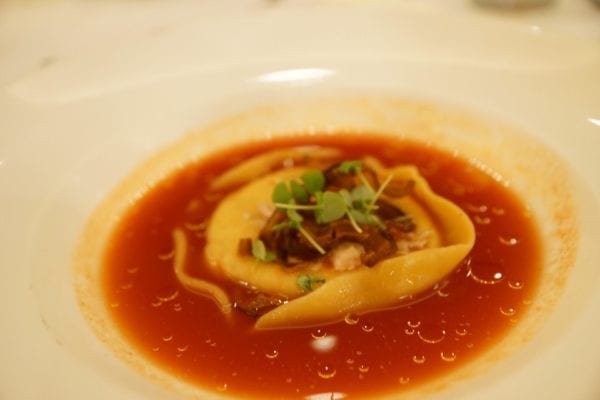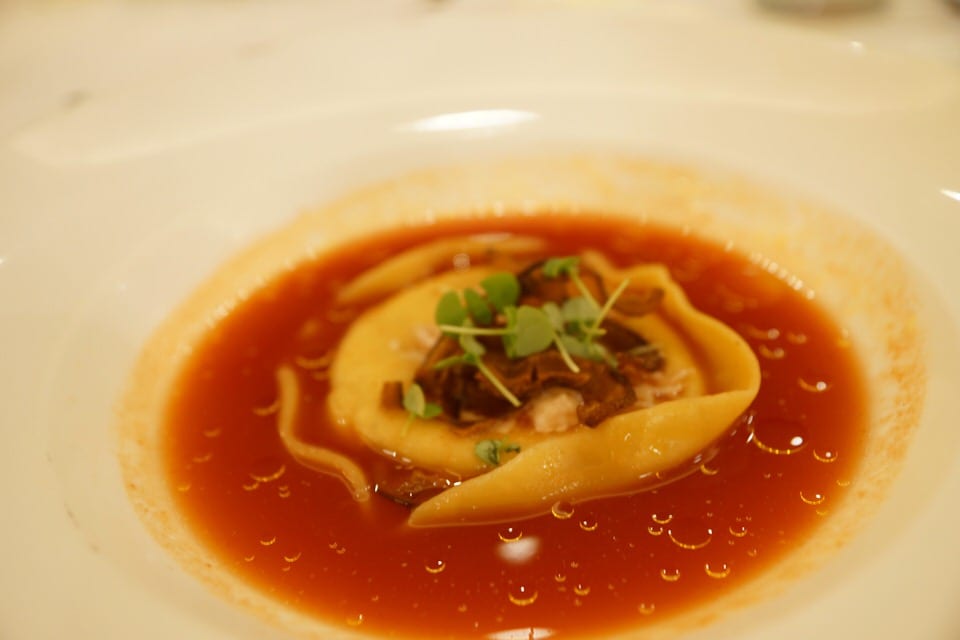 This is sooooo good! It doesn't seem like it in the picture but trust me, the Ravioli itself is huge! When you bite into it you immediately taste the goat cheese which is a bit sweet and rich, super creamy. The mushroom on top is a nice garnish. And the broth is really delicious, strong tomato flavor. An absolute must try if you haven't already.
For my next appetizer I wasn't really sure how it would taste. I wanted to try something new that I haven't had before and I reluctantly ordered the Artisan Tacos ($17) – adobo fish or braised pork ( I got the fish), house made cilantro-corn tortillas, chipotle crema and pico de gallo. Wow was I wrong to doubt these babies: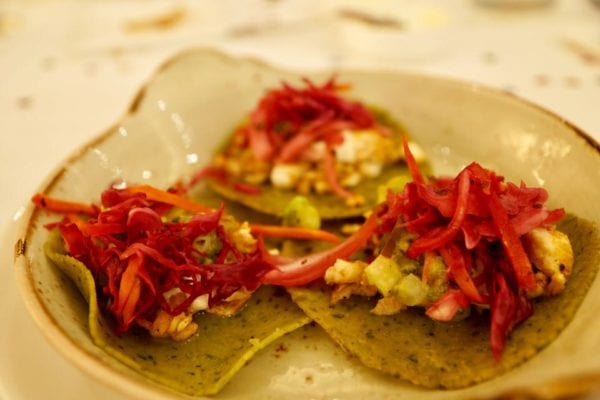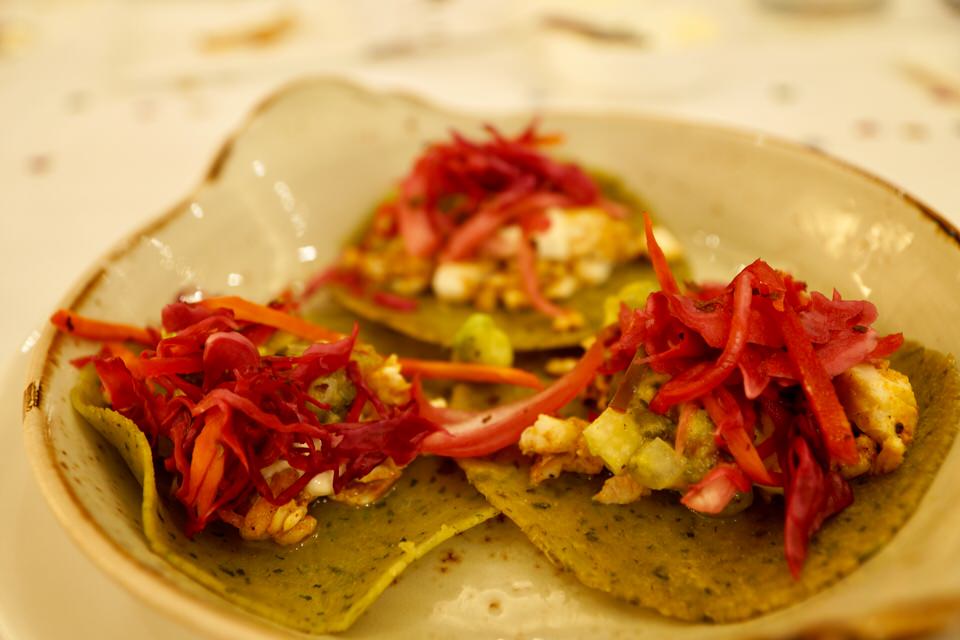 They were one of the highlights of the whole night. So fresh and full of flavor. The shells were really unique and you could taste the cilantro in them, definitely made my hand right there. I'm not a big avocado fan, which I'm pretty sure was in the crema, and I don't like cabbage either, but for some reason my taste buds must have totally ignored them or they have miraculously adapted because I lOVED LOVED them! Get these and thank me later!
Sushi:
For many this is the main course at California Grill, it's excellent, and up there with many of the best sushi places you've been to. I know many people come here and just order sushi and eat it for an entree even, of course we wouldn't do that to you…I've got the entrees coming up next!
First Roll was the California Combination Roll ($24) – Jumbo Lump Crab, Avocado, Cucumber, Shrimp Tempura: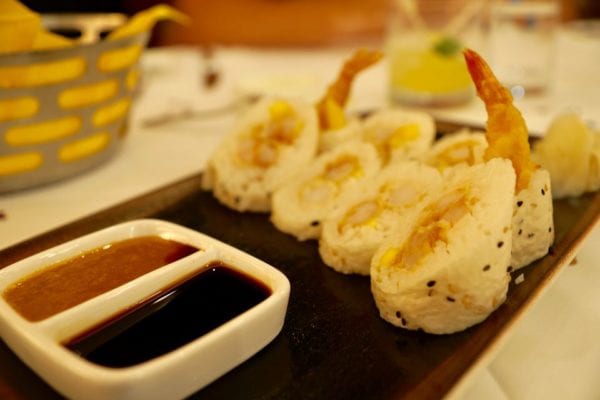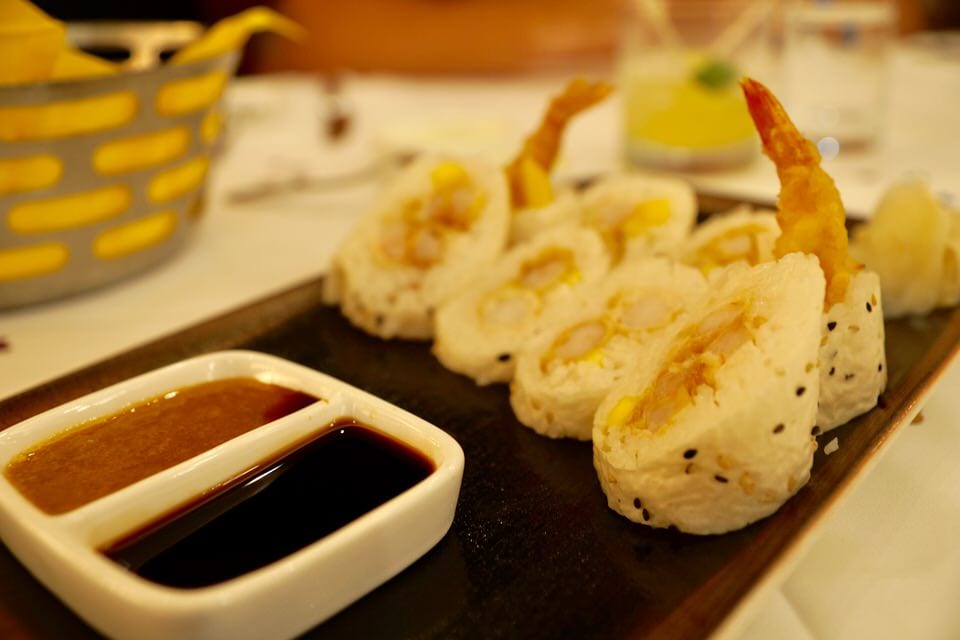 The presentation for all the sushi was incredible. The Combination Roll was a good size, 8 pieces. Some of our group said this was the best sushi roll they've ever had. Loved the mix of the crab and shrimp. Excellent!
Next was perhaps they most beautifully presented of all the sushi, the Dragon Roll ($25) – with spicy and tataki tuna, shrimp tempura, avocado, dragon sauce and hijiki-shirataki salad: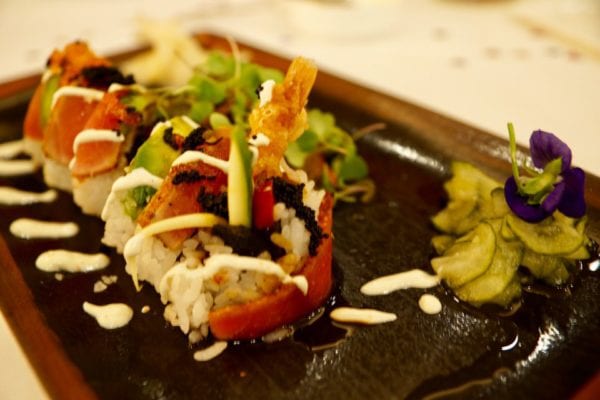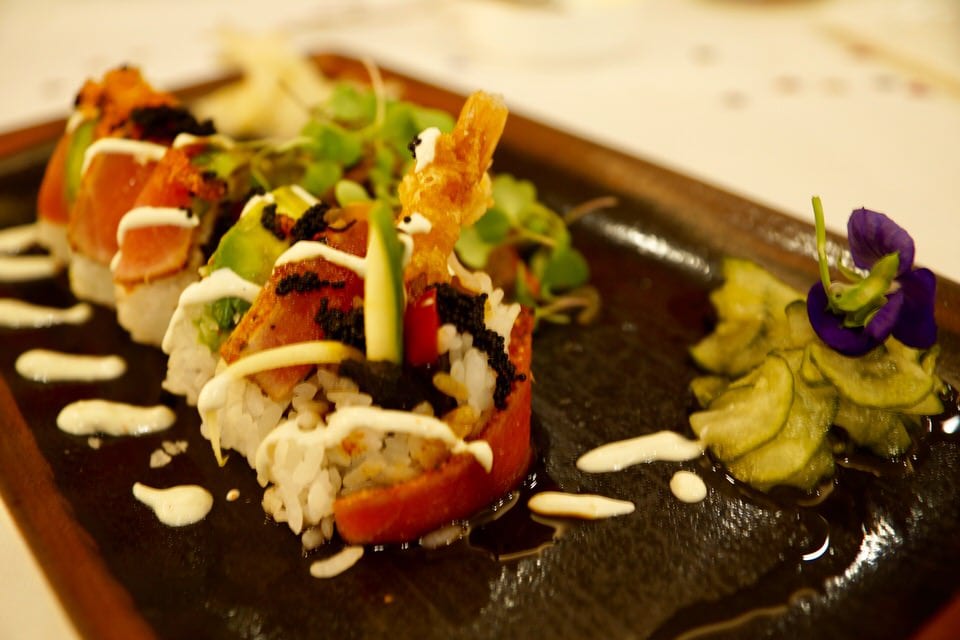 This was awesome and Nick's favorite roll of the night. It was visually stunning, I felt bad eating it. It was really big too and the highest quality of ingredients. All the sauces were great to mix and match.
Last but certainly not least of the sushi rolls was the Spicy Kazan Roll: ($26) – with crab, shrimp, scallops, tuna and fireball sauce.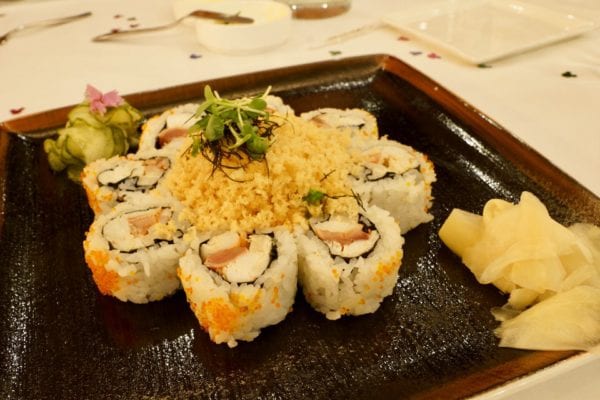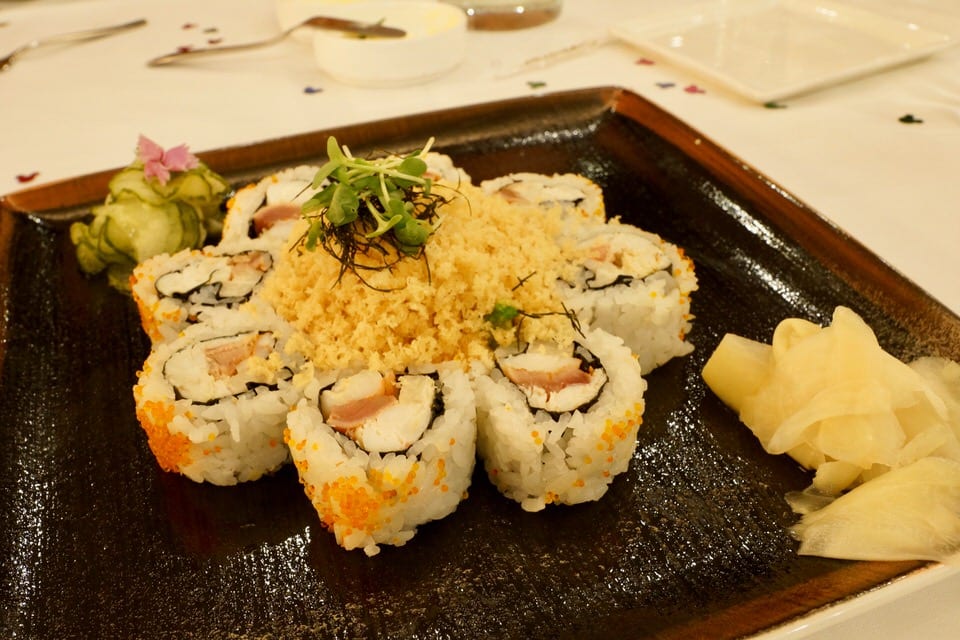 It's name doesn't lie, definitely the spiciest of the rolls. But again just bursting with flavor, I love that there are so many different types of fish in this roll that every bite you're getting a different flavor! Also gigantic.
You really can't go wrong with any of the rolls. Keep going back and trying different ones as each time we are turned on to a new roll we just love!
Entrees:
I told you we'd make it happen for you. I'm starting off right away with my favorite of the night: Oak-fired Filet of Beef ($49) – duck fat cooked marble potatoes, gruyere-harp lager mornay, roasted tomato peperonata, whole roasted garlic and a cabernet wine sauce: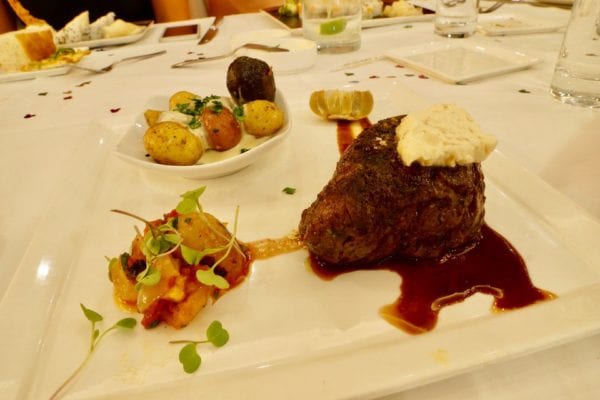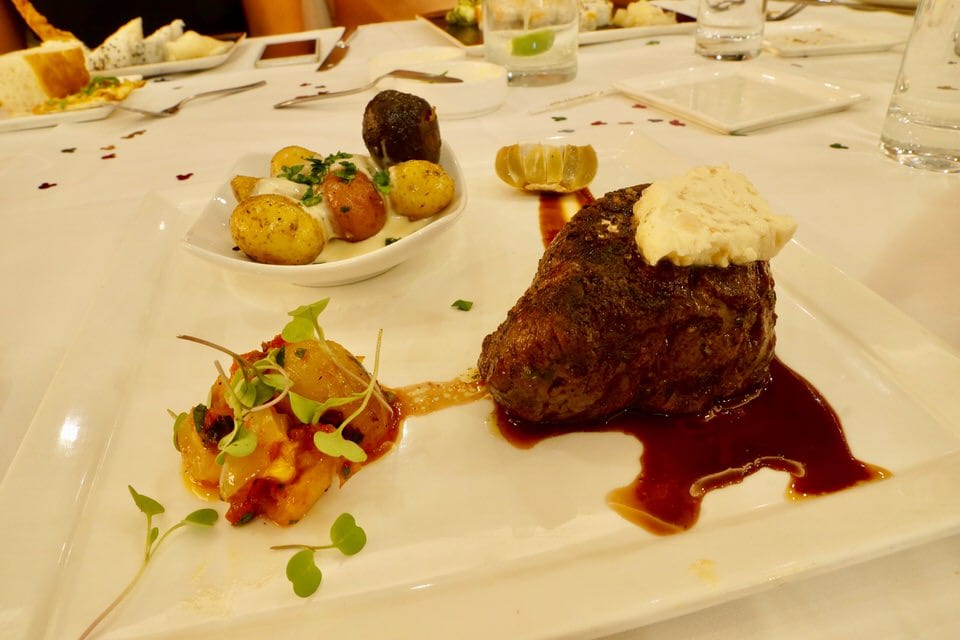 This is an absolute show-stopper! California Grill always makes an amazing steak, and this is the best of them all! It's neck and neck with the Filet with Truffle Butter Sauce at Le Cellier imo. The filet itself literally you could cut with your fork, it's THAT tender. I like the cabernet sauce over it, but this piece of meat is so good you could fall in love with it with only a bit of salt and black pepper.
The potatoes are unreal! Cooked in duck fat (yes you read that right), and then smothered in a cheesy sauce made from gruyere and harp lager, they will make your taste buds sing! A must try for any red meat eater and might even convert some vegetarians imo…
Next up was one that my mom was really looking forward to: Seafood Ramen ($50) – lobster, gulf shrimp, scallops, House-made ramen, crisp vegetables, fragrant broth: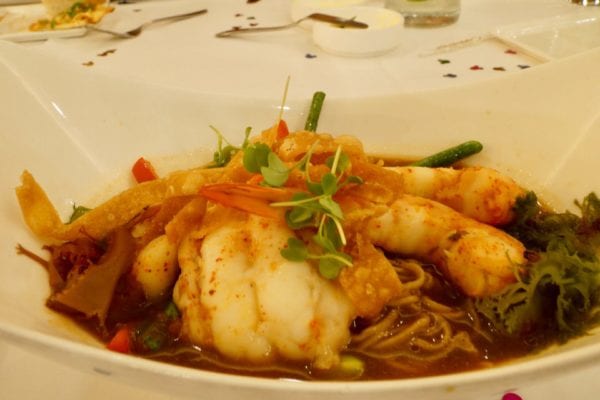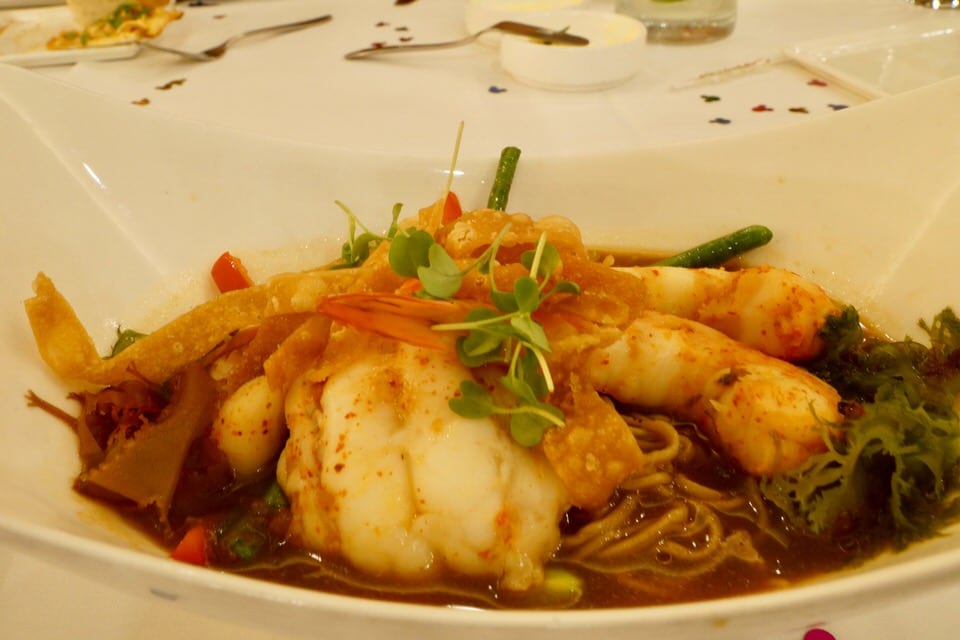 So right away I know what you're thinking: $50 for ramen?? That's what I used to eat when I was in college and broke! Trust me, this is not your typical ramen! It's a HUGE bowl, and there are lots of big pieces of seafood in there including a Lobster Tail, which was succulent. The shrimp were big too and flavorful. The ramen noodles themselves are really yummy and made in-house. Very filling!
Next up were the Seared Hokkaido Scallops ($48) – brentwood corn, romano beans, duck confit, artichokes and verjus-piquillo emulsion: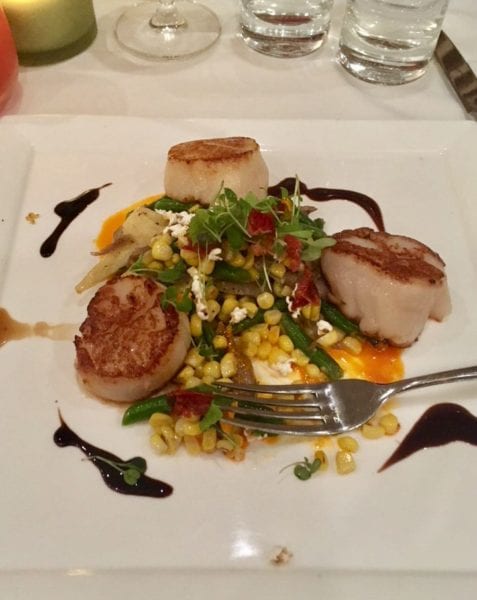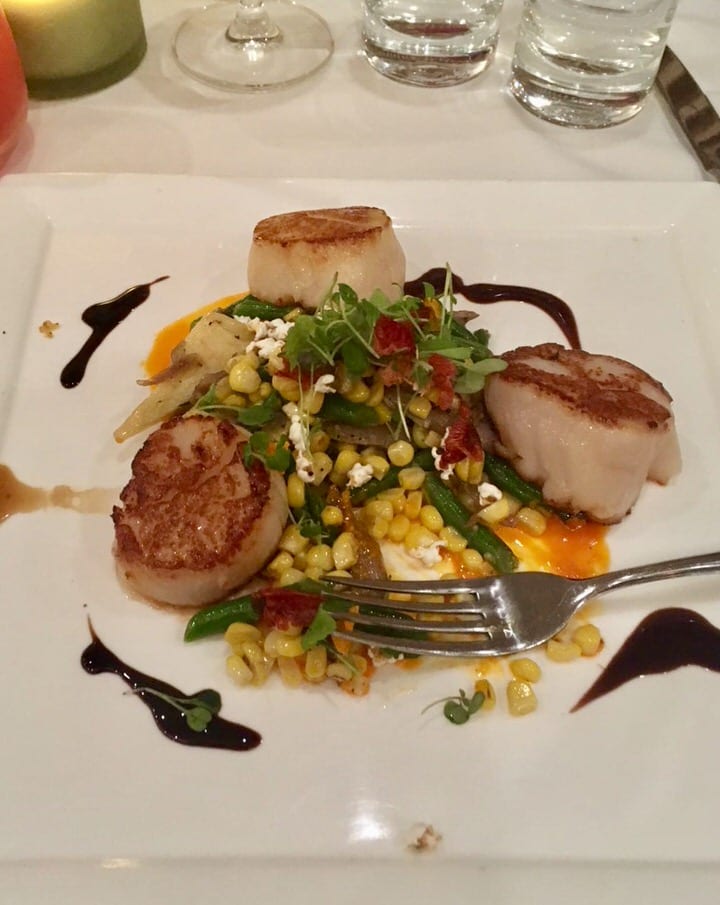 You never have to convince me to eat scallops and these ones were exceptional. Again it may not look like a lot but there were 4 HUGE scallops on this plate and they were so succulent and tender they melted in your mouth! The accompaniments of corn and beans were good but not amazing imo. I prefer when I have them on top of a delicious risotto or even a cheesy polenta even. The duck confit was delicious though and is always a welcome addition to any plate! If you love scallops you won't be disappointed.
Seeing as I'm about as big of a carnivore as you can be, this last entree was something I'd been wanting to try for a really long time… SRF Wagyu Eye of Ribeye ($61) – served with potato mille feuille, toma fondue, chanterelles, pole beans and port wine sauce: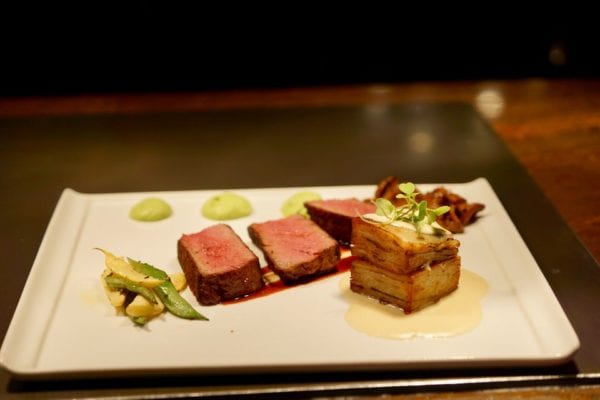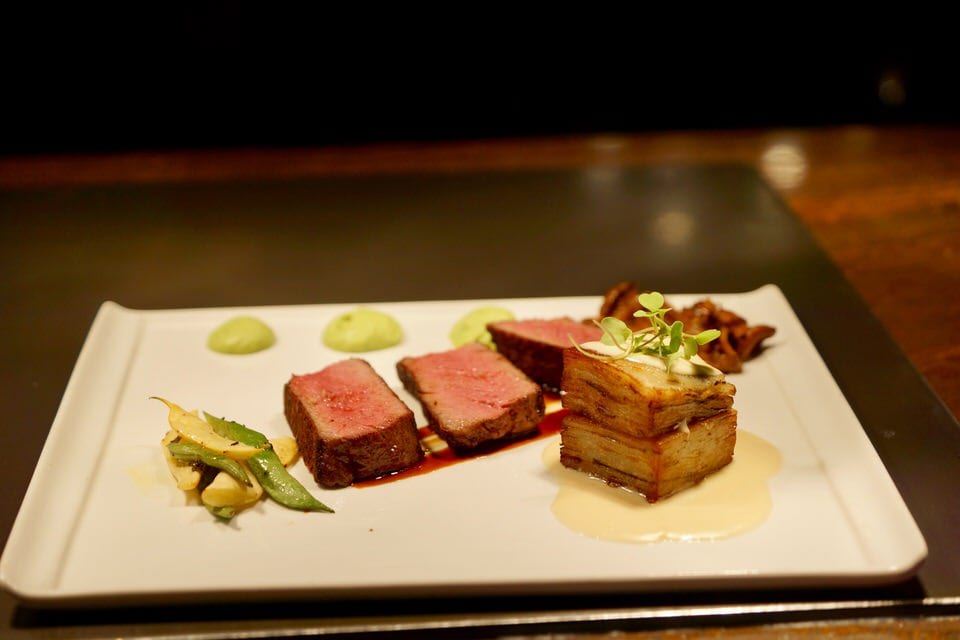 If you aren't familiar with Wagyu Beef, it essentially means: Japanese Cow. What you find is an intensely marbled piece of meat with a distinctive rich and tender flavor compared to other beef. I had never tried Wagyu Beef before so I was so anxious to try it.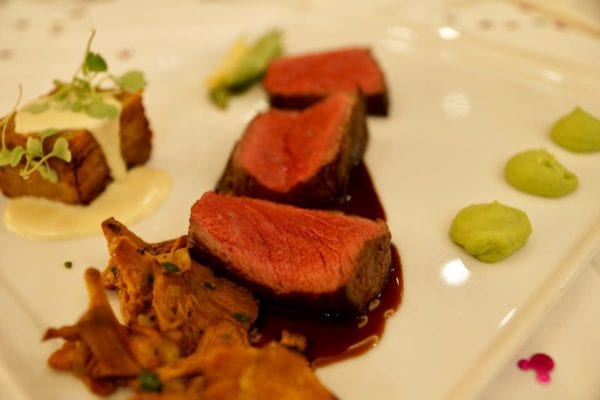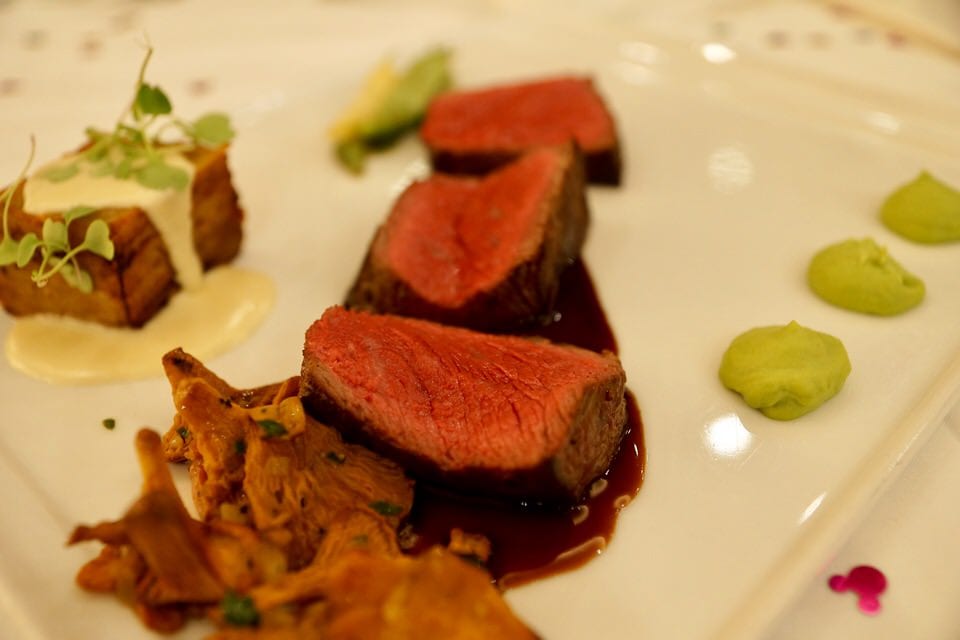 I have to say I was a little disappointed with it. I mean don't get me wrong, it was a wonderful piece of meat, but I didn't find the price/value ratio to be worth it to me. It was cooked exactly how I like it, medium rare, and it was very tender and flavorful, but the portion was pretty small for the $61 price tag. For me it happened to be enough because as you can see I had already eaten a million other things, but if you don't order as much food as me then you might not leave the California Grill full ordering this. I think it could have had a bit more marbling and flavor though honestly.
If forced to choose I would pick the Filet as it's less expensive, more filling ans imo just as flavorful and maybe even more tender than the Wagyu Beef.
The millie feuille was great though, very soft and the chesse fondue over the top of them was really good! It's nice as a special event kinda thing but I don't see myself ordering it very often.
Desserts:
One thing the California Grill does like most Disney World Restaurants, is they know how to celebrate special events! We just happened to be there celebrating my parents 40th Wedding Anniversary and were treated to this special Chocolate and Vanilla Cupcake…so tasty!!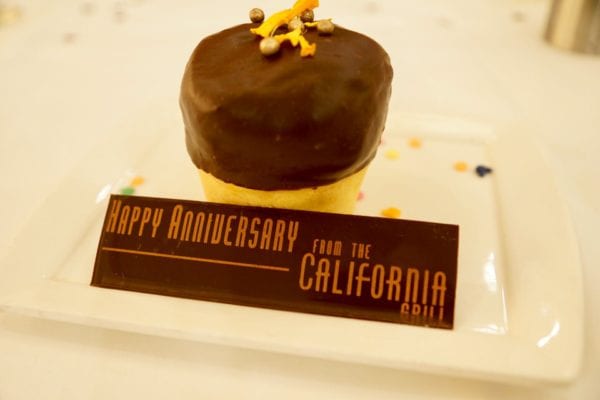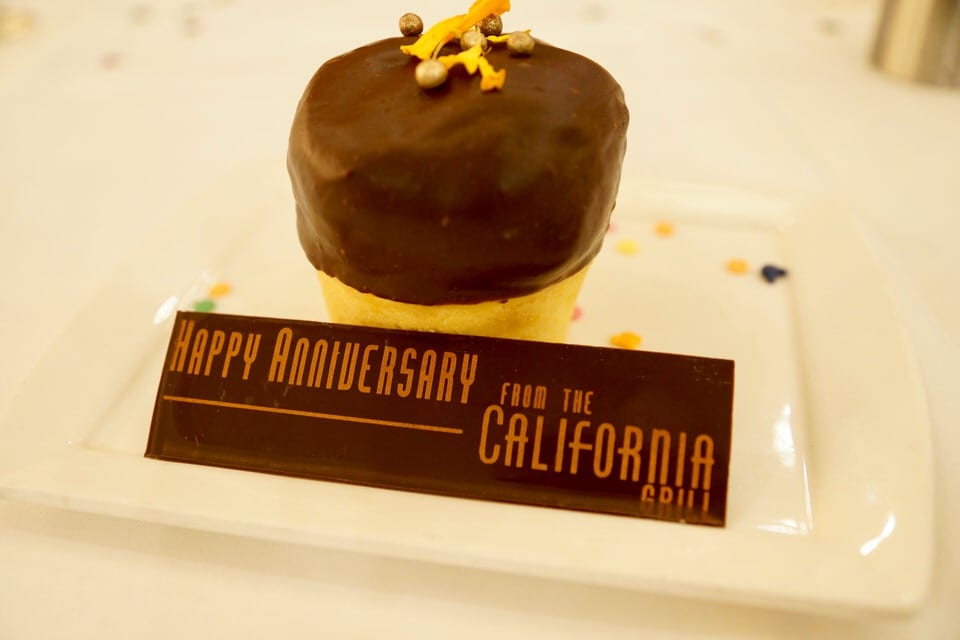 Or you might find they will bring you out some Chocolate Covered Strawberries which they did for our friends Nick and Holly who were celebrating their Honeymoon! Hardly any space was wasted with these guys as they were covered up to their necks in chocolate! Very juicy and flavorful!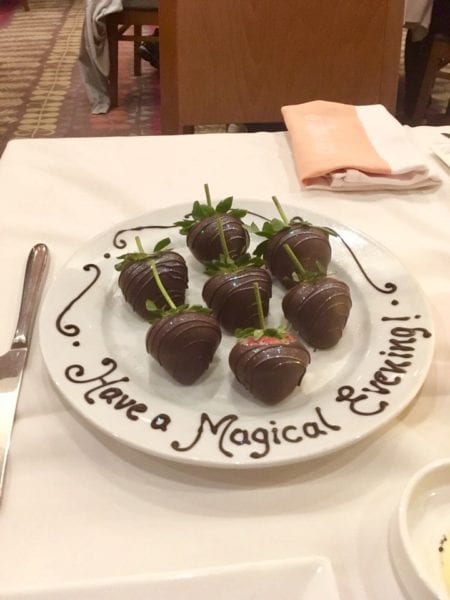 We also ordered some of the normal desserts you can find on the menu, including Warm Homemade Fritters ($13) – apple-stuffed, Cinnamon-dusted Fritters complemented with a Trio of Dipping Sauces: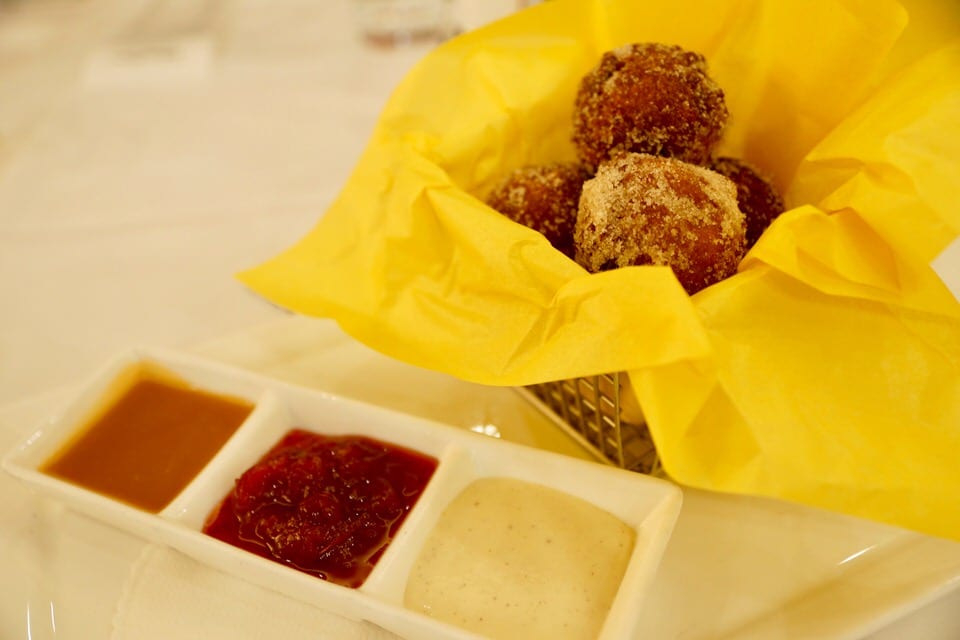 The fritters were stuffed with apple which made the cinnamon sugary outside taste even better. They were warm as well, fresh out of the fryer! Loved each of the sauces too which gave each bite a distinctly different flavor. Would order again no problem!
If your looking for something on the lighter side you can order a Lemon Sorbet, like this one garnished with blueberries. Very lemony and just the right thing to help cleanse your palate. I'm pretty positive eating sorbet helps you avoid a food coma, which was just about what I was in after this meal!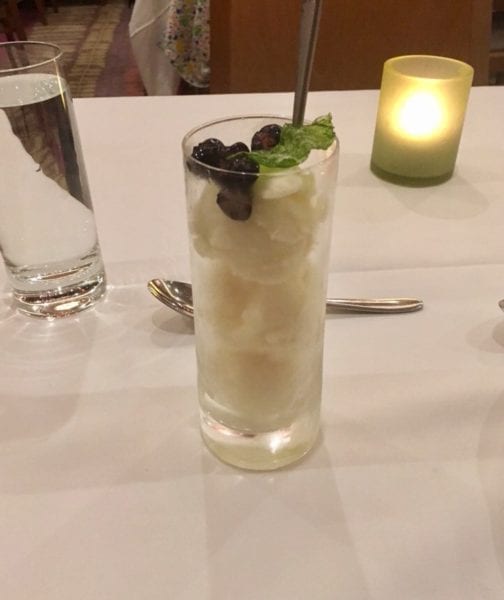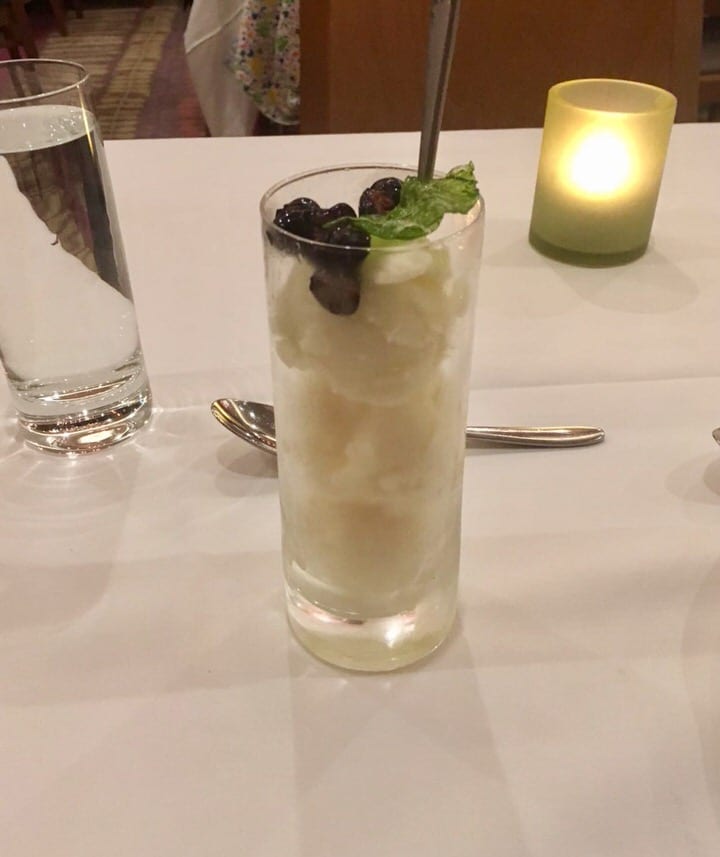 Next was the Banana Buzz ($13) – with butterscotch custard, banana cream, coffee-dusted phyllo, fresh bananas, and a fried plantain chip: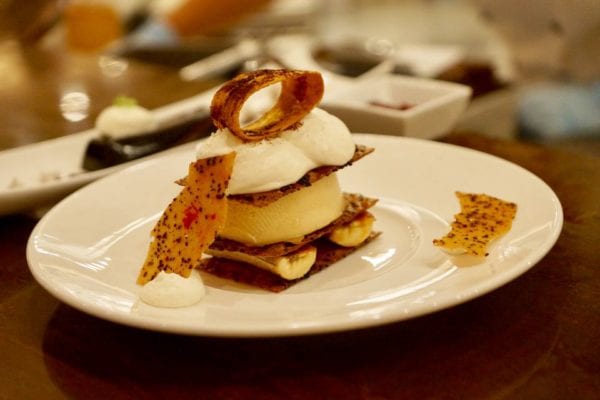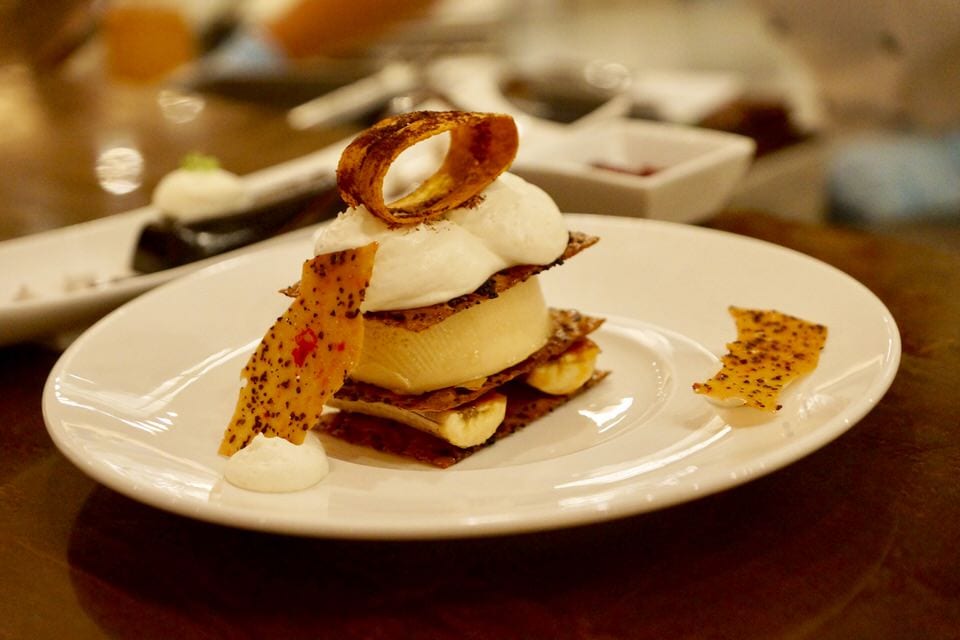 I'm not the best judge of this one as I hate banana anything, but Nick was loving it. He said it was really good. Both the butterscotch custard and the banana cream especially were delicious. If you like banana then go for it!
Next was my most anticipated dessert Honey-Crunch Cake ($13) – layered chiffon, honey mascarpone mousse, honey whipped cream, honey crunch, bing cherries, and artisan honey ice cream: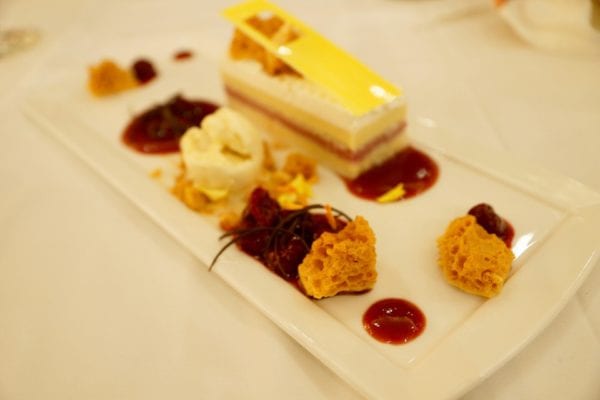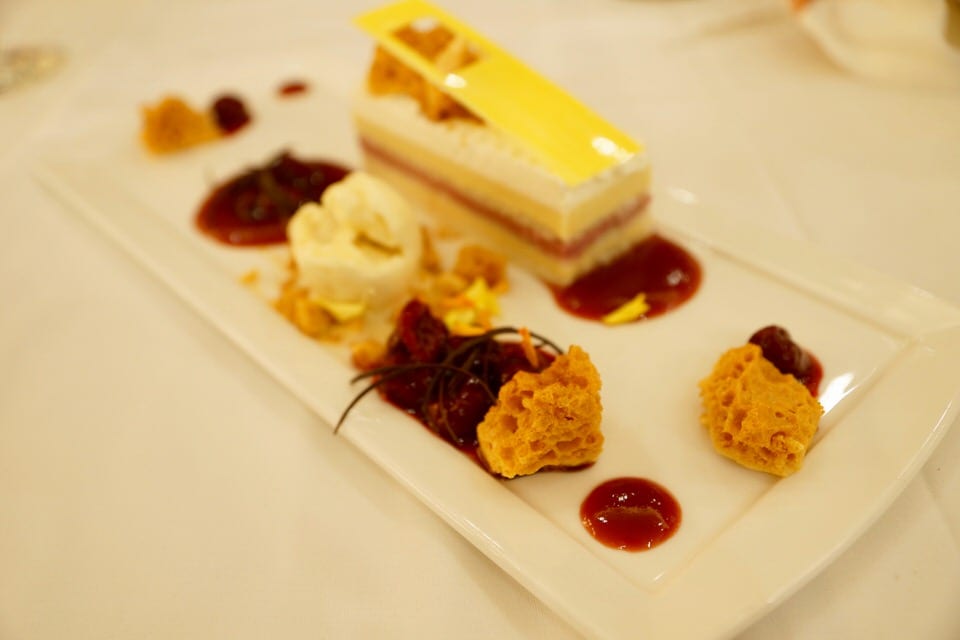 I wanted to love this thing I really did. Just looking at it is visually appealing, but eating it ruined everything. I was so excited about the cherries, I LOVE cherries, I would even put them on my pizza if it were an option, but these were just bad. Very really bitter and almost had a carbonated/bubbly effect in your mouth. Same with the cake, thought it would be much sweeter, instead no. Just wasn't working for me and would never order this again.
Lastly was the Smore's Creme Brulee ($13) – with marshmallow custard, milk chocolate ganache, caramelized turbinado sugar: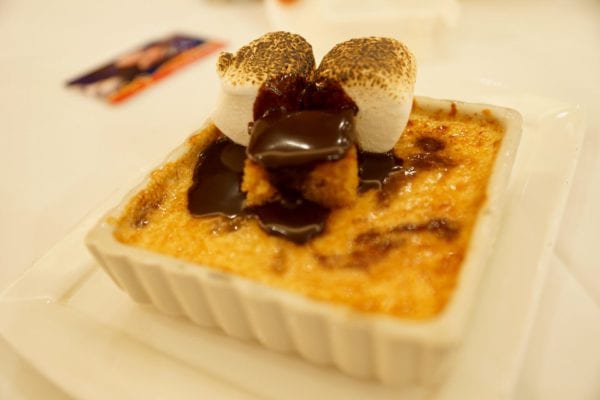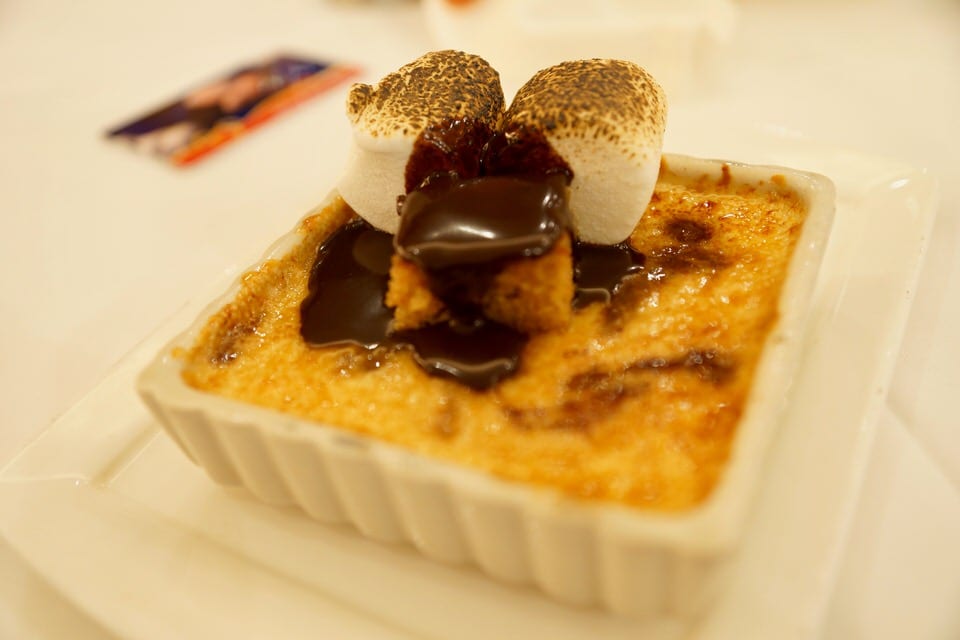 All you have to do is tell me the word "smore's" and I'm in. This was really awesome! It puts a nice spin on a classic creme brulee and combines it with your favorite campfire dessert. The cream was very rich and the chocolate was super decedent. I wouldn't have complained about a couple more marshmallows thrown on top, but overall it was probably the best dessert of the night.
Service:
One last thing I have to comment on was the service. After visiting California Grill many times we've had one amazing experience after another, and I don't just mean the food but also the service, they always make you feel super special. Well this time was not like that, the service was beyond terrible, possibly the worst service I've had at Disney period.
It all had to do with our waiter, who was awful. As I looked around the restaurant, most of the staff was laughing with guests, having a great time, being super helpful, not our guy. He didn't want to explain the menu to us, any question we asked he was irritated, and was just downright rude. Then at the end of the night he asked who wanted dessert, but since we had a big table half of us didn't hear him, he went and did the check without asking the rest, even though we actually wanted dessert. He got so made when we told him we wanted dessert. Not to mention the nightmare of separating the checks between the different parities in our group, which at every other restaurant was never a problem.
Maybe the guy was just having a bad day or something, but if not I would be shocked to understand how an establishment as esteemed as California Grill would continue to employee someone like that. Afterwards we explained everything to the manager, who was very apologetic, for everything, but it did take away from what was otherwise a wonderful dining experience.
This was probably an aberration as I've never been disappointed with the service before at California Grill, I hope the situation will be resolved the next time we go.
Summary:
California Grill is an amazing place, worthy of the high praise it receives among the Disney community. Besides our problem this time with the service, everything was as wonderful as always. The atmosphere is truly magical. It's so amazing going out onto the private balcony and enjoying a sunset or fireworks show together with your significant other.
The food is of the highest quality you will find in Walt Disney World and wins both in taste and in presentation. The best items we tried were the Artisan Tacos, Sonoma Goat Cheese Ravioli, the Filet and ALL the Sushi! Besides the Honey Crunch Cake, all the desserts were hits with us as well! You honestly can't go wrong with basically anything you order on the menu.
California Grill is a little on the expensive side (very), but the quality of what you are getting makes it worth it and it's a great place to go if you are celebrating a special event. It remains one of my top 3 restaurants in Walt Disney World and an experience you won't soon forget!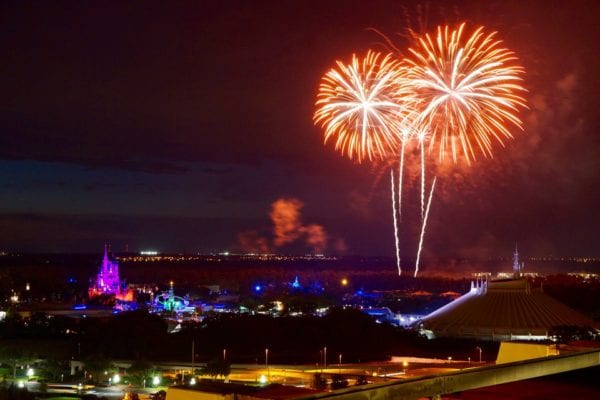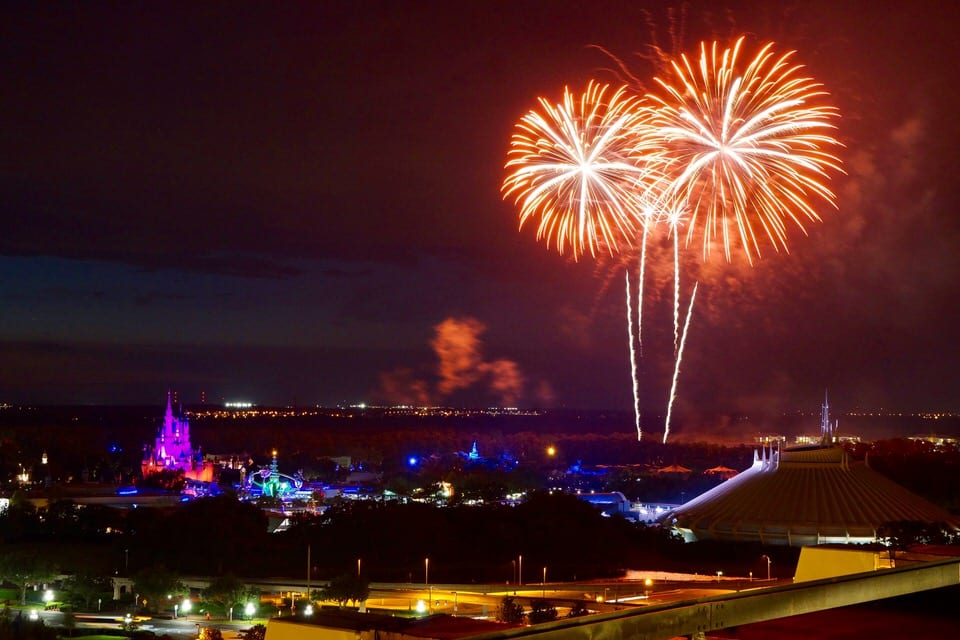 California Grill is a is open for Dinner (5:00pm – 10:00pm Daily), or Sunday Brunch (10:00am – 1:00pm). The Disney Dining Plan is also accepted, it is a 2 Disney Dining Credit Signature Restaurant. Reservations can be made via the Disney World website or by calling (407) WDW-DINE.
Click here for the California Grill Menu.
I love to write Restaurant Reviews of Walt Disney World and I hope you found this one to be informative and helpful. If you liked this review then please visit my Disney Dining Reviews Page where I have many other Restaurant Reviews. I'm happy sharing with you what I love doing best…eating! ? I try to bring you the most thorough and unbiased reviews about the food and restaurants at Walt Disney World, so that as you are planning your vacation, you know the "can't be missed" places, and where you shouldn't waste your time. Hope you enjoyed this one and will enjoy many others in the future!!
Your Thoughts:
I want to know what you think about my California Grill Full Review and if it's in line with your experiences there. What's your favorite thing at California Grill? Where does it rank among the list of Best Steaks in Walt Disney World? Let us know in the comments section below!
If you enjoyed this article, as always I appreciate it if you'd share it with others via social media. I work hard at making this website into a useful resource for you and your family to plan your visit to Walt Disney World, and I hope it can help you! Thanks 🙂