This is a Toy Story Land Construction Update for March 2018. Last month was amazing as we found out Toy Story Land is opening June 30th!! Everyday new details are added to this amazing new land the the Toy Story Land construction zone should get a lot quieter in the coming months as lots of the big work is done and there will be more testing of the attractions. No word yet on a soft opening, but we're hoping there will be something in May for Annual Passholders like Pandora last year. Since you probably can't be there to see it for yourself, we want to share this Toy Story Land construction update with you so you can get a glimpse of all the action!
Lots of new stuff has happened with Toy Story Land since our last update in February. The Slinky Dog Coaster is getting close to being finished, with lots of concentration going into the landscaping around the family friendly coaster. And Woody's Lunch Box is now totally covered with some theming details going on the outside of the building. Thanks to @biorecontruct on Twitter, we were able to get an aerial view of Toy Story Land and see all the construction progress!
Here's the current state of Toy Story Land in Hollywood Studios. This is a nice shot from up above, showing the whole land. On the right you can see the edge of Star Wars: Galaxy's Edge and where Toy Story Land will connect to it. More on that later…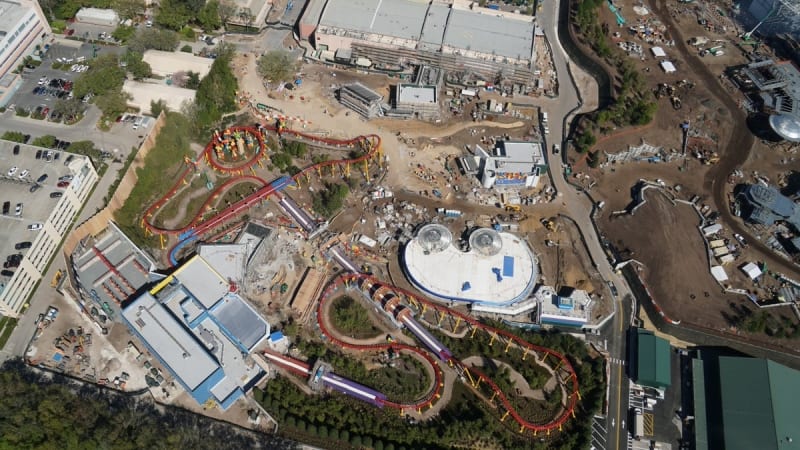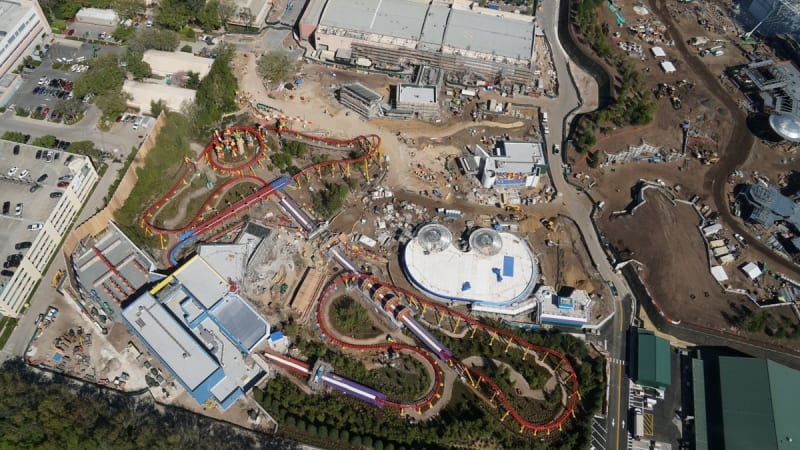 Here we see where the main entrance to Toy Story Land will be once finished. Traffic will go right past the Chinese Theater down to where Pixar Place is now and will make a right into the entrance to Toy Story Land here: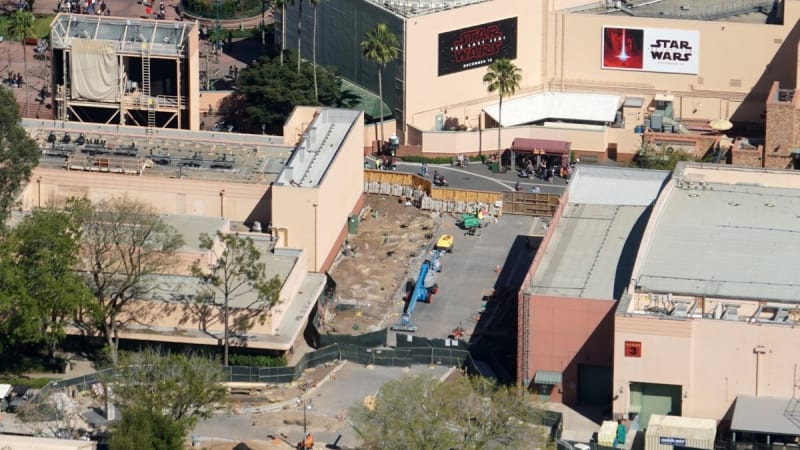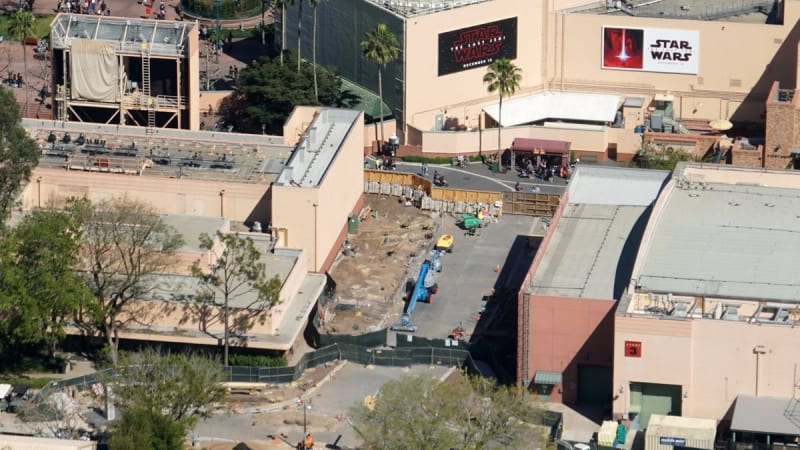 Here's another shot, the building on the right being Toy Story Midway Mania: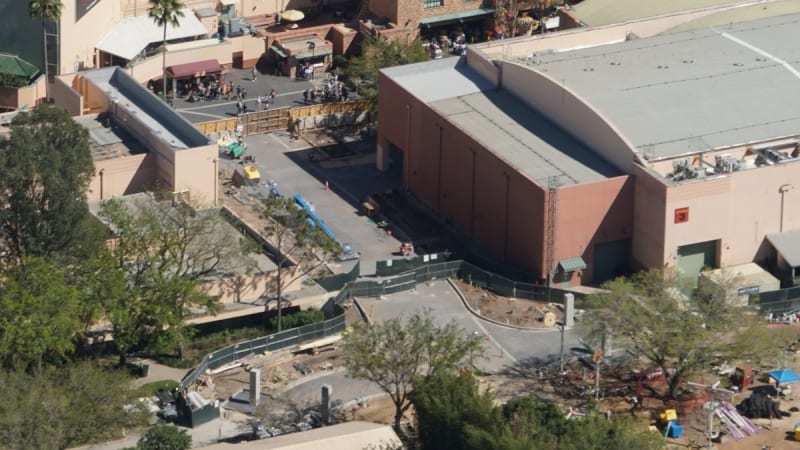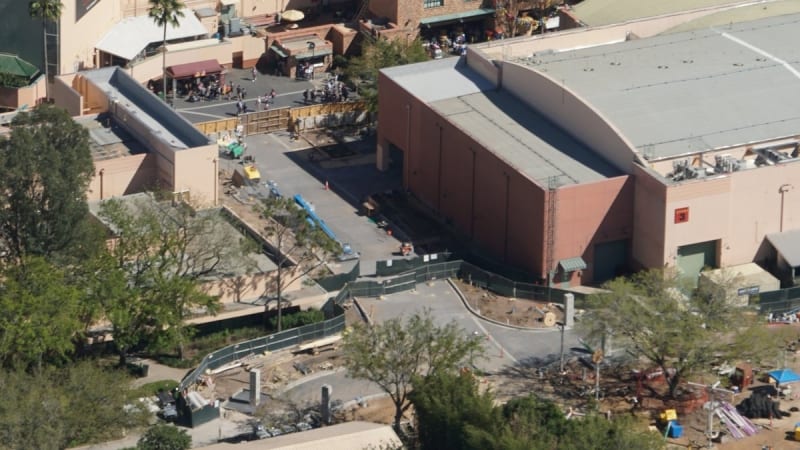 Interestingly, there are also 2 more entrances to Toy Story Land besides the main one. Here the yellow arrow is indicating a second entrance on the opposite side of Toy Story Midway Mania which will wrap around the building coming out by Woody's Lunch Box: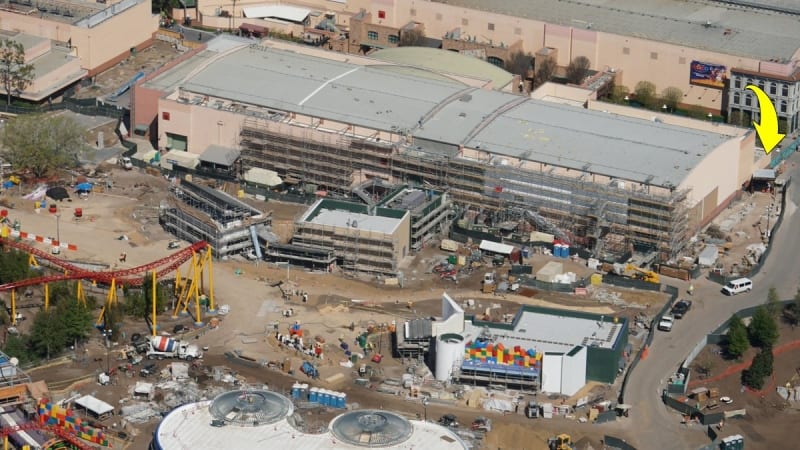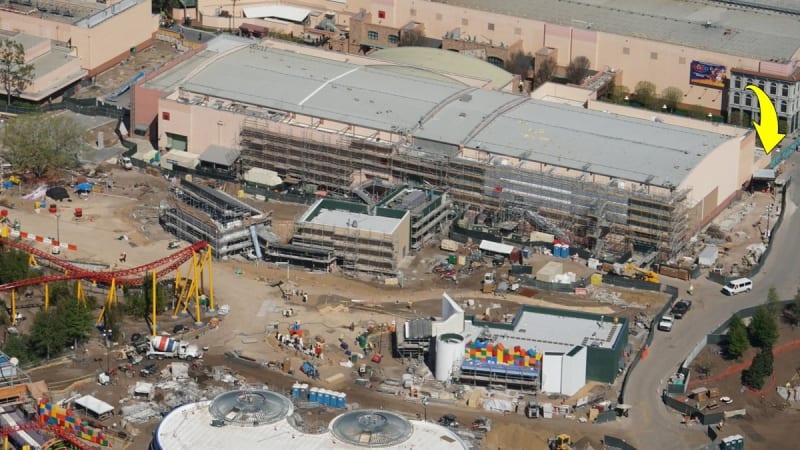 This is a closer up shot of that second entrance: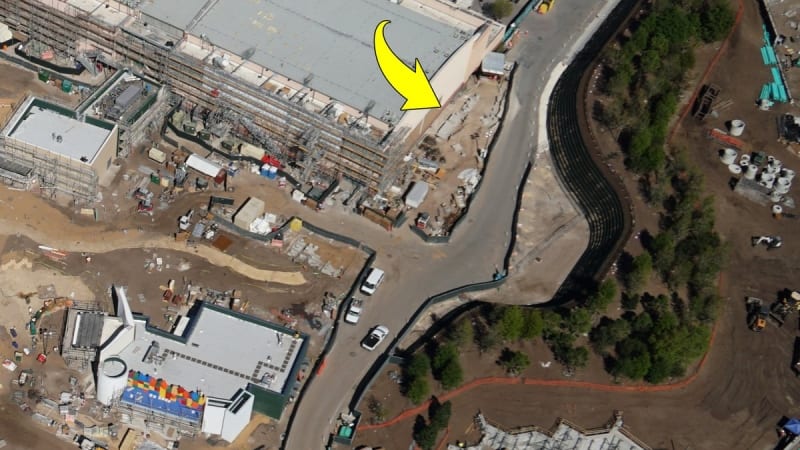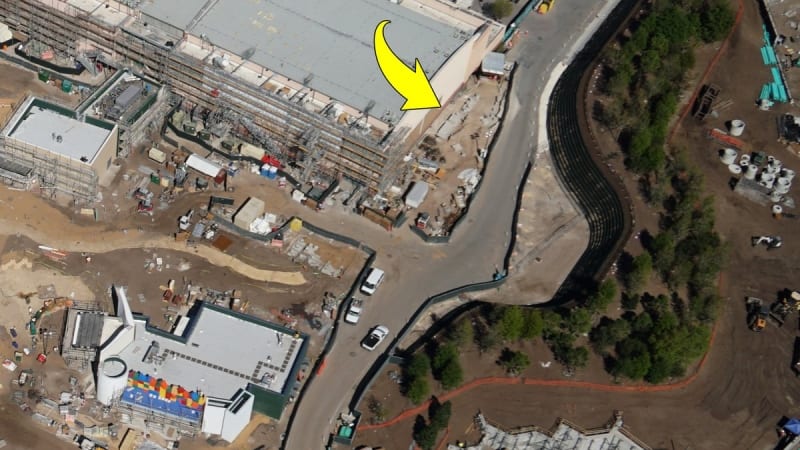 You can see this second entrance running along the side of the building from the Toy Story Land model in Hollywood Studios how it will look when completed: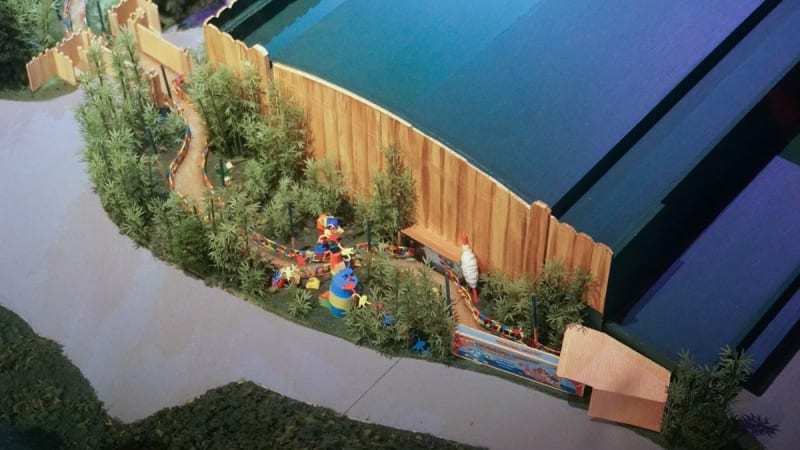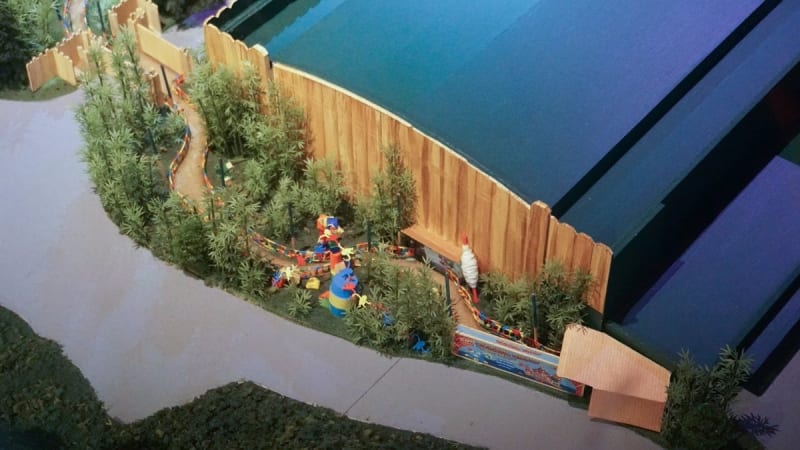 Coming from that entrance it will bring you to this point where Woody's Lunch Box is. This will be the only eatery in Toy Story Land and will be a quick service restaurant highly themed to Toy Story. You can see colorful building blocks starting to rise on the building.
This part of Toy Story Land runs along Star Wars Galaxy's Edge and just above to the right of Woody's Lunch Box where the white truck is passing is where you will eventually find the 3rd entrance which will connect Galaxy's Edge and Toy Story Land. Expect big rocked walls leading you into Galaxy's Edge: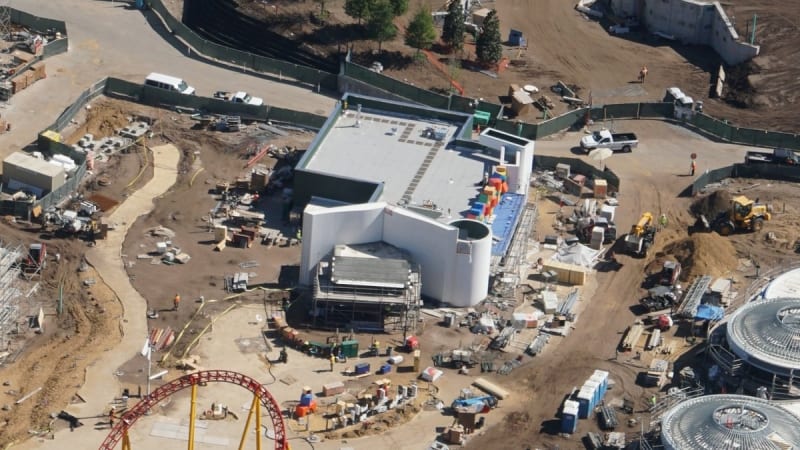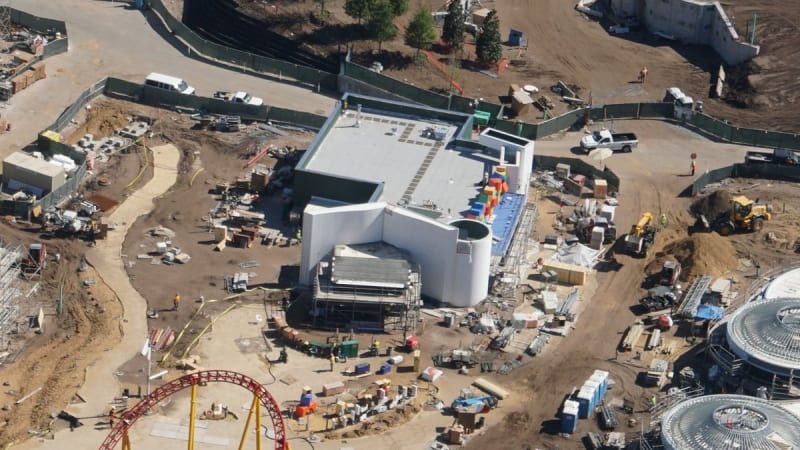 Marked by the arrow you get a higher view of that entrance: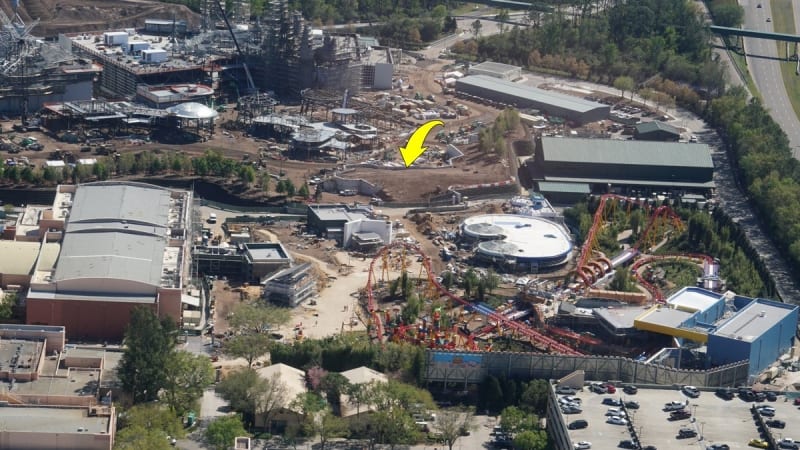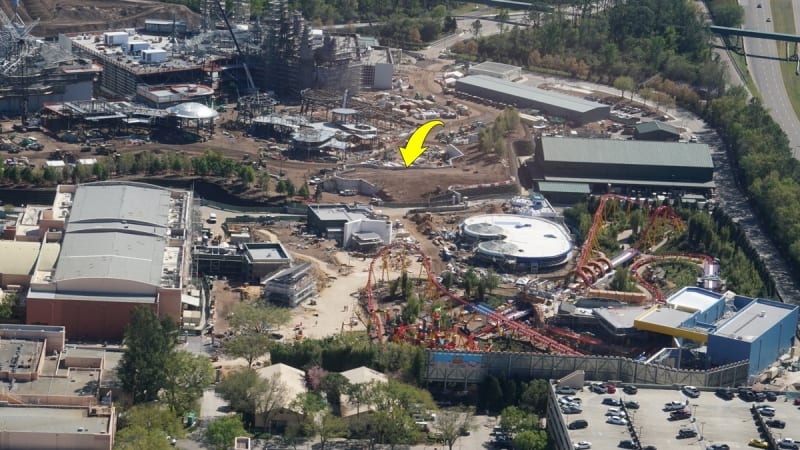 Moving on to the attractions you can see that Alien Swirling Saucers is totally covered but lots of work still needs to be done to the building exterior and interior: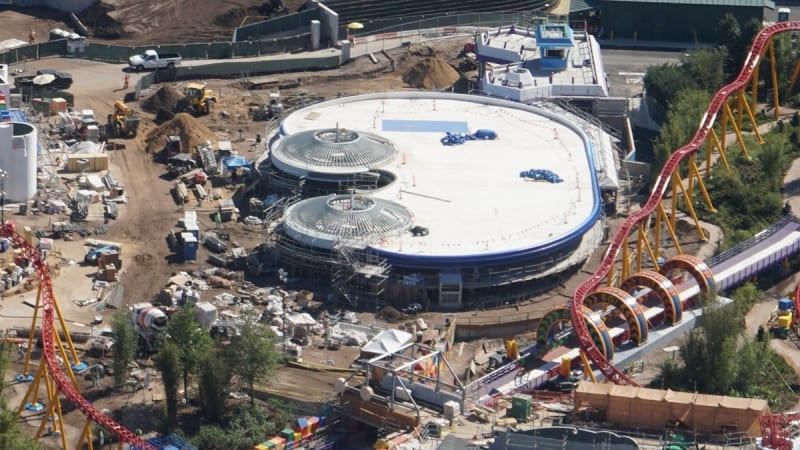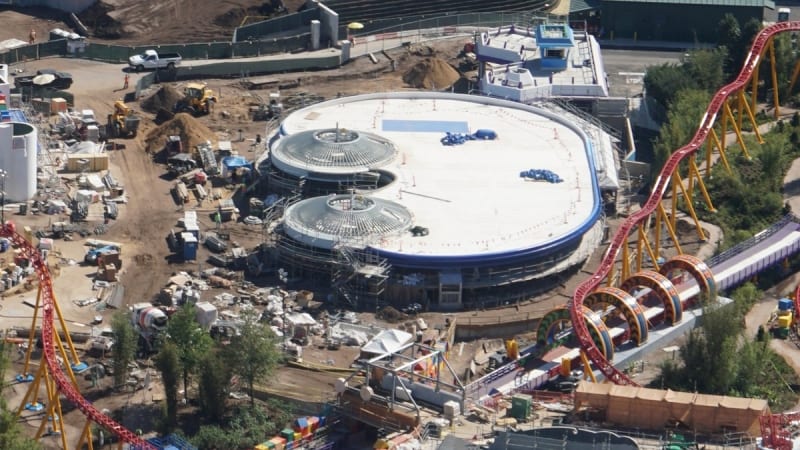 The building on the left will be the Alien Swirling Saucers queue as well as the piece of land in front of that building: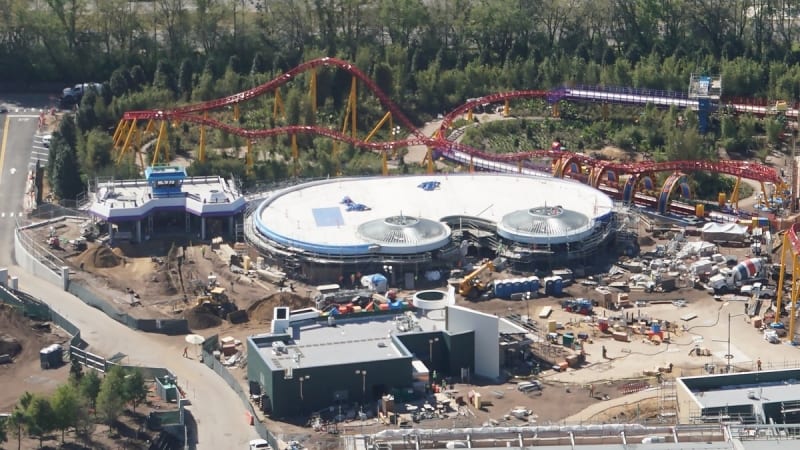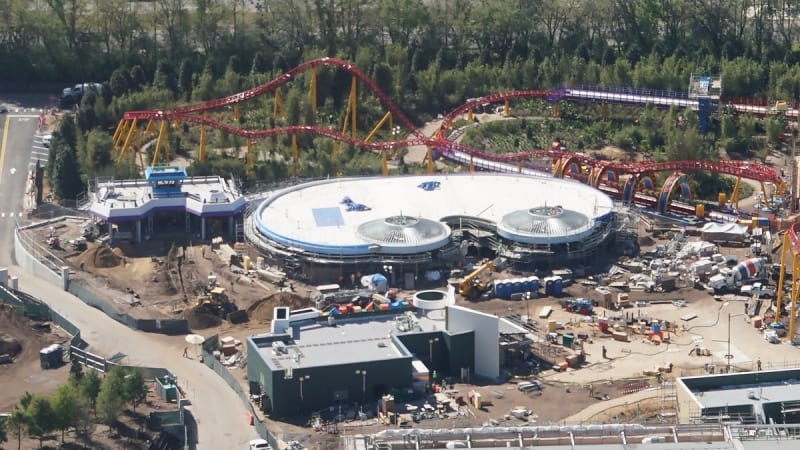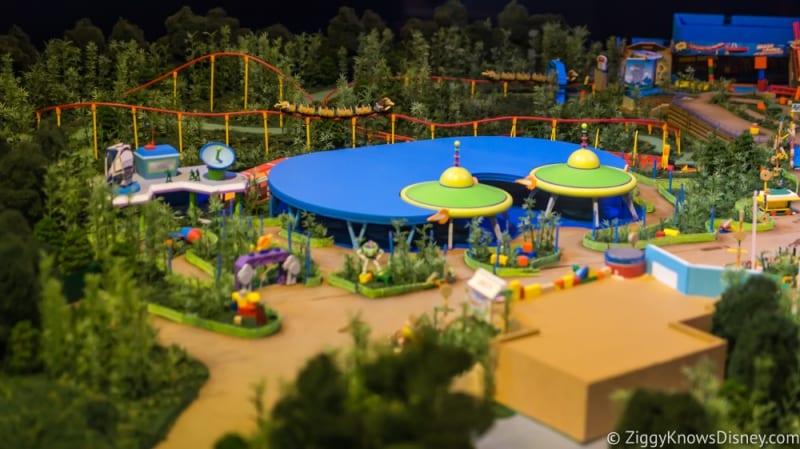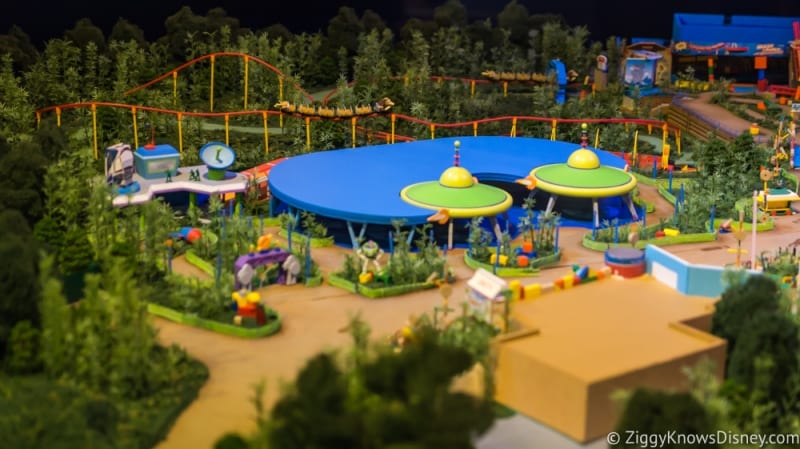 Next to Alien Swirling Saucers you can see the Slinky Dog Coaster. Notice even more landscaping going in and around the attraction: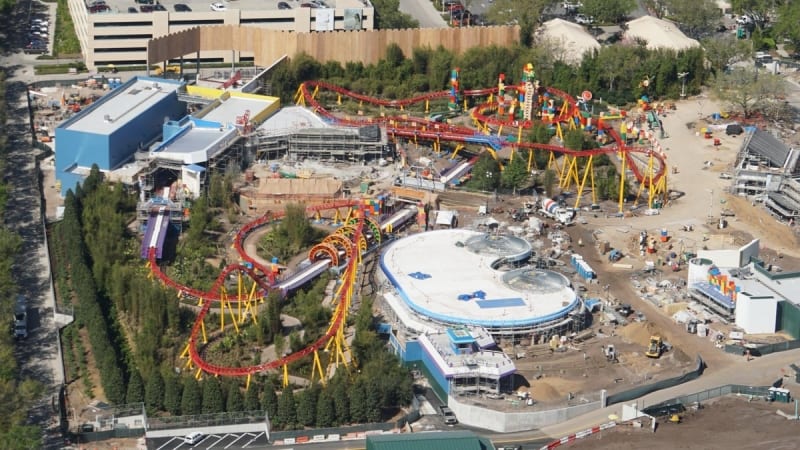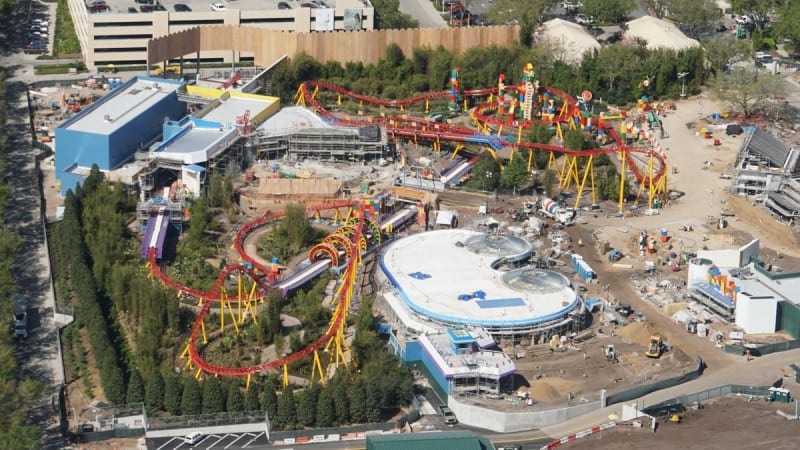 Lots of progress has been made to the Slinky Dog Dash ride queue as well, as it's now totally covered. Notice the fake cardboard box indicated by the arrow saying: "This side up."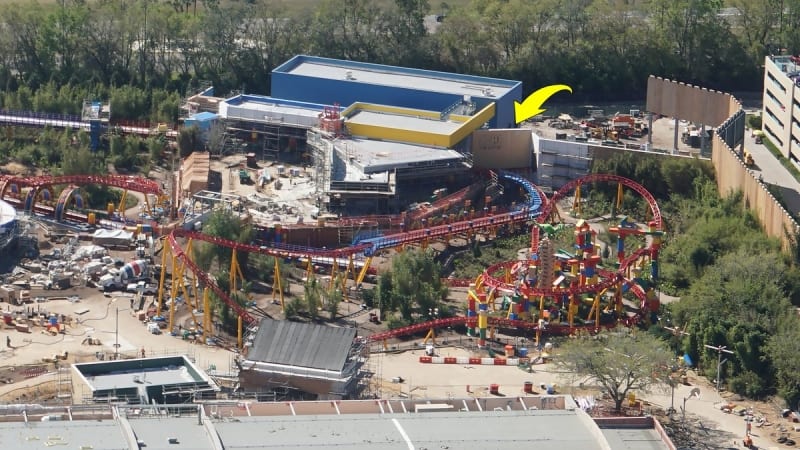 Final touches are being put on Slinky Dog Dash Coaster, and you can see that the Power Boost Rings are basically all done: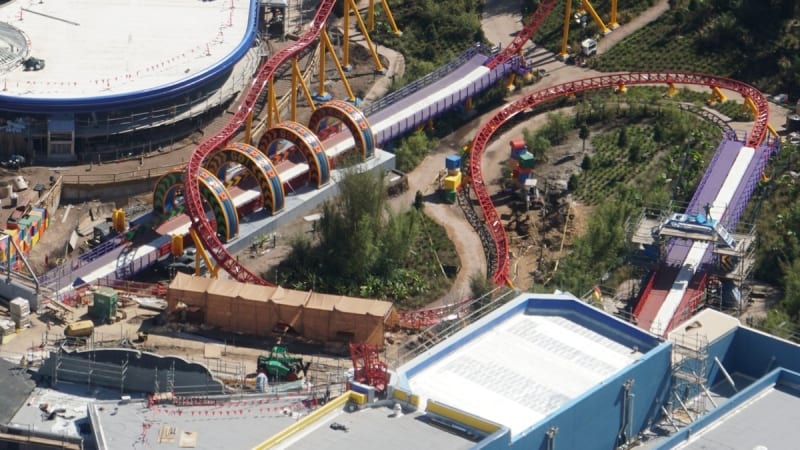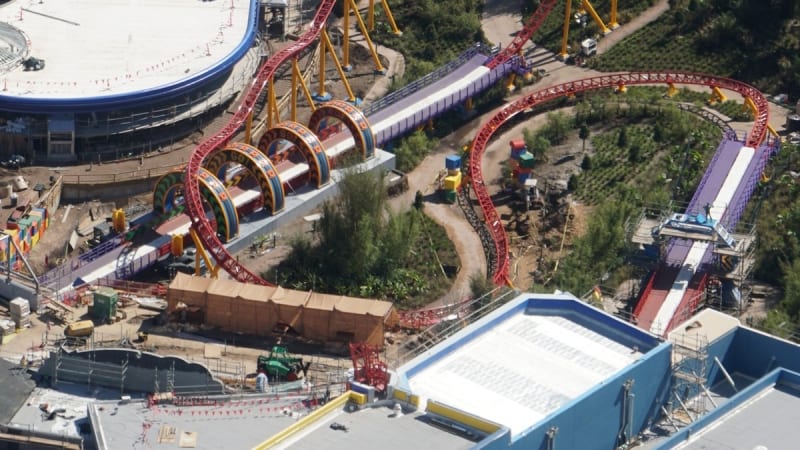 They look great with a different color on each ring. Slinky Dog Dash will be family friendly and as indicated by the Toy Story Land attraction heights, shouldn't bee too intense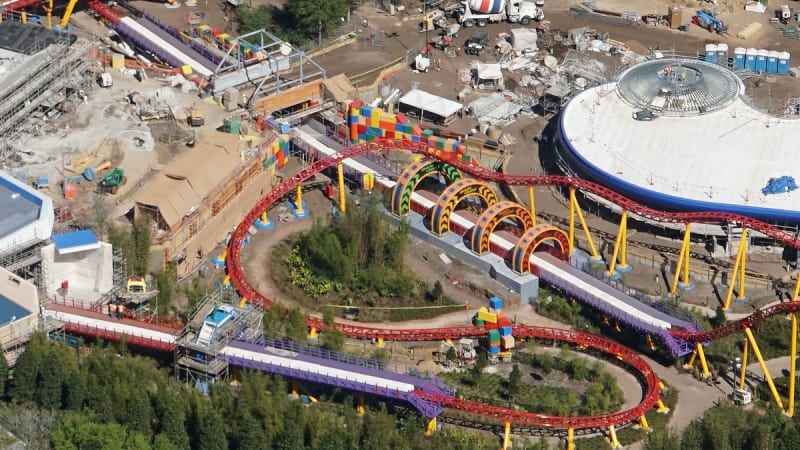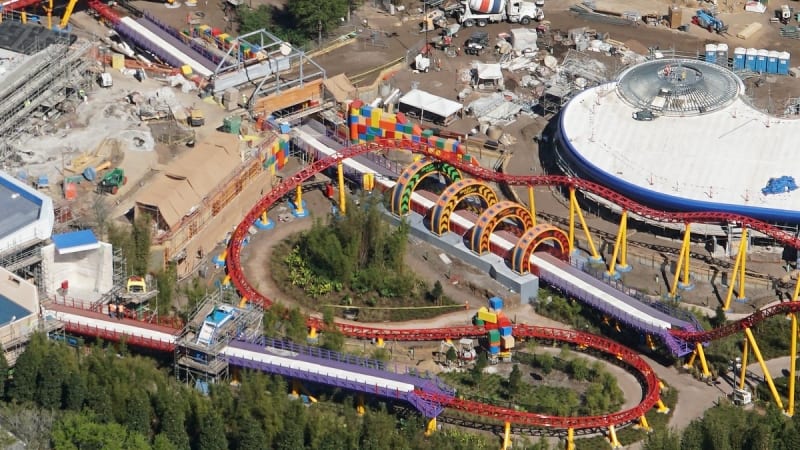 Opening day for Toy Story Land is June 30th, so now we have less than 4 months left until the opening of Toy Story Land, so things are about to get real hectic, but in a good way!
Don't forget to check out my latest Disney World Construction Updates including: Guardians of the Galaxy Coaster in Epcot, Disney Skyliner/Gondola, Ratatouille and France Expansion and Star Wars Galaxy's Edge Construction Update too!
Your Thoughts:
I want to know what you think about this Toy Story Land Construction Update for March 2018. What are you most looking forward to in Toy Story Land? When are you planning to visit? Let us know in the comments section below!
If you enjoyed this article, as always I appreciate it if you'd share it with others via social media. I work hard at making this website into a useful resource for you and your family to plan your visit to Walt Disney World, and I hope it can help you! Thanks 🙂
Photo Credit: @Bioreconstruct