This is a Toy Story Land Construction Update for June 2018. Just 25 days to go till opening day for Toy Story Land in Disney's Hollywood Studios and we're starting to see the final push to finish in time for June 30. In this latest update we're going to check out the new Buzz Lightyear figure that's arrived as well as the new bathrooms and other theming elements that have been added to Slinky Dog Dash, Alien Swirling Saucers and Midway Mania.
Lots has changed since the last update where we saw 3 Slinky Dog Dash Trains being tested simultaneously. We also learned about potential Toy Story Land preview events coming, with the first possible one being a D23 Event on June 22 and Media Previews on June 28 and 29. Disney hasn't confirmed these yet but they seem a go.
As always, big shoutout to @biorecontruct on Twitter who took some amazing aerial shots from high above Hollywood Studios so we could have a bird's eye view of Toy Story Land and see its progress. Let's dive in:
Here's an aerial shot of Toy Story Land. Things are starting to really fill in with lots of greenery sprouting up throughout the attractions: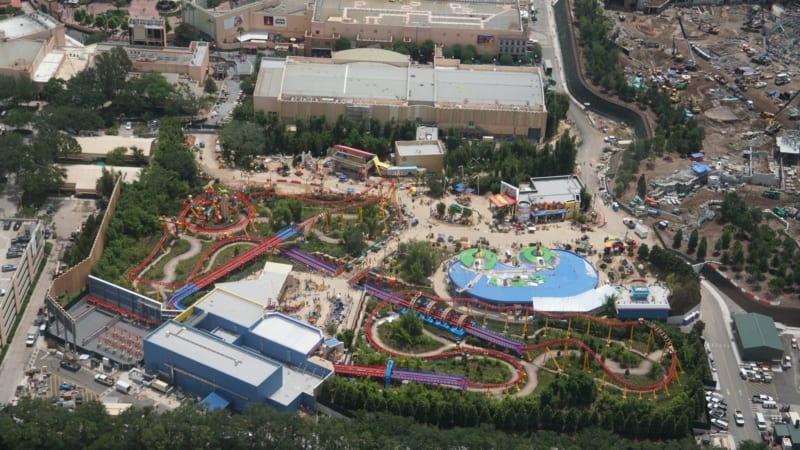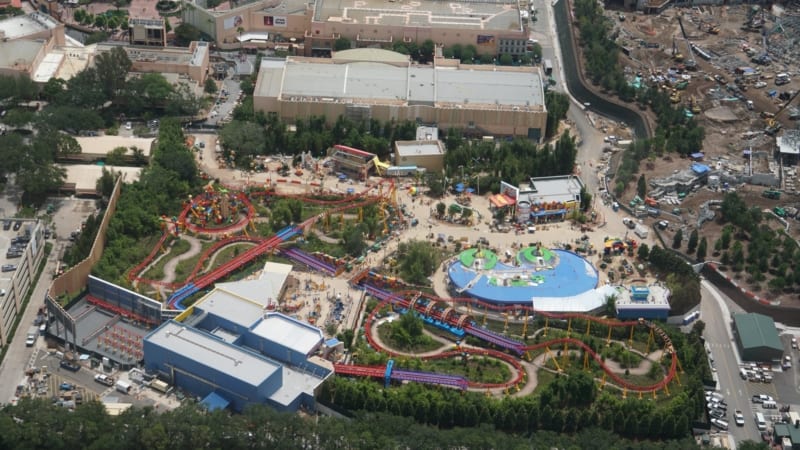 Here we have the Toy Story Land entrance from Pixar Place: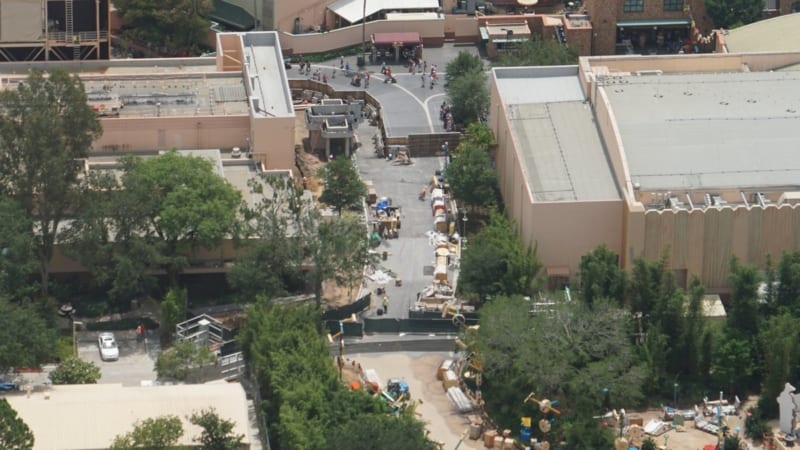 This will be the main entrance for the new land. I can only imagine how they will have to manage the line of people outside Toy Story Land waiting to get in. It's not a very big land and it's going to fill up pretty quickly this Summer imo. It will be interesting to see how Disney handles traffic flow. Since the entrance to Toy Story Midway Mania is getting moved from its current spot, they'll probably use Pixar Place as a big queue for people waiting to get in.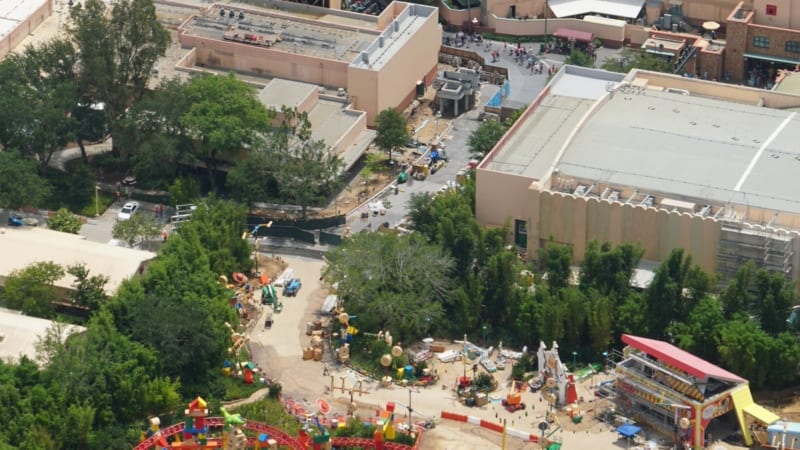 Speaking of Midway Mania, here's the new entrance to the attraction from inside Toy Story Land. It's developed nicely over the last week and more colors and theming has been added. Notice the recycle symbol on the tan building and the red and yellow colors on the first building: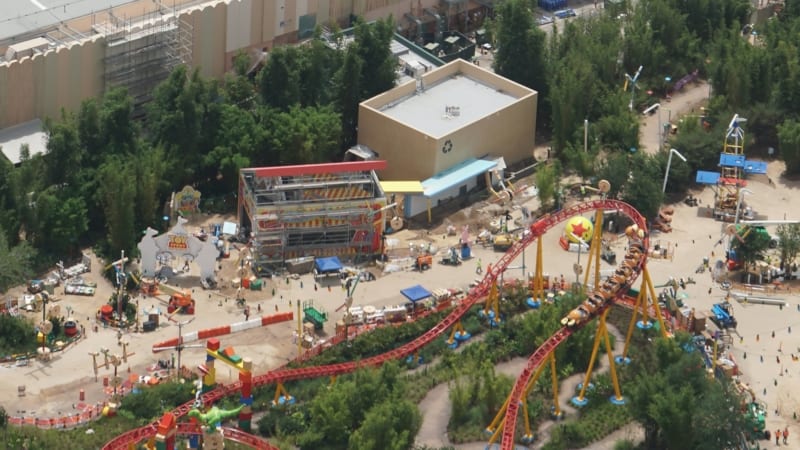 Once riders are done they will leave the attraction through this new exit on the far side of the building, which is located on the border of Star Wars Galaxy's Edge. They will then be siphoned around back into Toy Story Land. Once Galaxy's Edge is done they will also have the option to head over there instead: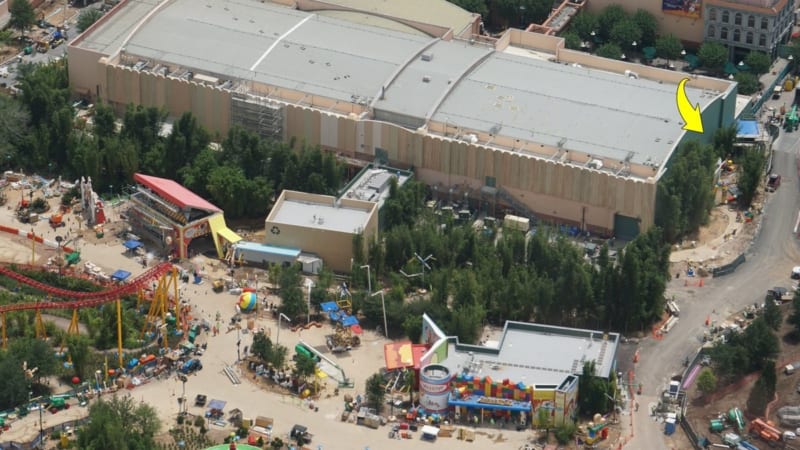 Here's another shot of the Midway Mania building where the exit will be. Don't worry, it won'd be this ugly for long, notice theming elements being added to the side of the building: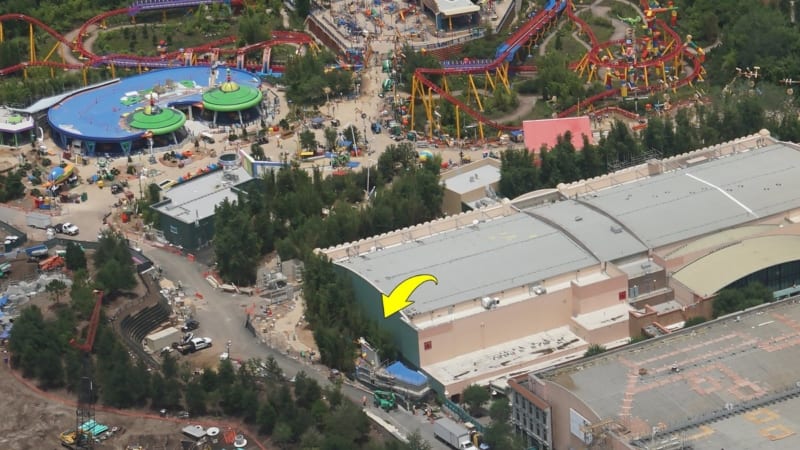 Here's an aerial view of the Toy Story Land construction from the Galaxy's Edge side. You can see it's looking more and more complete…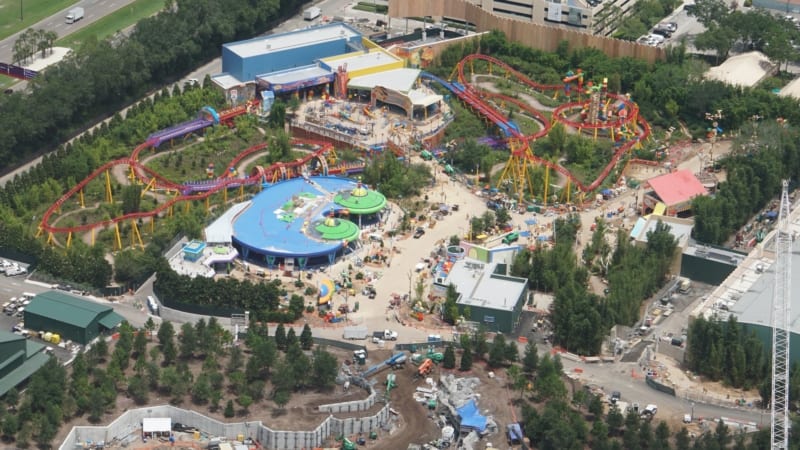 You'll probably want to eat something when visiting Toy Story Land so here is the land's only restaurant: Woody's Lunch Box. More theming has been added here too, and the details on the side of the building are almost all done. The window to order your food will be on the left under the open top of the lunch box, meanwhile the restrooms are located in the middle of the structure. Notice "Restrooms" spelt out in Scrabble pieces…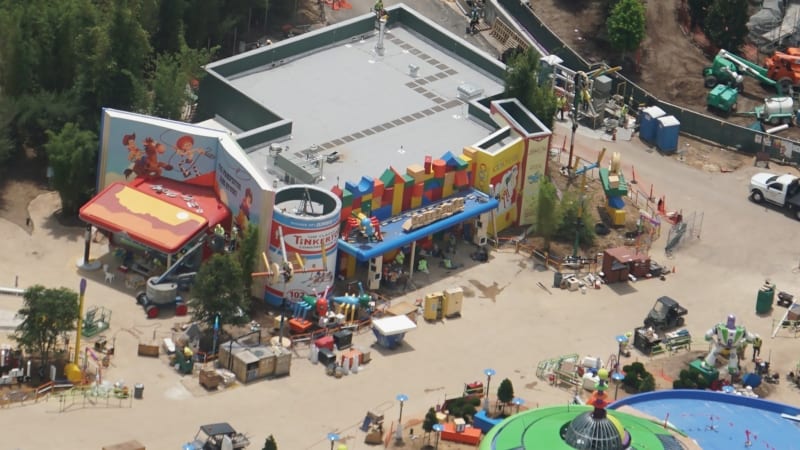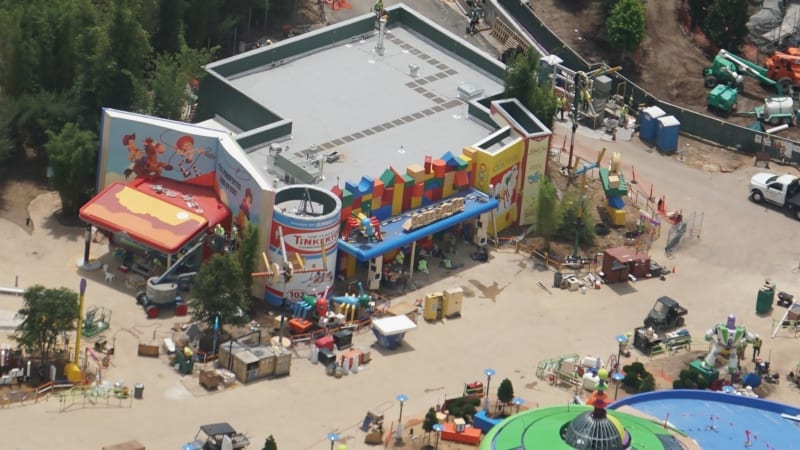 Here we can see Alien Swirling Saucers. The roof is nearing completion with the green panels now being added to the two domes. Once that's done it's just a matter of adding some Green Army Men and we're set. I have been hearing that all the attractions in Toy Story Land SHOULD be ready by opening day, but if there's one that isn't, it's Alien Swirling Saucers. Hopefully they can work out whatever issues they are having before then.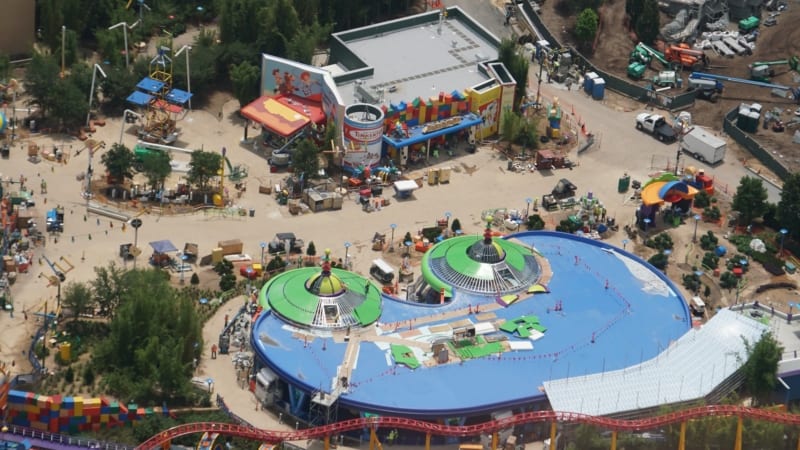 If you look very closely to the upper right of Alien Swirling Saucers do you see a familiar Toy Story friend? It's a giant Buzz Lightyear figure waiting to greet people. I'm sure this will be a popular photo stop for guests.
Lastly we have Slinky Dog Dash which is testing the Slinky Dog Trains as usual. They've already started testing the attraction with Cast Members and everything has been running smoothly so far.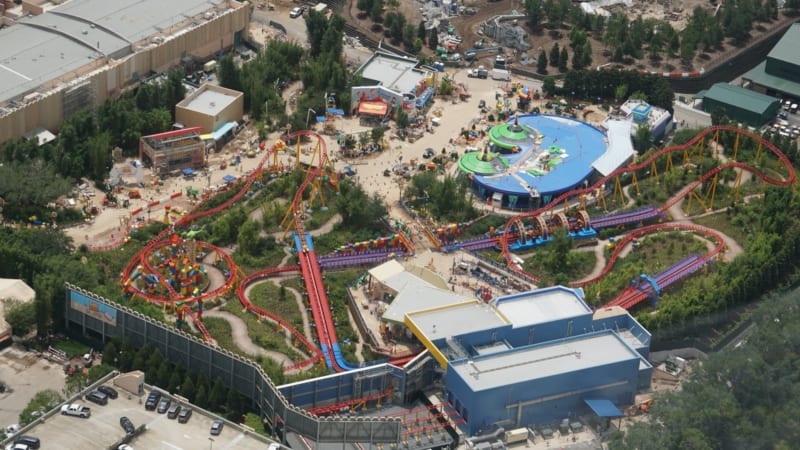 As you look at the power rings on Slinky Dog, you can see one of the trains coming around the curve. Also notice the attraction queue forming in front of the building, as well as the walls basically finished. The bridge bringing you to Slinky Dog looks nice too, I like the Tinker Toys lining the sides.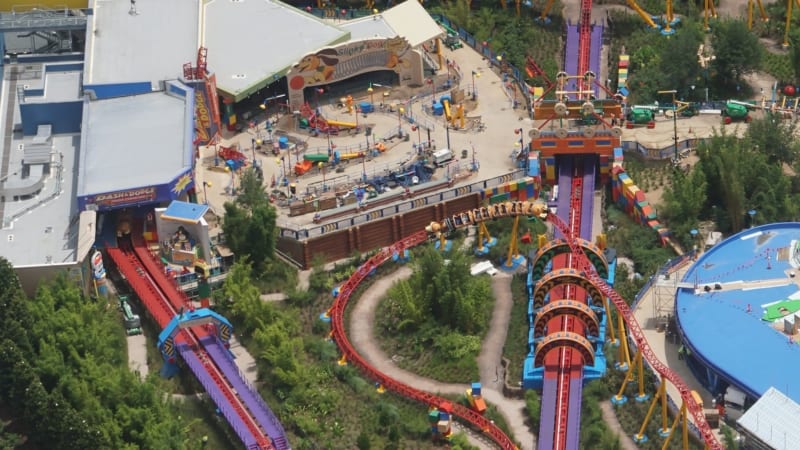 That's wraps up this Toy Story Land construction update for June 2018. We are just about 3 weeks away and it's really exciting to see a project like this that we've been watching for so long just about finished.
Don't forget to read my Toy Story Land FastPass+ Tips and Strategy Guide so you can be sure to book the attractions you want, which is especially important now that Hollywood Studios has totally updated their FastPass+ attraction tiers.
Don't forget to check out my latest Disney World Construction Updates including:
Your Thoughts:
I want to know what you think about this latest Toys Story Land construction update.
When are you going to Toy Story land?
What are you most excited about?
Let us know in the comments section below!
If you enjoyed this article, as always I appreciate it if you'd share it with others via social media. I work hard at making this website into a useful resource for you and your family to plan your visit to the Disney Parks and I hope it can help you! Thanks 🙂
Photos: @Bioreconstruct
Meet the Author of Ziggy Knows Disney!