In this latest Star Wars Galaxy's Edge Construction Update for June 2018, we're going to check out all the latest updates to the most anticipated land coming to WDW. We're going to see the Black Spire Outpost area of Galaxy's Edge and the restaurants being built there, as well as additions made to both the Millennium Falcon and Battle Escape attractions.
We learned a lot of interesting new info about Disney's Star Wars Land since our last update, especially with the panel at the Galactic Nights event. One of is that the official name of the village this land is located in is called: Black Spire Outpost. It gets that name from the giant petrified trees on which the outpost is built. We'll start seeing the remains of those trees start to take form now more in the rockwork on top of the attractions.
We also learned more about the Battle Escape attraction which will have a Resistance Troop Transport as part of the pre-show area which will bring guests up to the actual battle. This confirms what we thought during our detailed explanation of the Battle Escape queue. Plus we learned tons of new stuff about how immersive Galaxy's Edge will be.
Thanks as always to @bioreconstruct over on Twitter who always gets amazing shots from up in a helicopter giving us a unique view of the construction projects around Walt Disney World. Let's see what's new in Star Wars Galaxy's Edge!
Here's an aerial view of the latest construction work being done in Star Wars Galaxy's Edge: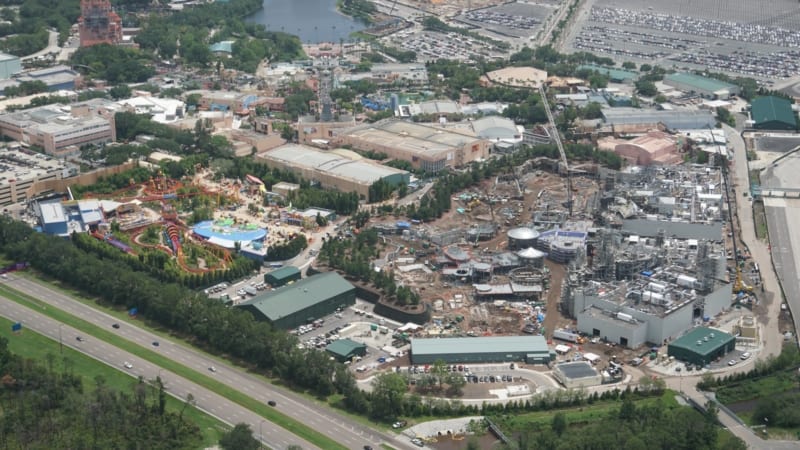 Just as a side point, I know Toy Story Land is supposed to be 11 acres and Galaxy's Edge 14, but doesn't it look like you could fit about 2 Toy Story Lands into Galaxy's Edge? Something doesn't add up here… ??‍
As we said before, the official name for the village of Galaxy's Edge is "Black Spire Outpost" and it gets that name from the ancient petrified trees that the village is built on. You can see those trees starting to form out of the rockwork on top of the Millennium Falcon Smuggler's Run ride in the photo below: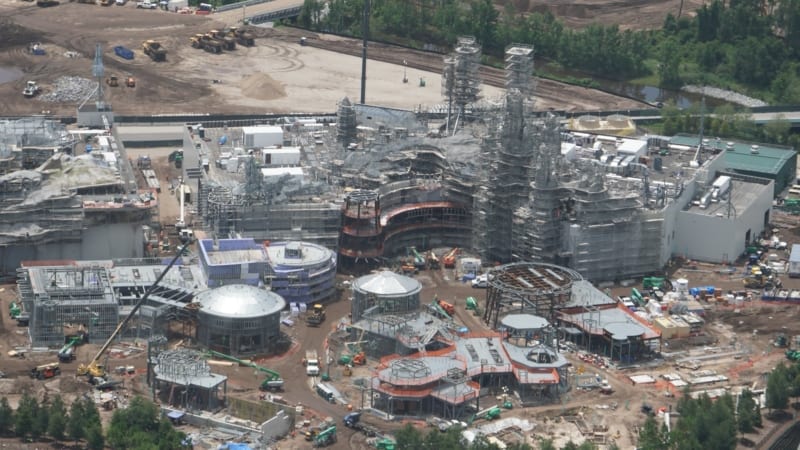 Here's a better look at what they will look like from the concept art: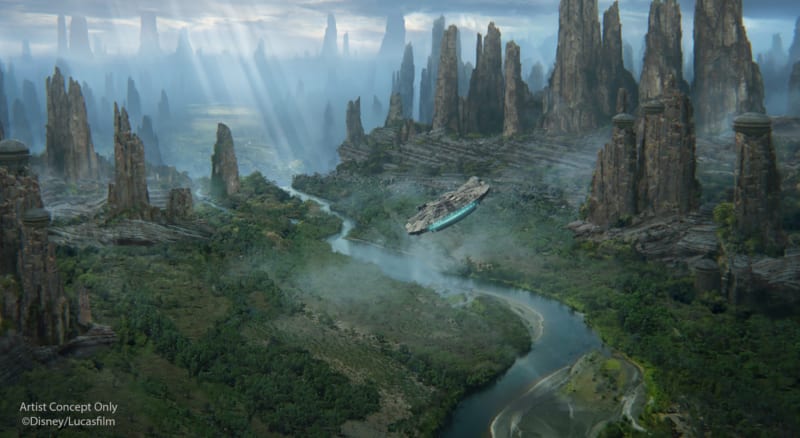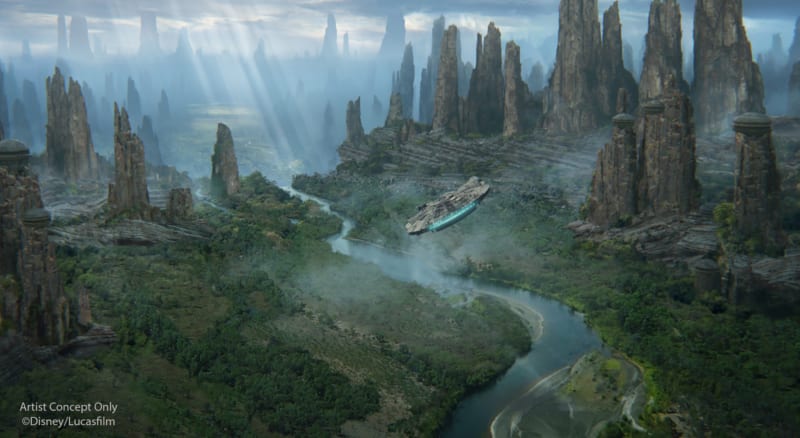 Black Spire Outpost will be that central part of Galaxy's Edge where the 2 restaurants and various shops will be located. I've heard that there won't be any merchandise INSIDE Galaxy's Edge with the words: "Star Wars" or "Galaxy's Edge".
The idea is that they want to make guests feel like they've really been transported to another planet and not a theme park land. To to keep everything authentic they will be selling unique "handcrafted" goods that you would find if you were actually dropped in the Star Wars universe somewhere. This is a very interesting idea, I'm just wondering where in Hollywood Studios they will be selling Galaxy's Edge marked merchandise?
Here's another aerial of Galaxy's Edge, notice the Black Spire Outpost area in the center: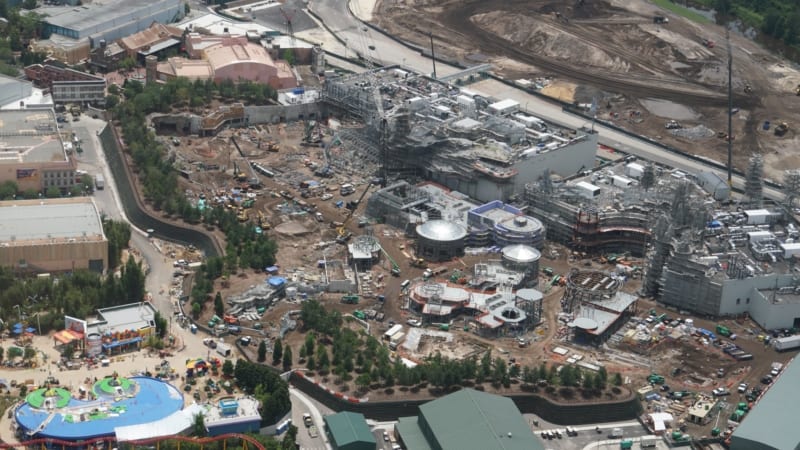 Here's a view of the spires from outside the land on the ground. The spires are really rising up: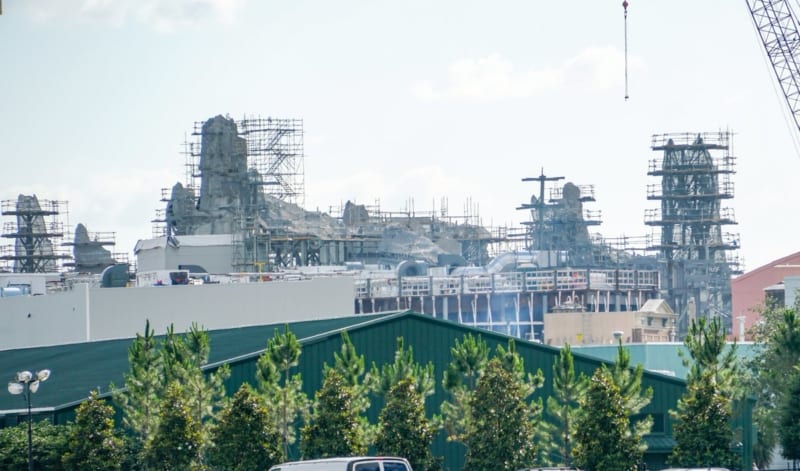 This is a shot of Black Spire Outpost and it shows the latest foundations being put in. The one of the bottom will be the table service restaurant, while I'm not sure about the one on the left. Could be more shops: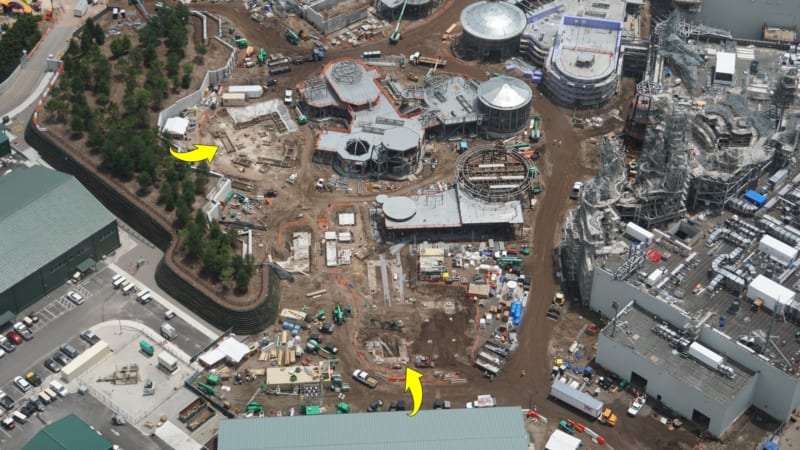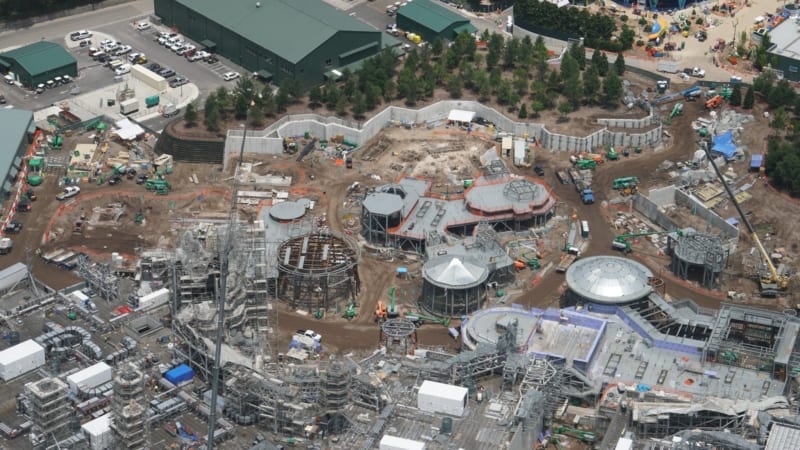 Over at the entrance to Galaxy's Edge from Grand Avenue we can see more concrete forms being installed. This area here is where the queue will start for the Battle Escape attraction. I never really thought about it before but guests coming into Galaxy's Edge from the tunnel will immediately have the Battle Escape queue on their left. I can imagine this one filling up rather quickly:
Another angle shows some new fences being erected around the same area: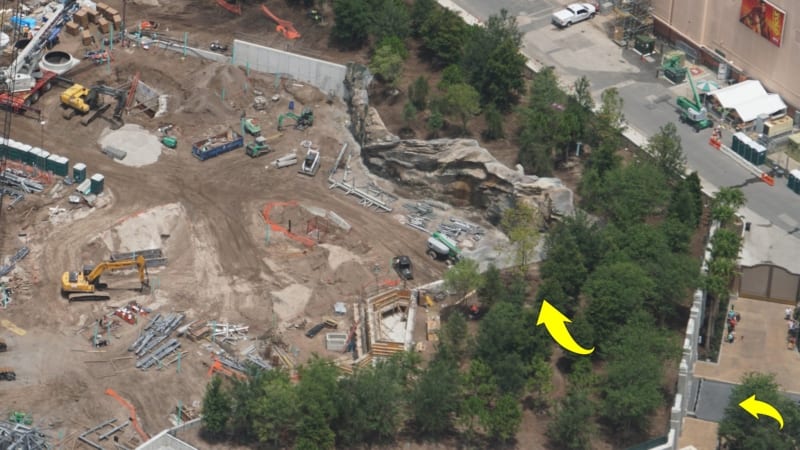 Any HVAC guys (or gals) reading this will really appreciate this next photo, Look at all that ductwork on top of the Battle Escape attraction building (right) and the Millennium Falcon building (left):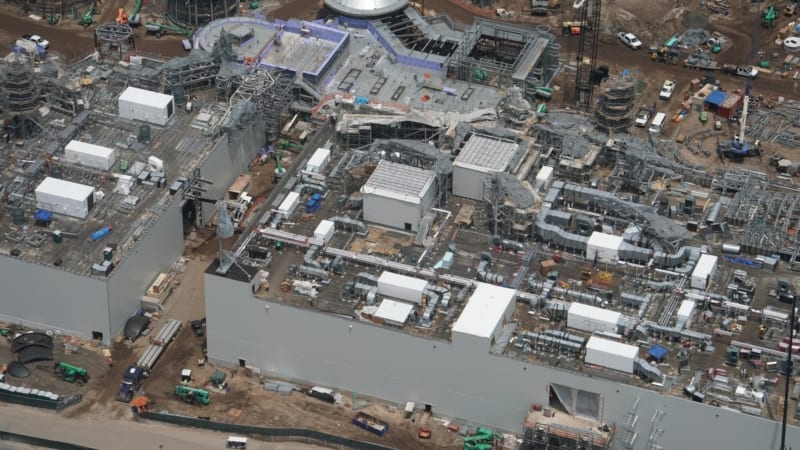 I can only imagine how complex that whole system is and shows you the intricate design that needs to go into these structures.
We see more of that on the Millennium Falcon building, and we also see some more screens for the projection system of the Millennium Falcon attraction laying on the ground outside, waiting to be installed.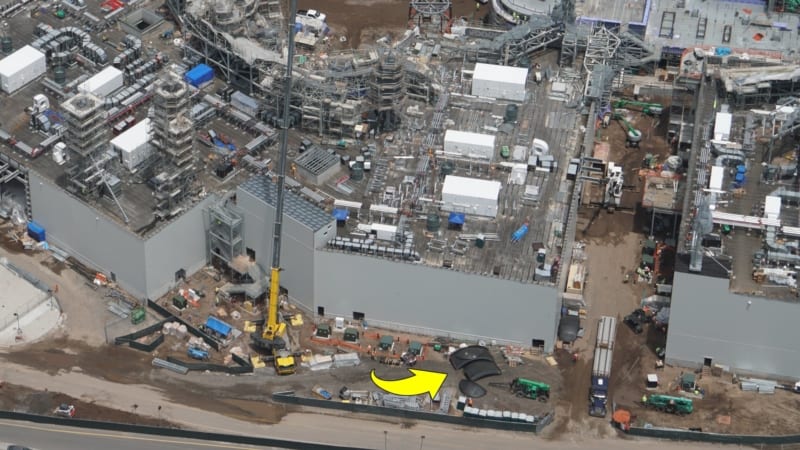 Lastly out front of the Battle Escape building you can see rockwork being formed and a canopy structure front and center, which will serve as the exit on the way out of the attraction: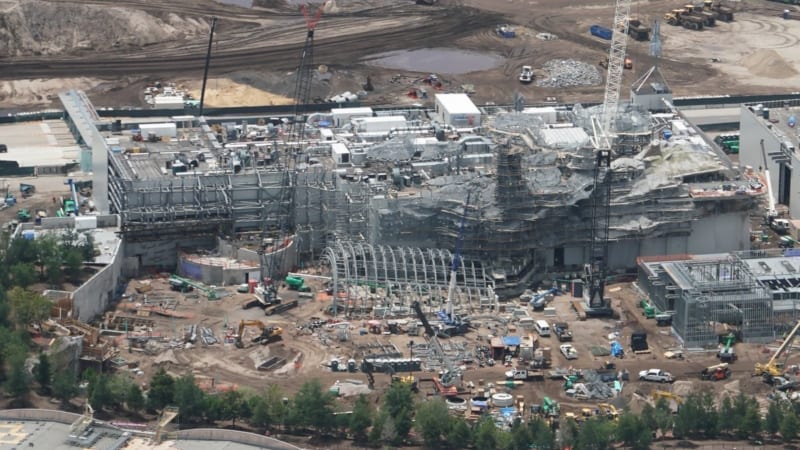 To the left is where the queue will start and then you can see a sort of curved concrete area towards the left which will take guests from the queue into the area where the Resistance Troop Transport will be.
Here's another shot of the canopy exit under construction: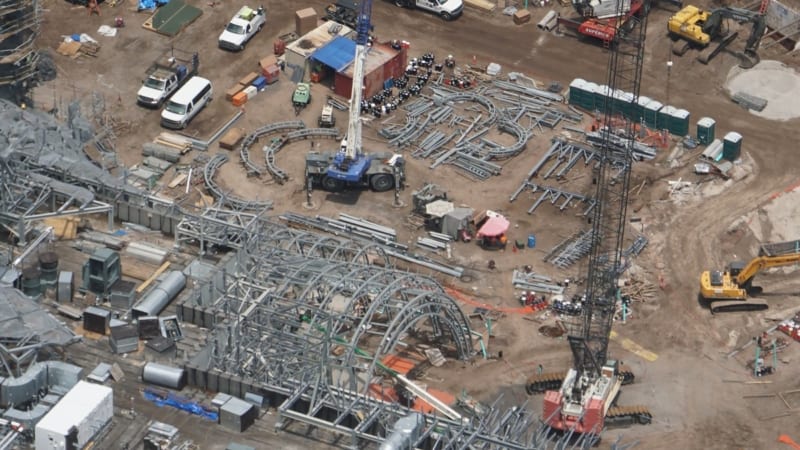 Disney has confirmed Star Wars Galaxy's Edge is opening in Summer 2019 in Disneyland and Late Fall 2019 so start thinking about your plans now. Disney is releasing its 2019 Walt Disney World vacation packages June 19th, but we'll have to wait still for the dates for November and December when Galaxy's Edge will open.
Don't forget to check out my latest Disney World Construction Updates including:
Disney Skyliner – Roof Added to Hollywood Studios Station
Toy Story Land – Construction Update June 2018
Guardians of the Galaxy Coaster – Roof Framing Being Prepared
Epcot Hotel – Land Clearing Started
Disney Springs – Construction Started on New Pedestrian Bridge
Your Thoughts:
I want to know what you think about my Star Wars Galaxy's Edge construction update for June 2018.
When are you planning to go to Star Wars Galaxy's Edge?
What are you most excited for?
Let us know in the comments section below!
If you enjoyed this article, as always I appreciate it if you'd share it with others via social media. I work hard at making this website into a useful resource for you and your family to plan your visit to the Disney Parks and I hope it can help you! Thanks 🙂
Photos: @Bioreconstruct