This is a Disney Skyliner Construction Update May 2018. Today we're going to take a look around property to check out the latest progress on the Disney Skyliner including a detailed look at the station at Disney's Caribbean Beach Resort and also the various stations in Hollywood Studios, Epcot, etc.
Lots of progress has been made since the last update when we had a detailed look at the landing system which will receive the Skyliner cars at the stations. I don't think I've ever seen so many wheels in my entire life!
Thanks as usually to @bioreconstruct over on Twitter for taking these awesome aerial photos, that way we can stay happy on the ground where we belong! ? Let's see what changes to the Disney Skyliner we find for the month of May!
So sometimes it's cool to take a look back and see all the progress that's been made on the Disney Skyliner over the past year. Construction on the Disney Skyliner only started last Summer so to see everything that's been built since is truly incredible. For example here is a photo of the area where the Caribbean Beach Disney Skyliner station is currently being built, but this is before the construction back in August 2016: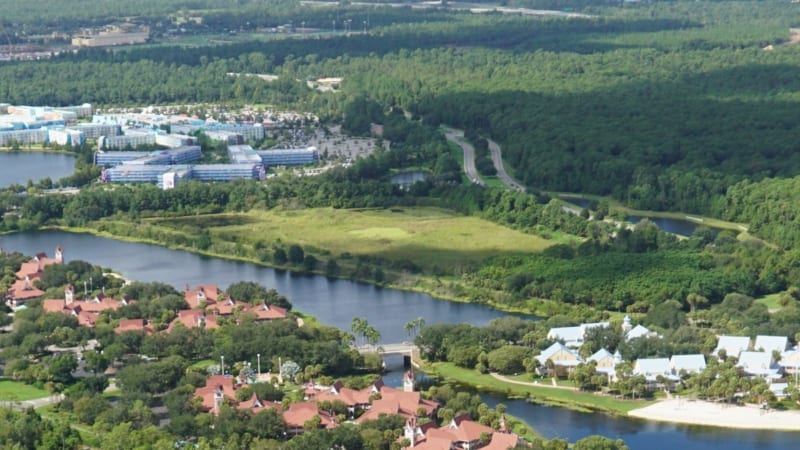 Now the Caribbean Beach Skyliner station today: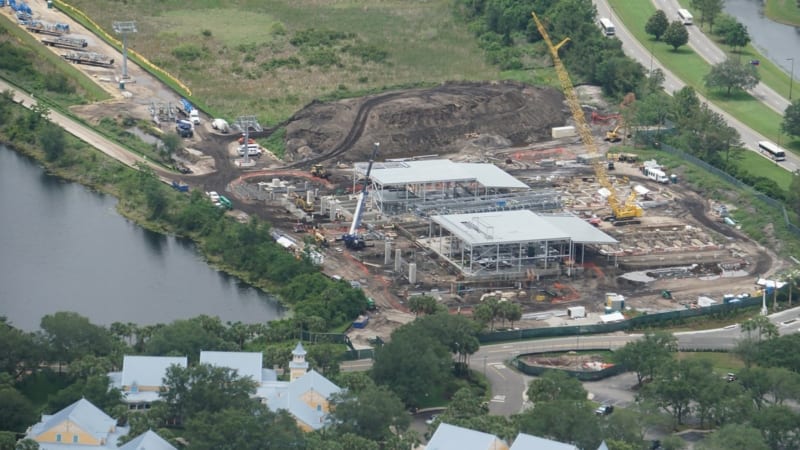 You can definitely see that parcel of land was just perfect for the Skyliner and you have to wonder how long Disney has had the idea.
Moving around the Caribbean Beach Resort we can see another small spot is being cleared to put in a new Skyliner tower. You have to feel for any guests staying in those rooms and now you understand why the Caribbean Beach Resort has such low prices right now: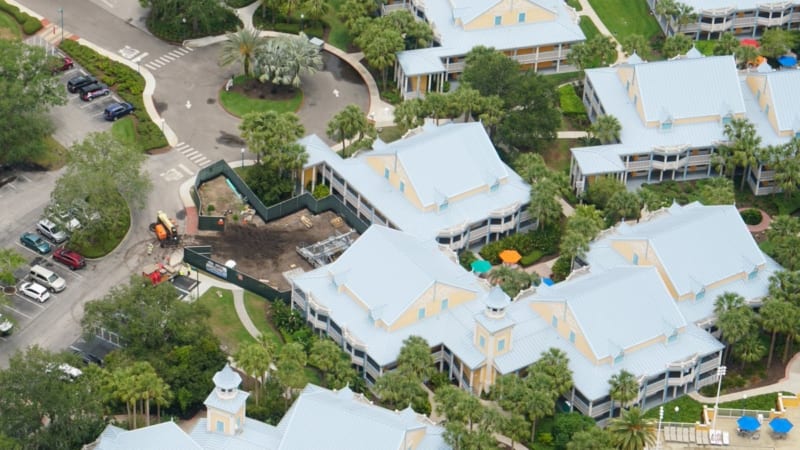 Here we have a view of Port Royale in the Caribbean Beach Resort which is currently under construction: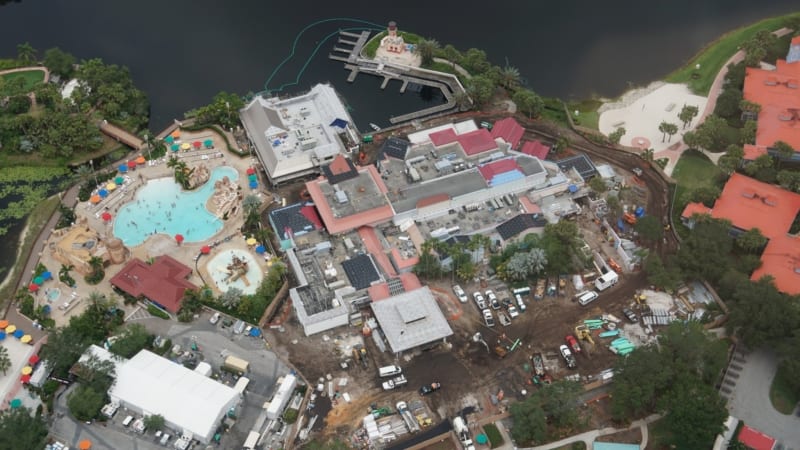 The whole area is being re-done with a brand new Centertown Market for quick service meals and shopping, as well as a new version of the Shutters table service restaurant. Read more about the Caribbean Beach Resort renovation here: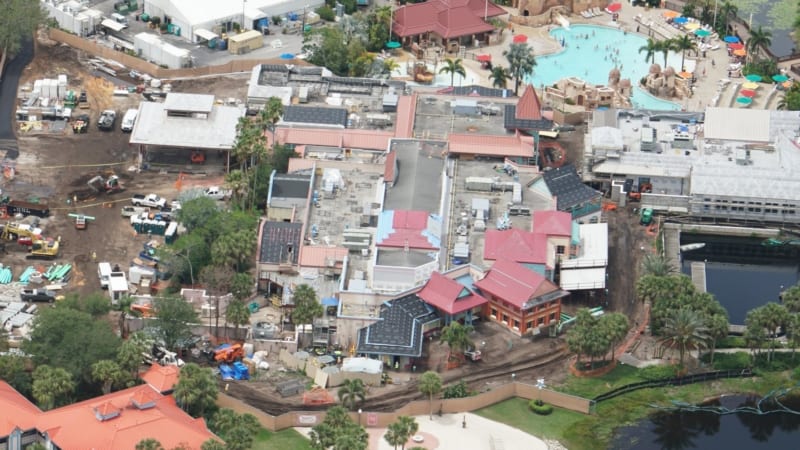 Moving back we take a look from up above at the construction progress of the Disney Skyliner Station at the Caribbean Beach Resort: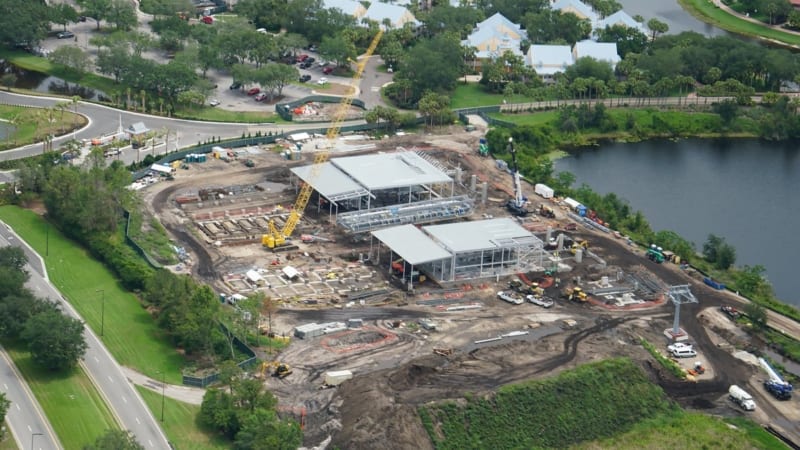 This is going to be the main hub for the Disney Skyliner as all 3 lines will converge here from: Art of Animation/Pop Century, Epcot and Hollywood Studios: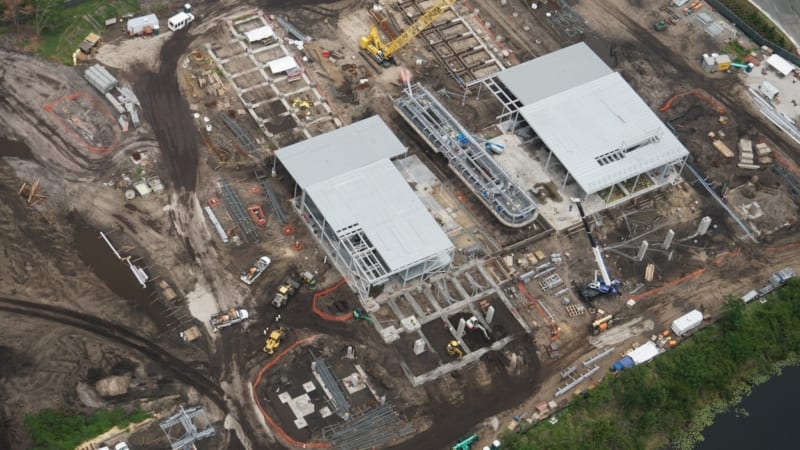 There is so much work that has to be done to build these buildings and it really amazes me when you see shots like this. Look at all that electrical conduit being buried under the ground. All that infrastructure has to be in place to make something like the Skyliner work: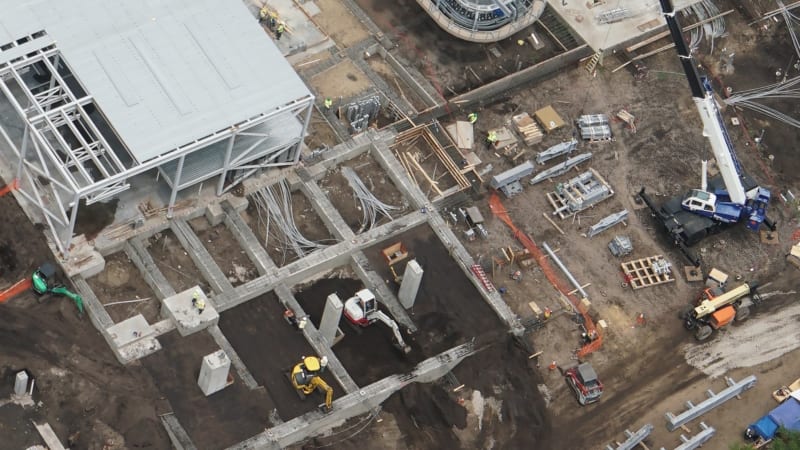 Last time we saw a Skyliner construction update we talked about the landing systems in the various Skyliner stations and how there would be a section receiving the arriving cars and then turning them around. In this shot it looks like there are two turnarounds. This is where the transfer point could be for gondolas that need servicing and also one for guests needing more time: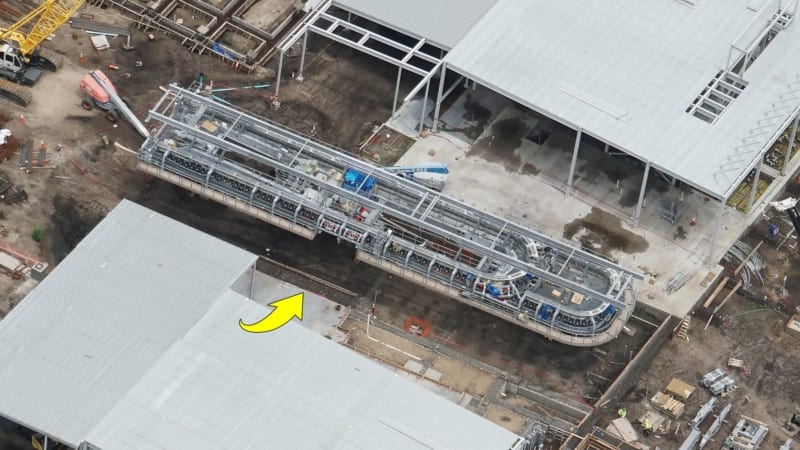 Let's head over to Disney's Hollywood Studios and see what kind of updates there are on the Disney Skyliner there: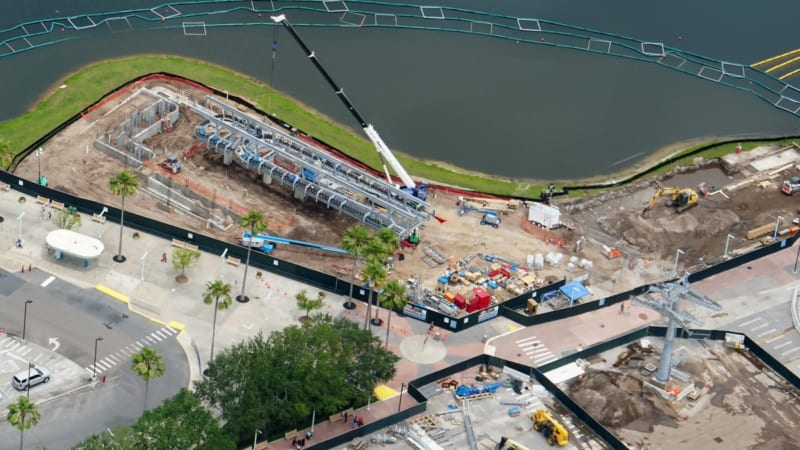 Here we have some nice shots of the Skyliner station. It's tiny in comparison with the station at the Caribbean Beach Resort as you can see: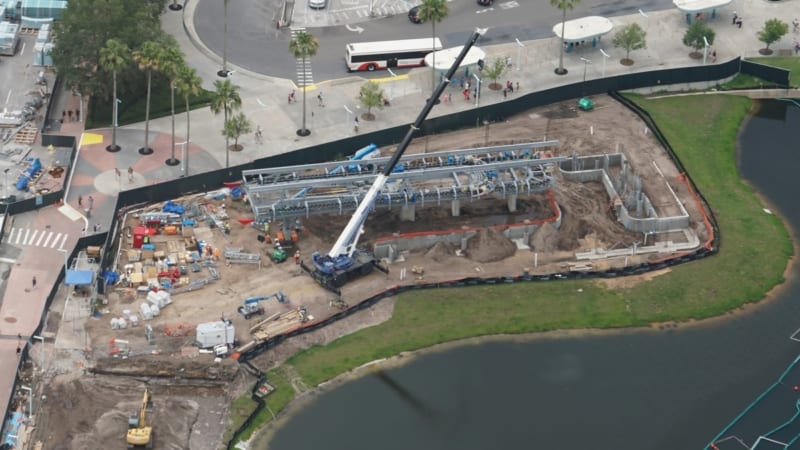 Last time this landing system for the station was just being assembled, now it looks like it's almost totally in place: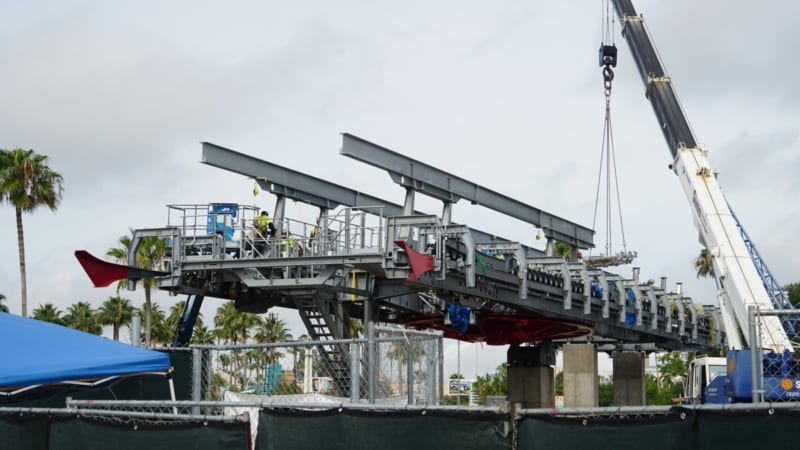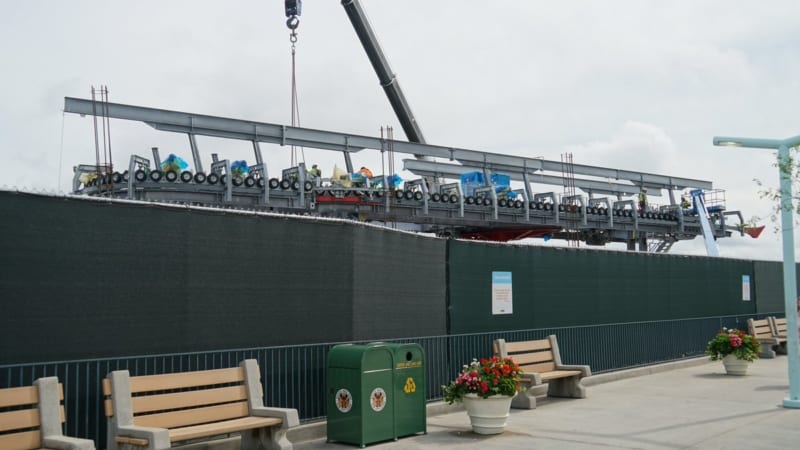 Notice the guides on the end of the landing system: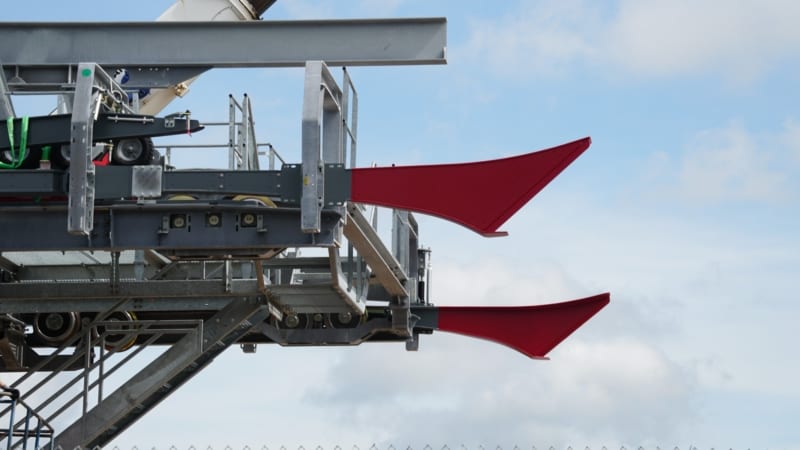 Leaving the Hollywood Studios station we head up the line to the Disney Riviera Resort: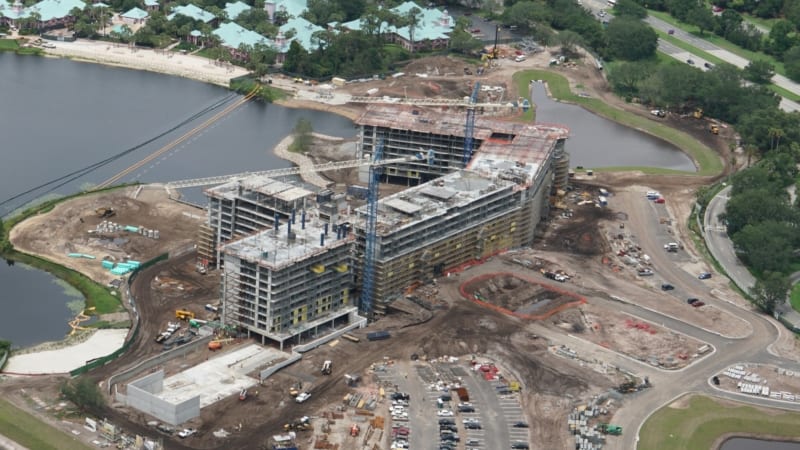 The Riviera Resort has really sky-rocketed in the last few months and has basically reached the top: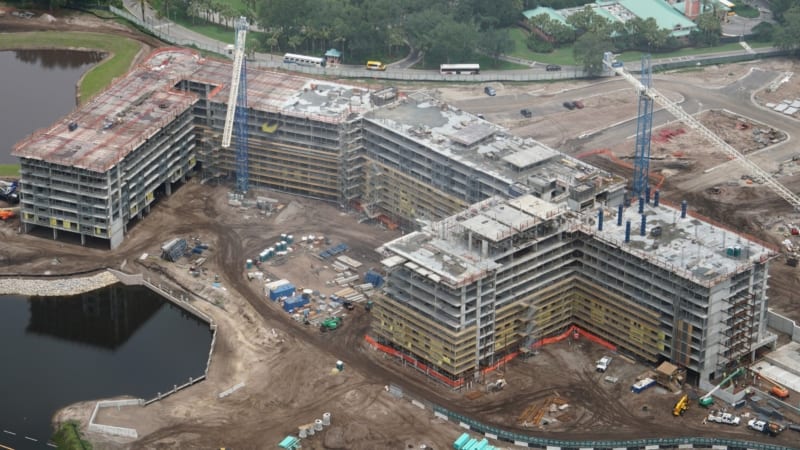 It's even visible from Epcot's World Showcase, in this case behind the Italy pavilion: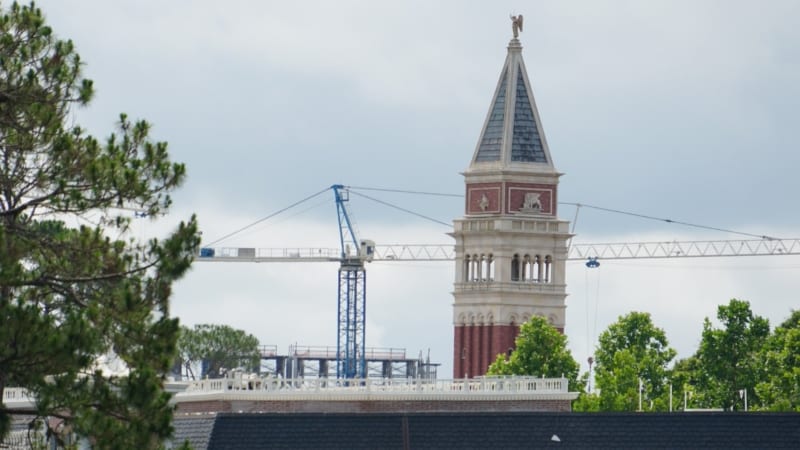 Lastly, heading up to Epcot we can see the final route running from the Riviera Resort to Epcot. There's a row of Skyliner towers in place: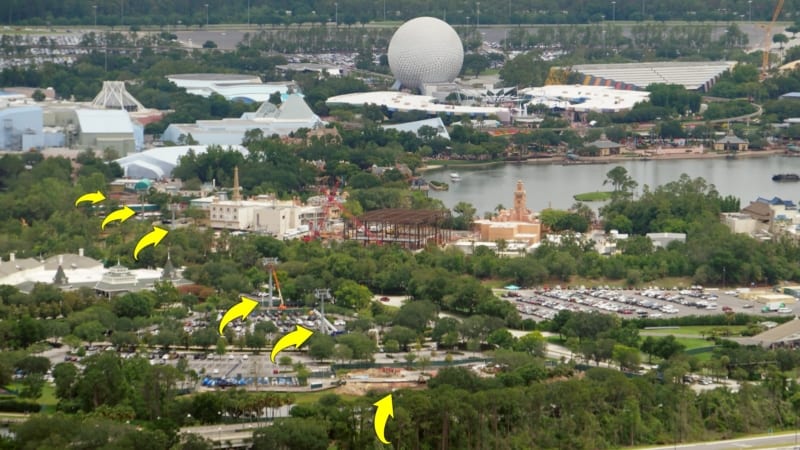 The line will run until it reaches the turn point at the top and then to the International Gateway station:
Here's a mysterious land clearing behind World Showcase. Not sure what it is exactly as it doesn't seem to be connected to the Disney Skyliner: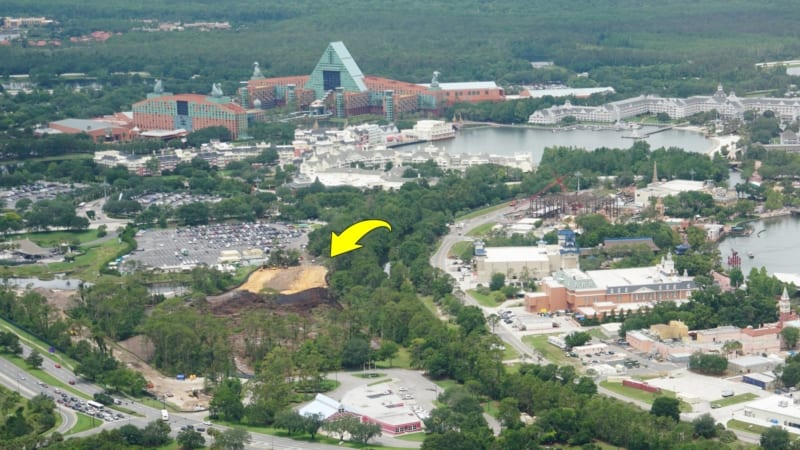 Here's a ground level shot of the towers between Epcot and the Boardwalk turn station: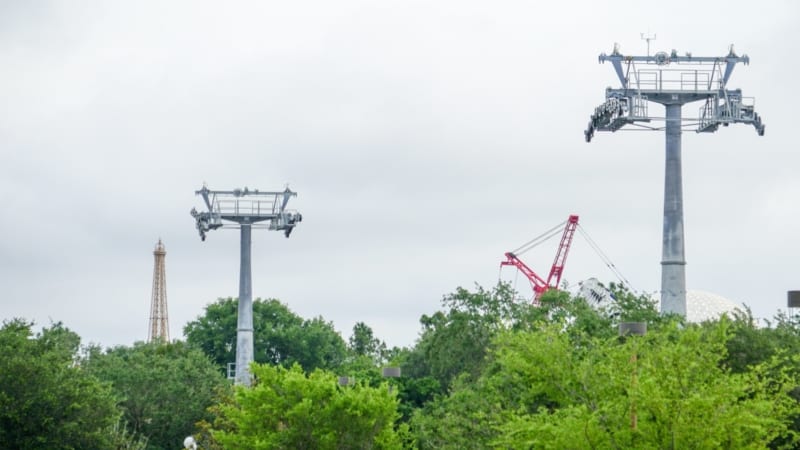 A lot are concerned about the nightlines for the Disney Skyliner, especially in Epcot. You can just barely see a Skyliner tower from behind the Minaret tower in Morocco, but to me it doesn't see that serious, and it won't be very visible to the naked-eye once there walking around imo: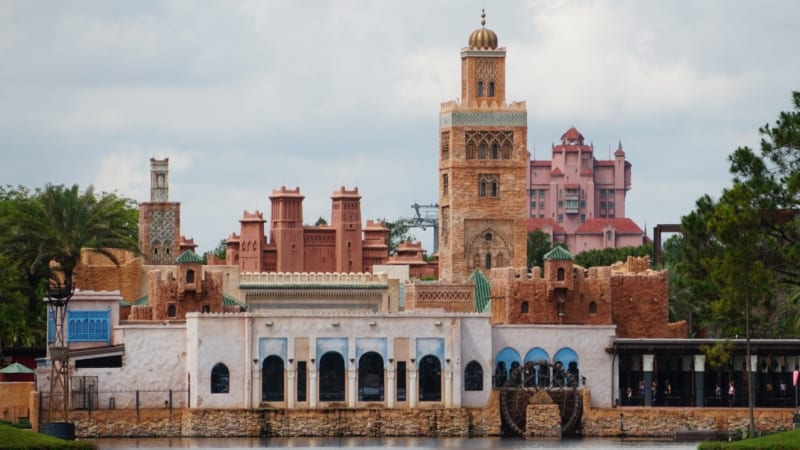 Lastly we see the rebar slowly poking its head out at the Epcot International Gateway station. This station isn't quite as far along as Hollywood Studios or Caribbean Beach, but it looks like things are going to be moving here very soon: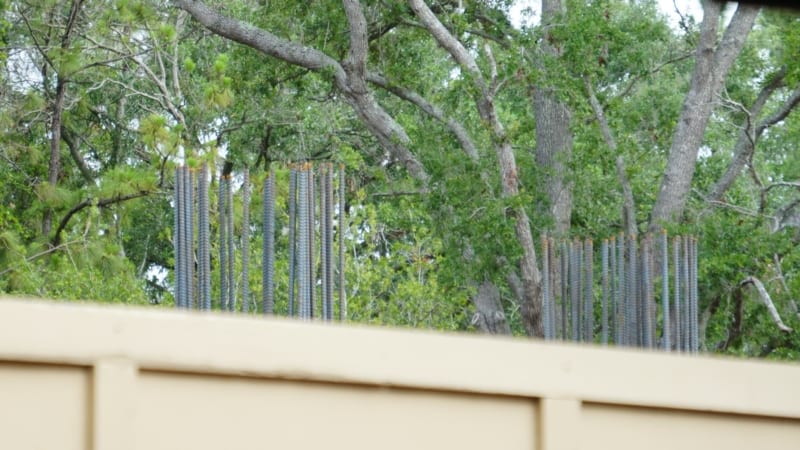 That wraps up my Disney Skyliner construction update for May 2018, I hope you enjoyed it! We'll keep you updated on any other Skyliner news that comes out, including an official opening date, which should be Mid-Late 2019. Stay tuned…
Don't forget to check out my latest Disney World Construction Updates including:
Your Thoughts:
I want to know what you think about my Disney Skyliner Construction Update May 2018
Are you excited to ride the Disney Skyliner?
Will it make you more likely to stay at one of the area resorts?
Let us know in the comments section below!
If you enjoyed this article, as always I appreciate it if you'd share it with others via social media. I work hard at making this website into a useful resource for you and your family to plan your visit to the Disney Parks and I hope it can help you! Thanks 🙂
Photos: @Bioreconstruct
Meet the Author of Ziggy Knows Disney!