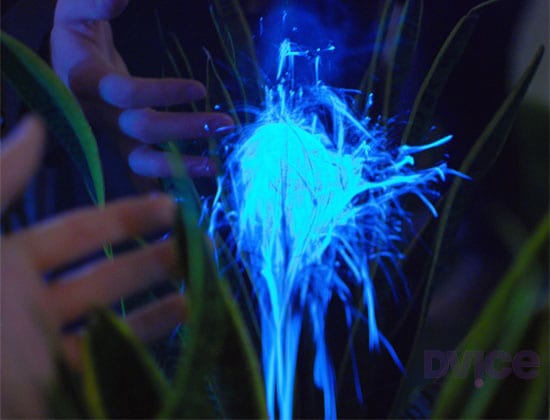 For years now we have been waiting to get a glimpse of what Pandora: The World of Avatar, inside Disney's Animal Kingdom will look like. Disney has promised us a world unlike any we have ever seen in a theme park before. An interactive world bringing everything to life and making a completely immersive and engaging experience. Now it looks like that is happening…
The latest news is Disney has filed a patent it intends to use in Pandora: The World of Avatar entitled: "User Interactive Living Organisms." What the heck does that mean?" Basically, there will be real plant life equipped with a sensing system that allows the plant to interact with you. Cyborgs baby!!
The sensing system connects to the plant via an electrode. The system then utilizes the natural conductive paths in the plant, like those found in water carrying veins to transmit a signal to the plant.
For example, when you touch the plant it illuminates. If you touch the stem it simulates an earthquake. If you touch the leaves a cool breeze is activated. The plants also know when you approach them, triggering a hidden shower from a tree or a smoke generator.
Check out the video on PatentYogi's YouTube Channel:
I think there are probably some kinks they will need to work out and I do have questions, like I don't want to be in the park at night in December and have a tree start spraying me with water, that's for sure. But overall I am super-pumped hearing these developments.
I know a lot of people have been complaining about Pandora: The World of Avatar and they didn't/don't want it to come. After seeing this though I am totally blown away by the interactive living plants, and have tremendous faith in the imagineers ability to pull this off, and ultimately change the way we experience theme parks. Also expect both Pandora attractions to include some amazing technology as well. It wouldn't surprise me for the Avatar boat attraction to include some of the next-gen technology we've seen in Pirates of the Caribbean: Battle for the Sunken Treasure attraction in Shanghai Disney.
I'm totally on-board with Pandora: The World of Avatar, and you should be too. It's going to be something you've never experienced before. Hang on and enjoy the ride.
Pandora: The World of Avatar is set to open sometime in 2017.
Let me know what you think of the Interactive plant life in Pandora: The World of Avatar in the comments section below. As always I really appreciate it if you help spread the word, so if you liked this post and my site then please share it with others! Thanks! 🙂
Photo credit: ultimateorlando.com