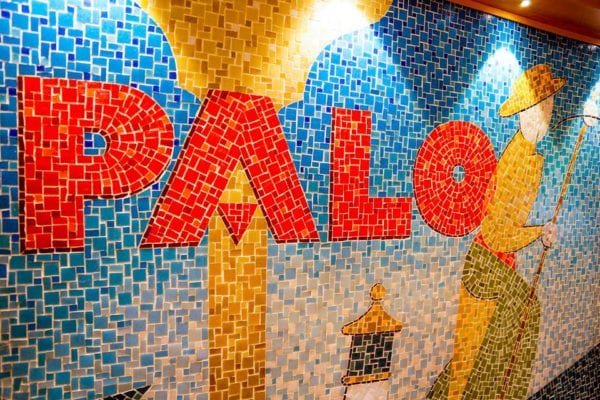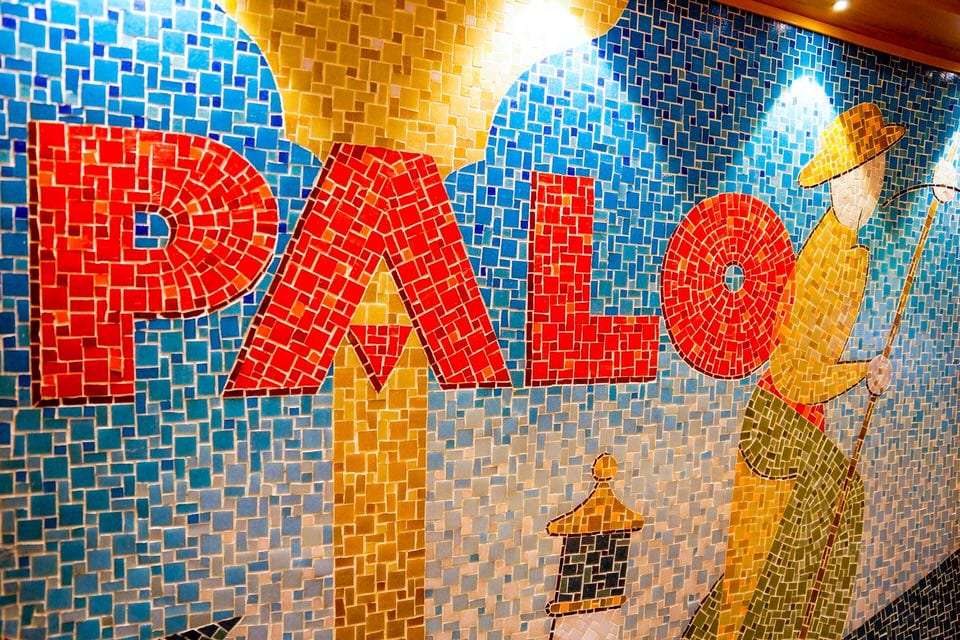 I recently went on a 5 Day Bahamas Cruise on the Disney Magic that was truly a one-of-a-kind experience. And to me the absolute highlight of the trip (big reveal coming) was the food, in particular I enjoyed what up to this point has been the best Disney Dining Experience I've ever had, and maybe the best I've ever had anywhere period. You are in for a treat today, so sit back and enjoy this Palo Dinner Review. FYI, don't do it on an empty stomach…you've been warned! 😉
Palo is an Adults-Only Signature Dining Restaurant, and can be found on all of the 4 Disney Cruise Line ships: Disney Fantasy, Disney Dream, Disney Wonder and our ship the Disney Magic. In fact it's the only Adults-only dining available on-board the Disney Magic.
It has amazing ambiance, themed after the Italian city of Venice, and naturally serves delicious Northern Italian Cuisine. It also has the Best View on-board the Disney Magic, offering 270-degree views of the sea. Palo is open for both Dinner and Brunch (Only on Sea-days), and while both are absolutely amazing experiences (don't worry I have a Palo Brunch Review in the works), for this review we are showing the Palo Dinner.
TIP: If you are undecided between Brunch or Dinner, I say do both! But if you can only choose one then my choice would be for Dinner but only by the slightest of margins, it's like choosing between your children, you can't do it!
Being a Signature restaurant, Palo isn't included in the price of your cruise like your regular dining rotation and comes with an added cost of $40 per person. Don't let that deter you, because it will be the best $40 you've ever spent in your entire life! Just knowing that it costs less than a mediocre burger and drink at Planet Hollywood is really laughable.
TIP: Reservations are a must, and I would make them the very first day that reservations are made available for your cruise as it tends to fill up very fast (especially for Brunch).
Ok, let's get right into it and I'll show you why this is my favorite Disney Dining experience of all-time…
Atmosphere:
Palo is located on the 10th Floor of the Disney Magic and you can get there either by elevator or by the stairs, which I recommend to try and burn all the extra calories you can before this meal!
I love the ambiance of Palo, it's elegant and yet modern at the same time. The huge circular lamps overhead which are made to look like marble are a signature of the Palo Design, as well as the illuminated wall panels.
I love how even though there are Palo restaurants on all 4 Disney Cruise Ships, each one is styled a bit different from the others. Of all the ones I've seen, this one is my favorite!
When you step into Palo you feel like you've been transported into another world. The story behind Palo is an interesting one. The Disney Magic Ship was constructed in Italy, half in the Marghera shipyard and half in Ancona. Disney chose to give the Palo restaurants a Venetian theme as its way of saying thank you to Italy. In fact the word "Palo" in Italian means: pole, which refers to the Gondola Poles present throughout the restaurant…get it now? 😉
Notice the gondola pole behind the reception desk?
Everything is designed so elegantly
Ask you enter on the right you'll notice a col collection of Venetian masks that are used to celebrate Carnivale in Venice:
This one was particularly interesting to me:
These guys are pretty funny too:
Let's continue to make our way through the restaurant…
Past the masks on the right you'll find a beautiful display case filled with rare and expensive wines.
Palo has an amazing collection that is sure to satisfy the biggest wine connoisseur..
These three particularly caught my eye..
After the wine case you'll come into an open area where the restaurant starts making a curve. That's because it's starting to wrap around the back of the boat.
Notice the lanterns, another tribute to Venice..
Here's the bar:
Definitely modern influences. Really diggin the futuristic looking wine rack behind it!
Further down still you'll find the Open-style kitchen. A fantastic opportunity to watch the masters working at their craft:
The Chef Salvatore was super nice, and come to find out he lived some time in Bergamo, Italy, where my wife is from!
The details of this place are really what I love. These colorful ceiling lights remind me of the stained-glass that the island Murano off the coast of Venice is so famous for:
Here's some funky artwork on display in the Palo Lobby…
This was my favorite plate on display…
Also this was a cool touch, a map of the World of Disney built into one of the lamps. Notice Disneyland, Disney World, and some of the Cruise Ships making their rounds.
Here's a close up of it:
TIP: Palo offers unprecedented 270-degree views of the surrounding sea, but try to get there around sunset for the best views. That means take a look at the sunset time before making your reservation for the best experience. If you come after it gets dark it will still be an awesome meal but it's totally black outside and you won't be be rewarded with something like this shot which I took on the deck right outside Palo:
This looks like a perfect table for 2 for you and your significant other…
Or maybe you like this one better:
Or a booth perhaps?
The Main Dining Room is actually quite big, even though it doesn't seem like it at first:
And it wraps around to the other side:
We had a huge party of 16 people and they were so kind to specially arrange all our tables for us, like this special table in the center of Palo:
If you have a private party and are looking for some privacy, then the back room is for you:
I was absolutely floored when I saw the mosaic mural of Venice on the wall!
It's so bright and colorful and represents the spirit of Venice well:
I'm amazed at how detailed it is!
Here's a Video Walk Through of the Palo Restaurant on the Disney Magic:
Service:
I usually don't make a whole section for the service of a restaurant, but before getting into our favorite part, the food, I wanted to point out that I'm not sure if I've ever been treated as good as we were during my Palo dinner review. Everyone, starting with the Manager Felice, was top notch. He went out of his way to help us with a reservation mix-up and was always smiling:
The Chef Salvatore was incredible also, coming to our table and chatting with us a bit, and explaining any food/dietary question we had! He like many of the people working at Palo are Italian, so when he heard us speaking in Italian to him, he lit right up!
We also were grateful to have the BEST waiter in Palo serve us during our Palo dinner review, Ugo. Thankfully he also followed us as our waiter when we returned for brunch a couple of days later. He was incredible and made all the best suggestions for us and was there within a drop of a hat the whole night. He cleaned our table in between each course throughout the night. If you go, ask for Ugo, he's amazing!
The table settings are exquisite, love the roses set in the middle of the table:
These will be getting filled really soon….
Ok, enough chit-chat, bring on the food:
Food:
As if Palo wasn't impressing already, this is where the magic happens! The beauty of Palo is the menu. Yes you have to pay $40 per person, but you can try everything, you can literally every-single-thing on the menu if you want to, and we just about did!
The menu is Northern-Italian based, so while you will find classic Italian dishes from an American's point of view, there are also some things you may have never tried before.
For an additional $59 over the normal $40 price, you can try the Esperienza Del Vino (The Wine Experience), which pairs a 6-Course tasting menu with 6 different wines, perfectly matched up to each course. It sounds amazing but honestly an extra $59 is a high price to pay for essentially the wines, so unless you plan on drinking a ton of wines with your meal it's not worth the extra cost to me, the regular menu is just as spectacular and a lower price.
Let's look at the regular menu now, starting with the Antipasti, Salads, and Soups. You basically have 2 of each, first a Caprese Salad (mozzarella and tomatoes) and a Fresh Arugula Salad. For soups there's a Tuscan White Bean Soup, and for seafood lovers the Ciuppin Soup.
Next up the Pasta course. There are 5 different pastas ranging from varieties of Ravioli, Penne with Shrimp, Pappardelle with Lobster or a Wild Mushroom Risotto. For vegetarians there's a Polenta with grilled Mushrooms and Spinach.
Fish is next and you can choose between Sea Scallops, Tuna Steak or Dover Sole.
And last but not least the Meat course where you have a choice of all your basics, Chicken, Rack of Lamb, Grilled Beef Tenderloin and a Milanese specialty: Osso Buco, which is a slow-roasted Veal shank with Milanese Risotto…my mouth is watering already!!
Of course Palo has an incredible Wine List, so we started off with a glass of the Montepulciano D'Abruzzo, not the most exquisite wine, but a nice solid dry red:
Next I ordered a Limone-Basilico (Lemon and Basil) Martini. I love lemon-anything so this one which had Limoncello and a bit of mint shaken in there too, made it simple, refreshing and delicious!
Antipasti Course:
This Bread Basket was really good, with a mix of a few things: Grissini (bread sticks), a paper thin cracker-like bread, but the best was the focaccia, which had fresh herbs and oil on it! I can't fill up yet though, too much to try…
Speaking of which, didn't I tell you there was an Antipasti Cart that gets passed around BEFORE you even start eating anything from the menu?? It includes Roasted Peppers, Bresaola, Prosciutto di Parma, Parmigiano Reggiano Cheese (aged 24 months), Artichokes and a variety of Olives:
This thing is ridiculous! Where do I start? Everything was so good and complimented each other so well! The Roasted Peppers are roasted in an oven with olive oil, garlic and rosemary, they were really good, you could really taste the grilled flavor to them! The Artichokes were great, too, Ken isn't even an artichoke guy and I couldn't get him to stop eating them!
My wife goes crazy for Olives, and these were outstanding, she was popping them in her mouth like candy! I'm a big fan of both Bresaola and Prosciutto, and both were good, but to me the prosciutto was better this time. Sweet, sliced really thin, it practically melts in your mouth!
But my favorite thing about the antipasti was the CHEESE! 24-month aged Parmigiano Reggiano cheese is one of my favorites of all-time. I recently toured a farm outside Parma where they make it, and it gave me a new appreciating for this marvelous creation! It had a has a sharp, complex fruity/nutty taste together with a strong savory flavor and was smooth.
Top top it off, they poured Aceto Balsamico di Modena on top of it, which is not your normal salad version balsamico, but aged for 8 years, which gives it a thick complex texture and perfect to pair with cheese. Wow do I love this stuff!!
Now that we were warmed up, our menu Antipasti started coming out. First was the Tomato and Buffalo Mozzarella Caprese Salad – w/Beefsteak Tomatoes, Buffalo Mozzarella, Basil, Virgin Olive Oil and Arugula:
I can never say no to Buffalo Mozzarella, which in case you haven't ever tried it before, it's sweeter and creamier than your normal fresh mozzarella, and something you will never forget! The ingredients are shipped fresh from Italy. The tomatoes, which are blanched in hot water for a few seconds, I thought could have been more flavorful, but the buffalo mozzarella can't be beat!
Next was my favorite from the antipasti, Soft Potato Gnocchi – Tossed in Piennolo Tomato Sauce, garnished with Kale and caramelized Grape Tomatoes:
These were so tender and light, like little pillows of heaven melting in your mouth. The tomatoes used in the sauce come from Piennolo which make them sweet. They are made-in-house and the small portion is great for tasting!
Next we had the Ciuppin Soup – Mussels, Shrimp, Calamari, Red Mullet and Monkfish poached in a Garlic Basil, White Wine Tomato Broth:
This was very, very good, and had a little kick to it. It had a real nice mix of seafood inside which was very flavorful and light. Fish was tender and cooked perfectly, really liked it a lot!
This next one was hard to beat though, Fritto di Calamari e Gamberi – Deep-fried Shrimp and Calamari with Lemon-Garlic Mayonnaise and Marinara dippings:
To be quite honest I don't even like calamari usually, but this was out-of-control good! Wasn't chewy or rubbery as calamari tends to be, but it just fell apart on the inside, and the shrimp were some of the best I've ever had! The seafood is soaked overnight in buttermilk, that way it's crisp on the outside and tender inside. It's not heavy tasting either like fried food sometimes is.
Our waiter Ugo admitted to us it's not easy finding a fried seafood plate this good, even in Italy!
Pasta Course:
I could eat pasta everyday, which is easy to do in Italy, so I couldn't wait to see what creations Chef Salvatore had in store for us! First up was the Caramelle di Vitello (translated: Veal Candies) – Pasta stuffed with Milk braised Veal, Pancetta and Porcini Mushrooms:
I listed these first because even though they were good, they were my least favorite of the night. They are made-in-house like the Gnocchi, but they were just lacking something that I can't put my finger on. They were a bit bitter and just didn't wow me, which was about the only thing all night that didn't.
Next were the Pappardelle con Aragosta (Lobster) – Pappardelle Pasta tossed in Lobster Tarragon Sauce with Leeks, White Truffle Oil and Grilled Lobster.
These were also made-in-house and very fresh tasting. Pappardelle is an egg-pasta that's like Fettuccine but a bit wider. These were sooo good! The sauce, which had a distinct lobster taste was just plain mind-blowing! Not heavy at all. The Lobster Tail on top was super tender. My Dad and Jesse's favorite pasta dish!
Next was Butternut Agnolotti (Butternut Squash Ravioli) – with Sage-brown Butter topped with Amaretti and Buffalo Mozzarella:
This is probably my wife's favorite kind of pasta of all time, and she gave it a big stamp of approval! They were flavorful and the butternut was a nice compliment to the pasta. Sweet and savory, but not too rich. Just the right size portion, otherwise it might be too much. The amaretto wasn't overpowering either but just right. These were too perfect to even say anything else!
Lastly for the Pastas was the Pennette Pasta – Tossed in a spiced San Marzano Basil Sauce topped with Garlic Shrimp:
Imo nothing beats a good Pasta al Pomodora, and this was outstanding, and my mother and I's favorite pasta of the night! The sauce was spicy, and the tomatoes were very fresh, and there was lots of basil inside! I can't tell you how good this sauce was! Pasta was cooked perfectly al dente, and there were two GIANT shrimp on top, look at this thing:
It was a HUGE portion too, and could easily fill up a normal person just eating that, but we pushed on ahead! 😉 Awesome choice!
All in all the pastas dishes were excellent, so many rich and unique flavors you don't get often. Many of them were also very filling and something that under normal circumstances would probably fill you up, but a Palo dinner is anything but normal! 😉
Again I couldn't get over how great the service was, our waiter was attentive to our every need. A nice touch was the Lemon Sorbet to cleanse the palate in between the Pasta course and the Fish and Meat courses. It was a great sorbet, very refreshing and just what we needed!
Fish Course:
By this point the girls were starting to get cold feet continuing the meal, so the men had to take over some! Next were the Sea Scallops – Celery Root Purée, baby Vegetables and crispy Leeks served with a Prosecco and Black Tuffle Sauce:
I'm a sucker for scallops and if it's on the menu there's a good chance I'm getting it, these were ecceptional! 4 perfectly seared scallops which were so juicy and tender inside, they cut easily with the butt of the fork. The Prosecco and Black Truffle reduction give just a hint of acidity to the dish. Awesome choice here!
We couldn't not order the Marinated Big Eyed Tuna Steak either. It came with with Green Beans, Roasted New Potatoes, Quail Eggs, Cerignola Olives and White Balsamic:
After a lot of flavors, the tuna was perfect because it was so light, just slightly seared on the outside. Pink on the inside, very meaty, and not fishy at all…like eating a very tender steak. The green olives with the tuna are form the southern Italy. The soft boiled quail eggs had an interesting texture, liquidy on the inside. Not really my thing, but the tuna itself shined!
Meat Course:
Coming down to the homestretch there was this beautiful Grilled Beef Tenderloin Steak – with Pancetta Potato, Sautéed Spinach, Gorgonzola Cheese Sauce:
Basically take a super tender and flavorful filet and smother it with Gorgonzola cheese….yeah just keep imagining that right there! Gorgonzola has a particular taste, but it matched up really well with the steak, it was real creamy!! Steak itself was really really tender, one of the most so I've ever eaten. The whole thing just melted in your mouth. Just think my wife was stuffed, and yet continued to take bite after bite, because she just couldn't stop! Awesome!
Roasted Rosemary-rubbed Rack of Lamb – with Roasted Carrots, Caponata, Olive Oil Potatoes, Rosemary Jus on the side:
I'm not a huge lamb guy, although I've been trying it quite a bit lately in a few places, and this was really exceptional! It didn't taste "gamey" at all, I would have thought it was beef. An interesting point that Ugo told us is that in Italy the lamb is really "gamey" and they leave it overnight soaking in wine to get rid of that taste, with this one however didn't need to do it at all. It was really tender, and can get it with or without the Wine Reduction Sauce:
I preferred with with the sauce as I thought it really complimented the meat. It's also very filling as they give you two big pieces, that by this point in the night seemed to me like the whole lamb! hahaha. Veggies were ok, but the star was the meat itself!
Dessert Course:
At this point we were already 3 Hours into our experience and we were searching deep down for any last bit of space inside for dessert. We were thinking something light, but then the waiters surprised us and brought us every-single dessert on the menu! You should have seen the expressions on everyone's face, half joy and half terror, trying to figure out how we could possibly do it! Don't worry, I found a way!
Gelato Tasting – Caramel Macadamia Nut, Double Chocolate, Mango Mint, White Chocolate Espresso and Mixed Berry:
What can you really say that explains how good homemade gelato is? Take your best U.S. made Ice Cream, make it creamier and double the tastiness. These were really good too. Personally I'm not an espresso or mint guy, so the others gobbled those down, but my favorites were the Caramel Macadamia Nut and Mixed Berry. Two polar opposites but just so smooth and flavorful, perfect to wash down that huge meal!
Vanilla Bean Panna Cotta: – with Strawberry-Basil Sorbet, Raspberry with Crumble:
Panna Cotta is cocked cream, which I promise you is much better than it sounds. This one had a strong vanilla flavor which was great. Just the right consistency too! The accompaniments weren't my favorite, but if you like panna cotta it's a good choice.
Warm Orange Almond Cake – Orange Fennel Salad with Rhubarb Puree and lemon Cream:
This was a good choice. It was very tasty and had a soft inside, not dry at all, but a bit crunchy. Good texture. There was an almost subtle almond flavor and the strawberries were an excellent compliment. Good but still didn't "wow" me…
Sugar-Free Apple Crostata – with Salted Caramel, Braised Cinnamon Apples, and Whipped Cream:
While I normally don't go for sugar-free desserts, I have to say this was really good. The apples were soaked in cidar, and they were sweet themselves, so no need for added sugar. It had a nice texture and a really nice apple flavor. I recommend this for sure.
Palo's Homemade Tiramisu – layered Coffee-infused Ladyfingers with Italian Mascarpone Cheese:
If you are a Tiramisu fan then watch out, you are going to be in your happy place when you take your first bite! Not a strong coffee flavor, and that mascarpone….wow, so creamy!! An exceptional dessert!
Things really started to get good when I saw my Lemon dessert arrive!! Lemoncello Tart – Served in an Almond Crust, topped with Yogurt Cream and Carmel:
Yeah you read it right, not just lemon, but lemoncello!! I'm really picky about my lemon desserts, but the lemon here was one of the best ever..no joke! It was really light and creamy, and though I was ready to explode at this point, I couldn't let go of the fork. Too good…..
But wait, there's more….
At this point we were working on close to 4 hours at Palo, but I saved the best for last! We were super happy with the desserts we'd tried, but there is 1 for which Palo is famous: its Souffle! It just so happens that during our stay there were 2 flavors available: the traditional Chocolate and also Amaretto, both served with Vanilla Bean and Chocolate Sauces. Without even asking you already know what we ordered…both! 😉
These are specially made and you have to allow 20 minutes for their preparation, so put in your order early if you are in a hurry. The buzz around these was almost too much to bear, there's no way they could live up to the hype! My eyes just about fell out of my head when they arrived!
Amaretto Souffle – with Vanilla and chocolate Sauces:
The presentation on these thing is really incredible. Once they arrived you could smell the aroma pouring out of them and filling the air, almost intoxicating. We skipped the stage show on-board that night, but were more than entertained just watching these be delivered to our table!
Chocolate Souffle – with Vanilla and Chocolate Sauces:
The presentation is clean, Souffle and two little cups of the Vanilla and Chocolate Sauces…
A crunchy layer of chocolate on top covers the souffle and what happens next will blow your mind…
Seeing the sauces being poured into the piping hot souffle and mixing together to form an indestructible team of flavor is a thing of beauty!! This thing was sooooo delicious!! My already full stomach was telling my brain not to eat, but my eyes had already fallen head-over-heels and didn't listen. It's such a rich and creamy dessert, and truly a chocolate lover's dream come true!
I preferred the Chocolate Souffle over the Amaretto one, but both were outstanding! This is an absolute MUST TRY for anyone dining at Palo!!
Lastly as the Italians do, we were given a digestive to wash down our meal, this was a Sgroppino Veneziano – basically it's Prosecco and Lemon Sorbet Apple Brandy mixed together. Delicious, and a fantastic finish to our meal!
Summary:
Everything was completely amazing! The atmosphere was incredible, you can't beat the views you get at Palo, especially if you come before the sunset!
The service was 100% top notch, from the manager, to the chef and right down to our waiter, everything we asked for we were brought and they made sure to give us a truly magical experience!
And everything we ordered from the amazing Antipasti Cart (that was so long ago, did we really eat that?), to the appeitzers, Pasta, Fish, Meat, and Desserts were all 5-Star quality, prepared fresh. If you like food you will like Palo! The highlights for me were the Gnocchi so light and fluffy. The Fried Calamari was possibly the best I've ever had in my life. Basically every Pasta was incredible. The Seared Scallops, the Beef Tenderloin smothered in Gorgonzola Sauce and Lamb were all incredible. And if you are a chocolate lover, your life's mission will be complete when you try the Palo Souffle!
Overall our experience during our Palo Dinner review was one of the best dining moments of my entire life! I can't say one thing negative about it because it blew away all my high expectations going in. If you don't try Palo while on your Disney Cruise vacation, then you are making one of the biggest mistakes of your life!
Palo Dinner vs Palo Brunch?
Honestly both experiences are out-of-this-world and if I were you, I would definitely make it a point to try both. no-where else in the Western Hemisphere can you enjoy a truly 5-Star experience for $40. That said if forced to choose I lean slightly toward the Dinner. The atmosphere is a bit more romantic, with the sunset. You don't have to worry about hurrying up and going to some other activity after your meal. Also I just liked the overall choices a little more for dinner than brunch. But again, you have to try both imo and decide for yourself as our group was split down the middle of this arguement!
If you are looking for a Palo Brunch Review, don't worry, we've got you covered and it's Amazing too!! 🙂
I love to write Restaurant Reviews of Walt Disney World, Disneyland and Disney Cruise and I hope you found this one to be informative and helpful. If you liked this review then please visit my Disney Dining Reviews Page where I have many other Restaurant Reviews. I'm happy sharing with you what I love doing best…eating! ? I try to bring you the most thorough and unbiased reviews about the food and restaurants at Walt Disney World, so that as you are planning your vacation, you know the "can't be missed" places, and where you shouldn't waste your time. Hope you enjoyed this one and will enjoy many others in the future!!
Your Thoughts:
I want to know what you think about my Disney Cruise Palo Dinner Review. What was your experience at Palo like? What was your favorite part of it? Where does it rank all-time in your Disney Dining experiences? Let us know in the comments section below!
If you enjoyed this article, as always I appreciate it if you'd share it with others via social media. I work hard at making this website into a useful resource for you and your family to plan your visit to Walt Disney World, and I hope it can help you! Thanks 🙂