As if you didn't have enough amazing new places to eat on your next trip to Walt Disney World, some new details have been released about new restaurant Homecoming Florida Kitchen and Shine Bar which will open sometime this Summer. Chef Art Smith's new restaurant concept will feature Home-Style Southern cuisine with Smith's own characteristic twist.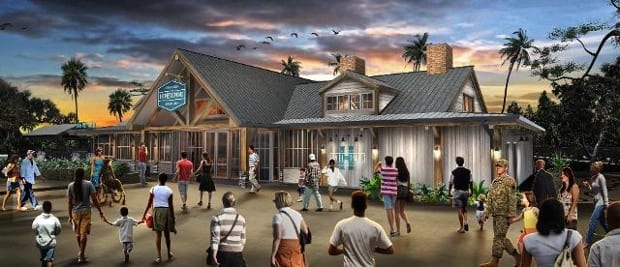 The ingredients will concentrate on fresh, locally farm grown food and a taste of Classic Florida cooking. The restaurant is described as: rustic-chic and will feature a glass-walled show-kitchen so you can see all the action happening right in front of you! Sounds awesome!
Some of the featured items on the menu will be:
Homemade Pimento Cheese
Church Lady Deviled Eggs
Cheese-laced biscuits
Kale Salad with Sweet Grass Dairy cheese and spiced pecans
Iron Skillet Sweet Potatoes
Low country Shrimp and Grits
Shaved Country Ham
Grilled Black-strap pork chop with sawmill gravy
Signature Fried Chicken and Doughnuts…sign me up please!
and lastly what's being called "exceptional" Mac and Cheese…we'll see about that as I have eaten quite a bit of delicious Mac and Mheese in my lifetime… 🙂
"Each dish has a little Florida twist and make guests feel like they're on the back porch with me for every meal," says Smith.
As if you needed more incentive to try Homecoming, it will Desserts will be a specialty as well, with cakes, pies, fruit cobblers and other delicious sweets made daily and shipped from a bakery in Hamilton County, including the restaurant's signature Mockingbird Cake!!
The name of the restaurant as you might have noticed is Homecoming Florida Kitchen and Shine Bar, and that name is there for a reason too! The Shine Bar will feature cocktails and distilled spirits made right in the state of Florida (sense a theme?) and use farm-fresh herbs and homemade mixes which will make up the drinks. Dwayne McQuillen, the restaurant's general manager, told me that the Southern Shine bar will offer nearly a dozen Florida-centric drinks, and it will focus on things made right in the back yard….Moonshine anyone!?!?
Homecoming Florida Kitchen and Shine Bar is shaping up to be a must try restaurant this summer, along with the dozens of other new eateries in Disney Springs! Make sure to get down to try them all and watch for new updates for Homecoming and other new Disney Restaurants.
Let me know what you think of Homecoming Florida Kitchen in the comments section below and what you can't wait to try!
Photo Credit: Disney Parks Blog