About a month ago I gave you a taste of what STK Orlando was going to be like, and now that it's open I can give you an actual review! STK Orlando is one of many in a group of STK restaurants, (New York, Las Vegas, Miami, Chicago, Los Angeles, Atlanta) and there are more on the way too. I'm so glad that STK has decided to make a home also in Disney Springs, because it's unlike any other restaurant on Disney property!
I had very high expectations going into it, and that's usually a bad thing because it's very hard to meet sometimes when we imagine something great in our heads. But STK Orlando really came through. Let's take a look….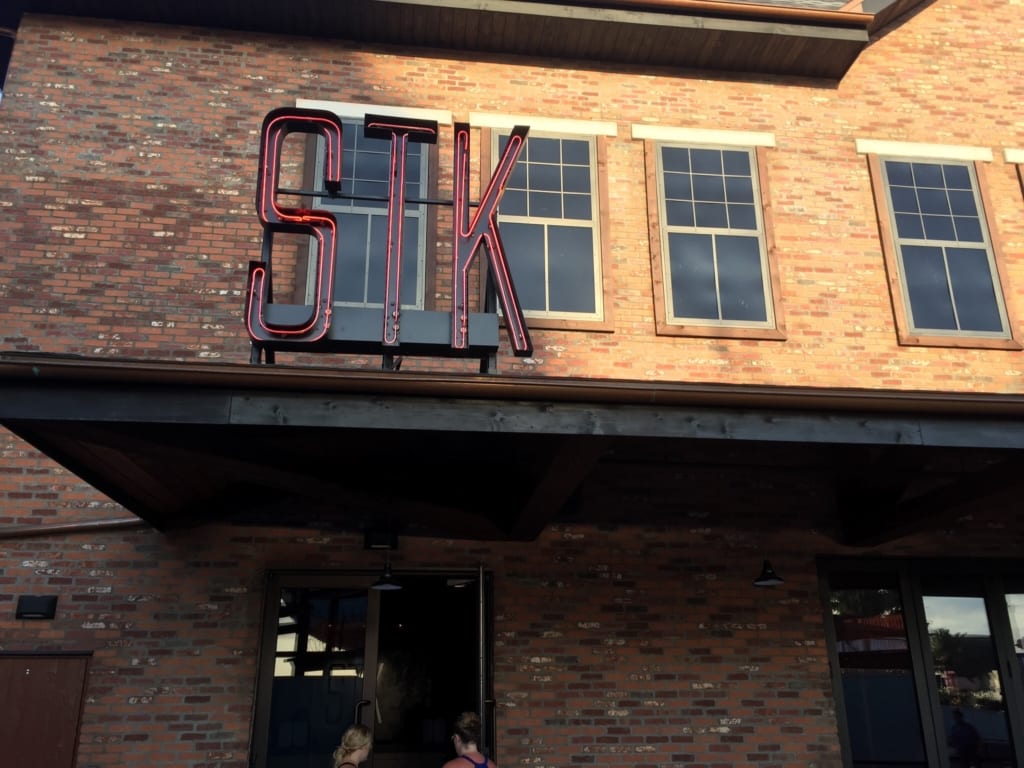 STK Orlando is positioned well in the heart of Disney Springs, in The Landing. It's in the area close to Paradiso 37, Planet Hollywood and Morimoto's Asia, while over looking the Town Center.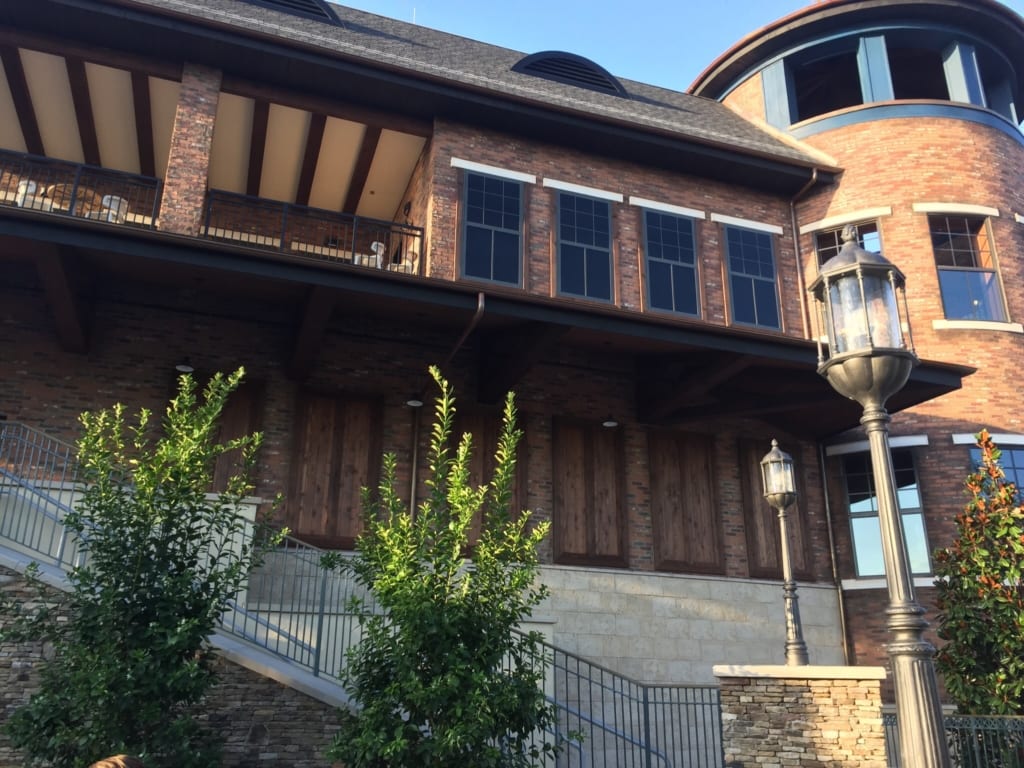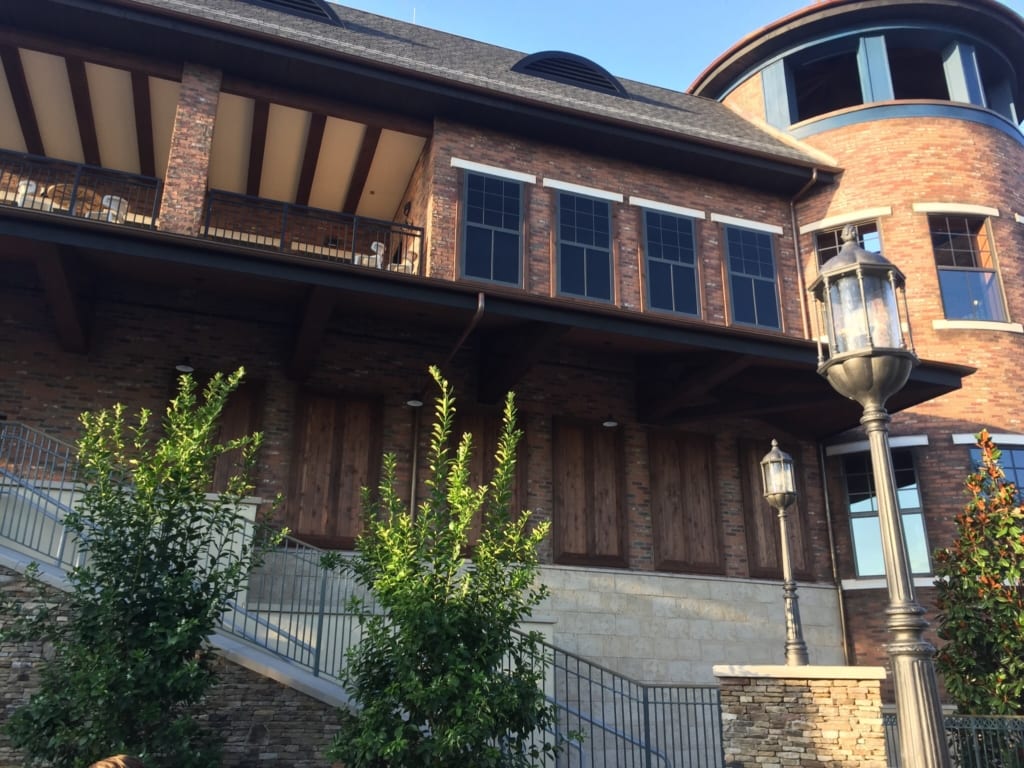 Atmosphere:
The design of STK is really unique. The outside of the building is made of brick and is supposed to resemble an early 1900's train station.
We're going to take a look inside, but I wanted to show you the rooftop terrace, because it's absolutely amazing. The photos don't do it justice, I would go on a warm evening and go up top to the terrace and have your meal and just enjoy the great view. There's awesome hanging lights too and the sign lights up in the evening. It would be a great location if you are planning a private event and are looking for a restaurant. Truly special! Ok, let's go inside..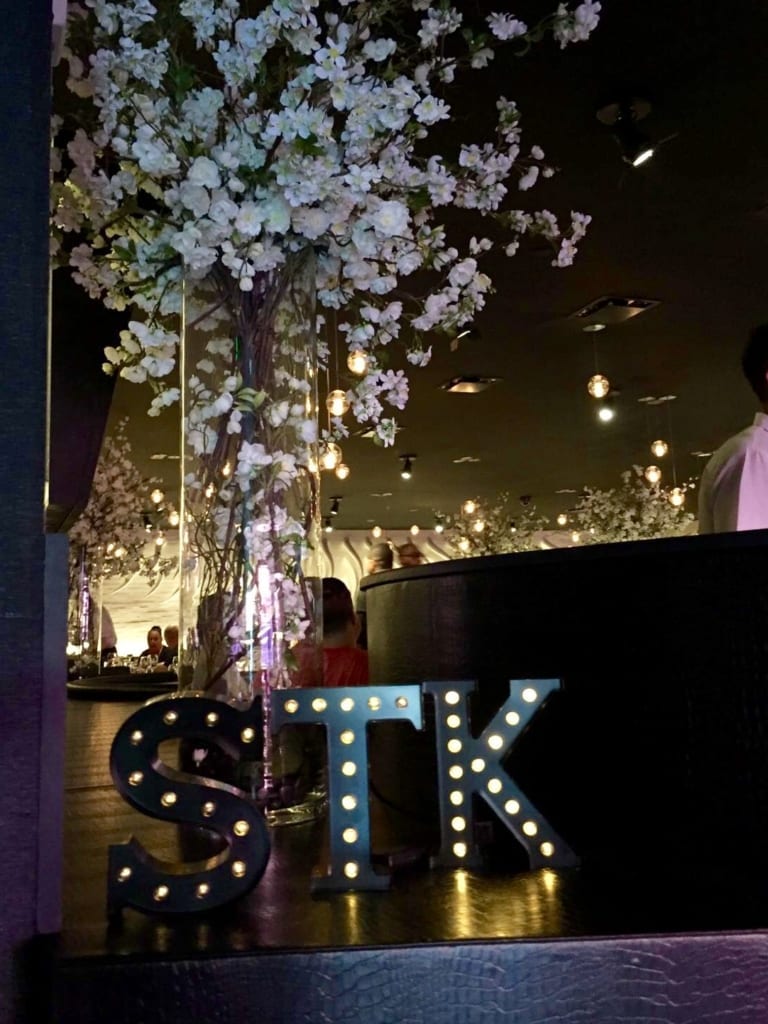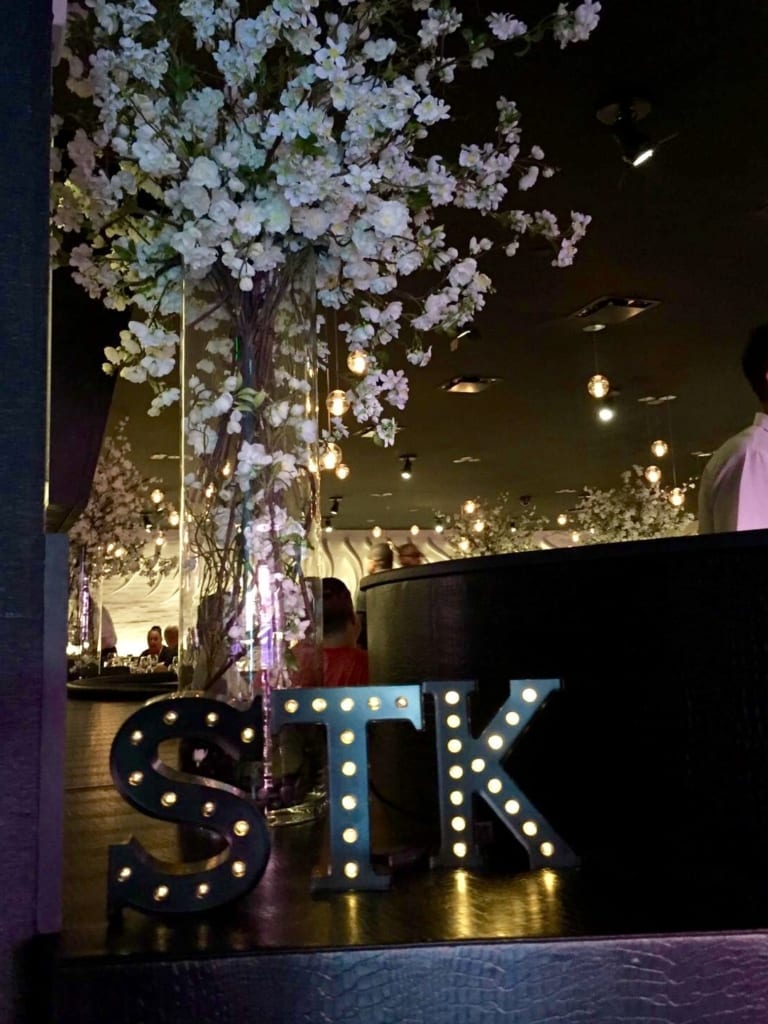 The first thing you notice is the stark contrast from the outside of the building to the inside. The interior is really unique and not what you would expect at all when you enter. Inside STK Orlando it's ultra-modern, very sleek. It has little natural lighting, so it's a bit darker inside, but it works nicely off a blue and purple color lighting scheme. It's more like entering a hip, super high end NYC nightclub than a restaurant in Disney Springs. In fact to expect to see Jay-Z over in the corner with a bottle or 2 of Cristal! There's even a live DJ that plays music throughout the night. Definitely a nice escape who wants a break from the normal "Disney vibe".
The flower fixtures are striking and I personally love the look of them, so modern and gorgeous! The tables are very different looking, modern but yet very comfy at the same time. The main dining room has deep booths, and there are also high-top tables around as well. The booths are really big, there was for sure a lot of space.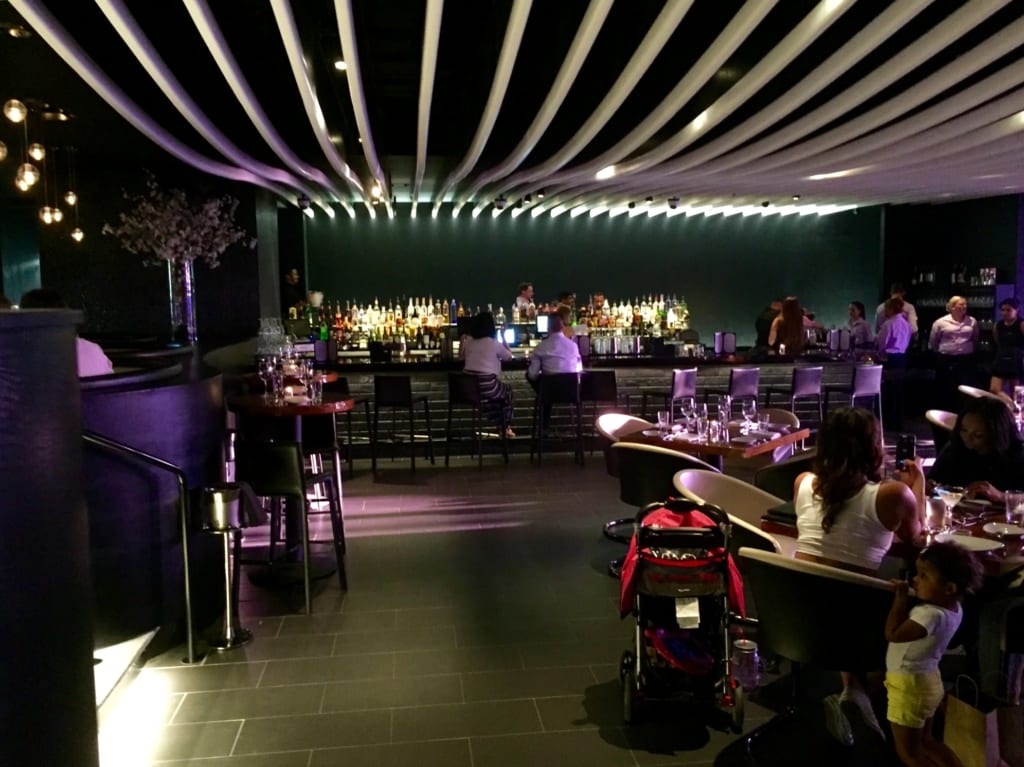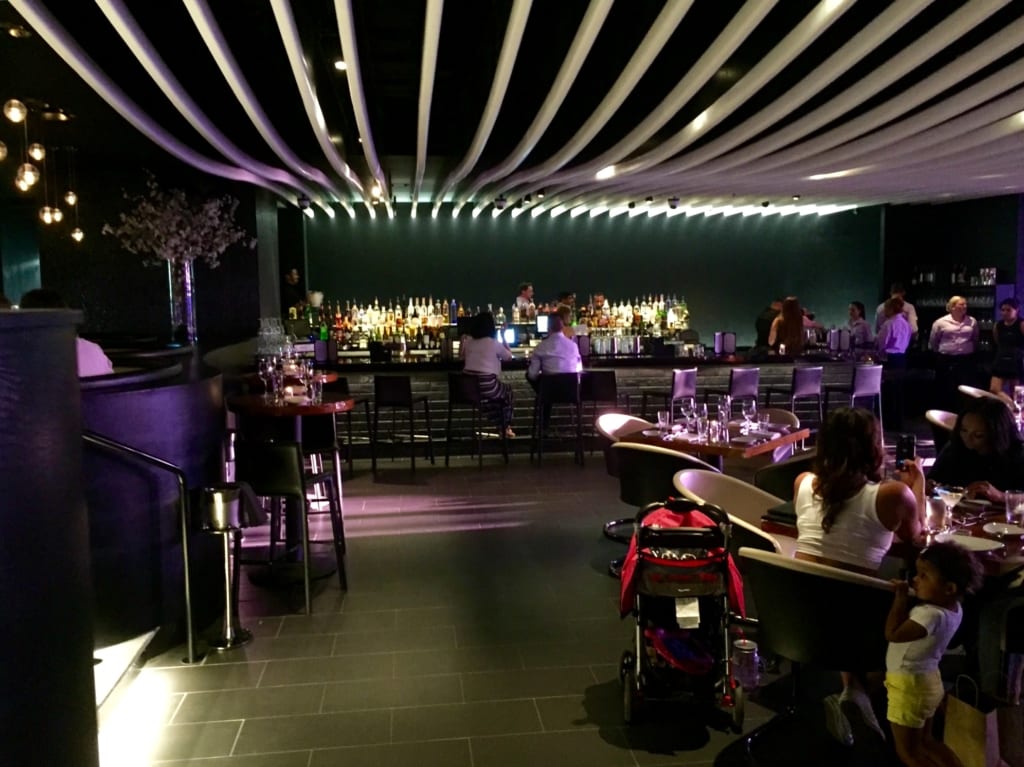 It wasn't packed during our visit, dinner was at about 8pm and I would say it only was about half full. I would say it got a little more crowded as the night went on, but I was surprised to see so few people. Maybe because it is still new, or in my opinion it's a place you go on the weekend when you want to stay out late, there's a DJ and it really does have that club feel to it. Maybe in our case on a Wednesday night it doesn't get to max capacity.
I would say despite the sleek design it's not an overly romantic place to go on a date, at least not in the main dining room. Maybe on the rooftop would be more romantic, but if your looking for a very quiet, calm evening, look elsewhere. That's not a complaint, and talking wasn't a problem, but it has a more hip funky vibe than straight romance.
Even though as in the picture above you do see kids, in my opinion it's not really suited for kids, especially small ones, it's better when you are going out with your friends.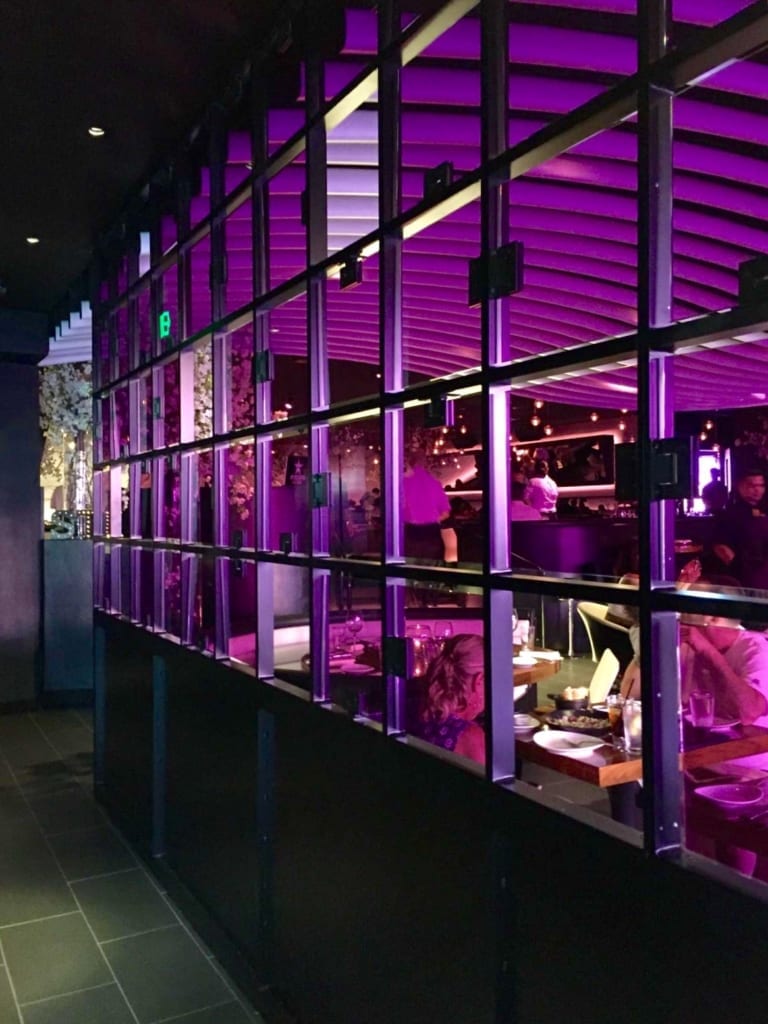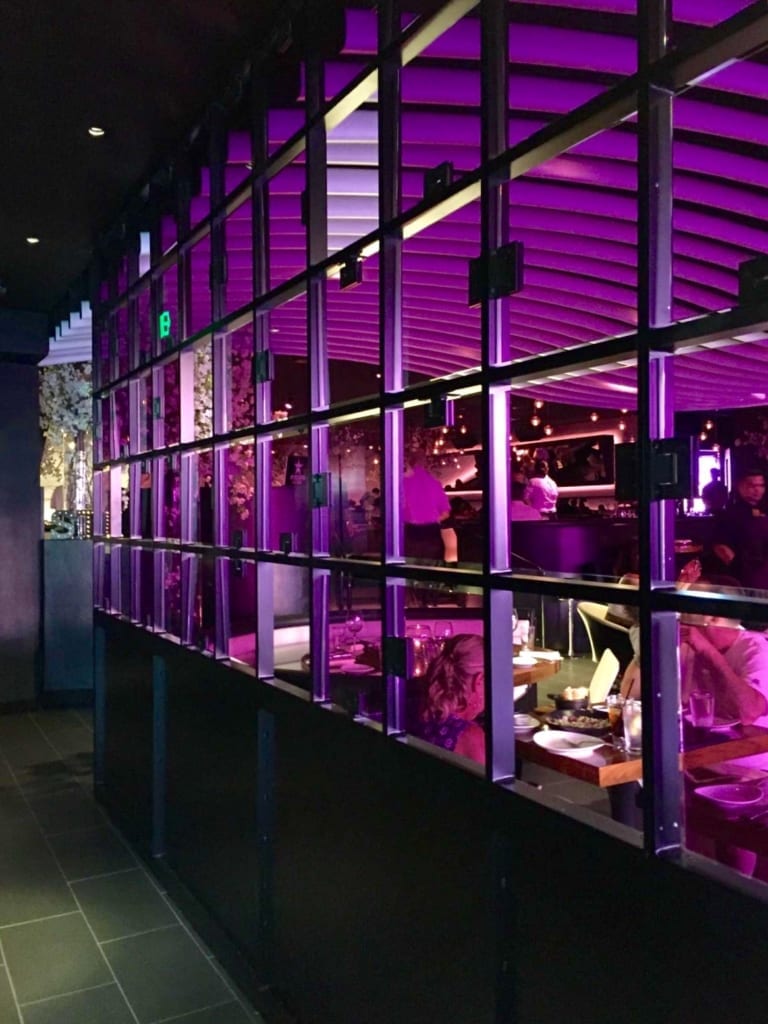 You can see from the photos how awesome the lighting scheme is, I was really impressed, although it made it more difficult to take pictures! 🙂
STK Orlando's Food:
This being a high-end steak house and us being complete carnivores, we were super excited to get down to business and try the eats out. The first thing to know is, this is a High-end steakhouse, so come into it knowing it's not going to be a cheap meal. There is a Dinner menu, but also a Lunch menu with some lower priced sandwiches on it.
The appetizers run from $18-21, with salads from $11-17. For example, I didn't order them, but I saw the Wagyu beef sliders, and I heard great things about them, but you get only 2 small sliders, and they cost $19. Most of the Chicken, Lamb or Fish entrees will run about $30-45, with Steaks running from about $30 all the way up to $92 for the 32oz Porterhouse. I'm ok with those prices if the food quality meets up to the price, and we found the quality was well worth the price.
But looking at the menu I was pleasantly surprised with the offerings because they have some different takes on their offerings you don't find in a lot of steakhouses. So let's dive in.
The first item was the Bread Service. Unfortunately I don't have a picture of it as everyone was starving from the flight down and we completely forgot. Close your eyes though and go with me as I describe it to you. Well, I guess you have to keep your eyes open as I'm writing to you and not talking, but go with me anyways…:)
The Bread was a small round loaf that comes served in a skillet, so you know it's nice and warm. It has a STK's special blue cheese butter melted over the top of it which was really delicious. It wasn't a strong blue cheese taste, I'm not usually a blue cheese fan, but the taste wasn't over-powering. It worked tremendously well with the bread as it melted right in. The bread itself was tall and puffy, and pulled right apart, like a brioche. It also comes with a green chive oil for dipping, which looking at it reminds me of something from Teenage Mutant Ninja Turtles. Good thing the taste was soooo much better than that. It was a perfect compliment. My sister was obsessed with it and said it's one of the best oils she's tried and wants to learn to make it! Bread service I would say fantastic…Great start to dinner!
Next up was the Caesar Salad. Normally Caesar salad is my go to salad, I mean if I have to eat lettuce, then might as well smother it with creamy dressing, Parmesan cheese and garlic croutons! Hey at least I eat salads…my mom would be proud! 🙂
It comes as a whole head of romaine lettuce, very fresh tasting. Lots of dressing (which also had a really good taste), shaved parmesan cheese, and a huge Parmesan and garlic crouton on top. It was really crunchy and made a great contrast to the rest of the salad. This was a really good Caesar salad, not the best ever, but a very good one and I would recommend it for sure.
Ok, enough with this other stuff, we came here for the meat! There were a few offerings that really caught my attention. I'm always a sucker for a good Porterhouse, and they have 24oz and 32 oz versions. They are $65 and $92 respectively, but they are really two big for one person and make good options to share with someone. There's also a 20oz Bone-in Ribeye which I was told is delicious and full of flavor.
We instead went with the Filet. There are two versions, the Bone-in 14oz Filet for $54 and the smaller 10oz version for $46. You don't need to even ask which one we got..the Bone-in 14oz Filet!!
Sometimes getting a steak this expensive when you are out because sometimes it's not served exactly how you want it. That was not the case here. It was cooked perfectly!! Beautifully charred on the outside, but the center was a perfect, buttery, medium-rare. Really juicy. It melted right in your mouth! Also a great flavor and seasoned well. Not overly seasoned, but just the right amount. It came with two complimentary sauces for dipping, but honestly it didn't need it at at, it had a great flavor on it's own. Overall it was an amazing steak and lived up to my expectations.
On to the sides. First up: Mac and Cheese.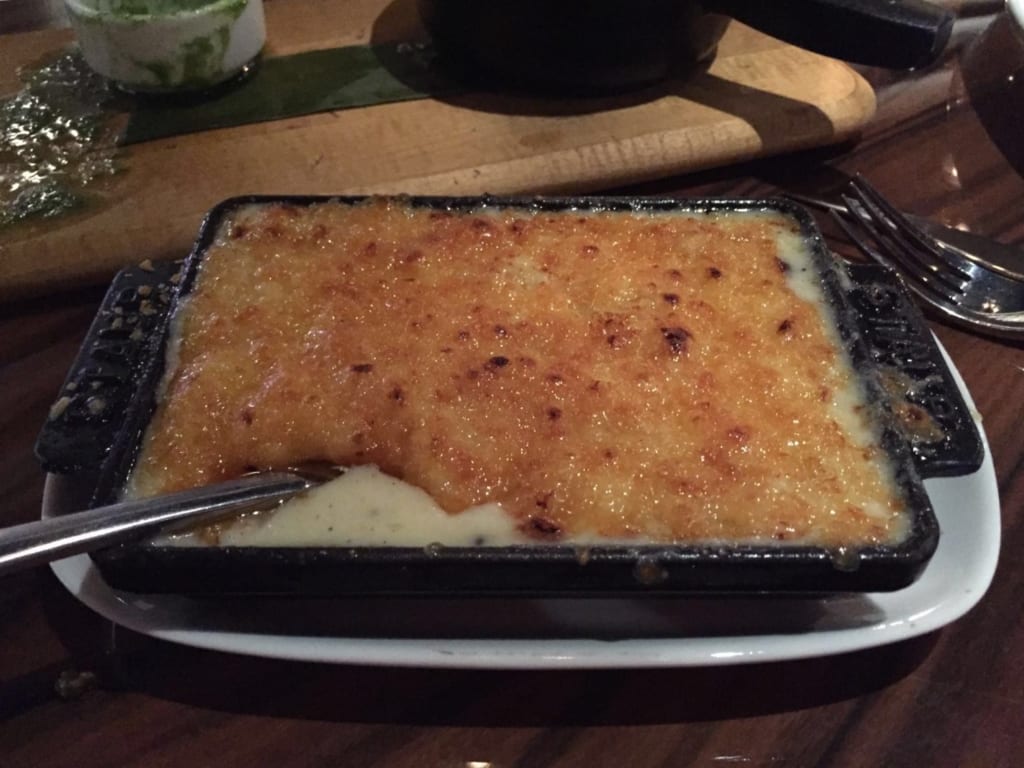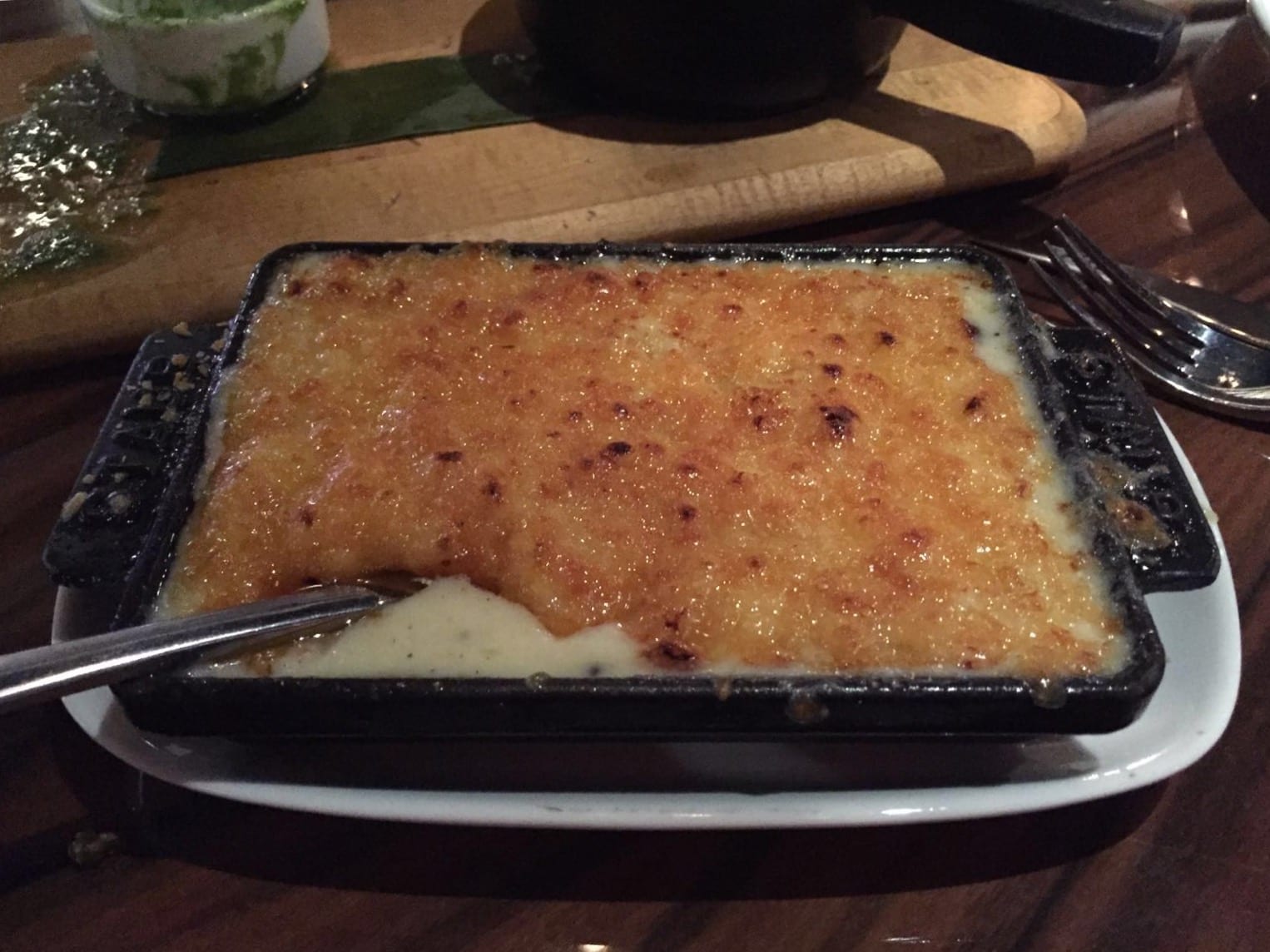 I'm a huge fan of Mac and Cheese, and there aren't many versions that I don't like. This one was really good. It was a five cheese blend, and there was more almost cheese than noodles! The flavor was good, very rich. Because of this the quantity was more than enough for two people, so I would recommend getting it to share. It seems a little soupy in the photo, but most everybody liked the consistency. Overall a really good mac and cheese, but it was out-shined by these:
Parmesan Truffle Fries…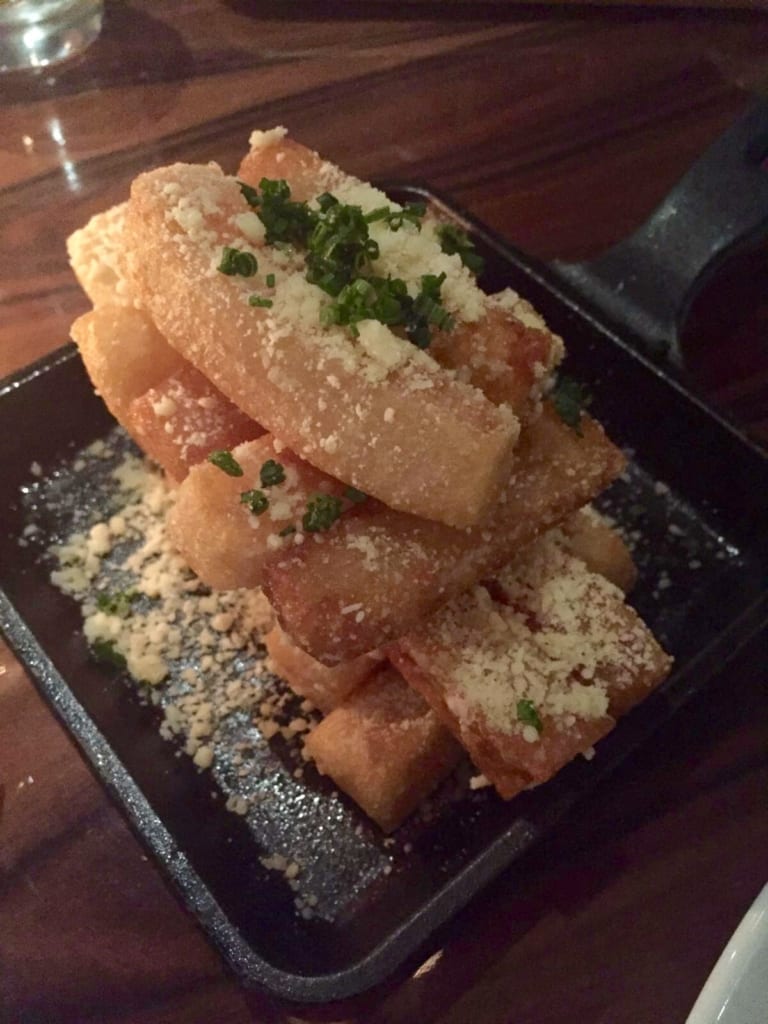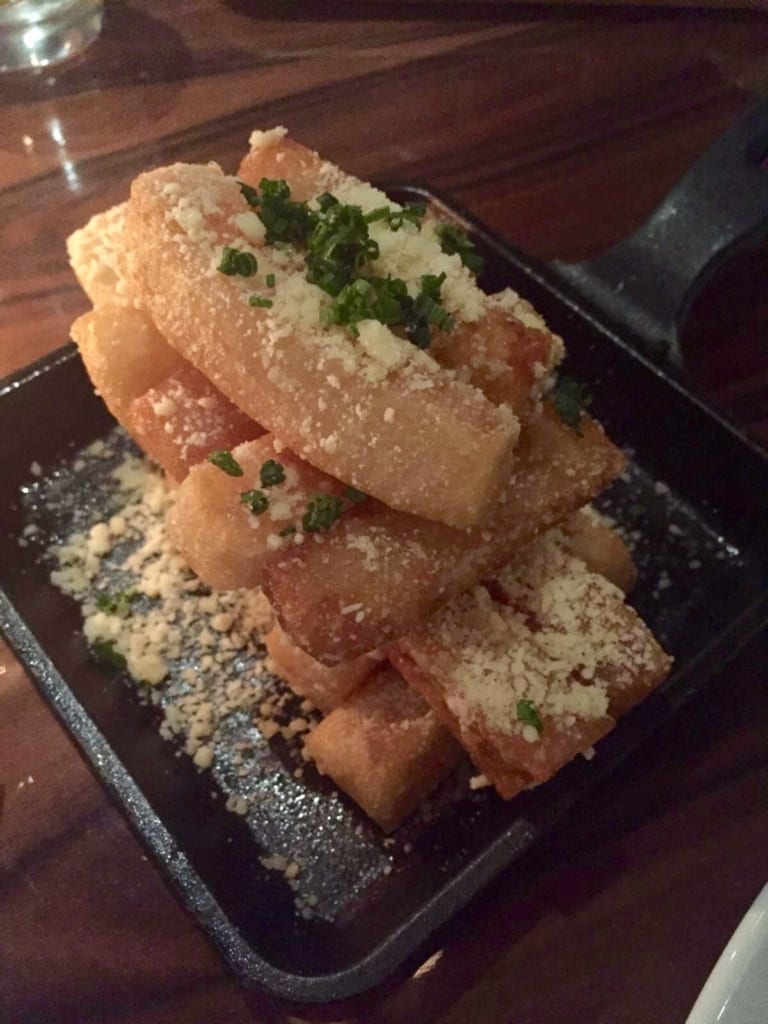 These were exceptional and stole the show! Really really awesome! They were thick, with a crispy outside, but soft on the inside. The seasoning was amazing too, loaded up with cheese. Mandy said they were the best fries she's ever had. Don't know if I'm willing to go that far, but they're up there. I'll definitely be willing to give them another try, for research purposes only of course… 😉
Lastly was dessert. There were a few options that looked good on the menu. In the end we decided to go with the Bag O' Donuts with a dulce de leche filling(which was kind of like a milky caramel filling) and double chocolate dipping sauces. The option was there for one chocolate and one raspberry, but everyone wanted chocolate.
I was impressed and let down at the same time with these. Because on their own the donuts were spectacular, the filling was great and they were coated in sugar. They were served in a paper bag and fresh and warm right out of the oven. Really excellent. The chocolate sauce was just ok in my opinion. It wasn't decadent, and it was a bit runny. There is a similar dipping sauce at the Outback Steakhouse which to me is much better. So the fact that you pay much more at STK, I was hoping for a better sauce. I can't speak for the raspberry, and I would like to try it next time. On their own the donuts were really good though, and I would still order them again.
Conclusion:
Overall everyone really enjoyed the experience at STK Orlando. It has a really cool, modern vibe that makes you feel like you are in a very high-end club in NYC. It's not the best place for a 1 on 1 romantic dinner, but to go out and have a good time, it's perfect. Having a live DJ there playing music is a really cool idea in my opinion and Disney needs a place like this.
The service was incredible. The waiter was very funny and everyone was super friendly too. The waiter helped with the choices and gave his recommendations. Very assertive and helpful. Also the food was served in a reasonable amount of time.
The food was awesome! The steak was fantastic as we all hoped it would be before going. The salad was great as were the sides, especially the Parmesan Truffle Fries. And the dessert was good too. There were a ton of things I still want to try on our next visit, I think the menu has a really nice variety of choices and you could go a few times and still try new stuff.
It definitely isn't a value place as it is quite expensive, but it's in line with other similar high-end restaurants on property like Narcoosee's or Yachtsman's. You pay, but at the same time you get a really high-end product in return.
Lunch is served from 11:30am to 3:30pm daily, and dinner 5pm to 11pm Sunday through Thursday, and 5pm to midnight Friday and Saturday. The Disney Dining Plan is also accepted, it is a signature dining restaurant which requires 2 credits. Reservations can be made via the Disney World website or by calling (407) WDW-DINE.
Disney Springs continues to evolve and offer outstanding choices to eat and STK Orlando is no exception. If you want to go out and have an excellent first-class meal with great service, the highest quality ingredients and provides that in a fun, modern, yet elegant environment, than look no further…this is your place!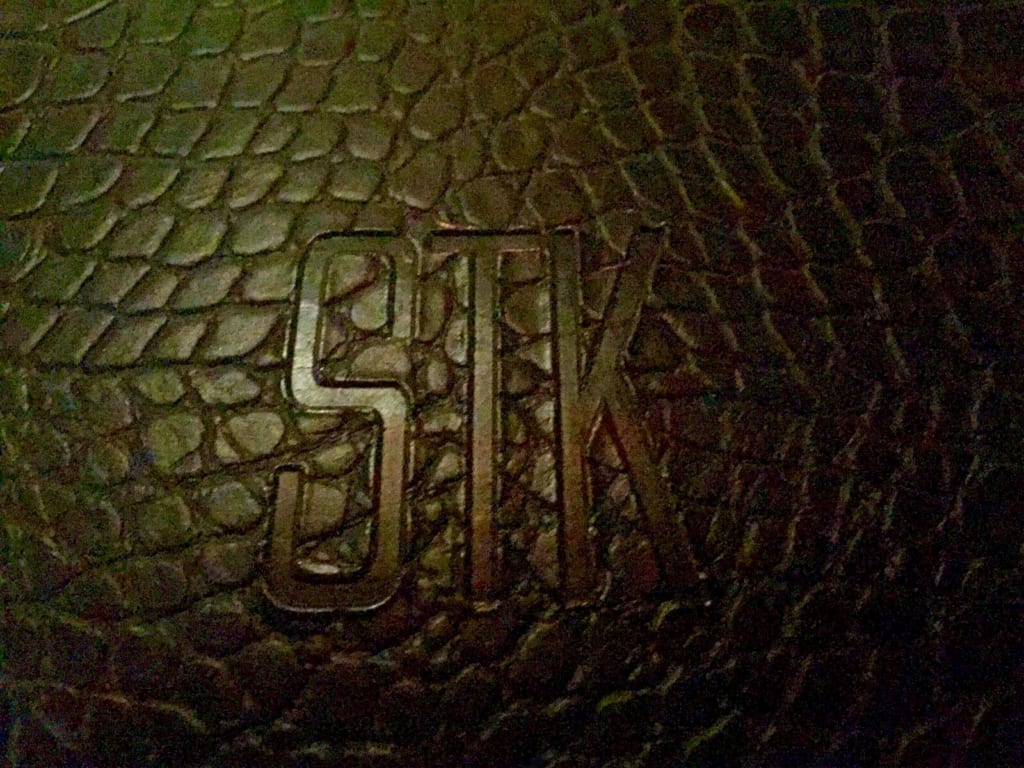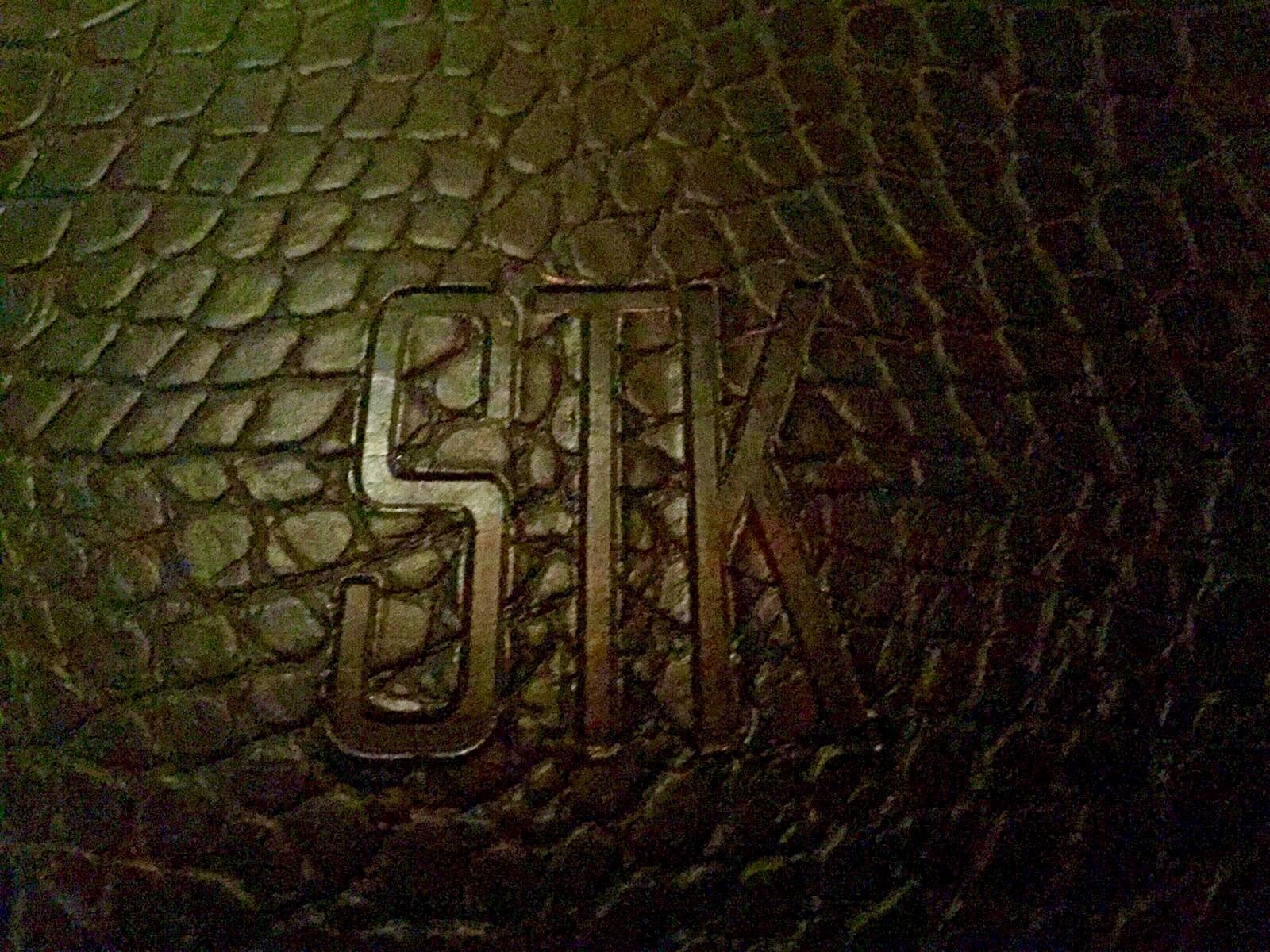 I just wanted to say I hope you enjoyed my review of STK Orlando. It was my first of many, many Disney food reviews to come. If you liked this review then please visit my Disney Dining Reviews Page where I have many other Restaurant Reviews. I'm happy sharing with you what I love doing best…eating! 😉 I hope to bring to you the most thorough and unbiased reviews about the food and restaurants at Walt Disney World, so that as you are planning your vacation, you know the "can't be missed" places, and where you shouldn't waste your time. Hope you enjoyed this one and will enjoy many others in the future!! 🙂
If you enjoyed this article, as always I appreciate it if you'd share it with others via social media. I work hard at making this website into a useful resource for you and your family to plan your visit to Walt Disney World, and I hope it can help you! Thanks 🙂
Your Thoughts:
I want to know what you think of STK Orlando. What was your experience there? What would you recommend or not recommend to others. Let us know in the comments section below! 🙂
Photo Credit: Mandy and Dan Parlegreco. Find Mandy on Instagram at: Mandytotherescue. Find Dan on Twitter at: @traveling_dan