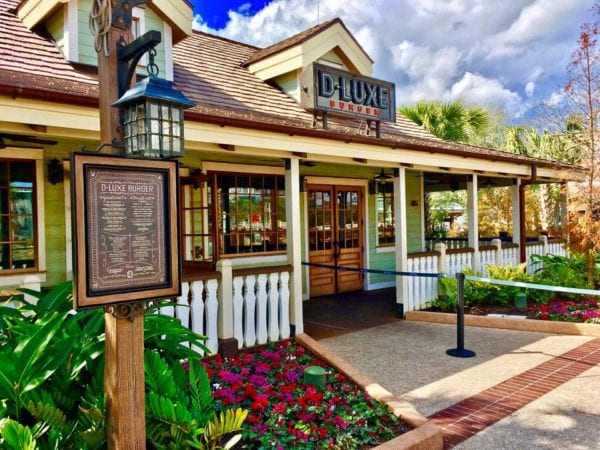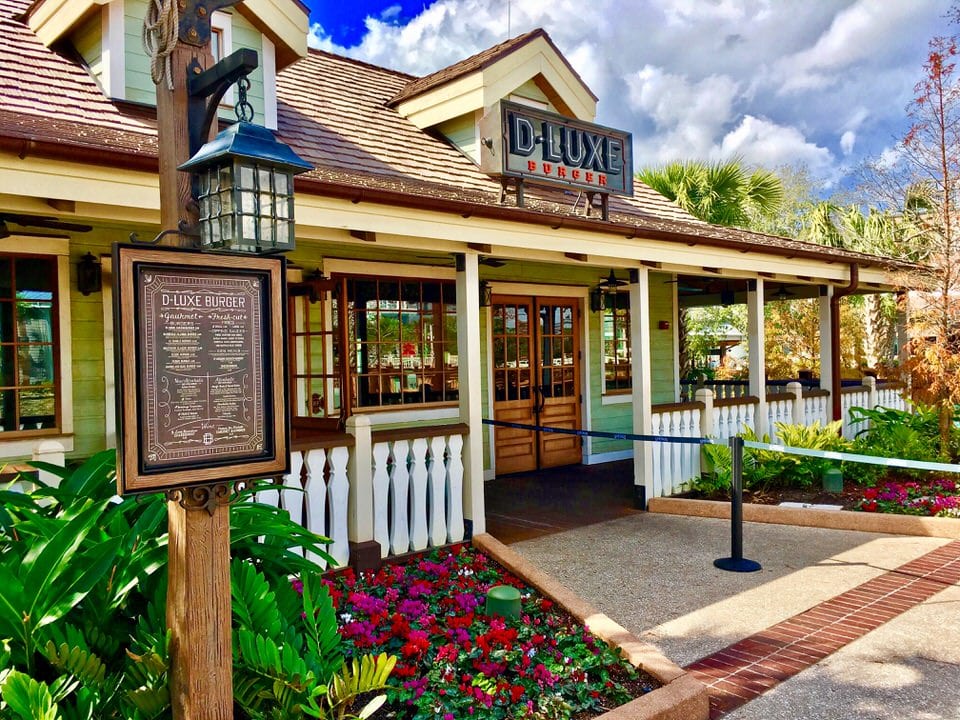 Most every guest's visit to Walt Disney World has them searching for one common thing, ok, besides our favorite Mouse. People are looking for the Best Burger in Walt Disney World. In fact I've been on that quest here practically since I was born, and now I just might have found it on my D-Luxe Burger review, maybe…. 😉
Let's start from the beginning though.
D-Luxe Burger is a Fast Casual/Quick Service Restaurant in the Town Center section of Disney Springs and is part of Disney's total remodeling of Disney Springs and the influx of new dining locations there. In fact since the remodel, there have been so many new restaurants that it's been hard to keep up. Oh the things I do for my readers! D-Luxe Burger does accept the Disney Dining Plan and requires 1 Quick Service Dining Credit. They do not accept Tables in Wonderland though at this time so you won't get that extra 20% unfortunately.
D-Luxe Burger is focused on, you guessed it, Burgers, and what they do with them is really special! Even though it is essentially quick service, expect higher quality ingredients than what you'll normally find at a normal quick-service and results in a high quality, quick meal. You'll find Signature-blend Patties, Hand-cut Fries, and thick, creamy Milkshakes! Come with me to see if the burgers here live up to the hype!
Atmosphere:
D-Luxe Burger is located right in the center of Disney Springs basically, in the Town Center, in between the Disney Springs Welcome Center and Blaze Fast-Fire'd Pizza, and down by the water towards The Landing. It's also one of the few Disney owned and operated restaurants in Disney Springs, so we have high hopes for a high quality experience: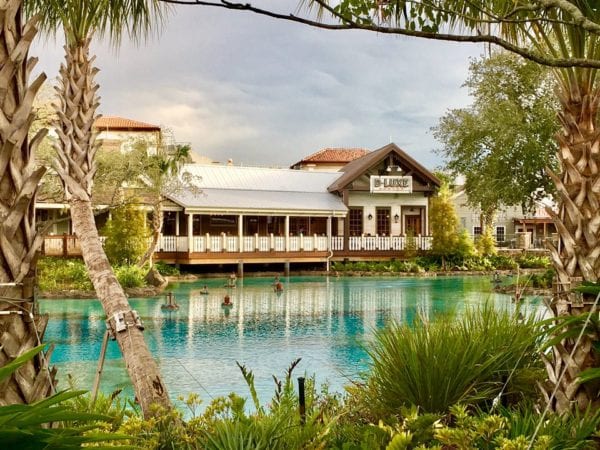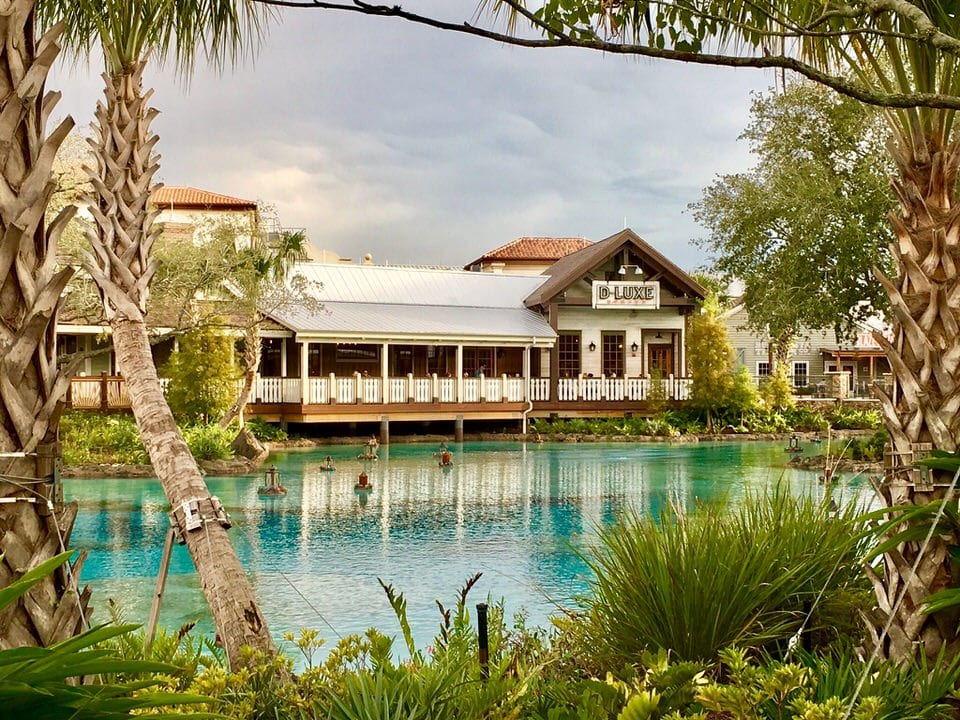 Once you arrive to the front of the building you'll find that it has the look of a charming old Florida-style farmhouse, which is essentially the story behind it: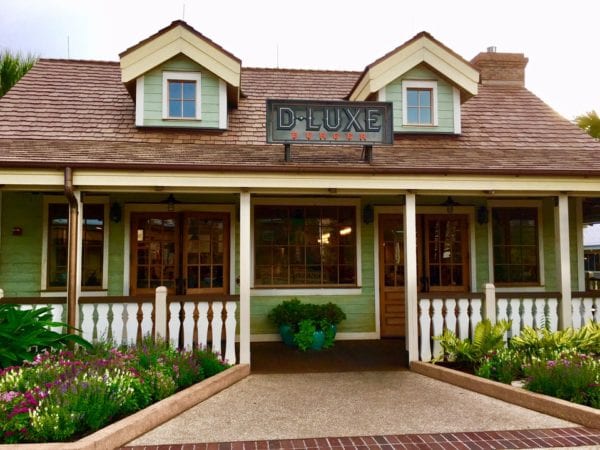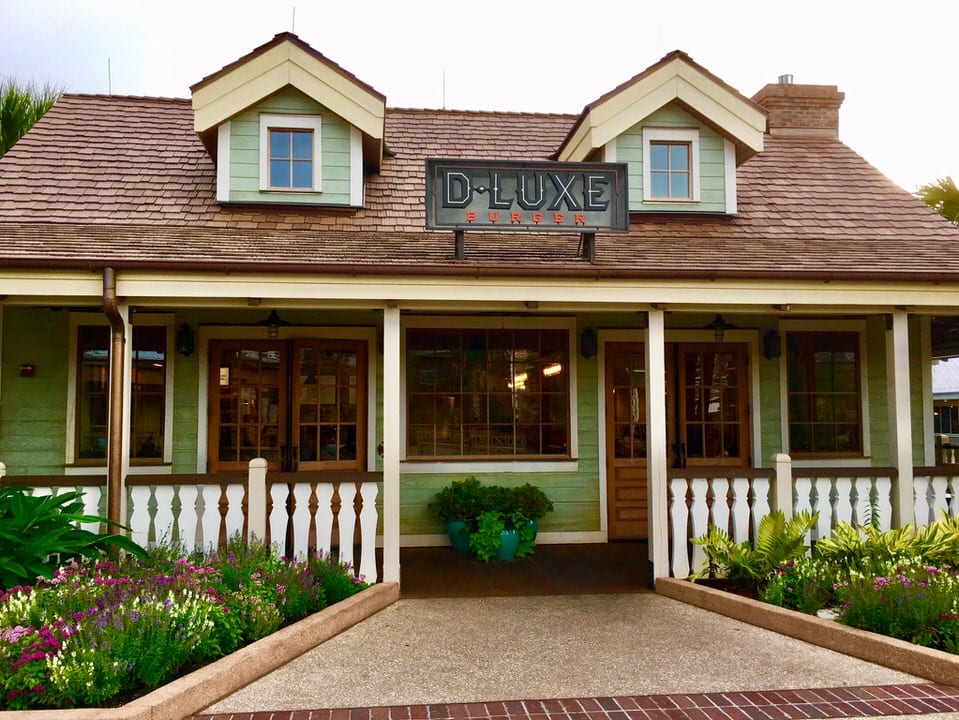 Apparently there was a farmer from the Glowing Oak Ranch, who when going to the St. Louis World's Fair, tried a new invention called "The Hamburger." Of course it was love at first bite, and after that he turned the Glowing Oak Ranch into a restaurant which is now the D-Luxe Burger that you see today. I don't know about you but I'm convinced! 😉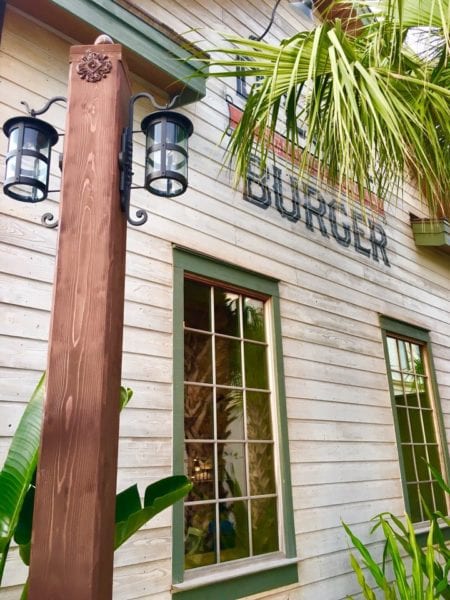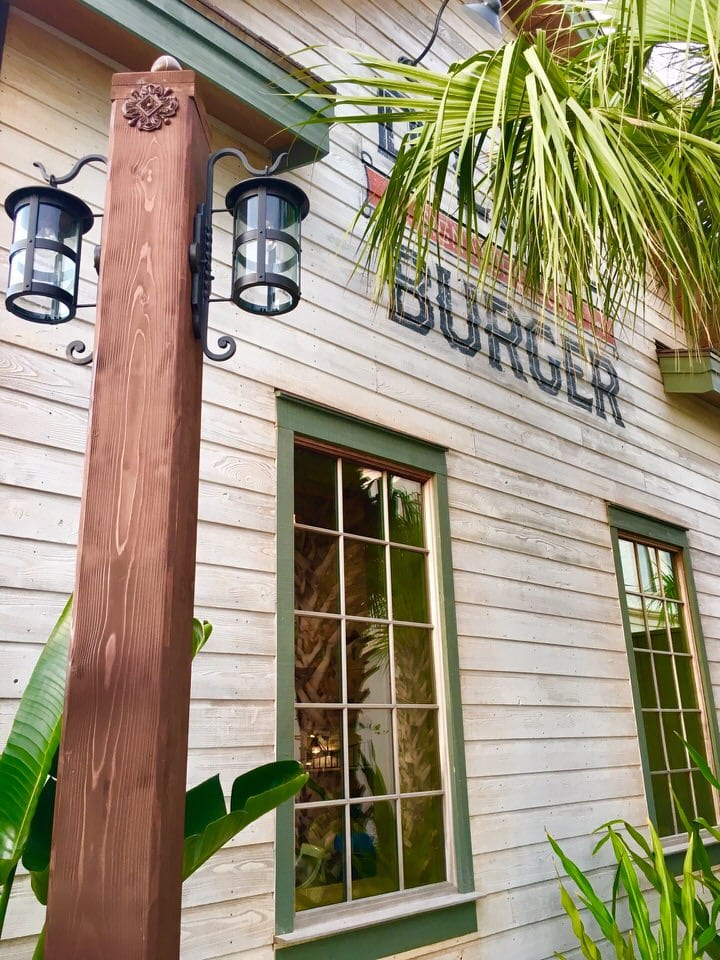 It's nice to walk around the building, the Imagineers did a nice job designing the whole building, as it has the look of a weathered country farm house, as noted by the faded paint. As you get closer you'll see the D-Luxe Burger sign high above the building: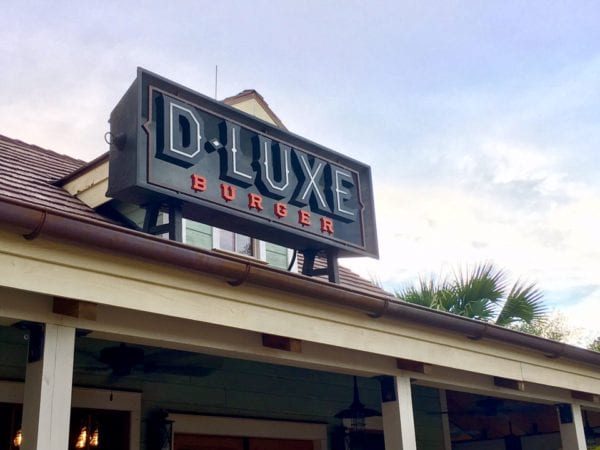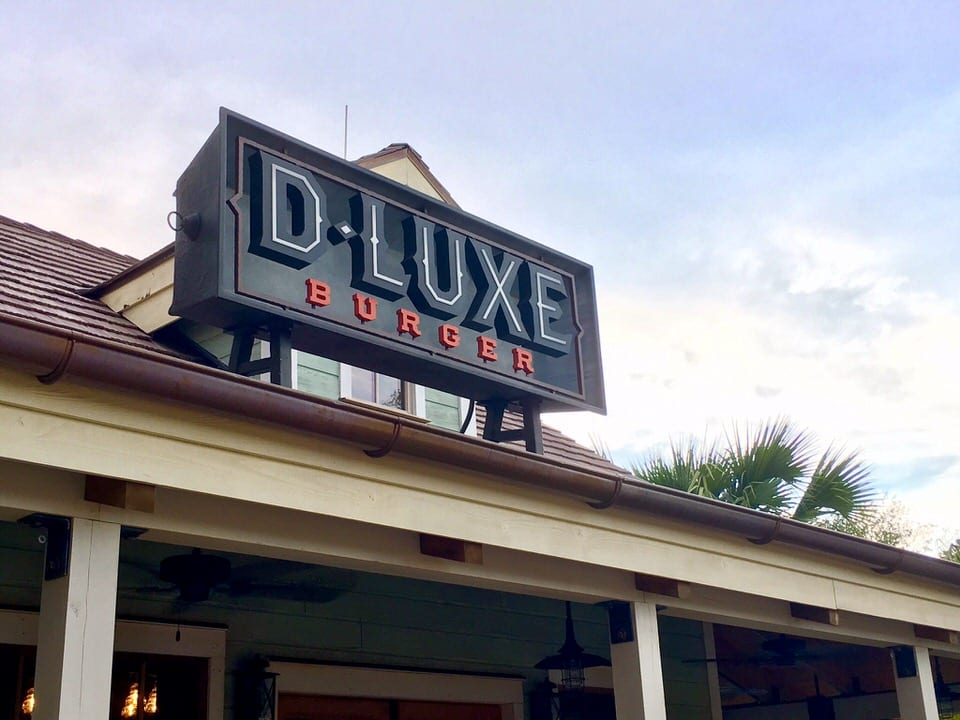 Love the lampposts around the side and in the front. This one holds the menu, so you can decide even before going in: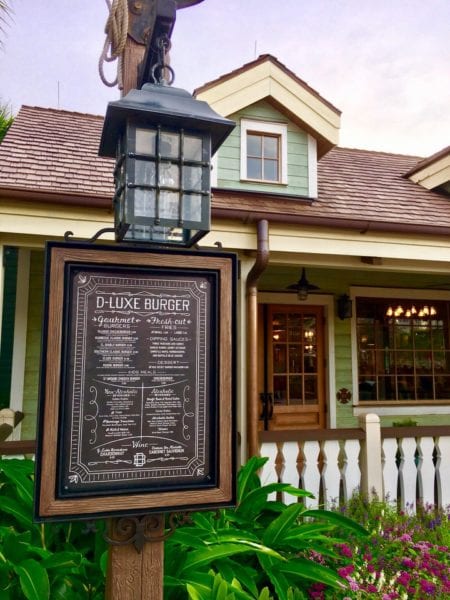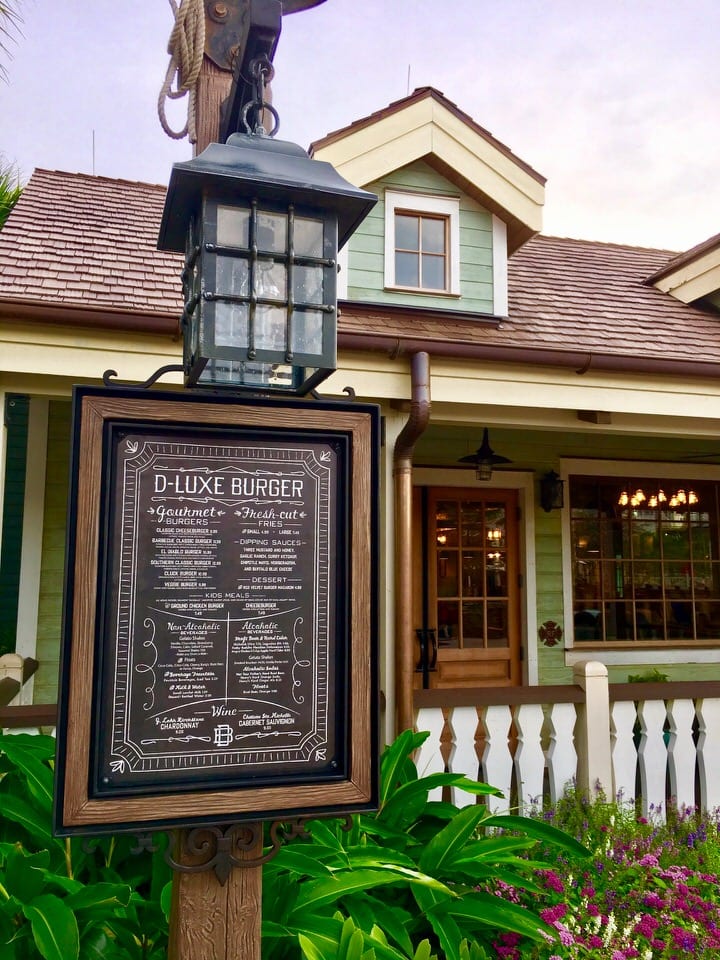 Once you step inside you'll find yourself in one of the three dining areas. This is the Front Dining Room. Pay attention to the ordering counter ahead of you, as we'll be heading there shortly: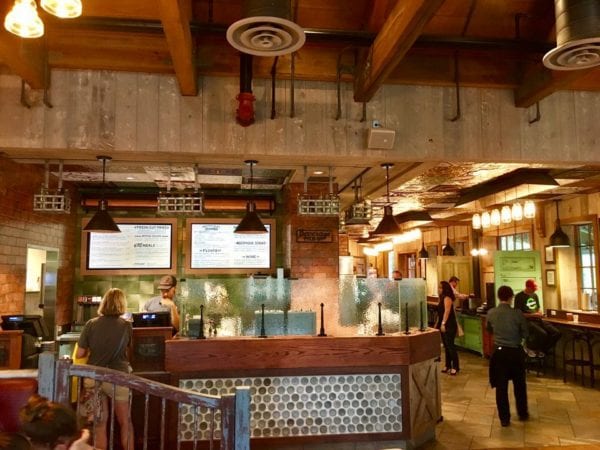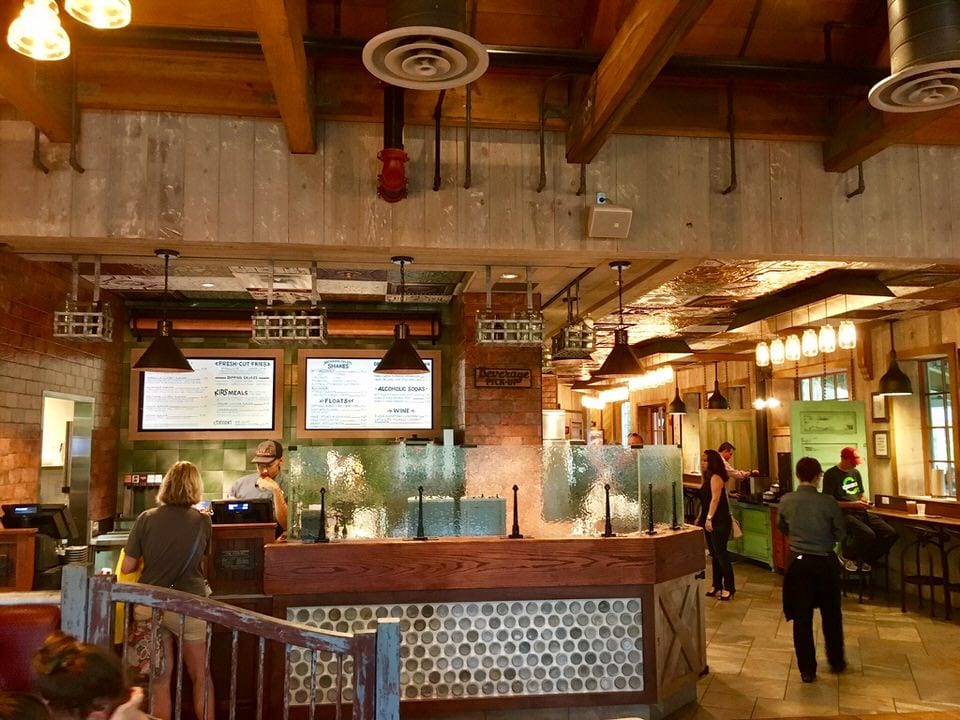 Right away at first site I really like the aesthetics going on inside. Some have complained about it, but I think it fits in really nicely with the whole theme of the new Disney Springs. I like the high rafters on the ceiling, and the abundant use of wood throughout the interior, it gives it a warm homey feeling imo: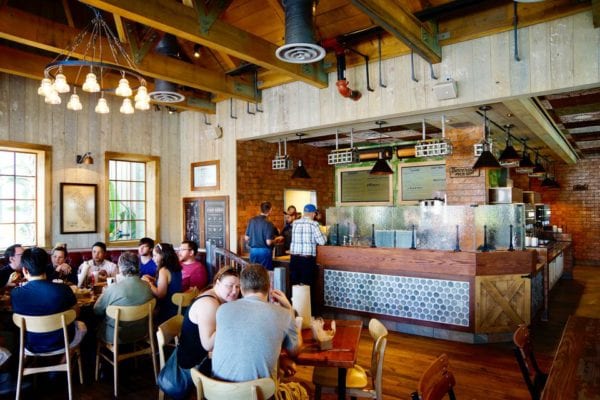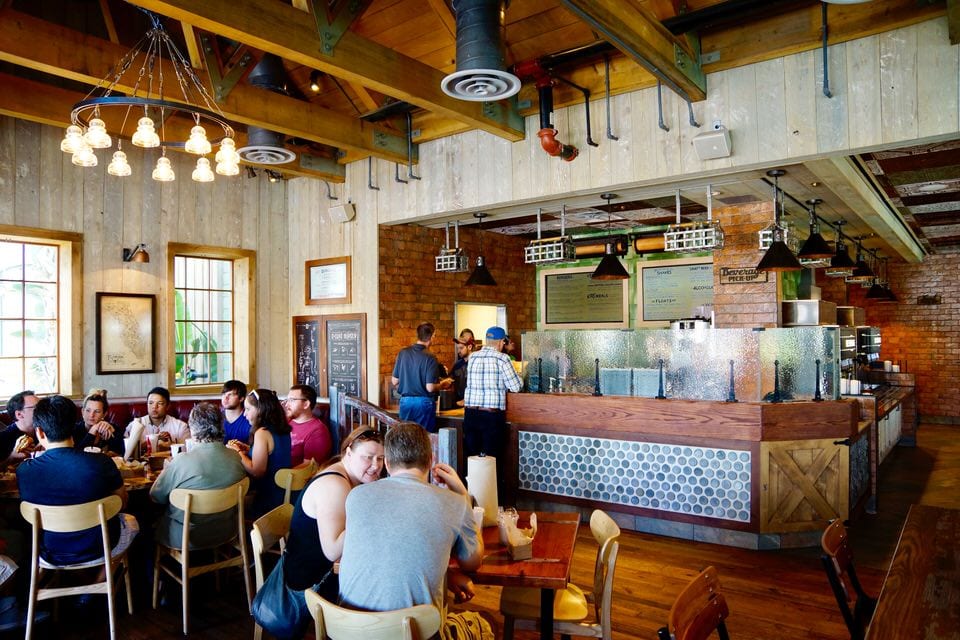 The interior feels rustic and yet modern at the same time: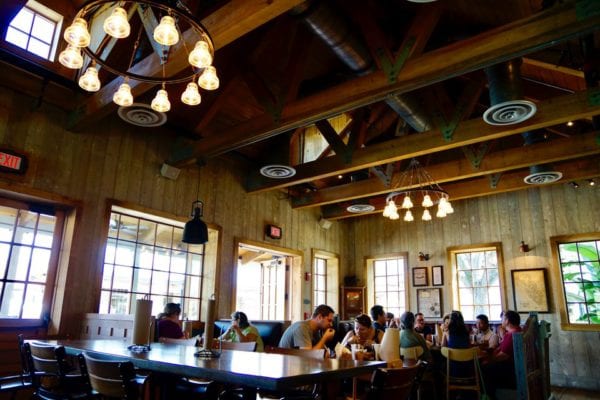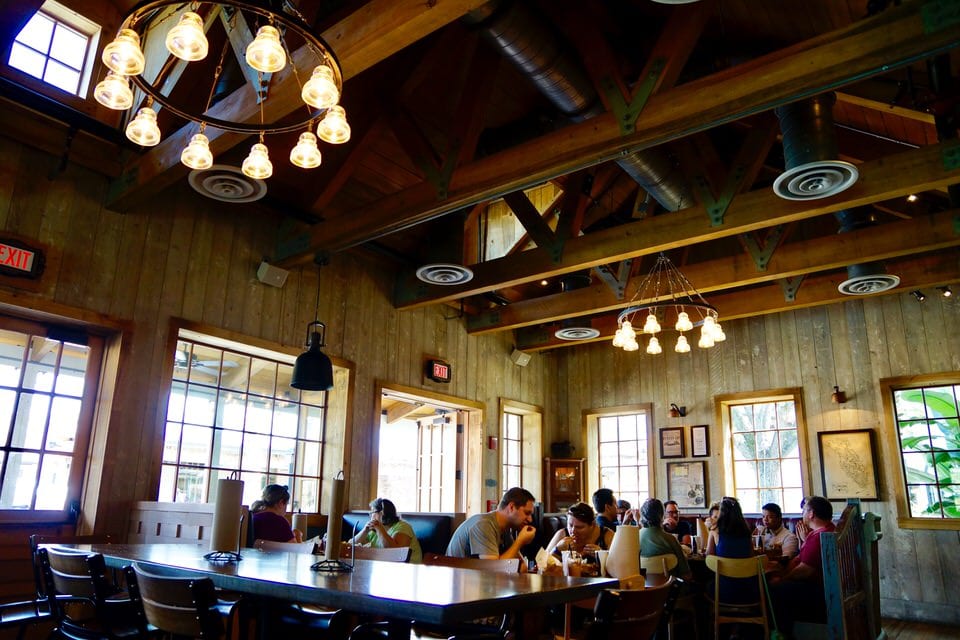 There are a variety of types of tables available, from booths, to regular tables and even tall counter-style tables with stools. Some of them even have usable Power Outlets and USB plugs so your wireless device won't die after all those burger selfies you are sure to do later! 😉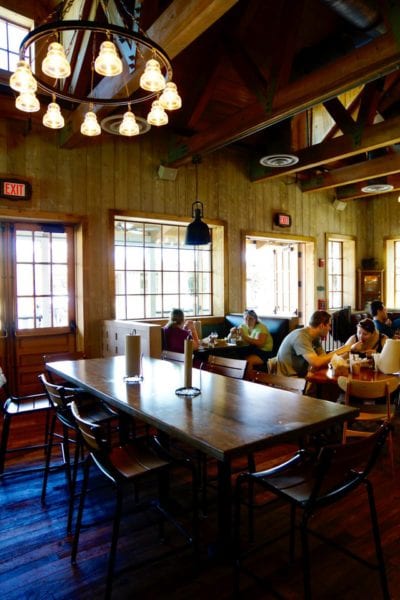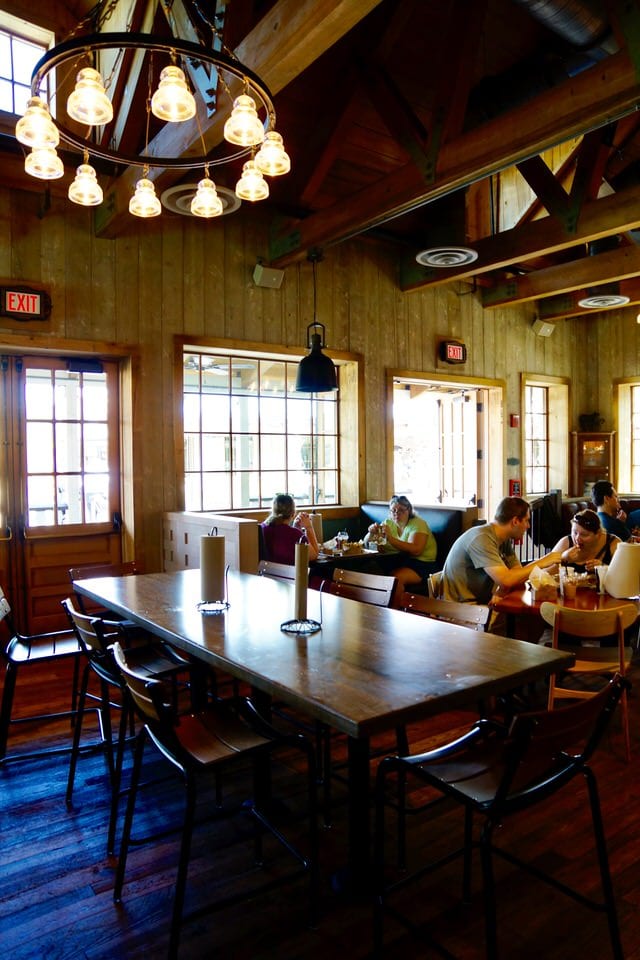 It isn't a huge space, but feels spacious all the same. The tables aren't crammed together to there is space to breathe. Plenty of light comes in too thanks to the big windows. That's a strange looking group in the booth on the left… 😉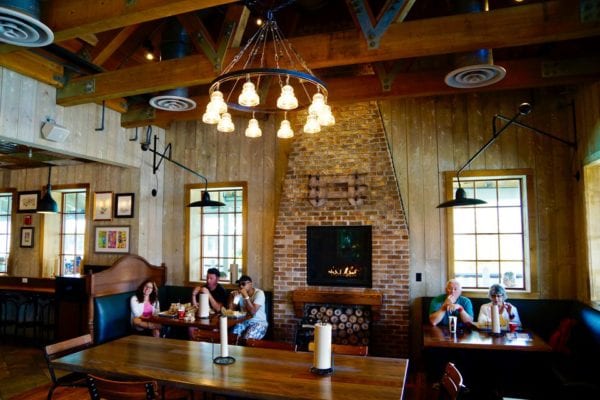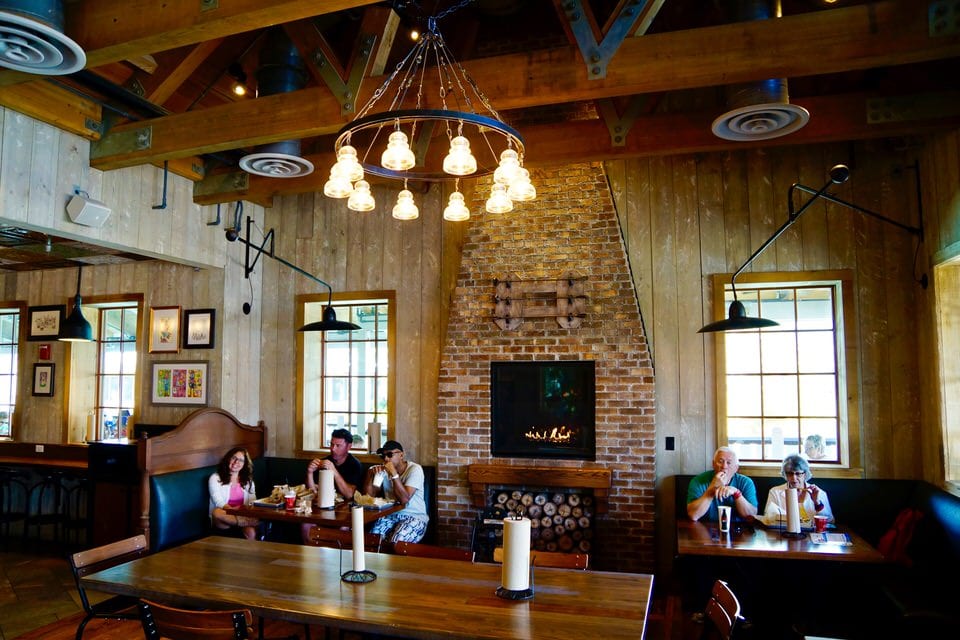 Look at that awesome fireplace! I don't care if it's really 95 degrees outside, I'm sitting down next to that!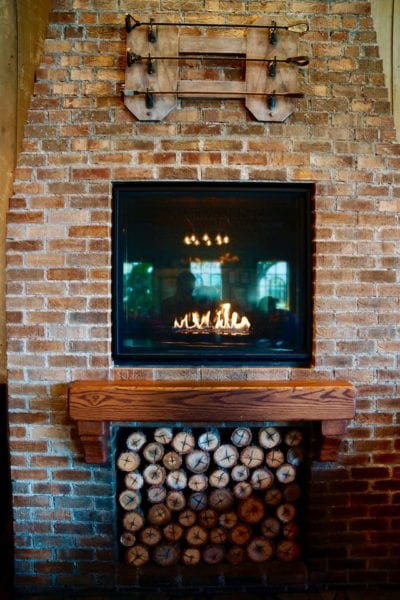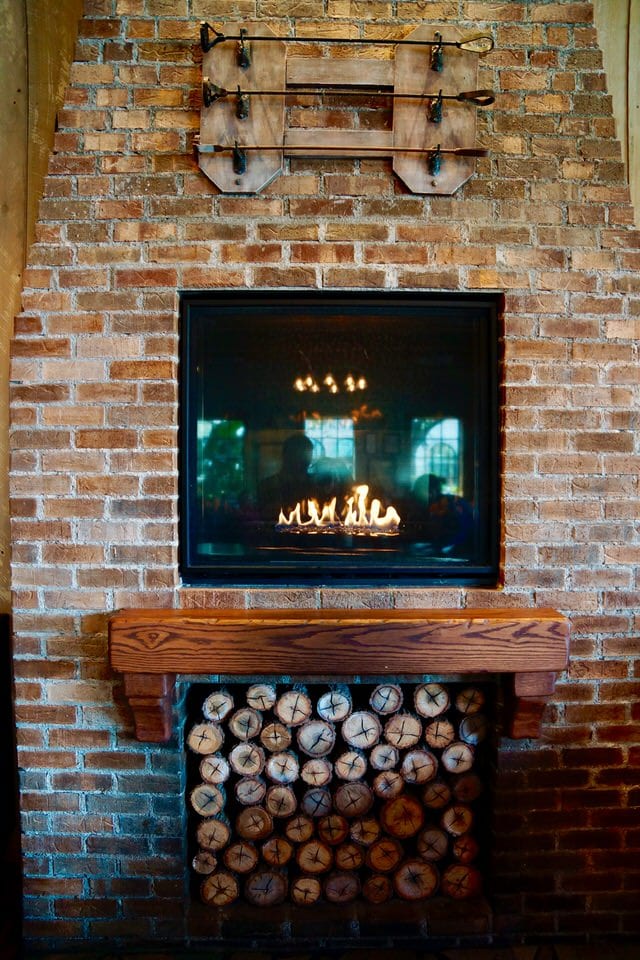 I'm always a sucker for chandeliers, and so I was happy to see them as part of the decor at D-Luxe Burger as well!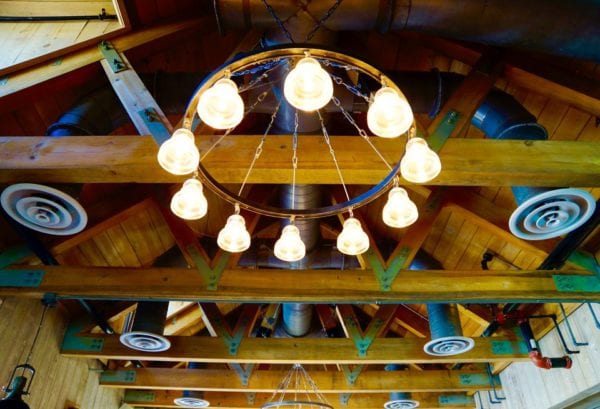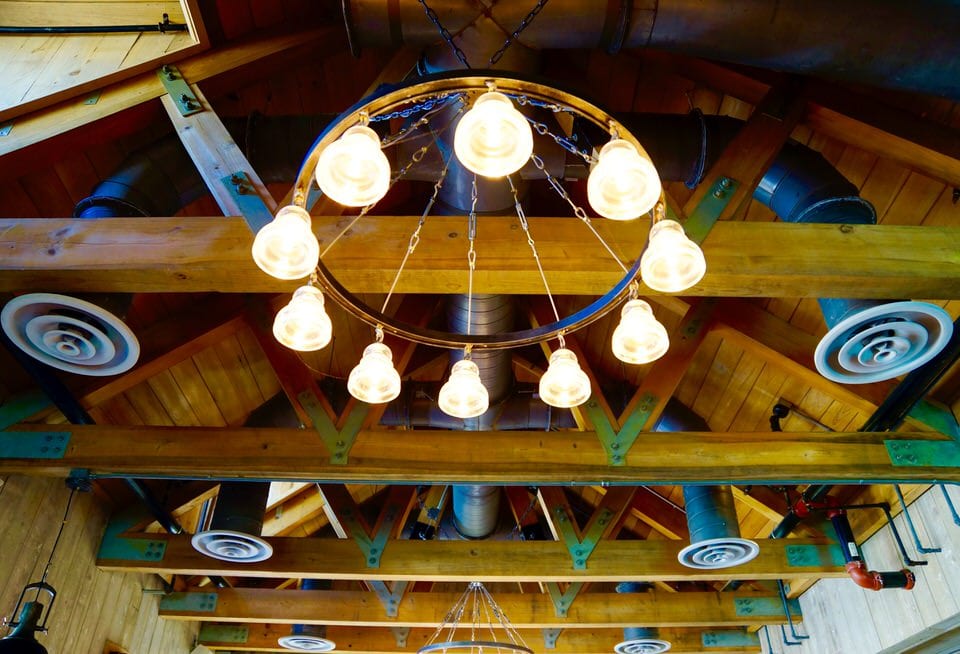 In fact they have a lot of really awesome light fixtures throughout the building, this one looking like an old-school brass lamp: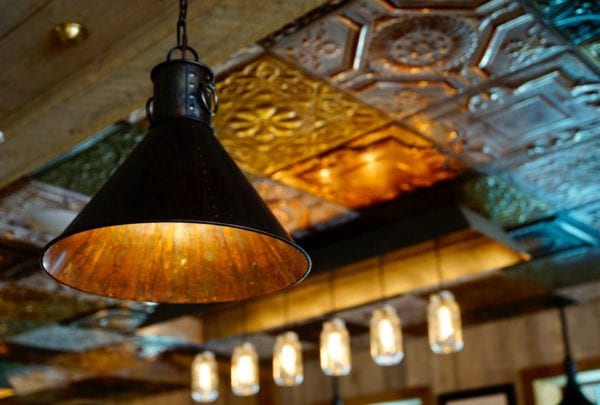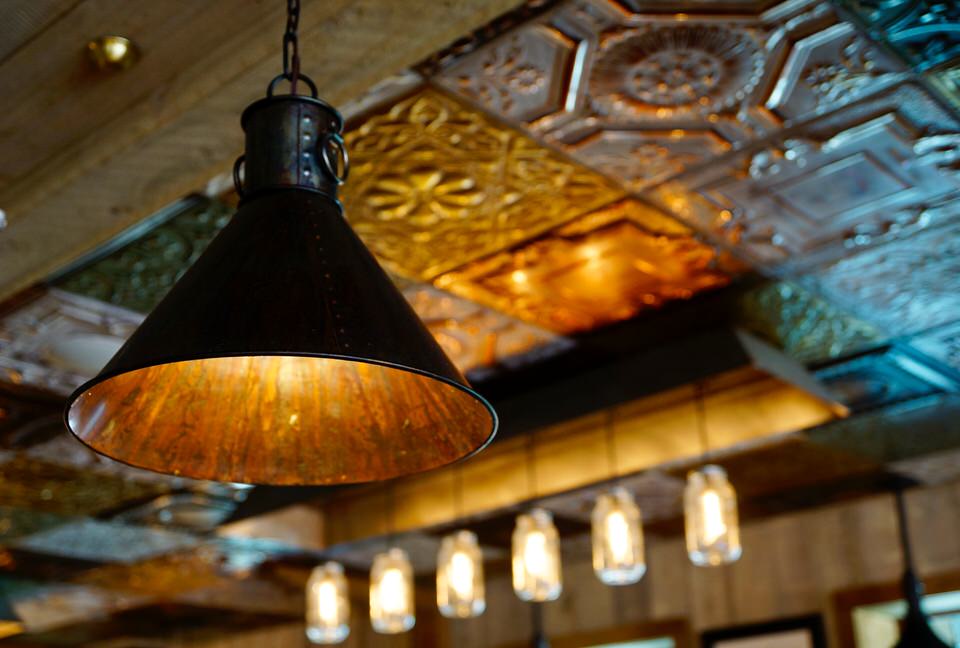 These though are the coolest! Who knew you could make Mason Jars into such cool lights…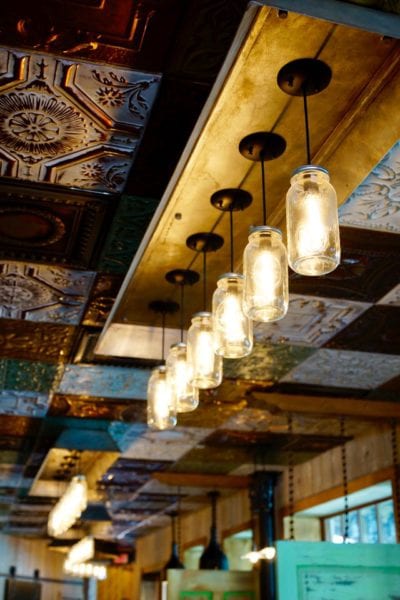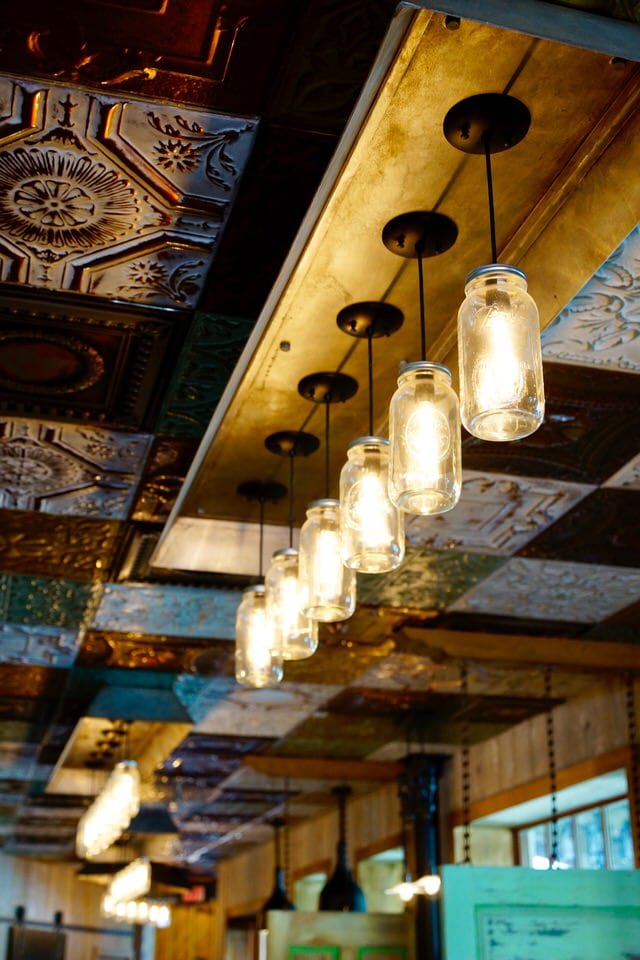 After the Front Dining room and heading to the back you'll see the Soda Fountain on the left where you can help yourself (after paying of course), and the Condiments Bar on the right where you will find plenty of Ketchup, Mayonnaise and Mustard to put with your meal: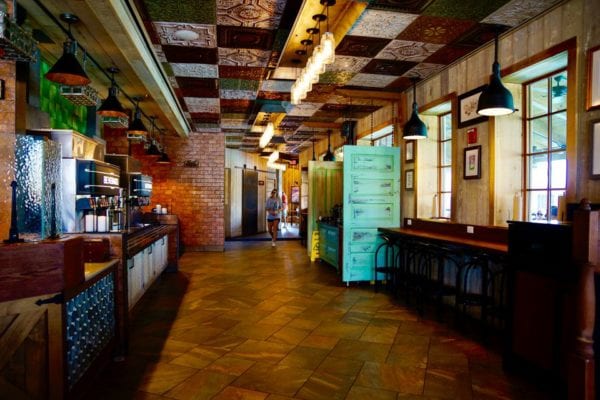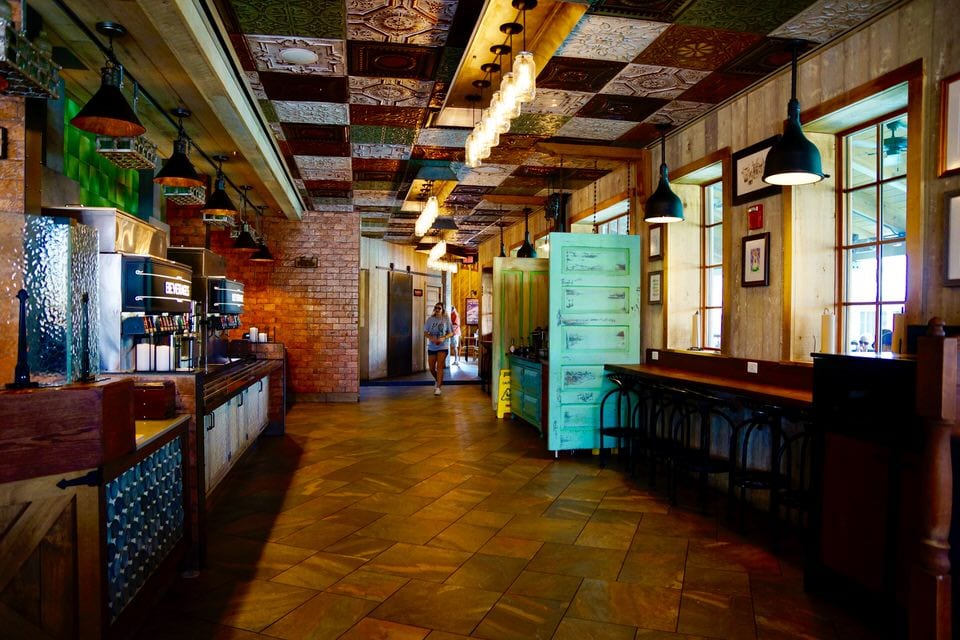 I thought the ceiling was really cool too, multi-colored brass look: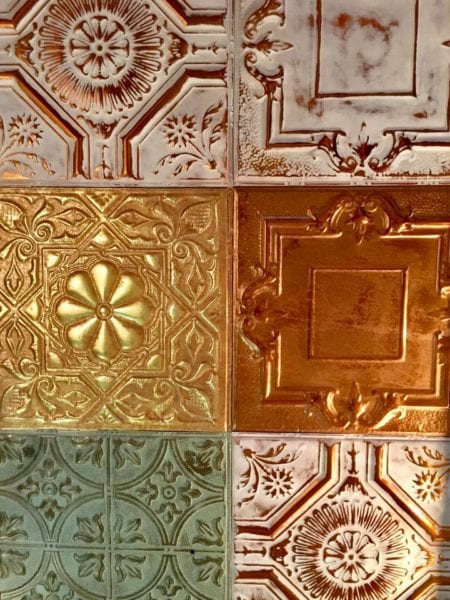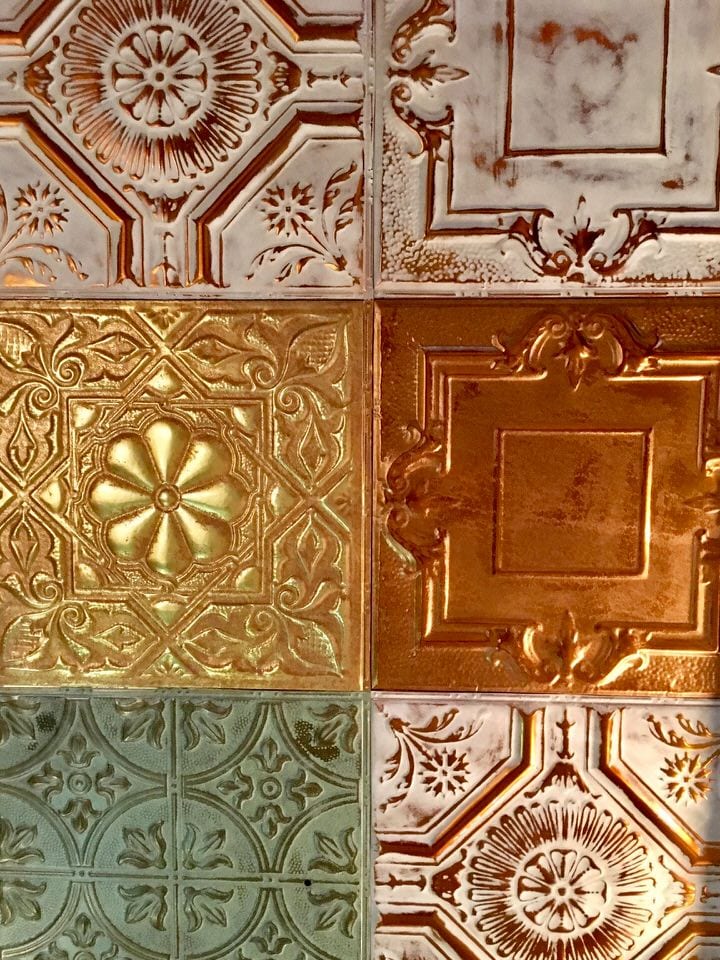 Would like to know what's back there…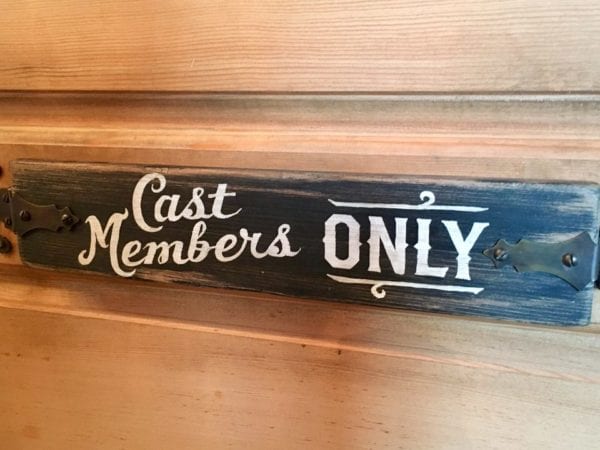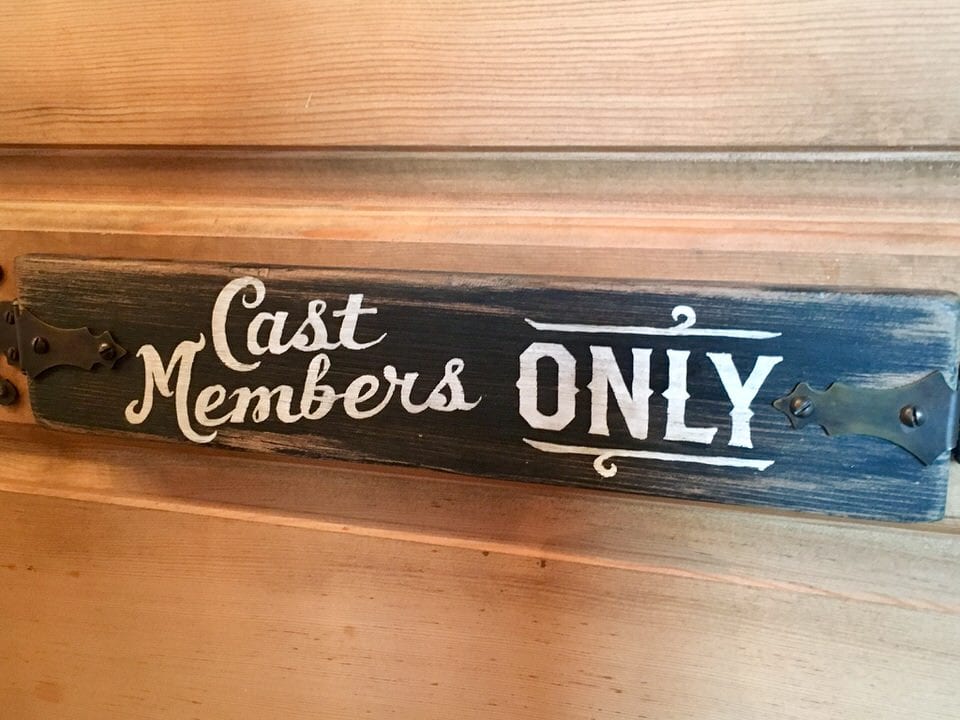 In the back you'll find the much quieter Back Dining Room, with an even more rustic influence, lots of wood. Am I in a cabin in Wyoming or in Florida?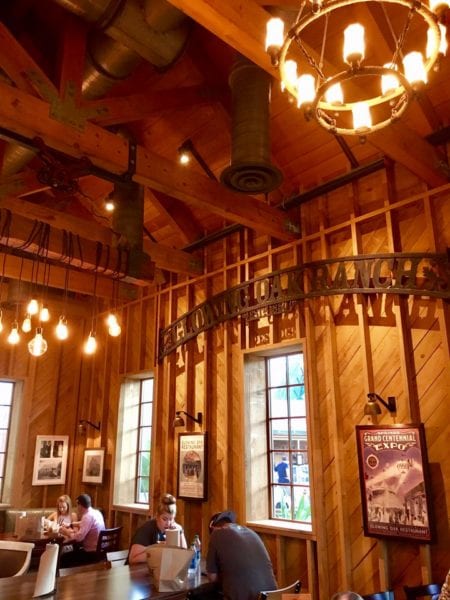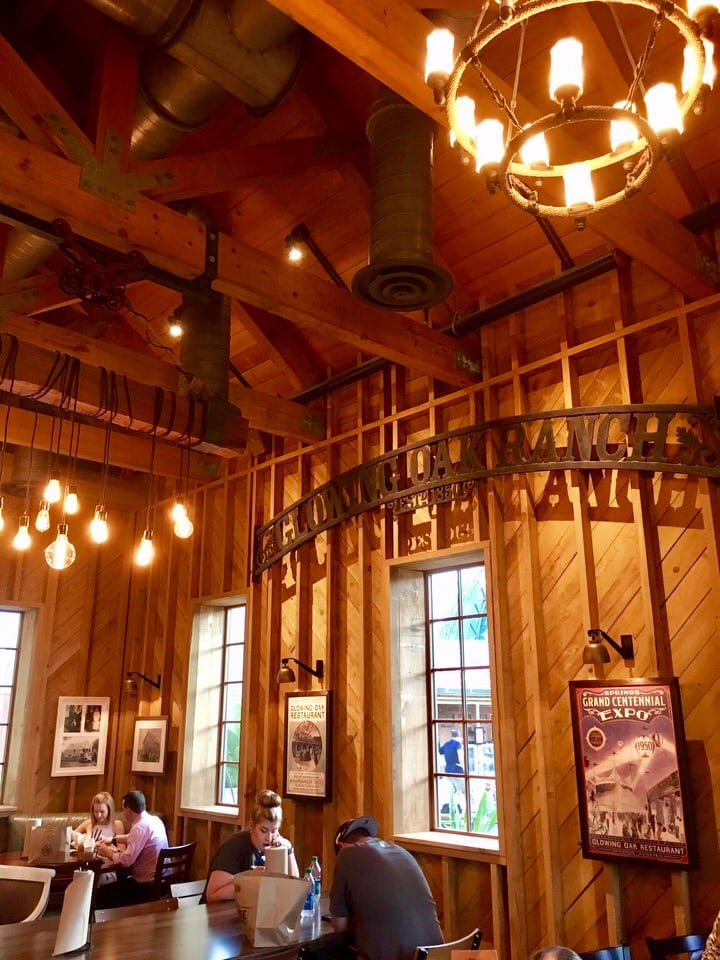 TIP: If you are looking for an inside table then head to this back room as it's a lot quieter than the front which sometimes can get chaotic if there's a long line of customers.
My favorite spot to eat though (as long as it's not too hot) is outside on the Terrace. It's right next to the water so you get a great view of crystal clear spring and of The Landing across the way. There are even heated lamps when the weather is a bit chilly (if that even happens in Florida!)
There you can see Homecoming on the left: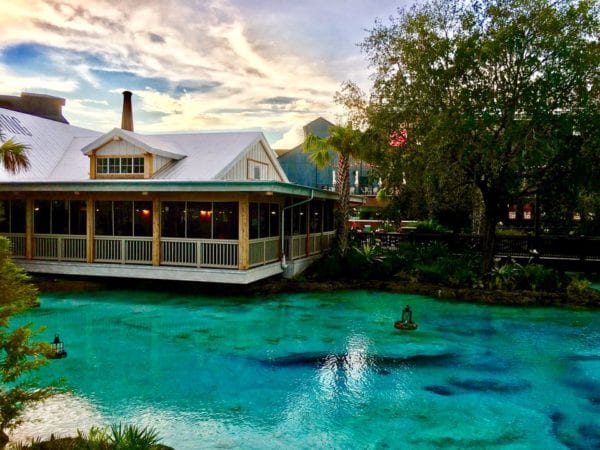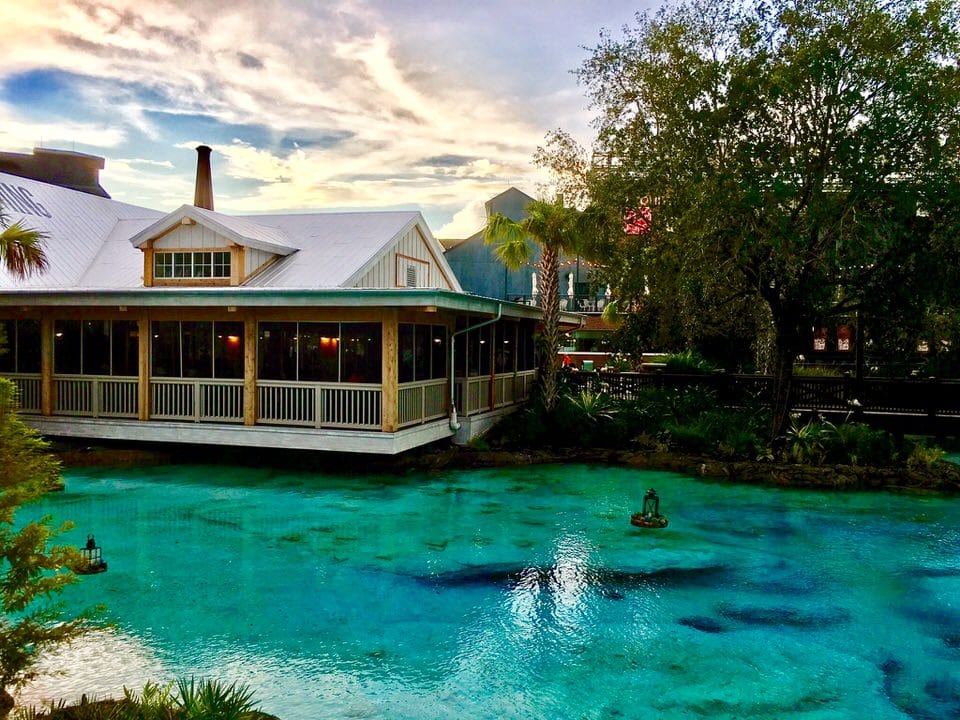 There's Morimoto Asia in the distance: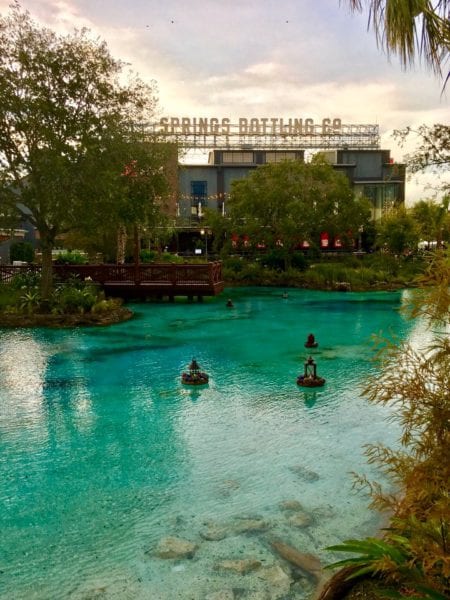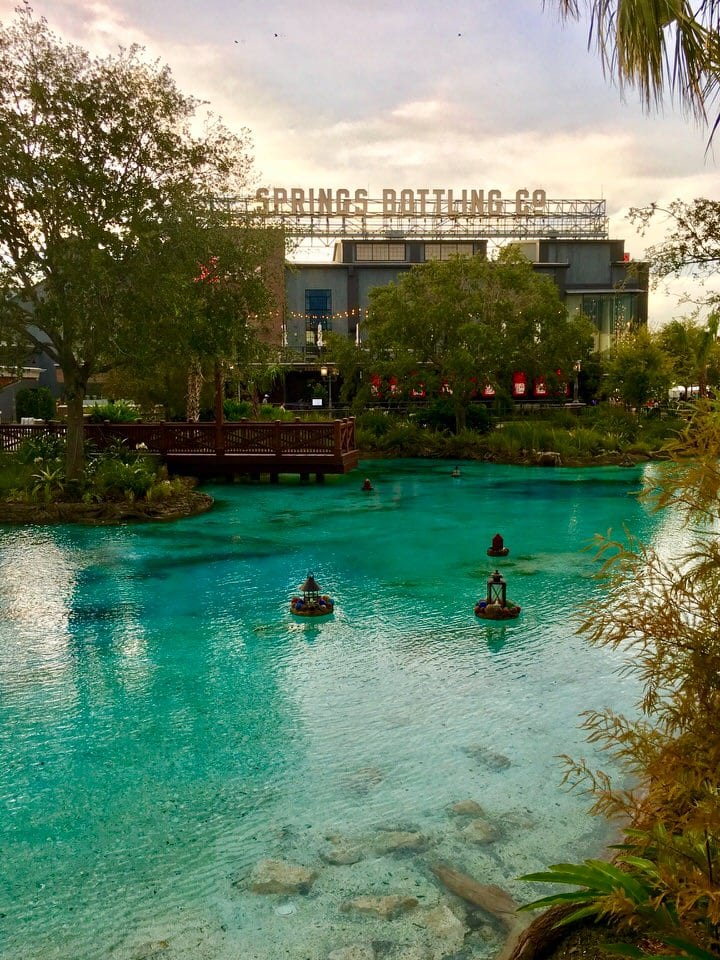 Imagine just sitting out here enjoying your Burger and an ice cold beer when the sun is setting…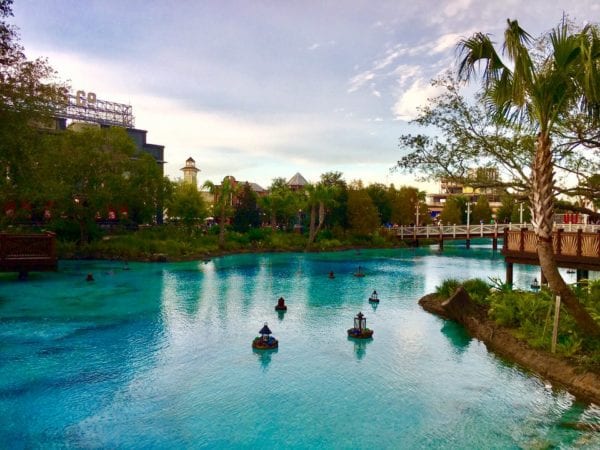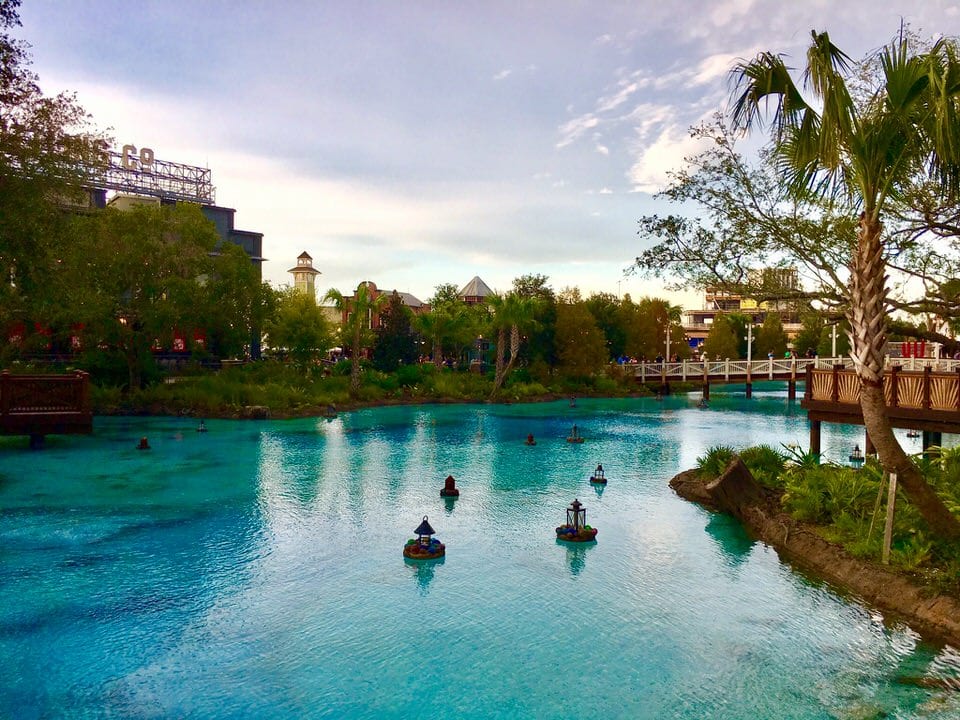 Enough of the place, we're here for some Burgers!!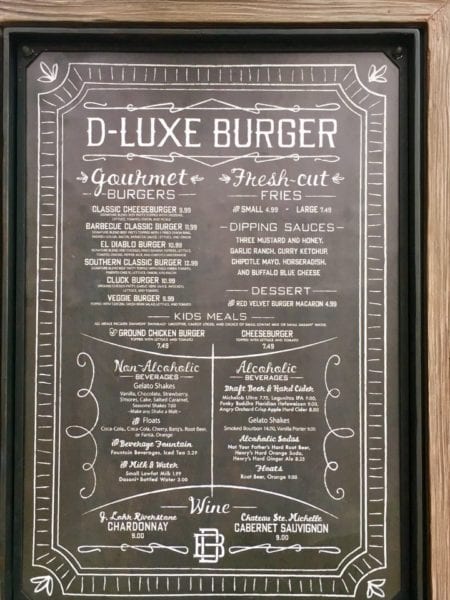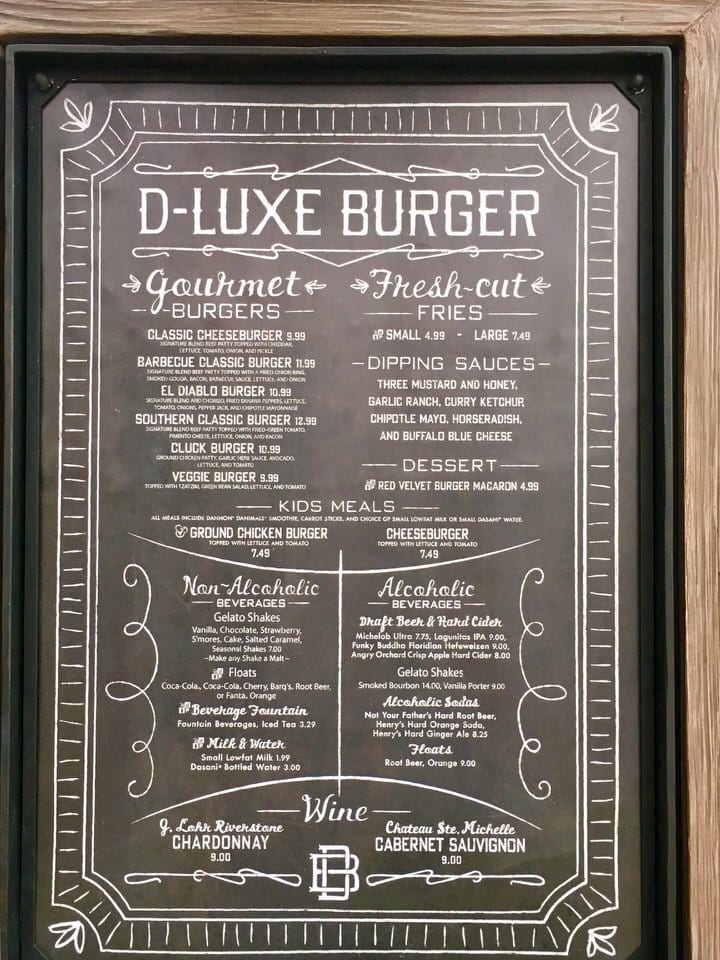 Food:
Even though I get to do a lot of reviews for fancier restaurants, I wouldn't be an American if I told you I didn't like a nice tasty Burger, crispy Fries and a big thick Milkshake, so I couldn't wait to sink my teeth in and try what D-Luxe has to offer!
When you enter the building, stay in the line on the left side which brings you up to the cash register where you will place your order. Here you can see the digital menus behind the counter and make your selection: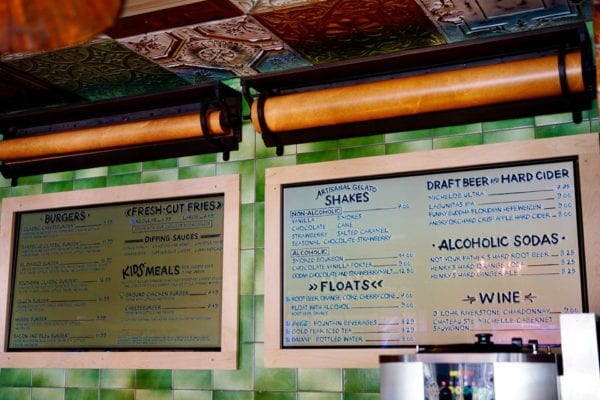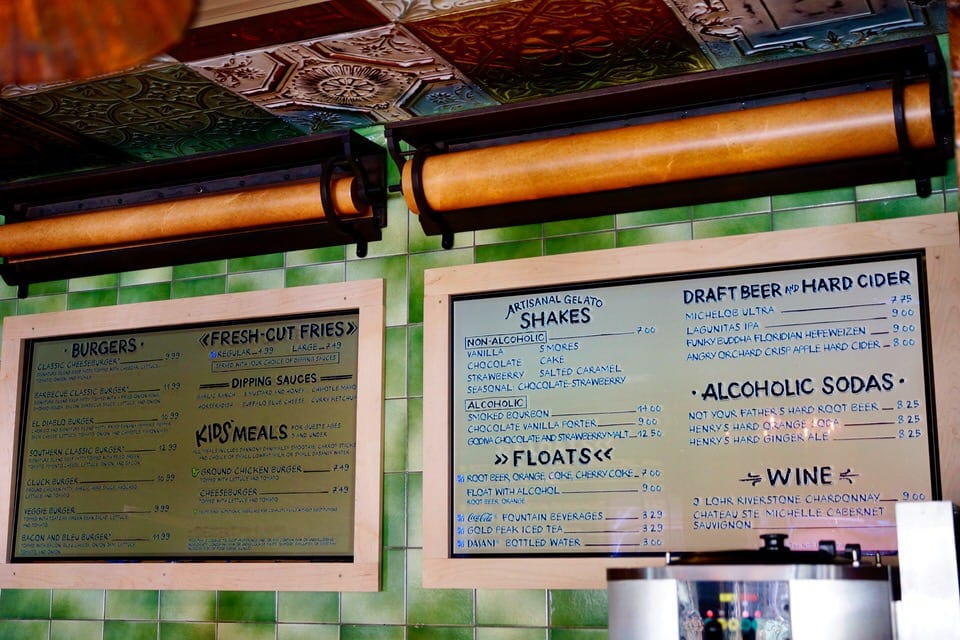 You'll find a nice selection of Burgers on the menu, everything from a Classic Cheeseburger (Cheddar, Lettuce, Tomato, Onion and Pickle), to more adventurous options like:
the Barbecue Classic Burger with a Fried Onion Ring (I know!!) Smoked Gouda, Bacon, BBQ Sauce, Lettuce and Onion;
El Diablo Burger (Chorizo and Signature Blend, Fried Banana Peppers, Pepper Jack, Lettuce, Tomato, Grilled Onion and Chipotle Mayonnaise);
Southern Classic (Signature Blend Beef topped with a Fried Green Tomato, Pimento, Lettuce, Grilled Onion and Bacon).
Besides beef-based burgers there is a Cluck Burger which combines a ground chicken patty with Herb Sauce, Avocado, Lettuce, and Tomato; and for vegetarians there's also the Veggie Burger, topped with Tzatziki, Green Bean Salad, Lettuce, and Tomato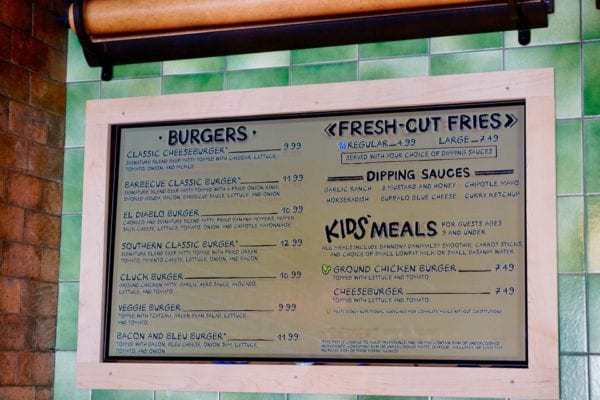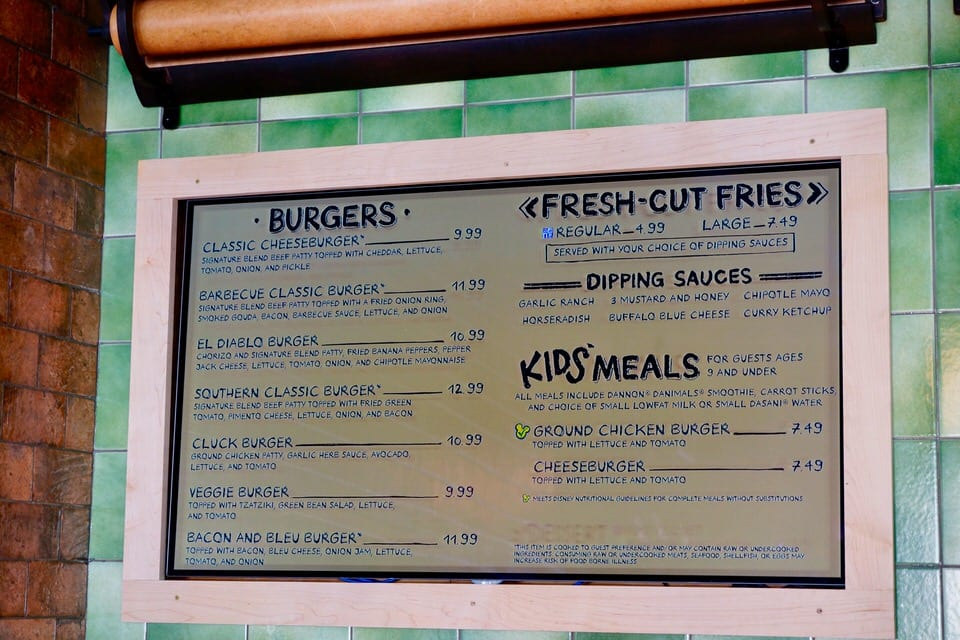 The first thing to know is that all the beef-based Burgers use a high quality Signature Blend of meat consisting of Chuck Rib, Short Rib, Brisket and Seasonings, which gives it a superb flavor.
The El Diablo Burger uses the same blend, but with Chorizo added to it, to give is just a bit more spice!
TIP: If you like your burgers juicy then ask them to cook it medium-rare as I found this to be the ultimate Flavor/Juiciness combo!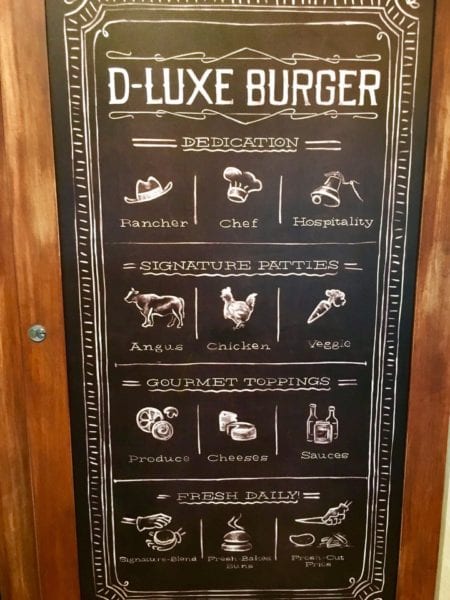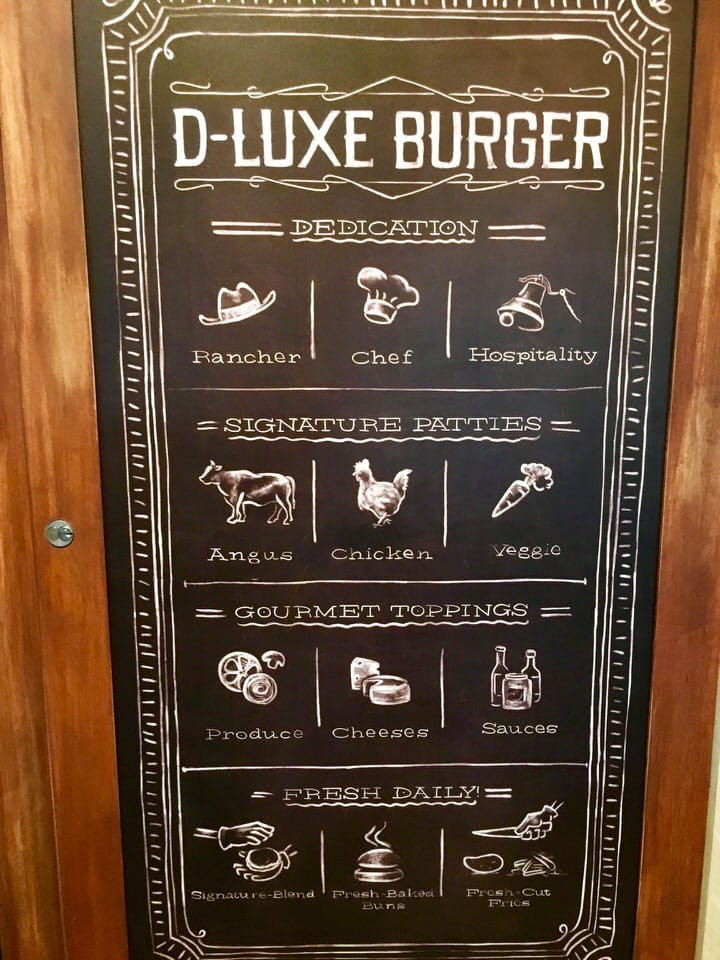 Burgers range from $9.99 – $12.99. The first thing people people will see is the high price for a Quick Service restaurant. Those burger prices are without Fries. Don't let that scare you off though, as the burgers here are so much higher quality than some of the other burgers around that frankly could be better used as hockey pucks.
The French Fries aren't your typical freezer-stored, frozen bag of fries, these are hand-cut fresh everyday, making them some of the best on property. Again the Fries are not included with your Burger, they're extra, but they are so good they are worth it! Prices are $4.99 for Regular which serves 1, and $7.49 for a Large which serves about 2-3 people.
They also come with your choice of 6 Dipping Sauces: Garlic Ranch, Horseradish, Chipotle Mayo, 3 Mustard and Honey, Buffalo Blue Cheese, and Curry Ketchup. Wow they've really got you covered!
In fact a good idea if you are not alone (or if you have my appetite) is to get one of the Duo Meals which includes 2 Burgers, Regular Fries and 2 Fountain Drinks for a more reasonable price from $24.99 – $28.99. With the Duo you are essentially saving about $6-7, which is like getting your 2 fountain drinks for free. Ask about it!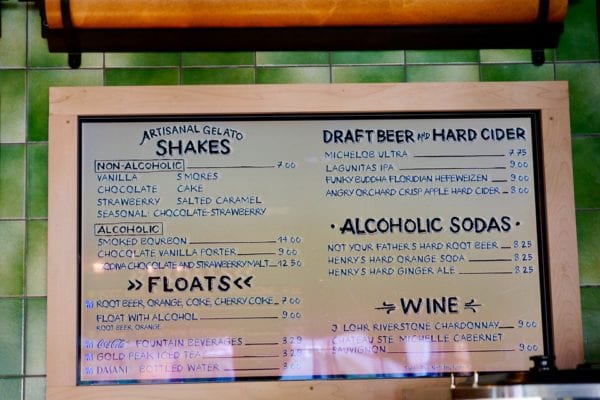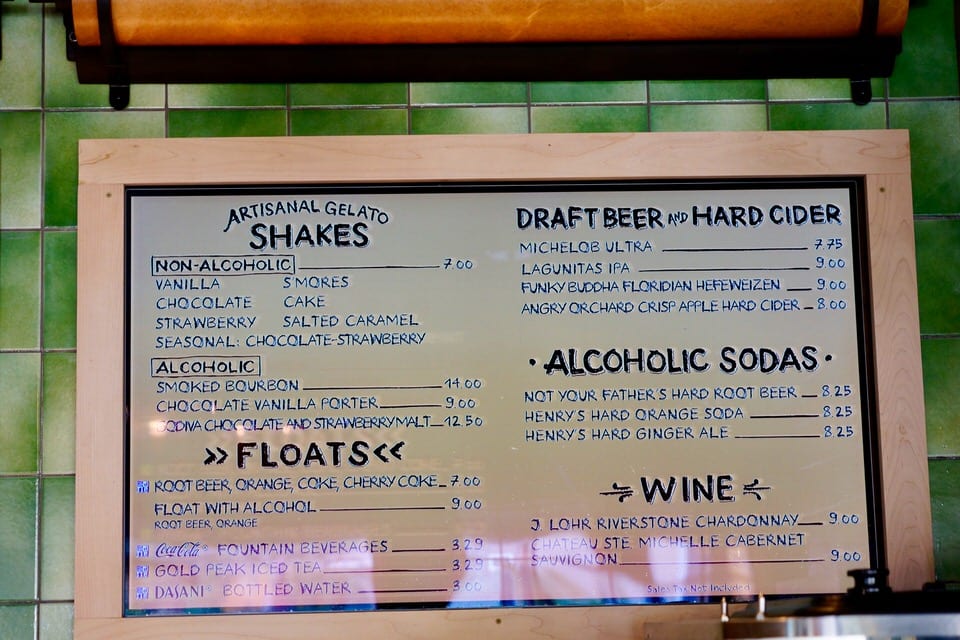 As for the Drink Menu there is a nice choice of Alcoholic Beverages including: Draft Beers, Wine, Hard Cider, and Alcoholic Sodas.
But what you'll really like at D-Luxe Burger are the Artisanal Gelato Milkshakes with a nice selection of flavors: Vanilla, Chocolate, Strawberry, S'mores, Cake, Salted Caramel, and Seasonal Flavors too. If you are feeling good, or want to be feeling good, you can add Smoked Bourbon to your shake! Now we're talking! The price for Milkshakes just went up at time of writing and are $7.50 each. Again not cheap by any means, but are they worth it? We'll find out..
I'm so hungry after all this talk I can't wait to try everything!!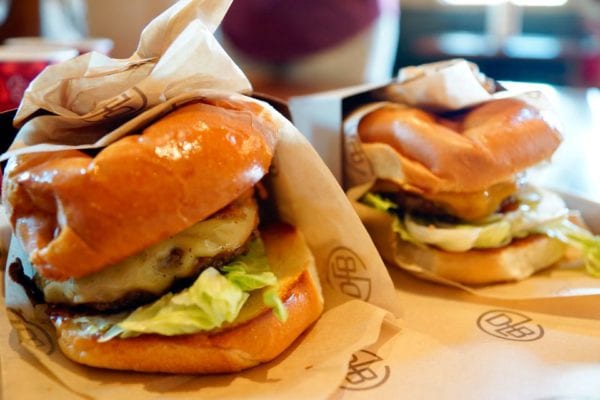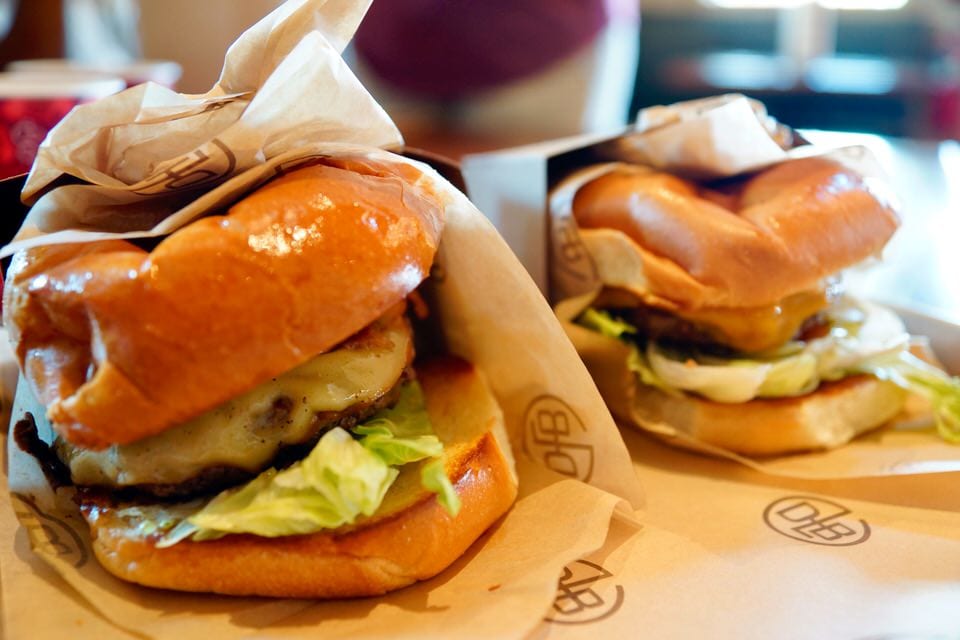 We started off with a couple of Burgers: Classic Cheeseburger and Barbecue Classic Burger (Stefy sees the word Barbecue and wouldn't even think of choosing anything else!)
Classic Cheeseburger ($9.99):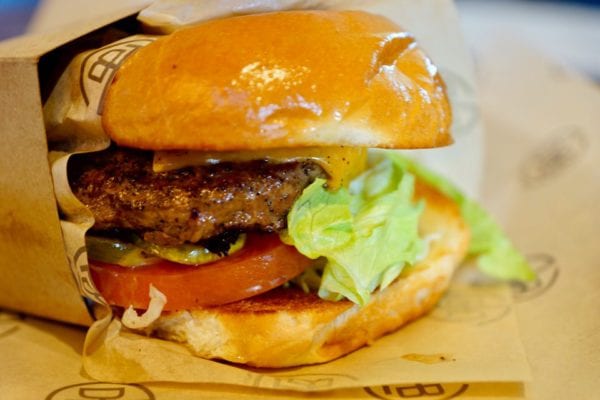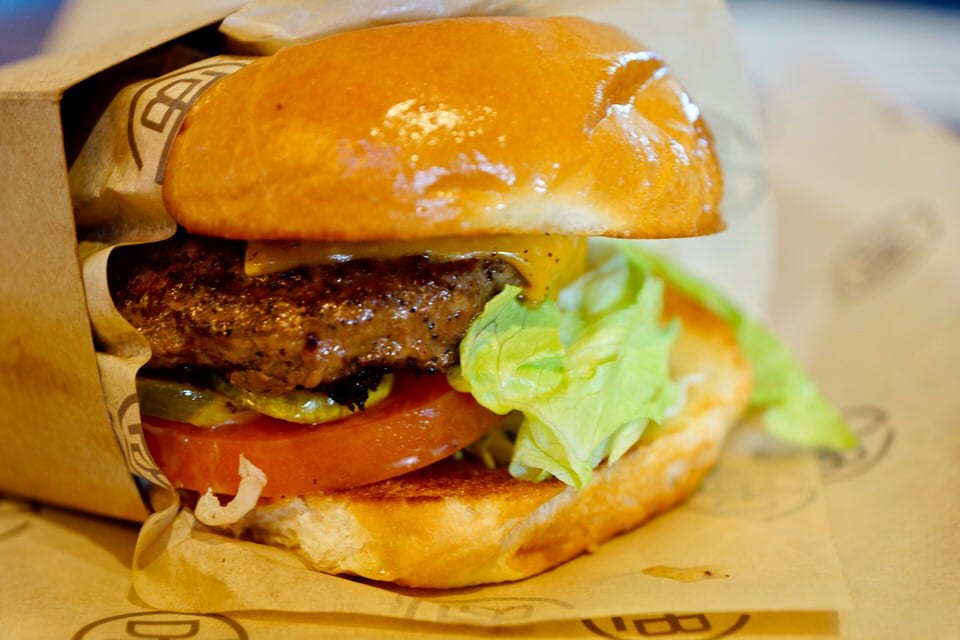 I think the best way to gauge a burger's true tastiness is to keep it simple, many a mediocre burger has been hidden my good toppings, so the regular cheeseburger was necessary to try! I have to say I was really impressed, it was excellent!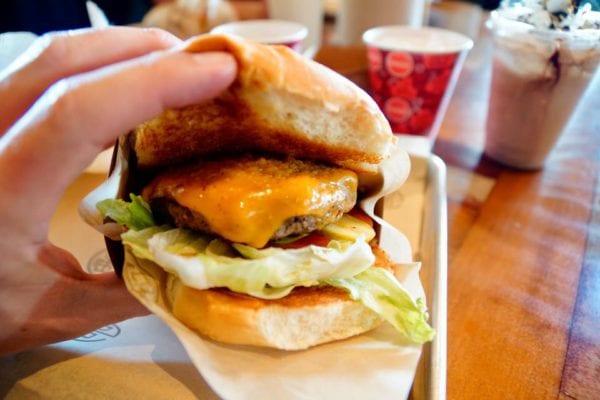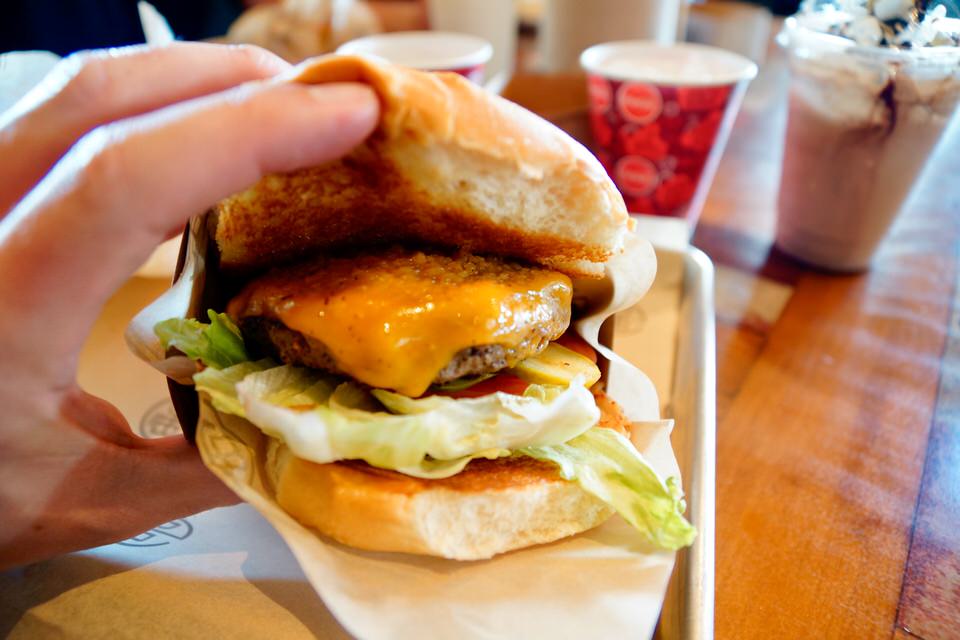 The burger was a good size, I really like the way they are conveniently wrapped and easy to eat. The Roll was great, it was an ever-so-slightly buttered Brioche Bun and very fluffy and was even lightly toasted. The rolls are also made fresh every day and not pulled from a plastic bag at your local Publix.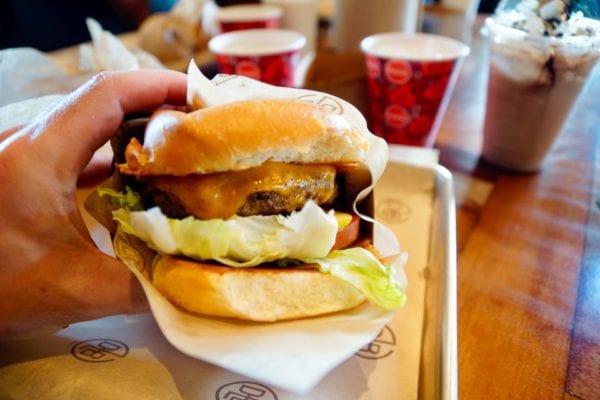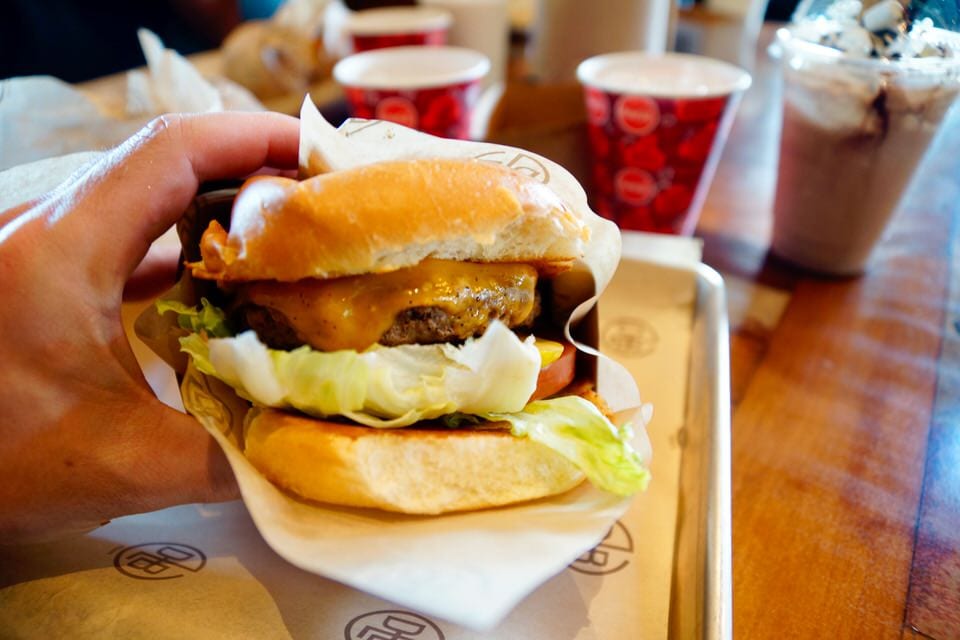 Here's a shot of the inside Nice big hunk of tomato, good amount of cheese, and a ton of lettuce which I could have done with less: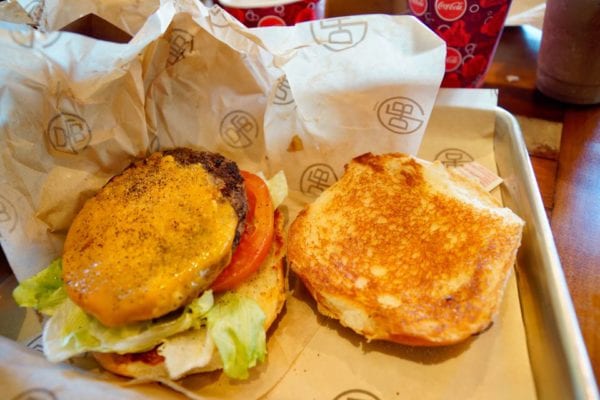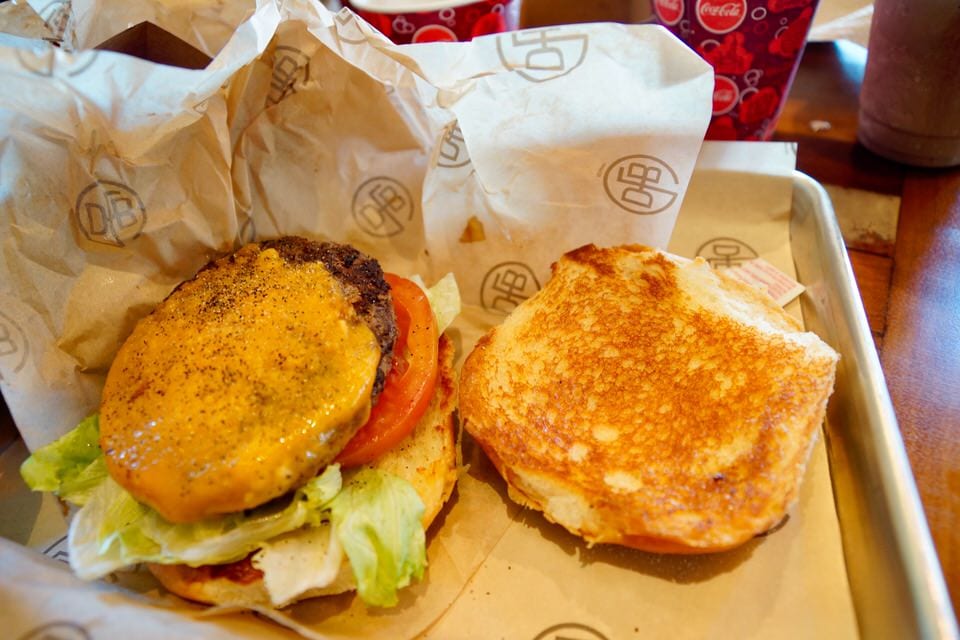 The burger itself was really juicy, and you could really taste that signature blend of meat at work here! Not your normal theme park burger! When foreigners come to Disney and taste a burger like this, it'll be hard to go home and expect anything less! My only mistake was I didn't ask for bacon on it, because, well everything is better with bacon, so don't make the same mistake as me!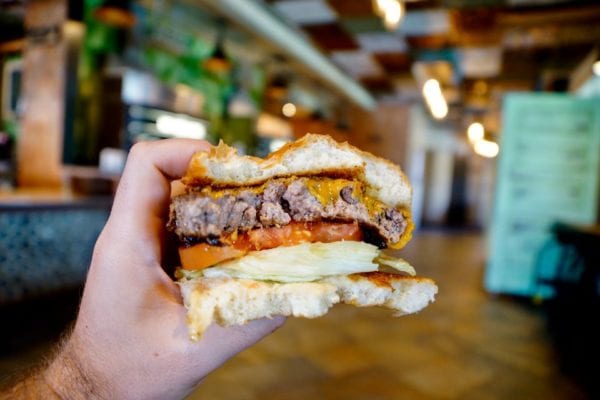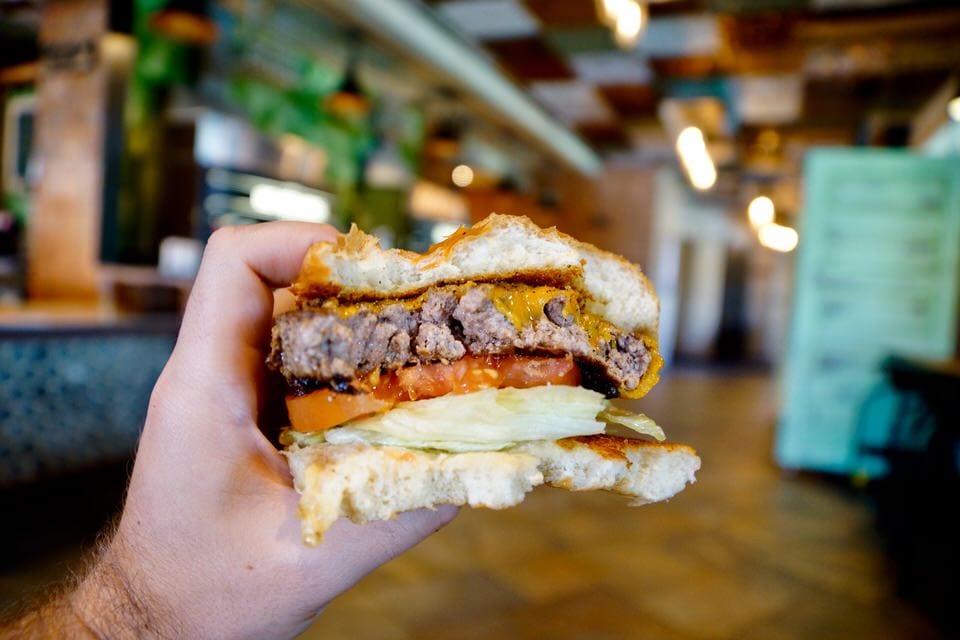 Barbecue Classic Burger ($11.99):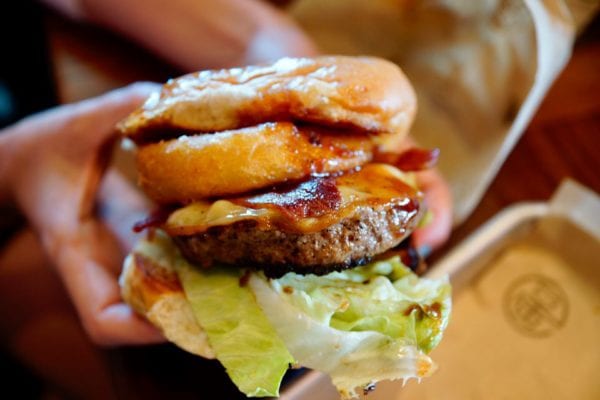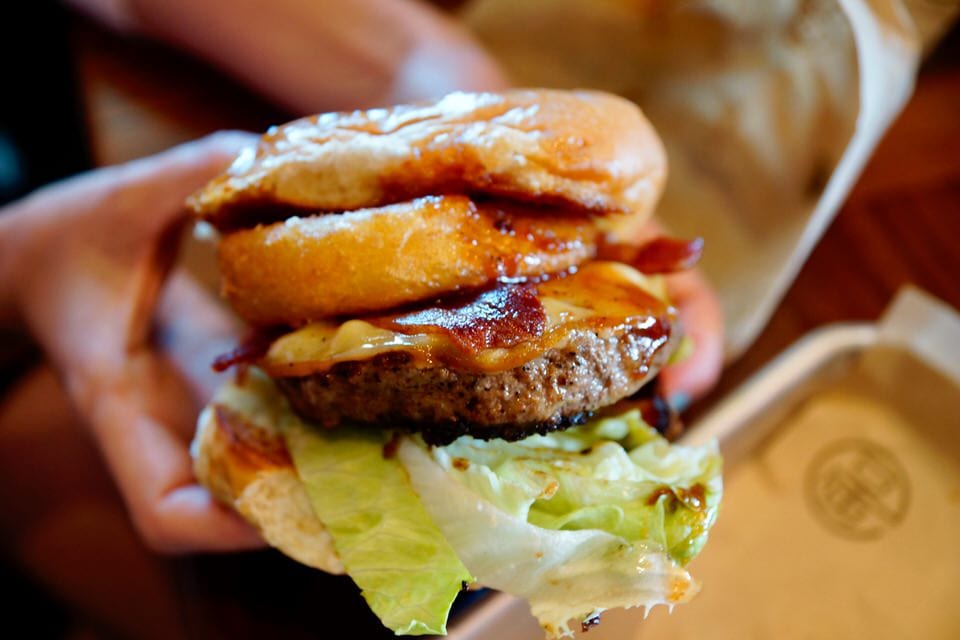 This is not your normal BBQ burger, this thing is for real! Lot's of that Smoked Gouda cheese in there, and topped off with a giant onion ring! It uses that same signature blend of beef, so it was just as moist and flavorful as the classic cheeseburger was! Great choice for BBQ lovers!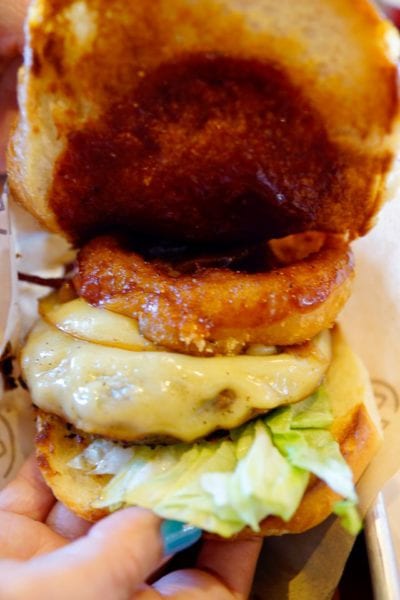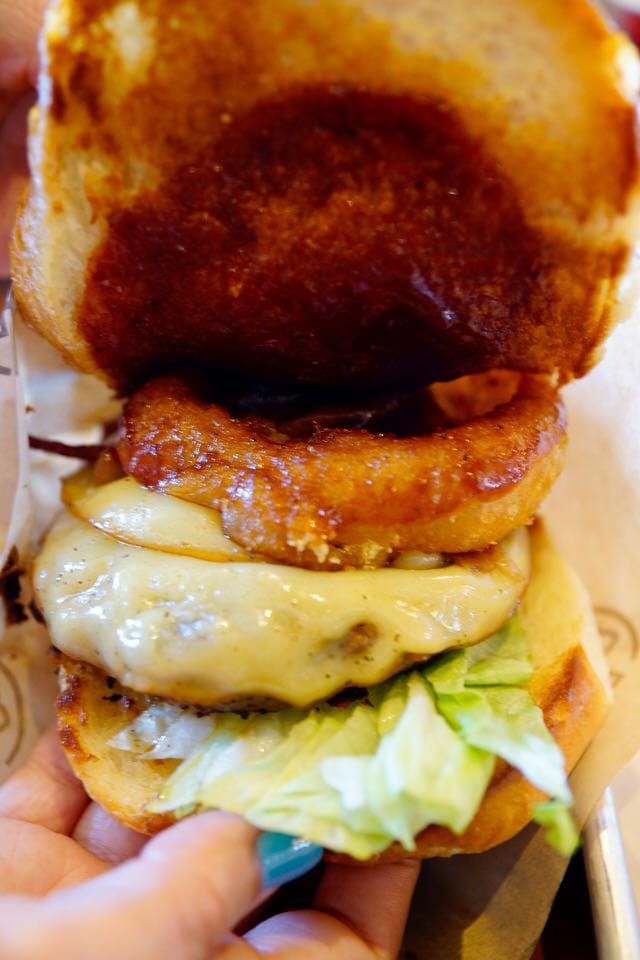 Regular French Fries ($4.99):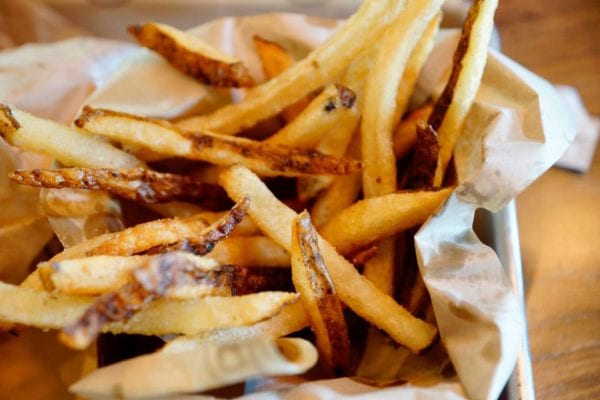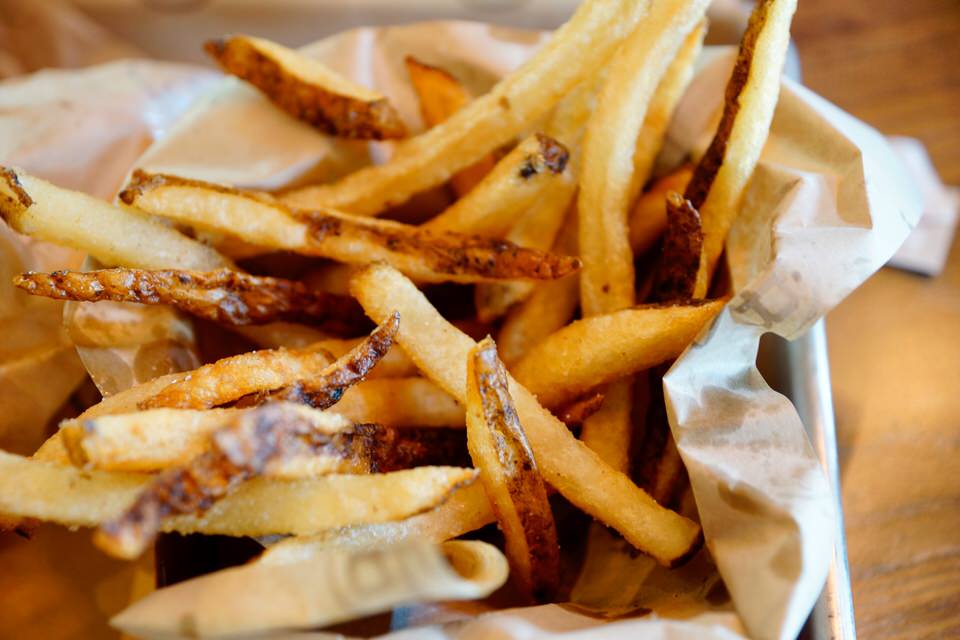 Again, these are not cheap at $4.99 for a regular fries, but they were so darn good. Hand-cut in house and deep-fried to perfection! They were a perfect golden brown, not over or under cooked, and slightly crispy outside but nice and silky smooth inside. They were also hot which is super important for me, I hate cold fries! In reality we split them in two, so it's doable if you aren't super hungry.
Of course you know we couldn't leave without trying a milkshake. It would be a sin to have to eat a fantastic burger like this without one. And this was one of my favorite moments of my D-Luxe Burger review: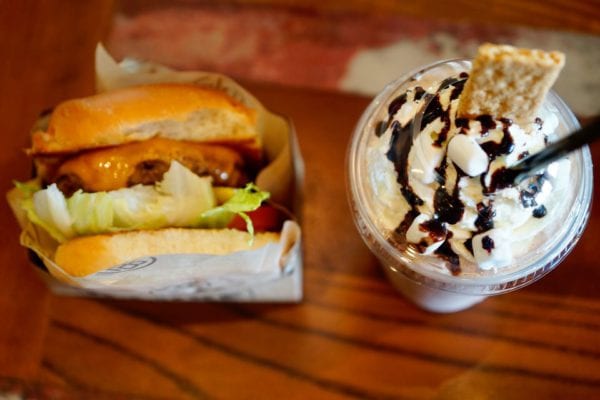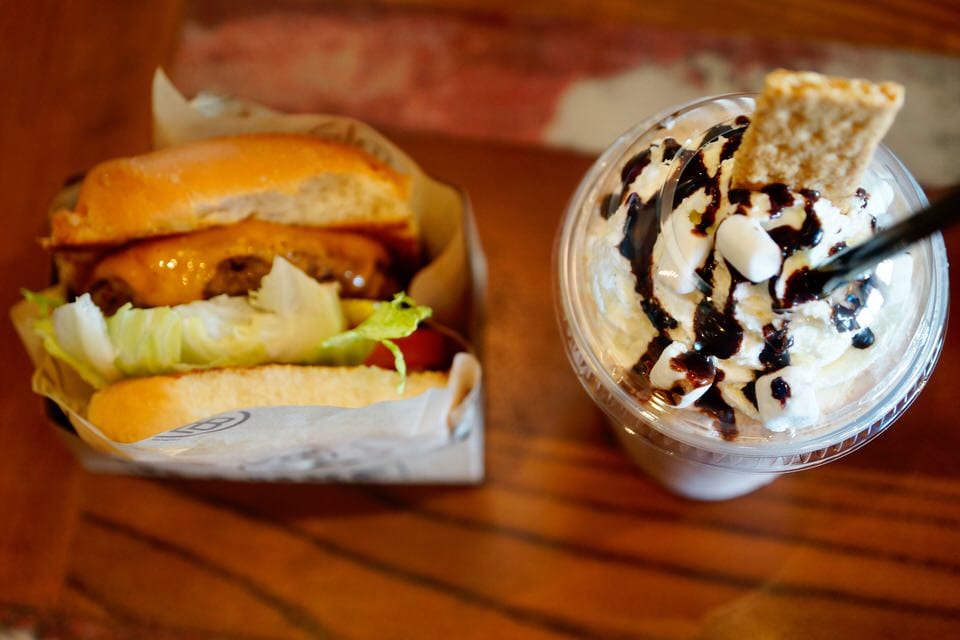 S'mores Milkshake: ($7.50):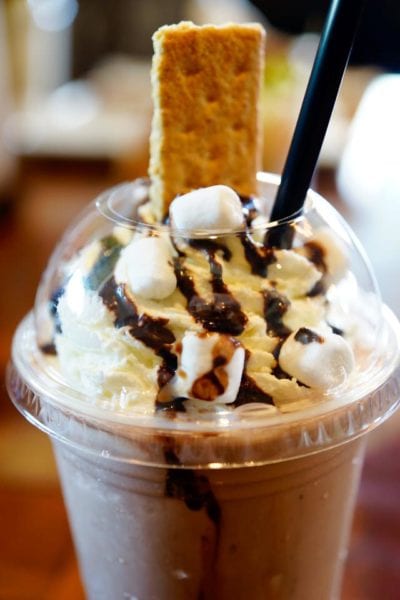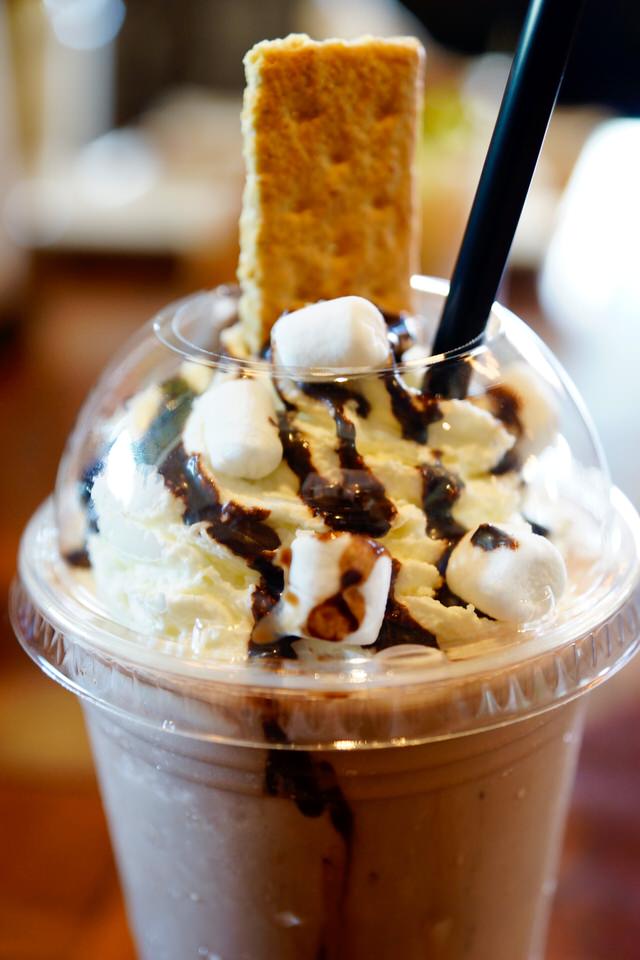 This was legendary, really really good! D-Luxe Burger's milkshakes use a gelato base, not regular ice cream, which means they come out really thick and creamy like a milkshake should be! Let's just face it, gelato is superior in every way, so if you make it into a shake it's going to dominate!
My S'mores one was awesome! I love s'mores, I mean I could practically live off marshmallows and graham crackers if I had to, I would even do it voluntarily if my wife would let me, so to say the least I was loving this shake!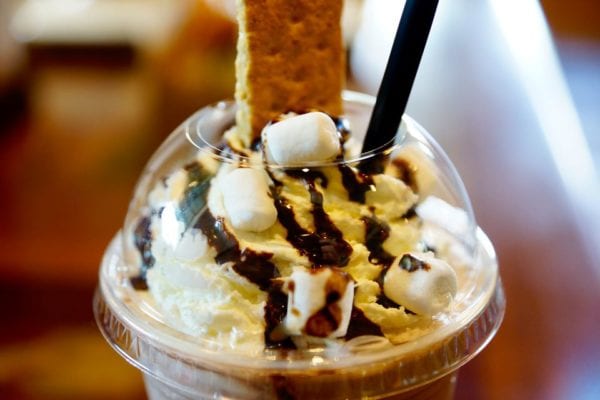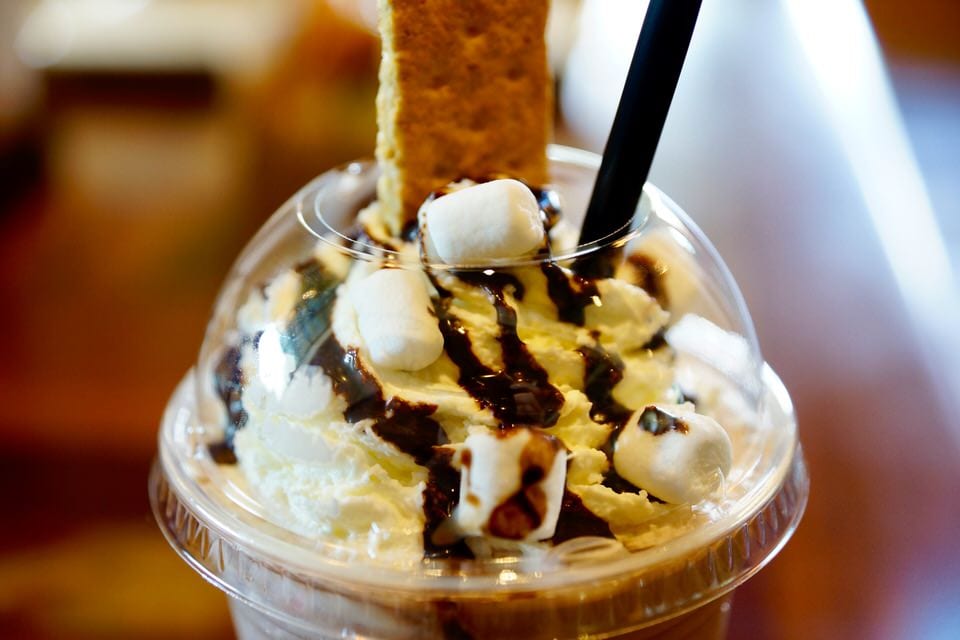 I loved the presentation, the graham cracker on top was a nice touch. The shake was really big a filling too, so they didn't skimp at all on that. And you just really can't beat the high quality. It rivals the best shakes in Walt Disney World which I before had given the title to 50's Prime Time Cafe, this has shaken things up a bit…. (no pun intended)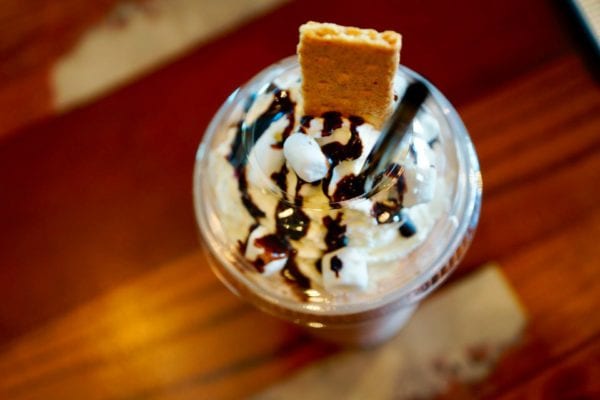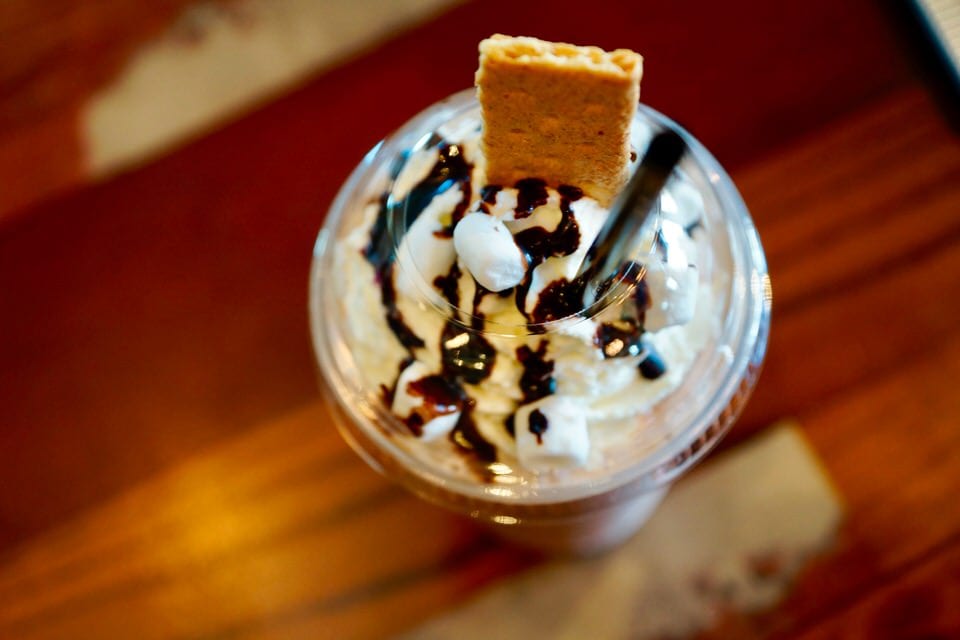 Vanilla Milkshake ($7.50):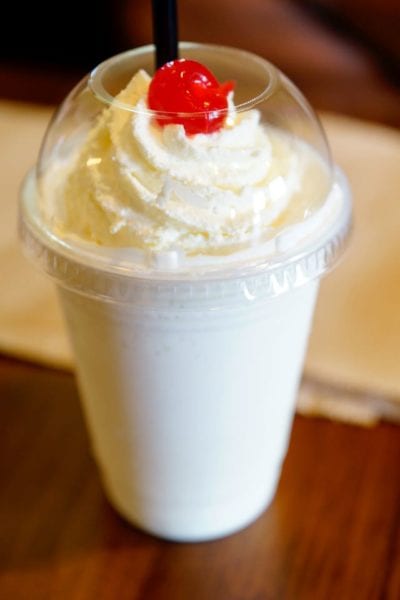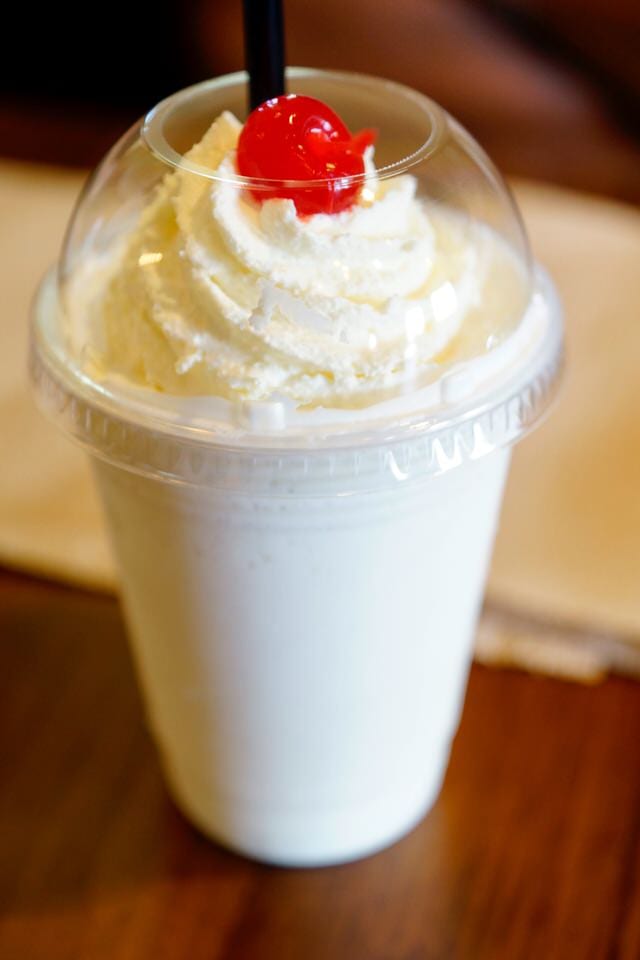 This was awesome too, obviously it didn't have as much going on as the S'mores one did, but the consistency was the same and the high level of ingredients shined through! Vanilla flavor was really good. All in all, I can't say anything but praise for the milkshakes, I'm anxious to come back and try some other flavors!
Lastly I wanted to make a special mention about the food packaging: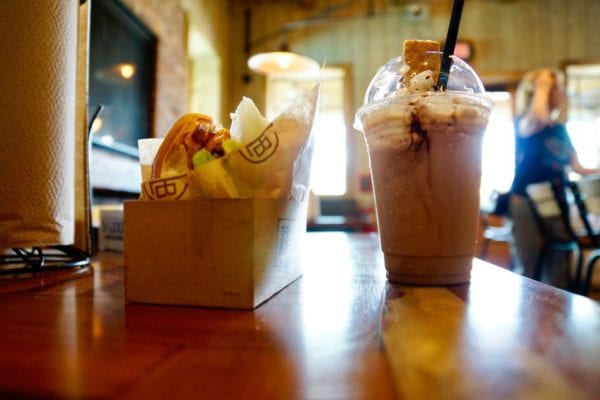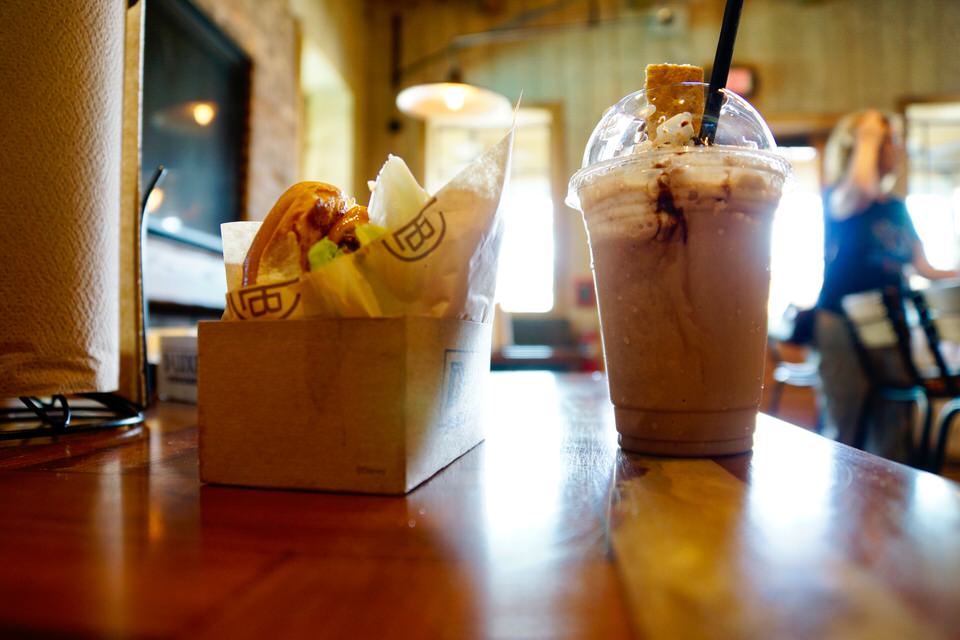 As I said before, the individual burger holders were very convenient and easy to use. It made for an almost mess-free experience, which is almost impossible for me when eating…well just about anything!
Also even though we ate in, they give you a really high quality brown paper bag to put your food in if you are going away so you don't have to wrestle with plastic trays or cardboard food holders. Hopefully the rest of the quick-service locations around Disney World take notice of this!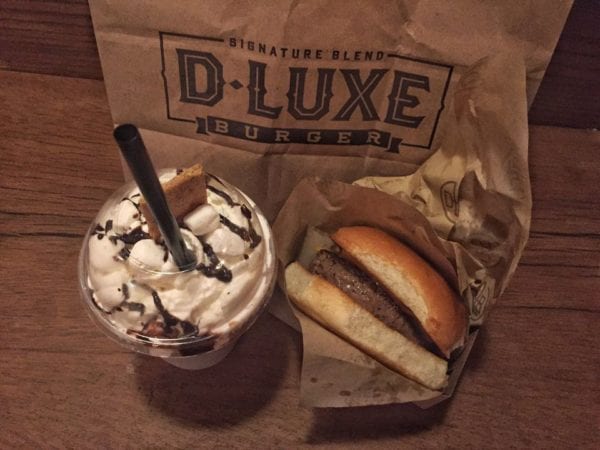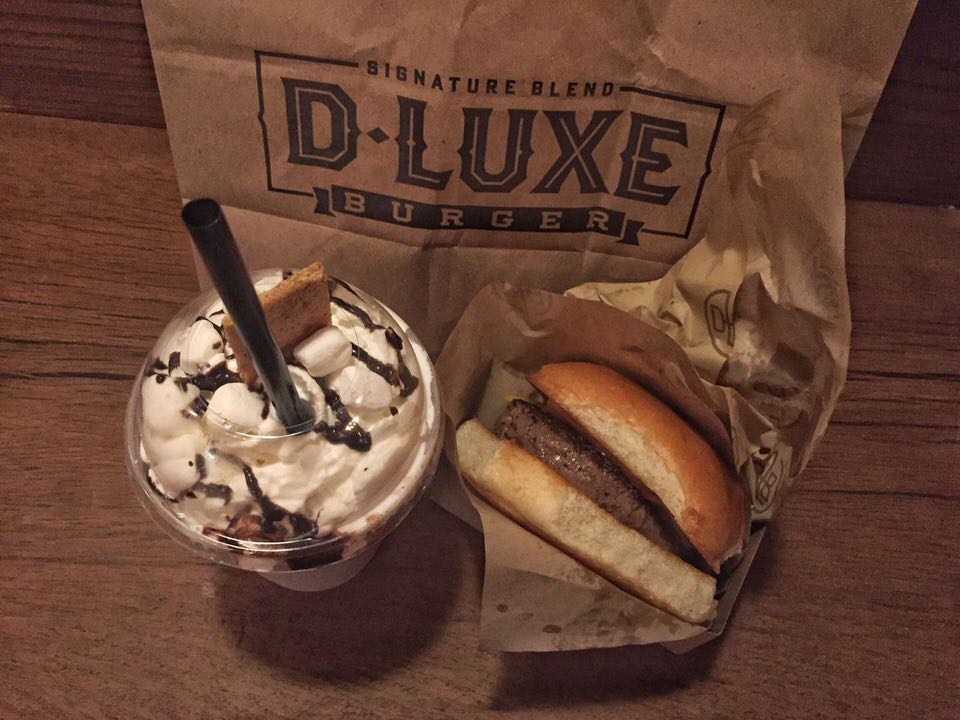 Summary:
Overall our experience at D-Luxe Burger was exactly as I hoped it would, which wasn't easy to live up to after I'd heard so many positive things about it from others! You are paying a bit more than your normal burger quick-service place, and more than your local burger joint back home. But counting the location and the quality of the food, I would say you are actually getting a good bargain all things considered, and it's better than most sit-down Restaurant burgers, where you have to also pay tip.
The atmosphere is really nice, clean, modern and yet homey at the same time. The back terrace is a great place to relax and enjoy one of the best views in Disney Springs while you eat your meal. Nice modern touches like usable power outlets and USB connectors for your wireless devices.
The food is great, we didn't have one thing we didn't love. Burgers are fantastic, juicy and flavorful. Hand-cut Fries are incredible, not your normal park fries. And the Gelato Milkshakes are to die for…so stinkin good!!
If you like Burgers (I don't want to talk to you if you don't) and are in Disney Springs and looking for a fast/cheap meal, then D-Luxe Burger should be at the top of your list, I think it's the best Quick-Service in Disney Springs. Truthfully it even beats a lot of the Table-Service Restaurants too! As for the title of Best Burger in Walt Disney World, it's now opened my eyes up, and you'll have to wait till the next time I make my Top Disney World Burgers list to see where it lands, but it DOES land on it!
D-Luxe Burger is open for Lunch and Dinner (11:00am – 11:00pm Daily). The Disney Dining Plan is accepted, it's a 1 Disney Dining Quick Service Credit.
Click here for the D-Luxe Burger Menu
I love to write Restaurant Reviews of Walt Disney World and I hope you found this one to be informative and helpful. If you liked this review then please visit my Disney Dining Reviews Page where I have many other Restaurant Reviews. I'm happy sharing with you what I love doing best…eating! ? I try to bring you the most thorough and unbiased reviews about the food and restaurants at Walt Disney World, so that as you are planning your vacation, you know the "can't be missed" places, and where you shouldn't waste your time. Hope you enjoyed this one and will enjoy many others in the future!!
Your Thoughts:
I want to know what you think about my D-Luxe Burger Review. What has your experience there been? Did you think it was a letdown? Let us know in the comments section below!
If you enjoyed this article, as always I appreciate it if you'd share it with others via social media. I work hard at making this website into a useful resource for you and your family to plan your visit to Walt Disney World, and I hope it can help you! Thanks 🙂