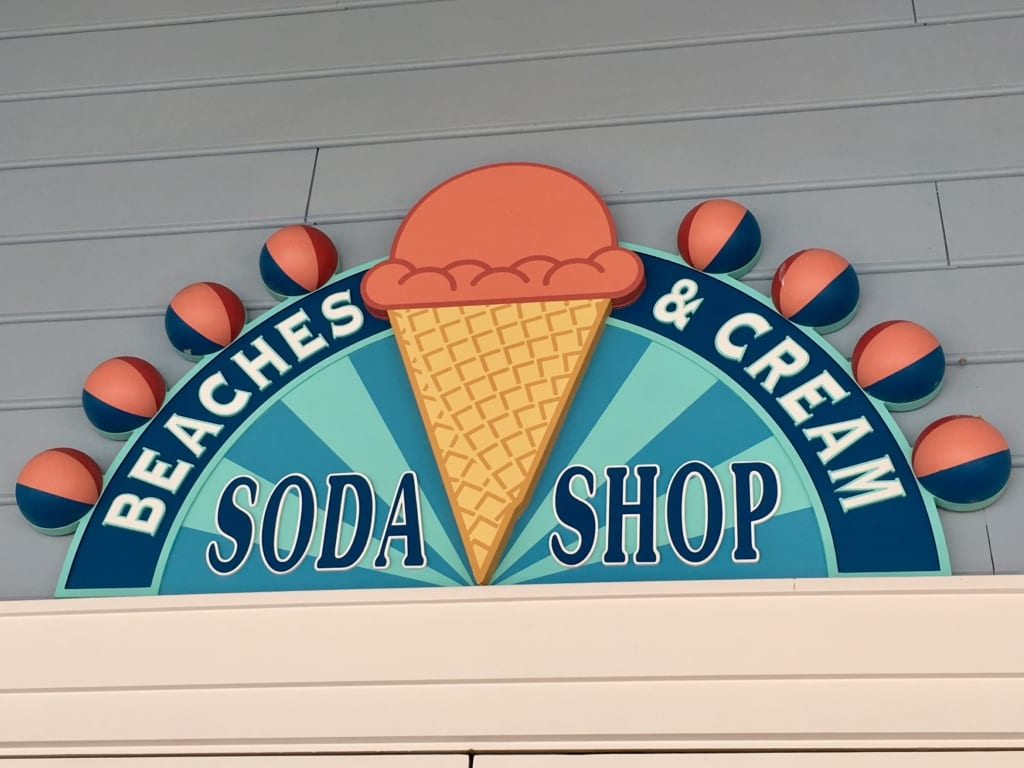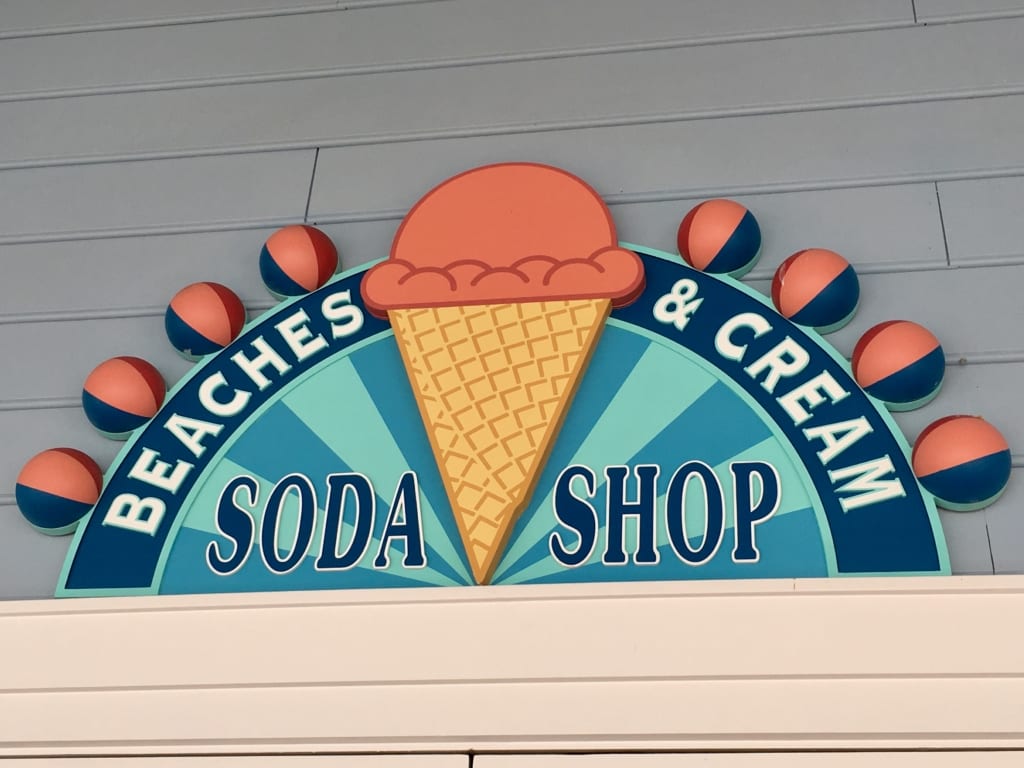 A short time ago we stayed at Disney's Yacht and Beach Club Resort, our favorite place at WDW to stay, and as a family tradition we had to stop at one of our favorite WDW restaurants, Beaches and Cream Soda Shop. The minute you step in the doors you feel like you are transported back to a soda shop from the 1950's where you could pop in, sit down at one of the counter stools and order up a good-ole-fashioned Ice Cream Sundae or Milkshake!
Beaches and Cream is a Table Service Restaurant, but a very relaxed and casual one. It is on the Disney Dining Plan and requires 1 Table Service Credit, but is a bad use of the Dining Plan because of the relatively low cost of the entrees in comparison to other places on property. It does participate in Tables in Wonderland which gives you a %20 discount on your food and drinks. It has to be one of the smallest Table Service Restaurants in WDW and is extremely popular. For that reason I highly recommend getting an ADR 180 days in advance, otherwise it can be almost impossible to get into especially in the busy season and with a large group. I waited too late, but luckily was able to snag an ADR the day before by snatching up a cancellation. There's also a Takeout Ice Cream Counter if you can't get a reservation, but you can't get everything on the normal menu.
Anyone who has stayed on the Boardwalk, Yacht/Beach Club, Swan/Dolphin Loop has Beaches and Cream on their list of favorite places! Located at Disney's Beach Club Resort, right by the pool and next to the Lafferty Place Arcade, it's one of the best places on property for Burgers, Sandwiches and of course Desserts…Sundaes and Milkshakes!! I love laying poolside all morning then wandering over to Beaches and Cream at lunchtime or even popping in for a mid-afternoon ice cream.
Let's go on in and see what our latest experience was like…
Atmosphere:
Before going in take a look at the gorgeous surroundings of the Yacht and Beach Club Resort Pool…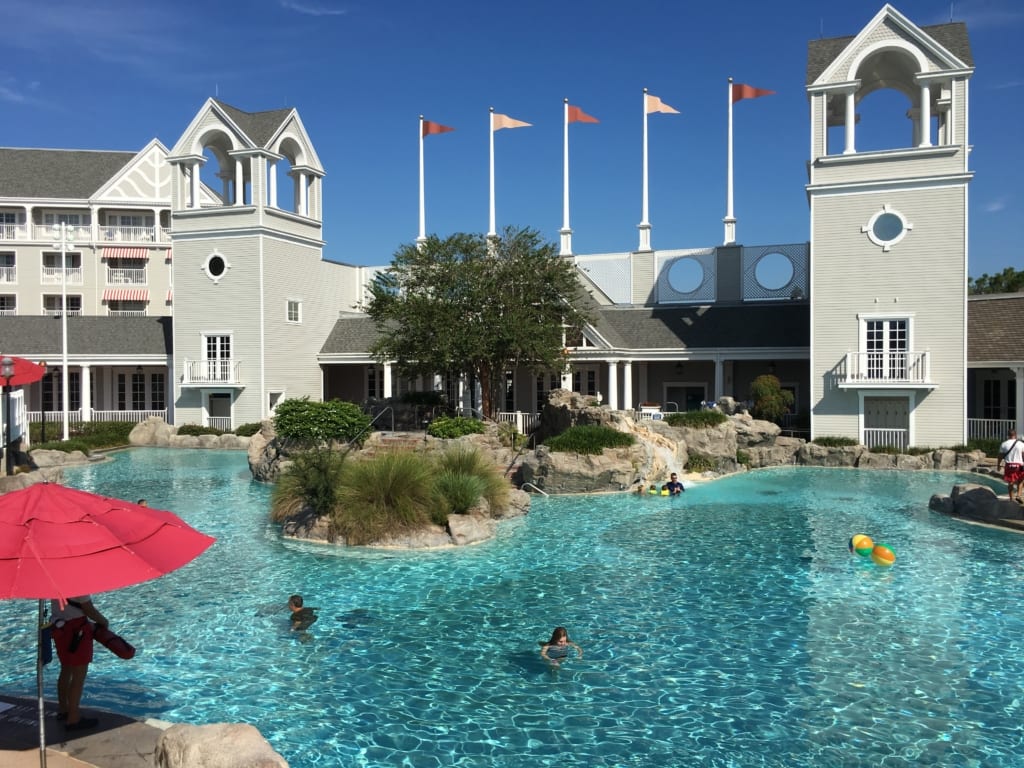 This is the life…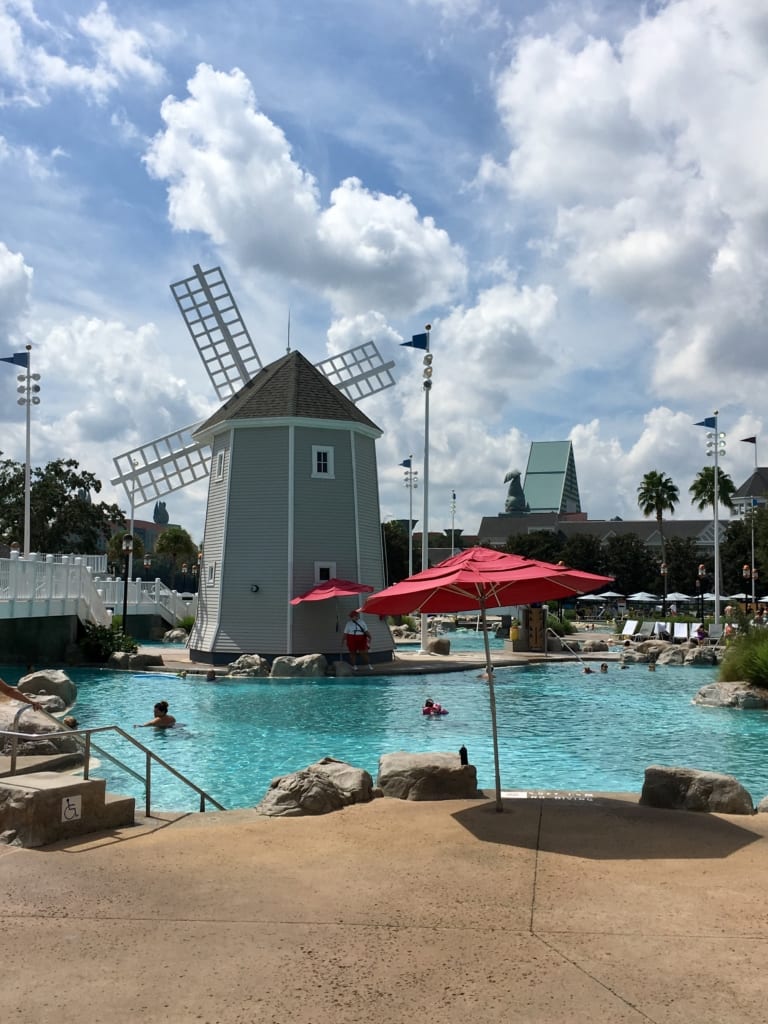 Now that we've worked up an appetite from swimming, let's get something to eat!!
They have the Full Menu on the wall outside to see before going in…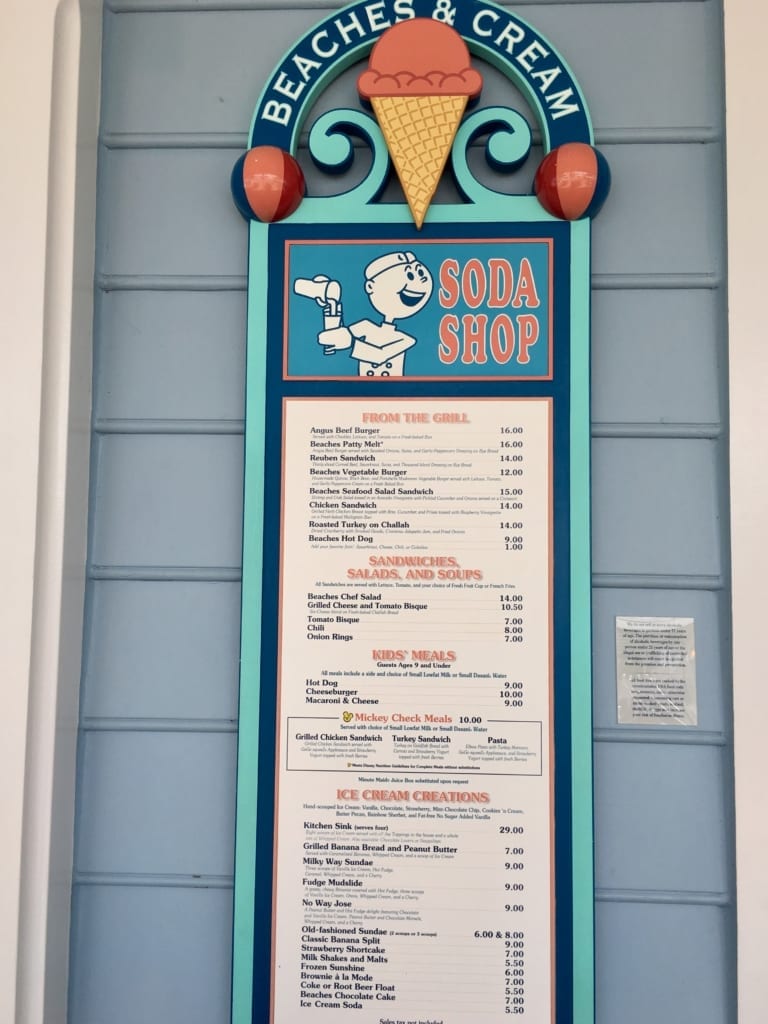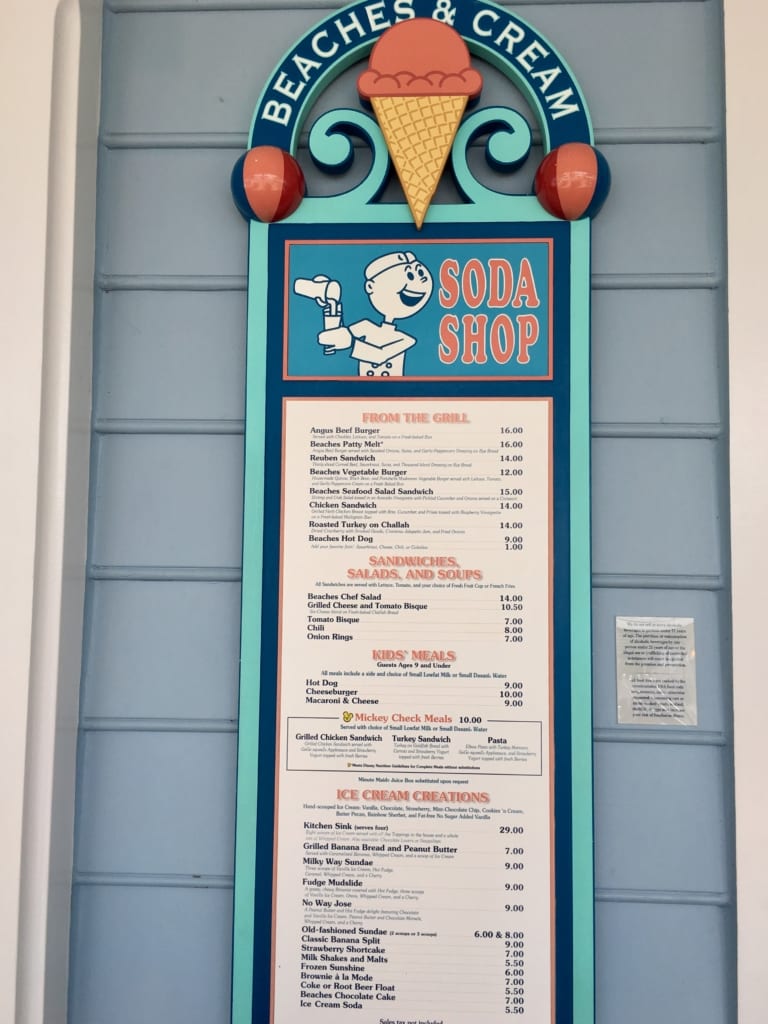 And also the To Go Menu as well…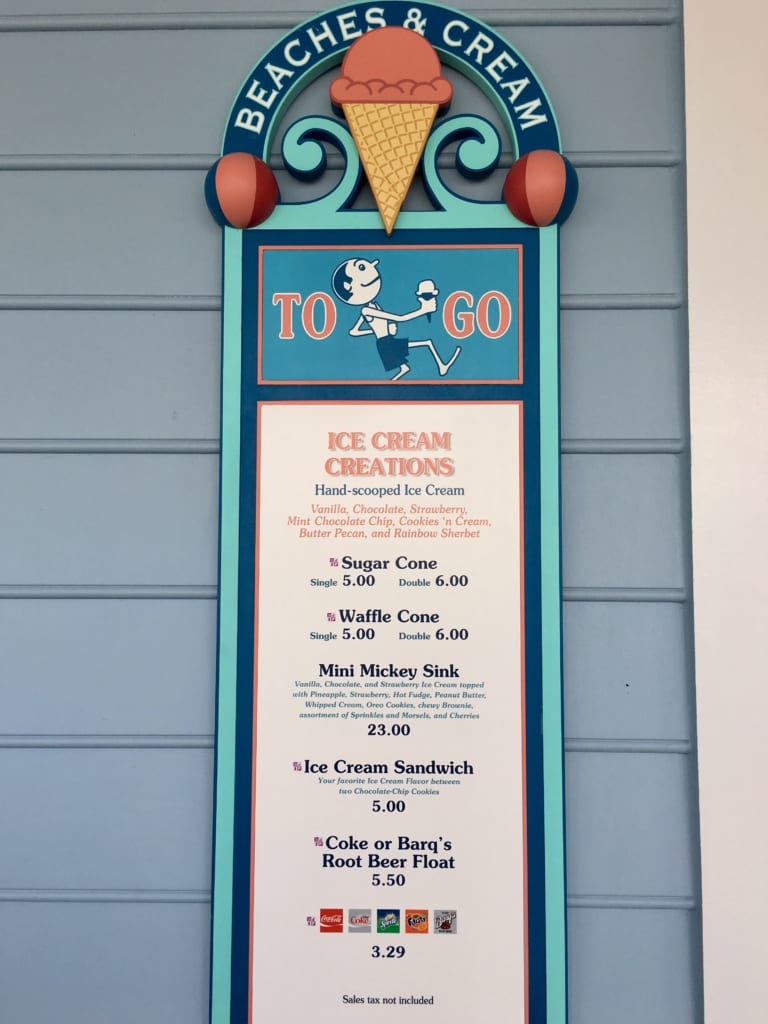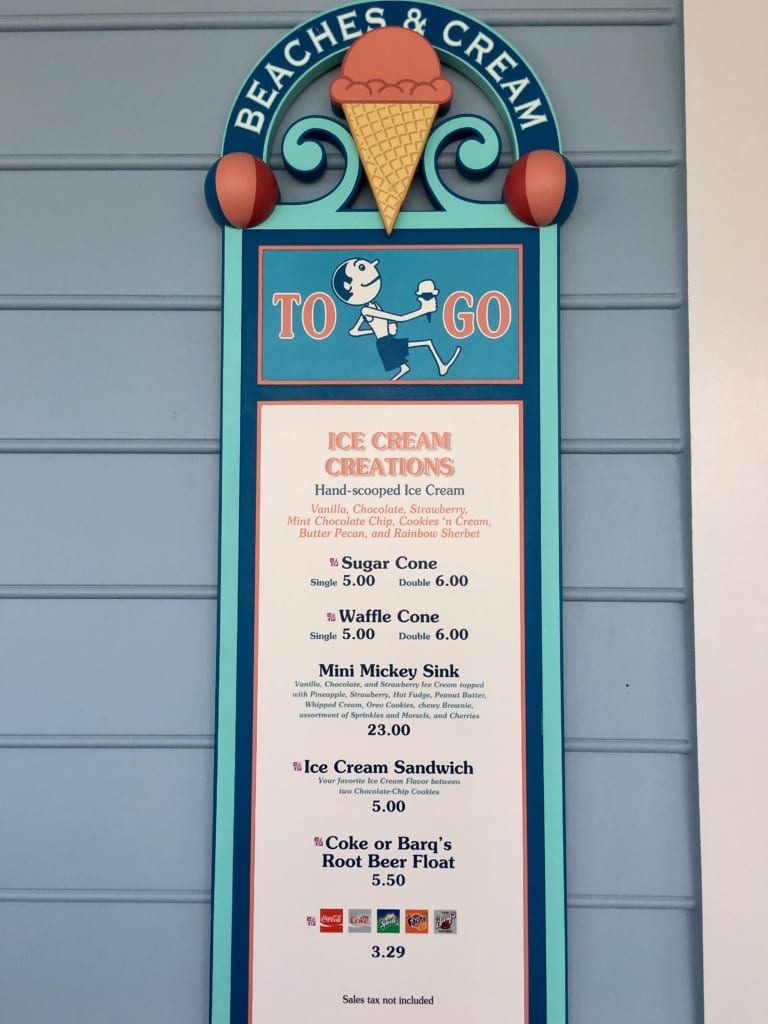 Stepping inside is like stepping back in time…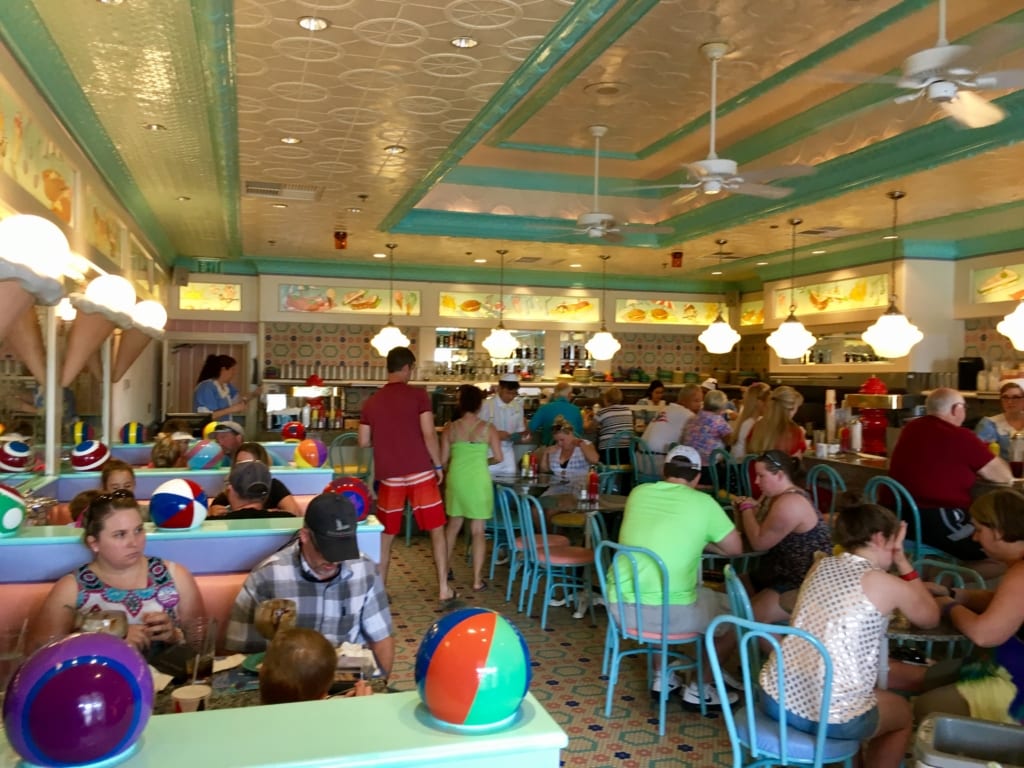 This is really your Mom and Dad's generation (or Grandparents even) ice cream shop and immediately invokes feelings of nostalgia and America in the 50's/60's! There are pastel colors on the chairs, booths, ceiling…everywhere!
If you want to sit at the counter just grab a stool..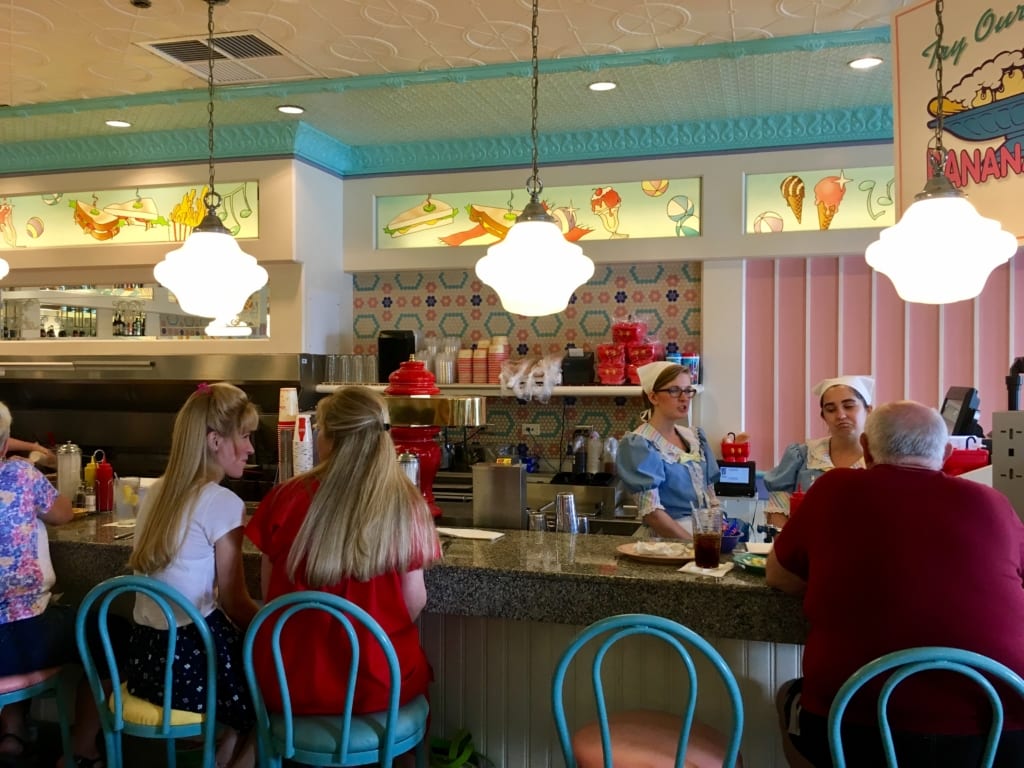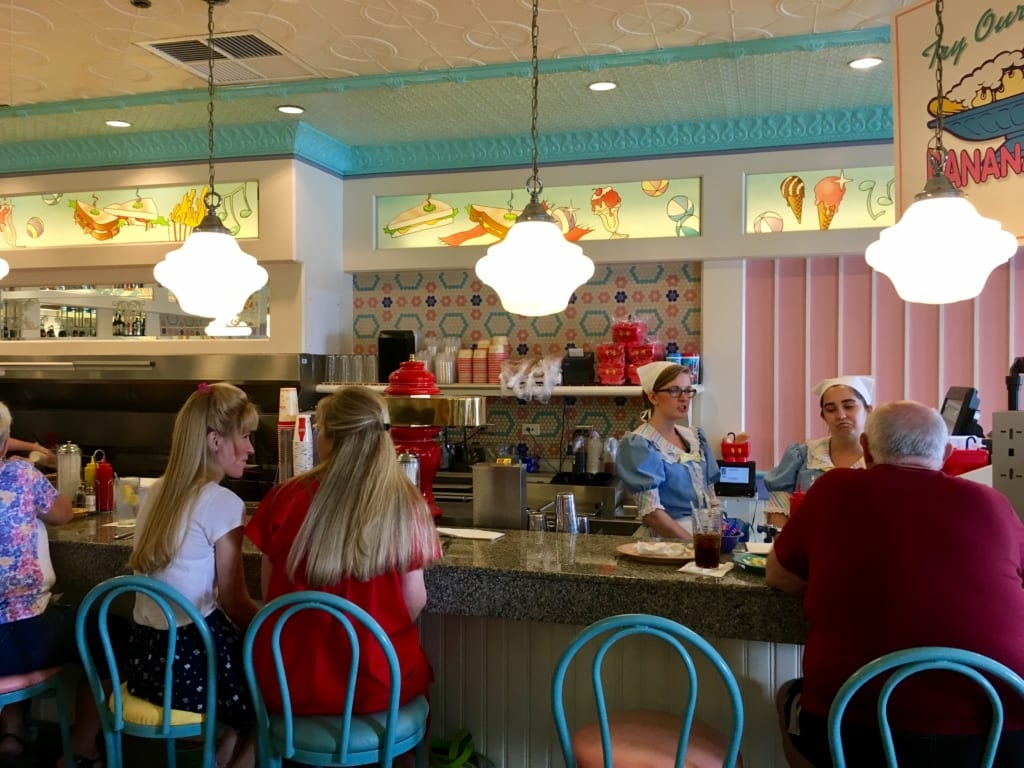 Here you will have a front row seat and a view of the Kitchen, as well as the waiters working up those delicious Ice Cream Sundaes and Shakes!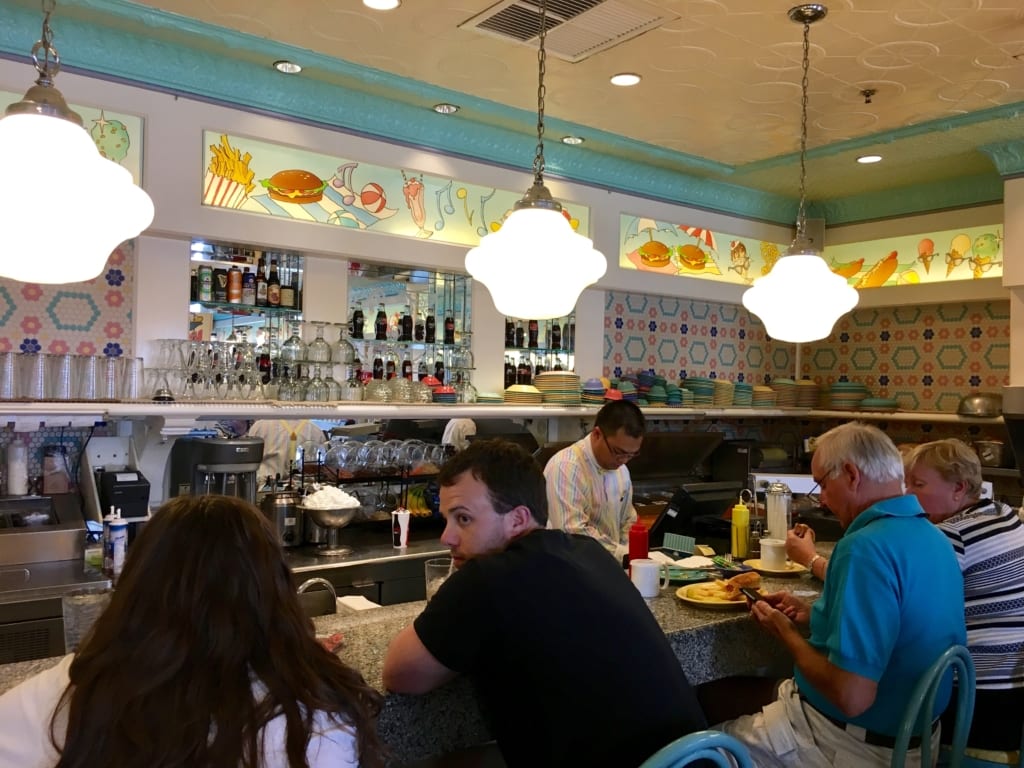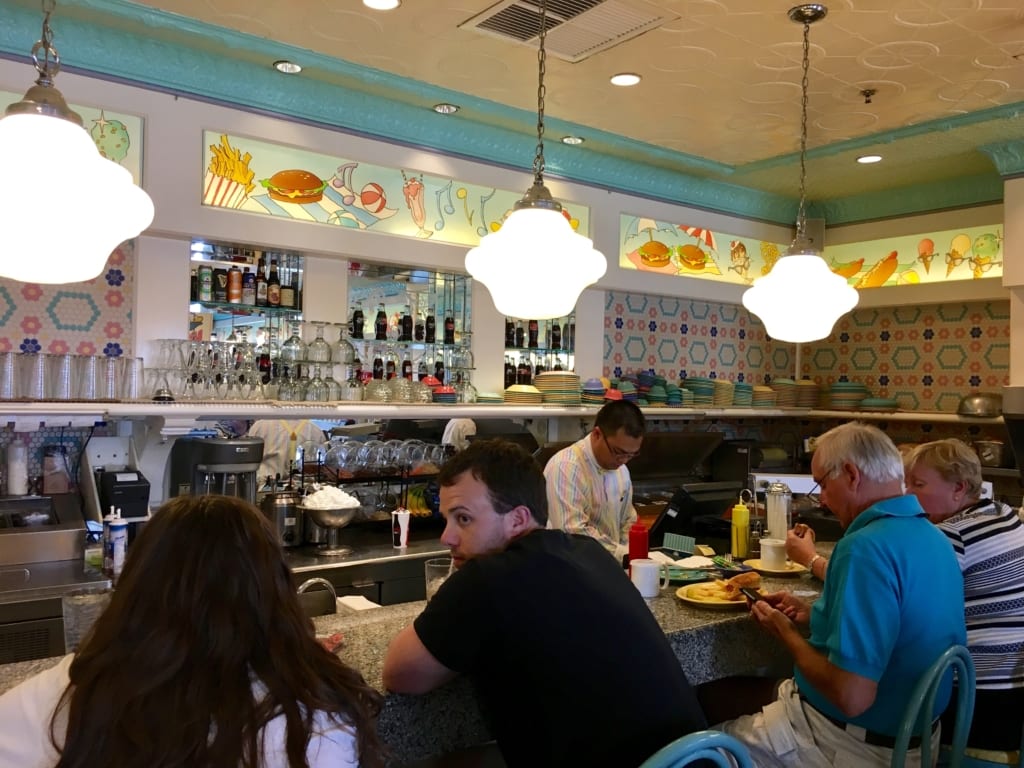 I like sitting in the booths myself. And I love the added touches like the Ice Cream Cone lights, the beach balls on the booths, the gigantic mirrors on the walls. The border on the top of the walls are incredible with paintings of all of the eats you can find here…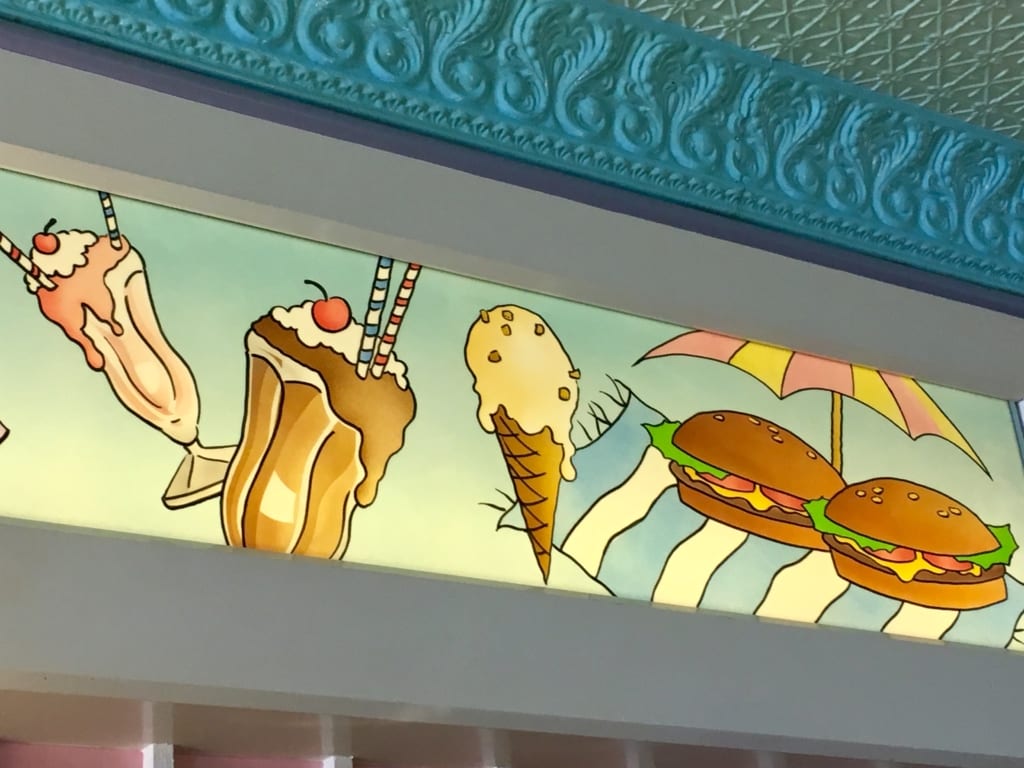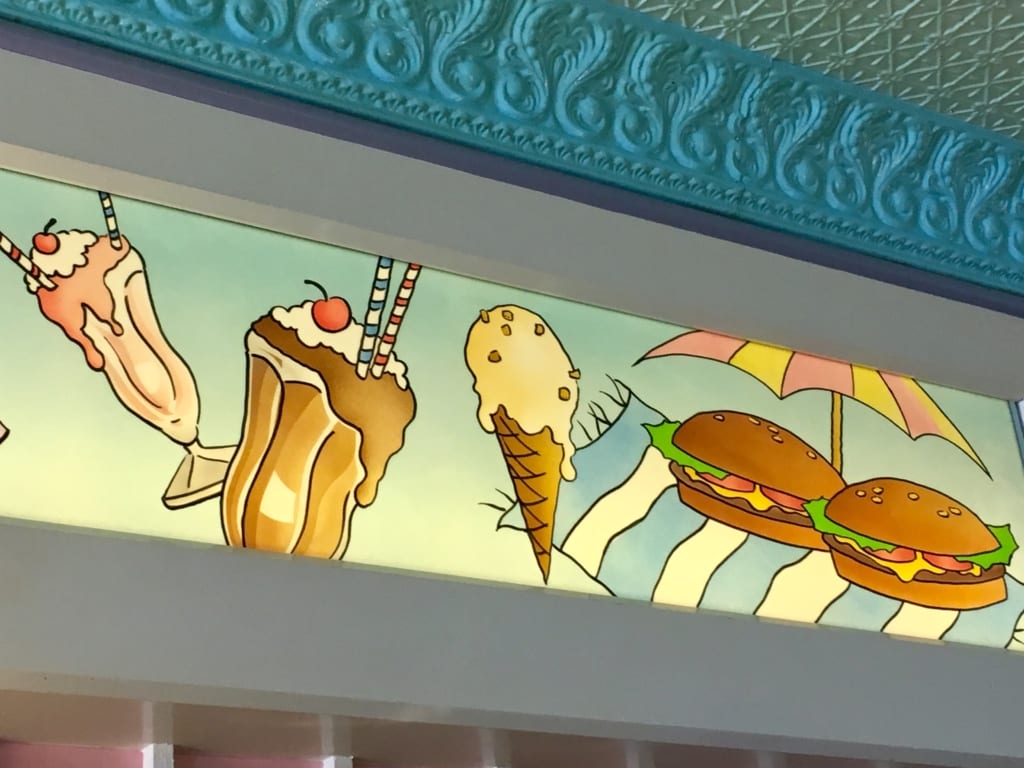 Then the best decoration in the place…The Jukebox!!
Our table is set and we are ready to chow down!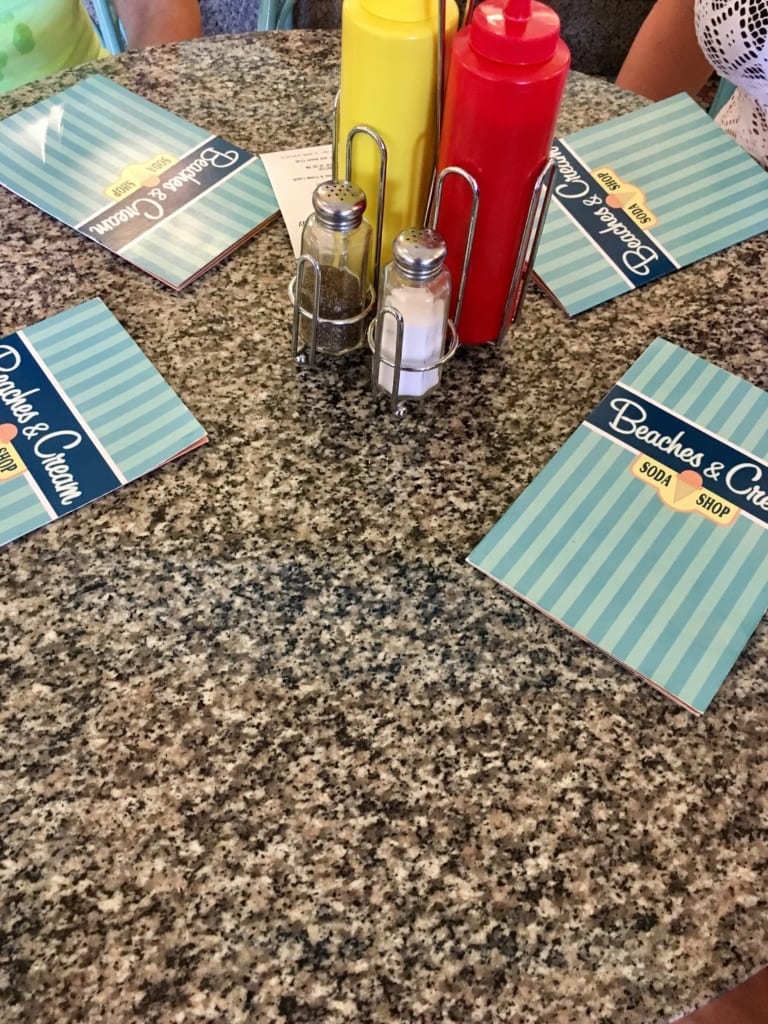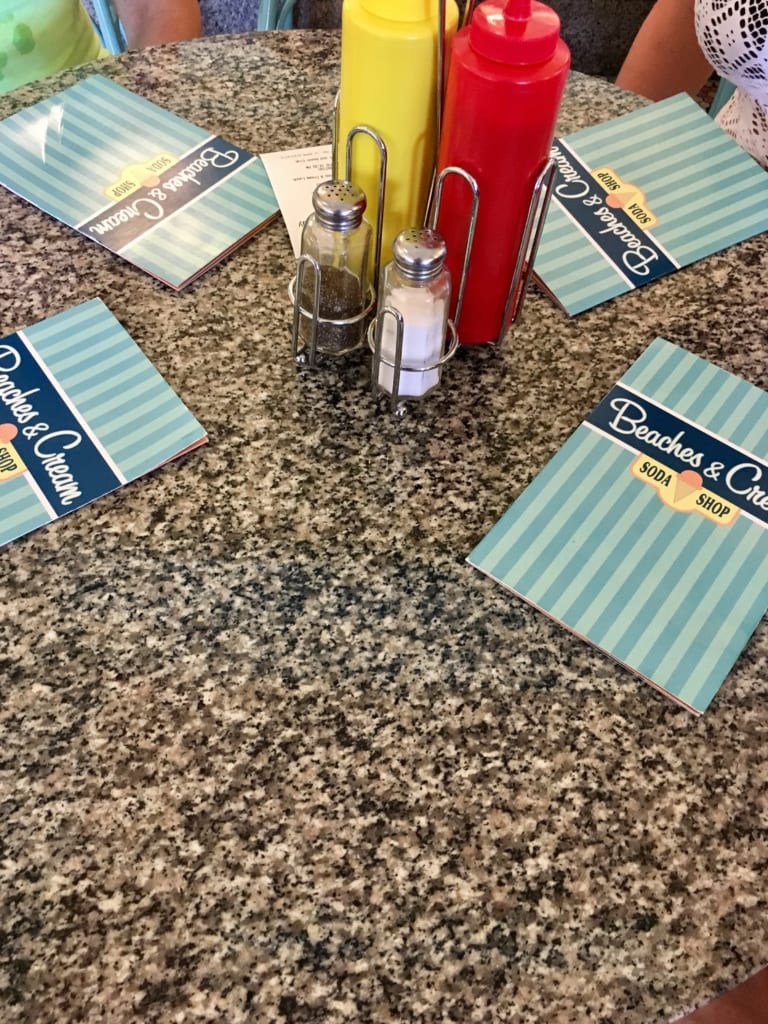 Food:

We were super hungry after a really exhausting morning of sunbathing and the occasional game of Water Volleyball so we grabbed our menus and had a look..
One of the awesome touches is you can even order a Coke in a Nostalgia Bottle: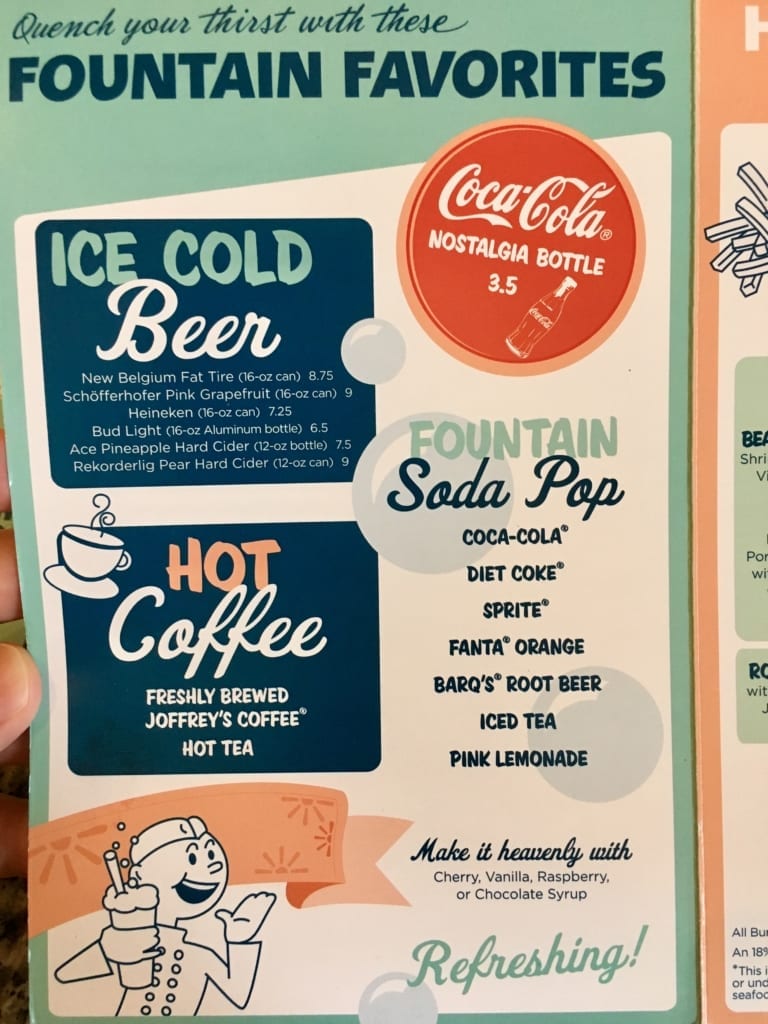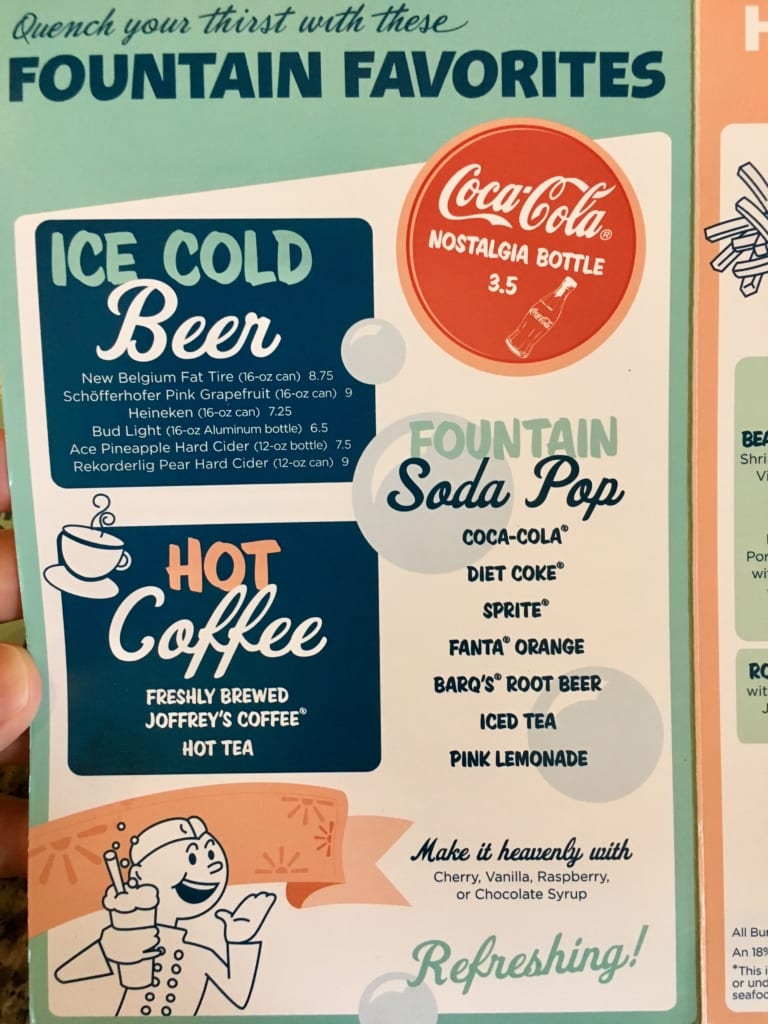 Beaches and Cream is known for their awesome Burgers which are made from Angus Beef. Their Melts are fantastic too, as well as the Reuben and one of my favs: Grilled Cheese and Tomato Bisque. All the burgers and sandwiches come with French Fries or Fruit.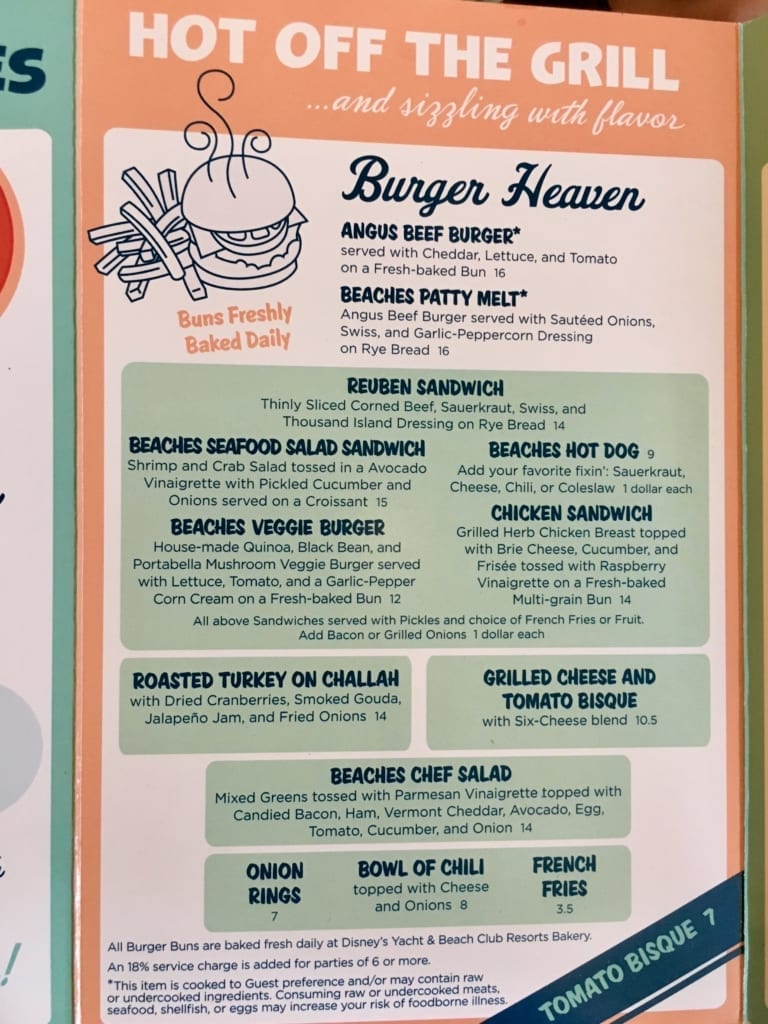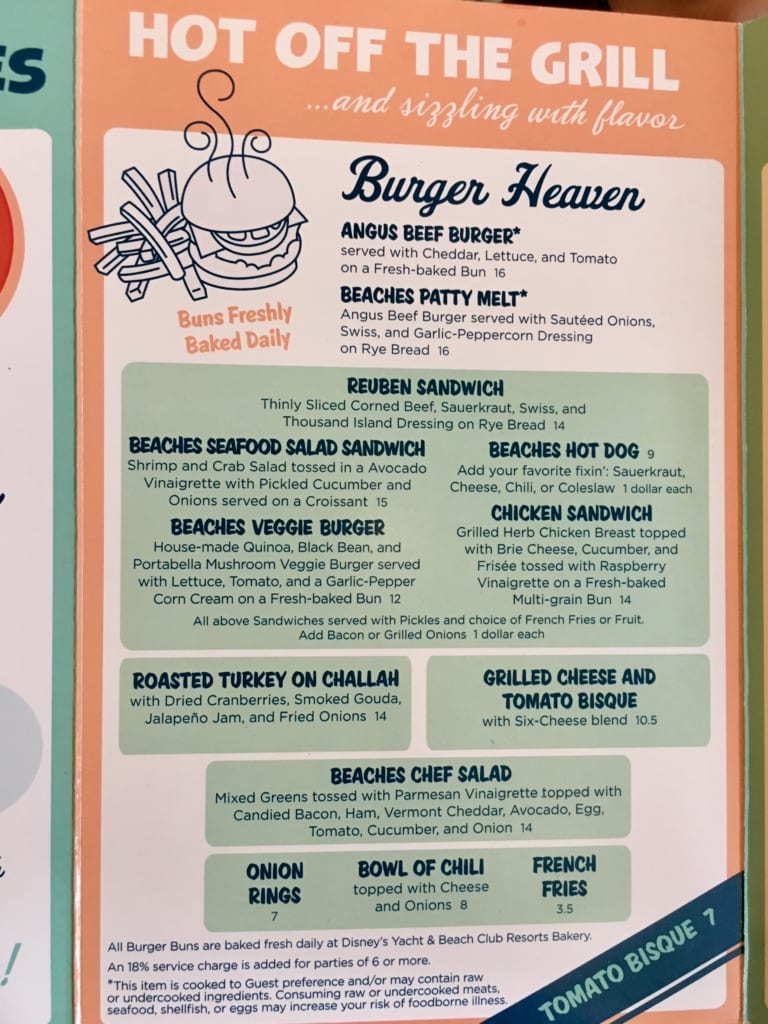 The Malts, Milkshakes and Floats here are amazing too and are served with hand-scooped ice cream. Get a Shake however you like, either with your meal or as a dessert.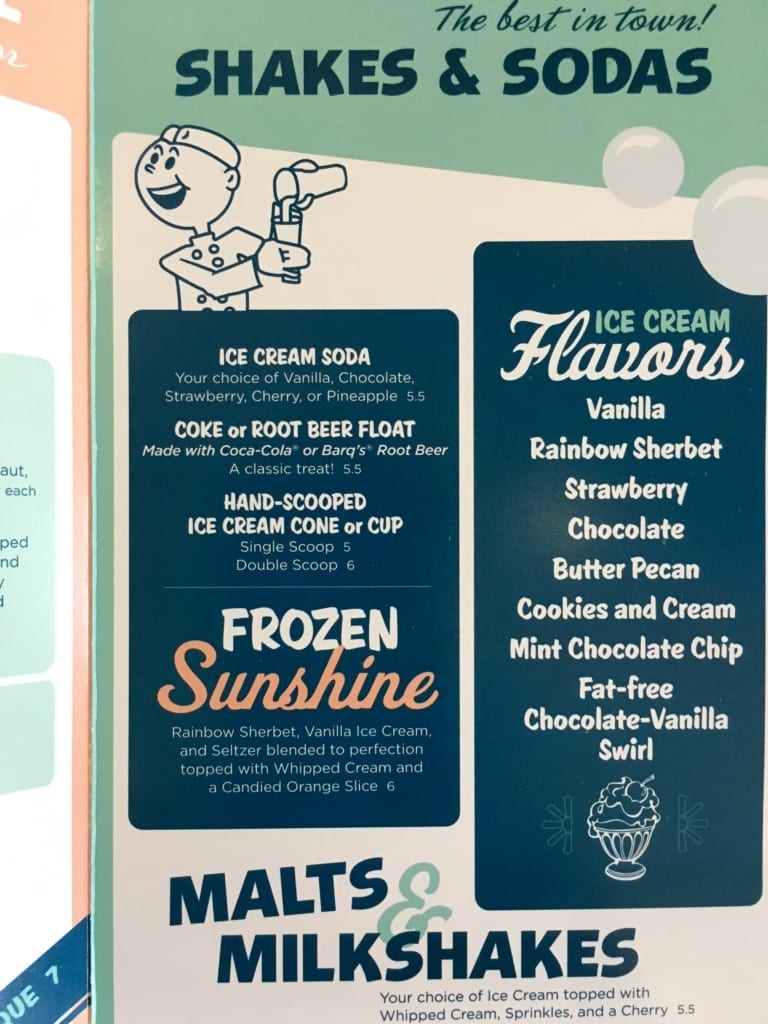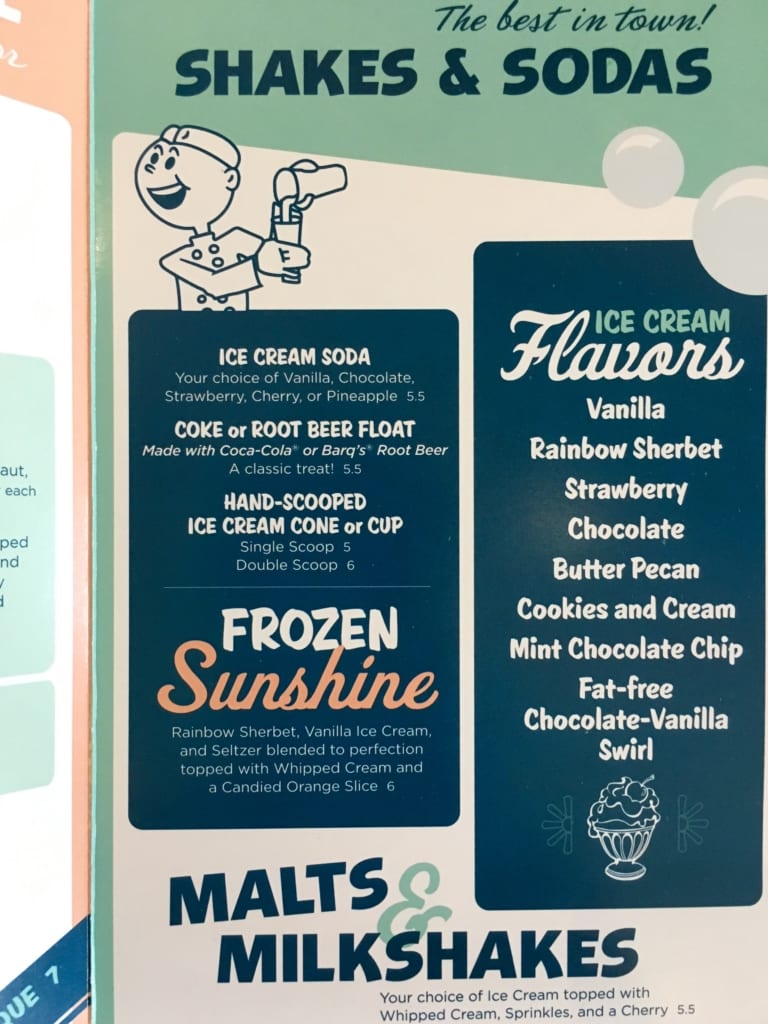 We're no rookies…we would never have a Milkshake as a dessert! We got it right where it belongs, with our food! Dessert will be after!!
We all got Cookies and Cream Shakes, and they were HUGE!! This thing can easily be split by 2 people!
It wasn't just all show either, it was really good! The consistency was really nice, not too liquidy where you couldn't use a spoon, and not too solid where you couldn't use a straw. Just right. It was very filling, full of Oreo chunks throughout and on top and topped off with fresh whipped cream and a cherry. Very good, full of flavor!
To eat we ordered a classic Bacon Cheeseburger:
The Burgers at Beaches and Cream are some of the best on property even though now the official crown has been given to D-Luxe Burger in Disney Springs. This Burger comes with an Angus beef patty, Cheddar Cheese, Lettuce, Tomato, a side Pickle and of course Bacon! To me what makes this burger really special is that it's served on a house-made bun which is buttered and grilled!
I had asked for my burger to be cooked Medium-Rare, this came out more medium. But even so you can see how juicy the burger is and you can see the griddle marks on the inside of the bun where it was buttered and grilled! Just awesome!!
The others got a burger too, but they weren't up to task and had to split it…
The nice thing you find in most Disney Restaurants is they don't have a problem if you ask to split something. That makes it nice for when you aren't super hungry (which never happens to me) or just want to try a lot of things on the menu.
Usually the Burgers come with fries as in the above photo. Right now the fries at Beaches and Cream are Steak Fries, where as in years past they have been thinner normal sized fries. They were good, nice flavor and everything, but I tend to go for the thinner classic fries. That's why I instead chose the Onion Rings for a small extra charge.
The Onion Rings were fantastic, second I've had at Walt Disney World behind only those at the 50's Prime Time Cafe! Perfectly golden brown and well seasoned. They had nice strands of onions inside too:
I really really loved them, my only complaint is there were only 4 of them and I really wanted to keep eating them!
No trip would be complete to Beaches and Cream without Dessert (no the Milkshakes don't count!) as they are some of the best in WDW, and so before finishing our Beaches and Cream review we tempted to tackle the King of all the Desserts…..the Kitchen Sink! Sirens go off, the whole room goes dark and out comes the waitress with one of the best desserts in the history of the world:
This is not for the feint of heart and by no means should be attempted alone! In fact it says it serves 4 but it could easily feed more than that!
What's in the Kitchen Sink? Everything you can think of: 10 scoops of Ice Cream (Vanilla, Chocolate, Strawberry, Cookies and Cream and Min Chocolate Chip), smothered in Chocolate Fudge, Peanut Butter, Butterscotch, Pineapple Topping, Strawberry Topping, Brownies, Angel Food Cake, an Entire Banana, Muffin, a Milky Way Bar, Oreos, Sprinkles, Marshmallow Topping, Chocolate Syrup tons of Cherries and an Entire Can of Whipped Cream!!
Full yet?
The Sundae itself is very good, but just on taste alone I prefer some of the other Sundaes they do over this one like the No Way Jose or the Banana Split , but this is truly one of the great "dining moments" you can have at Walt Disney World because of the whole presentation and everyone should experience it at least once! Your kids will absolutely love it!!
Sadly to say, the Kitchen Sink was too powerful and it won the battle:
Summary:
Beaches and Cream is one of my favorite dining locations in Walt Disney World, especially if you are looking for a place where you can be casual, eat good food and desserts and feel like you're being transported back in time to another age. The location is great if you are staying at the Yacht and Beach Club Resort or near by also because of its proximity to the Best Pool in WDW, not that I'd encourage swimming on a belly full of burgers! 😉
The Burgers and other Sandwiches are awesome, as well as the Onion Rings! The Desserts are King here and literally every Sundae on the Menu is amazing! If you are feeling extra daring you can try to conquer the Kitchen Sink, just don't attempt it alone and don't say I didn't warn you! 😉
Beaches and Cream remains one of my favorite places for a good burger and similar fare and is a place that everyone should try where you are for sure guaranteed a good time! Book it for your next trip and you won't regret it at all! 🙂
Beaches and Cream is a Lunch/Dinner restaurant and is open from 11:00am-4:55pm and from 5:00 to 11:00pm Daily. The Disney Dining Plan is also accepted, it is a one credit dining restaurant. Reservations can be made via the Disney World website or by calling (407) WDW-DINE.
I love to write Restaurant Reviews of Walt Disney World and I hope you found this one to be informative and helpful. If you liked this review then please visit my Disney Dining Reviews Page where I have many other Restaurant Reviews. I'm happy sharing with you what I love doing best…eating! I try to bring you the most thorough and unbiased reviews about the food and restaurants at Walt Disney World, so that as you are planning your vacation, you know the "can't be missed" places, and where you shouldn't waste your time. Hope you enjoyed this one and will enjoy many others in the future!! ?
If you enjoyed this article, as always I appreciate it if you'd share it with others via social media. I work hard at making this website into a useful resource for you and your family to plan your visit to Walt Disney World, and I hope it can help you! Thanks 🙂
Your Thoughts:
I want to know what you think about our Beaches and Cream review and your experiences there. What's your favorite food there? Do you think they have the best burgers on property? Have you ever had the Kitchen Sink? Let us know in the comments section below! 🙂