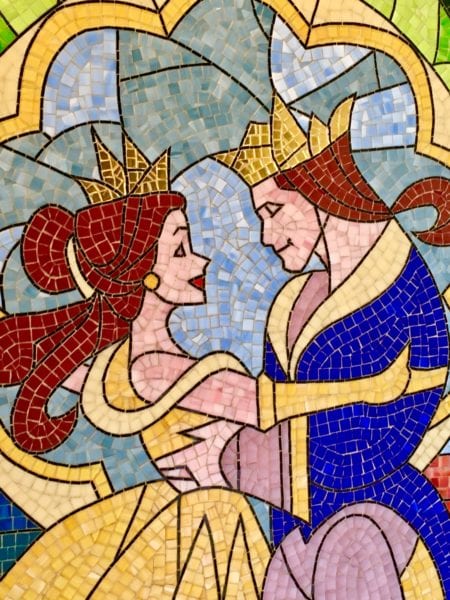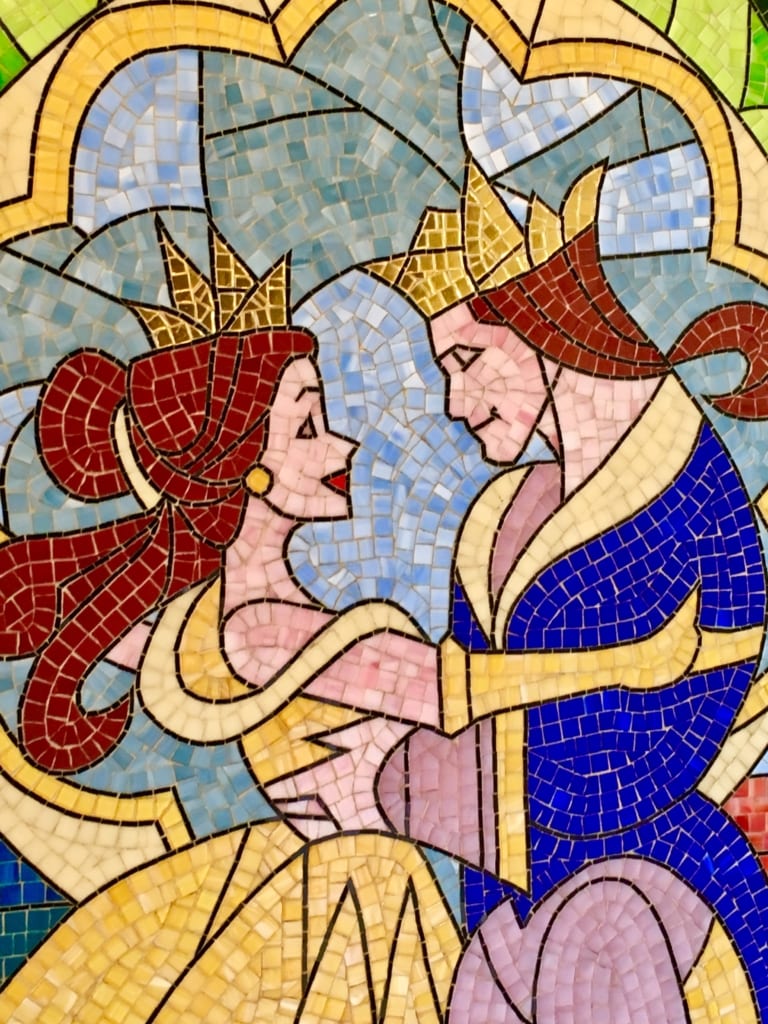 This is a Be Our Guest Lunch Full Review. Be Our Guest is a Table Service Restaurant in Fantasyland in the Magic Kingdom which serves a French-inspired menu, but offers it up in a simple way using dishes (chicken, pork, fish) that aren't too fancy or over the top. It's food the whole family will like young and old. Being a Table Service Restaurant you will need to spend 1 Table Dining Credit(for Dinner) or 1 Quick Service Credit (for Lunch) if you are using the Disney Dining Plan. It does participate in Tables in Wonderland (but only for Dinner) which gives you a %20 discount on your food and drinks, which is usually helpful to us but we're out of luck this time around.
Be Our Guest does accept ADR's 180 Days in advance and I would highly, highly recommend doing it because this is by far one of the most popular restaurants in all of Walt Disney World with the elusive Dinner Reservation possibly being the hardest book in all Walt Disney World. So I'd be online the second I'm able to book my restaurants because it will sell out Breakfast, Lunch or Dinner.
Be Our Guest has always been a place I've wanted to go to since opening day in 2012, but for one reason or another we never got around to it. So we decided it was about time! What makes Be Our Guest so popular? Just look around and you'll see that it's just as much an attraction and experience as it is a restaurant…I mean you're going to the Beast's Castle and the feeling you get in this place is truly extraordinary! I hope it lives up to my expectations, let's see…..
Atmosphere:
As I said we are going to the Beast's Castle which is located in the newer part of Fantasyland and across from the Seven Dwarfs Mine Train: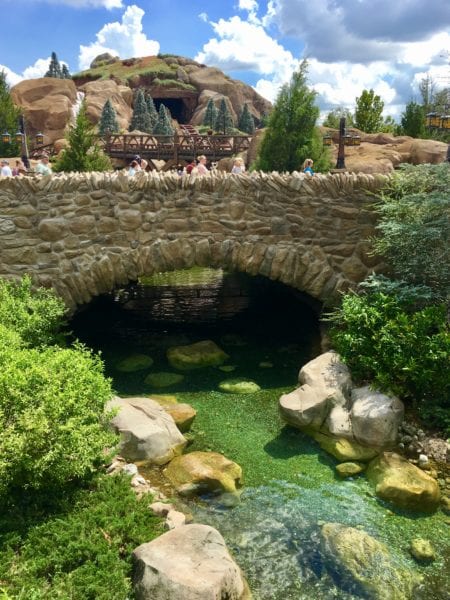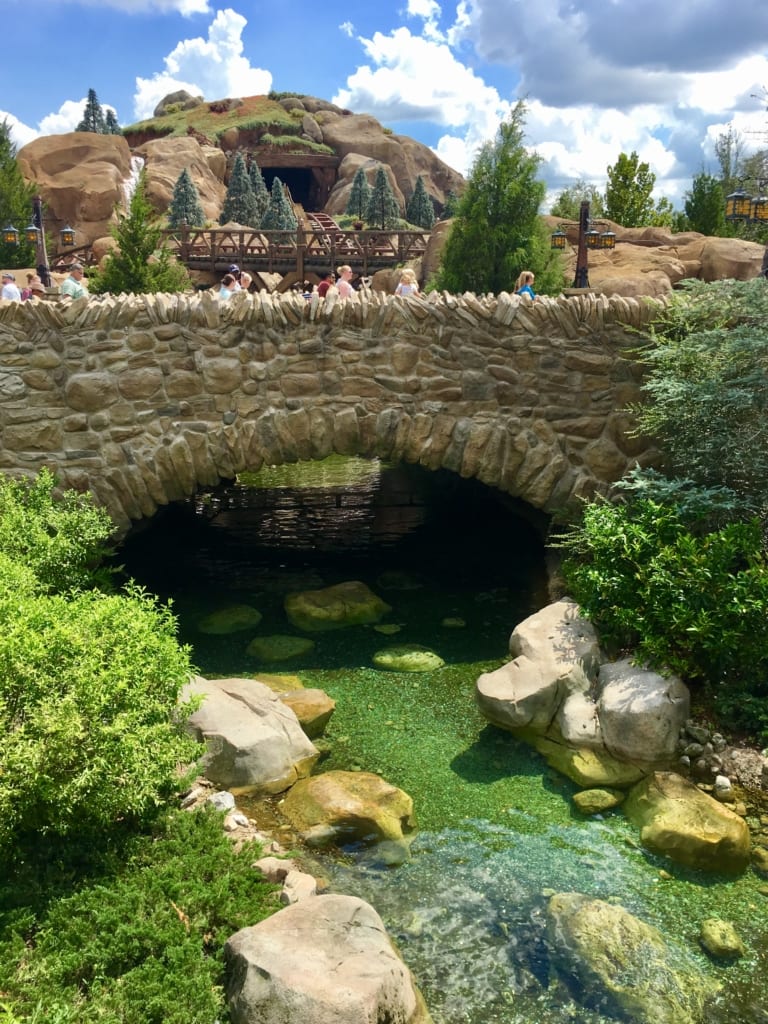 As you arrive to the gate you'll see the Sign for Be Our Guest and you're here: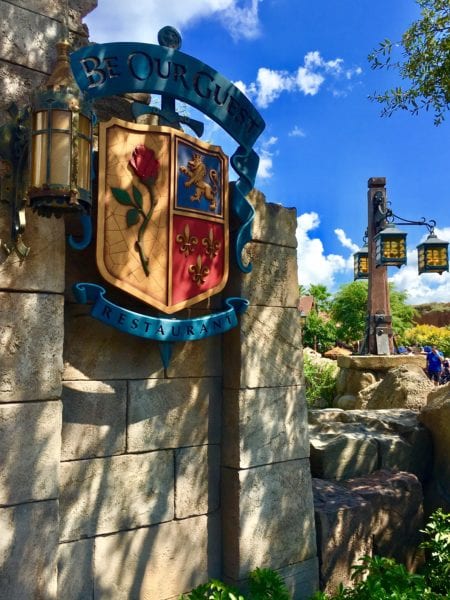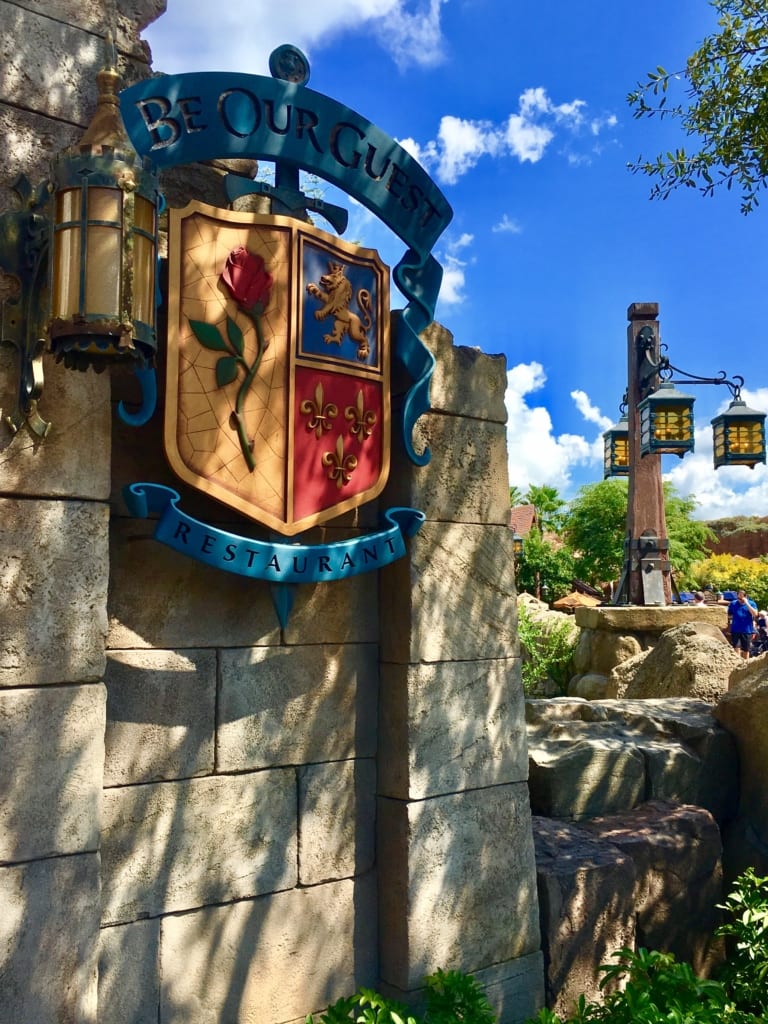 As you you pass the sign you'll see the Castle off in the distance. Disney uses something called "Force Perspective" to make things in the parks (usually structures such as this) seem bigger than they actually are: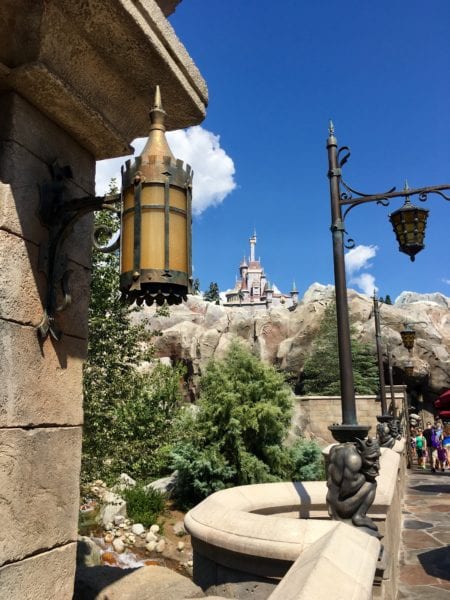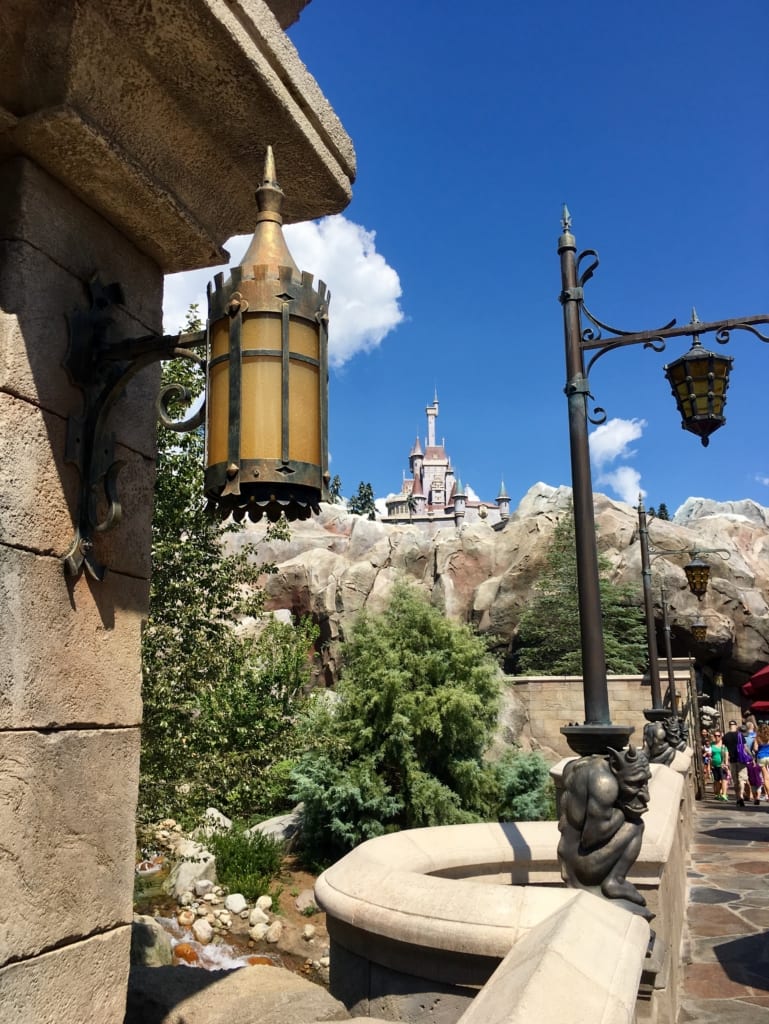 Another shot of the castle as you walk down the path. You'll notice some Gargoyles also which were a popular part of the Beast's decorating from the movie: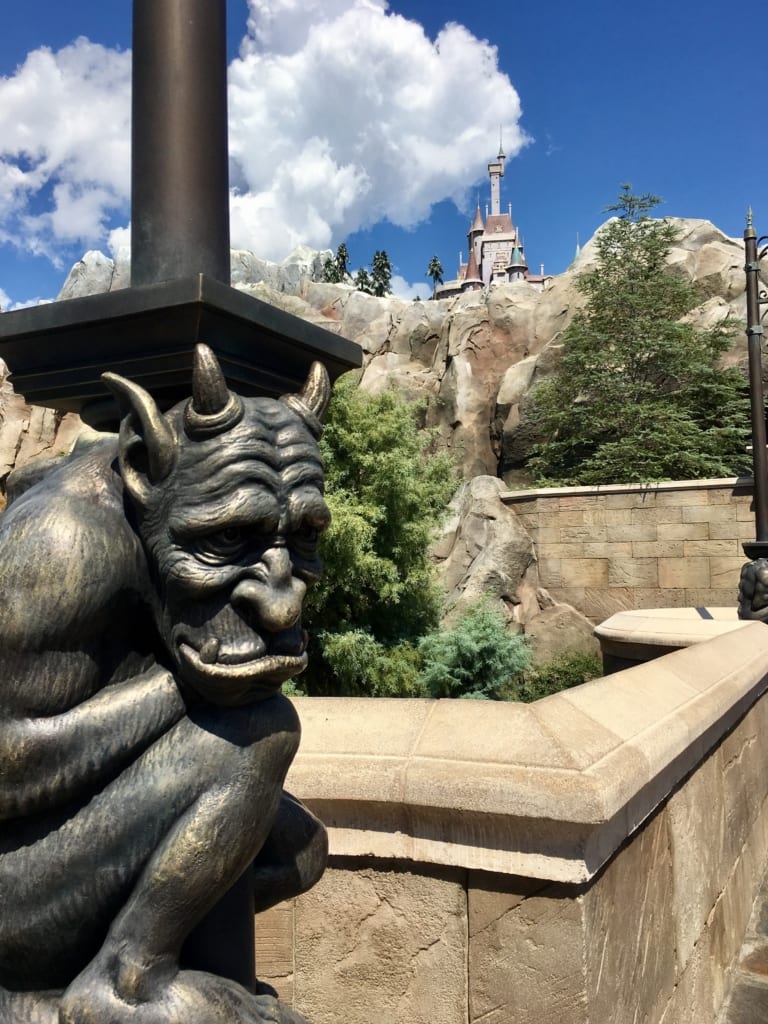 We really far out there in the woods now, no one here but us. Let's get closer and see if anyone's home: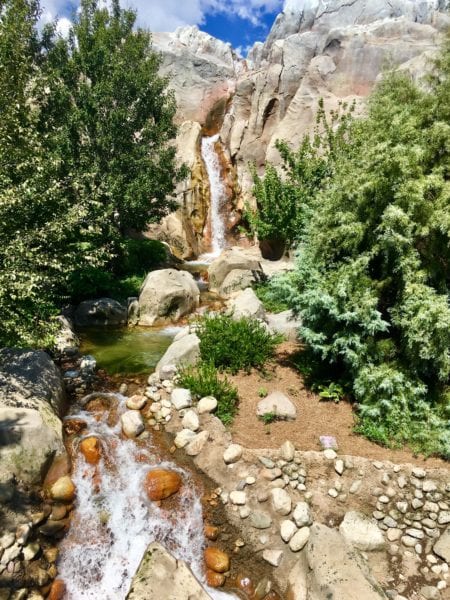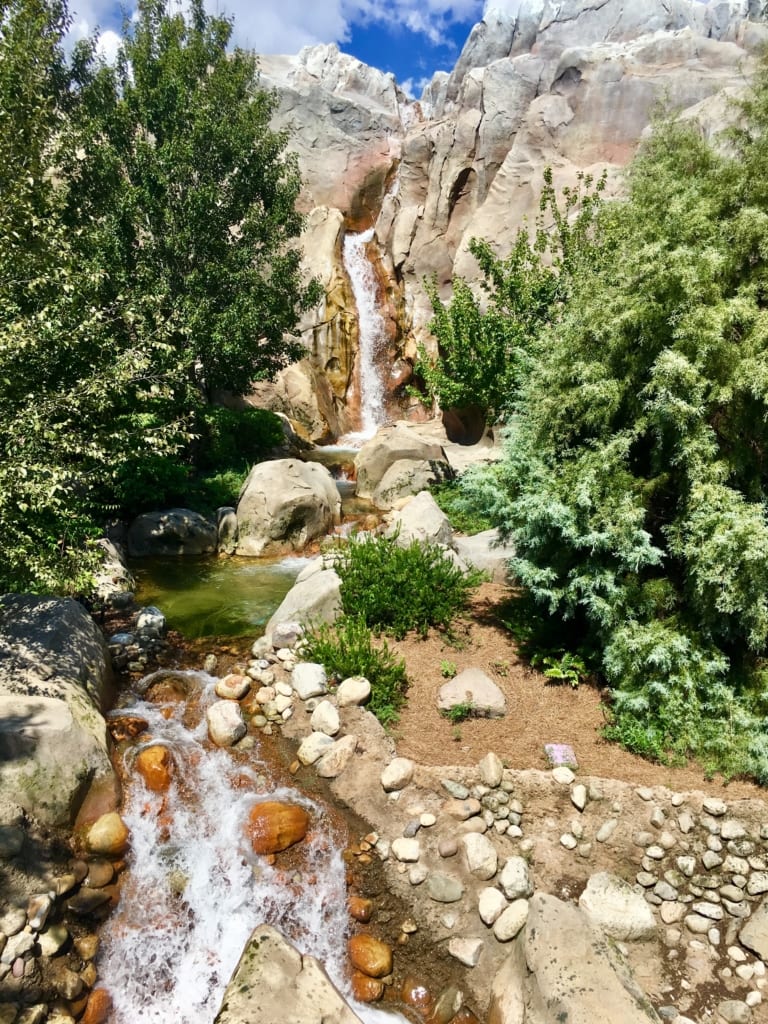 You'll see the Beast's Family Coat of Arms, a nice touch: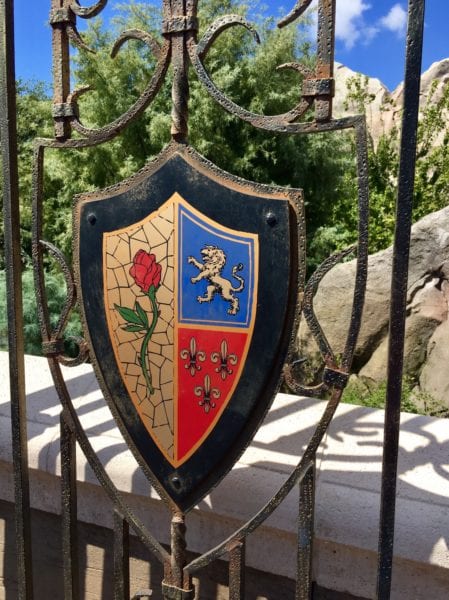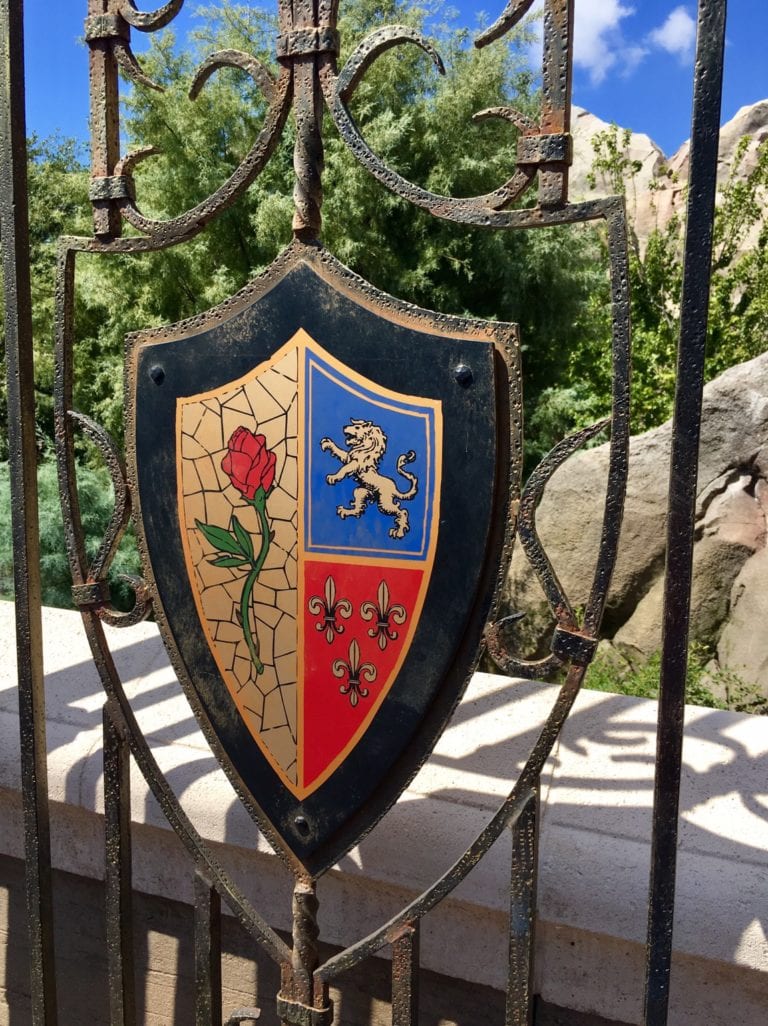 At this point you'll have made it to the check-in desk and just give them you're name and wait patiently for you're turn to enter: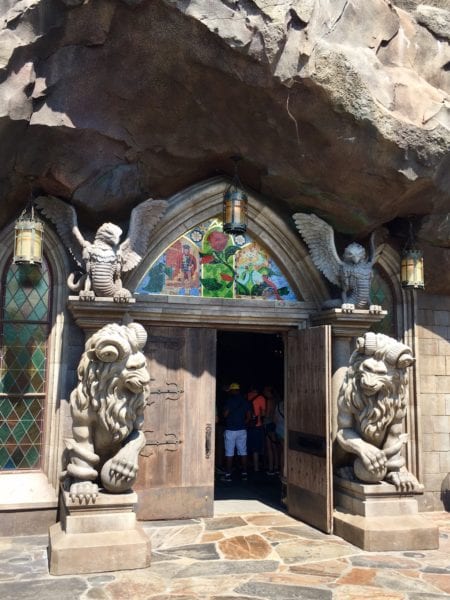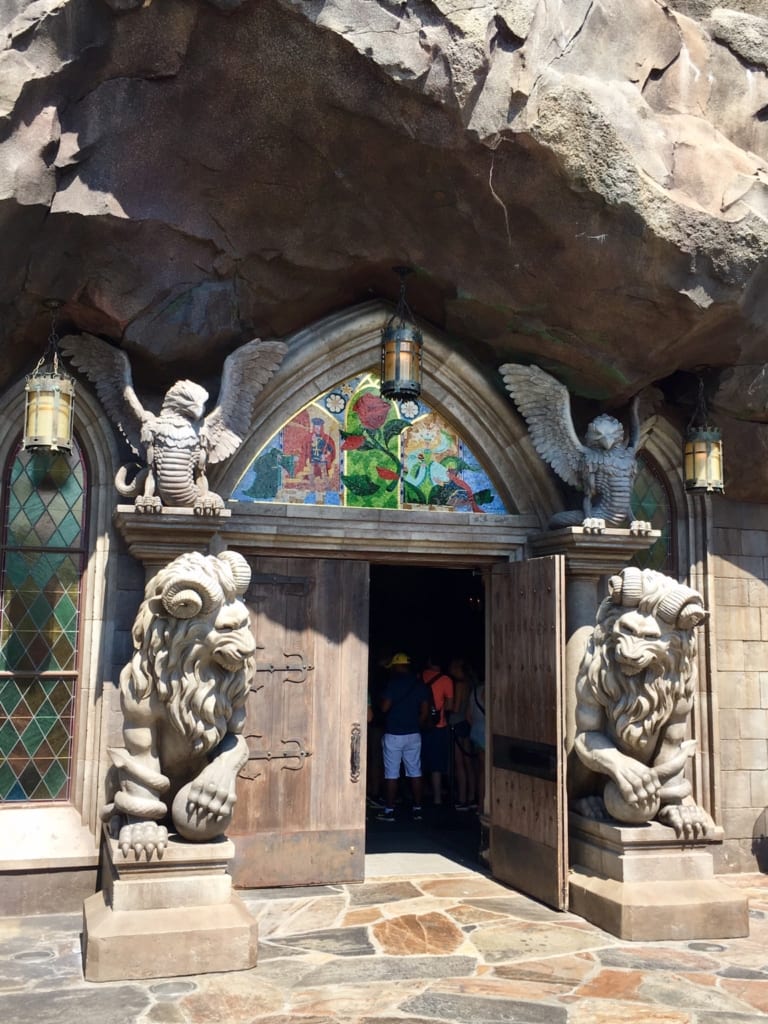 This was another awesome part of the decorations, I love the Lions and Eagles guarding the entrance: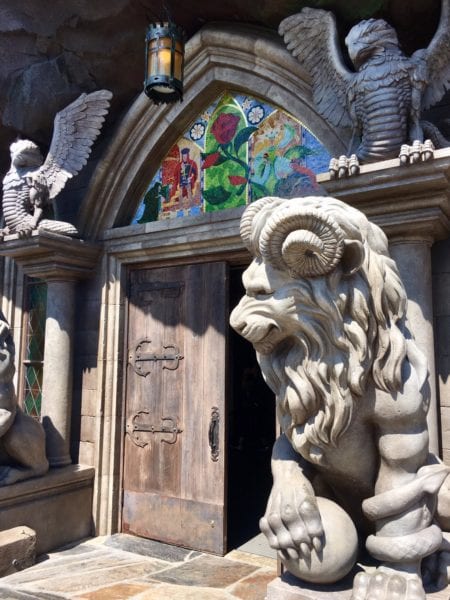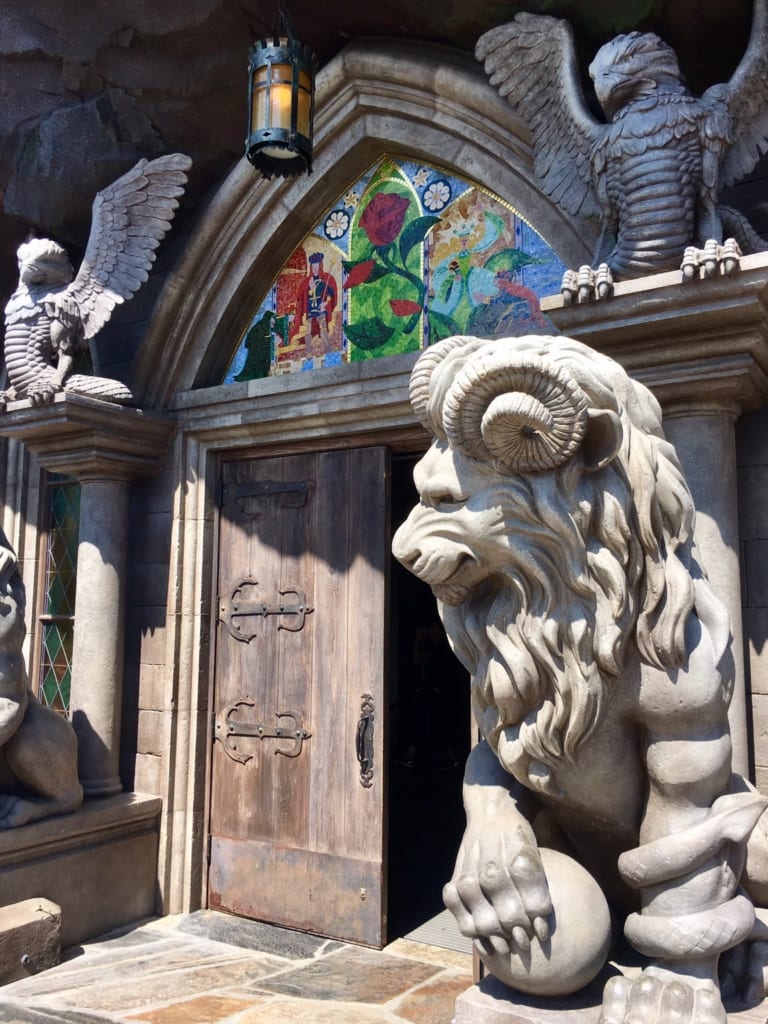 Above the door is an awesome mosaic describing the story of the master: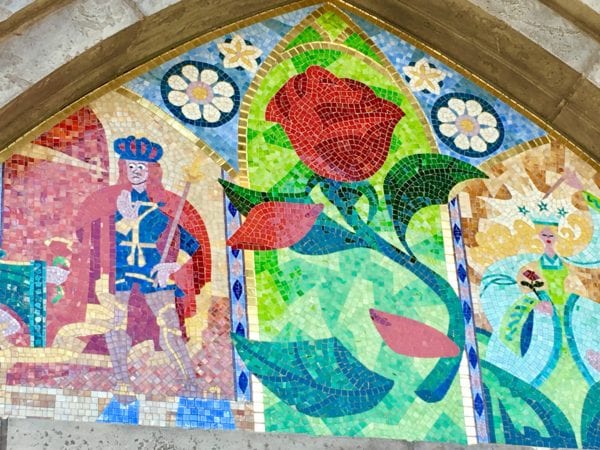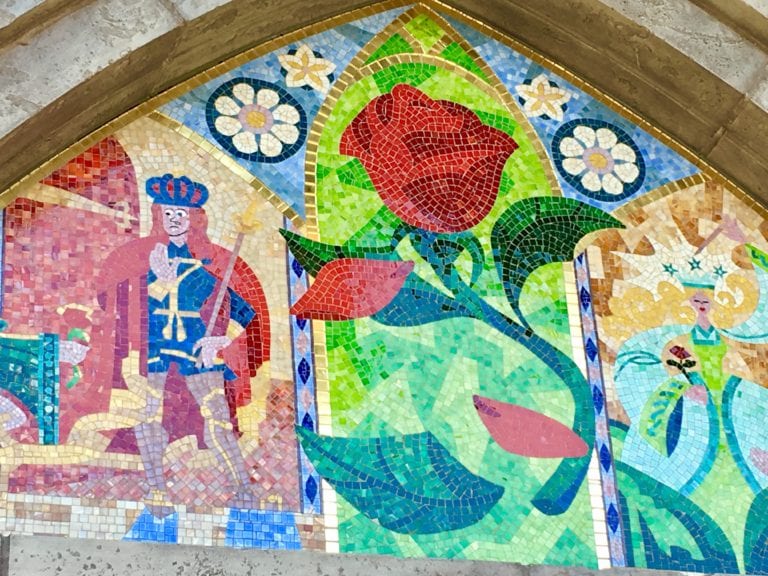 As you walk through the first entrance you'll soon see another one leading you further and further underground and inside the castle. You will find cast members straight ahead who you will check-in with: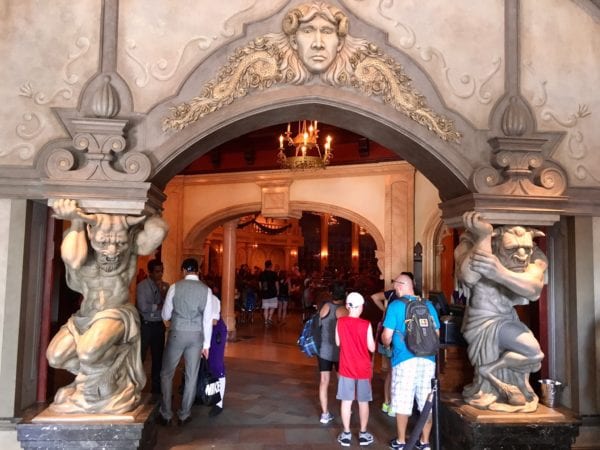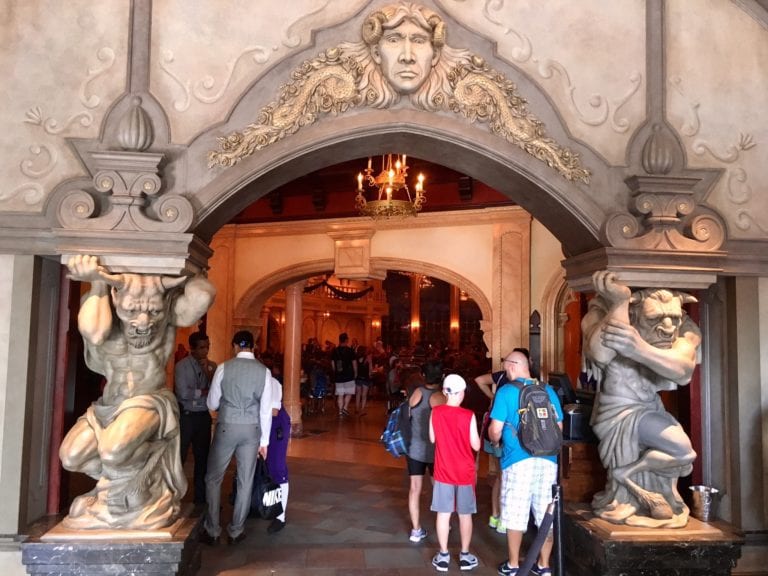 You'll notice some of the amazing tapestries on the walls: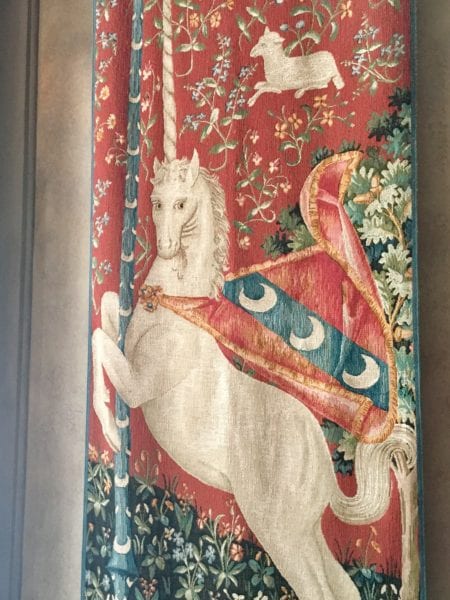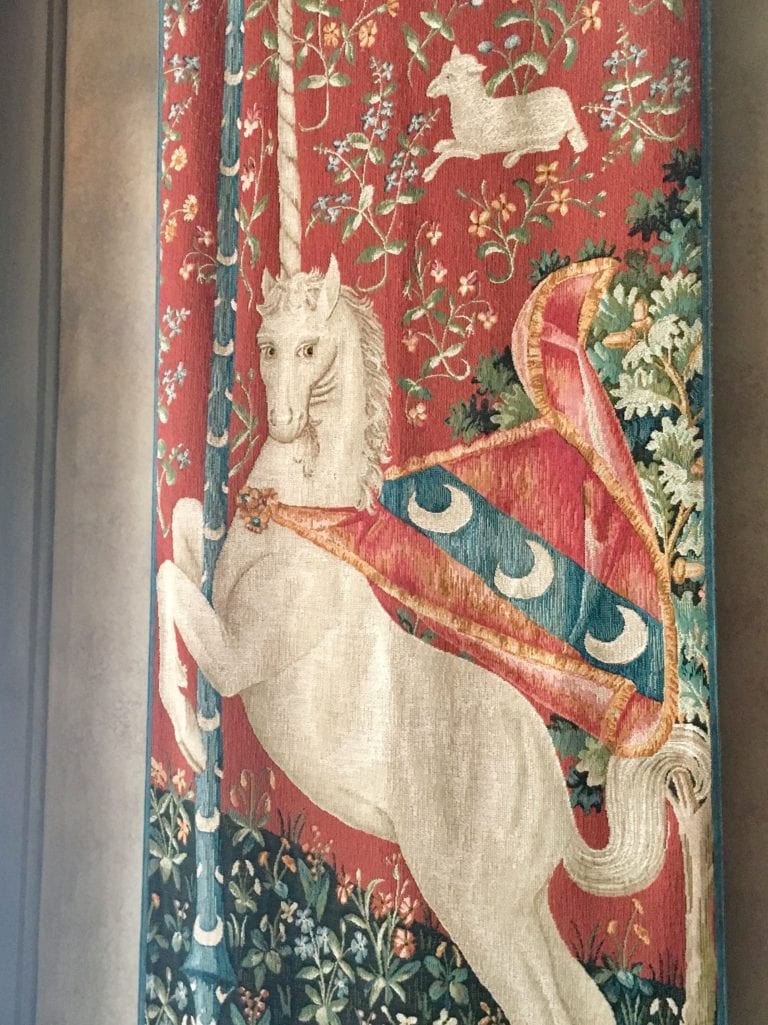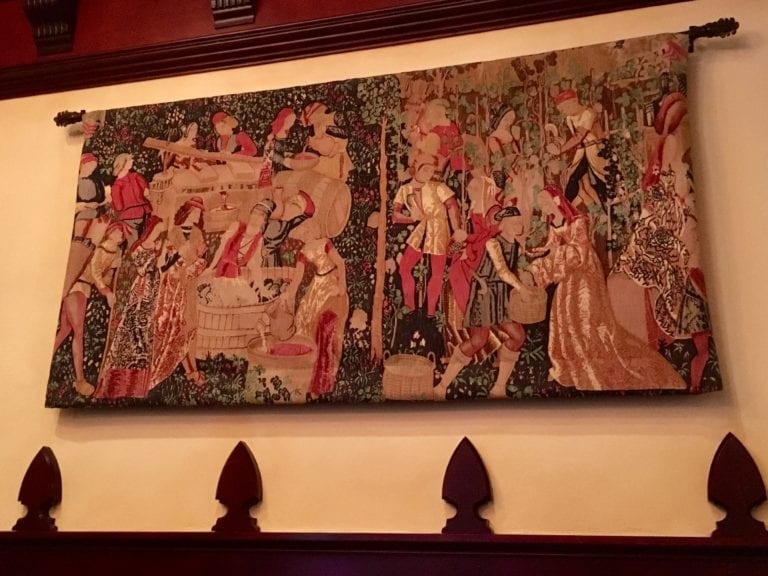 After checking in you'll be ushered into a waiting line in the Suits of Armor Hallway: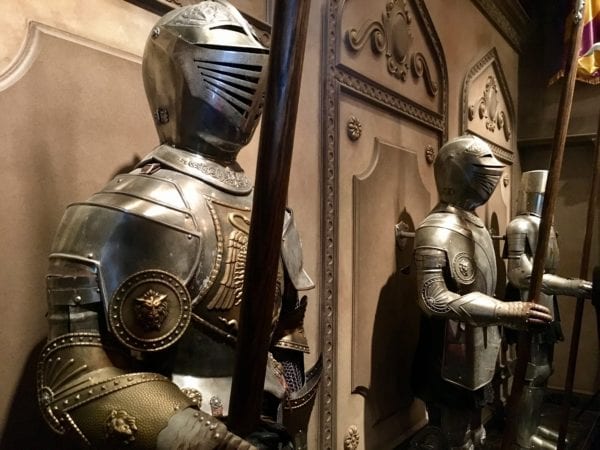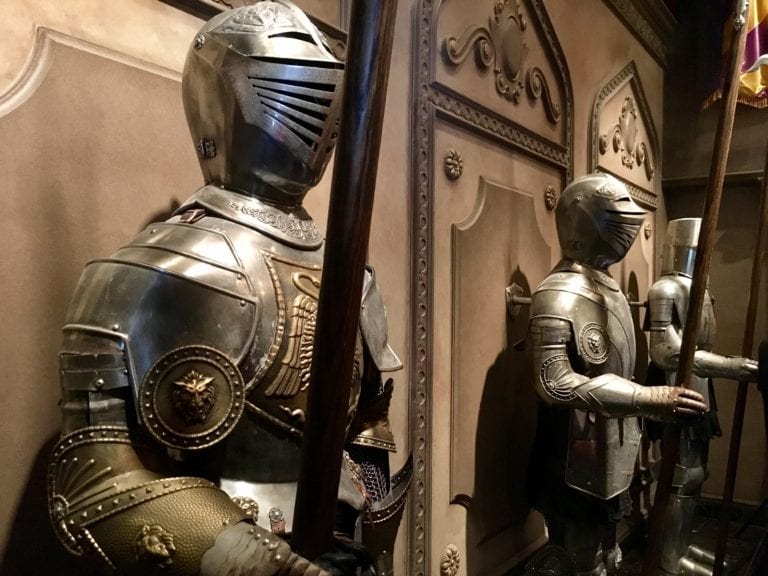 This is one of the absolute coolest parts of the place! These are actual suits of armor, not Disney imagineered versions. Everything here is so authentic feeling, the detail is incredible: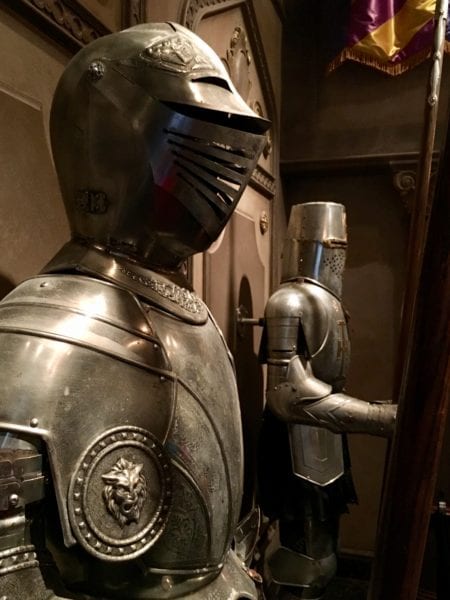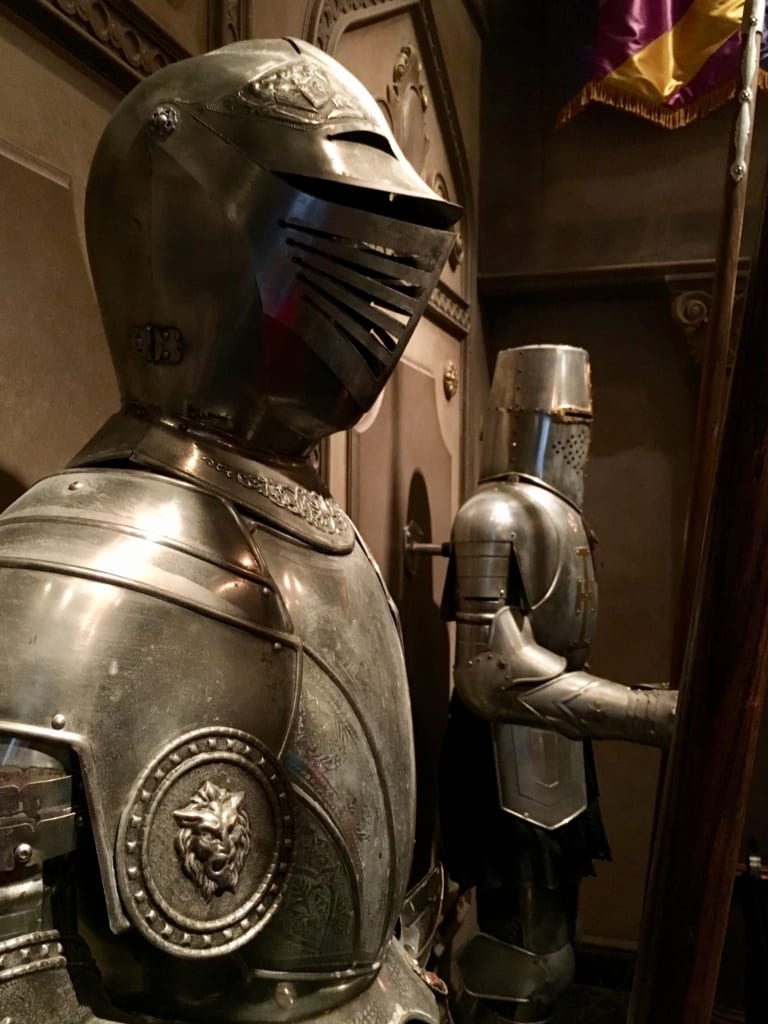 If you listen closely you will hear them whispering to each other. Perhaps their talking about us? I guess we better stay in line: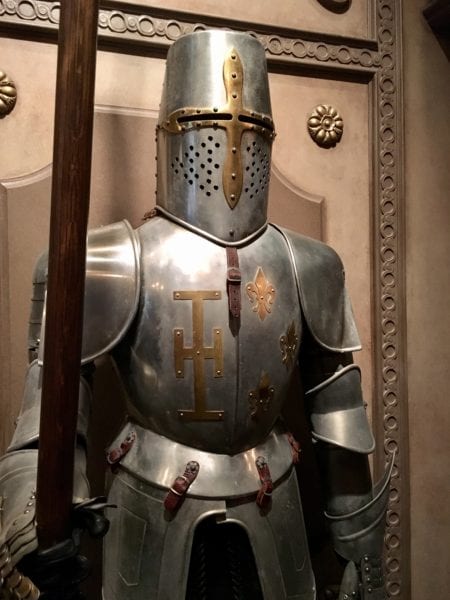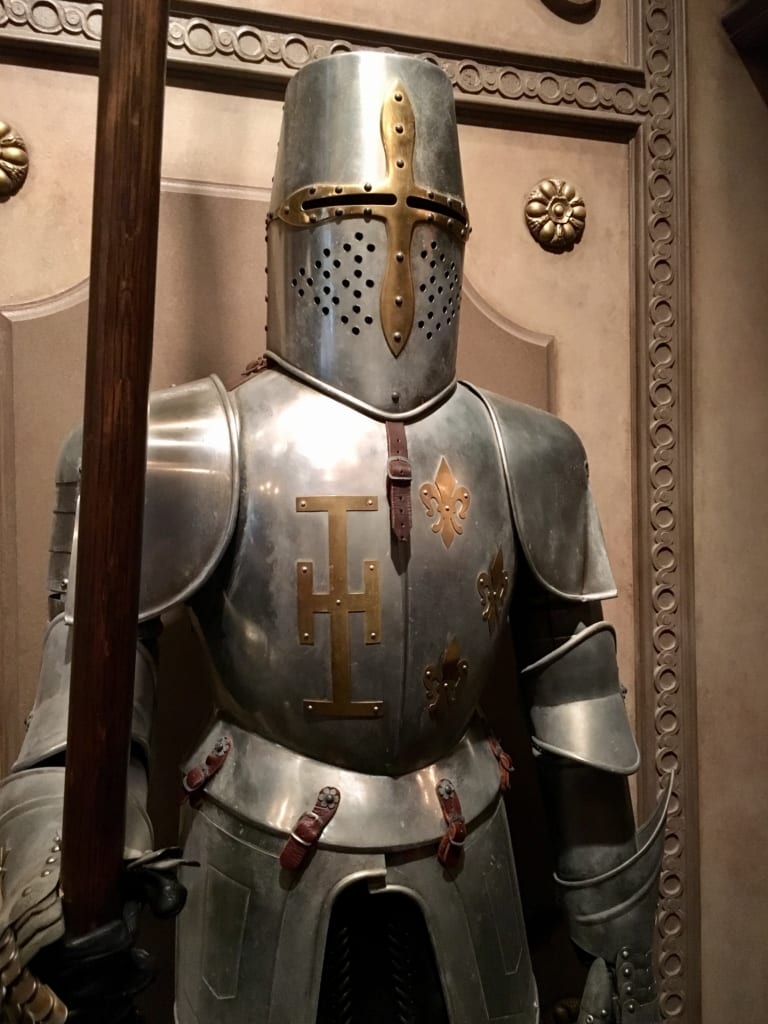 We made it past the suits of armor without a scratch and went into the Beast's Library where we were lead to one of many computers where we placed our order. Even here the detail is great, with a huge fireplace on the wall just like in the movie: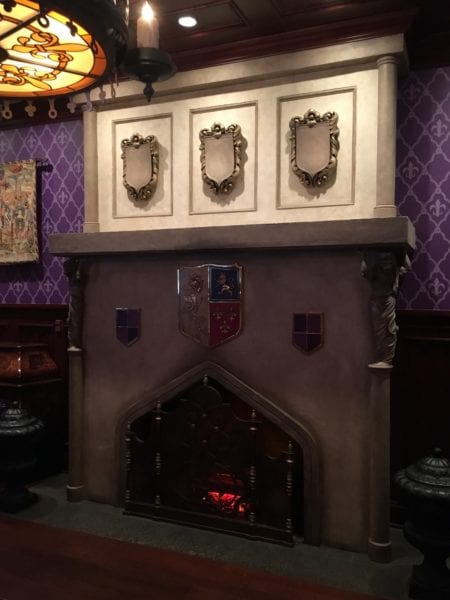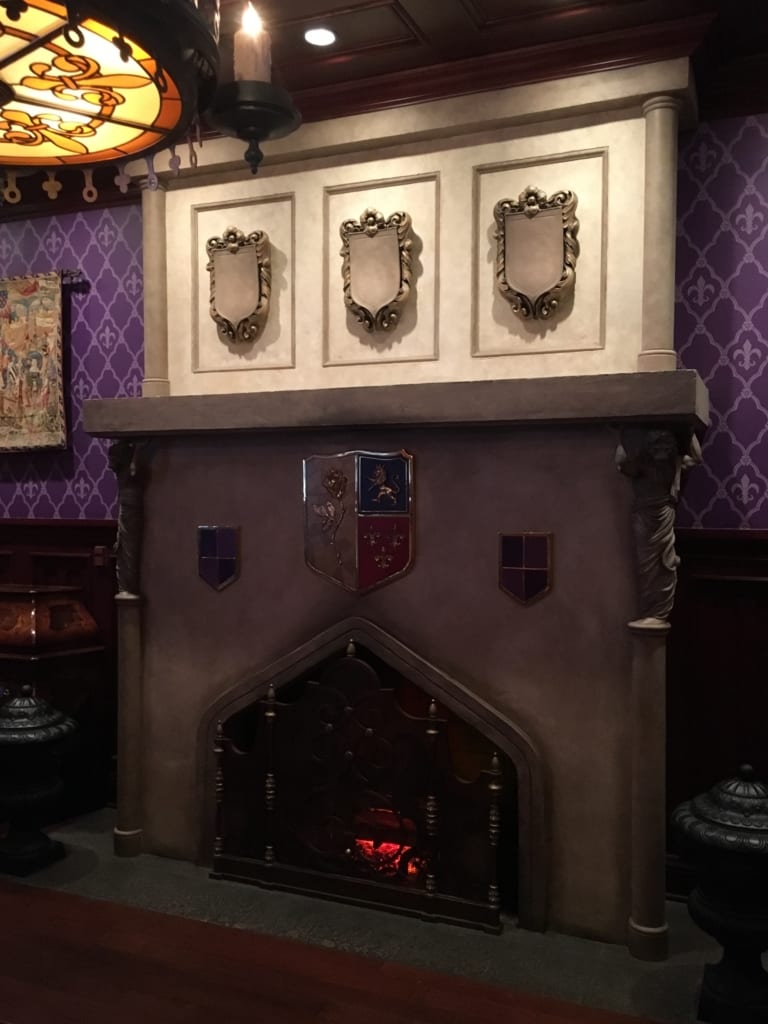 It was a bit different using a computer at first since we're used to placing our order with a person, but the computer itself was easy to use: Make your selection, swipe MagicBand and off you go. At that point just take the Magic Rose with you so the servers know where to bring your food, and go find a table to your liking.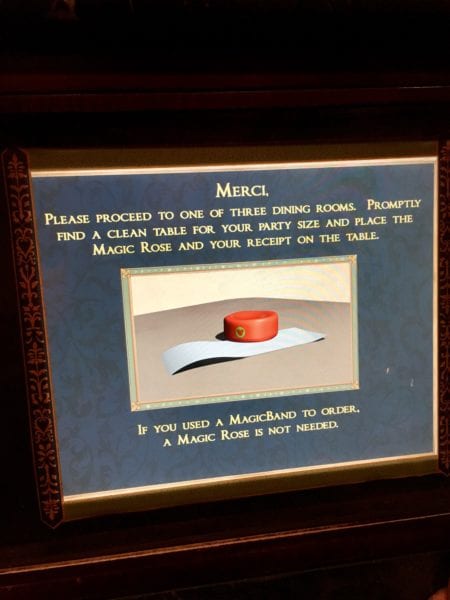 Tables in Be Our Guest are first come, first serve. Choose one of the 3 Dining Rooms, all different and with a unique theme from the castle. There are 550 seats so you should be able to find something somewhere:
The first one we saw was the Grand Ballroom: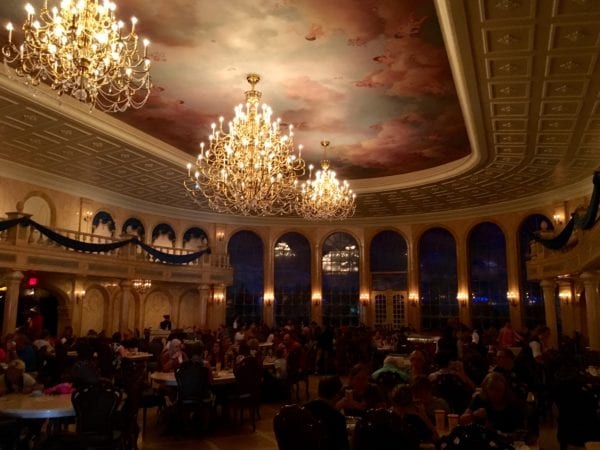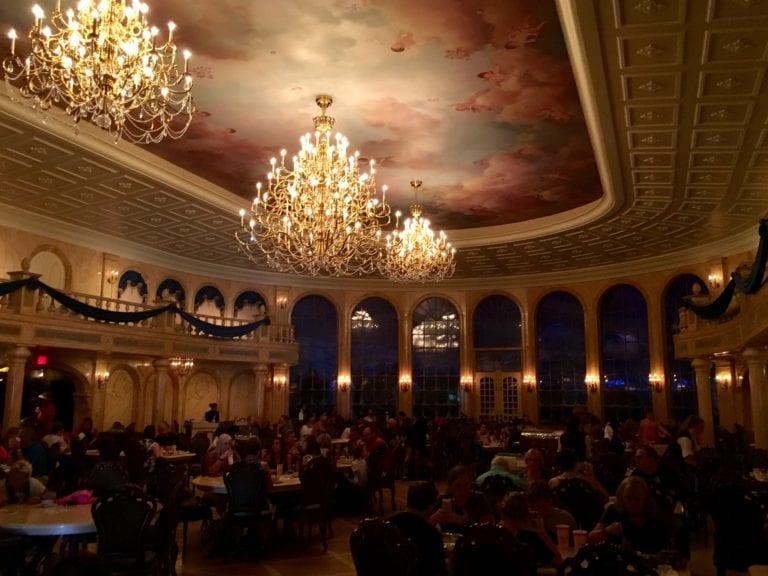 You'll notice right away its high domed ceiling and beautiful chandeliers: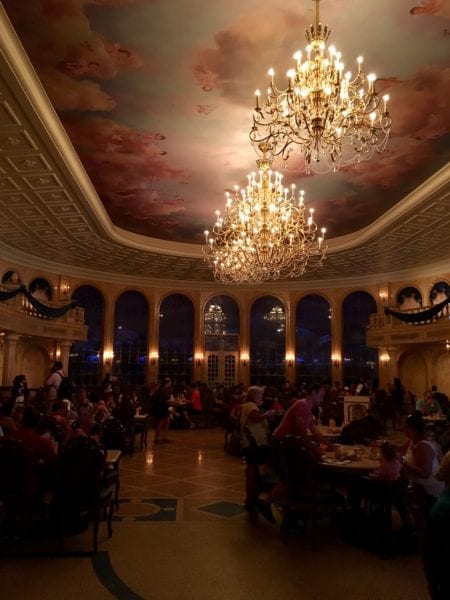 The high arching Gothic style arches above the windows stand out, which are a bit frosty from the snow outside: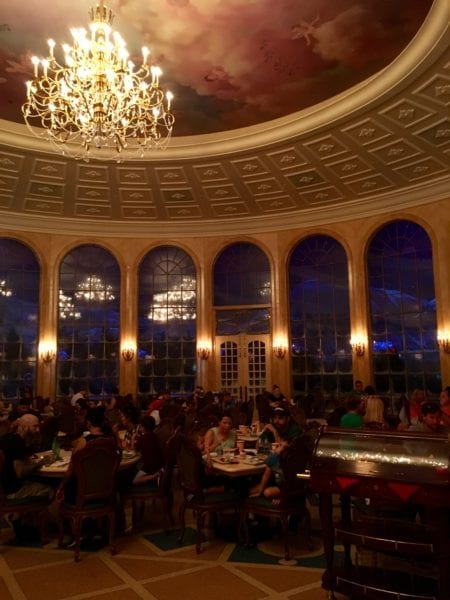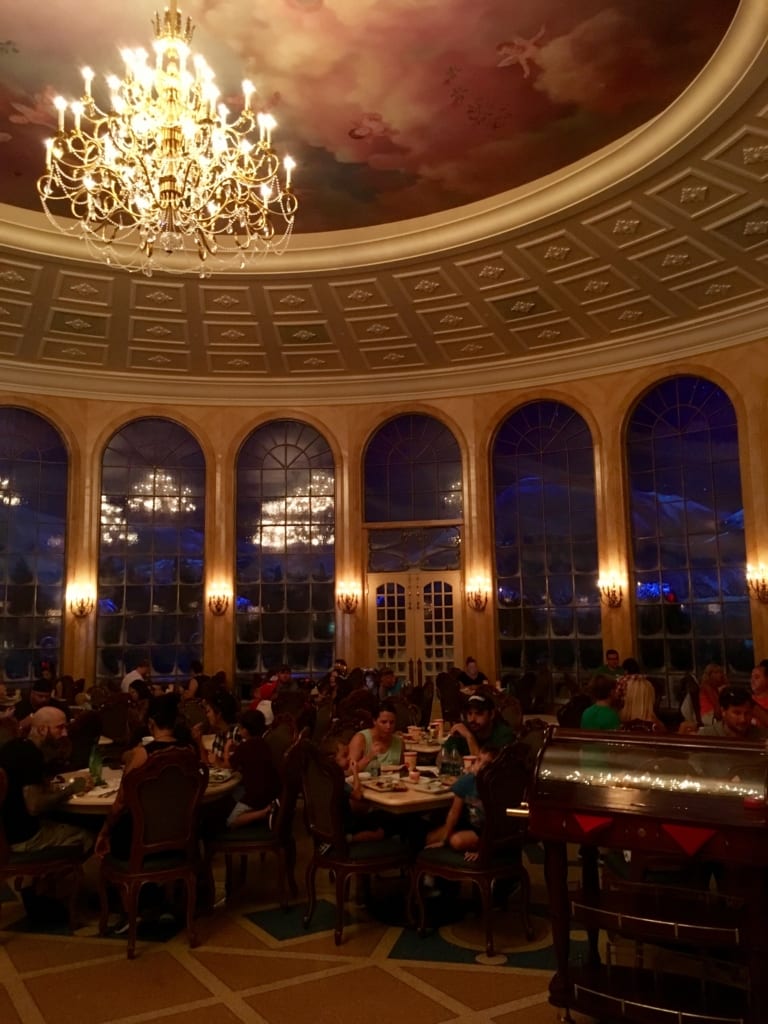 Here's a view of the entrance side of the Grand Ballroom: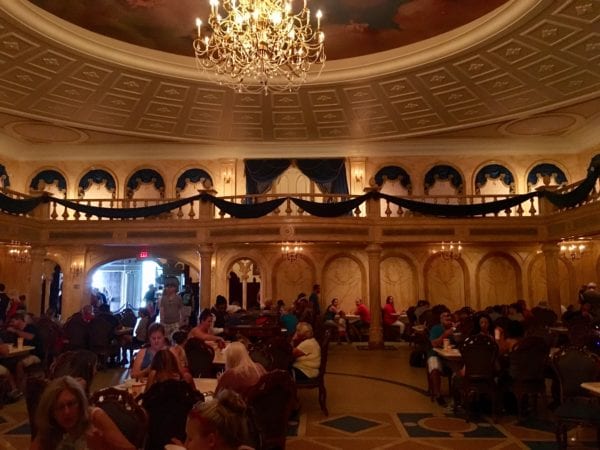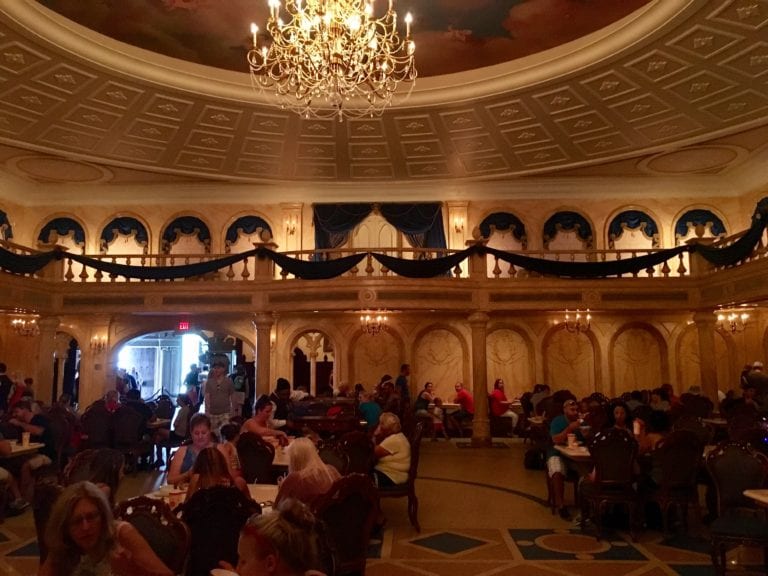 I don't know how many of the 550 seats are in here but it's a big number, the room is huge!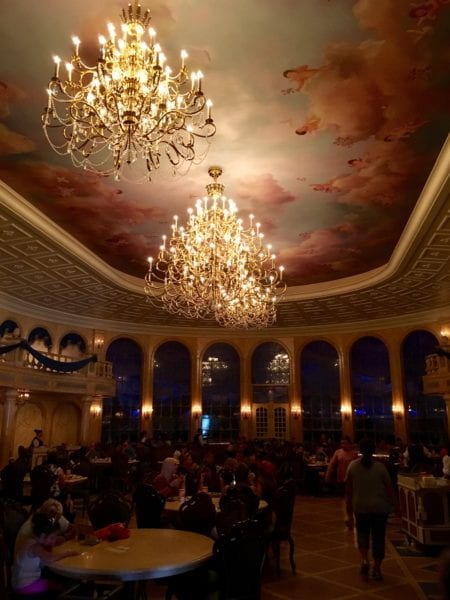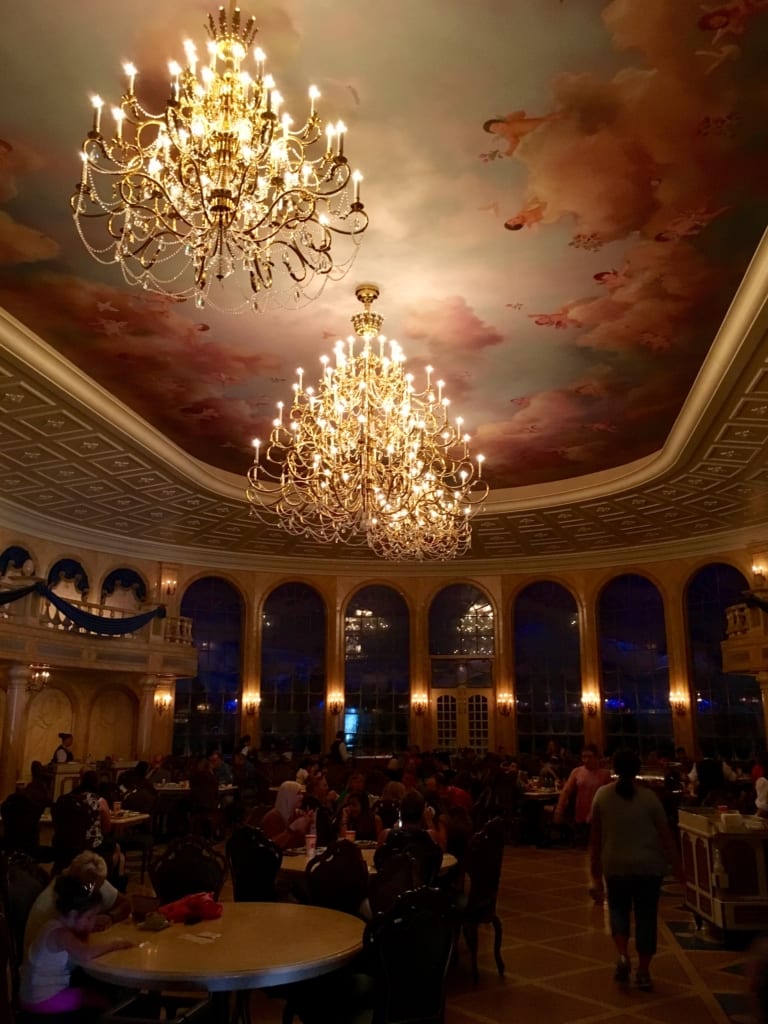 The ceilings are fantastic and beautifully painted. It gives you the sense of being in a room painted by a Renaissance artist or something: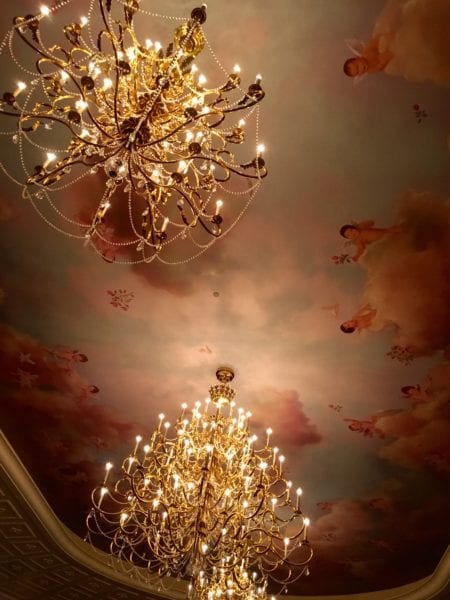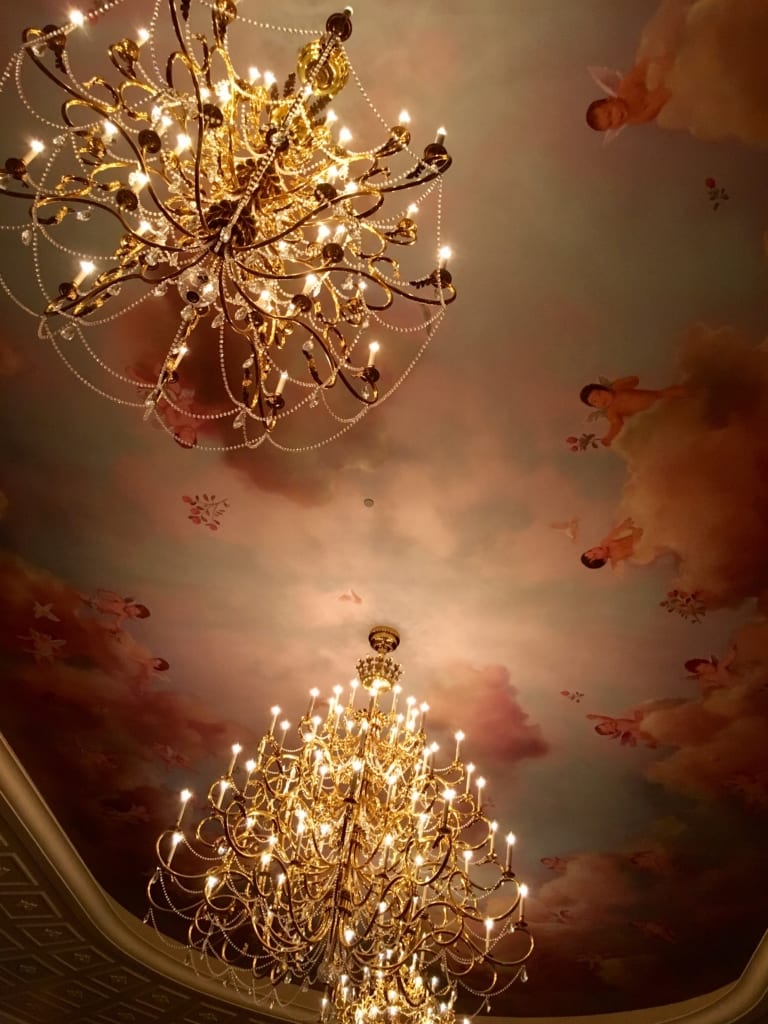 The chandeliers are very ornate and convey an idea of elegance: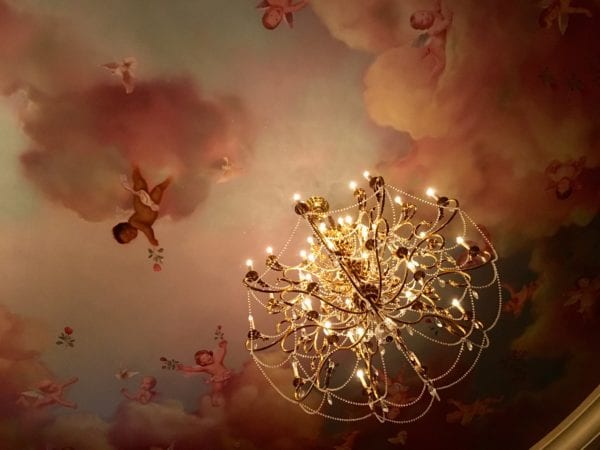 Next it's onto the Castle Library, which is Belle's personal library. This is smaller than the Grand Ballroom but not "small." It provides the most light of the three dining rooms so if that's what you're looking for, this is the place: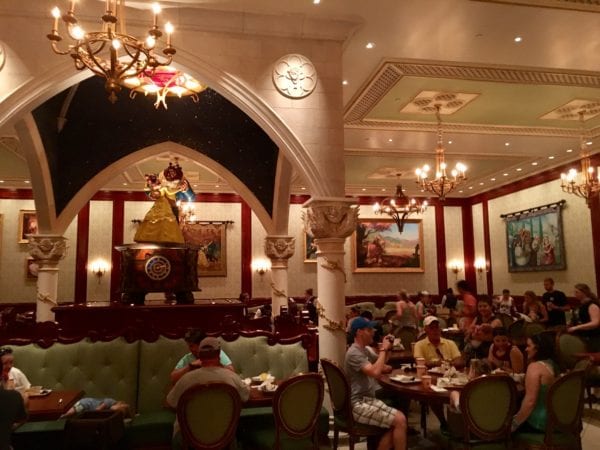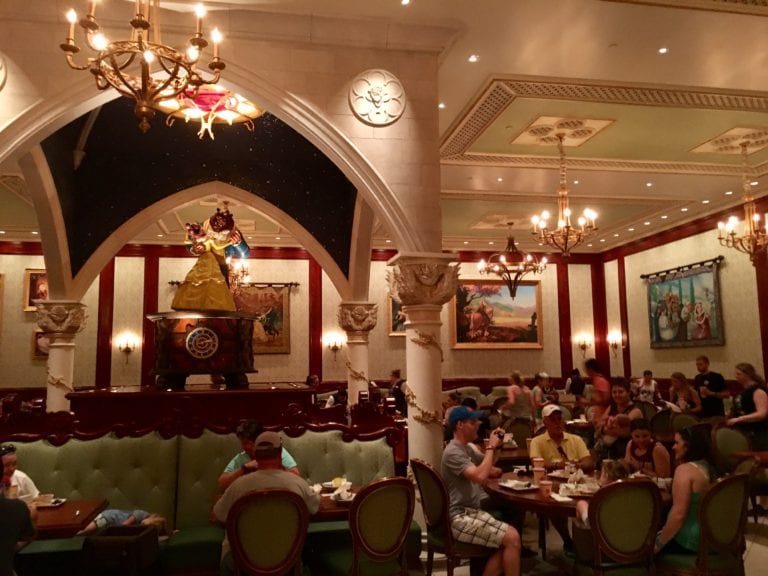 The centerpiece of the Castle Gallery are the huge figures of Belle and the Beast dancing in the center of the room. It's really a giant music box, which was a gift by Belle's father Maurice, and you can watch them spinning the night away: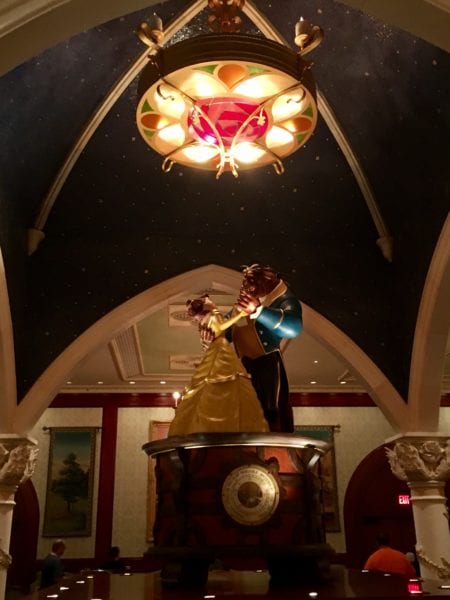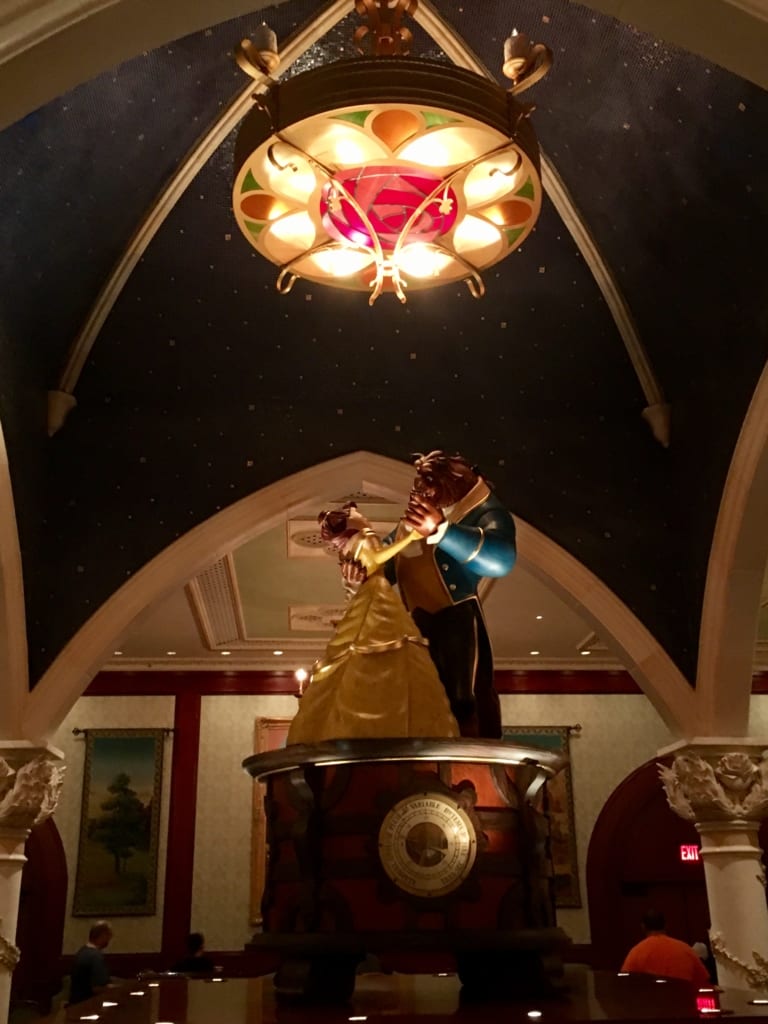 There are also paintings throughout the room telling the story of Belle and the Beast and how they pass their time in the castle: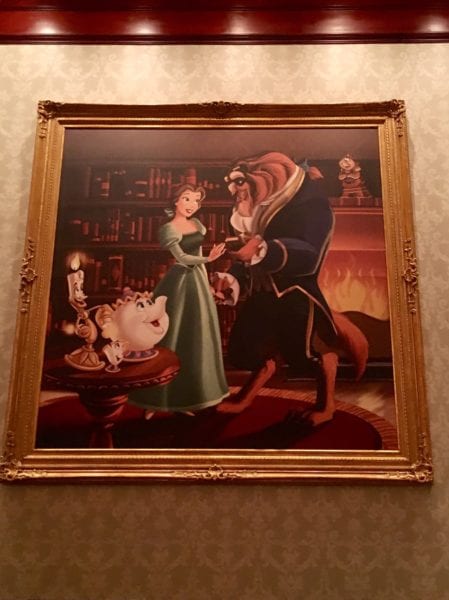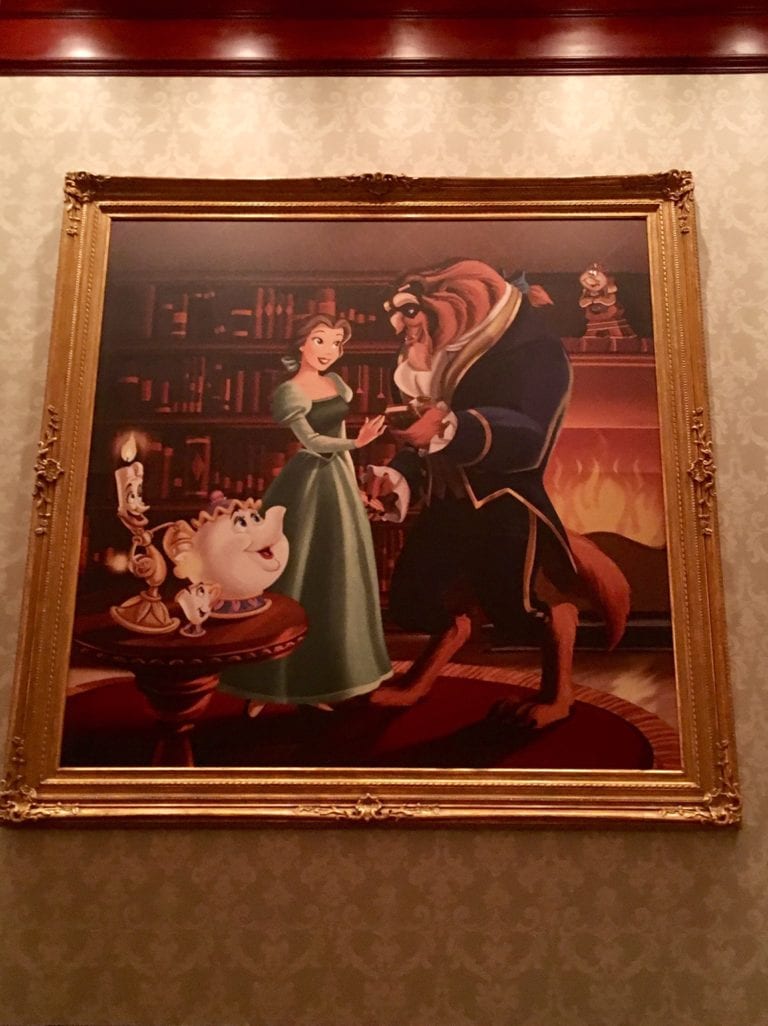 Onto the most mysterious dining room at Be Our Guest…..The West Wing: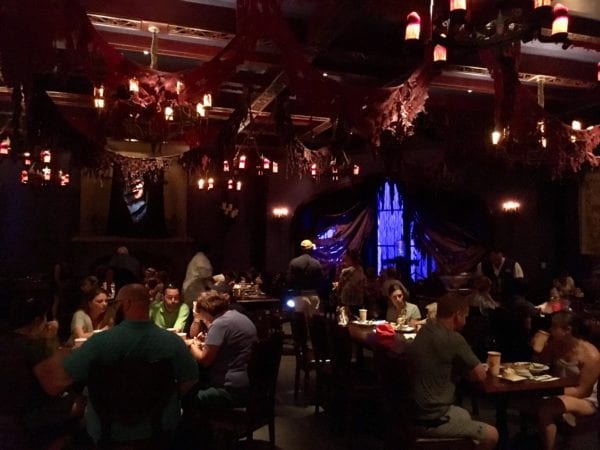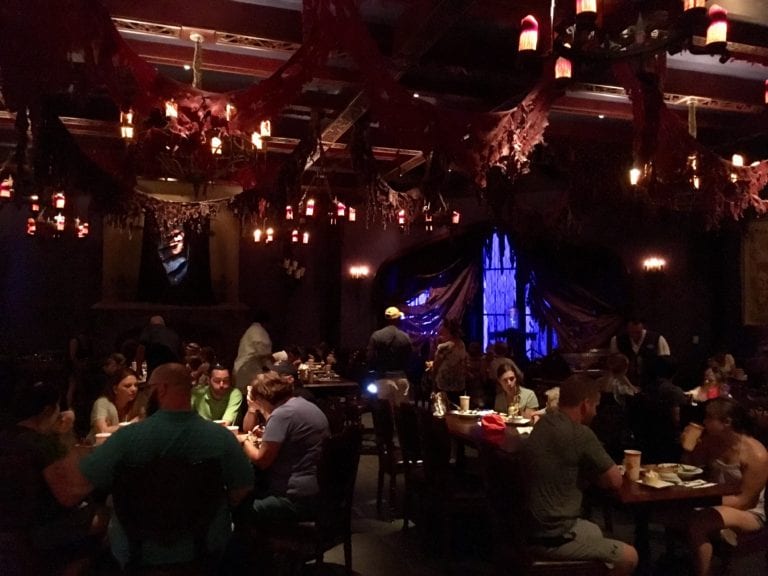 There aren't supposed to be any visitors in the West Wing but I guess today they made an exception, hopefully the Beast doesn't find out. Maybe he's embarrassed by all the cobwebs on the ceiling or something? You'll notice definitely a darker and more dreary atmosphere here and this is where Disney Imagineers really shined: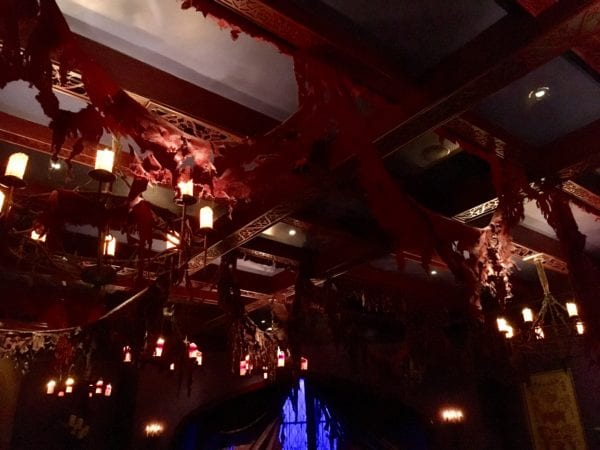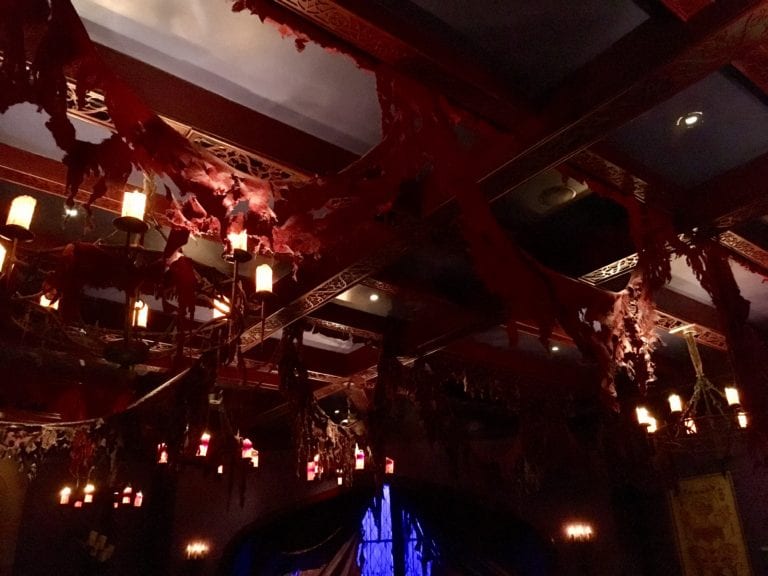 There's a portrait of the Master hanging on the wall, which was ruined in a temper tantrum seemingly by the Beast: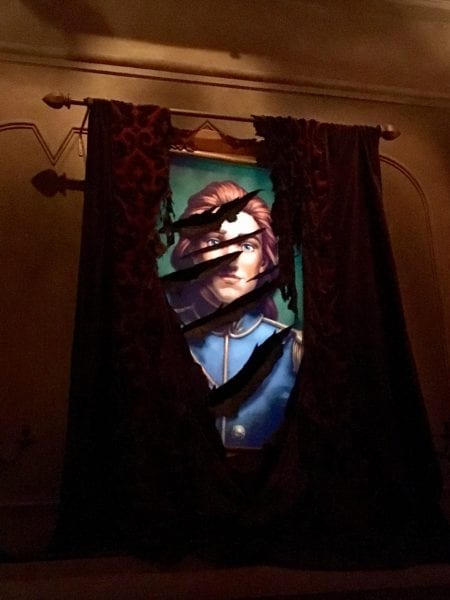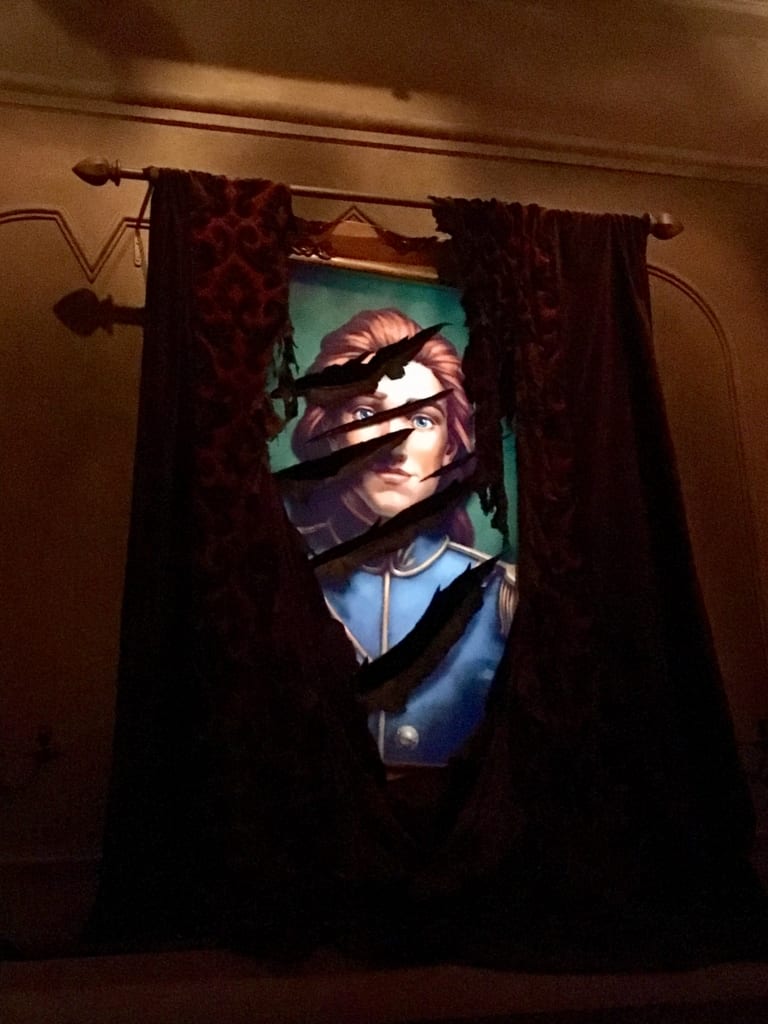 Here's the fireplace: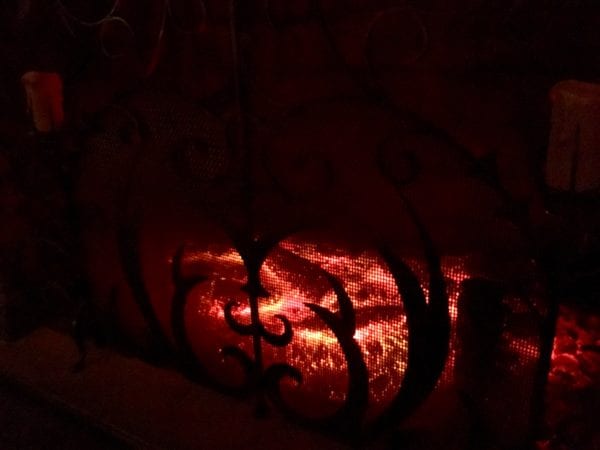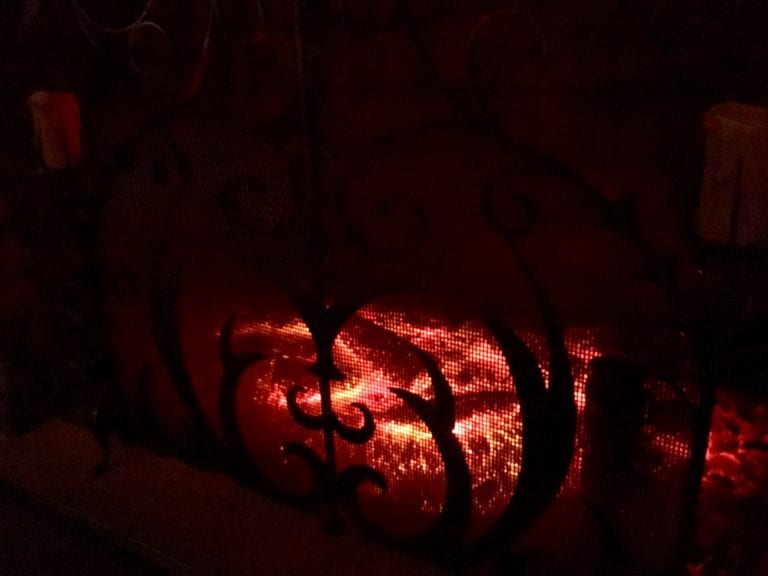 The famous rose from the movie to which the spell is tied is waiting over in the far end of the room, beyond the curtain: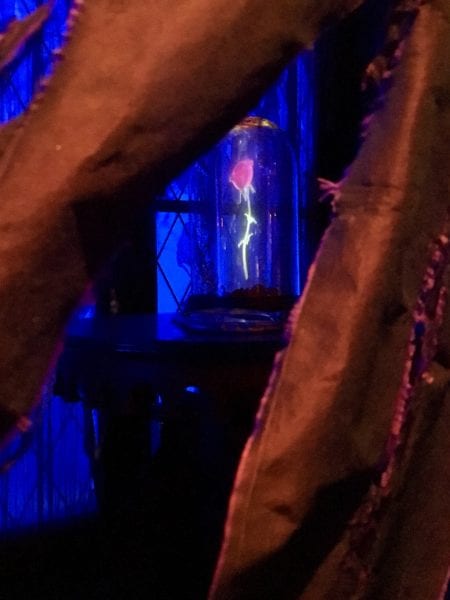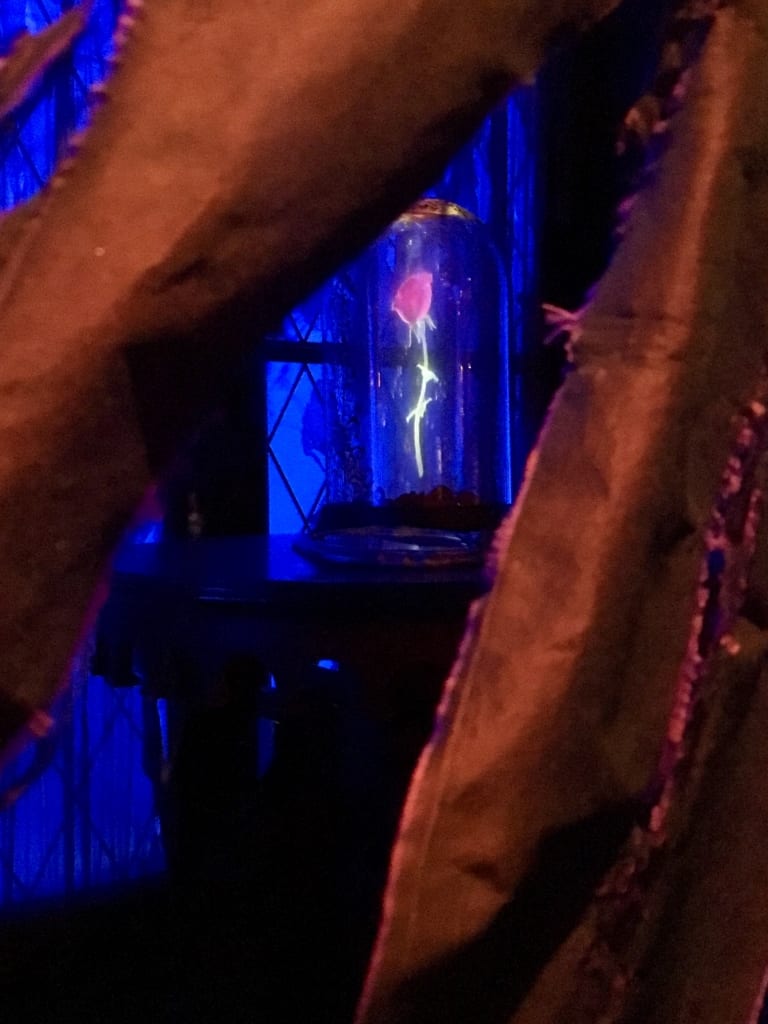 This is beautiful and there are always people around it trying to get pictures: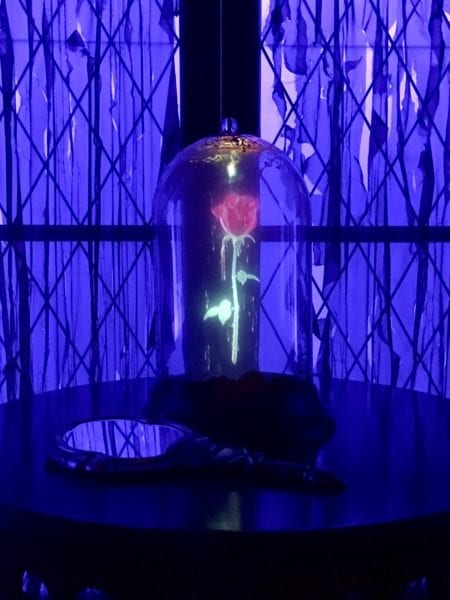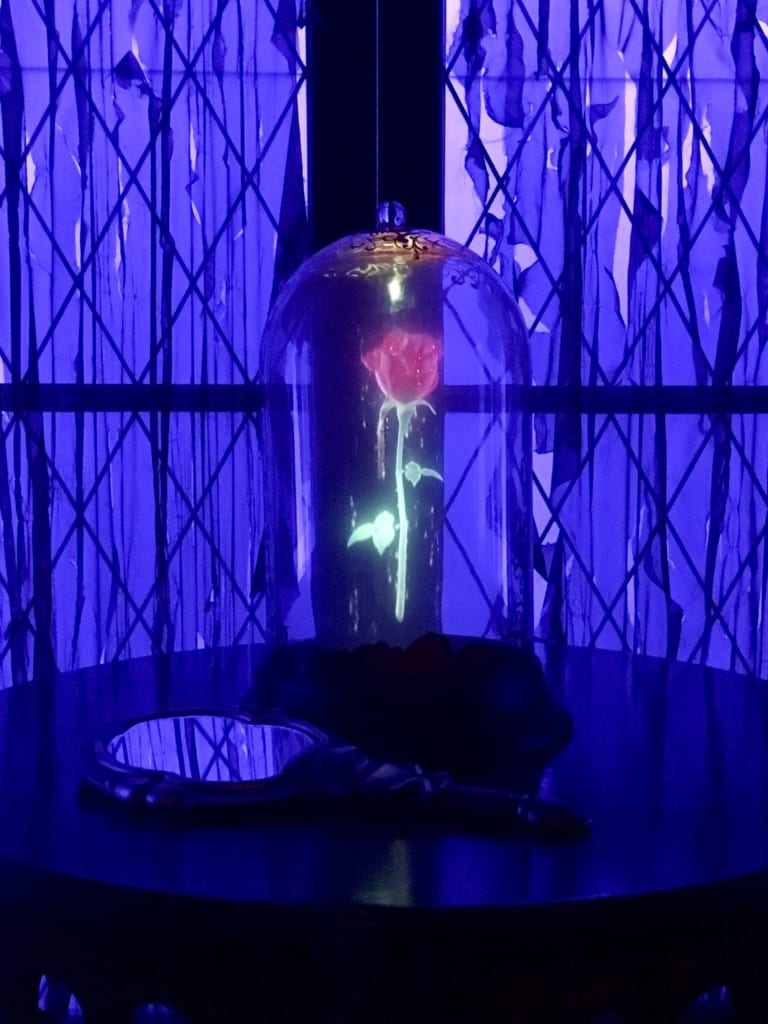 If you wait for the rose pedals to fall from the rose, the portrait of the Master reveals a surprise, be sure to check it out…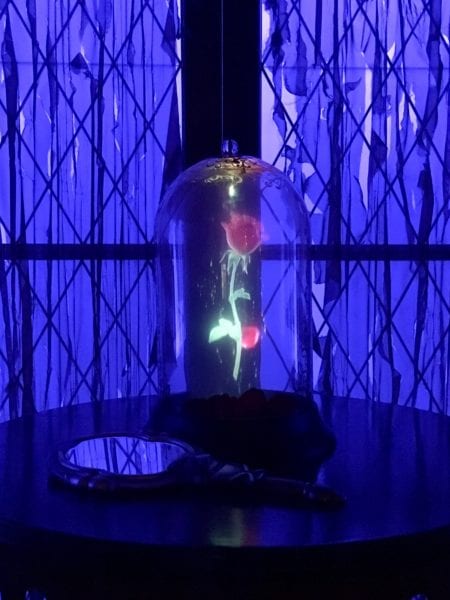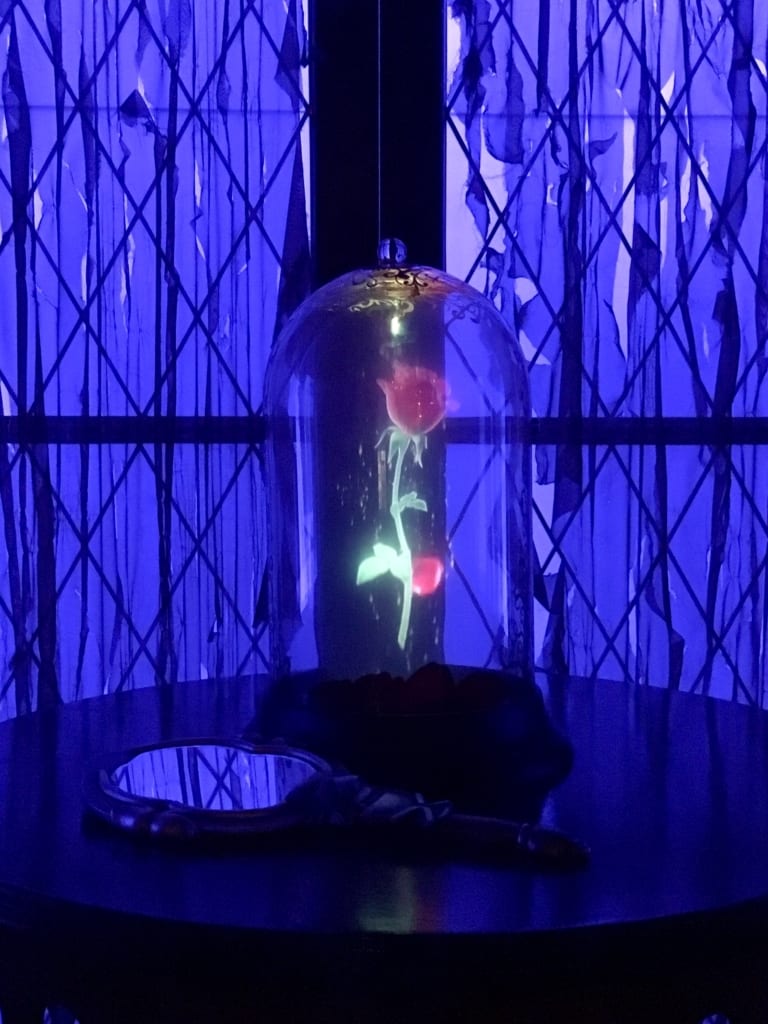 So basically the atmosphere is one of the most over the top and amazing ones you'll find on property and I love everything about it. Now I'm hungry from walking so much, let's have lunch:
Food:
Be Our Guest offers what they call French-inspired Cuisine. If you are a picky eater don't be scarred off by this designation, as the food is a lot like most of the other stuff you will find in Disney Quick Service restaurants, but with a little bit of a French twist on it. Don't worry, your kids will love it!
First of all up until recently it was the only place in the Magic Kingdom where you could find alcohol and they have a nice selection of Beers and Wines, however they're only available at Dinner. They have great Sandwiches and Soups, also a nice variety of Healthy Options such as a Tuna Nicoise Salad (with nice chunks of seared tuna), a Vegetable Quiche and a Quinoa Salad. The Braised Pork which is slow-cooked for 8 hours in a wine and mushroom sauce is also fantastic and one of the most popular dishes here. You will also find an amazing selection of Desserts, mostly pastries and cupcakes.
Be Our Guest is classified as a "Fast Casual" type restaurant, not full waiter-style table service but not the normal Disney Quick Service either. The cool thing about your lunch is even though you order it from the computer in the Beast's Library, you then go find a table and it's brought to you on a wheeled food cart: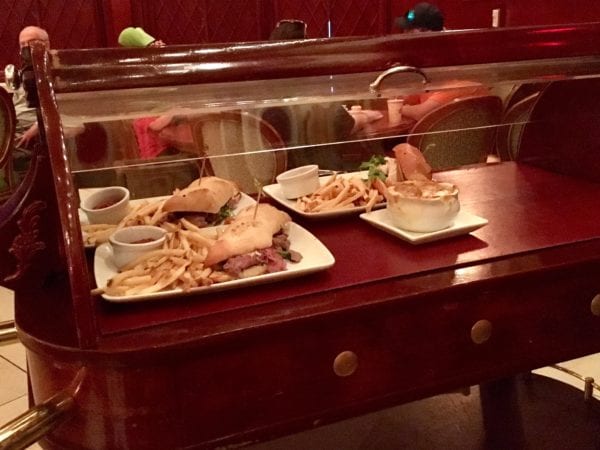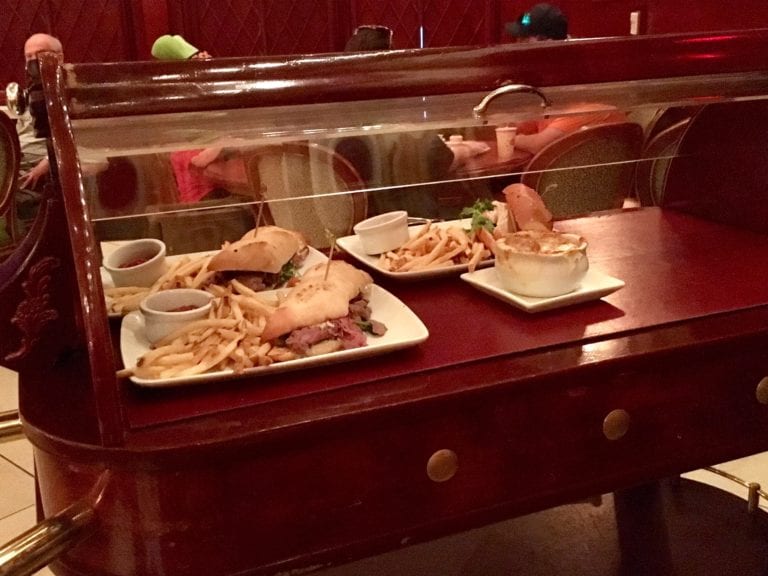 First up was the Carved Turkey Sandwich ($15.99) served warm on a Baguette with Dijon Mayonnaise and Pommes Frites: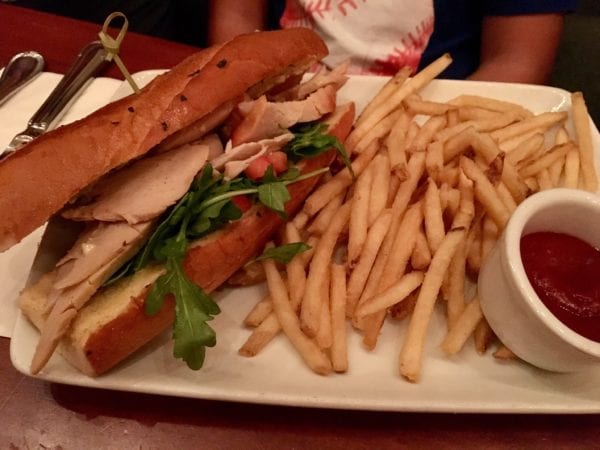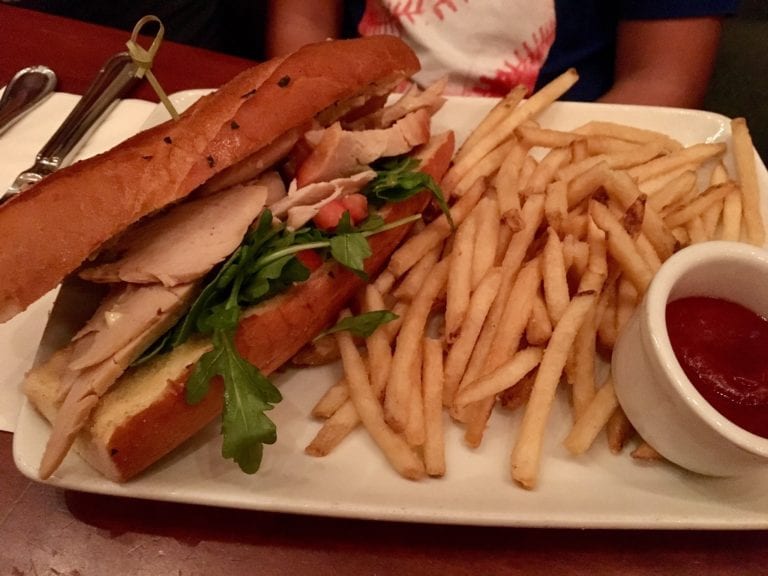 One nice thing about the sandwiches at Be Our Guest are the great Baguette rolls they are served on, they are very fresh tasting and chewy, not your normal theme park bread. The turkey sandwich was a good size, filling for one person. I thought the turkey itself was a bit dry which is what you run the risk of 99% of the time when ordering turkey out, but all the ingredients were very fresh.
I loved the fries (or Pomme Frites) they might be the best quick service fries in Walt Disney World. Love how they are skinny and golden brown on outside and nice and tender inside, the flavor is awesome too, not dried out and bland. I'll take the fries over the sandwich itself.
Next was the Carved Roast Beef Sandwich ($16.99) Served on a Baguette with Horseradish, Bleu Cheese Cream Sauce and those amazing Pommes Frites: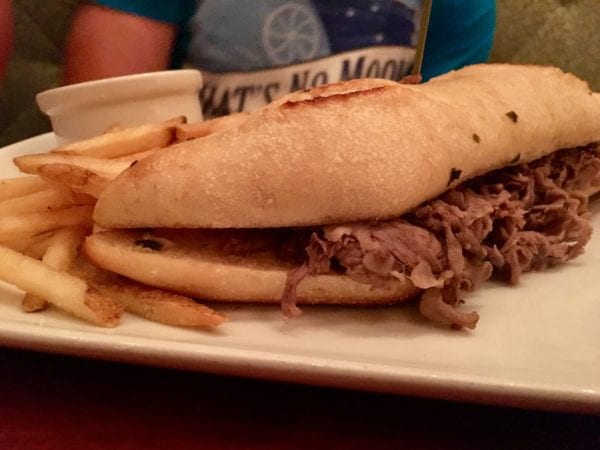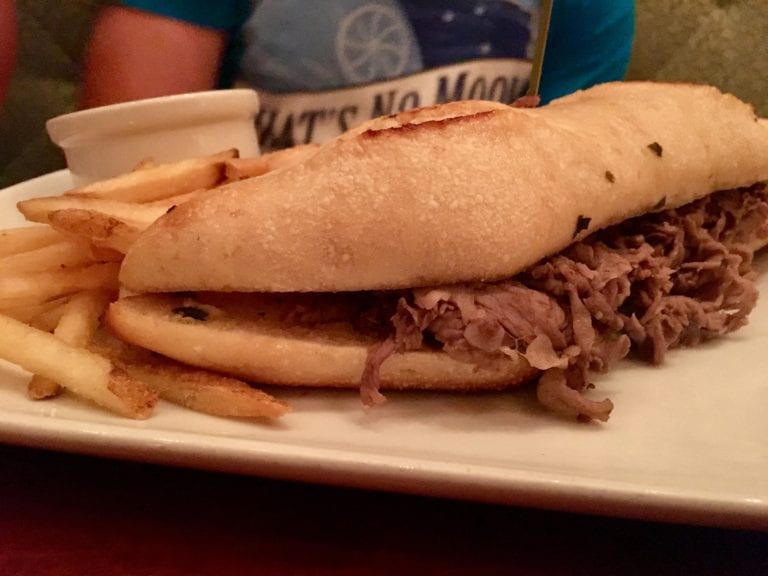 Again they size of the sandwich was great, very filling and served again on one of those delicious baguettes. Unlike the Turkey Sandwich however, the Roast Beef was not dry at all, in fact I found it quite moist. The flavors from the bleu cheese sauce was great and made for a nice match with the roast beef. Fries were stellar as before and they gave me a lot of them: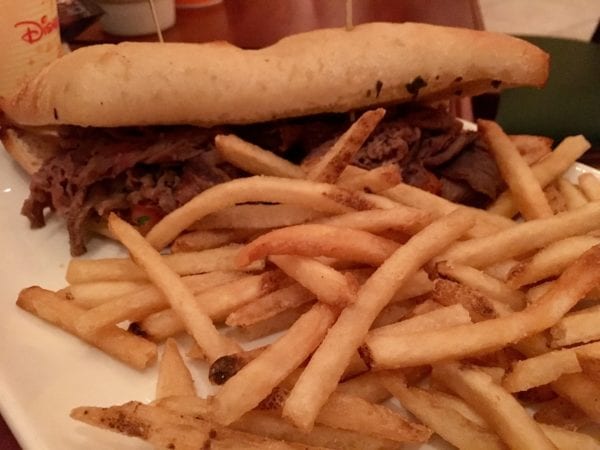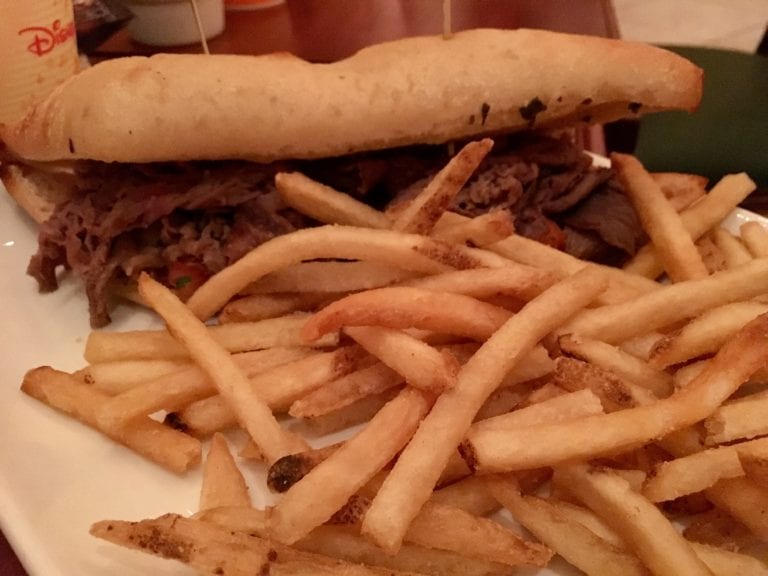 One of the best quick service sandwiches in the Magic Kingdom for sure!
I absolutely had to try the French Onion Soup ($6.49) which I most always order at any restaurant if it's on the menu, I just can't resist a bowl that's overflowing with melted cheese out the side: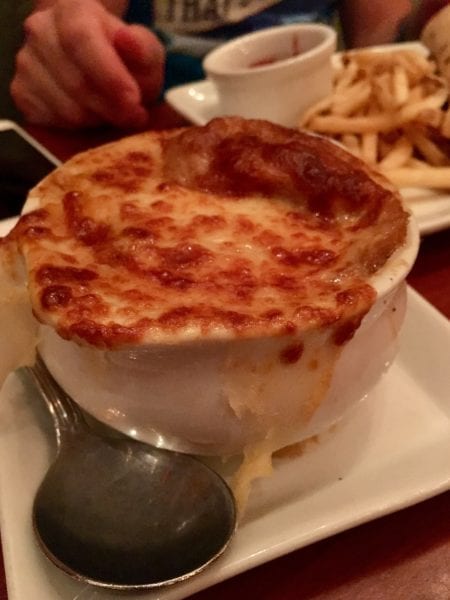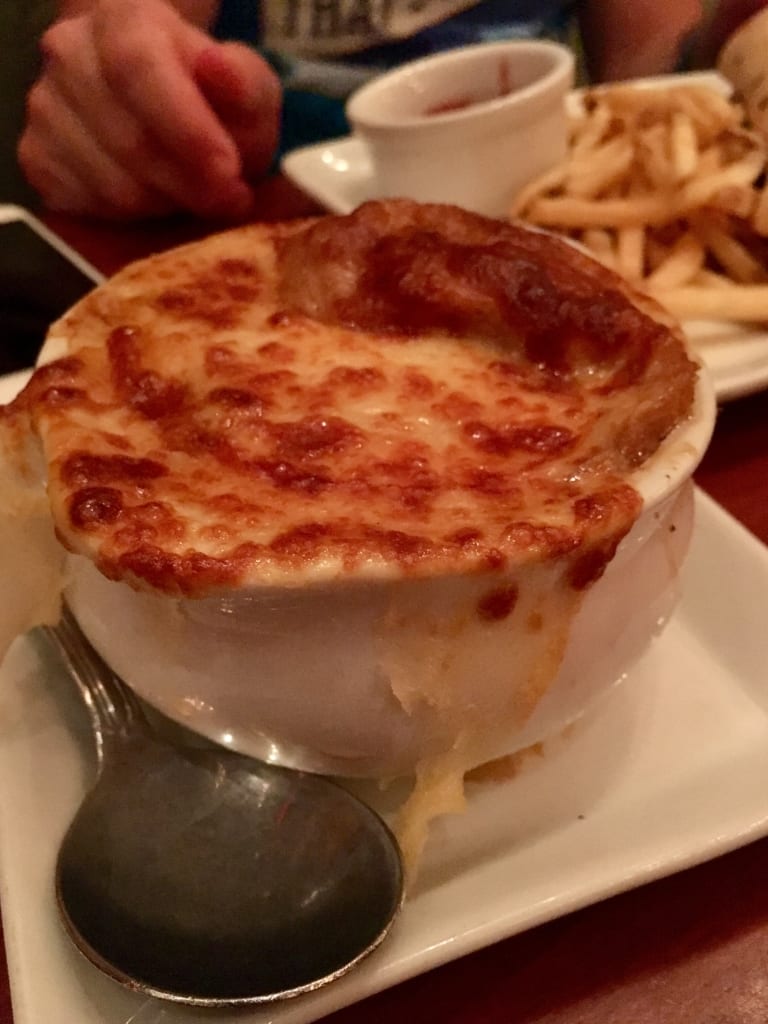 I have to say this one didn't disappoint, it was fantastic!! The soup wasn't too watery is was very flavorful and there were nice chunks of onion in there and the right amount of bread: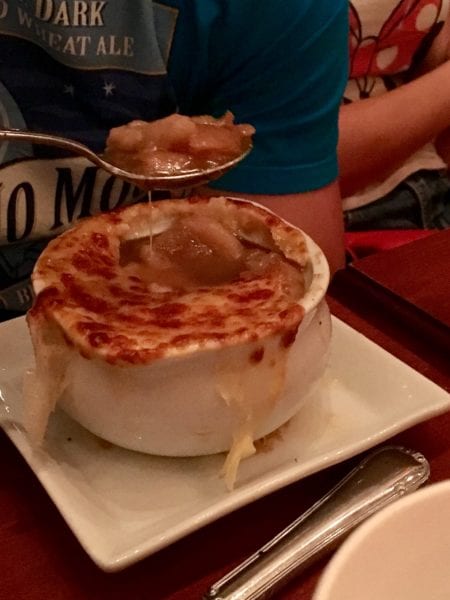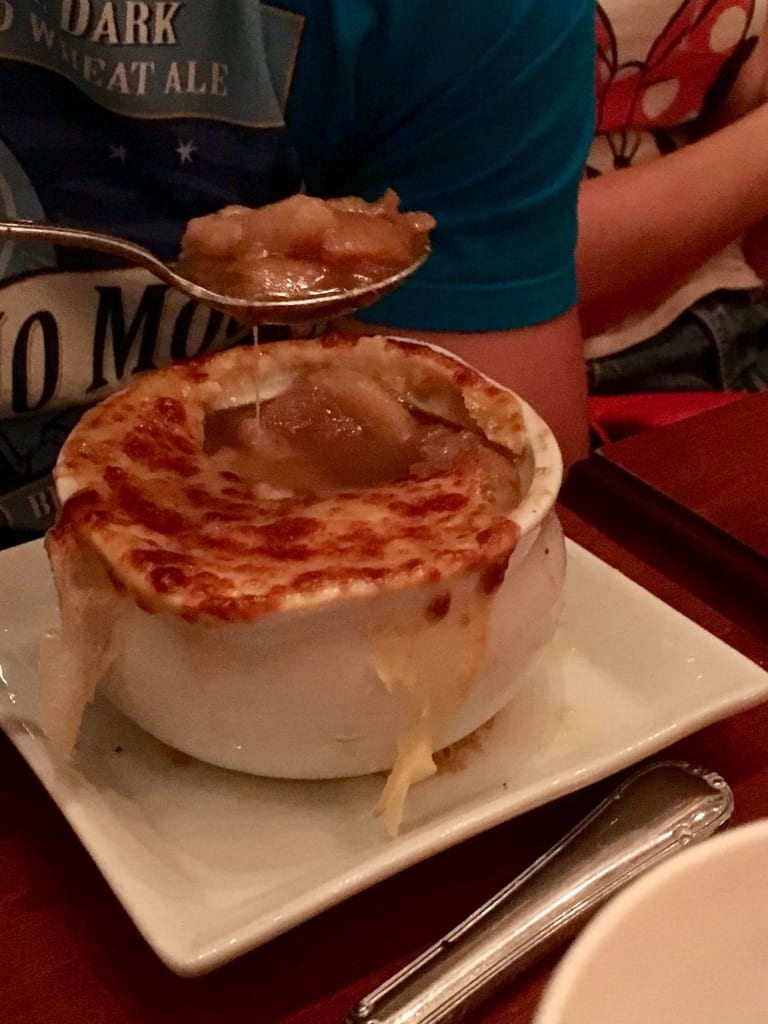 But the star of any French Onion Soup and where I make my most judgement is the cheese, and here there was plenty! I'm not sure what kind they used, if it was just Gruyere or a mix of cheeses, either way I fell in love. Look at that stringiness: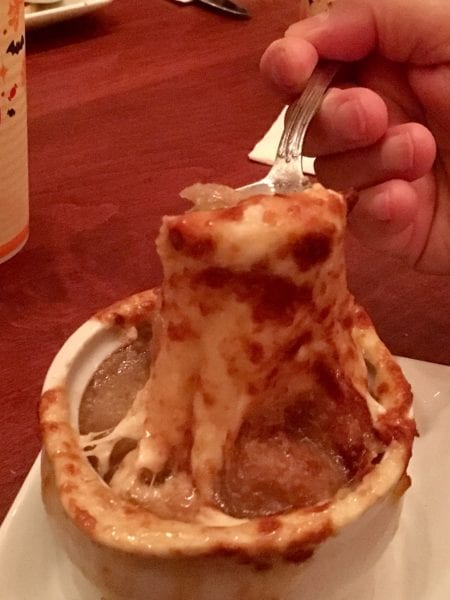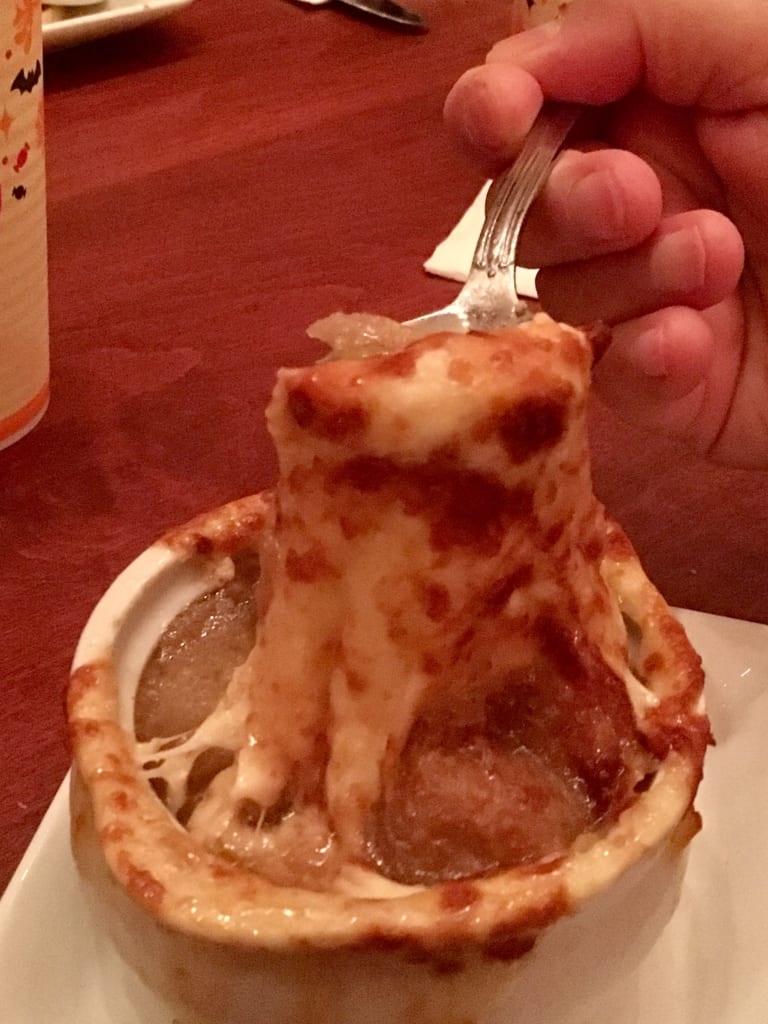 An awesome appetizer and a must order at Be Our Guest!
Last up was the Croque Monsieur ($13.99) which was made with Carved Ham, Gruyere Cheese, and Bechamel with Pommes Frites: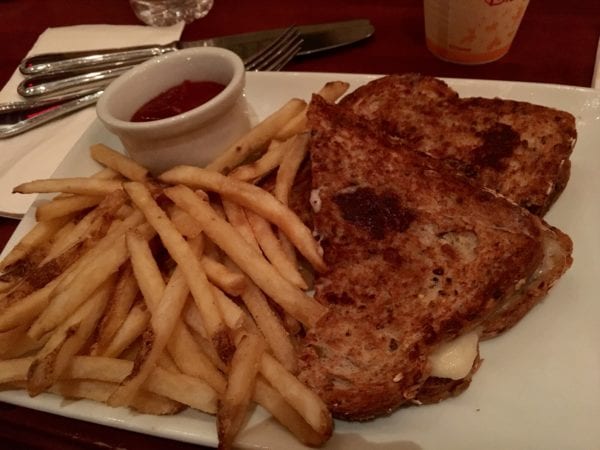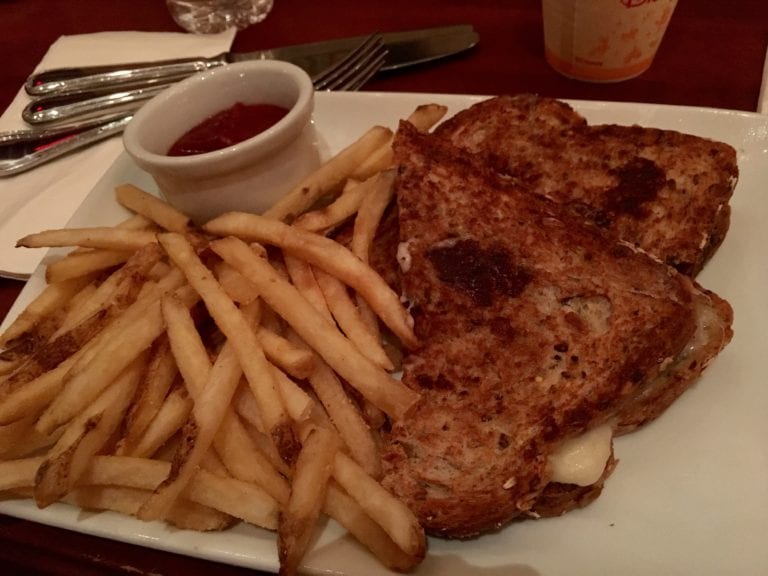 This was my favorite sandwich of them all and a definite must try! The ham was wonderful, very flavorful and tender, also there was a lot of it in nice size pieces. The cheese was awesome and the bechamel made it super moist and added even more flavor which negates the need to use any other sauces here. Look how it's just oozing with cheesy goodness: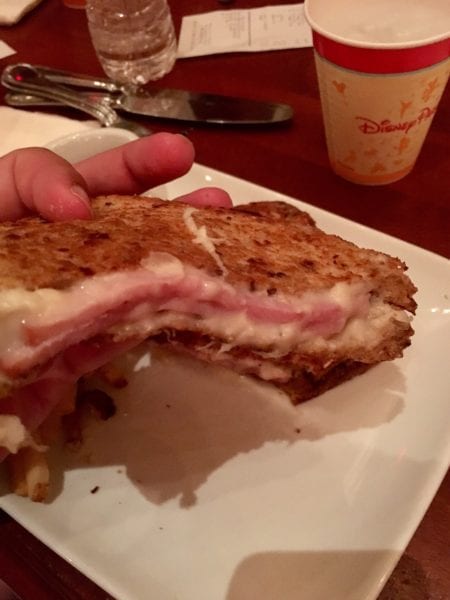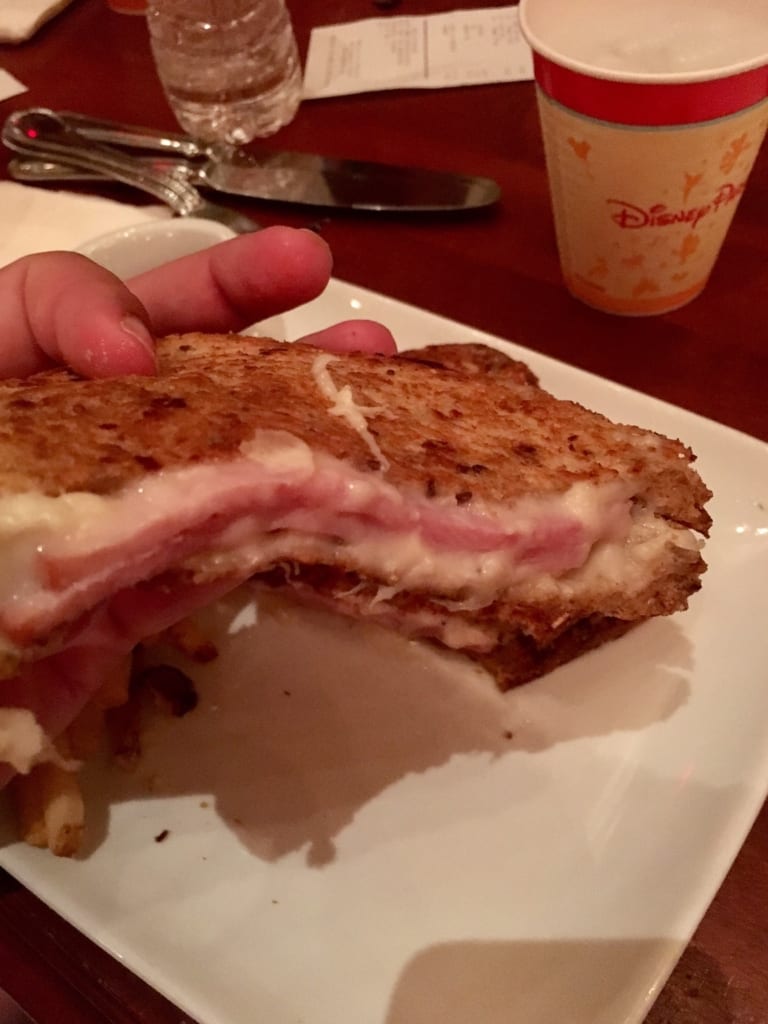 It wasn't quite as big as the other sandwiches but that's ok as it was still very rich and filling. I would order this again and again no questions asked!
I absolutely love the fries here, but my only suggestion with the sandwiches is they could switch it up a bit and pair them with some different sides here and there.
Of course we had to order Dessert and Be Our Guest offers a nice variety of sweets, mostly Cupcakes and a couple types of pastry. First was a Strawberry Cream Cheese Cupcake ($4.99) with Vanilla Sponge Cake, Strawberry Mousse Filling and Cream Cheese Icing: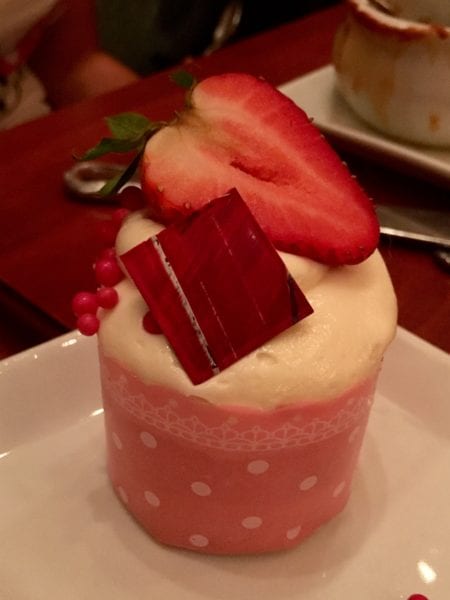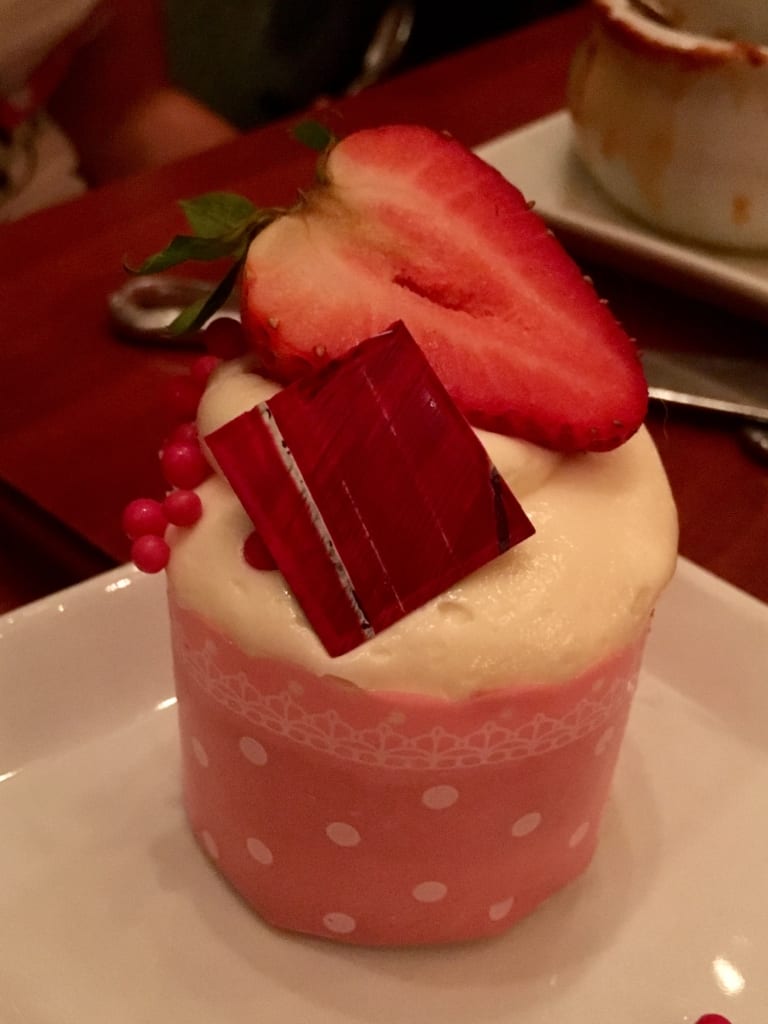 This like all of the desserts was gorgeous. The icing was real smooth and the cake inside was moist as a good cupcake should be: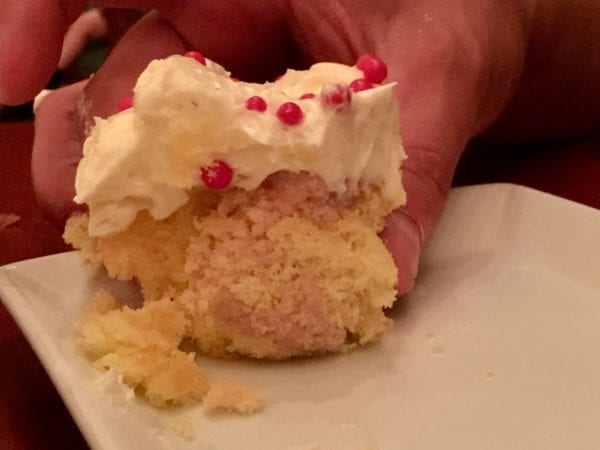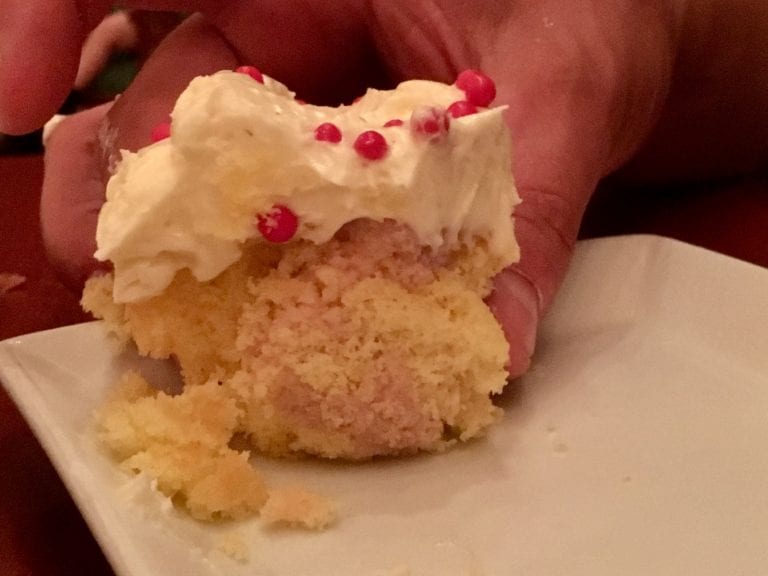 Ryan and Nick particularly liked this one and would get it again. On the lighter side.
I heard the word Cream Puff and I couldn't resist. This one was Chocolate Cream Puff ($4.99) filled with Chocolate Mousse topped with Whipped Cream: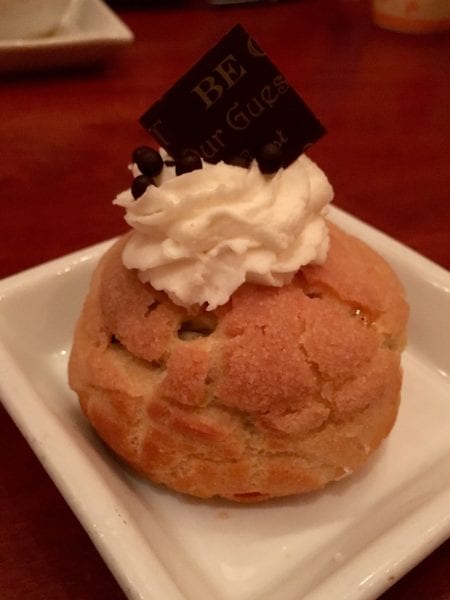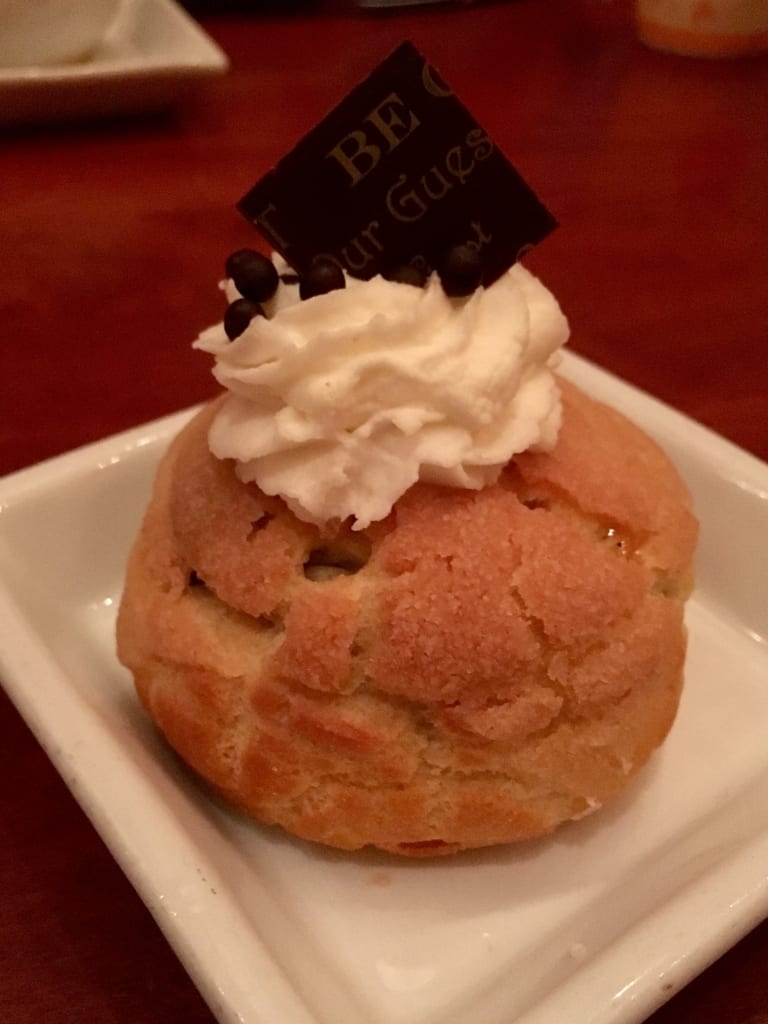 This was a bit heavier than I was expecting and worth ordering if you want something a bit more substantial than some of the cupcakes. The chocolate mousse inside was great, on the denser side, and nicely topped with whipped cream!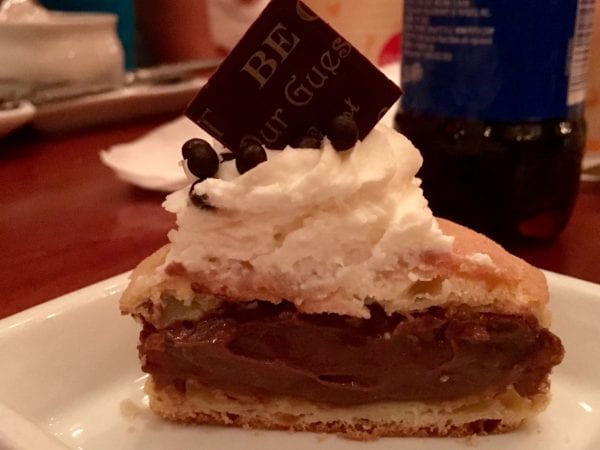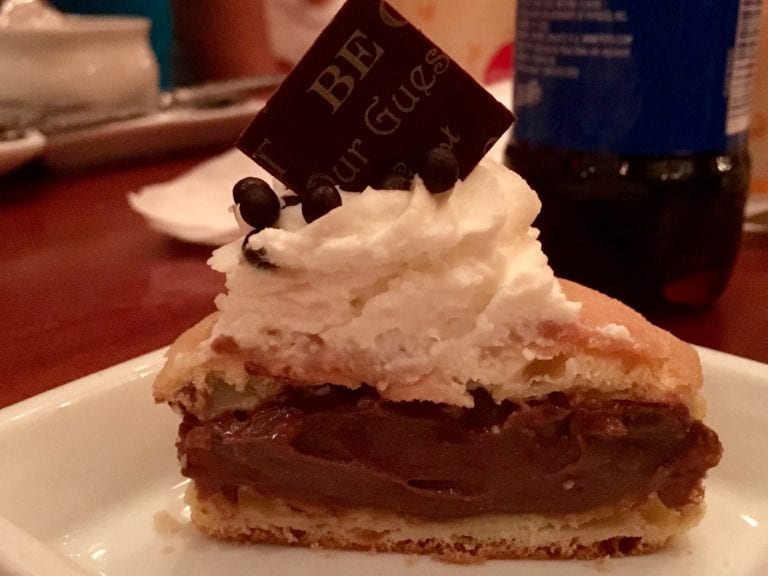 Next was the Triple Chocolate Cupcake ($4.99) which has Chocolate Sponge Cake, Chocolate Mousse Filling and Chocolate Ganache. The waiter mistakenly brought this to our table and told us to keep it. We obeyed of course: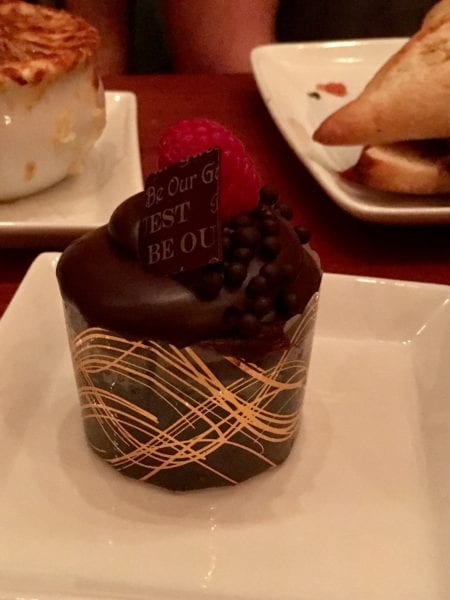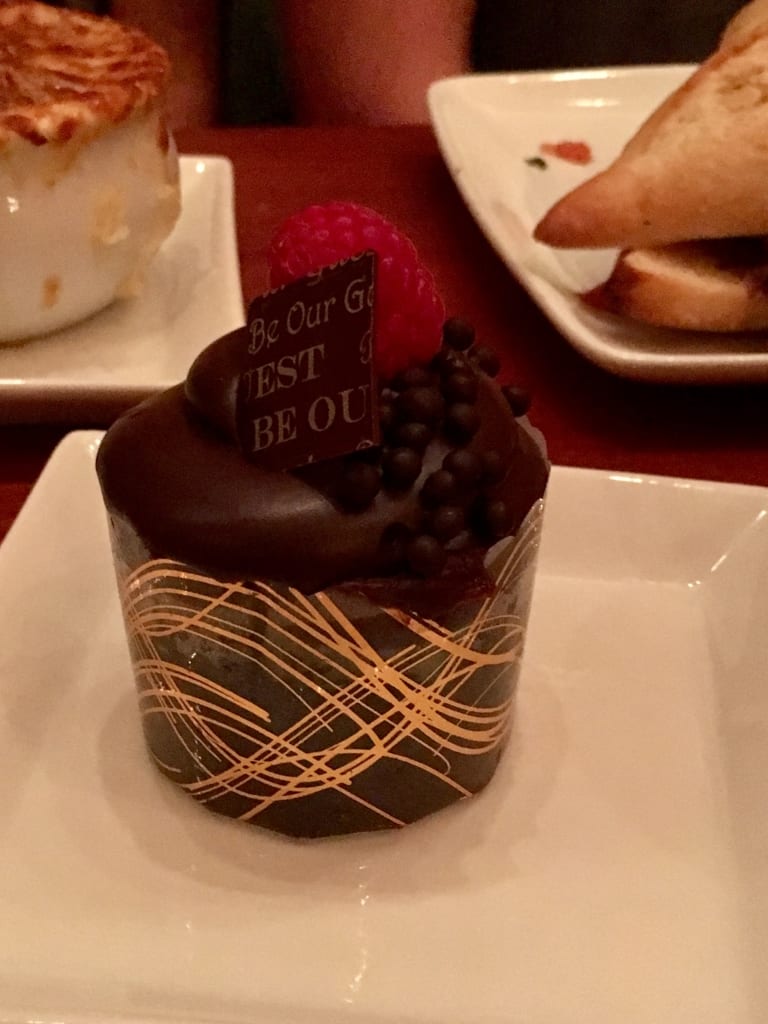 If you like chocolate then go with this one. Very rich tasting and I like the raspberry on top. Nick devoured it before I got a chance to take a pic of the inside so that tells you all you need to know! hahaha
And finally, no stop at Be Our Guest would be complete without the legendary "Grey Stuff." What is it? The Grey Stuff is famously referred to in the dinner scene in Beauty and the Beast where Lumiere states: "Try the Grey Stuff it's delicious, don't believe me, ask the dishes!"
So here we are to try it. The Grey Stuff refers to the frosting, which in this case comes on top of The Master's Cupcake ($4.99), Chocolate Sponge Cake topped with of course Lumiere's special "Grey Stuff"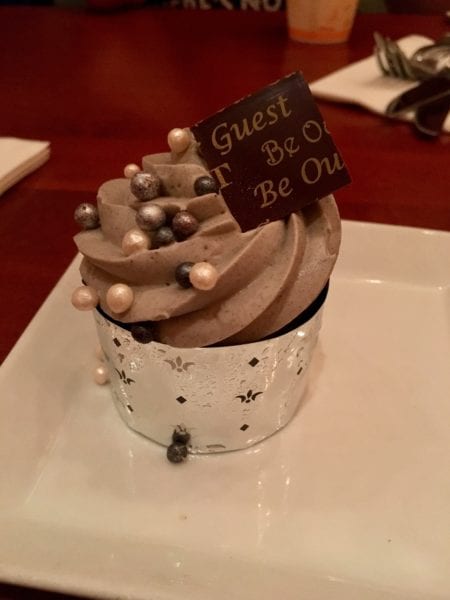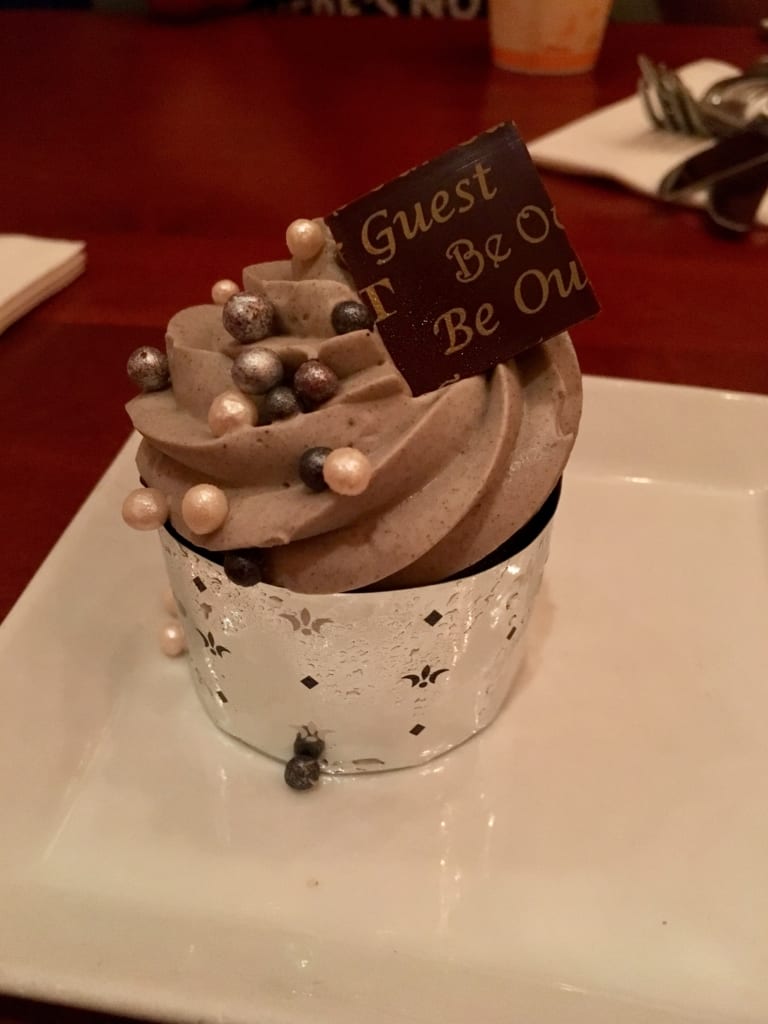 I have to say after all the build up it didn't disappoint! It was amazing!! The whole cupcake was actually really good, but the Grey Stuff itself was mind-blowingly awesome! The Grey Stuff is made from a Cookies and Cream Panna Cotta that's whipped up into an icing for the cupcakes. It's not overly sweet either, just right. There was a healthy amount of it on top: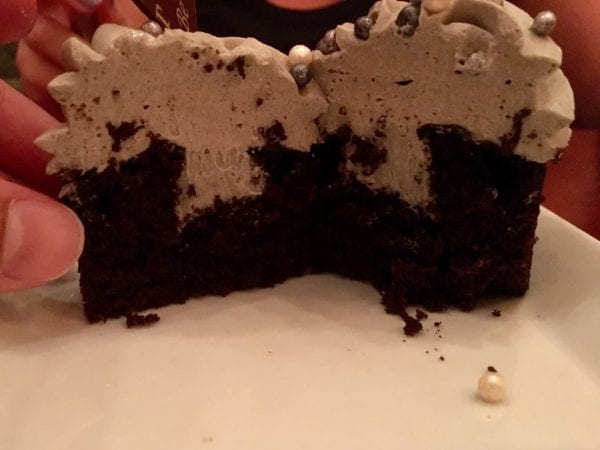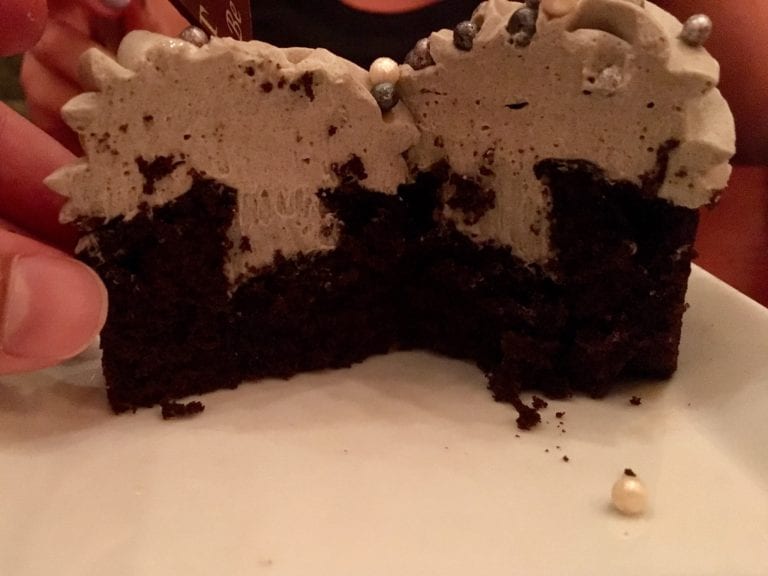 Also the cupcake part, which was chocolate, was very god too, moist as with the other cupcakes. This was my favorite dessert here and one of the best cupcakes I've ever had! A must try for everyone!
Overall the desserts were excellent, right on par with the quality in the entrees. The cupcakes aren't the biggest in the world, but made with excellent quality and very flavorful. My only gripe would be to include more diversity in the types of desserts over the mostly Cupcake dominant menu. Other than that I can't say anything as they were all fantastic!
Leaving Be Our Guest on the right you'll see one of the most famous icons of the castle, The Beauty and the Beast Mosaic: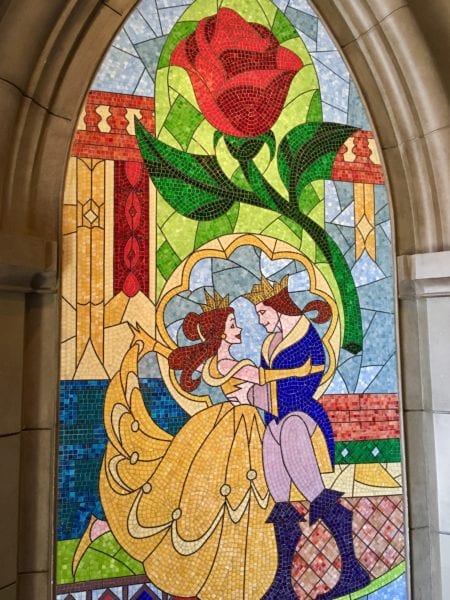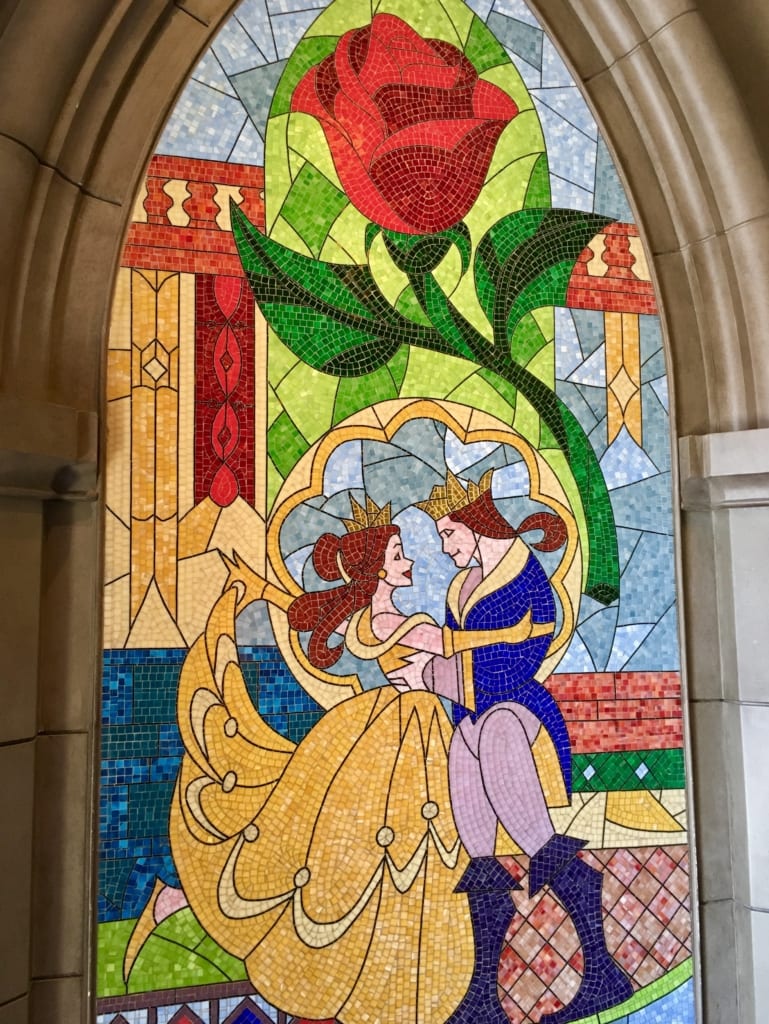 This thing is huge and sooo gorgeously detailed.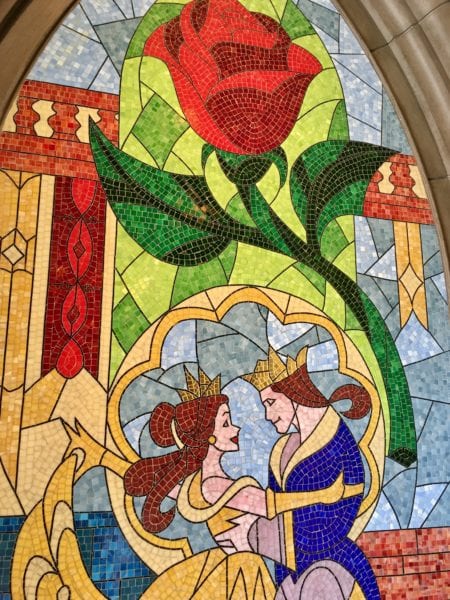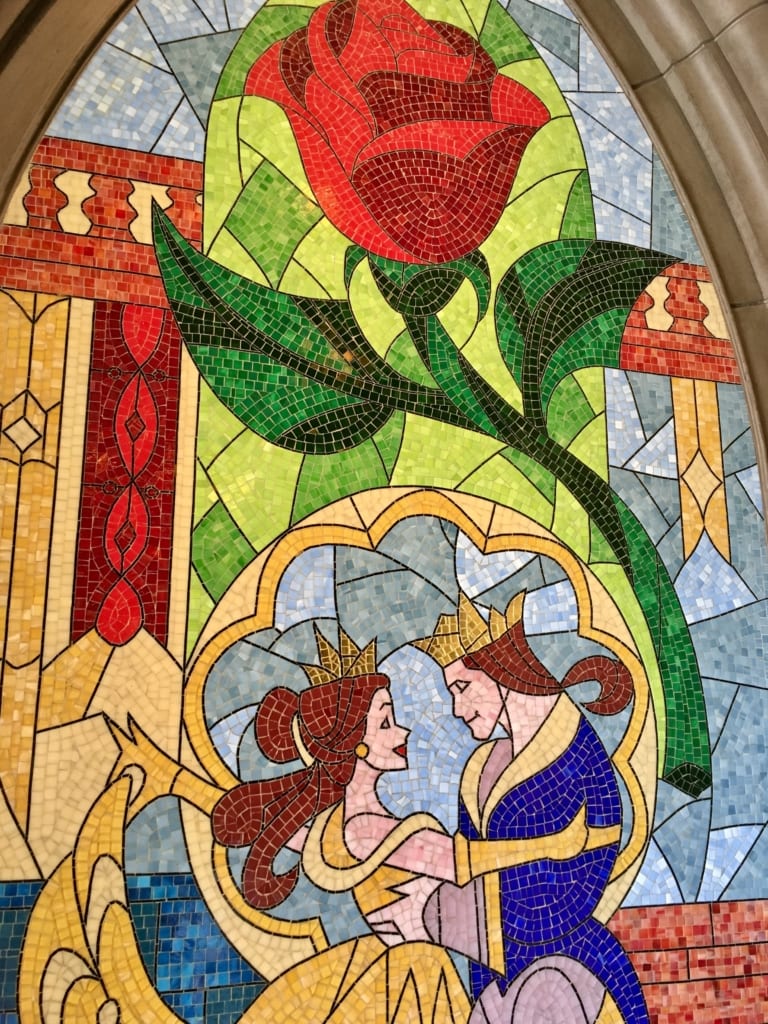 We had to get a pic in front of it, another Beauty and the Beast…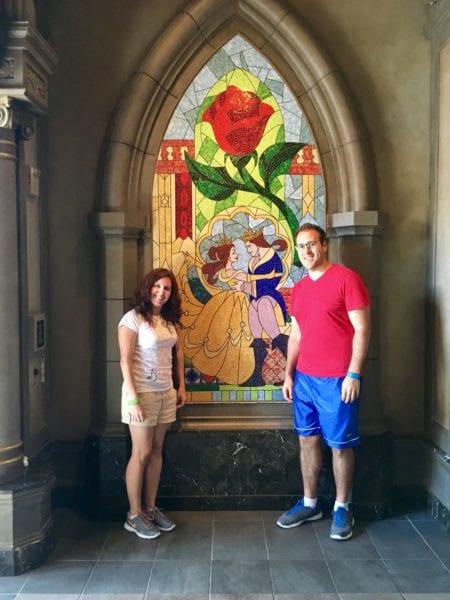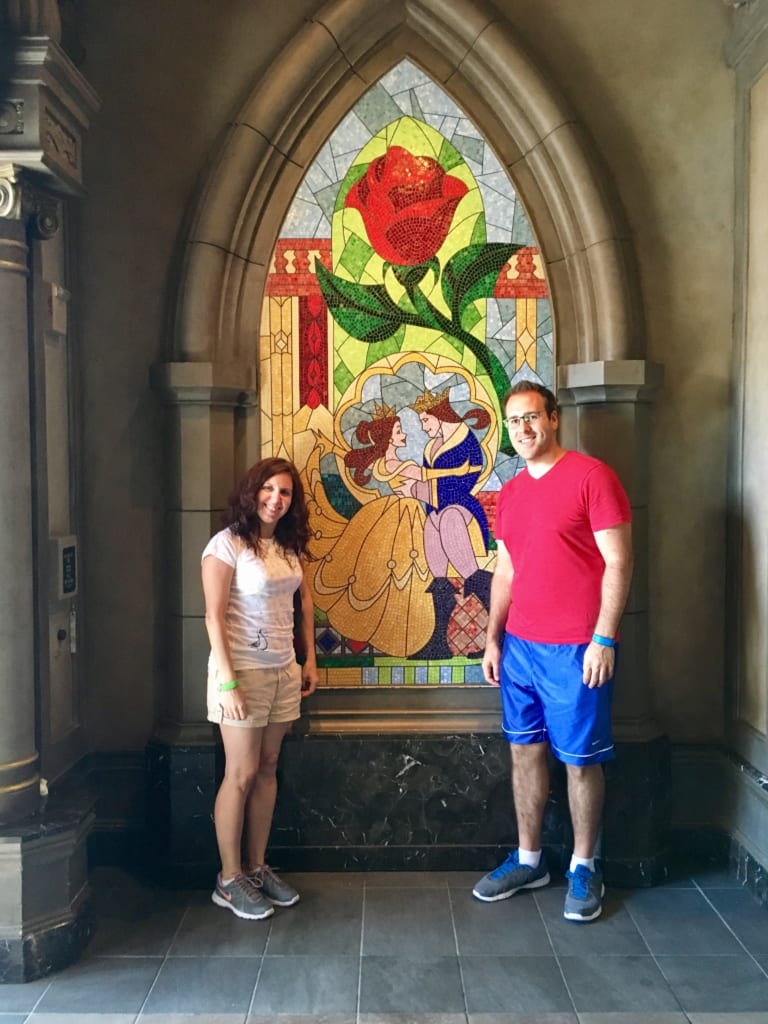 Summary:
Despite the hype as maybe the most popular restaurant in all of WDW, Be Our Guest didn't disappoint on my first visit. The atmosphere is second to none as the theming is exactly what you are looking for in a Disney restaurant. The detailing is so realistic and makes you really feel like you have been transported to the Beast's Castle. I love the way you order and your food, choose your dining room and then it's brought to your table. Also I think the prices for the entrees are about inline with other similar options in the Magic Kingdom, maybe a hair more but it's really not noticeable, especially since they bring you your food.
The food is the gold-standard for theme park quick service dining and you can't ask for anything better. Everything from the Soup, to the Sandwiches and finally to the Desserts wowed us and left us wanting even more. The French Onion Soup was incredible as was the Croque Monsieur! All the Desserts were good, especially The Grey Stuff which didn't disappoint!
Be Our Guest is a quintessential Disney dining experience, it's something everyone has to do at least once and one of the reasons why we keep coming to Disney over and over again. If you want a fun place with an atmosphere which is second to none and also has great food which isn't too expensive, then you'll love Be Our Guest. Now I need to try to score that elusive Dinner reservation and try Breakfast as well.
Be Our Guest is a Breakfast/Lunch/Dinner restaurant and is open daily from roughly:
Breakfast – 8

:00 am

– 10:30

Lunch –

11:00 am – 2:30 pm

Dinner –

4:00 pm – Park Closing

Daily.
The Disney Dining Plan is also accepted, it is a 1 Disney Dining Credit Restaurant (1 Table Service for Dinner or 1 Quick Service Credit for Lunch). Reservations can be made via the Disney World website or by calling (407) WDW-DINE.
You can find the Be Our Guest Lunch Menu here
I love to write Restaurant Reviews of Walt Disney World and I hope you found this one to be informative and helpful. If you liked this review then please visit my Disney Dining Reviews Page where I have many other Restaurant Reviews. I'm happy sharing with you what I love doing best…eating! ? I try to bring you the most thorough and unbiased reviews about the food and restaurants at Walt Disney World, so that as you are planning your vacation, you know the "can't be missed" places, and where you shouldn't waste your time. Hope you enjoyed this one and will enjoy many others in the future!!
Your Thoughts:
I want to know what you think about my Be Our Guest Lunch Full Review and the experiences you've had there. Why do you like Be Our Guest so much? What is your favorite food item there? Is there anything you'd like to see added to the menu? Let us know in the comments section below!
If you enjoyed this article, as always I appreciate it if you'd share it with others via social media. I work hard at making this website into a useful resource for you and your family to plan your visit to Walt Disney World, and I hope it can help you! Thanks 🙂