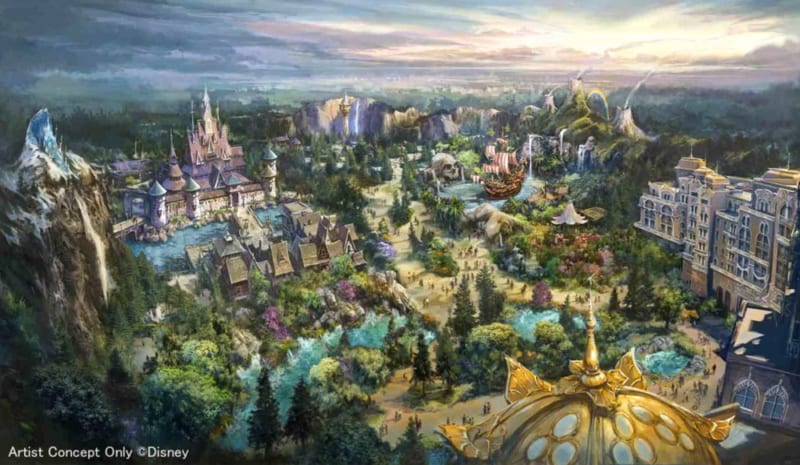 The best theme park in the world is about to get even better.  We've known for a while that the Tokyo Disneyland Resort would be having a major expansion in the next few years and now some of the details are much clearer about what exactly is coming.  An agreement has been reached between Disney and the Oriental Land Company for 3 New Lands coming for the Tokyo DisneySea expansion project.  Those themed lands are going to be Frozen, Tangled and Peter Pan with 4 new attractions and 3 restaurants.  Not only that but a new hotel is going to be part of the 250 Billion Yen ($2.2 Billion) expansion too.
These three lands will all belong to Tokyo DisneySea's 8th port which will be based on the world of Disney fantasy stories.  The new area for the port and hotel is going to be about 140,000 m2 and built on part of the current Guest parking area adjacent to Tokyo Disneyland and Tokyo DisneySea.
Here is a shot of where the new port is going to be located: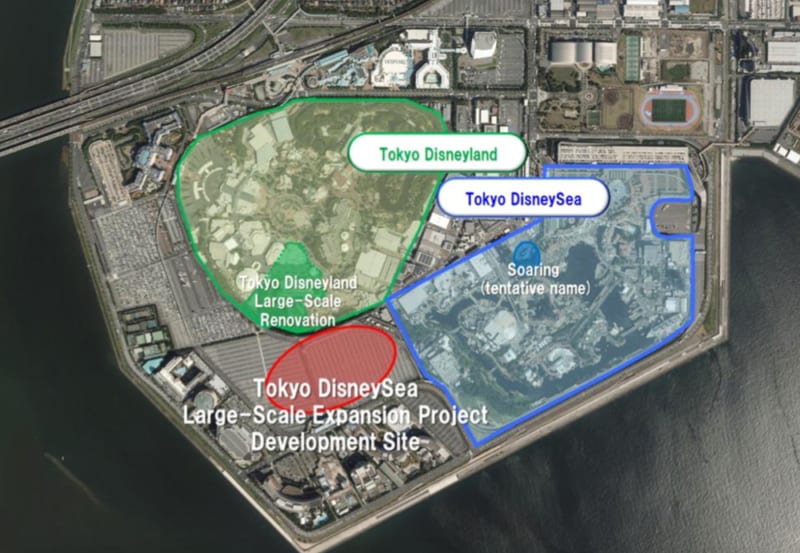 From previous history of well-themed lands at the Tokyo Disneyland Resort and specifically Tokyo DisneySea this is going to be fully immersive and totally incredible.
Let's take a look at the three themed areas:
1. Frozen:
1 New Attraction
1 New Restaurant
This area is set in Arendelle after the events in Frozen when Queen Elsa has embraced her magical power to control snow and ice.  She has opened her gates so guests can now come in and enjoy the kingdom.  The attraction here is described as "a heartwarming attraction that tells the story of Elsa and her beloved sister, Anna. Guests will board boats and experience the sisters' heartfelt journey while enjoying iconic songs from the film and encountering surprising thrills."  Sounds like a slow boat ride, and hopefully it will be what Frozen Ever After in Epcot could have been with more time, space and money.  With the way Tokyo Disneyland makes dark rides we're betting it's going to be pretty good.
The new restaurant will be inside Arendelle Castle at the foot of beautiful, snow-capped mountains.  So something heavily themed probably similar to Be Our Guest.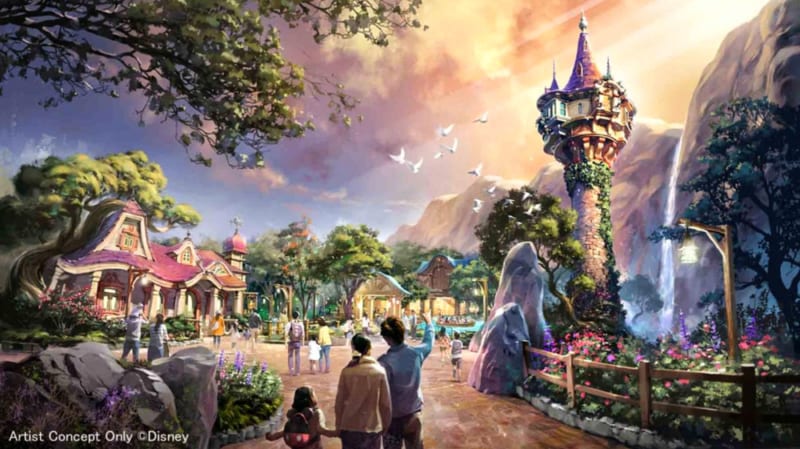 2. Tangled:
1 New Attraction
1 New Restaurant
The first thing of note here is Rapunzel's tower rising above the land.  The attraction will be a gondola ride where guests follow a romantic boat tour of Rapunzel's "best day ever" as she goes with Flynn to the lantern festival.  This will be another dark ride and with the lanterns it's probably going to be amazingly beautiful.  It also has what's described as an unforgettable finale!
3. Peter Pan
2 New Attractions
1 New Restaurant
As amazing as those first two sound, I'm most excited for the Peter Pan themed area.  Let's be honest, who hasn't always wanted to fly off into Never Land.  Now guests will have the chance.
The first attraction has guests flying over the jungles of Never Land into a battle with Captain Hook and his crew of pirates.  On the attraction you join Peter Pan in a rescue mission to retrieve Wendy's younger brother John who has been kidnapped by Captain Hook of course.  It's not exactly clear if it's more like the original Peter Pan attractions where you are suspended above everything because the description also says you board a boat and go down the river.  Maybe a combo of some sort?  In either case it's going to use cutting edge 3D technology so expect screens and some killer special effects perhaps like Pirates in Shanghai Disneyland.
Not much is described about the second attraction just that it immerses guest in the oversized world of Pixie Hollow where Tinker Bell and her fairy friends live and work.  What's cool is that it will be connected to the restaurant and guests will have great views of Never Land while they dine.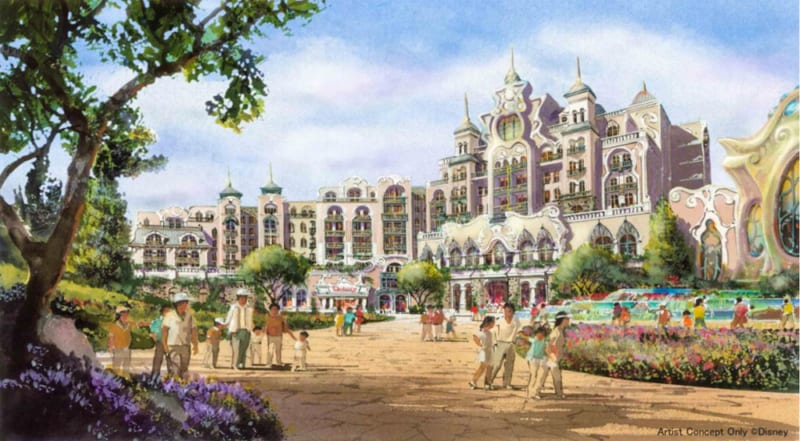 New Disney Hotel:
Themed to Disney fantasy, the new Disney hotel will be located inside the Park. The hotel will rise above and around the magical springs that serve as the core of the new themed port's story. Park-facing rooms will provide beautiful views of the port's majestic landscape, affording Guests a magical experience that can only be had at this hotel. The Disney hotel will offer 475 deluxe-type and luxury-type guest rooms, with the latter providing the finest accommodations in Tokyo Disney Resort. A merchandise shop thathelps share the story of the magical springs will be found on the hotel's first floor, facing the Park.
This new expansion of Tokyo DisneySea is expected to be completed by 2022.  It also is going to extend Disney's deal with the Oriental Land Co. from 2046 to 2076.  Together with the other expansion coming to Tokyo Disneyland which has already started and will be finished in 2020, the Tokyo Disneyland Resort is going to continue to be THE must-visit theme park destination in the world.  It also is going to extend Disney's deal with the Oriental Land Co. from 2046 to 2076.
Your Thoughts:
I want to know what you think about the 3 New Lands announced for the Tokyo DisneySea Expansion Project
Which area is your favorite?
When are you going to Tokyo Disneyland?
Let us know in the comments section below!
If you enjoyed this article, as always I appreciate it if you'd share it with others via social media.  I work hard at making this website into a useful resource for you and your family to plan your visit to the Disney Parks and I hope it can help you! Thanks 🙂
News Source: Oriental Land Co., Ltd